Hello, my dear fashion ladies. This is my first blog post on outfit ideas with sneakers. Yes, I decided to create a kind of intro article where are gathered basic looks completed with sneakers. In other words saying, this is a starting point in our sneaker's fashion world adventure. I mean, you will see inspiring ideas that are easy to create and wear in real life.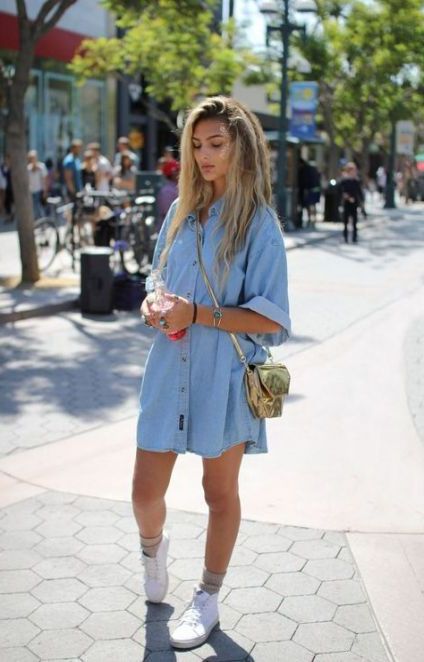 Buy Similar Here
We see a fabulous street style idea that features a denim dress and white sneakers with socks. A perfect look for casual weekends.
For me, sneakers are essential footwear that can be matched with absolutely any look, no matter if it's a casual/ grunge/hipster or smart/professional outfit. So, let's get down to the business and see what's trending in the sneakers world.
Sneakers Basic Outfit Ideas
There are tons and more ideas and options on ways how to wear sneakers and every day we see new ideas. Everything starts from sneakers, their style, size, height, color, print, etc. then comes the styling. In today's article, I will show you some basic looks and combos you are free to create with kicks. No, I am not going to show you a complete guide, covering all sneakers styles, colors and outfit ideas you can create with these shoes, but I will try my best to cover all essential looks you might be interested in. Do I have your attention? If yes, then let's continue.
Go denim! We see a blue denim jacket styled with a black top, black skinny jeans and light grey sneakers: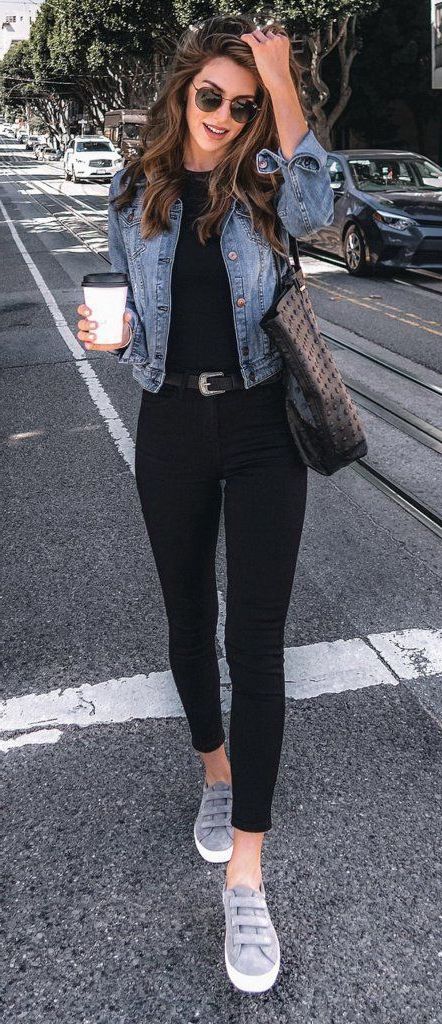 Buy Similar Here
The first question arises: what bottoms can you wear with sneakers, keep it short: jeans, pants, skirts, leggings, joggers, and dresses with sneakers, in other words, you are free to experiment with any bottoms you like. It all depends on the style you wish to create, either it is sporty or smart.
Another gorgeous style for young ladies. We see a baseball cap in dark blue, long grey scarf, camel coat, black leggings, and blush sneakers: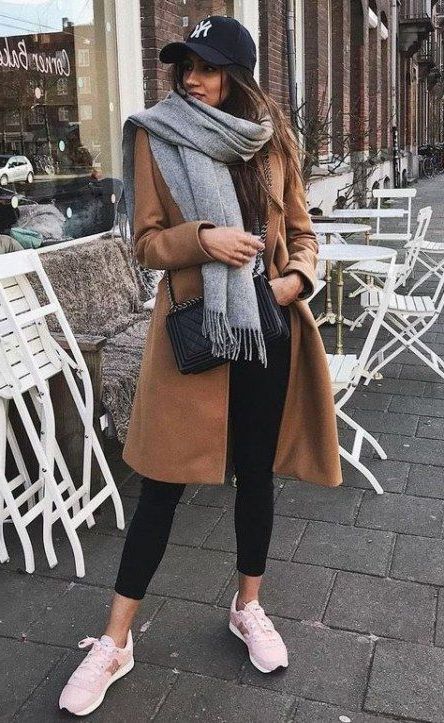 Buy Similar Here
I am a big fan of wearing sneakers with dresses. This is my absolute win-win look! This trend has been around for a couple of decades and comes back next year. No matter what is the length of your dress, it can be a sassy-hot mini frock or a midi, maxi dress. Just make sure to pair it with some cute kicks.
Sneakers and Joggers
If you are into relaxed and casual style, then go for this plaid oversized blazer and team it with a grey crop top, loose-fit grey joggers and cream white chunky sneakers, complete it with Wayfarer sunglasses:
Buy Similar Here
Sneakers and a leather jacket
Sneakers do look great with leather. Here we see a black leather jacket worn with a black top, frayed light blue slim jeans and white kicks, complete this combo with gold chain layered necklaces: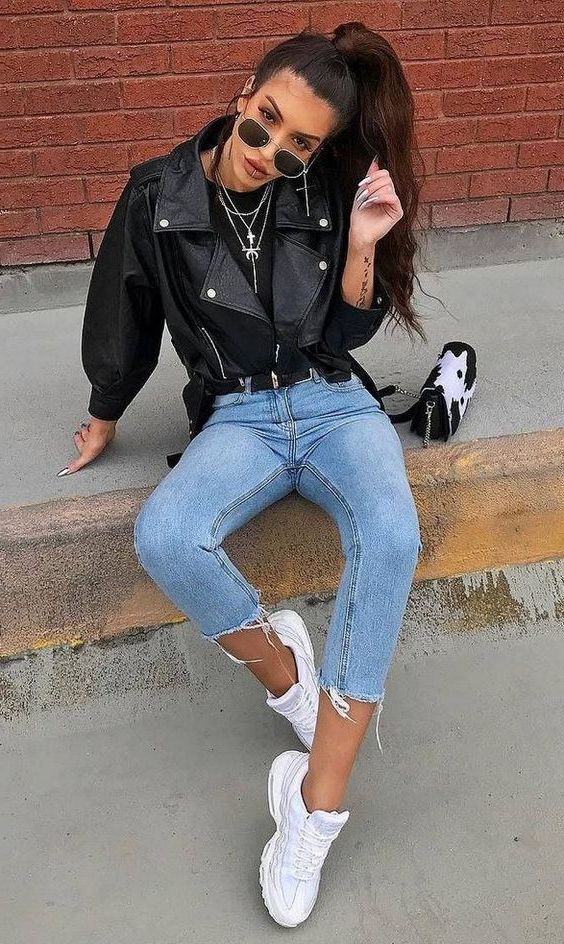 Buy Similar Here
Sneakers and leather skirt
As I've already mentioned, kicks look cool with leather, that's why I recommend trying a grey colored version with a black leather midi skirt, grey sweater and long wool coat in grey mohair: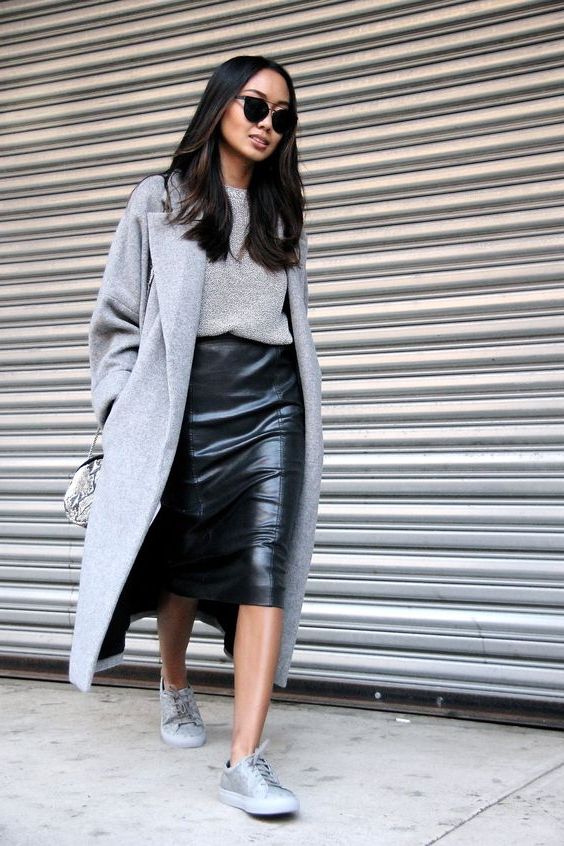 Buy Similar Here
Can you wear sneakers with jeans? Yes, yes, yes, there are lots of ways how to make kicks look cool with denim. It can be skinny jeans, ripped jeans, boyfriend jeans, bootcut, flared or wide-leg denim pants teamed with classy sneakers.
Sneakers and Blazer
A white blazer looks pretty chic with black cycling shorts and ugly sneakers: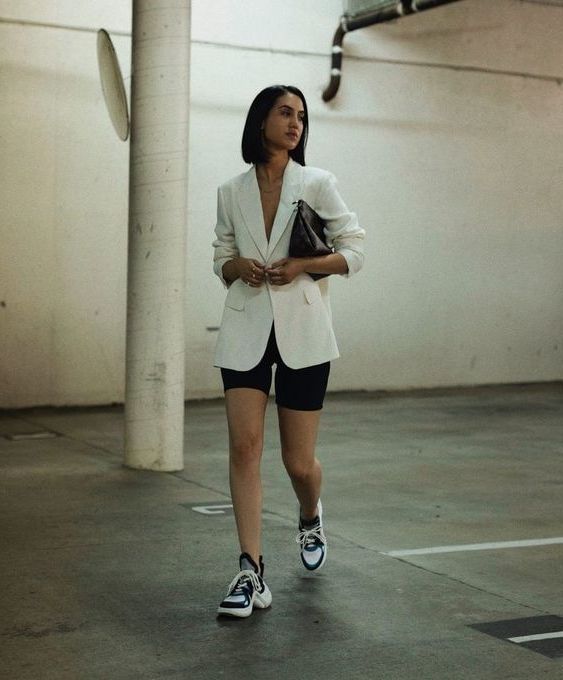 Buy Similar Here
Sneakers and black tights
Make a move! Go for a black long jacket with black leather sleeves and style it with a black slip dress, black tights, and grey sneakers: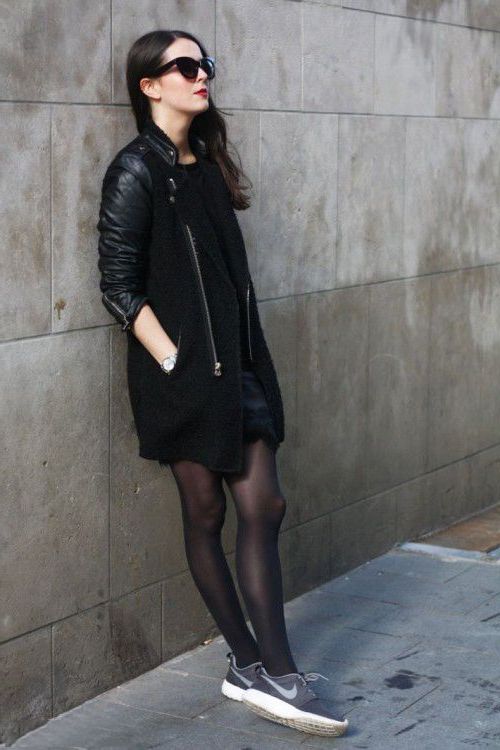 Buy Similar Here
Sneakers And Leggings
Another sporty look you can go for your weekends is a grey hoodie teamed with black leggings and black sneakers, update this style by adding aviator sunglasses: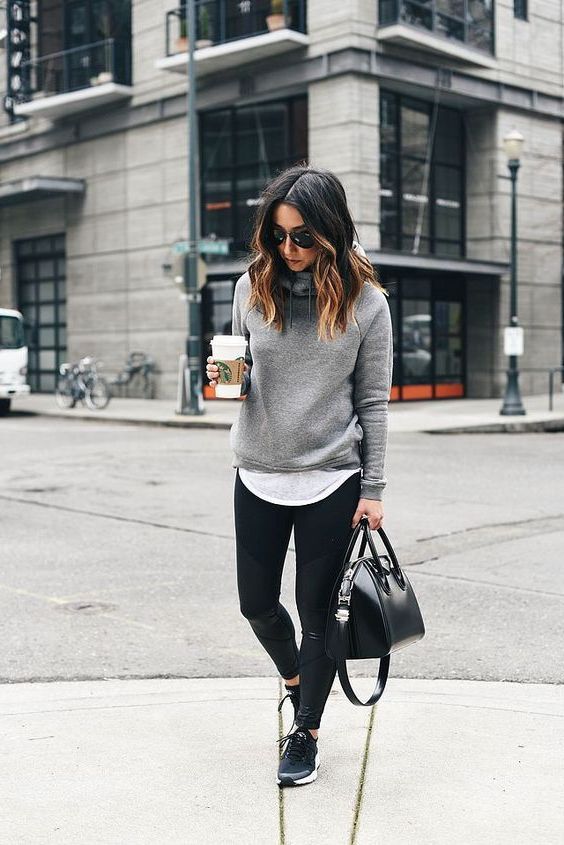 Buy Similar Here
Sneakers look great with socks. Go for socks and sneakers combo, it will make you stand out from the crowd. I love to see Instagram models showing off their high socks with kicks. Of course, some bloggers say that wearing socks and sneakers is a no-no! They say it's okay to wear some low-rider socks that don't show off, but for me, it's a no problem to let people see my beautiful socks.
Sneakers and Leg Warmers
Another cool combo for fall. We see a sporty style that features a black hooded jacket, hoodie, leather leggings and grey leg warmers completed with white sneakers: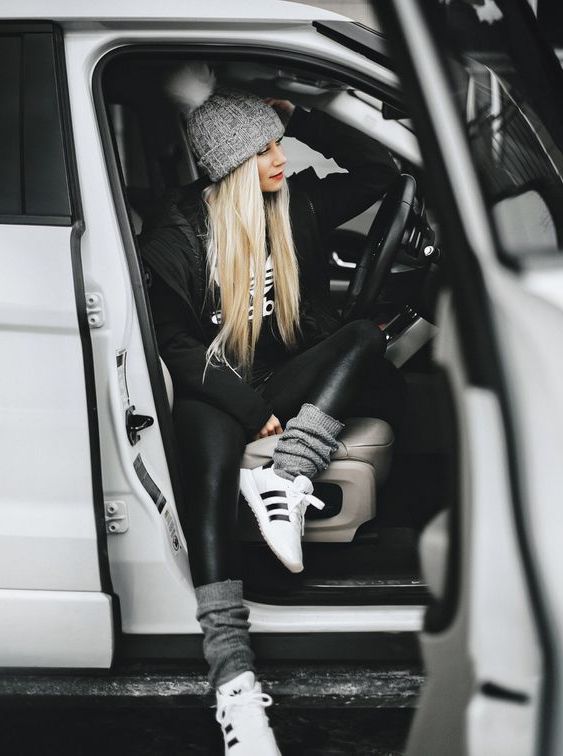 Buy Similar Here
Sneakers and Long Dress
A red long shirtdress looks fresh and sweet completed with chunky white sneakers: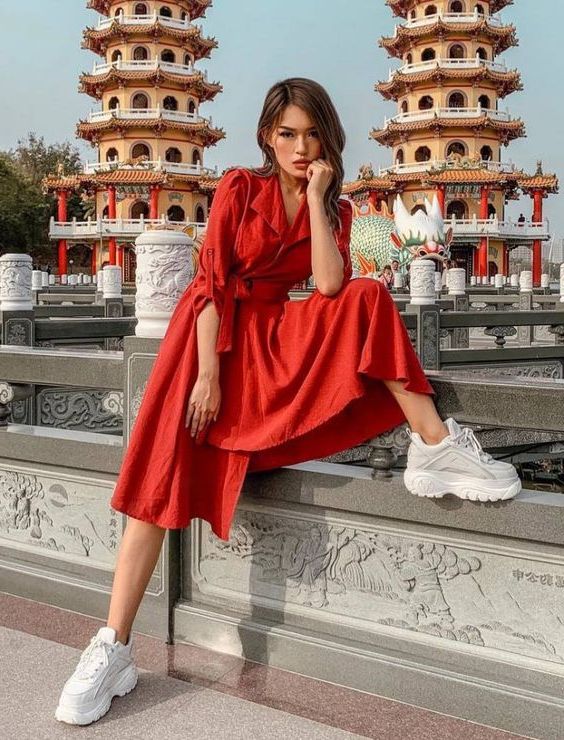 Buy Similar Here
Sneakers and Long Socks
A red-blue-white T-shirt is tucked in denim blue shorts completed with red socks and white sneakers: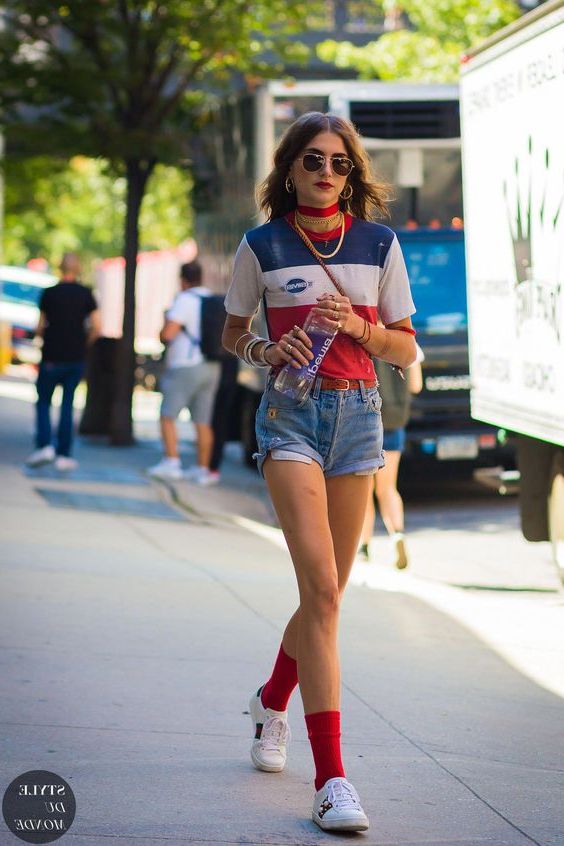 Buy Similar Here
Sneakers with skirts are another trendy topic. Love to see ladies who pair pleated skirts with high top sneakers. But you can go for a pencil skirt and style it with classic sneakers. It's a very personal thing, so you should find your favorite combo that can easily express your personality and style. I also like to see women wearing long and flowy skirts with cool chunky kicks.
Sneakers and Matching Purse
Looking for a way to create a matchy look? Go for a blush two-piece dress, bright pink leather handbag and multicolored sneakers with pink shade: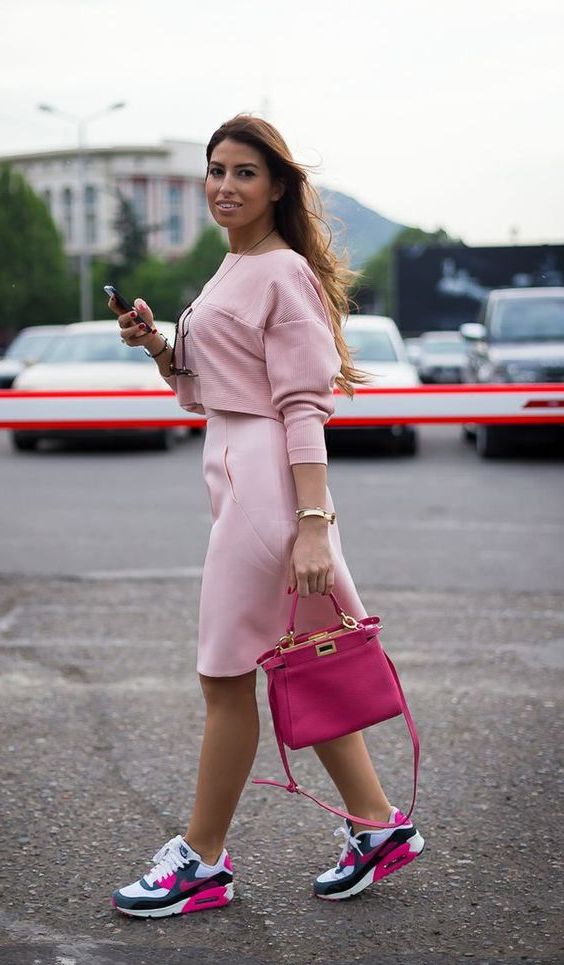 Buy Similar Here
Sneakers and Maxi Dress
A long black blazer ideally suits that leopard maxi dress and high-top black trainers:
Buy Similar Here
Sneakers And Palazzo Pants
Green colored style. Go for a cream-white fedora hat, green sweater, matching color palazzo pants and white sneakers: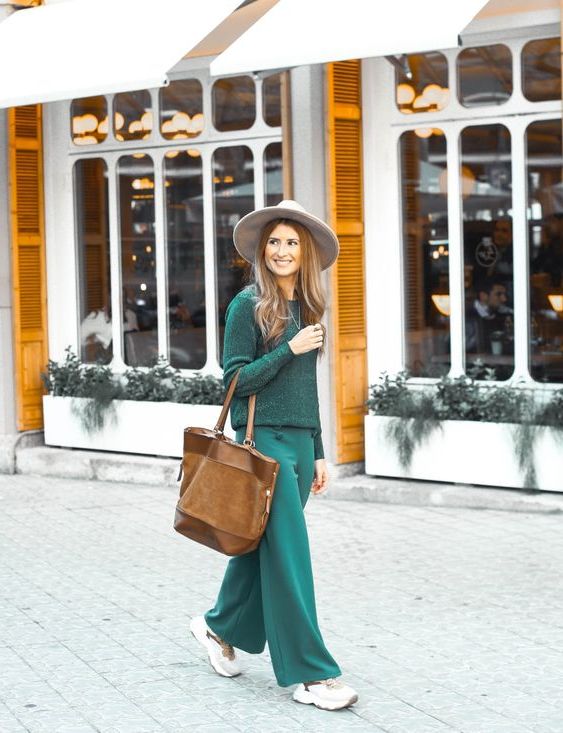 Buy Similar Here
If you are more into a sporty look, then you might like to try joggers or leggings teamed with sneakers. A pair of comfortable pants can easily make you look fresh, unique and sporty. I do love to see ladies who complete such combos with leather jackets and stylish sunglasses.
Sneakers And Pants Outfit
A brown teddy bear jacket ideally suits that white tee tucked in brown velour pants completed with white kicks, update this combo with a ribbed knit beanie in cream white, cool shades and shoulder black leather bag: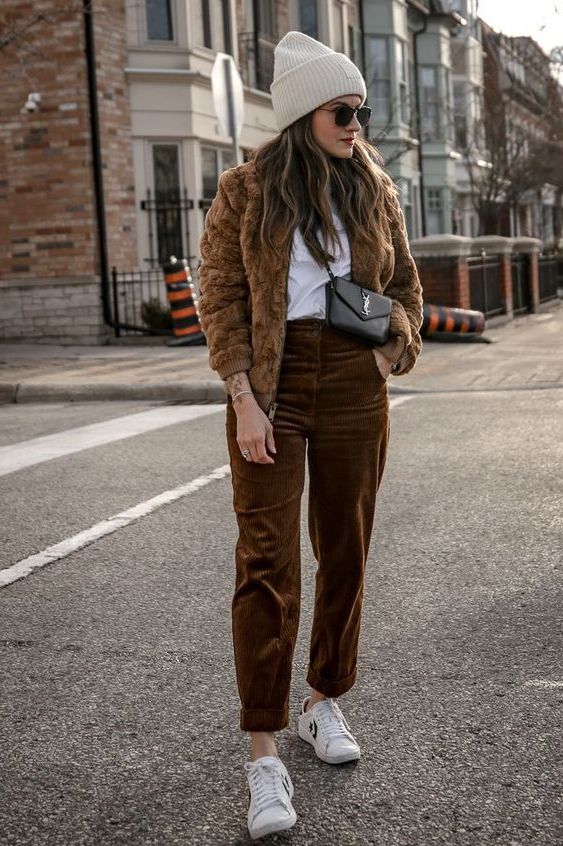 Buy Similar Here
Sneakers And Pencil Skirt
A grey colored crop sweatshirt is worn with a high-waisted white pencil skirt and matching white sneakers, love these mirrored sunglasses: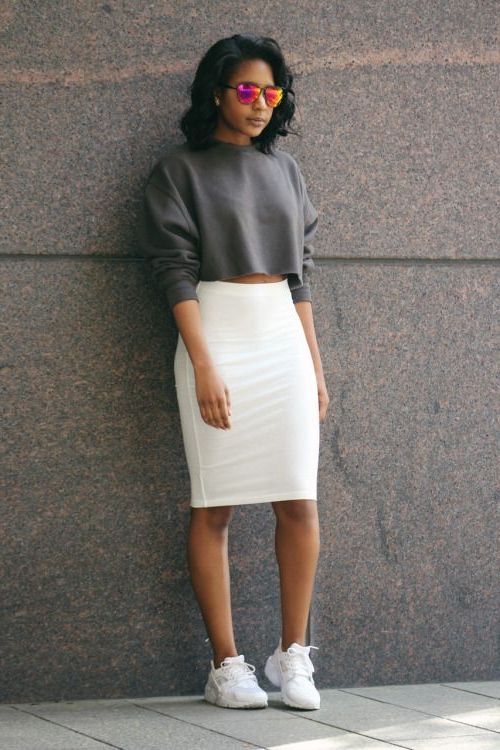 Buy Similar Here
Sneakers And Wide Leg Pants
Another amazing style for those who love one-color looks. We see a dark blue top and matching color wide-leg pants completed with chunky sneakers: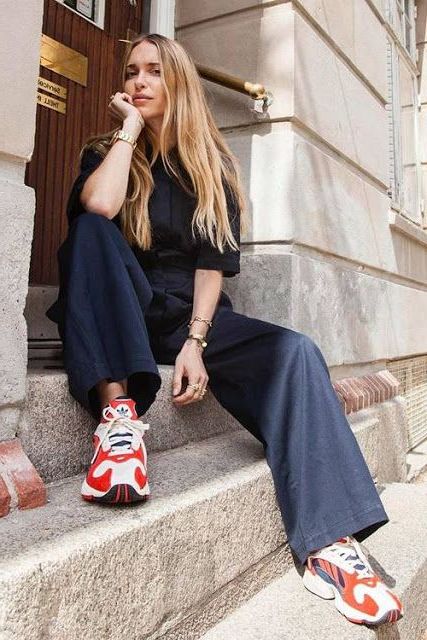 Buy Similar Here
Lots of women prefer to wear sneakers, as they are comfortable and can be styled with lots of clothing staples. Yes, these shoes were invented to wear sporty clothes, but rules are made to be broken, right? I hope I have proven to you that you are free to wear sneakers with absolutely anything.
White Sneakers With A White Dress
Great for young ladies who want to be free-spirited. We see a white peasant dress completed with white runners: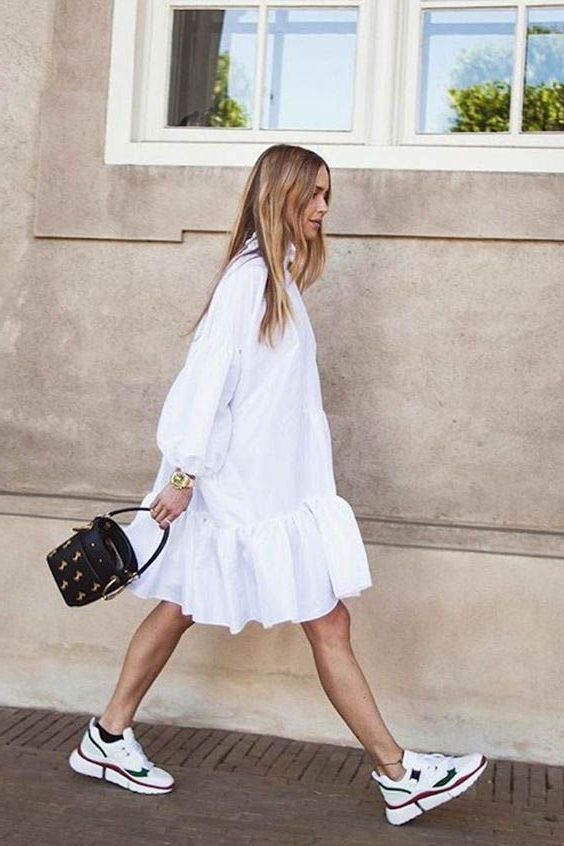 Buy Similar Here
Sneakers And Jumpsuit
A knitted dark green sleeveless jumpsuit is styled with a black leather jacket and white kicks: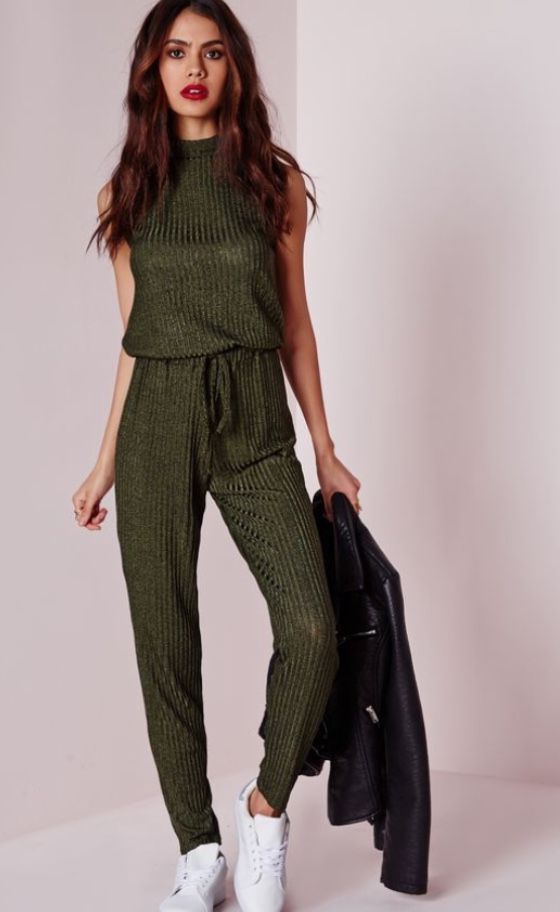 Buy Similar Here
Sneakers With A Knife Pleated Skirt
An ideal way to modernize your look! Go for a slouchy cream turtleneck sweater and team it with a metallic bronze knife-pleated midi skirt, update this style by adding a pair of rounded sunglasses, suede shoulder bag, and bronze metallic sneakers: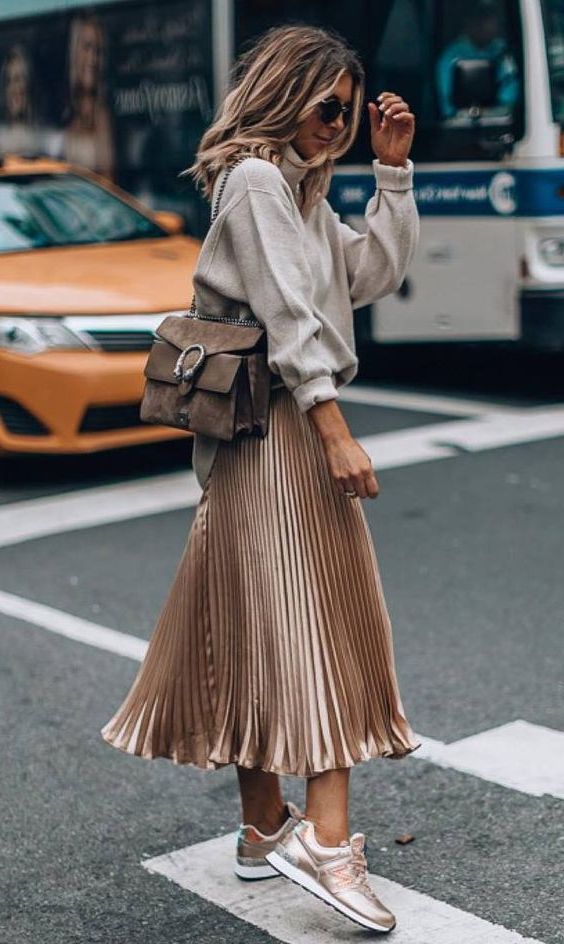 Buy Similar Here
Sneakers With A Suit
Yes, sneakers are your best friends if you are about to wear them with a suit. Go for this dark blue pantsuit and style it with a light brown sweater and white kicks: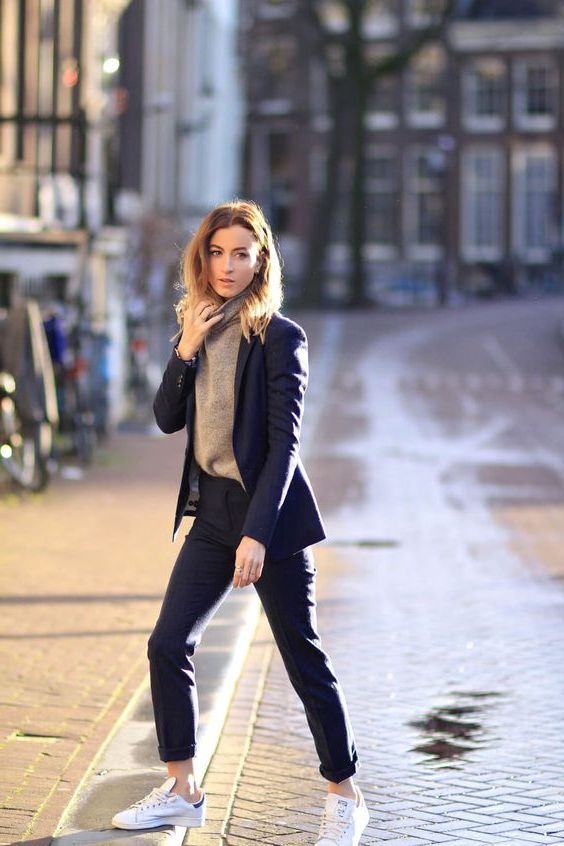 Buy Similar Here
Sneakers With Dress Pants
A beautiful pair of micro-plaid slim dress pants in black-white are worn with white chunky sneakers, white crop top and a crop denim jacket in black color: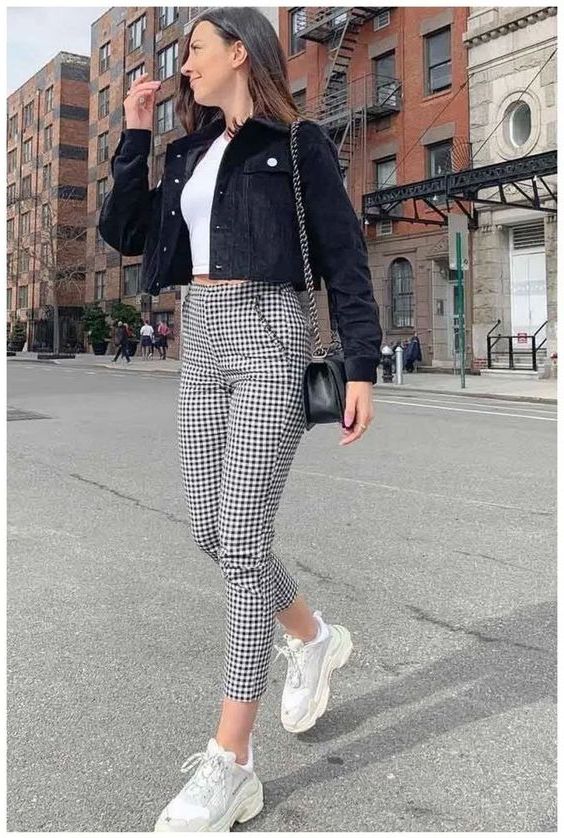 Buy Similar Here
Sneakers With Jeans
A pair of white sneakers look pretty chic with knee-ripped light wash jeans in a slim fit completed with a white tee and cream-grey trench coat: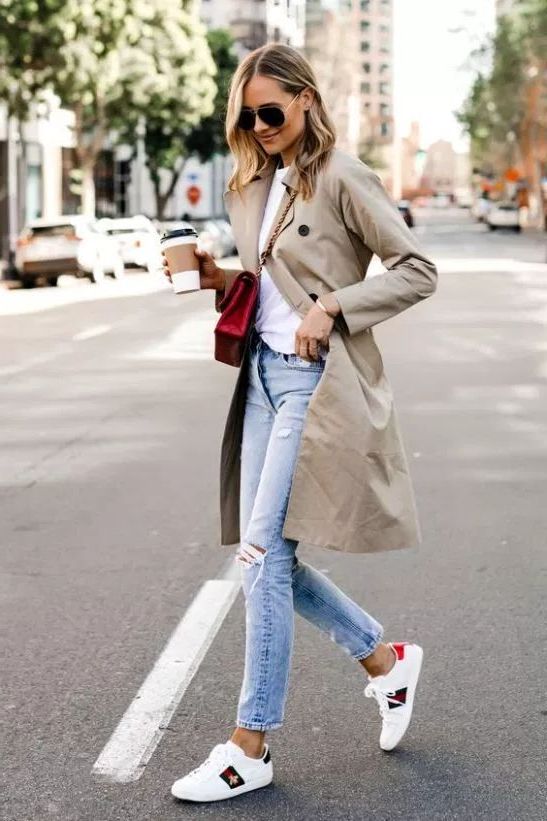 Buy Similar Here
Sneakers With Shirt
A relaxed fit chambray shirt is worn with knee-ripped black jeans and white sneakers: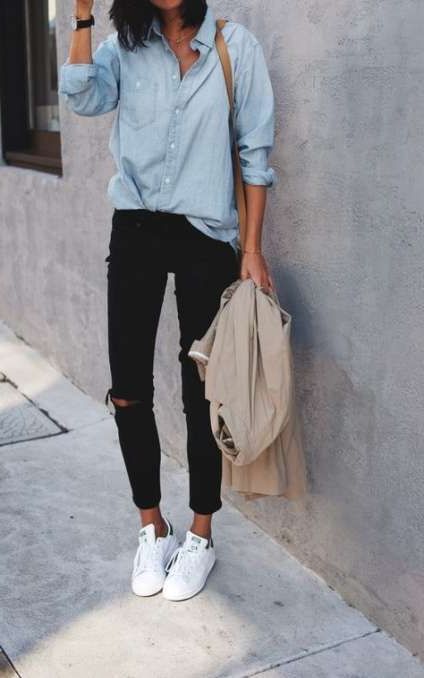 Buy Similar Here
Sneakers With Skinny Jeans
Another casual style idea. We see a slouchy black sweater teamed with white skinny jeans and classic black trainers: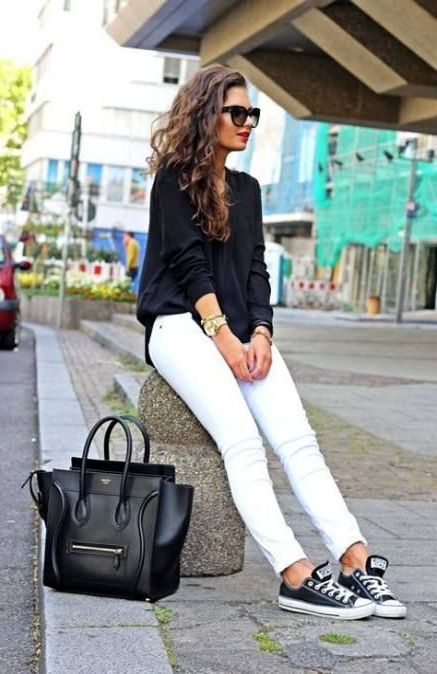 Buy Similar Here
Sneakers With Fun Tights
Make a real statement with platform boot-sneakers in white by wearing them with fun circle printed tights and brocade print skirt suit, a kind of 1990 style look: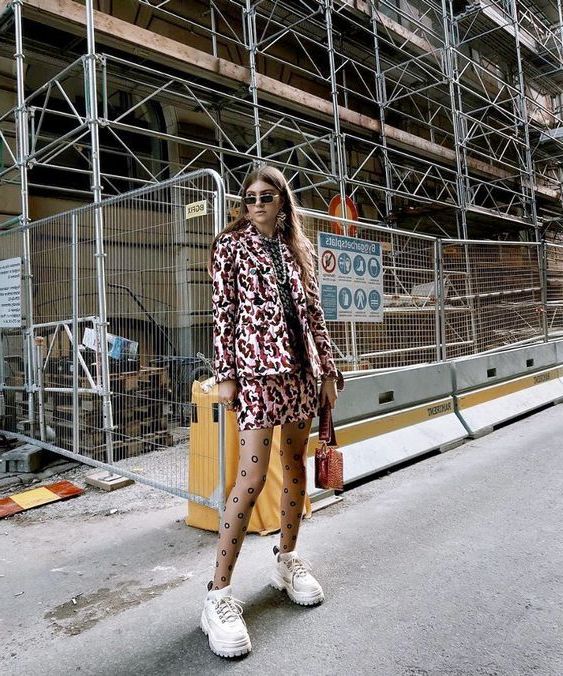 Buy Similar Here
Can I Wear Sneakers With Pink Pants
How about wearing a pink pantsuit with a white tee and cool white sneakers, a perfect combo for Fall season months: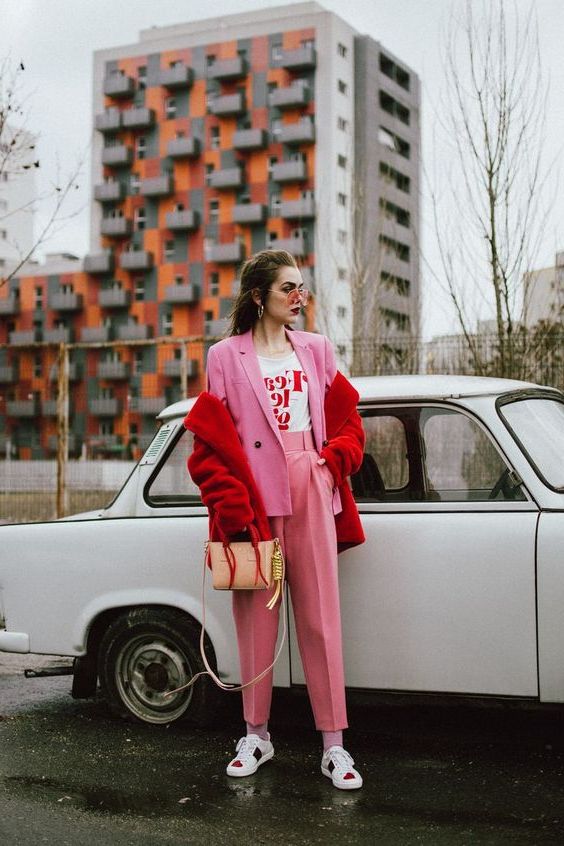 Buy Similar Here
Mini Skirt And Sneakers
A sexy, yet street glamour look. We see a relaxed cream-grey sweater tucked in high-waisted pleated mini skirt completed with chunky white sneakers: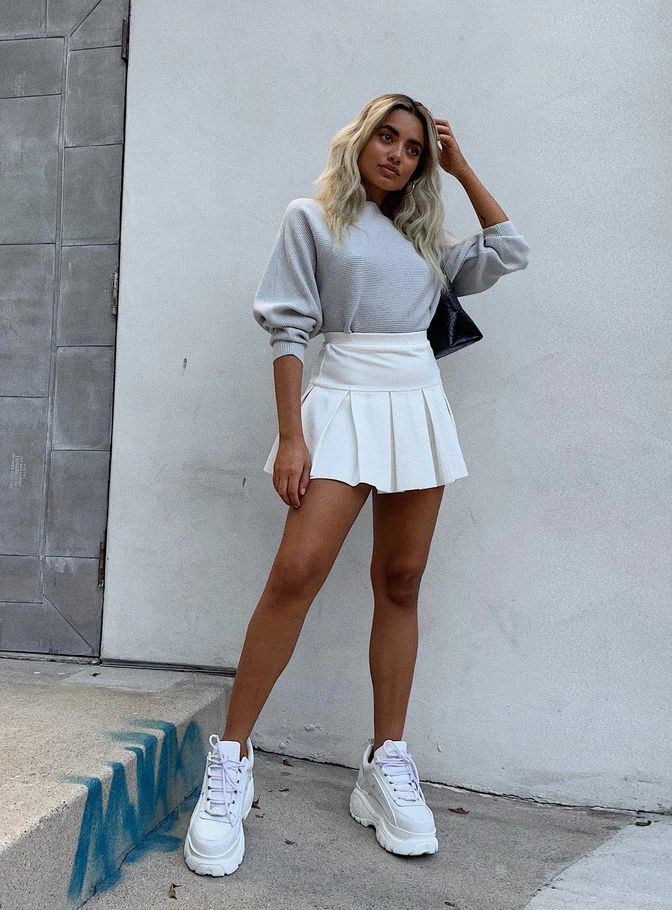 Buy Similar Here
FAQ
Q: What should I wear with sneakers?
A: A lot of people who wear sneakers like to keep the outfit fairly casual. You can go for a pair of jeans (whatever style you prefer) and a v-neck t-shirt, or you could dress up your look with a pantsuit or simply adding a blazer. It all depends on what you're going for – just make sure that you know what style is appropriate for the upcoming event! If you are wearing sneakers, you can pretty much wear anything! You can wear jeans, pants and skirts. You can also pair your sneakers with an assortment of shirts – graphic tees, t-shirts and polos.
Q: Where can I wear sneakers?
A: Sneakers are often worn for sporting activities, so it is safe to assume that sneakers can pretty much be worn whenever and for whatever you choose! If you're looking for a pair of comfy shoes that you can wear with your jeans or even to the office, sneakers are perfect!
Q: What brand of sneakers are considered high end fashion?
A: High fashion sneakers are usually made by luxury brands and retail at a much higher price point than their lower end counterparts. Most high end fashion sneakers will cost you between $250-$500.
Q: What are the different types of sneakers?
A: Sneakers can come in various forms and styles. Your first step should be to determine what type of sneaker you would like. Types include: low top, high top, for walking, dressy, casual sneakers.
Q: How many colors can you get sneakers in?
A: Sneakers are typically available in black, white, gray and red/blue/green/yellow etc. as solid colors. Some may also be available in more elaborate colors such as camouflage or zebra prints with the same colors found on the surface of the sneaker.
Q: Do sneakers have to match your outfit?
A: It is not a requirement that you wear your sneakers with another piece of apparel. We suggest that you wear them with attire you are comfortable with while also taking into consideration the rule of the occasion.
Q: How should I care for my new sneakers?
A: Make sure you clean your sneakers after every wear to prevent staining or damage to the shoe's material. Debris such as gravel, dirt and other bits of material that sticks to the bottoms of shoes when walking around outdoors should be wiped away occasionally with a damp cloth or towel.