In today's blog post I want to draw your attention to my favorite slip-on shoes and outfit ideas you can create with this footwear. You are about to see my favorite dressy and casual chic outfit ideas. You are about to see ways how to wear slip-on boots, loafers, tennis shoes, and high top sneakers.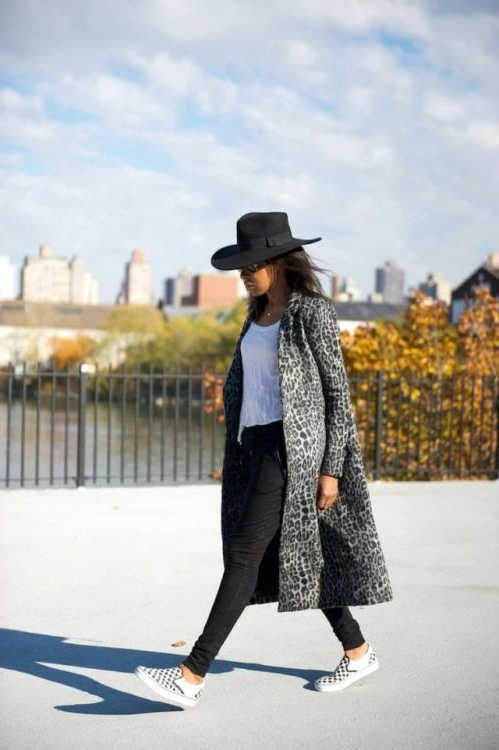 Buy Similar Here
My favorite look for Tomboy lovers. We see a young lady wearing a wide-brim fedora hat in black styled with a leopard print coat layered over a white top paired with black skinny jeans and black-white checkered slip-on shoes. Complete this style by adding rounded sunglasses.
Believe me, this footwear is a perfect choice for those who are tired of wearing high heels and want to try on something comfy, functional, relaxed-fit and easy to style. Of course, these are not formal or glamour footwear designs. But as you all know, fashion is a pure b@#ch that makes its own rules, so that women risk their careers by wearing these shoes at work and special occasions.
We see a nice combo for fall season months. A pastel grey field jacket is worn over a khaki green tee half-tucked in ripped slim jeans tucked in grey slip-on ankle boots: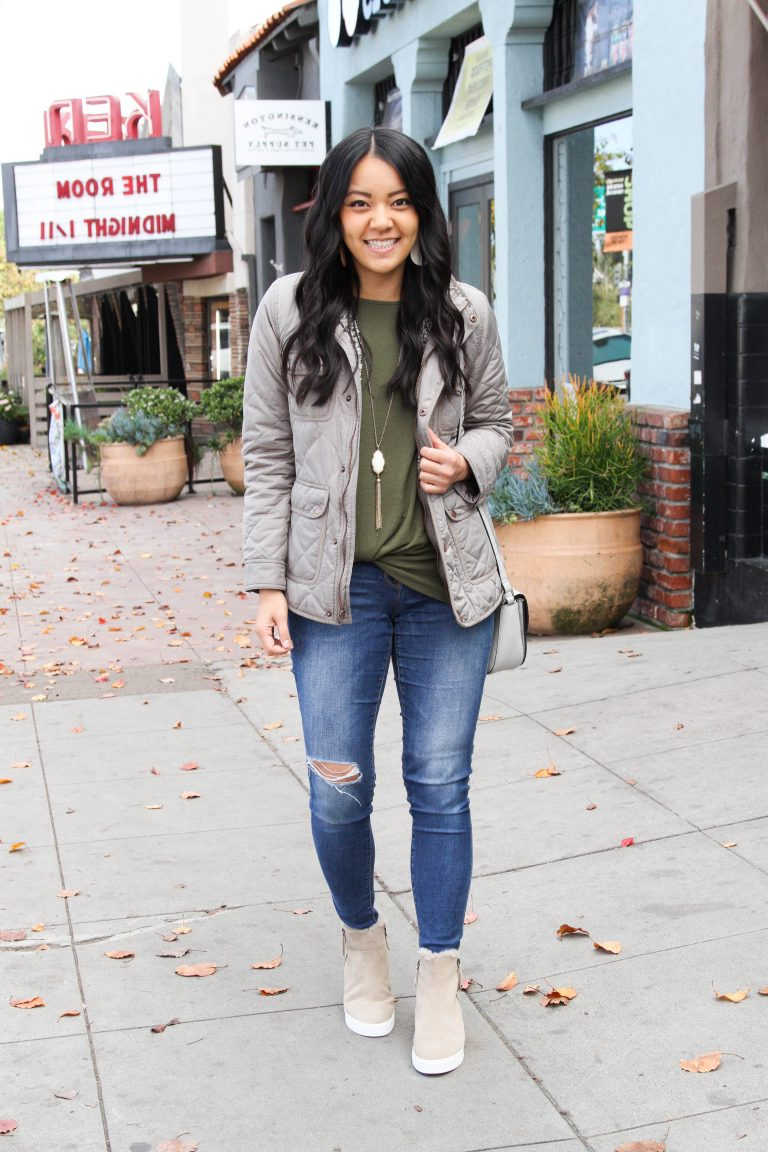 Buy Similar Here
Now, it's okay to wear them in the office, to business meetings and elsewhere else. I assure you can create lots of beautiful big city outfits. I think this footwear is a must-have for nowadays ladies, they can be seen everywhere right now. Read on to find out more and let me know your thoughts in the comments below.
Black and white is always a good idea. We see backless slip-on loafers in black leather worn with a basic white oversized tee tucked in black denim mini skirt. Update this combo by adding a pair of rounded sunglasses and a classic black leather shoulder bag: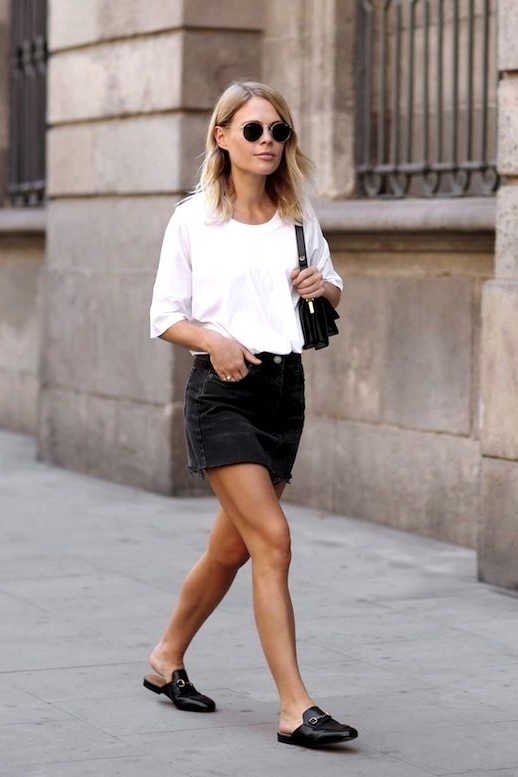 Buy Similar Here
Okay, these shoes are not only breathable, functional and easy to wear but also comfortable and can freshen up any outfit. You can wear them with your favorite big coats, oversized jumpers, sweaters, skorts, striped shirts, skinny jeans, sexy black patent leggings, bright color outerwear, and cool leather jackets.
Here we see another functional pair of slip-on booties in blush styled with frayed skinny jeans in blue:
Buy Similar Here
Aside from different clothing combos, there is a chance to find slip-on shoes in different kinds of colors and prints. Yes, you can try on animal print, metallic, tartan, neon-colored and pastel-hued slip-on shoes. I prepared this amazing street style gallery, where are shown my favorite outfit ideas completed with slip-on sneakers.
How To Wear Leather Slip On Shoes
Black leather slip-on shoes with white soles are styled with slim black leather ankle-length pants completed with a black-white striped top, cream-beige teddy bear coat and a black beanie hat: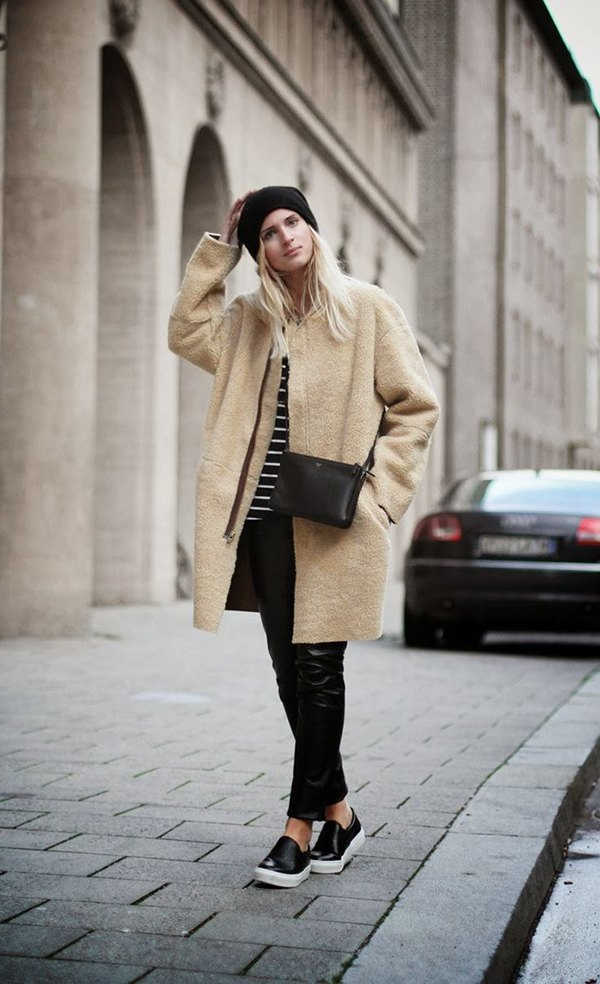 Buy Similar Here
Can I Wear Platform Black Slip On Loafers
An oversized high-neck cream-beige sweater looks perfect with ripped skinny jeans in blue and platform glossy black slip-on loafers: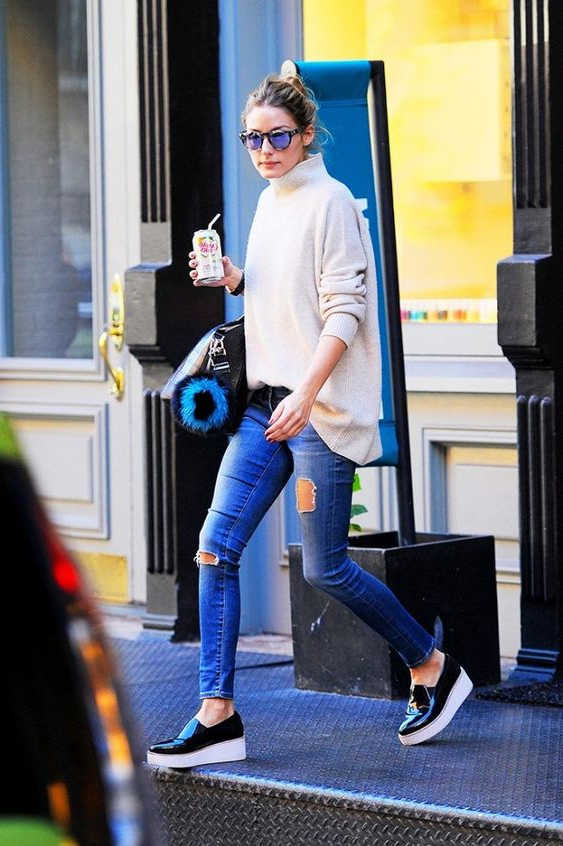 Buy Similar Here
How To Style Platform Slip-On Vans
A multi-striped oversized sweater is tucked in ankle-length skinny jeans completed with checkered platform slip-on Vans: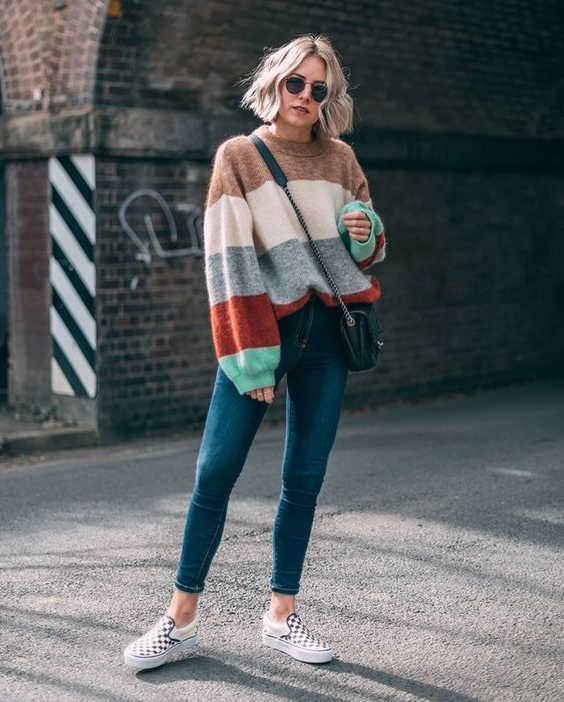 Buy Similar Here
Rainbow Vans Slip On Shoes
A pair of white slip-on shoes from Vans with rainbow print is styled with gingham print pants and a yellow pullover, a perfect combo for school days: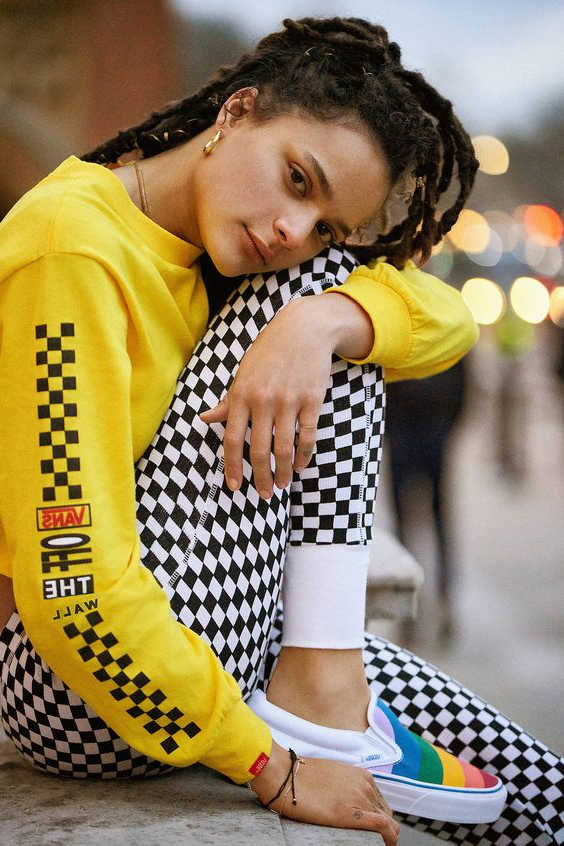 Buy Similar Here
How To Wear Slip-On Black Vans
Here we see a pair of black leather slip-on Vans are worn with ripped slim ankle-jeans in wash blue color completed with a spaghetti-strap black cami top. Complete this combo by adding a pair of rounded shades and a cream-grey handbag:
Buy Similar Here
Can I Wear Slip-On Boots
I highly recommend to try on slip-on boots. This type of footwear is comfortable and you are free to wear them from Mondays to Sundays. Try them on with ankle-length skinny jeans and a relaxed white sweater. An ideal look for festive weekends or casual street walks: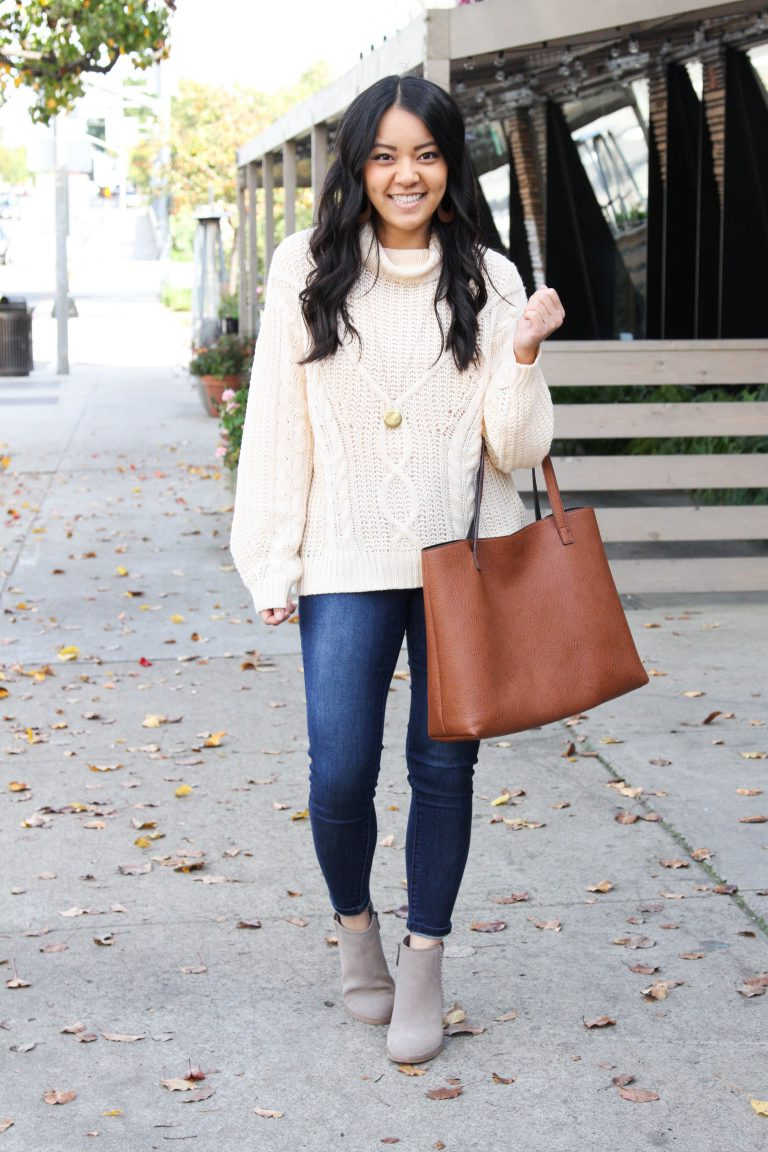 Buy Similar Here
Slip-On Checkered Vans
My next favorite is slip-on checkered Vans. They are easy to style with casual, dressy and smart-casual clothes. I use to wear them with rock and edgy outfits. Here we see a young lady dressed in a black leather jacket layered over a long silver-black cami dress completed with checkered slip-on Vans. Update this sophisticated look with a pair of rounded sunglasses: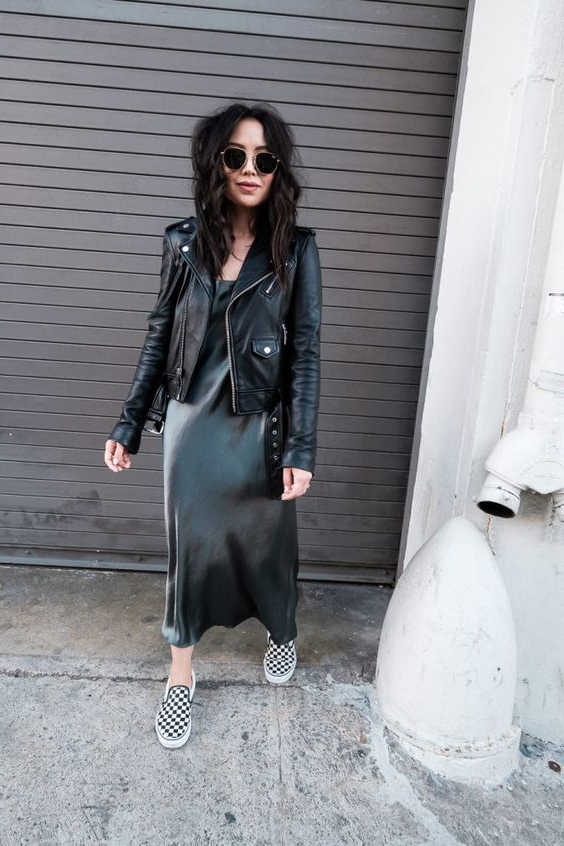 Buy Similar Here
How To Style Slip-On Checkered Vans
Go grunge and punk! We see a cool outfit idea for young ladies. A black leather jacket is worn with a white tee, red tartan shirt tied around the waist and ripped slim jeans in blue completed with black-white checkered slip-on Vans: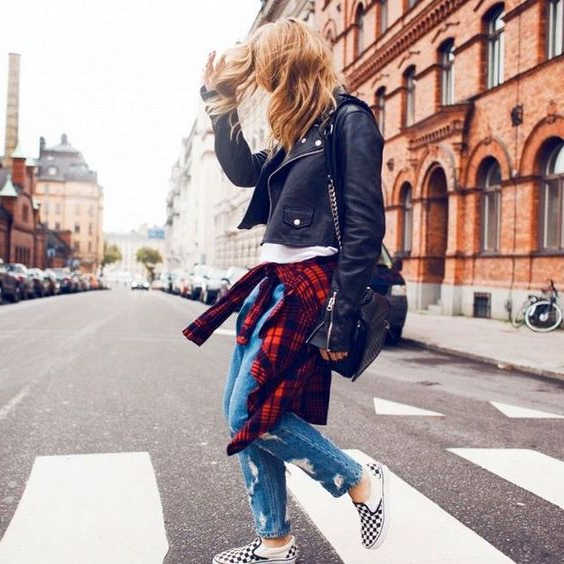 Buy Similar Here
Simple Outfit With Slip On Espadrilles
A wide brim straw hat looks ideal teamed with this bohemian midi dress in a lightweight fabric. Complete it with beige slip-on espadrilles. Love this bohemian outfit idea:
Buy Similar Here
Slip-On Grey Vans Outfit Idea
A khaki green field jacket looks ideal teamed with a grey top, black skinny jeans and grey slip-on shoes. Update it with a beige saddle bag. An ideal look for long walks during your countryside weekend: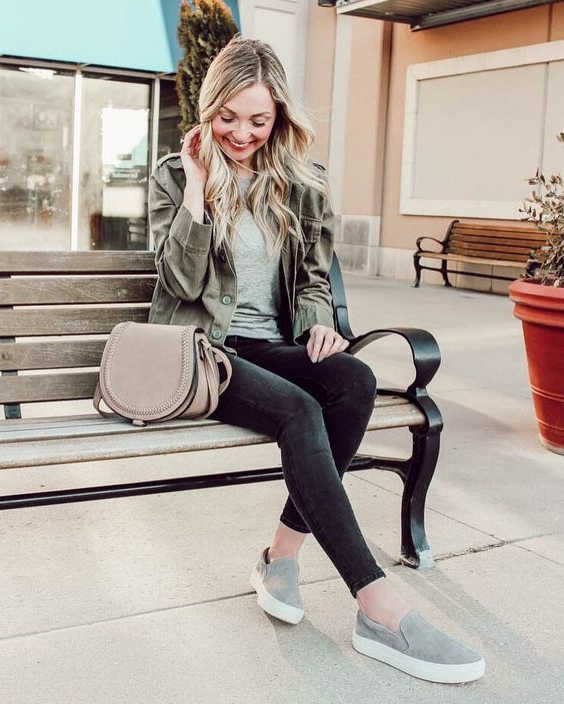 Buy Similar Here
How To Wear Slip-On High Top Sneakers
You are in the army now! Go for this camouflage print jacket and layer it over a basic long sleeve tee in white paired with cuffed slim jeans in wash-blue completed with cream-brown slip-on high-top sneakers: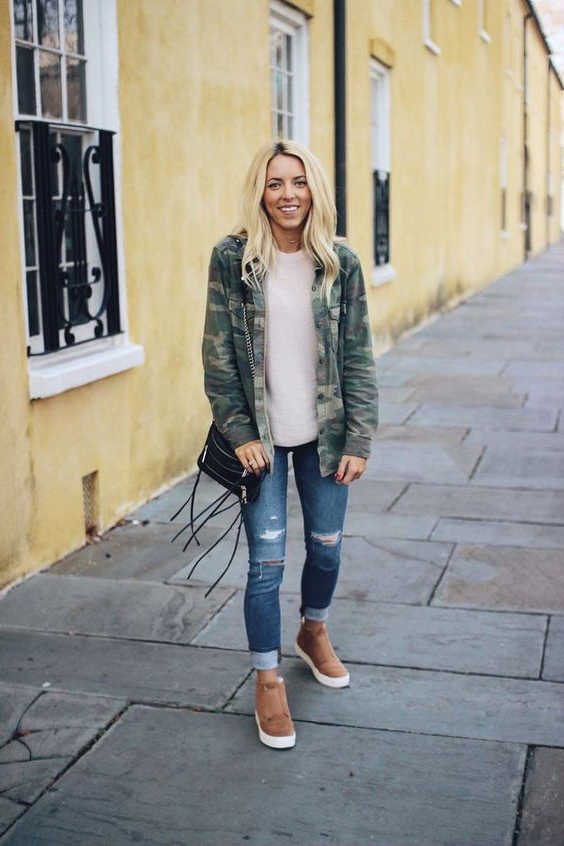 Buy Similar Here
Slip-On Knit Sneakers
Go for these slip-on knit sneakers in light grey by wearing them with black skinny jeans, and peasant white blouse. Complete the look by adding rounded sunglasses and a cream-grey shoulder saddle bag embellished with tassels: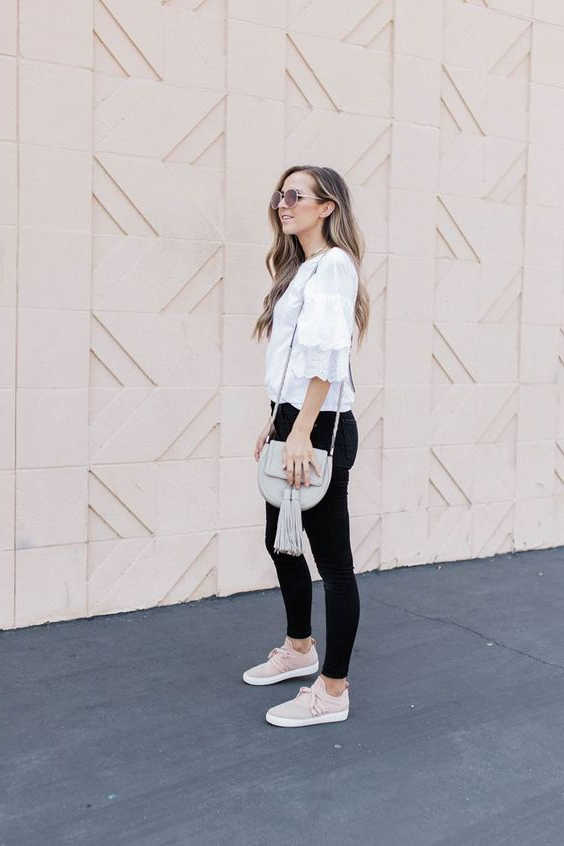 Buy Similar Here
How To Style Slip-On Leopard Shoes
If you are into a wild side, then I highly recommend giving a try to this simple day look consisting of a light blue chambray shirt tucked in slim black leather pants completed with leopard print slip-on shoes. Speaking of prints, then I highly recommend to check my post on ways how to wear animal print shoes, you are about to see a complete guide on what footwear designs are in trend right now and what clothes you can pair them with: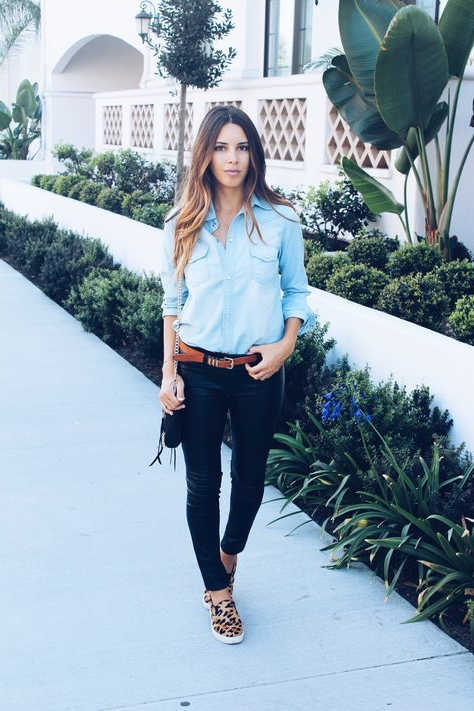 Buy Similar Here
Can I Wear Slip On Loafers
A peasant pinstripe white off-shoulder blouse ideally suits regular jeans completed with beige-grey slip-on loafers. A perfect choice for Summer trips. I like wearing slip-on loafers with basic tops and bottoms, I try to keep my outfit as simple as possible: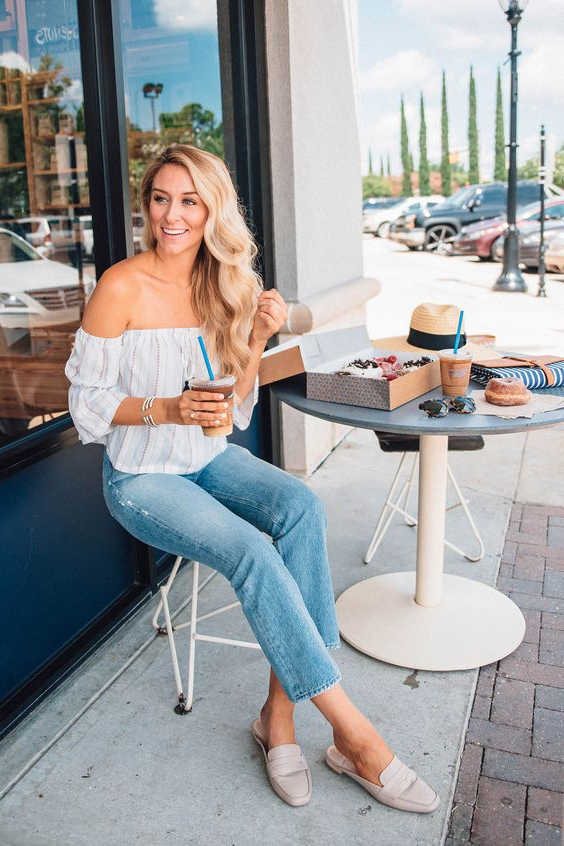 Buy Similar Here
Slip-On Vans In Pink
As you already know me, I do like simplicity and relaxed outfits. That's why I fell in love with this combo. It consists of a striped blush-white sweater, high-waisted black skinny jeans, and pink slip-on Vans. Complete it with oversized sunglasses and a blush bucket bag: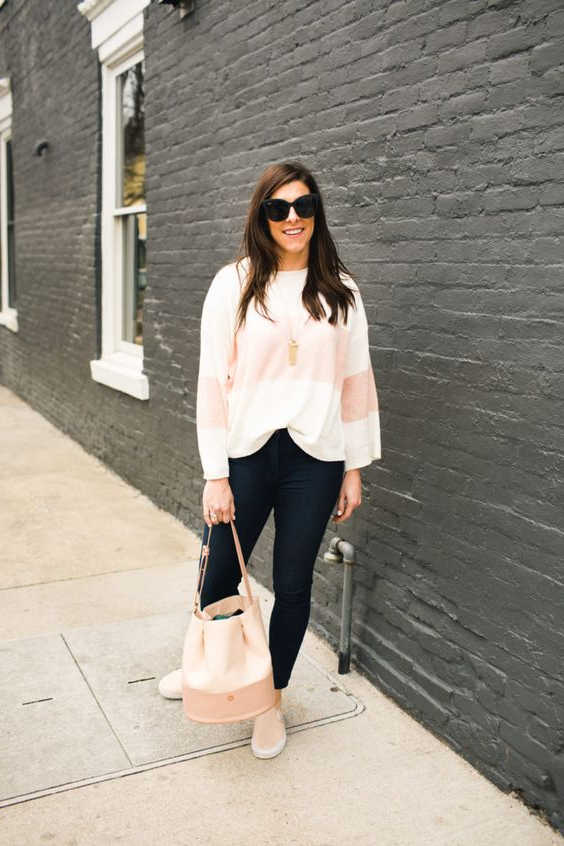 Buy Similar Here
Slip-On Platform Sneakers Office Outfit Idea
If you are looking for a nice work outfit idea, then you definitely should try on a black and white look. We see a black blazer teamed with a white top tucked in white skinny jeans completed with black slip-on platform sneakers with white soles. Complete this office look by adding cool shades and a black leather tote bag: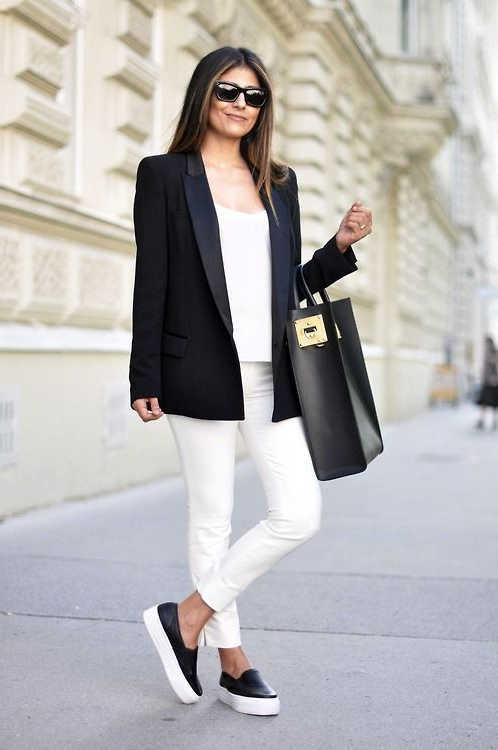 Buy Similar Here
How To Style Slip-On Quilted Shoes
A pair of black leather slip-on quilted shoes look amazing with a green bomber jacket, grey top and ripped skinny jeans in blue. A nice choice for casual weekends. Why do I like quilted slip-on shoes so much? They are pretty easy to style with your everyday clothes: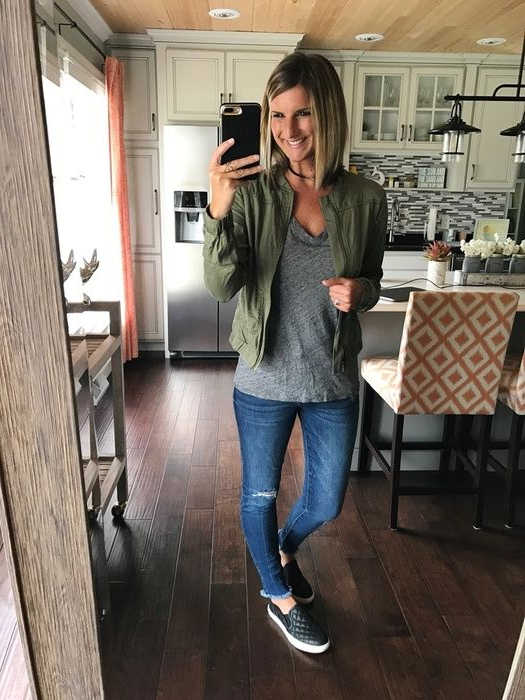 Buy Similar Here
Slip-On Quilted Tennis Shoes
How about creating a kind of preppy look with our beloved slip-on shoes? Go for this blush midi cardigan and layer it over a light blue chambray shirt tucked in a midi skirt in pale-grey completed with blush slip-on quilted tennis shoes: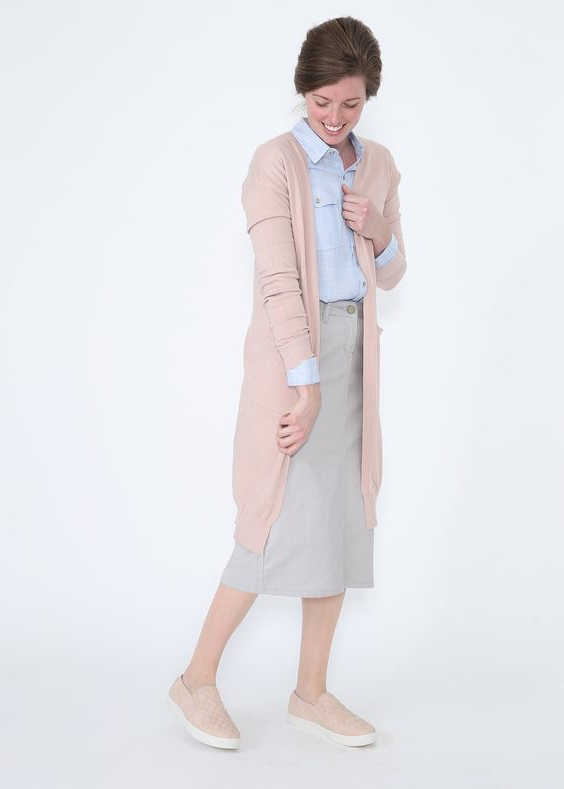 Buy Similar Here
Slip-On Red Vans
Update your casual day with bright colors. We see a young lady wearing a loose-fit white V-neck tee paired with knee-ripped slim jeans in blue completed with a pair of slip-on red Vans and a red shoulder bag. Update this combo with classic Wayfarer sunglasses: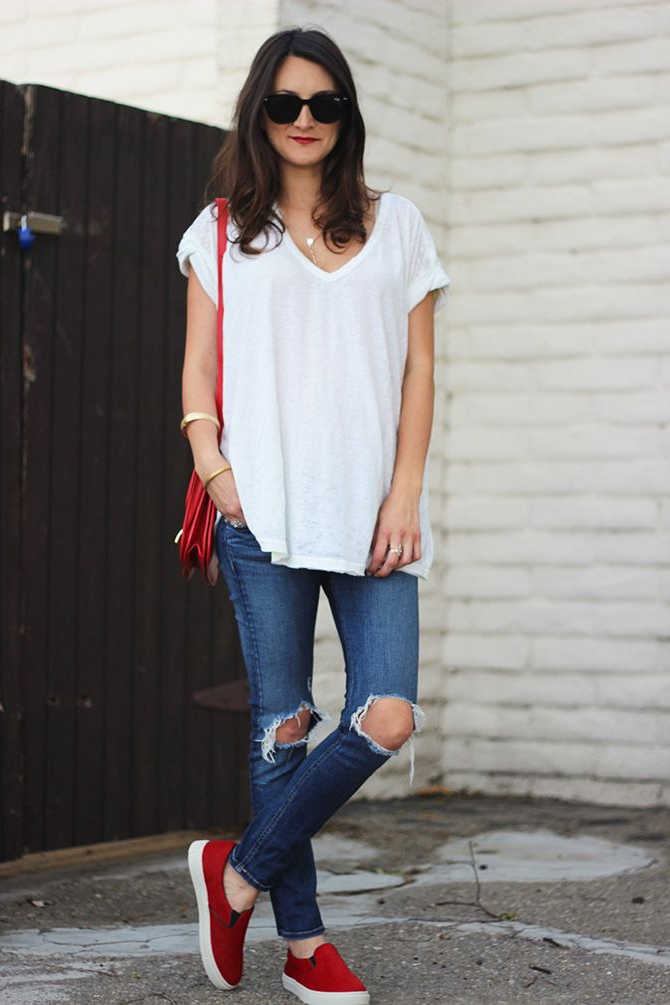 Buy Similar Here
Simple Slip On Sneakers Outfit Idea
A pair of grey slip-on sneakers look great with knee-ripped skinny jeans and a black long cardigan, complete this combo by adding a pastel grey backpack: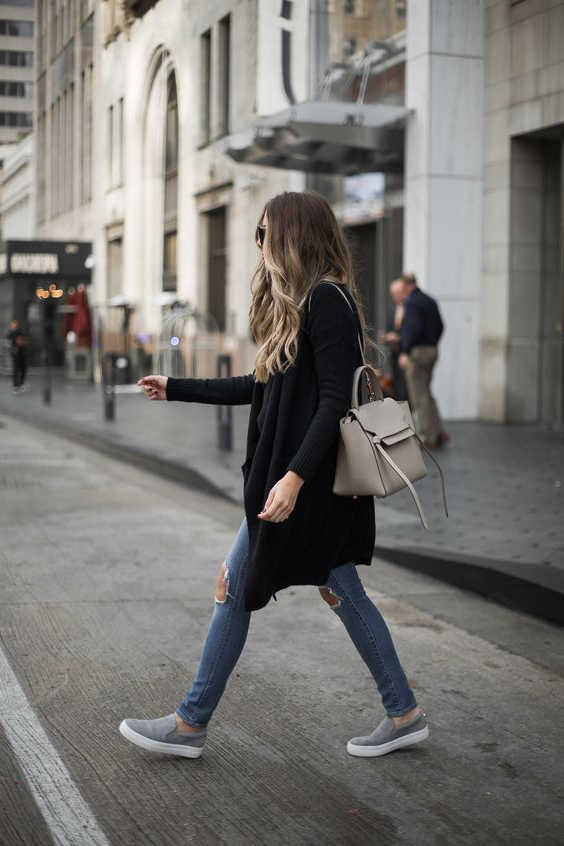 Buy Similar Here
Slip-On Vans Outfit Idea
A perfect look for Wednesday's day off. Keep it simple, yet classy. A basic pastel blue shirt can be easily paired with knee ripped black skinny jeans and black slip-on Vans: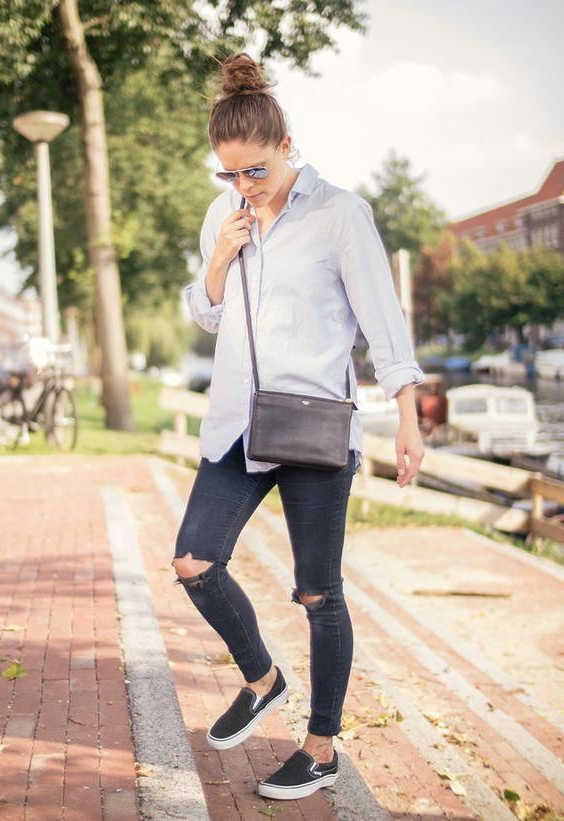 Buy Similar Here
Slip-On Yellow Checkered Vans For School
Get busy! Go for this cool pulp fiction black tee and combine it with ripped blue jeans and checkered slip-on shoes. A nice combo for school girls: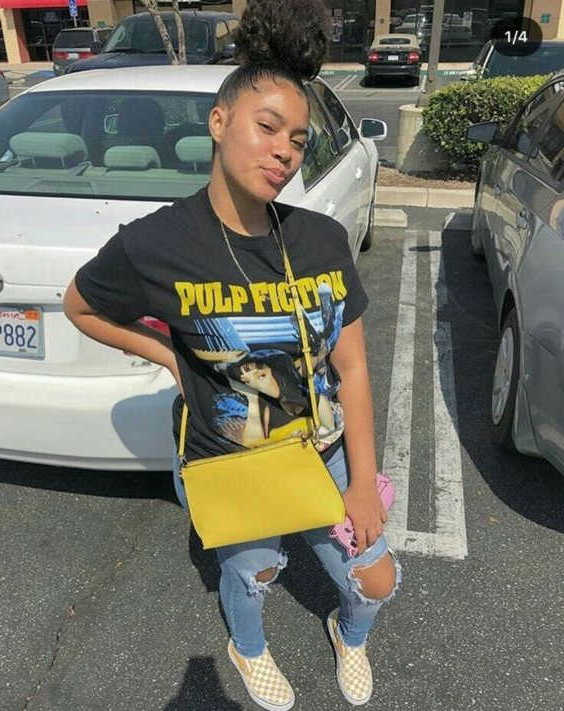 Buy Similar Here
Slip-On Yellow Vans Cool Outfit Idea
Check out this monochrome look for the summer season. We see a pastel yellow shift dress combined with light yellow slip-on shoes: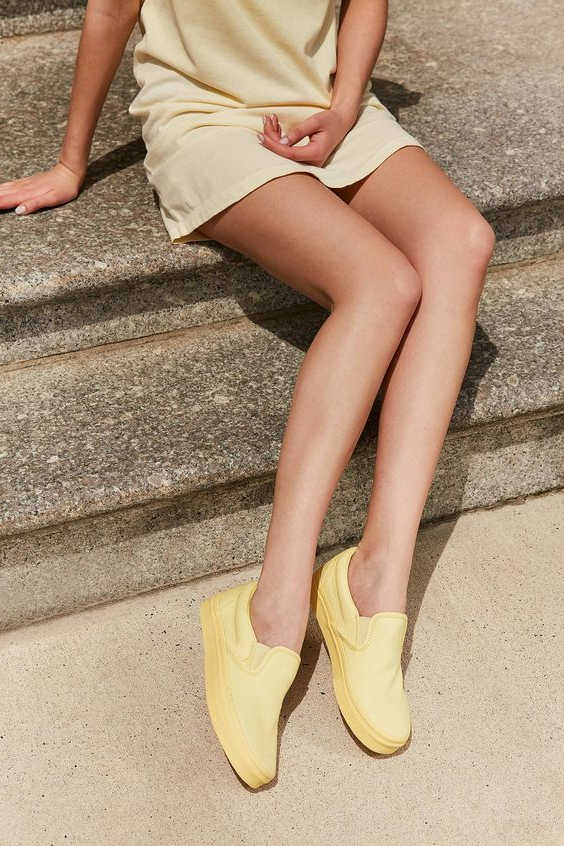 Buy Similar Here
How To Wear White Slip-On Vans
We see a great black-white colored style for the chilly spring season. A young lady is wearing a black baseball cap with a grey pullover tied around the neck, white tee teamed with black skinny jeans and white slip-on shoes. Complete this look with Clubmaster sunglasses and black leather tote bag: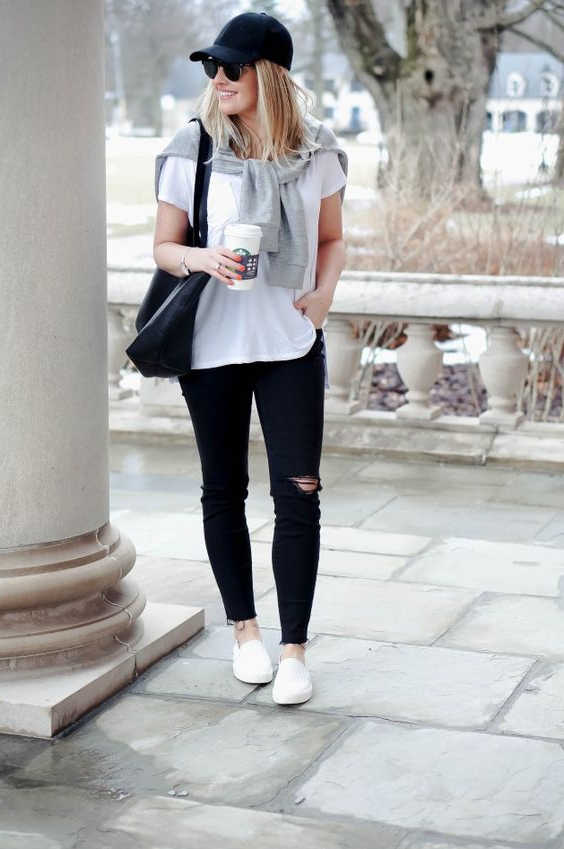 Buy Similar Here