Let's talk about mannish footwear. In today's blog post I decided to show you my favorite and comfiest designs of Oxford's shoes to try this year. Believe me, this mannish footwear will surely make you stand out from the crowd.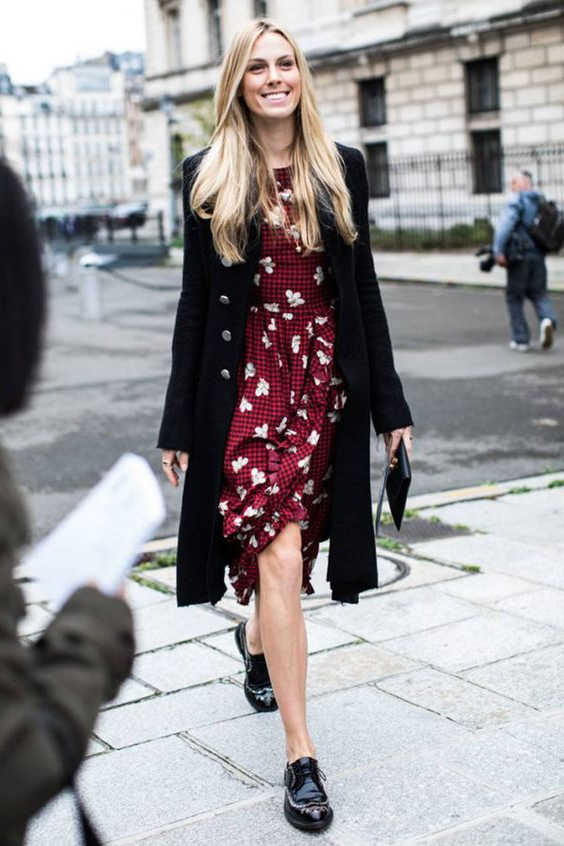 Buy Similar Here
Another great way to underline your individuality. We see a black long coat layered over a micro gingham print dark red midi dress printed in bees. The outfit is completed with glossy black leather Oxford shoes.
There are lots of great styles that can be incorporated with your smart-casual and preppy outfits. It's no wonder why this footwear is on-trend right now. In this compilation are gathered my favorites designs and ways how to make Oxfords look awesome one you. Read on to find out more and don't forget to tell me your thoughts in the comments below.
We see an easy weekend look consisting of a cream-white sweater, washed blue ripped ankle-length jeans and tan Oxfords: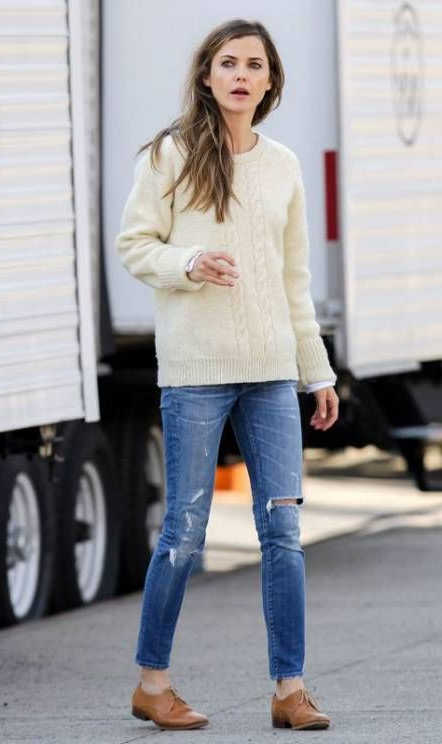 Buy Similar Here
This is an ideal footwear to wear all year round. If you still don't own this kind of style, then you better buy get one right now. You never know will it be warm or cold during spring seasons, that's why Oxfords always play in a safe mode.
We see a marvelous example of how to draw everyone's attention to your footwear. A black leather jacket is styled with a black crop top, black leather high-waisted pencil skirt and a pair of leopard print Oxfords. Complete this combo by adding rounded sunglasses and a light brown shoulder bag. Hey, I've got another great story to share with you, I want to show my favorite ideas how to wear leopard print shoes, you are about to see marvelous combos that are easy to wear in real life: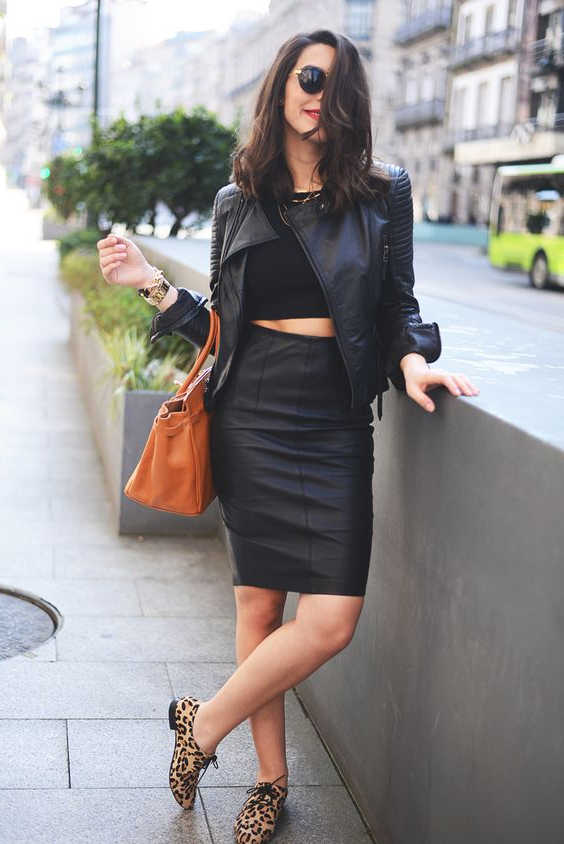 Buy Similar Here
As you can see from the images below, there are lots of amazing looks to get inspired by. This mannish footwear looks awesome with feminine dresses, skinnies, full skirts, flared skirts, as well as with overalls and rompers. I am pretty sure you gonna copy all the showcased outfits. Keep on scrolling to see how and with what to wear Oxfords this year.
Can I Wear Men's Oxfords? As long as the size fits you, you are free to buy men's Oxfords. Frankly speaking, I don't see the difference between men's and women's Oxfords, of course, if the footwear comes with heels or any other feminine detailing, then you can call them women's Oxfords, but in other cases, they are unisex. What makes me love this footwear, then it's their versatility. Oxford shoes are ideal for office wear. I admire ladies who style their suits and pencil skirts with mannish footwear.
Burgundy Oxford Shoes
A pair of glossy burgundy Oxford shoes with a high platform is styled with black skinny pants, basic white top, a long coat in Prince of Wales print and a burgundy scarf: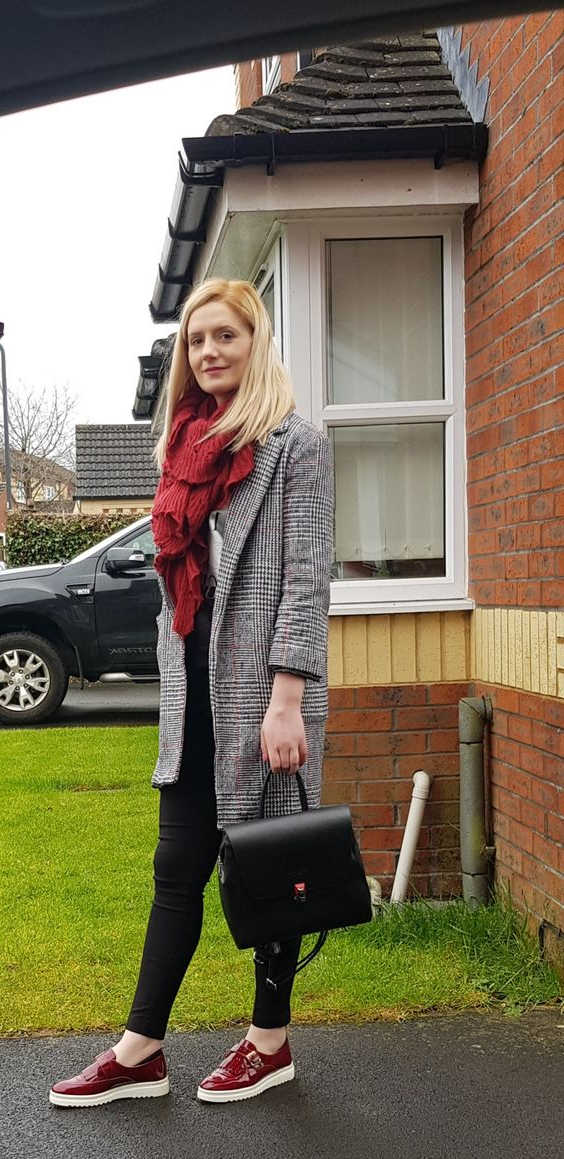 Buy Similar Here
Black Oxfords Outfit Idea
Sometimes we want to wear something simple and classy, like a black blazer with a pussy-bow blouse in white and cuffed slim jeans in wash blue completed with glossy black leather Oxfords: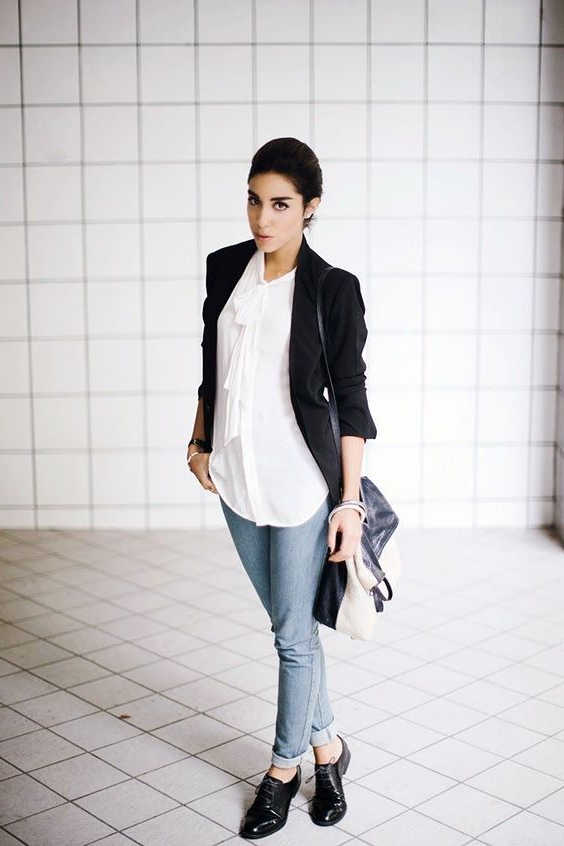 Buy Similar Here
How To Style Black And White Oxfords
If you are into color blocking trend, then go for black and white Oxford shoes, they look awesome styled with navy pants, white shirt, and a blue-white striped jacket. Complete the look by adding mirrored rounded sunglasses and a classic black leather handbag: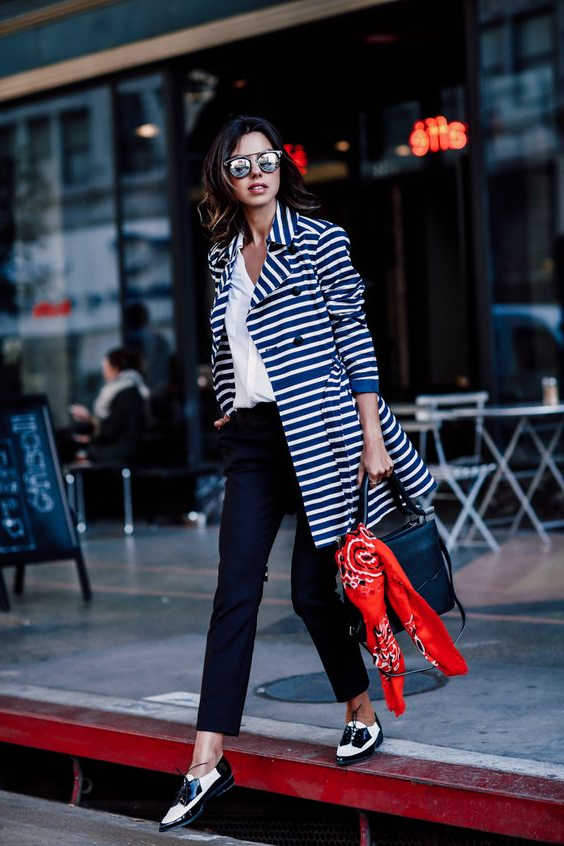 Buy Similar Here
Brown Oxford Shoes
If you are looking for classic footwear, then a pair of brown Oxfords are a perfect choice. Here we see brown Oxfords with a high platform paired with black skinny pants, a white top and a denim jacket in blue, complete it with aviator sunglasses and a brown leather tote bag: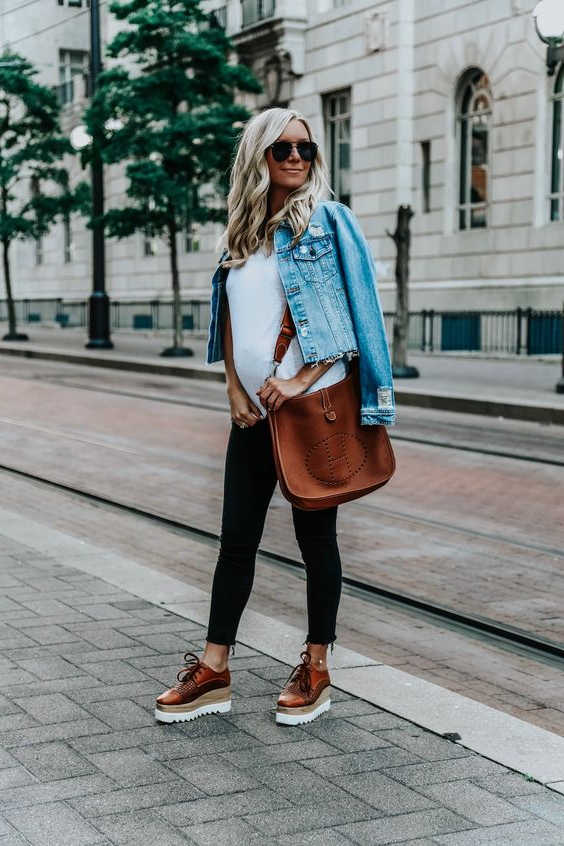 Buy Similar Here
How To Wear Dark Brown Oxford Shoes
A pair of vintage dark brown Oxfords look cool styled with black skinny jeans, black shirt, and a cream-grey blazer:
Buy Similar Here
Gold Oxford Shoes
A classic fit black pantsuit looks mannish, yet business-appropriate. Complete it with metallic gold Oxfords: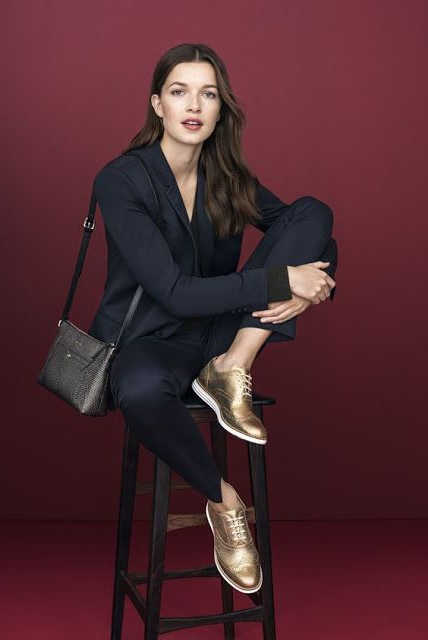 Buy Similar Here
Green Oxford Shoes
Green Oxfords with buckles look terrific with a brocade blue jacket, green top, and black ankle pants. Complete, this look by adding blue lense sunglasses and a black leather shoulder bag:
Buy Similar Here
Grey Oxford Shoes
How about wearing a pair of grey Oxford shoes with a high platform? Go for them and add a pair of slim black ankle pants with white vertical stripes and a white turtleneck layered under a beige slim blazer. Complete this combo by adding cool 90s style sunglasses and a stylish cream-grey clutch bag: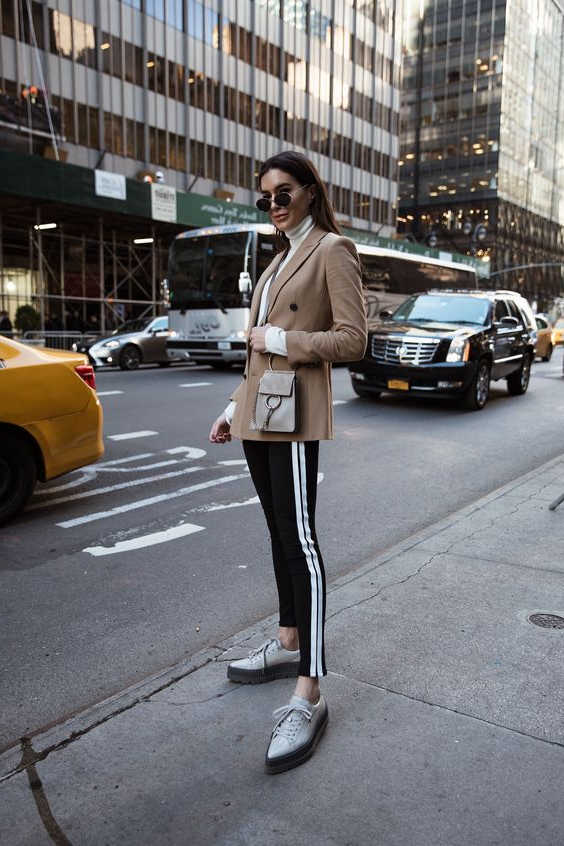 Buy Similar Here
Silver Oxford Shoes
A dark blue sweater is layered over a plaid print shirt tucked in cuffed knee-ripped slim jeans completed with shiny silver Oxford shoes. In love with these aviator sunglasses: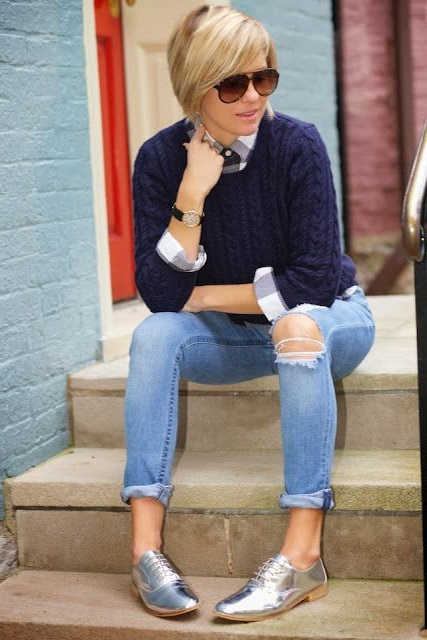 Buy Similar Here
Red Oxford Shoes
A pair of red leather Oxfords with brogue detailing are styled with black socks, black skinny pants, pastel yellow top, and a grey cardigan, a kind of smart-casual retro combo: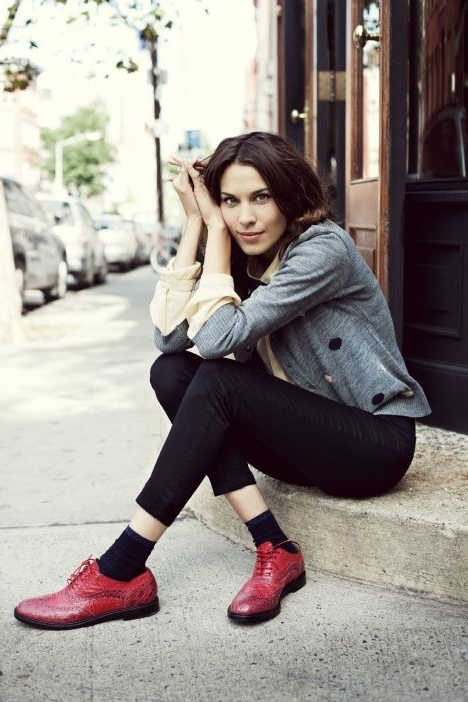 Buy Similar Here
Silver Oxford Shoes
How about mixing red with silver? Here we see a dark red pantsuit worn with a white shirt, and silver Oxfords. Complete this business style combo by adding aviator sunglasses and a black-white oversized handbag: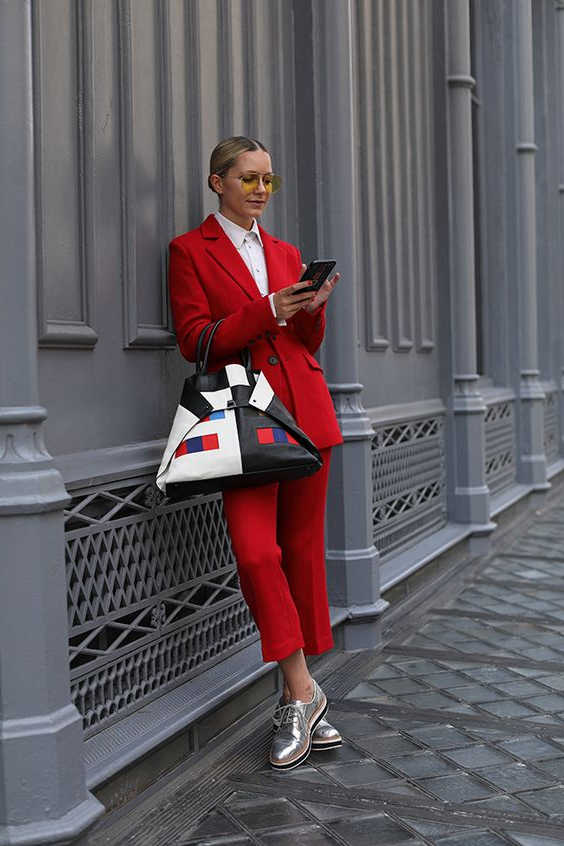 Buy Similar Here
Can I Wear Yellow Oxford Shoes
A classic yellow-mustard Oxfords shoes look just fine teamed with ripped ankle-length slim jeans and a grey mannish coat completed with a black scarf: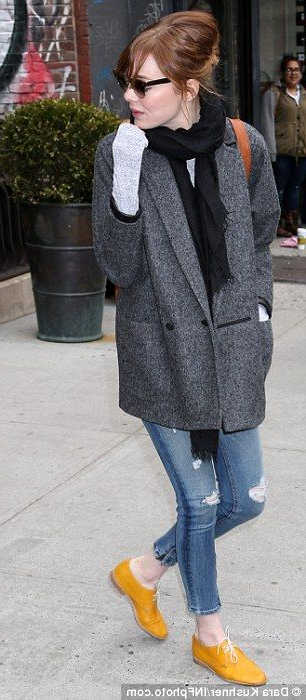 Buy Similar Here
Two-Tone Oxford Shoes
Go bold and try on a black-white outfit idea. We see a black fedora with a black long-sleeve mini dress and black-white Oxford shoes, A fancy glamour outfit for young ladies: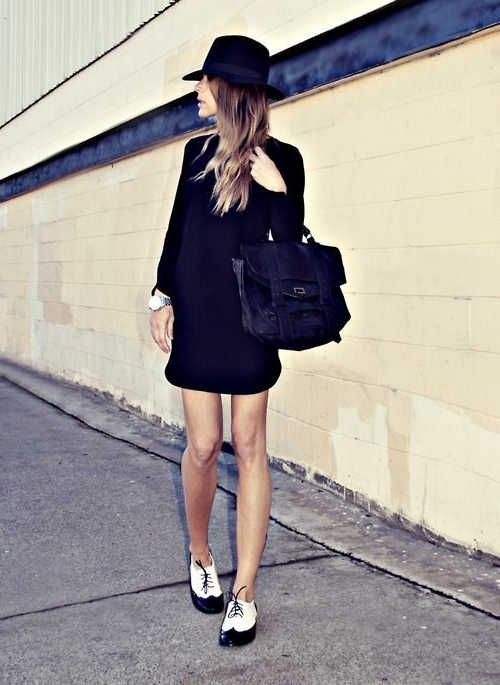 Buy Similar Here
Can I Wear Oxfords With A Black Dress
A black sheath dress ideally suits that business blazer. Complete the look by adding opaque tights and bronze Oxfords: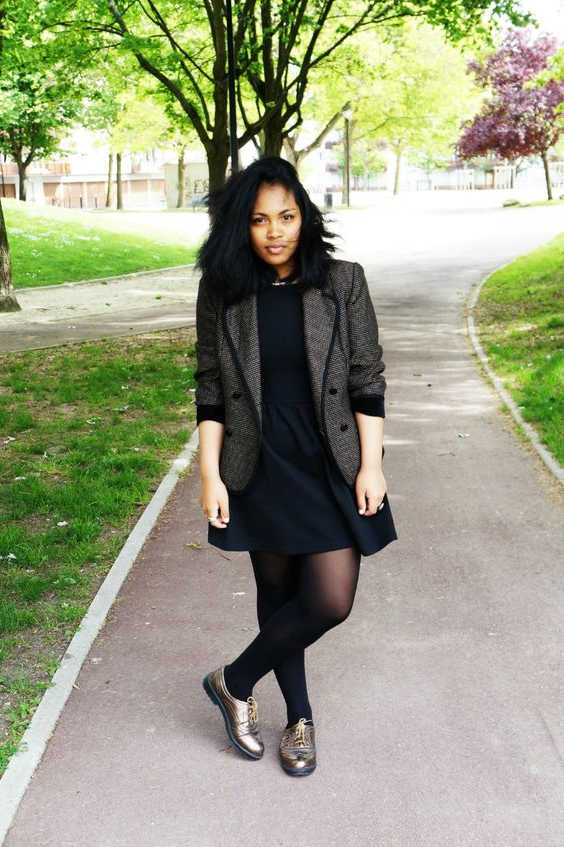 Buy Similar Here
How To Style Oxford Shoes With Black Jeans
I am a big fan of black color and I love to see women who go all in black. Here we see a nice example of what I am talking about, a black shirt is tucked in black skinny jeans completed with glossy black leather Oxfords, complete this look with a black leather jacket: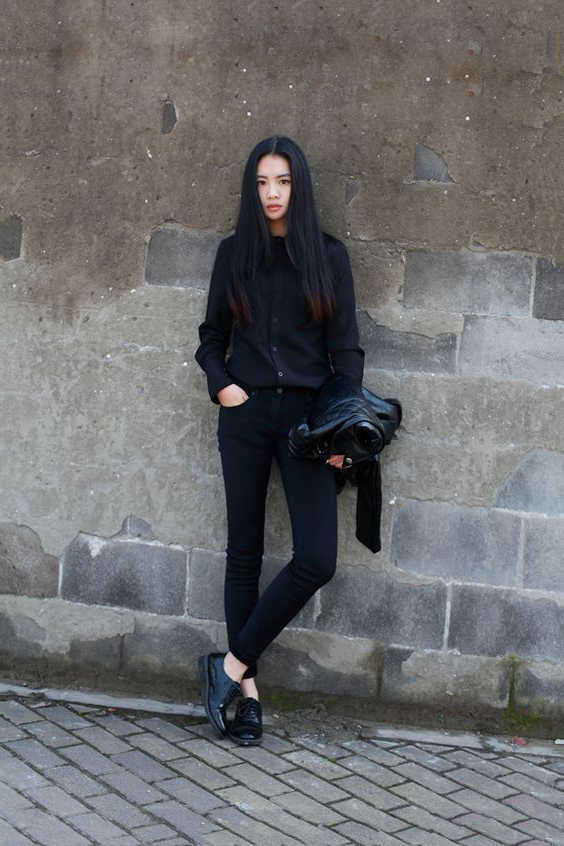 Buy Similar Here
Can I Wear Oxfords With Black Leather Pants
If you are not into an all-black style, then you might like to try on this combo. It consists of black embroidered Oxfords styled with ankle-length black leather pants paired with a white shirt and a black leather biker jacket. Complete this outfit with a pair of 90s style sunglasses: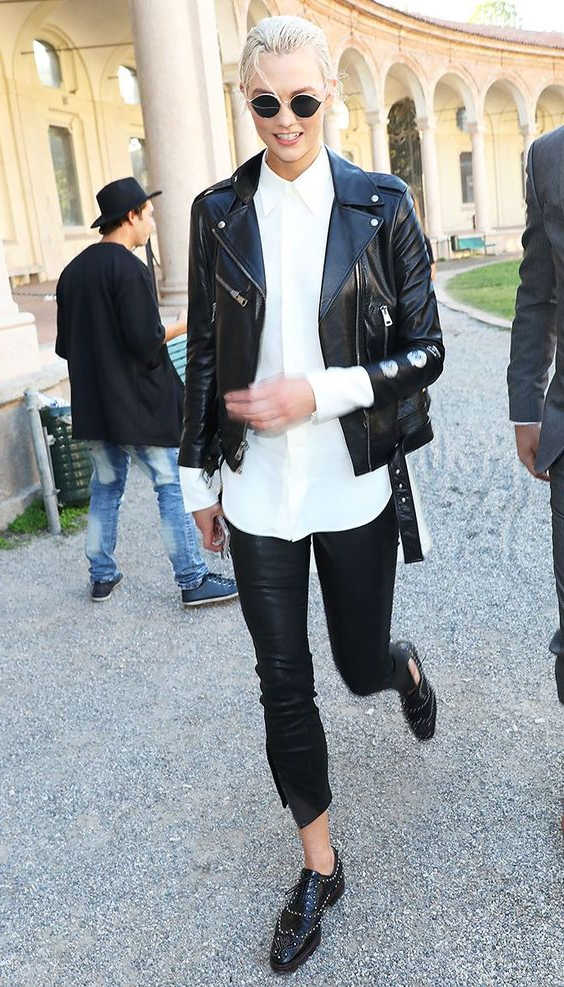 Buy Similar Here
How To Style Oxfords With A Denim Dress
Have fun with denim! Go for this plaid oversized scarf and pair it with a long-sleeve denim shirt dress and classy Oxfords styled with knitted socks. Denim is an easy way to make your style appropriate for relaxed atmosphere: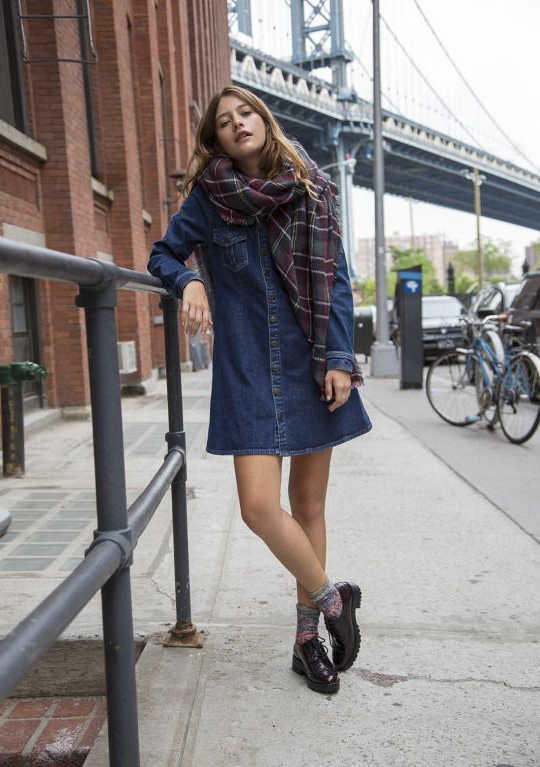 Buy Similar Here
Easy Way To Wear Oxfords With Jeans
Yes, Oxfords look amazing styled with denim. I love to see women who wear these flats with denim apparel. Here we see a blonde wearing a black blazer over a black-white striped top paired with knee-ripped slim jeans in blue completed with black leather Oxfords. Update this smart-casual outfit with rounded sunglasses: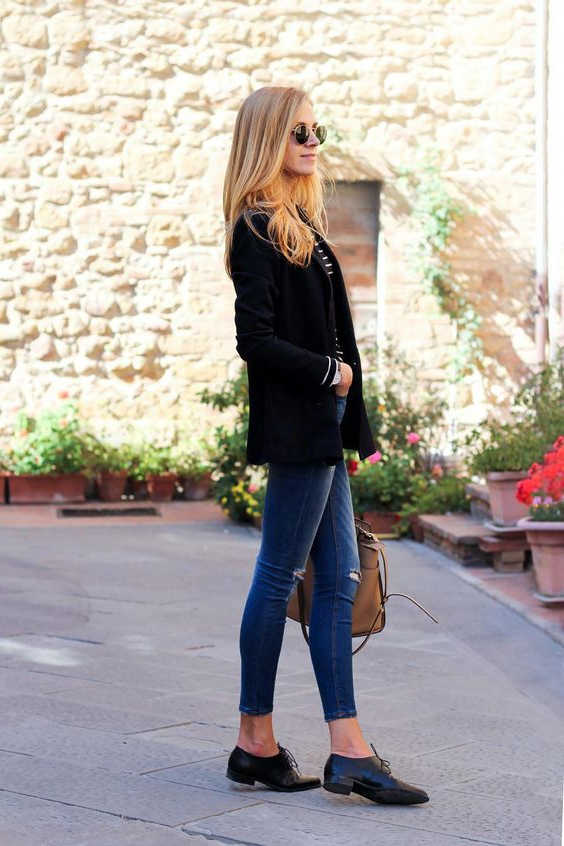 Buy Similar Here
Can I Wear Oxfords With Skinny Jeans
A perfect combo for Friday office hours. We see a navy jumper layered over white dotted navy shirt teamed with wash skinny jeans in blue. Complete this smart-casual style with grey Oxfords: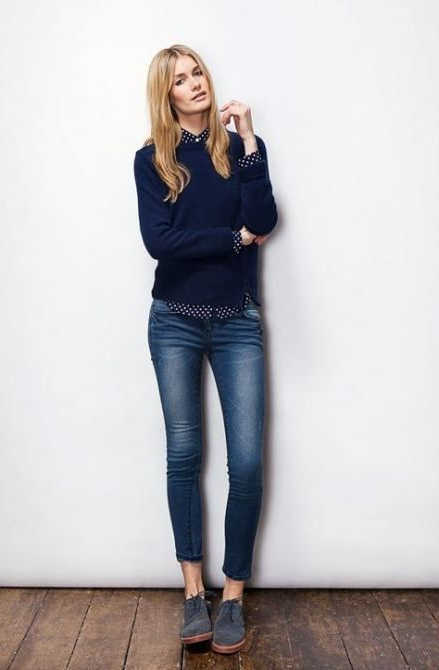 Buy Similar Here
Oxford Shoes And Knee Socks
Keep it funky, simple and relaxed! Go for this cable-knit sweater-dress in grey color and style it with dark-grey over-the-knee socks worn with brown Oxfords. Complete this casual weekend style by adding aviator sunglasses and a black leather shoulder bag: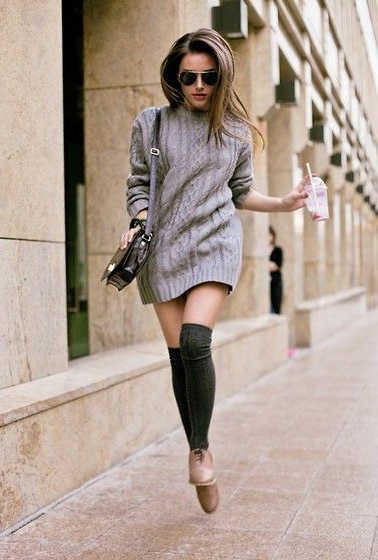 Buy Similar Here
How To Wear Oxfords With A Skirt
Another cute Parisian chic combination. We see a brimmed black hat, black cardigan, black-white striped tee tucked in maroon leather mini skirt and completed with classic black leather Oxfords: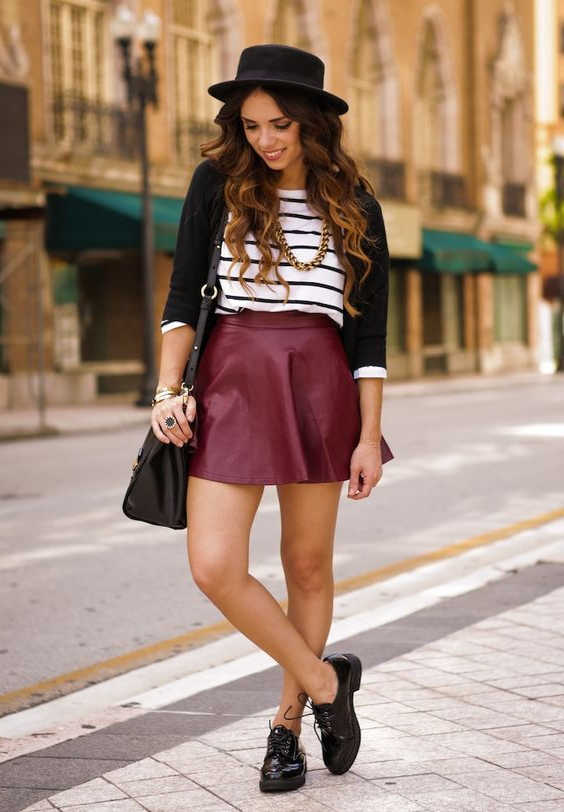 Buy Similar Here
How To Wear Oxfords With Chinos
Some ladies want to keep things simple and smart-casual. That's why you might like to try on classic brown leather Oxfords with cuffed slim khaki-green chinos and a relaxed cream-white sweater. It's one of my favorite looks: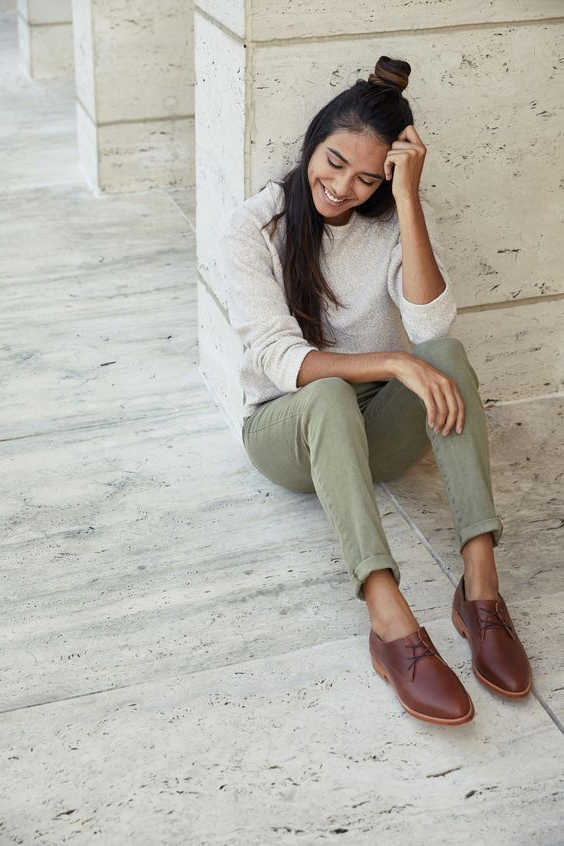 Buy Similar Here
Oxfords With Navy Pants
Say hello to French chic combination. A light brown turtleneck is tucked in navy high-waisted slim ankle pants completed with bright brown glossy Oxfords. Why is it so French chic? It's all because of simplicity, French ladies love wearing comfortable clothes with no intricate detailing:
Buy Similar Here
Oxford Shoes With A Pencil Skirt
My next favorite is this outfit idea consisting of a ribbed bulky sweatshirt in grey teamed with a black pencil skirt and chunky black leather oxfords: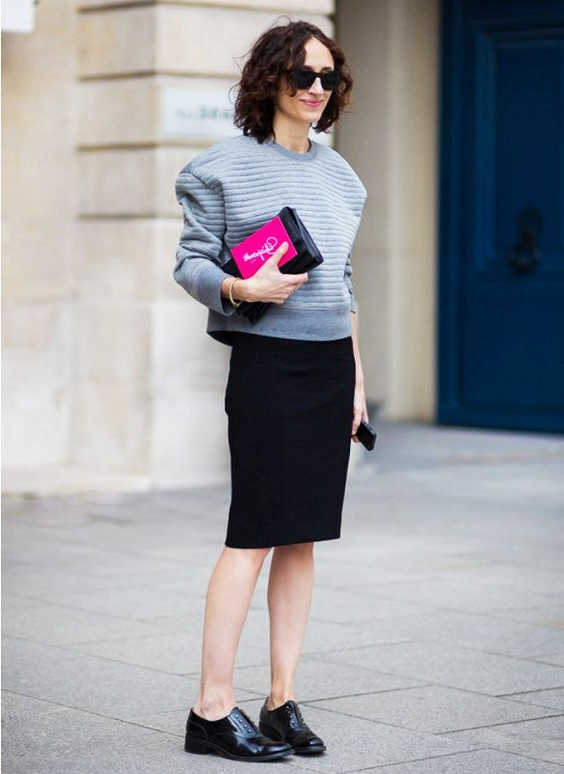 Buy Similar Here
Oxford Shoes With Shorts
A camel long-sleeve top can be tucked in high-waisted black shorts in white dots completed with opaque tights and glossy black leather Oxfords. Update this combo by adding a wide-brim camel hat and a shoulder bag in light brown leather: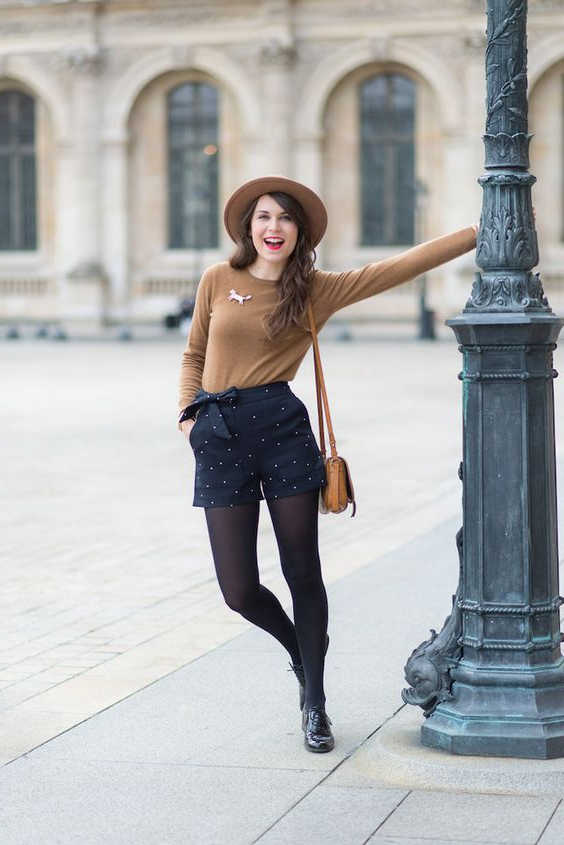 Buy Similar Here
Can I Wear Oxford Shoes With Socks
Oxfords shoes should be worn with socks, the only thing is either to wear them with invisible socks or make everyone see what kind of socks are paired with your beloved Oxfords. Here we see a young lady wearing vintage brown Oxfords with Isle print white socks, grey cuffed chinos, blue top, and a denim jacket. Complete this combo with a ribbed knit grey beanie to create a stylish hipster touch: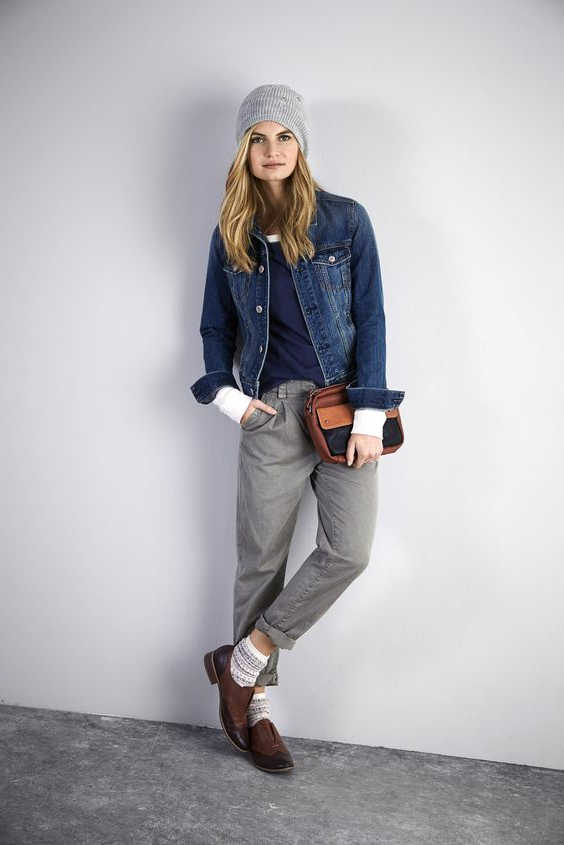 Buy Similar Here
Oxford Shoes With A Suit
Keep it retro chic! Go for this plaid brown pantsuit and style it with dark red Oxford shoes, red pussy-bow blouse and a heart-shape sunglasses in red: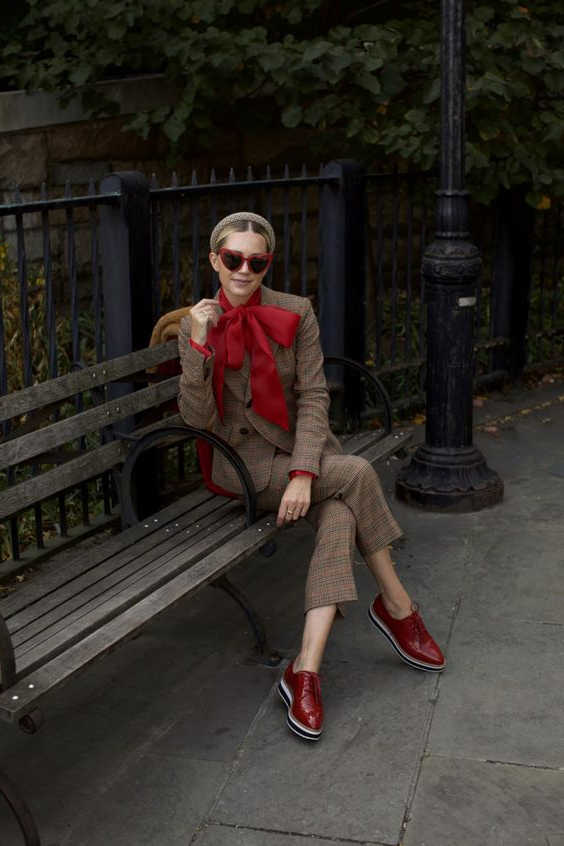 Buy Similar Here
Oxford Shoes With Tassels
Silver metallic platform Oxfords shoes with white soles and tassels look youthful and sweet paired with white skinny jeans and a pinstripe blue-white button-down shirt: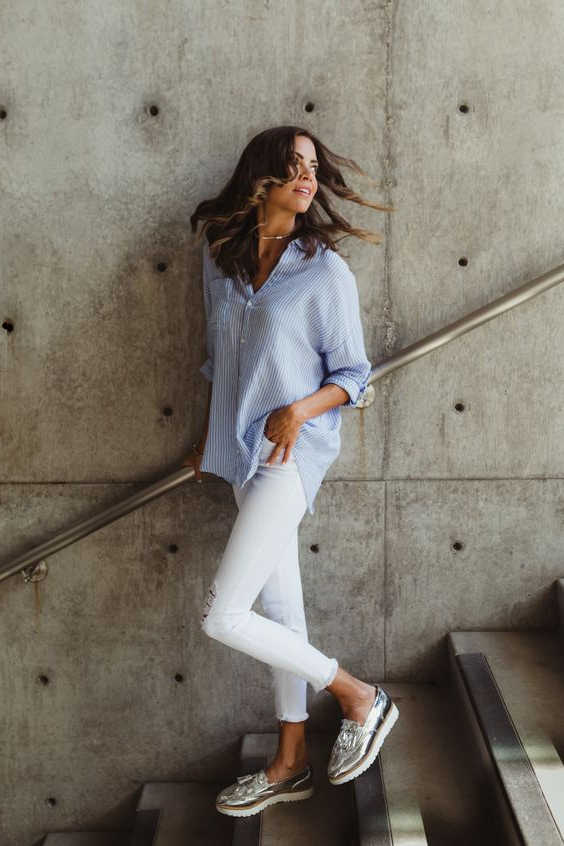 Buy Similar Here
Oxford Shoes With Tights
A cream-white cable-knit sweater ideally suits black shorts and black tights completed with cream-brown Oxfords shoes: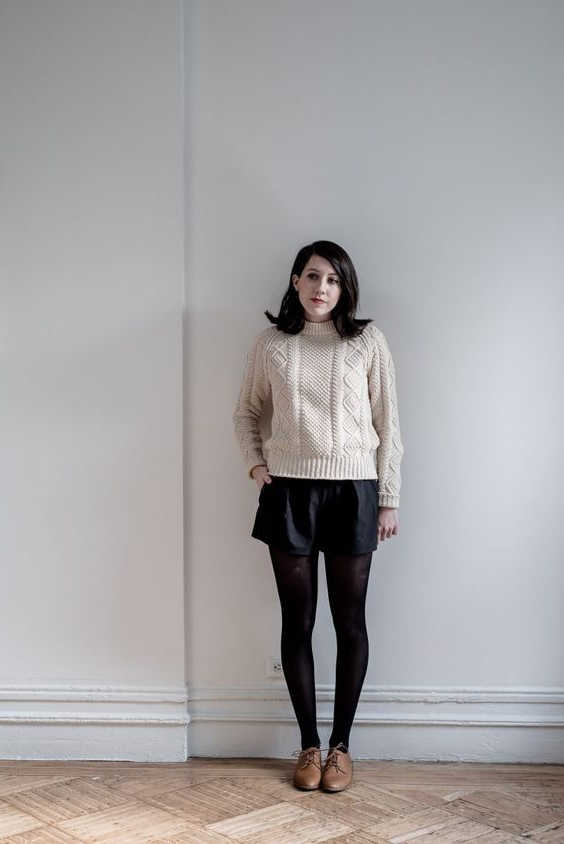 Buy Similar Here
Oxford Shoes With Pants
If you are looking for a classic combo, then why don't you give a try to this cream-white front-buttoned vest top tucked in high-waisted belted ankle-length tailored pants in black. Complete this combo by adding lace-up chestnut brown Oxfords:
Buy Similar Here
Are Oxford Shoes With White Soles In Trend Now
Make a move with these platform high black Oxfords styled with a modern fit white pantsuit and a black cami top. Add a pair of Wayfarer sunglasses and a black leather handbag. I am a big fan of such relaxed suits, they are great for easy walks in the city: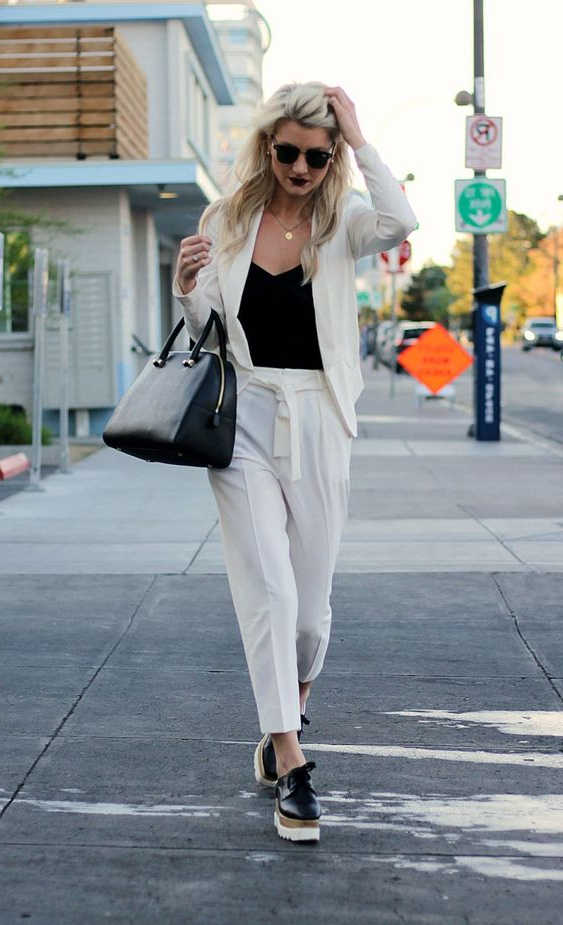 Buy Similar Here
Oxford Shoes With Heels
We see a cute retro-inspired pair of Oxford shoes with laces, brogue detailing and heels: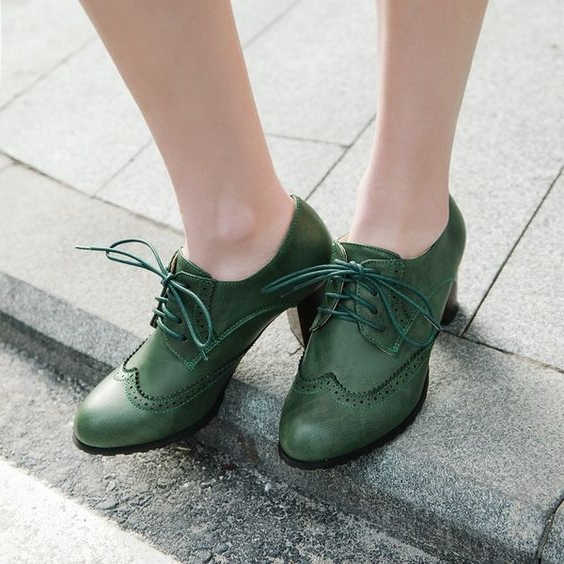 Buy Similar Here
Oxford Shoes With Bows
A dark look at its max! Go for a pair of black leather pants, fishnet socks, and glossy black leather Oxford shoes. It would be a perfect choice for those ladies who want to look sophisticated and tomboyish: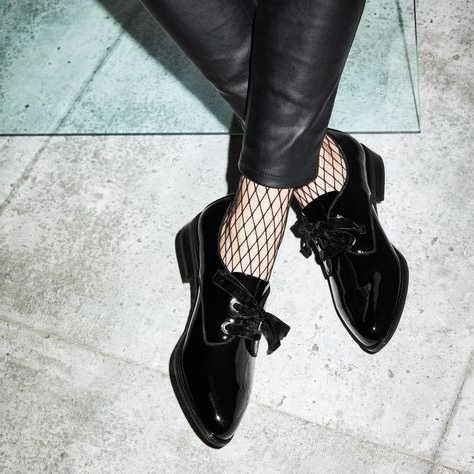 Buy Similar Here
Oxfords With Buckles
A pair of brown double-buckle Oxfords shoes is styled with a micro plaid belted pantsuit in grey. I love the simplicity of this business outfit idea. A perfect look for modern business ladies: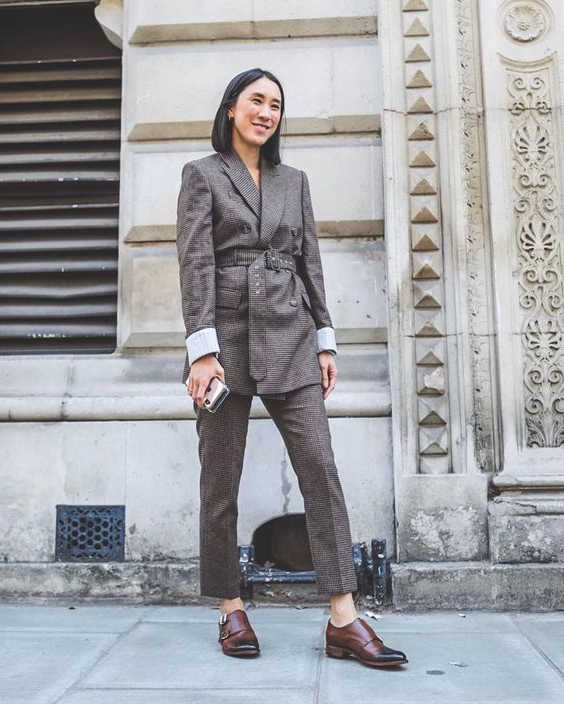 Buy Similar Here
Open Cut Fashionable Oxford Shoes
Make a move with these cuffed slim jeans in blue completed with cut-out pastel yellow Oxfords. A nice combination for Spring casual day: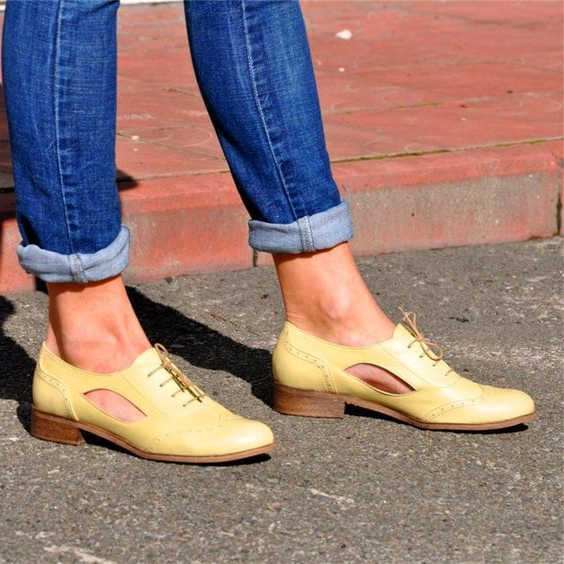 Buy Similar Here
Platform Oxford Shoes Outfit Idea
Another simple day outfit idea for young ladies. We see a khaki green cardigan worn with a white tee tucked in micro plaid mini skirt completed with glossy black platform Oxfords: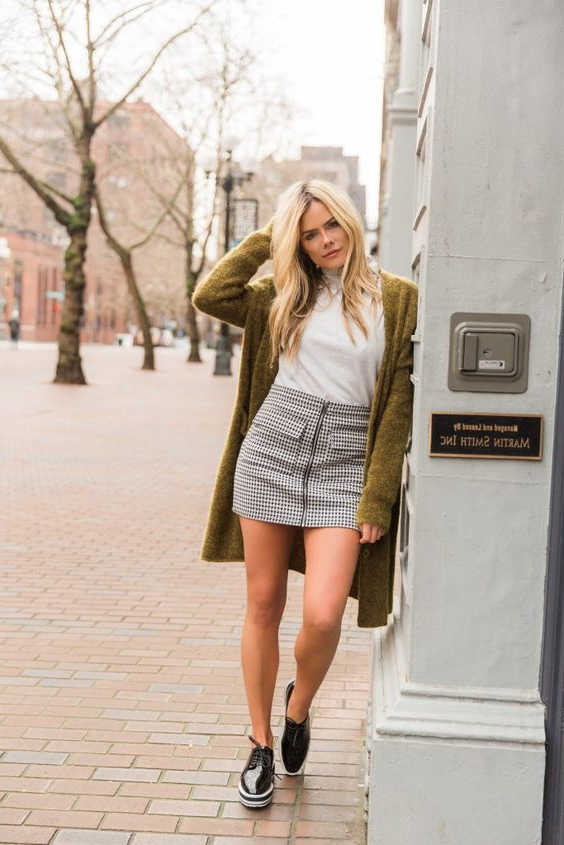 Buy Similar Here
Heeled Oxfords And Knee High Socks
A pair of heeled Oxford shoes in the glossy black color is teamed with black knee-high socks and a black sheath dress with 3/4 sleeves. This combination is ideal for casual brunches or simple day walks around town: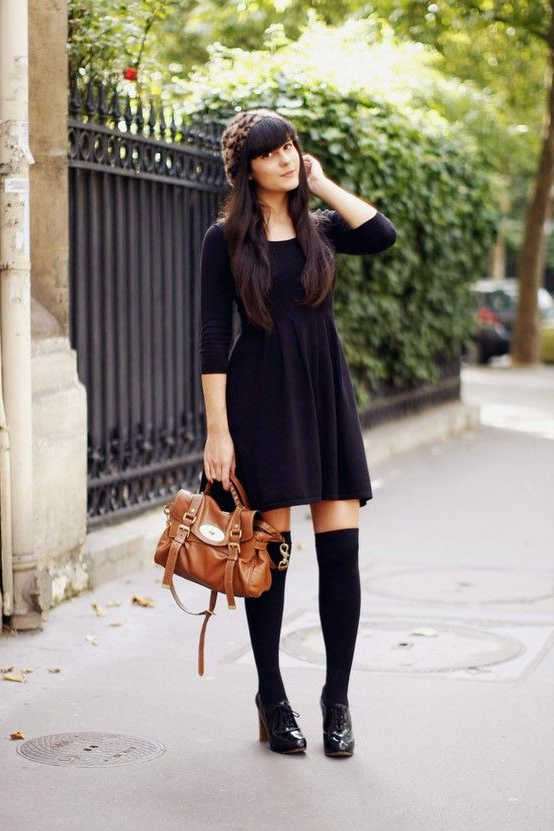 Buy Similar Here
How To Style Oxford Shoes In New York City
People who live in New York City tend to keep their outfits simple and comfortable. That's why lots of women choose to wear Oxford shoes. Here we see a nice example. A young lady is clad in a light blue coat embellished with a cream-grey fur collar, a beige sweater and knee-ripped slim jeans completed with tan Oxfords: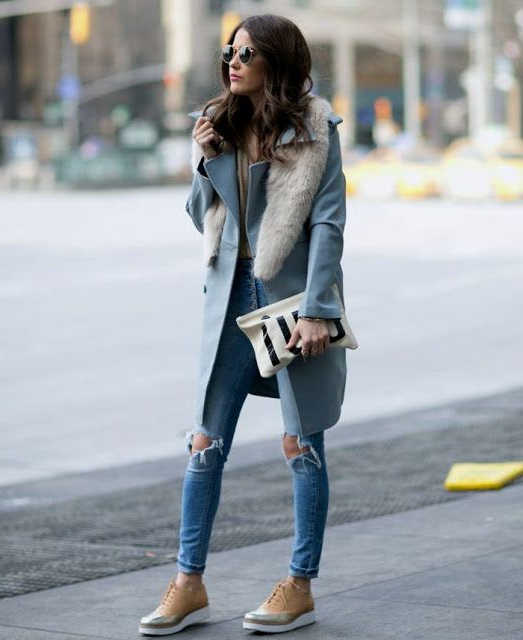 Buy Similar Here