This time we are going to talk about how to wear Timberland boots for women and how to style them the right way. I am about to show you the best ways how to wear this footwear in real life without looking as you just came out from Eminem's concert. Sure, this is mannish footwear and looks pretty rugged, but there are ways how to make it less edgy. Read on to find out simple outfit ideas you can try out with Timberland boots.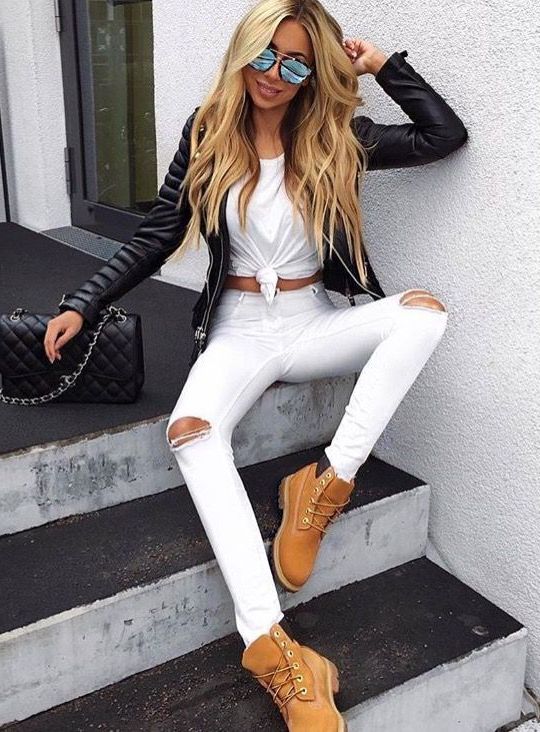 Buy Similar Here
We see a cool OOTD with classic Timberland boots. It consists of white skinny jeans with ripped knees, front knotted white tee and a black leather jacket. Complete this look by adding a quilted black leather clutch bag and mirrored rounded sunglasses.
How To Wear Timberland Boots
I personally love wearing these boots with feminine clothes. Why? Simply because of their power of brutal touch that makes any lady look strong. Plus, they are extremely functional for those women who are in love with hiking or an active lifestyle and outdoors.
We see Timberlands styled with knee ripped skinny jeans in blue, camel sweater, black leather jacket and cool aviator sunglasses completed with a black beanie: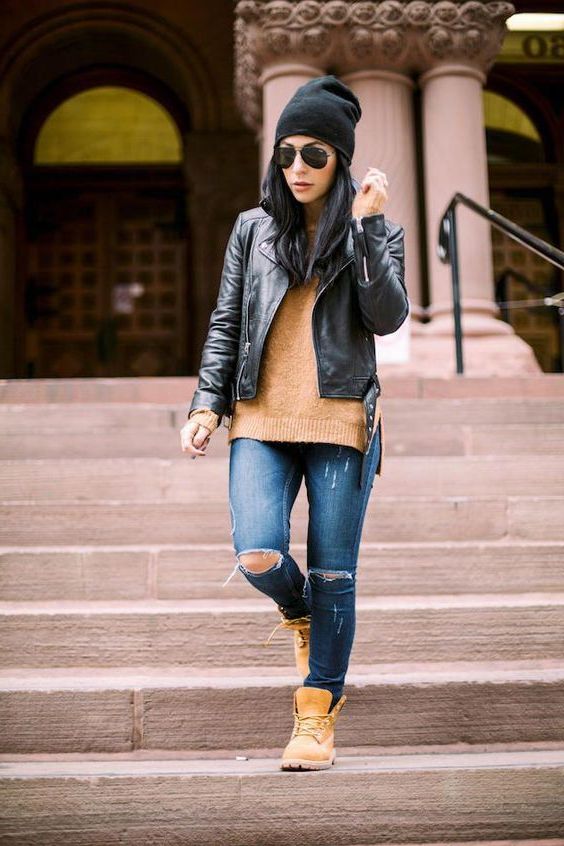 Buy Similar Here
I recommend wearing Timberland boots in Winter, Fall and Spring seasons, because of cold weather. These boots are ideal for those women who want to wear casual and comfortable footwear. It goes with almost anything you've got in her wardrobe. You are about to see what clothes look best with these shoes and what colors can make you stand out from the crowd.
With Khaki Parka
We see a perfect urban style consisting of a green parka coat with fur hood styled with a plaid scarf, aviator sunglasses, cuffed boyfriend jeans, and brown Timberland boots: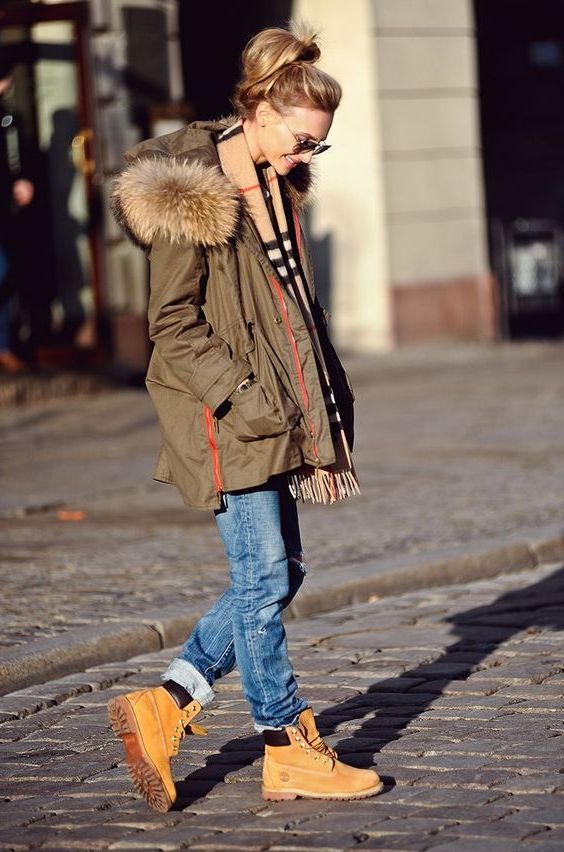 Buy Similar Here
These types of boots look great with trench coats, bombers, leather jackets, skinny jeans, oversized sweaters, mini skirts, ripped denim, leggings, shorts, etc. In other words, no matter what look you are about to create, these boots can make your outfit look cool, yet functional.
There are numerous outfit ideas with Timberlands where they create a fancy and kind of military-inspired look. The easiest way to make these shoes look cool and casual is to try them with a basic white tee and classic jeans. If the weather is cold outside, then you will need to add an extra layer, like a sweater, bomber or a jacket. Anyway, enough bla-bla-bla, let's see real street style images and find out the best outfit ideas with Timberland boots.
Timberlands in pink
We see hot pink Timberland boots styled with slouchy black leather pants and a black sweatshirt. Complete this cool black combo with a cat-ear baseball cap in black and mirrored shades: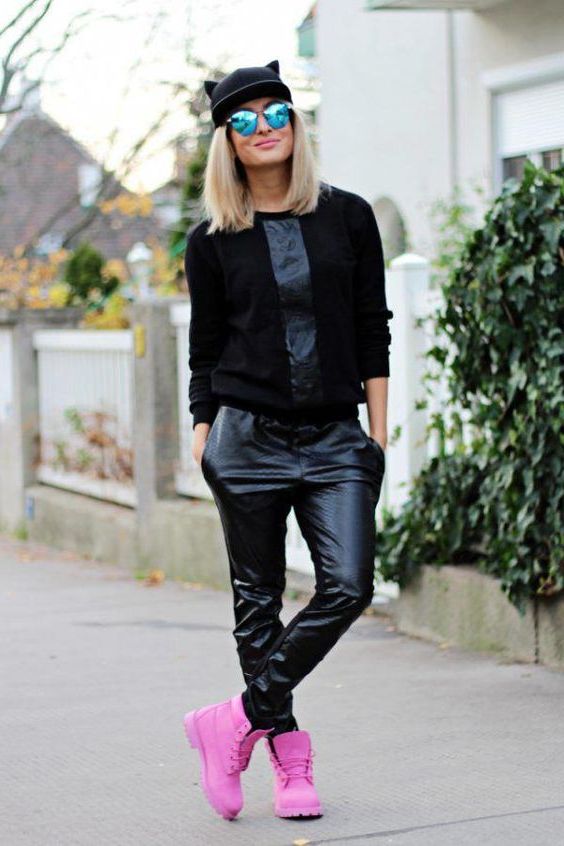 Buy Similar Here
Timberlands in blue
We see blue Timberlands styled with bright blue high-waisted skinny jeans, printed tee and purple aviator coat, update this glamour look with neon blue fur hat: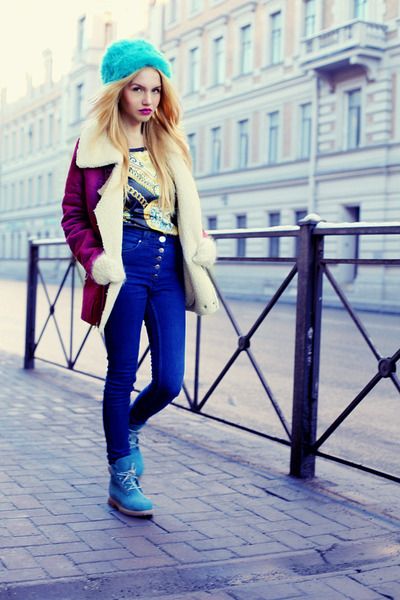 Buy Similar Here
Timberlands in red
A pair of red Timberland boots are paired with a black high-waisted pencil skirt in vertical stripes and a red leather bucket bag: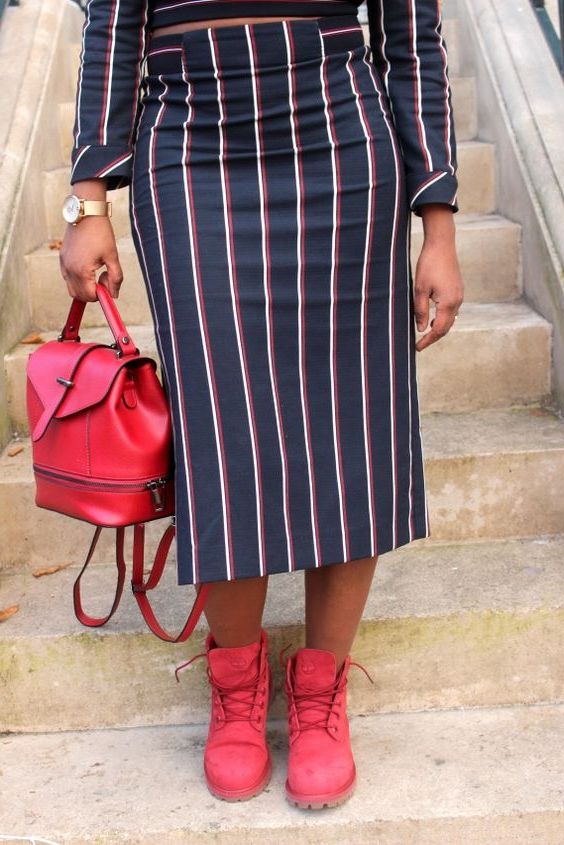 Buy Similar Here
Timberland boots in khaki
A pair of khaki green Timberland boots are worn with biker style black leather leggings and chunky sweater in military green: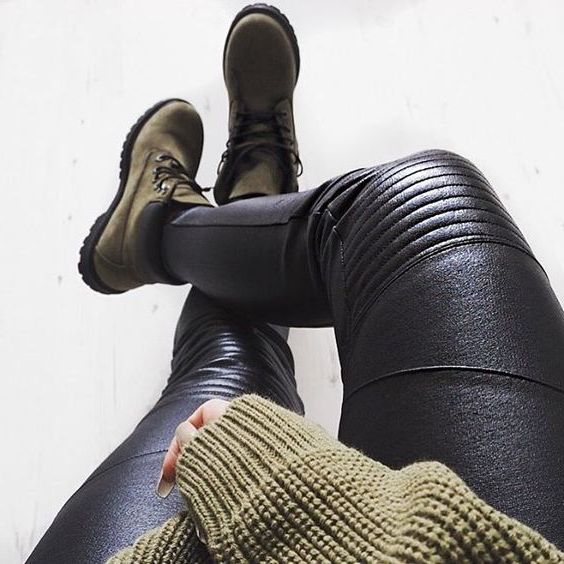 Buy Similar Here
Black Timberlands
A grunge style outfit idea consisting of a black leather jacket, wash skinny jeans and black Timberland boots: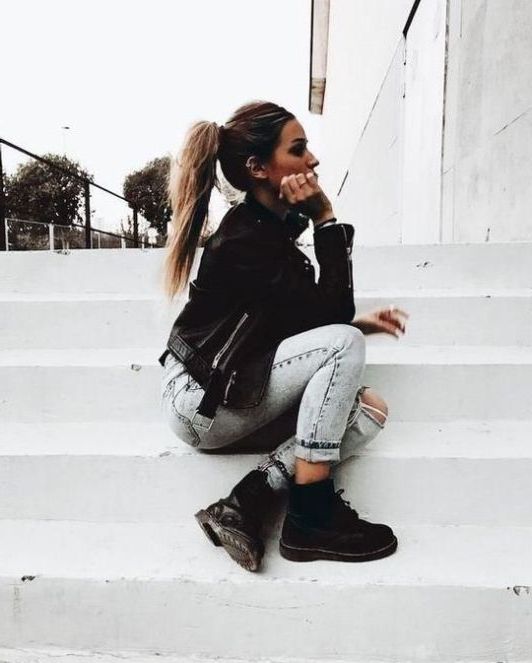 Buy Similar Here
Now it's time to take a close-up look at my favorite outfit ideas you can easily recreate with these boots in your everyday life.
With Green Parka
We see a down long green parka styled with a green army hoodie teamed with ripped rugged jeans and classic Timberland boots: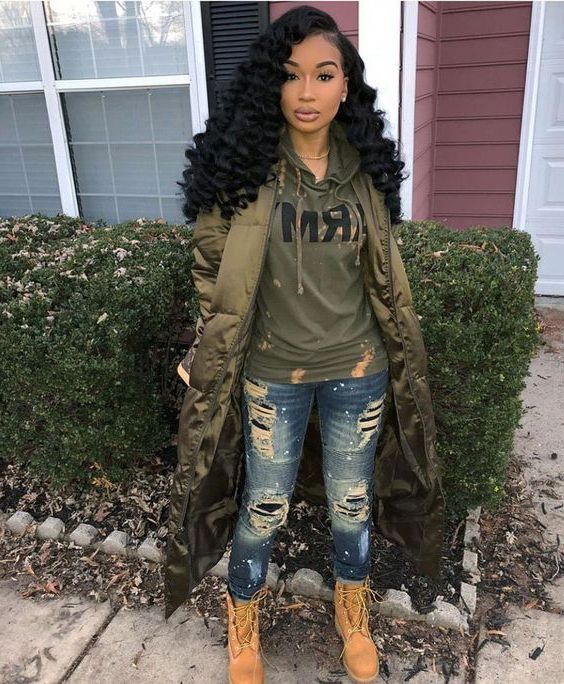 Buy Similar Here
With Oversized Sweater And Leggings
If you do like experiments, then go for this beige oversized sweater and wear it as a dress paired with black leggings and Timberlands: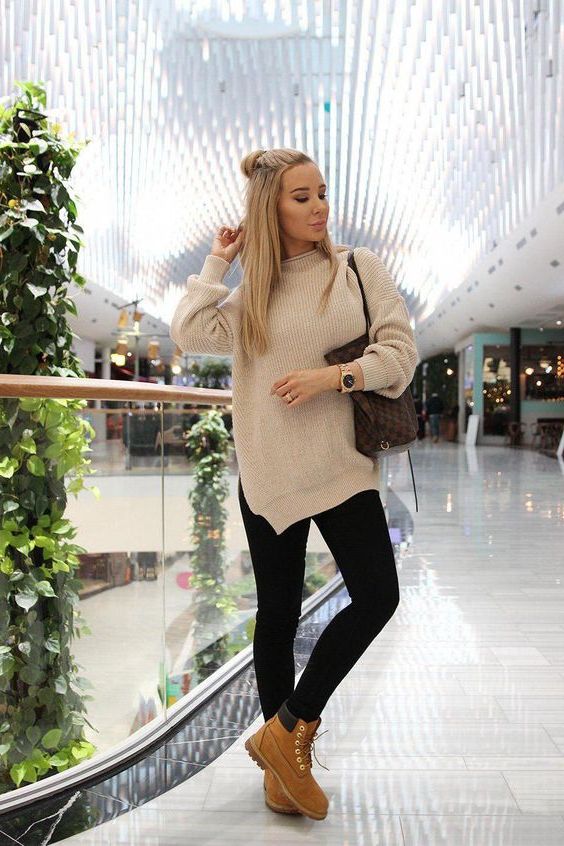 Buy Similar Here
With Black Skinny Jeans
A pair of black skinny jeans are worn with a yellow crop denim jacket and a strapless black top, update this look with a pair of black Timberland boots: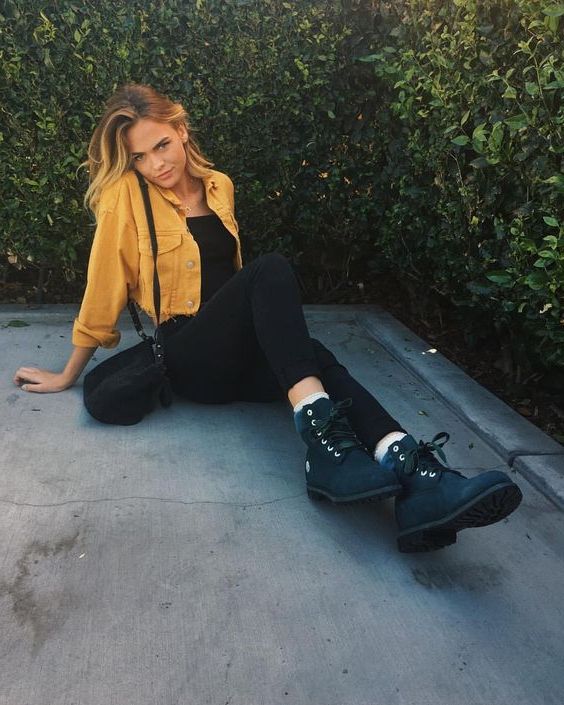 Buy Similar Here
With Bomber Jacket
A green bomber jacket is worn with a white turtleneck sweater teamed with black skinny jeans and brown Timberland boots: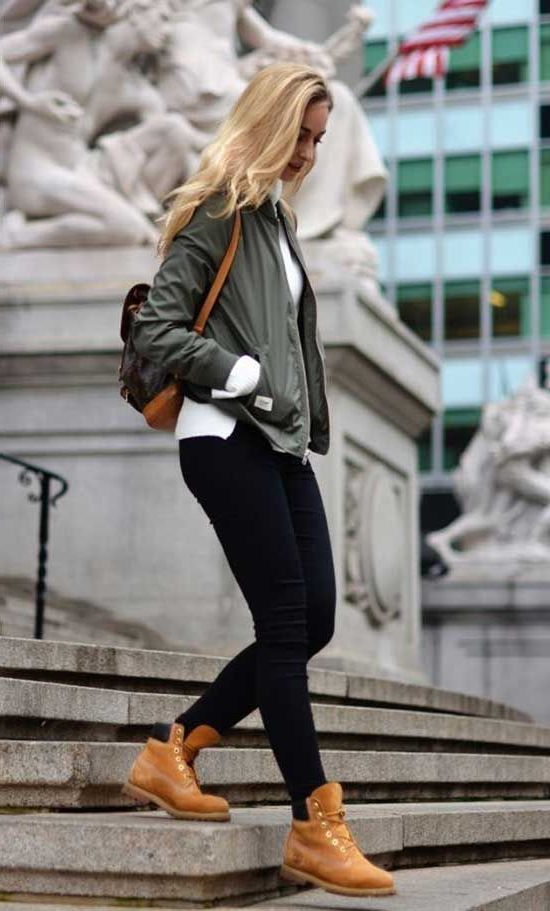 Buy Similar Here
With Hoodie
If you are into classic looks, then try on this black leather jacket and team it with a camel hoodie, black skinny jeans with ripped knees and complete this combo with classic Timberlands: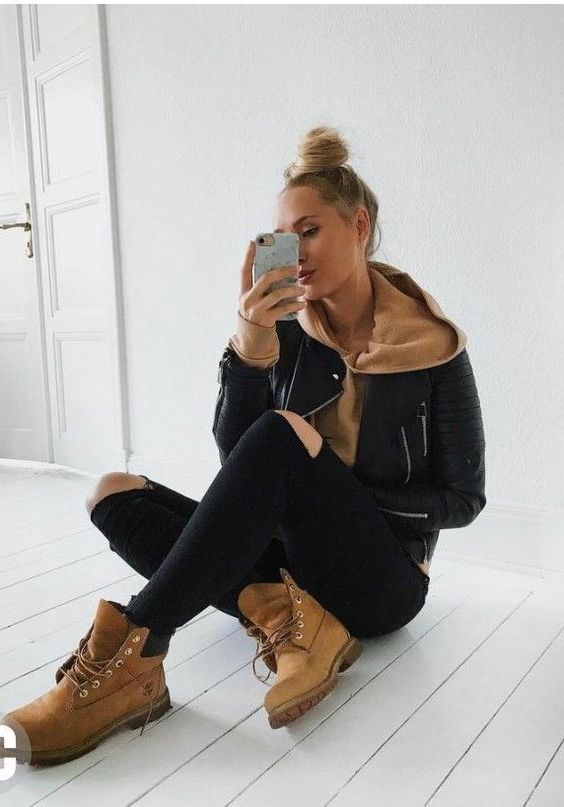 Buy Similar Here
With A Coat
A classic grey colored wool coat is paired with a beige wool scarf, white sweater, black leather skinny pants and completed with classic Timberlands and Clubmaster shades:
Buy Similar Here
With Denim Jacket
Double denim is always a cool choice! Go for an oversized denim jacket and team it with a plaid shirt, ripped jeans and Timberland boots in white color: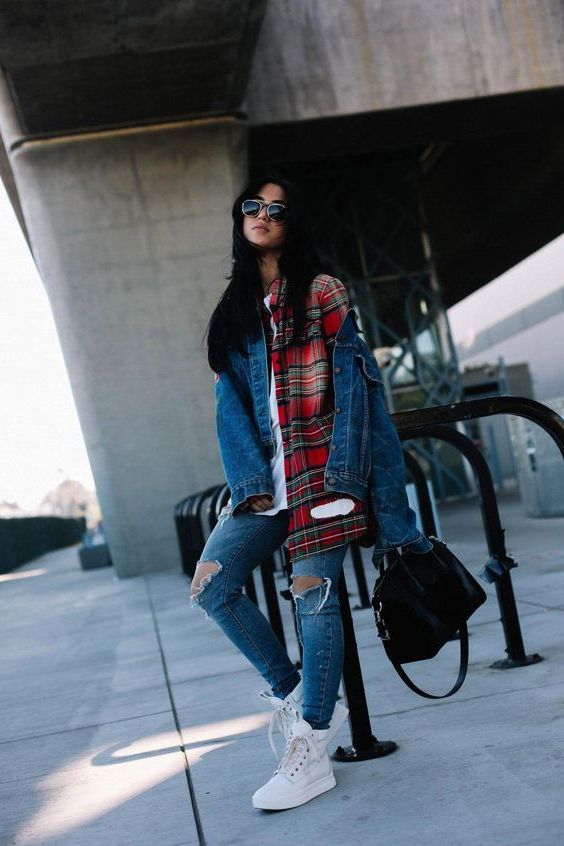 Buy Similar Here
With Denim Shorts
An oversized red plaid shirt is layered over a white tee tucked in blue denim cut-off shorts completed with Timberlands: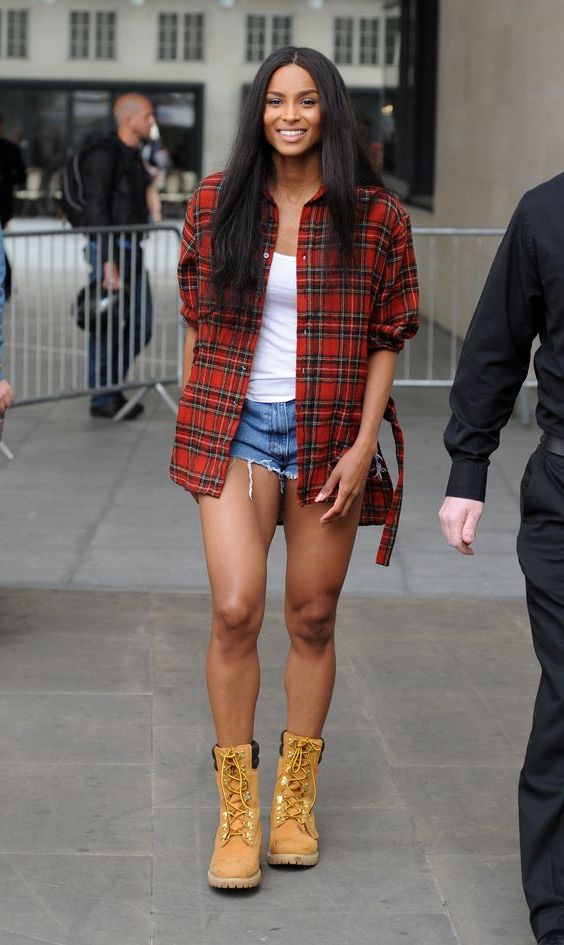 Buy Similar Here
With Down Jacket
A black down jacket looks great with a plaid scarf, black skinny jeans and brown Timberland boots: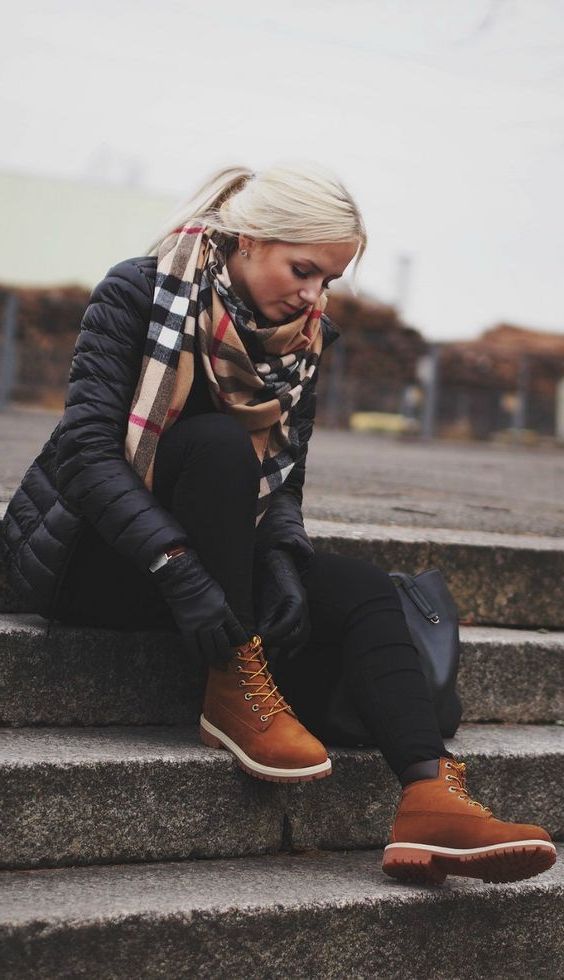 Buy Similar Here
With Fur Vest
A classic fur vest is paired with a white shirt, ripped slim jeans and Timbs, complete this look with aviator sunglasses and a cream grey handbag: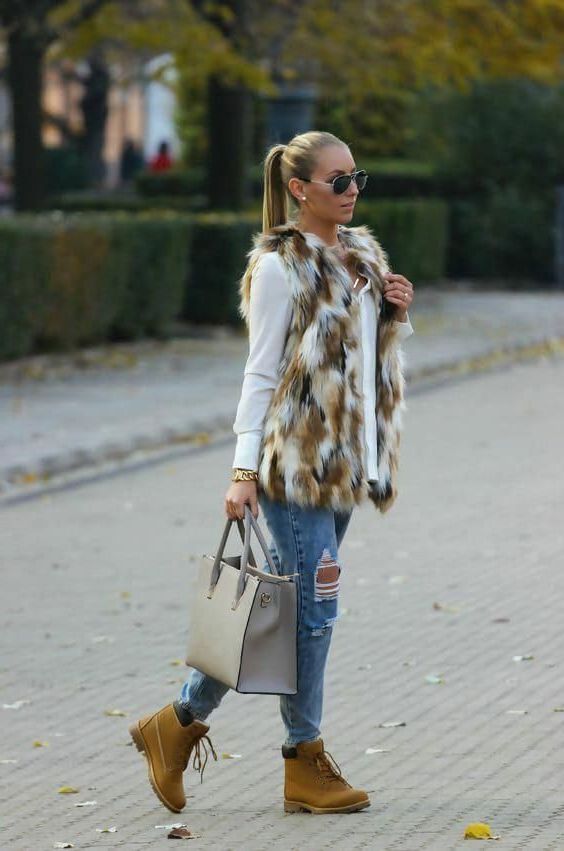 Buy Similar Here
With Gym Leggings
We see a shearling black biker jacket with a wrap cardigan in black, black gym leggings and classic chunky boots: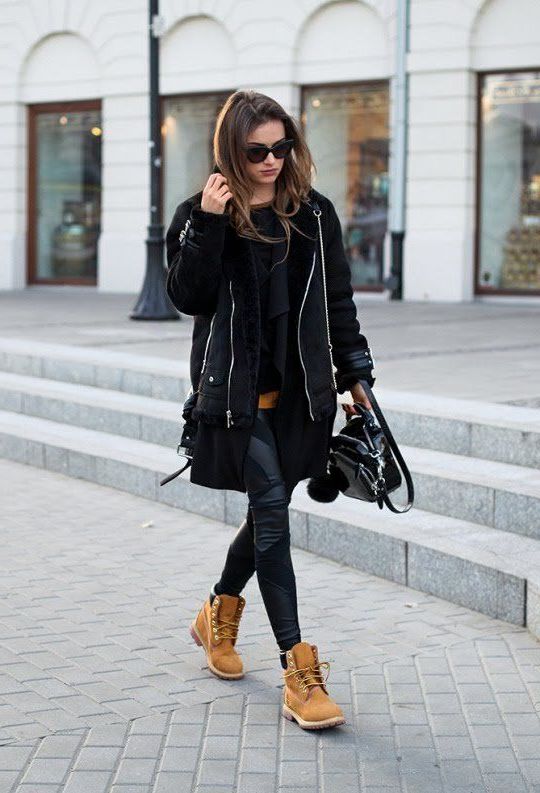 Buy Similar Here
With High Socks
A tartan shirt is styled with a white tank top, skinny wash blue jeans and yellow Timberland boots completed with high knitted socks: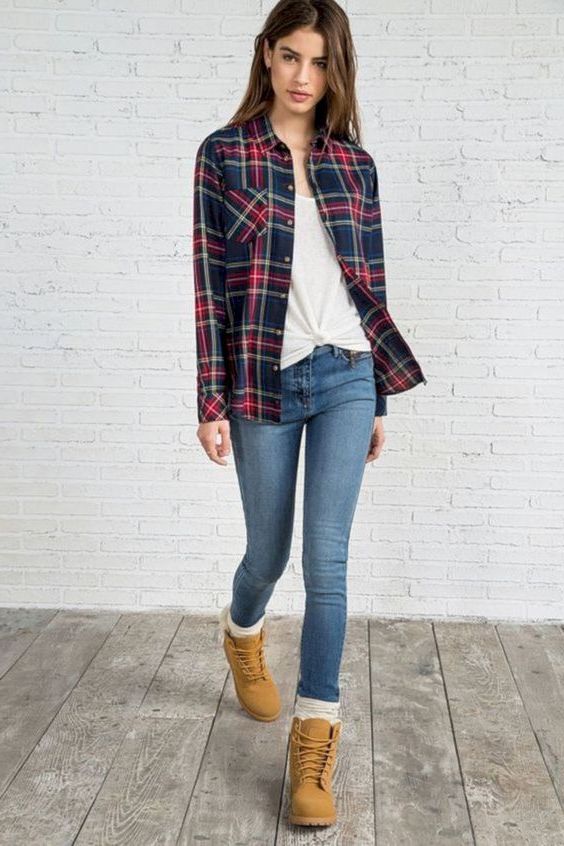 Buy Similar Here
With Joggers
We see a sporty look consisting of a black long sleeve tee, black joggers and classic Timberlands: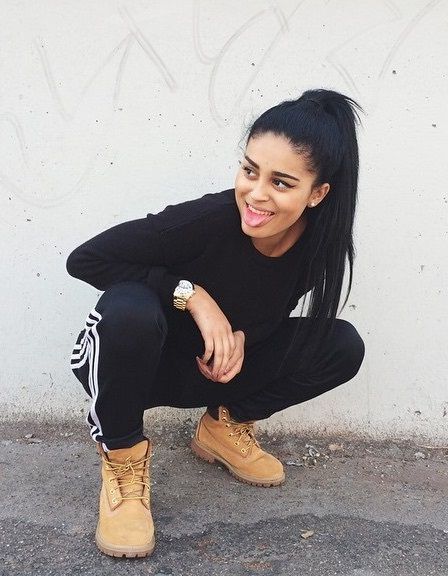 Buy Similar Here
With Knee Ripped Skinny Jeans
A pair of knee-ripped skinny jeans in black is worn with a grey long sweater, black leather biker jacket and yellow Timberland boots: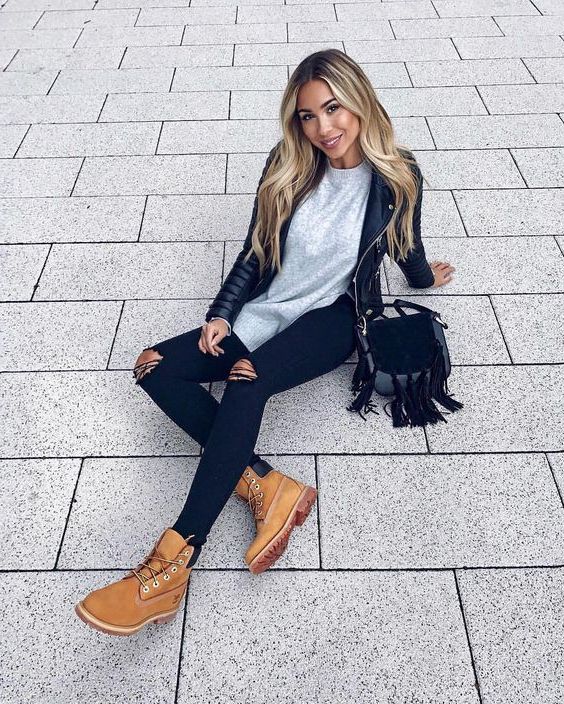 Buy Similar Here
A Layered Outfit
Keep it layered and chic! Go for a camel long coat and drape it over a cream-grey oversized pullover styled with a basic white tee, black knee-ripped skinny jeans, and classic Timberlands: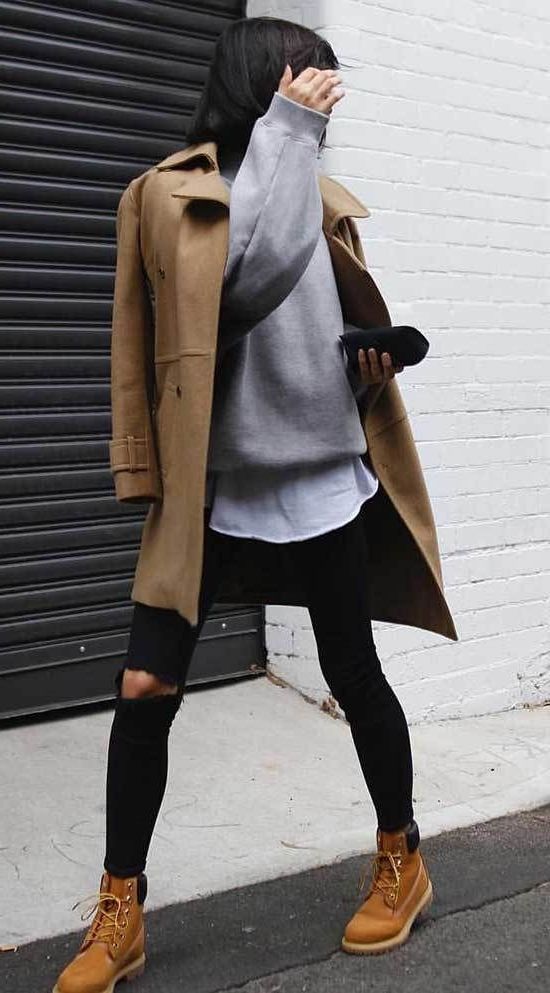 Buy Similar Here
With Leather Jacket
Another great look for day-offs. We see a black leather jacket worn over a beige oversized sweater teamed with knee-ripped skinny jeans in blue completed with Timberland boots: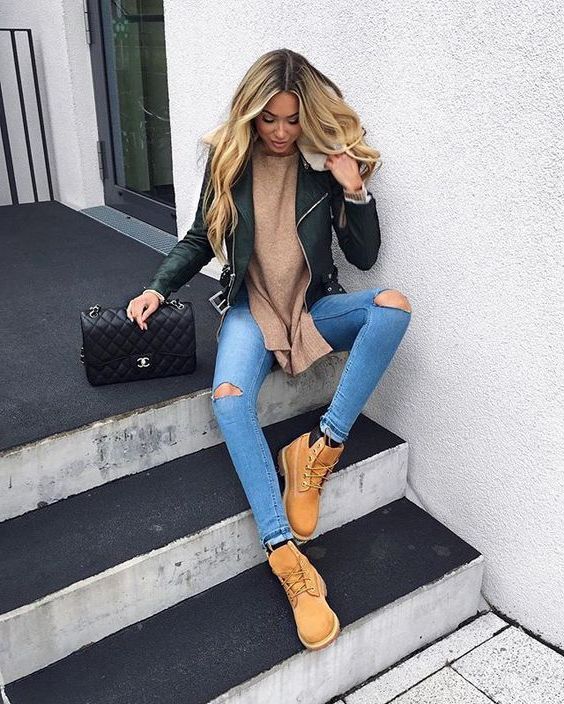 Buy Similar Here
With Mini Skirt
Another cool outfit idea for street walks. We see a cream beige long coat with a beige sweatshirt and suede mini skirt completed with grey Timberland boots: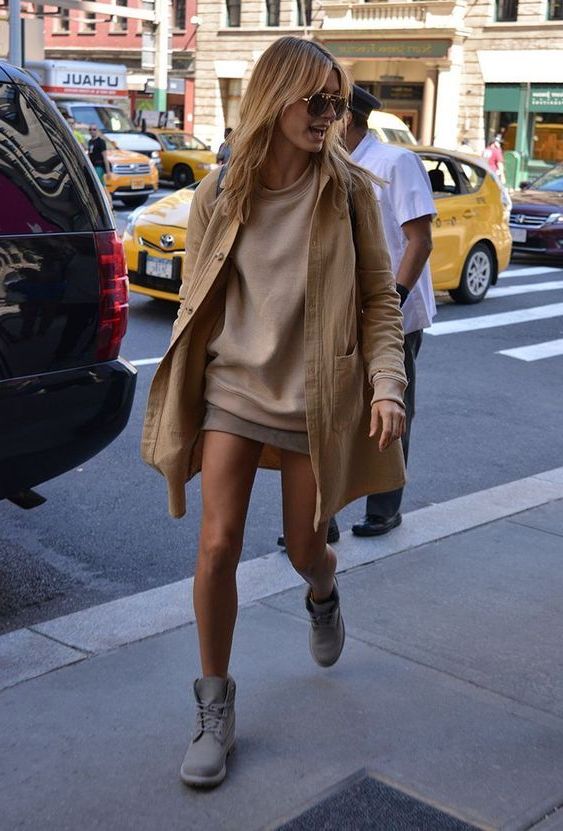 Buy Similar Here
With Oversized Cardigan
An oversized white cardigan is layered over white tee tucked in wash blue skinny jeans tucked in brown Timberland boots: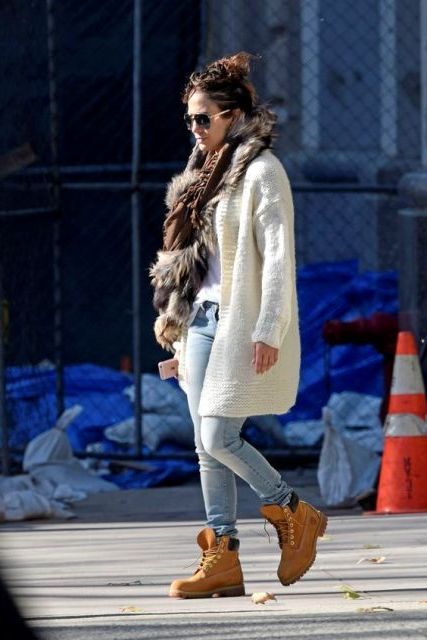 Buy Similar Here
With Ripped Boyfriend Jeans
My favorite classics, we see a white tee, ripped boyfriend jeans and Timberlands: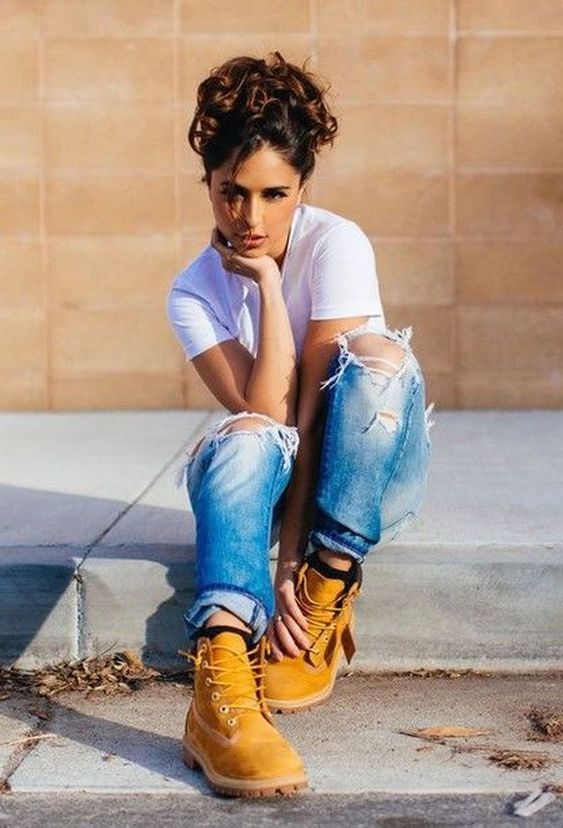 Buy Similar Here
With Rock Band Tee
Some ladies like it simple and grungy. Go for a rock band tee in black and team it with knee ripped jeans tucked in Timberland boots:
Buy Similar Here
With Shearling Coat
Camel shearling coat is worn over a cream-white turtleneck cable knit sweater teamed with slim jeans and Timberlands: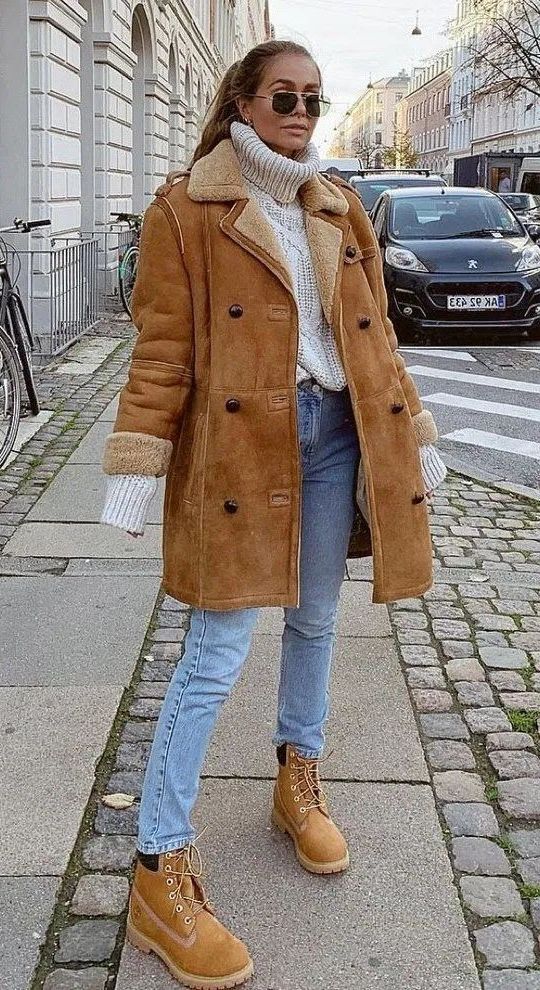 Buy Similar Here
With Sweater Dress
A grey jersey sweater dress is completed with a plaid shirt tied around the waist and Timberland boots with knitted black slouchy socks: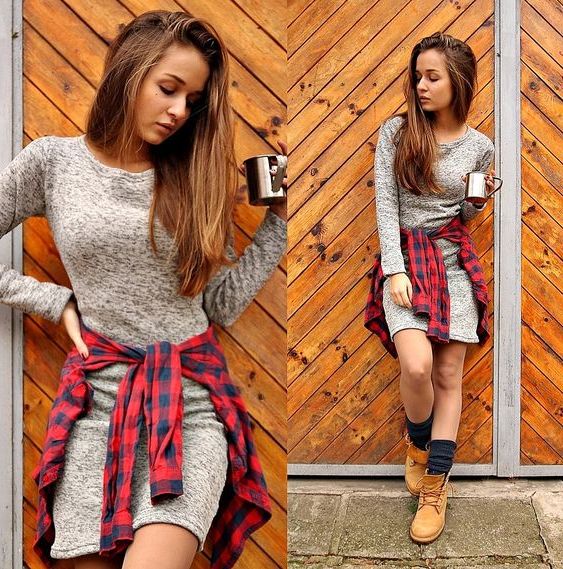 Buy Similar Here
With Tights
If you are into casual, vintage style looks, then try on a classic beige carcoat, mustard-yellow sweater, plaid mini skirt, tights, and Timberlands: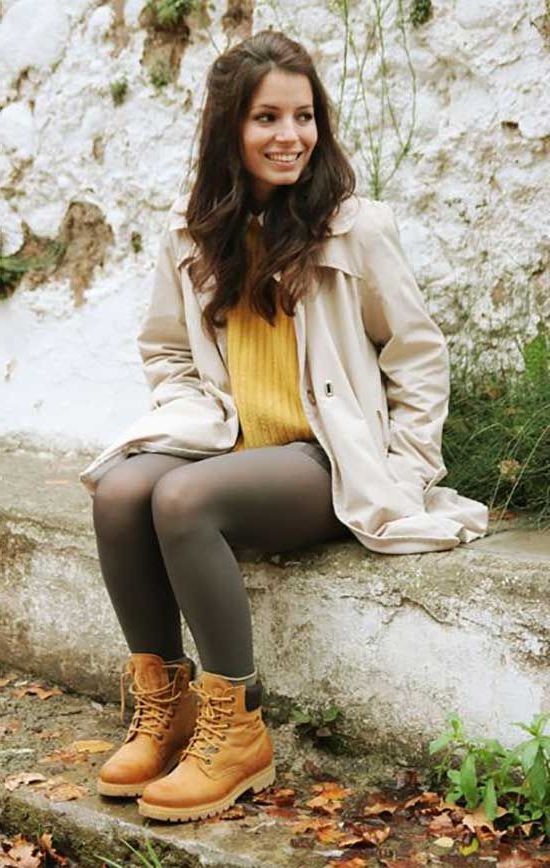 Buy Similar Here
With Leather Skirt
I am so in love with this outfit idea. We see a camel coat draped over a white crop tee paired with a high-waisted black leather pencil skirt and Timberlands: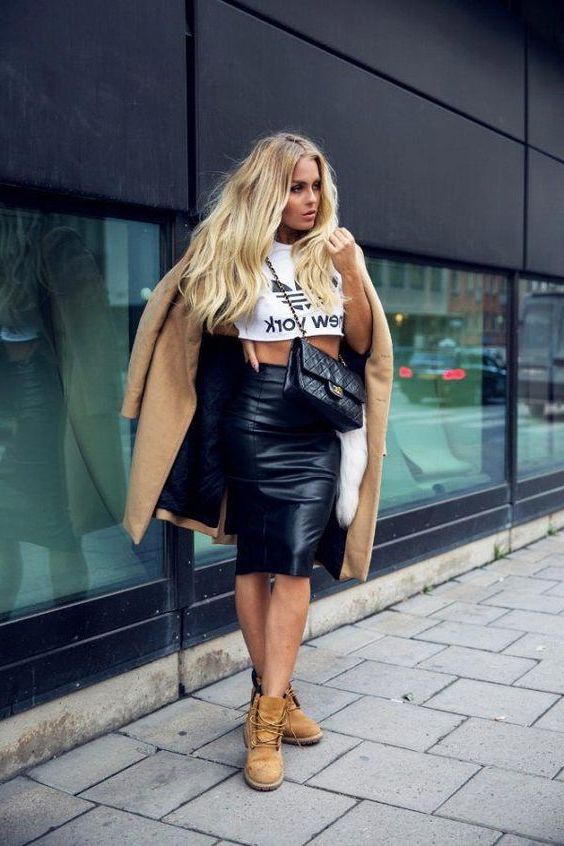 Buy Similar Here
With White T-Shirt And Blue Jeans
Keep it simple, casual and modern. Go for a white tee, tuck it inside blue slim jeans and complete it with classic Timberland boots:
Buy Similar Here
With Wrap Coat
My favorite fall season look consists of a cream white wrap coat, lace-up neck green top, knee-ripped skinny jeans in black and classic Timberlands: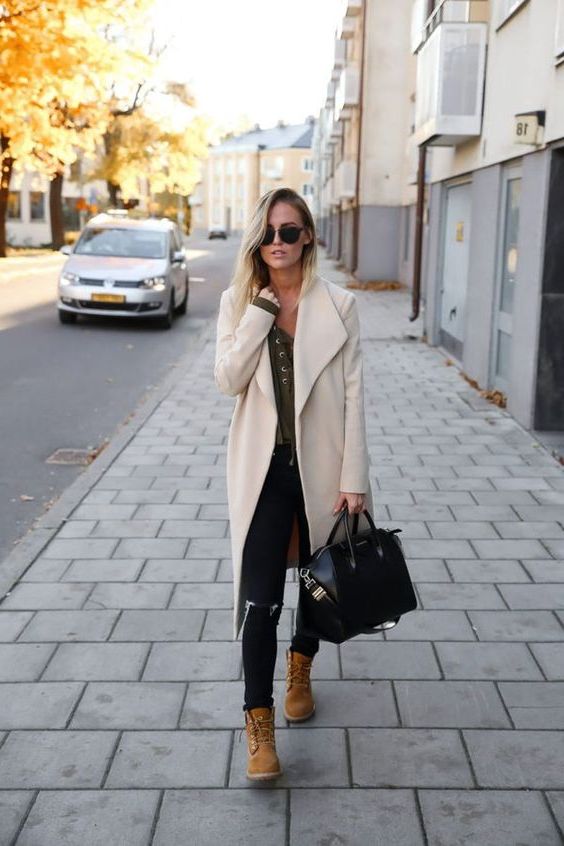 Buy Similar Here
So, have you found what you were looking for? Which color is your favorite one and to which outfit idea you might give a try this year? Let me know in the comments below: