Today is your lucky day, as I am here to show you my favorite street style outfits with uggs. All these beautiful outfit ideas are ideal for this Autumn season. I know, these outfits look incredibly complicated yet stunning.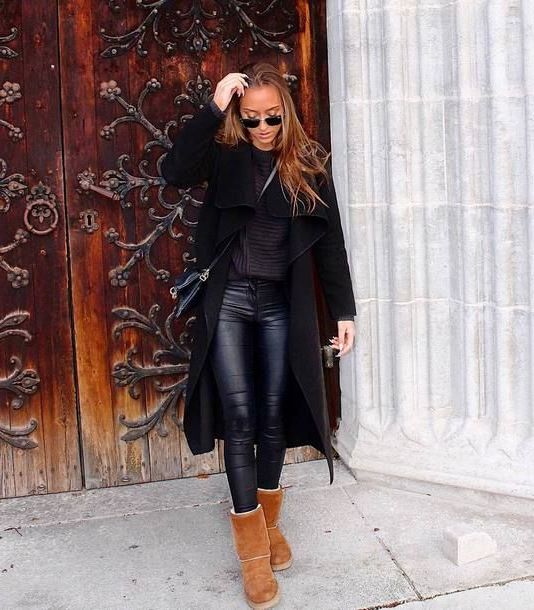 Buy Similar Here
An inspiring all in black look. We see a draped black coat styled with a black ribbed sweater, black leather skinny pants, and camel ugg boots.
Outfits With UGGs
I think you should take a close up look and see the simplicity of creating such outfits. In this compilation are gathered my favorite combos that will undoubtedly make you look hot. All these casual outfits are completed with UGG boots. I am so excited to share with you my favorites. I would love to hear your thoughts in the comments below.
Here we see a nice update for those who are in love with casual style. Go for a wash blue denim jacket layer it over a grey hoodie teamed with skinny grey jogger pants tucked in beige Ugg boots: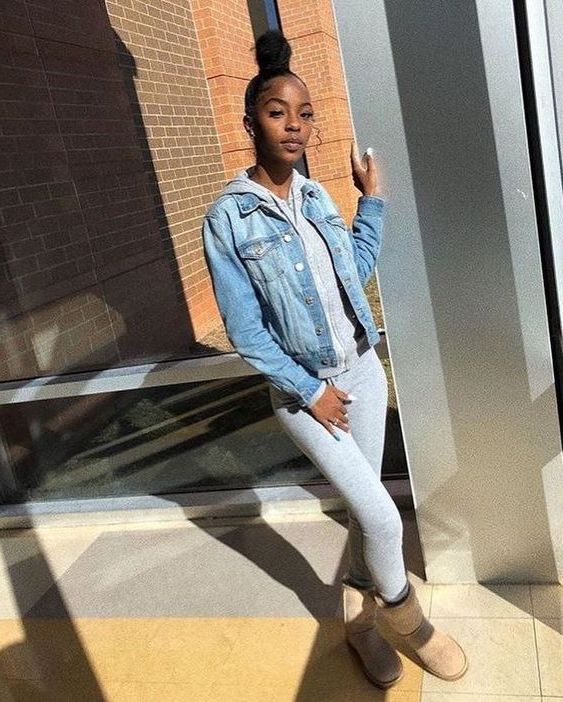 Buy Similar Here
If it is cold outside, then you better dress up in warm layers and complete your look with stunning UGG boots. Believe me, the result gonna make you look gorgeous. All these outfits are made for casual walks in the town.
Most of the images feature lovely garments, including cozy cardigans, shearling coats, tartan scarves, furry vests, khaki army green parkas, leather jackets styled with skinny jeans, leggings tucked in cozy and incredibly warm UGG boots. The freezing weather won't keep you home, as we see marvelous ideas that will warm you up during casual weeks.
Uggs are meant for cold weather season months, that's why they look great with winter or fall clothes. If you want this footwear look fabulous, then try tucking jeans or pants into your Uggs. Flared and loos-fit pants should be worn over your Uggs. Leggings are ideal for this type of footwear. If you are into a classy style, then go for single shade or earth tone leggings, if you are more into bright and fancy style, then you can spice up things by trying on patterned leggings.
A cute dress or skirt also works great with Uggs. I love to see women wearing sweater dresses combined with Uggs. Don't be afraid accessorizing Uggs with fun details, it can be a cool vest, scarf, a hat, etc. My recommendation is to avoid wearing Uggs with formal clothing. Anyway, Uggs do look great with sweatpants. This type of footwear is ideal for coffee dates, walking the dog, shopping, etc. Now, uggs don't look cool with mini or midi skirts, evening go out looks, but casual clothing, leggings, and skinny jeans work ideal with Uggs. Anyway, let's get down to the business and see what to wear with uggs:
With Black Leggings
We see a cool combo for casual Fall season days. A white sweater is worn with black coated leggings tucked in light brown shearling Uggs, update this look with a camel scarf: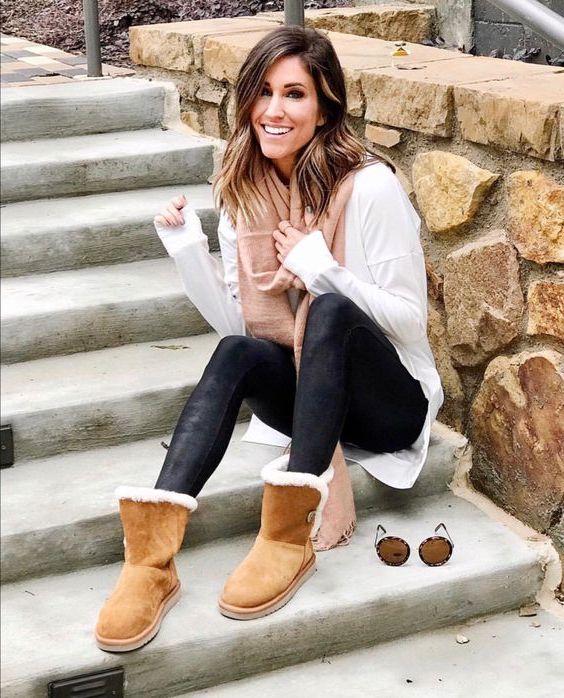 Buy Similar Here
Bohemian Style
We see a stunning combination of bohemian style lovers. A cozy fringed navy printed cardigan is teamed with a grey sweater completed with wash blue slim jeans and grey Ugg boots: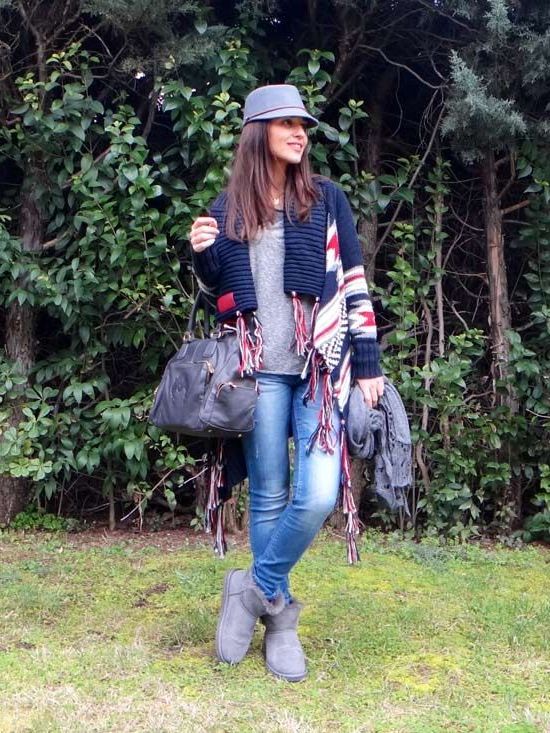 Buy Similar Here
With Camel Coat
Another winter-friendly style. Go for a cable knit beanie, camel coat, camel wool scarf, cream white skinny jeans, and brown Ugg boots: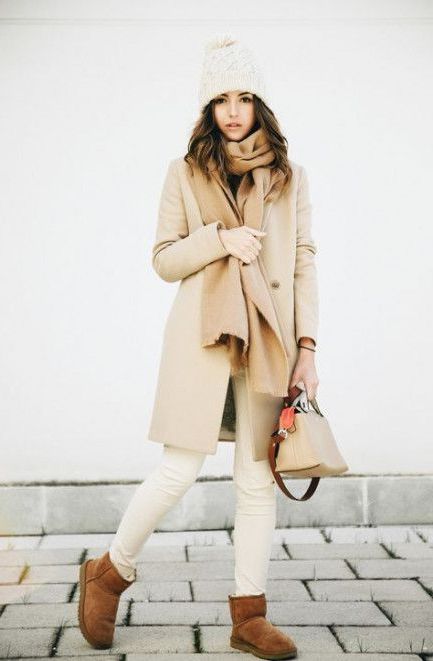 Buy Similar Here
With Cropped Jeans
We see a stylish update for Fall season days. A black beanie is styled with cat-eye sunglasses, fur jacket in black, tribal print scarf, ripped cropped jeans and khaki Uggs: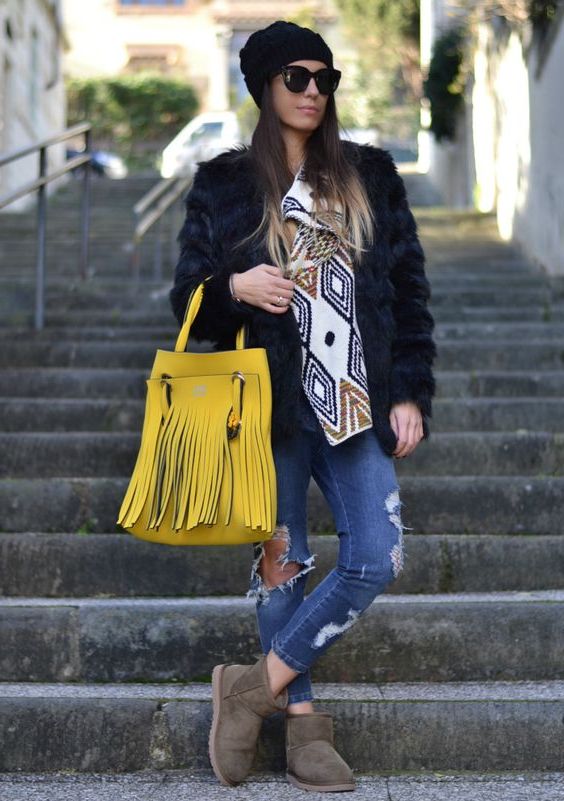 Buy Similar Here
With Cut Off Shorts
A pair of ripped denim cut-offs look awesome with a khaki green sweater, khaki oversized scarf and black tights tucked in brown ugg boots: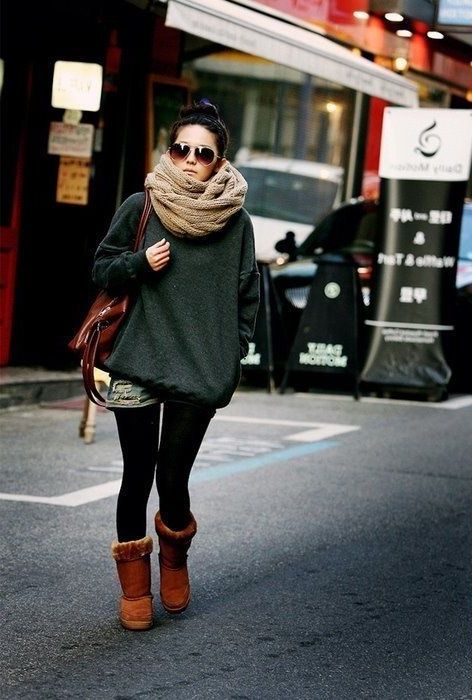 Buy Similar Here
With Fur Vest
A fur pom pom black beanie ideally matches fur vest teamed with a tartan print shirt and slim jeans tucked in camel Uggs: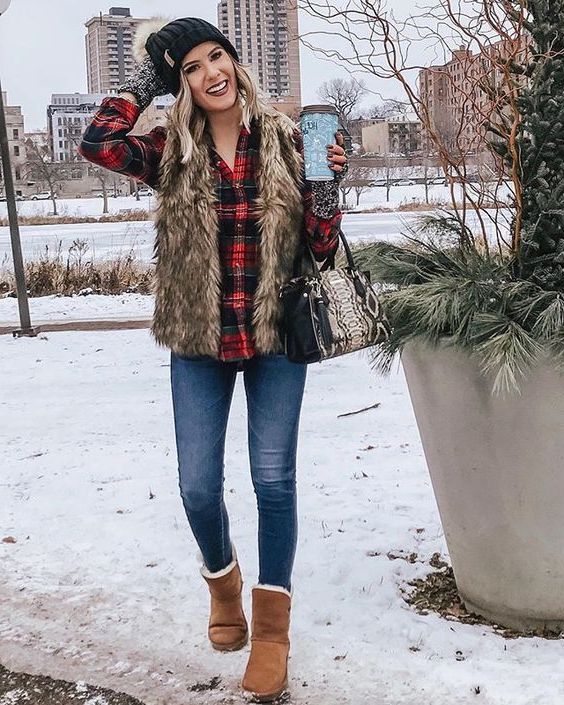 Buy Similar Here
Hipster Outfit
Another cool combo for hipster addicted ladies. We see a grey oversized coat layered over a charcoal cardigan completed with a ribbed knit sweater in black styled with boyfriend jeans and brown ugg boots: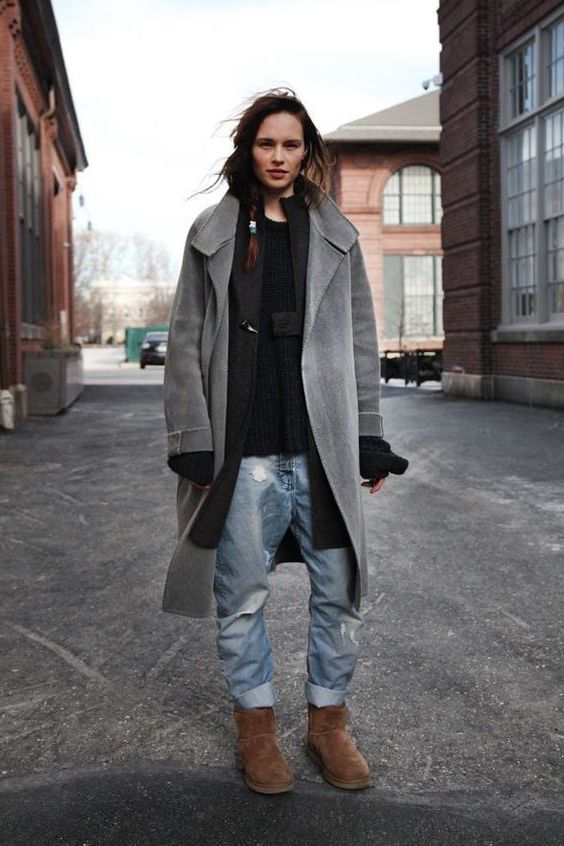 Buy Similar Here
With Bootcut Jeans
We see a friendly way how to wear ugg boots with bootcut jeans. A cream-beige slouchy sweater is half-tucked in dark wash bootcut jeans completed with ugg boots, in love with these flat-brow sunglasses: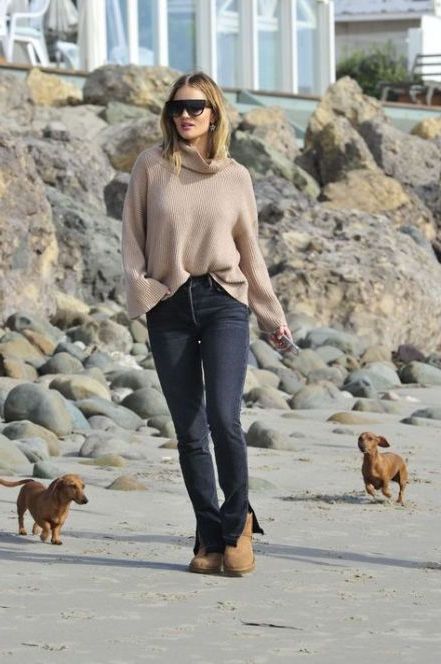 Buy Similar Here
With Leather Leggings & Grey Sweater
A turtleneck sweater dress in cream-grey teamed with black leather leggings and grey Ugg boots: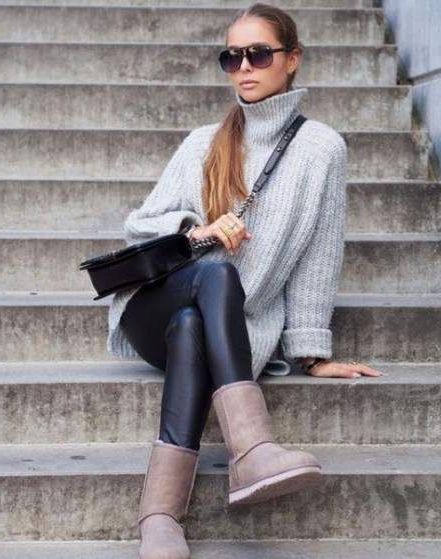 Buy Similar Here
With Knee High Socks
A cream white turtleneck sweater dress ideally matches tights, khaki brown knee-high socks, and brown UGG boots: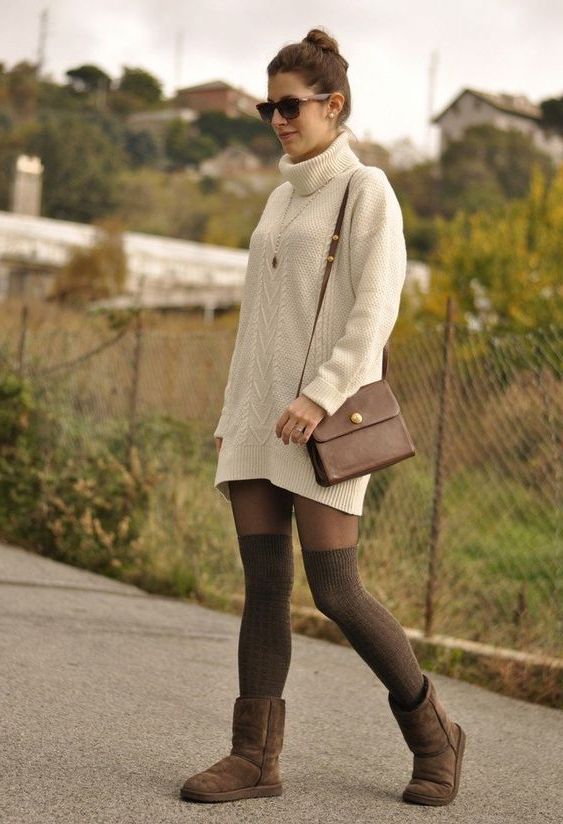 Buy Similar Here
With Grey Ribbed Knit Sweater
A ribbed knit grey sweater dress looks pretty chic with black leather leggings tucked in black UGG boots: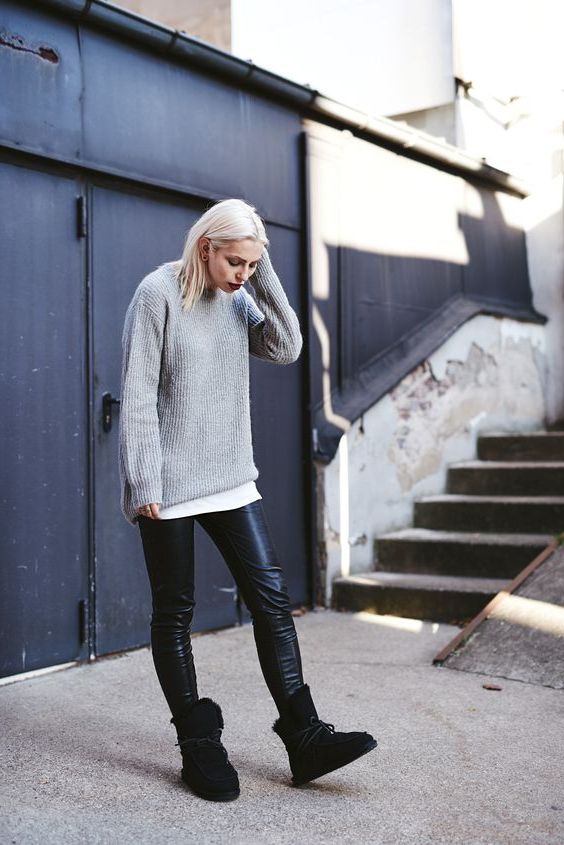 Buy Similar Here
With Camo Jacket & Skinny Jeans
A stylish camouflage print parka is teamed with light wash blue skinny jeans tucked in UGGs:
Buy Similar Here
With Long Grey Coat
A long grey wool coat is layered over a black turtleneck sweater teamed with black skinny pants and light brown Ugg boots:
Buy Similar Here
With Red Puffer Coat
An ideal winter style. Go for mirrored sunglasses, a red puffer coat, blue skinny jeans, and red Ugg boots: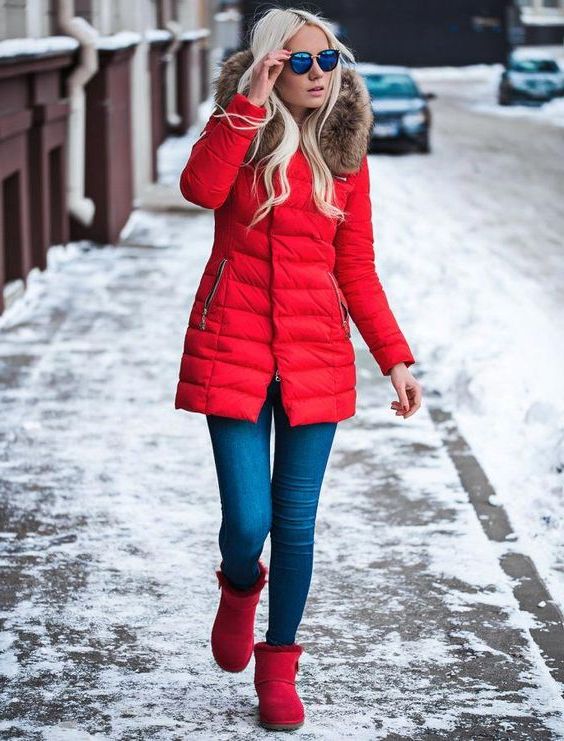 Buy Similar Here
With Ripped jeans
A pair of ripped boyfriend cuffed jeans are paired with shearling UGG boots, black tee, and a khaki-green scarf: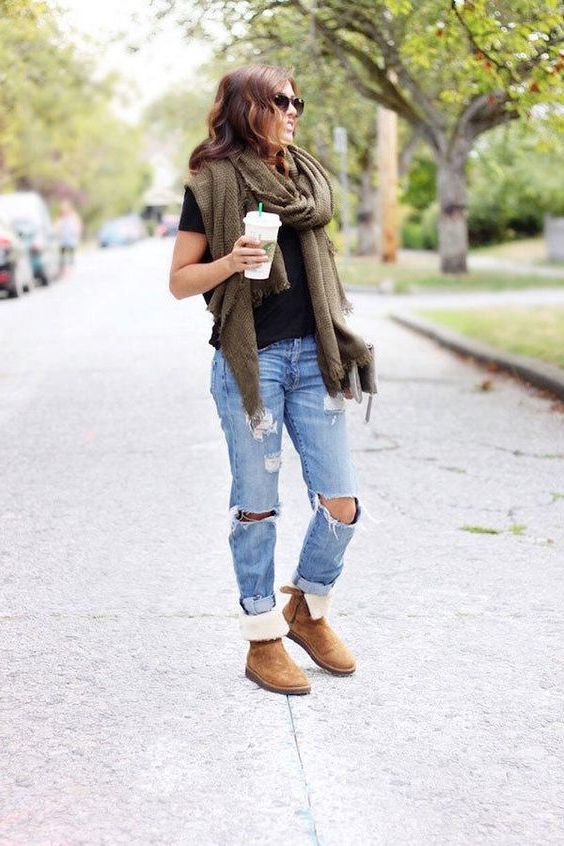 Buy Similar Here
With Slouchy Socks And Floral Leggings
An asymmetric grey tunic is teamed with floral print leggings tucked in grey slouchy knitted socks with grey UGG boots: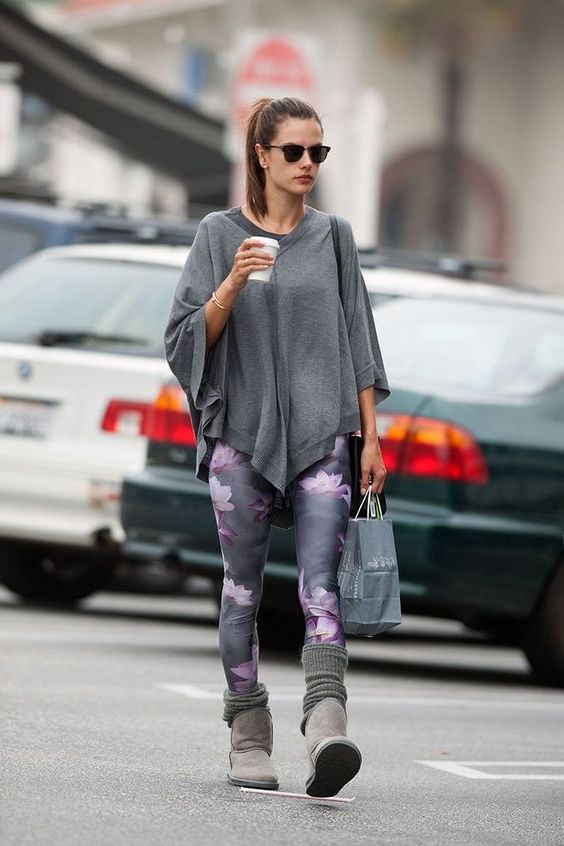 Buy Similar Here
With Sweatpants
Keep it fresh, casual and sporty! Go for a cream grey look, featuring a sweatshirt, sweatpants tucked in cream-beige Ugg boots: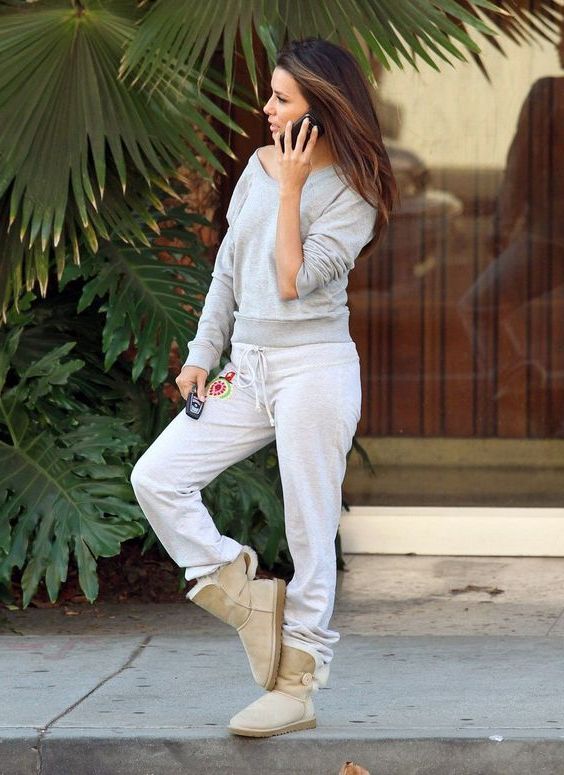 Buy Similar Here
With Tights And Sweater Dress
A black fur jacket is layered over a cozy cream sweater dress completed with black tights and black UGG boots: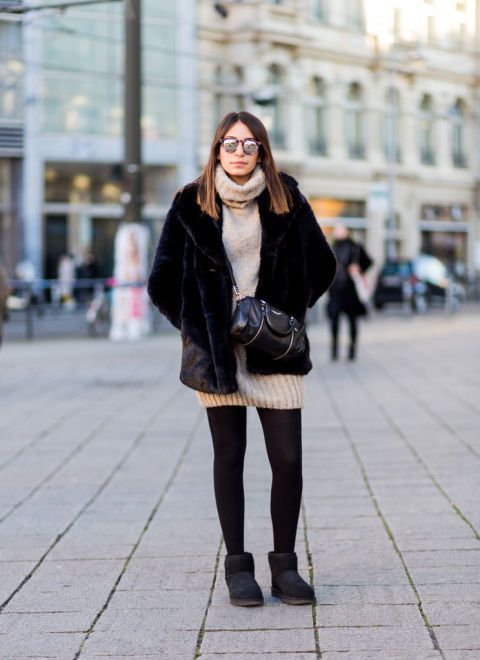 Buy Similar Here
With Tracksuit
Some ladies keep things simple and sporty! Go for a grey tracksuit and complete it with cream Ugg boots:
Buy Similar Here
With Knitwear
A knitted universe. We see a khaki green oversized cardigan layered over a knitted co-ord featuring an oversized sweater and pencil skirt in grey. Complete this look with Clubmasted sunglasses, tights, and khaki green UGG Boots: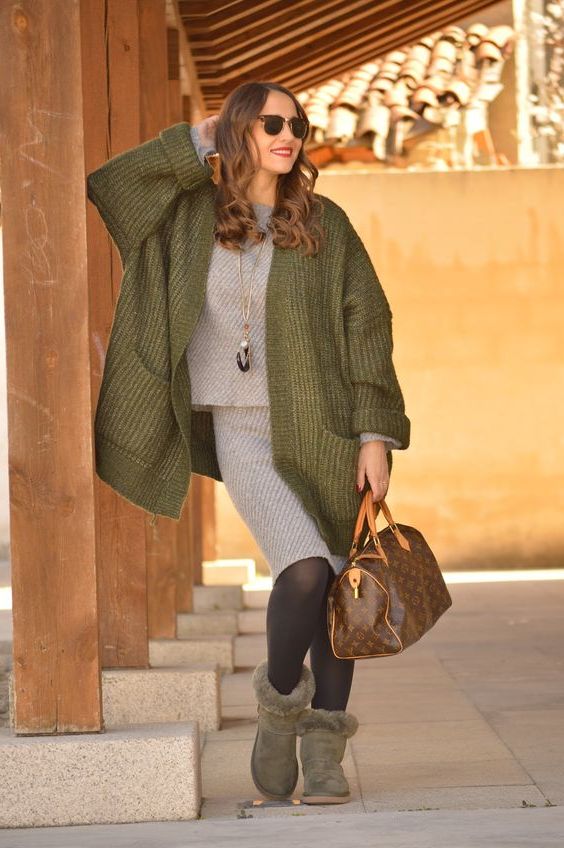 Buy Similar Here
With Velour Sweatpants
In love with this basic everyday combo. Go for a white crop tank top and team it with navy velour sweatpants tucked in shearling brown UGG boots: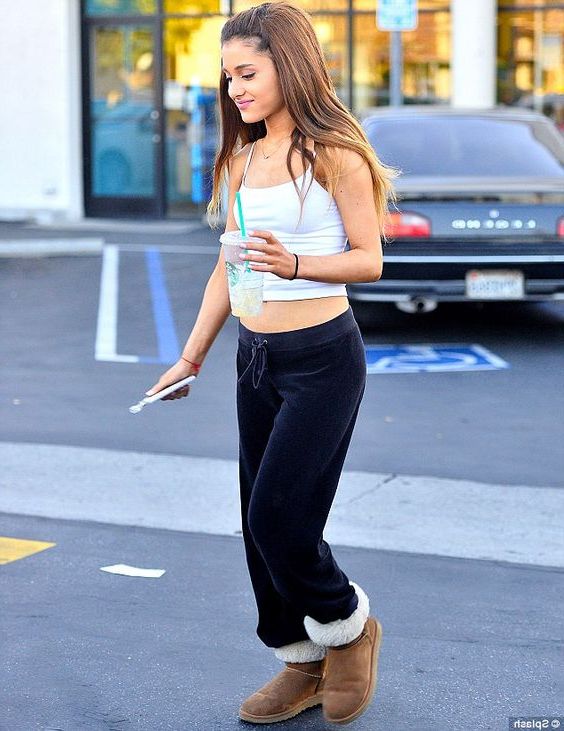 Buy Similar Here
With Workout Clothes
Heading to or from the gym? Go for a workout look by teaming a wool long grey coat styled with a basic crop top teamed with a grey stretch top and grey stretch yoga leggings tucked in high UGG boots: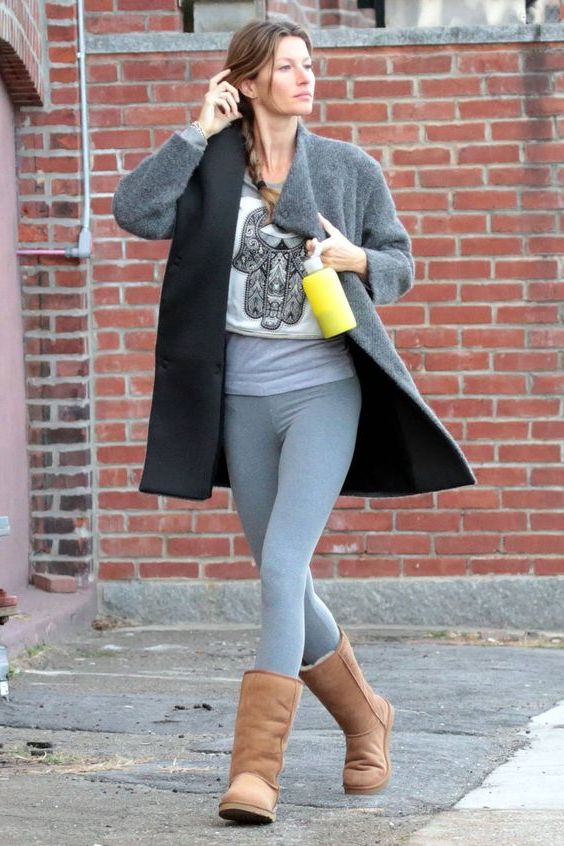 Buy Similar Here
What are your thoughts? Tell me, what outfit do you wear with uggs?