Hello, Dear fashion readers! I am here to share with you a stunning compilation of the best shoes you can wear with pantsuits to try this year. I already shared with you my main post on this topic, you can check the best shoes to wear with pant suits, but now I will cover some other shoes you can try. This outfit is a great way to stay fashionable and create a stunning appearance on the streets.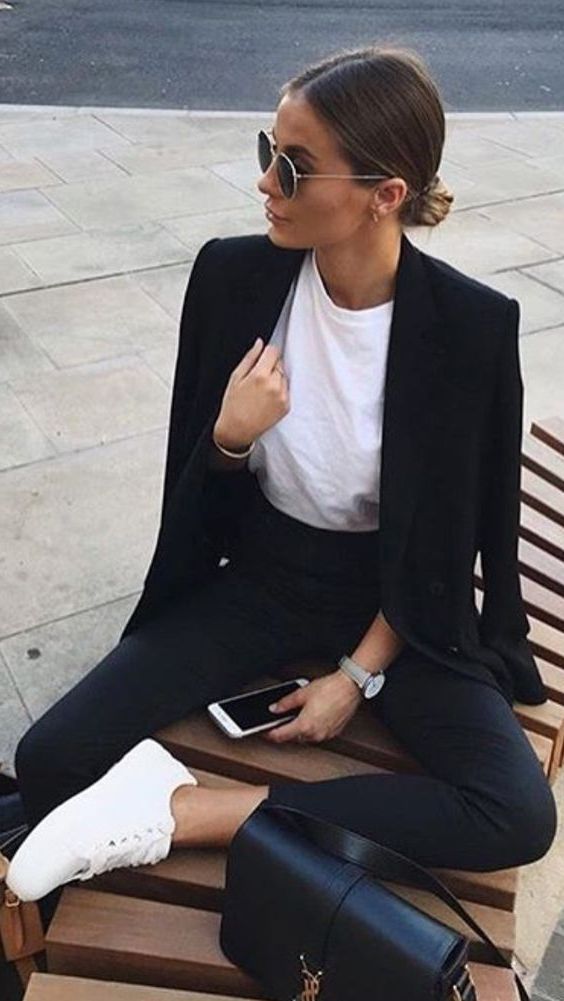 Buy Similar Here
We see a black pantsuit in slim fit updated with a cute black leather clutch bag and white sneakers. Complete this outfit by adding cool aviator sunglasses.
In this post, I am about to share with you a perfect collection of ladies' pantsuits completed with classic and eye-catching footwear designs you can wear from Mondays to Sundays. You are about to see various color and print offerings, starting from white, red, blue to yellow, plaid and pinstripe versions. Read on to find out more and let me know your thoughts in the comments below.
It's no secret that everyone loves suits. Why? It's a perfect way to underline your individuality and sophistication. I know many ladies who wear pantsuits because it makes them look mannish and structured.
Be sure to buy yourself a new pantsuit, as I hear lots of stylists saying that this outfit is going to be on-trend this year. But don't forget about adding shoes that can easily complement the whole outfit.
Well, the majority of women wear suits to work, as they automatically start to look professional and chic. Anyway, I recommend reading on and finding out the best ways how to make pantsuit look awesome on you.
Go for a dark khaki green suit and add a white shirt with a bow-tie and lace-up heeled sandals in beige: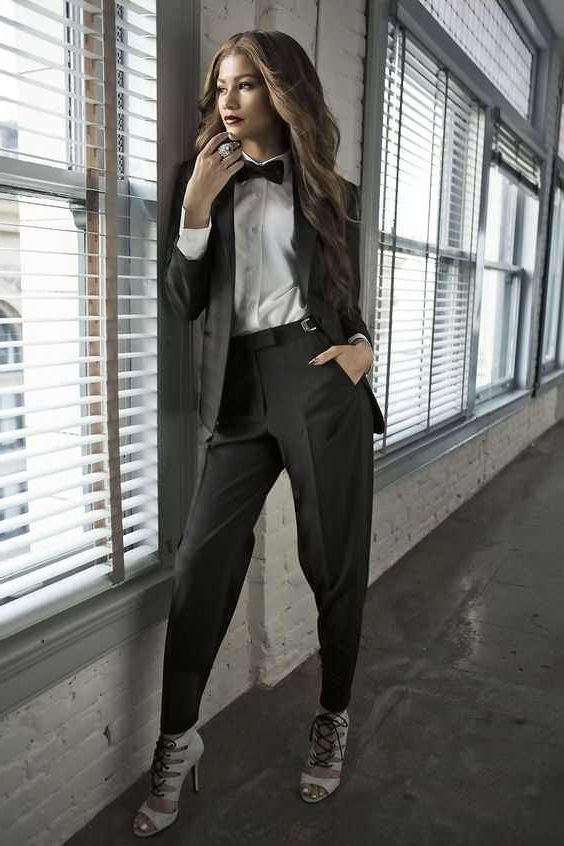 Buy Similar Here
A lovely retro style grey pantsuit in slim fit is worn with a black ruffled blouse and black sock boots: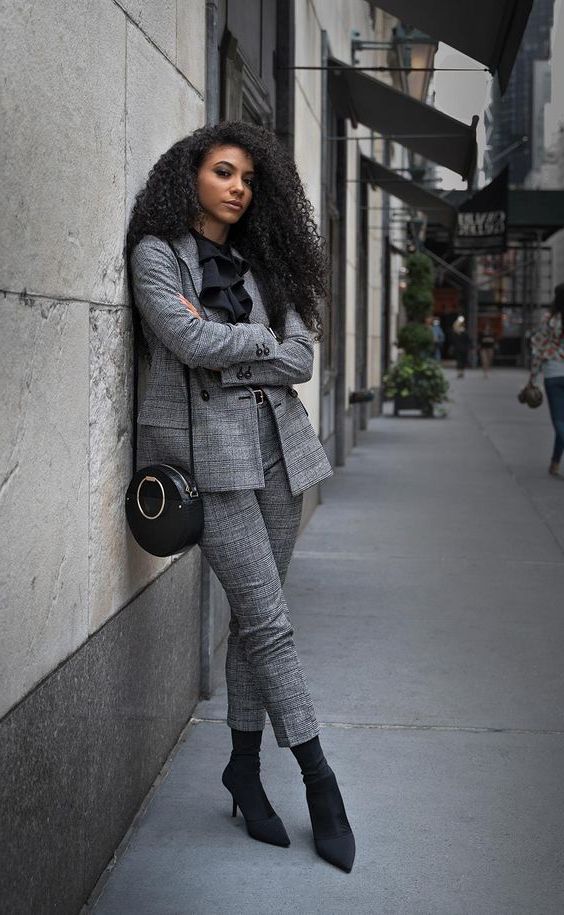 Buy Similar Here
A metallic purple double-breasted suit in slim fit looks just perfect updated with studded black leather loafers. Add sunglasses and a clutch box to make this look sophisticated: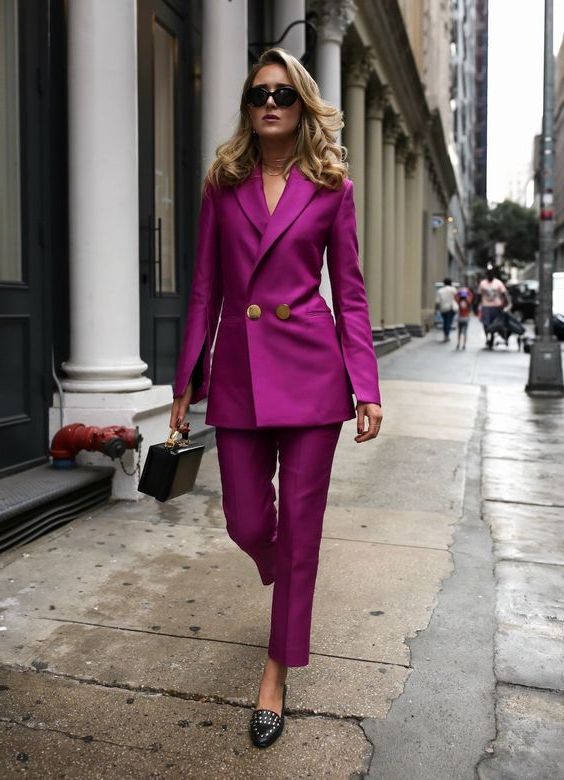 Buy Similar Here
A dark metallic blue belted pantsuit in slim fit with wide pants looks gorgeous with these nude pointed-toe heels: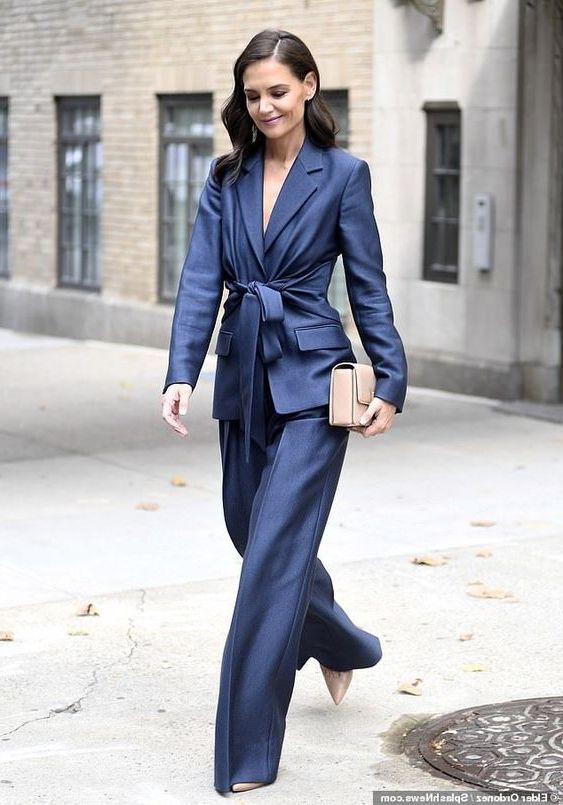 Buy Similar Here
A maroon-colored double-breasted pantsuit looks chic and ladylike thanks to these white ankle boots: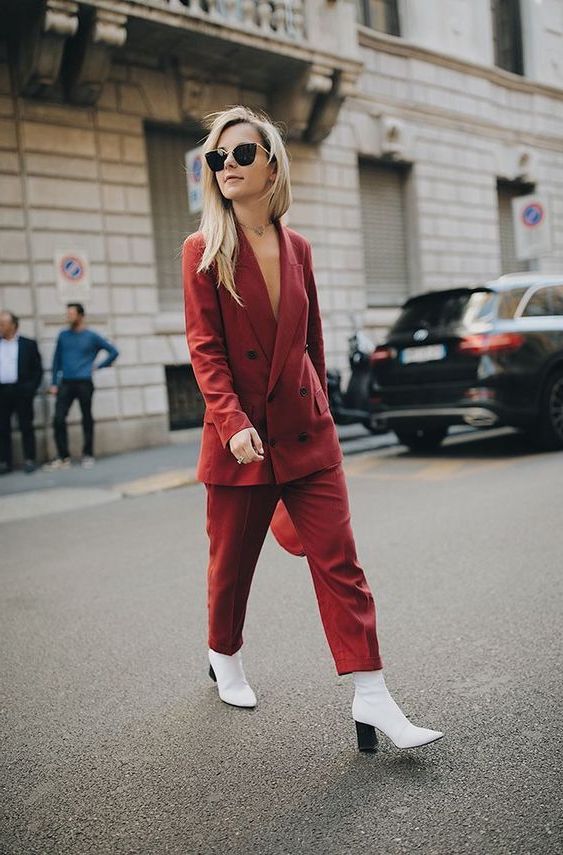 Buy Similar Here
We see a relaxed fit casual pantsuit consisting of a cream white blazer, high-waisted cuffed pants in the same color and pointed-toe black loafers embellished with pearls: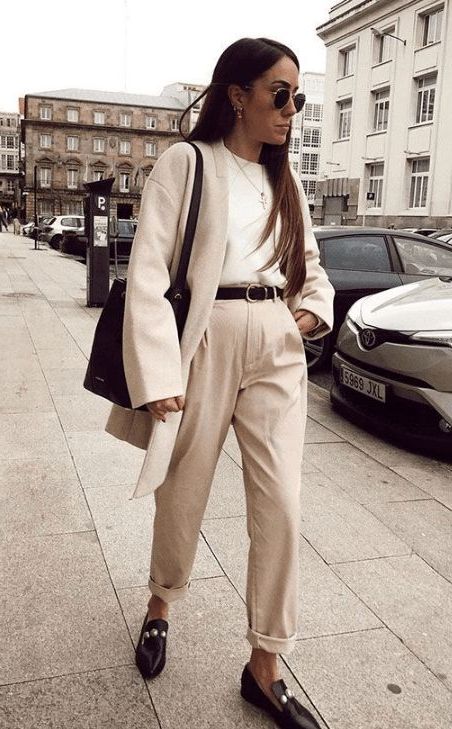 Buy Similar Here
A dark green pantsuit updated with a black turtleneck and black pointed-toe heels look amazing: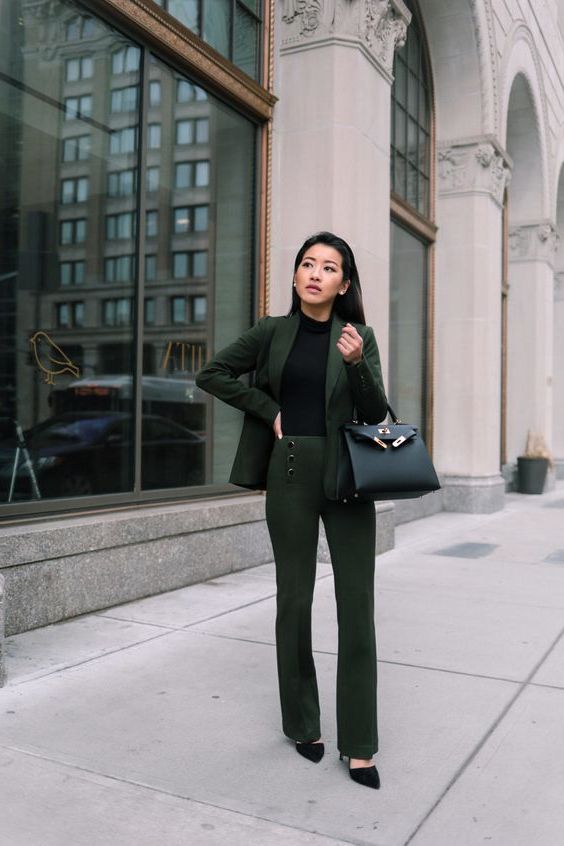 Buy Similar Here
Keep an eye on this pearl-white pantsuit worn with a blue shirt and cream-white heeled pumps: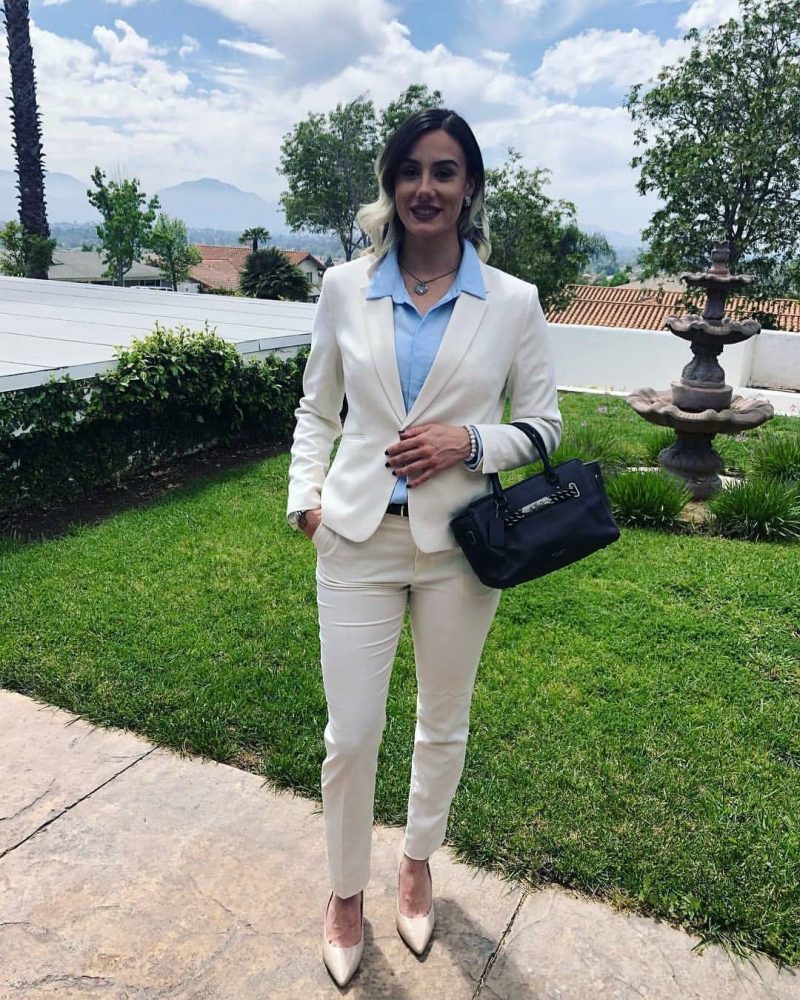 Buy Similar Here
Mustard pantsuit can be updated with a white tee and black-white gingham loafers: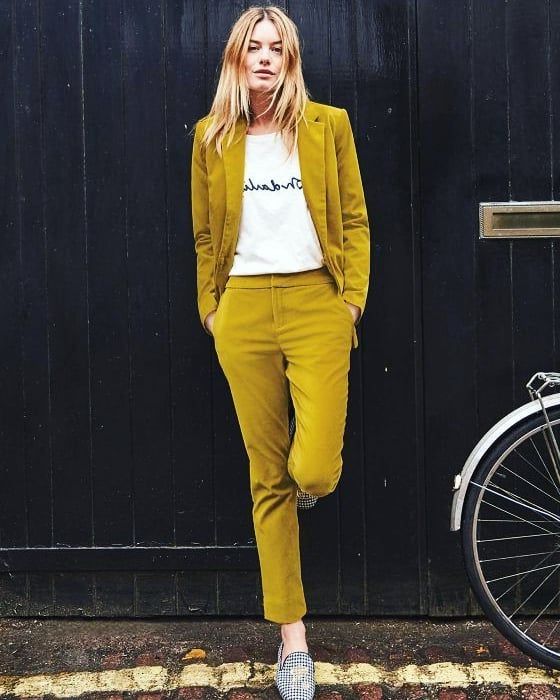 Buy Similar Here
A dark khaki pantsuit is worn with a pinstripe shirt and white sneakers: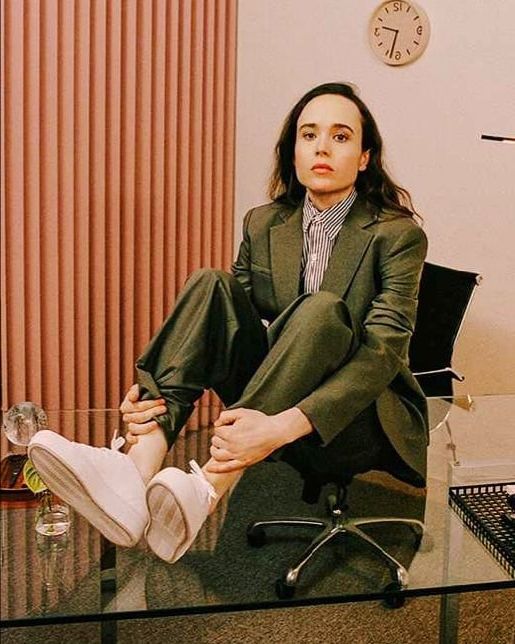 Buy Similar Here
We see an oversized mannish suit in khaki updated with glossy black loafers: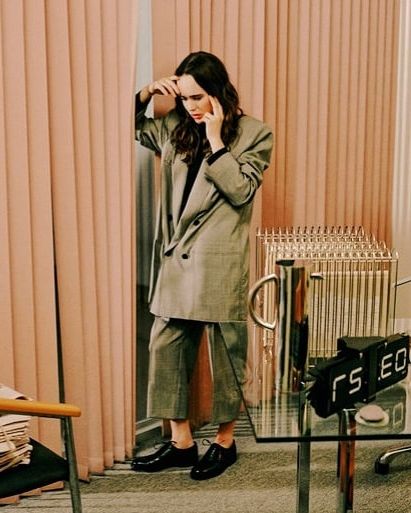 Buy Similar Here
Go for that pearl white suit embellished with floral print detailing. Complete this style by adding multi-colored heeled sandals: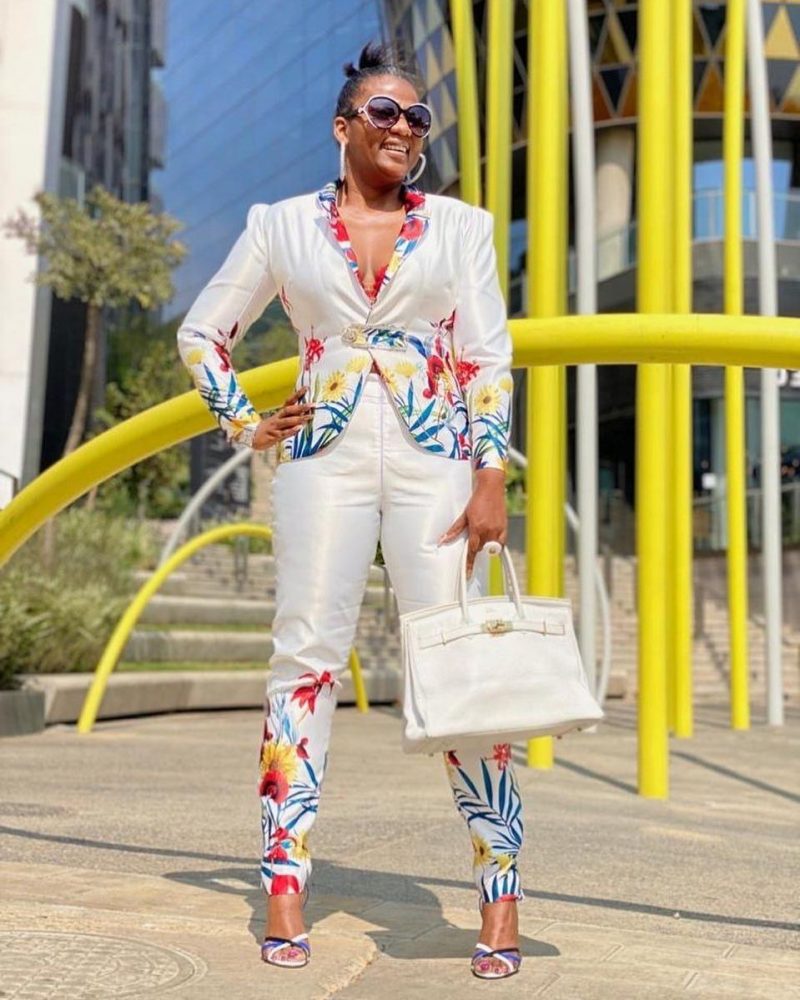 Buy Similar Here
All in black OOTD! Go for this black suit and update it with lace-up suede boots in black: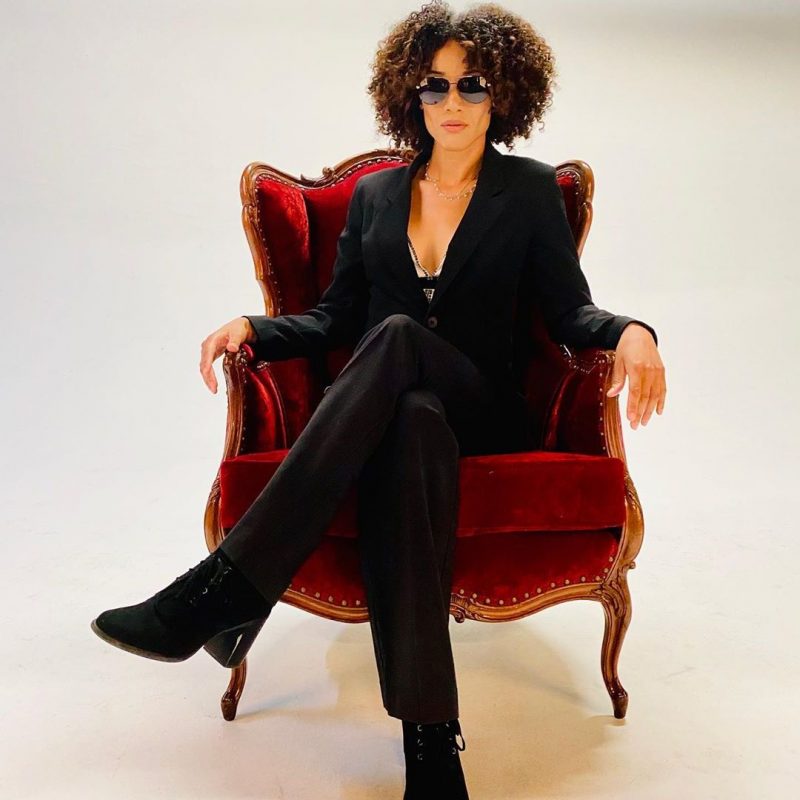 Buy Similar Here
In love with this fuchsia suit styled with a white tee and white sneakers: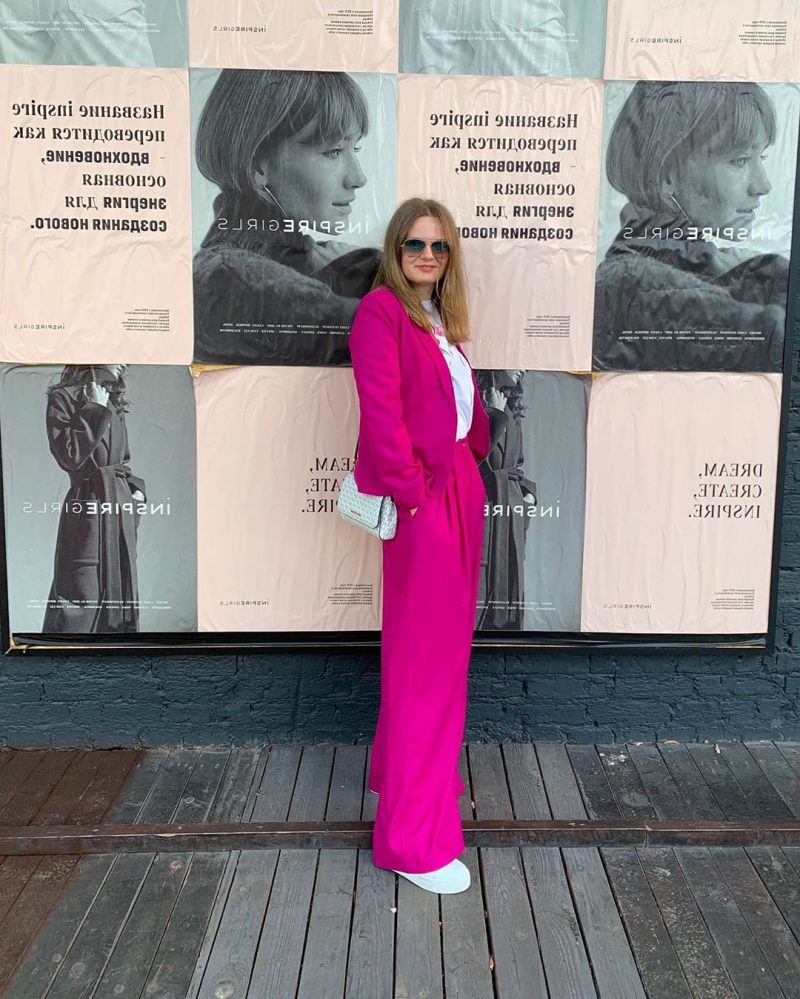 Buy Similar Here
A striped mustard pantsuit with wide pants looks pretty elegant styled with clear heeled pumps: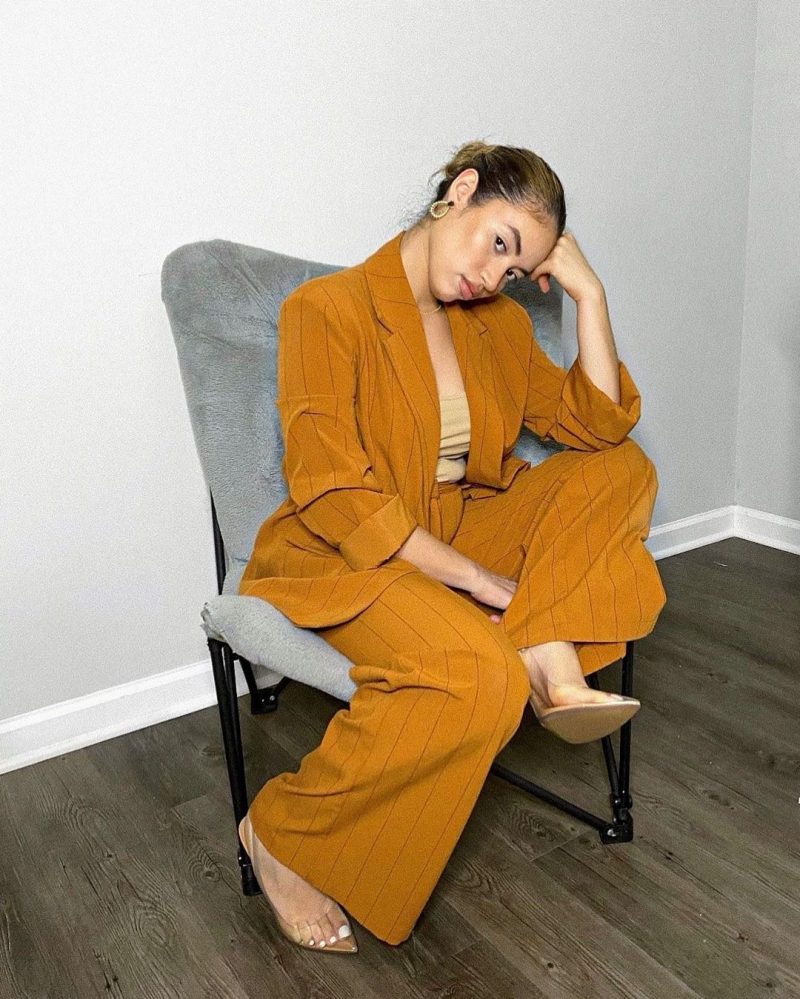 Buy Similar Here
We see a khaki suit with a long blazer and flared cropped pants completed with metallic gold pointed-toe heels: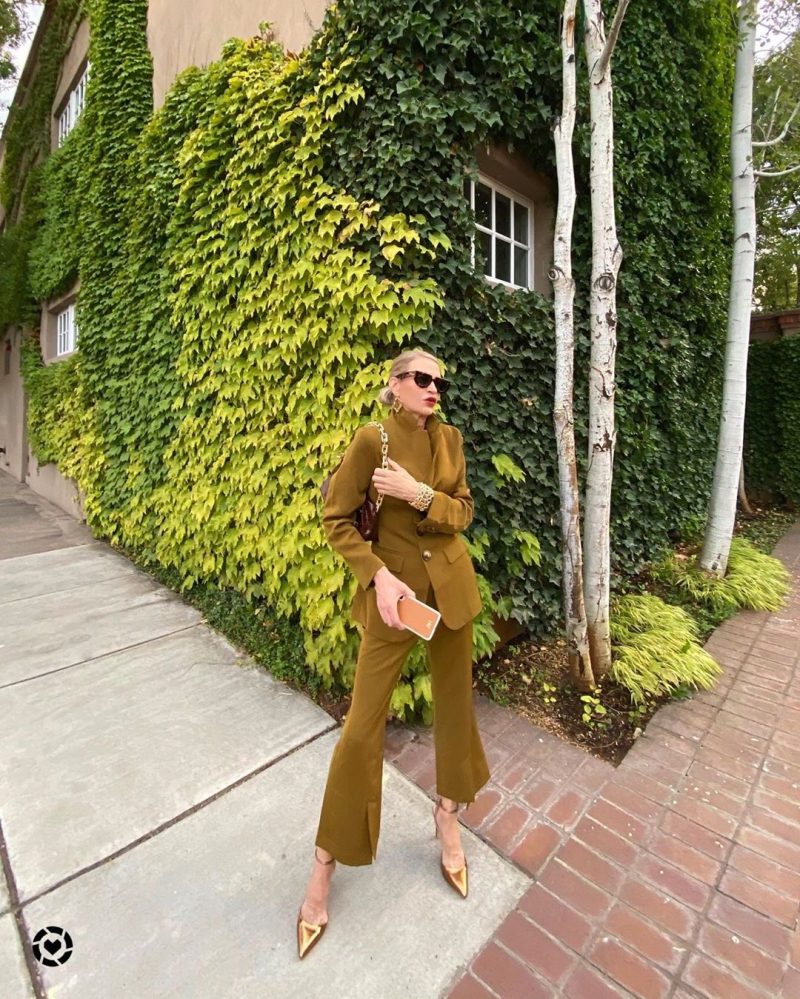 Buy Similar Here
How about wearing a white-blue striped pantsuit with a white top and neon pastel-yellow heeled pumps: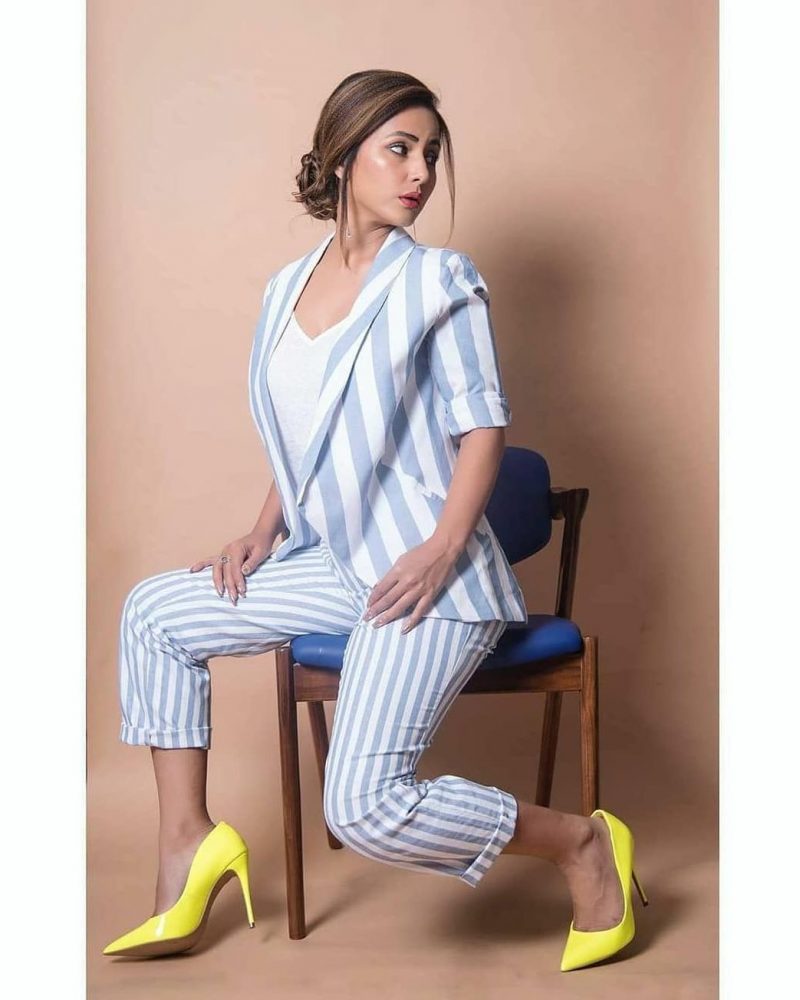 Buy Similar Here
A cute pastel pink suit is completed with a matching color blouse and block-heel pointed-toe pumps: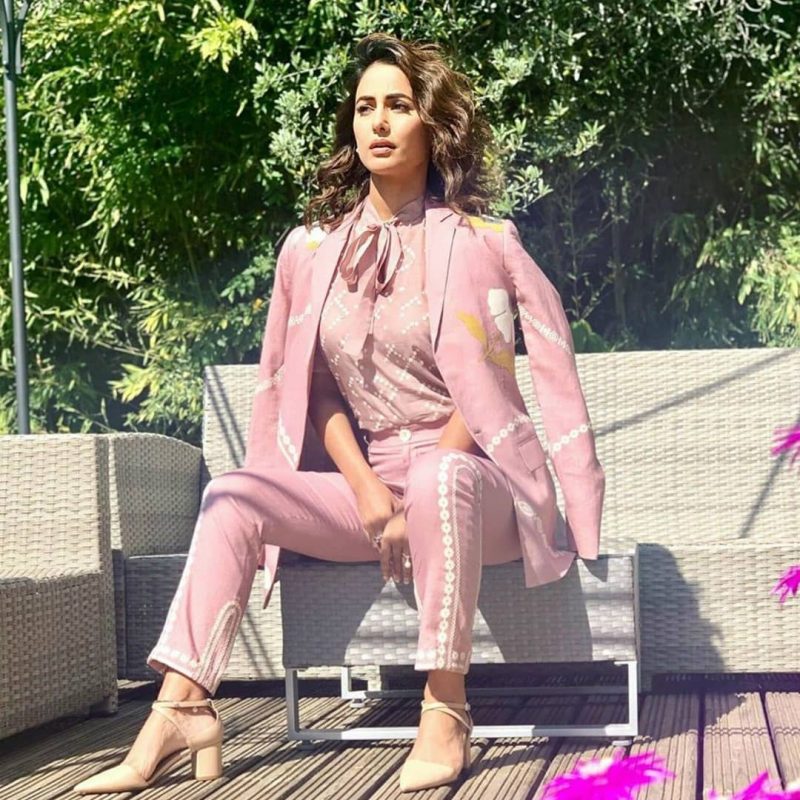 Buy Similar Here
A jacquard printed suit looks amazing with cuffed heeled sandals: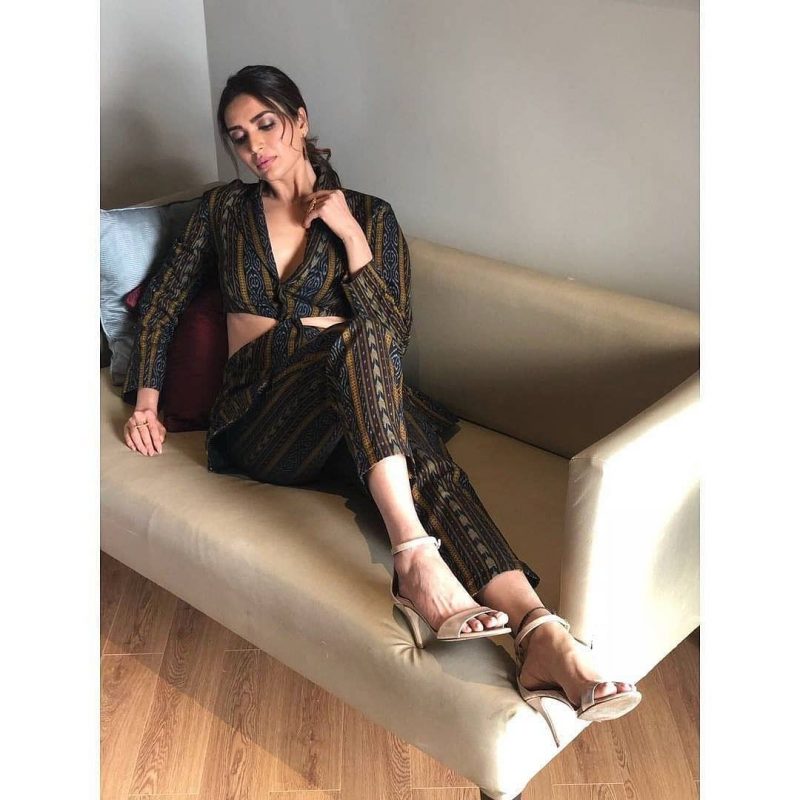 Buy Similar Here
We see a belted pantsuit in black color worn with dark brown leather backless loafers: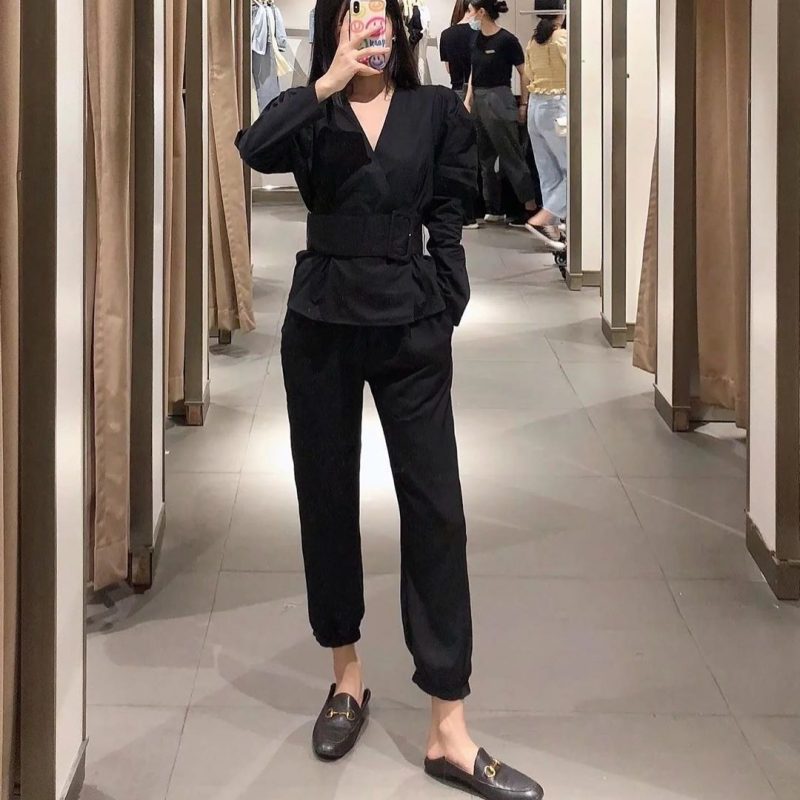 Buy Similar Here
Keep an eye on this green pantsuit updated with a neon-yellow crop top and matching color heeled sandals: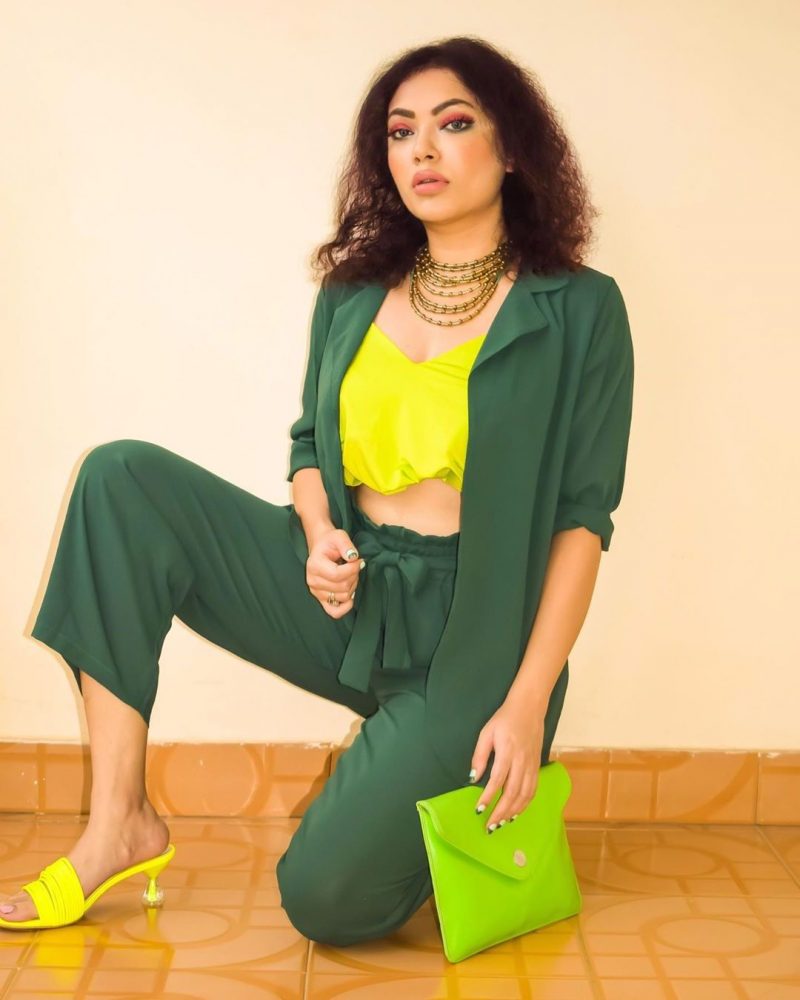 Buy Similar Here
We see a blush pantsuit styled with an orange crop top, oversized shades and orange heeled sandals: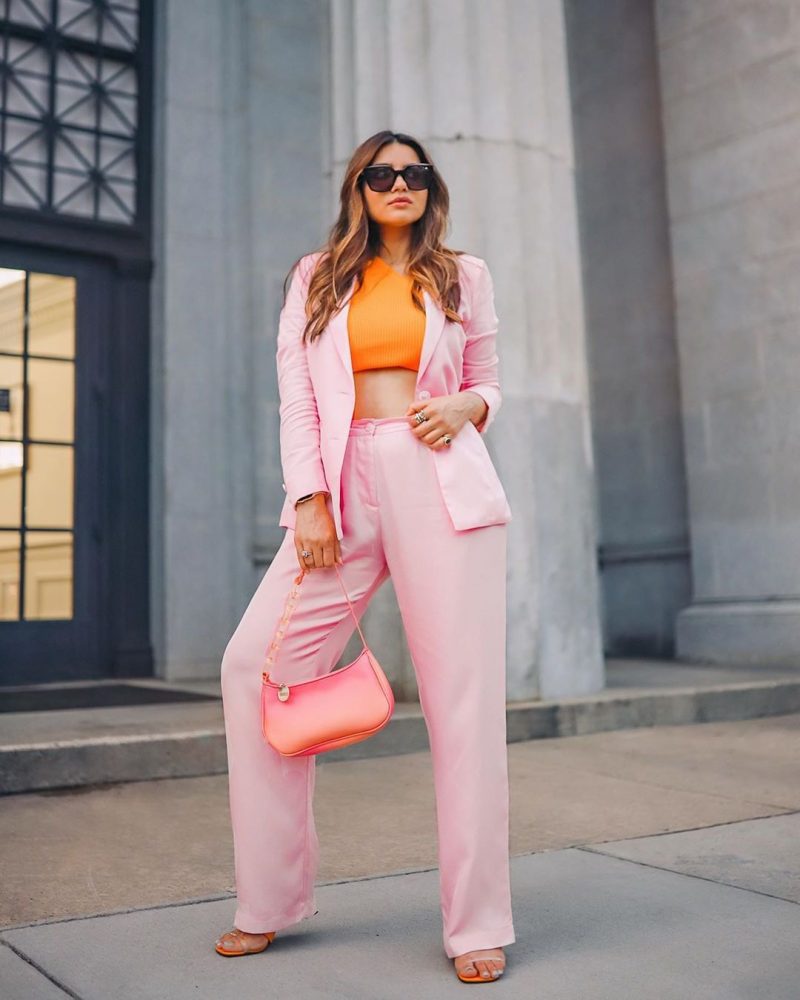 Buy Similar Here
Strappy clear heels look cool with this neon turquoise suit completed with a yellow top: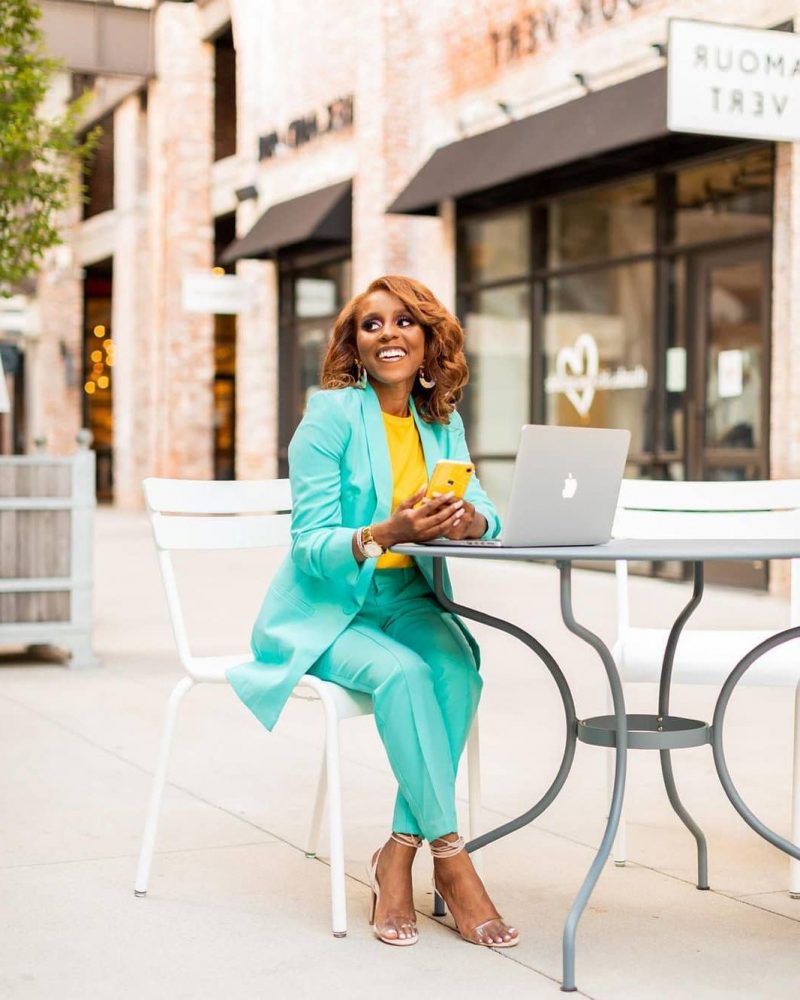 Buy Similar Here
Go for this all in white suit completed with a crop top, tortoise cat-eye sunglasses and heels in white: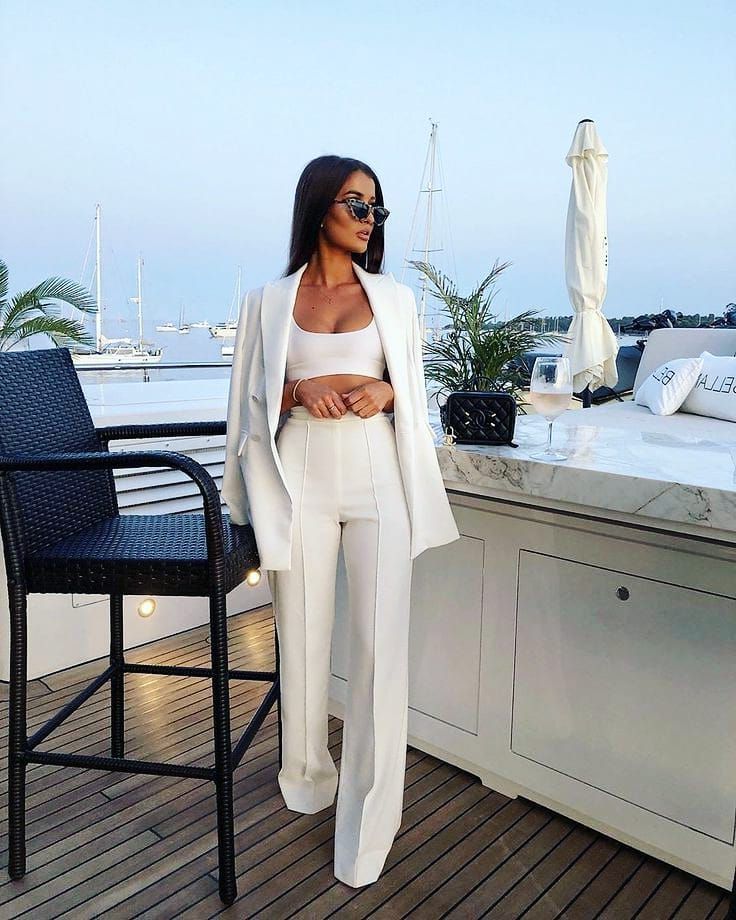 Buy Similar Here