If you are into black sneakers but don't know how to wear them, then I am here to show you the best ideas on how to wear black kicks and look stylish. One thing you should learn by heart is: "sneakers go with absolutely everything". That's why you should simply find a perfect combination that can simply keep a balanced silhouette. If you are tired of wearing high-heels, then you definitely should try on black kicks.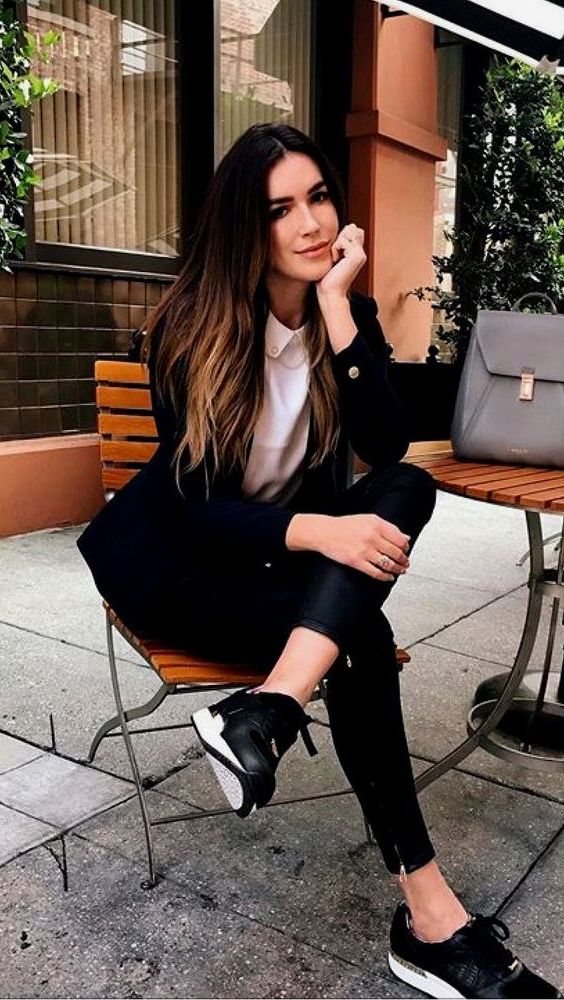 A pair of black sneakers with white soles are worn with black coated skinny leggings, white blouse, and a black blazer.
I do, like this footwear for versatility, you literally can wear black sneakers with anything, starting from classy pants, elegant camel coats to mini skirts ripped jeans and hot dresses. Yes, black kicks will easily give you a fresh vibe. If you are not afraid of fashion experimentation, then why don't we see cool styles on how to mix black sneakers with your favorite wardrobe pieces and still look at your best.
We see an oversized camel coat layered over a black sweater teamed with black leggings and cool black kicks with multicolored soles: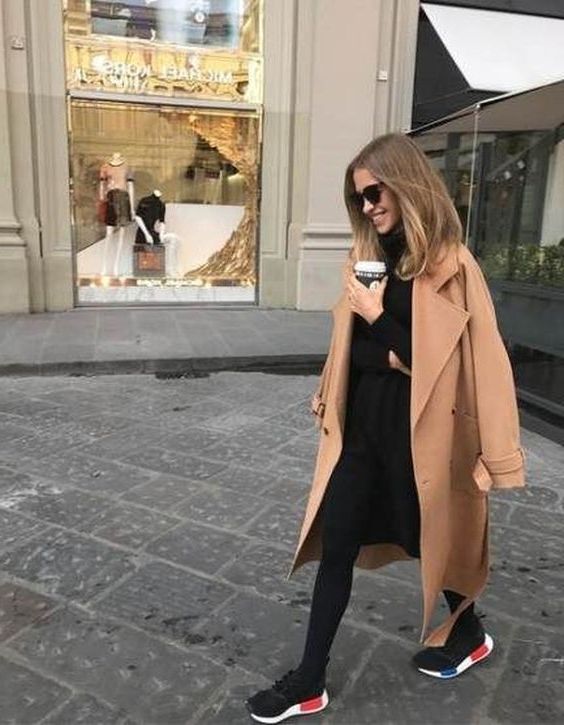 I don't know about you, but I got used to wearing clothes that suit me and make me feel confident. Black sneakers do look great on me, as well as they make me feel self-assured.1
Look at this printed red short dress with a black belt styled with black slip-on sneakers with white soles. Update this combo by adding mirrored sunglasses and a black shoulder leather bag: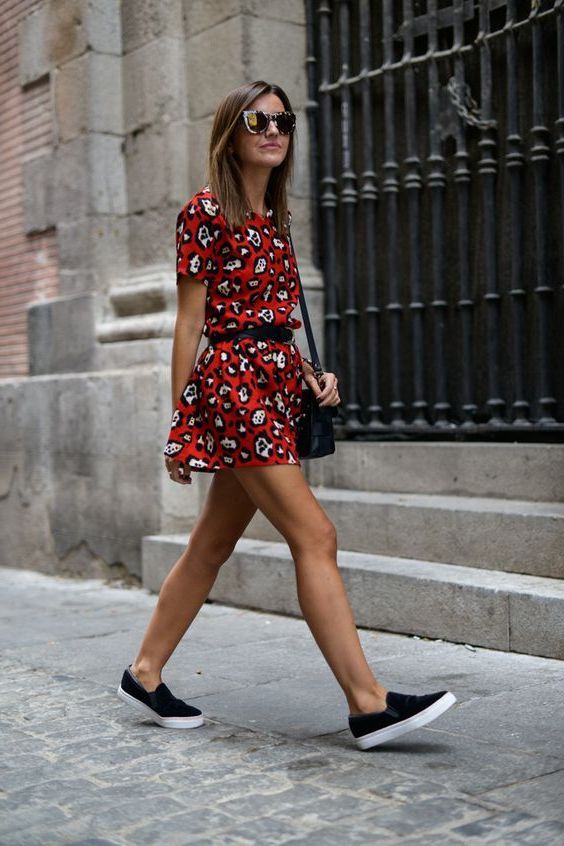 It-girls are in love with black sneakers, and they can be a perfect example of how to wear black kicks in real life. These shoes do look awesome with double denim looks, this pairing can result in one great and stylish outfit combination. If you are into classy style, then a navy blazer with light blue jeans and black kicks might be a nice option. For me, blazers can always make you look professional and smart.
A blazer and black sneakers combination is a perfect mix of elegant sporty look that might work at the office. As I have already mentioned, black sneakers can look damn hot with classics, like a camel coat and a black shift dress, the whole look has an elegant vibe. If you are more into casual style, then denim overalls might be your favorites. The black runners will give you a grunge vibe. Speaking of dresses, then you definitely should try on a shirtdress with a leather jacket and black kicks, the urban style can keep things fresh and sassy.
Black Embellished Sneakers
We see embellished with buckles black sneakers worn with black clothes, including a hooded down jacket, oversized sweater, and black leather skinny pants: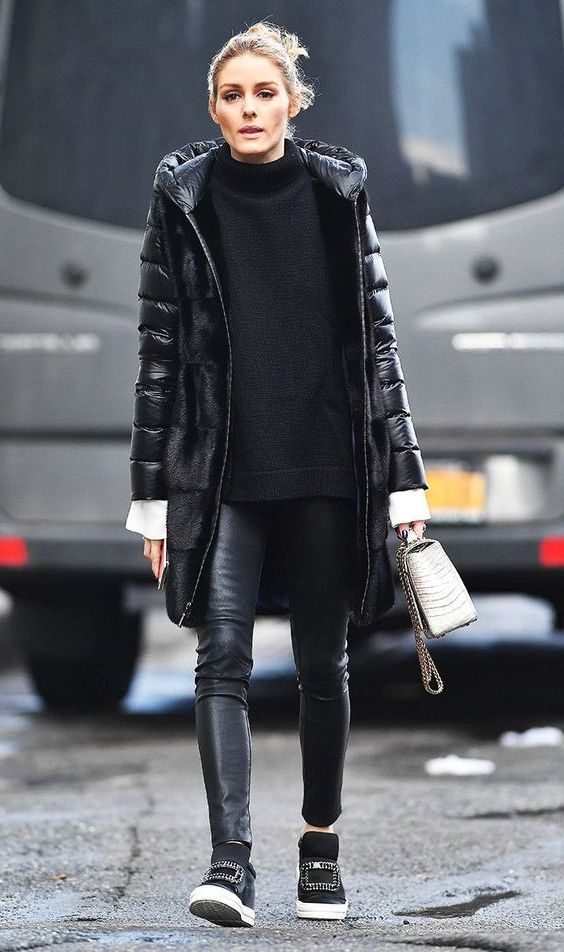 Black Espadrille Sneakers
A pair of black espadrille sneakers look pretty chic with knee-ripped skinny jeans in blue: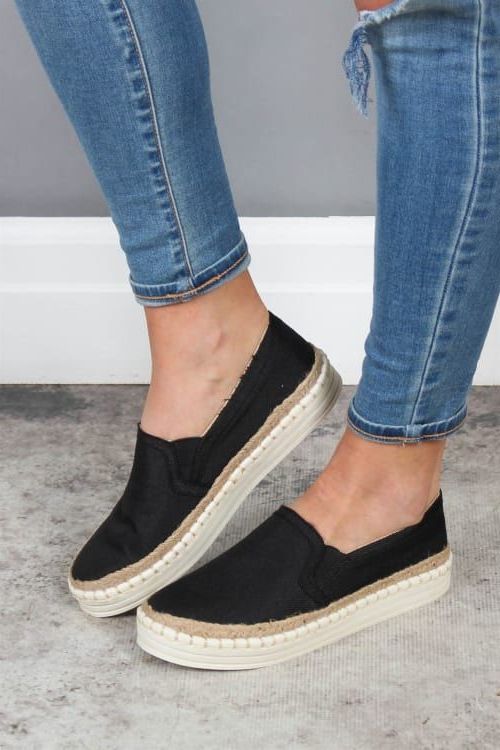 Black Huarache Sneakers
Black Huarache sneakers with white soles look damn modern with black skinny pants, black long coat and grey long scarf completed with a black beanie: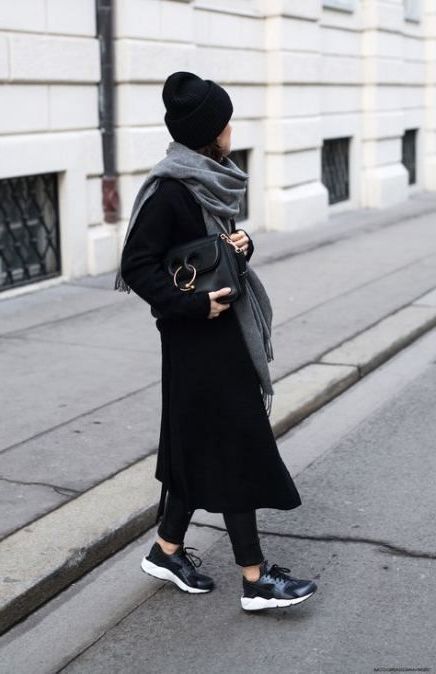 Black Knit Sneakers
If you are looking for a cool update in your outfit, then try on these black knit sneakers with black leather leggings and black knitted sweater: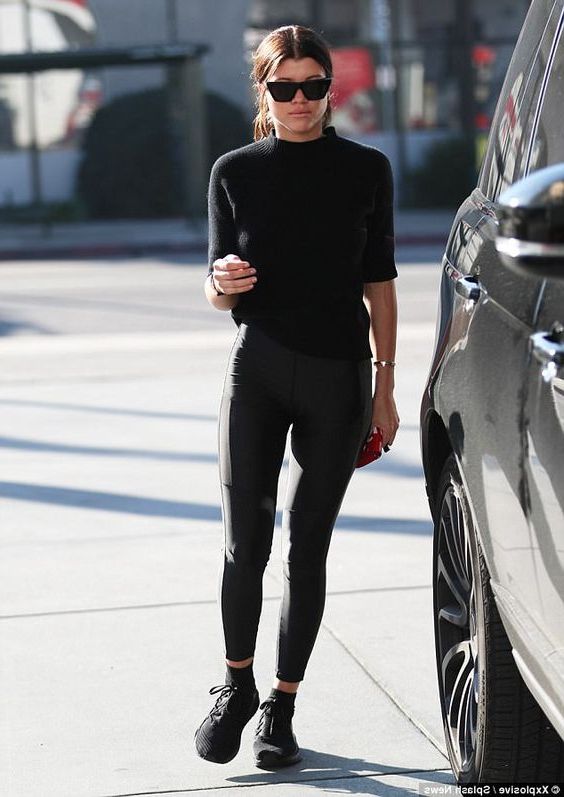 Black Quilted Sneakers
I do love individuality, here we see quilted black leather sneakers with white soles. Try them on with blue ripped skinny jeans: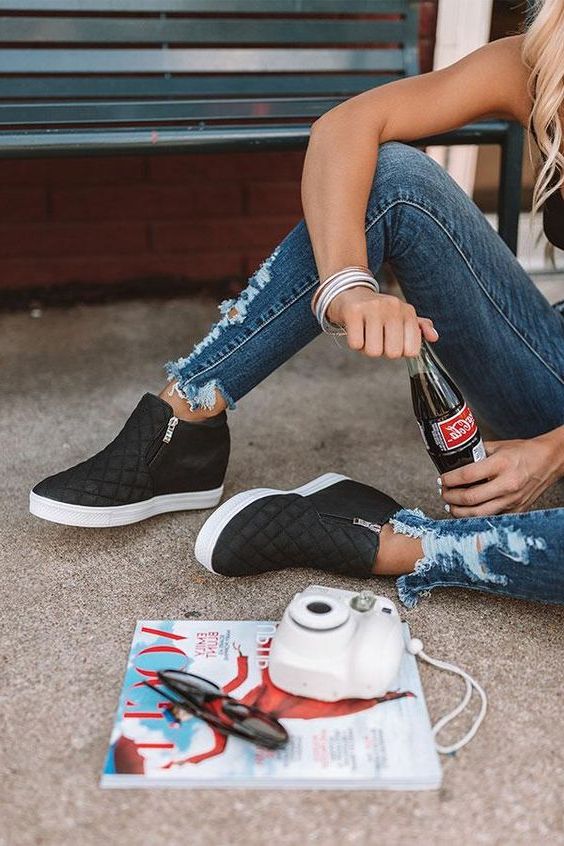 Another pair of black quilted slip-on sneakers worn with skinny blue jeans, grey tee, and a khaki olive bomber jacket: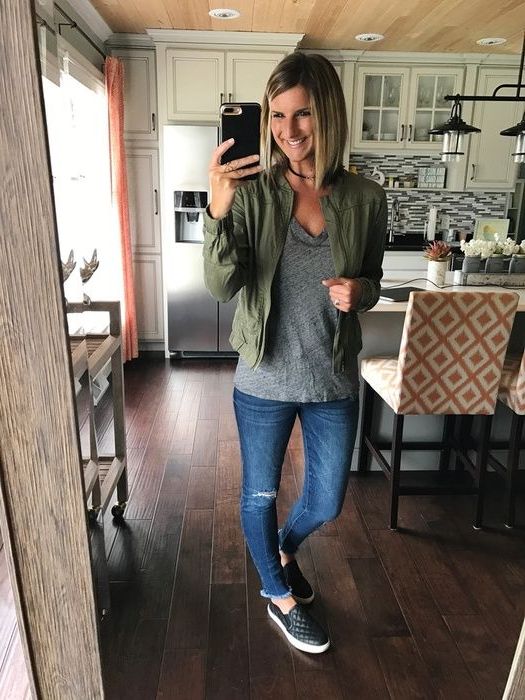 Black Sneakers And Blue Jeans
A classic pair of sporty black sneakers with white soles are teamed with ripped slim jeans in a blue and black leather jacket: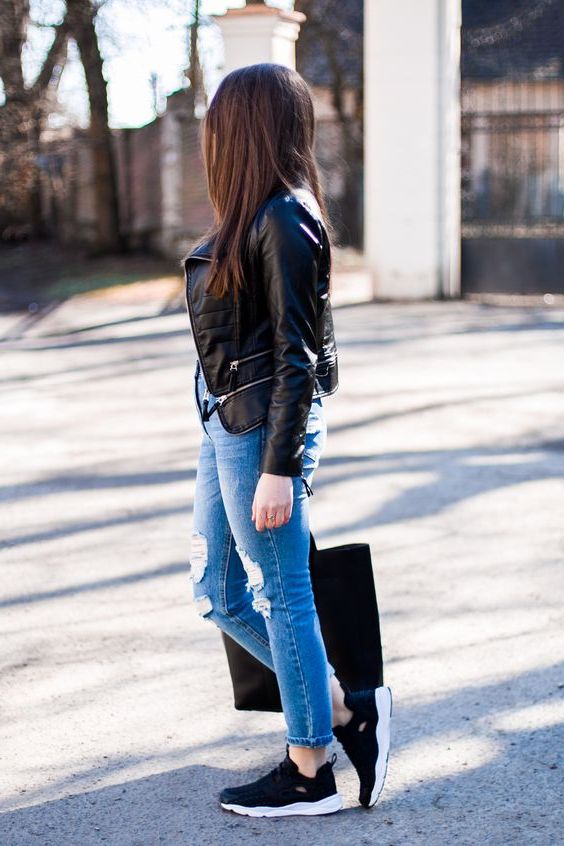 Black Sneakers And A Dress
A long tank top dress is freshened up with rounded sunglasses, classic suede black sneakers with white soles and a cool black leather backpack: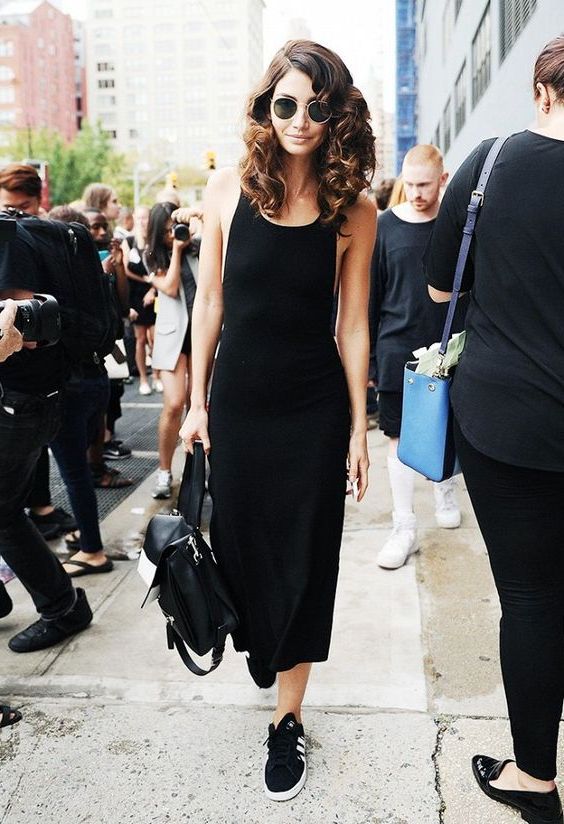 Black Sneakers And Khaki Jeans
Black slip-on sneakers with white soles are teamed with khaki olive skinny jeans, black-white striped top and a black hoodie layered under the black leather jacket: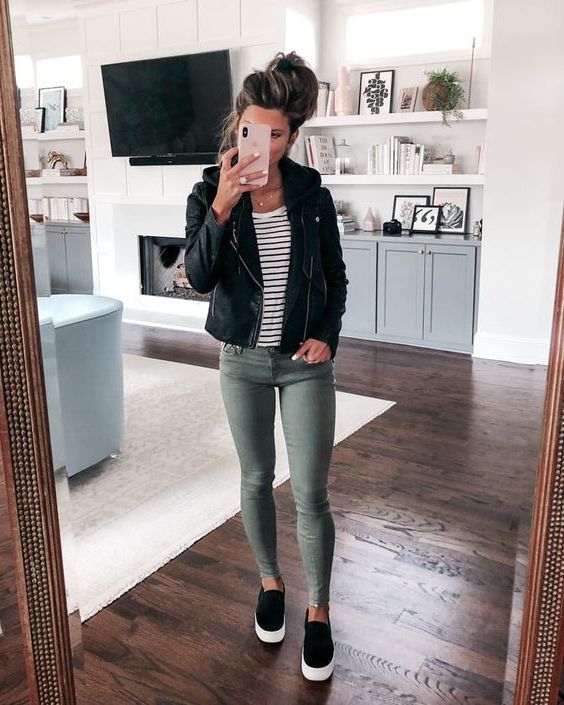 Black Sneakers And Suit
Yes, I am a big fan of wearing black sneakers with classic suits, here we see a dark blue pantsuit completed with Adidas kicks: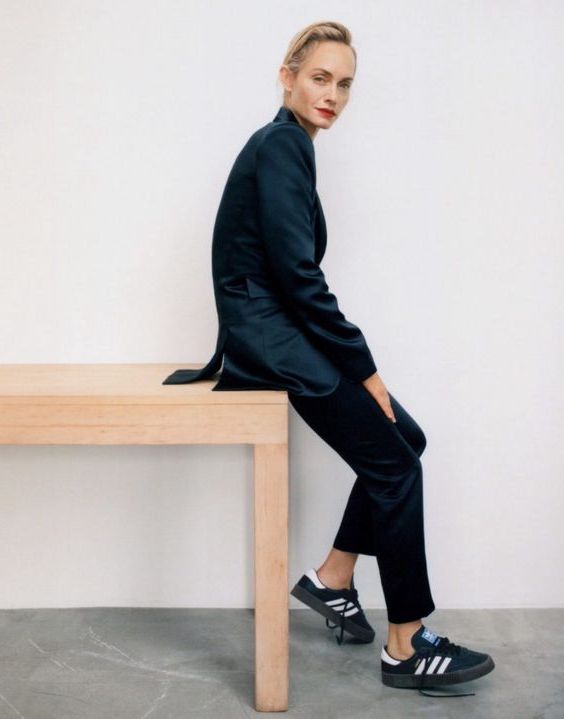 Black Chunky Sneakers
Chunky sneakers in black color are updated with white high socks and a cool leopard print tee: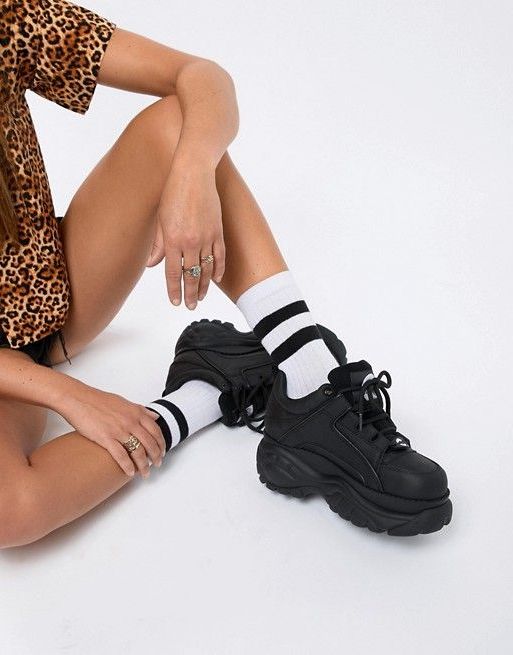 Black Sneakers For School
If you are looking for a nice school outfit idea, then how about wearing a pair of black runners with white soles styled with black leggings, and a grey hoodie: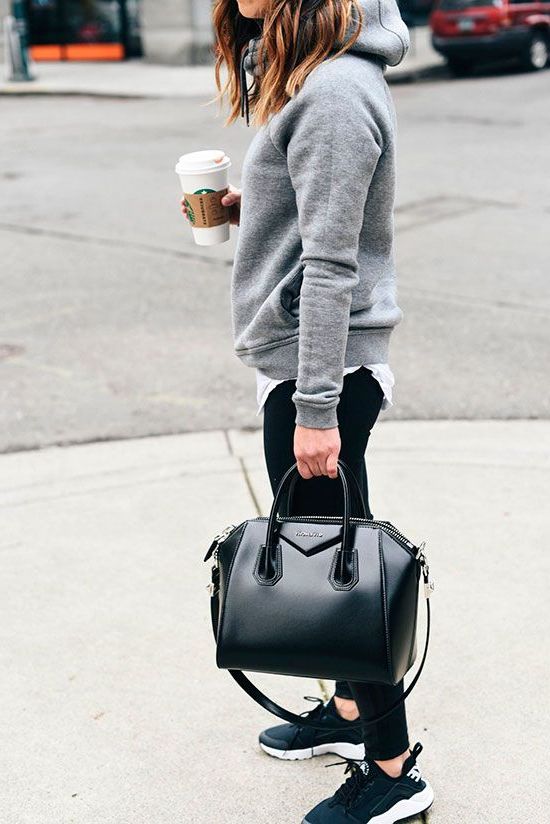 Black Sneakers In Summer
The best way to wear black sneakers during summertime is to add a pair of black leather shorts, a relaxed fit white top, and a black blazer. In love with these wedge sneakers: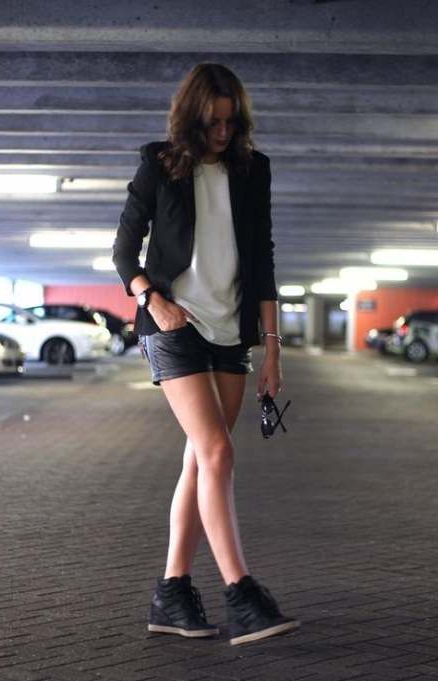 Black Sneakers With Black Soles
A pair of chunky sneakers in black look ugly, but that's what makes them so special, try them on with a cool midi skirt in black: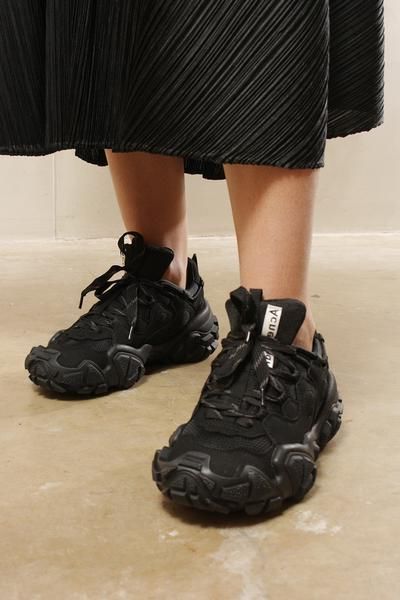 Black Sneakers With Jeans
Classic black runners with white soles are worn with black skinny jeans, deep V-neck white blouse and a cardi-coat in light grey: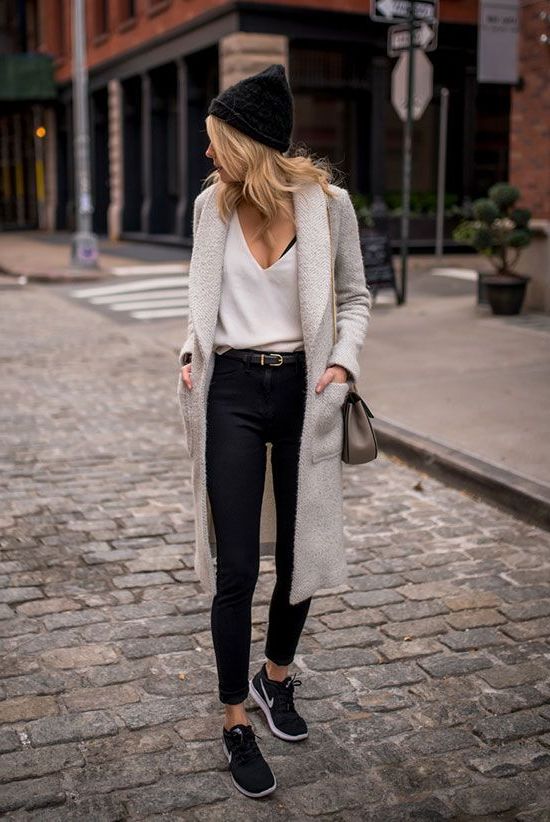 Black Sneakers With Shorts
Another casual style to follow this year. We see a light grey pullover teamed with ripped denim shorts and black athleisure slip-on shoes: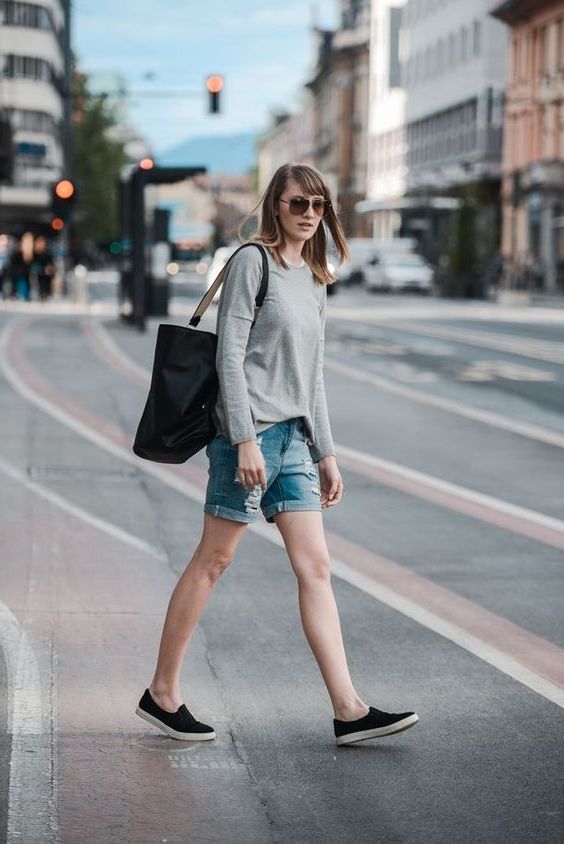 Black Sneakers With White Laces
Another great sporty trend is black sneakers with white laces. They can be seen everywhere: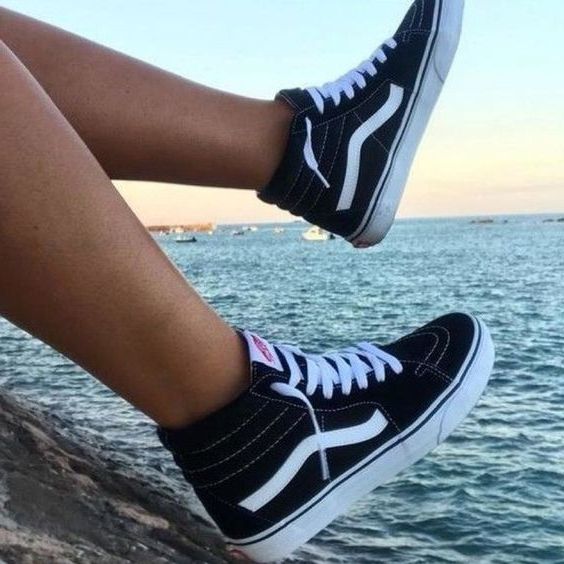 Black Sneakers With White Soles
Black kicks with white soles look fresh and unique. Go for a total black look to see the vibrancy of white soles. In love with that black leather cap, leather jacket, and leggings: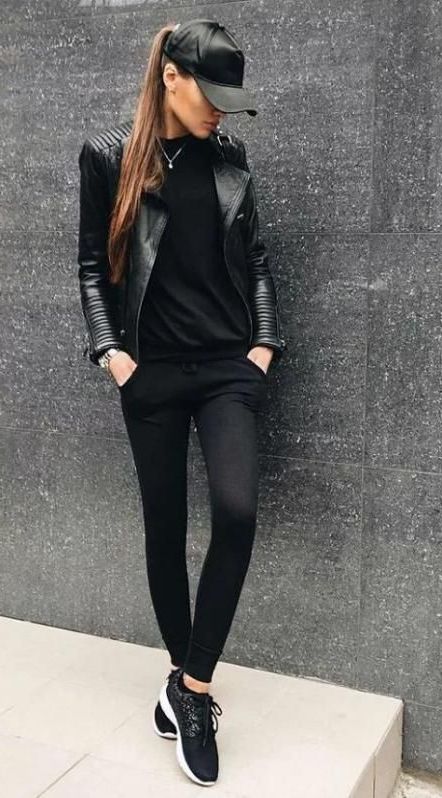 Black Sneakers With White Stripe
We see a relaxed style look that features a black sweater teamed with a midi grey skirt and black-white sneakers: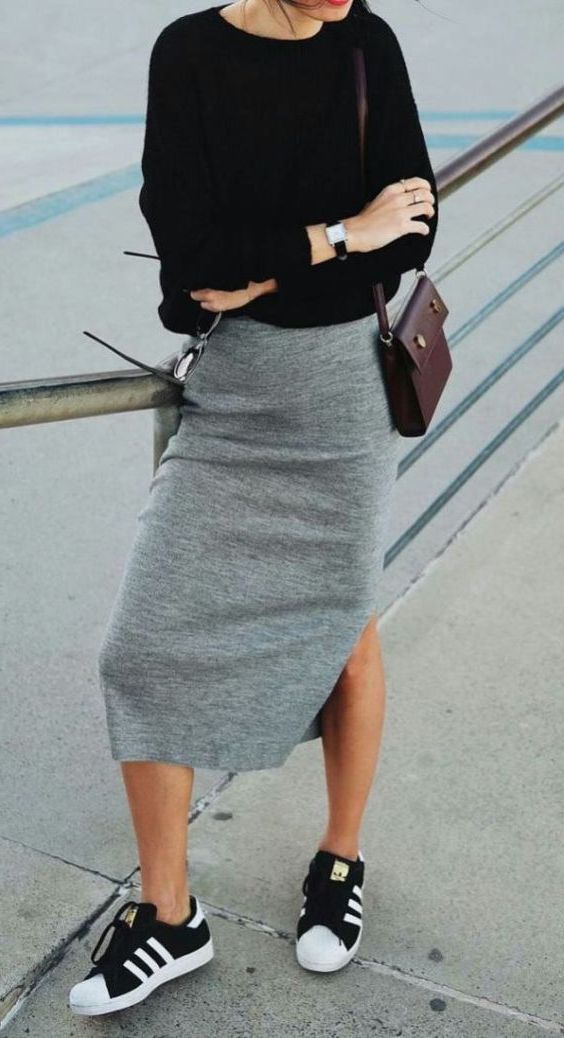 Black Sneakers With Zipper
These black suede high-top sneakers with side zipper look damn hot with skinny jeans in wash blue: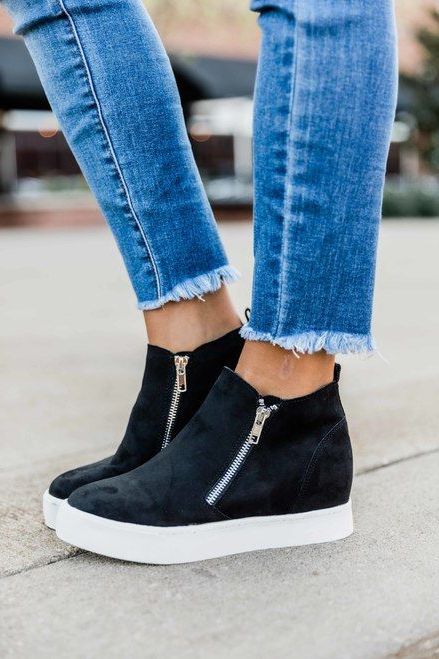 Black Sneakers To Wear At Work
Classic high-top trainers in black are worn with office-friendly clothes, like a blazer, black turtleneck and cropped black pants: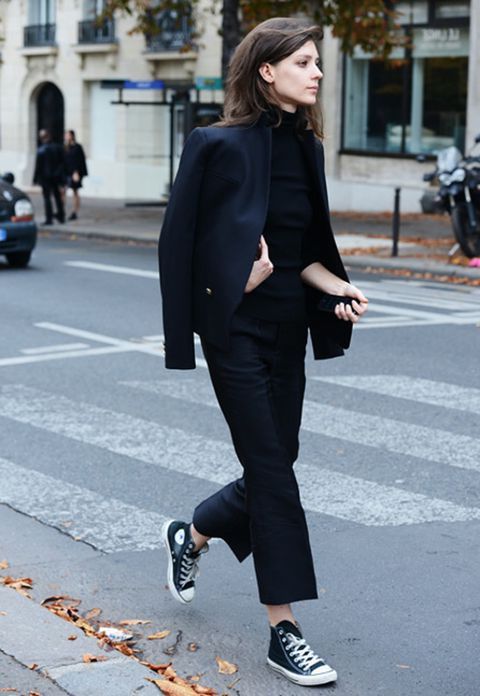 Black Sock Sneakers Outfit
Ideal black sock sneakers are updated with cuffed mom jeans, black crop top and a down coat in black. Complete this look by adding cat ear beret hat: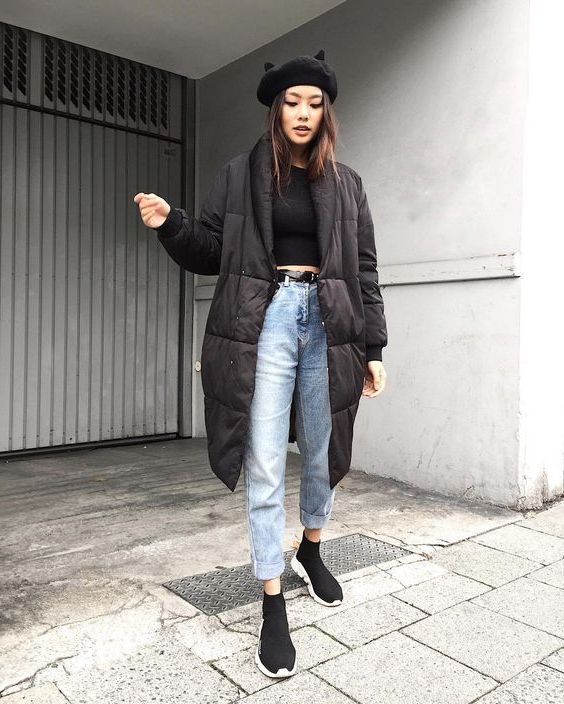 Black Yeezy Sneakers
Black Yeezy sneakers in chunky look are styled with black joggers and oversized sweatshirt: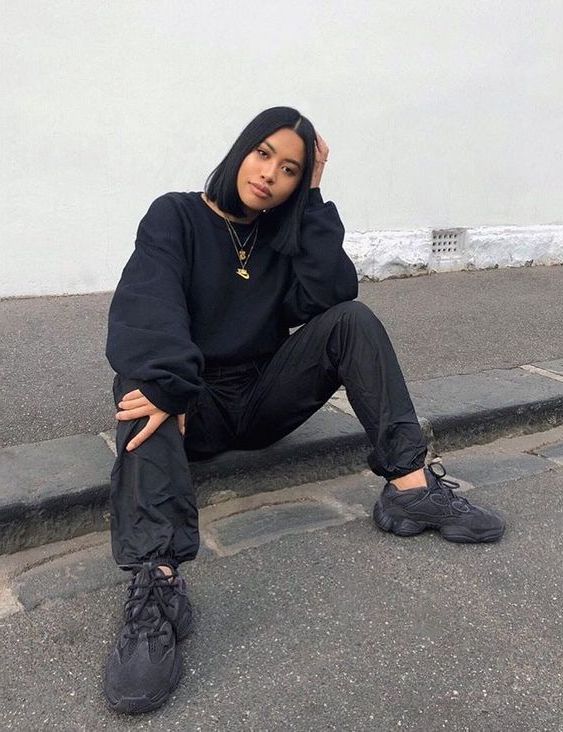 Black Yoga Sneakers
Ideal black sneakers with white soles for yoga classes, try them on with black camouflage leggings, white top and a hooded sporty jacket in black: