It's time to talk about skirts. Today's blog post is dedicated to midi pleated skirts and ways how to style them with sneakers. I want you to see simple outfit ideas that are easy to copy in real life.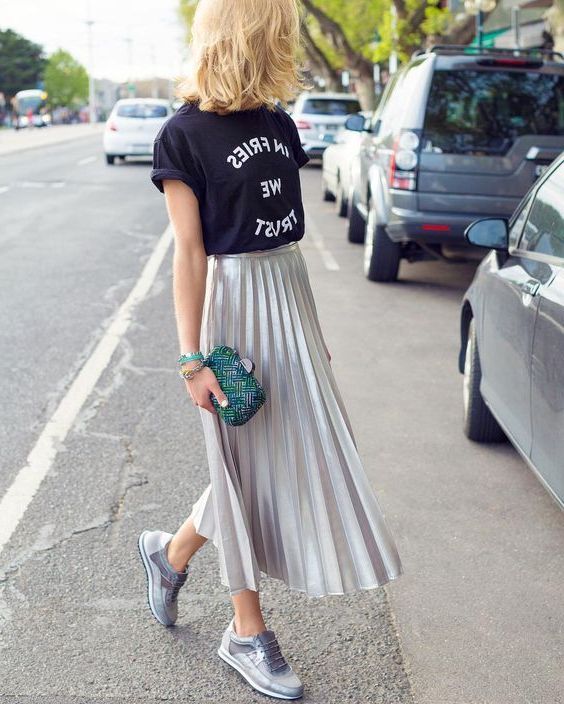 Buy Similar Here
I am so in love with this combo. We see a black tee tucked in a metallic silver midi pleated skirt completed with silver-purple metallic sneakers.
If you have never tried pleated midi skirts, then you definitely should try this bottom piece with sneakers. Pleats are still in trend this year. Sure, knife-pleats can be difficult to take care of, but they do look amazing.
We see an oversized beige sweater with a turtleneck styled with a bronze-gold midi knife-pleated skirt and matching bronze metallic sneakers, update this style with rounded sunglasses and hoop earrings: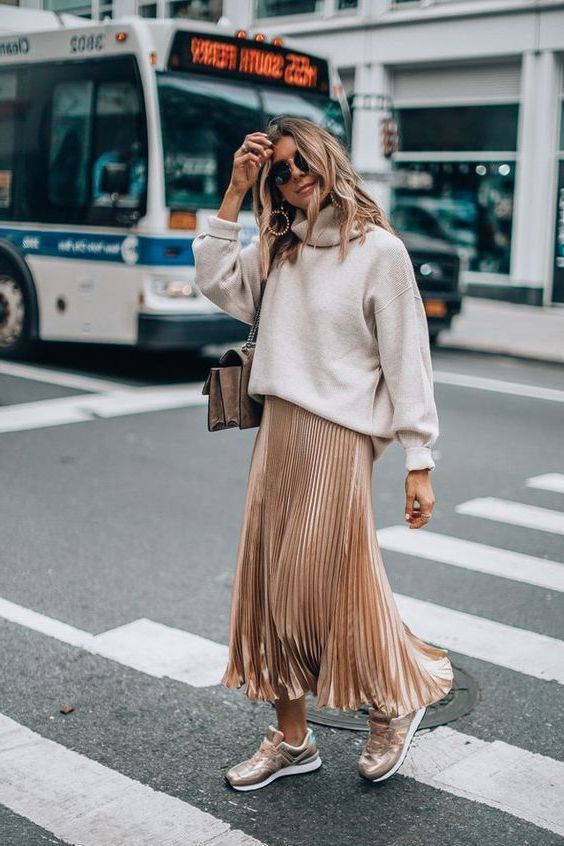 Buy Similar Here
Once you found your favorite pleated midi skirt it's time to think of your upcoming looks. What you need is to create a unique outfit, that's why I am so into ways how to style it in real life. As you know, this post is about ways how to style midi pleated skirt with sneakers, that's why I am going to talk about a perfect balance between these two pieces.
Lots of things depend on your skirt's color. If it's dark, neutral or bright. Sneakers make pleated skirts look more casual and athleisure. So, what are we waiting for, let's see my favorite outfits completed with midi pleated skirt and sneakers? Hope you can find here something special.
What Colors Of Pleated Midi Skirts Look Best With Sneakers
Beige Pleated Midi Skirt
A dark blue cardigan looks perfect with a cream-white knife-pleated midi skirt and light grey chunky sneakers: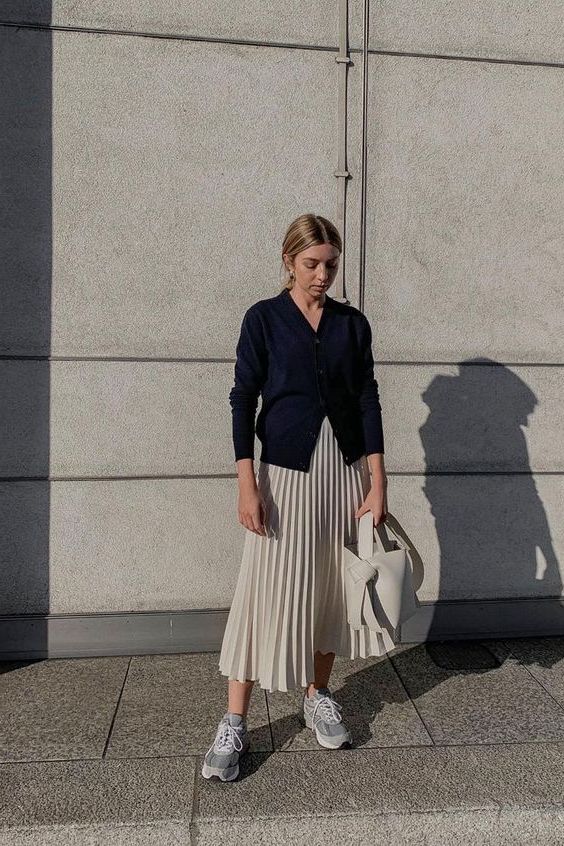 Buy Similar Here
Black Midi Pleated Skirt + Black Blazer + White Kicks
Another cool way to style black midi pleated skirt is to pair it with a white slip tank top and a black blazer. Complete this combo with tortoise sunglasses, and white sneakers: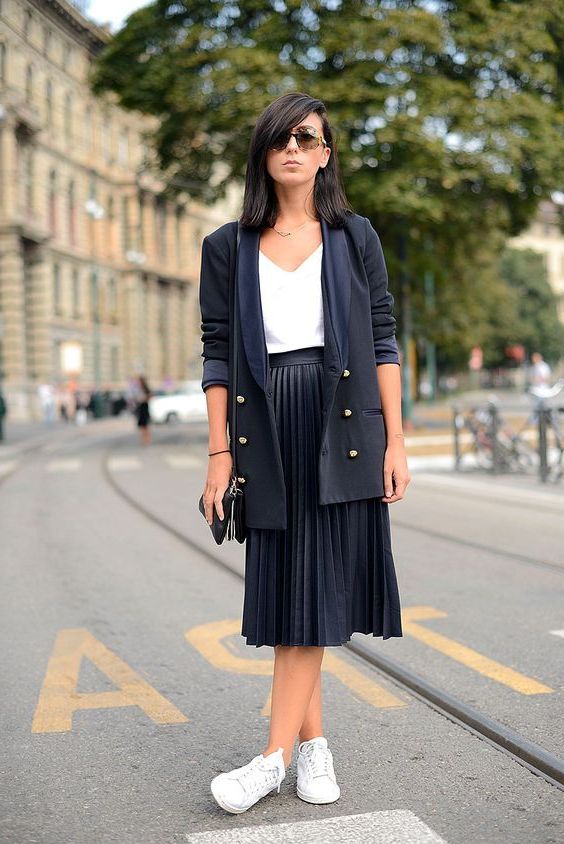 Buy Similar Here
Black Midi Pleated Skirt + White Tee + White Sneakers
If you are into casual style, then how about tucking in this dinosaur printed white tee into a black midi pleated skirt. Add a chain strap black clutch, oversized sunglasses, and white sneakers: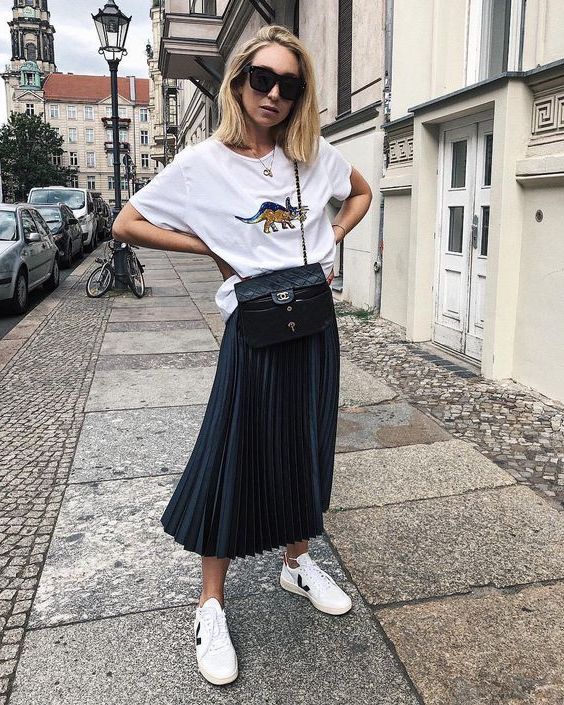 Buy Similar Here
Blush Midi Pleated Skirt
Here we see a ruffled white blouse tucked in blush midi pleated skirt completed with cool white kicks: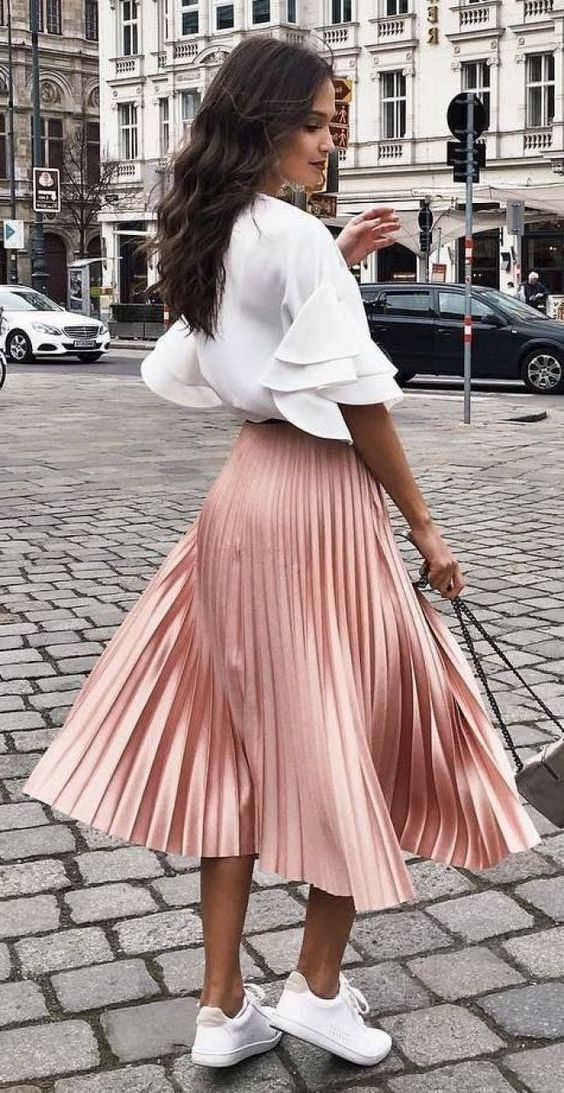 Buy Similar Here
Dark Blue Pleated Midi Skirt
A rich blue knife-pleated midi skirt ideally matches that light blue shirt and white sneakers. Update this look with Wayfarer sunglasses: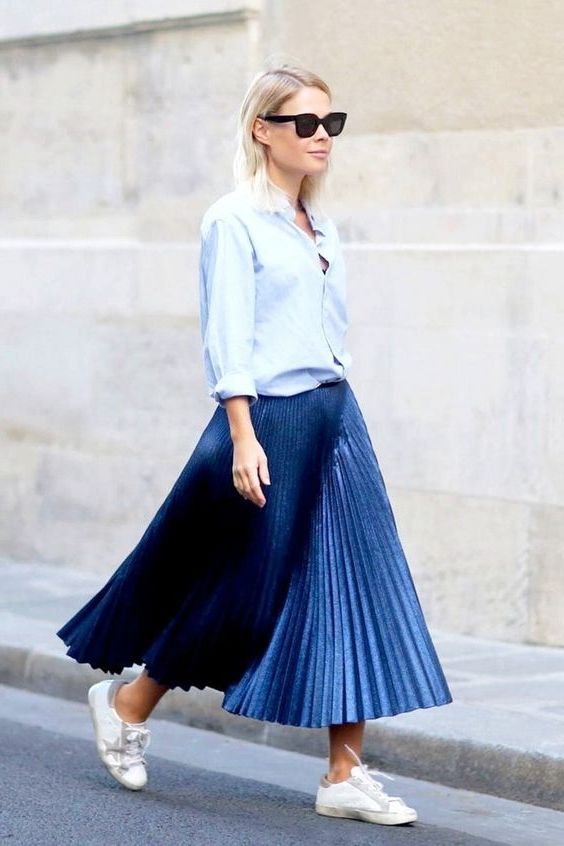 Buy Similar Here
Gold Pleated Midi Skirt
An oversized black sweater looks just fine and easy to wear tucked in that gold knife-pleated midi skirt updated with classic white runners: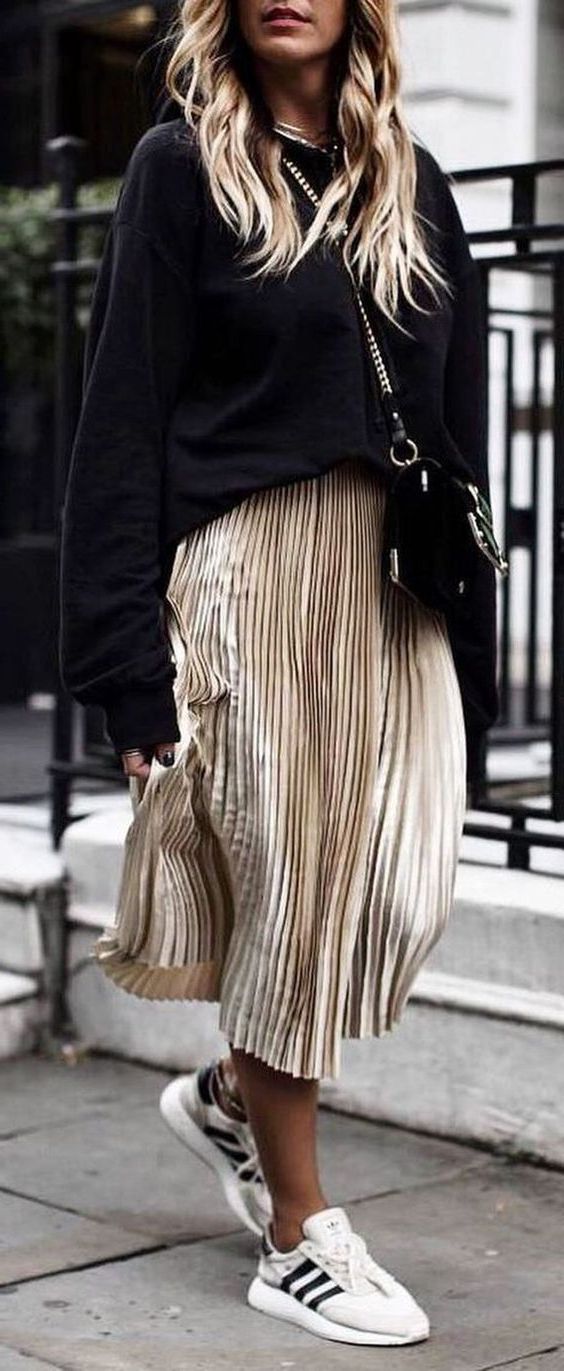 Buy Similar Here
Green Pleated Midi Skirt
A rock band black tee is tucked in metallic green knife-pleated midi skirt completed with white kicks: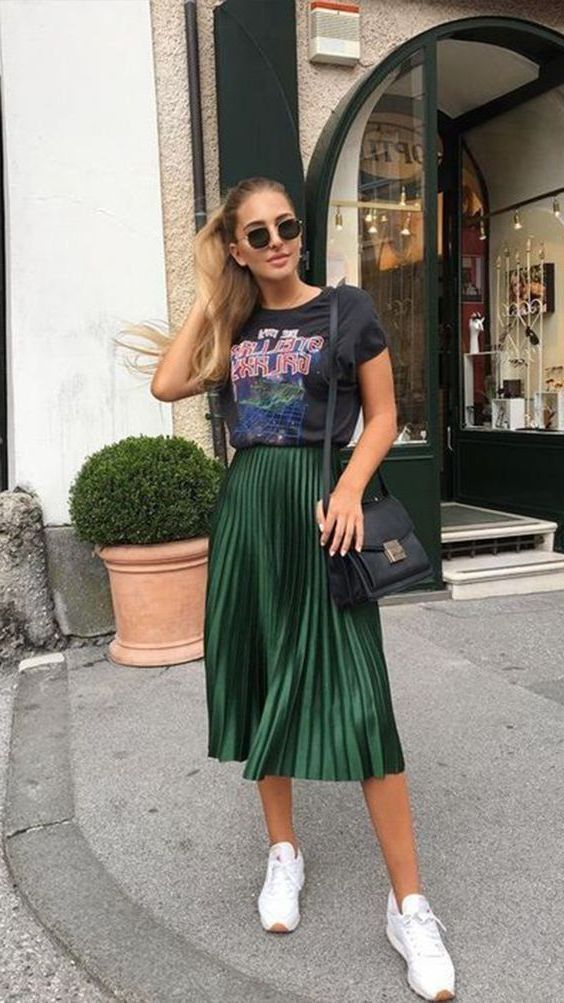 Buy Similar Here
Grey Midi Pleated Skirt
A black leather jacket is draped over white tee tucked in silver metallic midi skirt updated with white kicks: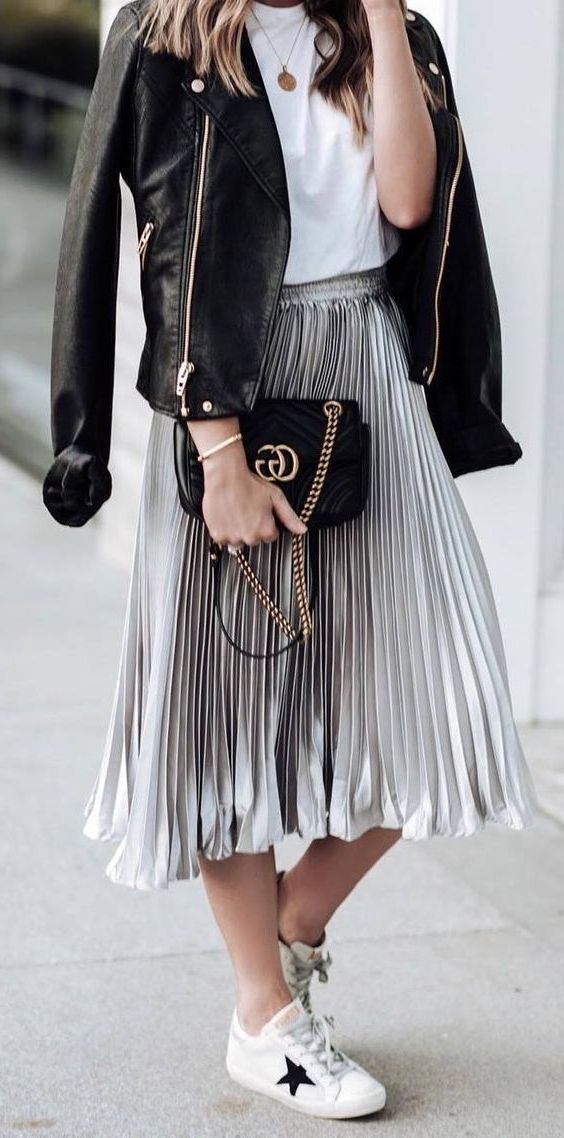 Buy Similar Here
Light Brown Pleated Midi Skirt
A light brown midi knife-pleated skirt is styled with a white t-shirt and chunky sneakers in white: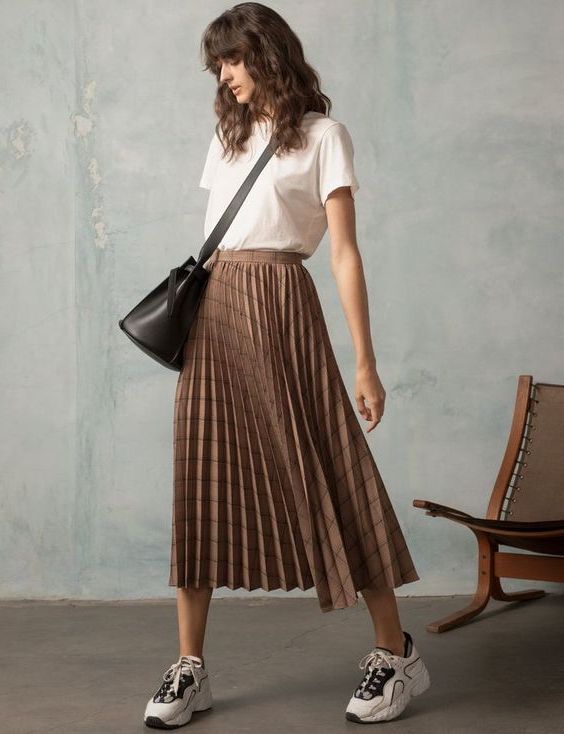 Buy Similar Here
Maroon Pleated Midi Skirt
A maroon pleated midi skirt can be an ideal choice as everyday wear, try it on with a white sweatshirt and white sneakers: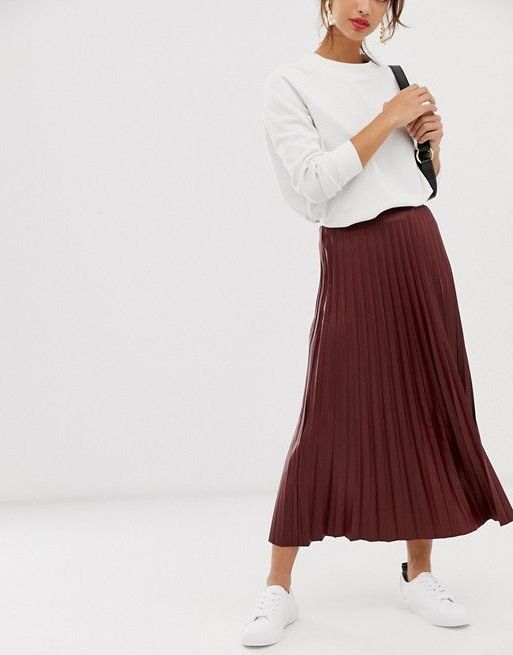 Buy Similar Here
Metallic Grey Pleated Midi Skirt
How about wearing a metallic grey pleated midi skirt with a ruffled black blouse and white kicks. Update this look with stylish cat-eye sunglasses and an embroidered shoulder bag: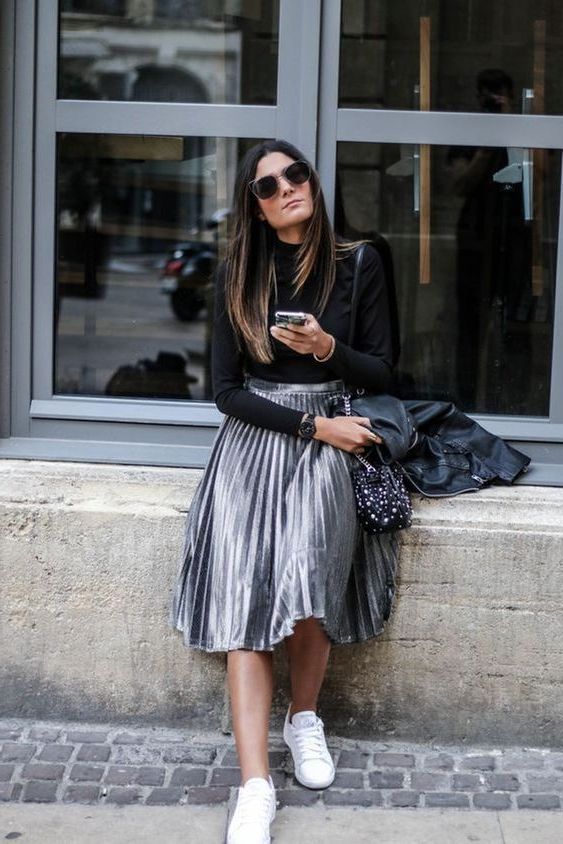 Buy Similar Here
Pastel Beige Midi Pleated Skirt
A slouchy white turtleneck sweater can be tucked in pastel beige midi pleated skirt and completed with multicolored sneakers: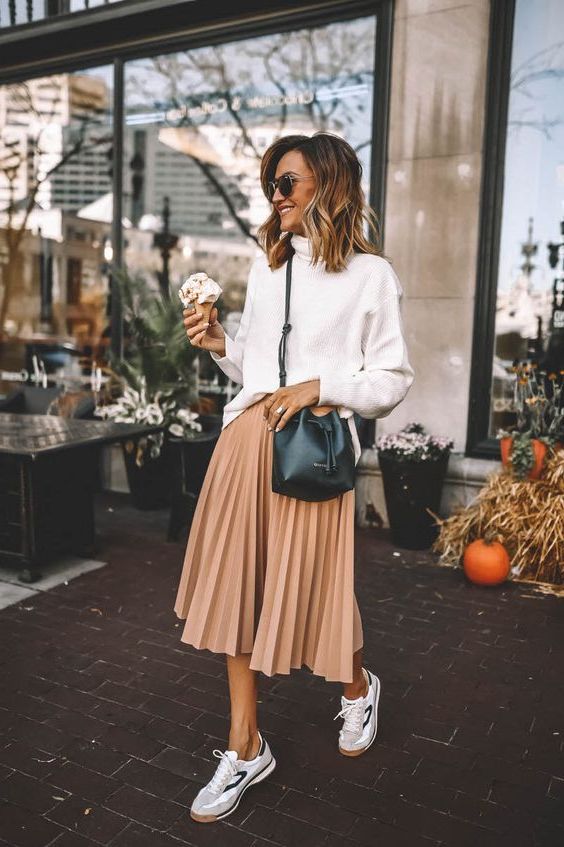 Buy Similar Here
Pink Pleated Midi Skirt
A black leather jacket can be draped over a simple white tee tucked in a pink pleated midi skirt, complete it with white sneakers:
Buy Similar Here
Shiny Black Pleated Midi Skirt
A pair of a shiny black pleated midi skirt is worn with a blue denim jacket embellished with studs, white tee, and updated with white sneakers: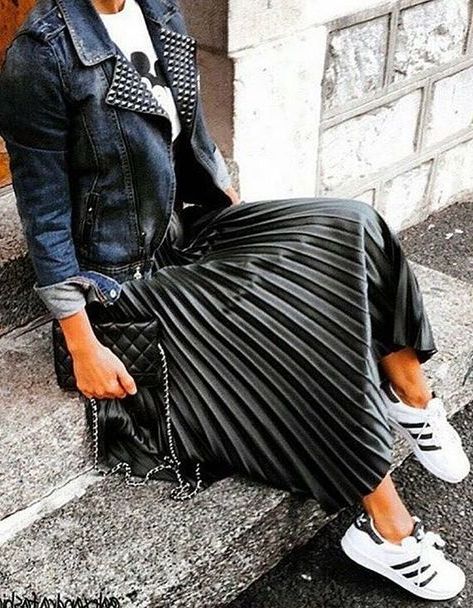 Buy Similar Here
Silver Metallic Pleated Midi Skirt
A pastel maroon sweatshirt is paired with silver metallic pleated midi skirt completed with white sneakers, beige leather shoulder bag, and cool aviator sunglasses: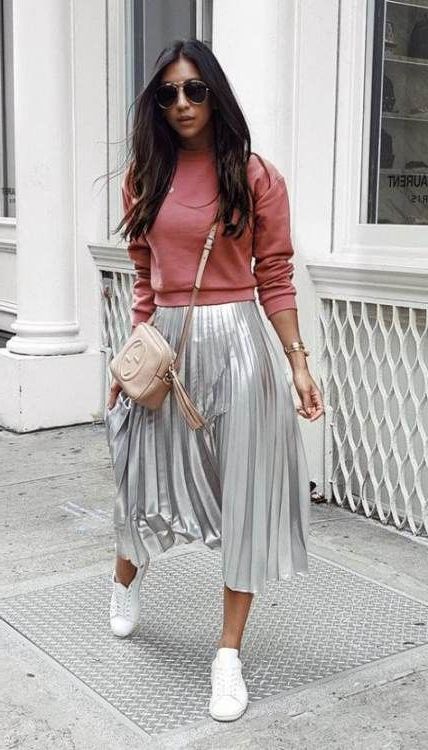 Buy Similar Here
White Pleated Midi Skirt
A fresh way to update your spring look! We see a black leather jacket worn with a light grey top teamed with a knife-pleated midi skirt in white completed with white sneakers: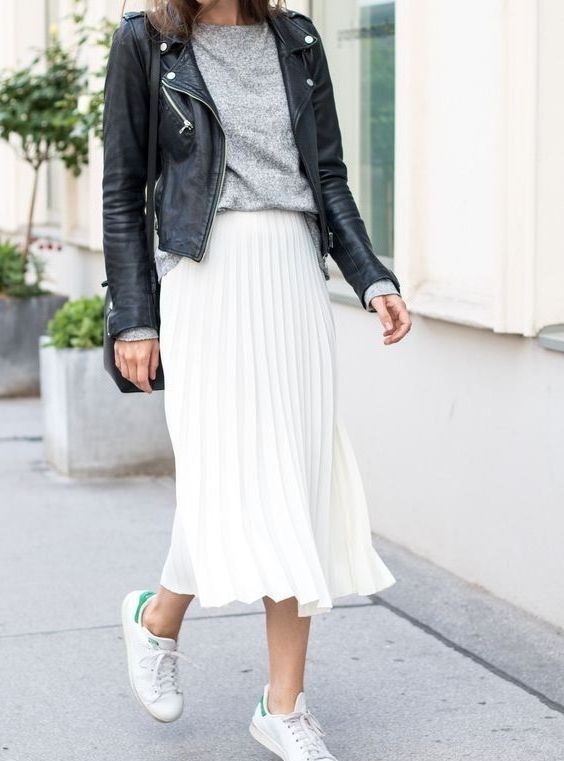 Buy Similar Here