Hello everyone, today's blog post is all about finding the appropriate shoes for your business casual outfit. Every lady needs a pair of nice shoes that are comfortable and stylish for wearing from nine to six. Yes, we all look into something that can easily compliment our outfits, and today's story is dedicated to my favorite ladies' business casual shoes that look amazing with suits and other separates.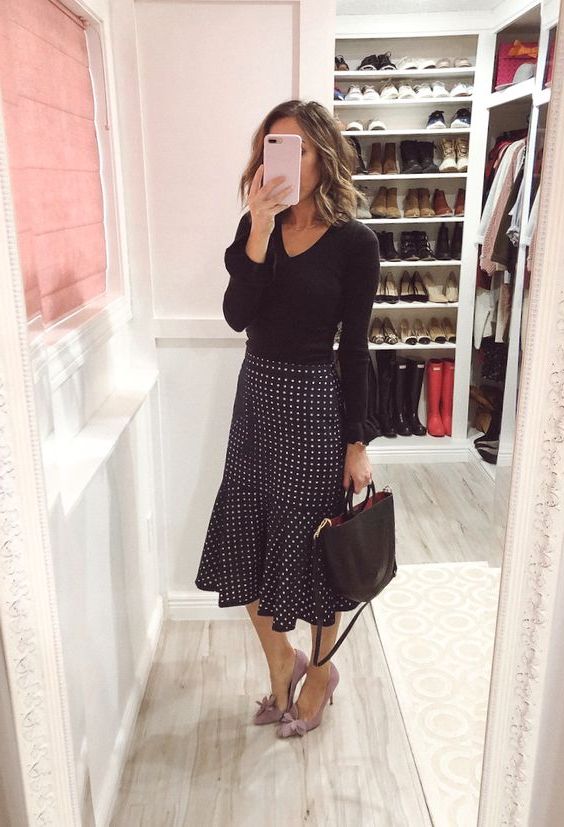 Buy Similar Here
Complete your classy look that features a black V-neck sweater with peplum cuffs and a white dotted black pencil skirt with a flared hem with pastel violet heeled pumps in suede.
Now, we are here talking not only about business but also about a medical, school, and other government institutions. Trust me, this type of footwear will only grow your confidence. Nevertheless, we all ask ourselves, which shoes can easily compliment a business casual event. Well, the first thing that comes to my mind is the quality. After we can talk about the color and style.
Never safe money for shoes, as buying a cheap pair of shoes can not only ruin the complete outfit but also can make you look ridiculously stupid. Just in case, always have to keep some extra pair of heels that can always save your life.
Nude Heeled Sandals look amazing styled with that white blazer, V-neck slip tank top, and dark green skinny jeans, an ideal Spring look for office hours:
Buy Similar Here
Nude sandals look harmonious with a paper-bag waist pants in dark green updated with a black tee: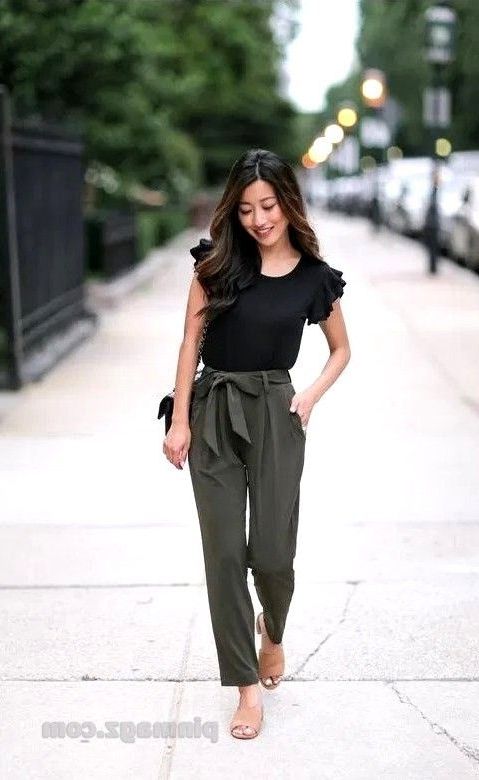 Buy Similar Here
A mustard-camel blazer is draped over a white buttoned top tucked in wide plaid pants updated with red heeled pumps: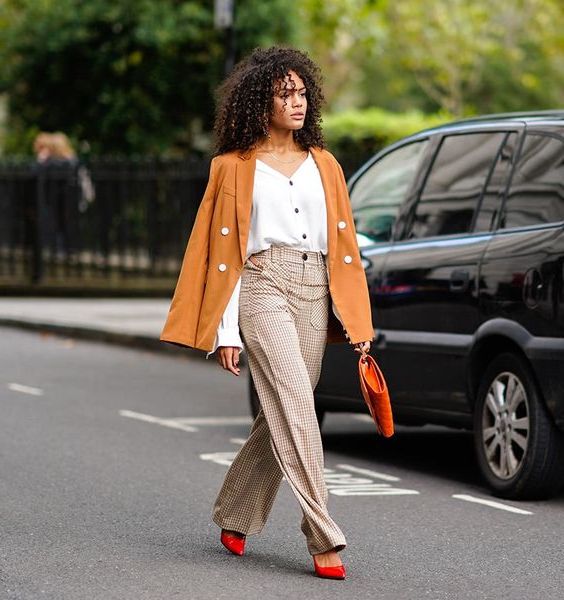 Buy Similar Here
Studded black heels are so versatile, you can also wear them at the office, all you need is to add a pair of black pants, a black top, and a plaid light-grey blazer: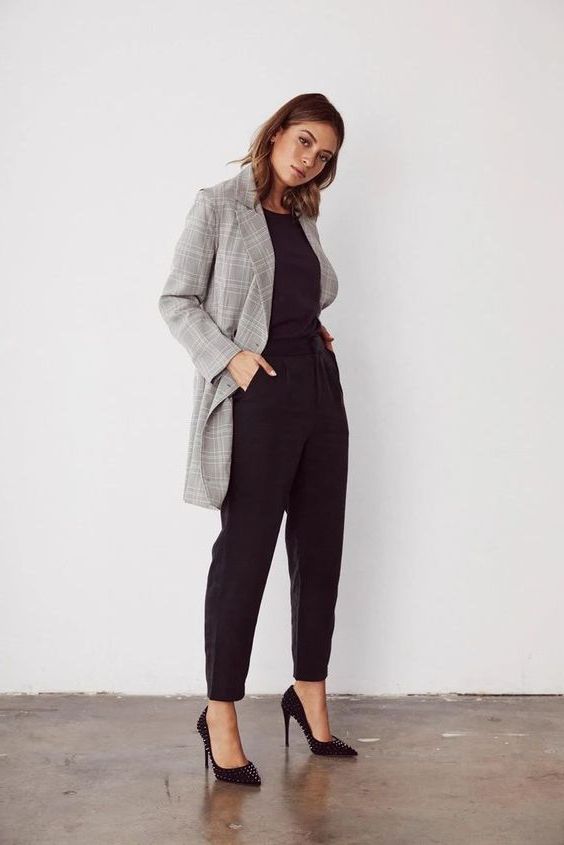 Buy Similar Here
We see light brown loafers worn with indigo skinny jeans, a black V-neck top, and a camel blazer, a nice combo for Fall: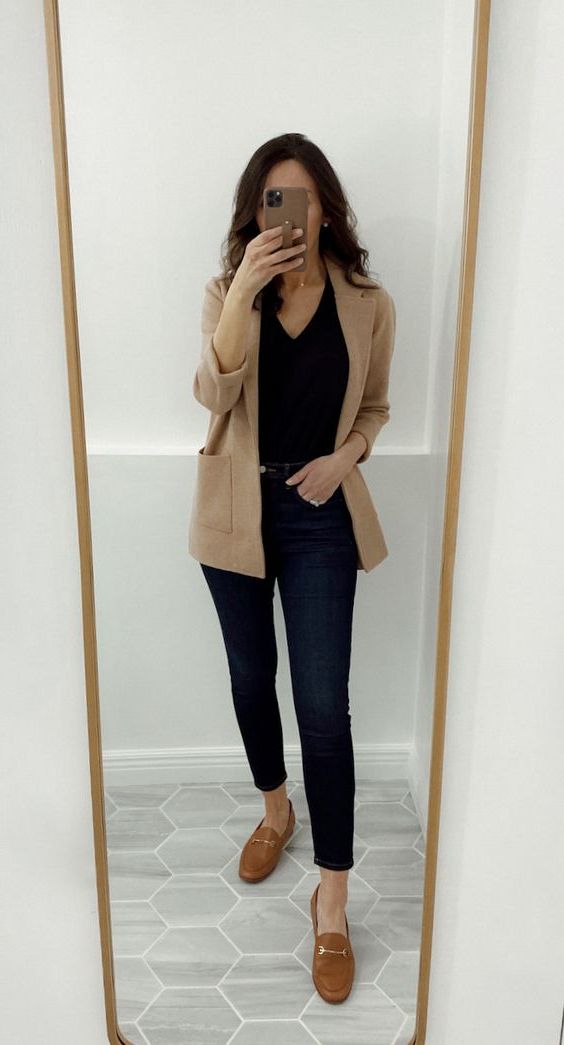 Buy Similar Here
Leopard print flat pumps look pretty sweet and ladylike styled with black slim pants, striped top in black and white lines and covered with a white blazer, would you give this look a try: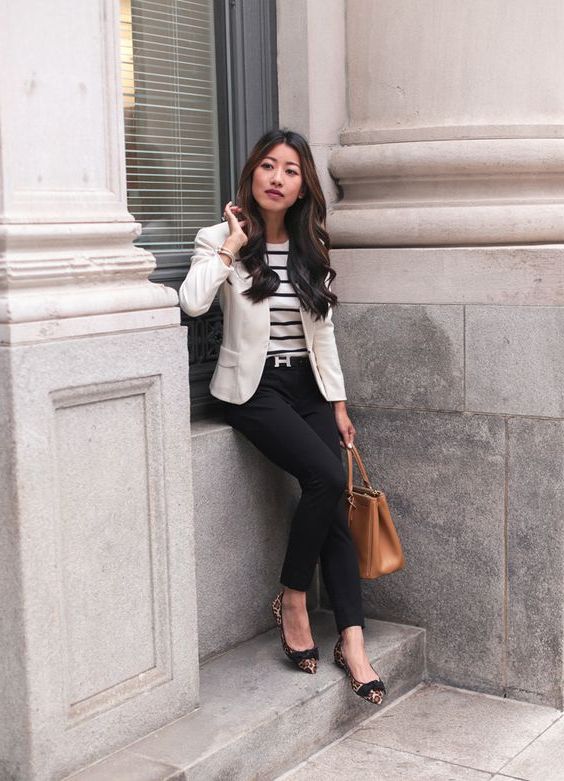 Buy Similar Here
Go for that cozy light brown sweater and pair it with plaid skinny pants and brown leather pointed-toe mules: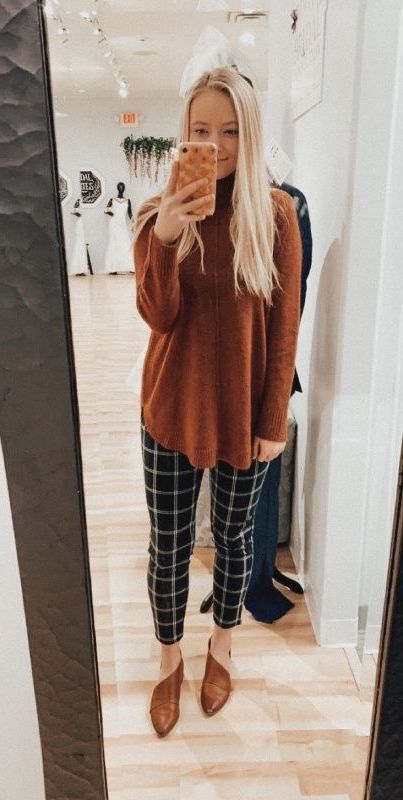 Buy Similar Here
How about wearing gingham printed suits? We see a micro plaid black-white checkered pantsuit styled with a black sweater and cool white sneakers, an ideal smart-casual style for working hours: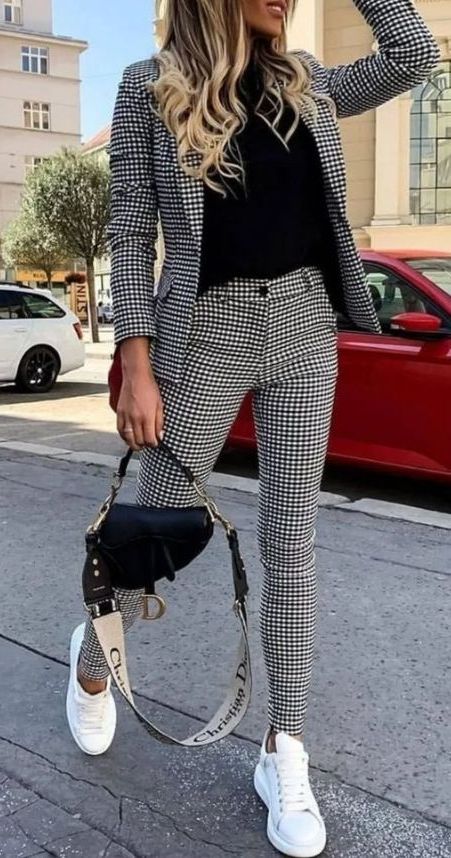 Buy Similar Here
We see our lovely studded nude heeled pumps updated with black skinny jeans, a white tank top, and a cream-blush blazer: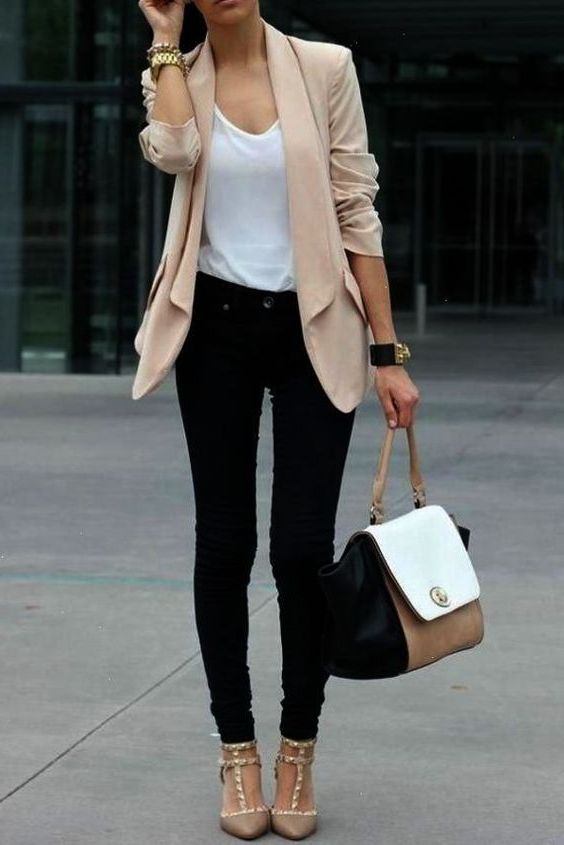 Buy Similar Here
If you do like mannish and tomboy inspired looks, then go for this light grey long cardigan, blue chambray shirt, black skinny pants, and black loafers in suede with leopard print detailing: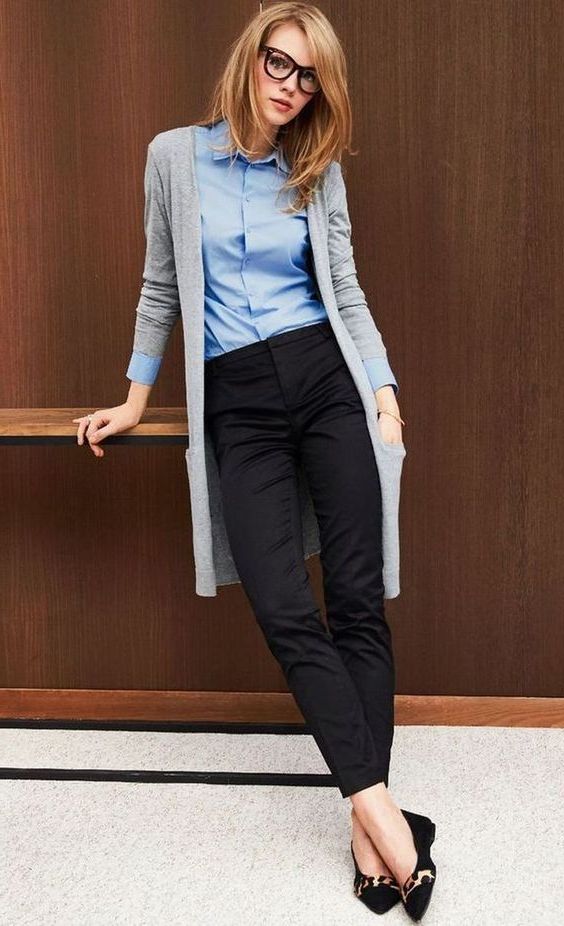 Buy Similar Here
Polka dot black loafers in semi-sheer fabric look amazing worn with navy slim pants, dotted white shirt, and a mustard-camel cardigan: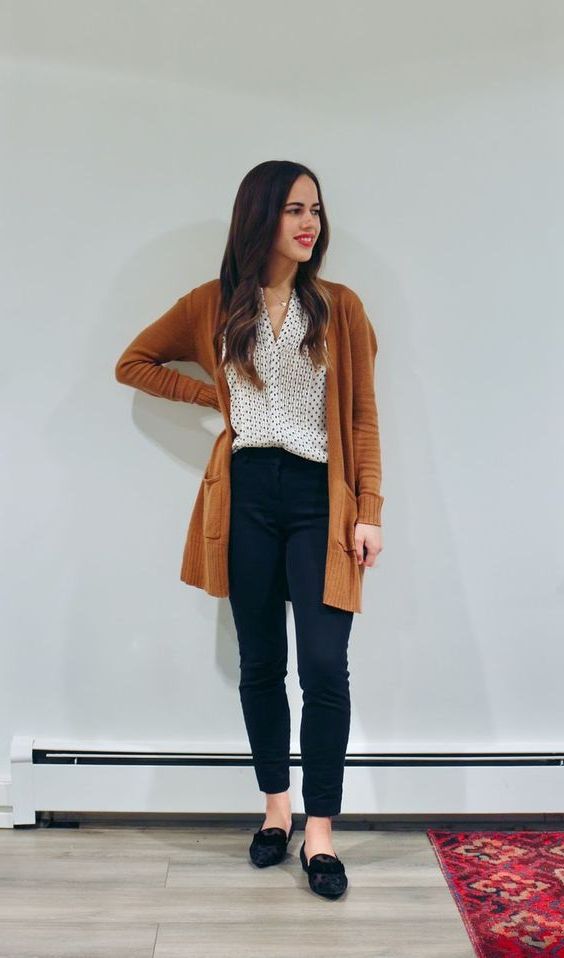 Buy Similar Here
Some like classics, go for a white blouse, skinny black pants, and leopard print heels, complete this combo by adding a camel blazer and a classic handbag in black leather: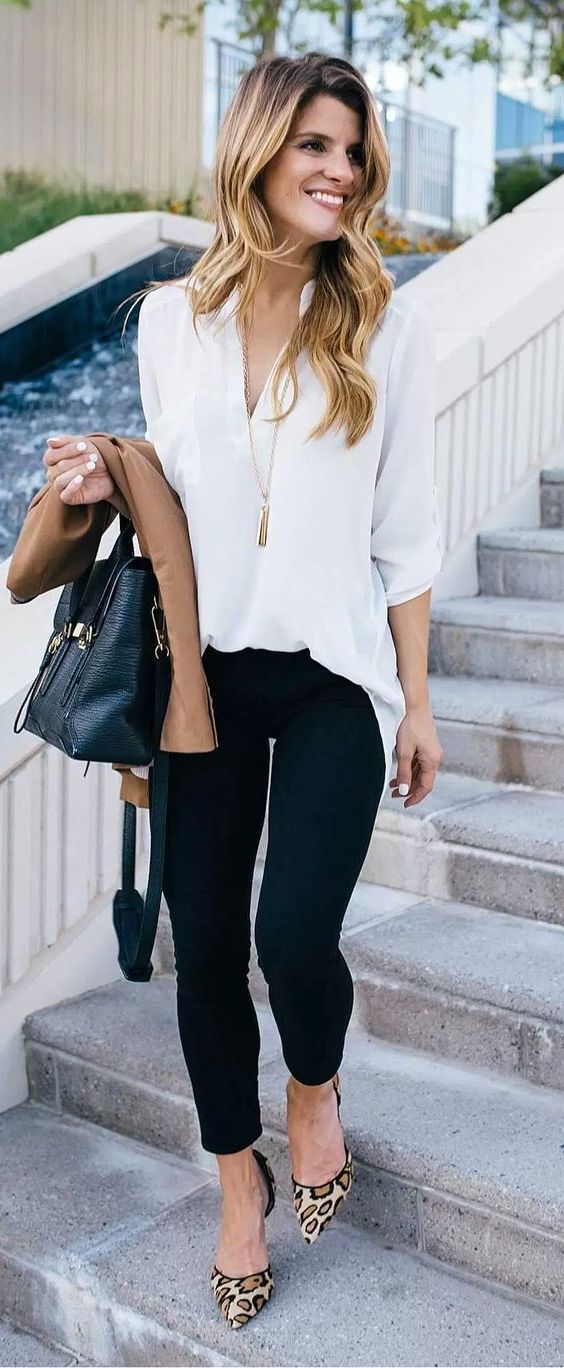 Buy Similar Here
Brown leather loafers look sassy styled with dark blue skinny jeans, a white blouse and a windowpane printed shawl cape: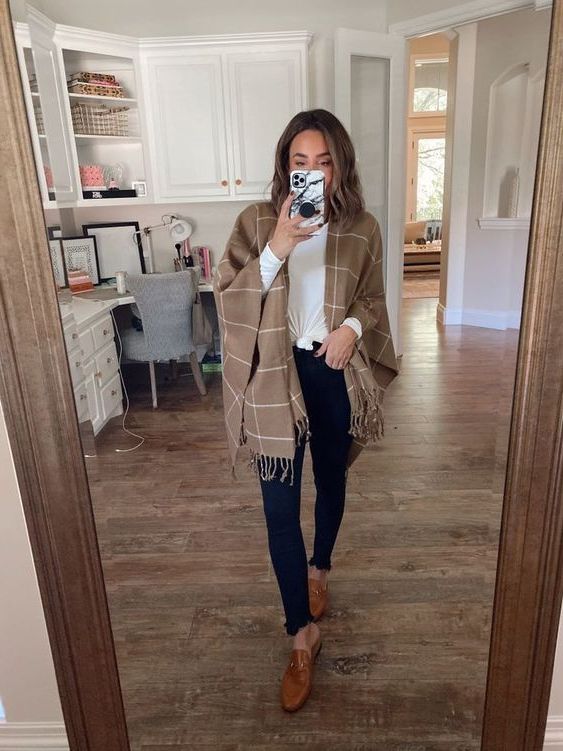 Buy Similar Here
If you are into Tomboy look, then go for a white shirt, black jeans and update them with glossy black heeled pumps: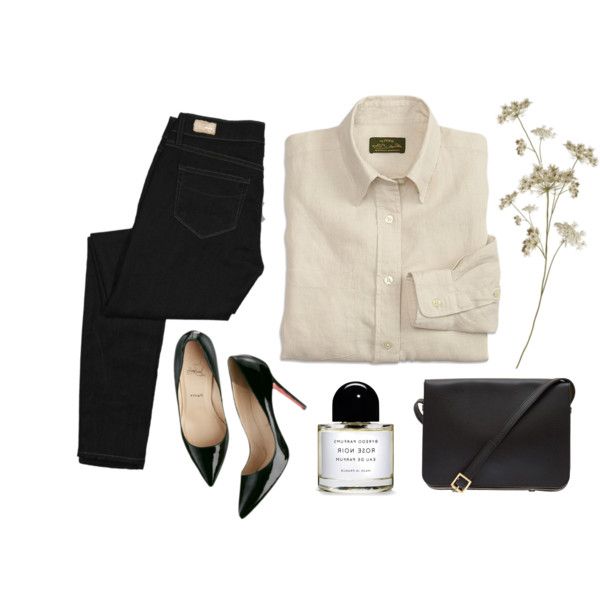 Buy Similar Here
Here we see a blue chambray shirt tucked in navy pleated midi skirt updated with peep-toe platform heeled pumps: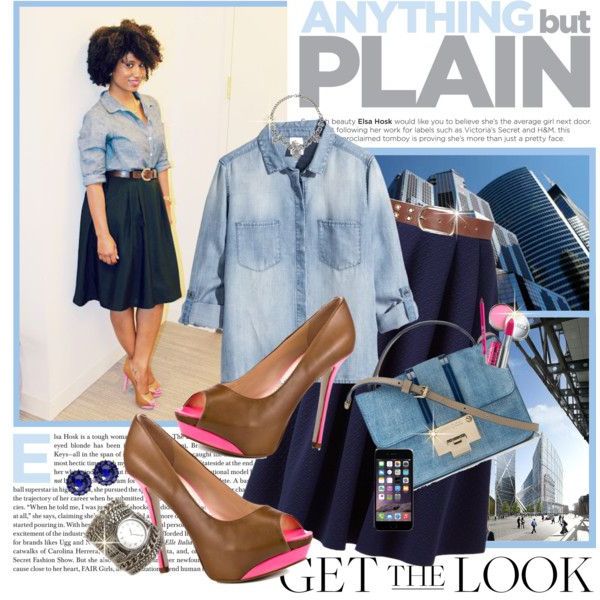 Buy Similar Here
My favorite style, we see a black roll-neck sweater tucked in light grey tailored pants completed with classic white sneakers: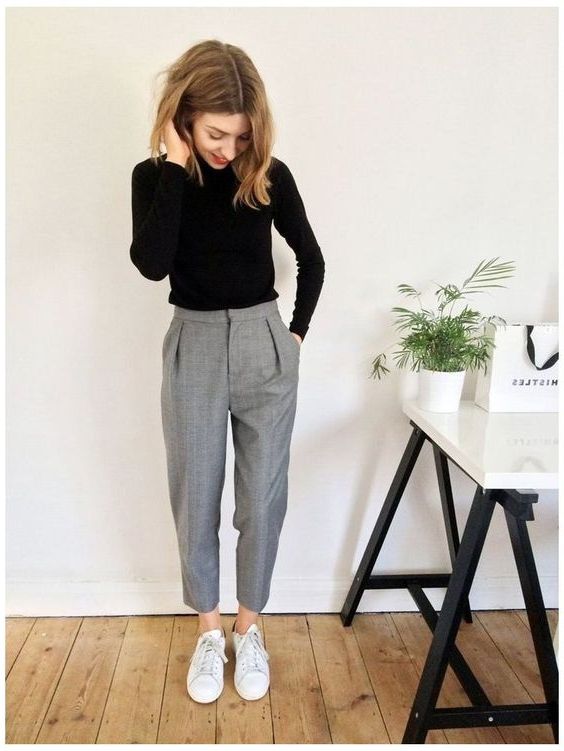 Buy Similar Here
Here we see a classic black slim sweater tucked in leopard print office skirt completed with classic heeled pumps in black color: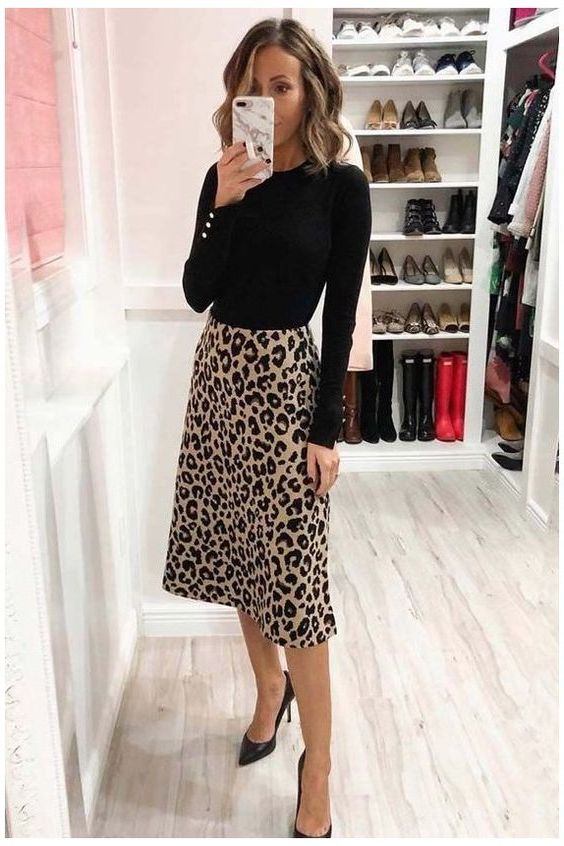 Buy Similar Here
Have fun with a camel sweater, the white shirt is worn underneath, and black skinny pants completed with camel Oxfords:
Buy Similar Here