Hello, my dear fashion lovers! Today's article is dedicated to my favorite blue color. We are about to see the best tips and tricks on what shoes you can wear with blue outfits this year.
Buy Similar Here
Keep it casual and simple! Go for a sporty chambray jumpsuit in light blue color and complete it with bluish sneakers.
What Shoes To Wear With Blue Clothes
It's no secret that blue is back on trend and we see it everywhere right now. I know many ladies who are so in love with blue garments. They appear on the streets wearing blue skirts, dresses, coats, sweaters, and shoes.
Personally, I think this color is a perfect vibrancy that makes any lady look and feels very special. Just look at these images, don't you think that every outfit is like a real piece of art? The blue color will keep your look bold, ladylike, and sophisticated. Read on to find out more about blue outfits.
It's no wonder why this color is the most stylish hue this season, we see it everywhere around, starting from accessories to lush coats and dresses. Believe me, there are millions of ways how to highlight your personality and wearing blue is one of them. I think every lady is crazy about the blue color. You can pair blue with completely everything, starting from neutral dark and light hues to bold neon shades.
If you want to make a real statement on the streets, then you definitely should try some blue pieces this year. All you need is to know the right combos. In this post, you are about to see all my favorite and outstanding ways how to wear blue in your everyday life. Would love to hear your thoughts in the comments below.
Multicolored sneakers with a jersey dress in blue
We see another sporty style consisting of a blue jersey dress layered over a white tee completed with multicolored sneakers: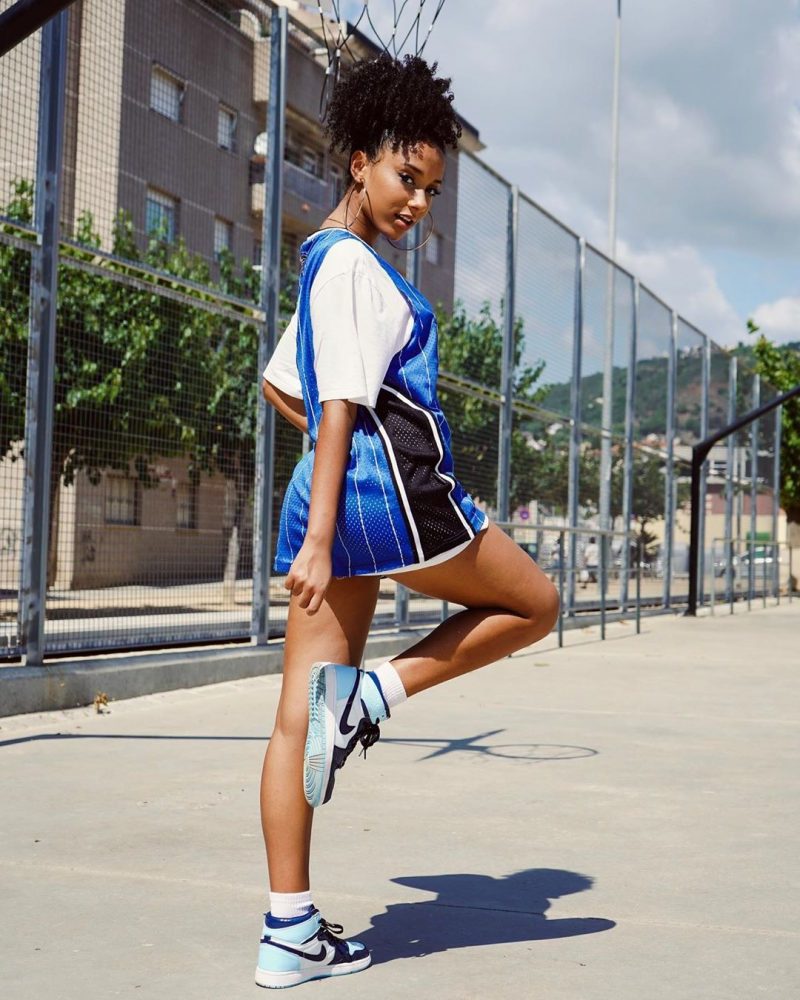 Buy Similar Here
Black Leather Ankle Boots And Pleated Midi Skirt
We see a navy turtleneck top teamed with a pleated wool midi skirt in navy-blue color completed with black leather ankle boots: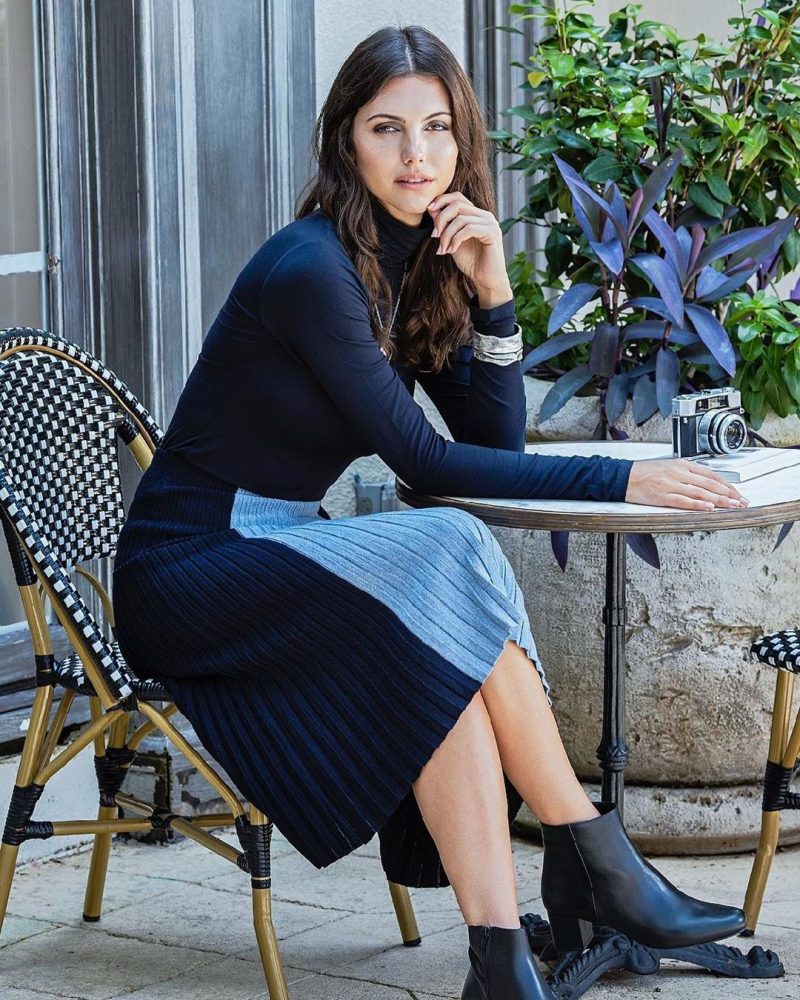 Buy Similar Here
Tie-Dye Blue Onesie And White Ugly Sneakers
Go for this hooded tie-dye sporty onesie styled with cream-white chunky sneakers: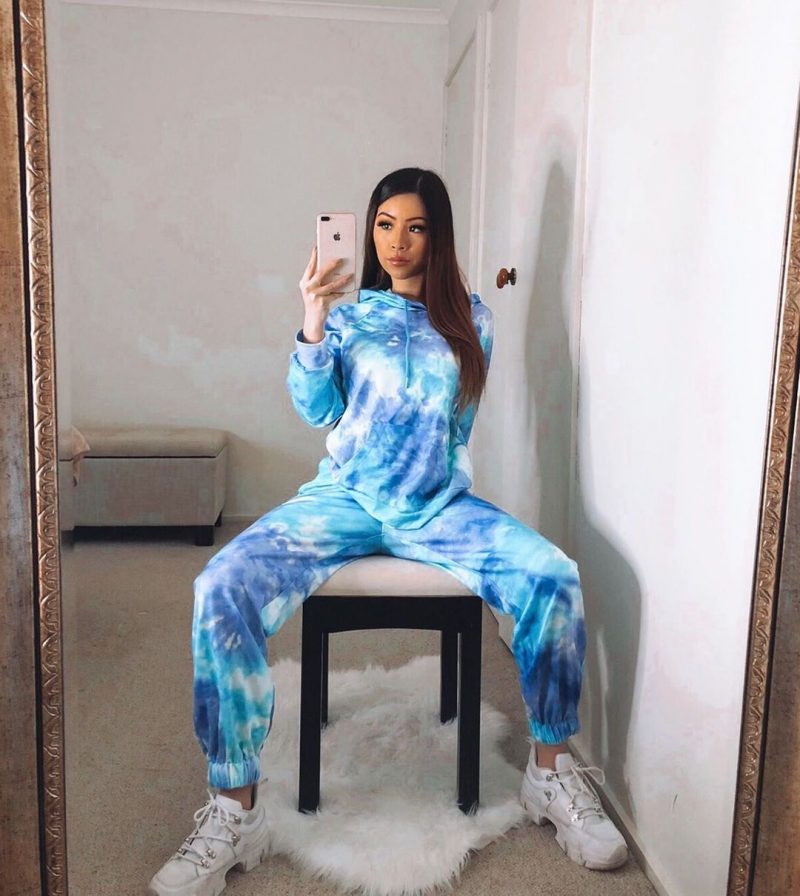 Buy Similar Here
Here we see lots of cool ideas on what shoes to wear with blue dresses or pants, check them out. As you can see, most ladies go for black or white shoes, but you can still experiment with other shades, like nude, brown or prints:
Buy Similar Here
Cream Espadrilles And Two Piece Dress
A two-piece maxi gown in pastel blue that features a front-tied crop top and a maxi skirt is completed with ankle-cuff cream-white espadrilles: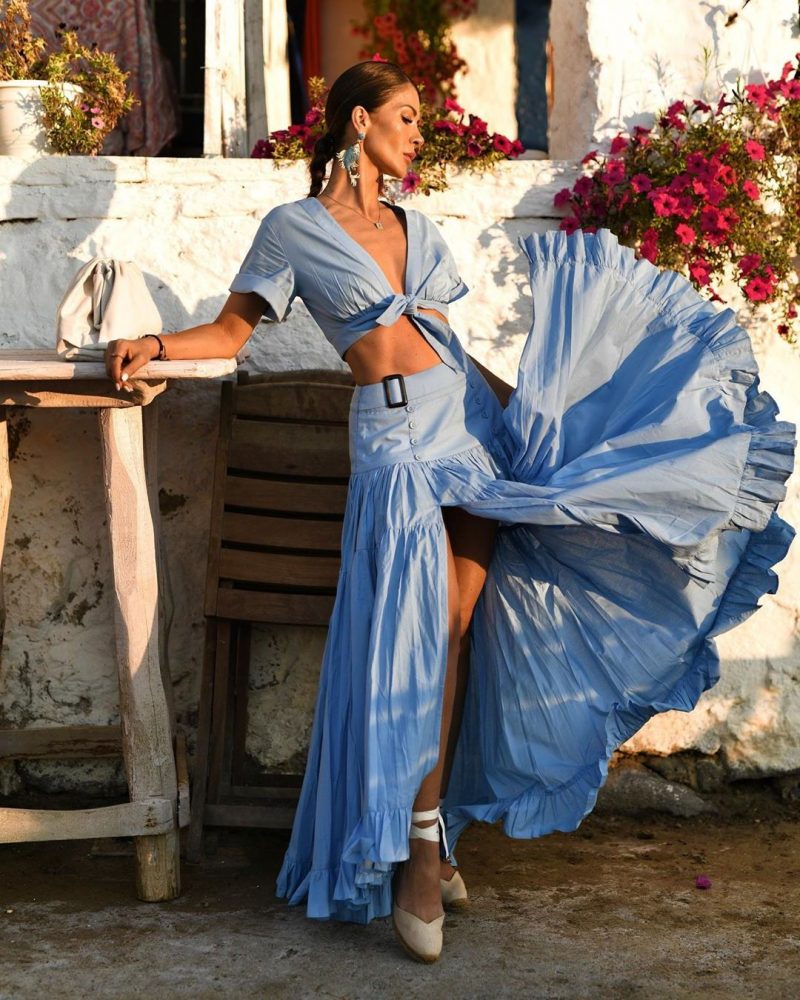 Buy Similar Here
Floral Blue Dress And White Sneakers
If you want to wear a relaxed outfit during your so long-awaited vacation, then how about choosing this floral blue mini dress updated with white kicks: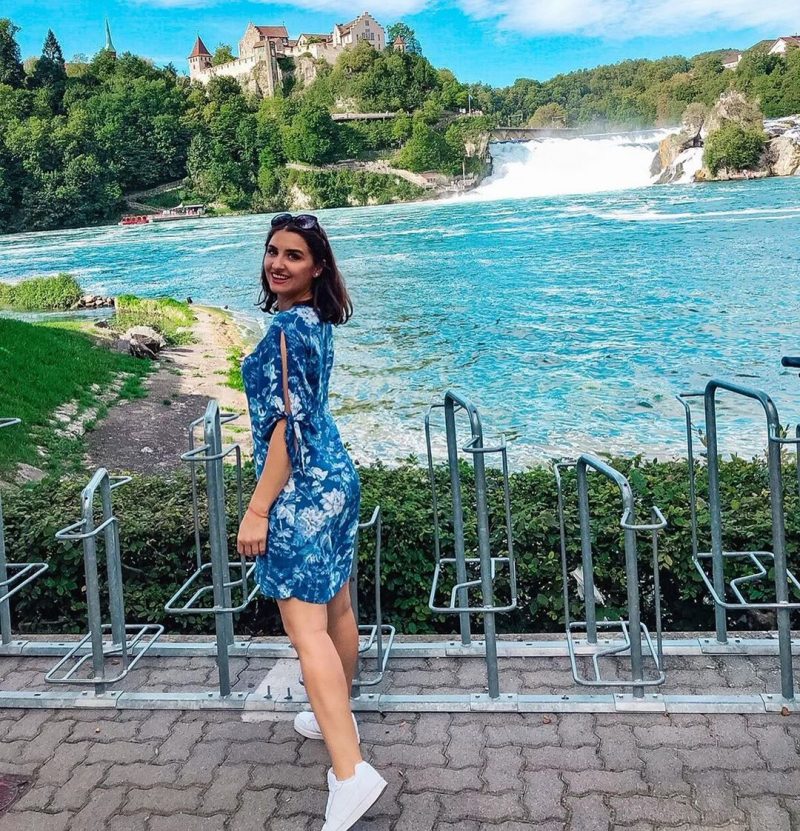 Buy Similar Here
Tweed Mini Dress In Navy And Pastel Blue Pumps
If you like keeping things classy, yet sexy, then go for this sleeveless mini dress in navy color and update it with your favorite light blue heeled pumps, I am sure you gonna love it: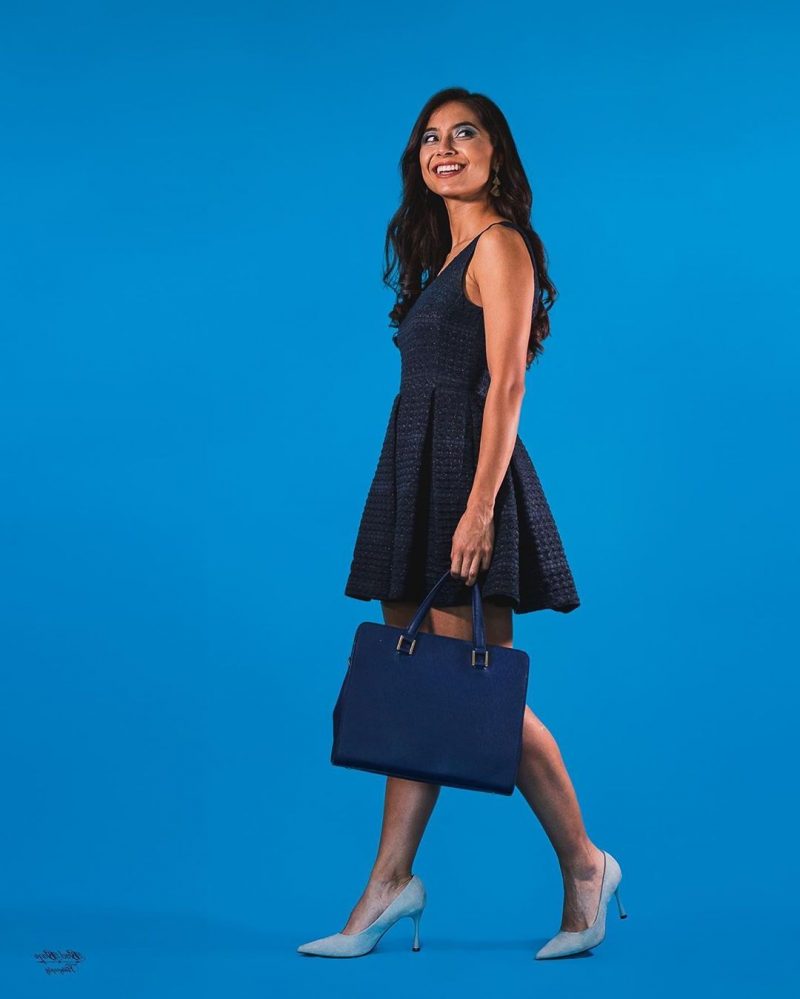 Buy Similar Here
Skin Color Pumps And Pastel Blue Dress
We see a pastel blue long-sleeve dress completed with skin color heels:
Buy Similar Here
Pastel Blue Cropped Pantsuit With Bright Blue Sandals
For those who are into business-casual style, I recommend giving a try to this pastel blue pantsuit consisting of a classic blazer, white crop top, pastel culottes and bright blue square-toe heeled sandals: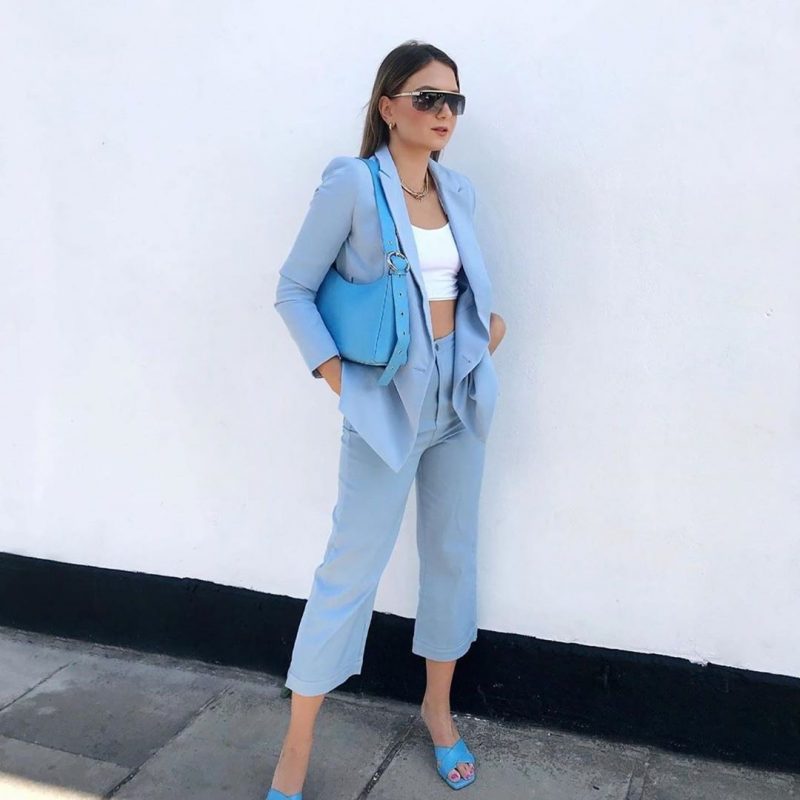 Buy Similar Here
Blue Pantsuit With Wide Pants And Silver Metallic Slides
Keep it fresh, cool, and feminine! Go for this blue pantsuit that features a white bra crop top and wide pants. Update this combo by adding mirrored oversized sunglasses and silver metallic slides: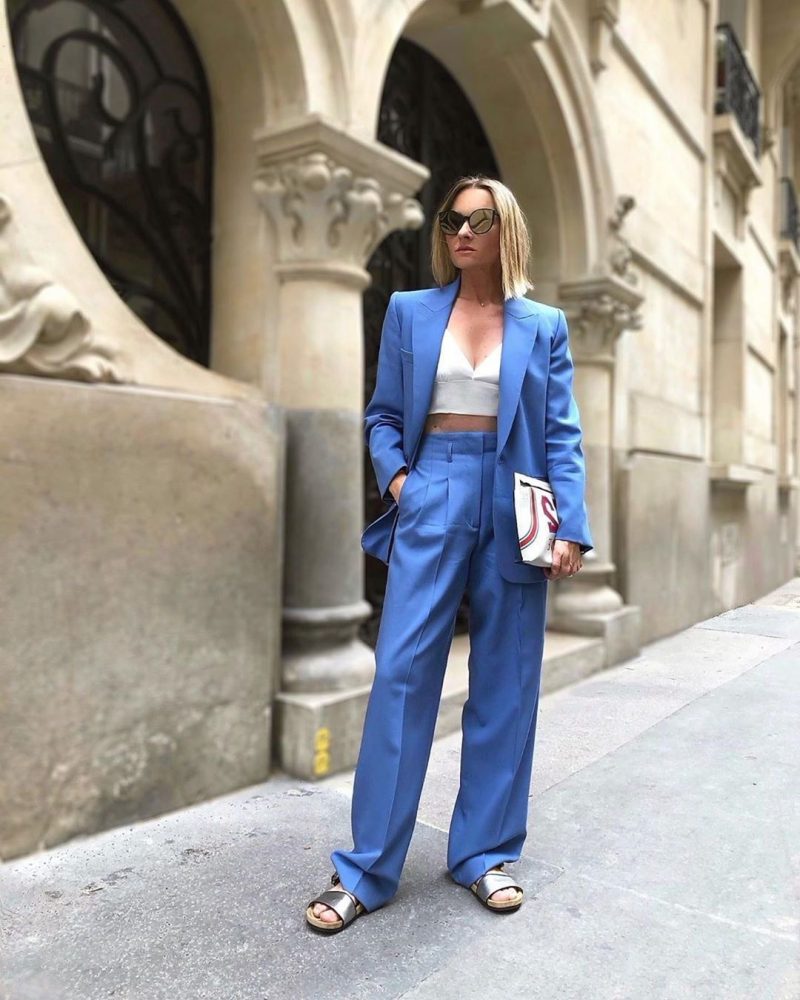 Buy Similar Here
Blue Shirtdress And White Slides
A classic blue shirtdress looks fabulous styled with oversized shades and white slides, love that straw shoulder clutch-bag: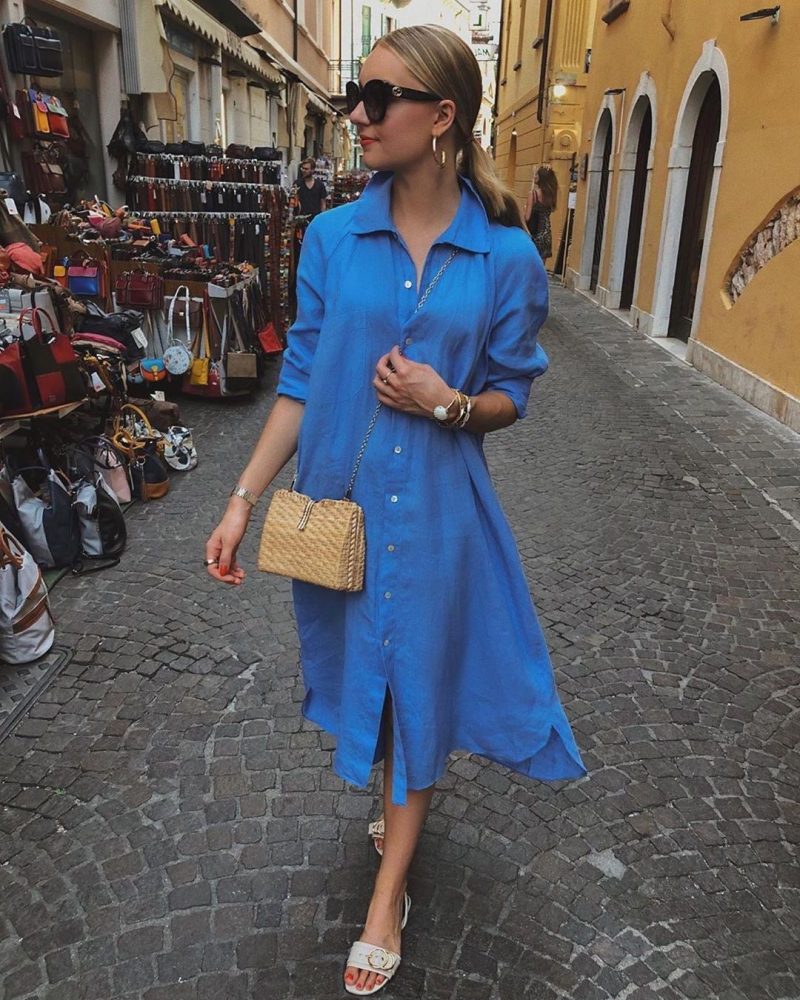 Buy Similar Here
Sea-Blue Pantsuit In Slim Fit And Ugly Sneakers
Check out this cool turquoise-blue pantsuit updated with a black lace top, oversized sunglasses and white ugly sneakers: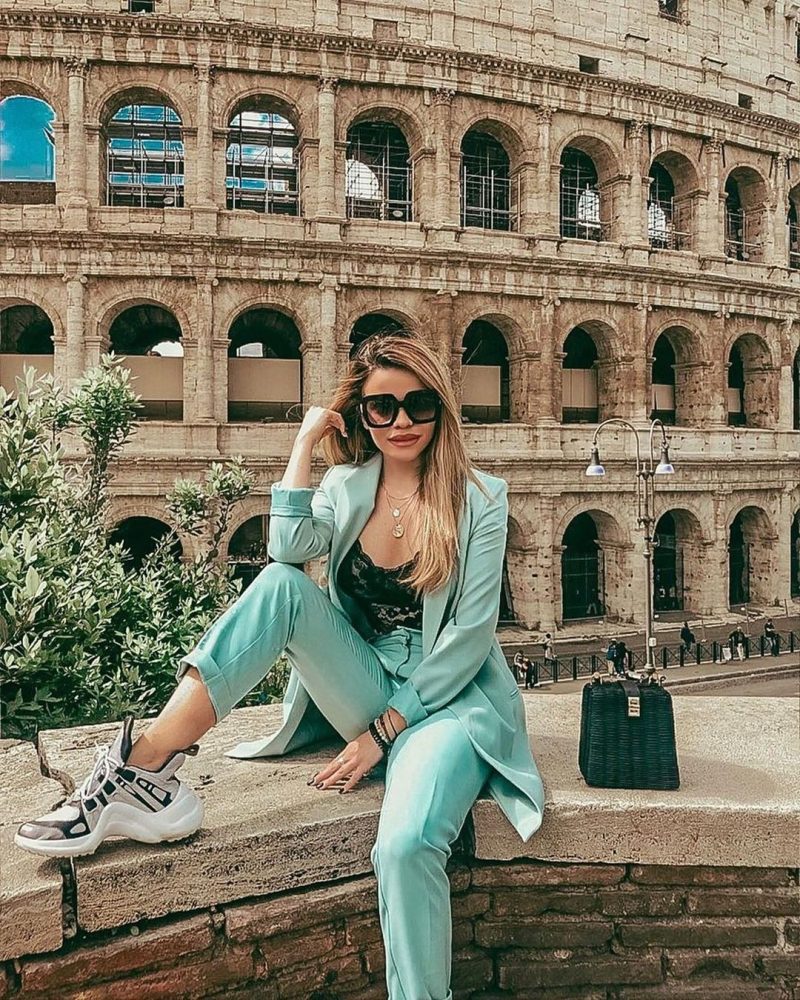 Buy Similar Here
Sporty Sweatpants In Blue And Metallic Blue Heeled Sandals
Another sexy style, go for a blue bandeau top, matching color sweatpants and metallic blue heeled sandals, a thumbs up sporty style: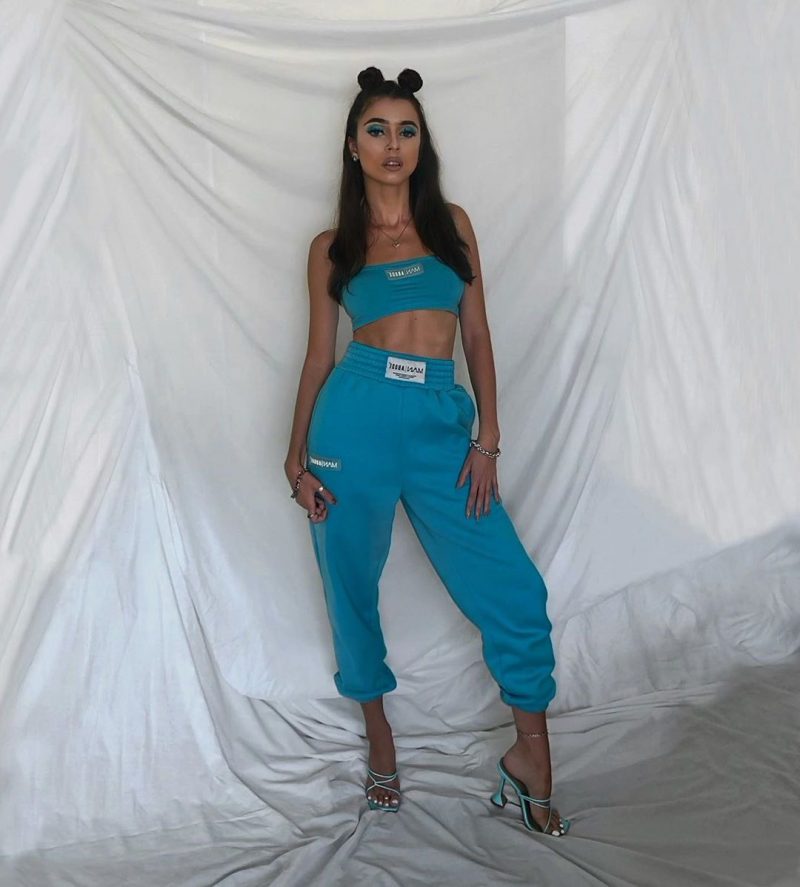 Buy Similar Here
Double Denim Outfit And Green Slides
We see a double denim look consisting of a cropped top with puffy sleeves and denim culottes in skinny fit updated with bright green slides: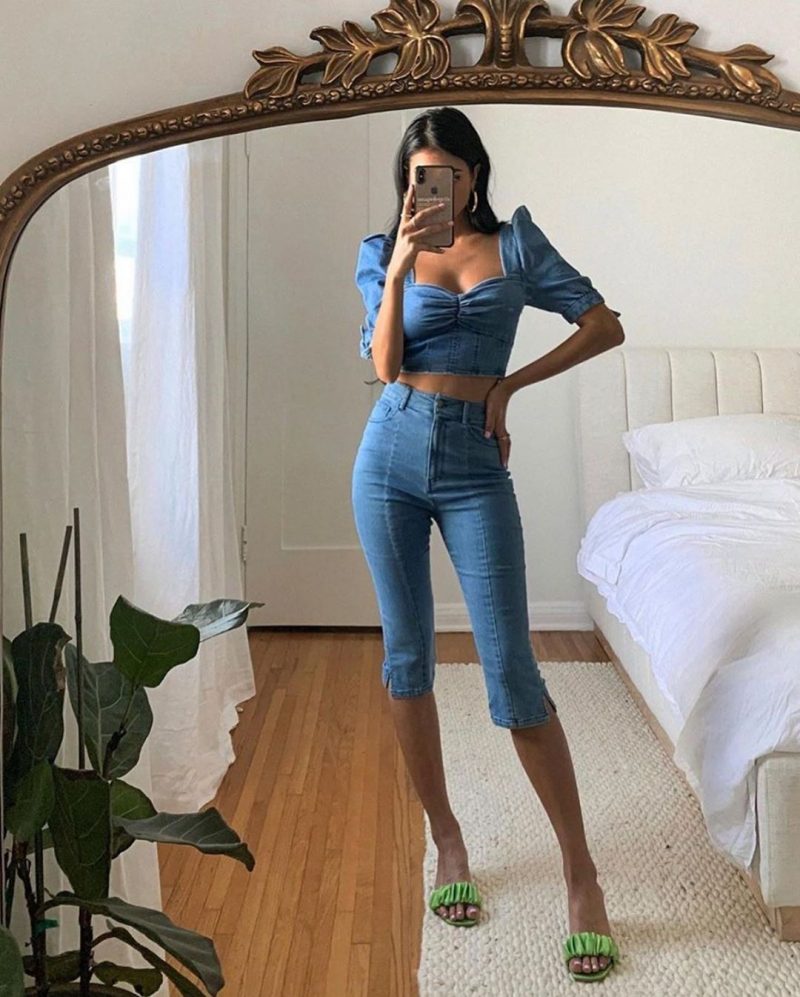 Buy Similar Here
Bright Blue Mini Dress And Matching Heeled Sandals
A perfect mini dress in blue is matched with heeled sandals, a stunning update for Summer months: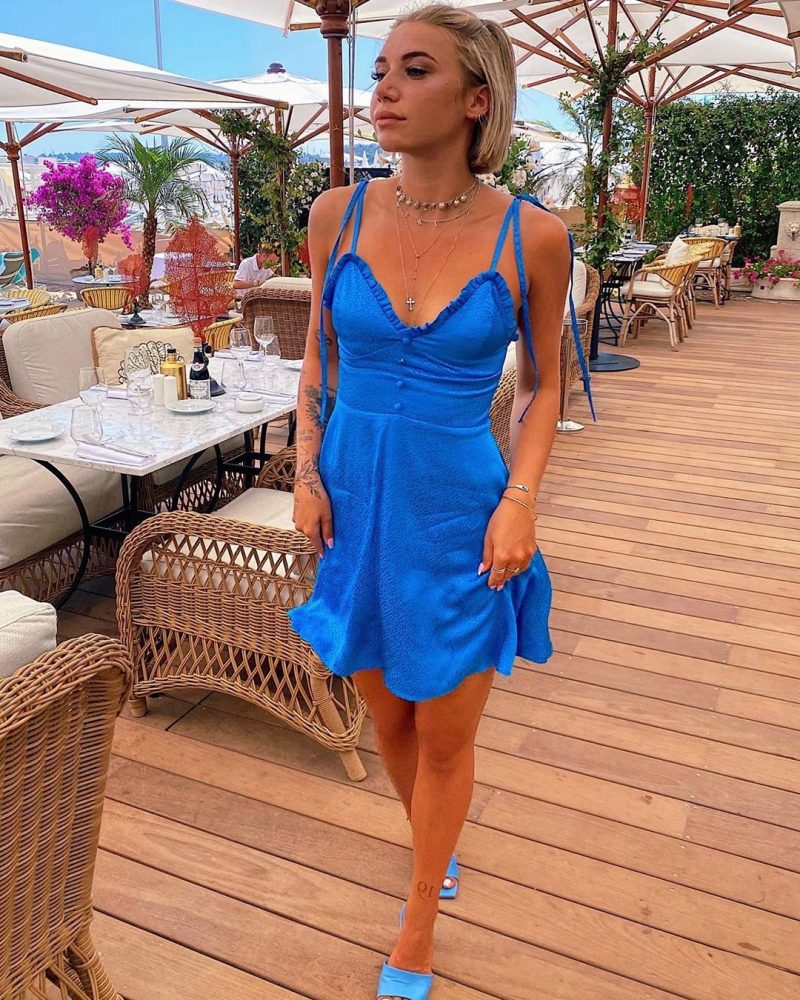 Buy Similar Here
Metallic pastel blue pantsuit And Beige Heeled Sandals
We see a metallic shiny blue pantsuit completed with creative heeled sandals, a lovely outfit for ladies: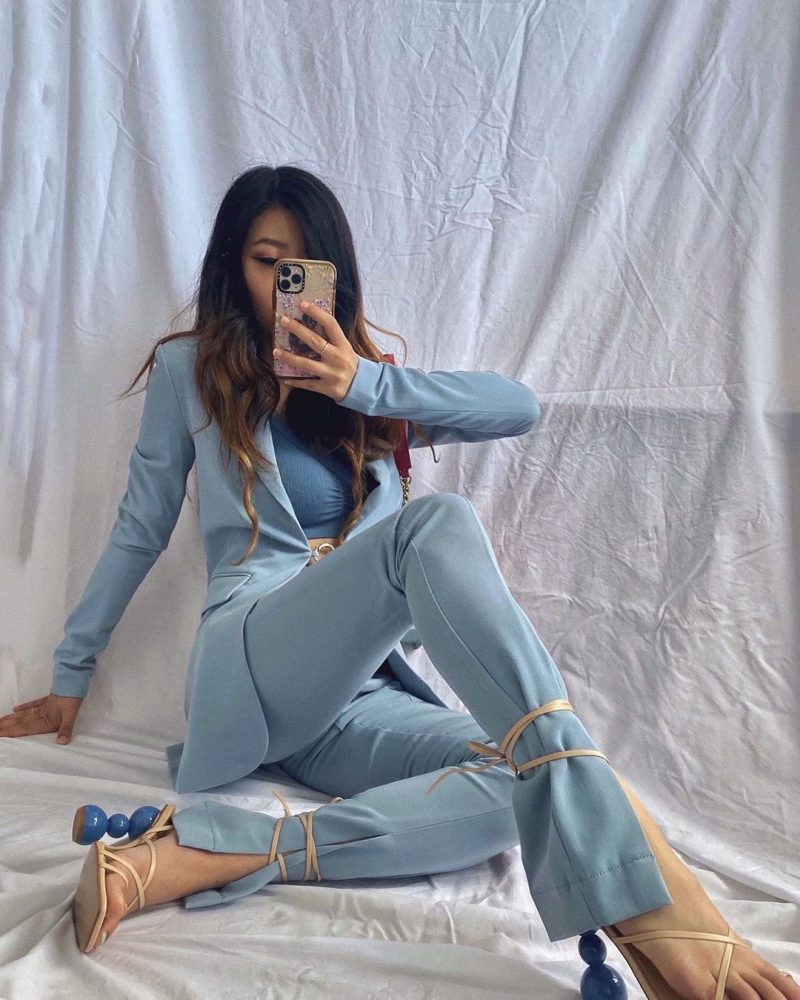 Buy Similar Here
Blue Blazer Dress And Light Blue Pumps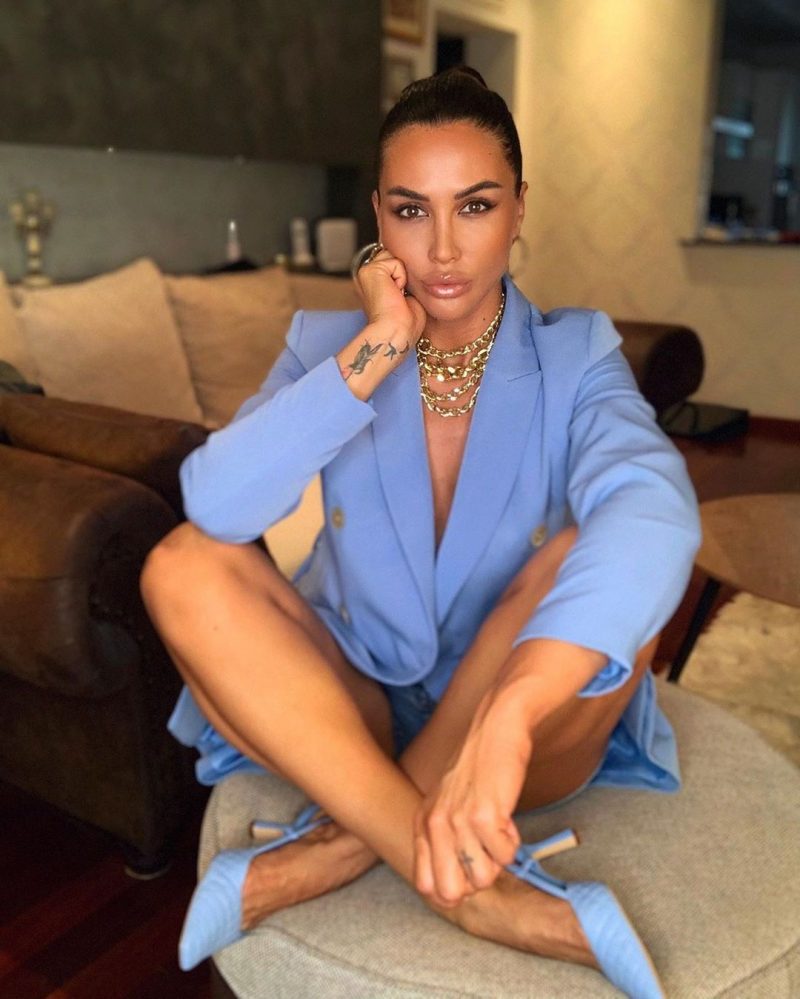 Buy Similar Here
Pastel Blue Pantsuit And Snakeskin Printed Pointy-Toe Pumps
My favorite snakeskin printed heeled pumps are worn with a pastel blue pantsuit completed with a white bodysuit and a pastel blue handbag: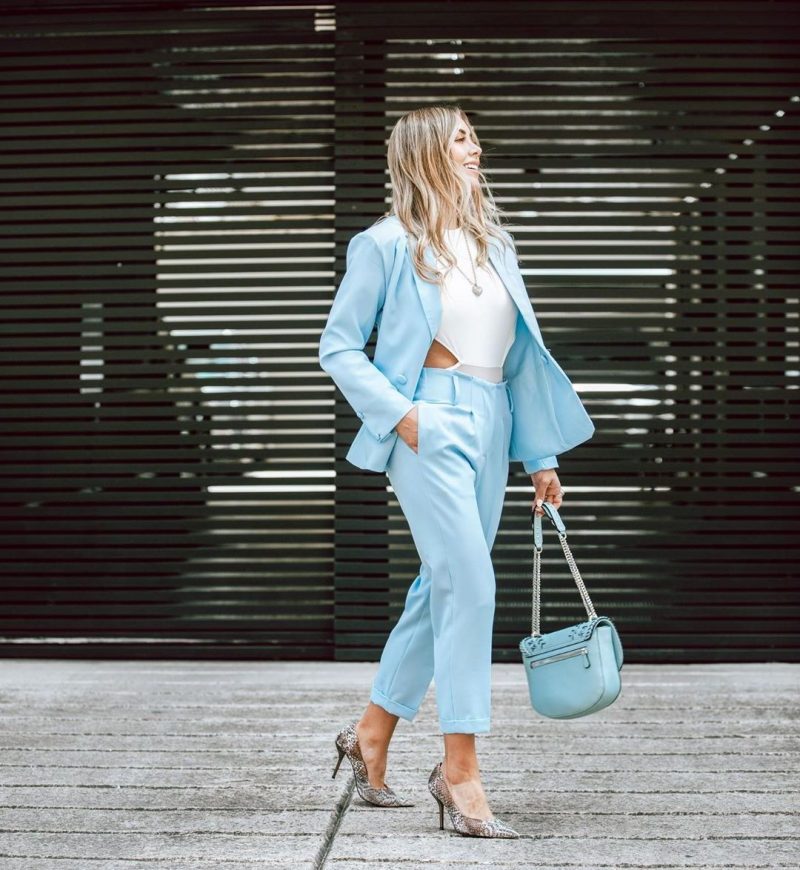 Buy Similar Here
Rich Blue Relaxed-Fit Suit And White Sneakers
Another gorgeous pantsuit choice. Update this color by adding a relaxed blazer, white top, and pleated pants. Update my post by adding chunky sneakers in white and a headscarf: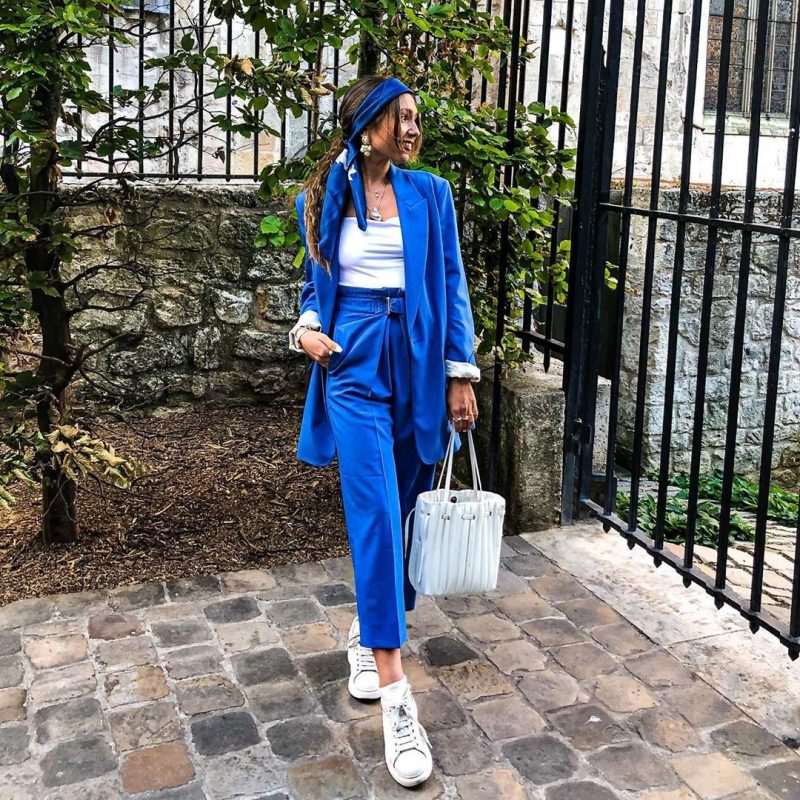 Buy Similar Here
Pastel Blue Knitted Top With White-Blue Striped Skirt And White Kicks
Keep an eye on this knitted long-sleeve crop top and make sure to style it with a blue-white striped skirt Complete this outfit with white sneakers: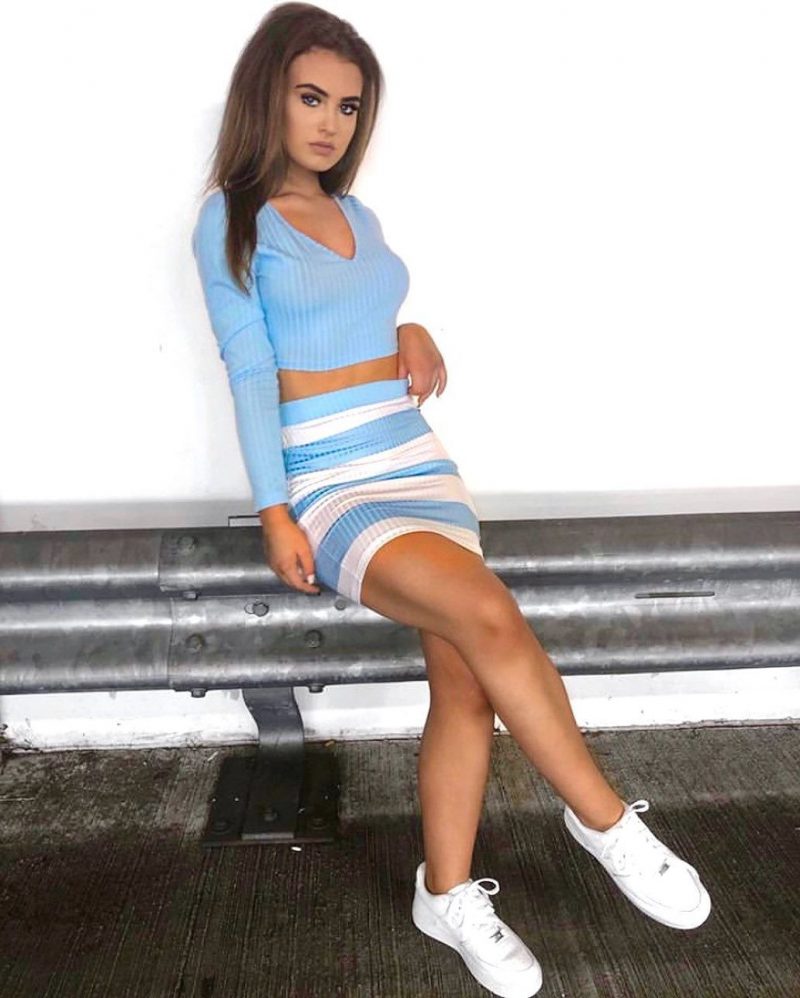 Buy Similar Here
Gold Metallic Pumps With Ruffled Blue Blouse And Denim Shorts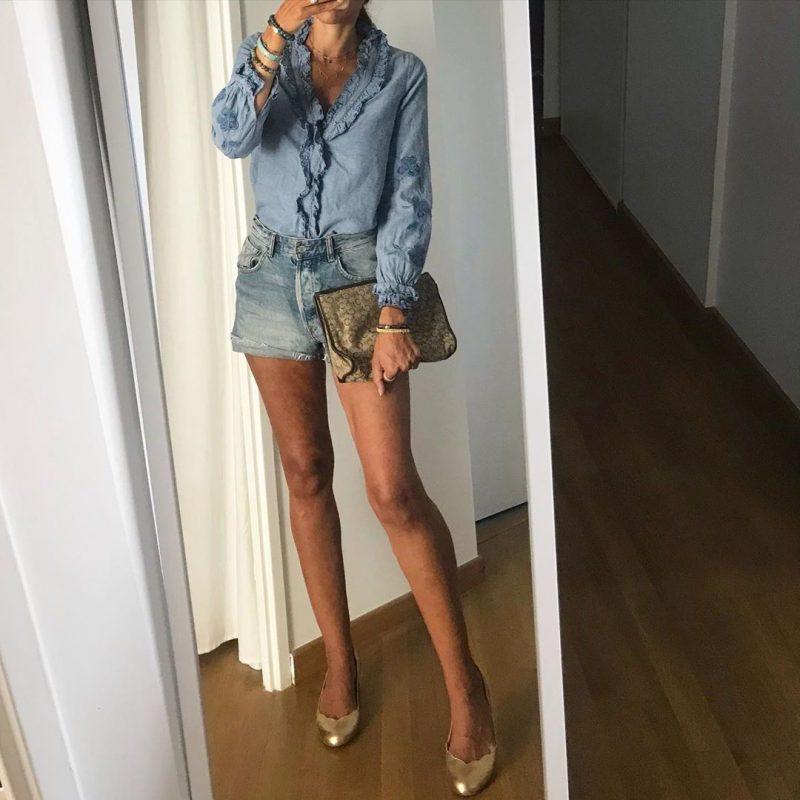 Buy Similar Here
Skin Color Ankle-Cuff Sandals And Rich Blue Midi Dress
We see a long dress in rich blue color updated with light brown sandals:

Buy Similar Here
Oversized Top And Skirt In Blue And White Sneakers
Keep an eye on this oversized sweatshirt teamed with a long blue skirt and chunky white sneakers: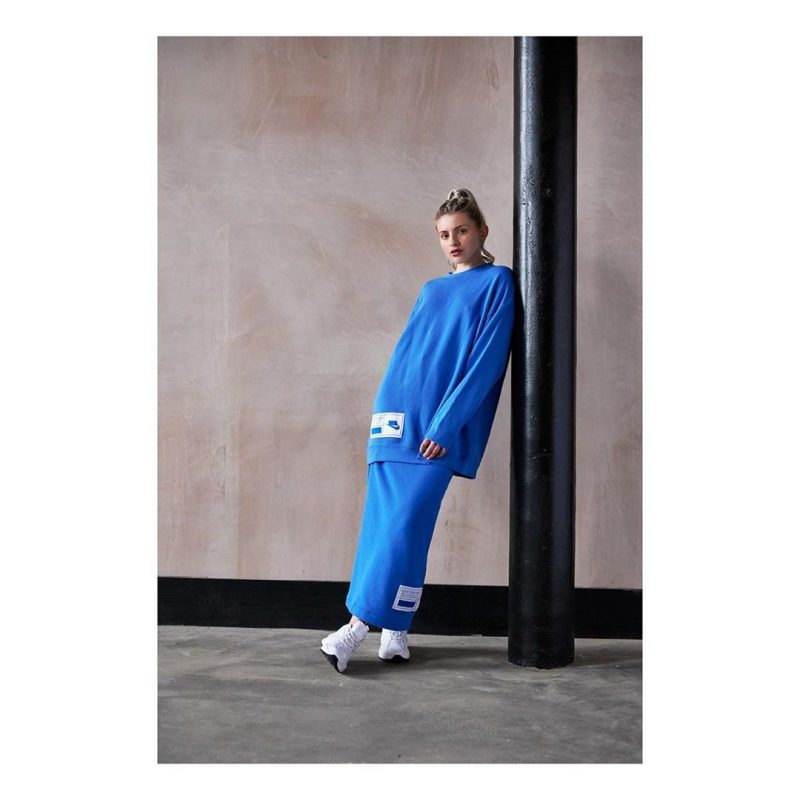 Buy Similar Here
Turquoise-Blue Suit And Bright Turquoise Sandals
A beautiful pantsuit in turquoise-blue is updated with flat brow sunglasses, white tee, and bright turquoise sandals: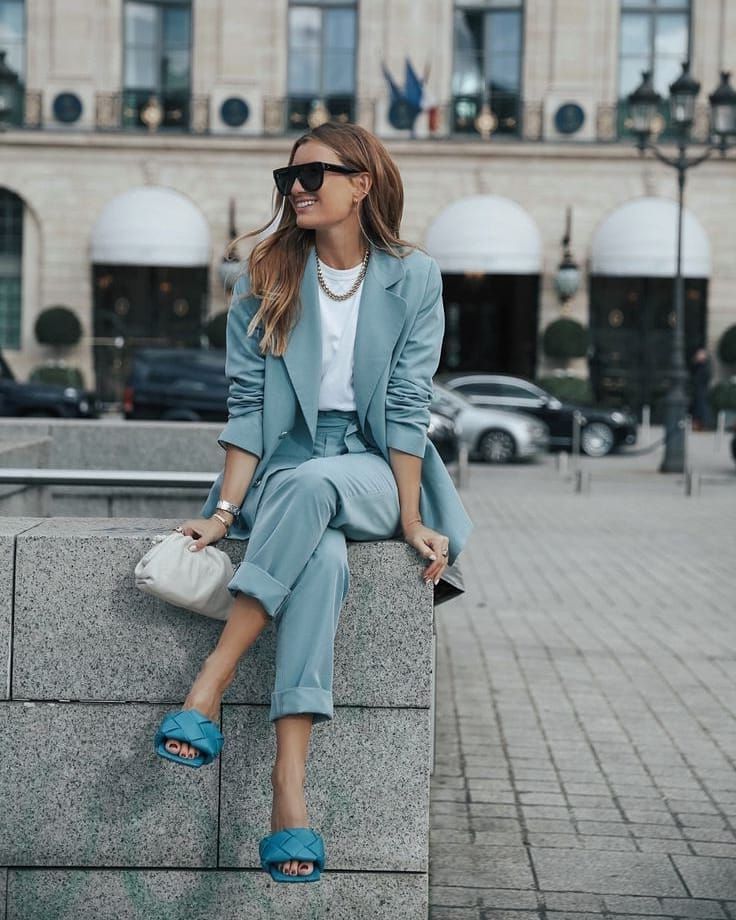 Buy Similar Here
Sporty Outfit In Pastel Blue And Light Blue-White Sneakers
We see a cool sporty pastel blue look that features a cropped hoodie, loose-fit sweatpants, white sunglasses and liver style bag. Complete this outfit by adding light blue-white sneakers: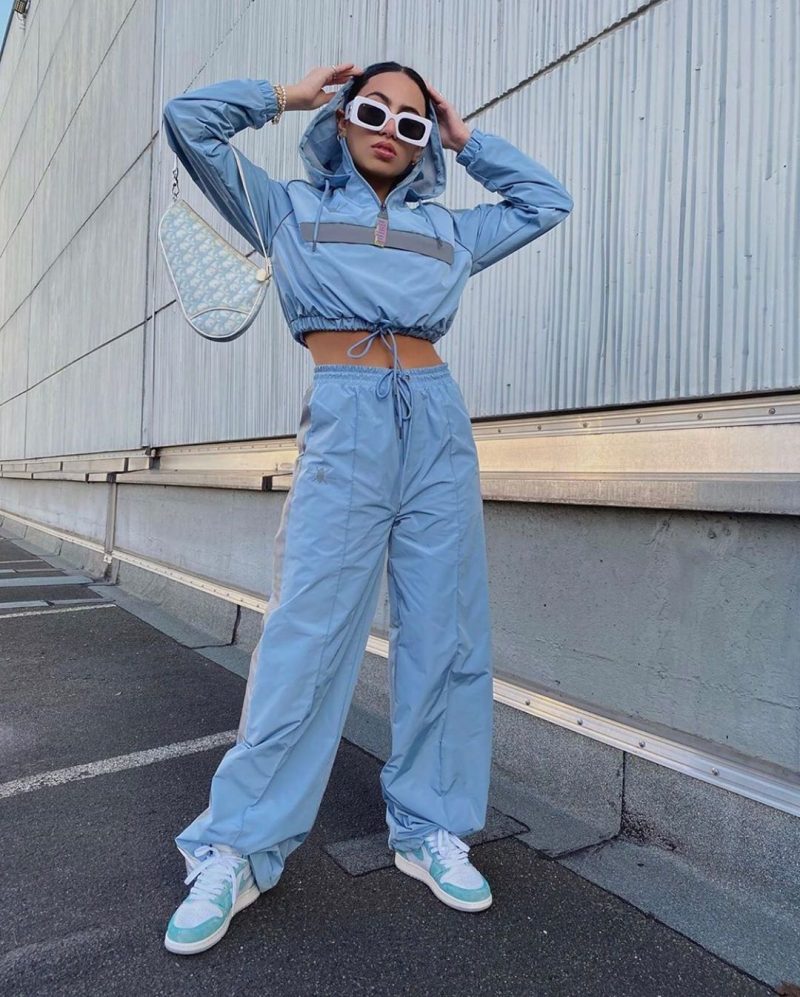 Buy Similar Here
Sea Blue Suit And Heeled Sandals
We see a sea-blue blazer, tights and heeled sandals embroidered with some fancy jewelry: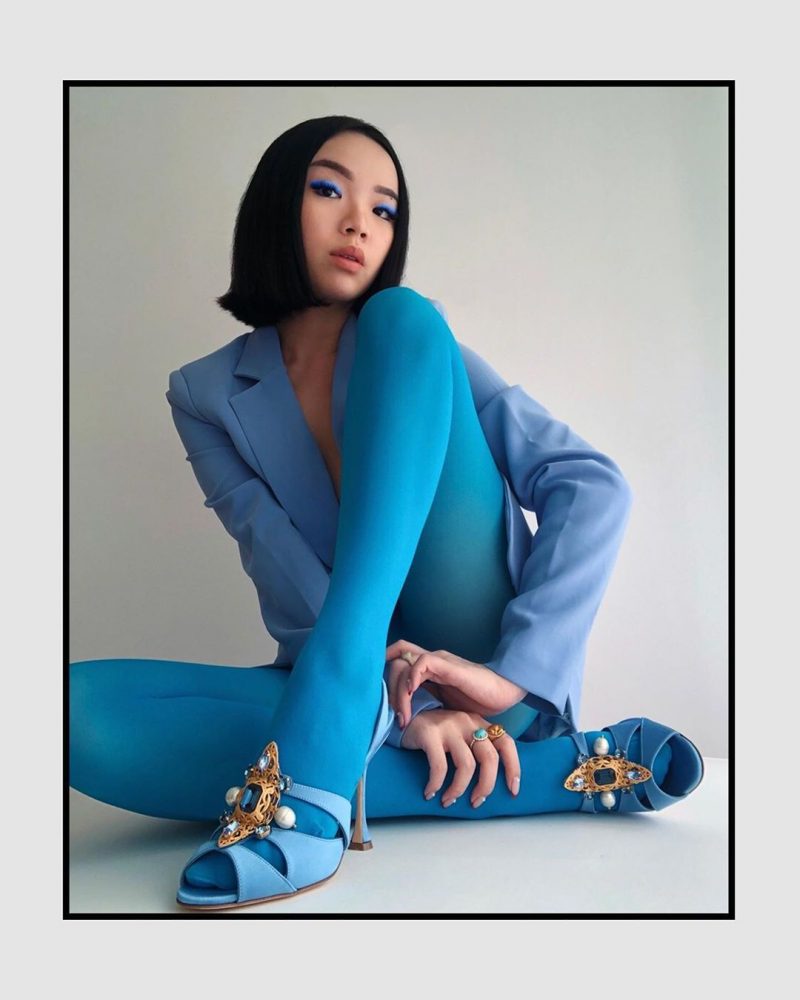 Buy Similar Here
Navy Maxi Dress And Yellow Sandals
A pair of yellow sandals look fantastic with that pleated navy maxi dress: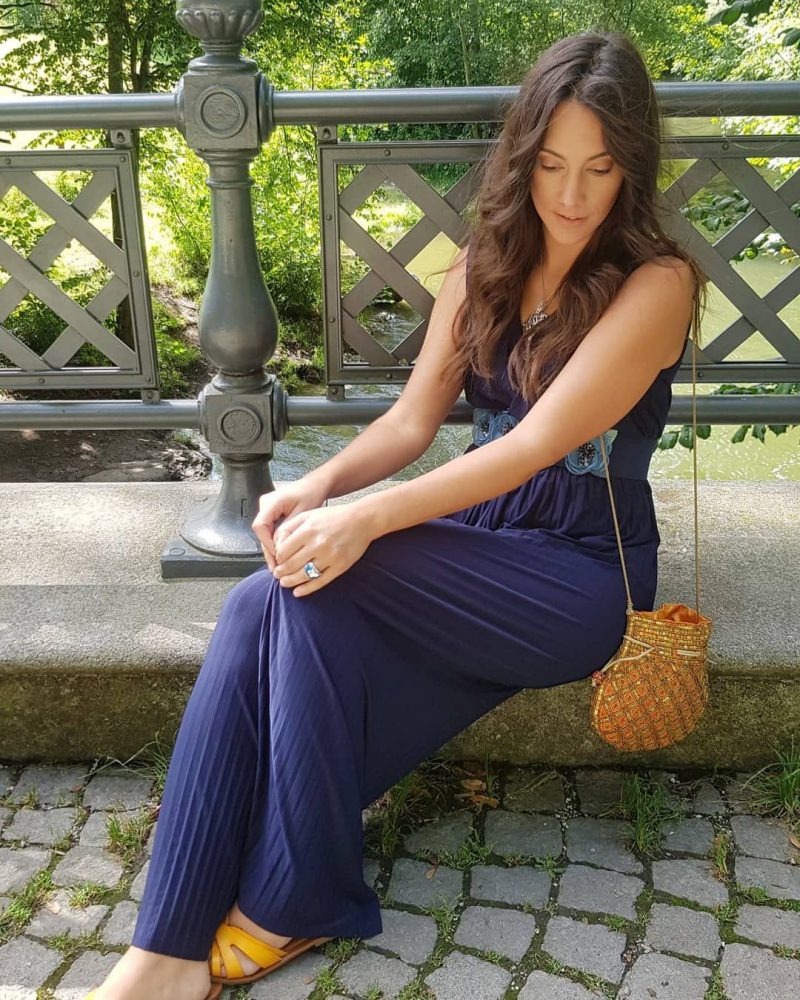 Buy Similar Here