We are here to talk about blue dresses and ways how to style them with different shoes. You are about to see stunning outfit ideas that are easy to wear in real life. It's no secret, the blue color is everywhere in fashion right now and you want to know ways how to combine it with other colors. Today we are about to answer one simple question: what shoes you can wear with a blue dress.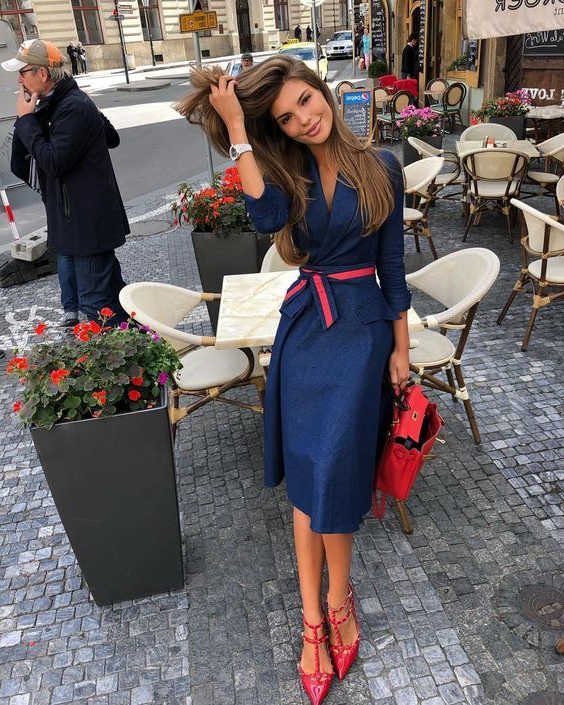 Buy Similar Here
We see a belted navy blazer dress styled with cherry red caged heeled pumps completed with a red backpack.
Best Shoes That Go With A Blue Dress
What color shoes should I choose? What kind of shoes should I wear with different styles of blue dresses? I mean, what footwear fits blue sheath dresses, floor, and midi styles? Let's talk about everything in more detail. You will see easy tips and tricks that can easily make you stand out from the crowd.
Blue Cami Dress And Black Combat Boots
A midi blue slipdress with spaghetti straps and side slits is completed with black combat boots: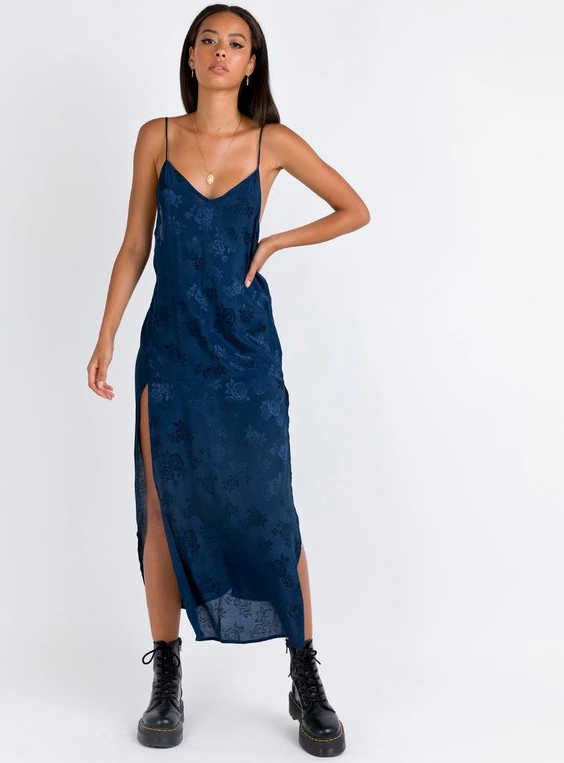 Buy Similar Here
You are going to see various shades of blue, starting from navy and dark blue to pastel hues. If you face such a problem of not knowing what kind of shoes fit your blue dress, then you are on the right page, as I will show you an easy guide on how to make things right.
Blue Dress And Gold Shoes
A belted V-neck navy dress with gathered sleeves looks stunning with disco sunglasses and gold metallic heels: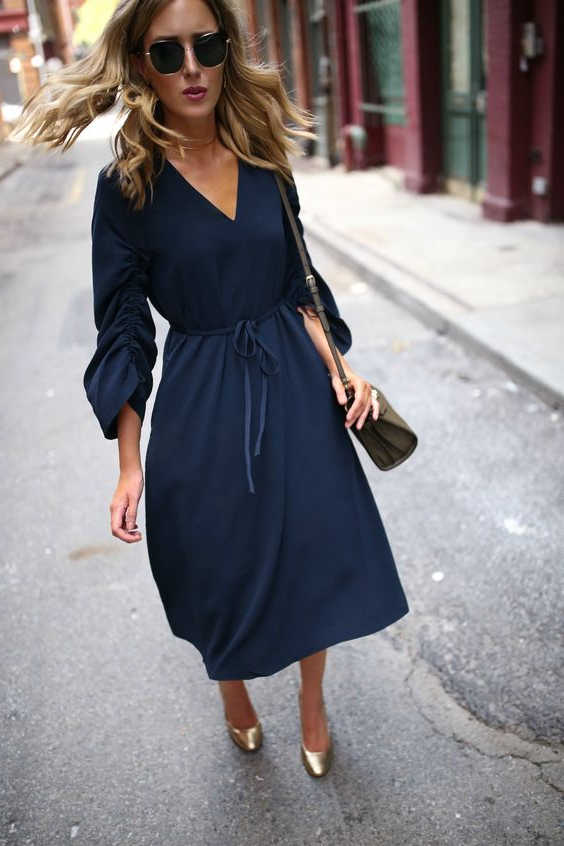 Buy Similar Here
I am not going to confuse you will a bunch of styling techniques, contrary, you are about to see inspiring street style ideas you can easily try in real life. Here are gathered great footwear color combinations that look great with blue dresses. It's fair to say, blue does look great on everyone, you simply need to find the hue that fits your skin color.
Blue Dress And White Heeled Pumps
A mini blue dress with spaghetti straps looks just perfect with these white heeled pumps: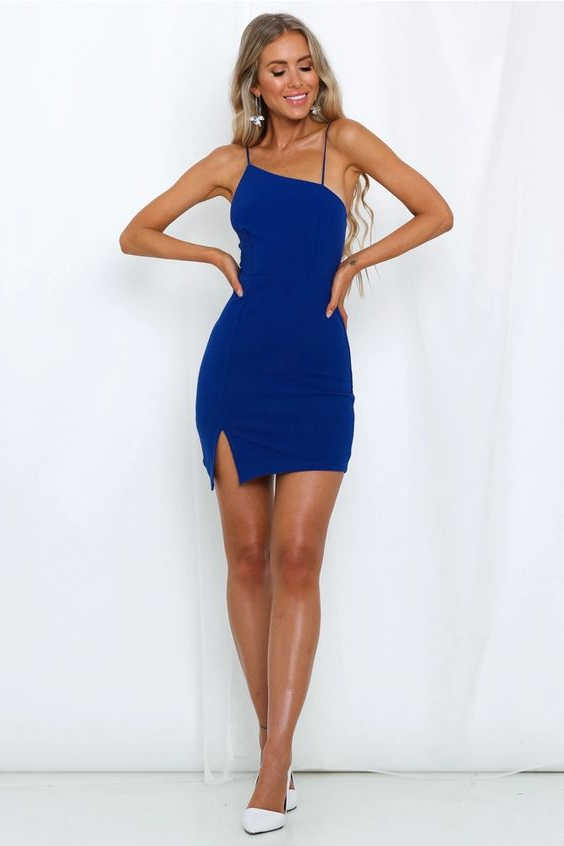 Buy Similar Here
The easiest way to make a blue dress look stunning is by teaming it with matching color shoes. Yes, this definitely works great, but I recommend experimenting with various colors. If your dress color is in a more darker shade, then you can style it with lemon, mint, lavender, emerald, maroon, lilac color shoes. If the dress is in a more warm blue color, then you should choose footwear in red, yellow, mustard, orange, gold, etc. Sure, there are classic colors that fit both warmer and darker shade blue dresses, like black, white, beige and nude colors.
Blue Dress And Sequined Heeled Pumps
A dark blue fit-and-flare dress with a lace top, long sleeves and flared tulle skirt is updated with shiny sequined heeled pumps, a nice look for fancy parties: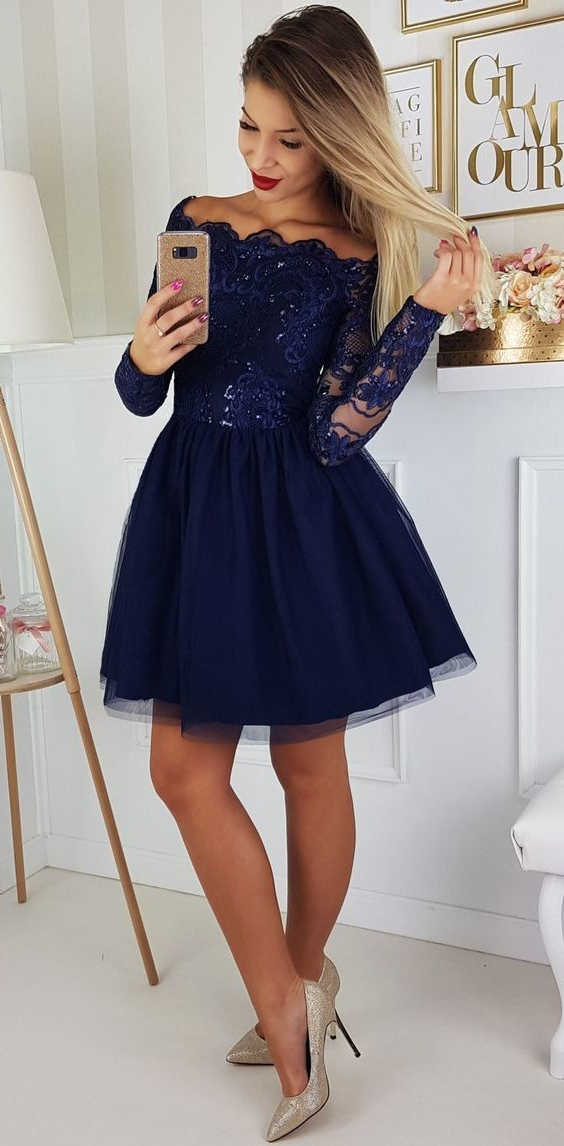 Buy Similar Here
Another thing is the style of the dress. Yes, the style of the dress plays a major role in choosing the appropriate shoes. It can be either boot, ankle boots, OTK boots, heels, pumps, flats, or even sneakers.
Blue Dress And Gold Heeled Sandals
A long blue dress with fluffy sleeves and fur hem is completed with gold heeled sandals: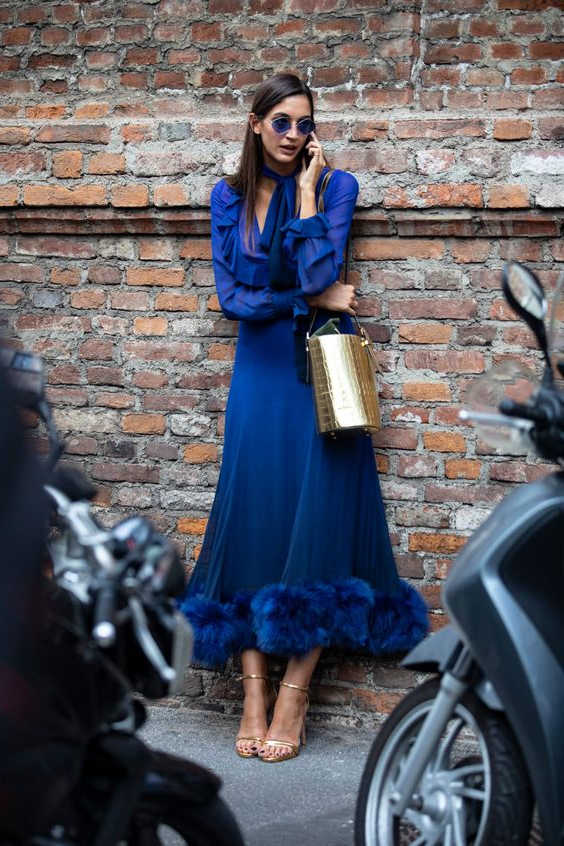 Buy Similar Here
A midi dress with a straight, or fluffy skirt looks great with pastel color pumps. They also look great with contrast color shoes for evening night outs. Midi blue dresses look chic with boots when it's cold outside. The fit-and-flare midi blue dress looks elegant and feminine, that's why I recommend completing them with heeled sandals, ballet pumps or pointed-toe heels. The whole style is ideal for festive events. Maxi blue dress is another favorite choice. They can be styled with heels, ballet flats, or even with sandals.
Blue Dress And Pink Shoes
I definitely recommend trying on this dark blue lace dress in a slim fit. You can simply layer it with a blush biker jacket. Update this combo by adding modern mirrored cat-eye sunglasses, mini handbag and nude-pink heeled pumps: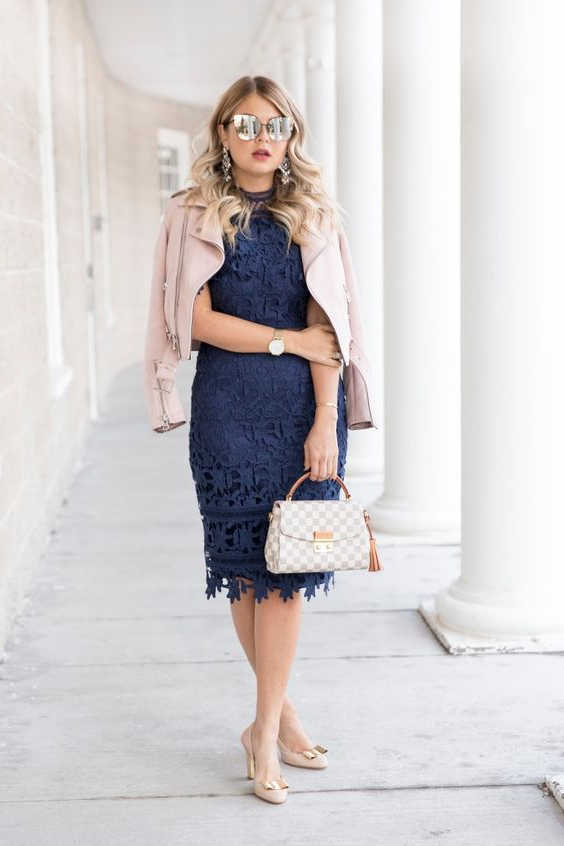 Buy Similar Here
Blue Dress And Silver Shoes
A deep neckline sleeveless maxi blue dress with a high slit looks glamour and ideal for special occasions. Update it with silver heeled sandals: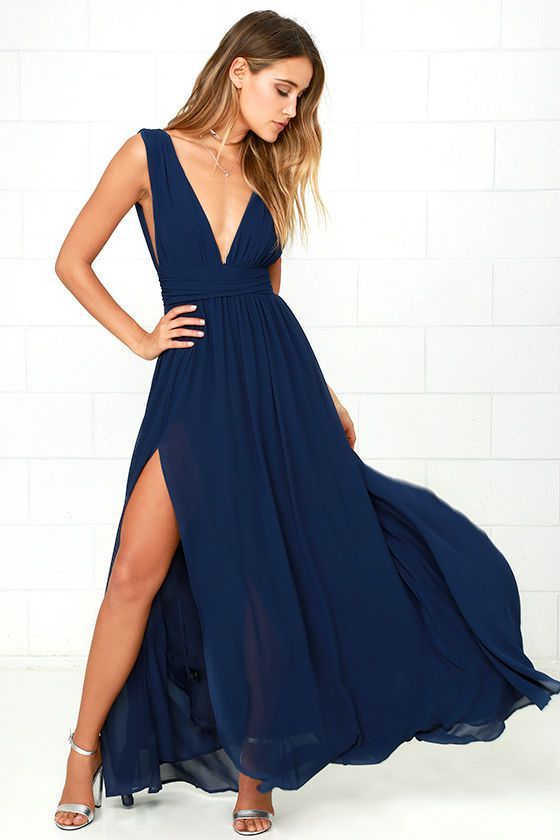 Buy Similar Here
Blue Dress With Ankle Boots
Keep it relaxed and casual. Go for a blue denim jacket and pair it with a short navy blue dress and beige ankle boots. Complete this combo with aviator sunglasses and light red leather handbag: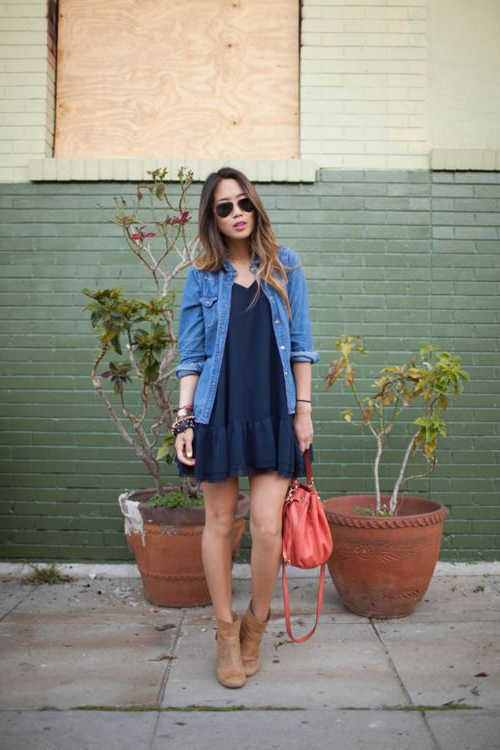 Buy Similar Here
With Black Shoes
A long-sleeve dark blue dress in a slim fit with a belt looks classy and dressy. Update it with lacquered black heeled pumps and black leather clutch bag: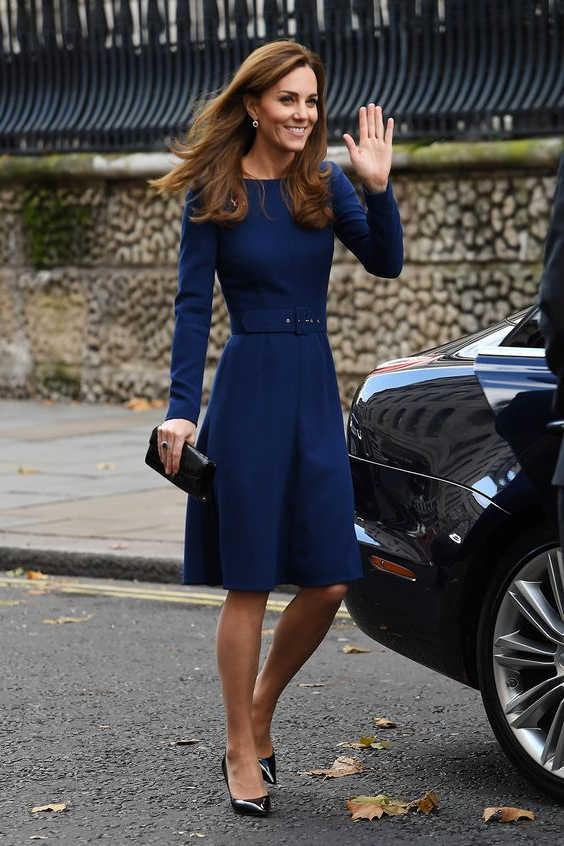 Buy Similar Here
Blue Dress With Red Shoes
Another gorgeous evening design for young women. We see a long-sleeve navy dress with puffy shoulders and ruffled hem completed with red heeled pumps: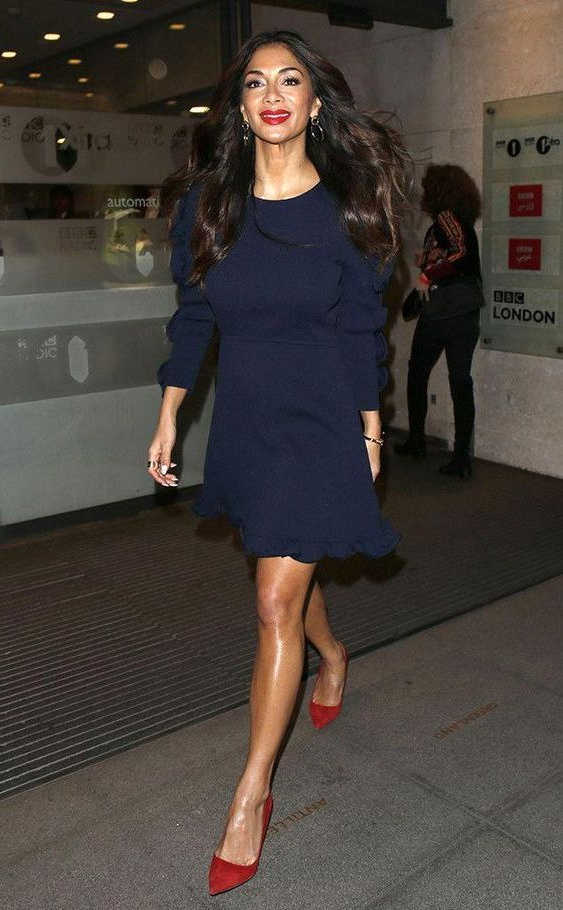 Buy Similar Here
Blue Dress With Sneakers
A high-neck sleeveless maxi dress in bright blue color with a side high slit is completed with rounded blue sunglasses and white sneakers: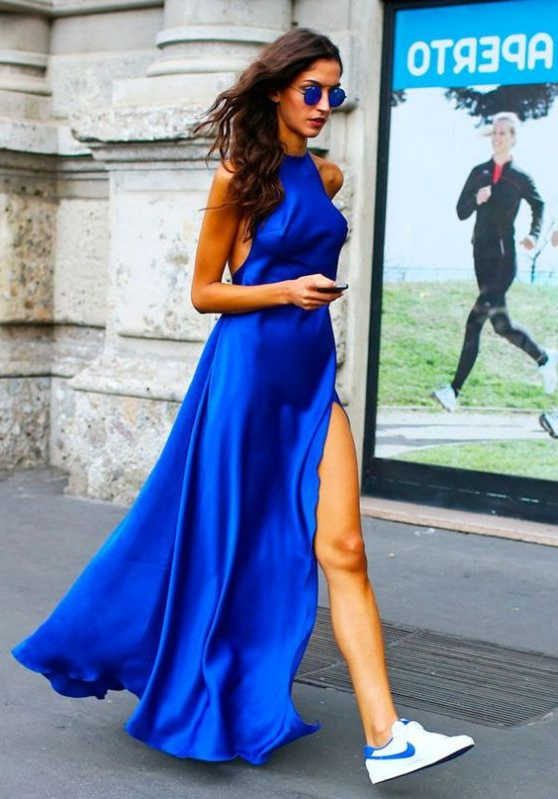 Buy Similar Here
Blue Dress With Wedge Sandals
An everyday Summer blue dress looks relaxed and feminine. Update it with wedge leopard print sandals: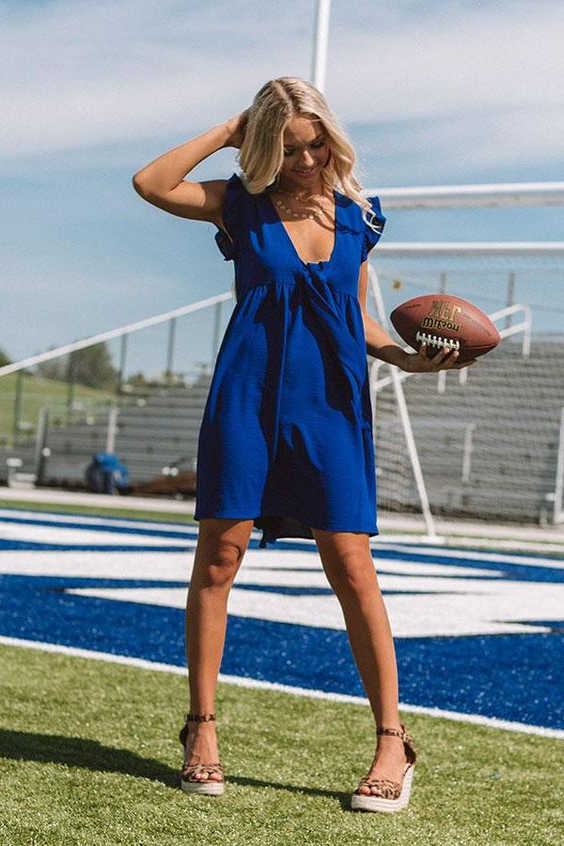 Buy Similar Here
Blue Dress With Yellow Heels
A short-sleeve knee-length blue dress in a slim fit looks stunning with yellow heeled pumps: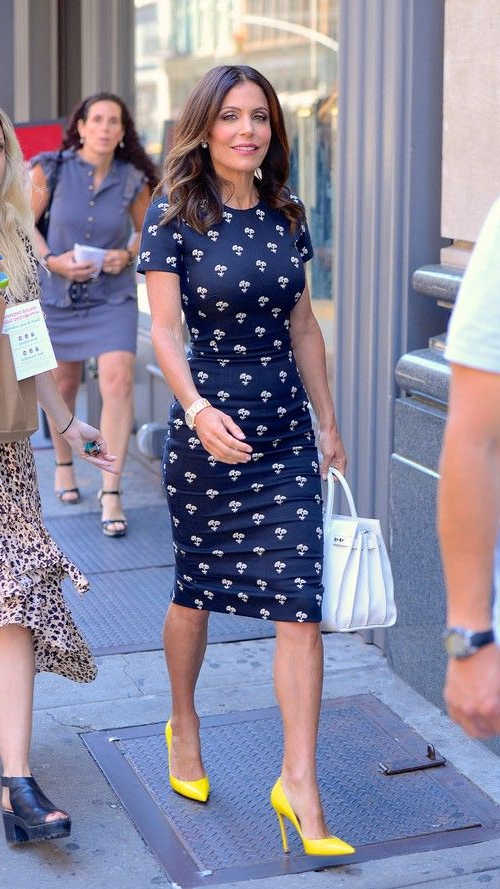 Buy Similar Here
Blue Knitted Dress With Boots
A v-neck dark-navy belted wrap dress looks vintage-inspired. Complete it with bright brown leather boots: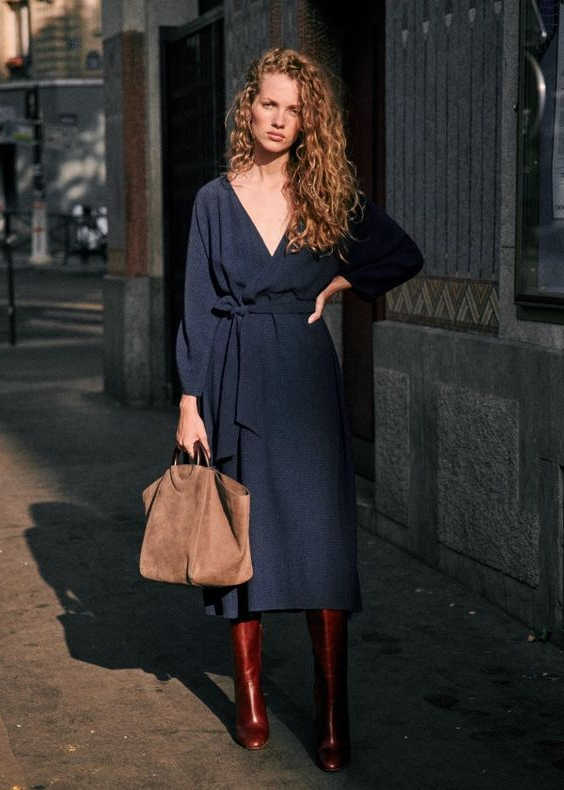 Buy Similar Here
Blue Off Shoulder Dress With Silver Pumps
An off-shoulder fit-and-flare dress in a mini length looks ideal for fancy parties. Complete it with shiny silver heeled pumps: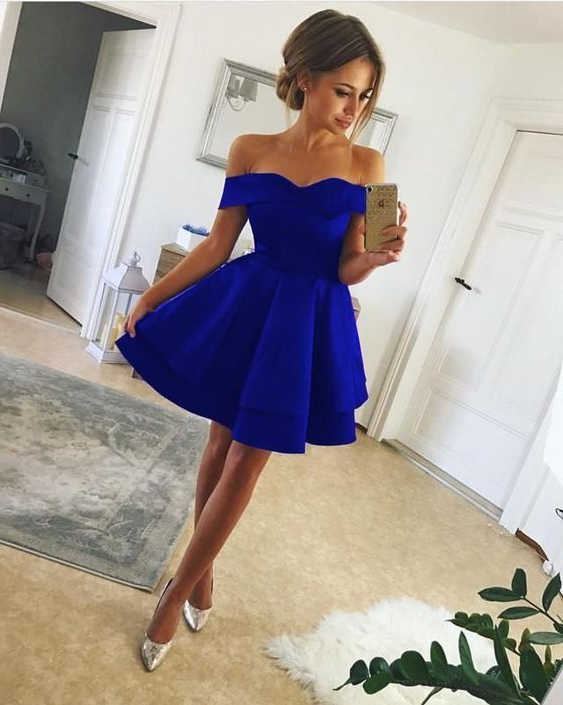 Buy Similar Here
Dark Blue Dress And Nude Shoes
A dark blue dress in classic fit is completed with a blush coat and nude heeled pumps. A lovely combination for young ladies: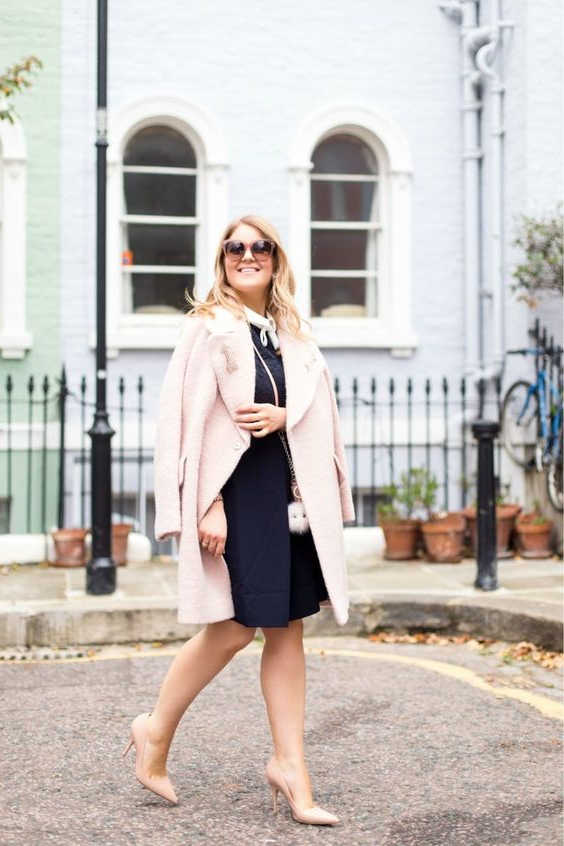 Buy Similar Here
Blue Maxi Dress With Slides
If you want to keep things bohemian inspired, then go for this maxi gown with short sleeves and a deep neckline. Complete it with heart-shaped black sunglasses and straw slides: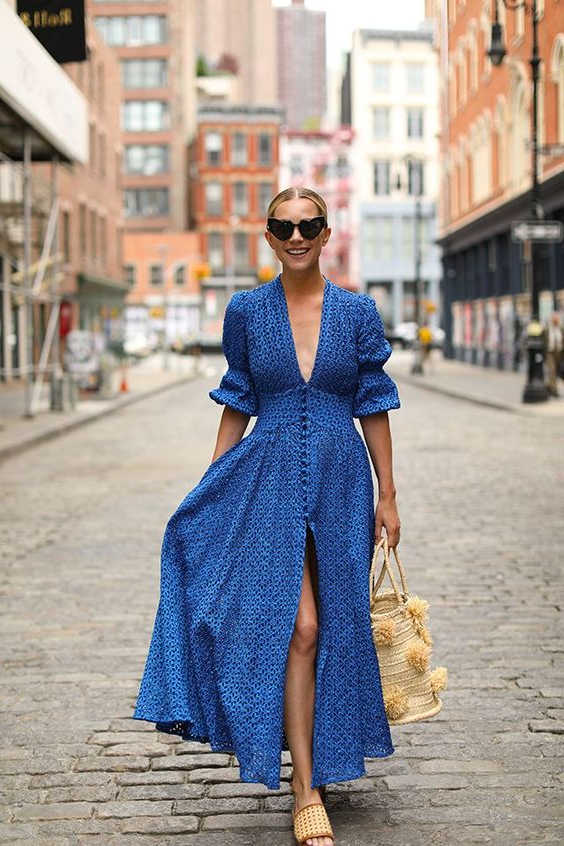 Buy Similar Here
Navy Blazer-Dress And White Sneakers
A pinstripe navy double-breasted blazer-dress with a belt looks sophisticated. Style it with cat-eye sunglasses and white sneakers: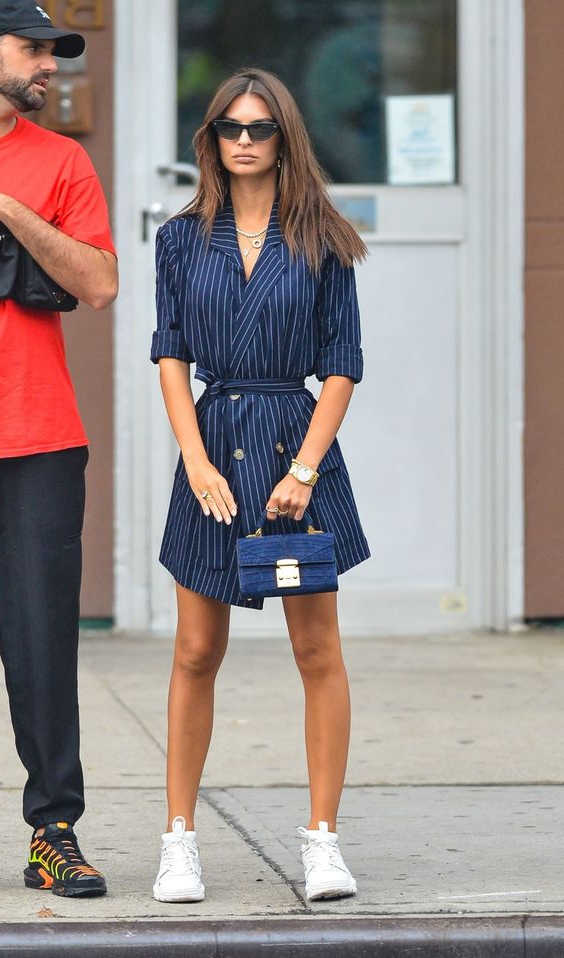 Buy Similar Here
Pastel Blue Dress And White Ankle Boots
All in pastel shades. We see a baby blue turtleneck maxi dress covered with a matching color blazer. Update this look with oversized mirrored sunglasses and white ankle boots: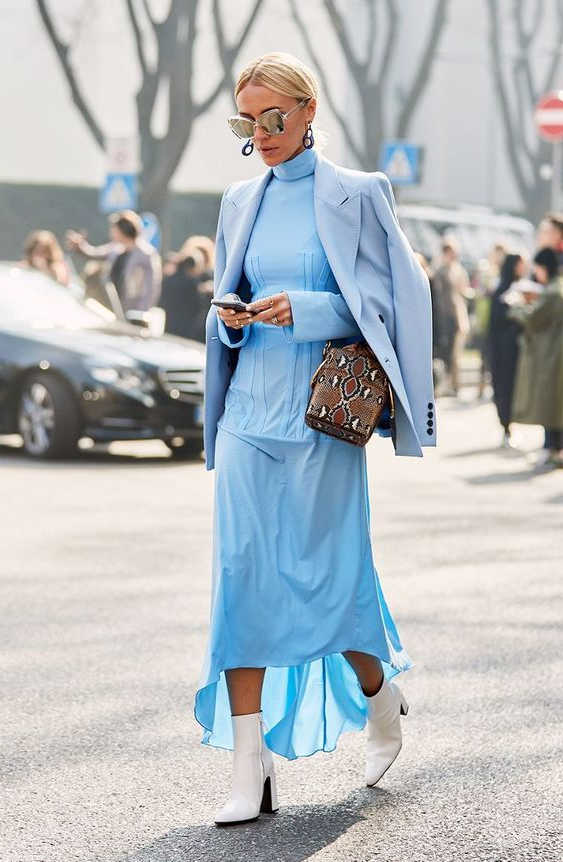 Buy Similar Here