This time we are about to see casual outfits with snakeskin shoes. I will show you some easy ways how to style this animal print footwear. What I love about snakeskin shoes is the print by itself, they are so easy to style. I put together my favorite street style ideas to show you how easy it is to style these snakeskin footwear designs in real life.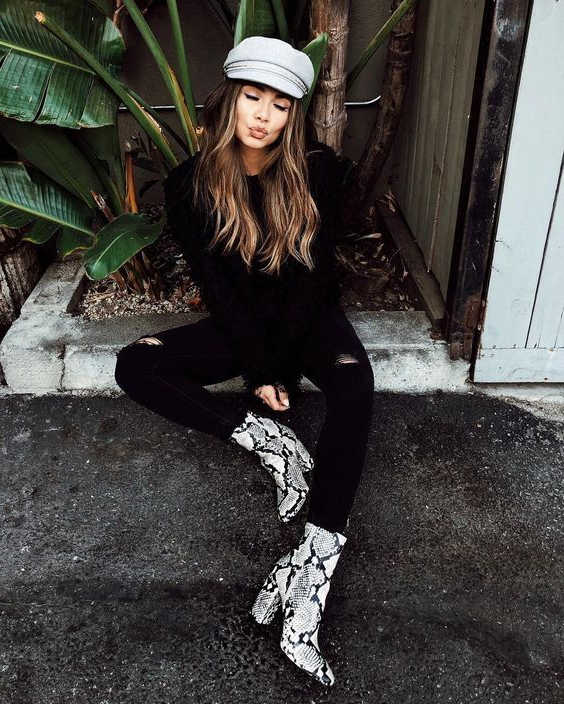 Buy Similar Here
We see an all-black outfit idea consisting of a black sweater, ripped black skinny jeans and block heel snakeskin print ankle boots. Update this combo with a cream-white cap.
Casual Outfits With Snakeskin Shoes
If you are only a beginner to this trend, then you definitely scared about how to combine these footwear with your clothes. However, there is nothing hard in wearing these shoes. I've put together a guide on my favorite outfit ideas you can easily copy in real life. The snake print is a great option for adding subtle texture to casual outfits. Before creating any new combination with these footwear, you should realize that snake print shoes are your new neutral.
OTK Snake Print Boots And White Shirtdress
A plaid double-breasted blazer with a belt bag in black leather is worn with a white shirtdress completed with over-the-knee snake print boots: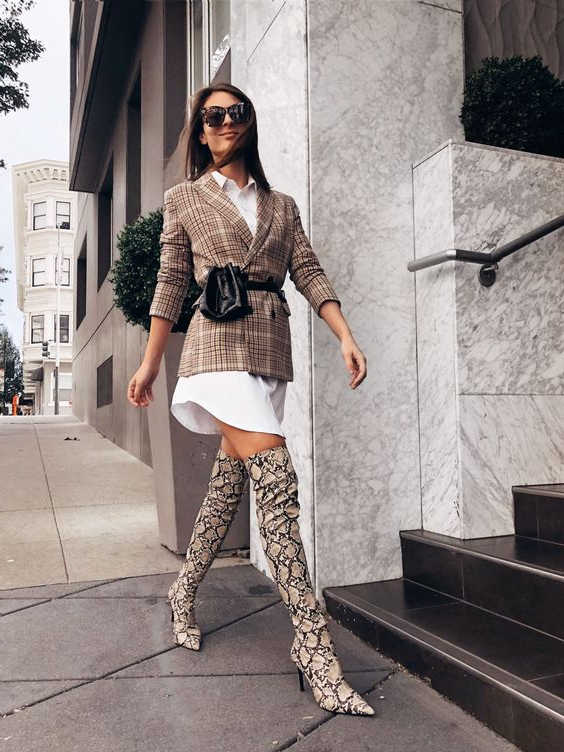 Buy Similar Here
OTK Snakeskin Print Boots And Jeans
A turtleneck light brown sweater is paired with ripped skinny jeans tucked in OTK snake print boots. Update this look by adding a beige fedora hat: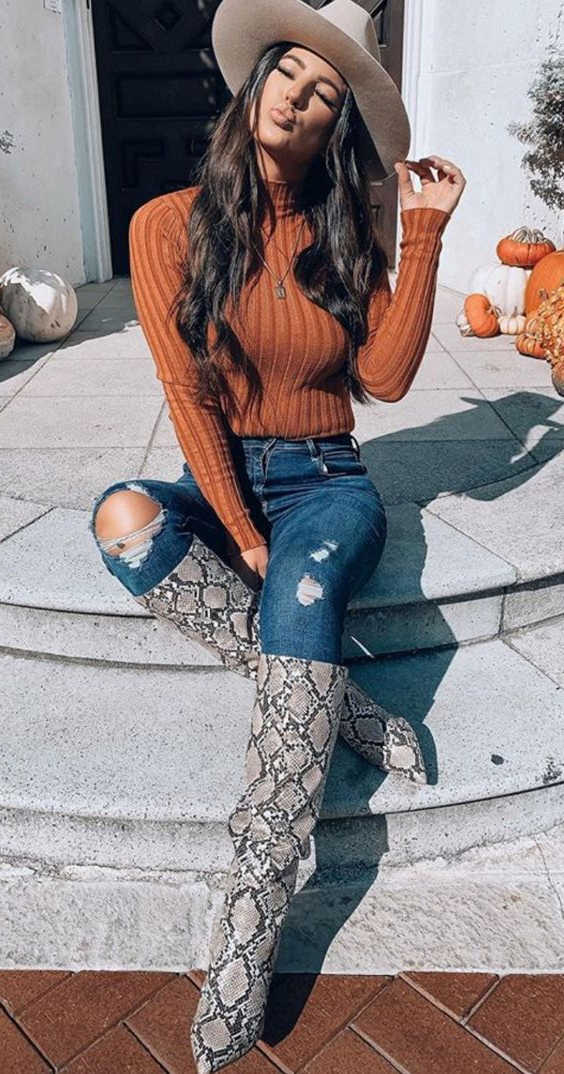 Buy Similar Here
It's no wonder why snakeskin has come into the fashion scene, they will be a good replacement for classic leopard print shoes. I am not saying to stop wearing leopard print shoes, just make sure you can alternate them with snakeskin shoes whenever you want.
Beige Dress And Snake Print OTK Boots
A belted beige dress ideally matches these sassy heeled OTK boots: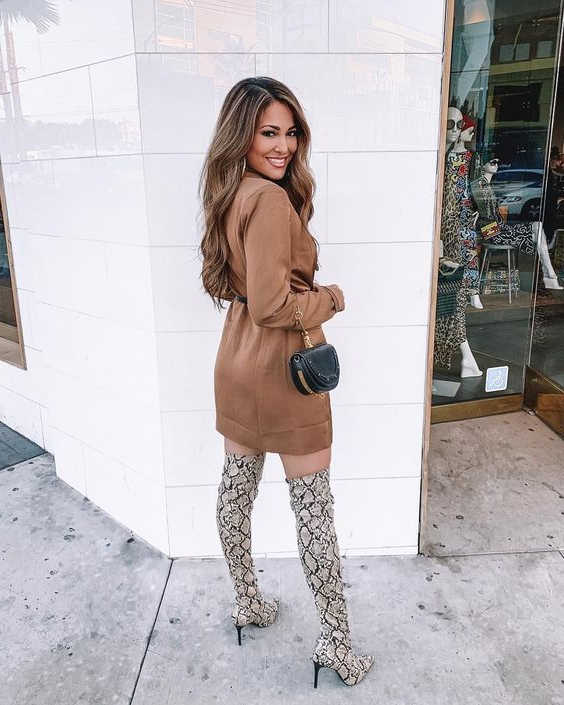 Buy Similar Here
Block Heels Snake Boots With Ripped Skinnies And Pinstripe Shirt
We see a pinstripe blouse tucked in cuffed light blue skinny jeans completed with block heel booties and a white shoulder bag: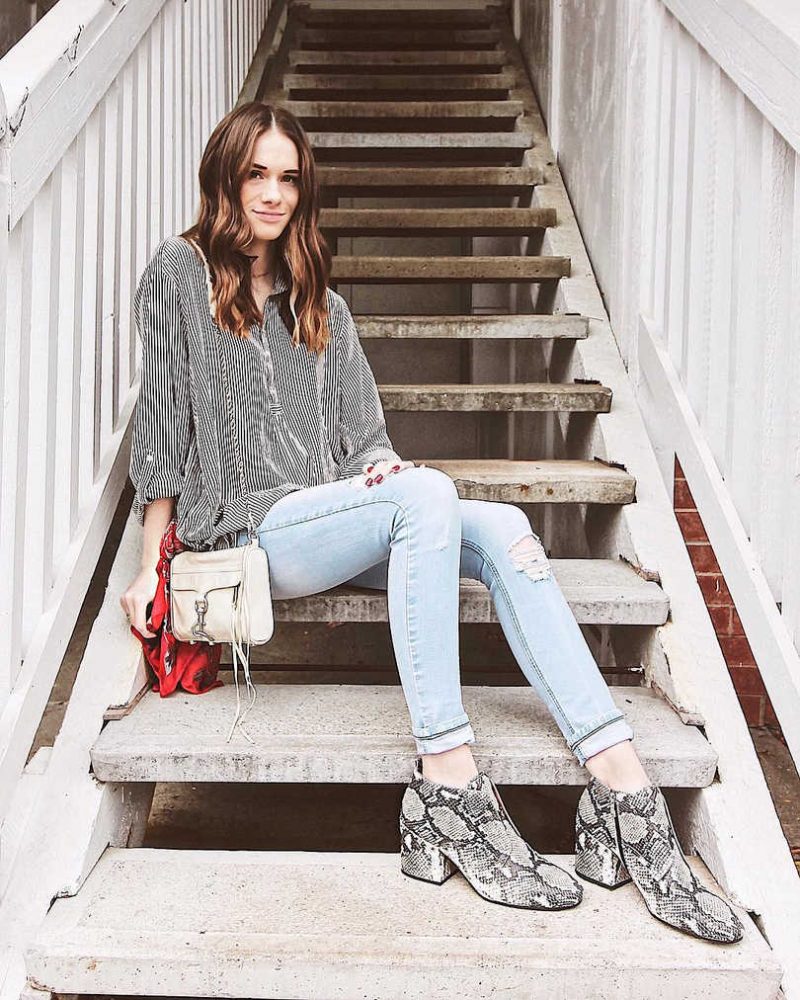 Ripped Jeans With Cute Cardigan
A cream-beige cardigan looks pretty sweet with a V-neck white tee paired with knee-ripped blue jeans and block-heeled snake print ankle boots: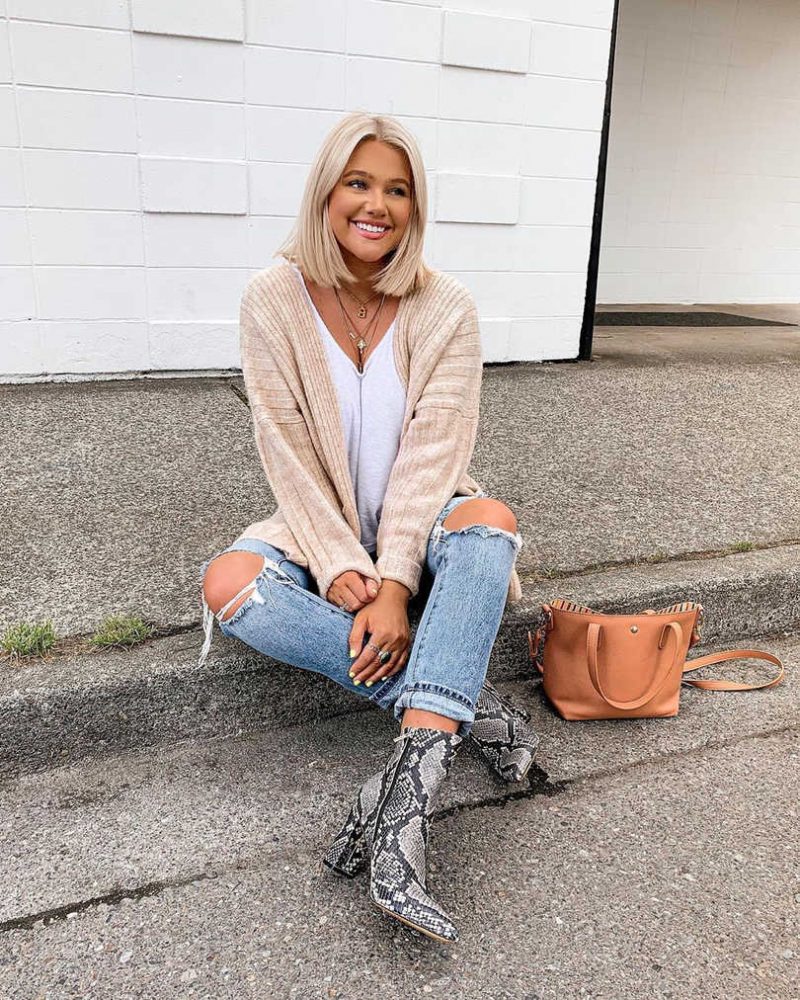 With Regular Jeans And Blue Blouse
A pair of brown Chelsea snakeskin boots are worn with 1970 style clothes, like a ruffled pastel blue blouse tucked in high-waisted regular jeans in blue: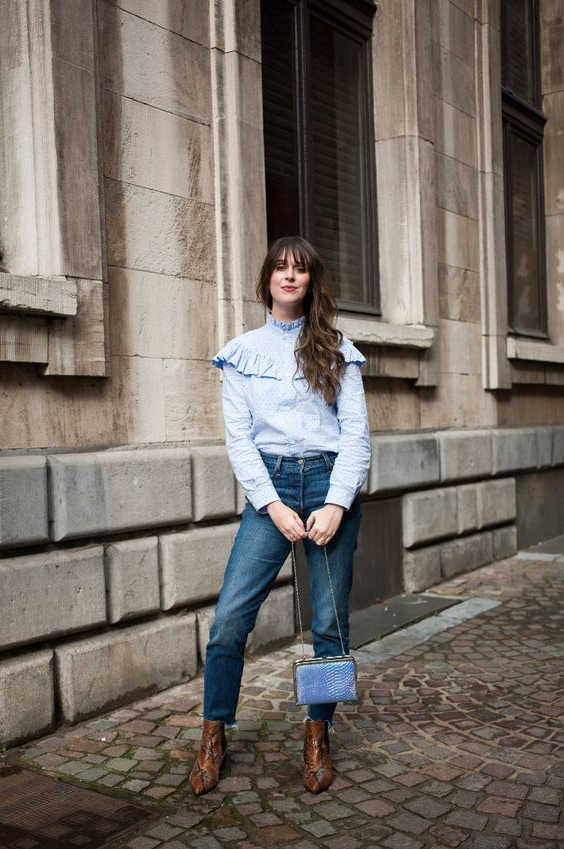 Buy Similar Here
Chelsea Boots With Black ShirtDress And Teddy Bear Jacket
You can have so much fun with a cream-white teddy bear jacket worn with a black shirtdress and Chelsea snakeskin print boots: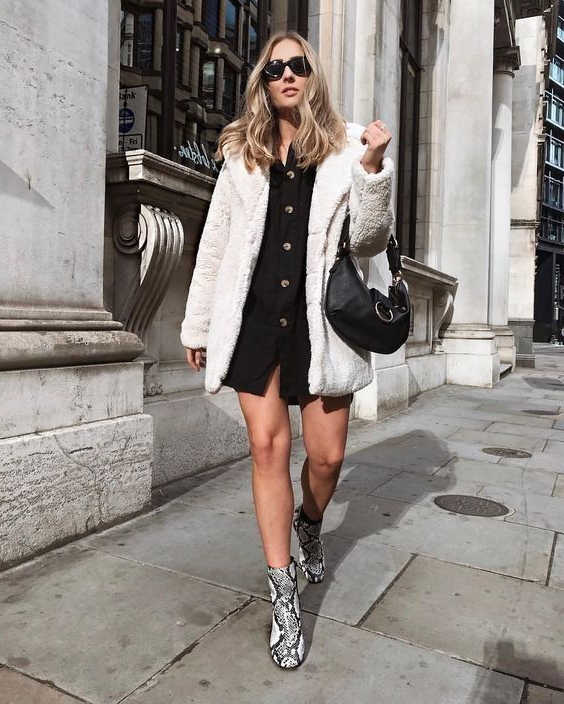 Buy Similar Here
With White Outfit
Chelsea snake print boots ideally suit this cream-white safari outfit consisting of a cargo shirt and cuffed regular pants: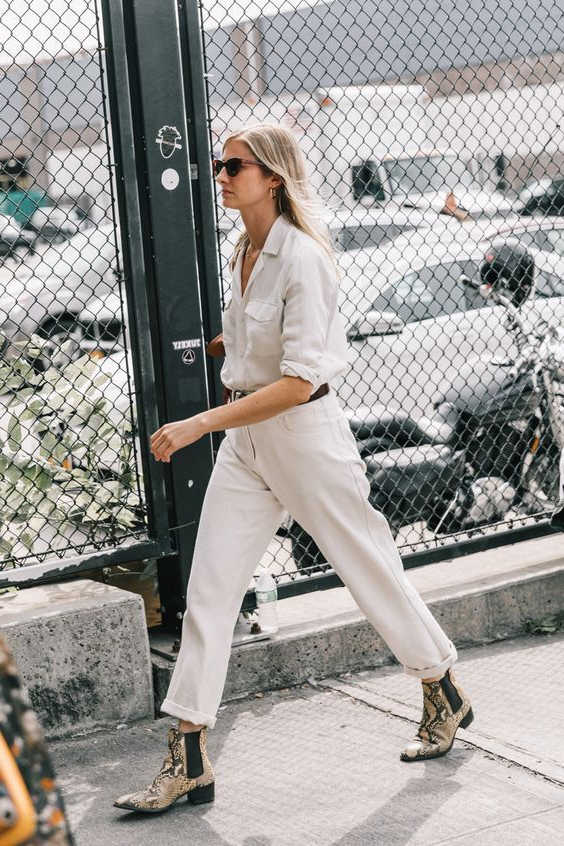 Buy Similar Here
White Top, Leather Pants And Snake Ankle Boots
White pullover ideally suits black leather skinny pants and snakeskin print ankle boots. This black-white outfit idea is great for weekends street walks: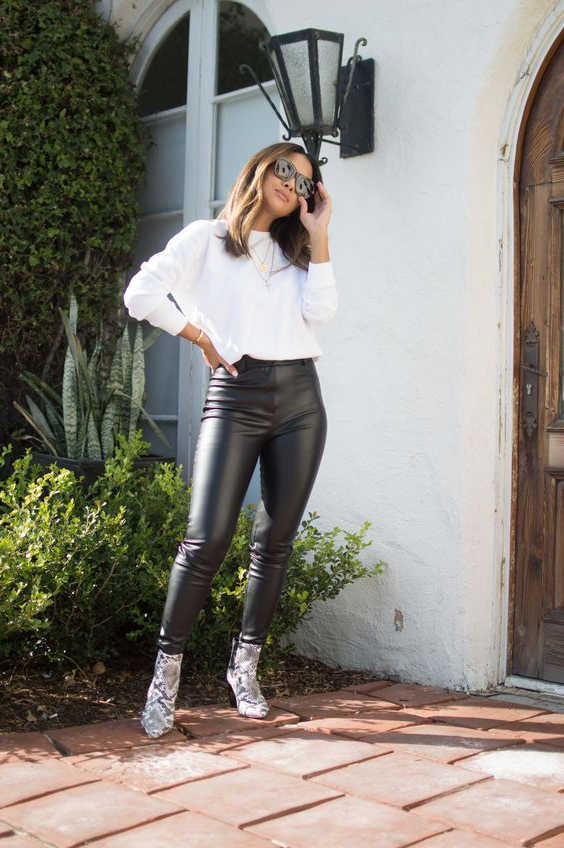 Buy Similar Here
Snakeskin Print Ankle Boots And Dark Jeans With Hoodie And Plaid Coat
Brown snakeskin print ankle boots look classic and retro-inspired with this long plaid coat styled with a grey hoodie and dark grey skinny jeans: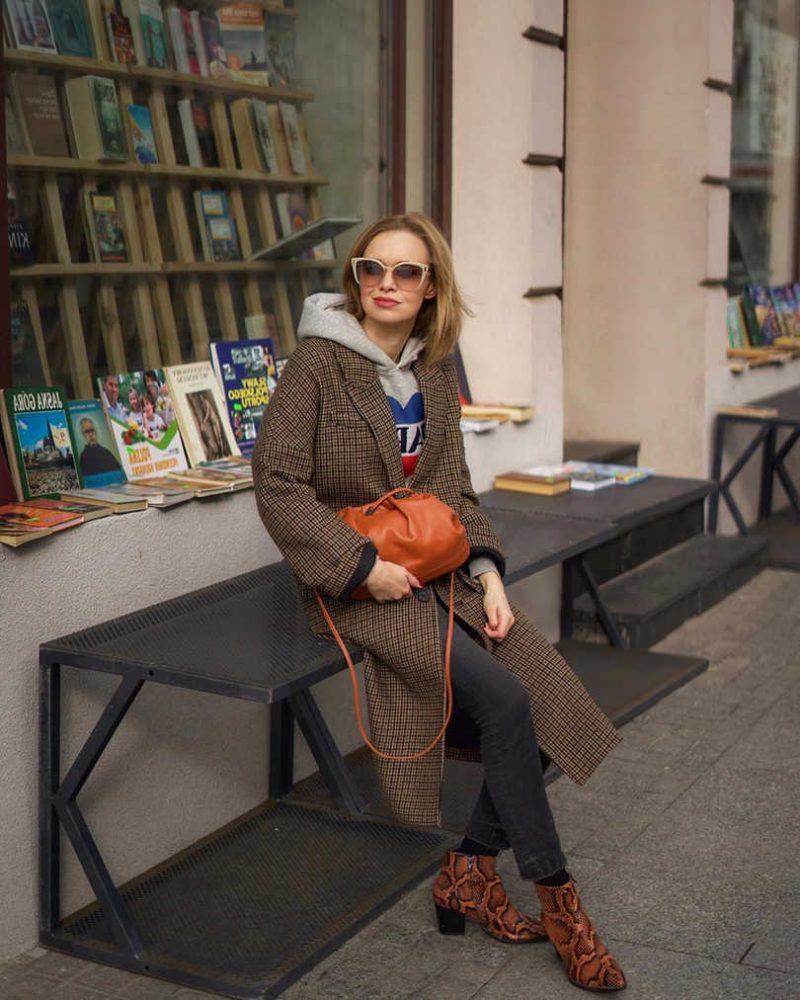 Snakeskin Print Ankle Boots And Ripped Black Jeans
A cream-white cardigan ideally matches these black skinny jeans with ripped knees tucked in snake print ankle boots. Update this combo with a beige fedora hat: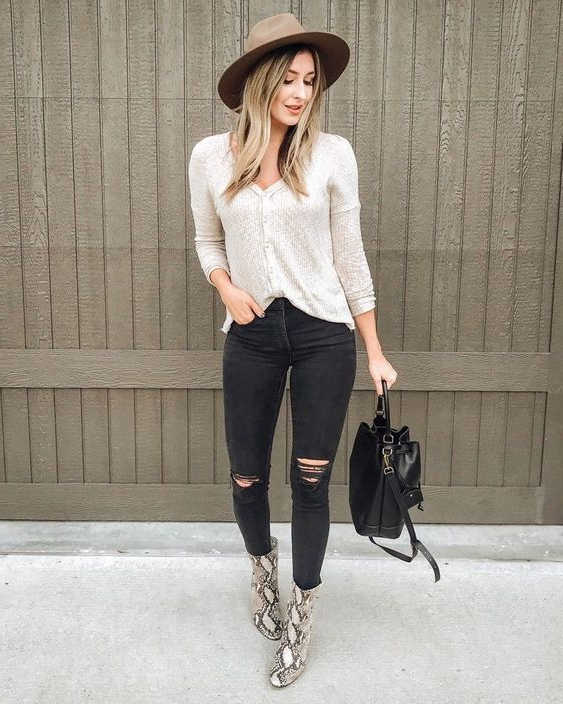 Buy Similar Here
Sheer Blouse, Skinny Jeans And Snakeskin Print Ankle Boots
Black blouse with a lace-up neck is tucked in classic slim jeans completed with pointed-toe snake print boots: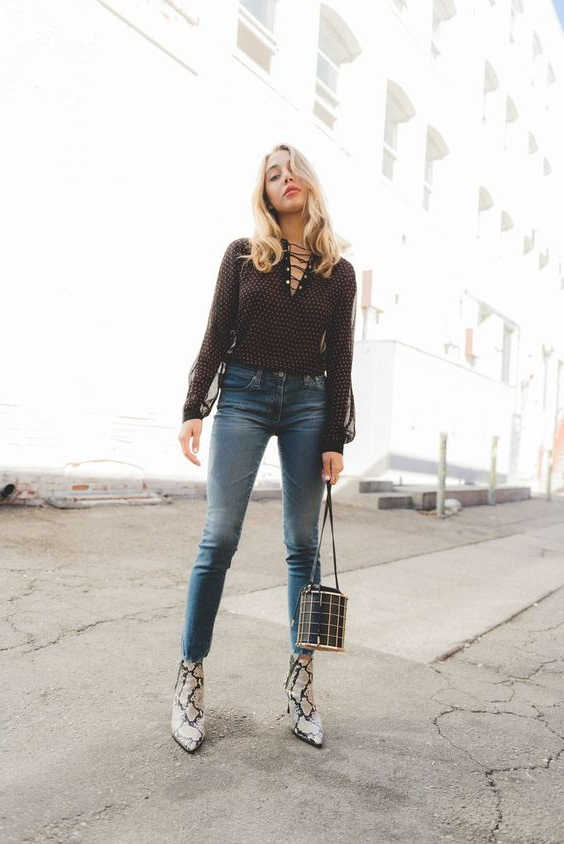 Buy Similar Here
Snakeskin Print Boots And Black Dress
A jersey black dress with a mesh layer is teamed with a denim jacket tied around waist and snakeskin print boots: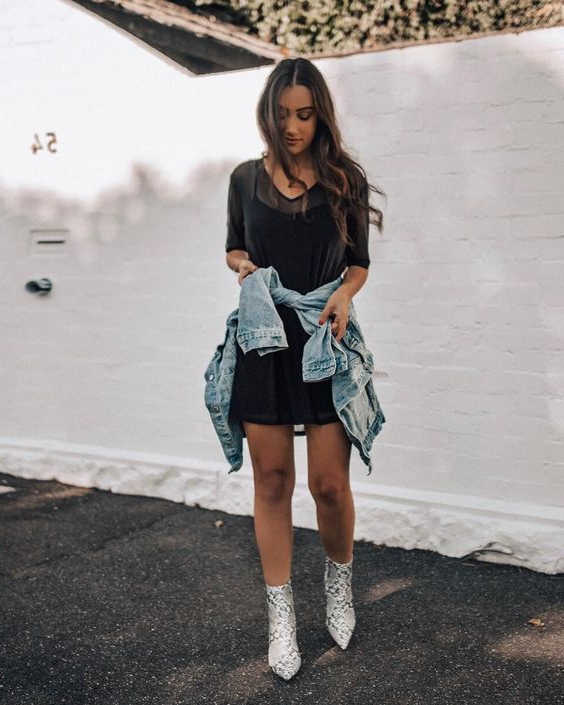 Buy Similar Here
Black Blazer, Grey Sweater White Jeans And Snake Print Boots
A black cozy blazer is layered over a grey roll-neck sweater teamed with white slim jeans and snake print boots. Love the modern style shades: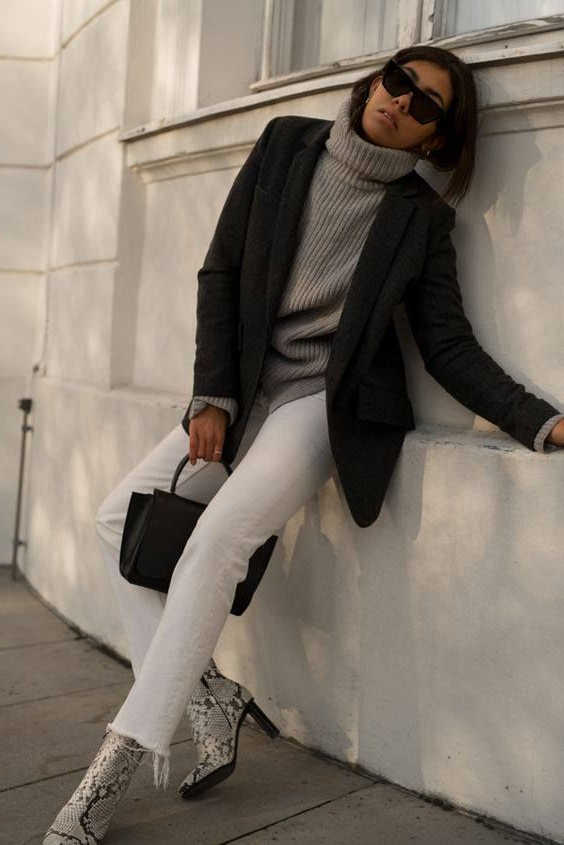 Buy Similar Here
All White Look And Snake Print Boots
You can go classy and try on an all-white outfit idea. Here we see a cream-white ribbed knit sweater paired with ripped white skinny jeans completed with snakeskin print boots. In love with white cat-eye sunglasses: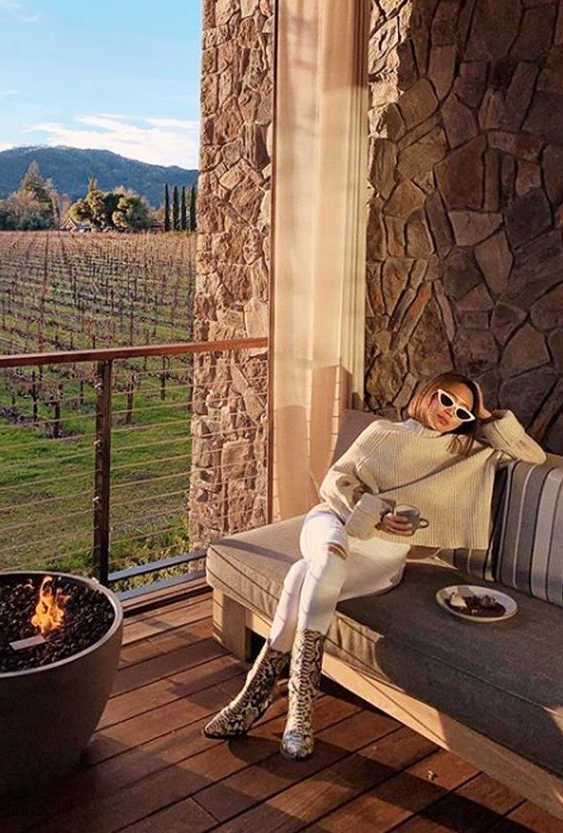 Buy Similar Here
Snakeskin Print Clutch And Matching Boots
Some like to match! We see a grey slouchy neck sweater paired with black skinny jeans and pointed-toe ankle boots in snakeskin print. Add a matching print clutch bag to complete this outfit: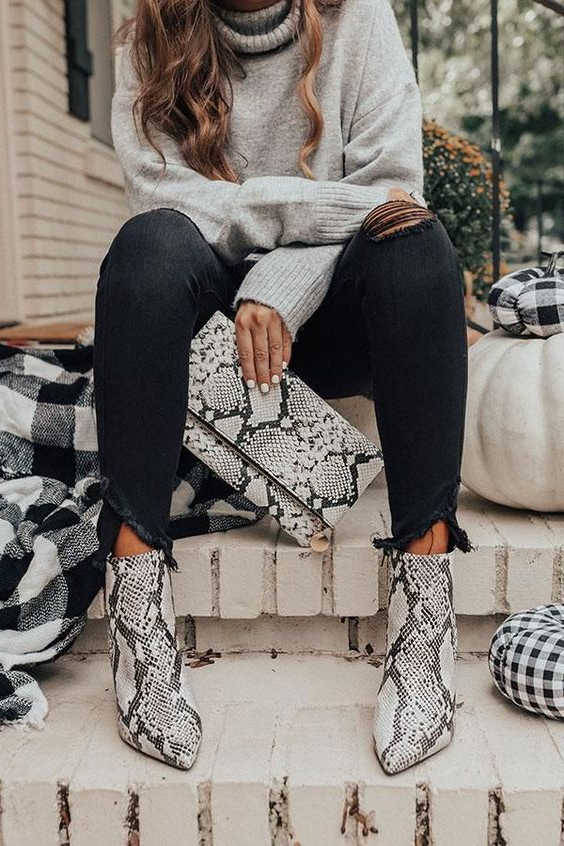 Buy Similar Here
Sweater Dress And Snake Print Boots
A cozy sweater dress in white is completed with a black leather belt. Update this look by adding a white fedora hat and snakeskin print ankle boots: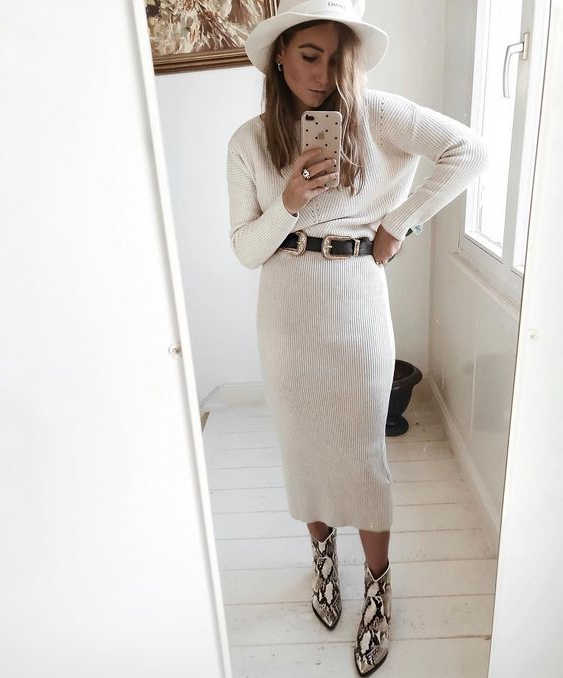 Buy Similar Here
Snakeskin Print Cowboy Boots
We see a grey blazer layered over a white tee tucked in black leather short skirt completed with snake print cowboy boots. Update this weekend look by adding flat brow sunglasses and a saddle bag: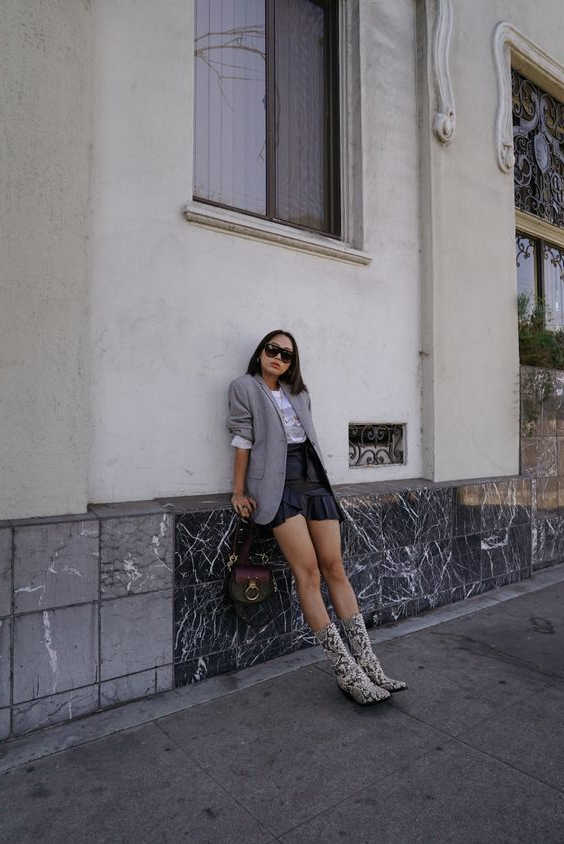 Buy Similar Here
Snake Print Flat Pumps & White Top
If you are looking for an easy and relaxed outfit, then go for snake print flat pumps. They are paired with white skinny jeans and a cream-grey T-shirt: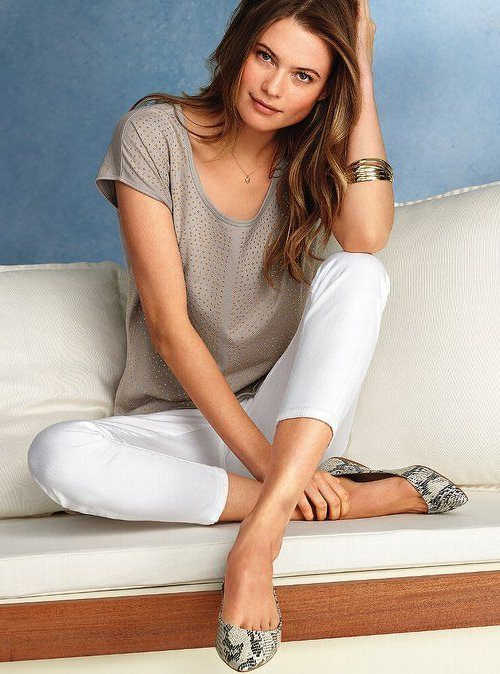 Buy Similar Here
Snakeskin Print Loafers And Plaid Blazer
We see a plaid blazer teamed with a beige sweater tucked in blue jeans completed with snakeskin print loafers: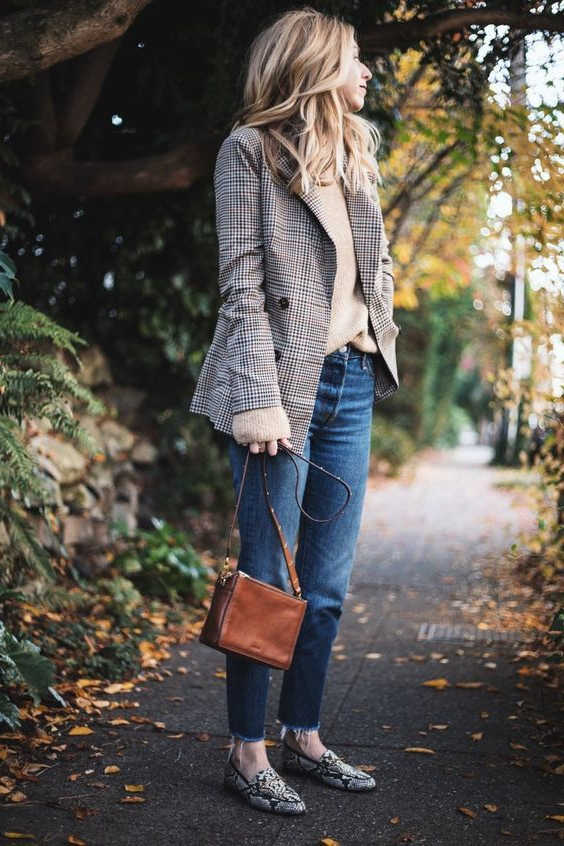 Buy Similar Here
Snake Print Mules & Black Knee Ripped Jeans
A nice combination for smart-casual events. A pastel shirt is tucked in knee-ripped black skinny jeans completed with snake print mules: