Today we are here to talk about shoes to wear with rompers. You are about to see some easy tips and ideas that can make you stand out from the crowd. If you have never tried rompers before, believe me, this clothing staple can make a great addition to your wardrobe. You just need to know the right footwear to wear it with.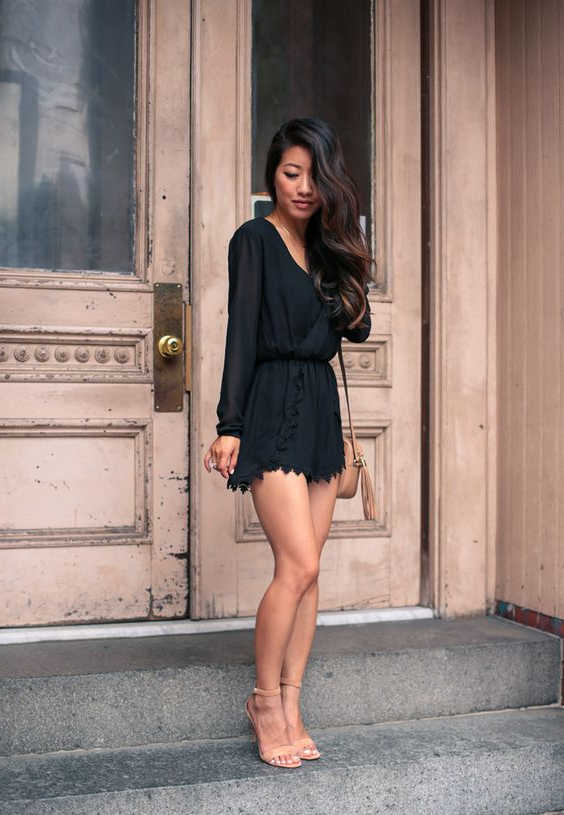 Buy Similar Here
We see a black long sleeve romper styled with ankle strap heeled sandals in nude. A lovely combination for those who are about to attend dressy evenings.
Shoes To Wear With Rompers
The following collection of street style looks comes with great styles that can easily make you feel and look confident. But how things can be done the right way?
Ankle Boots
A vintage off-shoulder cream-peach romper with wide sleeves is completed with pointed-toe ankle boots in white, white handbag and heart-shaped white sunglasses: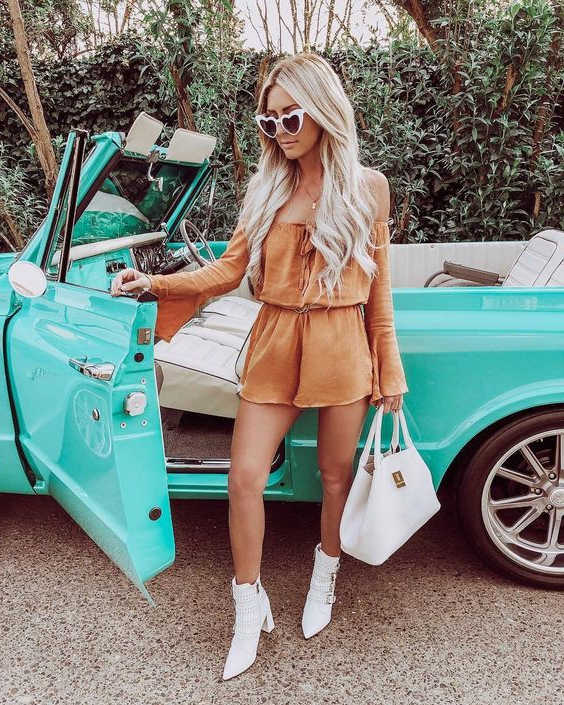 Buy Similar Here
Booties
A pinstripe romper is styled with a cream-white cardigan and beige ankle boots in suede: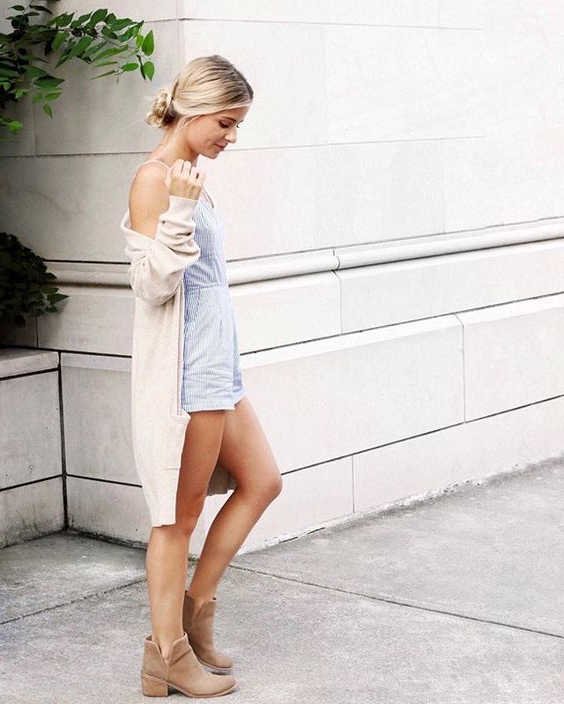 Buy Similar Here
Clear Heels
Clear heeled sandals looks amazing with this off-shoulder white romper in floral print. Complete the look by adding a straw tote bag: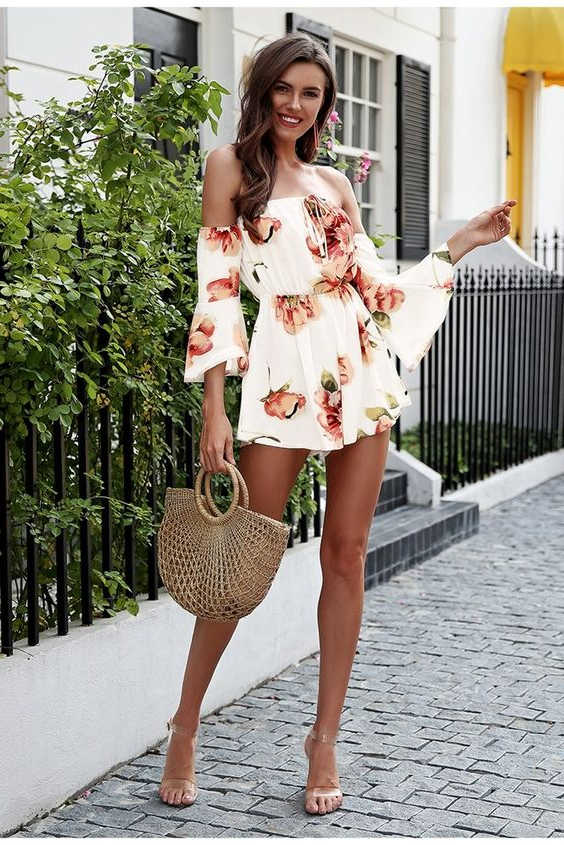 Buy Similar Here
Espadrille Sandals
We see a pinstripe belted sleeveless romper worn with espadrille sandals. Complete this summer look by adding a white saddle bag: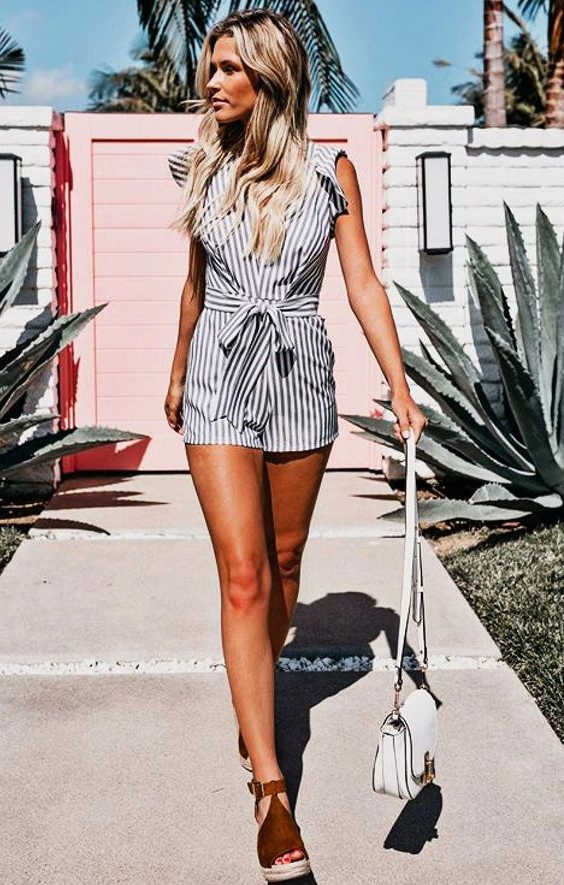 Buy Similar Here
Heels
First of all, wear heels to dress up the romper for a night out on the town. Believe me, you can easily take a romper from casual to glam by simply adding heels. You can either go for wedges or high heels (pumps or sandals). Make sure to choose the right color for shoes. I love to see heels that complement the romper. For instance, a black romper looks great with bright color shoes.
Clear heels look pretty chic styled with this black belted ruffled romper in white floral print. A perfect outfit for casual summer: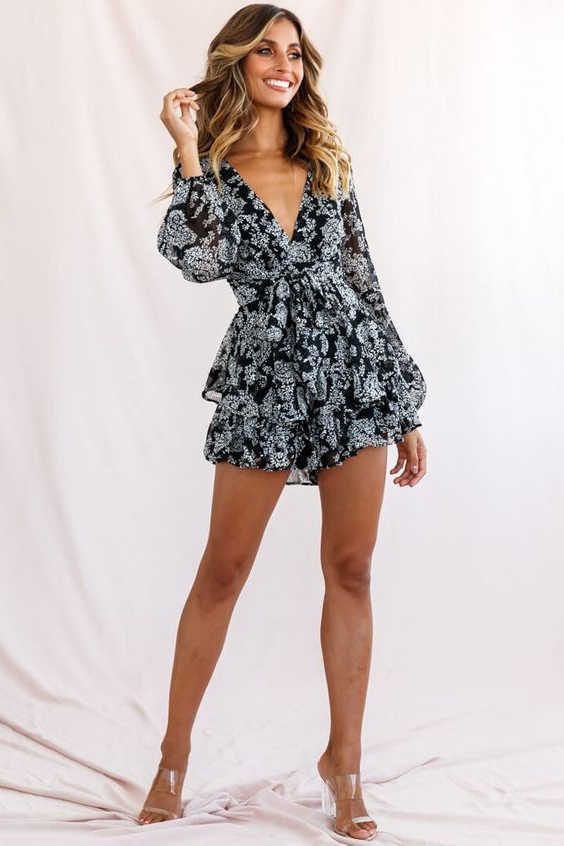 Buy Similar Here
Sneakers
A red romper in white florals comes with a relaxed fit, style it with cool white sneakers and rounded sunglasses: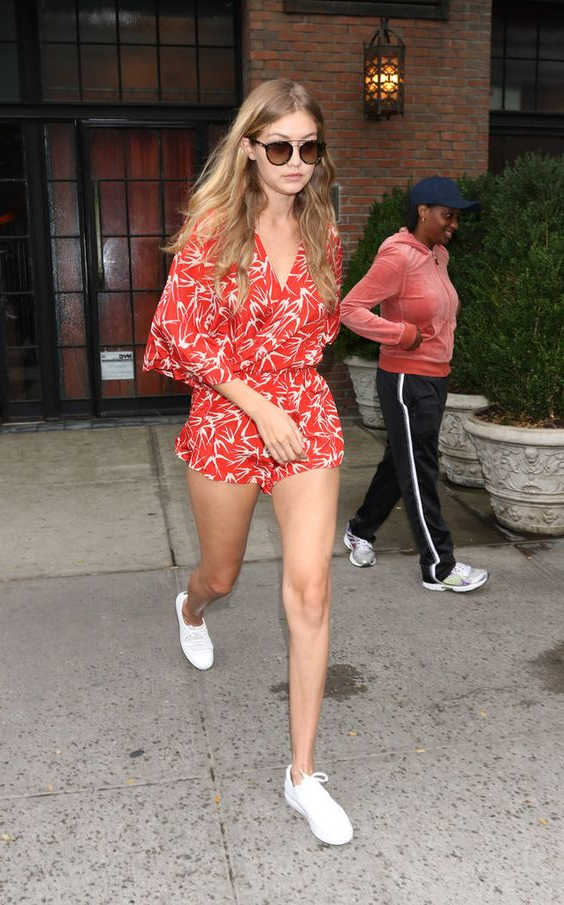 Buy Similar Here
Wedge Sandals
A camouflage print tank romper is styled with wedge sandals and a cream-grey fedora hat: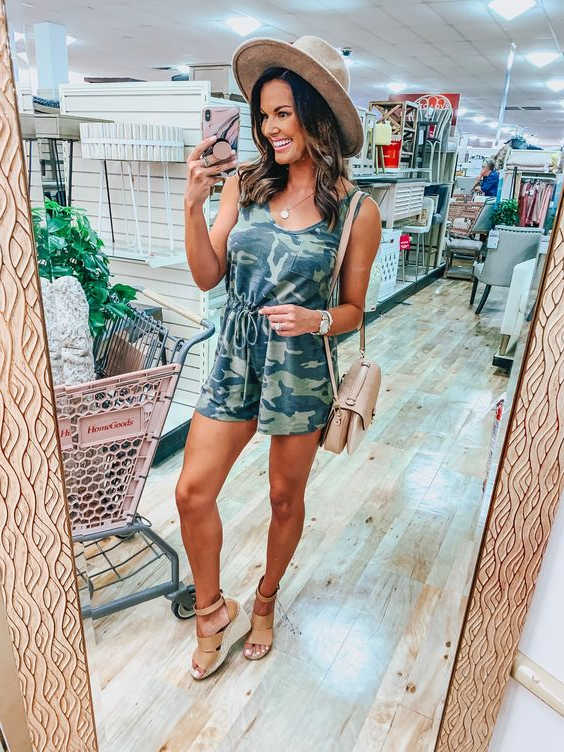 Buy Similar Here
If you are more into casual style, then make sure to pair your romper with stylish sneakers. This footwear is great for those ladies who are about to walk around a festival, zoo or park. Trust me, a pair of white sneakers will look great with just about any style of a romper. Anyway, stay tuned to see more ideas on what shoes to wear with rompers.
Cowboy Boots
A pair of cowboy boots are teamed with a maroon romper. Simple and relaxed outfit idea:
Buy Similar Here
Knee Boots
Black suede knee boots are styled with an off-the-shoulder khaki romper. Complete the look by adding aviator sunglasses: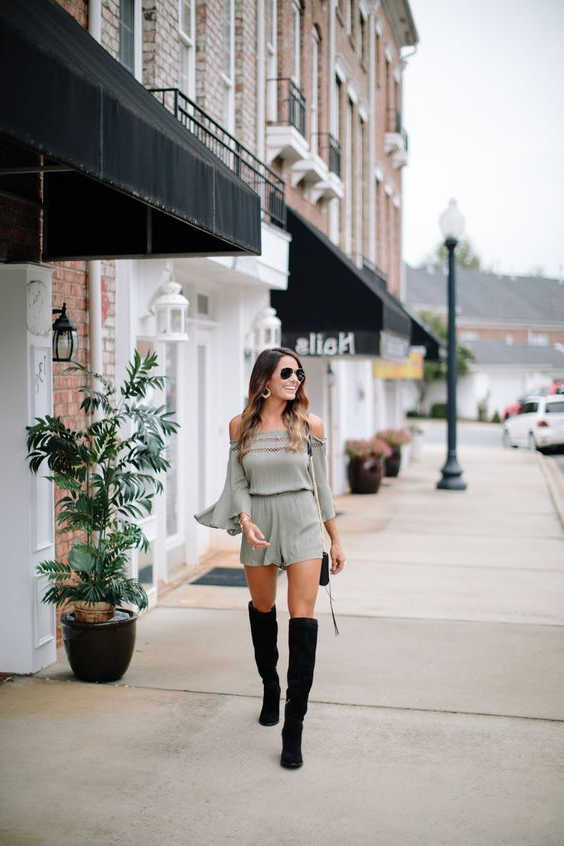 Buy Similar Here
Lace-Up Boots
A velour dark maroon romper with spaghetti straps is styled with tights and lace-up black leather boots: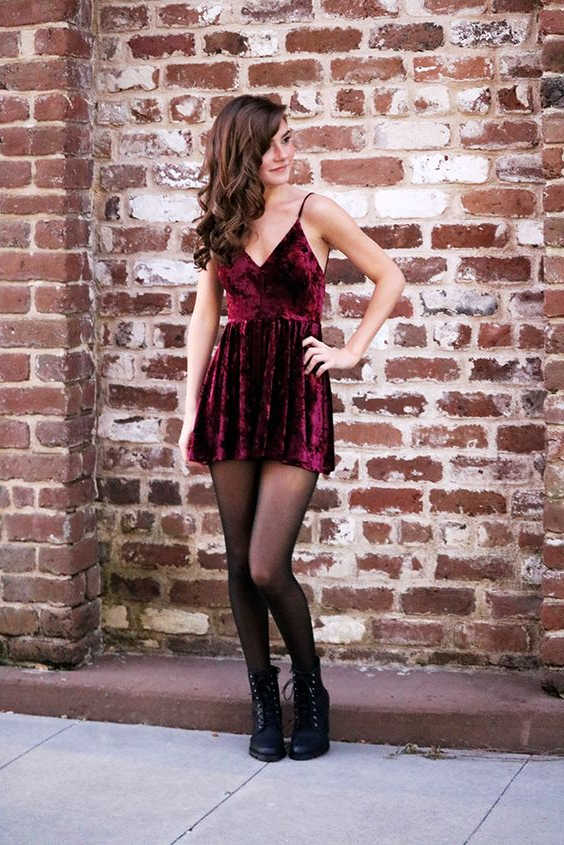 Buy Similar Here
Slip-On Shoes
A printed red romper with a black belt is styled with black slip-on shoes. Update this look by adding printed sunglasses and shoulder bag in black leather: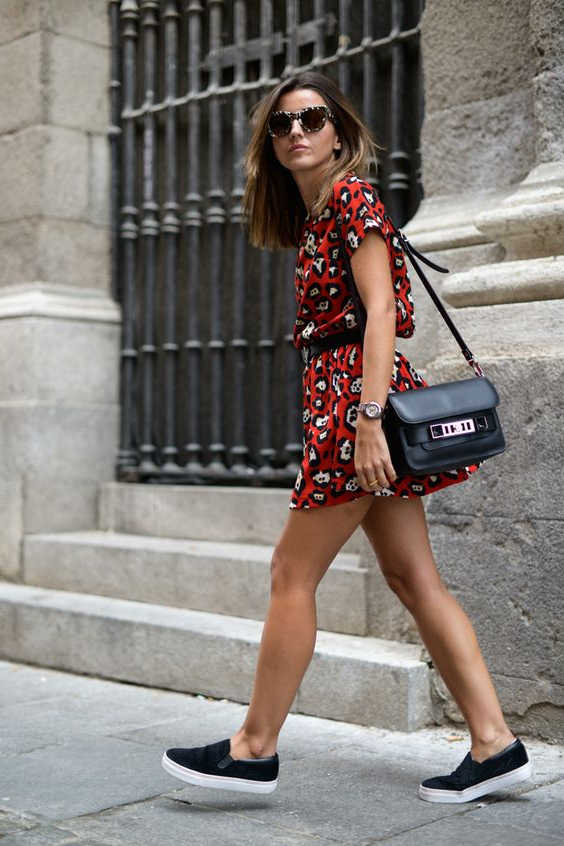 Buy Similar Here
The summer is on its way and we start to examine various ways on how to make rompers look chic. I am a big fan of heel sandals, that's why I highly recommend stitching with this footwear. Why? They make you look taller and add curves to your silhouette.
Thigh High Boots
A snakeskin printed long-sleeve romper is completed with over-the-knee black suede boots, love that black leather shoulder bag: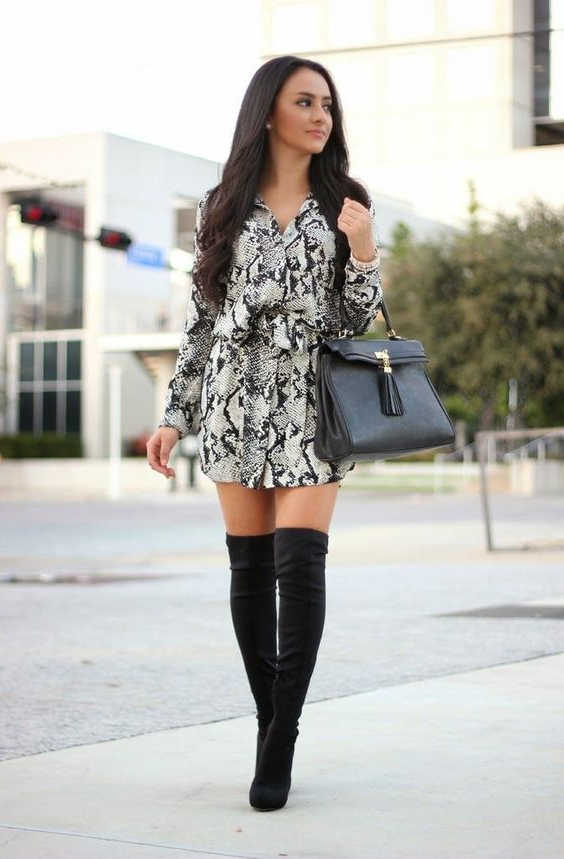 Buy Similar Here
A V-neck long-sleeve romper in black is styled with beige suede OTK flat boots: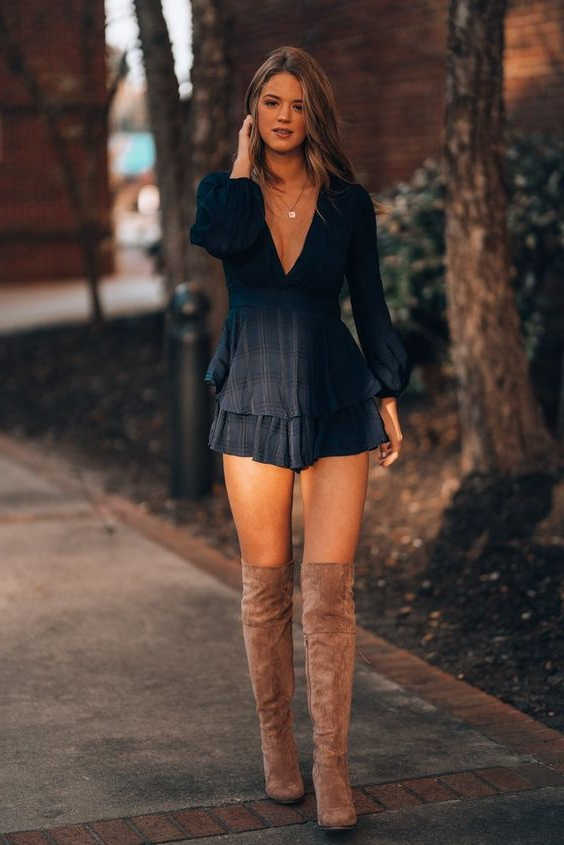 Buy Similar Here
If you are not into heels, go for flat sandals. This combination can keep things casual and simple. It can be flip-flops, gladiators or other shoes. The last, but not least are cork sole shoes. Think of espadrilles and cork wedges that can easily spice up your outfit.
Tights And Boots
A white floral romper is styled with a black crop leather jacket, black tights and OTK suede boots in black: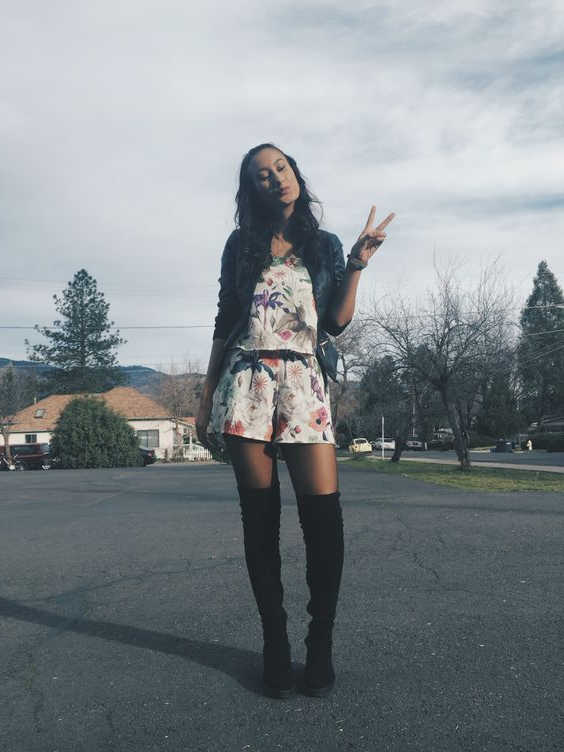 Buy Similar Here
Patent Black Ankle Boots
An evening appropriate V-neck wrap romper with long sleeves is completed with shiny sequined details. Update this long-sleeve romper with tights and patent black leather ankle boots: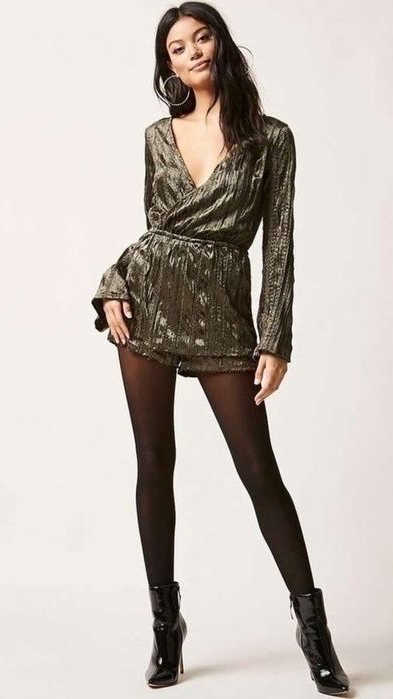 Buy Similar Here