It's no secret, lace-up ankle boots are all the rage in fashion right now. You can find them on everyone, starting from your friends to celebrities and models. In this article, I will show you easy ways how to wear them right now. No worries, they can be worn with skinny jeans, as well as with leggings and shorts. The following collection will help you to find a style that works for you.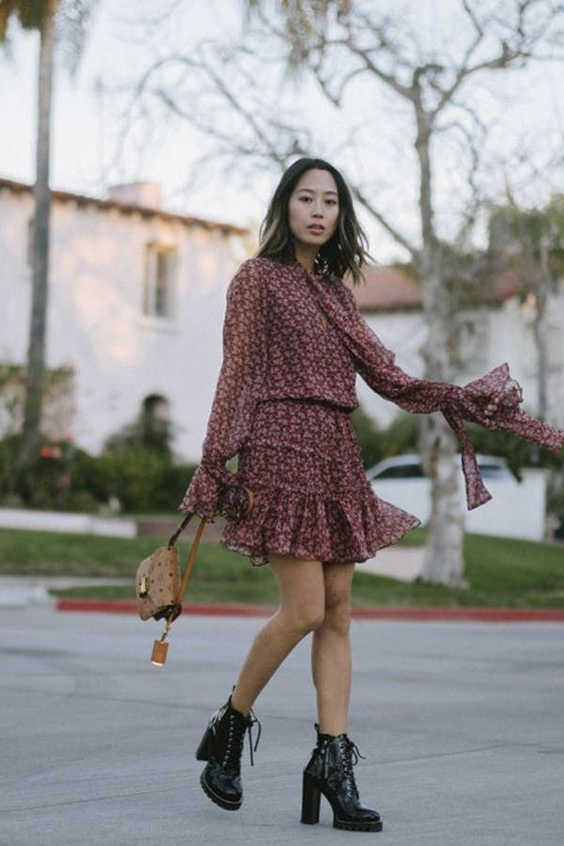 Buy Similar Here
How about creating a fabulous boho style look? We see a long-sleeve lightweight short dress in micro print completed with heeled lace-up platform black leather ankle boots. Complete this combo with a cute shoulder clutch bag.
Forget about Chelsea boots and cossack shoes for a moment and go for something trendy, like lace-up ankle-boots. The lace-up detailing of these boots should underline your elegance and make you stand out from the crowd.
Black Suede Lace Up Ankle Boots And Flared Mini Skirt
Go for suede lace-up black ankle boots and style them with a grey cap, black sweater and flared mini tweed skirt: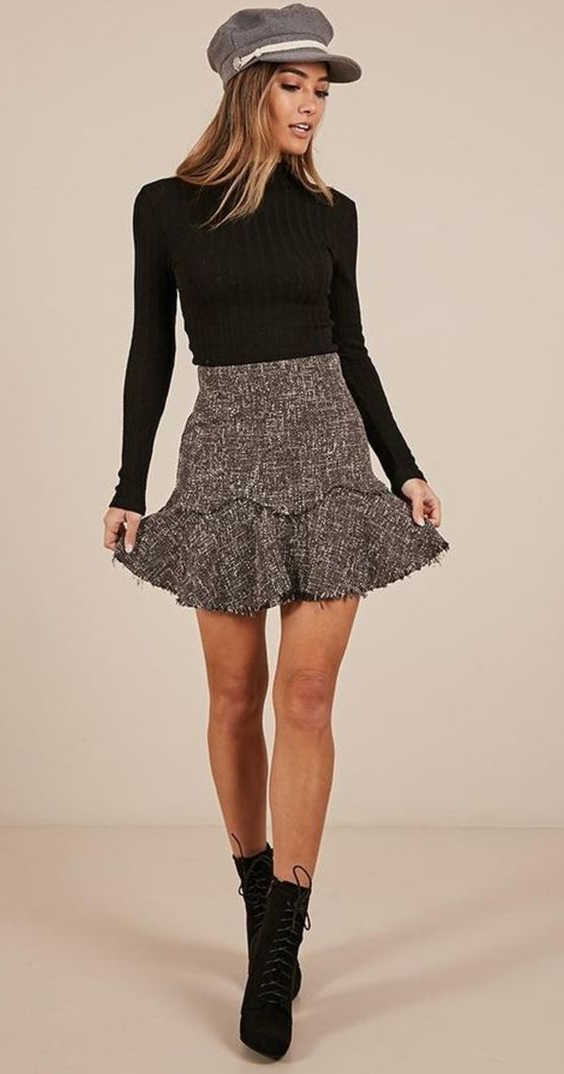 Buy Similar Here
I gathered precious designs featuring sock-like boots, as well as chunky military-inspired styles that are easy to wear in real life. This is must-try footwear for transitional seasons, they go with jeans, cardigans, knitted dresses, midi skirts, and boho dresses.
Cherry Red Lace Up Boots And Ripped Jeans
Improve your casual style with these cherry red lace-up patent ankle-boots completed with a khaki shirt tucked in cuffed ripped wash-blue jeans: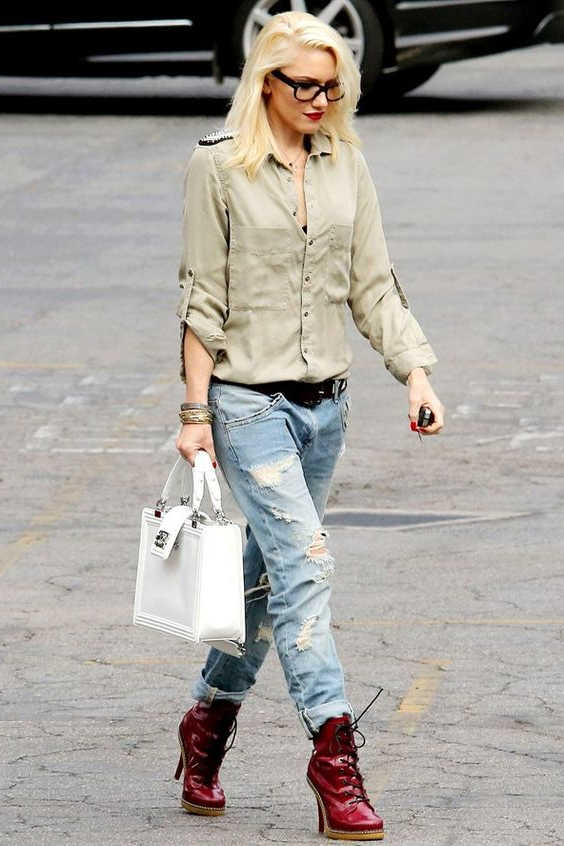 Buy Similar Here
I personally recommend to start from classic neutral colors, including black and white, but you can also go for burgundy, cream, and other shades. I go crazy about leather and suede designs, they both look stunning. Plus, lace-up ankle boots are not only photogenic but also comfortable. It's the right time to refresh your OOTD! For those who have decided to choose this type of footwear, I recommend to read on and find your favorites.
Cream Lace Up Boots And Pastel Dress
We see a cute combo for fall season. A teddy bear jacket in cream-beige is styled with a pastel cream dress completed with cream lace-up ankle-boots: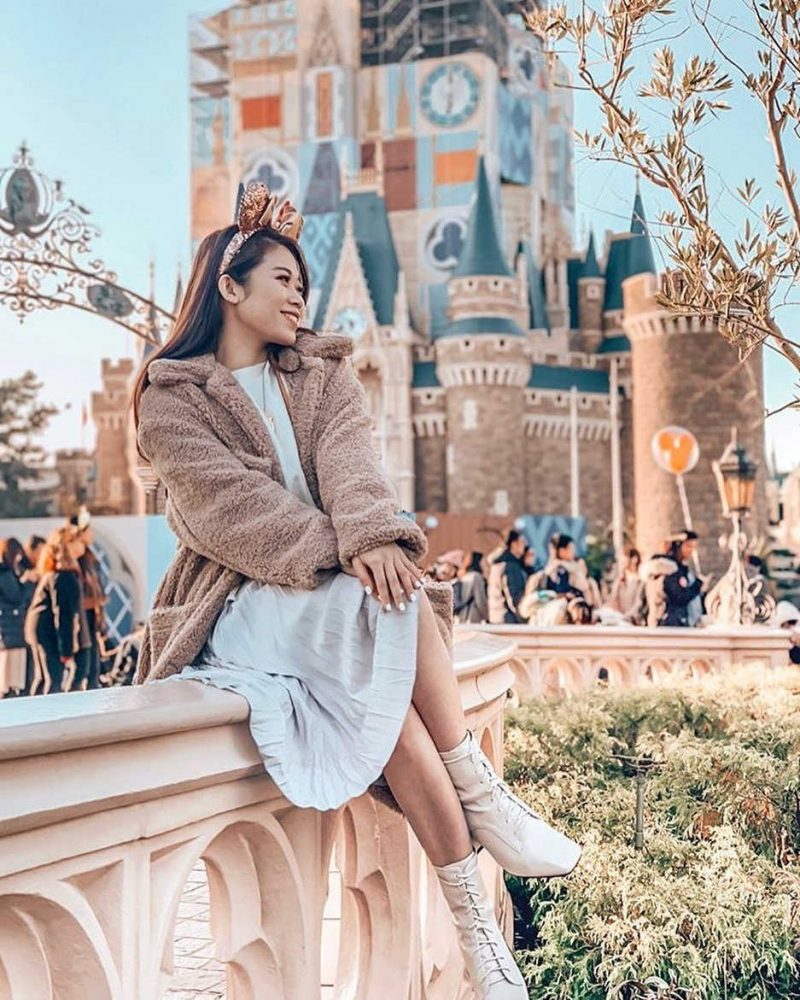 Buy Similar Here
@dafshoes
Lace-Up Ankle Boots With Flared Jeans
Charcoal lace-up ankle-boots look pretty chic with this casual outfit consisting of a black blazer, camel sweatshirt and flared ankle jeans in blue: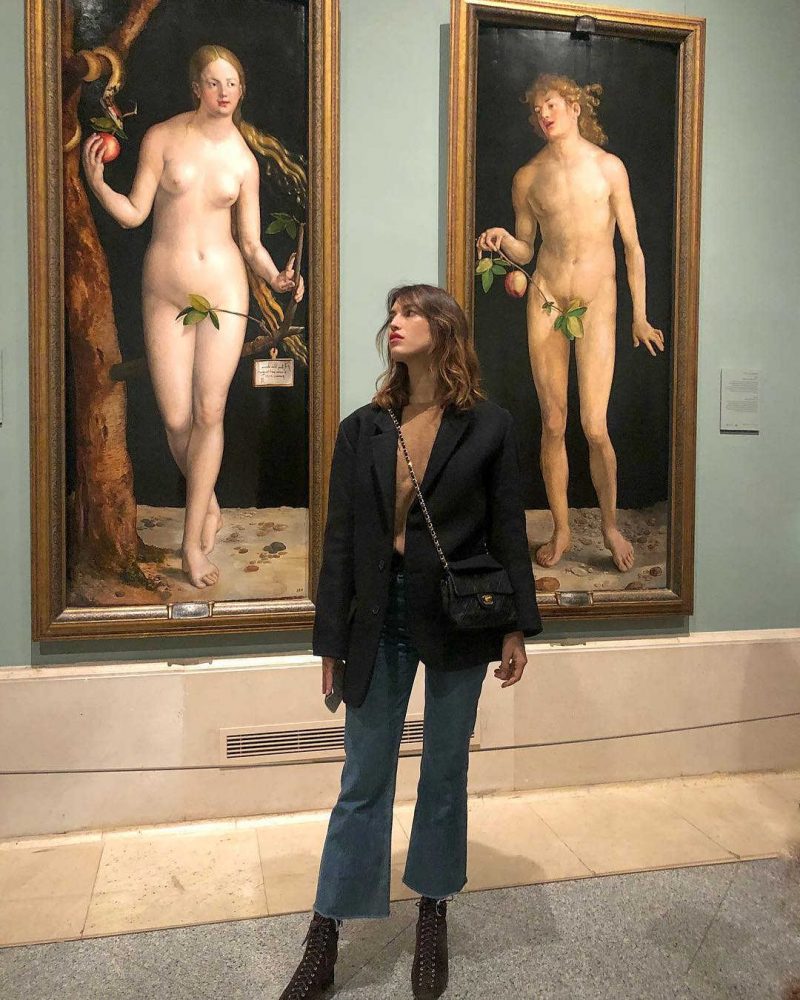 Buy Similar Here
@jeannedamas
Khaki Lace Up Ankle Boots And Ripped Jeans
Go for a shearling khaki-green coat and style it with a light brown bodysuit tucked in ripped boyfriend jeans completed with khaki green lace-up ankle boots. Love these rounded sunglasses: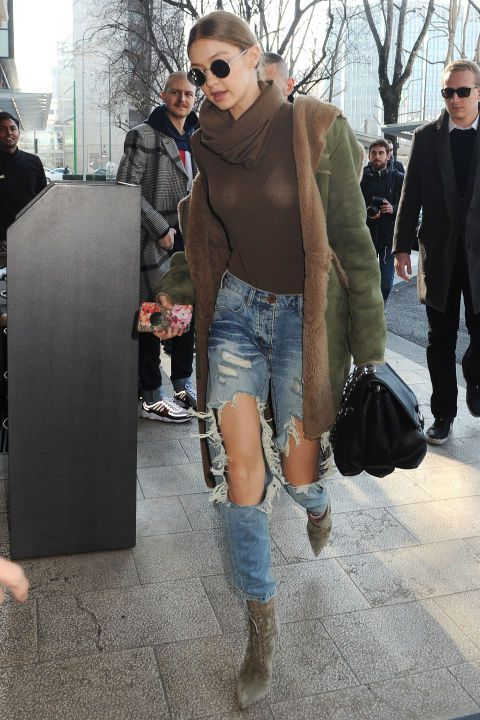 Buy Similar Here
Office Lace Up Ankle Boots With Maroon Jumpsuit
A black leather biker jacket looks pretty chic with a high-neck maroon jumpsuit with wide pants. Complete this edgy combo by adding black leather lace-up ankle-boots: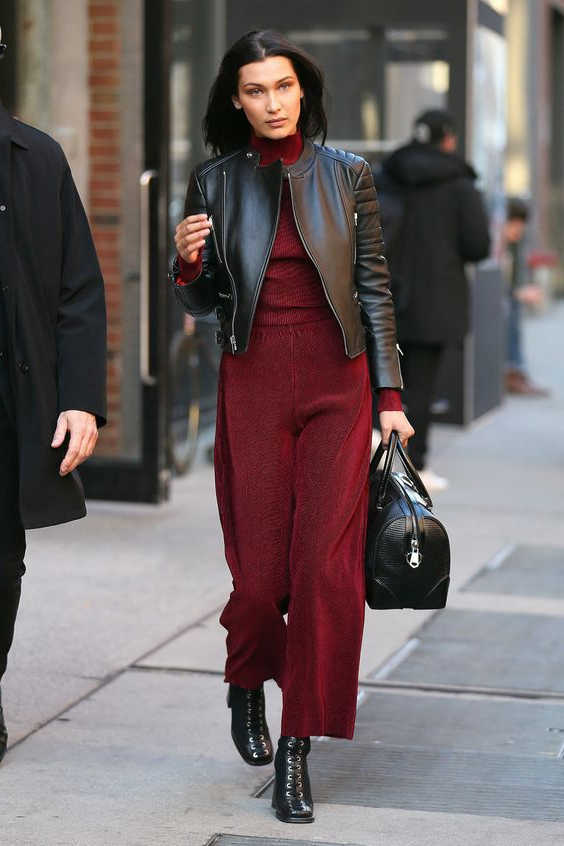 Buy Similar Here
Olive Green Lace Up Ankle Boots And Camouflage Joggers
Kim Kardashian appears in a black maxi coat styled with a white bodycon crop top and camouflage joggers completed with khaki green lace-up ankle boots in suede: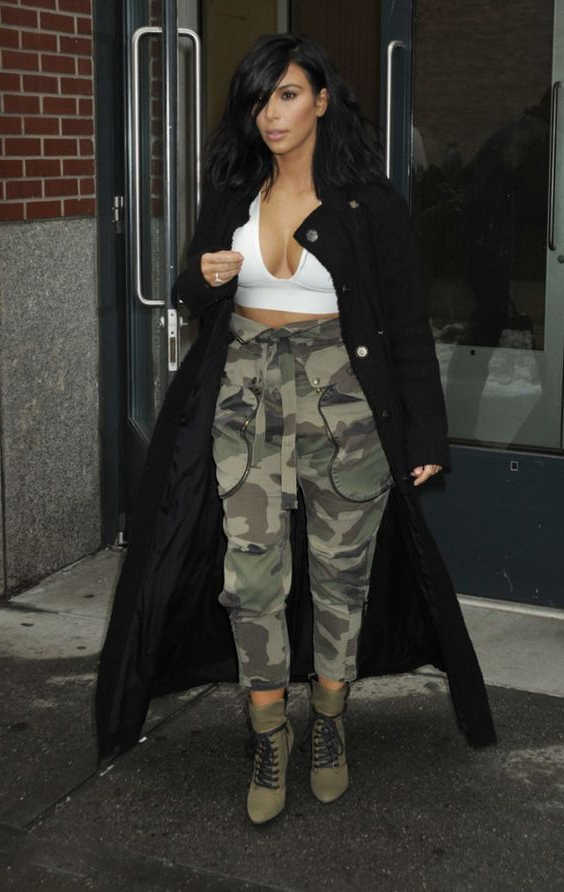 Buy Similar Here
Lace-Up Ankle Boots And Regular Jeans
A ribbed blue tank top is tucked in flared ankle jeans completed with color-blocking heeled lace-up ankle-boots: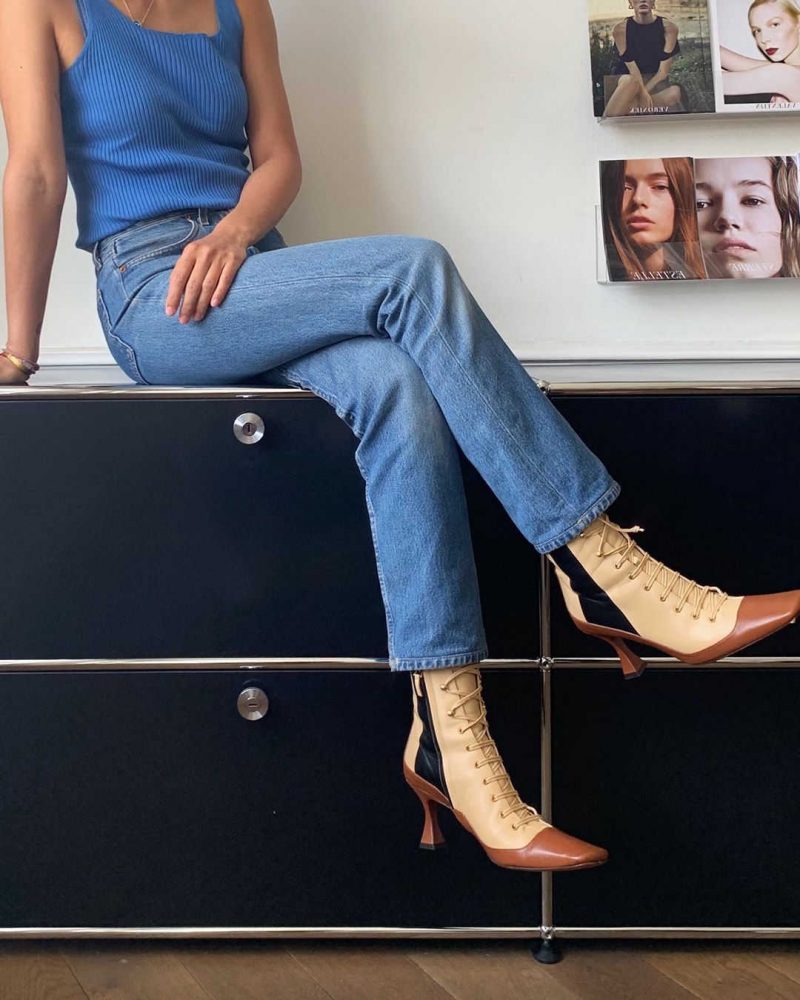 Buy Similar Here
Lace-Up Ankle Boots With Block Heel And Black Leggings
Keep it black-white colored! Go for a white oversized shirt and team it with high-waisted black leggings tucked in black leather lace-up boots: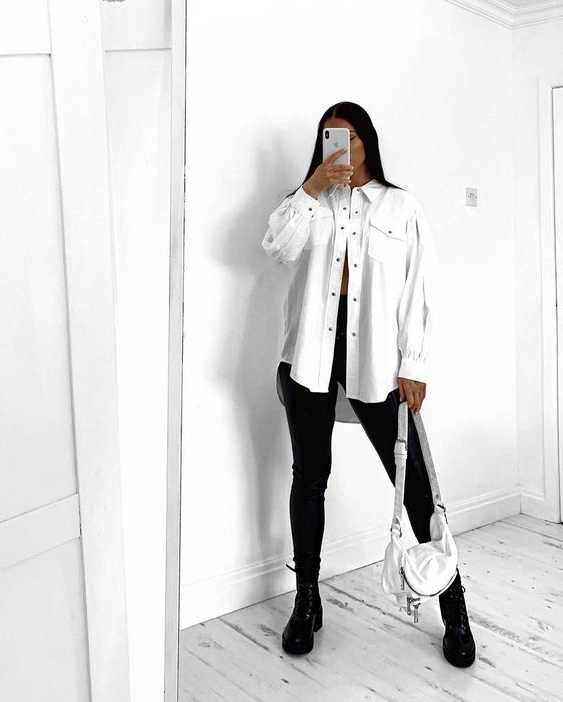 Buy Similar Here
Lace-Up Ankle Boots With Buckles And Plaid Coat
A long-sleeve plaid mini shirtdress is combined with black leather chunky heel ankle-boots, a perfect choice for grunge ladies: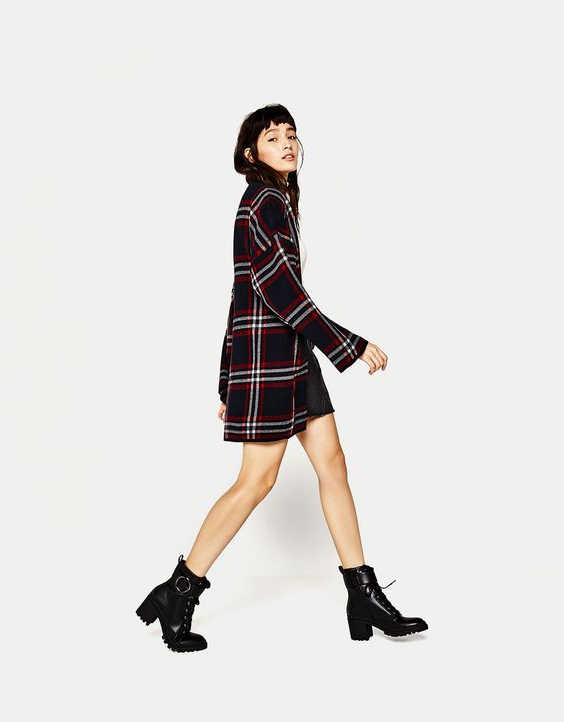 Buy Similar Here
Lace-Up Ankle Boots With Studs And Black Dress
We see a blue denim oversized jacket draped over a black mini shift dress completed with buckled lace-up black leather ankle boots. Update this modern grunge look with cool cat-eye sunglasses: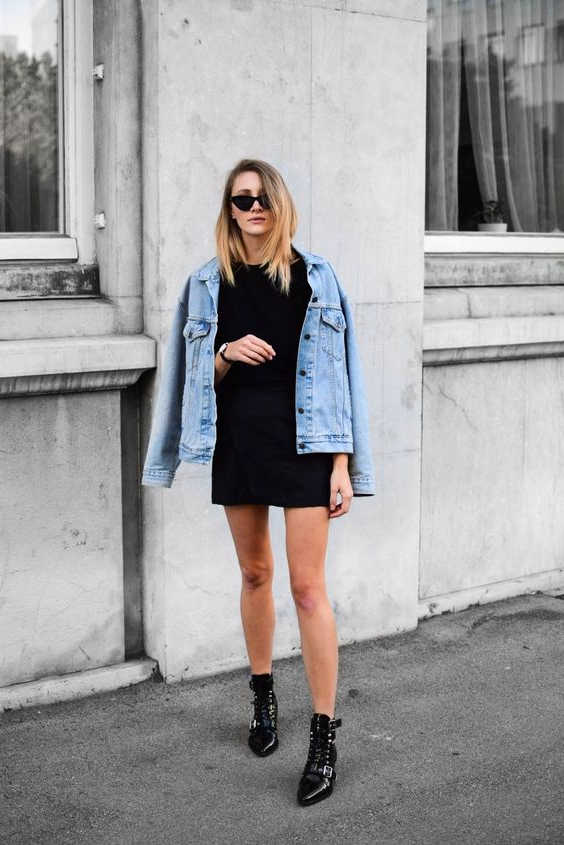 Buy Similar Here
Lace-Up Monk Boots With Buckle And White Dress
A cute ruffled white peasant dress is styled with buckled lace-up monk boots in black leather, a glamour touch with a grunge effect: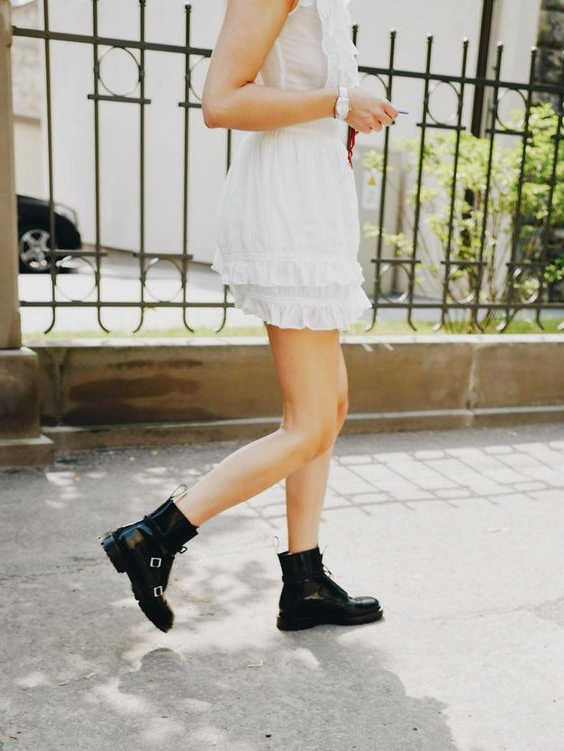 Buy Similar Here
Lace-Up Peep Toe Ankle Boots And Cream Blazer
Peep-toe lace-up black suede ankle boots look modern ad chic styled with a pastel khaki blazer layered over a khaki top layered over grey tee teamed with a khaki skirt: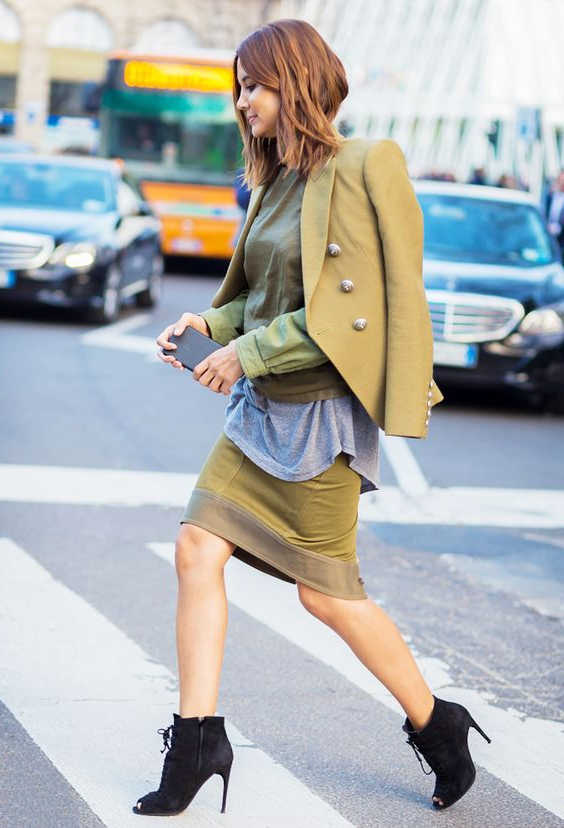 Buy Similar Here
Cream Lace-Up Boots And White Pants
An all-white look for weekends. We see a peasant white blouse tucked in slim white pants completed with cream lace-up ankle-boots: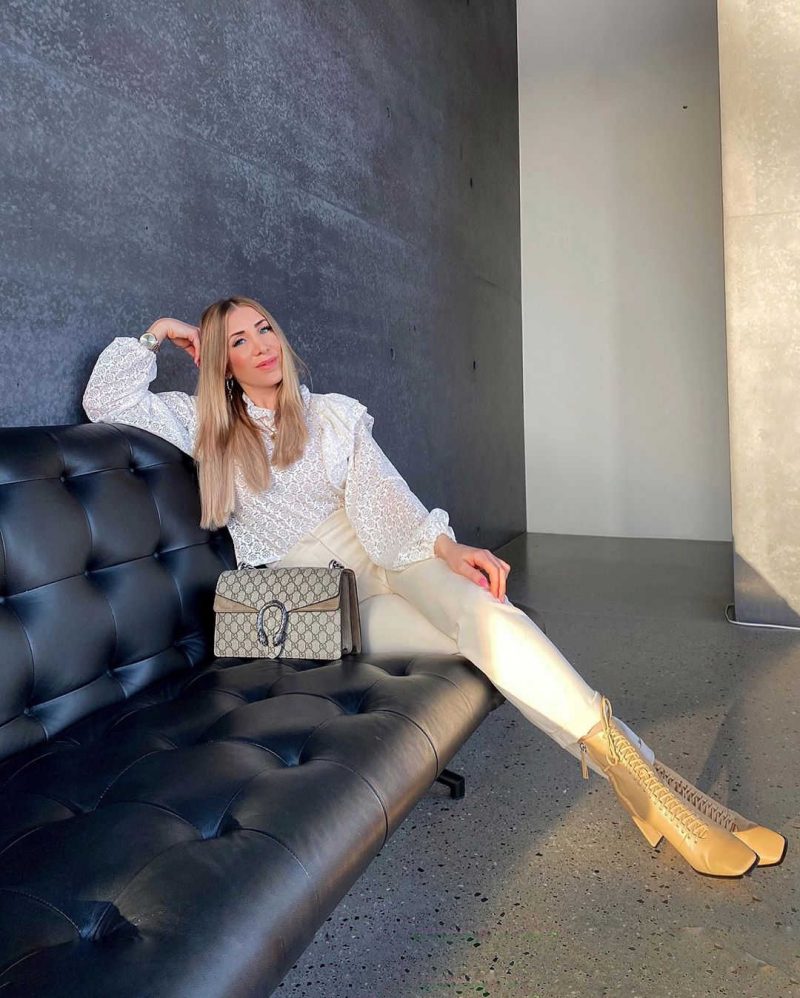 Buy Similar Here
@lauri.style
Cream Lace-up Ankle Boots And Leopard Print Coat
A long leopard print coat with black leather lapels ideally suits that orange sweater teamed with cuffed boyfriend jeans and cream lace-up ankle-boots: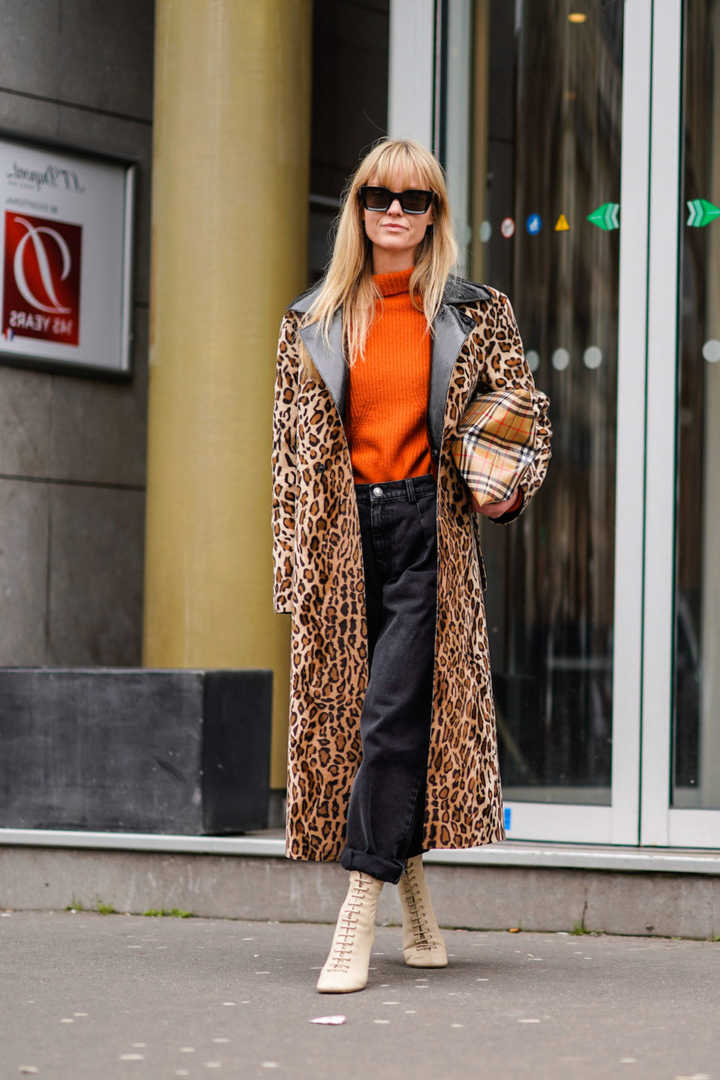 Buy Similar Here
Lace-up Ankle Boots And Black Jeans
Khaki green lace-up ankle-boots look awesome with black slim jeans and a beige sweater: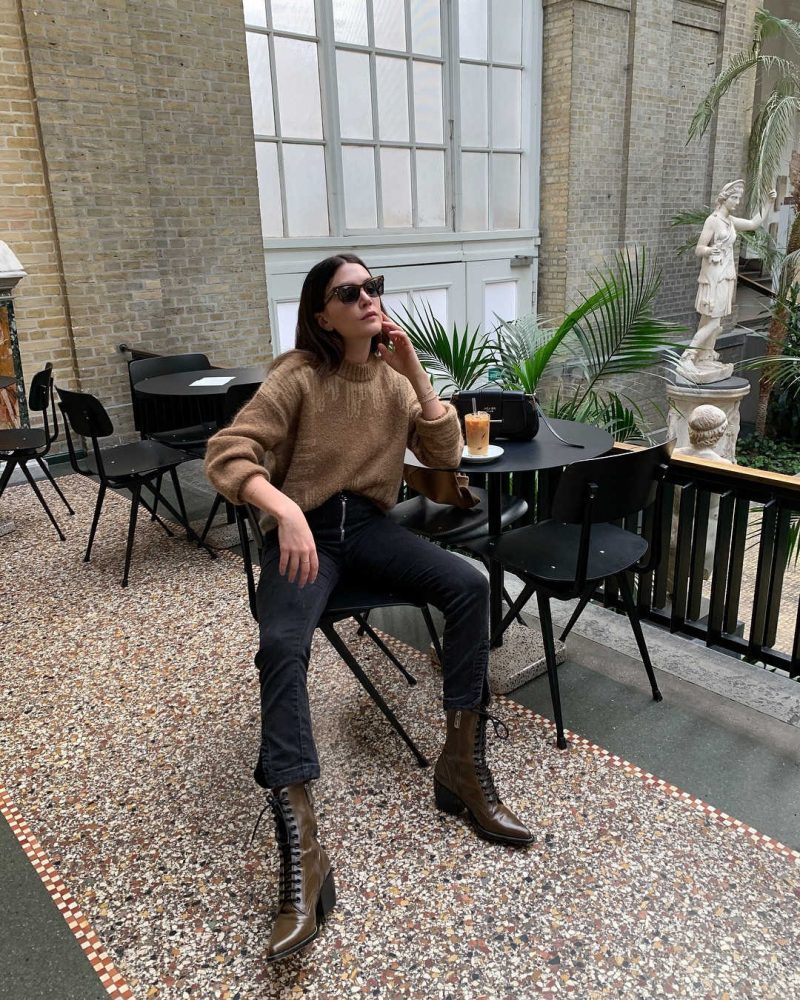 Buy Similar Here
@madelynnfurlong
Lace-Up Ankle Boots And Plaid Shirtdress
We see a long black denim coat layered over a plaid shirtdress updated with a white turtleneck and military green lace-up ankle-boots: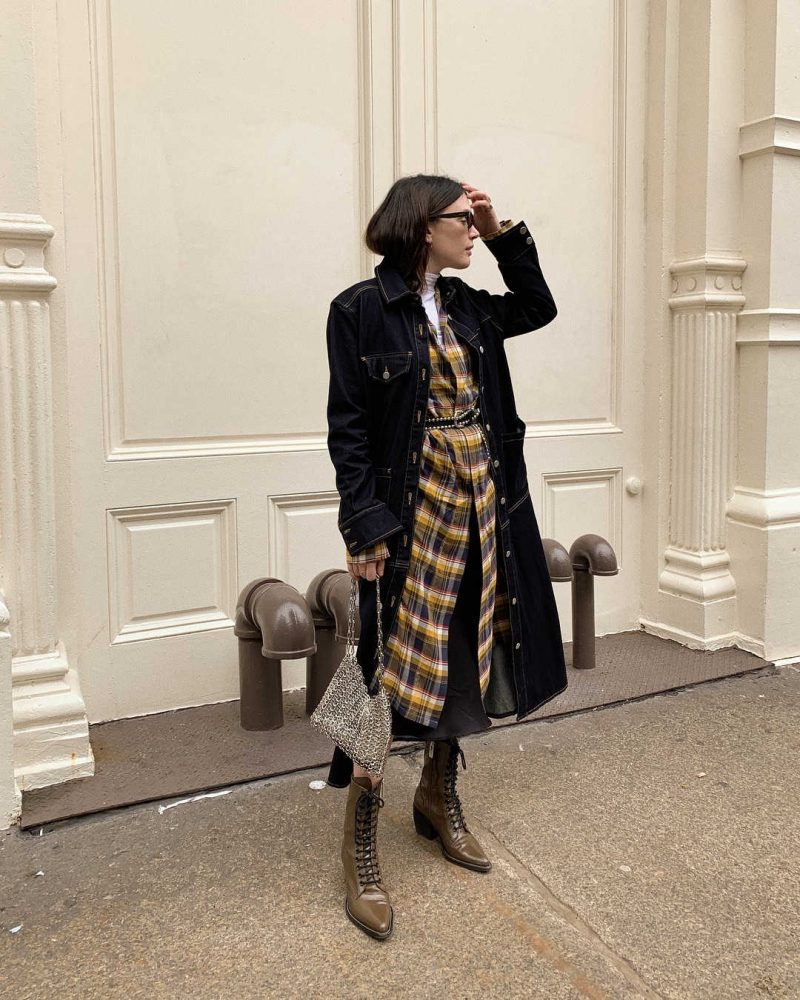 Buy Similar Here
@madelynnfurlong
White Lace-Up Boots And Burgundy Bodycon Dress
An off-shoulder long-sleeve burgundy buttoned bodycon knitted dress looks sassy completed with cream pointed-toe lace-up ankle boots: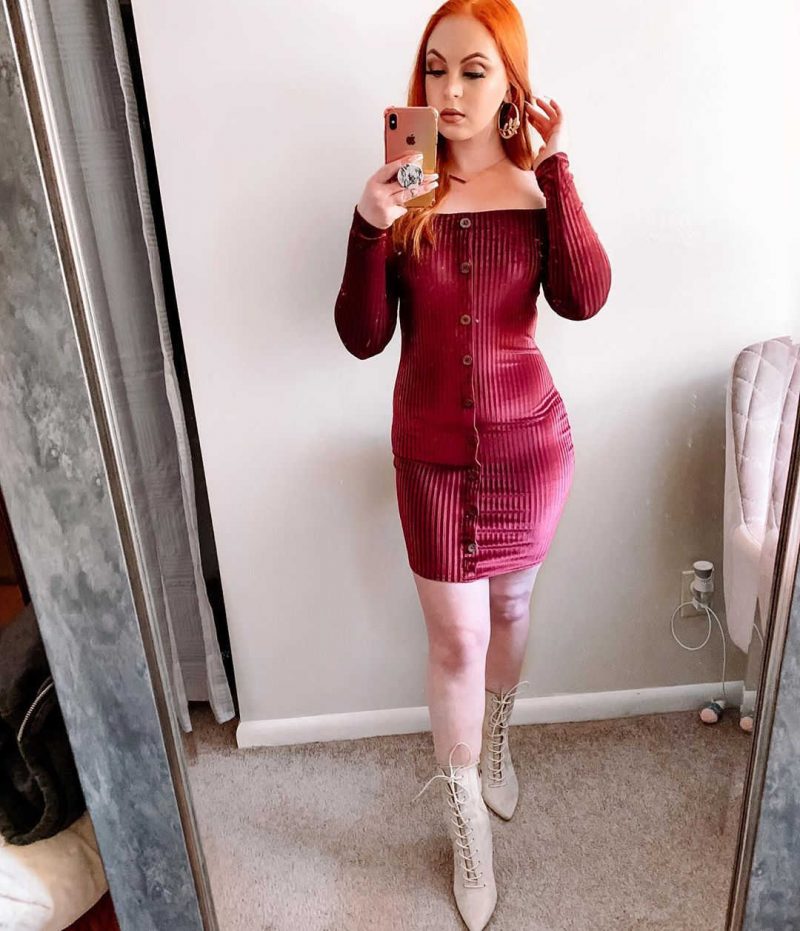 Buy Similar Here
@meaghansenn
Lace-Up Black Ankle Boots And Printed Boho Dress
Another boho meets the grunge style. We see a flowy printed midi peasant dress completed with black leather lace-up ankle-boots: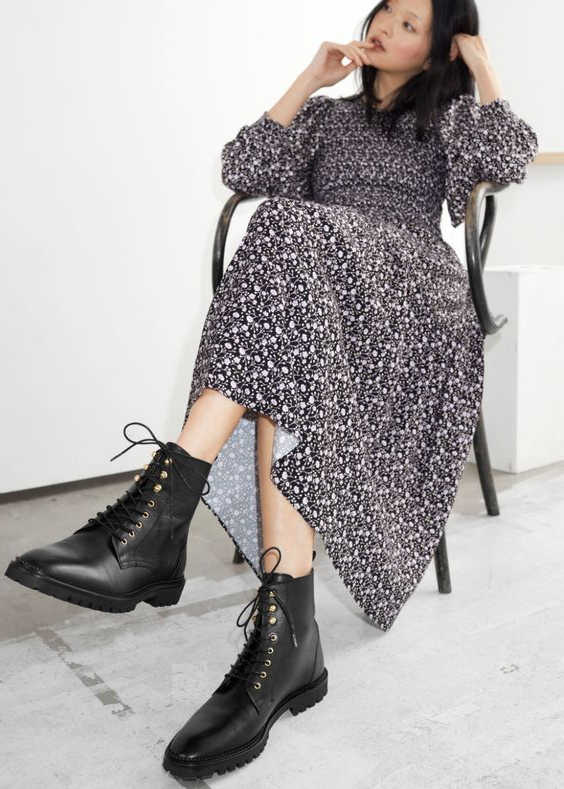 Buy Similar Here
Suede Lace-Up Ankle Boots And Brown Leather Jacket
Keep it seventies inspired. Go for a light brown leather jacket and layer it over a grey crochet top teamed with regular jeans and black lace-up ankle boots in suede: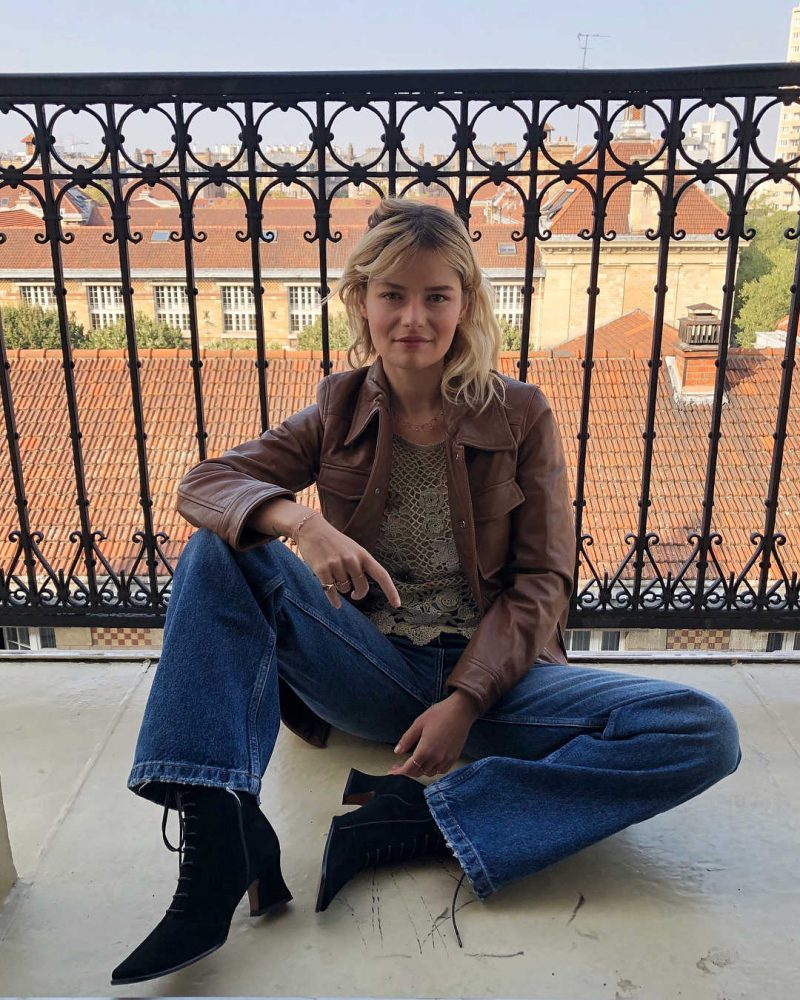 Buy Similar Here
@sabinasocol
White Lace Up Ankle Boots And Leopard Print Skirt
In love with this white polo shirt teamed with leopard print skirt completed with white pointed-toe heeled lace-up ankle-boots: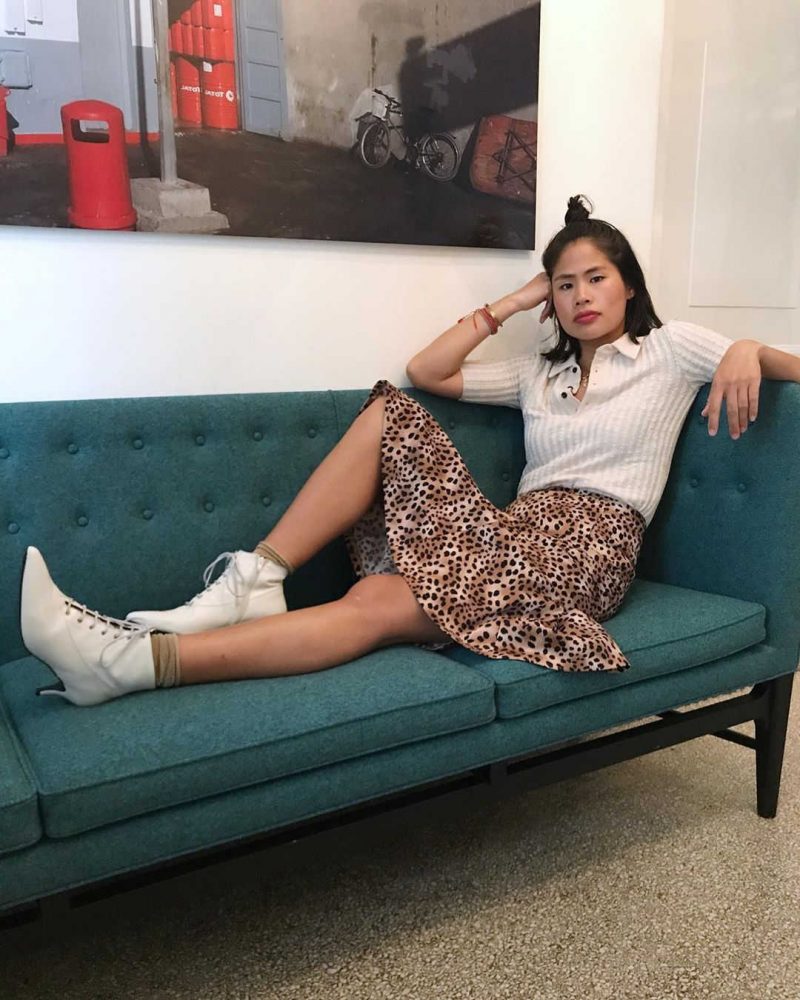 Buy Similar Here
Source: WikiHow