It looks like we all into tall boots this year! I see lots of ladies wearing this footwear in the streets combined with trendy clothes and accessories. I am here to show you my favorite outfit ideas you can create with these stunning shoes.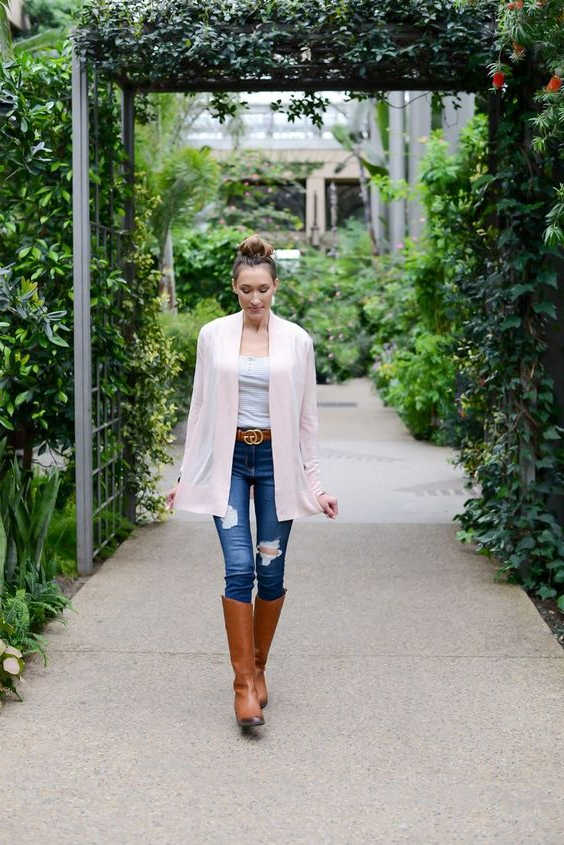 Buy Similar Here
We see brown leather tall boots look awesome with ripped skinny jeans in blue teamed with a white top and white kimono jacket. Casual combination for day offs and weekends.
Yes, you can see women wearing them with pleated skirts, jeans, classic dressy pants, joggers, and many other functional and eye-catching clothing pieces. In other words, tall boots are an absolute staple, that can easily turn the head of every fashion girl.
This season is all about elongated boots. You will find fashionable boots with elongated silhouettes that fall somewhere around mid-calf, or around your knee. I have a marvelous collection to share with you, where are shown inspirational images of editors, models, and influencers wearing tall boots in real life
Slouchy red leather tall boots make a wow effect styled with indigo skinny jeans and cream-white sweater. Complete this combo by adding a pastel violet quilted shoulder bag and cute printed silk neck scarf:
Buy Similar Here
There are lots of beautiful tall boots styles that can be worn for every event: slouchy boots, classic shaft versions, crocodile designs, etc. This is functional footwear and it suits any outfit, from casual to dressy style.
Vintage-Style brown tall boots look awesome with high grey socks, black leggings and a long khaki-green slouchy neck sweater with cold shoulders: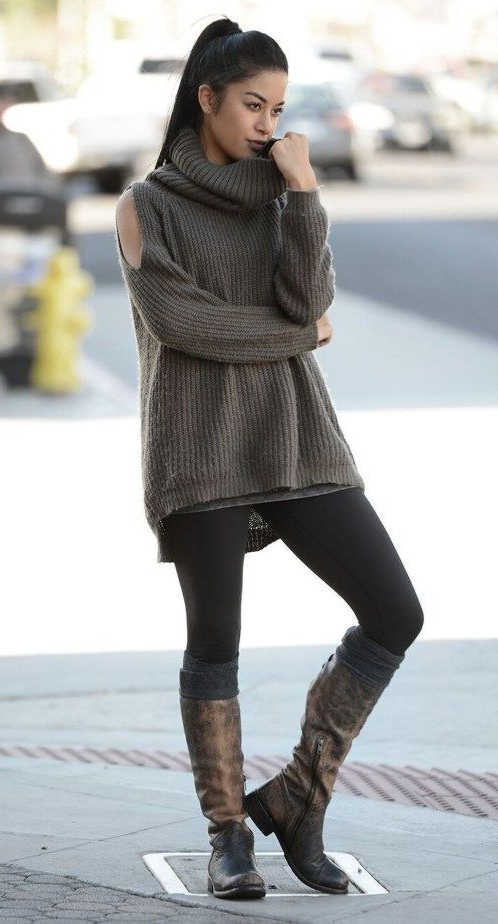 Buy Similar Here
I am so in love with Celine fashion show, where models appeared on the runway wearing dresses and skirts combined with tall boots. After that show, we started to notice ladies on the streets of Milan, New York, London and Paris wearing tall boots with midi and mini skirts, pencil skirts, short dresses, pants, and denim. I love to see women dressed in office style clothes completed with tall boots.
Black leather tall boots make a perfect combination with tights, grey sweater dress and a navy long coat in wool: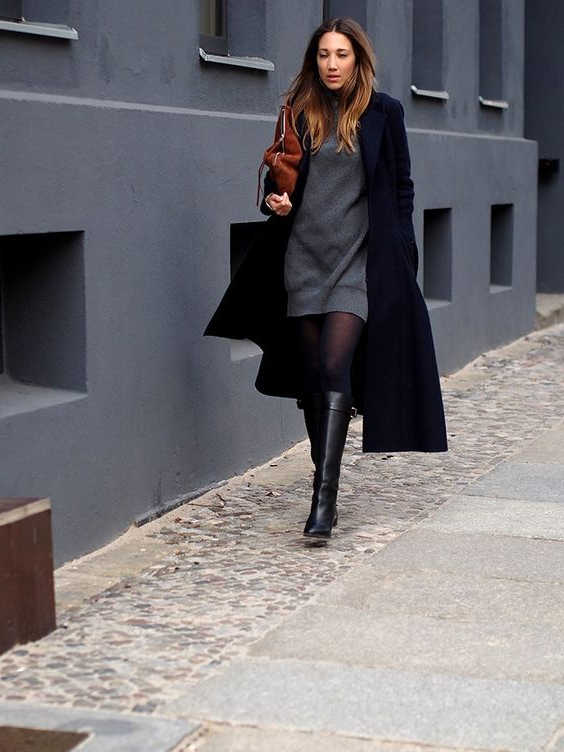 Buy Similar Here
Another great combo features jeans and pants tucked into tall boots completed with an elongated blazer or a cardigan. If you are into a sassy and provocative style, then go for these boots and style them with mini shorts or with a patent long trench coat. If you are into slender and snug boots, then you can try them on with skinny bottoms and loose fit top. If you are more into slouchy footwear, then pair them with a flared skirt and a slim sweater. What I love the most, tall boots look awesome on women of all ages.
Tall Boots And Dress Pants
We see a perfect example on how to style a black blazer-blouse with pinstripe grey pants tucked in a navy patent block heel tall boots. Complete this outfit by adding flat brow aviator sunglasses and a brown leather handbag:
Buy Similar Here
The 1970 uptown chic look is one of my favorites and I love to see ladies who pair tall boots with A-line skirts or flowy dresses completed with a tailored blazer. Anyway, if this trend sounds cool enough, then I am more than happy to show you my favorite ways how to wear it on the streets this year.
Beige Slouchy Boots With Beige Pants
We see cream-beige regular pants tucked in taupe colored slouchy tall boots. Add a white sleeveless top and complete it with a tailored sleeveless blazer in black. Complete the look by adding Wayfarer sunglasses, gold necklace, and a slouchy oversized army green leather clutch bag: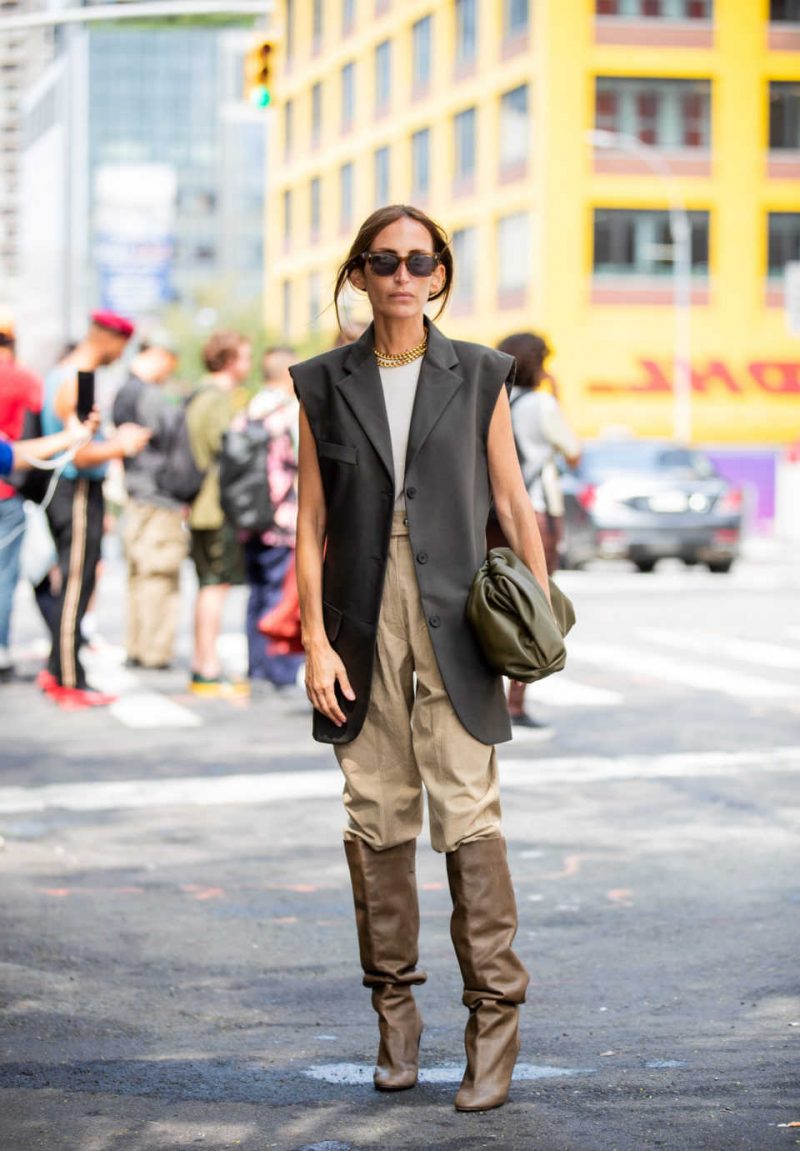 Buy Similar Here
Slouchy Camel Tall Boots And Black Dress
Slouchy chestnut leather tall boots ideally match that long-sleeve black dress. Complete the look by adding Wayfarer sunglasses and a chevron-quilted mini crossbody in black leather: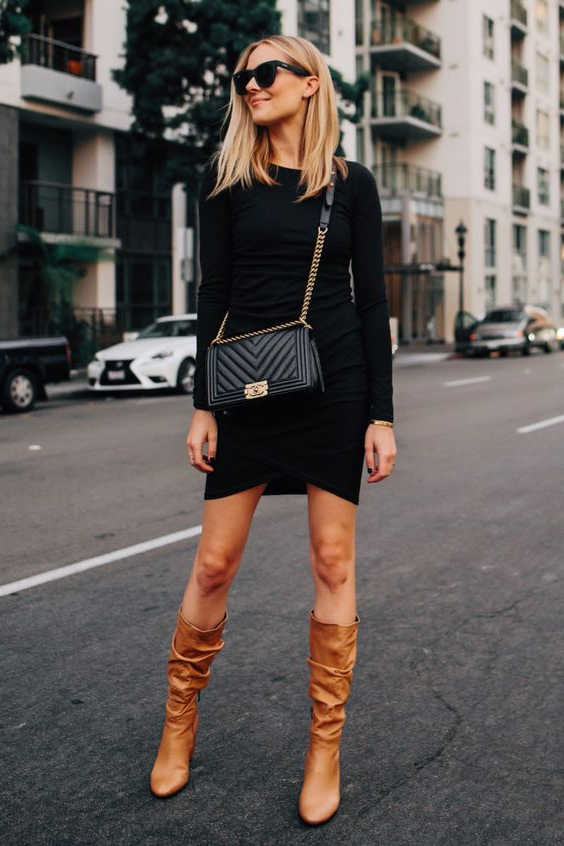 Buy Similar Here
How To Wear Tall Heeled Boots With Black Skirt
Black snakeskin leather tall heeled boots ideally match side-slit black silken midi skirt completed with a white button-down shirt. Complete this combo with an emerald green shoulder bag: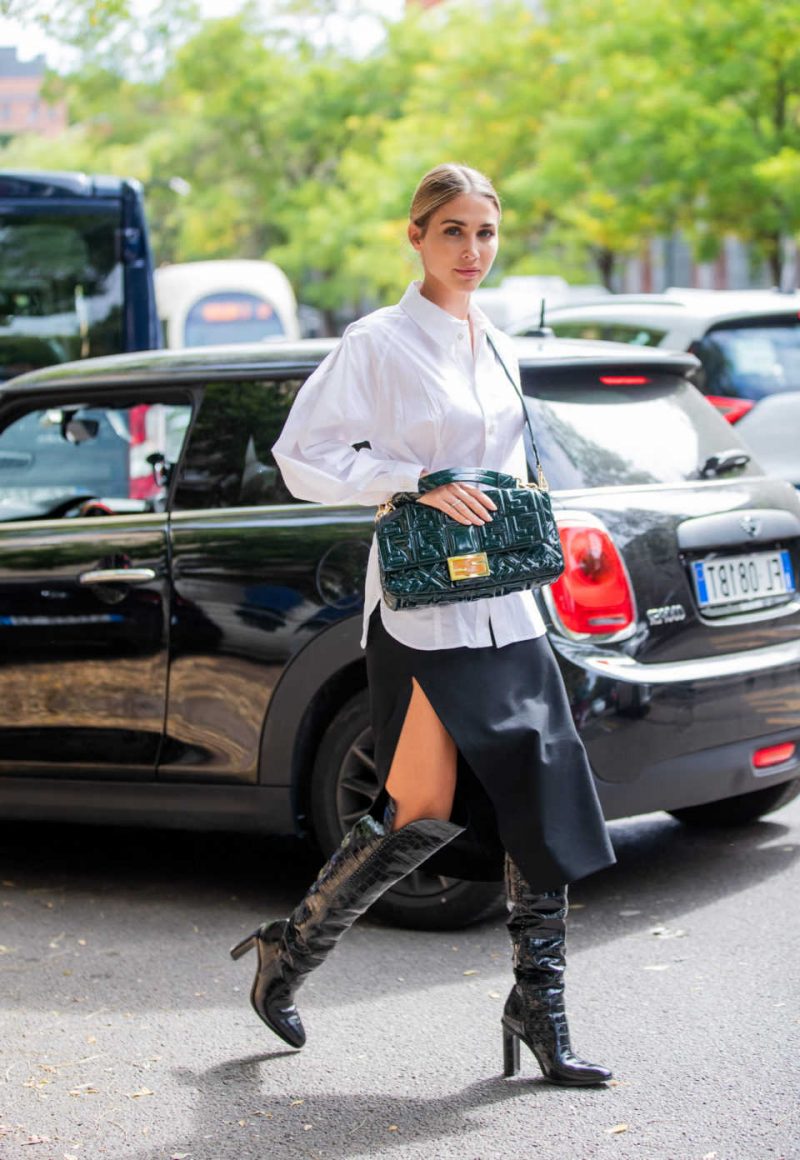 Buy Similar Here
How To Style Tall Boots And Patent Long Coat
Keep it all in black! Matrix-inspired OOTD. We see a patent black midi coat styled with black leather snakeskin boots and flat-brown oversized sunglasses: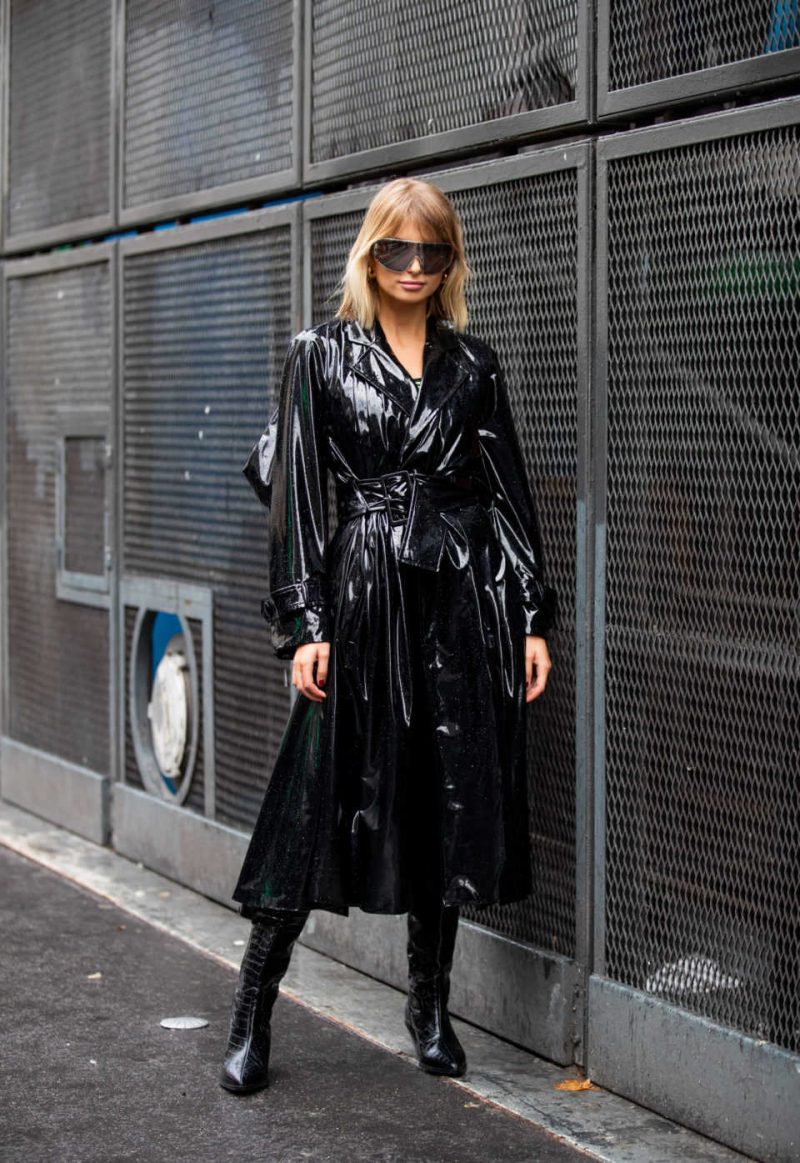 Buy Similar Here
Can I Wear Block-Heel Tall Boots With Plaid Skirt
Dark burgundy leather block heel tall boots are styled with a midi skirt in grey plaid completed with a white blouse and a brown plaid blazer. In love with that dark blue leather handbag: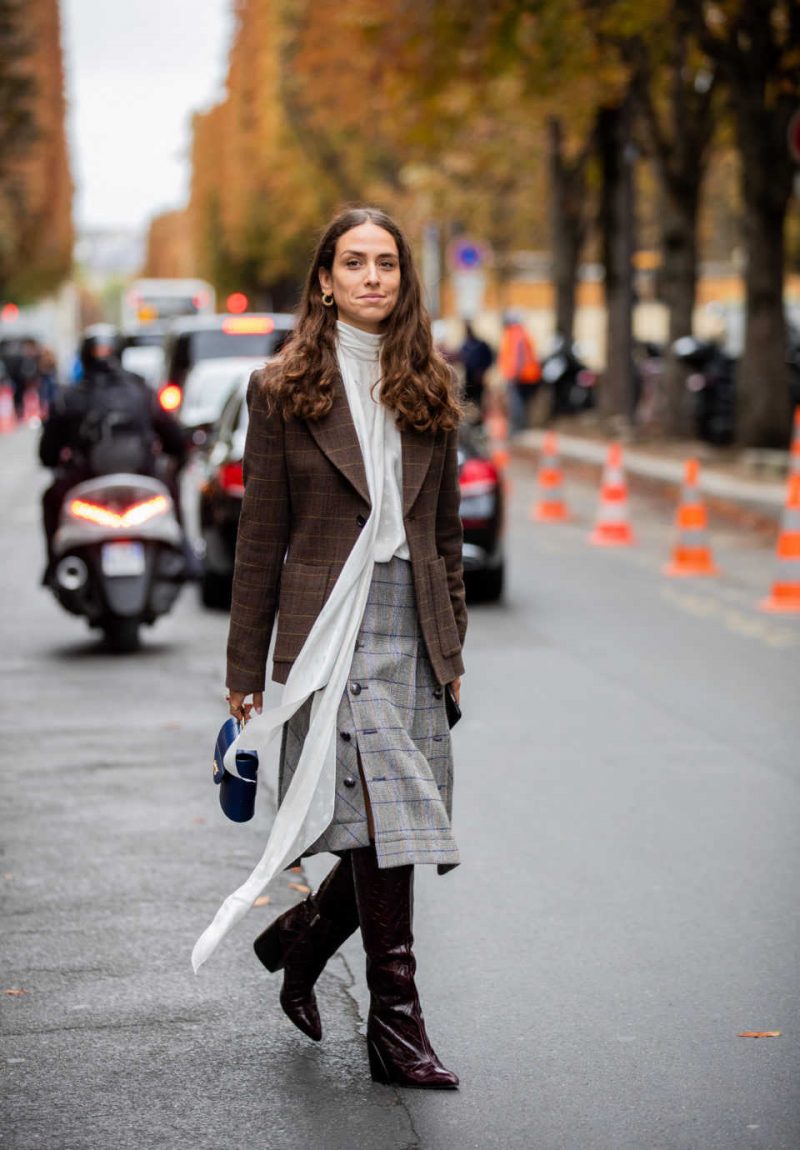 Buy Similar Here
Tall Leather Slouchy Boots And Floral Dress
Heeled pointed-toe tall boots in light brown look awesome with lightweight silk printed dress and a plaid maxi coat. Complete this look by adding oversized seventies-style sunglasses and a pink fur clutch bag: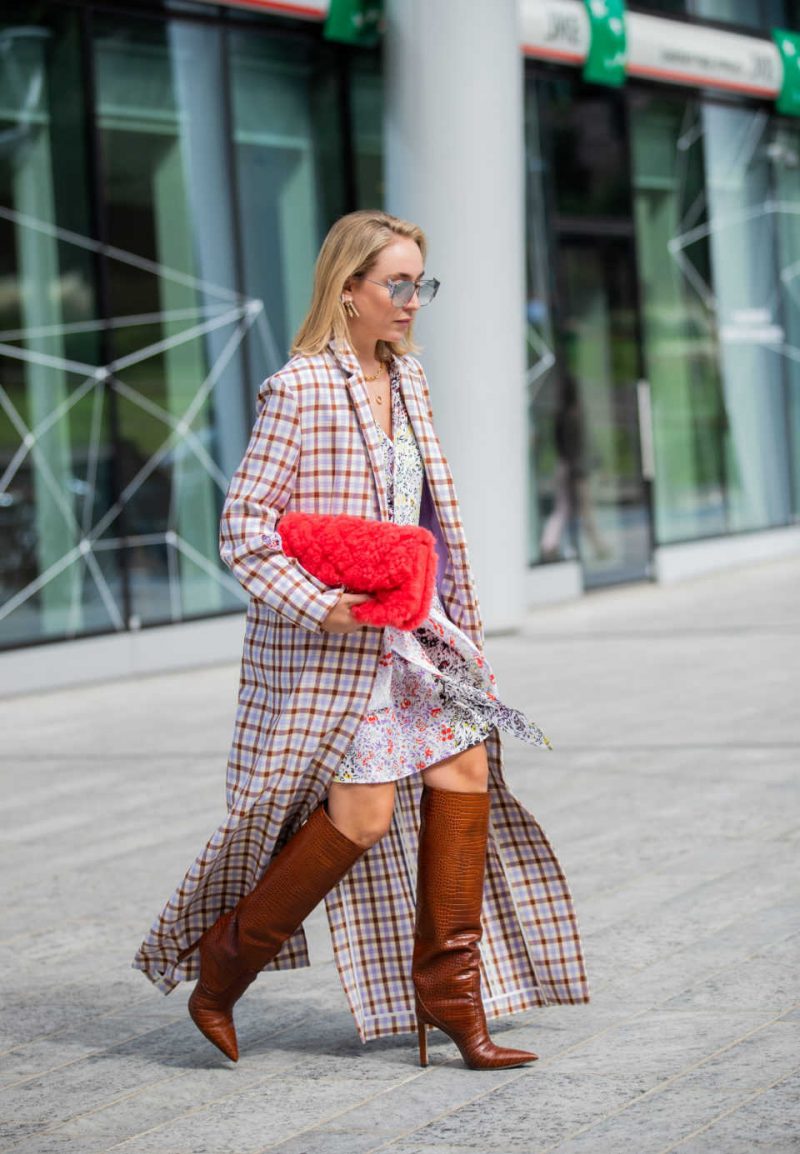 Buy Similar Here
Tall Boots With Culottes
Black leather tall slouchy boots look awesome with black culottes, white blouse in white dots and a khaki brown suede bomber jacket. Update this look with aviator sunglasses and an emerald green leather shoulder bag: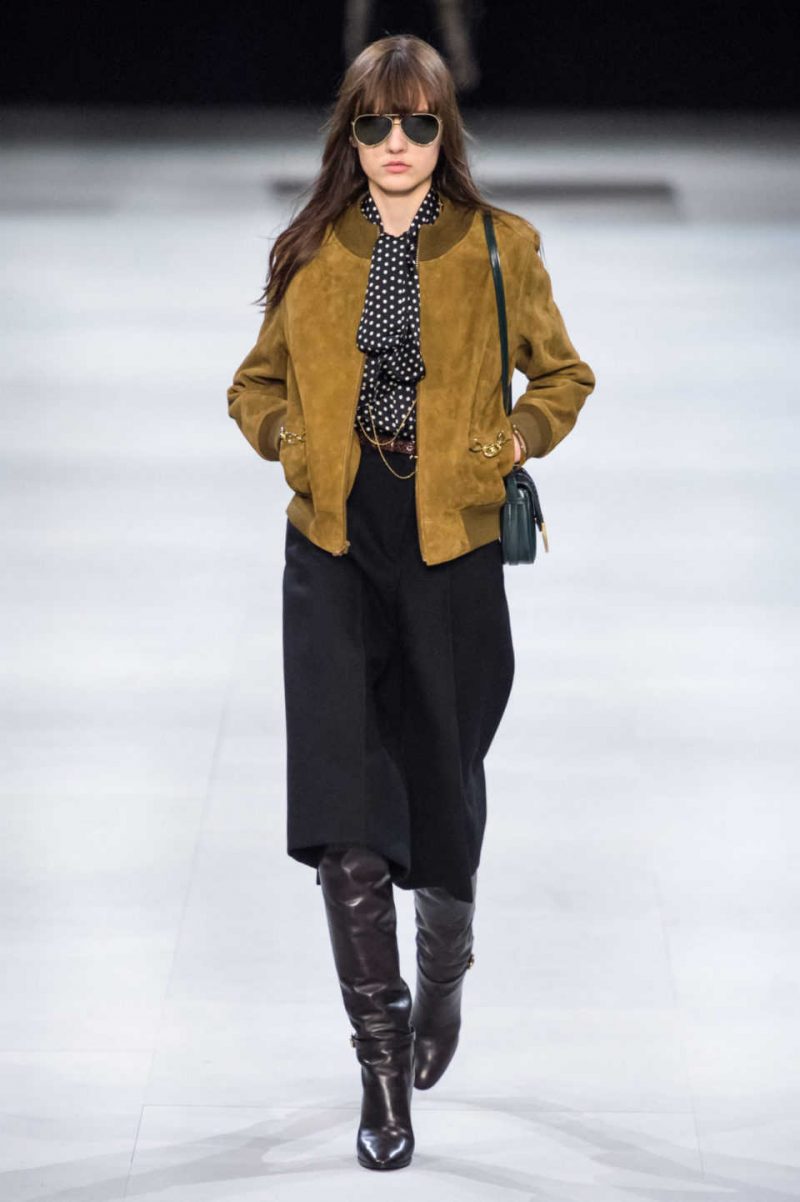 Buy Similar Here
Celine Fashion Show
Shearling Tall Boots With Jeans And Camel Coat
A midi camel coat is worn with a cute pinstripe white silken blouse tucked in wash blue slim jeans completed with shearling dark brown leather tall boots. Update this combo with aviator sunglasses: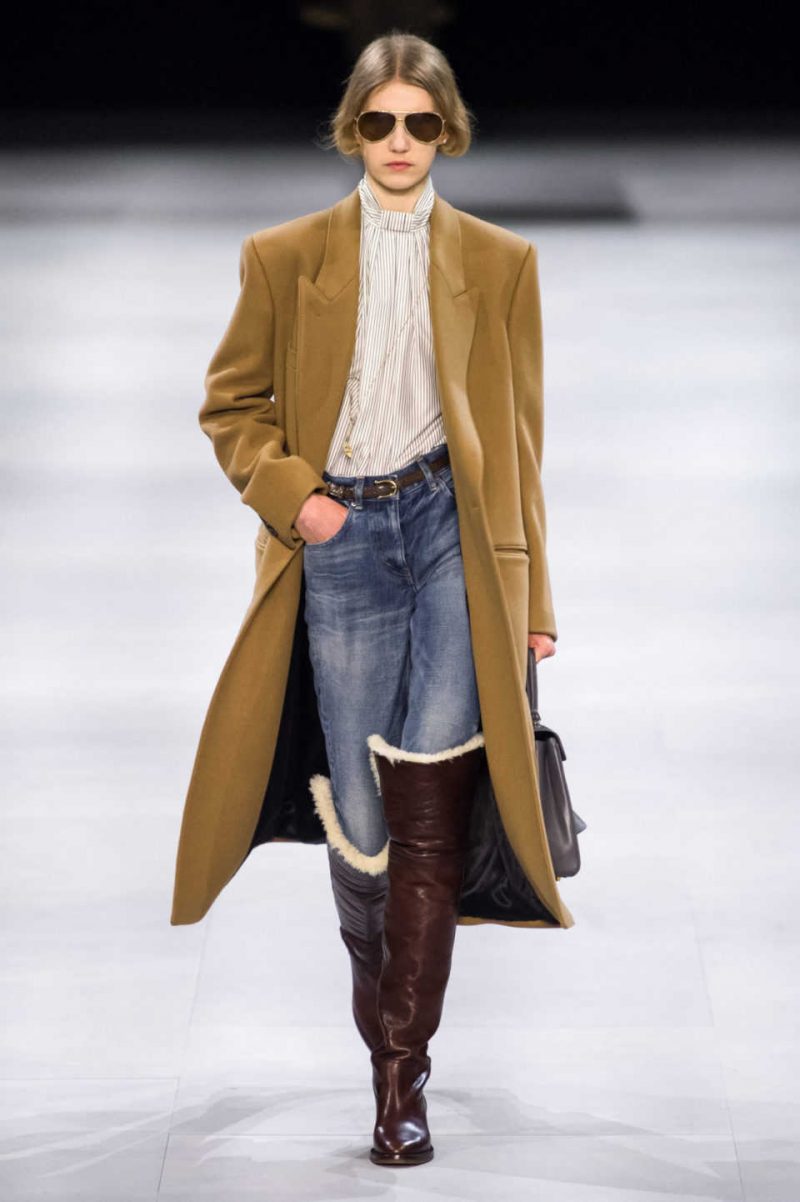 Buy Similar Here
Celine Fashion Show
Tall Boots With Red Sweater And Navy Mini Skirt
A red sweater can be tucked in navy printed mini skirt completed with black leather tall boots, in love with that yellow bucket bag: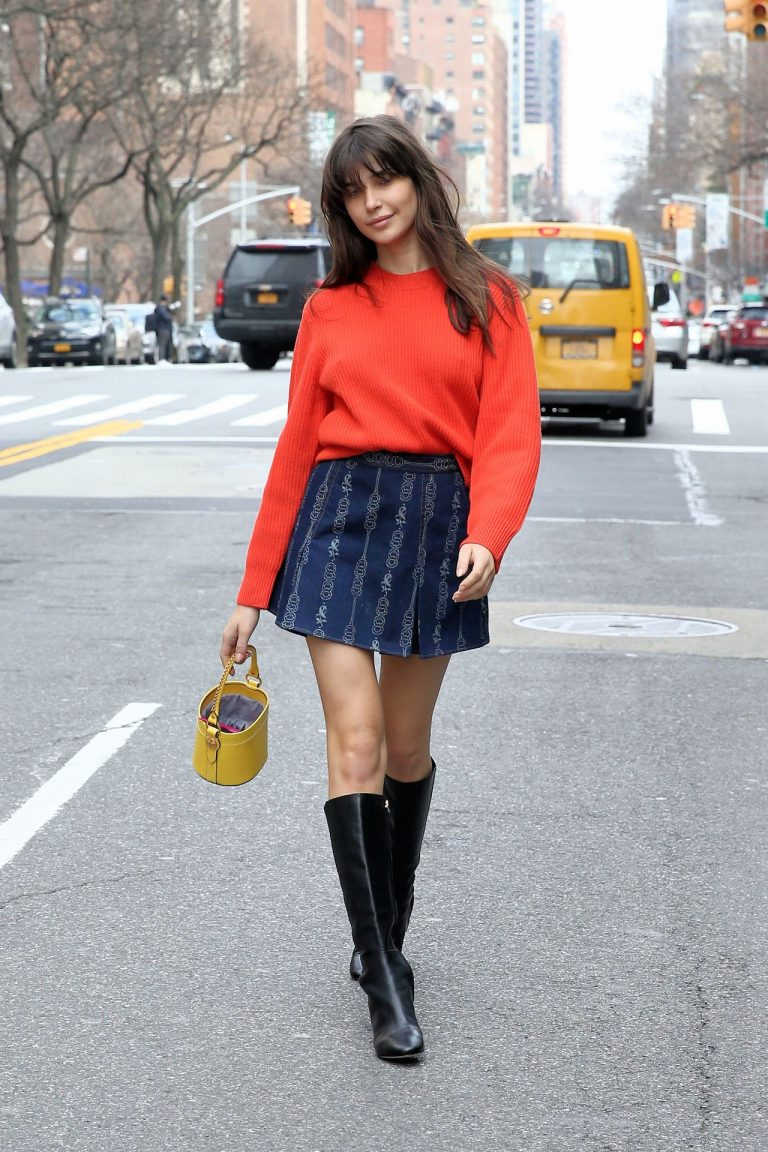 Buy Similar Here
Quilted Tall Boots
White quilted tall boots look awesome with wash-blue skinny jeans, white turtleneck, and a brown cropped shearling jacket: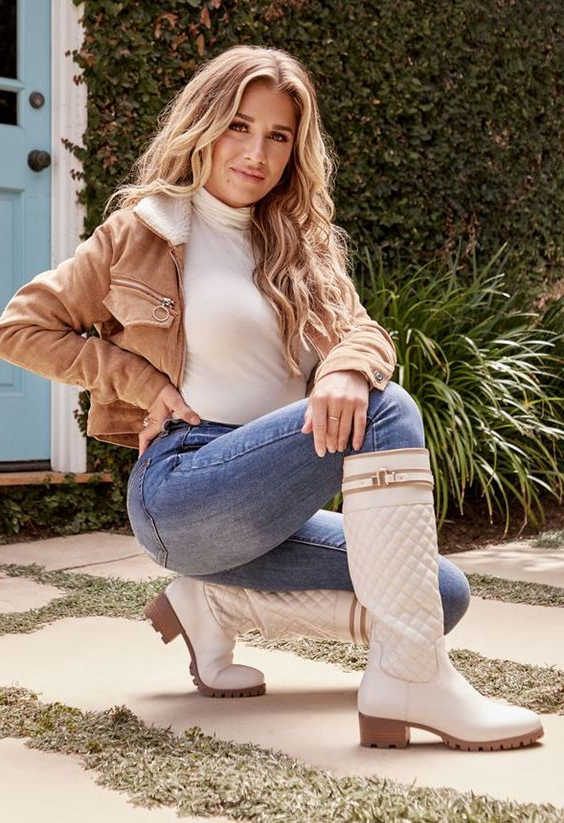 Buy Similar Here
Riding Boots Outfit Idea
Black riding tall boots are teamed with black skinny jeans and buttoned white bodysuit. Complete this combo with Wayfarer sunglasses, white crochet handbag, and a red beret hat: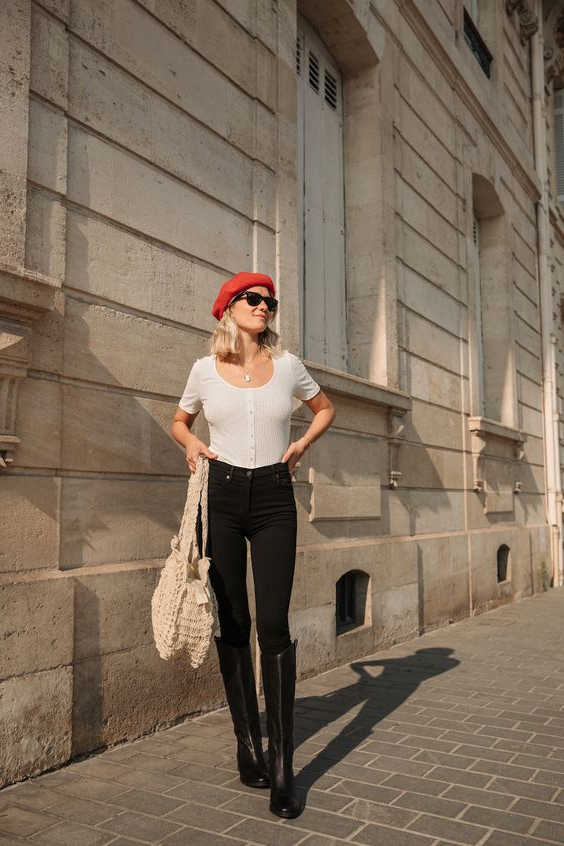 Buy Similar Here
Brown Slouchy Tall Boots With Grey Skirtsuit
Bright brown leather tall boots look fresh and modern styled with a charcoal tweed mini skirt, white blouse, printed neck-scarf, and a mannish grey blazer. Complete this look by adding oversized sunglasses: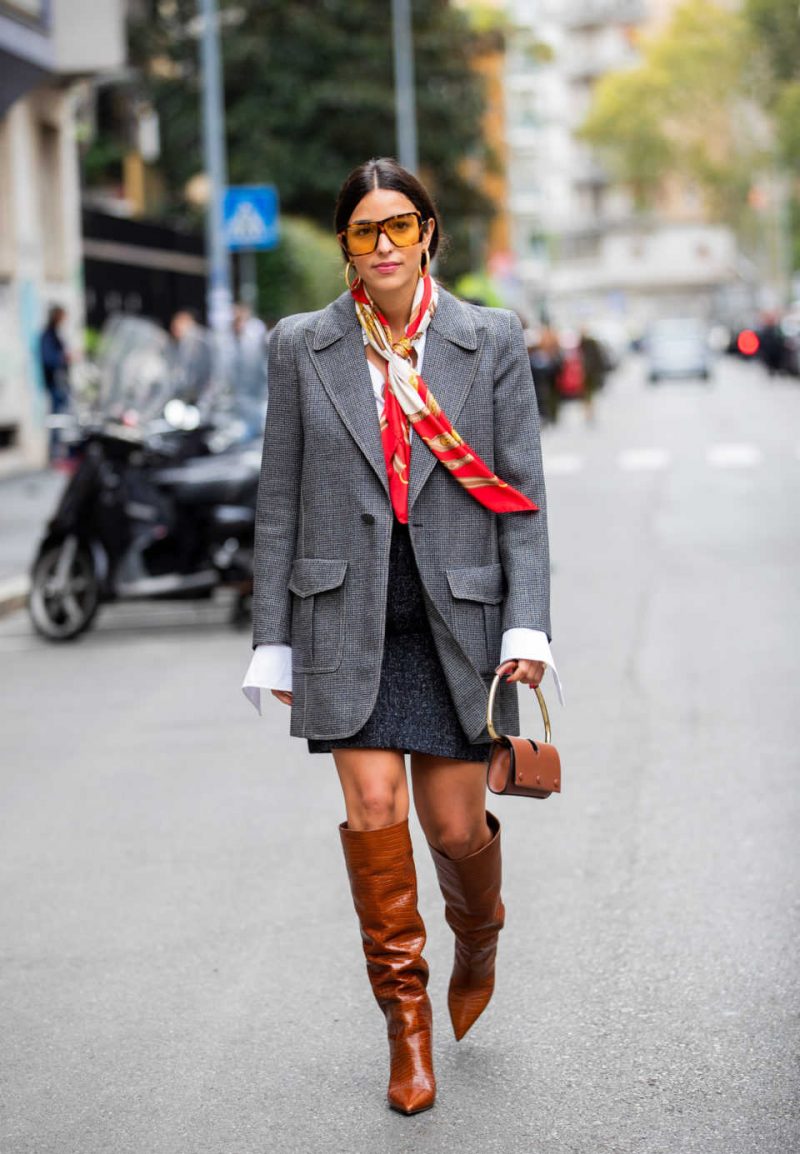 Buy Similar Here
Snakeskin Print Tall Boots With Pleated Skirt
Slouchy brown leather snakeskin printed tall boots ideally match the white midi pleated skirt and a ribbed knit oversized sweater. Update this combo with classy sunglasses and a quilted black leather shoulder bag: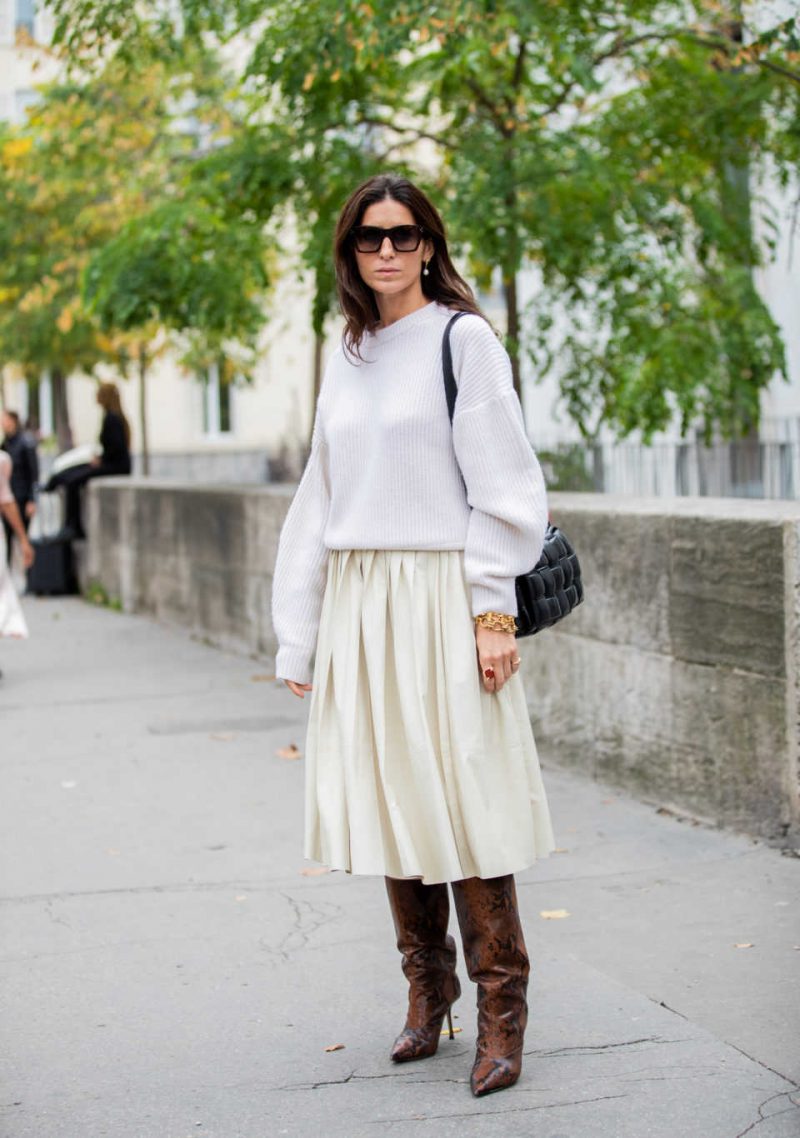 Buy Similar Here
Stretch Silk Midi Skirt And Tall Boots
A relaxed fit cream-white sweater is half-tucked in a high-waisted black silken knee-length skirt updated with tall brown leather boots: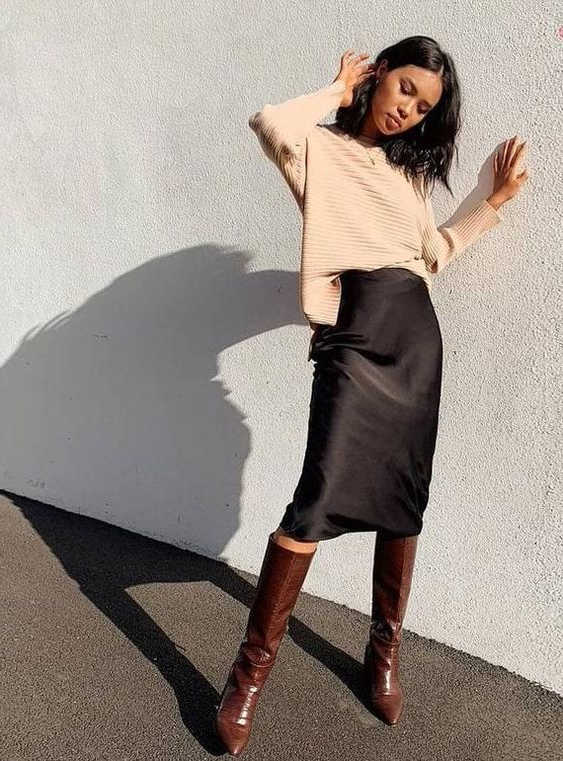 Buy Similar Here
Tall Boots And Semi Sheer Long Shirts And Mini Bicycle Shorts
Another total black look. We see a black semi-sheer shirt paired with black mini-bicycle shorts and black leather tall boots: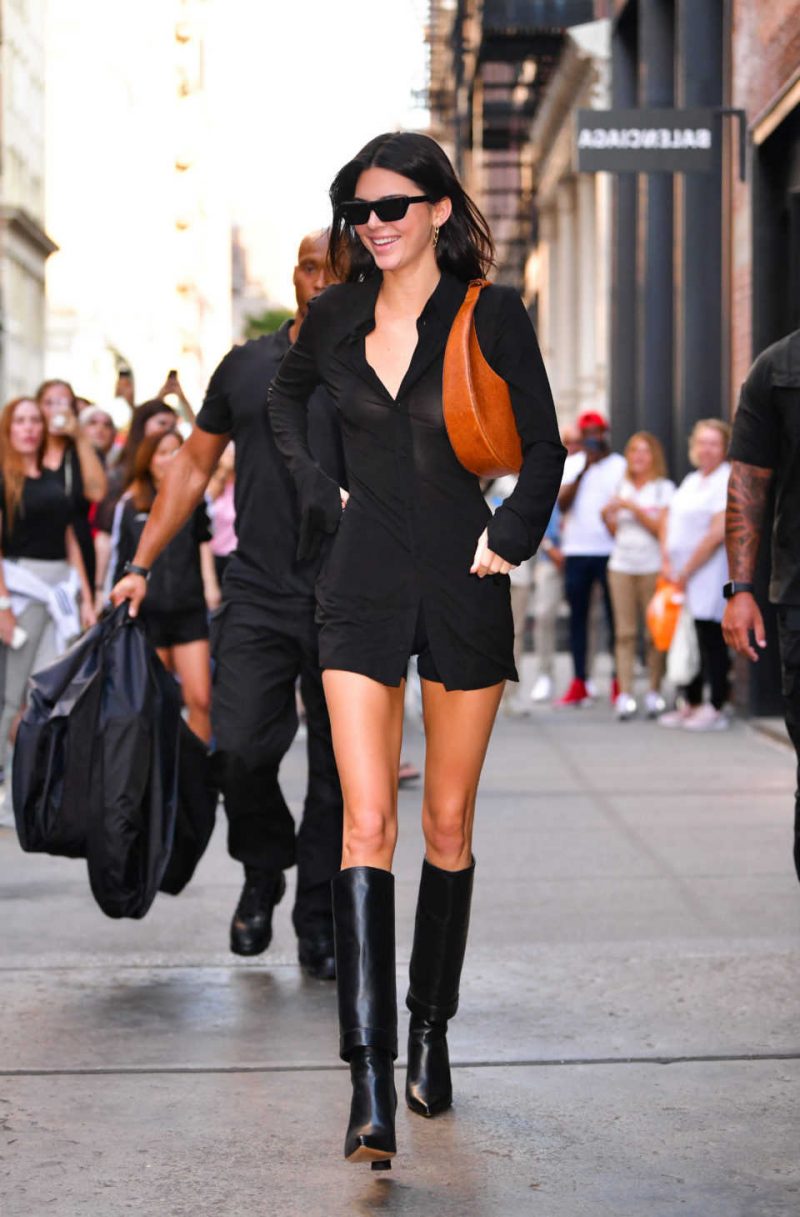 Buy Similar Here
Tall Boots In Dark Brown
An ideal country-side look. We see dark brown leather tall boots with camel skinny pants and dark-green sweater. Update this look with a plaid scarf: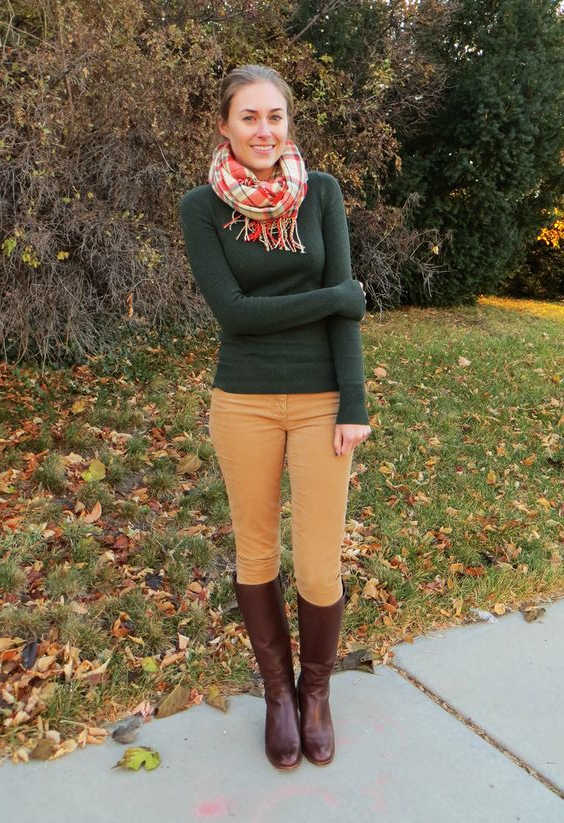 Buy Similar Here
Tall Equestrian Boots
We see tall equestrian boots in tan styled with opaque tights and boho print long-sleeve dress: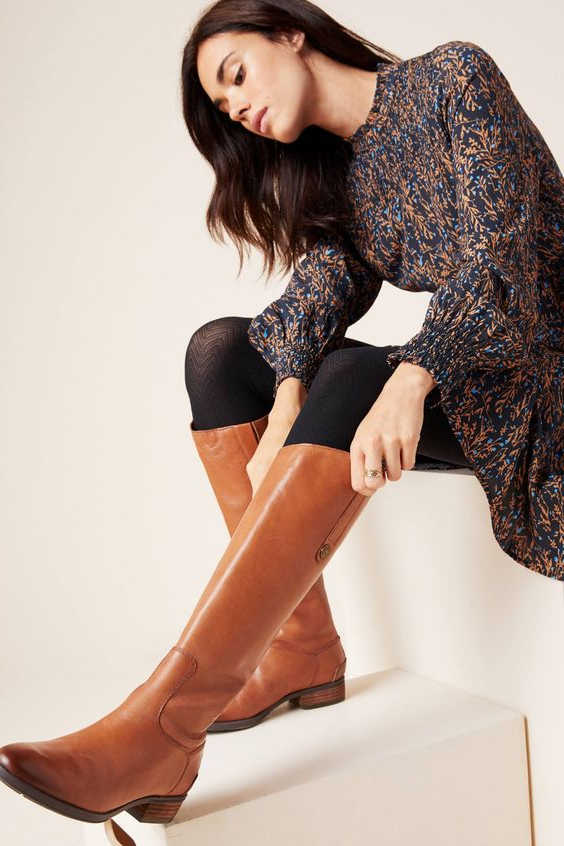 Buy Similar Here
Tall Boots In Grey
Grey suede tall boots ideally match the green knife-pleated midi skirt. Add a black sweater and a black wool coat: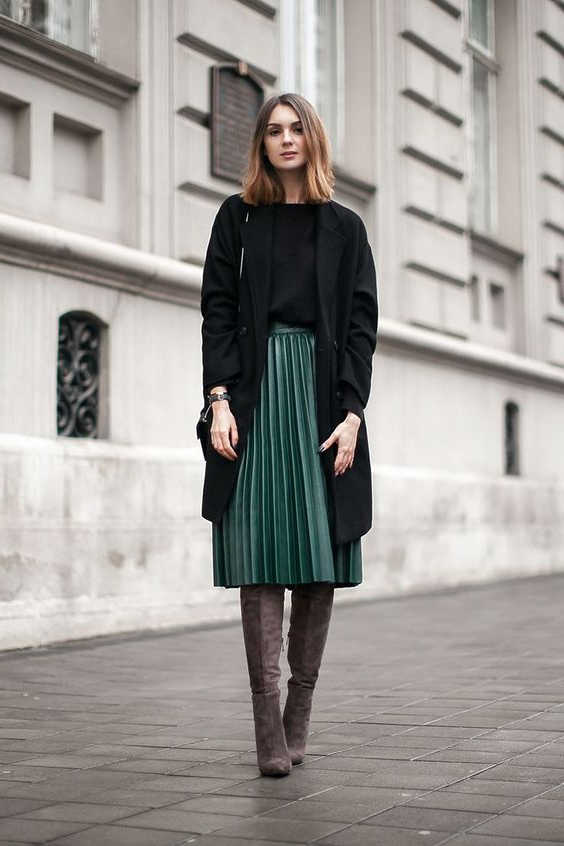 Buy Similar Here
Tall Boots Like Uggs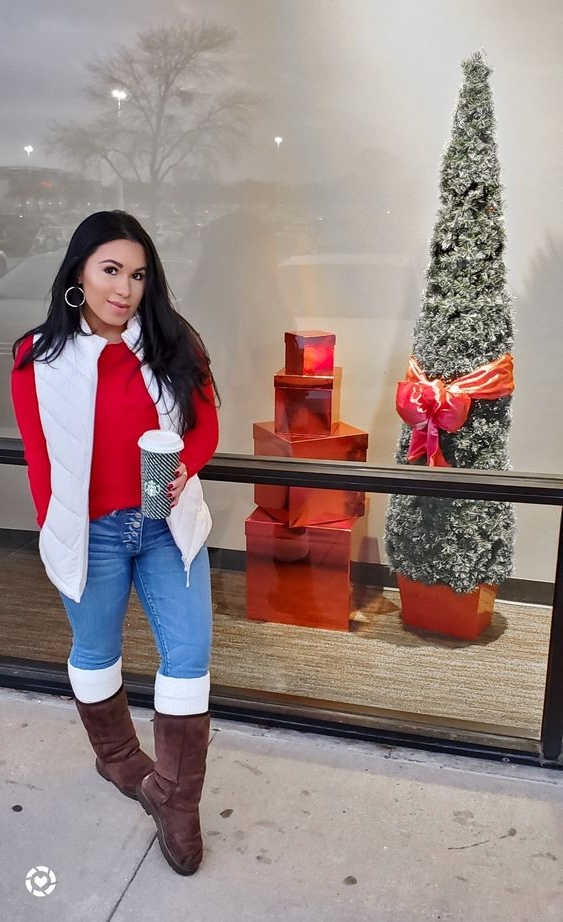 Buy Similar Here
Tall Boots And Long Skirt
Keep it monochrome. We see a black leather cap that is worn with a black blazer, white sweater, silver-white midi knife-pleated skirt, and black leather tall boots. In love with these rounded sunglasses: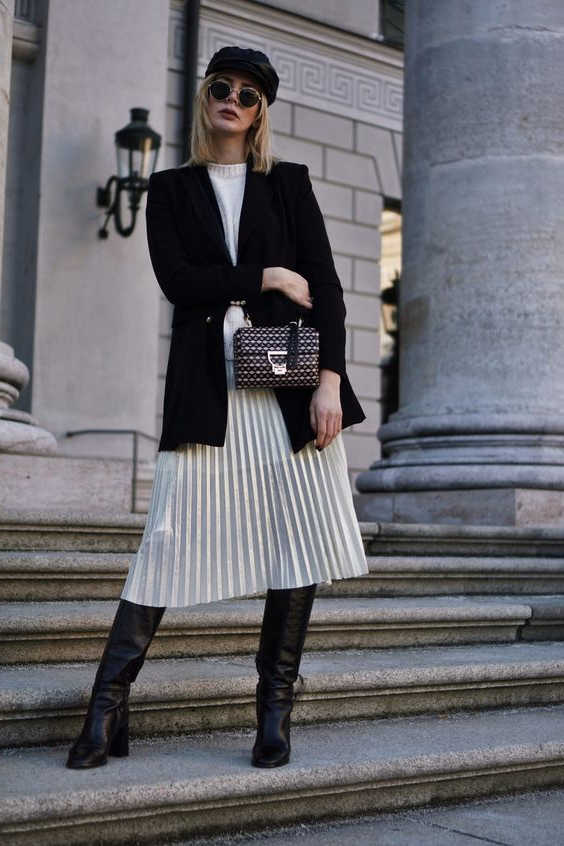 Buy Similar Here
Tall Boots Work Outfit
A lovely monochrome outfit idea for work. We see a blue shirt tucked in dark blue denim pencil skirt completed with black tights and cherry red leather tall boots: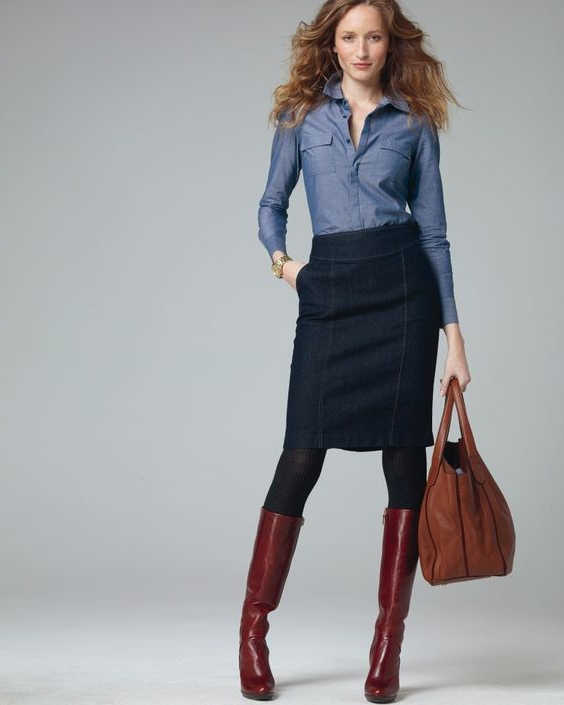 Buy Similar Here
Tall Boots For Office
We see a total black look. A long sleeve pullover is tucked in black knife-pleated knee-length skirt updated with tall suede black boots: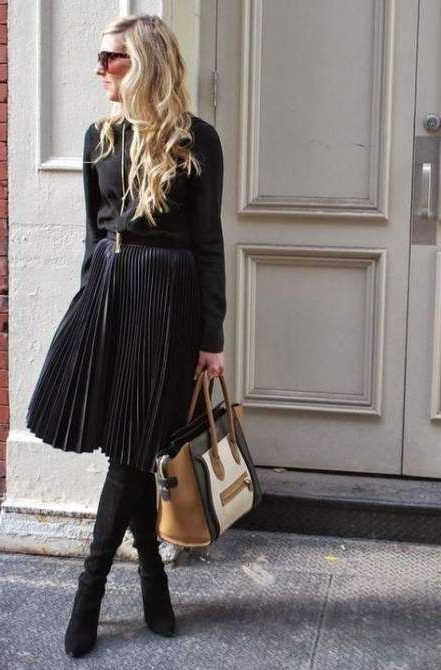 Buy Similar Here
Tall Boots With Sweater Dress And Navy Coat
We see a nice combination for those who are looking for office outfits. A black tailored coat is layered over a black dress completed with black tights and black patent tall boots: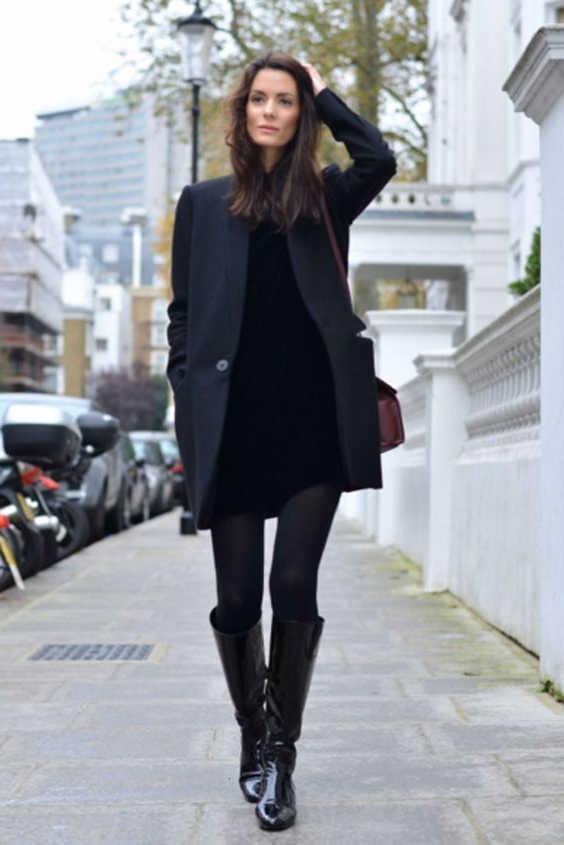 Buy Similar Here
Tall Boots With Buckles
Love these grunge multi-buckled tall boots styled with a rich red dress: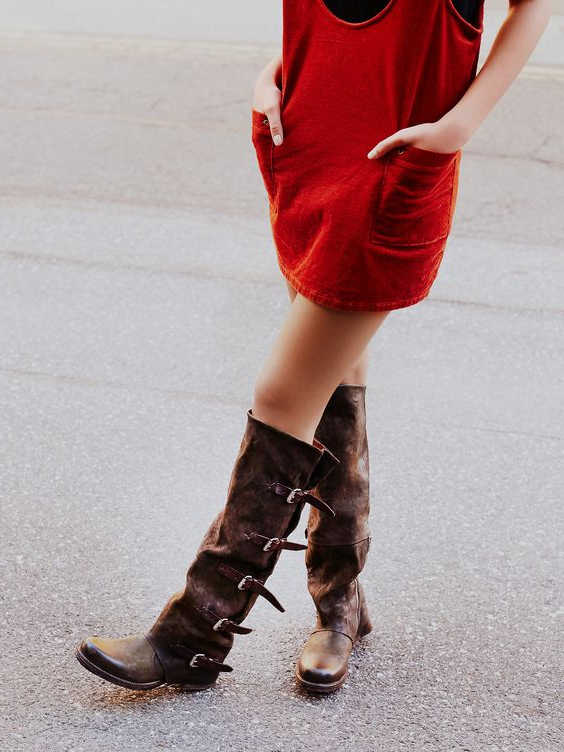 Buy Similar Here
Tall Boots With A Dress
White leather tall boots look awesome with long-sleeve cream grey sweater-dress, a perfect combo for weekends: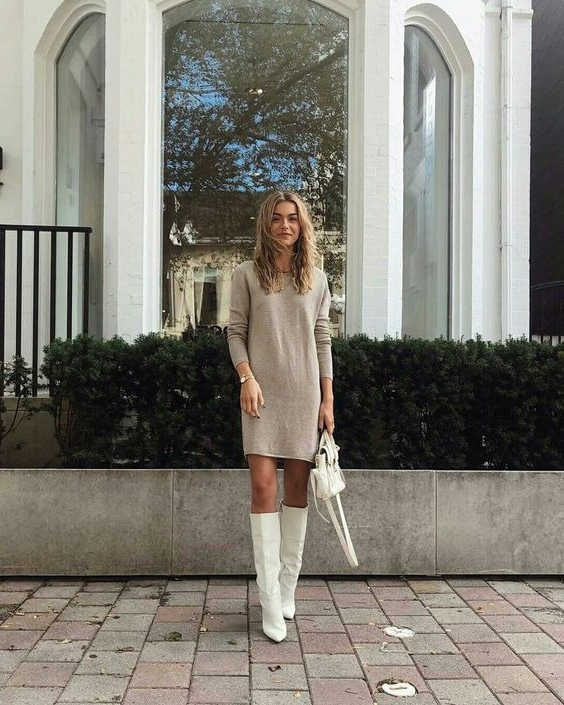 Buy Similar Here
Tall Boots And Dress Pants
An all in black OOTD. Go for a turtleneck tucked in belted culottes completed with slouchy black leather boots: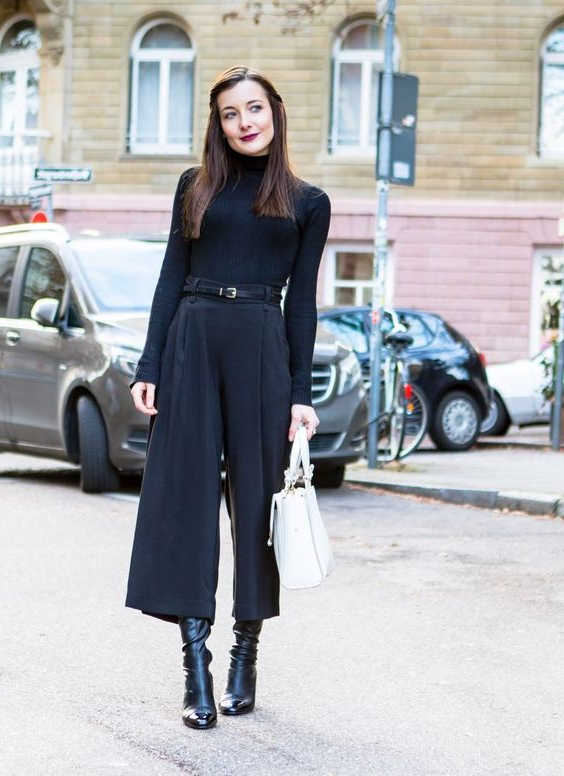 Buy Similar Here
Tall Boots With Jeans Outfit
Block heeled brown leather tall boots look elegant and classy worn with blue skinny jeans, high-neck camel sweater, and a micro plaid long coat: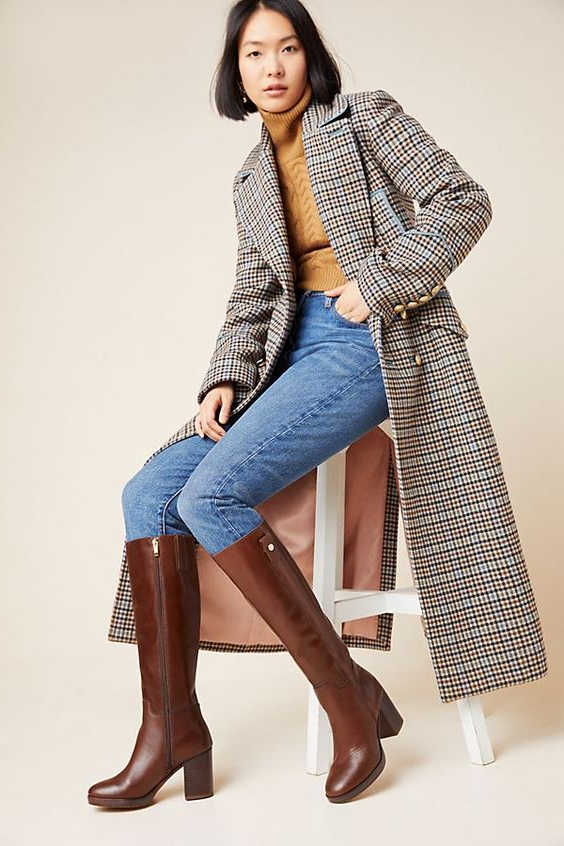 Buy Similar Here
Tall Boots With Leggings
Brown leather flat tall boots are teamed with black leggings and a red tartan long shirt completed with black leather oversized bag: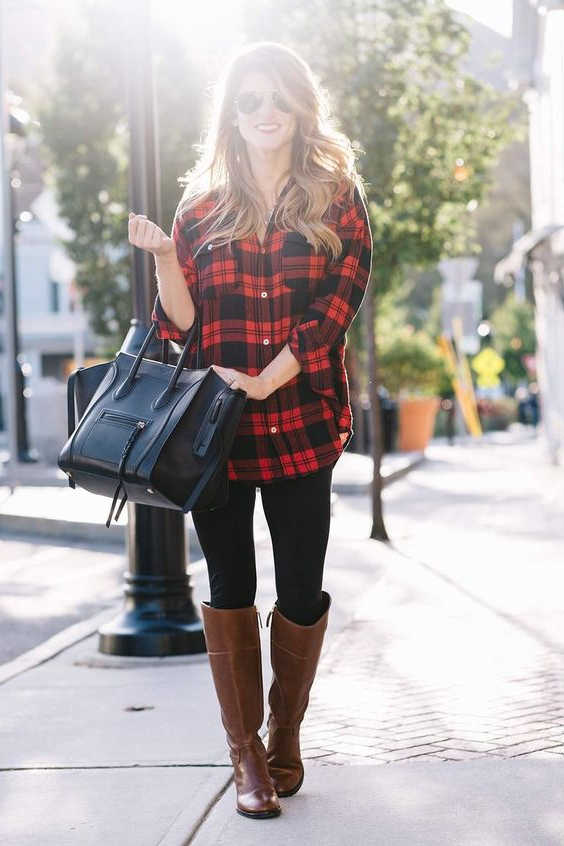 Buy Similar Here
Tall Boots And Skinny Jeans
Tall slouchy leather heeled pointed-toe boots in dark purple color are styled with a sleeveless white oversized top tucked in high-waisted grey skinny jeans: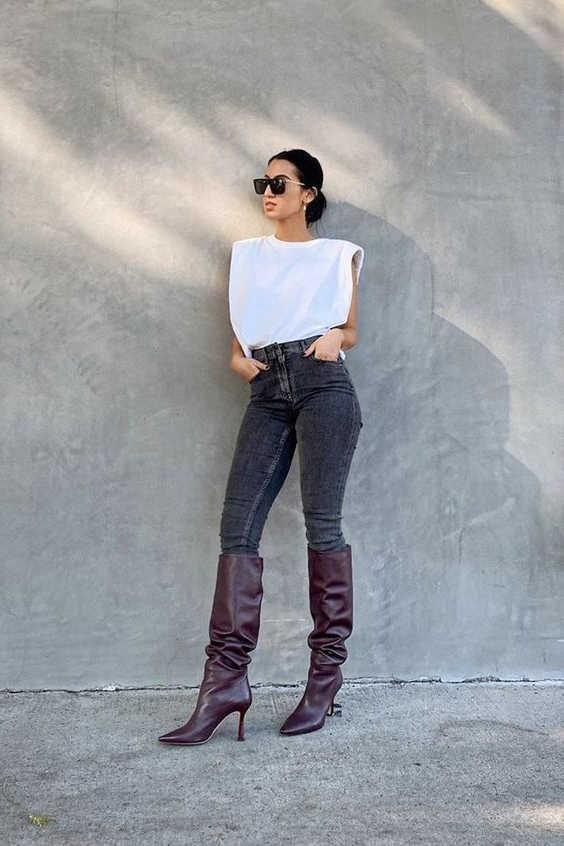 Buy Similar Here
Tall Boots And Skirt Outfit
Dark brown leather tall boots match the opaque tights, flared mini skirt in blue and black turtleneck layered under a cream-white cardigan: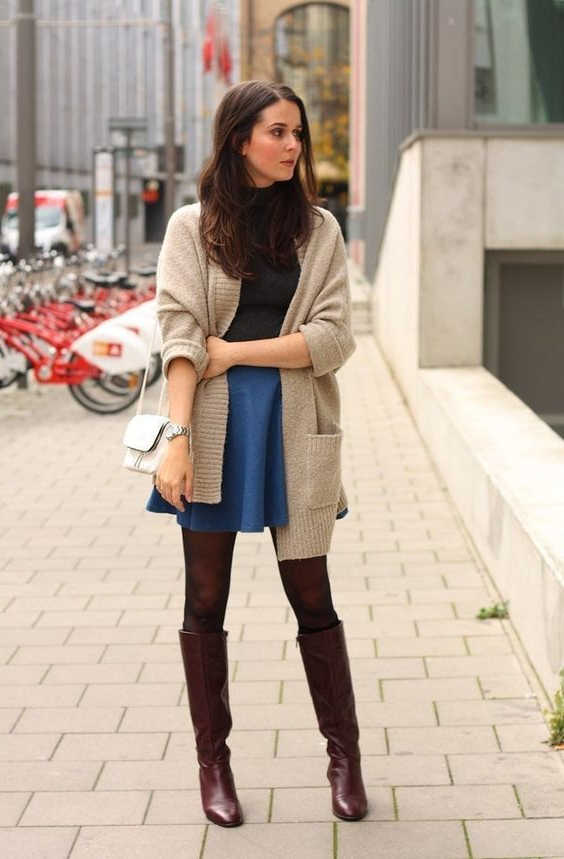 Buy Similar Here
Cherry Red Tall Leather Boots
We see tall cherry red leather boots in slouchy fit styled with a ribbed knit relaxed sweater dress in cream-white. Complete this combo by adding a slouchy black leather shoulder bag: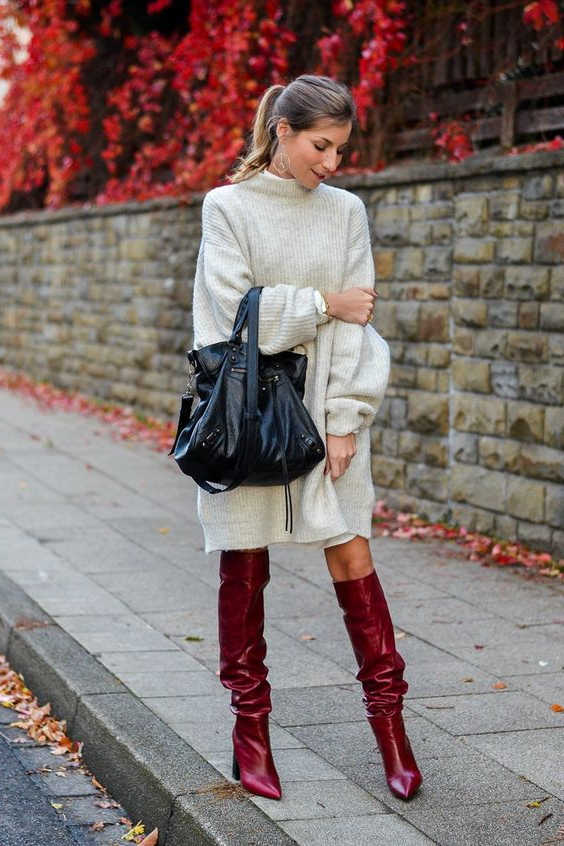 Buy Similar Here
Tall Slouchy Boots And Knee Ripped Skinny Jeans
Brown snakeskin leather slouchy knee-length boots ideally match these ripped skinny jeans teamed with a high-neck light brown sweater and a camel tailored coat: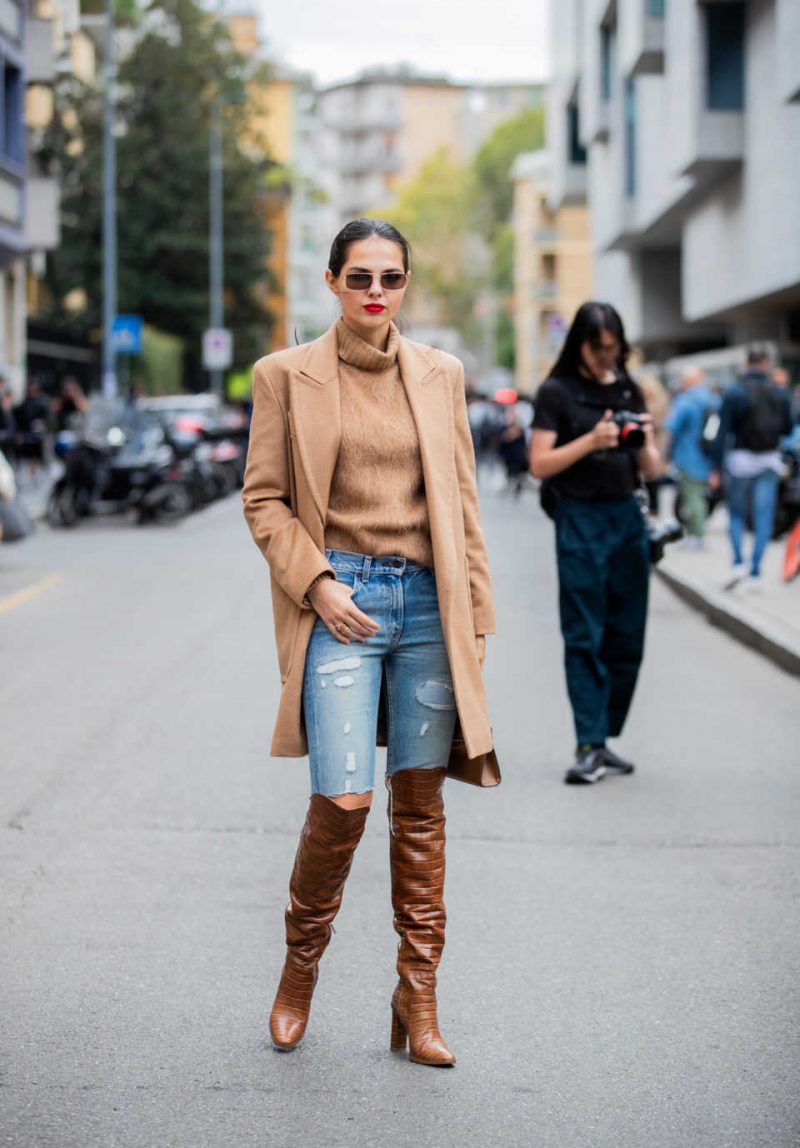 Buy Similar Here
Tall Yellow Boots
Block heel slouchy tall boots in yellow paired with a metallic white silk midi dress and a turtleneck mustard-yellow sweater: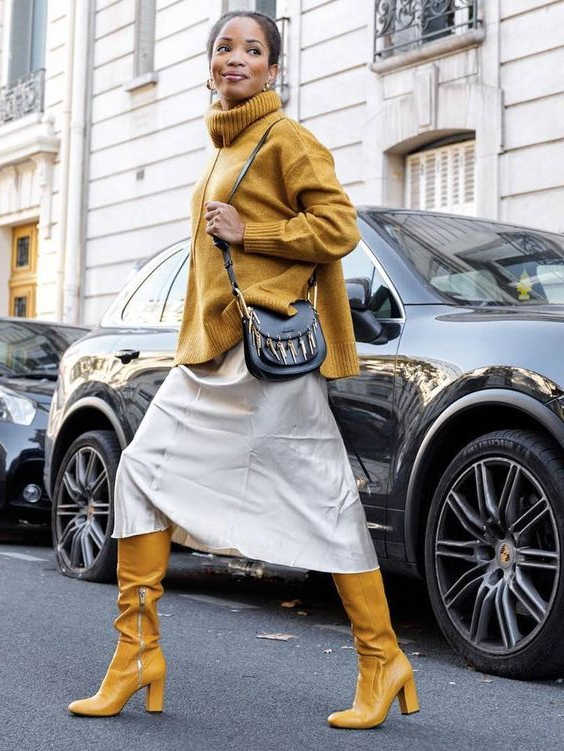 Buy Similar Here
Tall Yellow Boots For Rain
Have a look at this raining day outfit idea. We see bright yellow tall rain boots styled with a black floral dress and a khaki green hooded parka: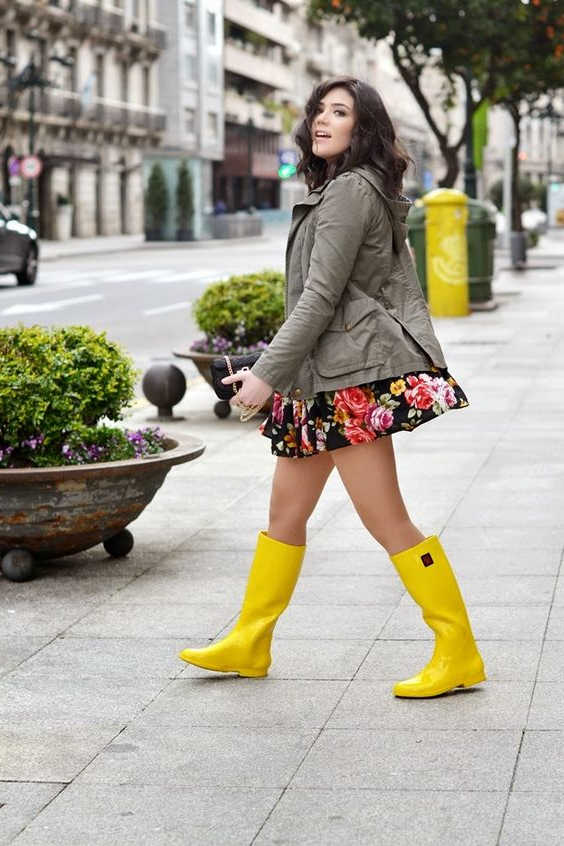 Buy Similar Here
White Tall Boots And Tailored Long Shorts
White tall boots ideally suit cream-white tailored long shorts teamed with high-neck white top and a midi printed cardigan. Update this look with stylish sunglasses and a cool quilted shoulder bag: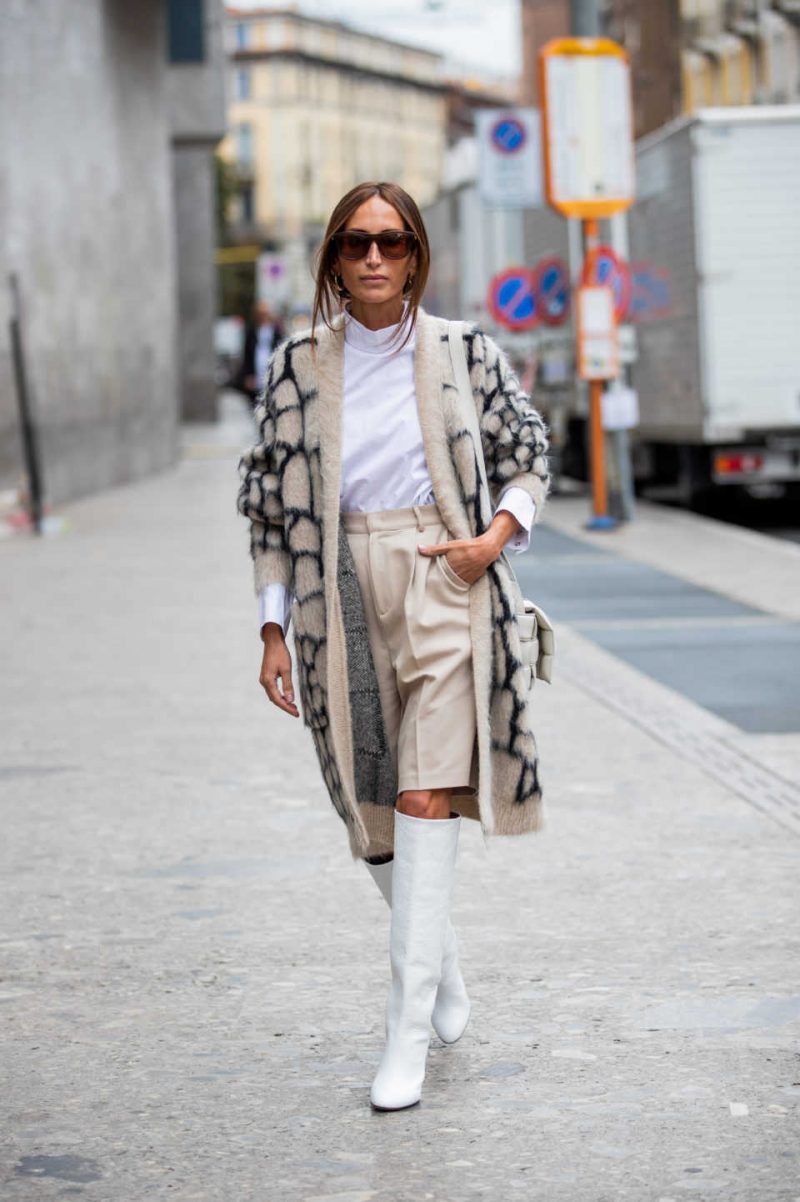 Buy Similar Here
Source: WikiHow, StyleBluePrint