We are all into fashion trends and this time I want to draw your attention to the platform flat shoes and ways how to wear them now. This type of footwear is considered to be mannish, but thanks to the platform addition, they are now 100% appropriate for women.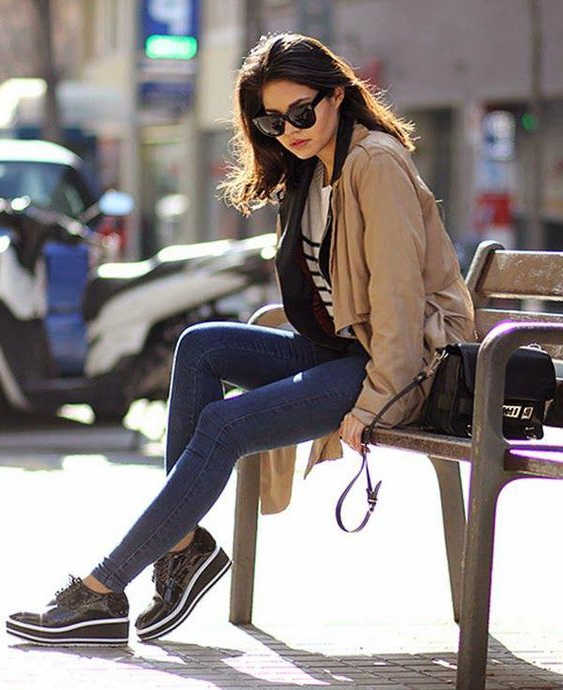 Buy Similar Here
Here we see a nice example of how to keep things chic and edgy. Go for a beige trench coat and team it with a black-white striped top, blue skinny jeans and black patent platform Oxfords.
Yet it's still considered to be a Tomboy style, but at least it looks a bit ladylike. In today's blog post I will show you some easy tips and ideas on how to wear this stunning footwear in real life.
This footwear is a perfect way to underline the preppy style. If you dream of universal comfortable shoes, then platform loafers, brogues, and Oxfords are what you need. Thanks to the wide variety of retailers and brands, we face lots of cool platform loafer designs to choose from, including the ones decorated with gold buckles, painted in fresh hue, classic and vintage versions. I am a big fan of 90s fashion, that's why chunky shoes are one of my favorite trends from this decade.
How To Style Platform Loafers With Long Blazer And Boyfriend Jeans
Go for a black long blazer and style it with a black cami top tucked in ripped and cuffed boyfriend jeans completed with platform loafers in the black patent: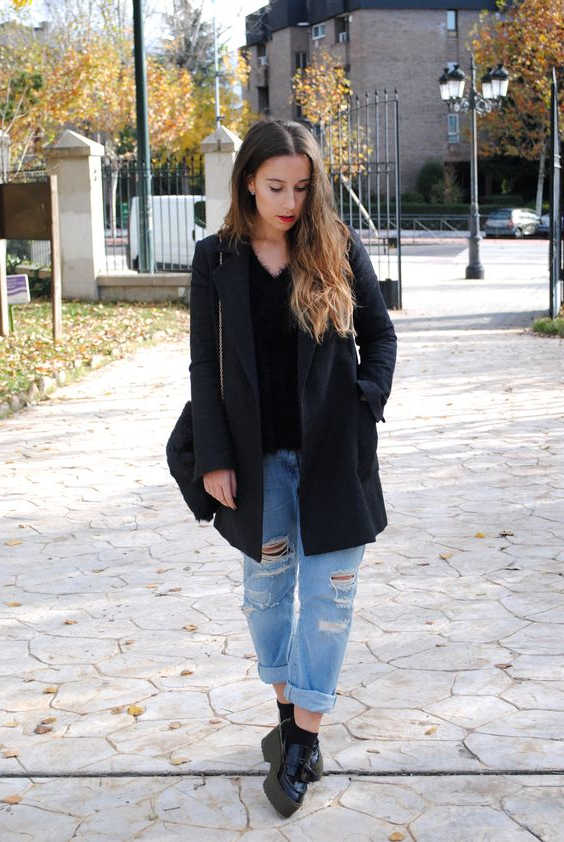 Buy Similar Here
The menswear-style shoes, like brogues, loafers, and oxfords can add a fun twist to your style, but keep attention to the details and the overall look. Why do I love this footwear so much? It comes not only with a mannish design, but platform loafers also add height to its wearer. I've already counted three pluses of these shoes: preppy look, mannish touch with a bit of grunge style and the addition of several centimeters to your height. Indeed, these shoes will add an interesting touch to any outfit.
How To Wear Black Platform Loafers With Blazer And Jeans
We see chunky black platform loafers with a black blazer, white tee, and regular fit jeans, a simple Parisian chic outfit idea: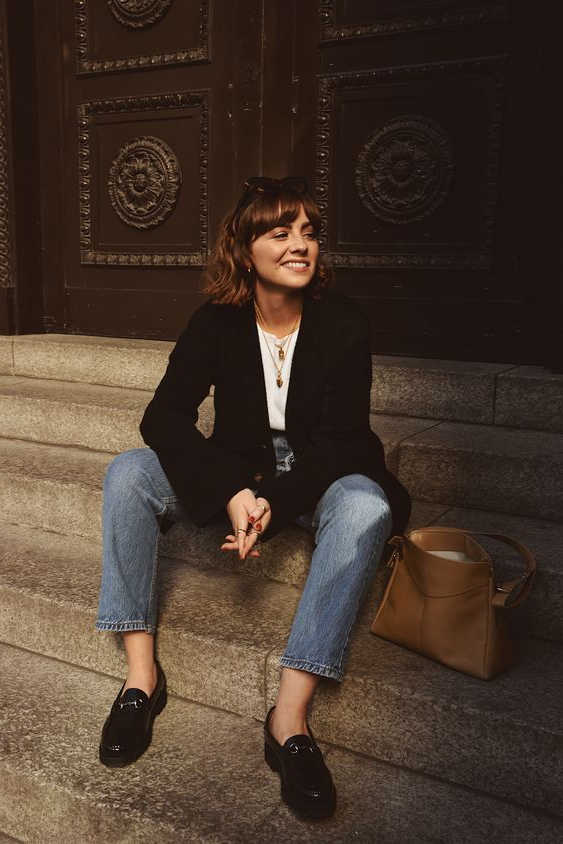 Buy Similar Here
Can I Wear Metallic Platform Oxfords With Black Coat And White Jeans
Some like things to be monochrome. Go for a black coat and style it with white slim cuffed jeans and shiny silver metallic platform Oxfords: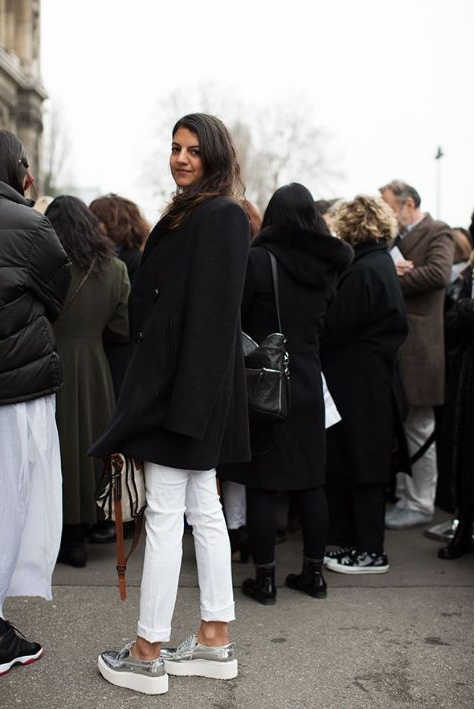 Buy Similar Here
How To Wear White Platform Oxfords And Black Dress
A tailored black midi dress with a pleated skirt looks stunning combined with black socks and star print white platform Oxfords: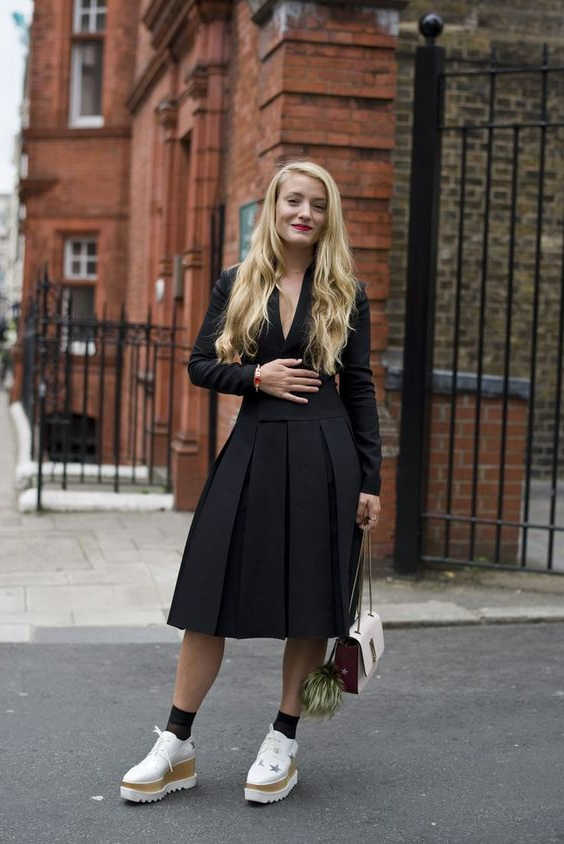 Buy Similar Here
How To Style Platform Loafers With Socks And Flared Skirt
We see a patent black leather bomber teamed with a printed top, white flared mini skirt and black leather platform loafers completed with black socks: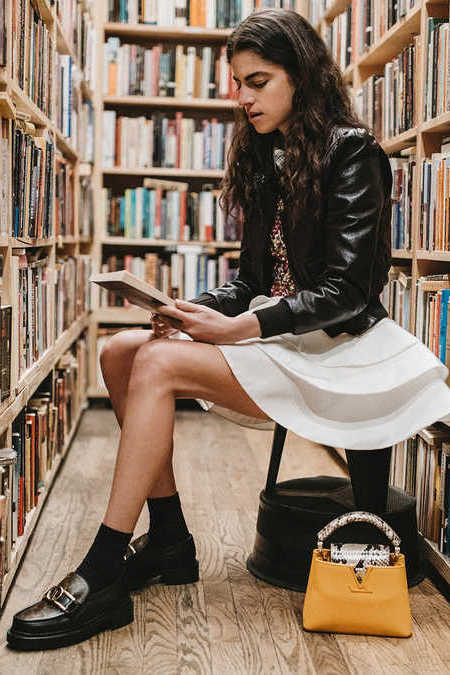 Buy Similar Here
Can I Wear Black Platform Oxfords With Leather Jacket And Leather Skirt
We see a black leather jacket draped over a black-white striped blouse tucked in a brown leather mini skirt completed with black tights and patent black leather platform Oxfords: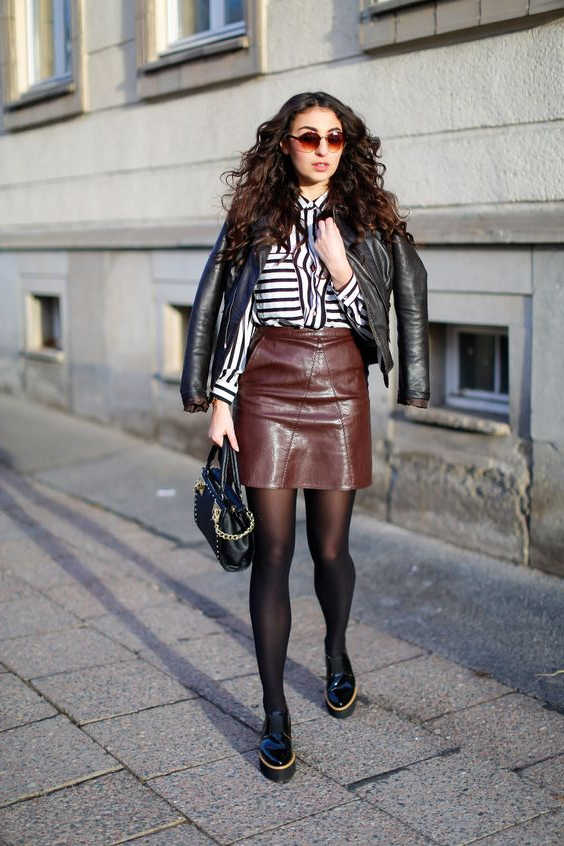 Buy Similar Here
Can Yout Wear Platform Brogues With Socks And Black Shirtdress
We see a sleeveless black shirtdress combined with white socks and patent black leather platform brogues, update this look with rounded sunglasses and a chain strap mini clutch bag in cream-grey: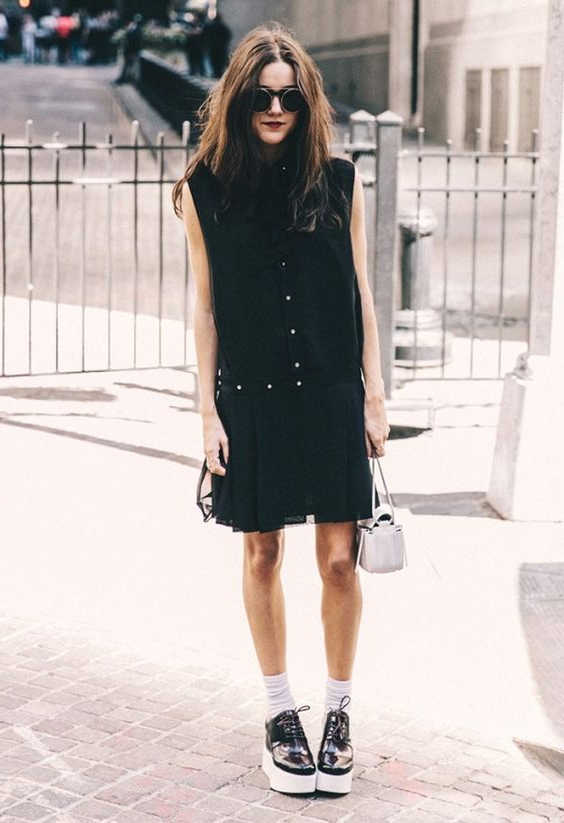 Buy Similar Here
How To Style Platform Brogues With Black Tee And Slim Jeans
We see a front-tied black T-shirt paired with high-waisted light blue slim jeans and platform black leather brogues. In love with that straw wide-brim hat: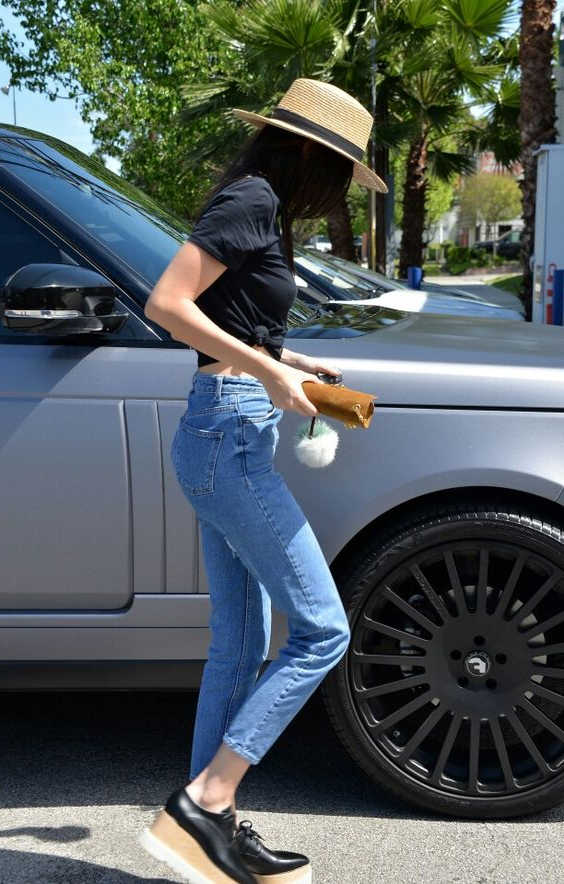 Buy Similar Here
Can I Wear Burgundy Platform Oxfords With Tartan Suit
We see a tartan red pantsuit with short pants worn with a V-neck cami top and burgundy platform brogues. Update this 90s style look with heart-shaped sunglasses in red and burgundy leather bag: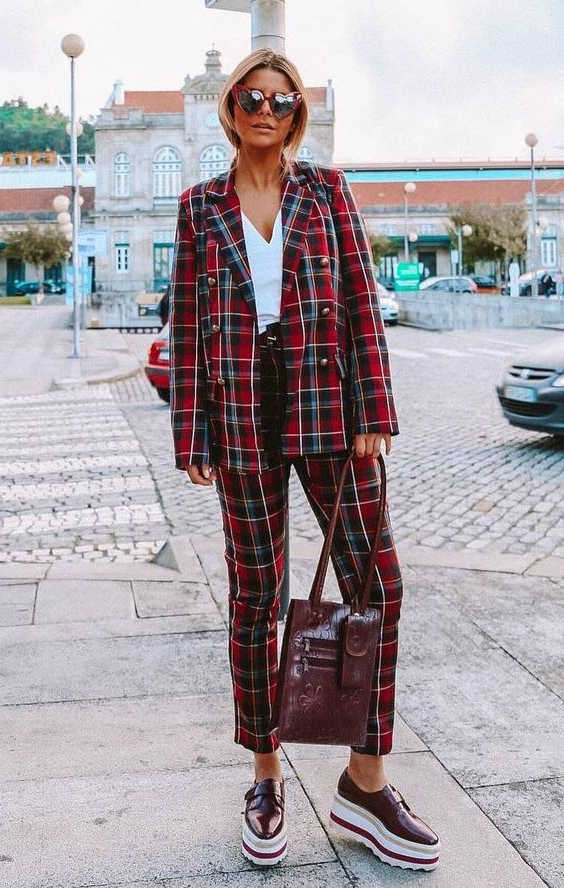 Buy Similar Here
How To Wear Brown Platform Oxfords With White Top And Striped Skirt
A crochet white long-sleeve top is teamed with white-red-black striped asymmetric skirt completed with brown platform Oxfords and rounded sunglasses: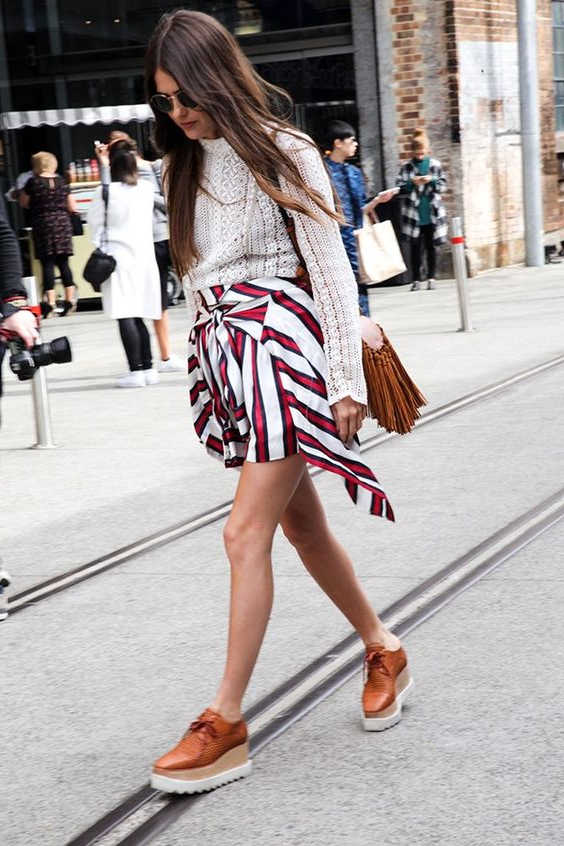 Buy Similar Here
Can You Wear Black Platform Oxfords With White Skinny Jeans
We see a navy wool coat styled with a mustard-brown sweater tucked in white skinny jeans completed with black platform Oxford shoes. Update this outfit with oversized sunglasses and a bright blue fur clutch bag: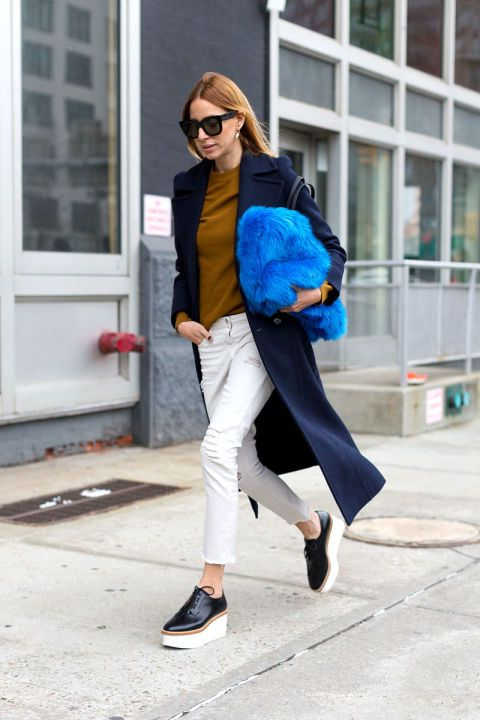 Buy Similar Here
How To Wear Platform Oxfords And Flared Pants
We see a black fur vest paired with a micro-plaid high-neck blouse and black-white checkered flared ankle-length pants. Complete this seventies style look by adding embroidered sunglasses and black leather Oxfords: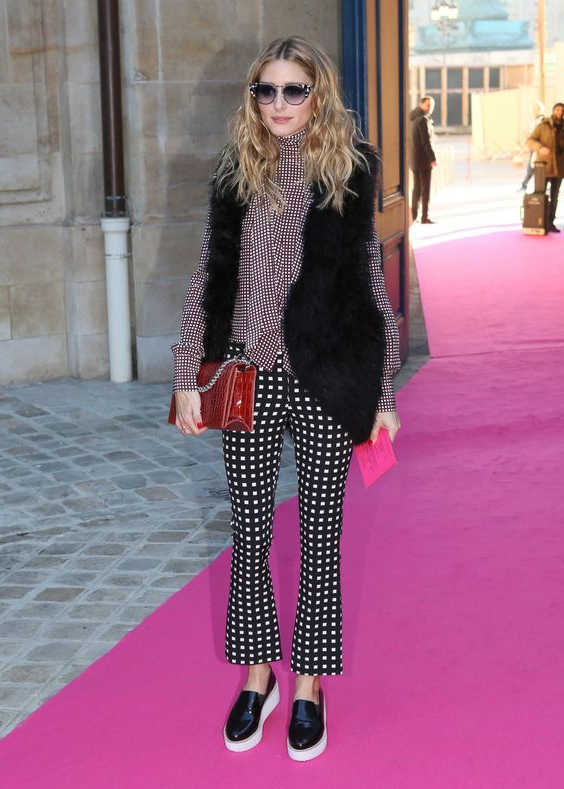 Buy Similar Here
Can I Wear Platform Loafers With Black Crop Top And Black Jeans
A kind of grunge meets hipster look. We see a black fedora, khaki-green trench coat, black crop top, cuffed charcoal pants, and patent black leather platform loafers: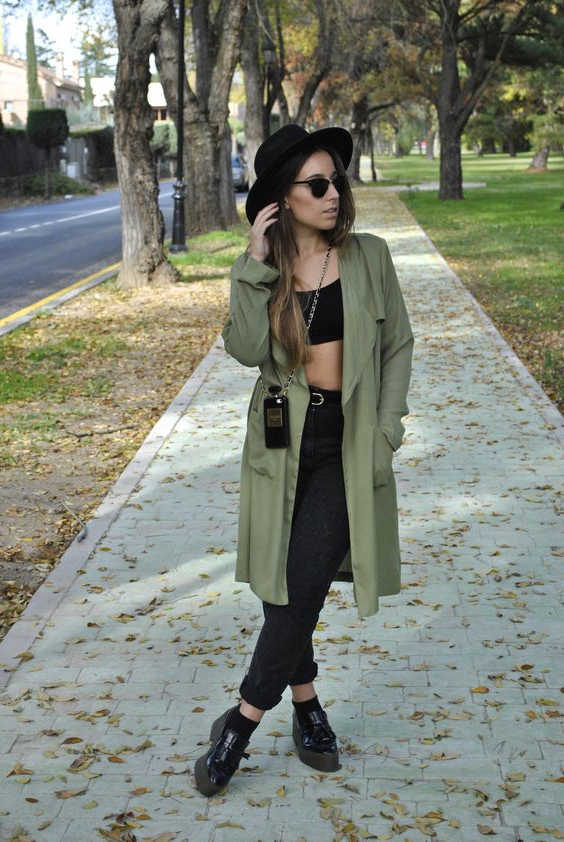 Buy Similar Here
How To Style Platform Loafers And Ripped Jeans
A kind of hipster touch. We see a dark grey oversized coat styled with a black sweater, white beanie, ripped skinny jeans and black leather platform loafers:
Buy Similar Here
Can You Wear Platform Brogues And Plaid Pants
A classic pair of black platform brogues are teamed with plaid grey pants and a black patent leather jacket: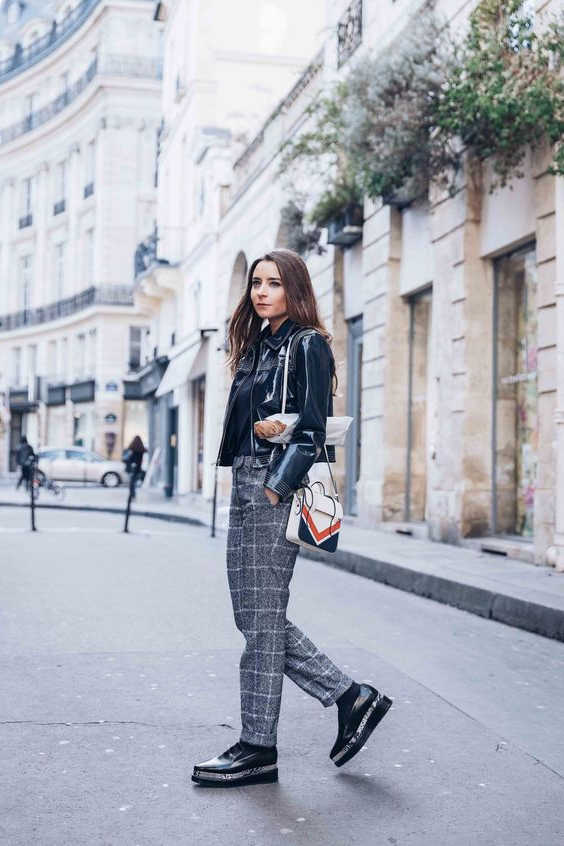 Buy Similar Here
How To Style Black Platform Loafers And Light Blue Coat
I love this combo so much! We see a light blue oversized coat with a white top, black leather shorts, and black leather platform loafers: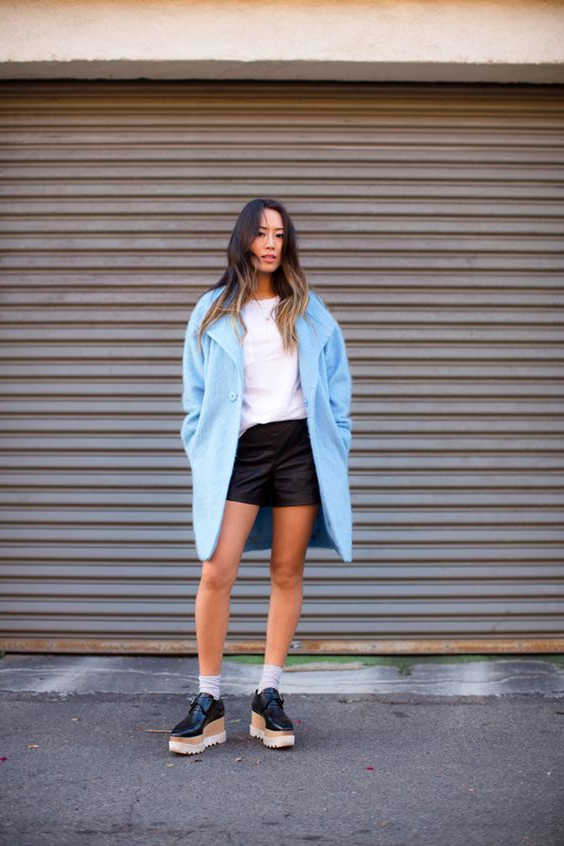 Buy Similar Here
How To Wear Platform Oxfords With Maxi Dress
Another 90s style with a grunge touch. We see a sleeveless jersey maxi dress in navy color completed with grey socks and black leather platform Oxfords, black leather bucket bag and Wayfarer sunglasses: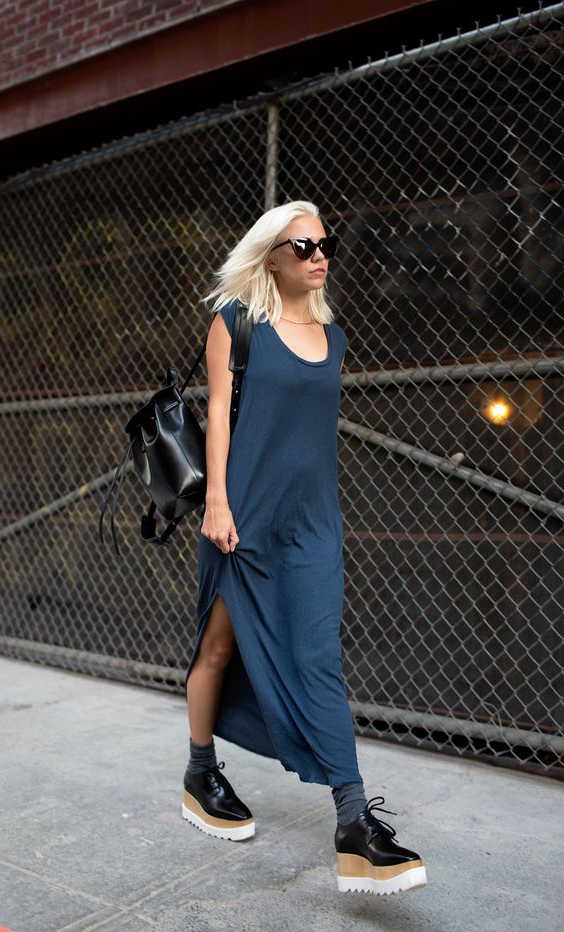 Buy Similar Here
Platform Oxfords And Oversized Sweater
A relaxed look is always a good idea for casual weekends. We see a blush oversized sweater paired with cuffed slim jeans completed with light grey lace-up platform Oxfords: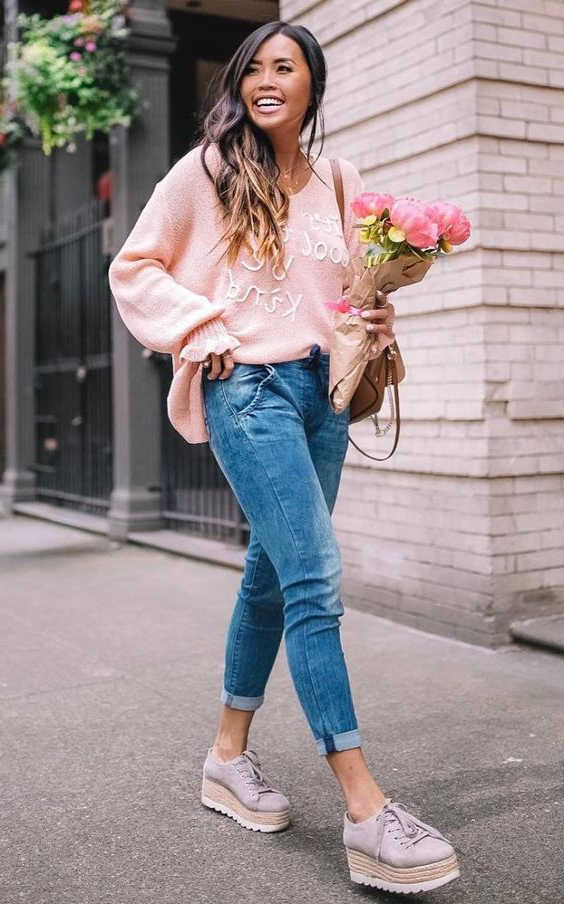 Buy Similar Here
Platform Oxfords In Grey And Plaid Grey Coat
A plaid grey midi coat with a white belt looks cool styled with ruffle cuff grey pants completed with shiny metallic silver platform Oxfords: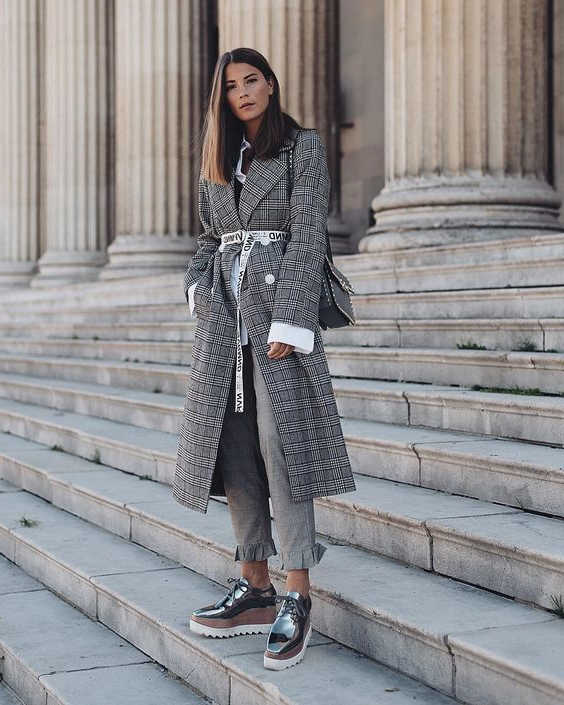 Buy Similar Here
Black Platform Loafers With Maxi ShirtDress
A touch of fancy grunge. We see a green tartan maxi shirtdress completed with black socks and black platform buckled loafers. Update this look by adding modern cat-eye sunglasses and a black blazer: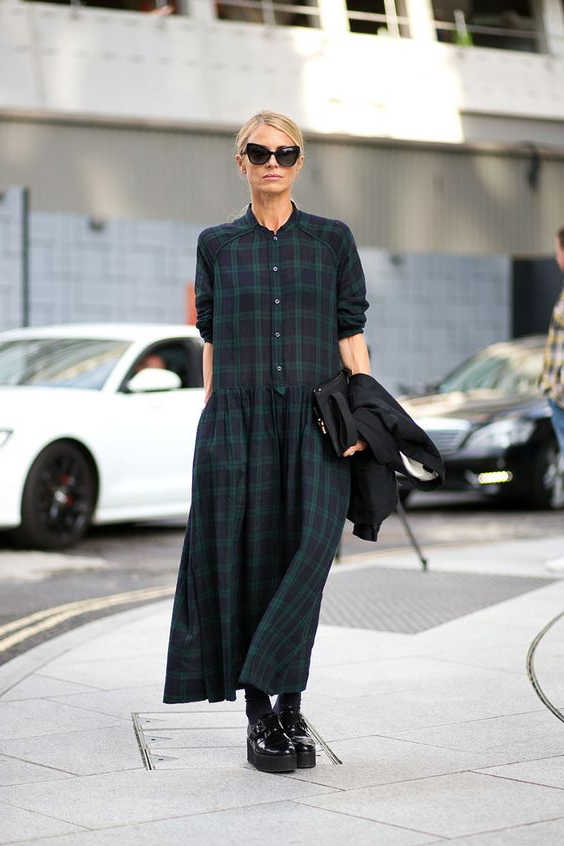 Buy Similar Here
Cream Platform Loafers And Knife Pleated Midi Skirt
We see a fabulous combo for spring, a white shortened blouse is teamed with a metallic blush knife-pleated midi skirt completed with cream platform loafers: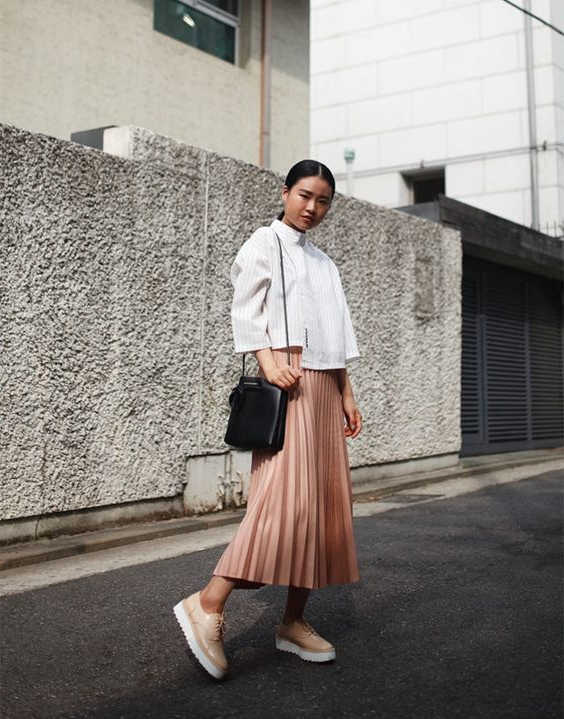 Buy Similar Here
Source: Bustle