I am a big fan of tropical prints, but today's mission is to show you the best ideas on what shoes you can wear with tropical clothes this year. You can find lots of inspiring ideas that are easy to copy in real life.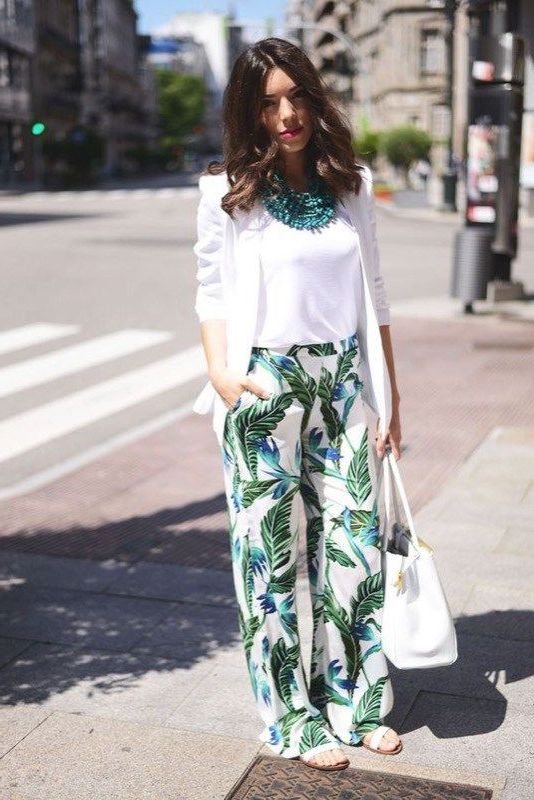 Buy Similar Here
We see classic white flat sandals styled with wide white pants in green tropical print paired with a white tee and a white blazer. Update this look by adding a green chunky necklace and a white handbag.
If you want to find amazing outfits that are easy to wear in your everyday lives, then I am here to show you stylish OOTD. I gathered a stunning street style collection completed with tropical print clothes.
If you are going on a vacation somewhere in a tropical place, or you simply want to feel laid-back and relaxed, then you better try on my favorite tropical print garments that are completed with cool footwear. In this compilation, we are about to see tropical print gowns, pencil skirts, bandeau tops, shorts, etc.
These pieces gonna make you feel like you are already on your way to your favorite tropical destination. You are about to see vibrant florals, palm tree graphics, relaxed and chic essentials that will underline your individuality.
This loud print can easily make anyone look fun, fresh, and trendy. All you need is to know the best combos to wear this year. I have chosen my favorite combinations to try this year. Let me know what you think about these awesome outfit ideas in the comments below.
An off-shoulder black blouse is styled with a full skirt in tropical print updated with strappy white heeled sandals: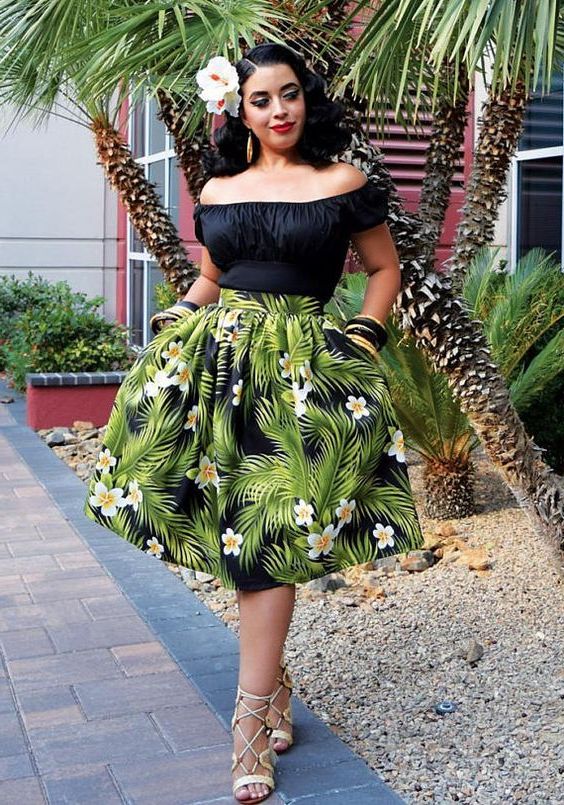 Buy Similar Here
A lovely matching set consisting of a crop top with spaghetti straps and wide-leg pants completed with white slides: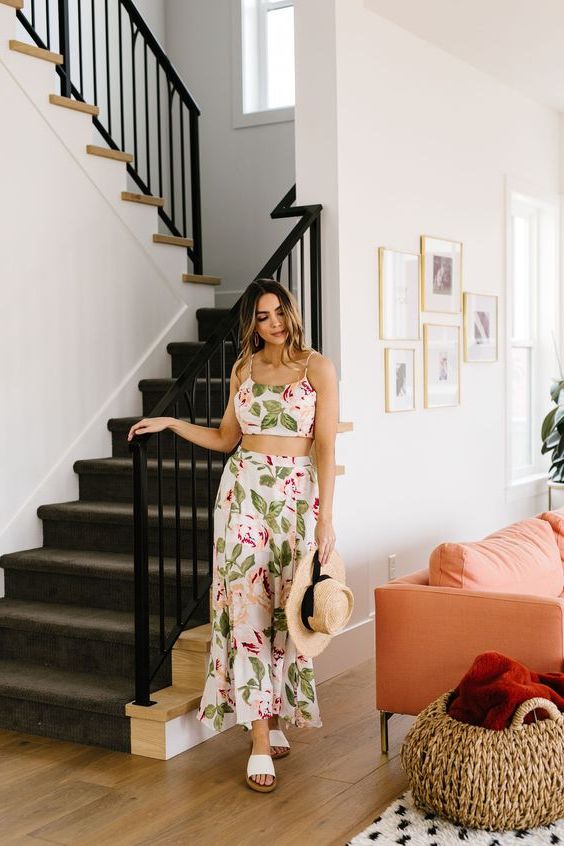 Buy Similar Here
A strapless white jumpsuit with a front cut-out in jungle print looks awesome completed with strappy beige sandals: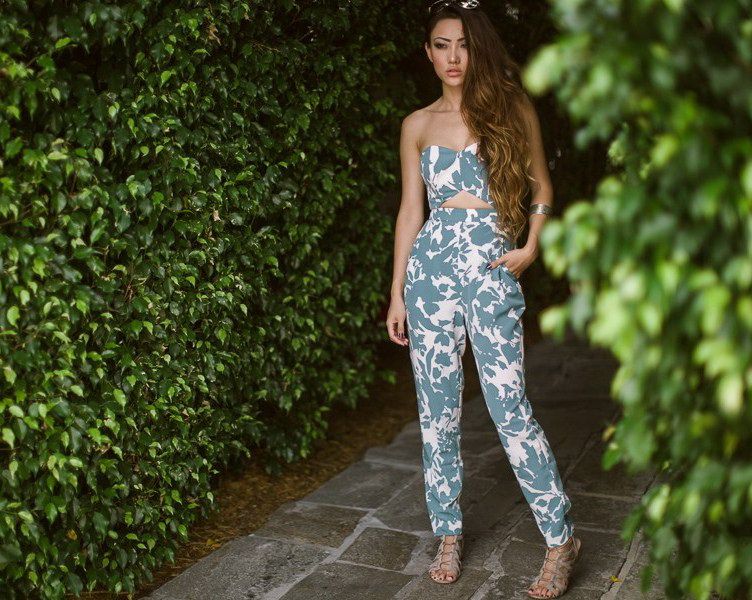 Buy Similar Here
Another great look for sunny summer days. We see a maxi dress in white with green leaf print completed with rounded shades, straw bag and white sandals: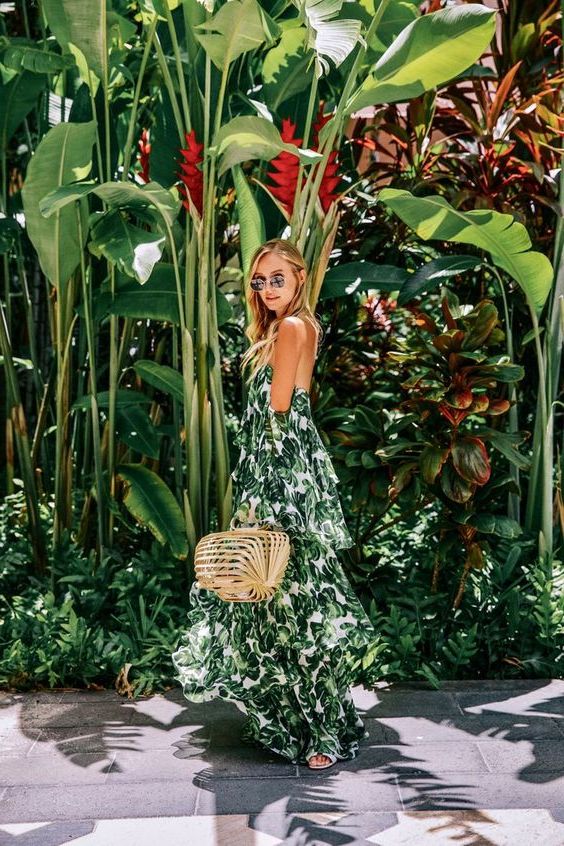 Buy Similar Here
Chunky ankle boots in blakc color are styled with a matching set that features a crop top and flared mini skirt both printed in jungle print: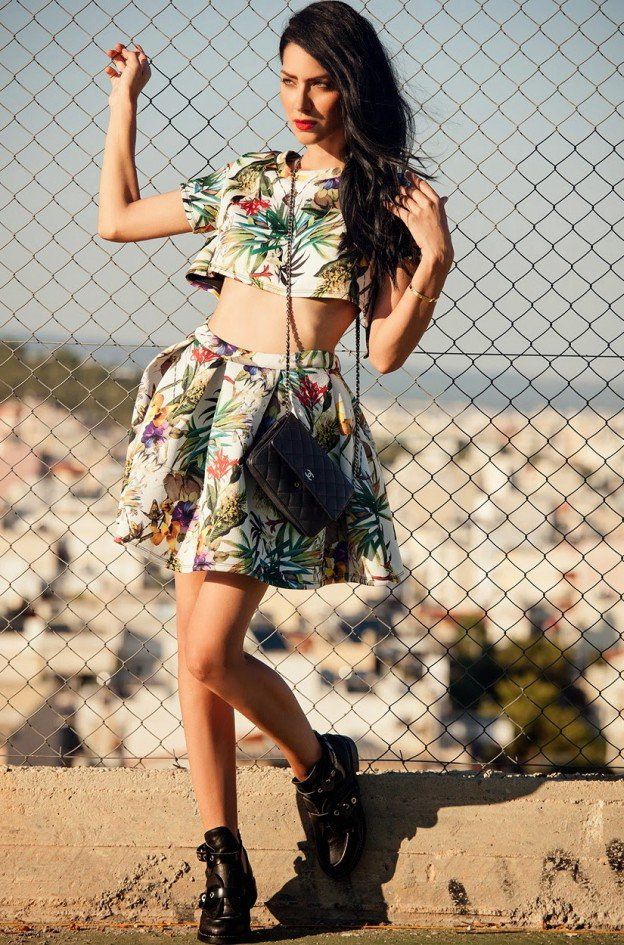 Buy Similar Here
A gorgeous tropical print dress is updated with open back loafers in beige suede: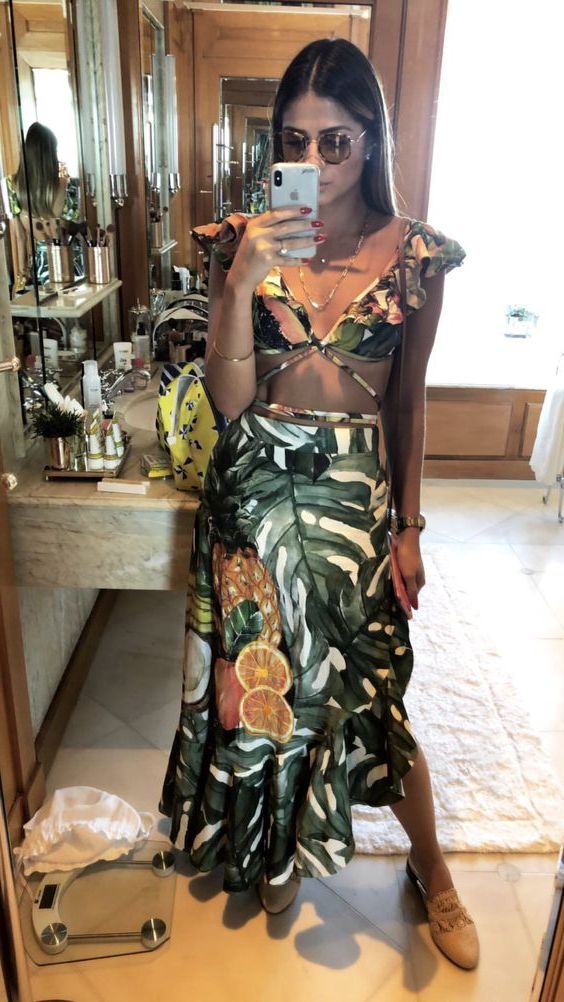 Buy Similar Here
A sweet sundress in white with tropcial print and spaghetti straps is completed with ankle-strap heeled sandals in beige: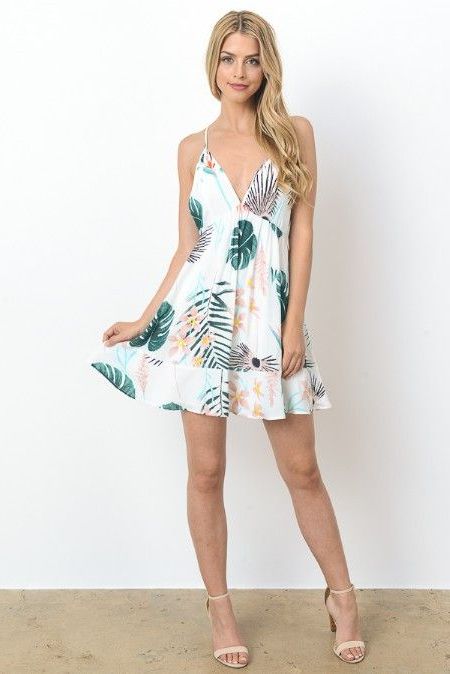 Buy Similar Here
A front cut-out jumpsuit wiht wide pants is printed in lime tropcial motifs, compete it with cream-white sandals: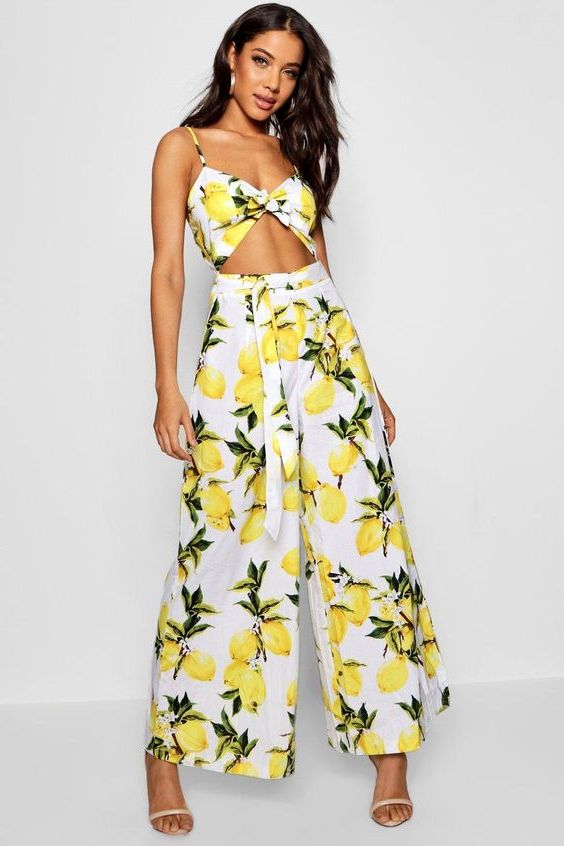 Buy Similar Here
An off-shoulder white blouse is tucked in tropical print mini skirt and completed with H white sandals: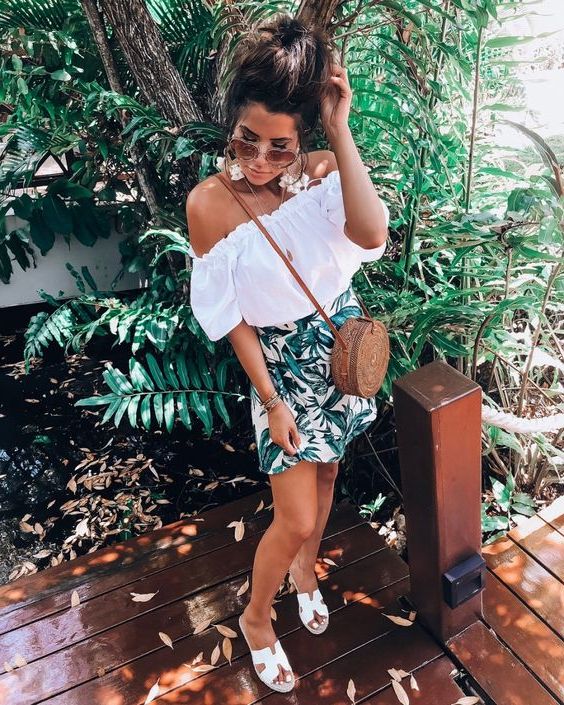 Buy Similar Here
Denim jacket looks pretty cool worn with a black top and wide-leg panmts in tropical print. Update this style by adding a wide-brim straw hat, aviator sunglasses and black sandals: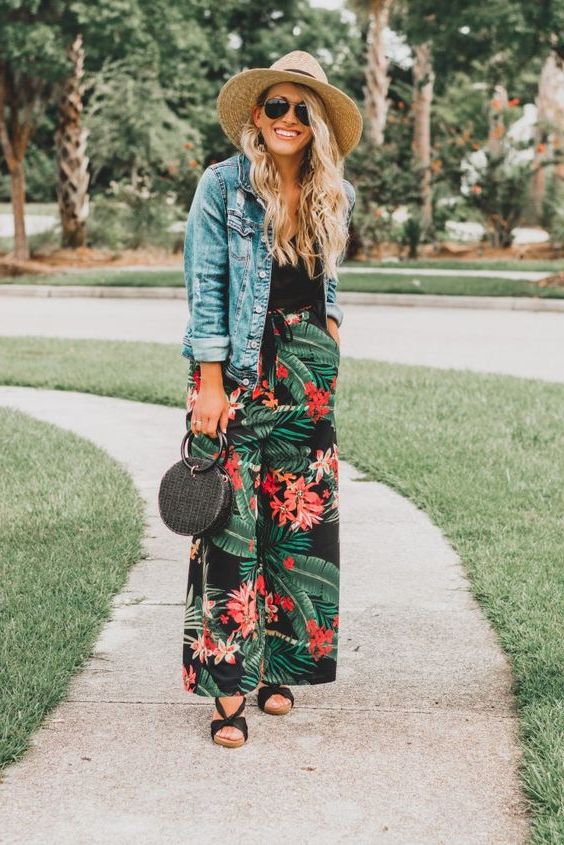 Buy Similar Here
A tropical print kimono is looking hot teamed with a white tee, regular jeans and black heeled sandals: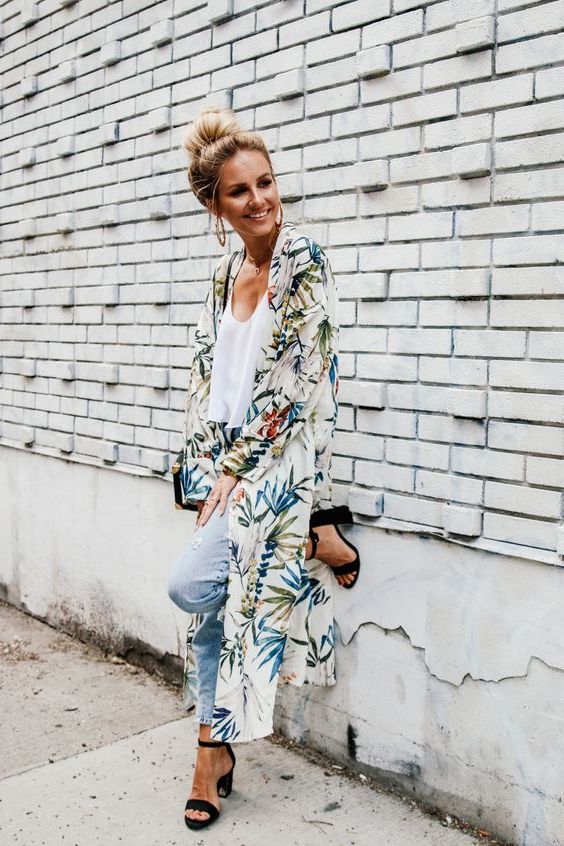 Buy Similar Here
Which one of these rompers is your favorite, do you like the way they are completed with beige sandals: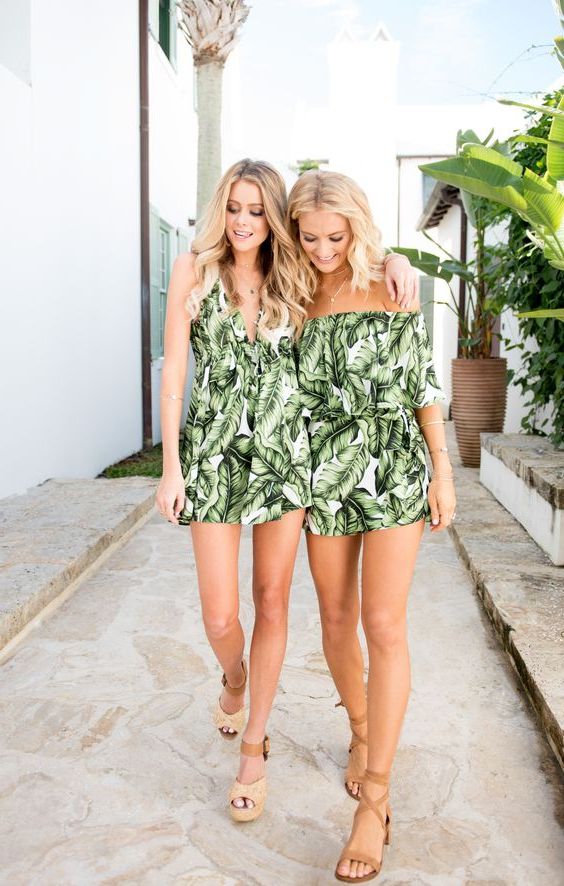 Buy Similar Here
A runway show featuring a tropical print shirt tucked in turquoise leather pencil skirt and burgundy heels:
Buy Similar Here
Tropical shorts looking chic teamed with a white top, straw wide brim hat and blush sandals: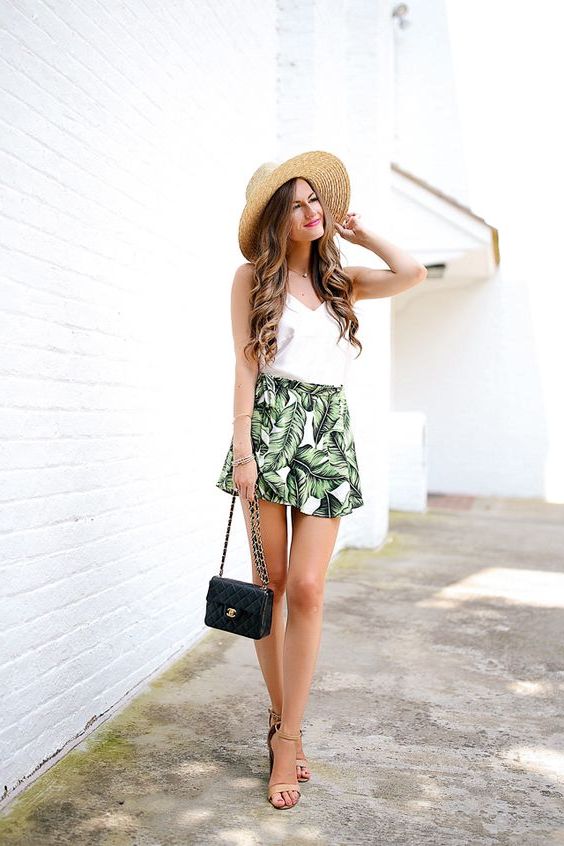 Buy Similar Here
Would you give this dress a try? Style it with cute white slides: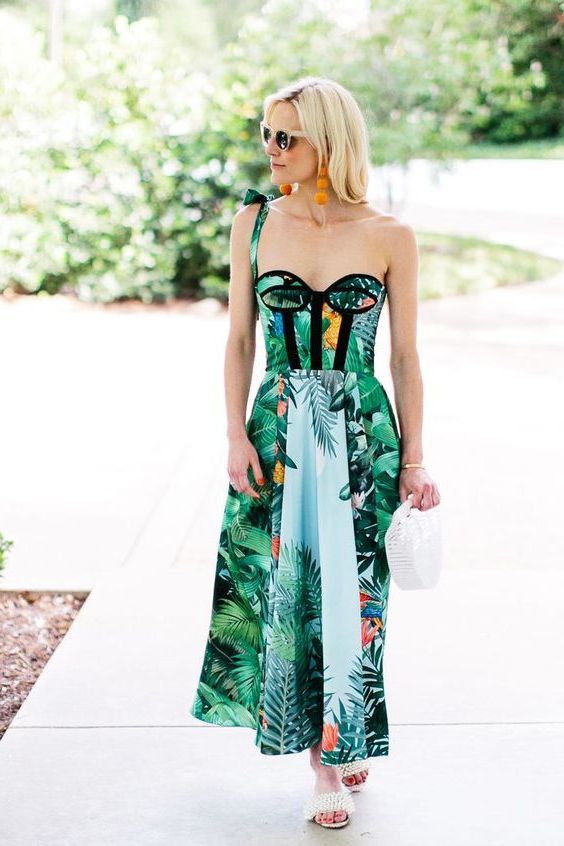 Buy Similar Here
This plus size tropical dress looks insanely hot completed with nude sandals: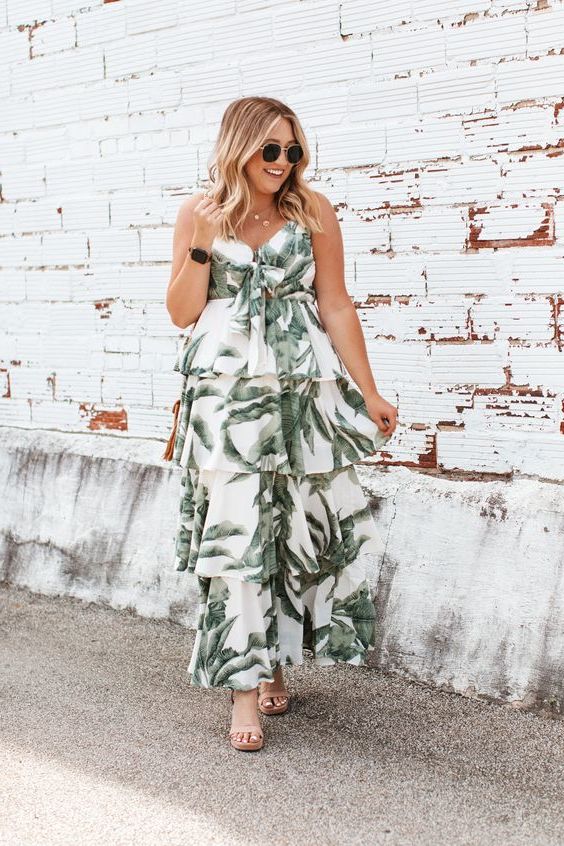 Buy Similar Here
Whoite ruffled off-shoulder top is looking chic tucked in tropical print wide culottes completed with mustard criss-cross platform sandals: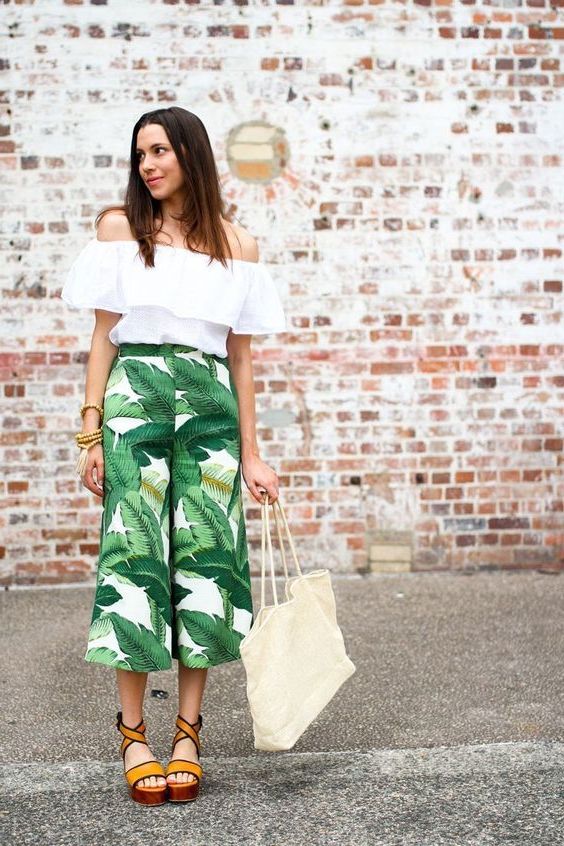 Buy Similar Here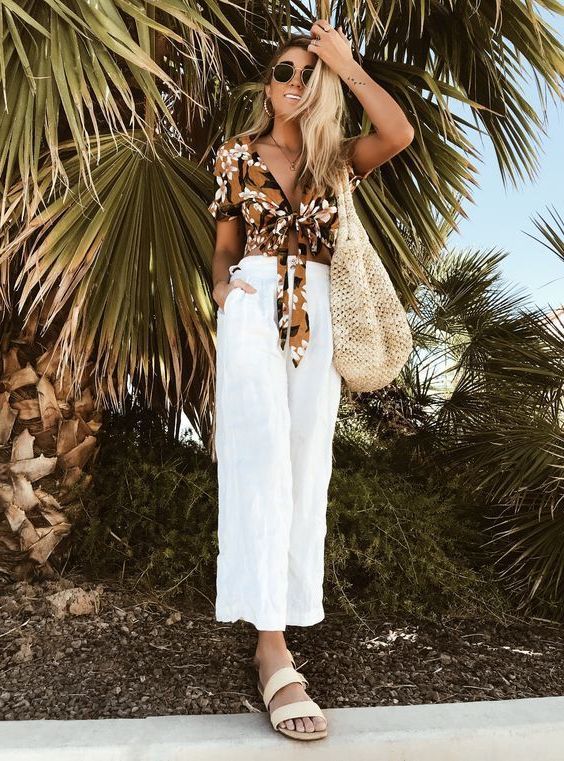 Buy Similar Here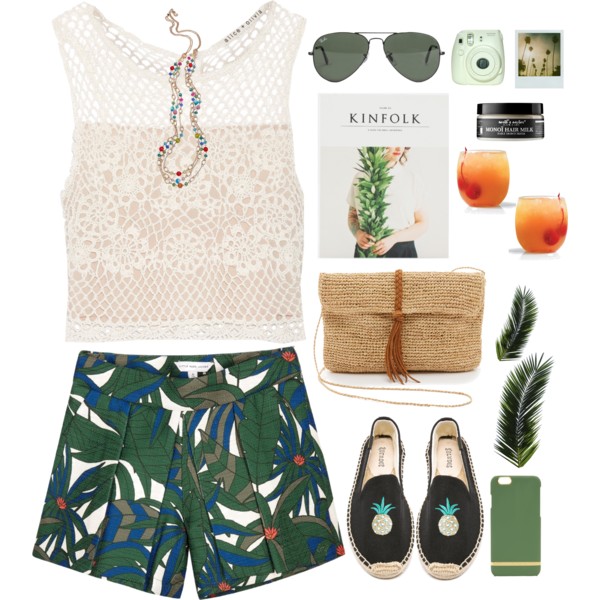 Buy Similar Here
A tropical print sleeveless jumpsuit with wide pants is completed with platform sandals and neon-yellow accessories: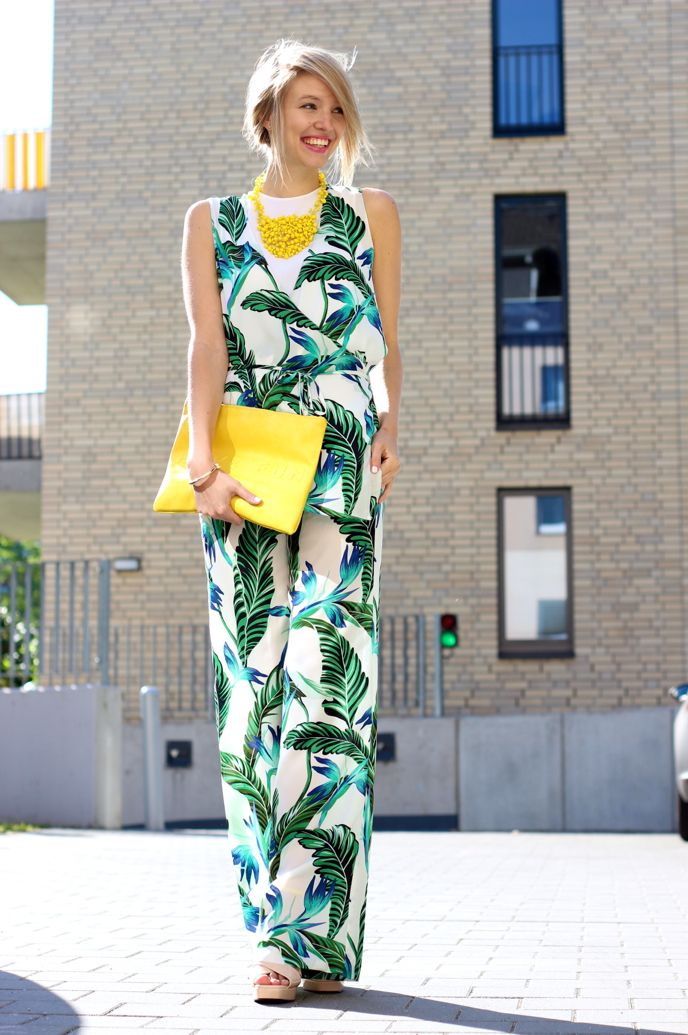 Buy Similar Here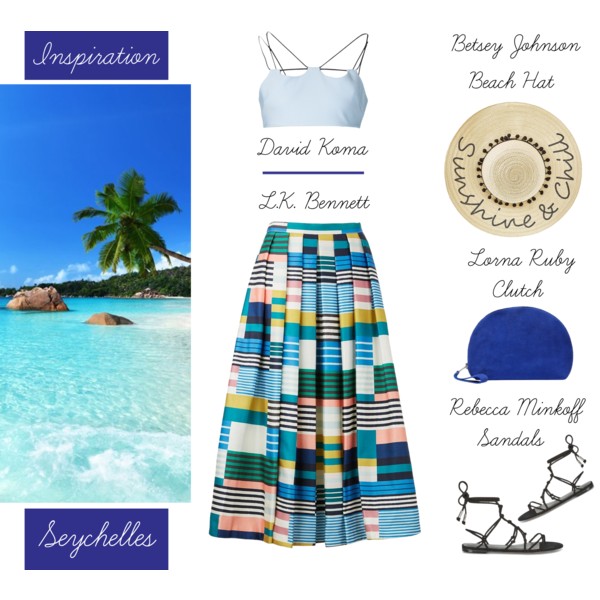 Buy Similar Here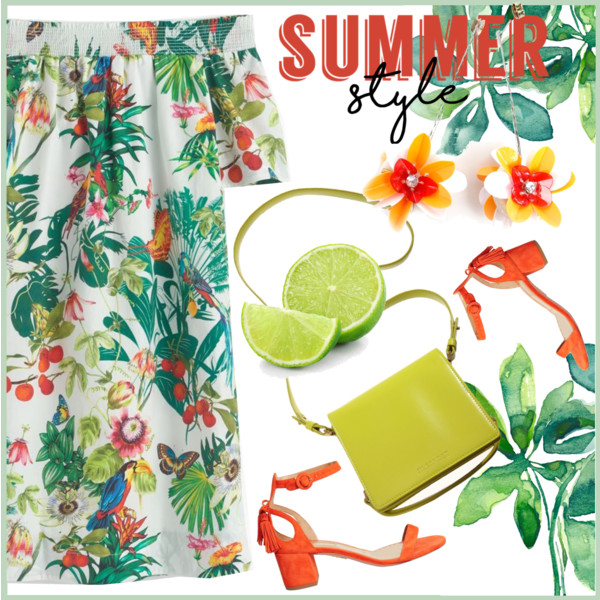 Buy Similar Here
We see a tropical print sleeveless crop top paired with midi striped skirt and black leather ankle-strap sandals: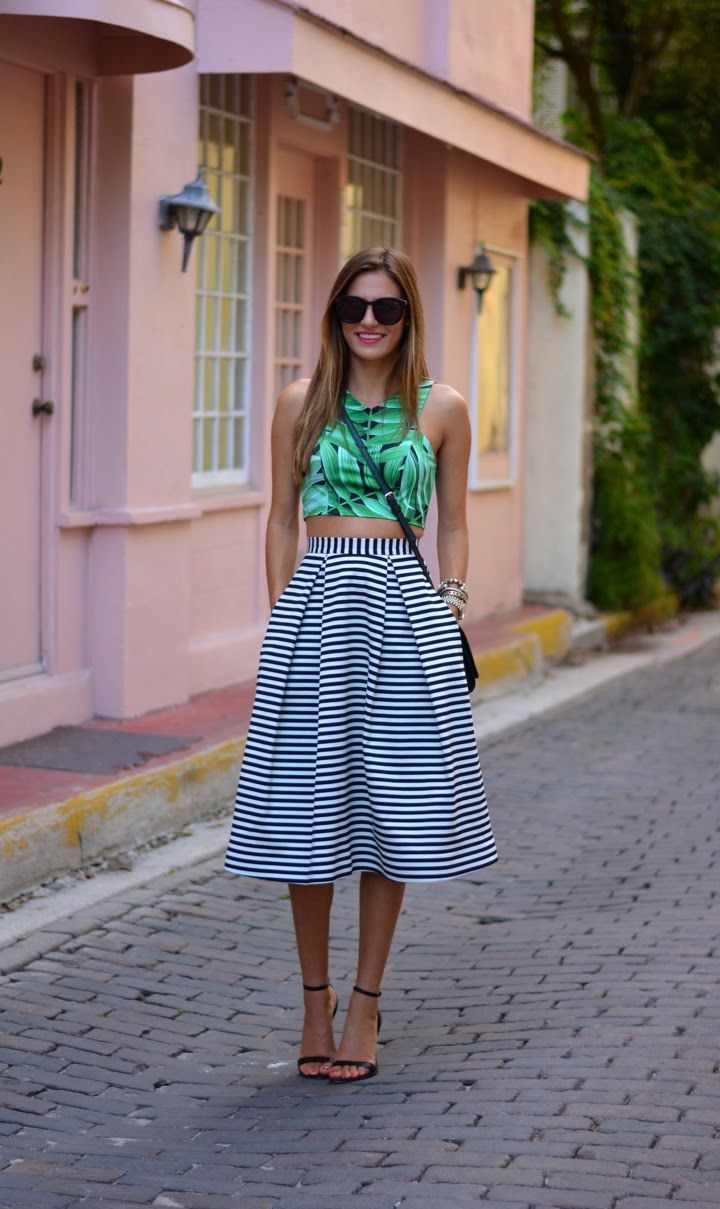 Buy Similar Here
Leaf printed black tee is teamed with dennim shorts and black leather sandals: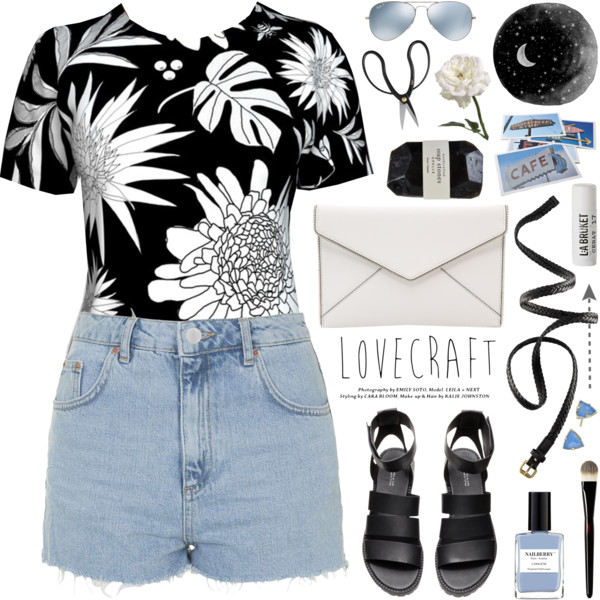 Buy Similar Here
Pineapple printed tank top is styled with jungle print shorts and platform slip-on shoes: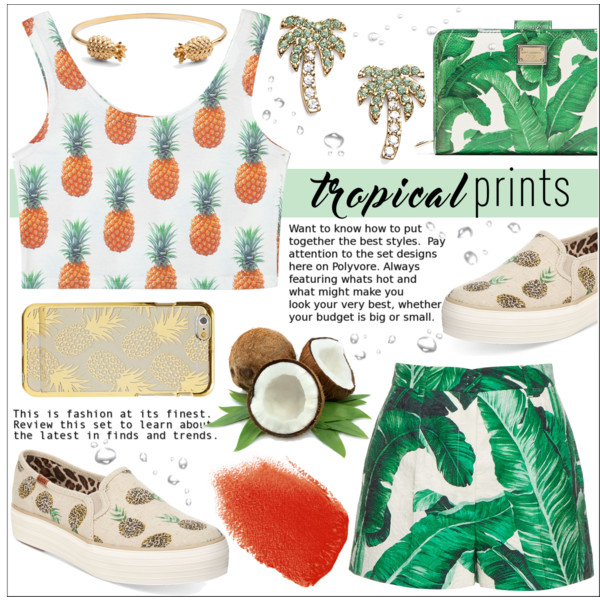 Buy Similar Here
Cool tropical pants are paired with a sleeveless cream-white top and chunky black sandals: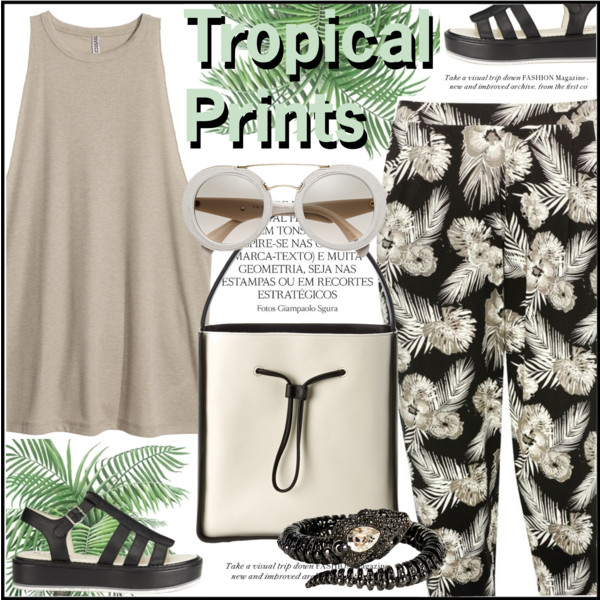 Buy Similar Here
Tropical print skirt with black background is styled with an orange off-00shoulder top and black ankle-strap heeled sandals: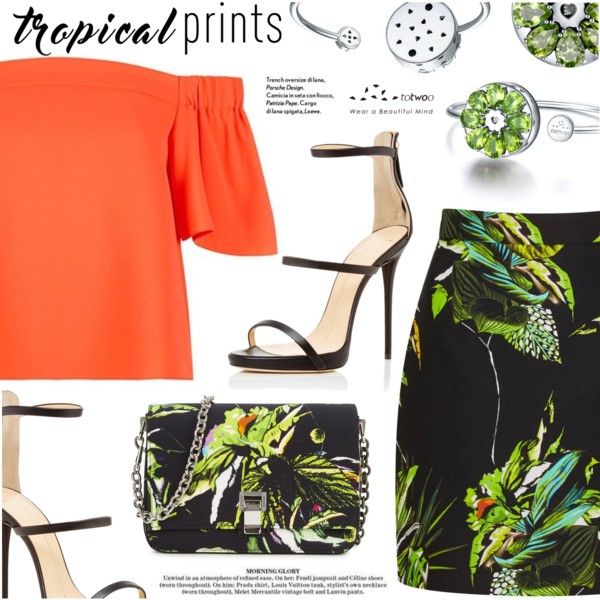 Buy Similar Here
Tropical legging pants are styled with a light green tunic top and light blue pointed-toe pumps: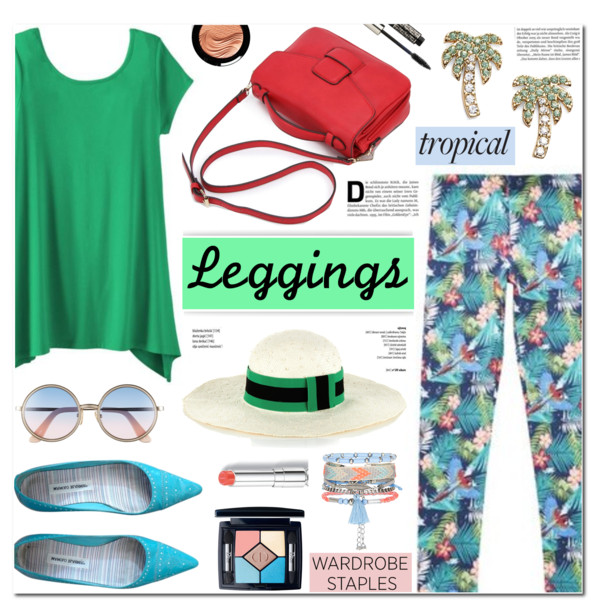 Buy Similar Here