My mission for today is to bring you this marvelous street style collection of the best shoes you can try on with skirts for the Summer season. I am pretty sure, you gonna love each one of these ideas, as I tried my best to handpick the best looks for you.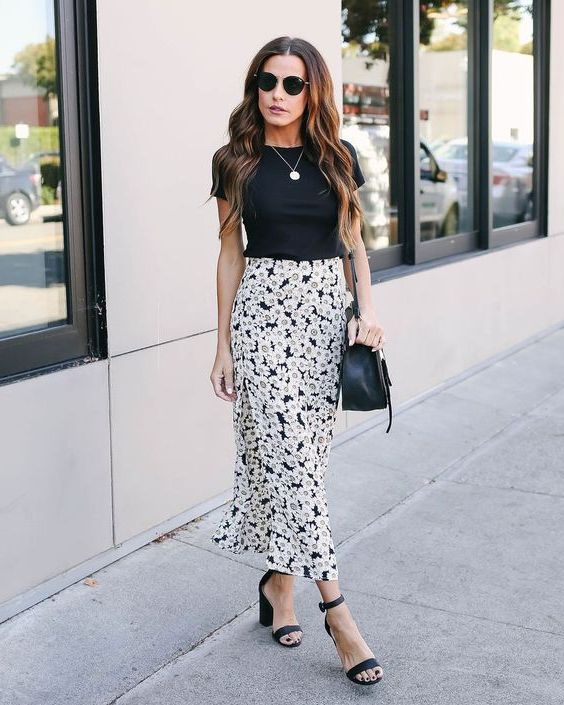 Buy Similar Here
We see black ankle-strap heeled sandals styled with a daisy print long skirt and a black t-shirt. Complete this look by adding rounded shades and a lack leather shoulder bag.
Yes, I am talking about beautiful combos that can really make you look special. There are thousands of cool and fancy skirts you can wear in real life during the Summer months.
Believe it or not, but the skirt is a perfect choice to wear in your everyday life. This marvelous bottom piece will underline your personality and femininity. I am 100% sure that all my favorite street style images gathered in this compilation will inspire you to try skirt during the summer season, no matter if it's a cold or hot one.
There are tremendously lots of beautiful skirts to wear this hot season. In this collection are showcased feminine and timelessly chic skirts that are both versatile and universally flattering. I love the way you can team them with different shoes. Anyway, scroll down to find out more and let me know what you think of these street style images in the comments below.
As you have already noticed, every single outfit showcased in this compilation is very easy to copy. You are about to see comfy and stylish designs that can make you feel and look very special.
You are about to see mini, maxi, midi, casual, and formal skirt styles. Believe me, you are surely going to attract everyone's attention by wearing these beautiful garments. I love these looks because each one of them screams sophistication and class. I think every single look showcased in this collection is definitely worth a try.
If you are into white, then go for this white long-sleeve crop top and team it with a high-rise pleated mini tennis skirt and platform heeled sandals in black: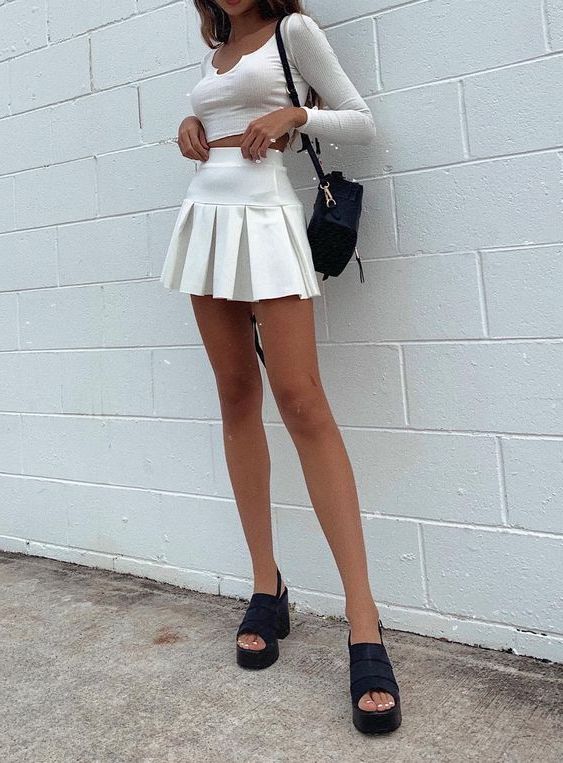 Buy Similar Here
A hihg-rise midi skirt in light green color printed in cute white florals is combined with an off-shoulder white crochet blouse and white sneakers: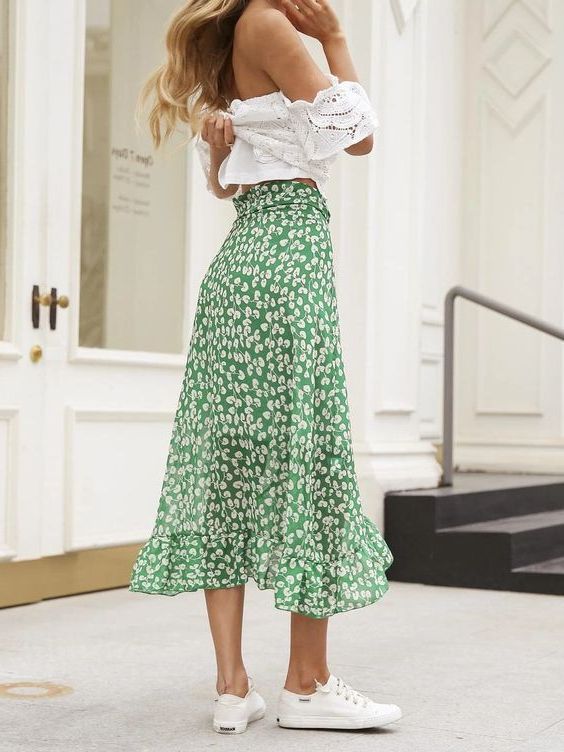 Buy Similar Here
Here we see a midi printed skirt paired with a buttoned white short-sleeve shirt, brimmed hat, and black leather clogs. If you want to see more ideas on what shoes to wear with midi skirts, then check out my post, where I show some of the best looks for young women: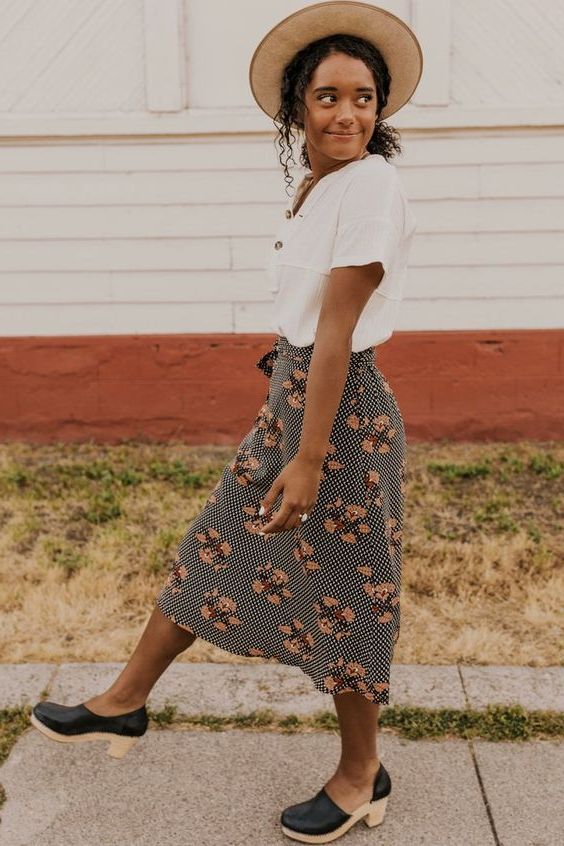 Buy Similar Here
Red rose printed white skirt looks lightweight and sweet combined with a light grey pullover, wash blue denim skirt, and platform flat sandals in beige: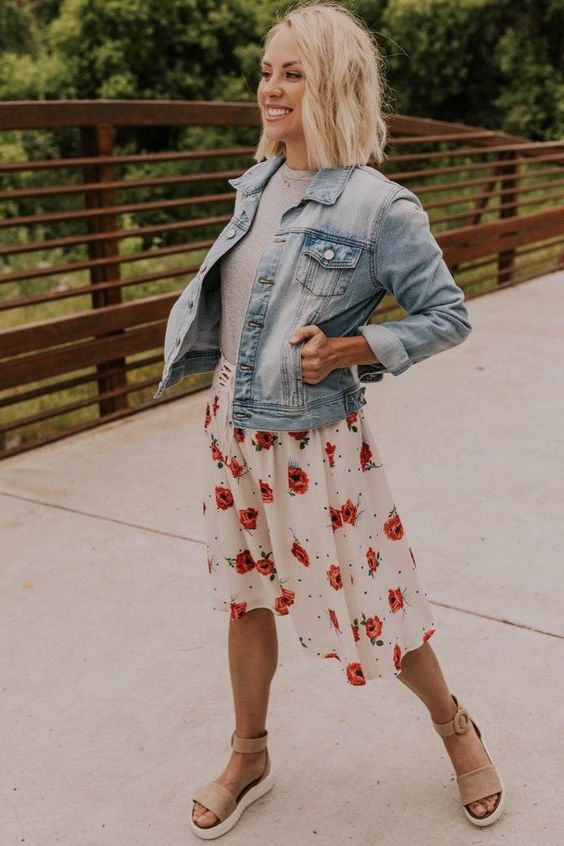 Buy Similar Here
White ankle-strap heeled sandals are paired with a white midi skirt in dots. Add an off-shoulder red crop blouse and rounded shades: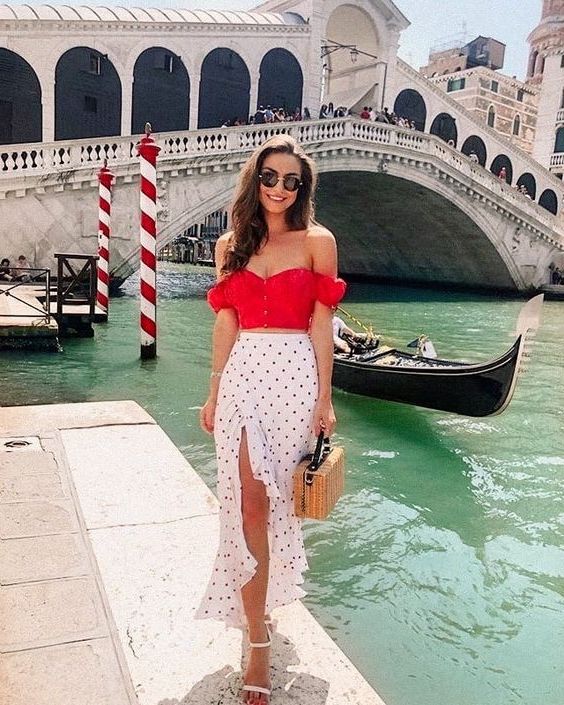 Buy Similar Here
A cropped pastel blue blouse is teamed with a daisy printed mini skirt and blush sneakers: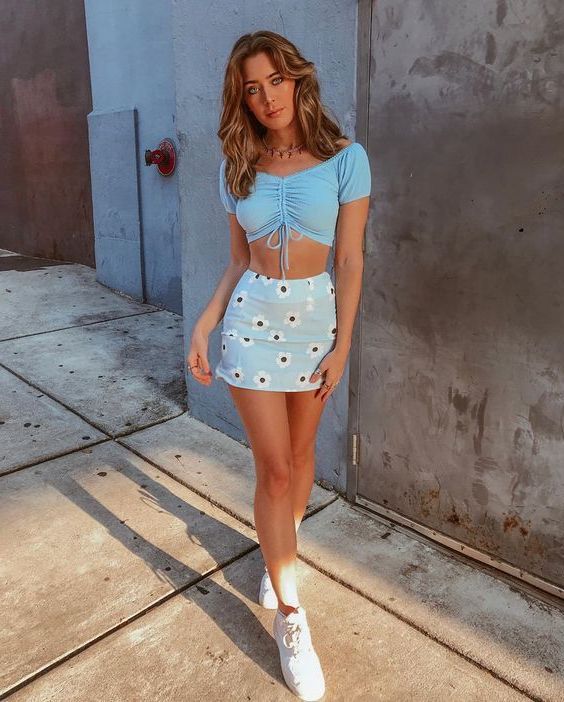 Buy Similar Here
A silken cream-whtie midi skirt looks stunning with a white top, oversized black blazer and square-toe heeled sandals in white: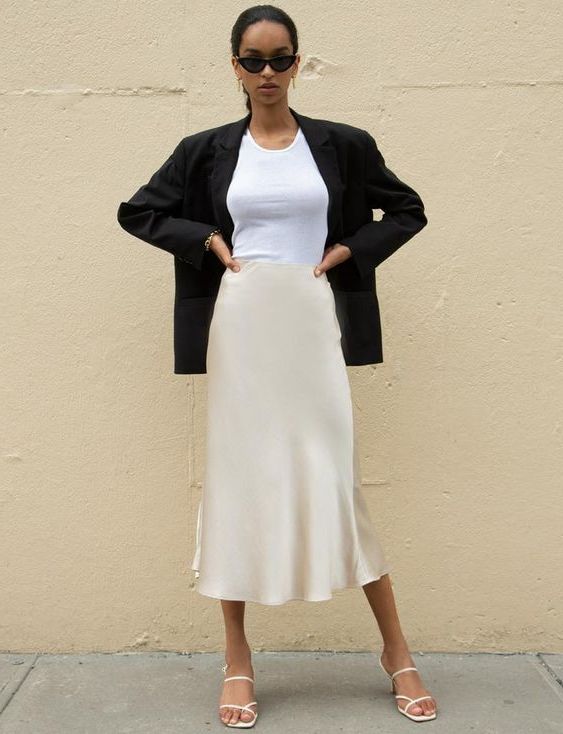 Buy Similar Here
Love this buttoned midi skirt in safari khaki paired with a white crop top: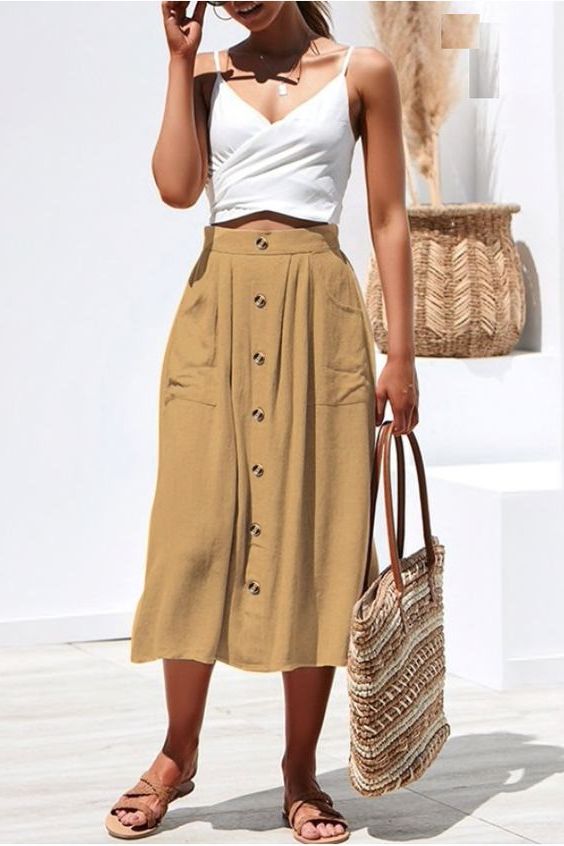 Buy Similar Here
A
A white top is looking chic styled with a denim jacket and a leopard print midi skirt completed with white kicks: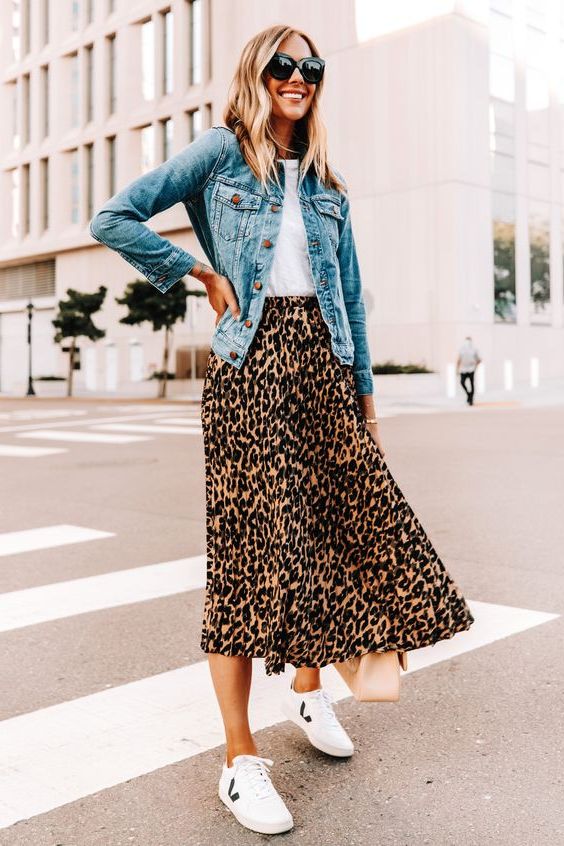 Buy Similar Here
A relaxed-fit white pullover is paired with a mini blush skirt and platform combat boots in black: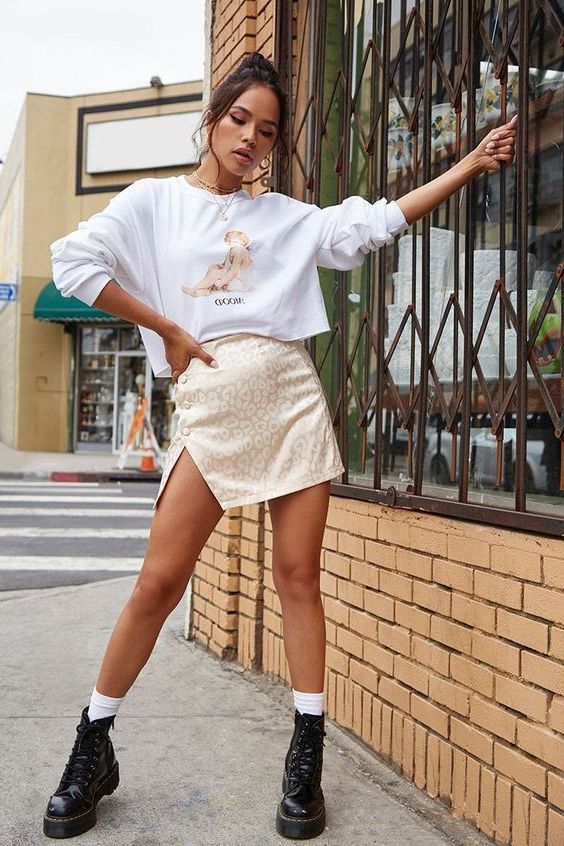 Buy Similar Here
White cowboy boots look sassy teamed with light blue denim skirt and white peasant off-shoulder top: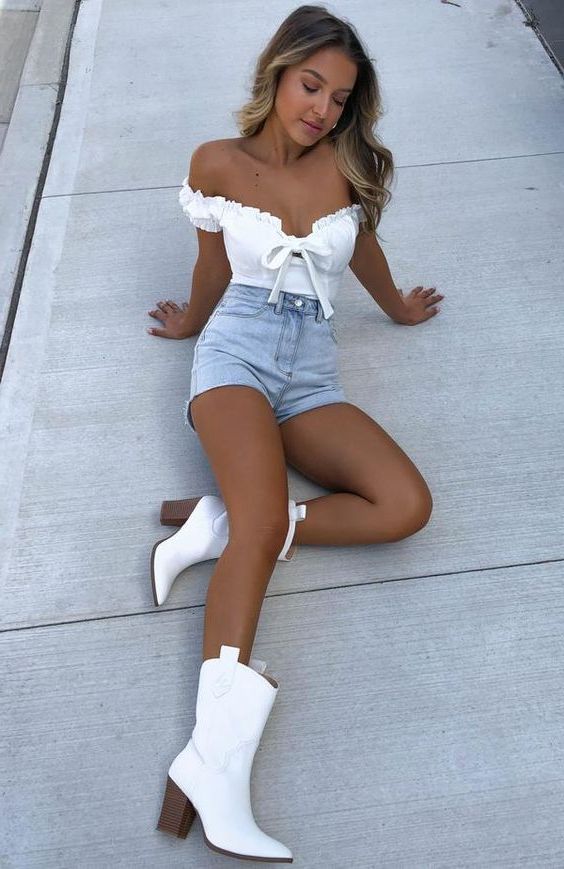 Buy Similar Here
A cool summer combo. We see a camel fedora hat, black t-shirt and a black floral print midi skirt completed wiht ankle strap heeled sandals: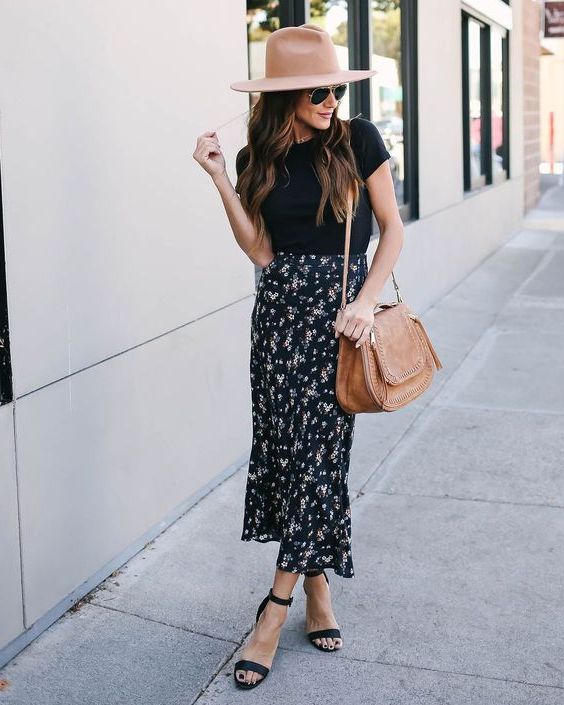 Buy Similar Here
A perforated white blouse is looking hot tucked in a blush silken midi skirt completed with strappy heeled sandals:
Buy Similar Here
We see black and white square-toe heeled sandals worn with midi skirts and chic tops: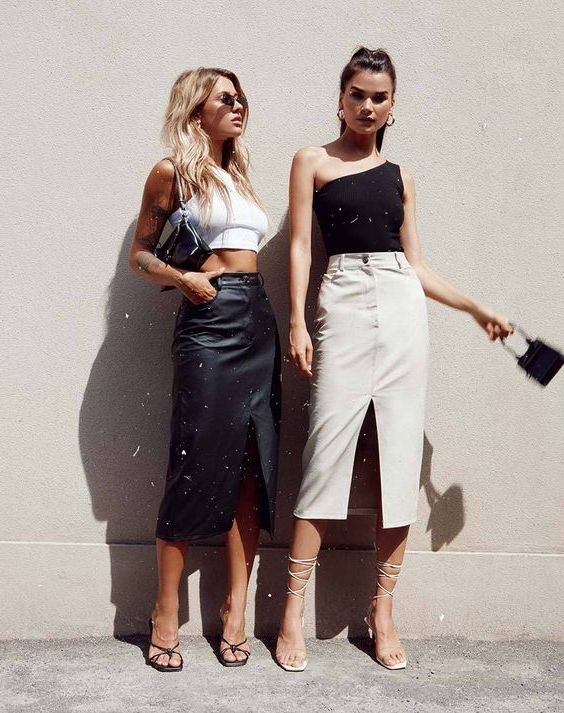 Buy Similar Here
White platform saneakers look grunge inspired styled with a rich blue midi skirt and a bright blue slip tank top: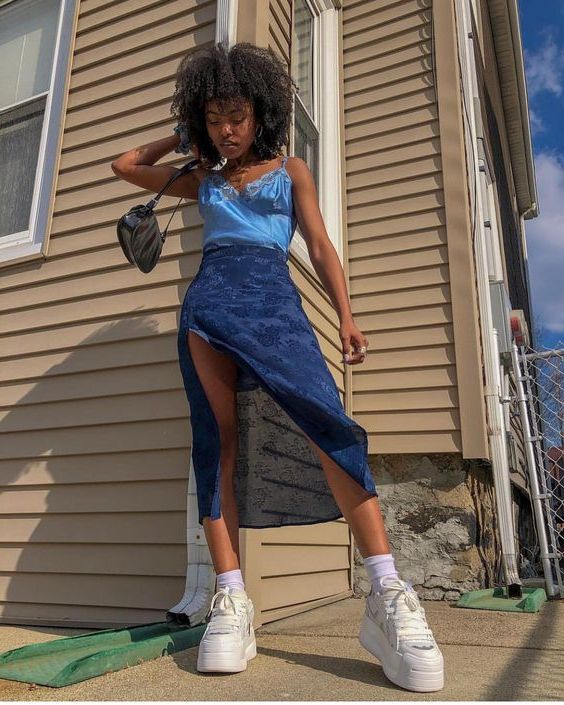 Buy Similar Here
A striped white top with short sleeves is combined with a mini denim skirt and white kicks:
Buy Similar Here
White square-toe heeled sandals look pretty sweet with a white mini skirt and a blush top: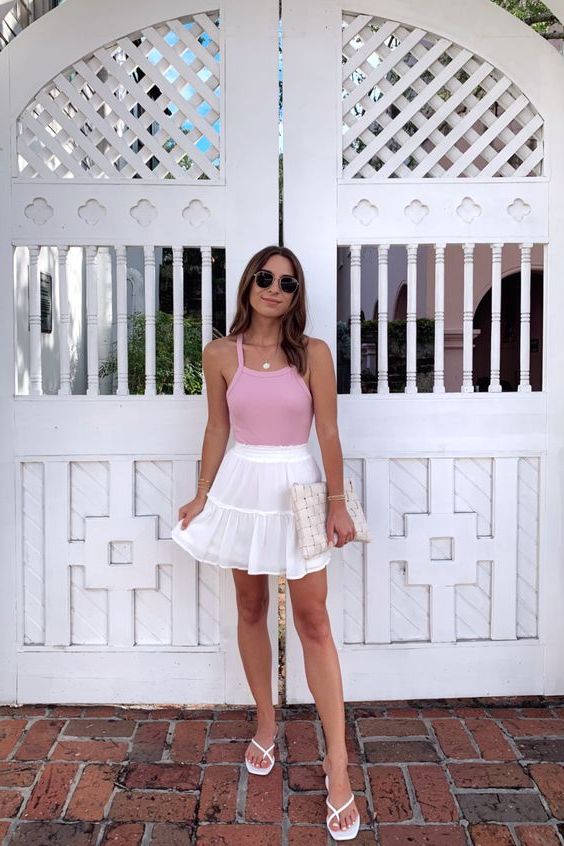 Buy Similar Here
A blush tennis mini skirt is paired with a white top and white sneakers updated with white socks: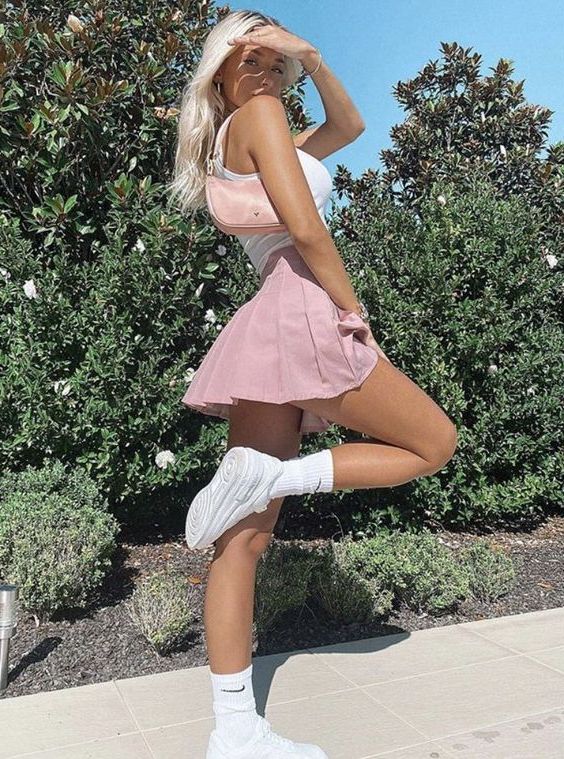 Buy Similar Here
Clear heeled sandals are worn with a plaid skirt and a white bodysuit: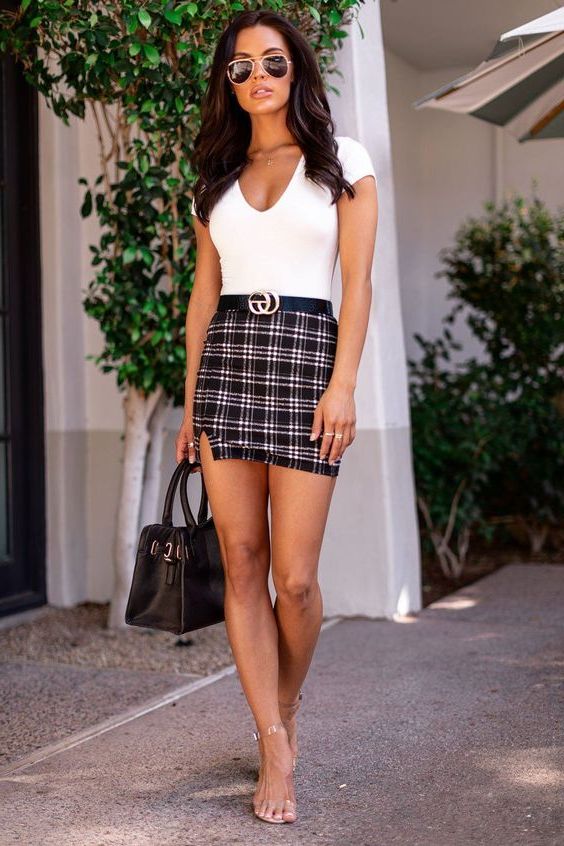 Buy Similar Here
How about keeping things simple and cool? Go for this black tee and tuck it inside denim midi skirt front-buttoned and complete with peep-toe black leather mules: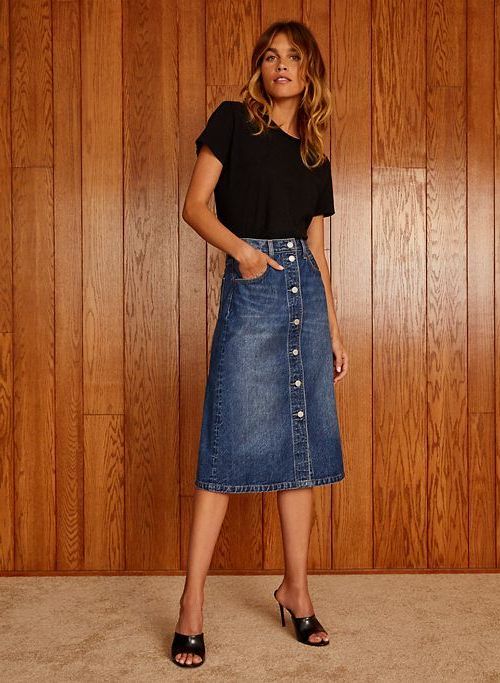 Buy Similar Here
I've already shared a tennis skirt style, but here we see a lovely set for cold summer days. A light grey oversized pullover is teamed with a pleated mini tennis skirt completed with chunky sneakers in white. If you want to see cool ideas on what shoes to wear with mini skirts, check out my post, where I show only the best street style inspiration: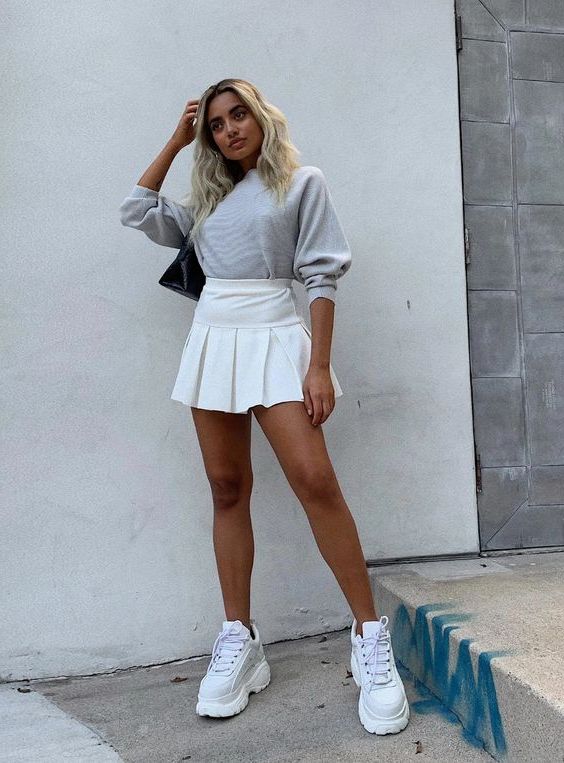 Buy Similar Here
A white front-tied sleeveless top is styled with animal printed midi skirt with a side slit. Add 1990 style sunglasses and classic white sneakers: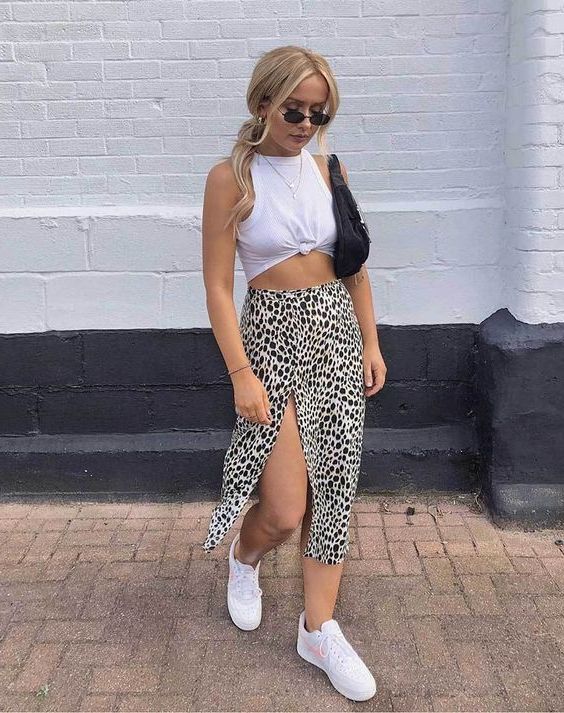 Buy Similar Here
Love the neutral shades. Go for a white tank top and pair it with a khaki-green midi skirt and clear sandals: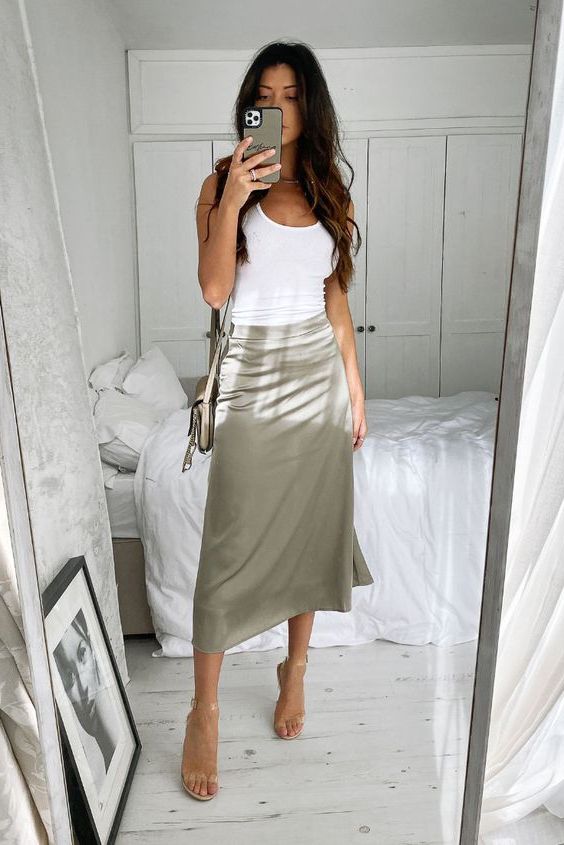 Buy Similar Here
Flat sandals in metallic silver are worn with purple tie-dye print and a whitetop with spaghetti straps: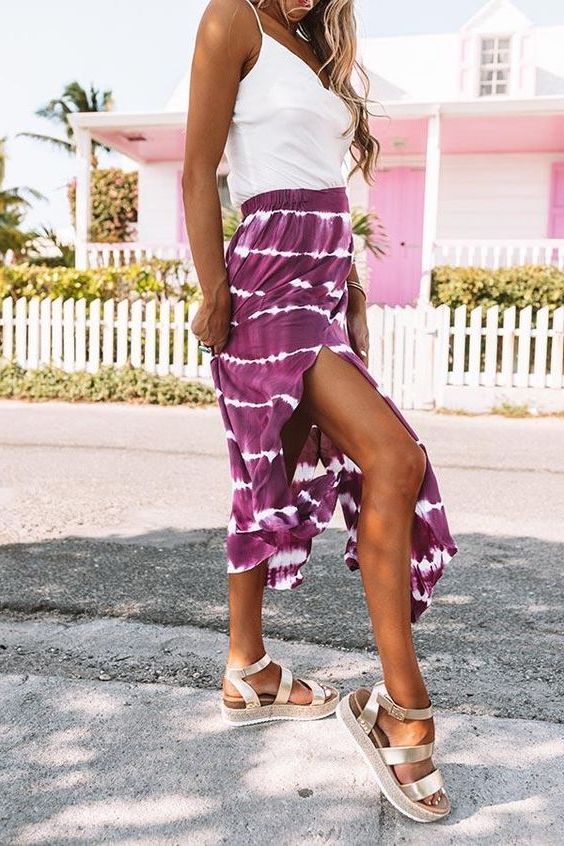 Buy Similar Here