This time we are going to talk about colors. I want to draw your attention to my favorite street style ways on how to wear yellow clothing and how to style it with different shoes. It feels like yellow is on its high fashion peak, as I see it everywhere on the streets.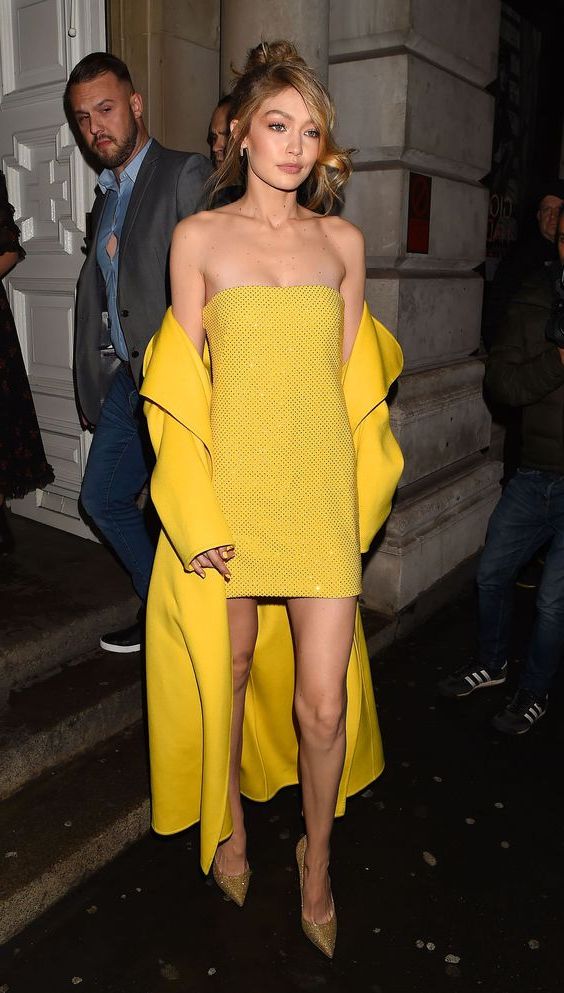 Buy Similar Here
Many celebrities choose wearing yellow, as they know how attractive this color is. We see a strapless cocktail dress completed with a yellow wrap coat and shimmering golden heeled pumps. Would you dare to try the same look?
This bright and happy color appears on everything, starting from accessories, like bags, shoes, and scarves to clothing essentials. Believe me, you gonna be surprised to see numerous outfits combos featuring yellow color. If you want to make a colorful wardrobe update, then it's an ideal time to use a yellow hue. Read on to see my favorite street style looks.
It can be sometimes cloudy. So, why should you wear dark colors when the sky is grey? Make some fun with yellow color. Believe me, this hue gonna make you smile all the time when you wear it.
Personally, I find this color to be attractive, fun, and very modern. So, if you decided to liven up your outfit, then be sure to wear yellow color garments, they can be updated with some stylish shoes, just make sure to add the same color clothing or accessory that matches the footwear.
This hue comes in various shades, starting from citrus yellow to pastel yellow. No matter what kind of shade you are wearing now, be sure, it is going to look bold and fresh on you. In this street style compilation, we see awesome shirts, jeans, and dresses in yellow color. Keep on scrolling down your mouse to see my favorite ideas on how to wear this hue in real life.
A lovely sundress with spaghetti straps in yellow color with cute floral print, complete it with cute strappy flat sandals for Summer vacation: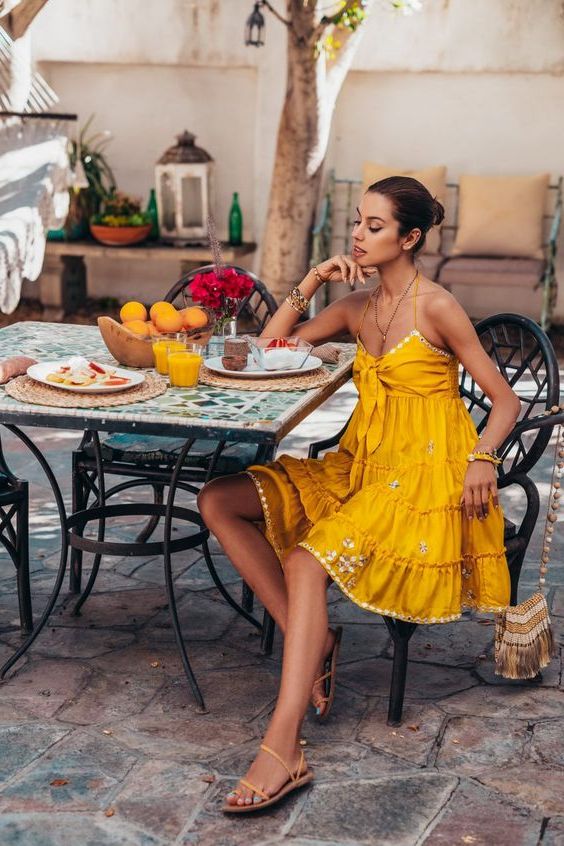 Buy Similar Here
A total yellow look, what can be better, right? We see a stylish beret hat, fur coat in retro style, pastel yellow pants and marvelous leather loafers in yellow color, complete the look by adding cat-eye shades: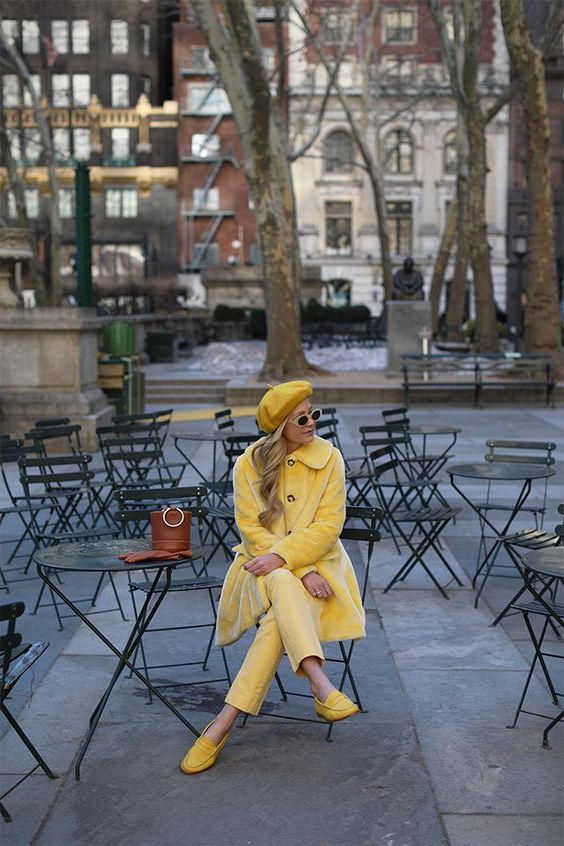 Buy Similar Here
Mustard-yellow overalls in linen look incredibly chic and funky styled with a white tee and white sneakers: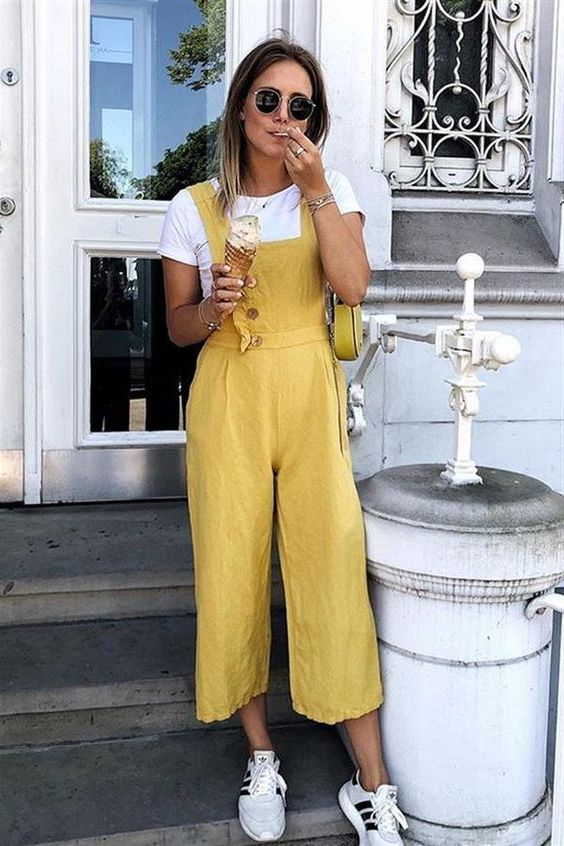 Buy Similar Here
A gorgeous light yellow long dress in white floral print is completed with rounded sunglasses, white heeled pumps, and a yellow clutch bag: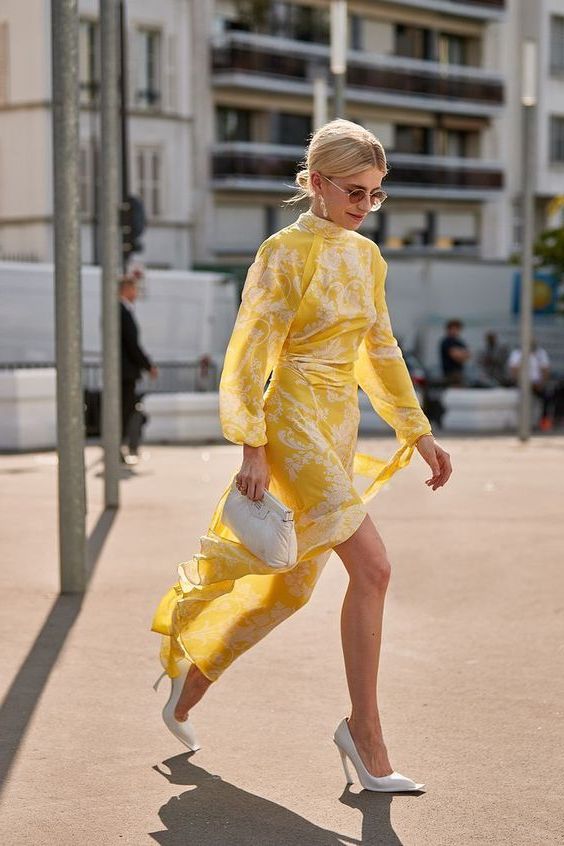 Buy Similar Here
A pale yellow sleeveless wrap dress is completed with multi-colored heeled sandals: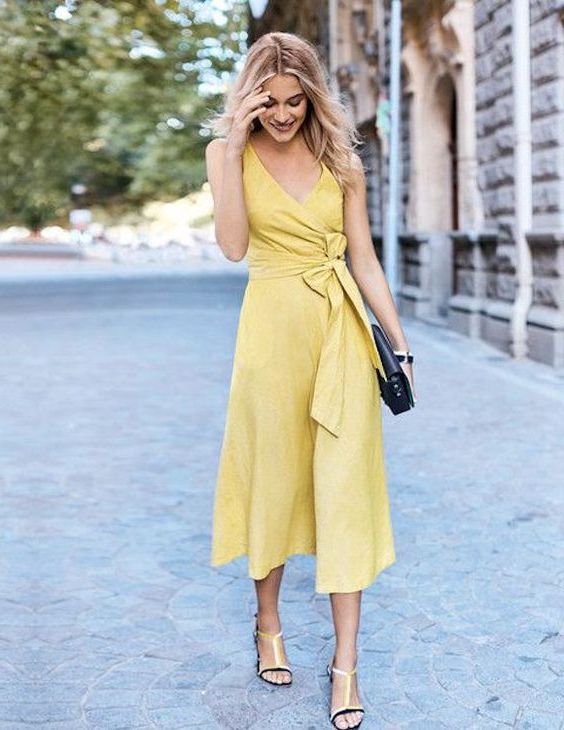 Buy Similar Here
A bulky chick sweater is tucked in matching color pants and completed with white sneakers. Update the look with cool rectangle sunglasses, layered gold necklaces, and a mini white clutch bag: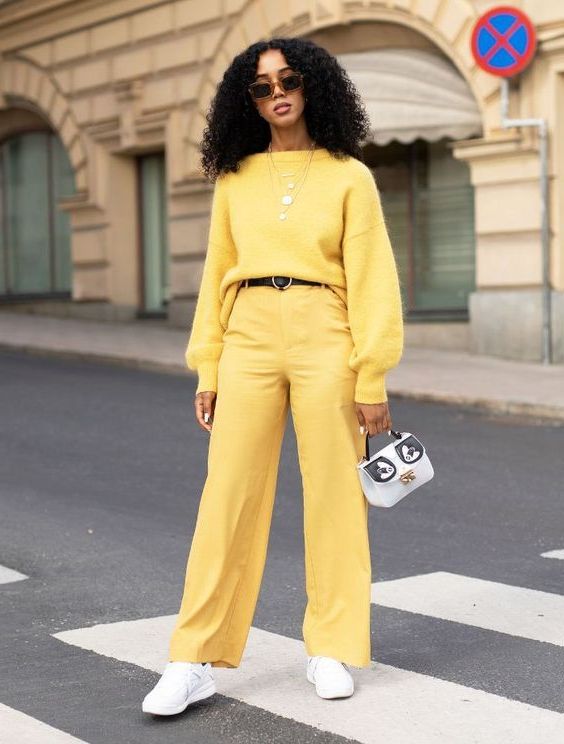 Buy Similar Here
How about wearing yellow hoodie-dresses with aviator sunglasses and black leather ankle boots: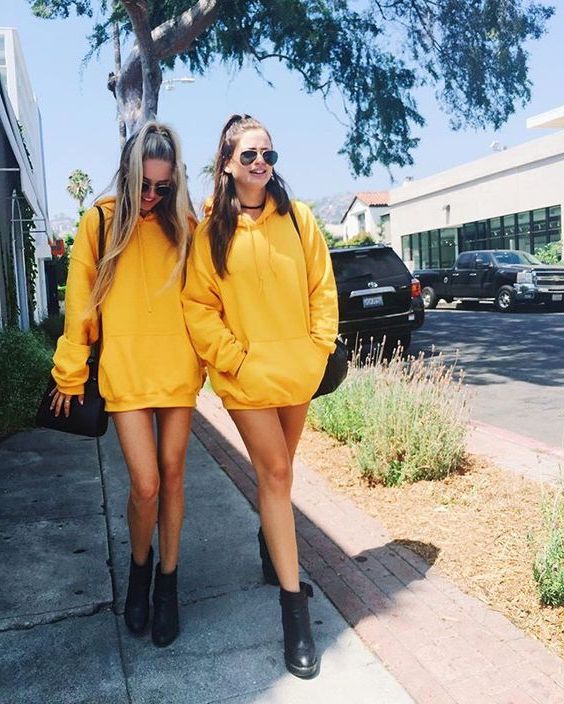 Buy Similar Here
I am so in love with this double-breasted pantsuit in yellow color, update the outfit by adding cool sunglasses from the 1990s and white kicks: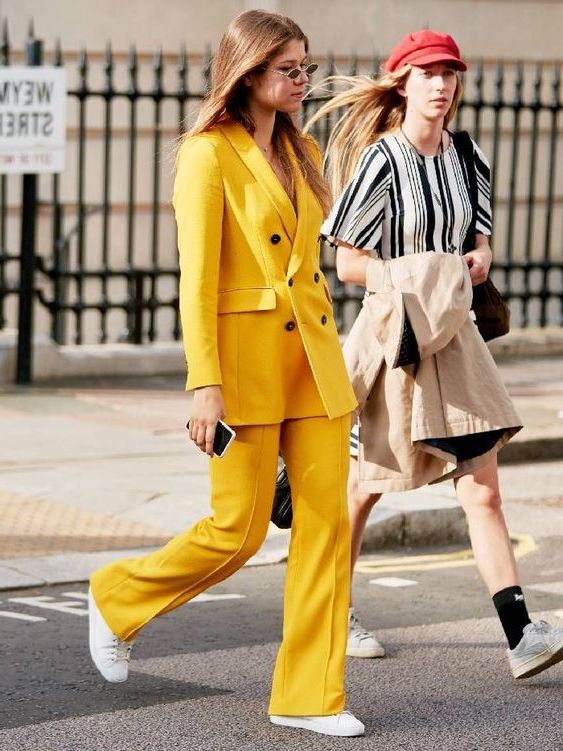 Buy Similar Here
Another cool double-breasted suit in mustard-yellow velour, complete the look by adding rounded shades and mustard-brown loafers: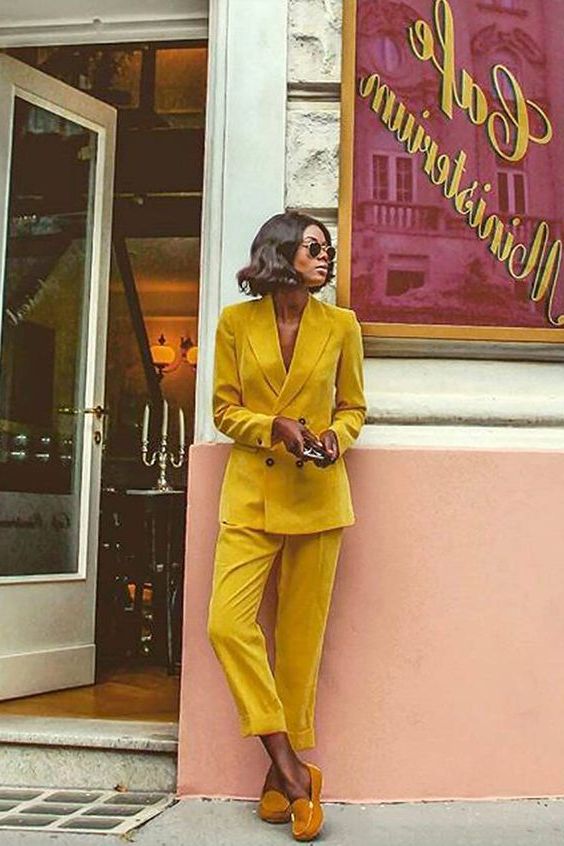 Buy Similar Here
A tailored yellow blazer is worn with a classic blue shirt, navy pants, and pointed-toe flat pumps in leopard print: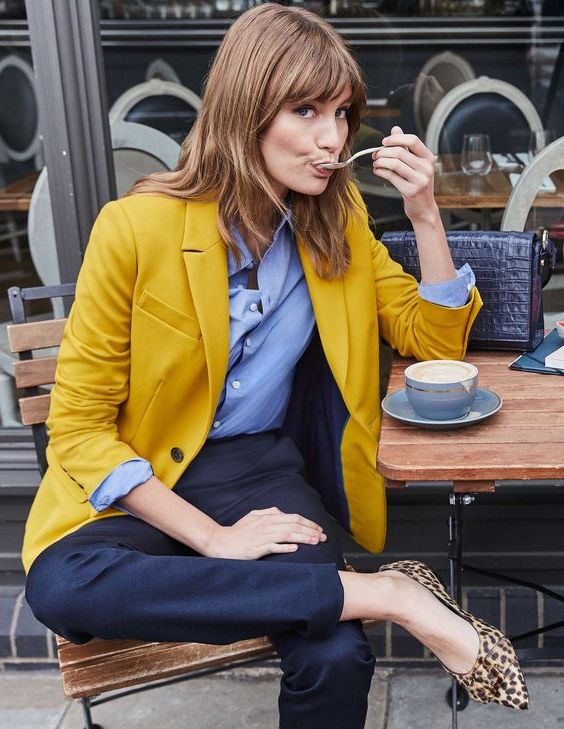 Buy Similar Here
A classic grey sweatshirt is teamed with a ruffled pastel-yellow midi skirt and white sneakers, would you give it a try: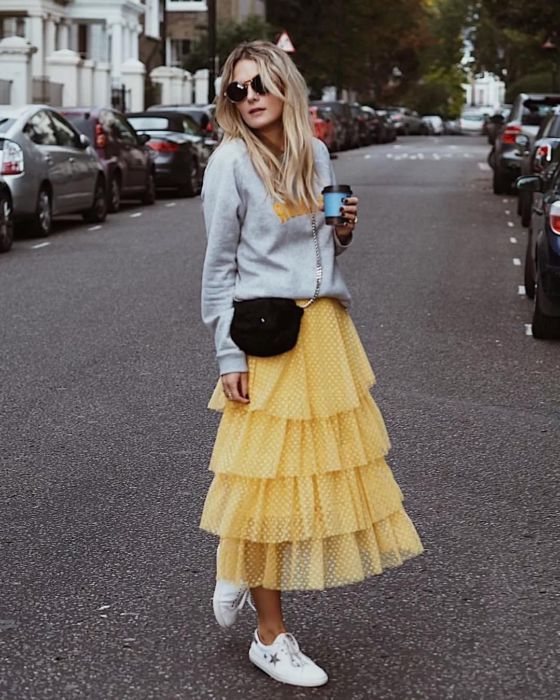 Buy Similar Here
An oversized light yellow sweater is updated with yellow sweatpants and white chunky boots: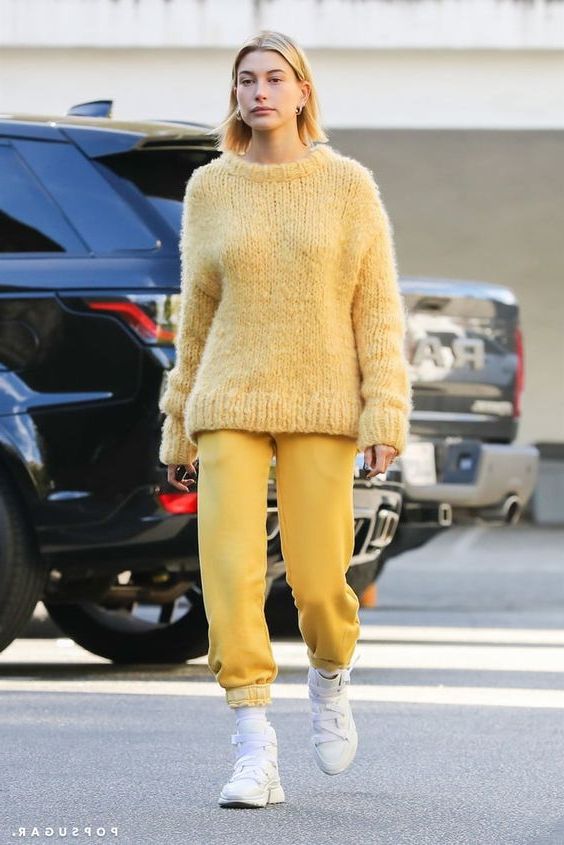 Buy Similar Here
Go for sports, with that black tee, dark yellow bootcut pants and white-black-red high top sneakers: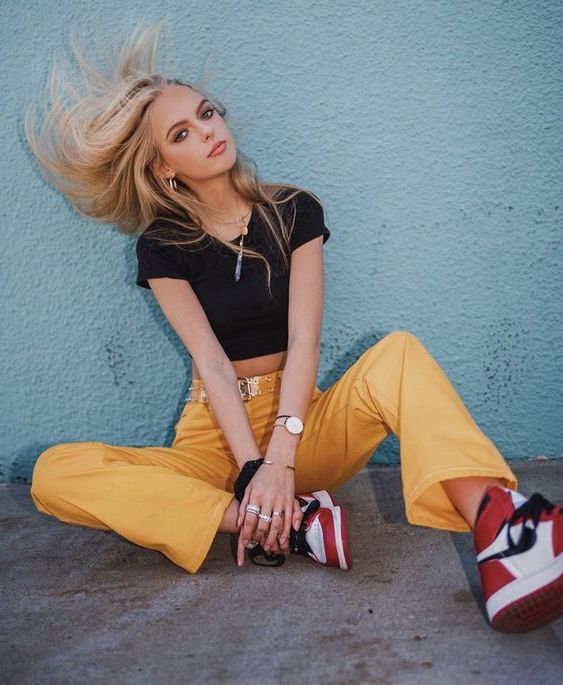 Buy Similar Here
Shorts suit in light yellow color is completed with a white slip tank top and cream-grey sandals: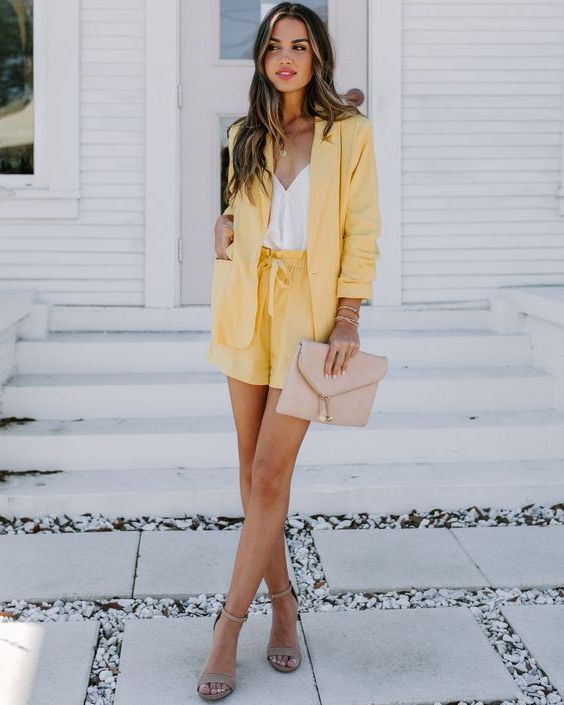 Buy Similar Here
Another all in rich yellow color. We see a dark yellow coat draped over a yellow midi dress completed with orange tights and blush heeled sandals, update the style by adding oversized rounded shades and an orange handbag: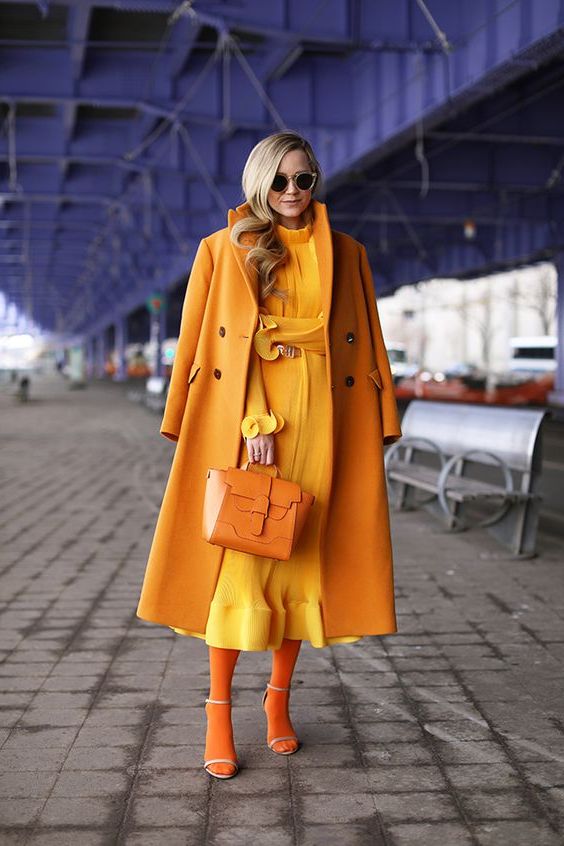 Buy Similar Here
We see a cool color-blocking outfit idea, consisting of a white blazer, emerald green blouse tucked in yellow leather pants completed with white flat pumps and a quilted black leather clutch bag: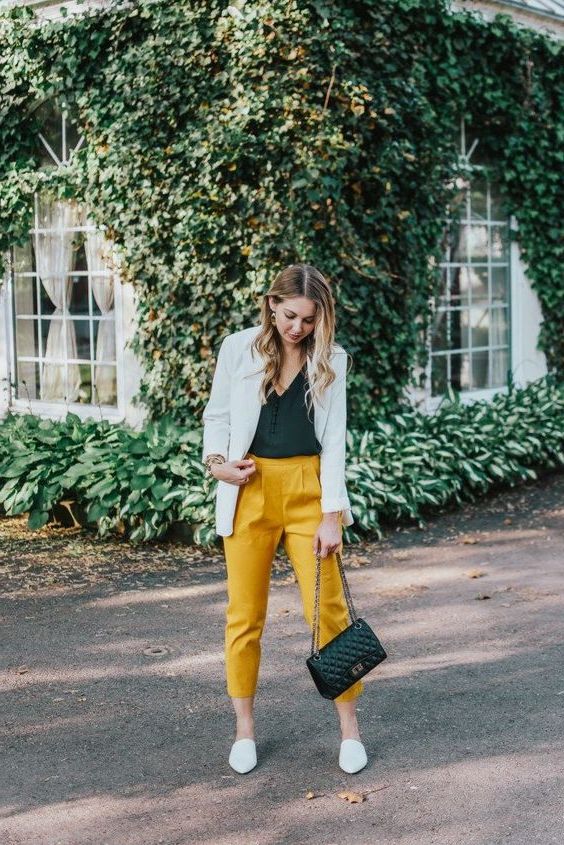 Buy Similar Here
A pale yellow suit! Go for a pastel yellow pantsuit and update it with a white tee, and pointed-toe pumps in white: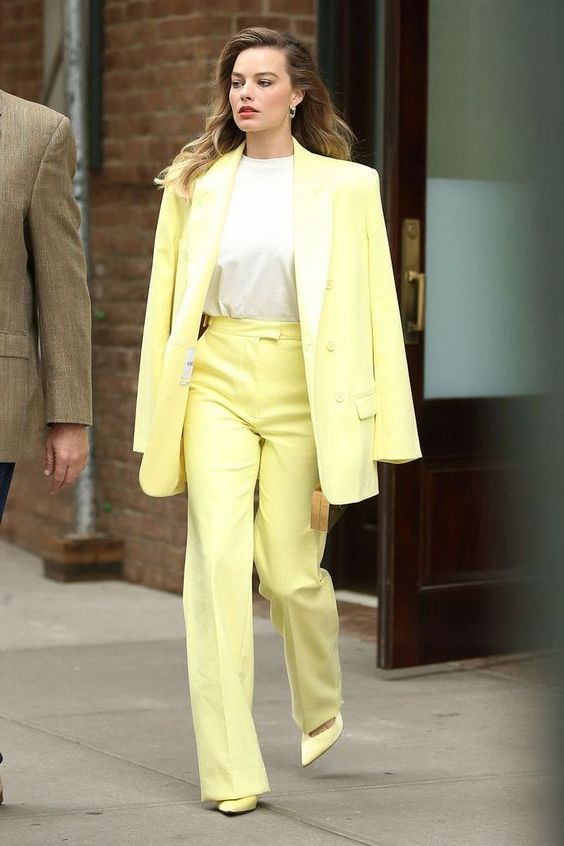 Buy Similar Here
A bright yellow ribbed knit sweater is tucked in a blush belted skirt completed with metallic pointed-toe pumps: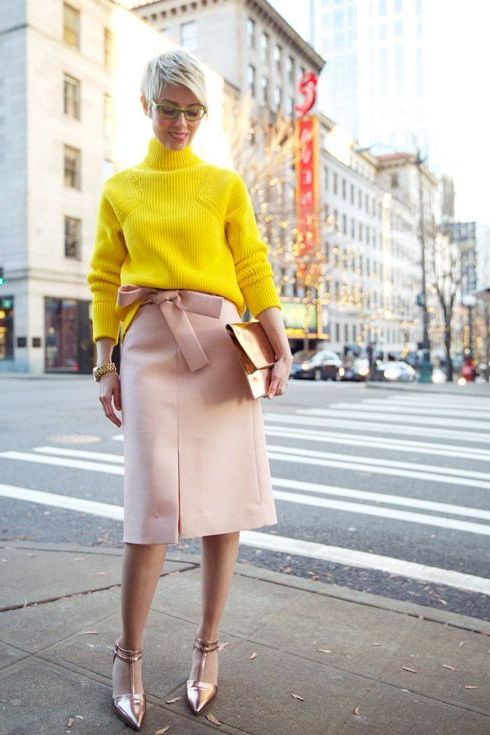 Buy Similar Here
A bright chick yellow sweater is tucked in dark green pants tucked in brown leather boots: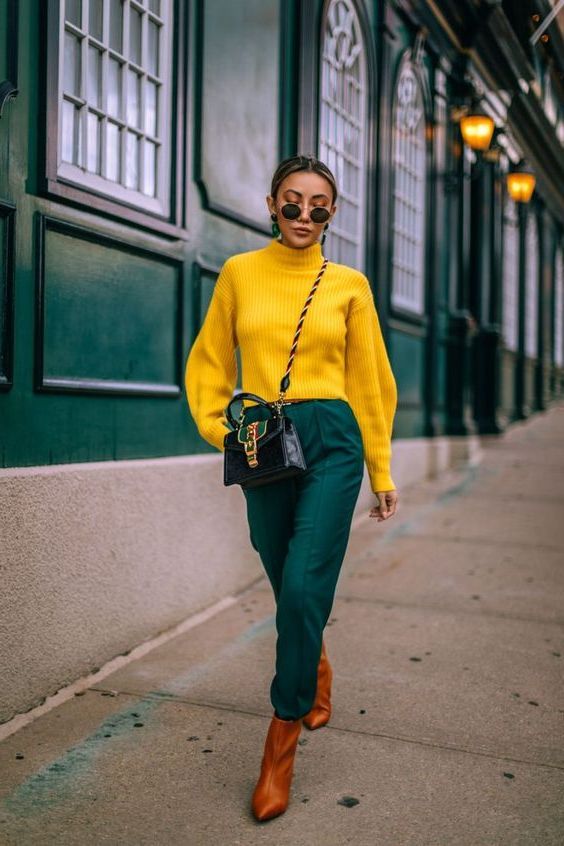 Buy Similar Here
Red-white-blue sneakers are worn with fiery-yellow silken floor-skirt and pastel yellow oversized sweater: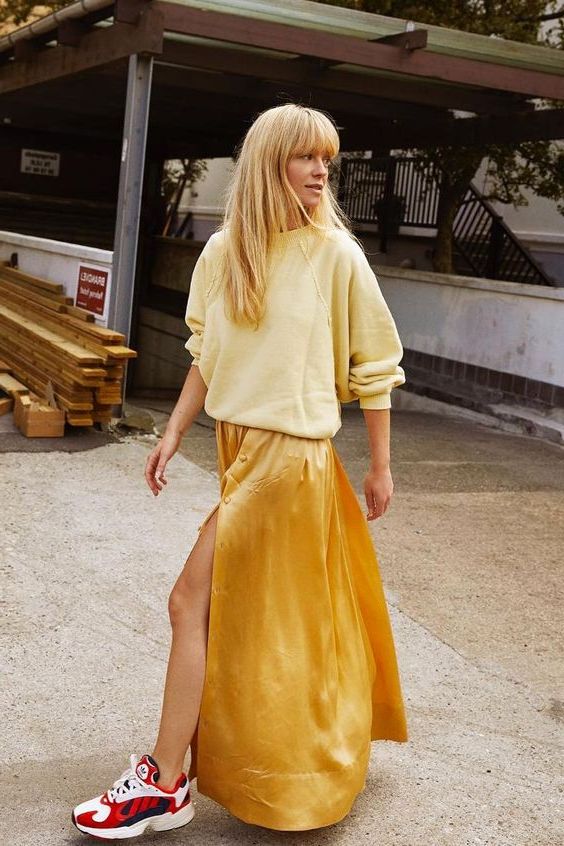 Buy Similar Here
A pink sweater in oversized fit is paired with pale yellow pants updated with tweed-look pink pumps: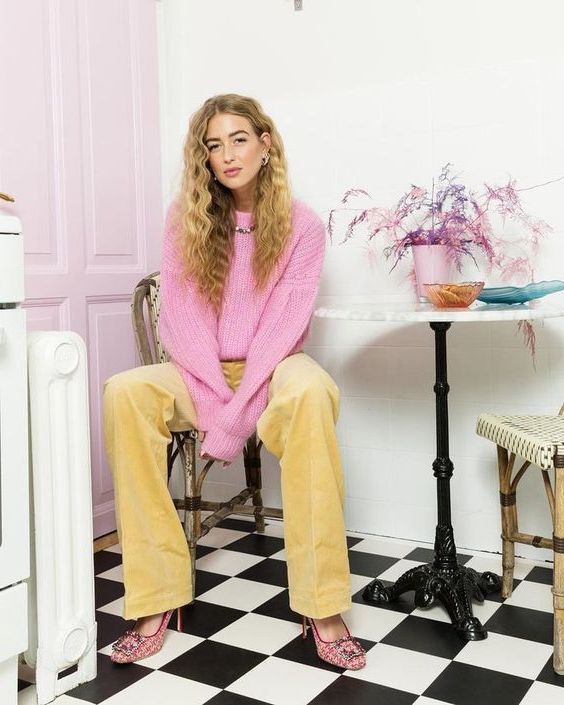 Buy Similar Here
Love this sweater and midi skirt in yellow updated with cherry-red cat-eye sunglasses and gold sandals: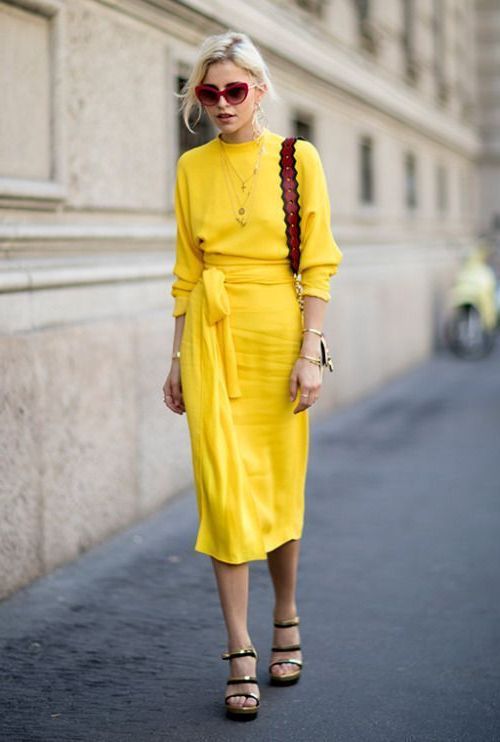 Buy Similar Here
Functional yellow pants with lace-up closure look pretty cool with a bright yellow sweater and beige open-back flat loafers: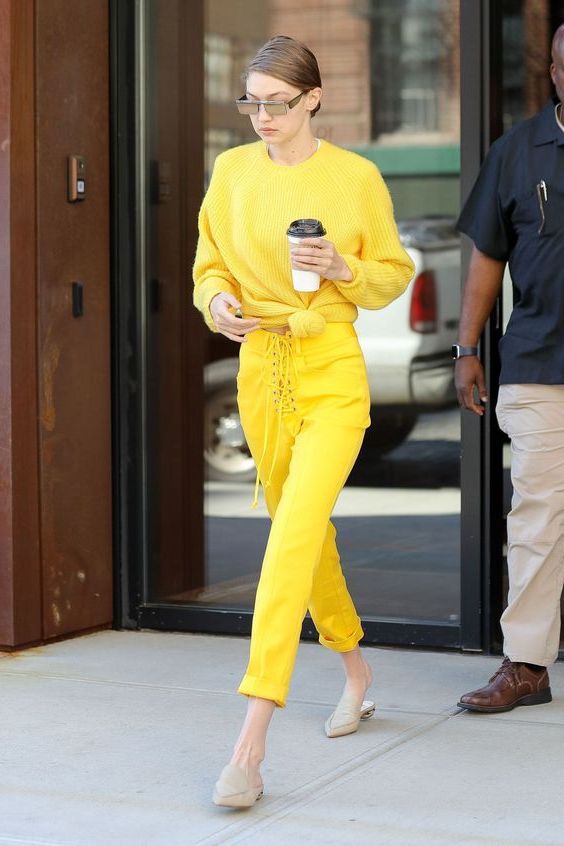 Buy Similar Here
Keep it all in yellow! Go for white kicks, chick yellow fur coat, and a yellow pantsuit: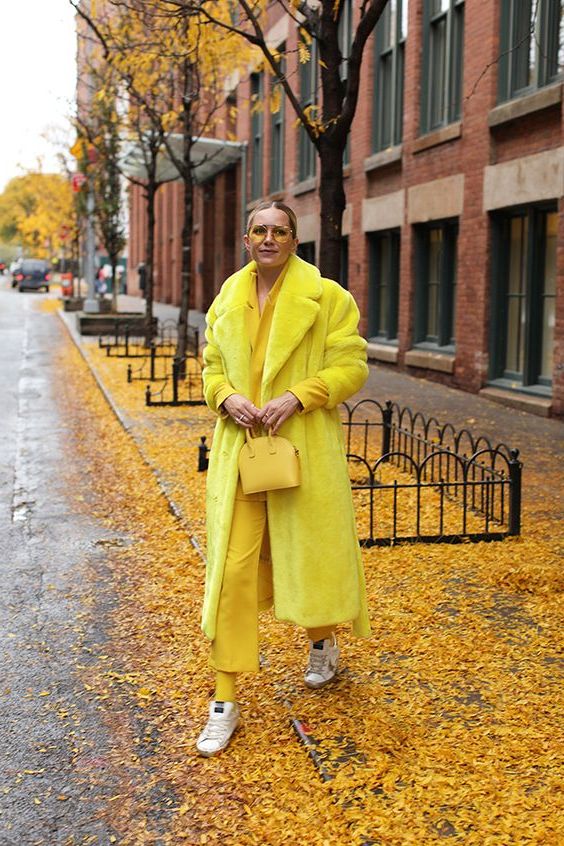 Buy Similar Here
A dotted yellow dress with long sleeves is completed with a wide-brim hat and gingham print shoes: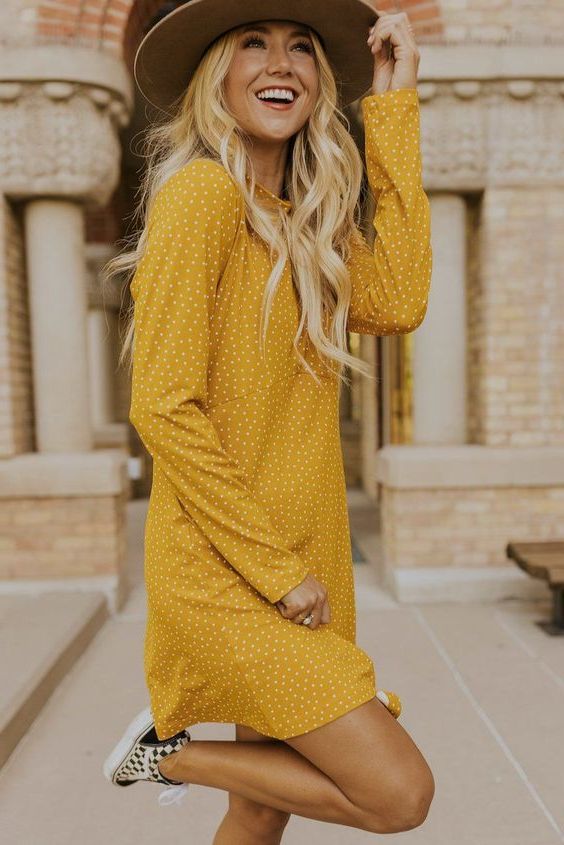 Buy Similar Here
If you do like sporty and casual looks, then go for this front-tied yellow tee and pair it with wide-leg culottes and white sneakers: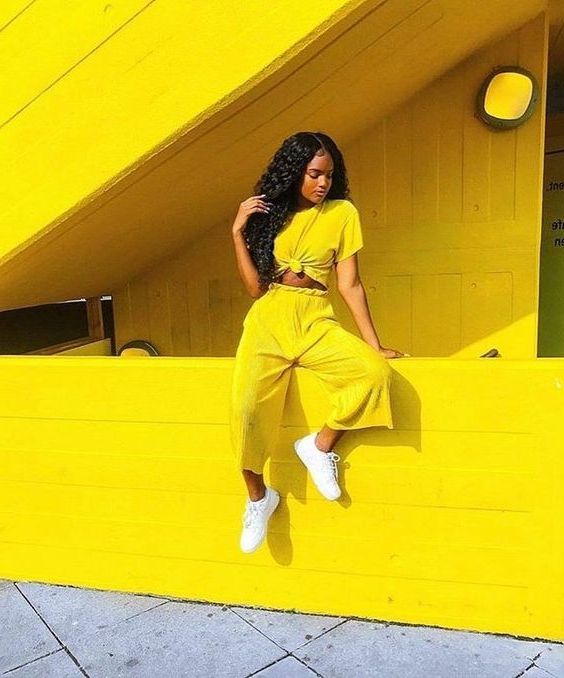 Buy Similar Here