I've got another fashion color for you to try this year. In today's article, we are going to see awesome ways how to wear emerald green color clothes with various shoes and should you match colors to the rest of the emerald green clothes, or you can keep things mismatched. If I've got your attention, then let's have a look through these street style ideas.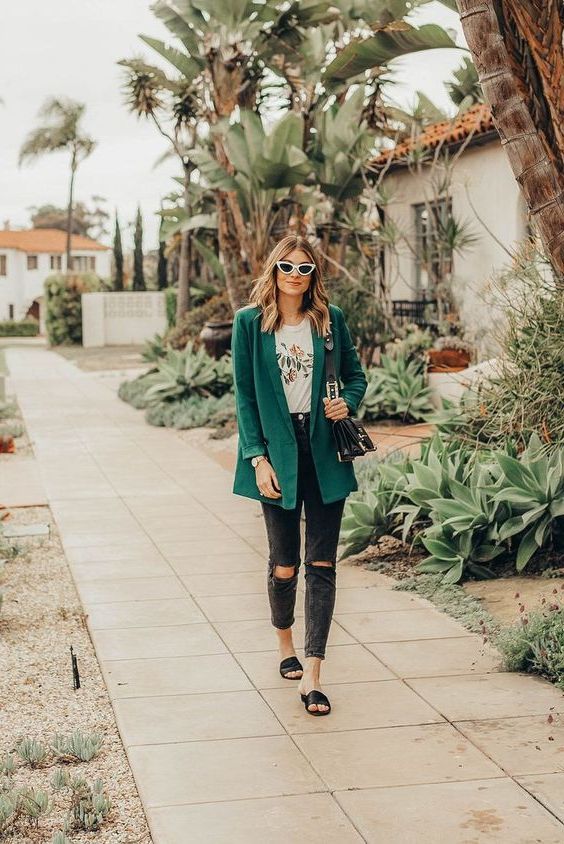 Buy Similar Here
Go for this emerald green blazer and layer it over a white tee tucked in dark grey knee-ripped jeans completed with black leather slides. Update the look by adding white cat-eye sunglasses.
Why I am so into this color? First of all, it is great for wearing in cold weather. It's elegant, dark, and classy. Why women love it so much? This hue works with any skin tone. Believe it or not, but it looks awesome on everyone and with everything.
If it happened so that you don't have any garment colored in emerald green, this is a perfect time to buy something colored in this hue. This is the color of immortality, nature, life, and freedom.
It is opulent and lush. It's the same as plum color, suits elegant and classy women who want to look special and individual. Those of you who love bright and fun outfits might find this hue to be very boring. Emerald gives a high class, as well as a self-confident look.
I bring to your attention some of my favorite ways how to rock this color in real life. No matter if you are blonde, redhead, or brunette, this color will match your persona and style. All in all, you better hurry up and buy yourself emerald green garments and get inspired by these images.
It does look great with many other colors, like cream white, white, mustard, burgundy, black, blue, grey, beige, bright yellow, metallic, and of course pastel hues. That's why you can play with your shoe colors. Anyway, I think you should take a look through the street style images and get inspired by various ways how to make emerald look great on you this cold year.
Say hello to this cute retro chic look! Go for a brown cardigan, white blouse, and emerald green midi skirt updated with brown strappy sandals: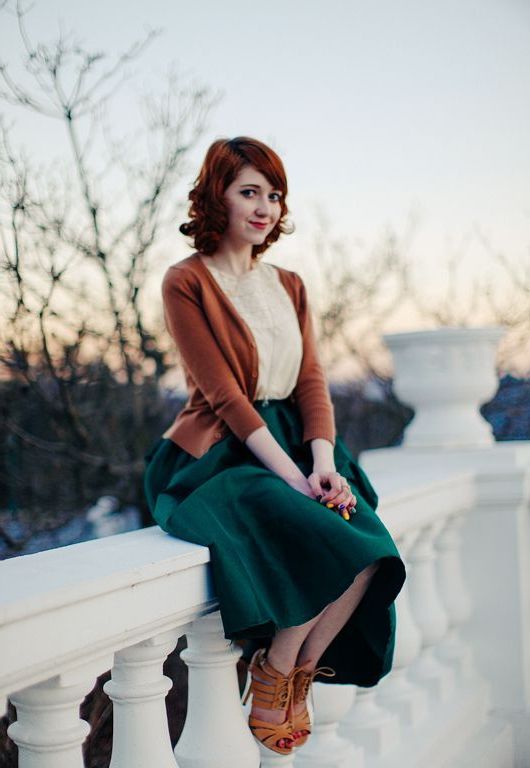 Buy Similar Here
In love with this wrap long-sleeve jumpsuit with front slit pants completed with ankle-strap heeled sandals: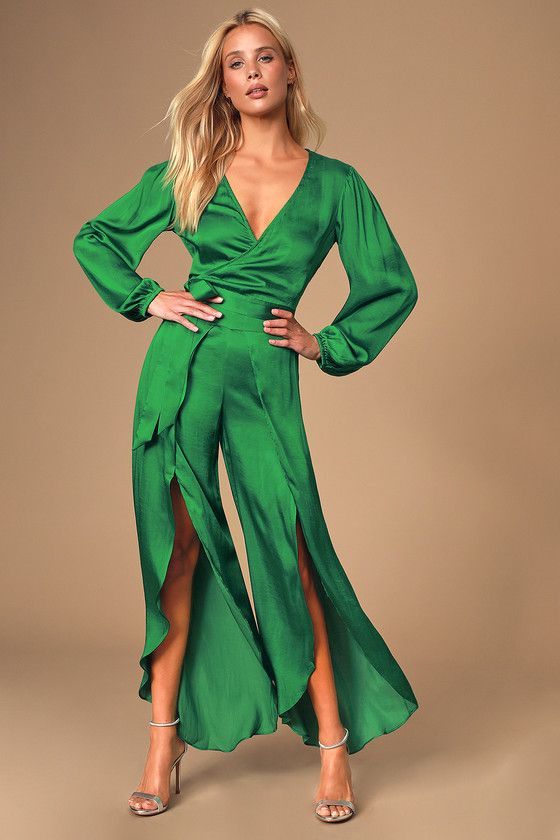 Buy Similar Here
We see a shiny silken emerald-green robe worn with skinny jeans and ankle-strap golden heels: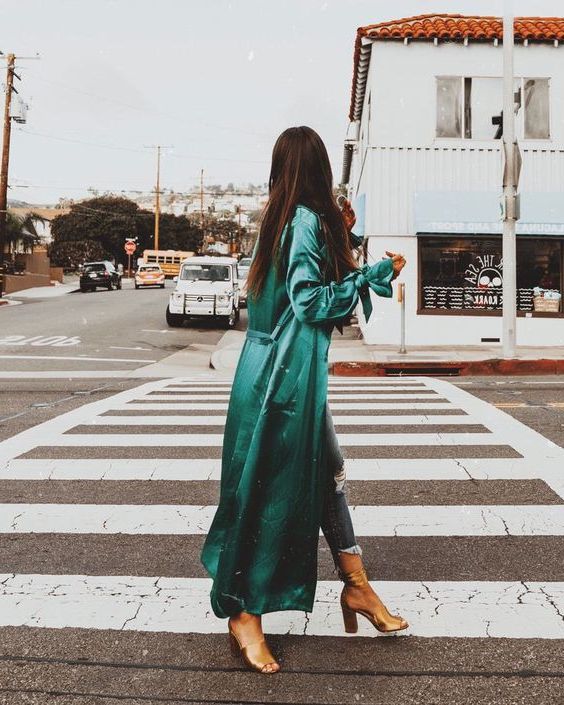 Buy Similar Here
A wrap cape-coat looks amazing with that grey sweater, grey slim jeans and black ankle boots: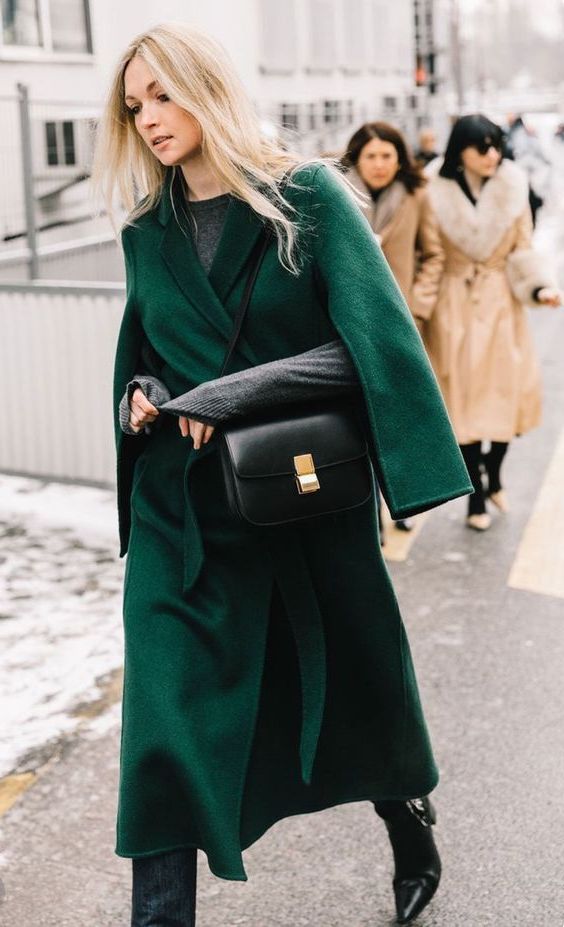 Buy Similar Here
A pastel purple ribbed knit sweater is draped over a matching color blouse tucked in a knife-pleated midi skirt in emerald green updated with pastel purple heeled sandals. Love that clear see-through handbag and heart-shaped sunglasses: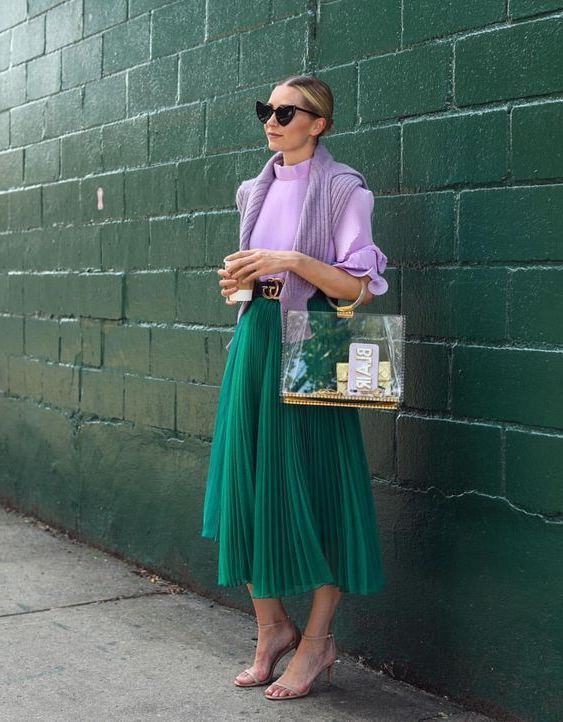 Buy Similar Here
A knife-pleated midi skirt in dark green is looking hot with these leopard print flat pumps: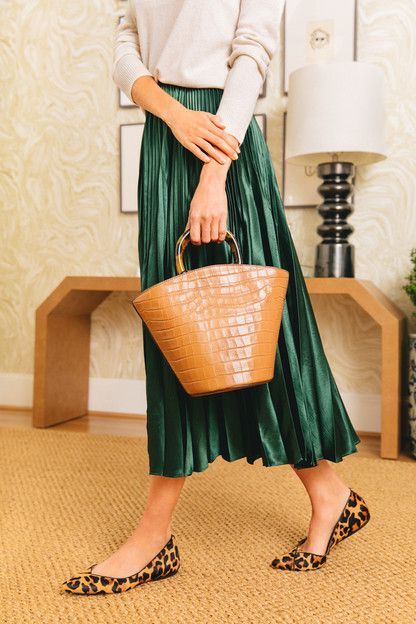 Buy Similar Here
A black jumper will be a terrific choice for teaming with a knife-pleated midi skirt in dark green color, complete this style by adding brown leather boots: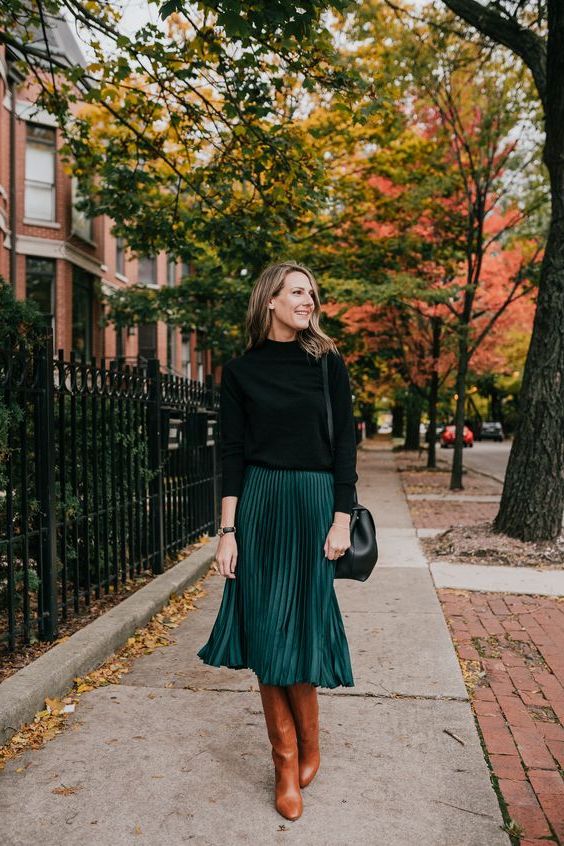 Buy Similar Here
A long robe-like coat made of silk is styled with a white sliptank top tucked in slim dark blue jeans completed with white heeled pumps: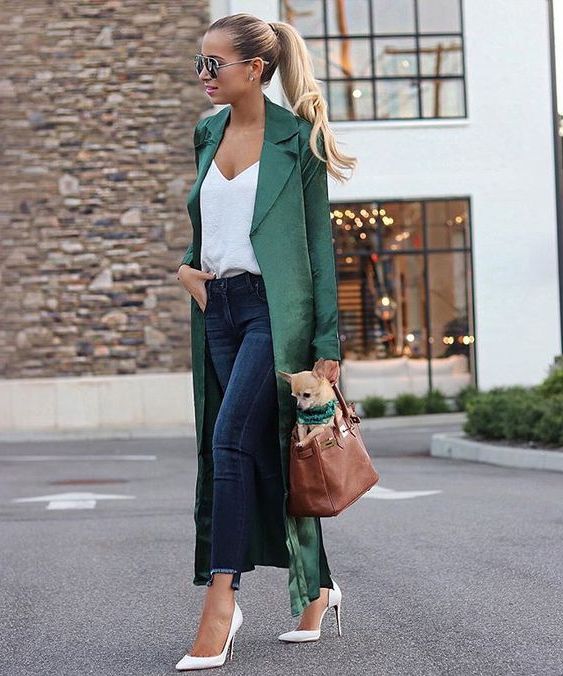 Buy Similar Here
Wide-leg jumpsuit in emerald green is looking pretty chic updated with floral print mustard-brown heeled sadnals made of velour: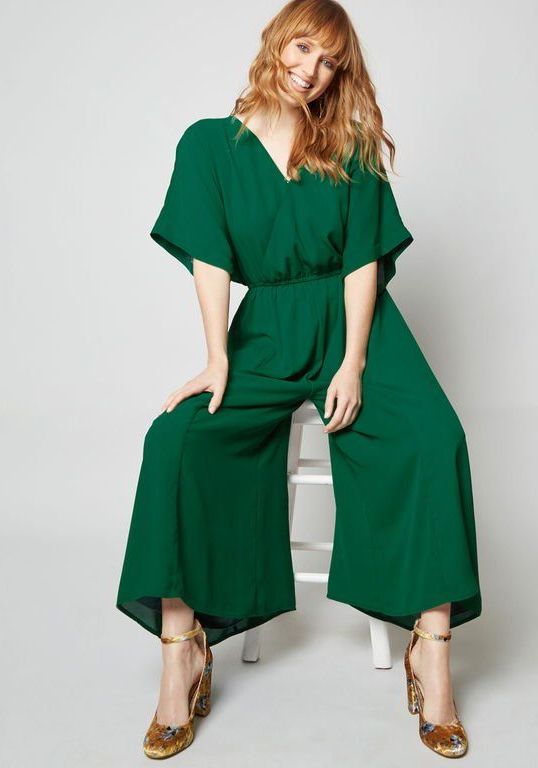 Buy Similar Here
A sexy midi dress with spaghetti straps and criss-cross strap back is completed with strappy heeled sandals in black: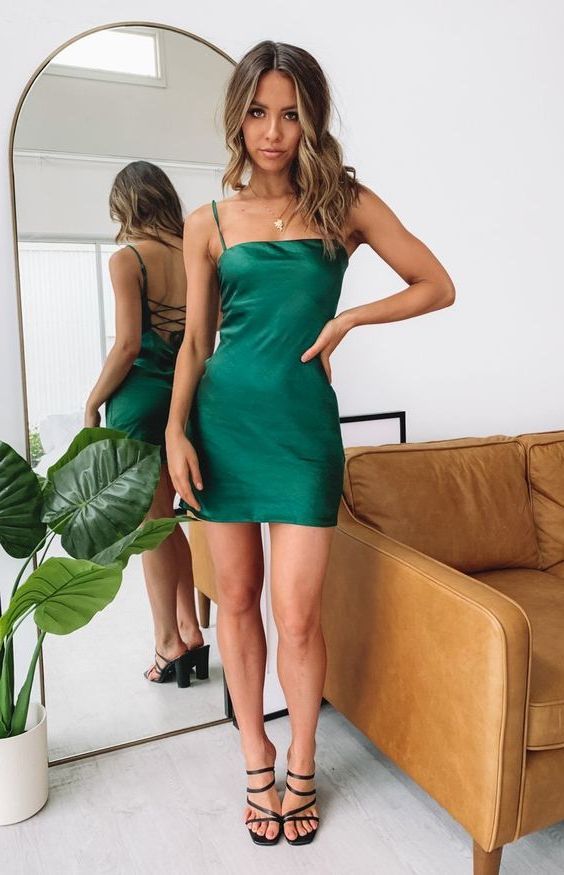 Buy Similar Here
A cool emerald green skirt suit is completed with a crop top in black, geometric shaped sunglasses and sexy OTK boots made of black leather: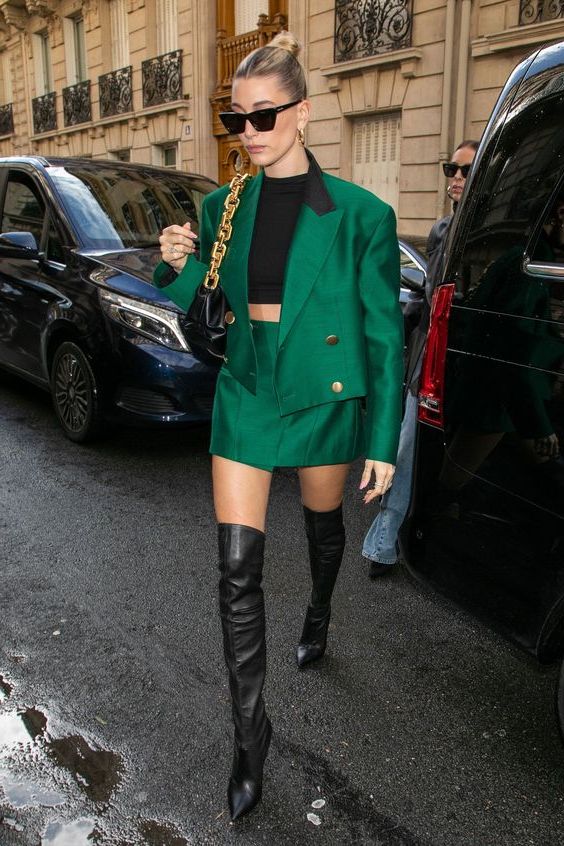 Buy Similar Here
An open back sweaterin emerald green is teamed with blue skinny jeans and leopard print ankle boots: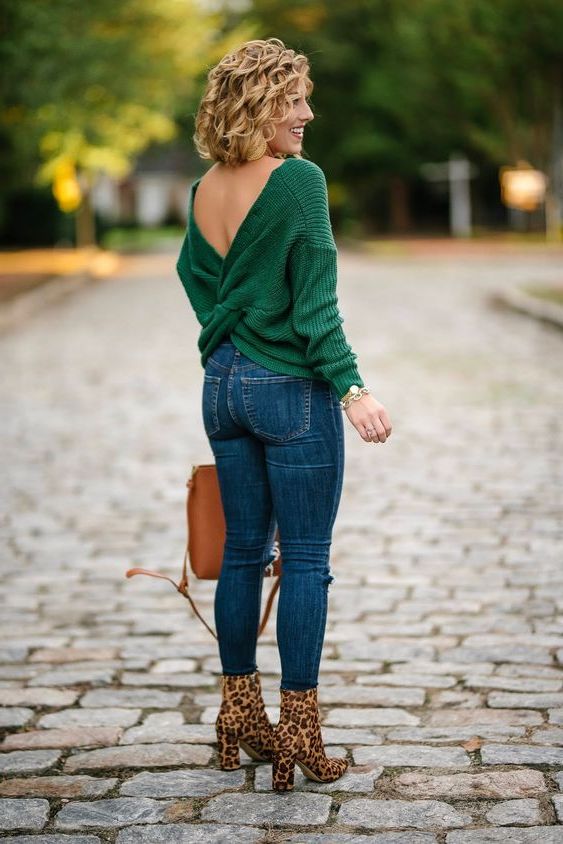 Buy Similar Here
A midi length long-sleeve dress in dark green is worn with hot red heels: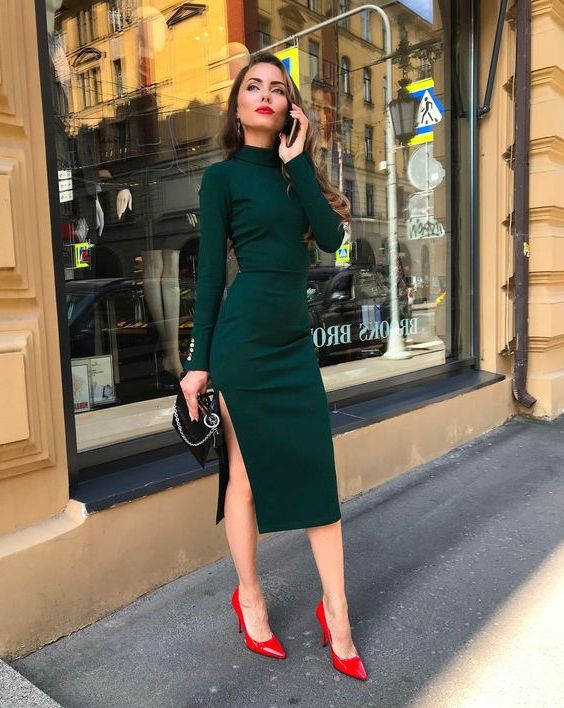 Buy Similar Here
Another retro inspired OOTD, we see a V-neck fit-and-flare dress in emerald green completed with long black leather gloves and ankle-strap heeled pumps: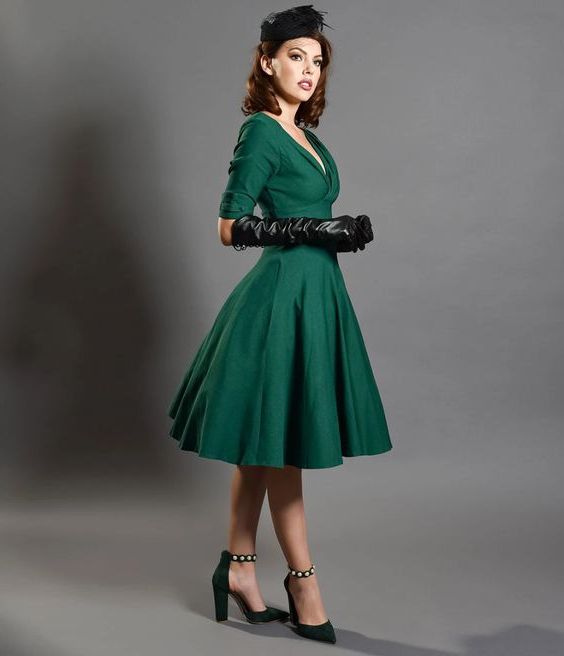 Buy Similar Here
Go for a monochrome set! We see a fur jacket, 1/2 sleeve top and knife-pleated skirt all in emerald green completed with velour heeled pumps: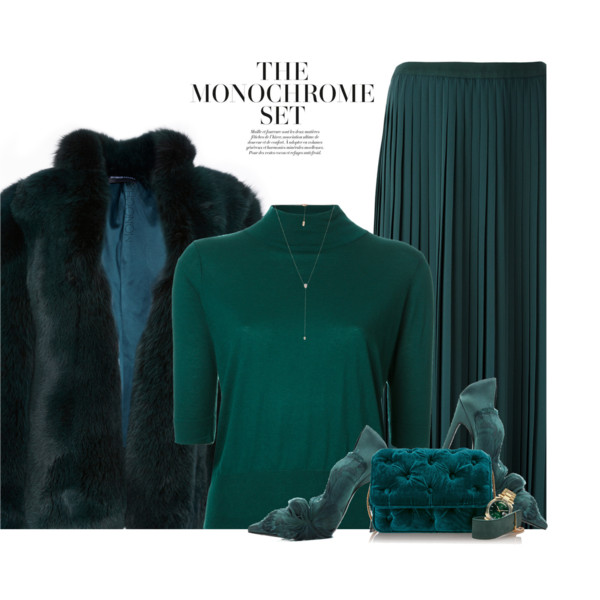 Buy Similar Here
A dark green pantsuit is completed with breton striped top and white sneakers: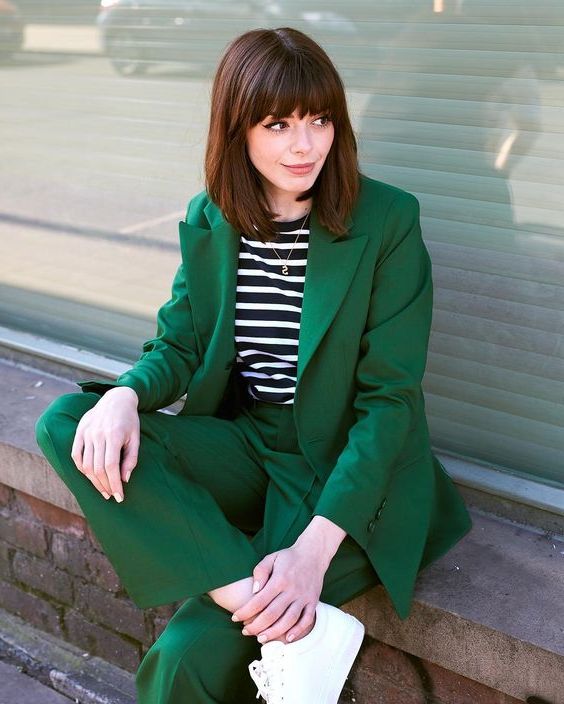 Buy Similar Here
Oh so chic look is here! Go for this lace emerald green fit-and-flare dress and complete it with platform heeled sandals in black:
Buy Similar Here
A printed crop top in emerald green is completed with a sassy black pencil skirt and cut-out peep-toe heeled booties in emerald green: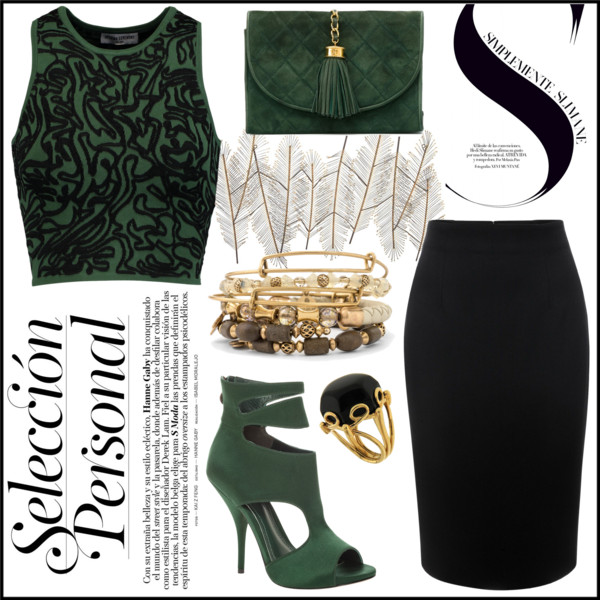 Buy Similar Here
Love this sweet everyday combo set completed with beige-brown sandals: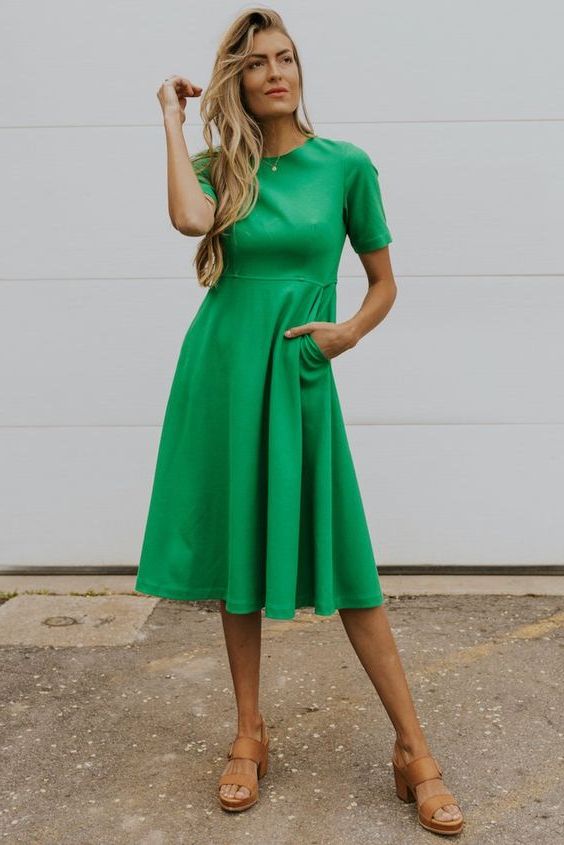 Buy Similar Here
A brown wool coat in oversized fit is updated with a dark green blouse tucked in a pleated midi skirt updated with light brown leather ankle boots: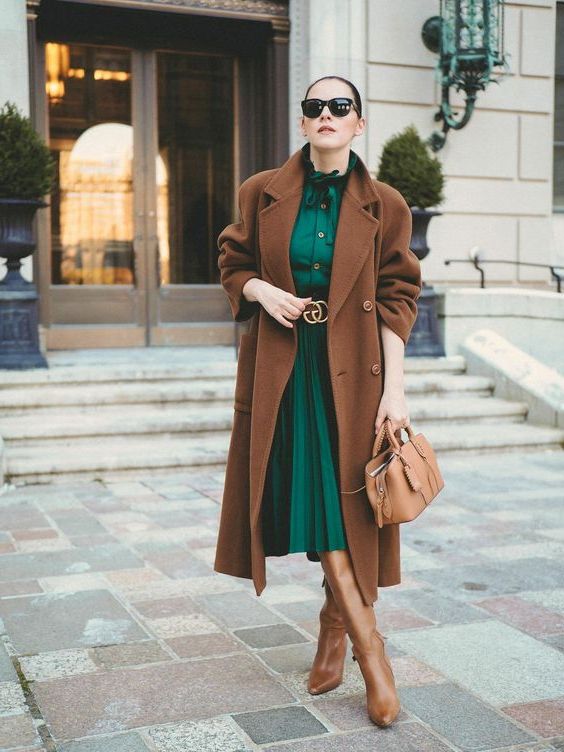 Buy Similar Here
An emerald green sweater is looking chic styled with a baggy coat in black updated with patched pants and tall boots in black: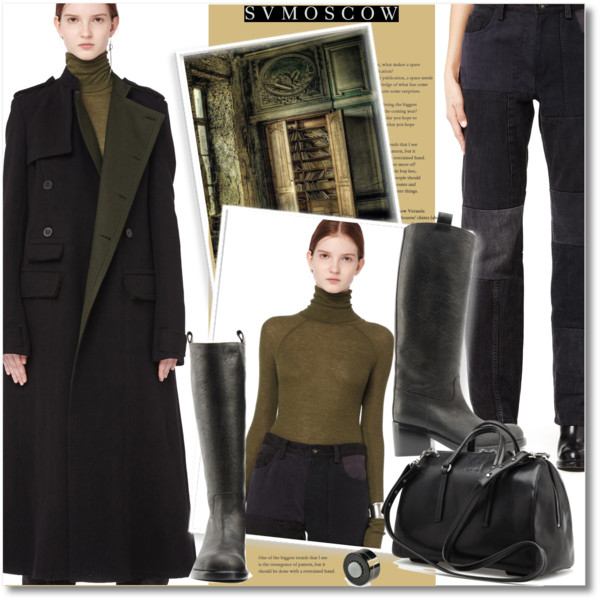 Buy Similar Here
A belted shirt-dress looks cool with a black fedora hat and black heeled sandals: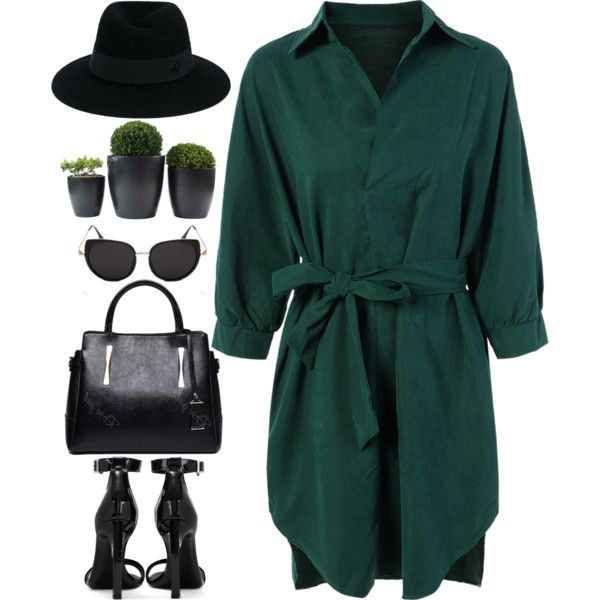 Buy Similar Here
Keep an eye on this velvet retro dress updated with black sock boots: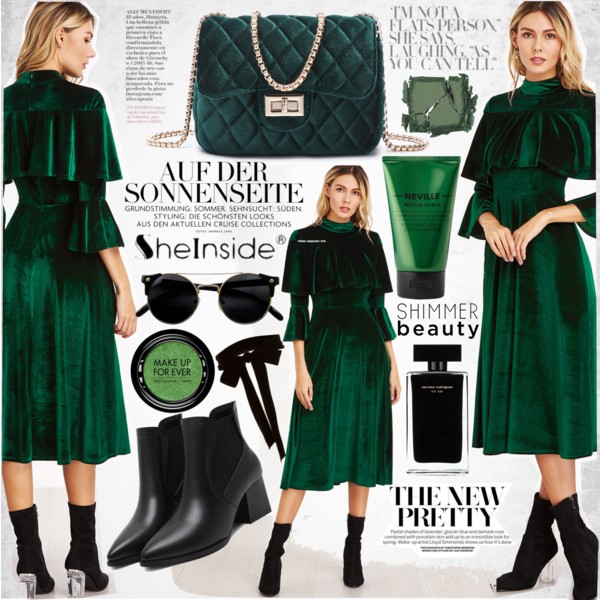 Buy Similar Here