I am here to share with you red blazer outfit ideas that are here to stay for a very long time. If you are in love with red blazers, then you've got to read this post, as I am here to show you amazing ideas on what shoes you can try on with red blazers. Red has dominated the runway shows this year and I do recommend to start wearing red color by choosing a red blazer. Okay, you've got yourself this suit jacket, right? Now it's time to find some great footwear you can wear with this red blazer. Read on, as I've got something to show you.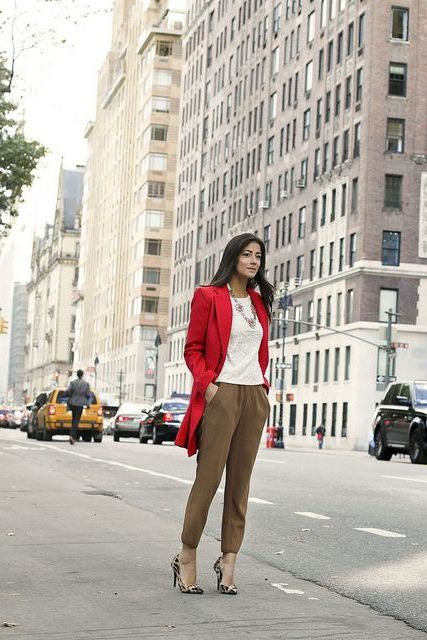 Buy Similar Here
A real statement for those ladies who want to wear a red blazer to an interview. We see a slouchy suit jacket layered over a white blouse teamed with khaki pants completed with a pair of snakeskin print heeled pumps. Complete this look with a chunky necklace.
Red Blazer Outfit
With Red Pants And White Sneakers
Some women try to keep things classy, yet sporty. I do love teaming running shoes with tailored garments. Here we see a pair of white Nike sneakers are styled with a red pantsuit and a white tee. I love that red leather bucket bag: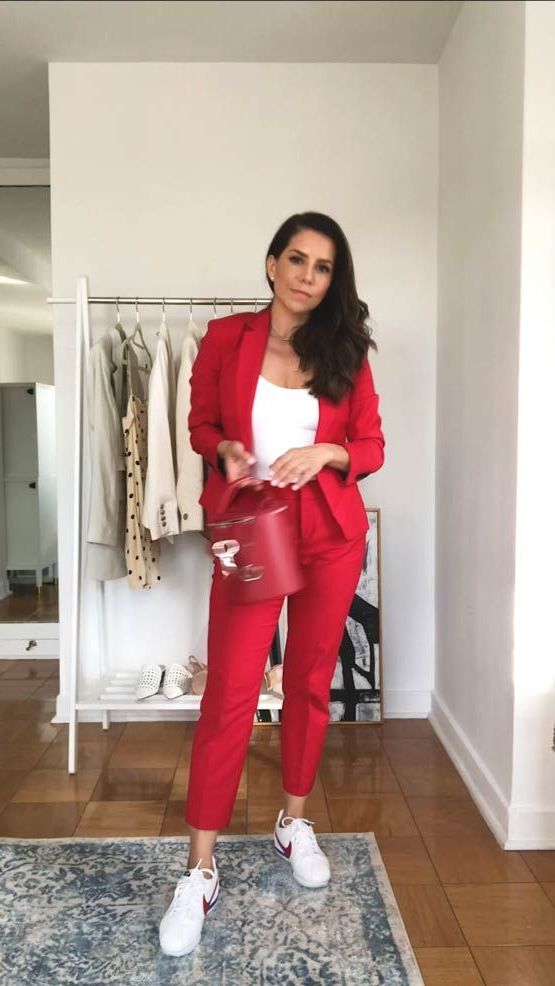 Buy Similar Here
I know many ladies who are obsessed with red blazers, but the thing is, they all find it very hard pairing with other colors. In reality, this layering staple can be considered to be pretty much versatile. Why? You can wear it with a different type of shoes colored in dozens of colors. This collection comes with my tips and tricks you can use to wear a red blazer.
Black Leather Leggings And Animal Print Heels
All great trends in one outfit. We see a classic red suit jacket teamed with a white blouse tucked in black leather skinny pants completed with a cherry red shoulder bag and leopard print heeled pumps. By the way, if you are into animal print shoes, then I've got a stunning post to share with you. You will find a complete guide on how to wear this footwear in real life: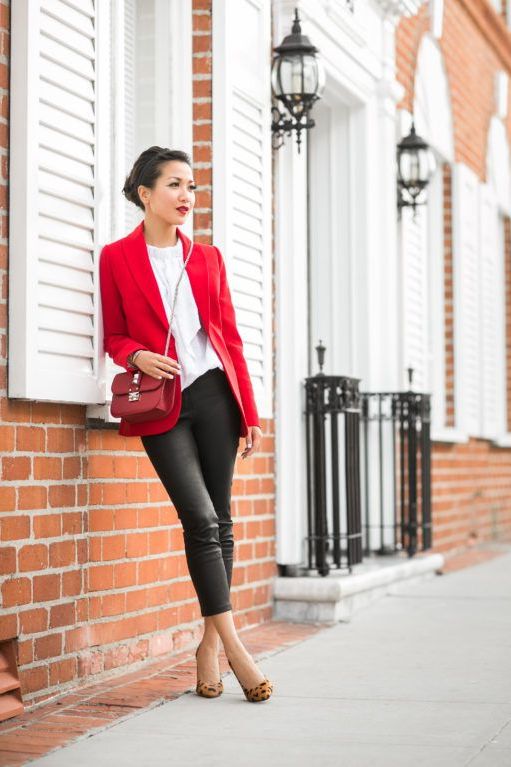 Buy Similar Here
Black Skinnies And Black Heeled Pumps
Another cool OOTD, we see a cherry red velour jacket teamed with a grey tee tucked in black skinny knee ripped jeans completed with black heeled pumps and a black leather shoulder bucket bag. The overall style looks French chic to me: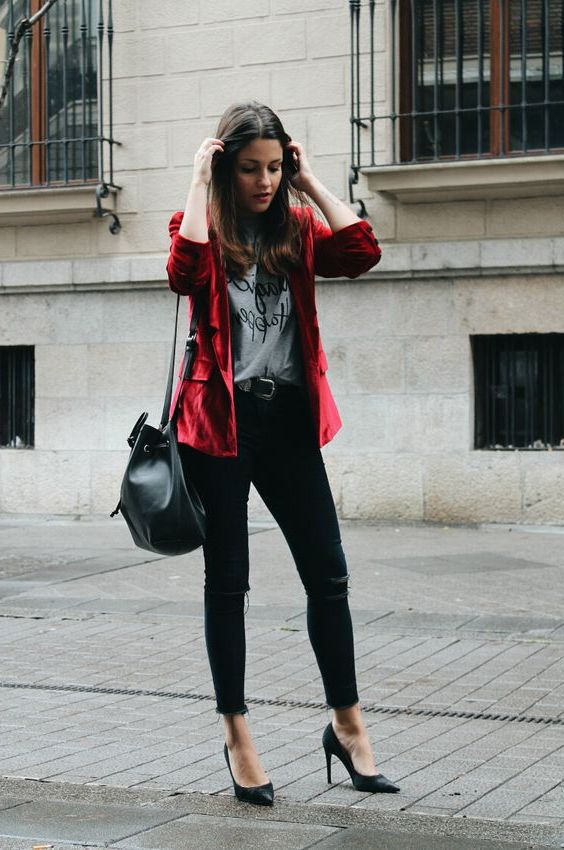 Buy Similar Here
A red blazer and black heeled sandals are a classic combination because it's very easy to wear. Here we see a suit jacket teamed with a grey top, black skinnies and black heeled sandals: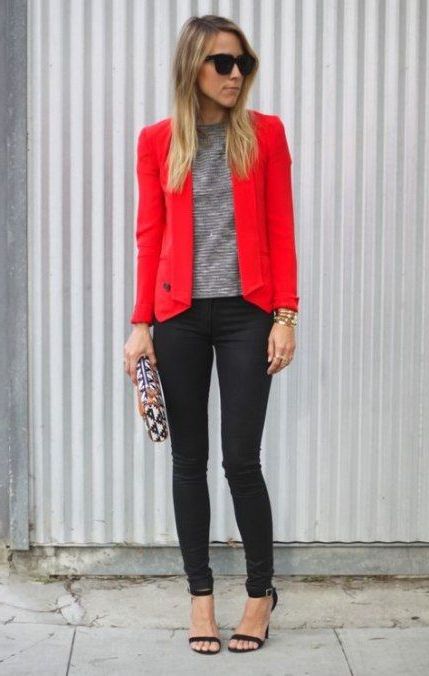 Buy Similar Here
Blue Slim Jeans And Blue Pumps
Blue and red look great! Go for a red suit jacket and team it with a classic white shirt tucked in blue slim jeans completed with blue heeled pumps and a blue clutch bag. Update it with aviator shades: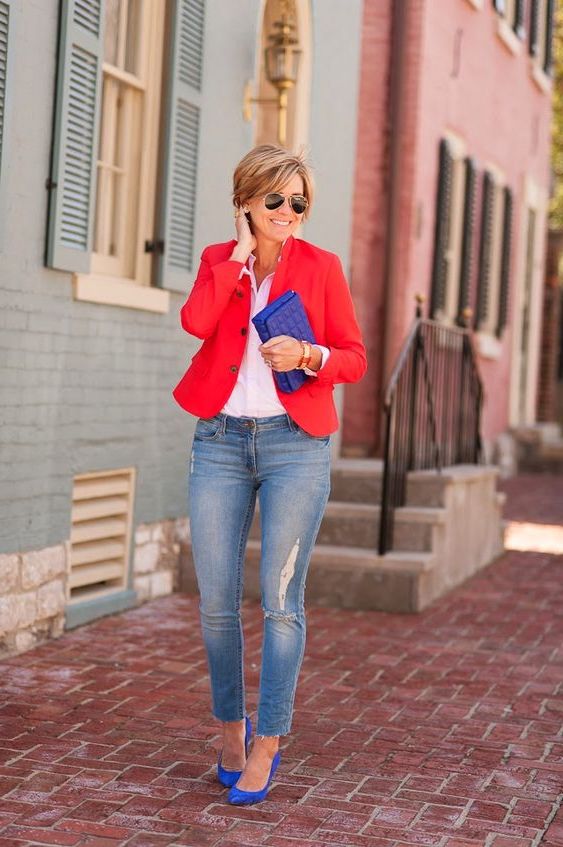 Buy Similar Here
This bright and incredibly eye-catching suit jacket can be a complement to various tailored pants, skirts or jeans. Before we move on discovering best looks you can try on this season, I want you to remember several things that should be avoided by you, in order to look great in this blazer. Never pair the red blazer with a red necklace, bracelets, earrings it will look too much overdosed. Why? A red garment by itself is already a big accessory which doesn't need anything else.
Plaid Shirt, Blue Jeans And Brown Ankle Boots
Keep it classy and simple. Go for a red suit jacket and layer it over a plaid shirt tucked in blue jeans updated with buckled brown leather ankle boots: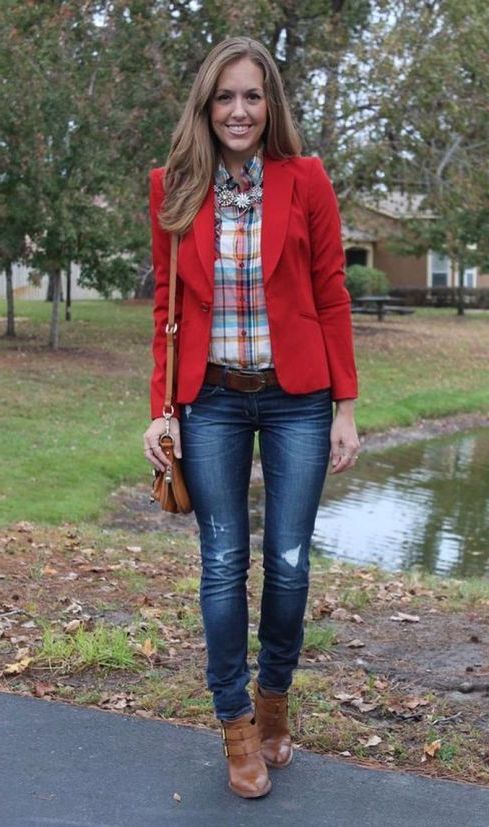 Buy Similar Here
Indigo Skinnies And Brown Leather Loafers
Another French chic outfit idea. We see a dark red suit jacket over a lace white tee tucked in black skinny jeans completed with brown leather loafers: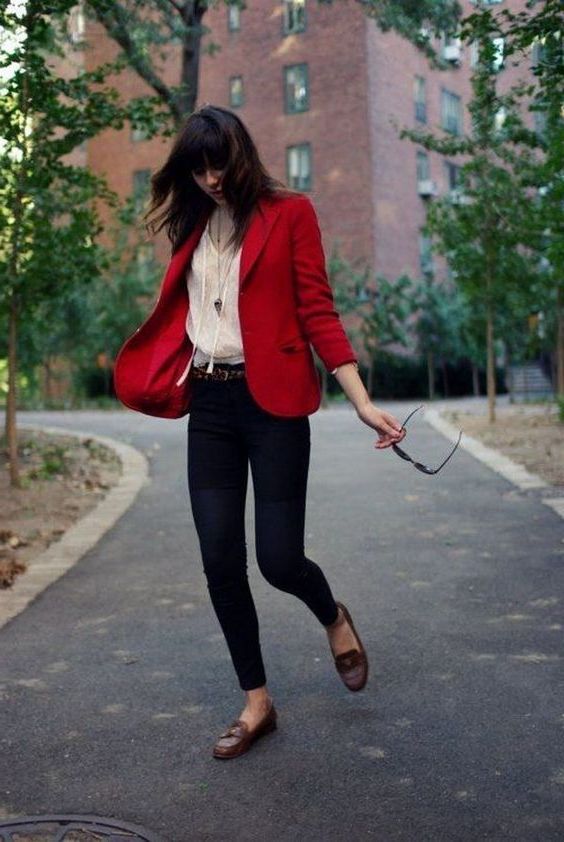 Buy Similar Here
Black-White Striped Top, Black Skinnies And Classic Trainers
Another French chic combo for young women. We see a red suit jacket with a black-white striped top, black skinnies and classic black trainers: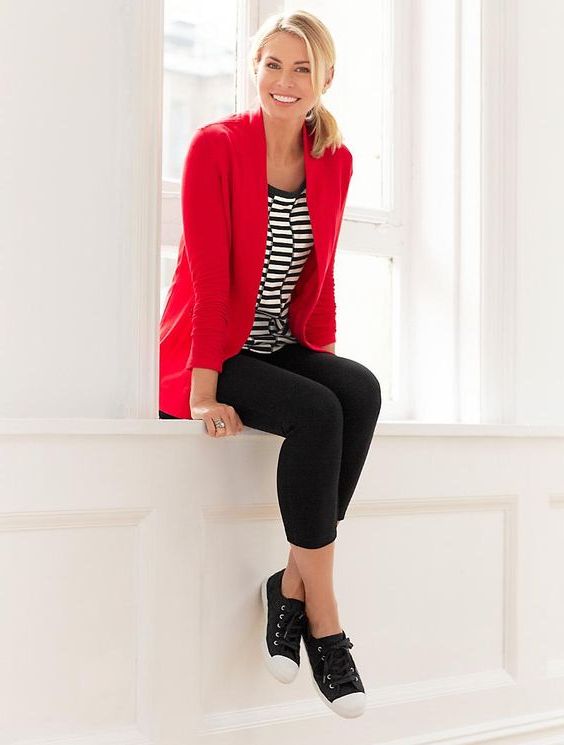 Buy Similar Here
Red Blazer Dress And Clear Heeled Sandals
A belted red blazer dress looks sassy with clear heeled sandals:
Buy Similar Here
Classic Skinnies And Cream White Heeled Pumps
A red blazer with gold buttons is layered over a white slip tank top tucked in blue skinny jeans completed with cream white heeled pumps: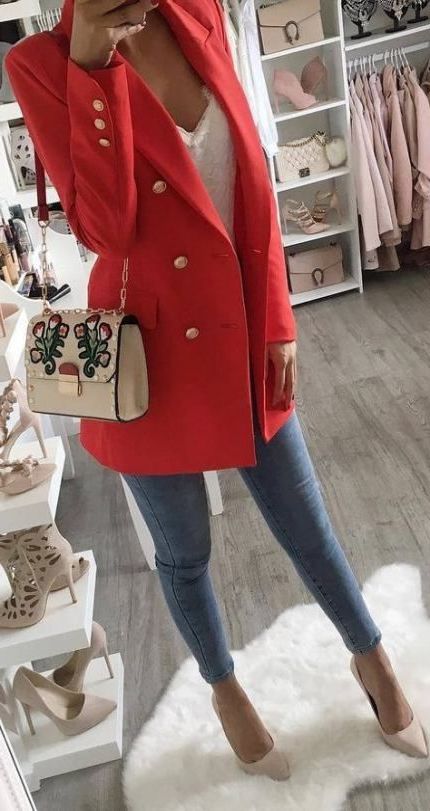 Buy Similar Here
Plaid Grey Pants And Doc Martens
Black leather combat boots ideally match plaid grey pants and a belted red suit jacket: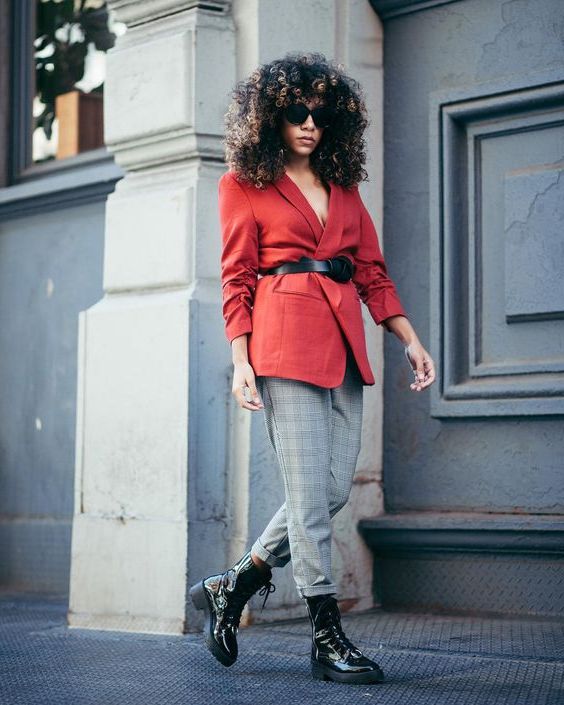 Buy Similar Here
Leather Pants And Glossy Black Leather Ankle Boots
A long red blazer looks stunning with a black turtleneck teamed with black leather skinny pants and black ankle boots: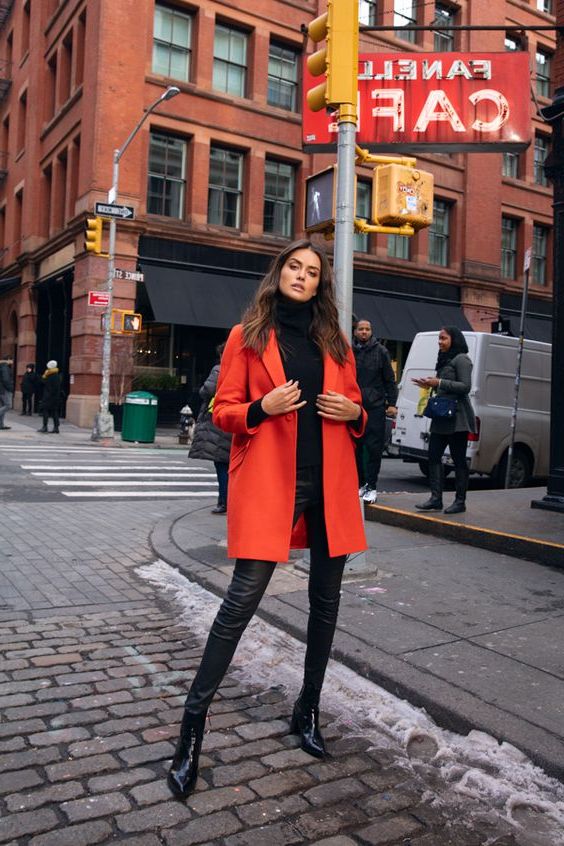 Buy Similar Here
Cuffed Skinnies And Gold Pumps
Go for a long bright suit jacket and team it with a slip tank top in black tucked in dark blue slim jeans and metallic gold heeled pumps: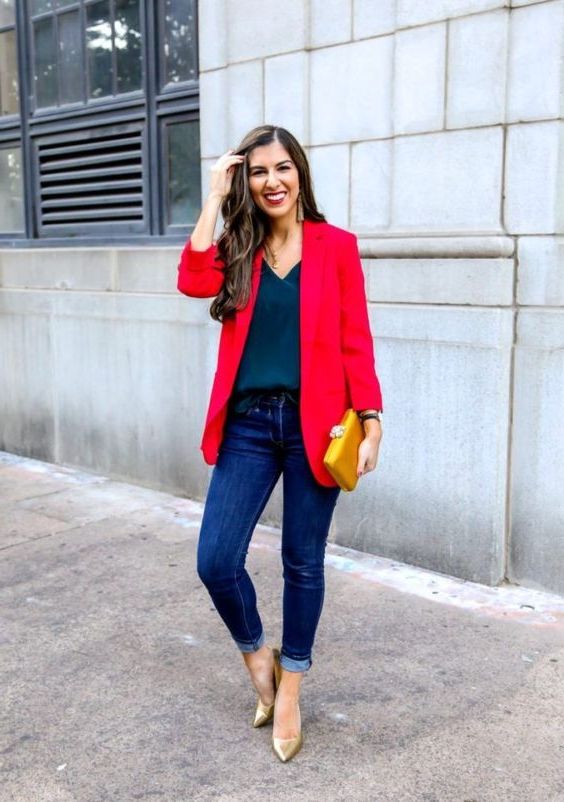 Buy Similar Here
Dotted White Shirt, Black Pants And Leopard Heeled Pumps
Here we see a smart-casual combo. A red suit jacket with a dotted white shirt tucked in black skinnies completed with leopard print heels: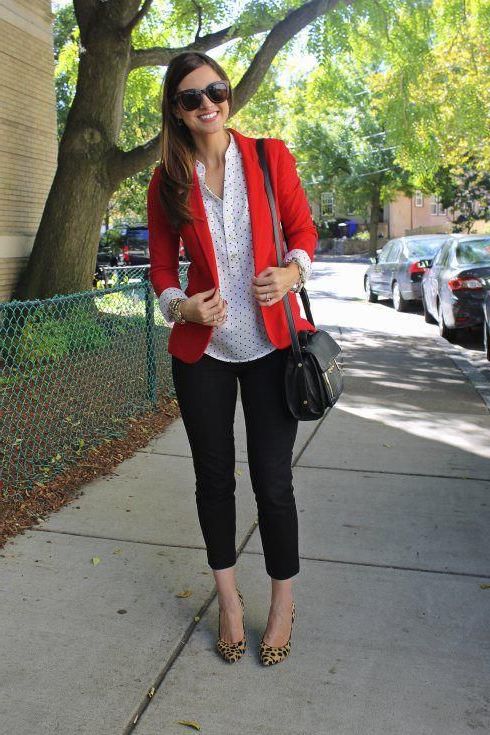 Buy Similar Here
Black Pencil Skirt And Metallic Pumps In Silver
Plus size ladies also can go for a red blazer. Here we see an office-friendly look that features a red suit jacket with a white blouse tucked in black pencil skirt updated with silver metallic heeled pumps: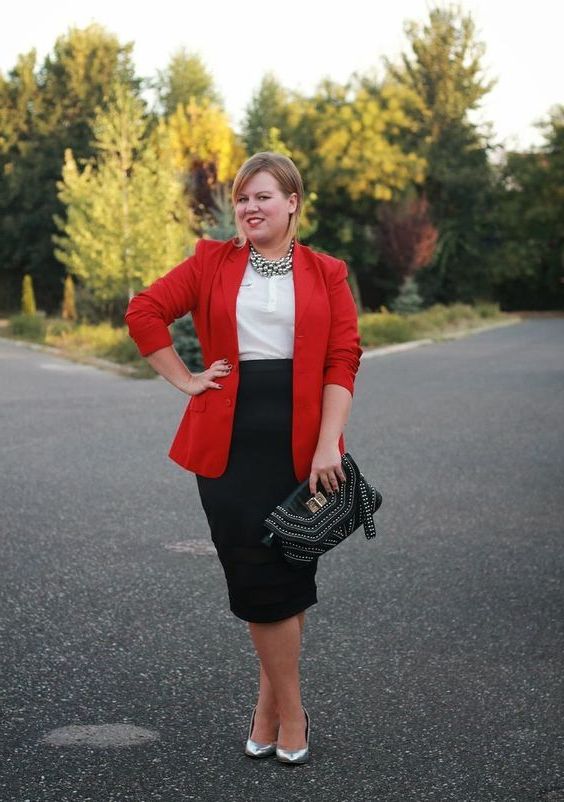 Buy Similar Here
Beige Pants And Nude Sandals
A slouchy red blazer can be a nice addition to this smart-casual look. It's teamed with a white tee tucked in beige self-belted pants completed with nude heeled sandals. Love these white sunglasses: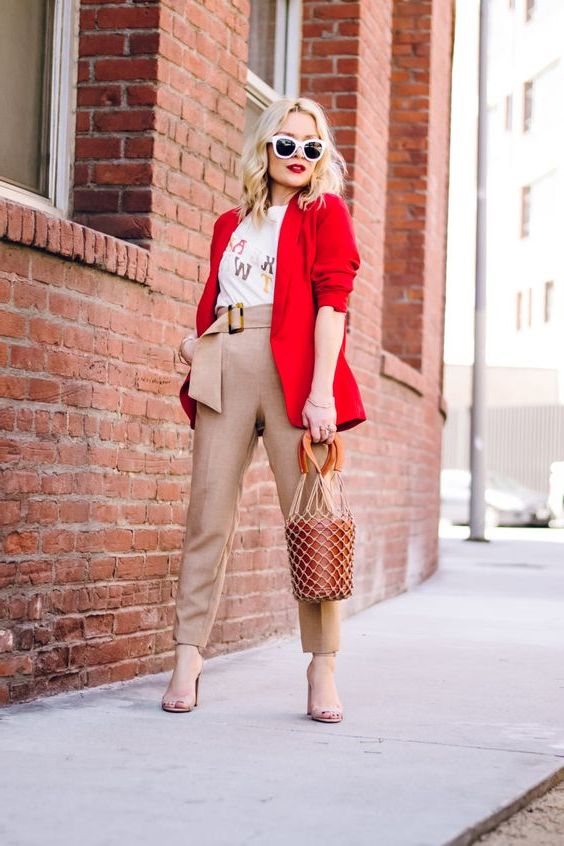 Buy Similar Here
Blue Jeans And Patent Red Brogues
Another great example of how to combine red with red. We see a red suit jacket paired with a beige sweater teamed with slim blue jeans and cherry-red patent brogues: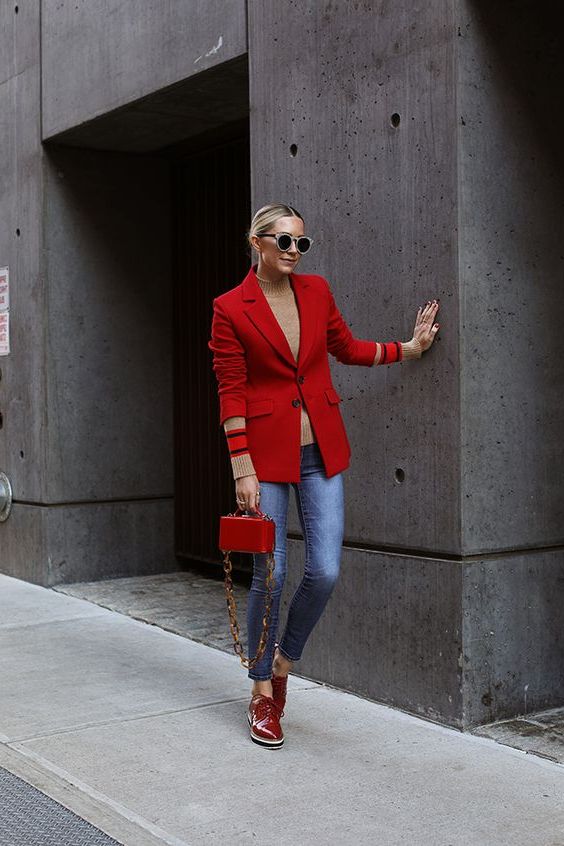 Buy Similar Here
Ripped Mom Jeans And Pointed Toe Flats
If you are one of those ladies who like to keep things simple and casual, because you don't like all that glamour stuff, then go for this simple combo. We see a classic red blazer teamed with a plaid shirt and ripped blue cuffed jeans completed with flat pointed-toe pumps in studs: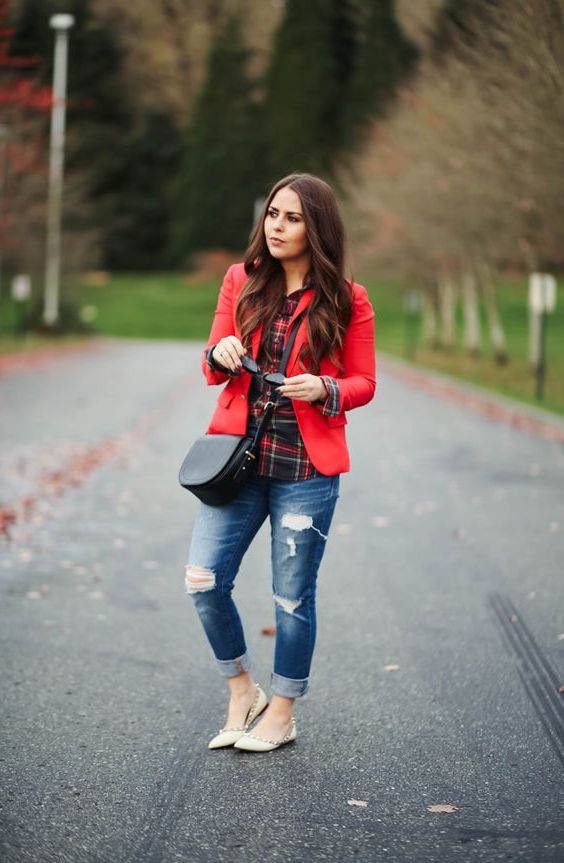 Buy Similar Here
Sheer Blouse, Black Skinnies And Red Leather Ankle Boots
Red and black is a perfect combination because every lady looks great wearing those hues. Here we see a red classic suit jacket worn over a black sheer top tucked in black skinny jeans tucked in red leather ankle boots: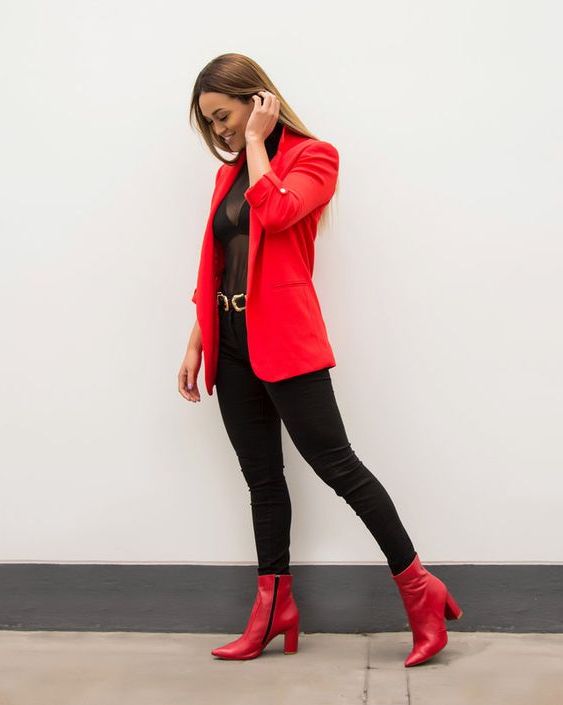 Buy Similar Here
Printed Top, Slim Jeans And Red Pumps
If you want to balance the casual look without paying too much, then you definitely should pair a red blazer with a pair of classic heeled pumps, because this combination is well-known and easy to wear in real life. Complete it with a cool printed white T-shirt tucked in high-waisted blue jeans: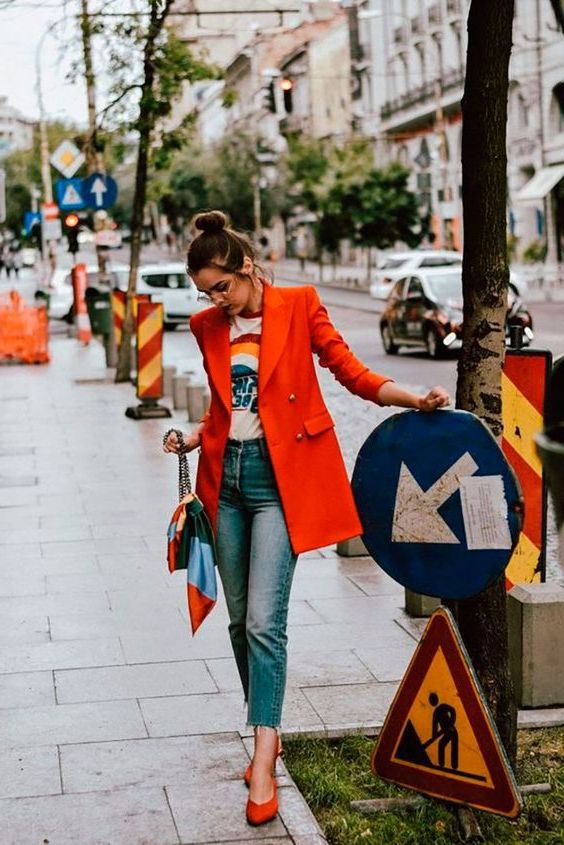 Buy Similar Here
Ripped Jeans & Shiny Silver Metallic Pumps
Some women want to keep things as casual as they can. Go for a light red slouchy blazer and team it with a white tee tucked in ripped blue boyfriend jeans completed with shiny silver metallic heeled pumps, update this combo with classic black sunglasses and black leather handbag: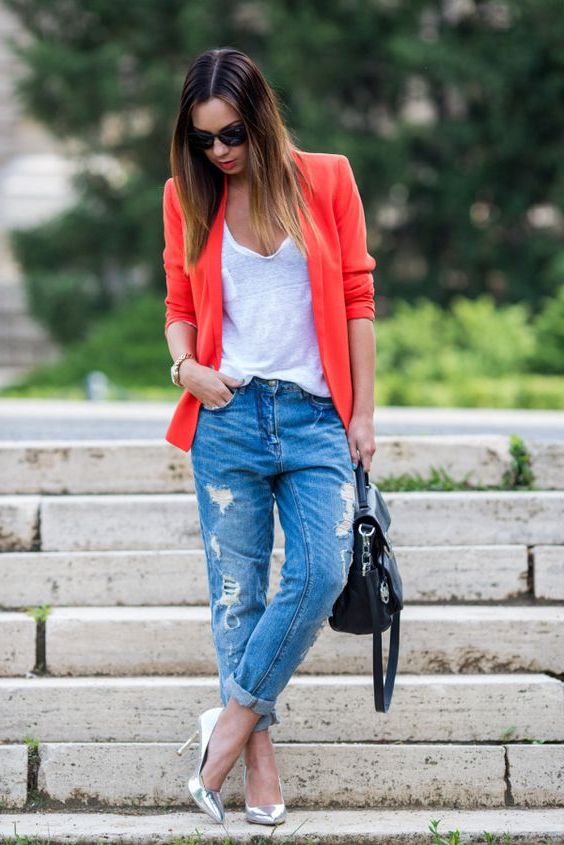 Buy Similar Here
Lace Up Peep Toe Stiletto Heeled Ankle Boots In Black
If you are going to visit a very special event, like a theater, opera or a big company's celebration, then I advise you to try on this red slim-fit pantsuit in red and update it with a black top, and lace-up peep-toe stiletto-heeled ankle boots in black: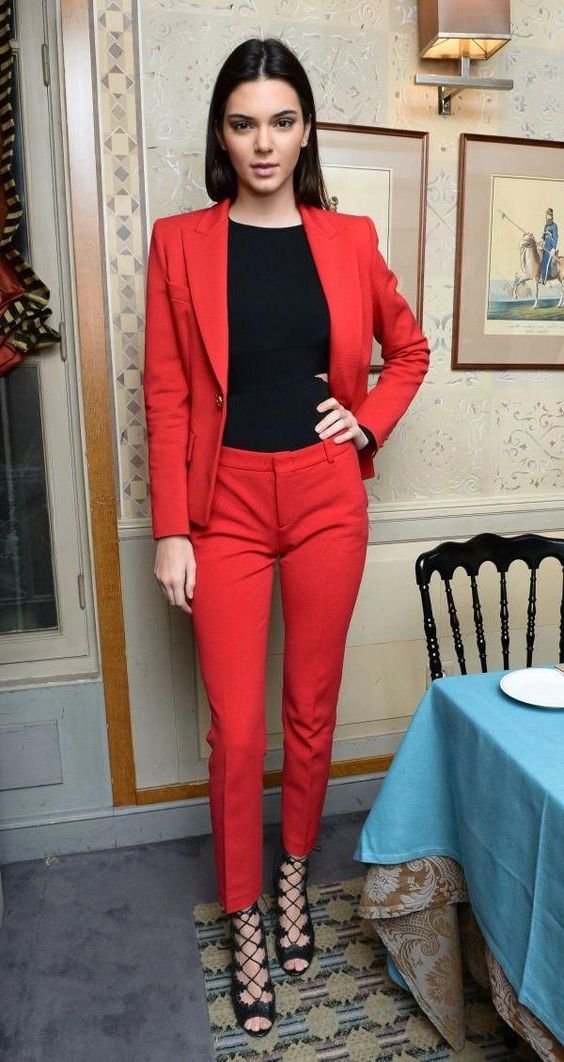 Buy Similar Here
White Shorts And Studded Caged Pumps In Red
Looking for a smart-casual summer look that can be worn to brunches and other fancy events? Go for this red suit jacket and style it with a black-white striped top teamed with white shorts and caged studded heeled pumps in red color: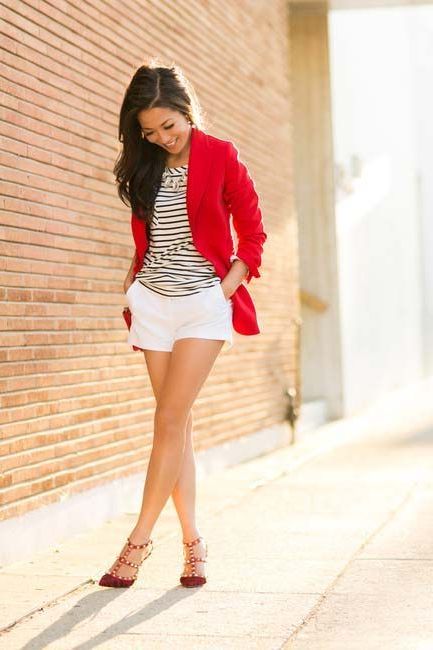 Buy Similar Here
Tan Heeled Pumps
If you want to underline your classic style while visiting a city mall, then go for a red suit jacket and team it with a blush silken top tucked in blue skinny jeans completed with tan heeled pumps. In love with these oversized sunglasses: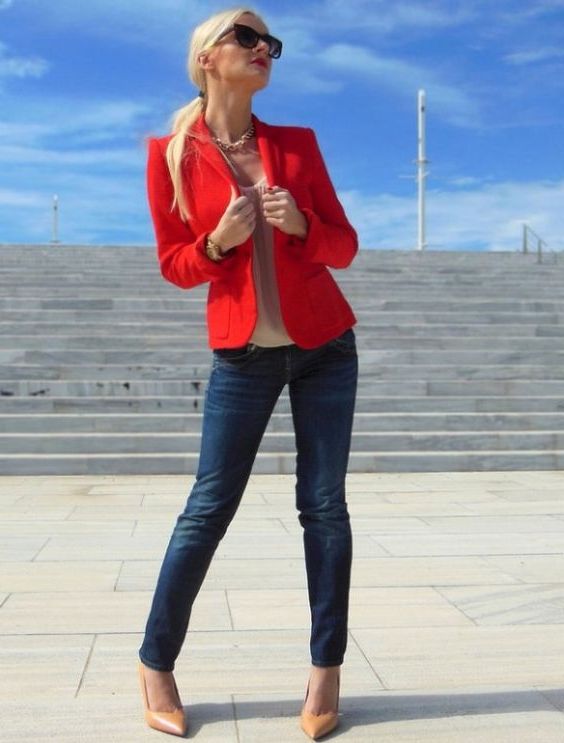 Buy Similar Here
Red Blazer And Vans
If you are about to go for a street walk or a date at the cinema, then I recommend keeping your outfit as simple as possible. That's why go for a relaxed fit red blazer and layer it over a white tee tucked in dark blue skinny jeans with ripped knees completed with black Vans: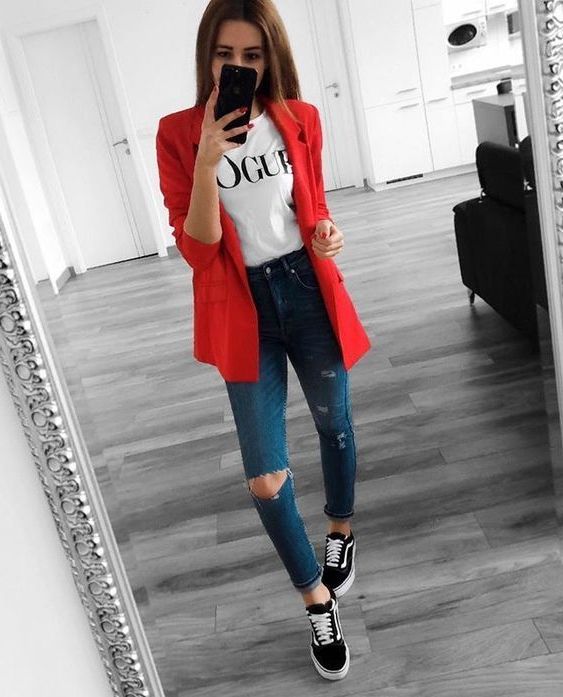 Buy Similar Here
White Converse
An all-red suit looks bright and trendy! Complete it with Wayfarer sunglasses, white tee, and white Converse shoes: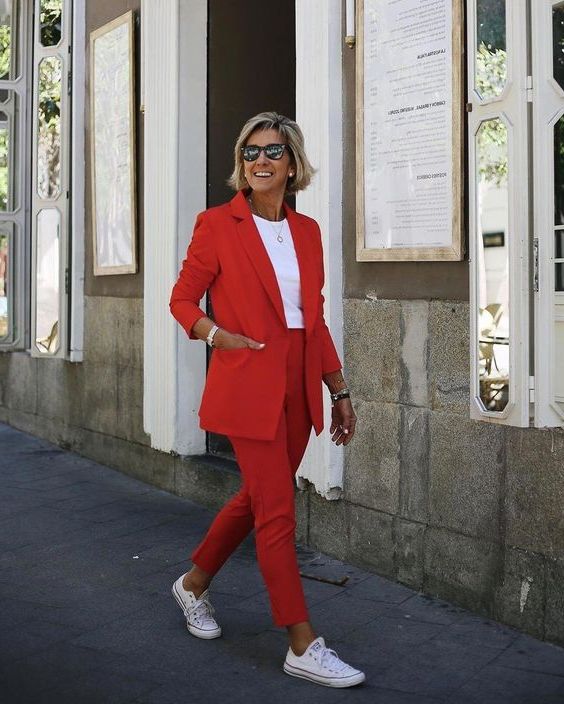 Buy Similar Here
White Heeled Ankle Boots
A red suit jacket adds an elegant touch to this outfit. Layer it over a white T-shirt tucked in cuffed mom jeans completed with white heeled pointed-toe heeled ankle boots and white bucket bag. In love with these aviator sunglasses: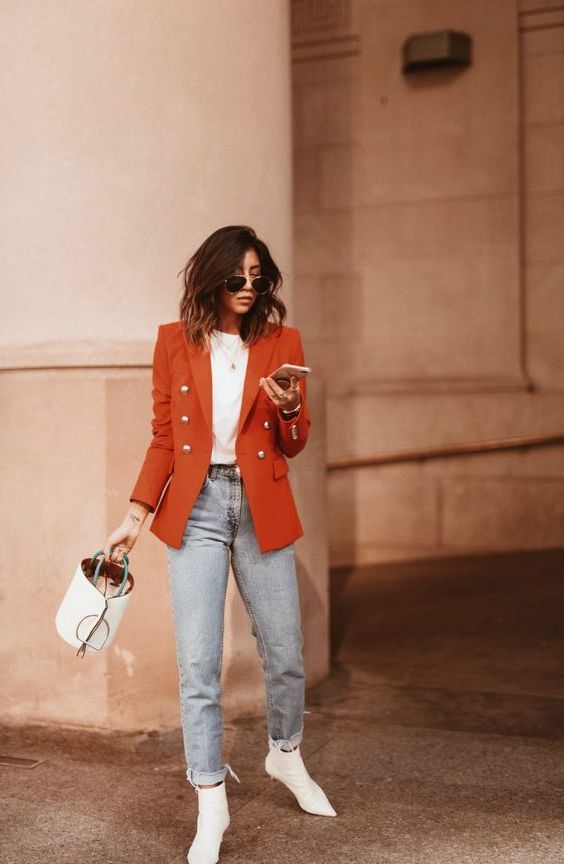 Buy Similar Here
White Sneakers
You can have fun with a casual look. All you need is a long red suit jacket and layer it over a white T-shirt half-tucked in ripped boyfriend jeans completed with white sneakers. Update this look with modern cat-eye sunglasses, as they will make the whole outfit look trendy. By the way, I have a cool post on ways how to wear sneakers for women, check it, as I tried to create a complete guide for this year: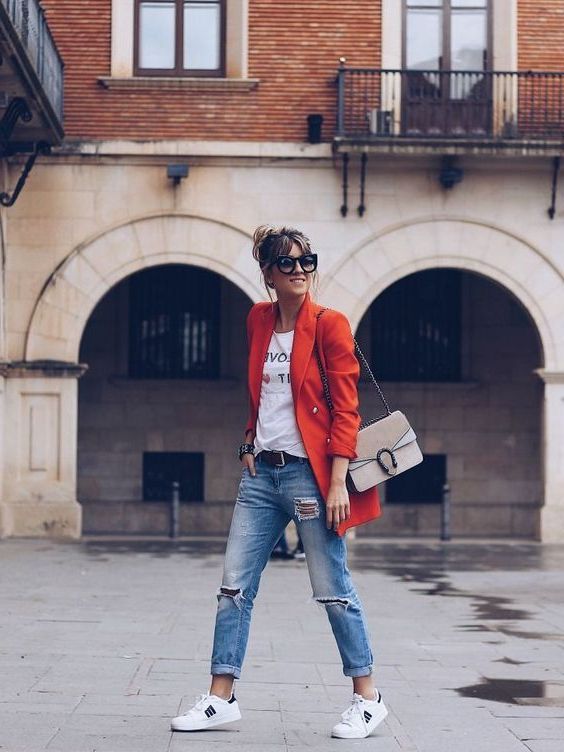 Buy Similar Here