Today we are going to talk about what shoes to wear with leather dresses. I am a big fan of leather dresses and I always want to make it look fabulous. This clothing staple is ideal for women who want to underline their edginess and rock chic vibe.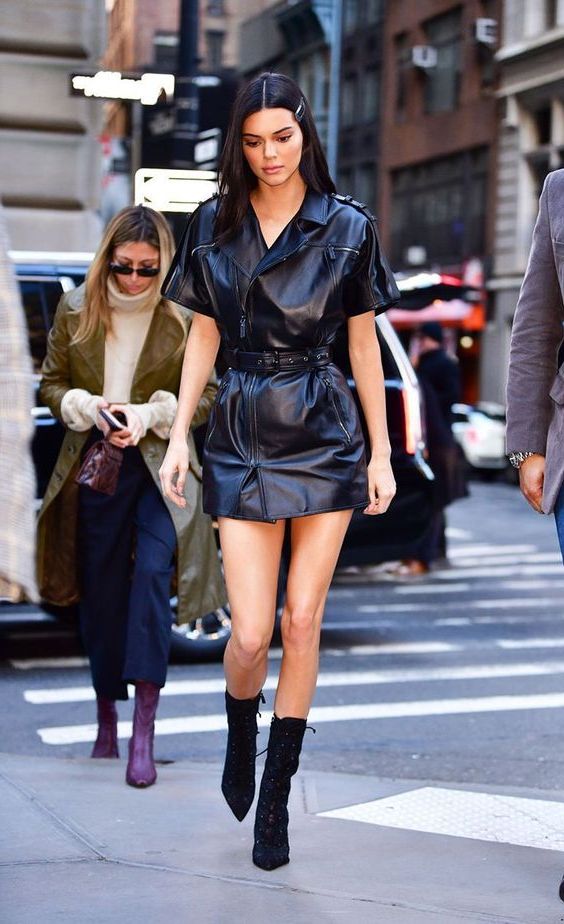 Buy Similar Here
We see a biker style black leather dress with zip closures and a belt worn with suede sock-style heeled ankle boots.
This beautiful dress can easily make you stand out from the crowd. You are about to see different styles of leather dresses, including classic tight ones, shirtdresses, fit-and-flare, minis, maxis and many more. The colors range from classic black to red, brown and blue. Trust me, once you know what shoes to wear with a leather dress the result is going to look incredibly sexy and rich. If you decided to try on a leather dress, but don't know what shoes to wear it with, then I am here to help you out. Thanks to these street style images, we are about to see the best ideas to copy this year. Trust me, leather will add a class to your look. Anyway, let me share with you some amazing leather styling ideas. Don't forget to tell me your thoughts in the comments below.
Black Leather Dress And Beige Heels
I love to see women who combine black with beige! We see a belted black leather kimono dress worn with beige heeled pumps, a perfect look for evening events. I like the short wide sleeves: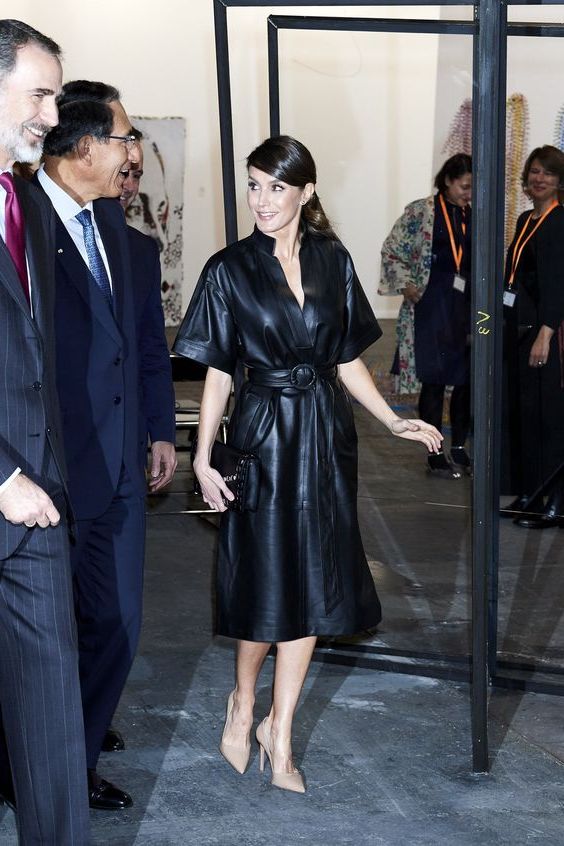 Buy Similar Here
Black Leather Dress And Booties
If you are looking for a slim and glamour looking style, then try on this long sleeve black leather mini dress with a front 1/2 zip-closure and asymmetric skirt, it looks ideal with black leather ankle boots: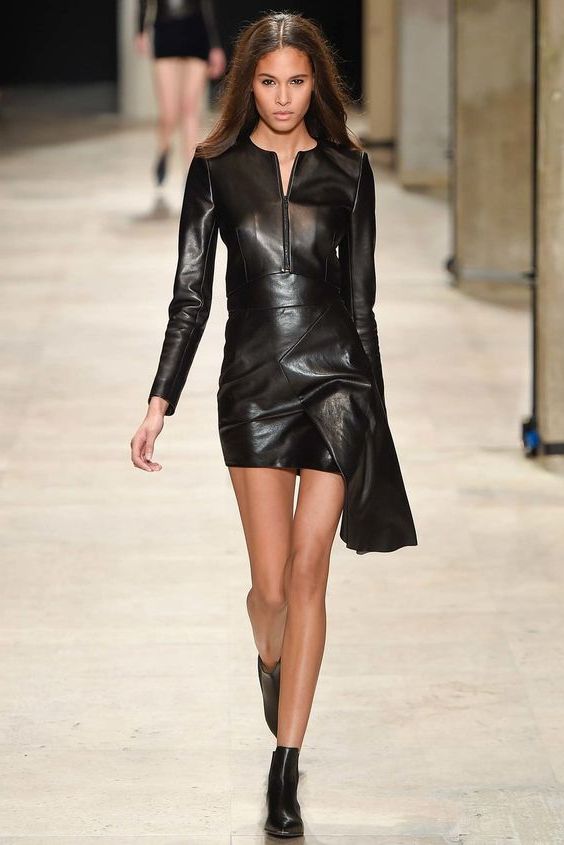 Buy Similar Here
Black Leather Dress And Gold Heels
If you are more into edgy style with biker chic touches, then you might like to try on this sleeveless black leather mini dress with zipping closures on sides. Complete it with light gold heeled pumps: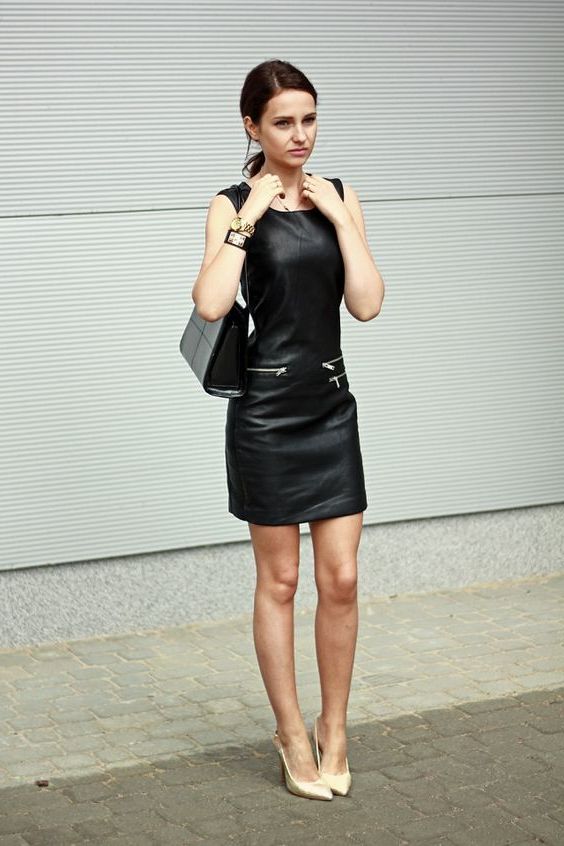 Buy Similar Here
Black Leather Dress And Purple Pumps
If you are like me and want to wear leather during the day, then go for this T-shift leather dress in black and team it with purple heeled pumps, oversized sunglasses and a leopard print clutch bag: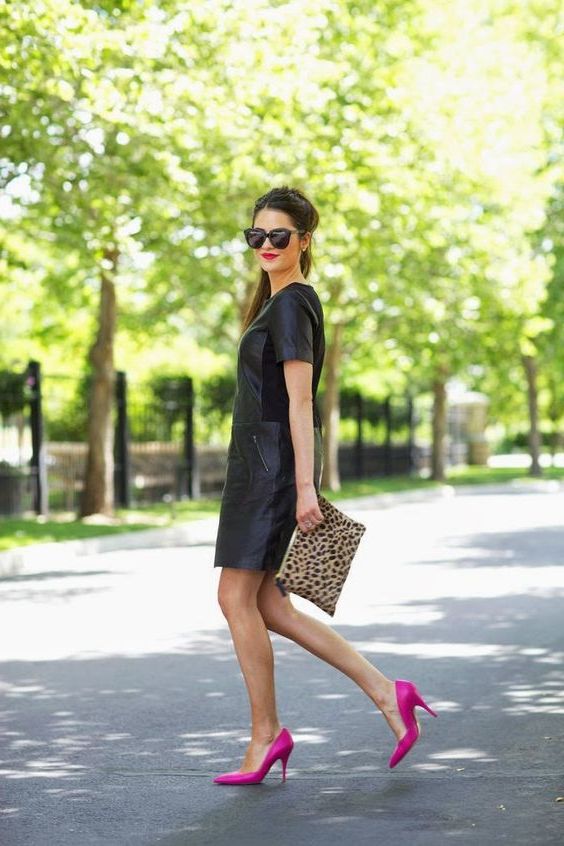 Buy Similar Here
Black Leather Dress And White Boots
A black leather midi shirtdress with long sleeves and breast pockets looks like a coat-dress to me, but the overall styling is fabulous. The frock is completed with modern sunglasses, hot red slouchy bag and white leather boots: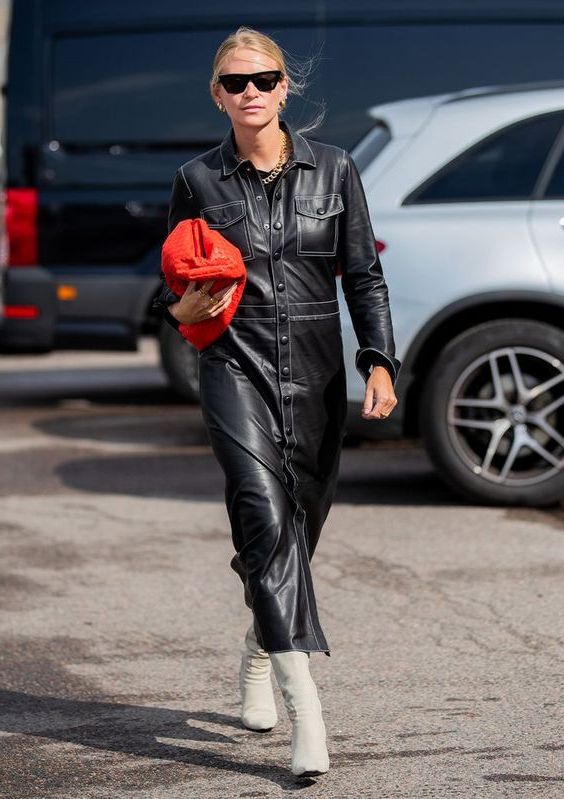 Buy Similar Here
Black Leather Dress And Yellow Pumps
We see a black leather sheath dress styled with a golden neckpiece, dark red leather clutch, and chicks-yellow heeled pumps: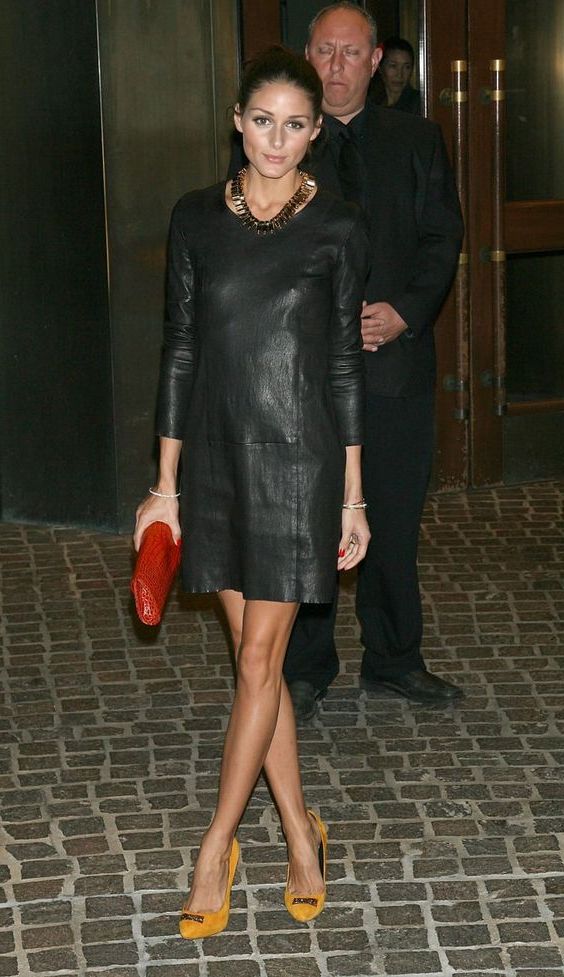 Buy Similar Here
Black Leather Dress With Heeled Criss Cross Sandals
If you are looking for a way to update your black leather mini dress, then how about wearing a white blouse underneath it? Complete the look by adding a mini shoulder navy clutch bag and criss-cross black heeled sandals: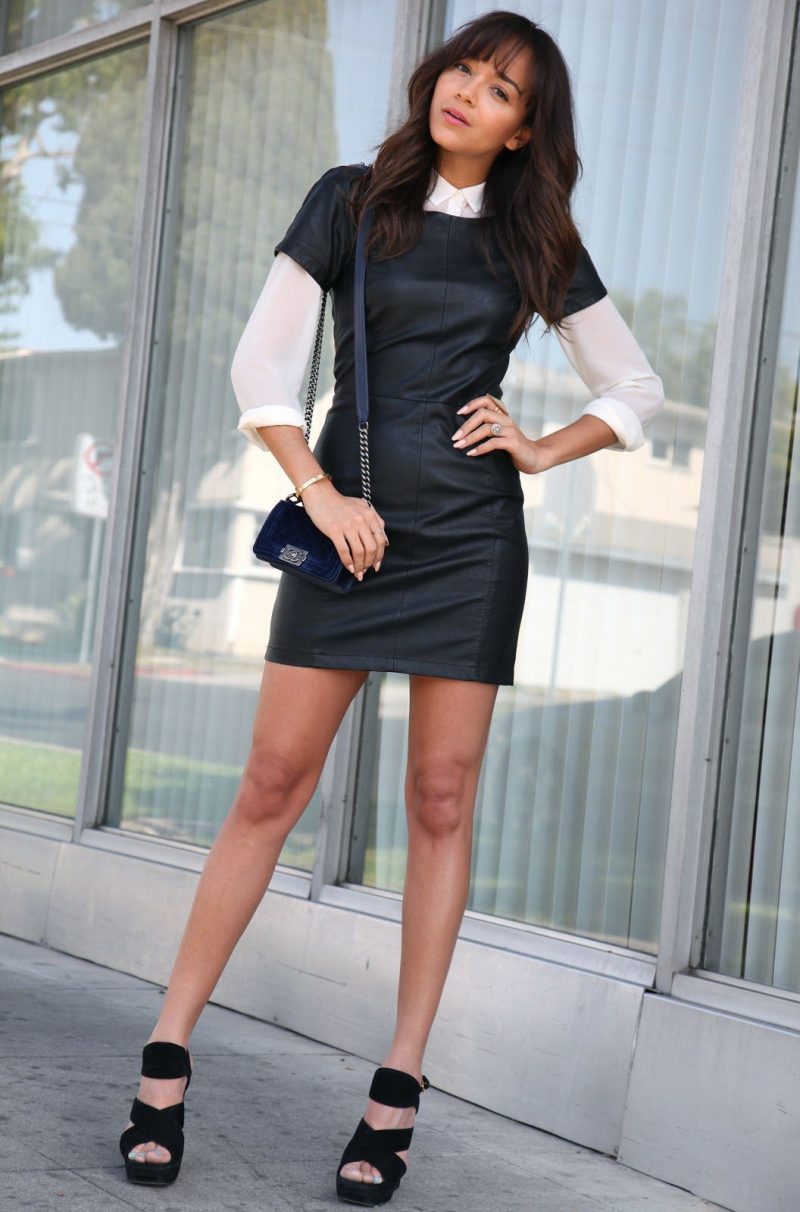 Buy Similar Here
Brown Leather Dress And Nude Heels
A sleeveless brown leather tight midi dress with a deep neckline is completed with nude heeled pumps: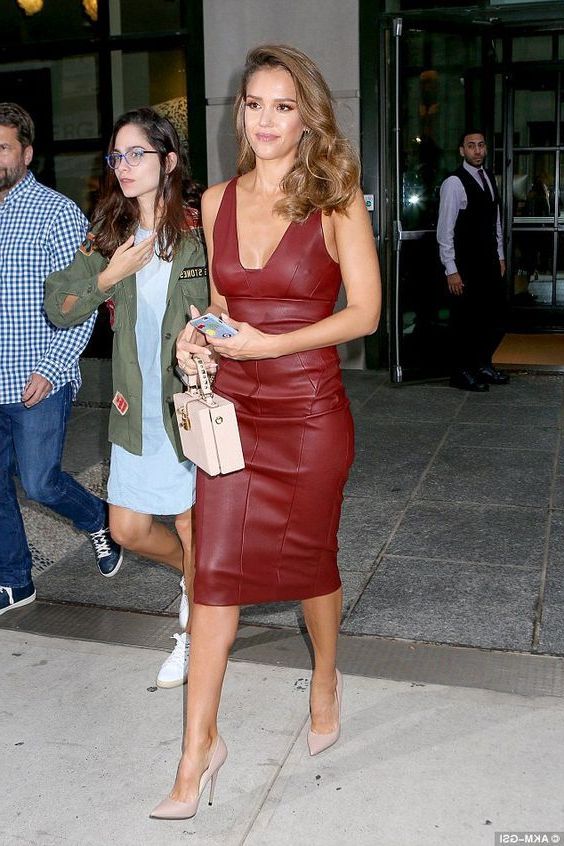 Buy Similar Here
Dark Brown Leather Dress And Brown Boots
A wrap brown leather midi dress with short sleeves is completed with white Wayfarer sunglasses and light brown leather boots: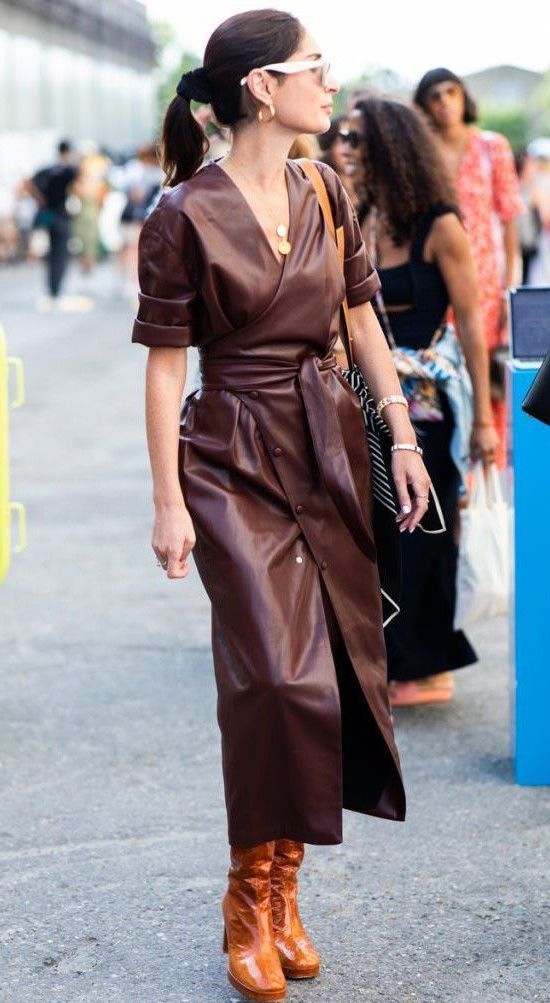 Buy Similar Here
Green Leather Dress And Metallic Sandals
A sexy dark green sleeveless leather midi dress with a deep neckline and a high slit is completed with silver metallic heeled sandals: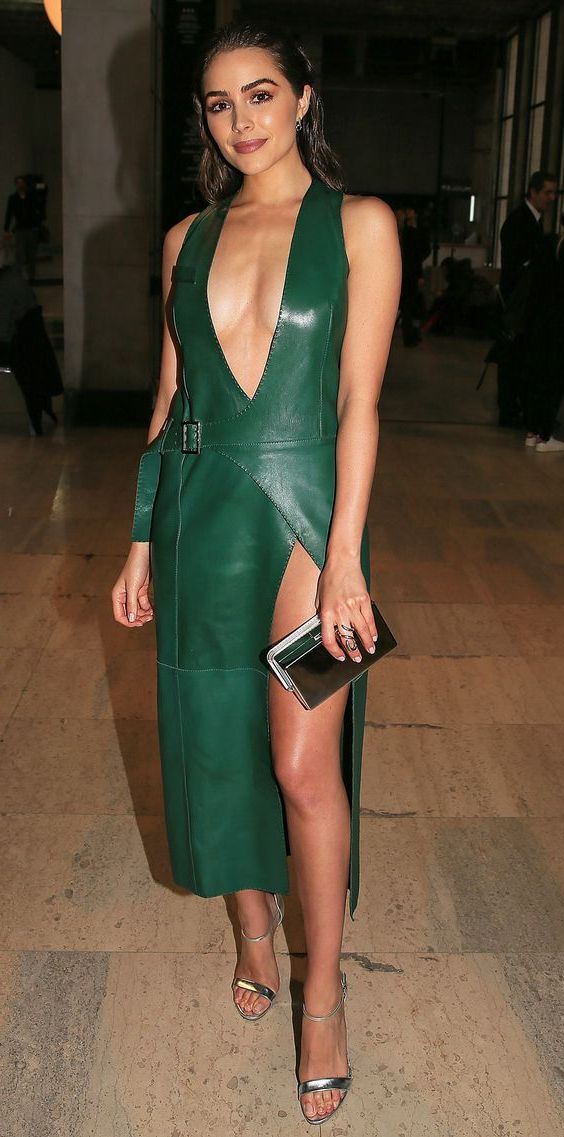 Buy Similar Here
Black Leather Dress And Black Pumps
Another black leather long shirtdress with a belt and long sleeves is completed with pointed-toe heeled pumps in black: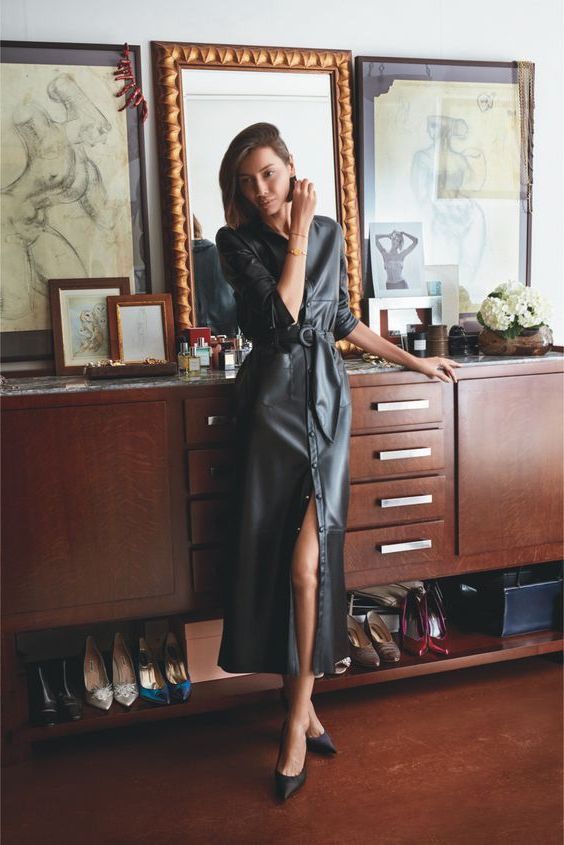 Buy Similar Here
Black
Black Leather Dress With Deep Neckline And Clear Heels
A sleeveless black leather knee-length dress with a deep neckline is styled with clear heeled sandals: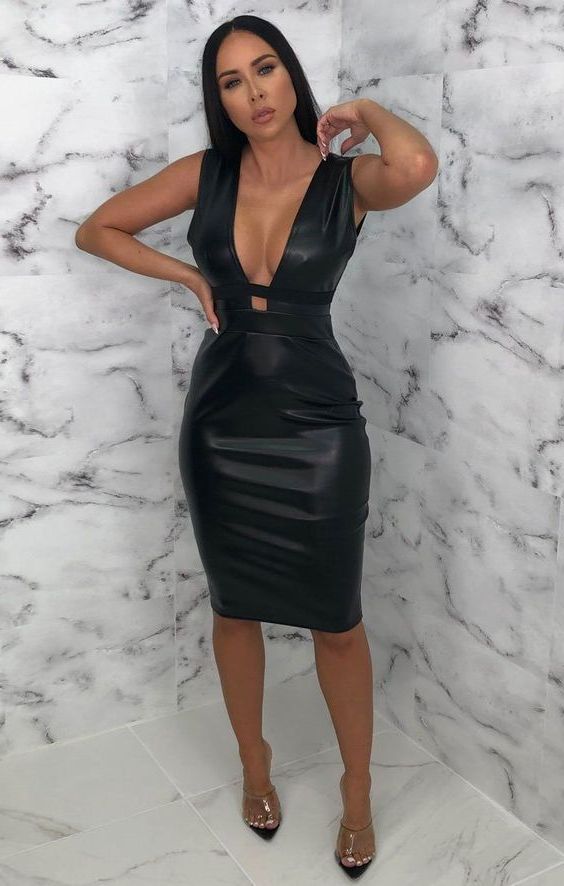 Buy Similar Here
Long Sleeve Black Leather Dress And Nude Heels
A tailored black leather short dress with long sleeves, flared skirt and a V-neck deep neckline is updated with nude heels: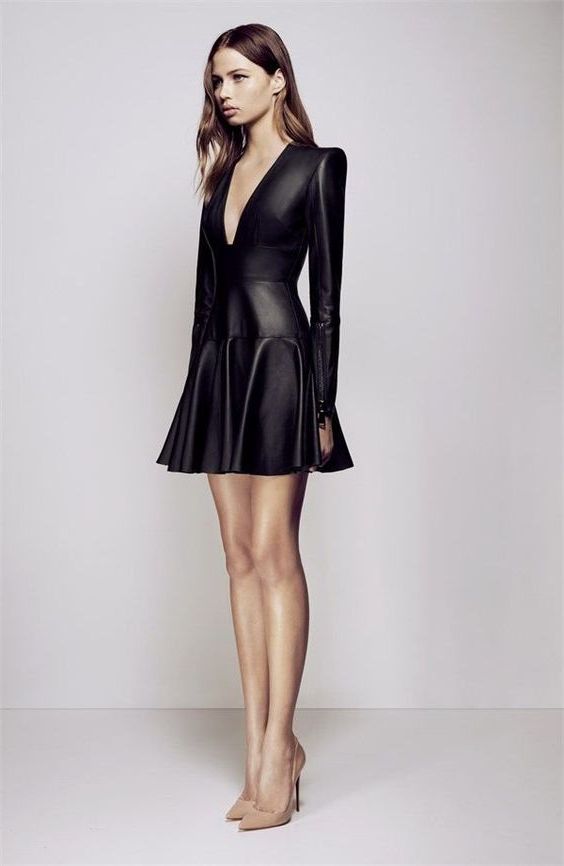 Buy Similar Here
Black Leather Dress And OTK Boots
Another biker style black leather mini dress is worn with a black sweater and black leather OTK boots: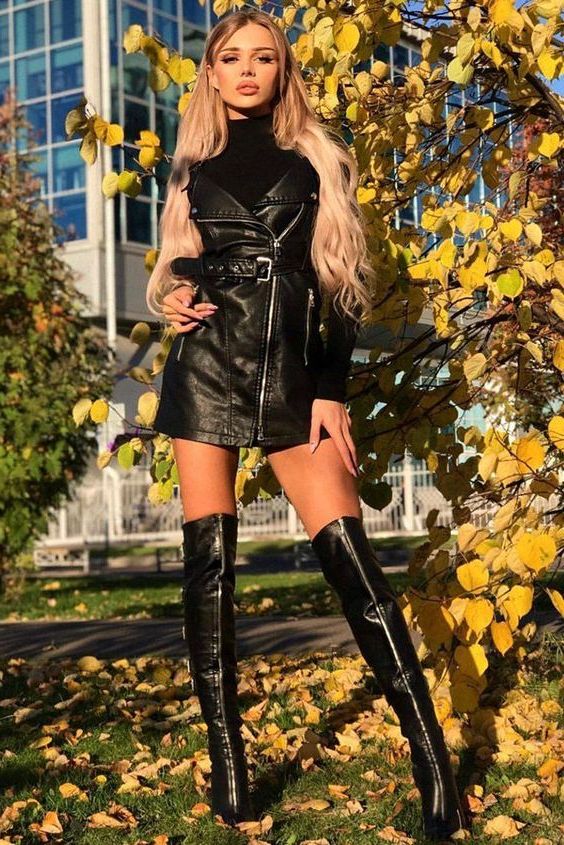 Buy Similar Here
Brown Leather Shirtdress And Snakeskin Print Boots
A brown leather shirtdress with long sleeves, pockets and a belt is styled with rounded sunglasses and snakeskin print ankle boots: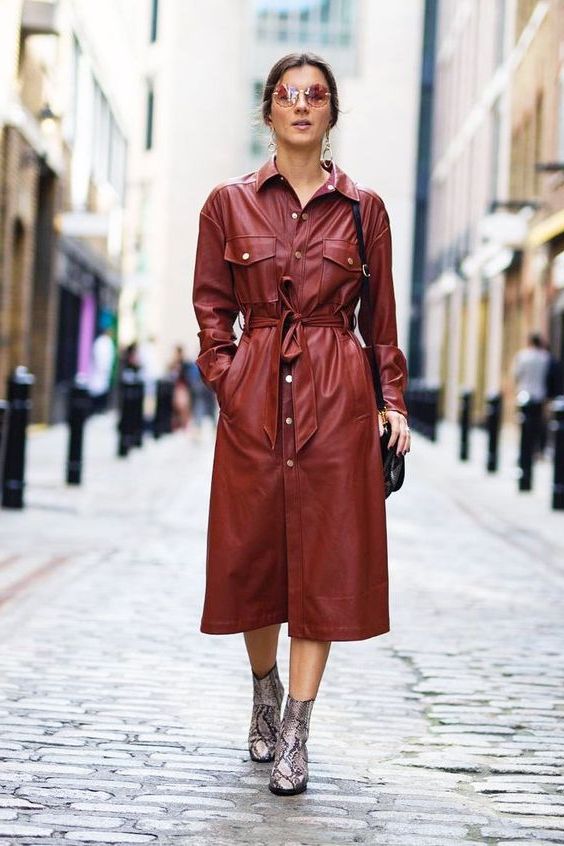 Buy Similar Here
Sleeveless Leather Dress And Sneakers
A turtleneck sleeveless black shift dress is an ideal choice to wear with white sneakers. Speaking of sneakers, I have a great post on ways how to wear sneakers for women, you can find lots of inspiring street style looks to try this year: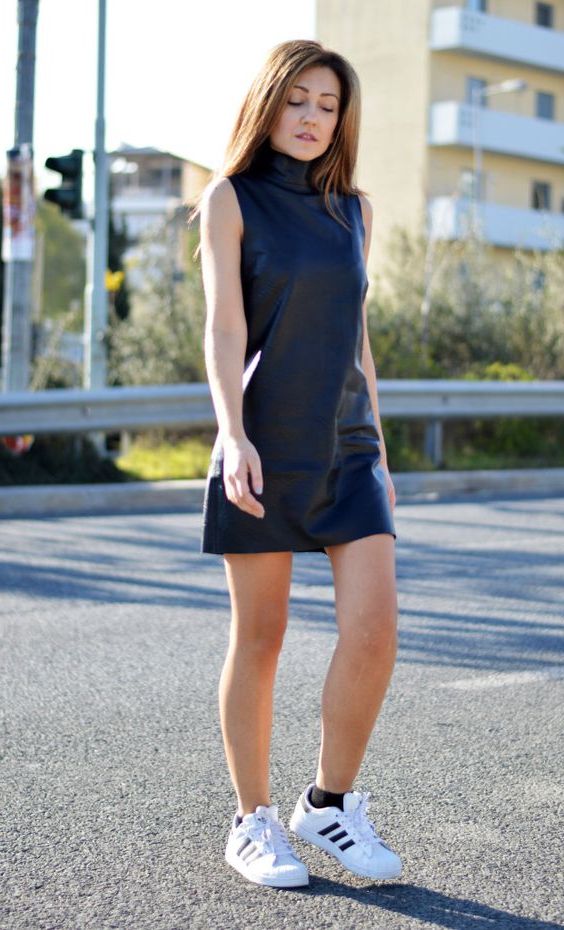 Buy Similar Here
Black Leather Dress And Strap Sandals
A kind of military touch is felt in this dress. Love the tailored fit of this buttoned black leather coat-dress in slim fit completed with ankle-strap heeled sandals in black: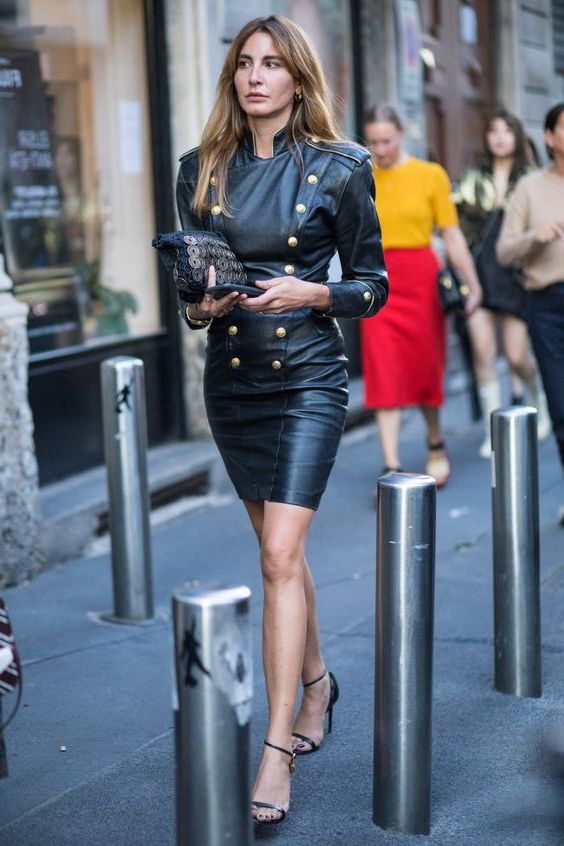 Buy Similar Here
Navy Leather Dress And Sandals
A sleeveless high-neck navy leather dress in a sheath silhouette is completed with black ankle-cuff heeled sandals: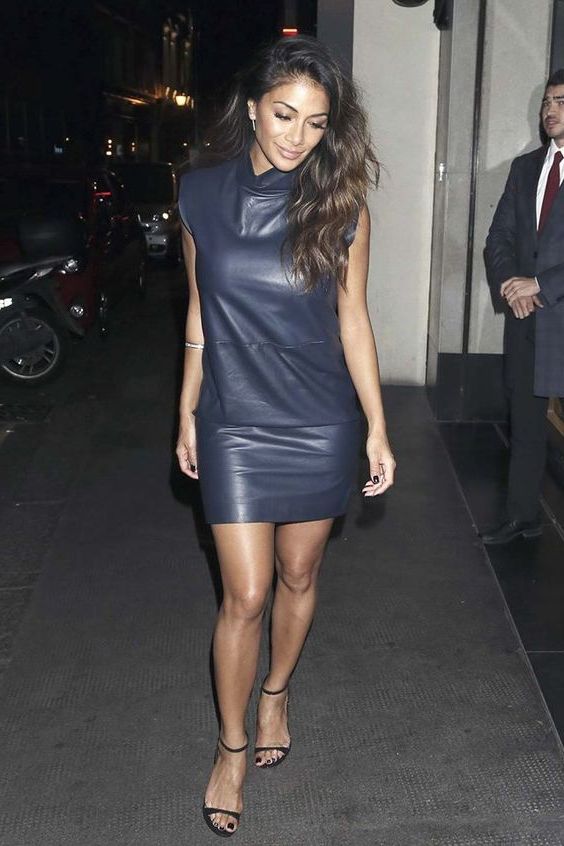 Buy Similar Here
Red Leather Dress And Red Pumps
We see an oversized black leather jacket is worn over a bright red leather mini dress completed with pointed-toe heeled pumps in red: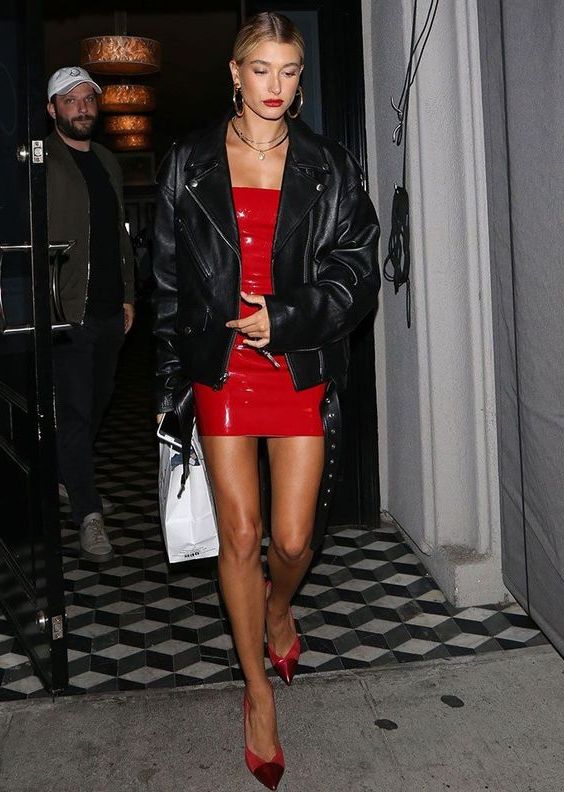 Buy Similar Here
Red Leather Dress And Sandals
A red tuxedo dress with long sleeves is completed with dark red heeled sandals: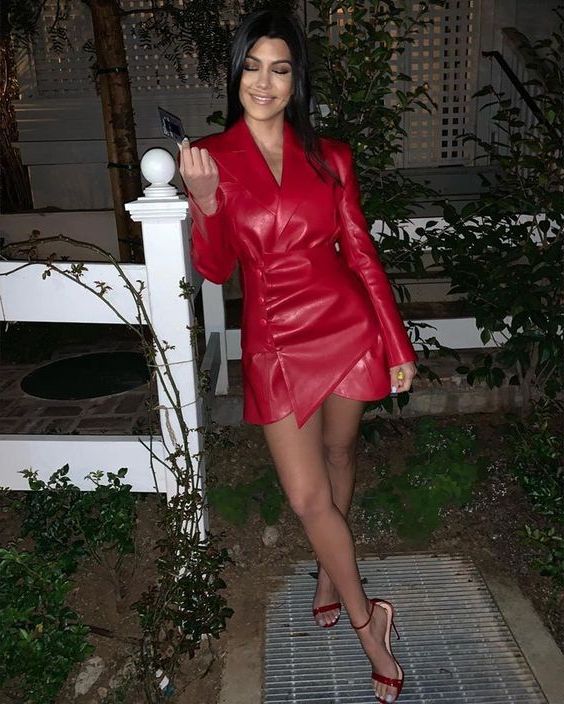 Buy Similar Here