Who's got the power? This time I want to speak about wild printed shoes. In today's post, we are going to see awesome animal print shoes worn with fabulous fashion outfits that are so must-try right now. You are about to see cool leopard print ankle-boots, sassy sandals in leopard spots, beautiful boots in animal print, zebra booties, etc.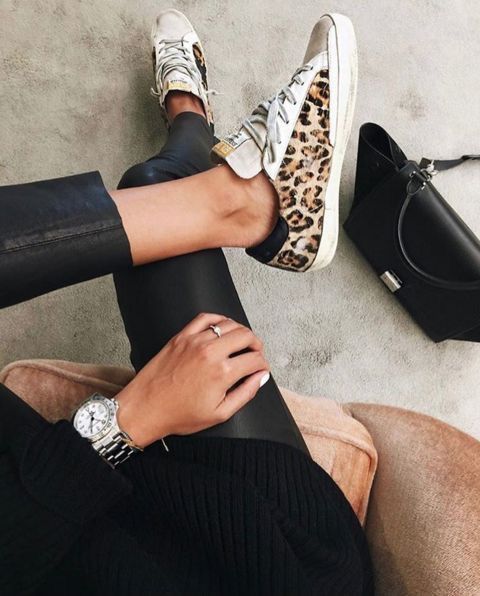 Buy Similar Here
We see leopard print sneakers styled with black leather skinny pants and an oversized black sweater. An ideal combo for casual street walks.
Believe me, every footwear design shown in this collection gonna make you look insanely hot and extremely feminine. Indeed, those of you who want to feel the power, then I highly recommend to try on animal print footwear. I think everyone wants to try it, but no one really knows how to make it look awesome on them, am I right? If so, then you are welcome to look through this compilation.
How To Wear Animal Print Ankle Boots
A relaxed fit asymmetric black sweater is teamed with ripped jeans in wash blue completed with pointed-toe ankle boots in leopard print, complete it with aviator sunglasses: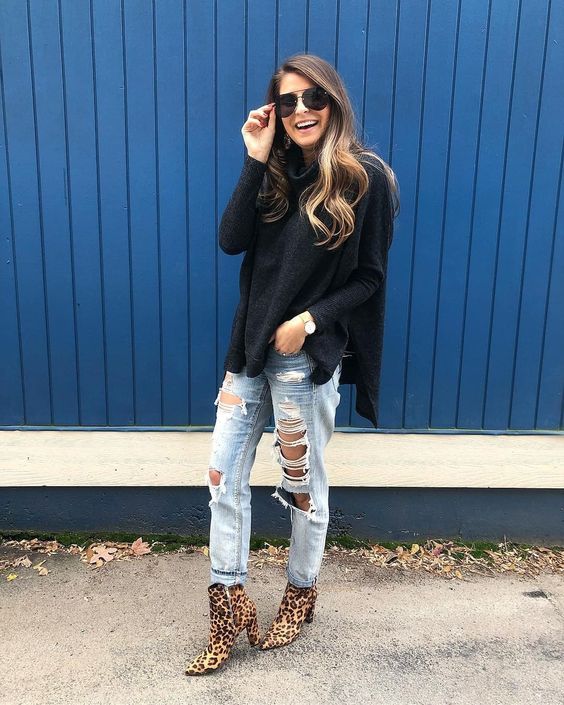 Buy Similar Here
Personally, I am not a huge fan of animal print and still, I do wear it on my accessories, starting from heels to scarves and beanies. Just think how easy it can refresh your outfits. You can find it on nearly everything.
How To Style Animal Print Booties
If you want to create a simple yet trendy look, then go for a black blazer, black tee tucked in knee-ripped blue jeans completed with snakeskin print ankle boots: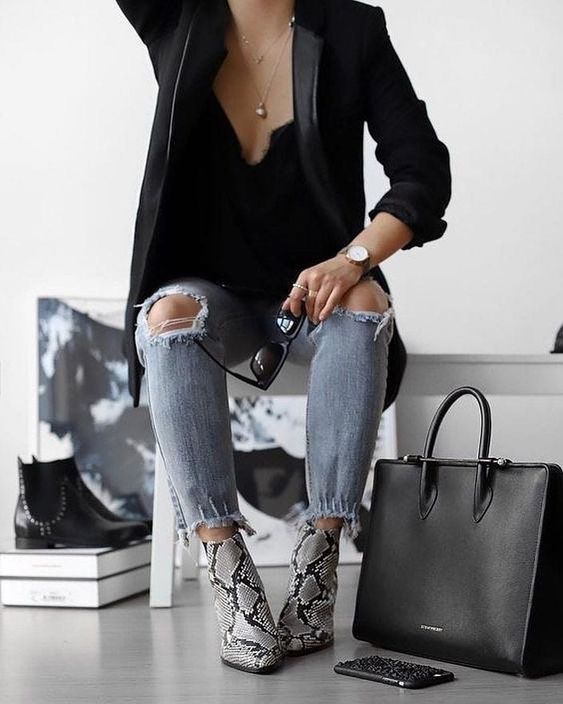 Buy Similar Here
If you are wondering how to combine animal print shoes with your everyday clothes, then I suggest you wear it with brown, beige, maroon, black and white. Anyway, I recommend looking through my favorite street style images that will undoubtedly inspire you to create the wild animal printed outfit.
How To Wear Animal Print Flat Pumps
We see tasseled flat pumps in leopard print worn with dark blue skinny jeans and a sheer black blouse: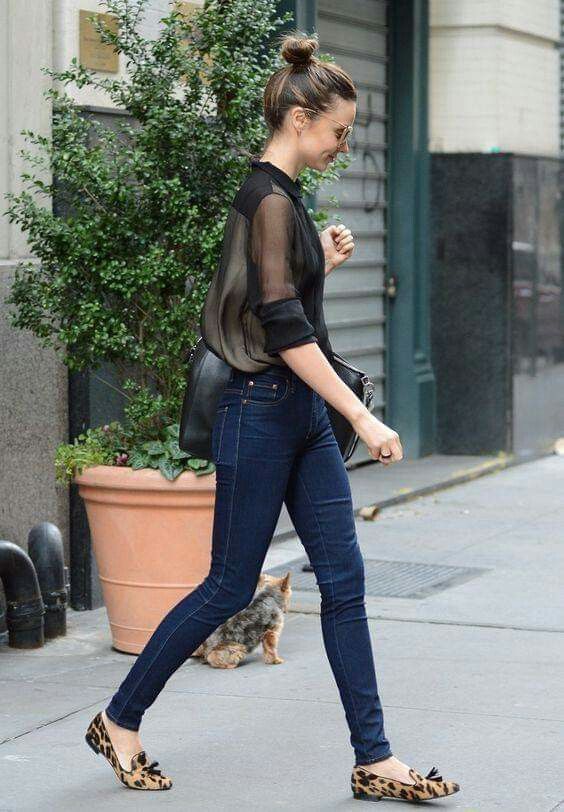 Buy Similar Here
Fashion experts say that animal-print shoes are an excellent option for anyone who loves rocking bold patterns, this is the simplest way to keep things fresh and chic without going over the top.
How To Wear Animal Print Heeled Chelsea Boots
A pair of Chelsea boots in leopard print looks great with skinny jeans, ribbed knit white tee and black long cardigan: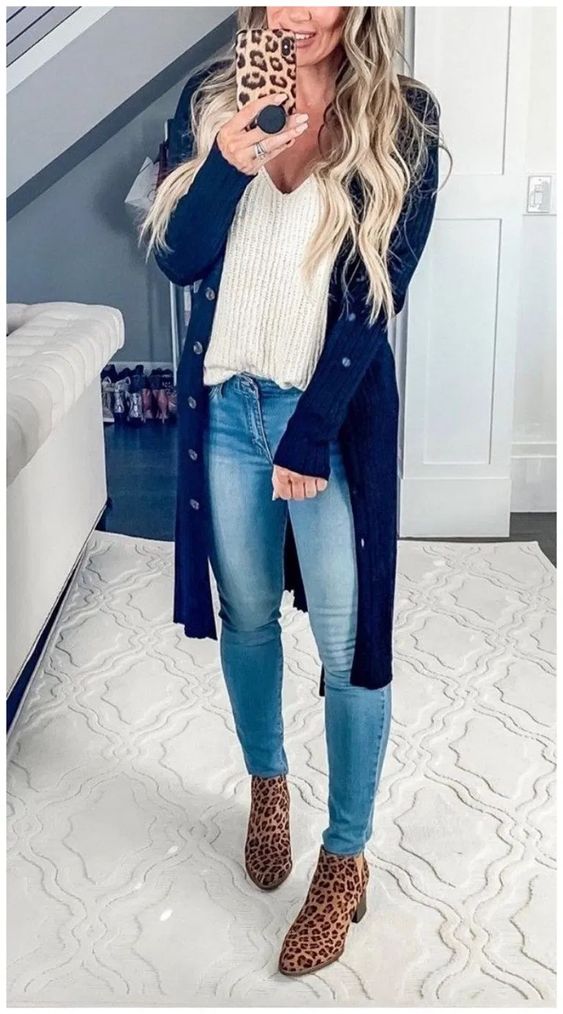 Buy Similar Here
You are about to find here cool zebra shoes in black and white colors, as well as classic leopard print heels that can be styled with jeans, red and black dresses, as well as many other inspiring looks. If you are more into sporty style, then be sure o check animal print sneakers. There are animal-print pieces to fit everyone's personal style and budget!
Animal Print Heels And Matching Clutch
How about matching your shoes with bags? Go for leopard print heeled pumps and style them with maroon skinny pants and leopard print clutch bag: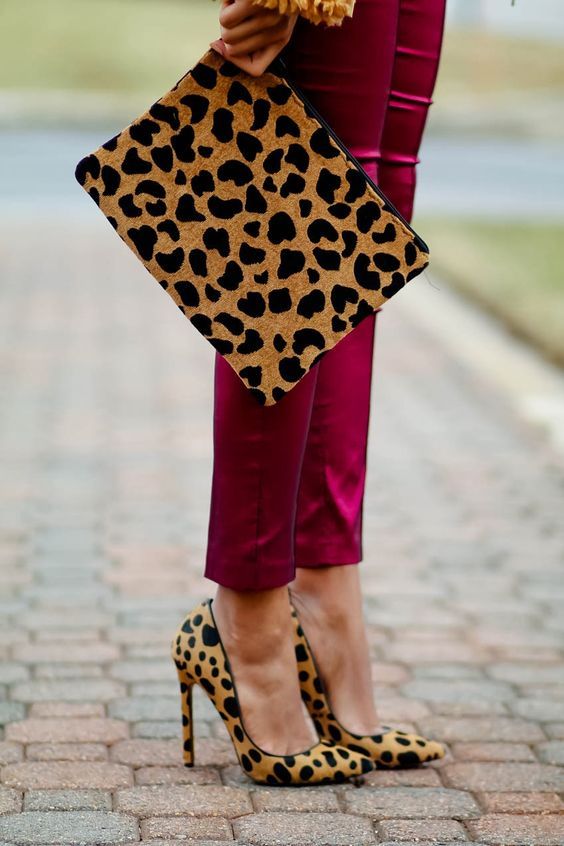 Buy Similar Here
This footwear is obviously a cute choice for the hot summer season, but you can try on animal print boots and booties for Winter months. Trust me, these boos can be worn all fall season long and look stunning with dresses and pants. Anyway, let's see what's trending right now and find your favorites.
How To Wear Animal Print Heels
Heeled pumps in leopard print look amazing with a black blazer and a black top tucked in flared black skirt:

Buy Similar Here
Animal Print Over The Knee Boots
Go for this black blazer dress and team it with over the knee boots in snakeskin print: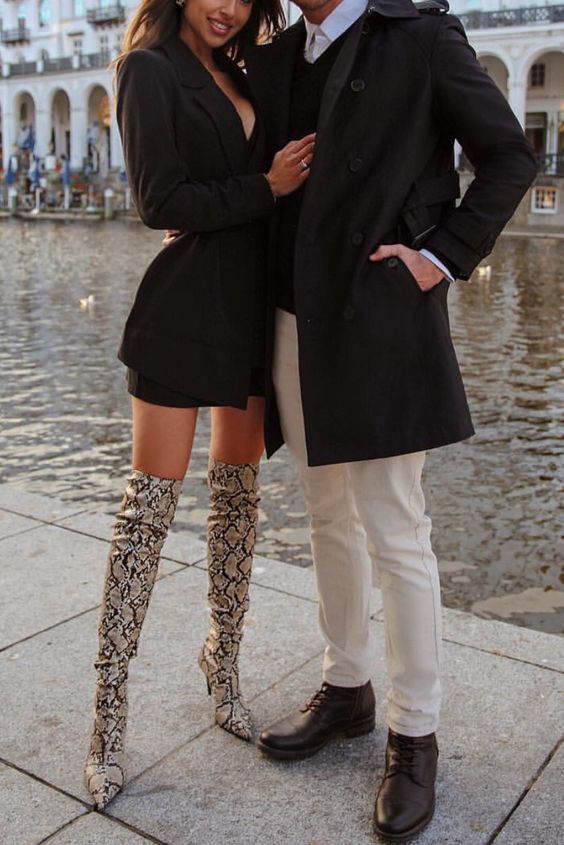 Buy Similar Here
Animal Print Pointed Toe Flats
Pointed toe flat shoes in a leopard print can be teamed with black leather skinny pants, black sweater, and a khaki down vest: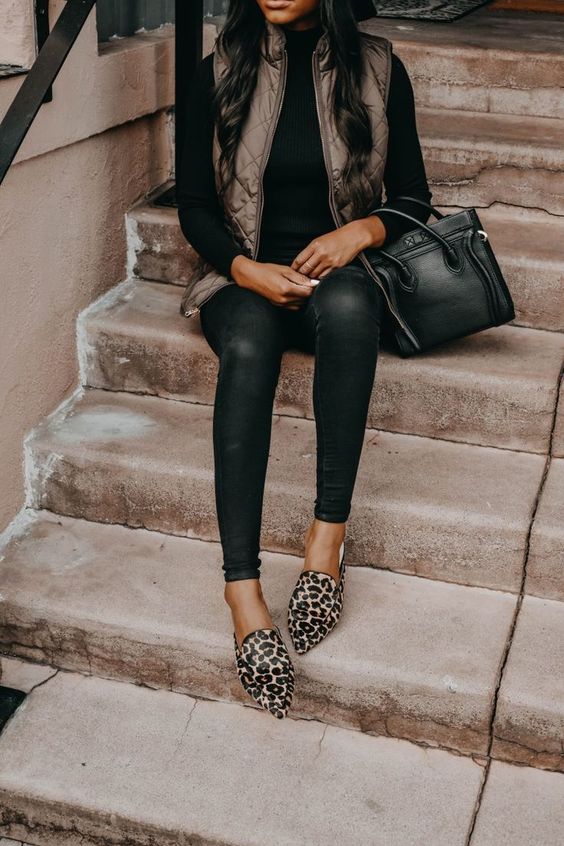 Buy Similar Here
Animal Print Pumps And Black Outfit Idea
Go for an all-black outfit idea consisting of a black slim bodysuit tucked in cropped skinny pants in black completed with leopard print heeled pumps: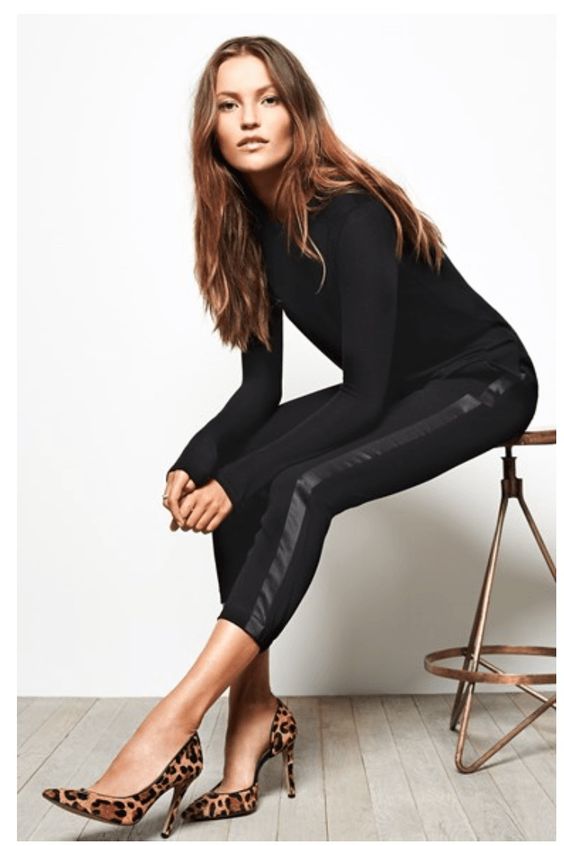 Buy Similar Here
Another all in black look, we see a black sweater teamed with black skinny pants and classic flat pumps with pointed toes: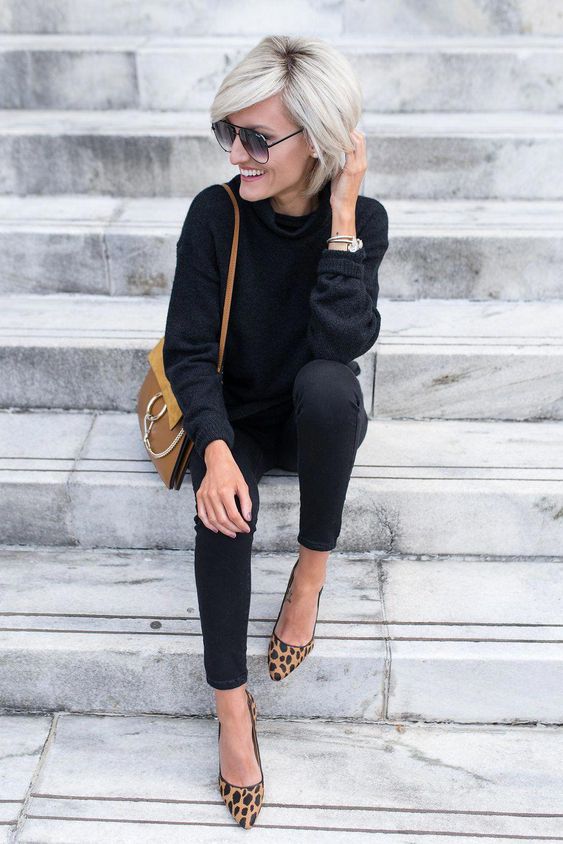 Buy Similar Here
Animal Print Pumps With Pom Poms
Here we see cute leopard print heeled pumps embellished with black pom poms styled with a green shirtdress completed with cat-eye sunglasses: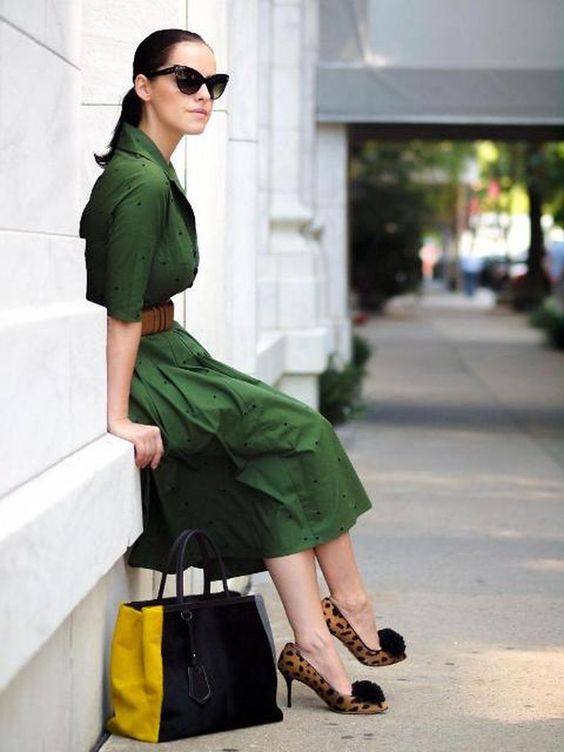 Buy Similar Here
How To Wear Animal Print Shoes With Black Dress
A classic slim fit black dress with long sleeves looks great with leopard print heeled pumps: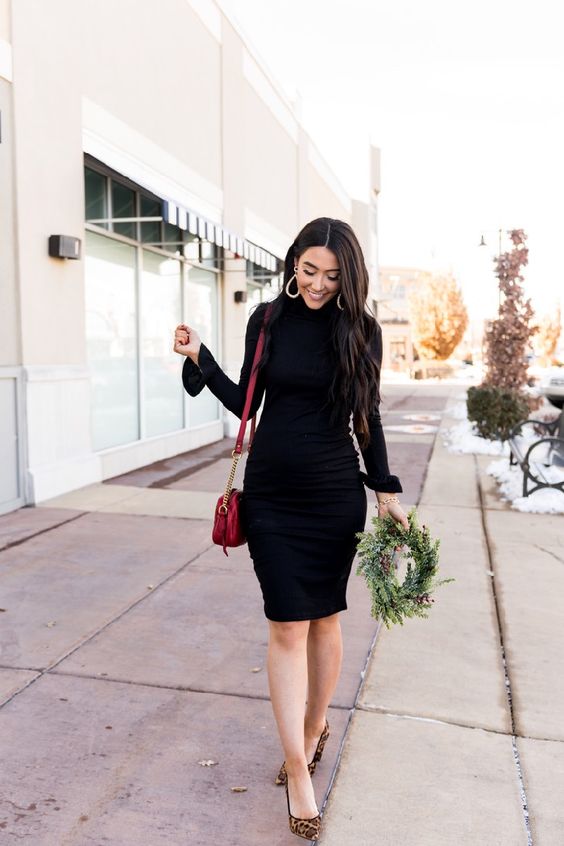 Buy Similar Here
How To Wear Animal Print Shoes With Black Pants
A pair of flat pumps in leopard print looks pretty chic and office-friendly with a pair of black pants, black-white gingham print shirt, and a beige trench coat: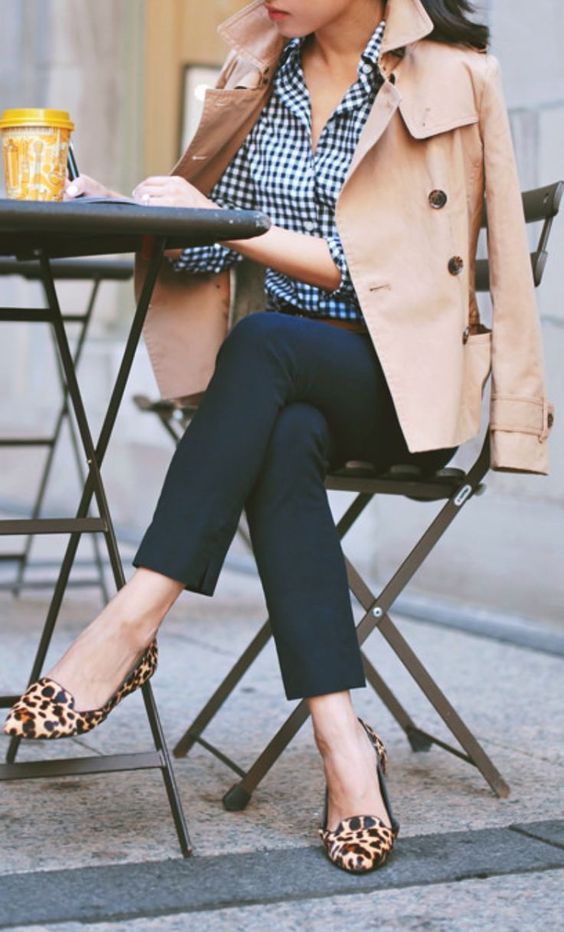 Buy Similar Here
How To Wear Animal Print Shoes With Jeans
Keep things simple and casual, go for a red sweater, blue slim jeans and open-back flat pumps in leopard print, in love with tortoise rounded sunglasses: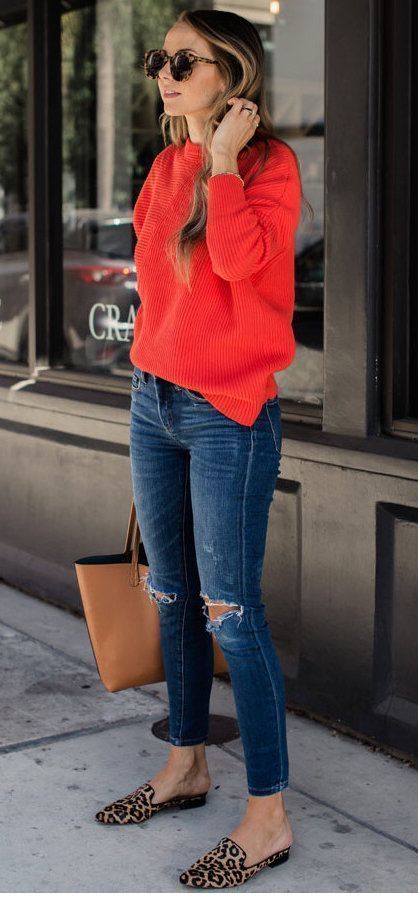 Buy Similar Here
How To Wear Animal Print Shoes With Red Dress
If you are into red color, then go for this long-sleeve red dress and complete it with black tights and leopard booties: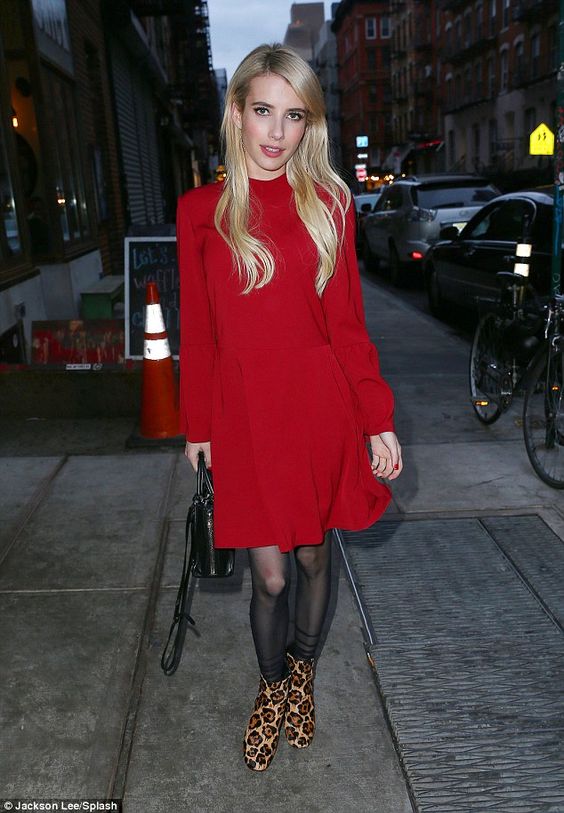 Buy Similar Here
How To Wear Animal Print Slip On Shoes
A classic pair of animal print slip-on shoes are teamed with black leather ankle pants, a relaxed sweater in black and a slouchy black coat: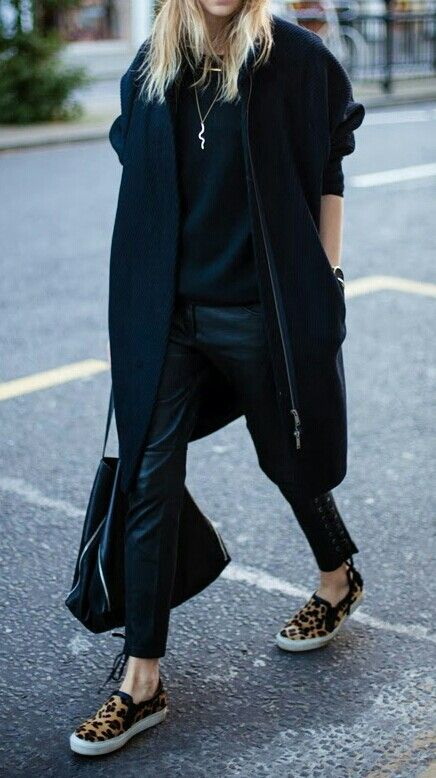 Buy Similar Here
How To Wear Animal Print Sneakers
A slouchy, elongated sweater in white ideally suits black leggings completed with lace-up sneakers in leopard print: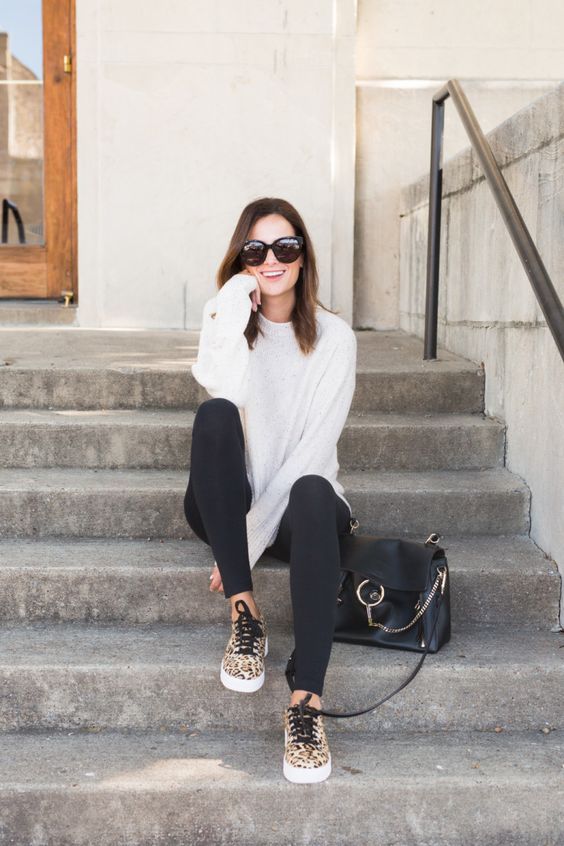 Buy Similar Here
Animal Print Uggs
If you want to create a chic Fall season outfit, then go for these leopard print Uggs completed with fur embellishment: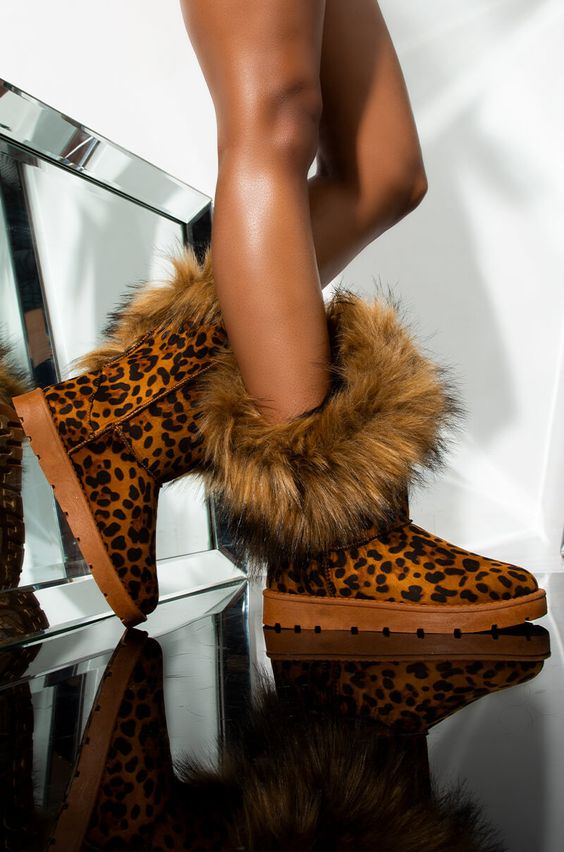 How To Wear Animal Print Heels For Work
A pair of black-white leopard print heeled pumps are worn with a cream beige cardigan and wide-leg pants in white, a perfect combination for office hours: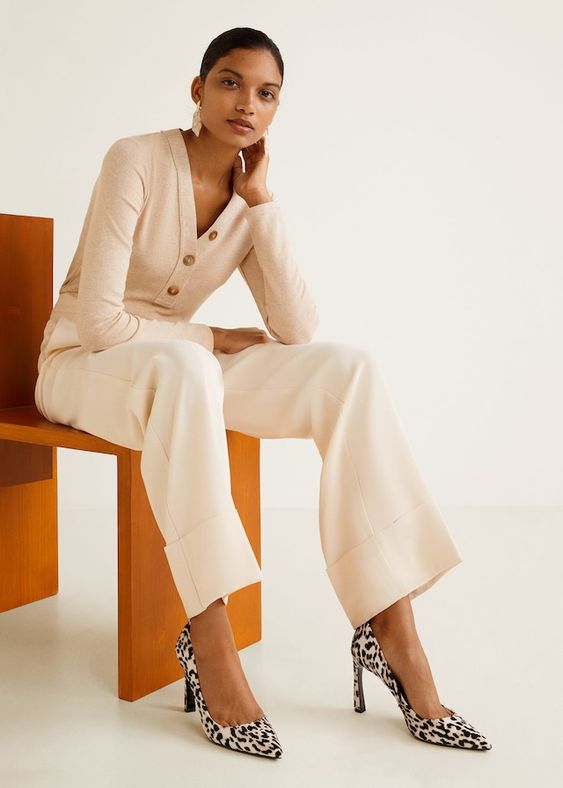 Buy Similar Here
How To Wear Zebra Print Heels
I recommend keeping things simple and go for neutral color clothes. Try one black-white zebra print heeled pumps and style them with black leather skinny pants: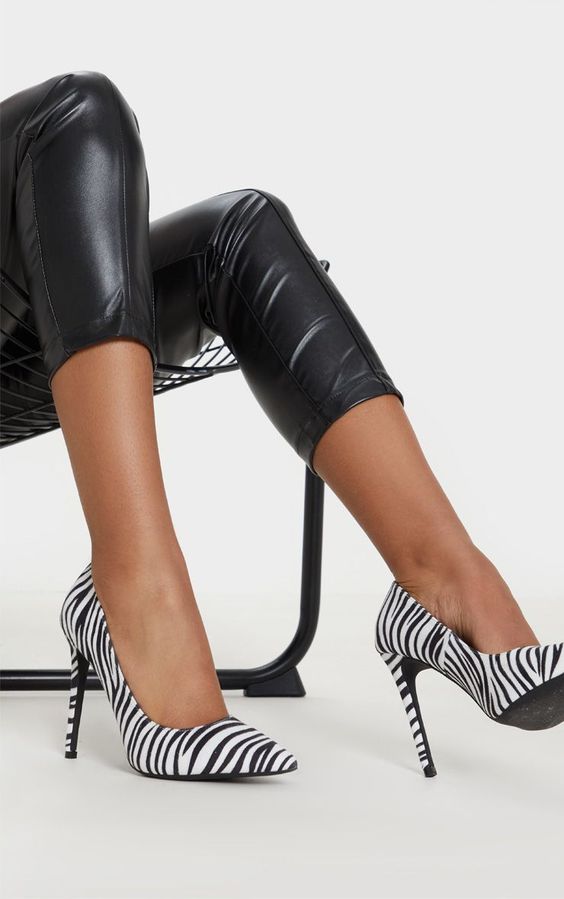 Buy Similar Here