I decided to write about shoes you can wear with red skirts. We are going to cover inspiring street style ideas that can be a perfect starting point for you to create your beautiful outfit.
Buy Similar Here
We see a classic French chic inspired look consisting of a black long sleeve top tucked in red tulle skirt completed with platform heeled pumps in black with gold heels. A perfect look for discovering Paris.
If you want to add an eye-catching vibe to your look, then a red skirt is a great idea. I promise this beautiful piece will add a flirty touch to any style. No matter if it's a mini, midi or a maxi skirt, you will achieve the same effect.
The great beauty of a red skirt lies in the color. It can be a bright one (almost pink, but still red), it can also come with a pastel shade, or you can try on a dark hue, like almost maroon or cherry red.
Cherry Red Skirt And Grey Caged Pumps
An off-shoulder white lace top can be tucked in a high-waisted fit-and-flare midi skirt in cherry-red. Complete this city chic look with cool modern cat-eye sunglasses and a pair of studded caged pointed-toe heeled pumps in grey: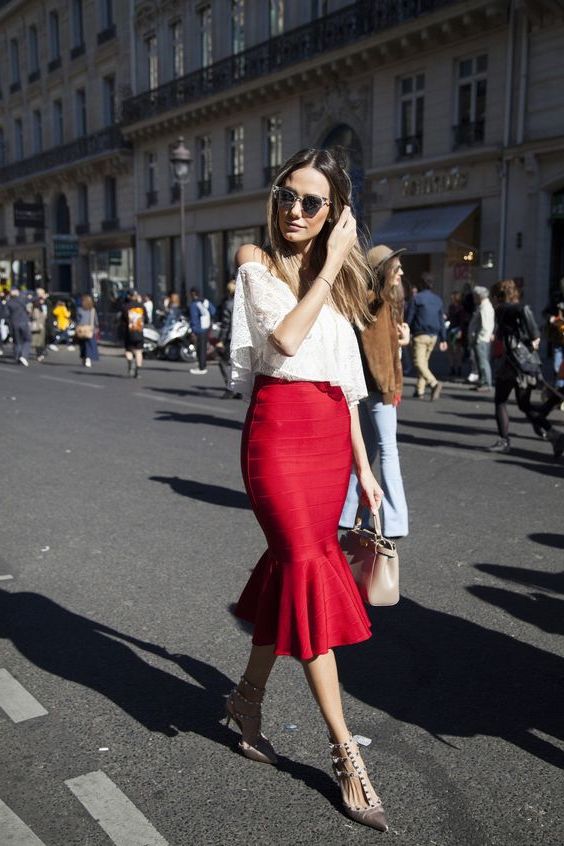 Buy Similar Here
Pleated Red Skirt And Nude Pumps
We see a slouchy black sweater tucked in bright red pleated skirt completed with a gold chain black shoulder clutch and nude heeled pumps: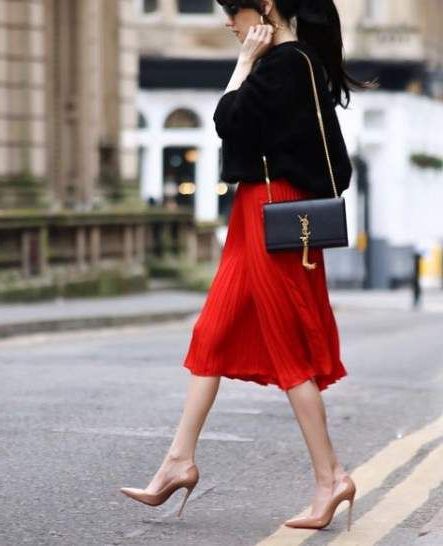 Buy Similar Here
Red Flared Midi Skirt And Leopard Pumps
A simple white T-shirt can be tucked in a red flared midi skirt and completed with leopard print heeled pumps and studded cherry-red leather clutch bag. By the way, I recommend to check out my post on ways how to wear leopard print shoes this year, have a look and find your favorite looks to copy next week: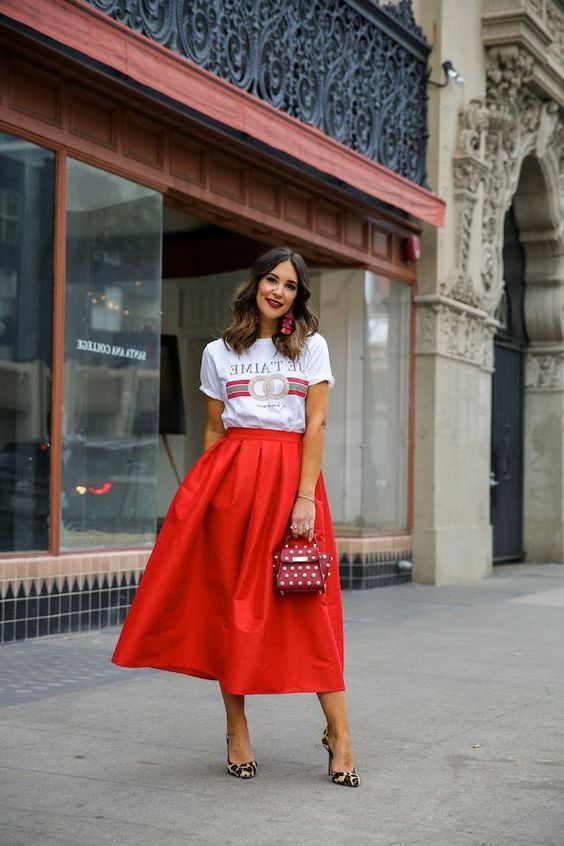 Buy Similar Here
Anyway, before creating any of these outfits, you should buy yourself the right type of a skirt, so it suits your body shape, it can be a pencil cut, skater, A-line, tulip, wrap, mini, maxi, etc. If you have a banana-shaped body, then go for an envelope or mini skirt, if you have an apple-shaped silhouette, then go for full volume skirt, pear-shaped ladies (with full hips or thighs, defined waist, narrow shoulders than hips, small top and small bust) should try on high-waisted styles, hourglass women (with defined bust, waist, neat bottom and neat hips) look sexy in pencil skirts. But every lady has a unique body, that's why it's a very individual thing.
Red Flared Skirt And Pink Heels
Denim is another great fabric that looks cool with red. Here we see a blue denim jacket teamed with a white tee tucked in red knife-pleated flared skirt updated with pink heeled pumps: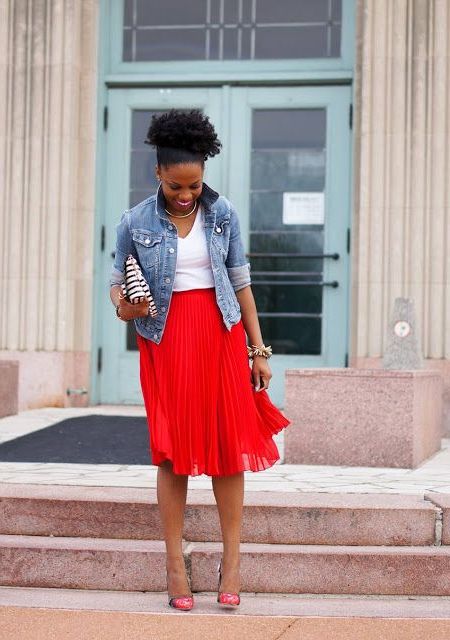 Buy Similar Here
Red Leather Midi Skirt And Brown Sock Boots
Make a wow statement at a modern party by wearing a long camel coat with a ribbed knit turtleneck camel sweater tucked in red midi leather skirt completed with brown sock ankle boots: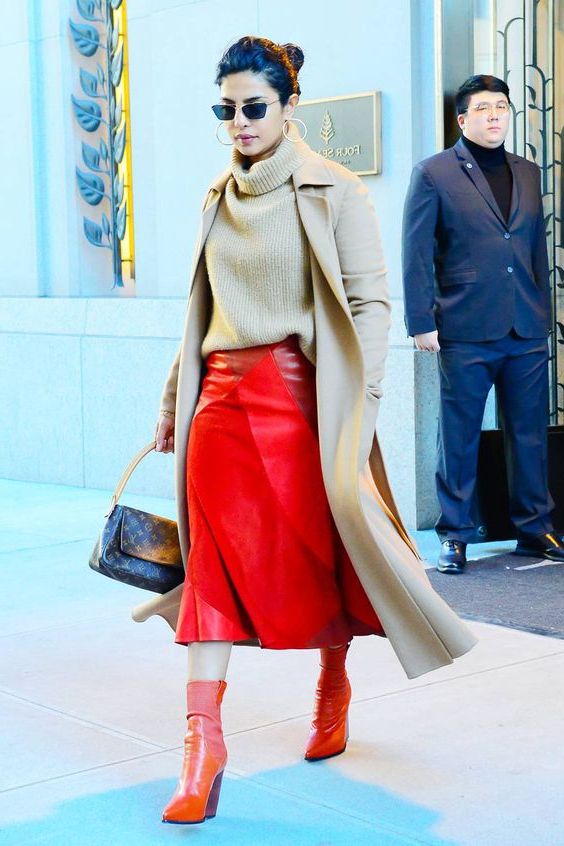 Buy Similar Here
Red Maxi Skirt And White Slip On Shoes
If you want to keep things casual French-chic, then go for this red pleated maxi skirt and style it with a black-white striped top and white slip-on shoes: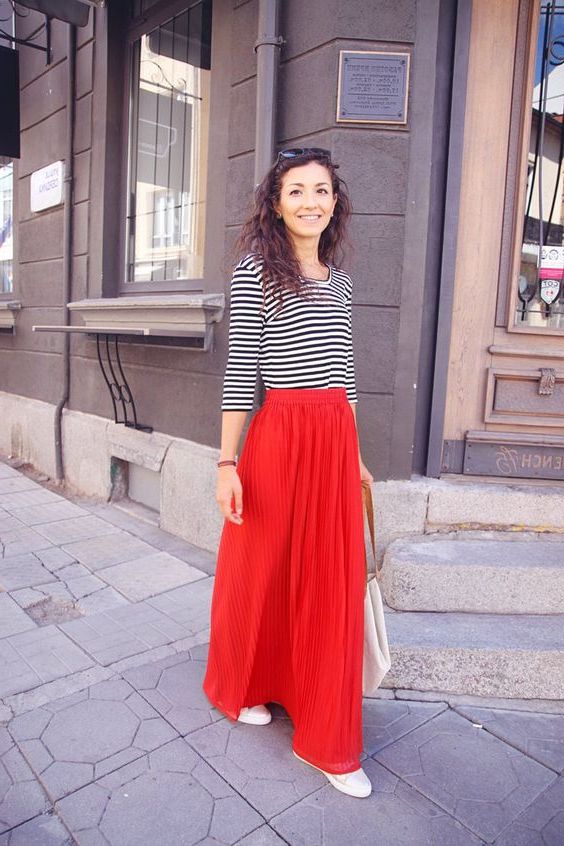 Buy Similar Here
Red Maxi Skirt And White Sneakers
I am in love with white sneakers and here we see a cool, edgy style. A black leather jacket, black crop top, layered necklaces in silver, red maxi skirt with a slit and white chunky sneakers: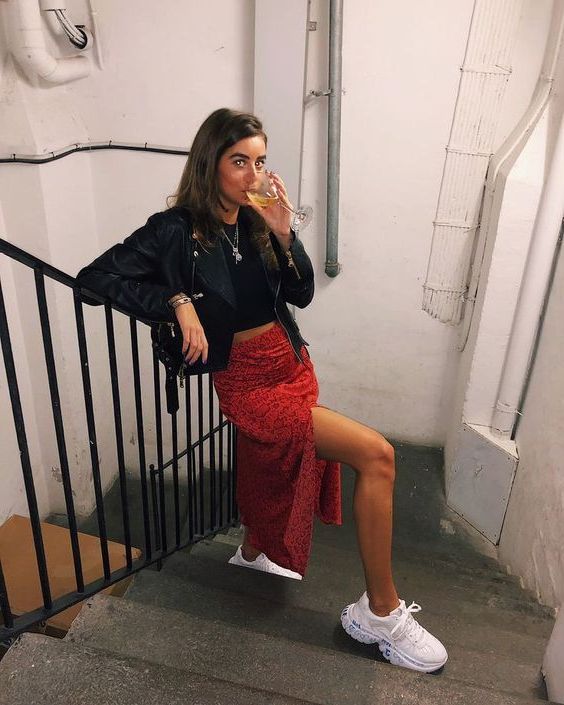 Buy Similar Here
Red Midi A-line Skirt And White Sneakers
If you are more into simple, yet glamour style, then go for a white basic tee, tuck it inside flared A-line midi skirt and complete it with classic shades, and adidas white sneakers: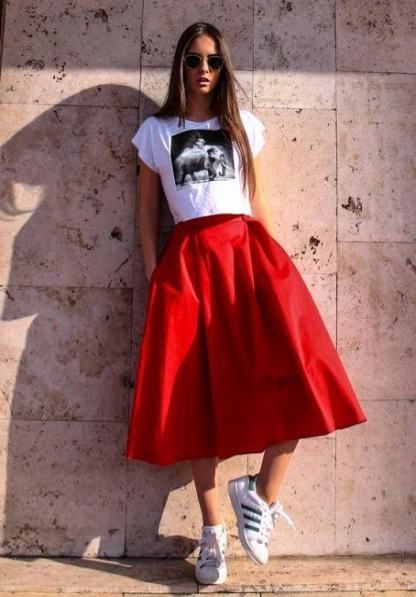 Buy Similar Here
Red Midi Skirt and Black Sneakers
A pair of black runners are teamed with a silk dark red midi skirt and a black tank top layered under knotted beige shirt. I have a cool post to share with you, it's called what to wear with black sneakers, you can find there many cool outfit ideas: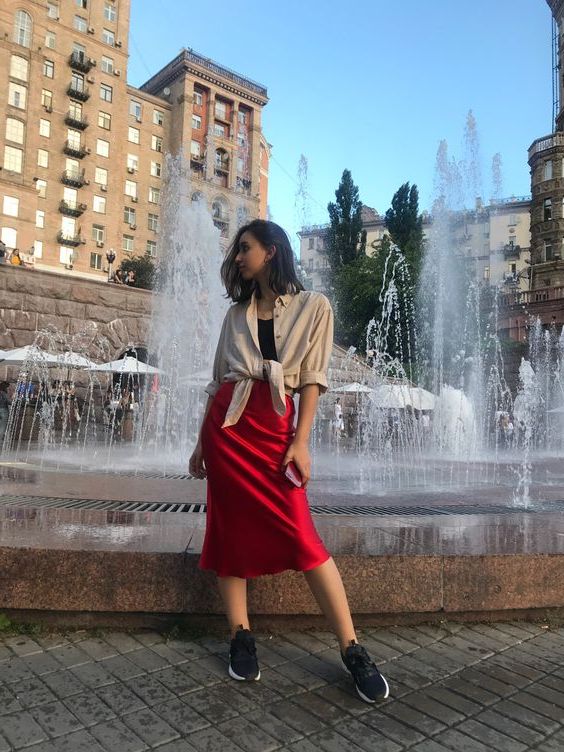 Buy Similar Here
This color is one of the most frequently chosen, especially when it comes to special events. As I have already mentioned, it comes with lots of shades, starting from pale to rich hues. I think red midi skirts are perfect for those women who want to keep a chic retro style. For instance, an A-line midi skirt can be easily teamed with striped or polka dot shirts, metallic sandals or hot pink pumps.
Red Midi Skirt And Red Boots
We see a pair of peep-toe red sock boots worn with a flared red midi slim skirt completed with a light grey sweater, in love with these flat-brow sunglasses: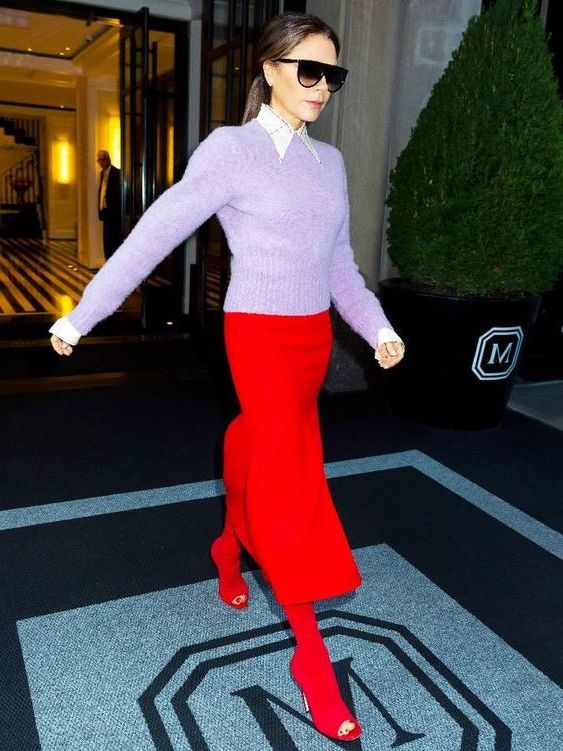 Buy Similar Here
Red Mini Skirt And Black OTK Boots
These black leather OTK boots look chic with black tights, red mini skirt in leather and black slim knitted top: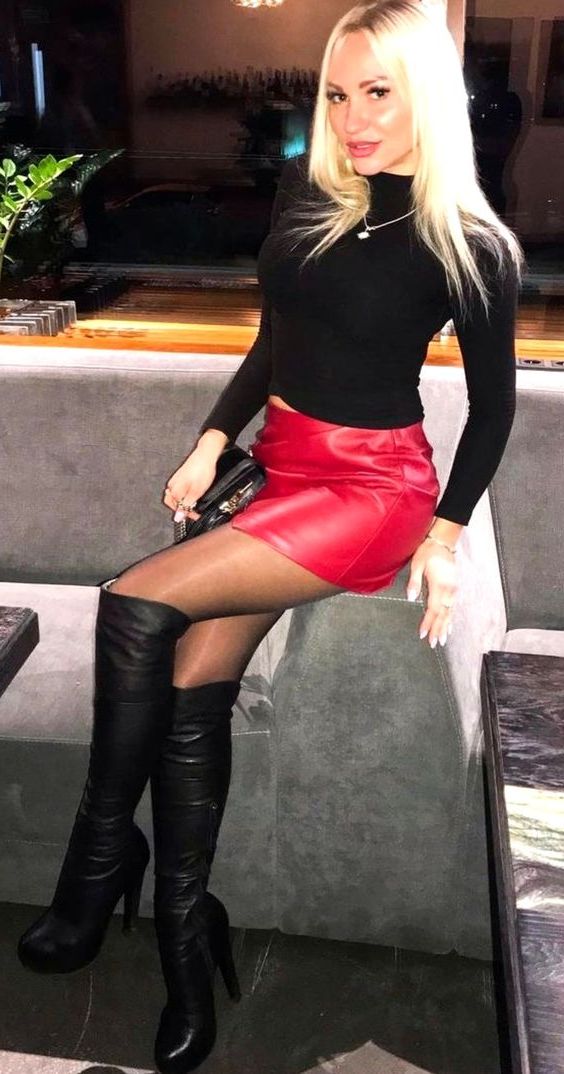 Buy Similar Here
Red Mini Skirt And Red Sock Boots
One of my favorite outfit ideas with a red mini patent leather skirt is wearing it with a pair of sexy red sock boots. Check out this mini embellished with zip closures, it looks sassy to me. Complete the look by adding a white Gucci T-shirt and a pair of classic sunglasses: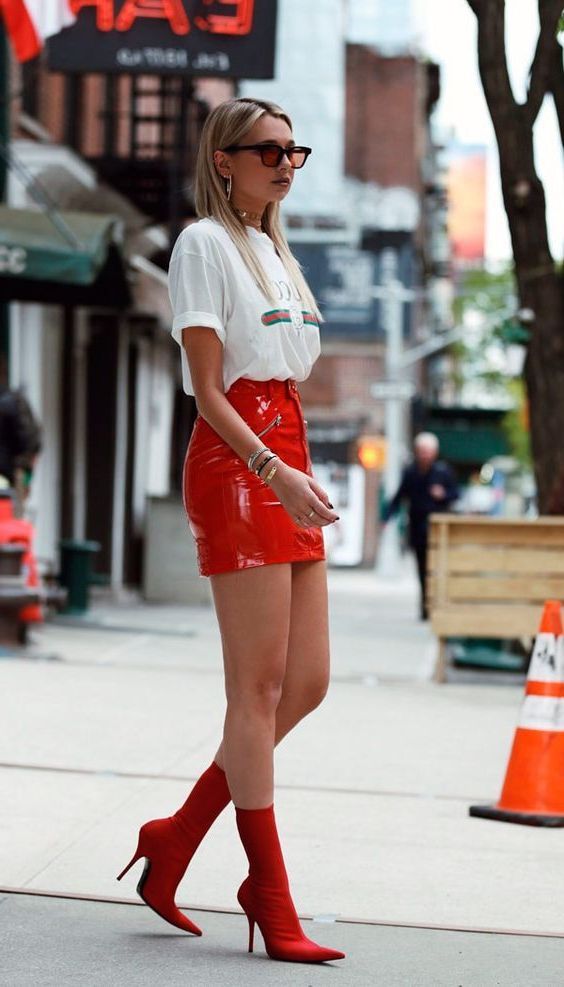 Buy Similar Here
Red Mini Skirt And White Sneakers
We see a fresh summer look with a red mini skirt with front zip-closures, and side zips. Style it with a white tee and white sneakers in classic style. An ideal combo for summer trips: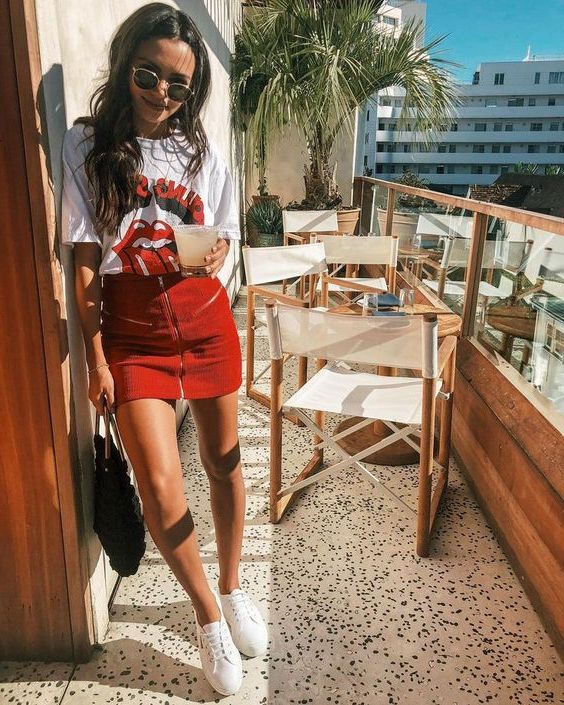 Buy Similar Here
Red Pencil Skirt And Black Heeled Pumps
If you want to create a classy look for your next job interview, then go for this black turtleneck, high-waisted pencil skirt in rich red, skinny black belt with gold detail, black polka dot tights and black heeled pumps. Yes, you can wear a red skirt to an interview:
Buy Similar Here
Red Pencil Skirt And Leopard Slip-On Shoes
If you ask me, what top to wear with a red skirt, then it depends on the occasion, your personality and how you want things to be looked at. Here we see a nice combination for your day at work. A black turtleneck is teamed with a midi pencil skirt in red and completed with leopard print slip-on shoes. Update this modern office look with Clubmaster sunglasses: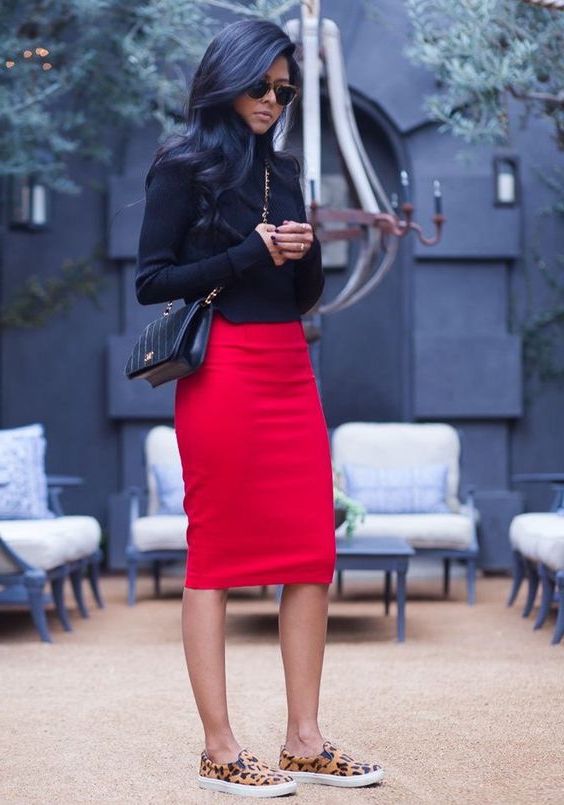 Buy Similar Here
Red Pencil Skirt And Yellow Pumps
Keep it fresh and bright. Go for a sleeveless floral white-yellow blouse and tuck it inside light red pencil skirt completed with yellow pointed-toe pumps: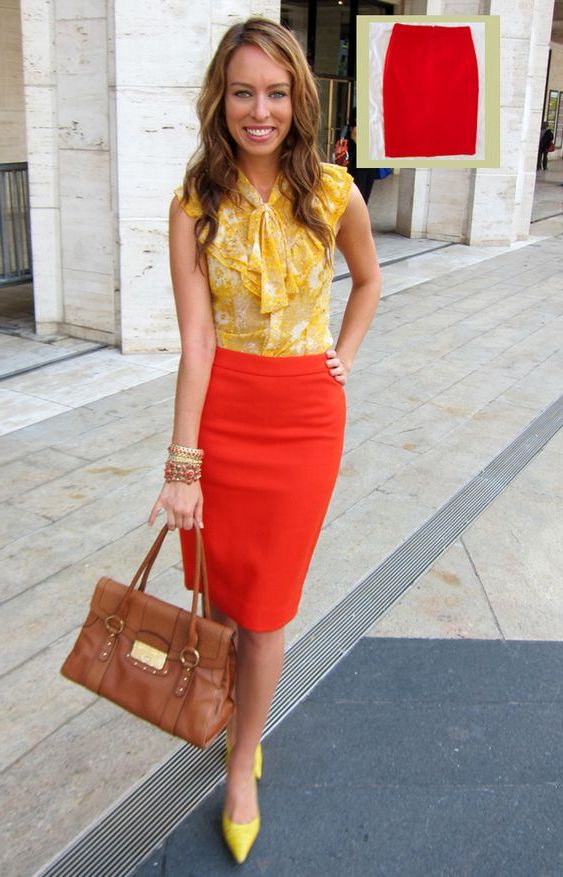 Buy Similar Here
Red Pleated Midi Skirt And Black Heeled Sandals
Some ladies love it simple, go for a black t-shirt and tuck it inside a knife-pleated midi skirt in red. Complete it with a black leather clutch and ankle-cuff heeled black sandals: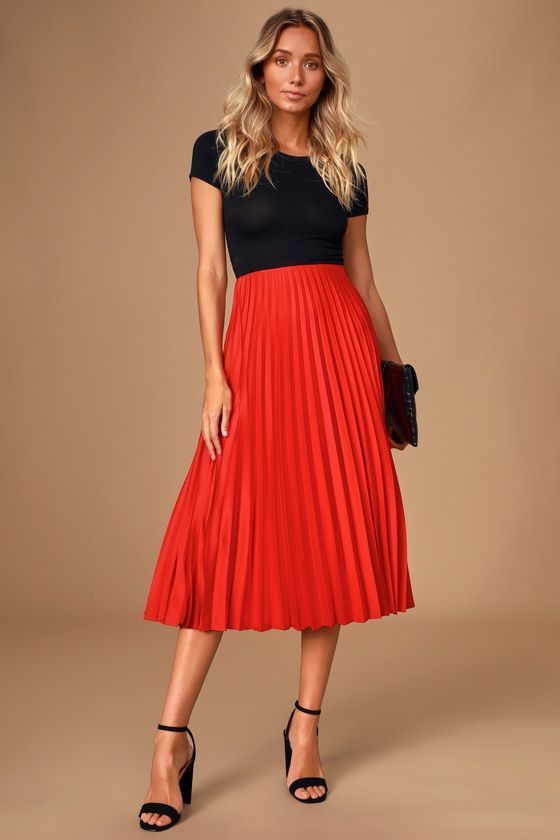 Buy Similar Here
Red Pleated Skirt And Black Flat Pumps
A classic black sweater looks fabulous with a red pleated below-the-knee skirt. Complete it with a chunky neckpiece, and black leather flat pumps: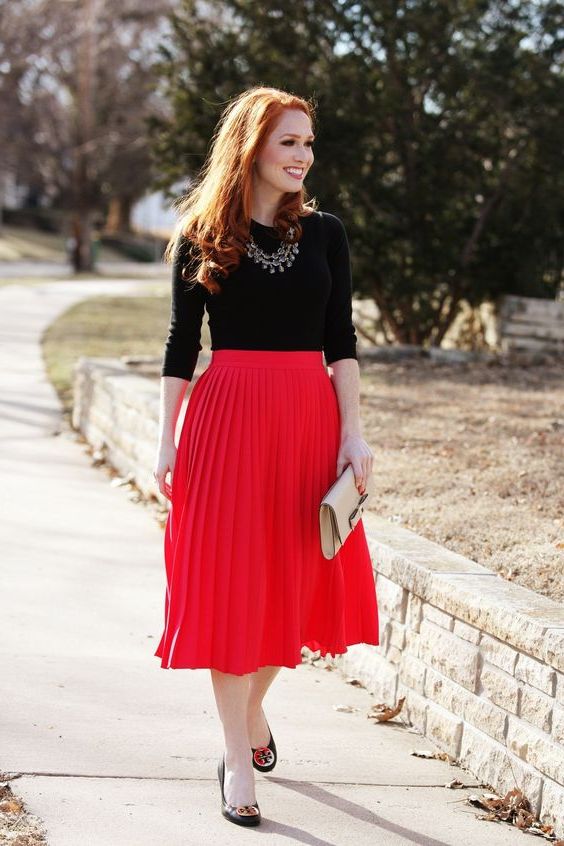 Buy Similar Here
Red Pleated Skirt And Black Doc Martins
If you love keeping things edgy, go for a black leather jacket, grey top, dark maroon red knife-pleated midi skirt, and black Doc Martins: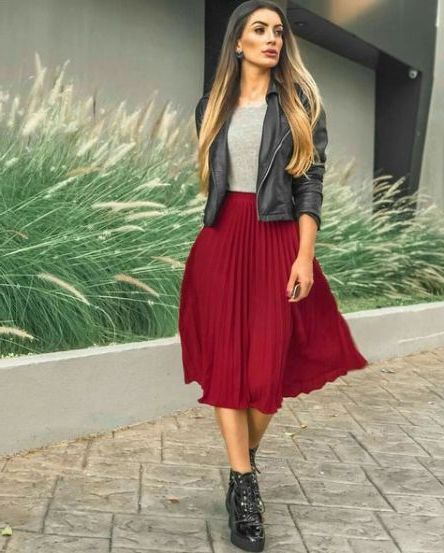 Buy Similar Here
Red Skirt And Beige Pumps
Another beautiful office style outfit idea. A classic white shirt can be tucked in a wrap pencil skirt in red color. Complete this combo with nude heeled pumps: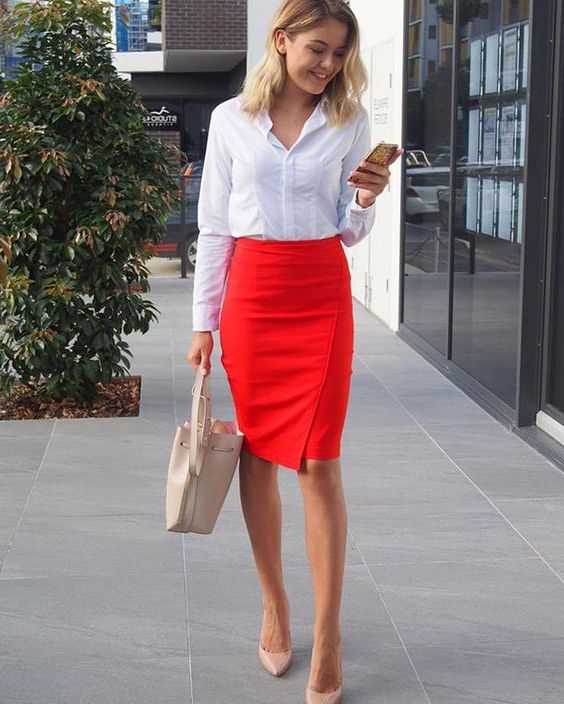 Buy Similar Here
Red Skirt And Beige Sandals
A classic white shirt looks fresh and sassy tucked in red pencil skirt completed with ankle-cuff heeled sandals:
Buy Similar Here
Red Skirt And Black Ankle Boots
A beautiful black semi-sheer blouse can be tucked in rich red flared skirt completed with black tights and black suede ankle boots: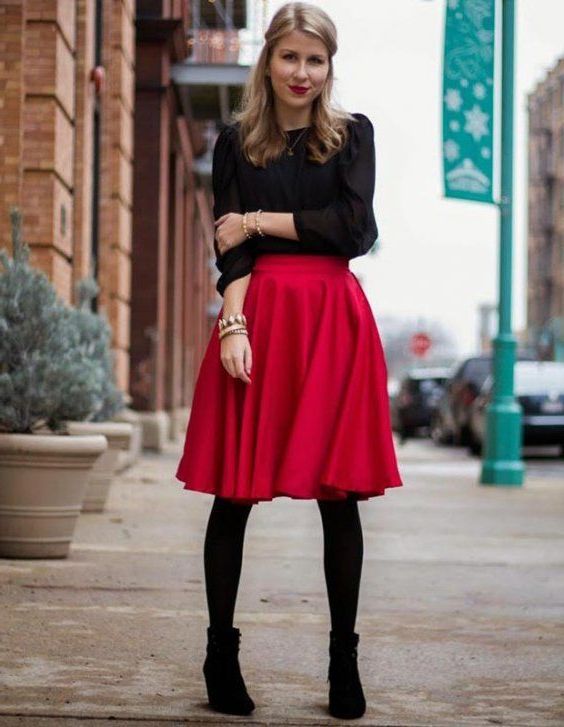 Buy Similar Here
Red Skirt And Black Heeled Sandals
We see a slim black sweater tucked in a flared cherry-red skirt, black tights, and sassy heeled black heels: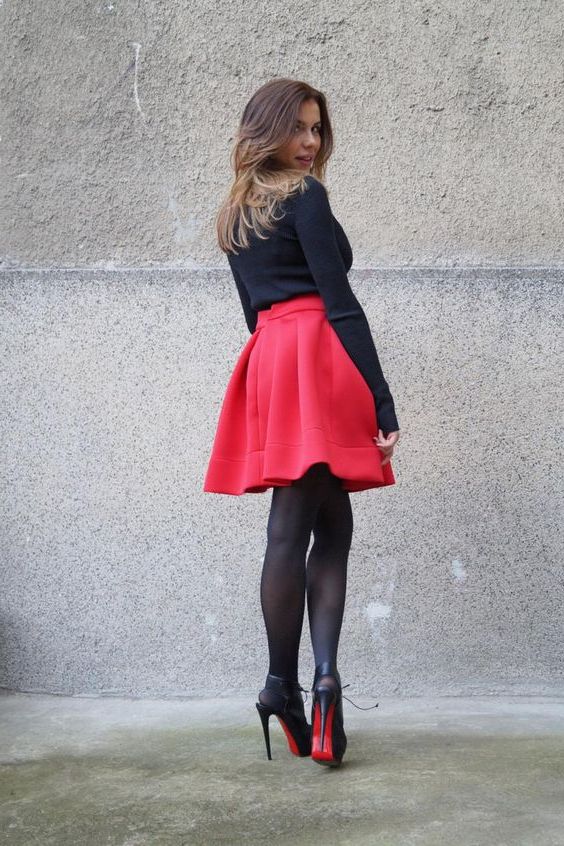 Buy Similar Here
Red Skirt And Gold Metallic Pumps
A lovely evening outfit for dates. We see a black leather jacket worn with a white top tucked in dark red slim skirt completed with gold metallic heeled pointed-toe pumps: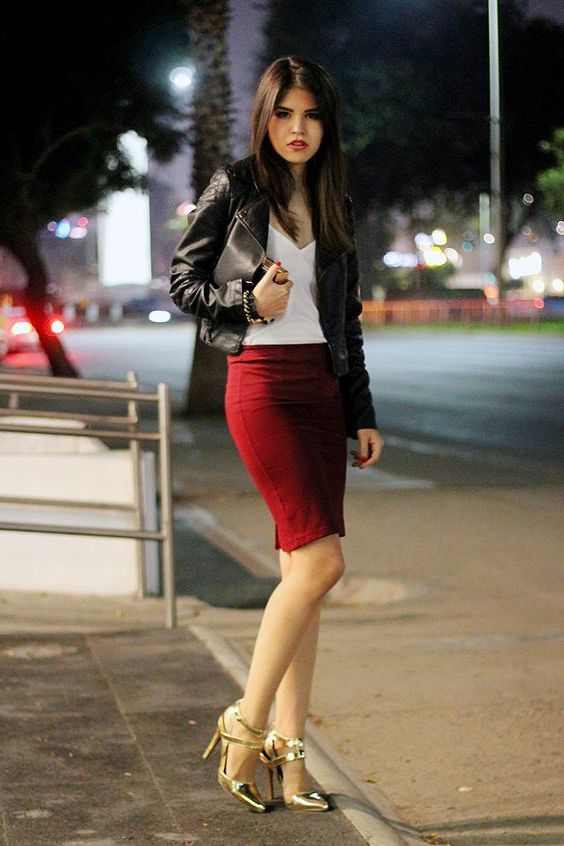 Buy Similar Here
Red Skirt And Gold Sequined Pumps
Gold sequined heeled pumps look gorgeous with a red skirt and front tied blue-white striped shirt: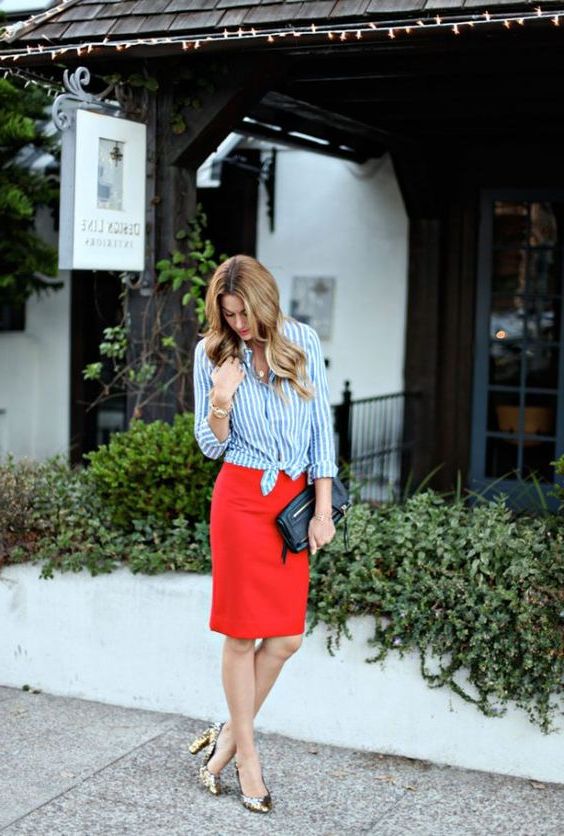 Buy Similar Here
Red Skirt And Green Heeled Sandals
A blue denim shirt can be tucked in a dark red pencil skirt completed with green peep-toe heeled sandals with laces: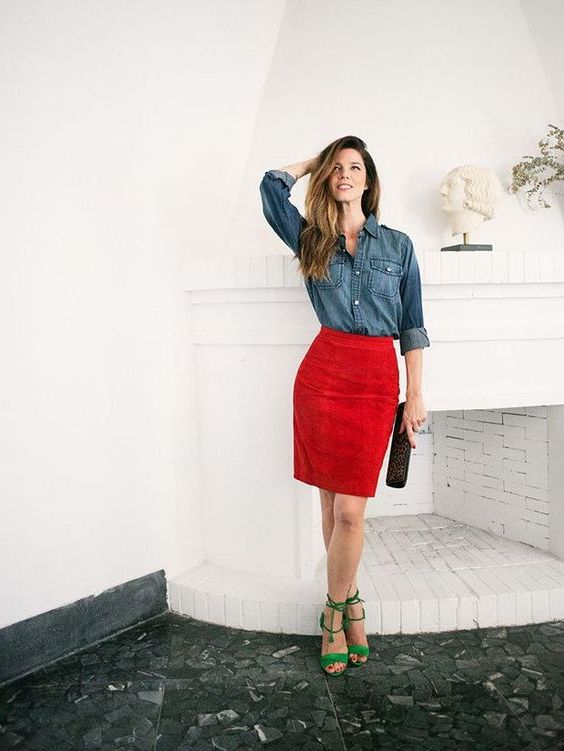 Buy Similar Here
Red Skirt And Leopard Ankle Boots
Make a classic statement with a black sweater tucked in a belted red lace pencil skirt completed with black tights and leopard print ankle boots: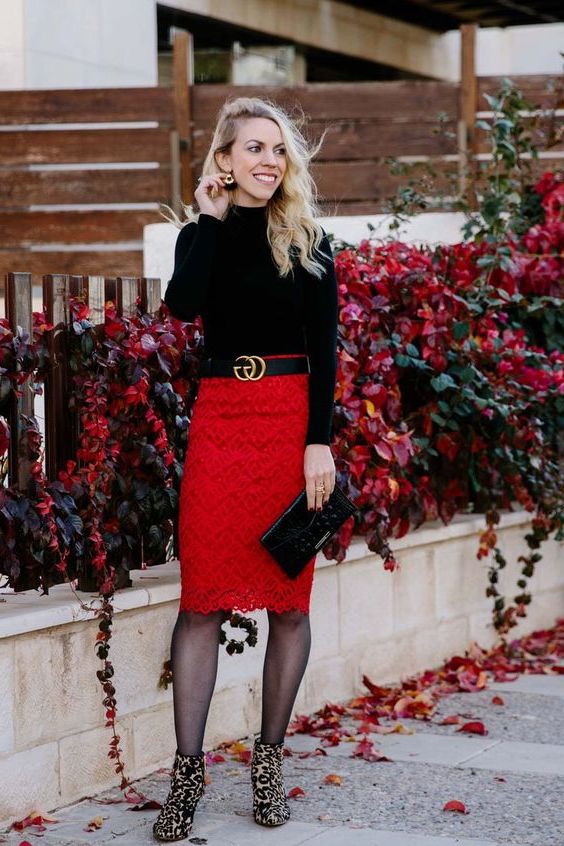 Buy Similar Here
Red Skirt And Leopard Pumps
A classic combo for Winter. Go for a V-neck white sweater tucked in red pencil midi skirt updated with leopard heeled pumps: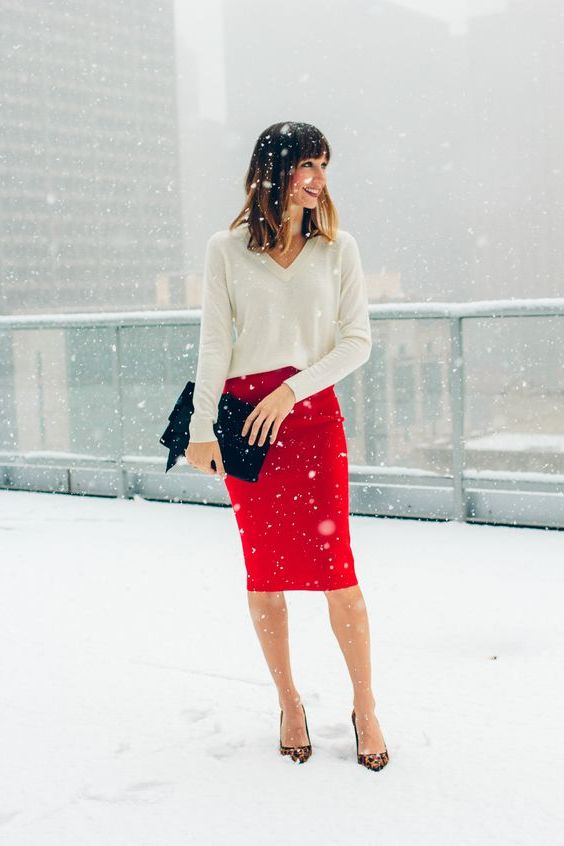 Buy Similar Here
Red Skirt And Nude Heels
A red-white striped shirt with ruffled short sleeves is tucked in a ruffled high-waisted skirt in red. Complete it with aviator sunglasses and pointed-toe heeled pumps in nude: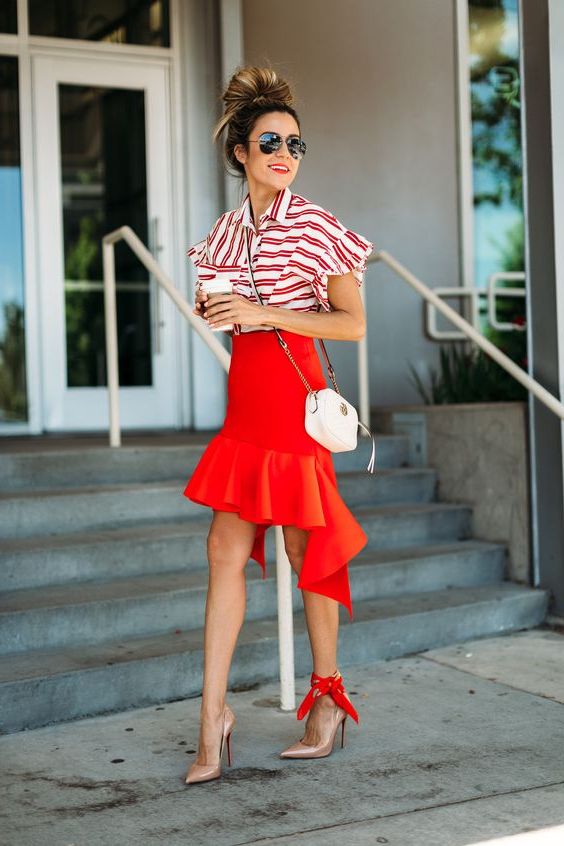 Buy Similar Here
Red Skirt And Red Heeled Sandals
Oversized fashion lover! Go for this grid print grey oversized sweater and team it with a midi pencil skirt in red completed with red heeled sandals with strappy tassels: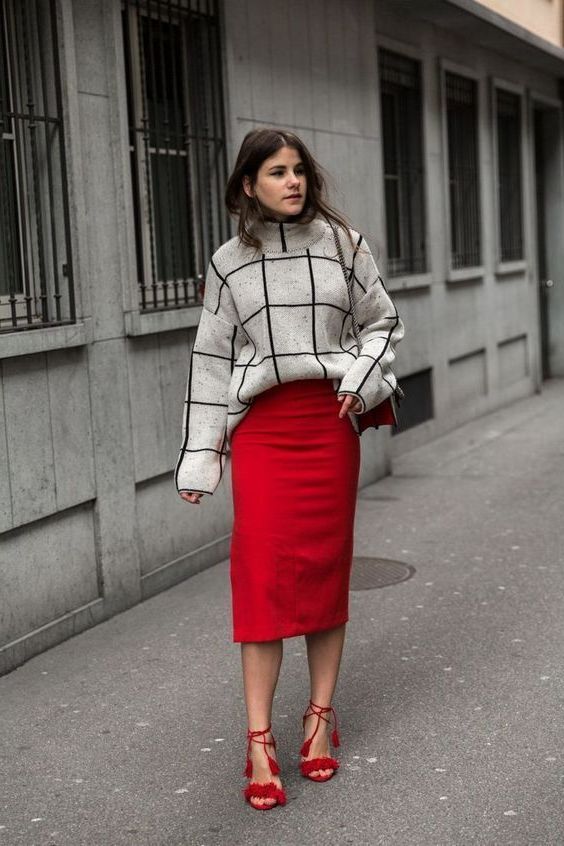 Buy Similar Here
Red Skirt And Red OTK Boots
If you are one of those who follow trends, then how about wearing a black rock band tee tucked in a patent red leather skirt with a side slit completed with OTK red suede boots: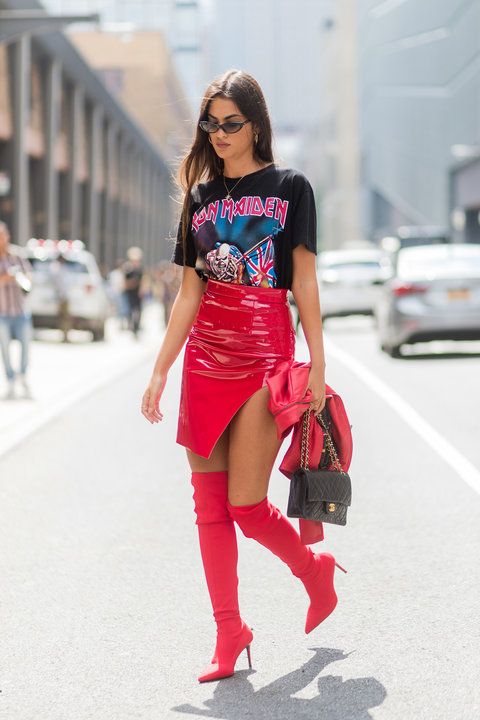 Buy Similar Here
Red Skirt And Silver Metallic Pumps
For those who are in love with Winter, I recommend to try on this pastel blue sweater and pair it with a flared red skirt completed with silver metallic pumps: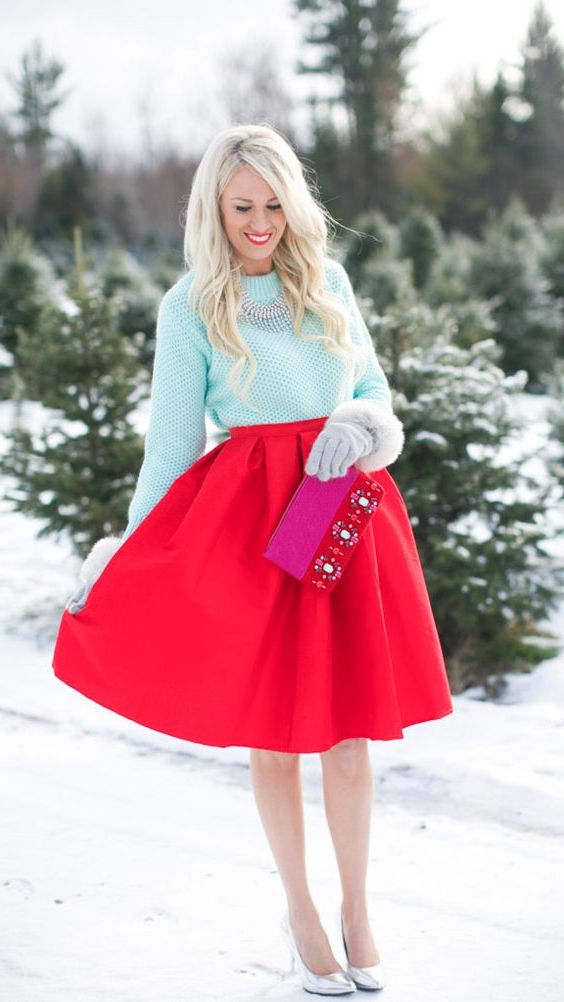 Buy Similar Here
Red Skirt And White Ankle Boots
A chic combo for fashion shows. We see a slim turtleneck sweater in black tucked in red leather flared skirt completed with white leather pointed-toe boots: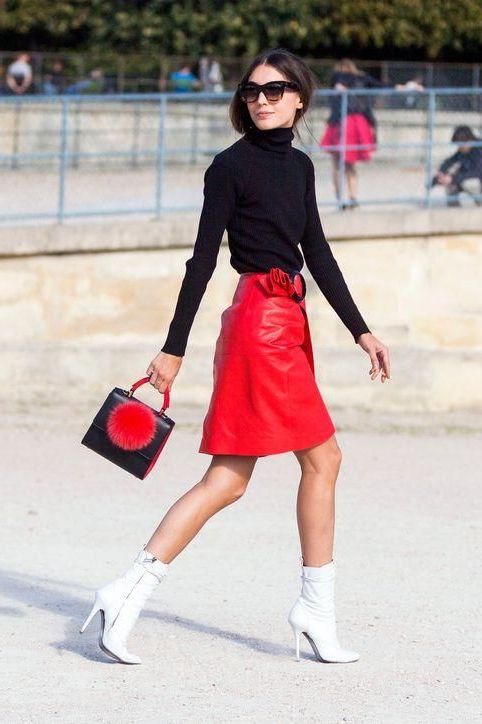 Buy Similar Here
Red Tennis Skirt And Turquoise Heeled Wedge Sandals
A red tennis skirt in red looks fresh and sassy with a white slim top and caged turquoise heeled wedge sandals. A great choice for Summer beach parties: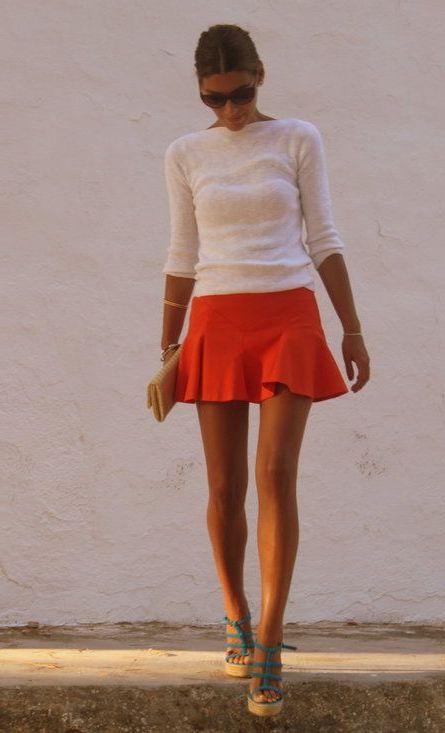 Buy Similar Here
Bonus Street Style Ideas With Red Skirts
Red Skirt in Plaid
You can make a wow statement with a red skirt in plaid. All you need is to go for this mini and style it with a black long-sleeve crop top and black OTK boots: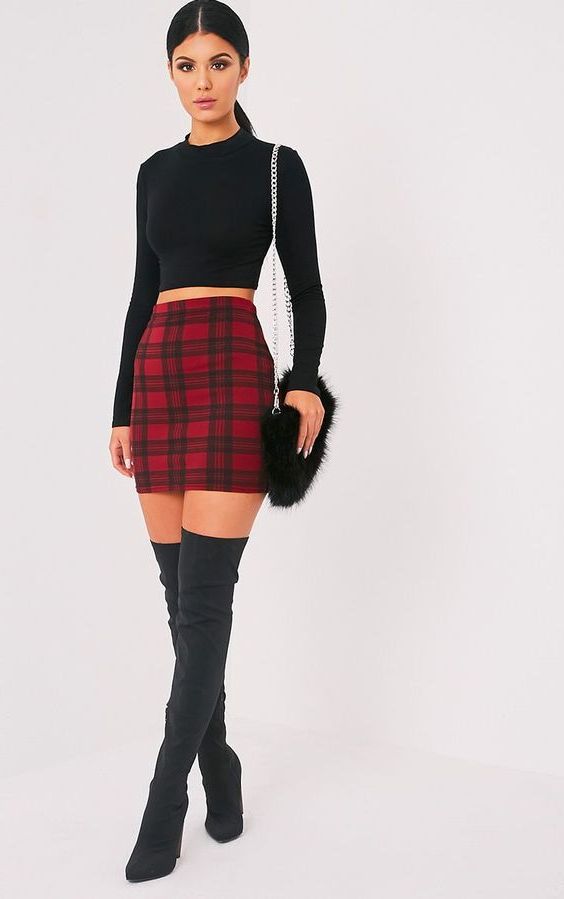 Buy Similar Here
Red Skater Skirt
A maroon red skater skirt looks cool with a black sweater, black-white plaid scarf, black tights, and black heels: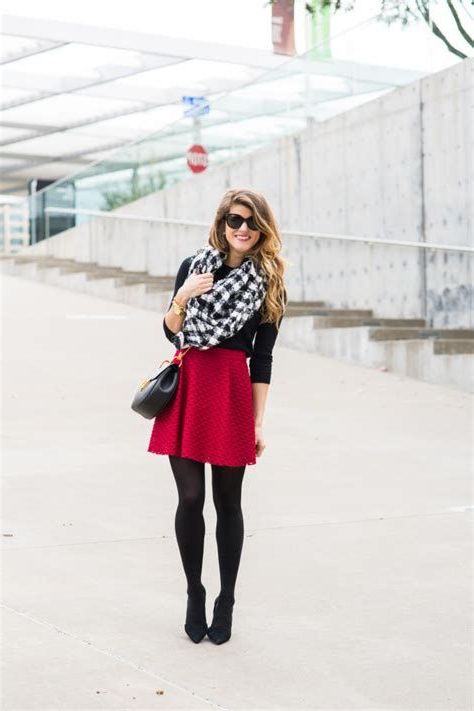 Buy Similar Here
Red Skirt And Denim Jacket
Denim and red skirt! Go for this blue denim jacket and team it with a classic white t-shirt tucked in high-waisted mini skirt completed with chunky white sneakers: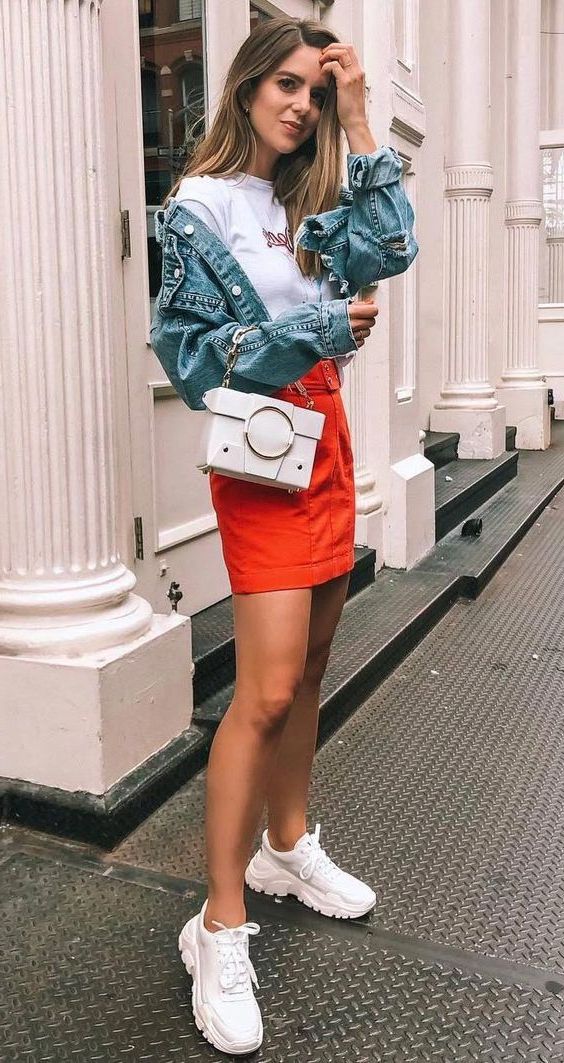 Buy Similar Here
Red Skirt And Green Top
A lovely warm Fall season combo, we see a striped dark green top tucked in a flared red skirt updated with pointed-toe leopard print pumps: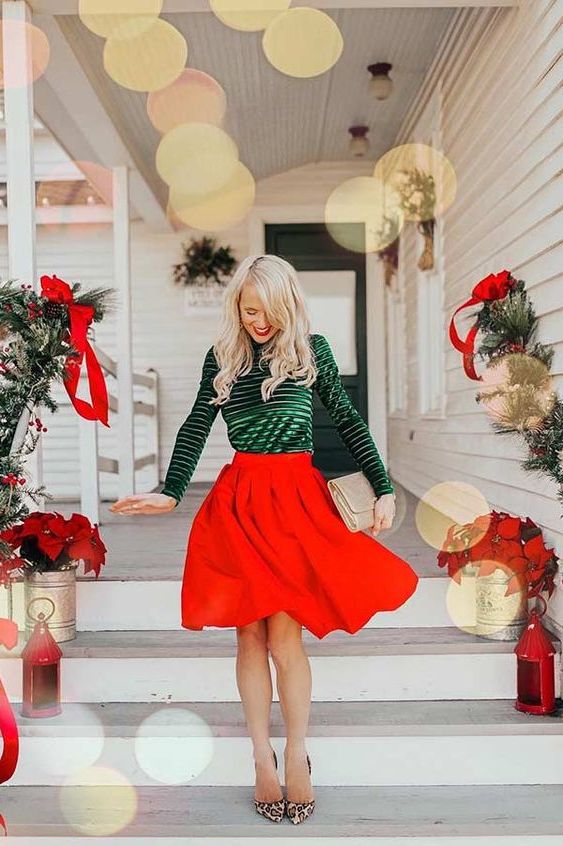 Buy Similar Here
Red Skirt In White Polka Dots
A kind of 1960 pin-up look. We see a white tee tucked in red midi skirt with white polka dots, update it with white Converse, cat-eye sunglasses: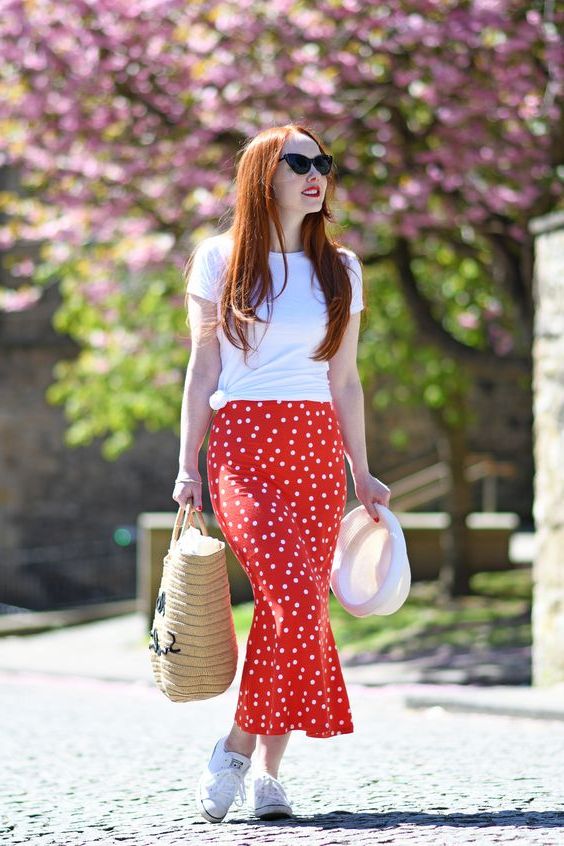 Buy Similar Here
Red Skirt with Belt
How about marrying red with pink!? Go for this pink sweater and tuck it inside the flared red midi skirt with a black leather belt. Complete this combo with black heeled pumps: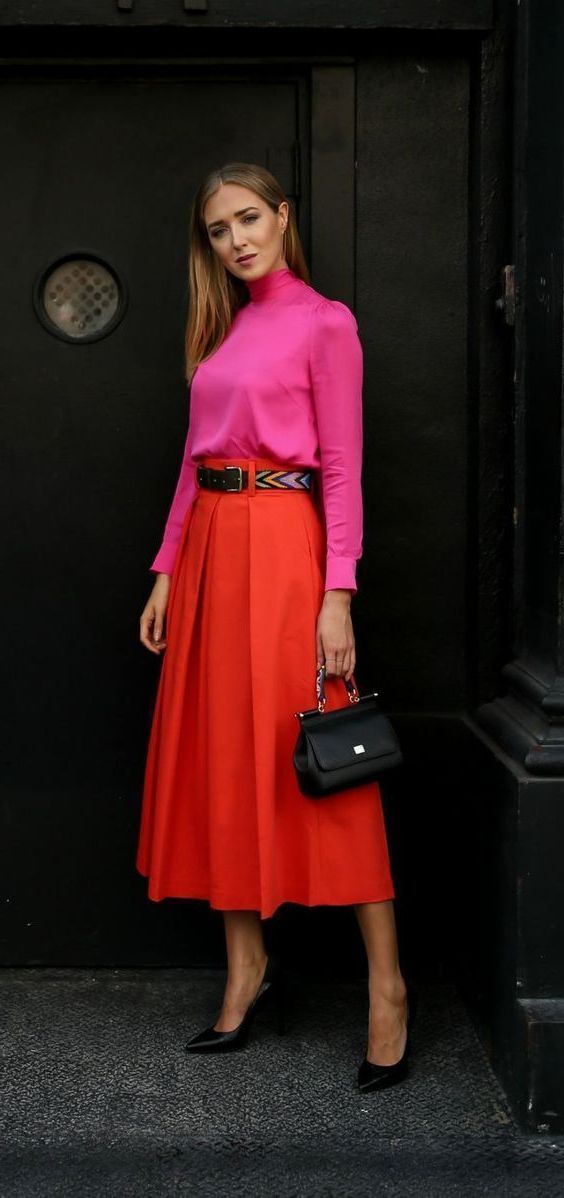 Buy Similar Here
Red Skirt With Buttons
Go for this maroon suede mini skirt with buttons styled with a black leather jacket, black top, and black leather ankle boots:
Buy Similar Here
Red Skirt With Pockets
Another French chic inspired look for young women. We see a black-white striped long-sleeve tucked in a flared midi skirt updated with grey ankle-cuff heeled sandals: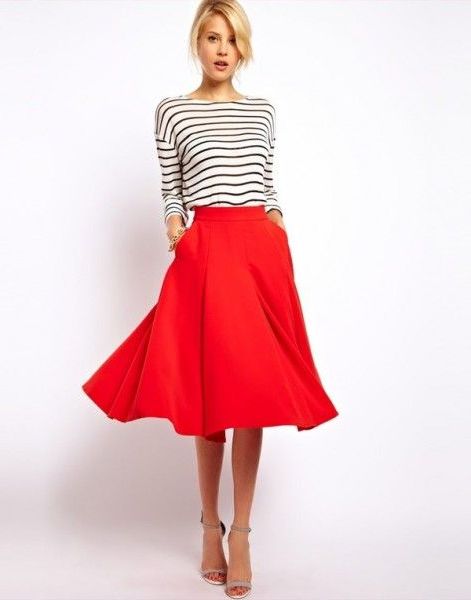 Buy Similar Here
Red Skirt With Slits
If you are into red, then how about wearing an all-red look? Go for a relaxed-fit V-neck buttoned cardigan and team it with a high-waist silken red maxi skirt with a slit. Complete the outfit by adding red snakeskin print booties: