If you are looking for a way to underline your femininity and still look smart, then you need a pair of pink pants. Today's topic is what shoes and colors to wear pink pants. This street style collection is ideal for young ladies, businesswomen, as well as for women over 40. I will show you various shades of pink pants, from hot pink ones to blush-colored. Every single look is unique and can be worn from Summer to Fall.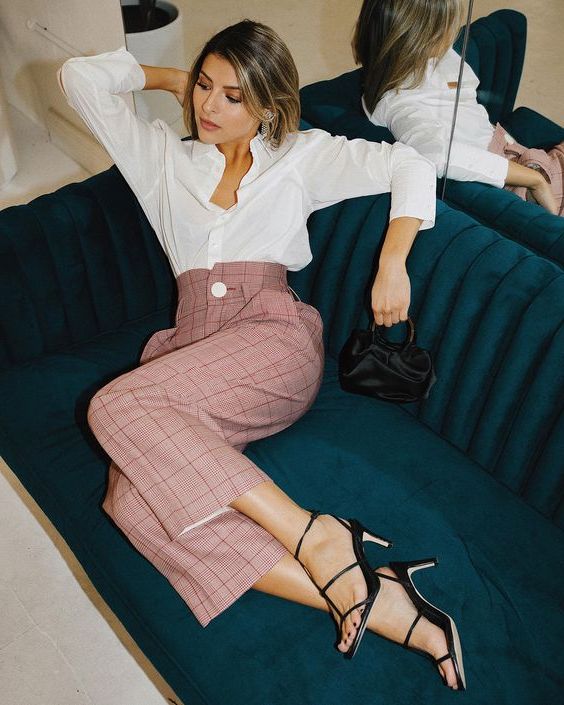 Buy Similar Here
Improve your office look by wearing a white shirt tucked in plaid pink pants completed with black heeled sandals. Update this classy outfit by adding a black mini bag.
What I love the most about pink color clothing, it looks perfect on everyone, no matter what skin color and hair color you have. I decided to observe what color shoes to wear with pink pants, strawberry, blush, and classic pink trousers. You are about to see cool ideas on how to wear them in your everyday life, to the office, on the streets, and special occasions. Anyway, let's take a close-up look at some of this year's favorites and get inspired.
Can I Wear Blush Pants And Blush Heels
Another classy modern outfit that features a leopard print blouse tucked in blush slim ankle-length pants completed with blush pumps. You can also add tortoise oversized sunglasses and a beige-blush handbag: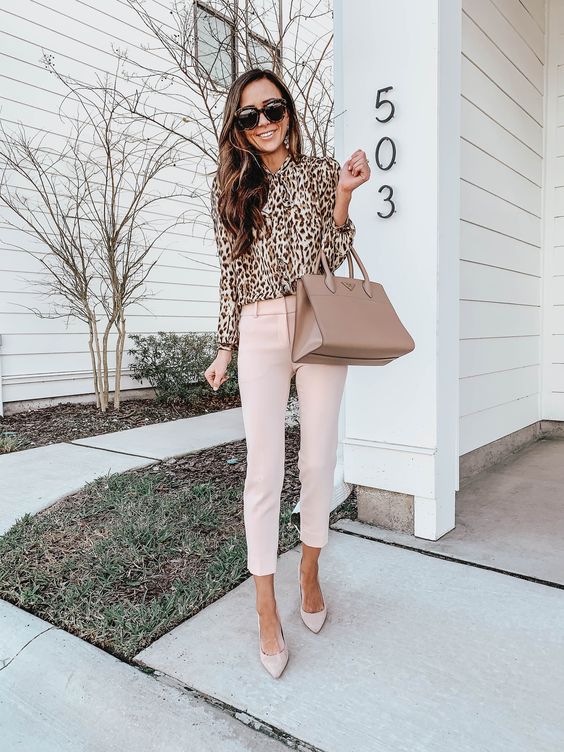 Buy Similar Here
Can You Wear Blush Pants And Leopard Print Heels
We see a beautiful combination. It consists of a white sweater teamed with blush pants and leopard print heeled pointed-toe pumps: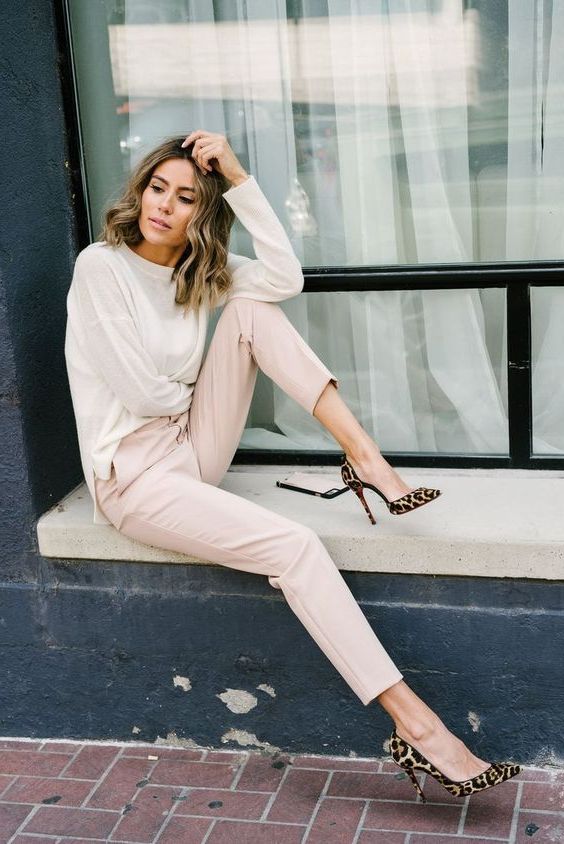 Buy Similar Here
How To Style Blush Pantsuit And Blush Pumps
Update your classic look with this blush pantsuit worn with mirrored Clubmaster sunglasses, white shirt, and blush block heel pumps: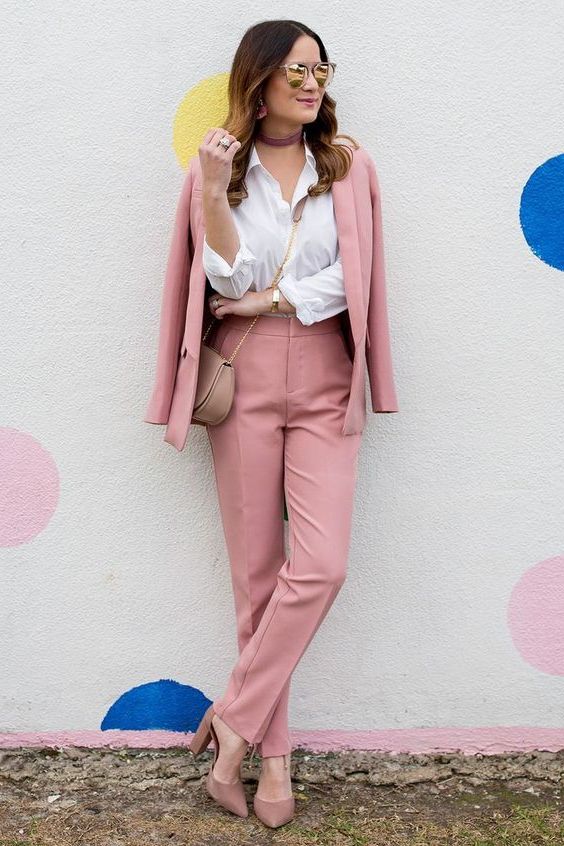 Buy Similar Here
How To Wear Gathered Pink Pants And Peep Toe Heeled Pumps
We see belted gathered wide-leg ankle-length pink pants styled with a white shirt and cream-beige peep-toe heeled mules. Complete this combo with a silken printed neck-scarf and a cream-white handbag: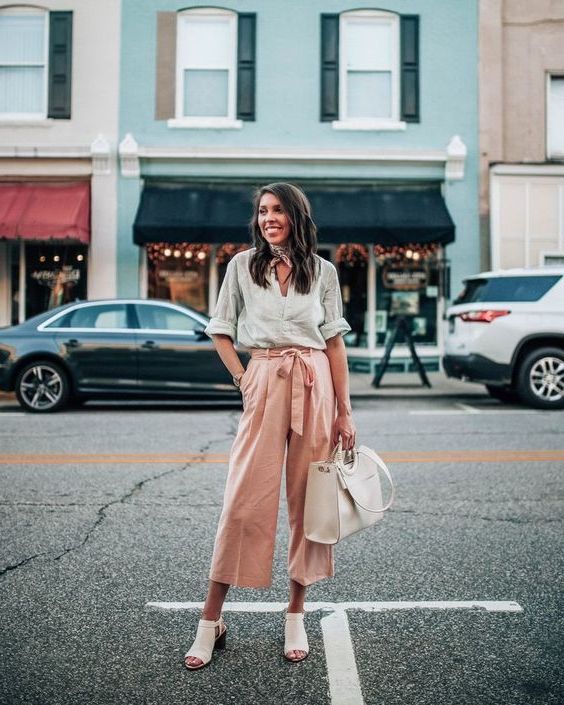 Buy Similar Here
Can I Wear High Waisted Pink Pants And Black Heels
A black sweater in slim-fit is tucked in high-waisted belted pink cuffed pants. The combo is completed with pointed-toe heeled black pumps, a nice combo for office wear: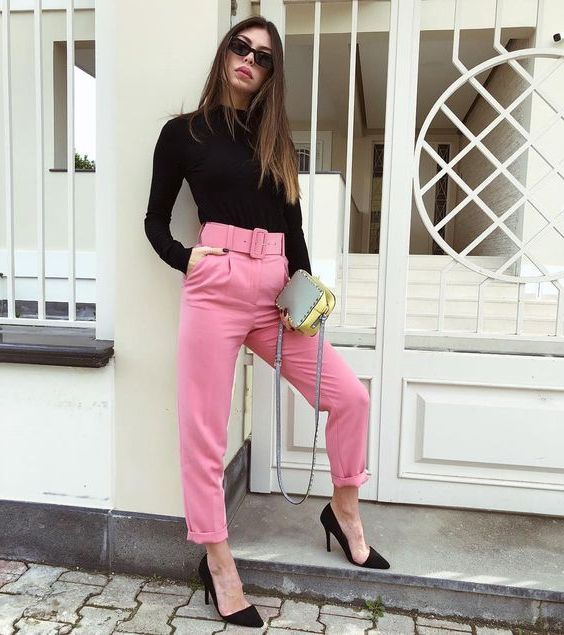 Buy Similar Here
How To Wear Hot Pink Pants And Blush Heels
We see a pussy-bow printed blouse tucked in hot pink pants completed with blush heeled pumps: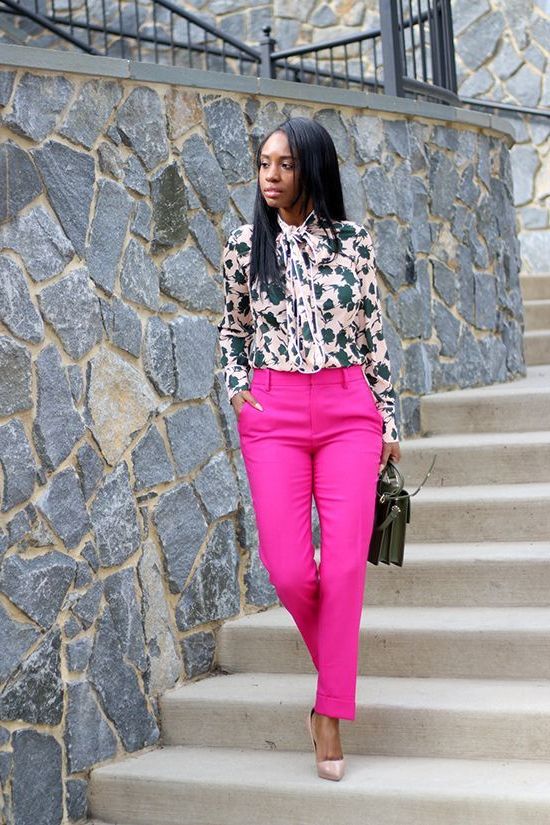 Buy Similar Here
Can You Wear Hot Pink Pants And Bright Blue Heels
Make a wow statement on the streets! Go for this black leather T-shirt and tuck it inside hot-pink slim pants completed with bright blue heels, complete it with mirrored sunglasses: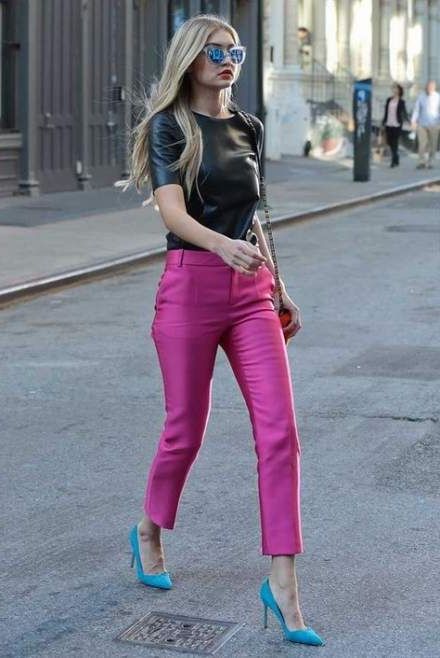 Buy Similar Here
Can I Wear Hot Pink Pants And Silver Metallic Brogues
A classic white shirt is worn with a cream grey pullover and teamed with cuffed hot pink wide pants completed with silver metallic brogues: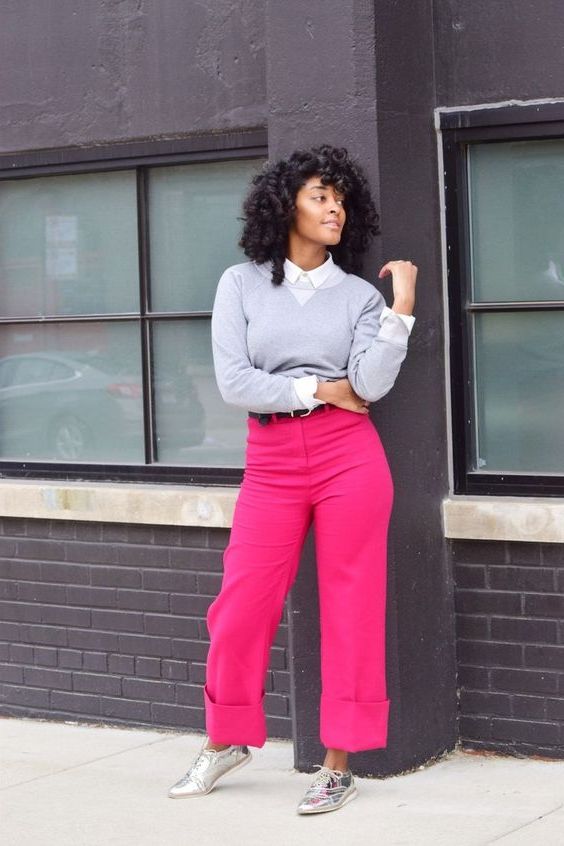 Buy Similar Here
How To Style Paper Bag Waist Pink Pants And Silver Metallic Heels
A pair of high-waisted paper bag waist blush pants are worn with a sleeveless white blouse and silver metallic pointed-toe heels: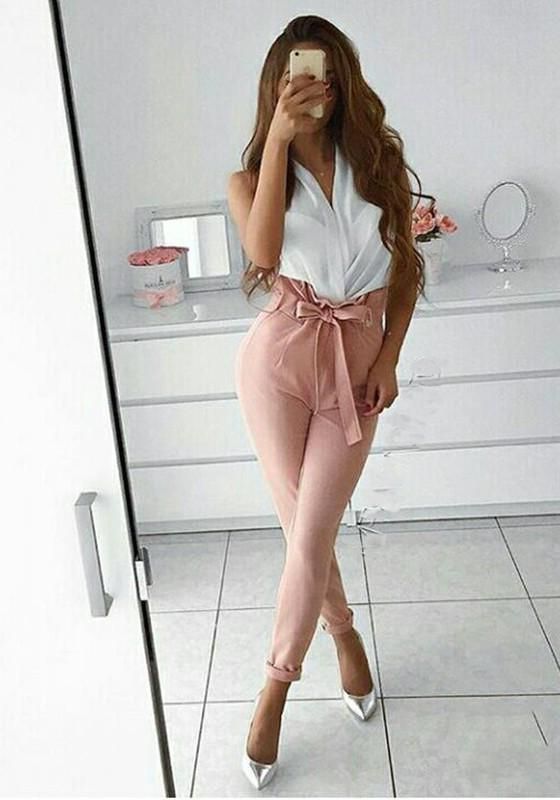 Buy Similar Here
How To Wear Pink Corduroy Pants And White Pointed Toe Pumps
In love with this French chic inspired look. We see a blush beret hat, white lace top tucked in high-waist blush corduroy pans completed with white heeled pumps, update this combo with a rounded straw bag and cool heart-shaped sunglasses: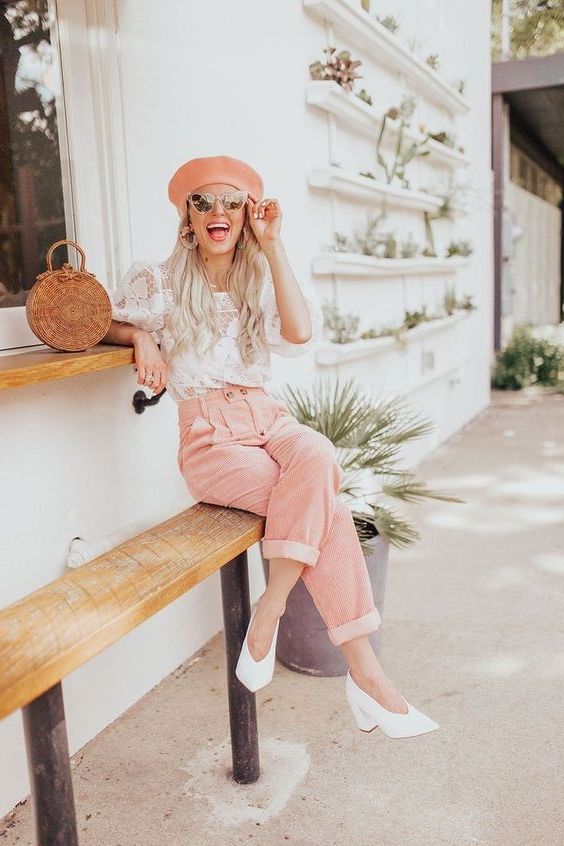 Buy Similar Here
Can I Wear Pink Lace Pants And Leopard Heels
We see a cream-grey coat, navy sweater and blush lace ankle pants completed with leopard print heels. If you do like animal print shoes for women, then check out my other post, as I covered a complete guide on how to wear them in real life: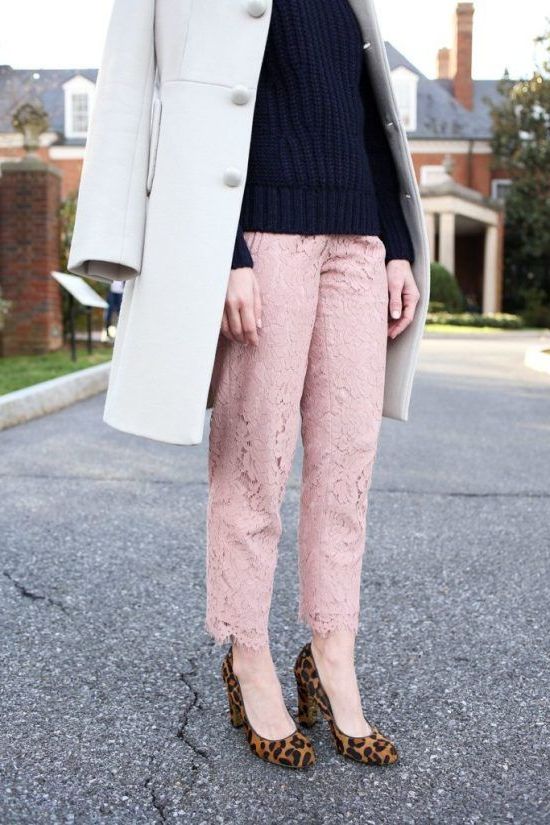 Buy Similar Here
Can You Wear Pink Pants And Black Combat Boots
We see an urban cool outfit idea for young ladies. A pink beanie is styled with a white front-tie top, pink high-waisted jeans and black combat boots: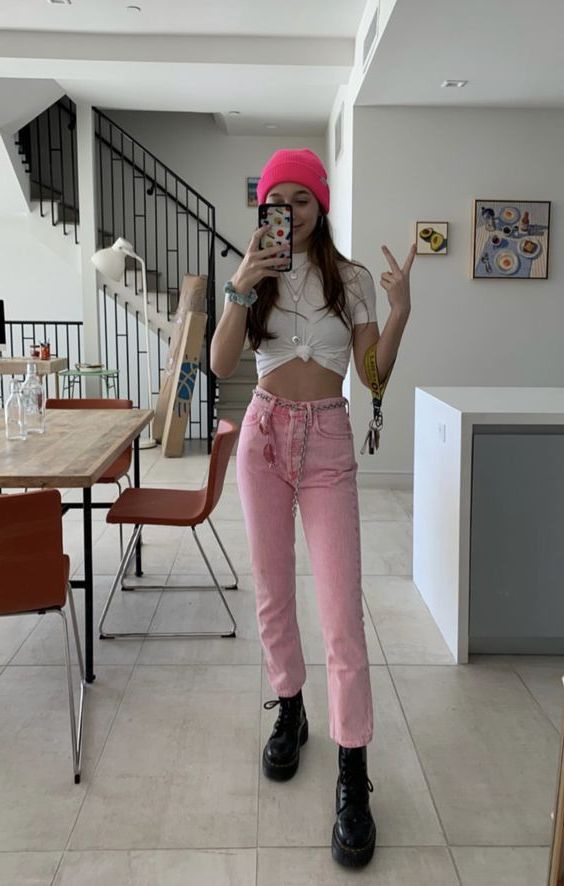 Buy Similar Here
How To Wear Pink Pants And Black Doc Martins
Here we see a white T-shirt tucked in high-waist belted tailored pants in pink completed with black Doc Martins: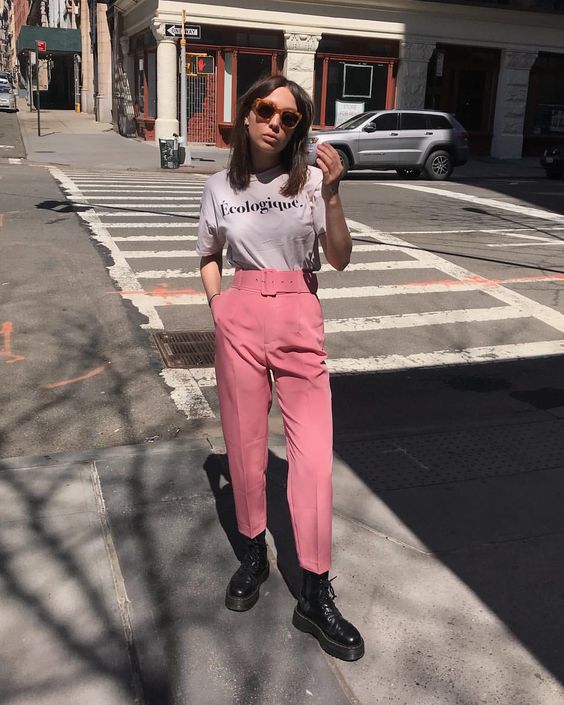 Buy Similar Here
Can I Wear Pink Pants And Black Heels
A classic black shirt is tucked in tailored blush pants updated with black pointed-toe heels, black leather belt, and classic sunglasses: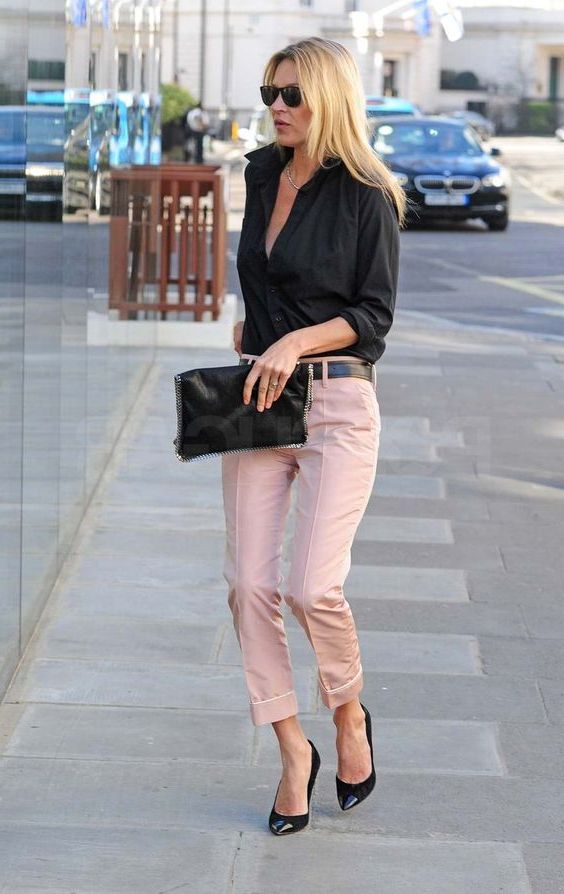 Buy Similar Here
Can You Wear Pink Pants And Black Pointed Toe Mary Janes
Oh, God! So much love with this seventies inspired outfit idea. We see a dark blue sweater teamed with blush flared pants completed with patent black pointed-toe Mary Janes. A kind of French chic combo: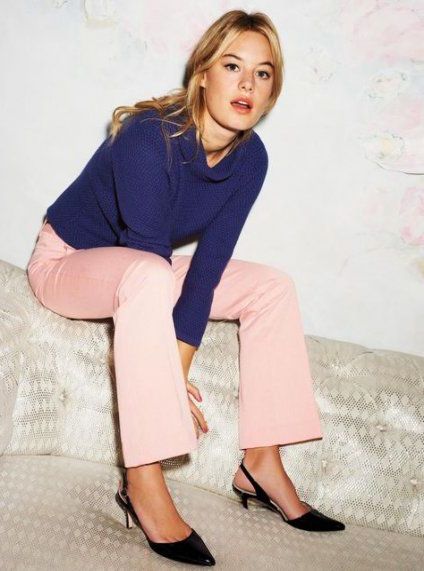 Buy Similar Here
How To Style Pink Pants And Black Pumps
We see a navy-white striped shirt tucked in hot pink cuffed tailored pants completed with pointed-toe black leather heels: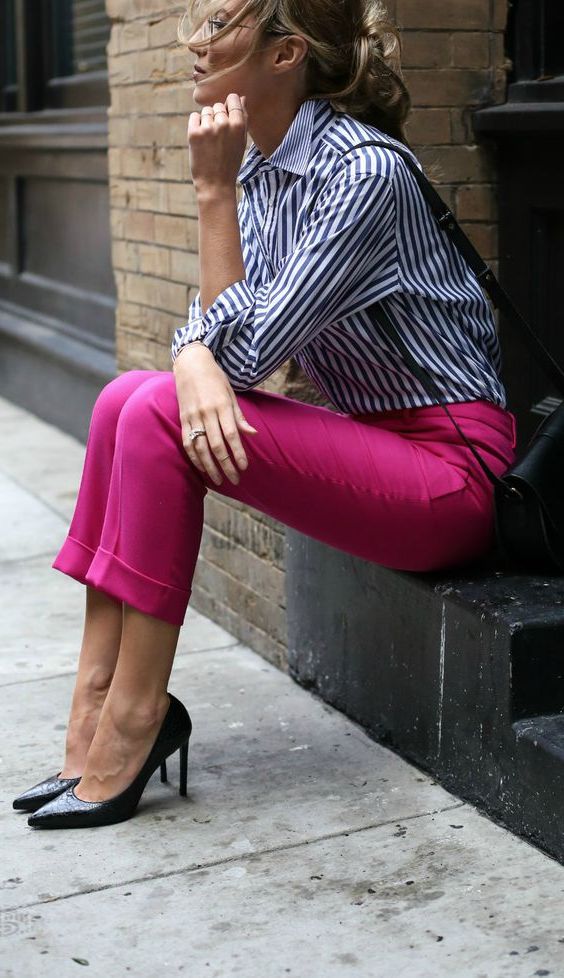 Buy Similar Here
How To Wear Pink Pants And Black Trainers
We see a dark brown coat styled with a black top tucked in high-waisted cuffed pink pants completed with black trainers: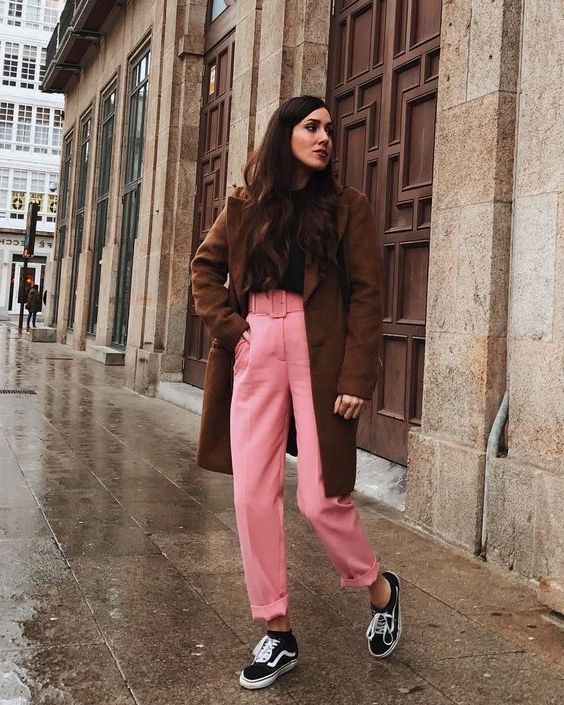 Buy Similar Here
Can You Wear Pink Pants And Blush Studded Pumps
A classic weekend look, it consists of a chambray shirt, blue top, hot pink skinny jeans and studded blush heels: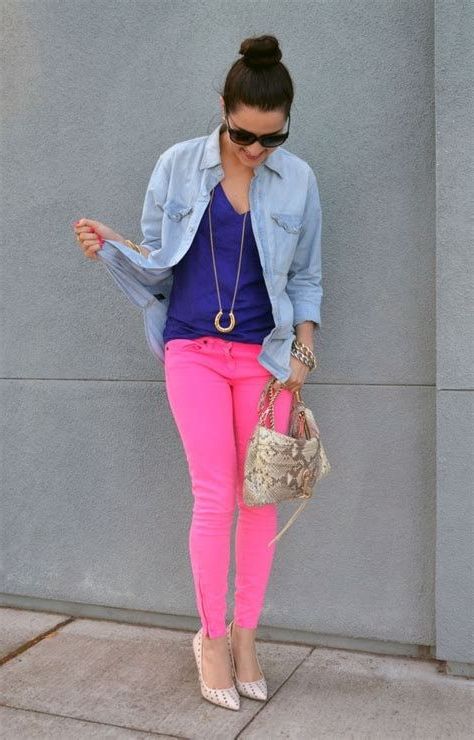 Buy Similar Here
How To Style Pink Pants And Burgundy Heels
We see a maroon coat draped over maroon ruffled blouse tucked in cream-blush pants completed with maroon pumps: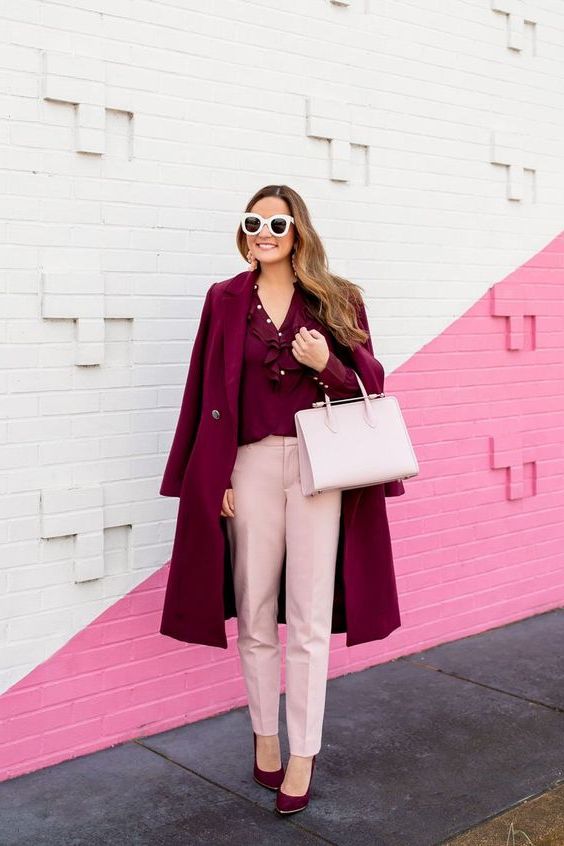 Buy Similar Here
How To Wear Pink Pants And Chunky Sneakers
If you are into the sporty and athleisure trend, then I highly recommend giving a try to this combo consisting of a pink sports bra, pink joggers and white chunky sneakers. By the way, if you want to know more ideas how to wear sneakers for women, I recommend checking out my blog post, I will show you lots of simple and inspiring ideas to follow this year: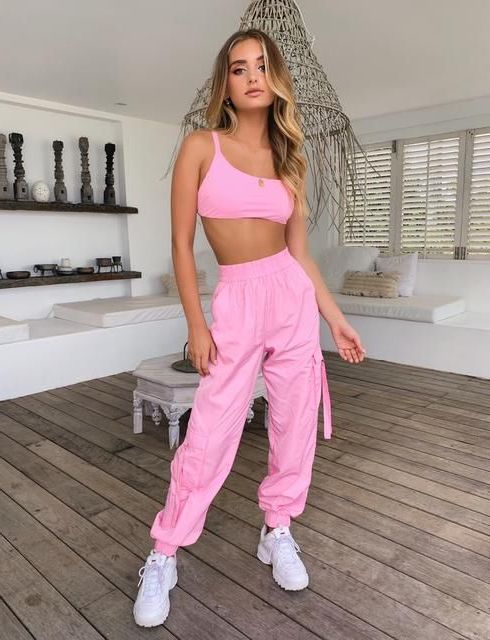 Buy Similar Here
How To Style Pink Pants And Dark Pink Heels
A leopard print sheer black top is tucked in pink ankle-length slim pants completed with dark pink block-heeled sandals: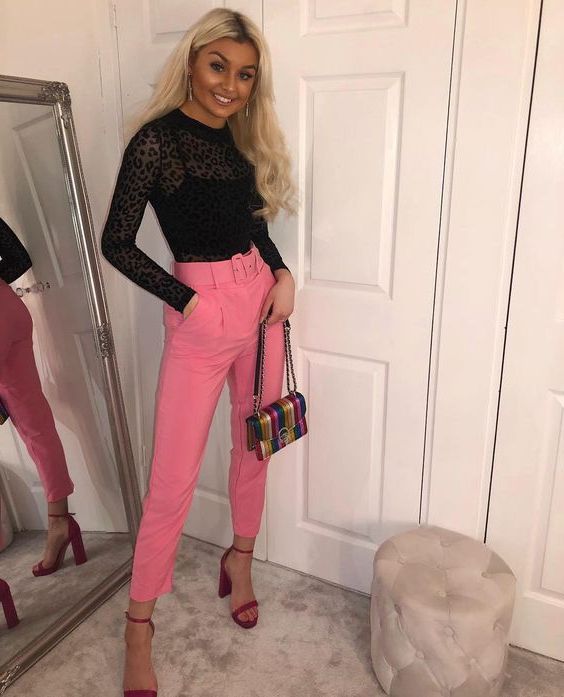 Buy Similar Here
How To Wear Pink Pants And Floral Flats
We see a romantic outfit idea for weekends. A cream-white blouse is tucked in high-rise light-pink pants combined with floral print white flats. If you want to know more ideas on how to wear flat shoes for women, I recommend to check out my post, as I have many looks to share with you:
Buy Similar Here
Can I Wear Pink Pants And Leopard print Heels
We see a dark beige coat draped over a cream-beige sweater tucked in high-waisted pink pants completed with leopard print heeled pumps: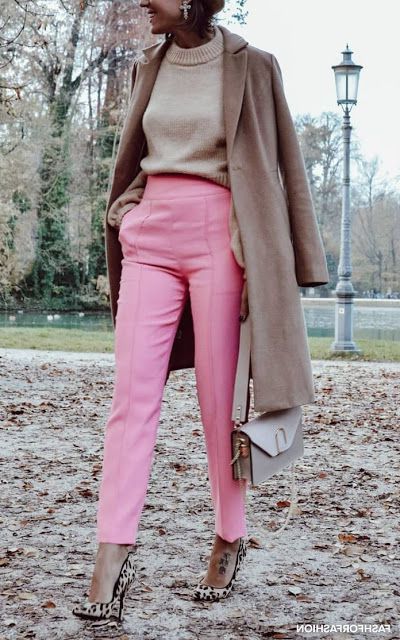 Buy Similar Here
How To Team Pink Pants And Leopard Pumps
We see a navy long-sleeve top tucked in hot pink slim pants. Complete this look by adding leopard print skinny belt and leopard print heeled pumps. A perfect example that even 40+ ladies can rock bright colors: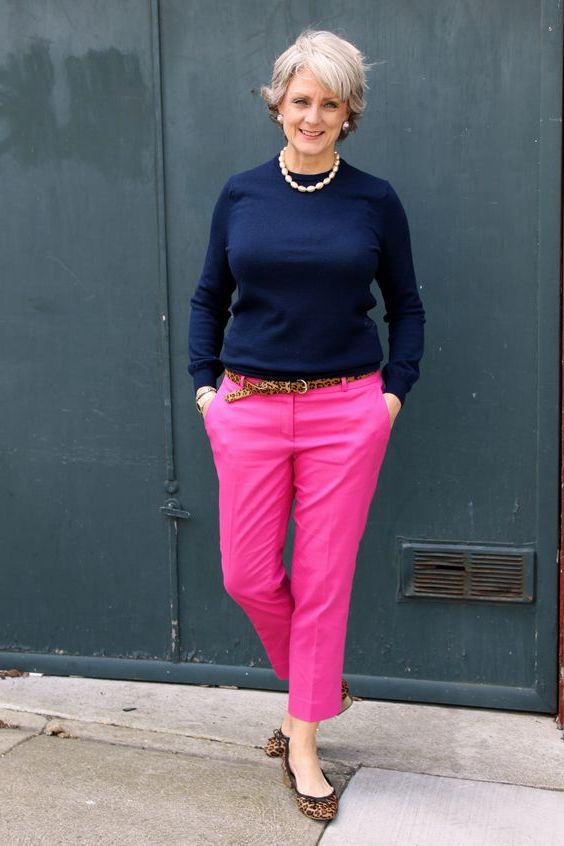 Buy Similar Here
How To Style Pink Pants And Light Brown Wedges
Here we see a denim jacket teamed with a blue-white gingham print shirt and light pink cuffed chinos completed with cream-brown peep-toe wedges: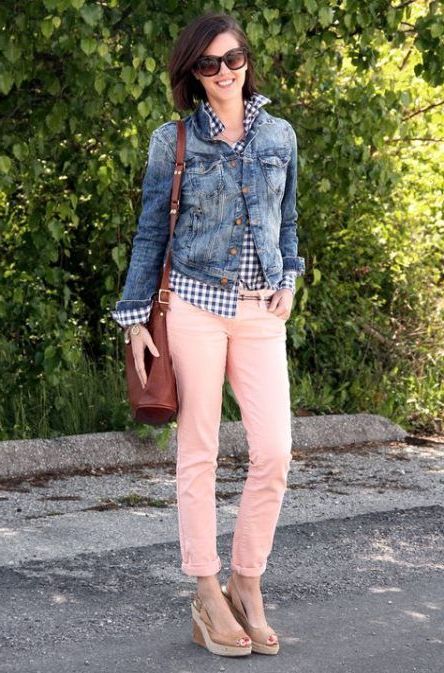 Buy Similar Here
Can I Wear Pink Pants And Metallic Flat Shoes
We see a black-white striped shirt tucked in mid-rise pink tailored pants completed with silver metallic pointed-toe flat shoes: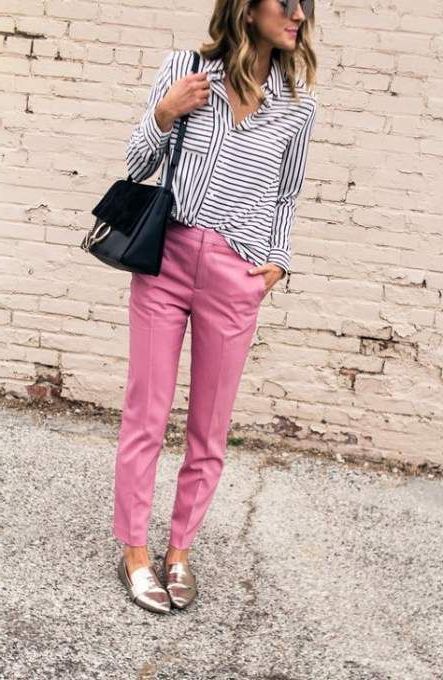 Buy Similar Here
Can I Pair Pink Pants And Pink Heels
We see a black suede jacket draped over a white blouse tucked in blush skinny pants completed with nude heels: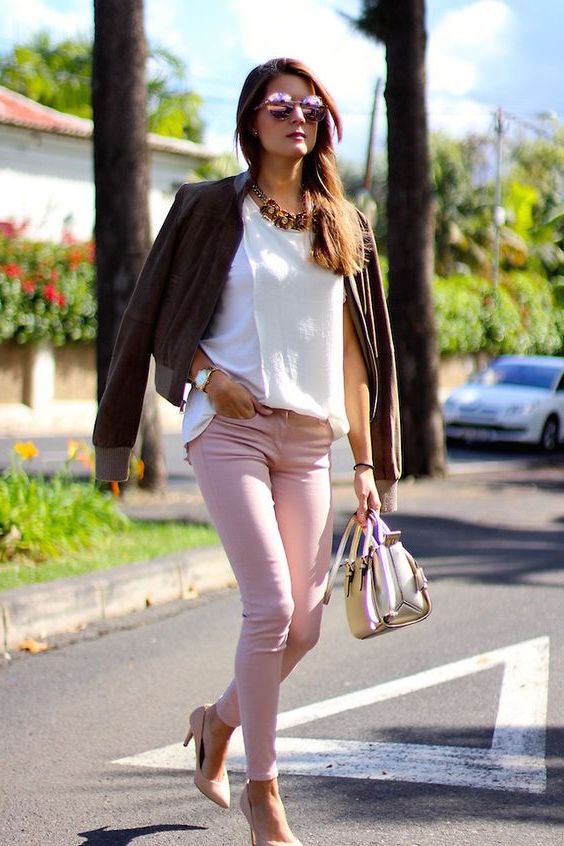 Buy Similar Here
Pink Pants And Pink Pumps With Pink Coat
How about going all in pink? We see a pink slim coat worn atop white turtleneck sweater tucked in pink tailored pants completed with pink ankle-laced heeled pumps. Complete this look by adding aviator sunglasses and pink handbag: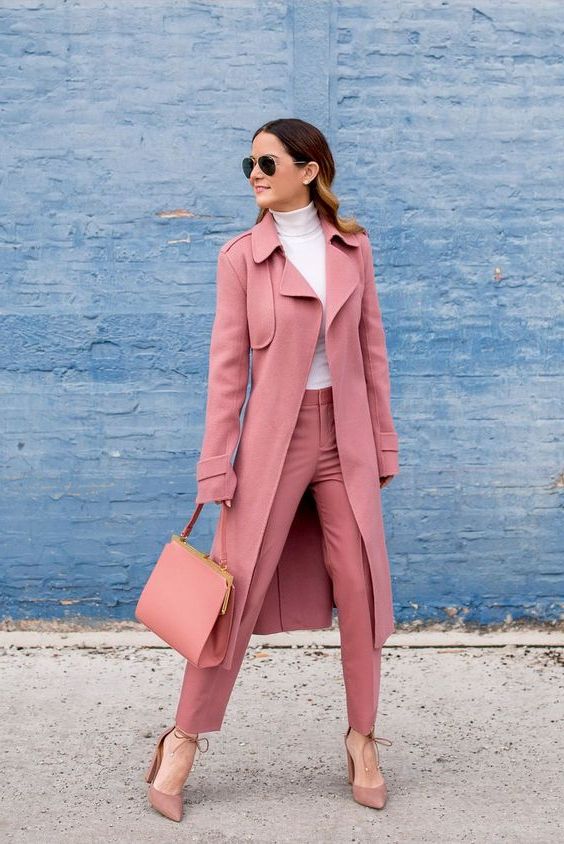 Buy Similar Here
Pink Pants And Pink Strappy Sandals
A blush T-shirt is tucked in light pink trousers completed with strappy heeled sandals in blush: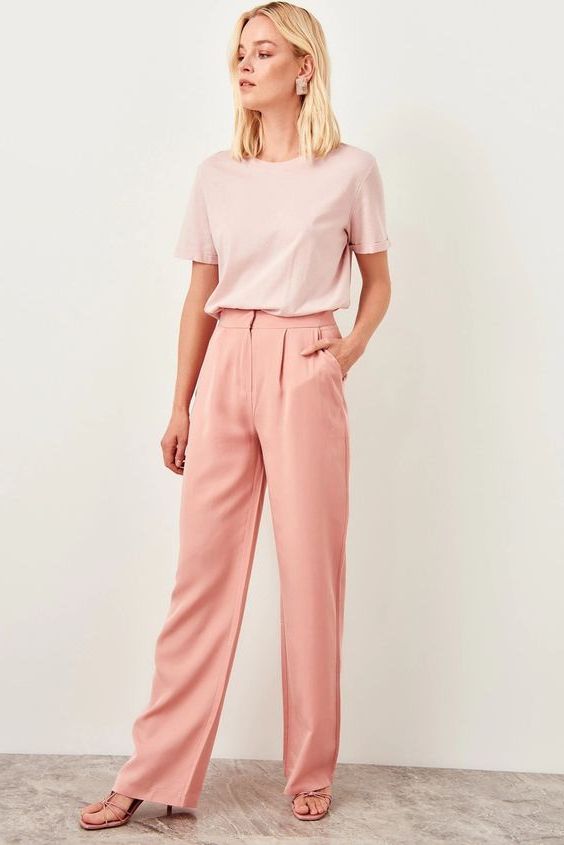 Buy Similar Here
Pink Pants And Shiny Sequined Shoes
A turtleneck cream-pink sweater is paired with slim pink pants completed with cool shiny sequined flat Mary Janes. Love these rounded blush sunglasses: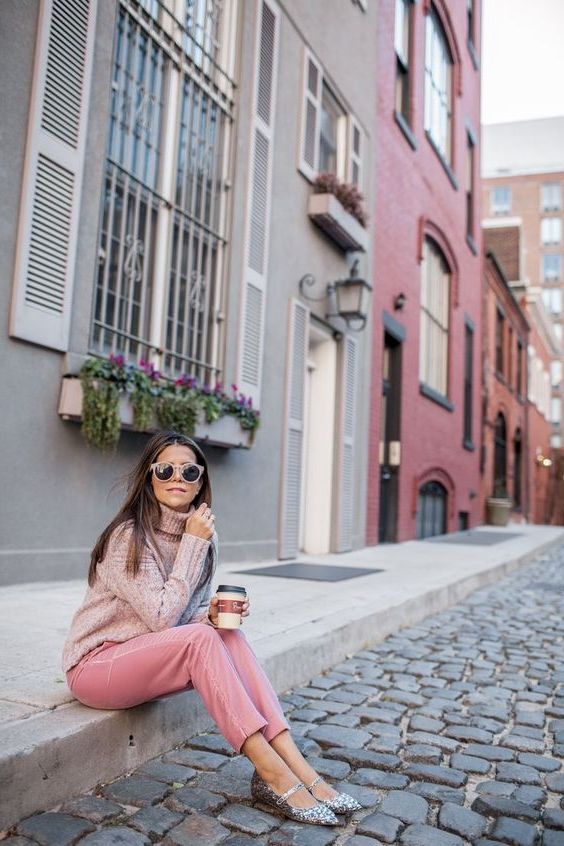 Buy Similar Here
Pink Pants And Silver Metallic Heels
A casual light blue chambray shirt is half-tucked in blush skinny jeans completed with silver metallic heeled pumps: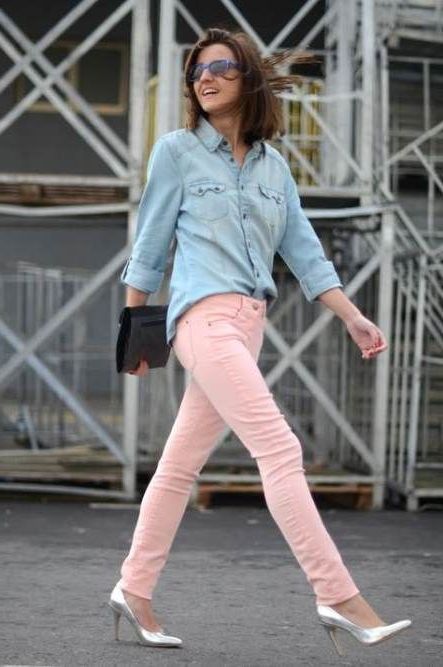 Buy Similar Here
Pink Pants And Square Toe Shoes
We see a cream lace shirt tucked in mannish gathered blush pants completed with square toe maroon shoes. Complete this combo by adding a brown leather belt: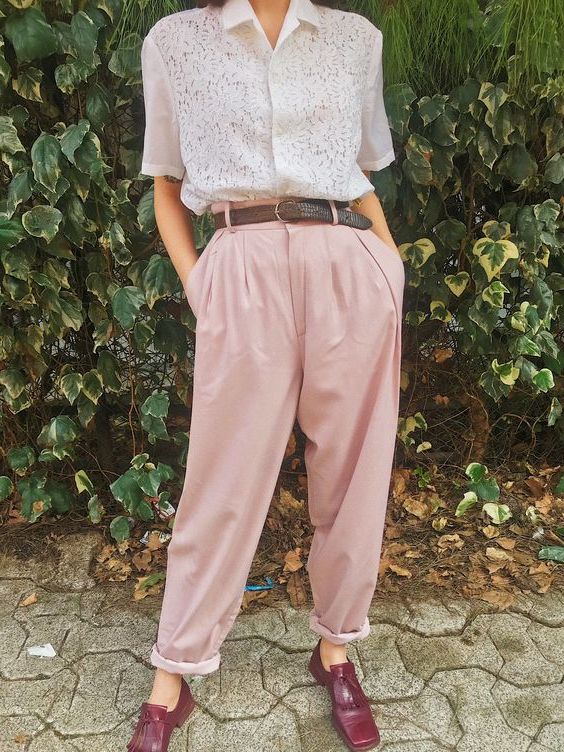 Buy Similar Here
Pink Pants And Tan Sandals
Some ladies like it simple. Go for a white shirt and tuck it inside light pink slim tailored pants finished with tan heeled ankle sandals. In love with these flat brow sunglasses: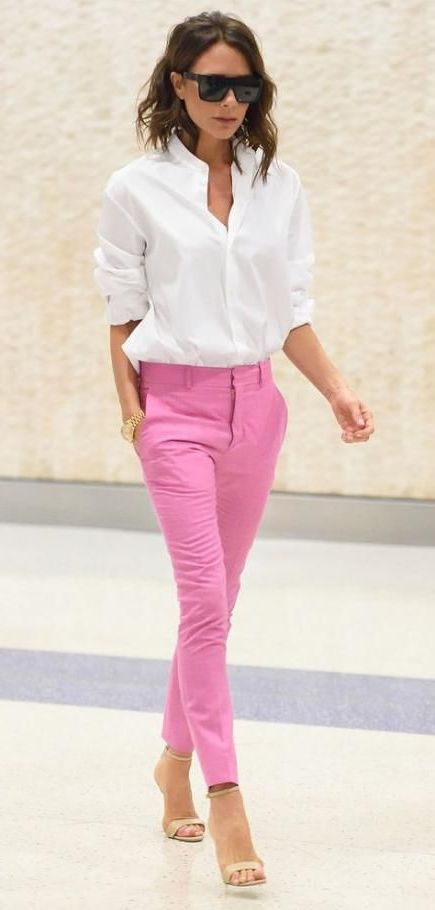 Buy Similar Here
How To Style Pink Pants And White Ankle Boots
We see a cool Autumn metro look. A light brown coat is layered over a red turtleneck sweater paired with hot pink pants completed with white ankle boots and stylish cat-eye sunglasses in white: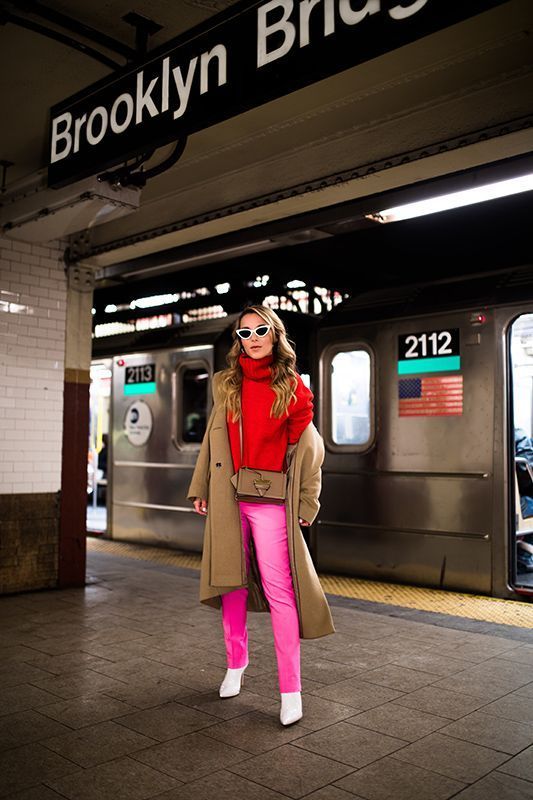 Buy Similar Here
How To Wear Pink Pants And White Heels
Here we see a collarless leopard print cardigan styled with a black top, blush skinny pants and white pointed-toe heeled pumps: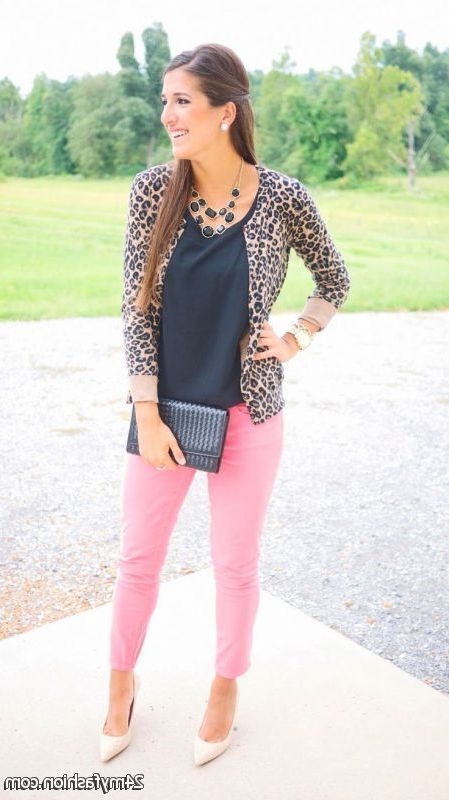 Buy Similar Here
How To Style Pink Pants And White Loafers
A sleeveless white blouse is tucked in blush slim pants completed with white loafers, a good idea for weekends: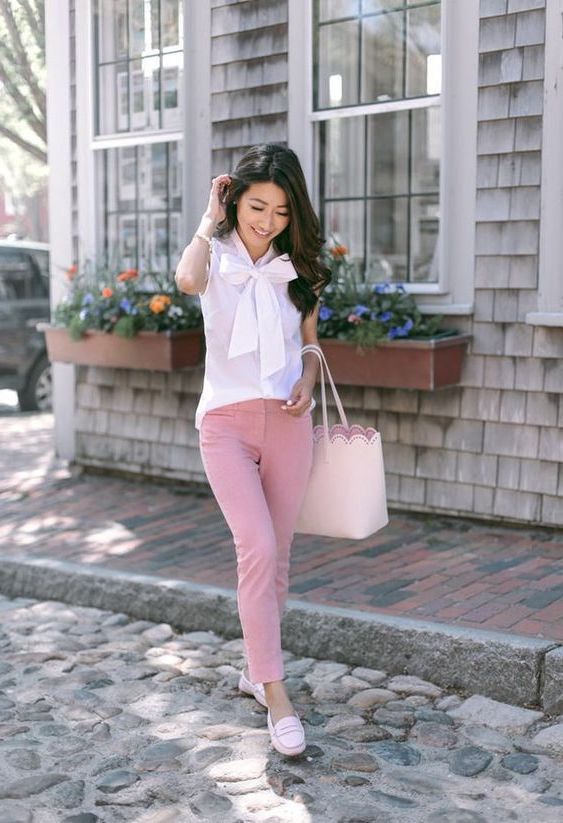 Buy Similar Here
Can I Wear Pink Pants And White Mules
Here we see a nice idea for a long walk. A white loose-fit blouse is tucked in high-waisted pink wide pants completed with block heel white mules:
Buy Similar Here
Can You Wear Pink Pants And White Sneakers
If you are into cool style, go for a black pinstripe blazer, black turtleneck hot pink wide pants, and white chunky sneakers: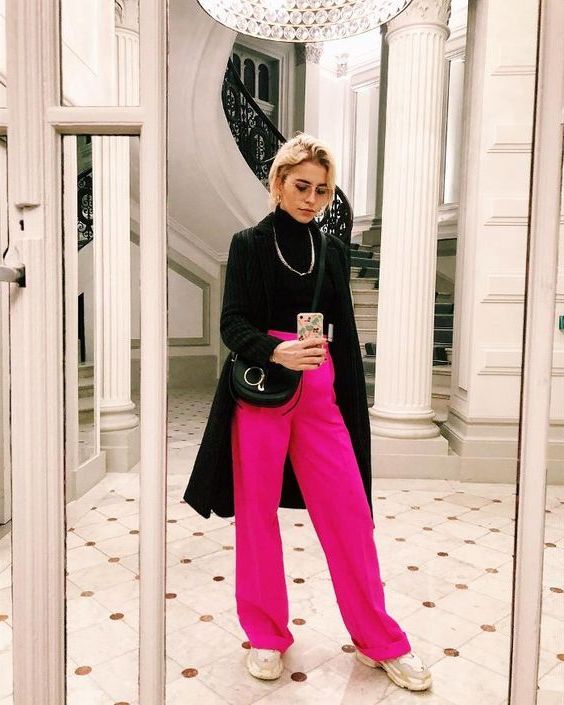 Buy Similar Here
How To Wear Pink Pants And White Sneakers To The Office
An ideal combo for office hours. We see a grey blazer, white shirt tucked in blush pants and completed with white sneakers: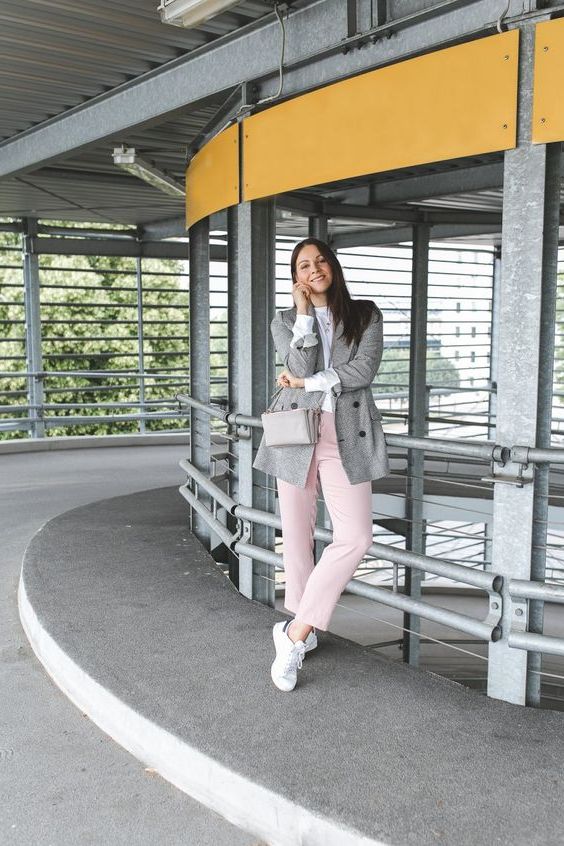 Buy Similar Here
Can I Wear Pink Pants And Grey Heels
We see a nice Friday office look. It consists of a denim jacket, gingham print shirt, pink slim jeans, and grey pointed-toe strappy heels: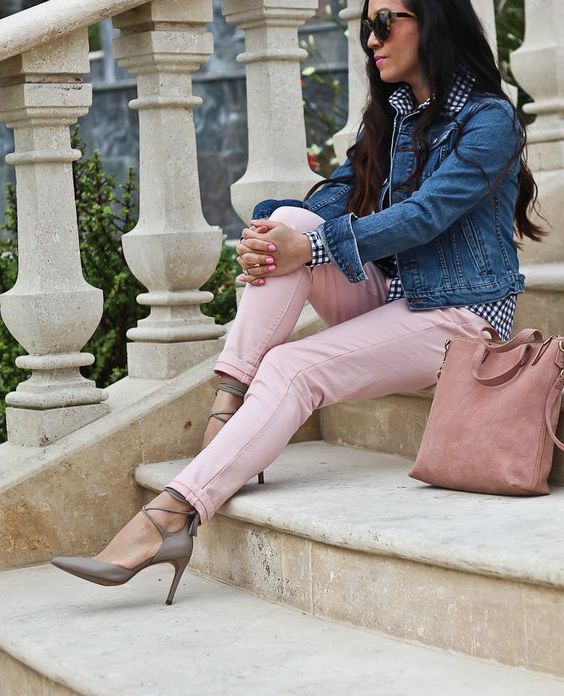 Buy Similar Here
Can I Wear Pink Plaid Pants And White Sneakers
We see a plaid pink pantsuit worn with a white tee and chunky white sneakers: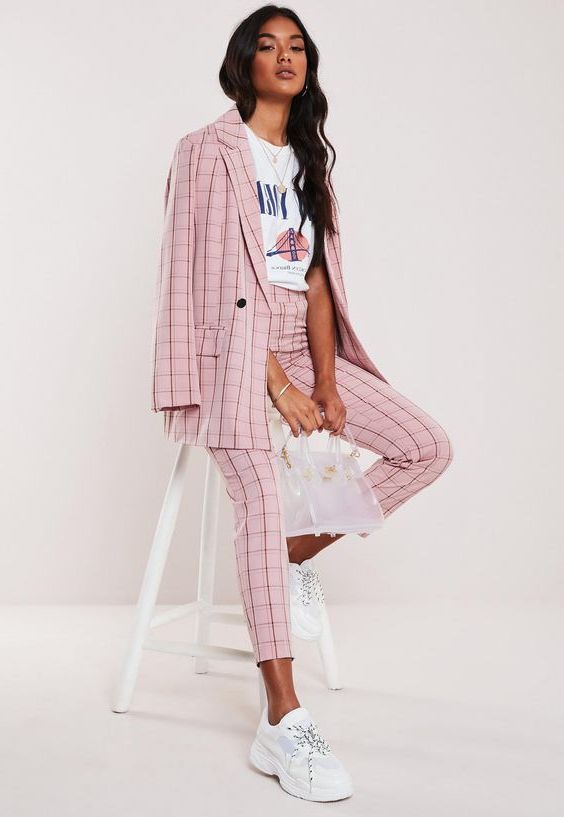 Buy Similar Here
Can You Wear Pink Suit And Kitten Heel Black Pumps
A classic pinstripe pink pantsuit is styled with a black top and black kitten-heel black pumps: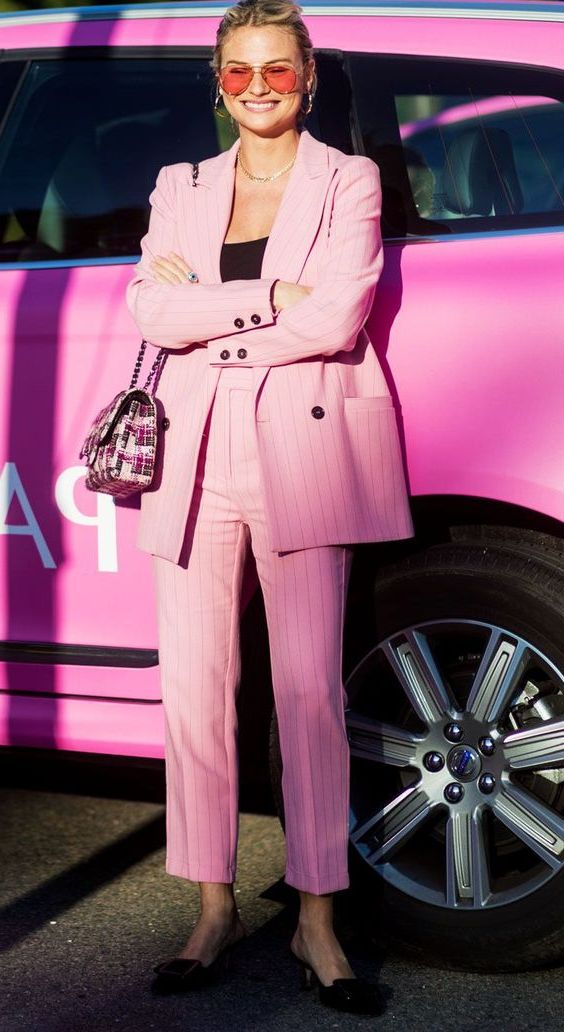 Buy Similar Here
How To Wear Wide Ankle Pink Pants And White Sneakers
A cream grey coat is worn with a white bodysuit tucked in wide ankle-length pink pants completed with white kicks: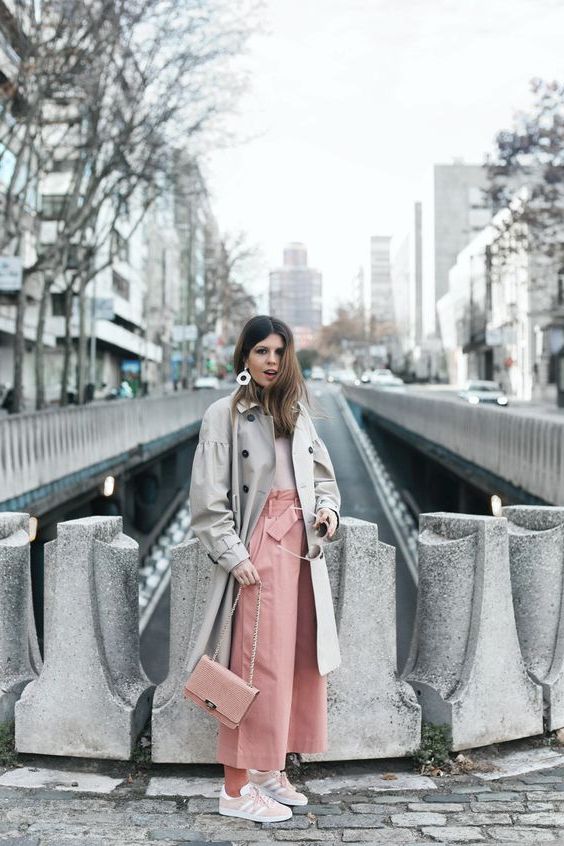 Buy Similar Here
How To Wear Wide Pink Pants And White Sneakers
Keep it simple! Go for a white tee and tuck it inside light pink tailored pants completed with white sneakers: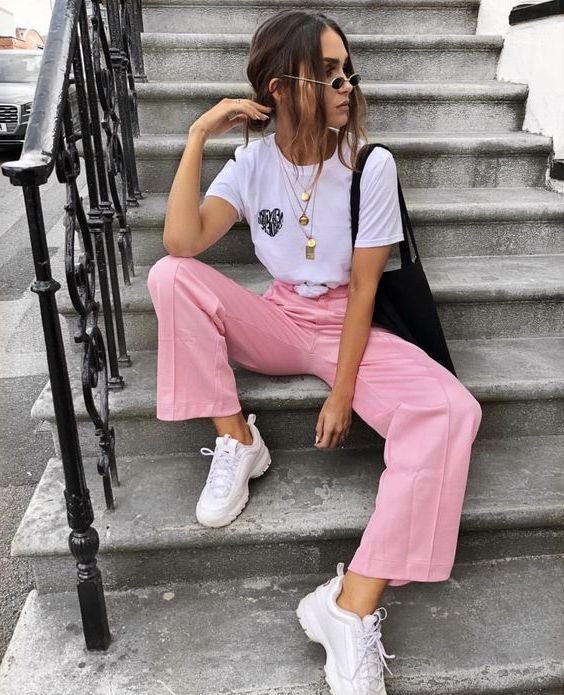 Buy Similar Here