My next topic is dedicated to green dresses and what shoes you can wear them with. I don't wear green dresses, as the color simply doesn't fit my hair color and skin.
Buy Similar Here
We see a dark green above the knee slim dress worn with a white-black poncho jacket and black leather boots.
But it doesn't mean I hate the green color. I find it an ideal choice for those who want to wear it from day to evening events. Now, in this article, we are about to see lots of inspiring outfit ideas with green dresses and beautiful shoes. You will see great ideas that can be used for various occasions.
You can wear a green dress to the office, to the garden party, brunch, cocktail party, to the wedding, and many other events. You are about to see great combos where a green dress is styled with sneakers, heels, sandals, boots, and booties. Anyway, green can be combined with earth shades, starting from brown, grey to beige and sandy hues. I do like to see khaki green dresses paired with classic black heels, dark green, brown or dark blue hues. Nevertheless, it's time to take a close-up look and find your favorites.
Can I Wear Emerald Green Dress With Grey Pumps
A dark green belted midi shirt-dress looks divine with a pair of cream-grey heeled pumps. An ideal look for brunch parties, as well as for meeting with old classmates: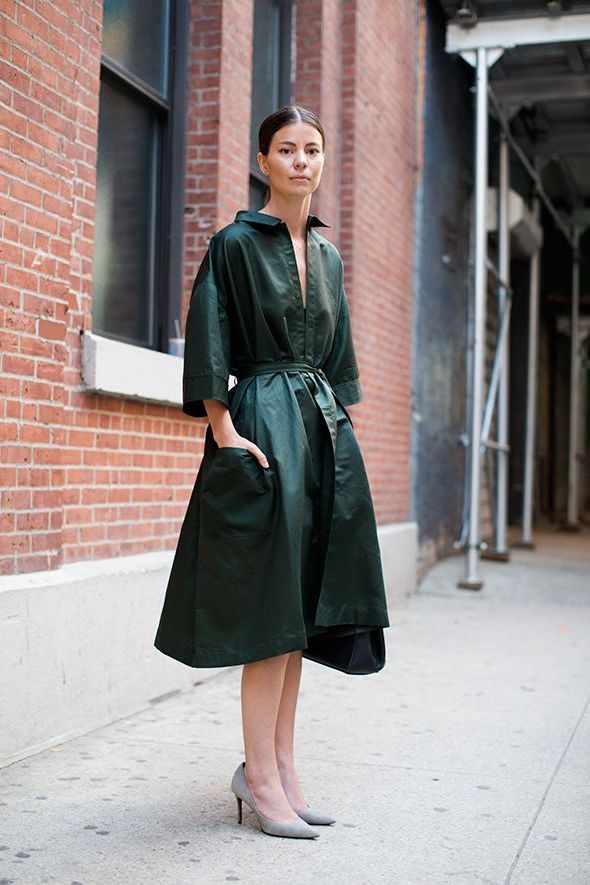 Buy Similar Here
Green Dress And Beige Heeled Sandals
Here we see a chic look for a corporate event. A long sleeve mini dress in green color with ruffled detailing completed with beige ankle-cuff heeled sandals: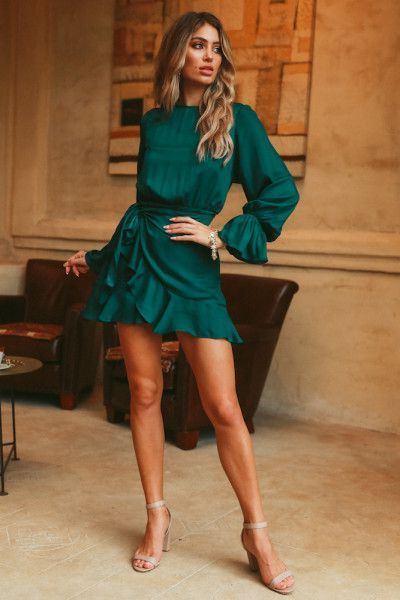 Buy Similar Here
Can I Wear Green Dress And Beige Pumps
A lovely combo for a special evening event. We see a brown-camel wool maxi coat layered over a rich green wrap dress completed with beige pointed-toe heeled pumps and rounded black sunglasses: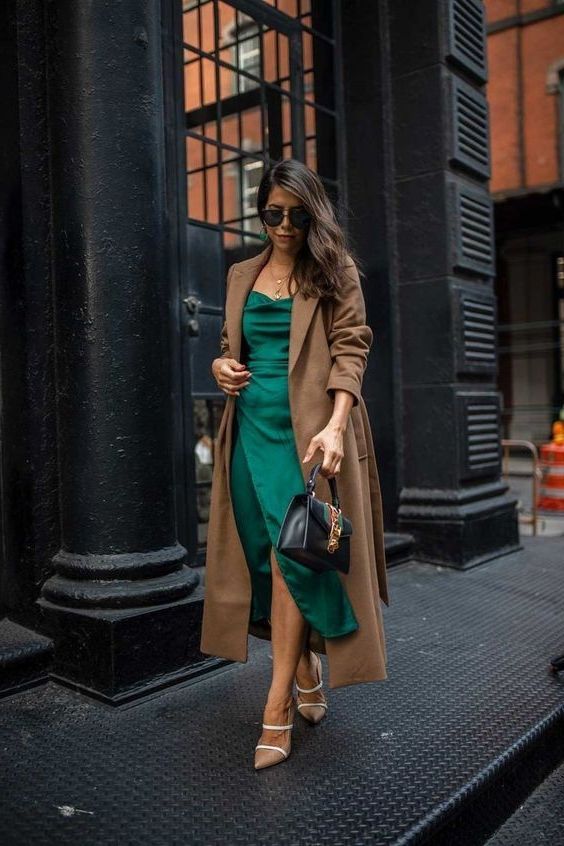 Buy Similar Here
Green Dress And Beige Sandals
A sexy look for those ladies with long legs. We see a dark green silken mini wrap dress with slim straps completed with layered necklaces and beige heeled sandals: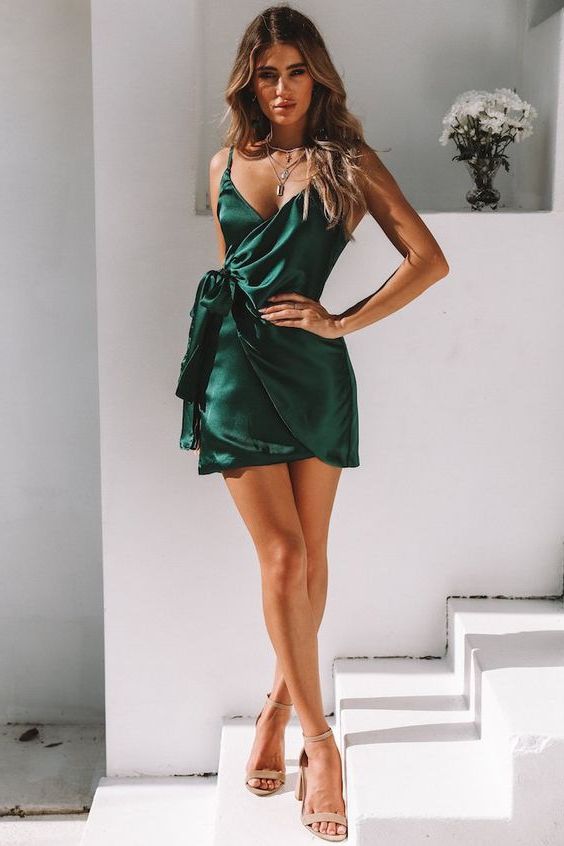 Buy Similar Here
Green Dress And Black Loafers
If you want to make a wow statement at a tea-party or at the brunch, then I recommend giving a try to this green midi slip-dress worn over a white shirt. Complete the look with square toe loafers in black leather: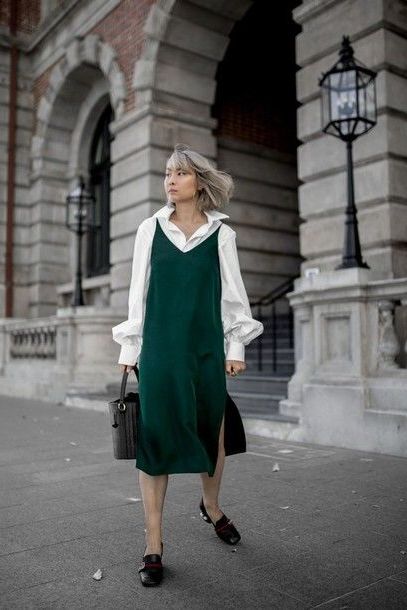 Buy Similar Here
Green Dress And Blue Flat Pumps
A marine-inspired look. In love with this simple day look for casual gatherings. We see a basic green mini sundress with shorts sleeves styled with blue flat pumps and classic shades. Update this look with a classic brown leather handbag: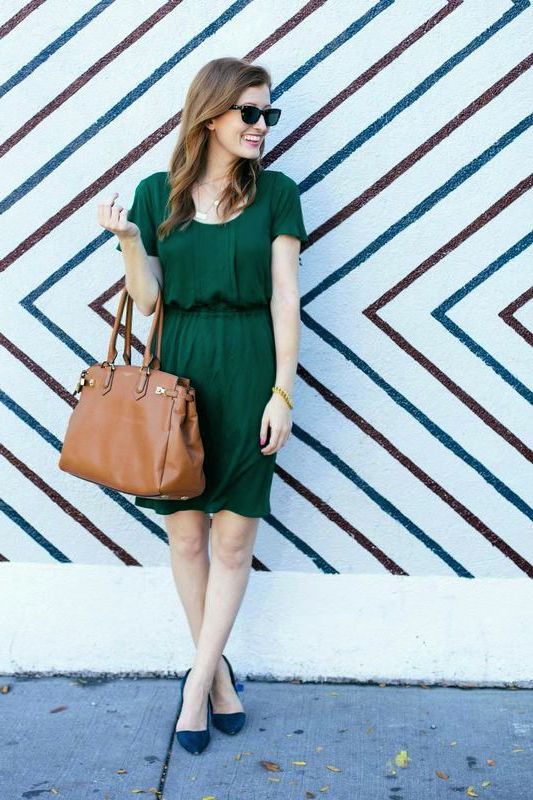 Buy Similar Here
Can I Wear Green Dress And Blue Pumps
A halter-neck sleeveless midi dress in green looks fresh and sassy with a pair of bright blue heeled pumps: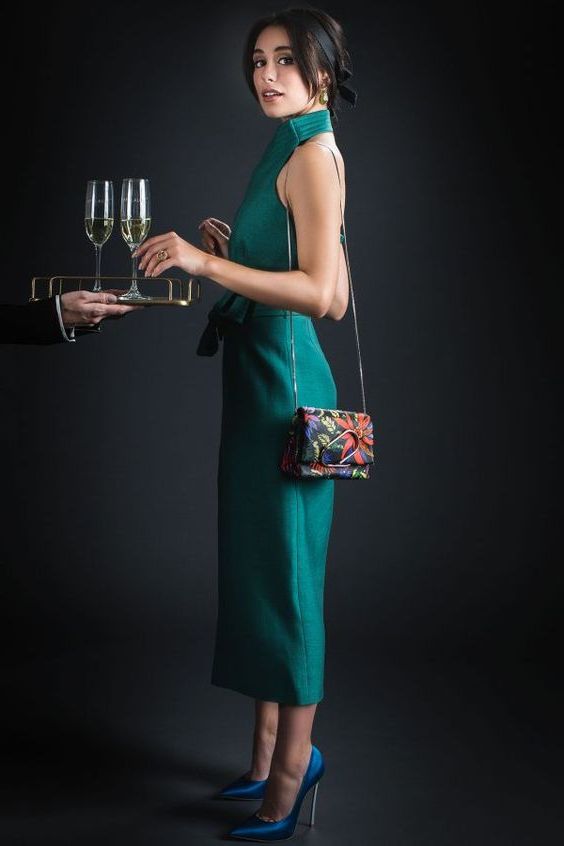 Buy Similar Here
Can You Wear Green Dress And Gold Sandals
An off-shoulder green gathered midi dress with long sleeves is updated with gold heeled sandals, an ideal look for different types of events, from classic party to a corporate event: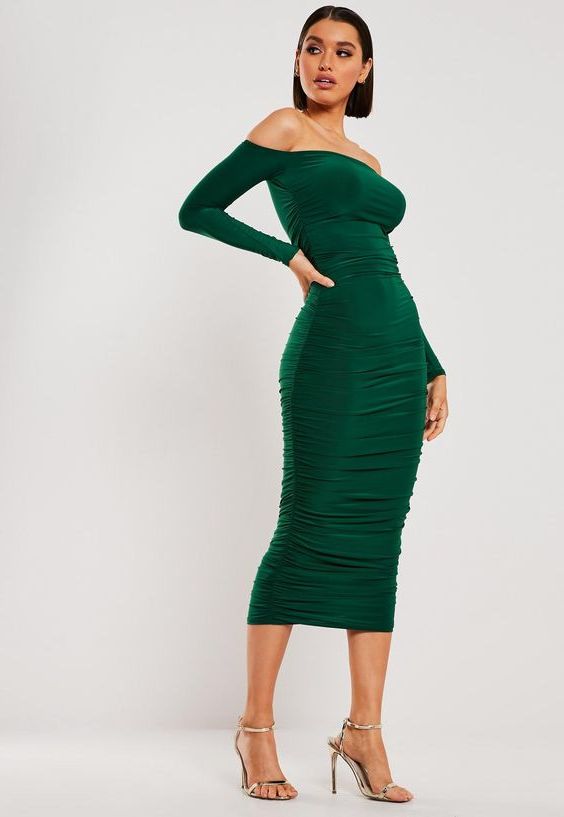 Buy Similar Here
Can You Wear Green Dress And Leopard Print Flats
A simple army green dress with a boho touch is styled with black tights, leopard print flat pumps with pointed toes. A nice combo homecoming party. By the way, check my post on animal print shoes for women, there are lots of chic street style ideas to try: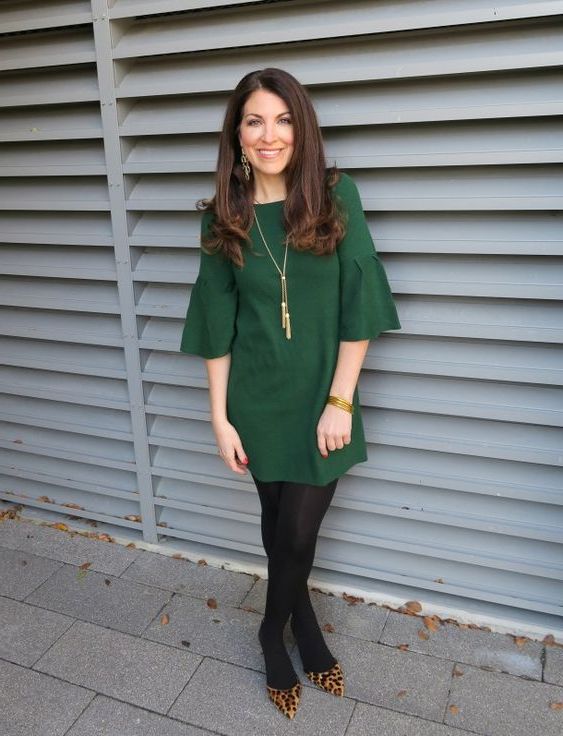 Buy Similar Here
Green Dress And Purple OTK Boots
Go wild with this belted silken green shirtdress completed with purple over the knee boots, love the modern cat-eye shades: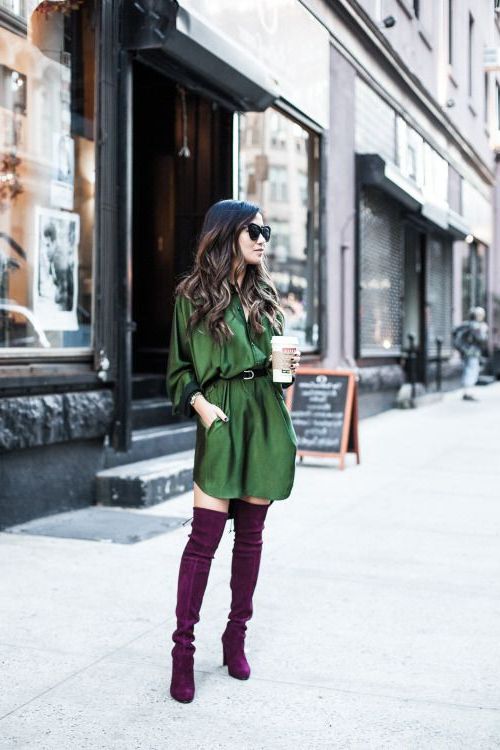 Buy Similar Here
Can I Wear Green Dress And Silver Metallic Sandals
A strapless light green sweet dress looks feminine completed with silver metallic heeled sandals. A marvelous style for gathering with family members: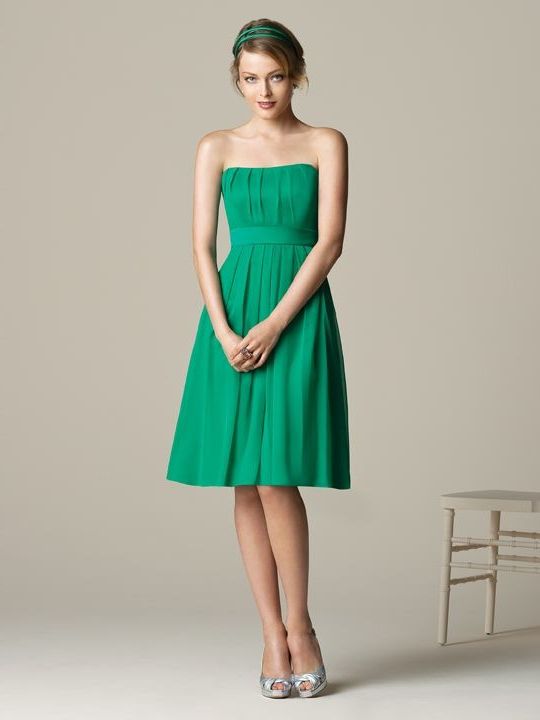 Buy Similar Here
Green Dress And Slouchy Brown Boots
We see a rich green 3/4 sleeve dress worn with slouchy brown leather boots, update this look with classic sunglasses and gold watches: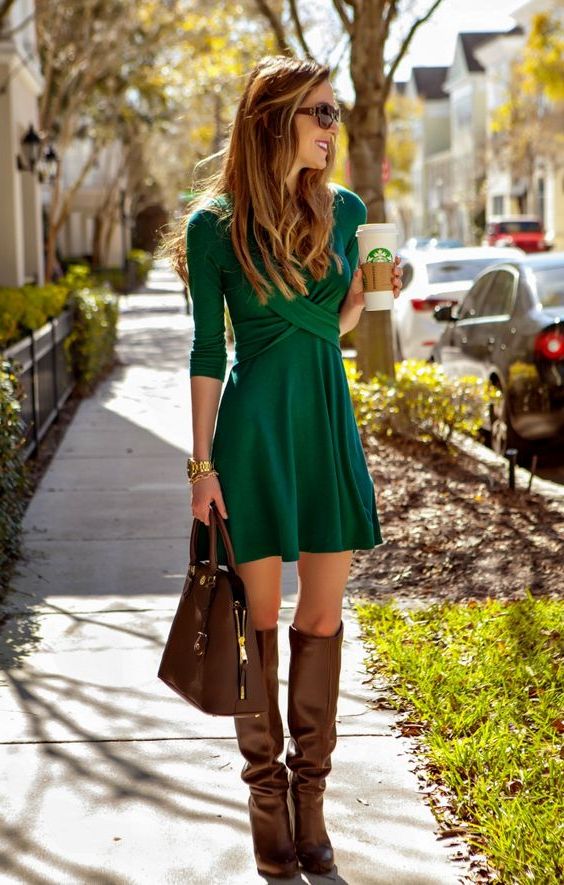 Buy Similar Here
Can I Wear Green Dress And Snakeskin Print Booties
We see a fur jacket teamed with a green dress completed with snakeskin print booties: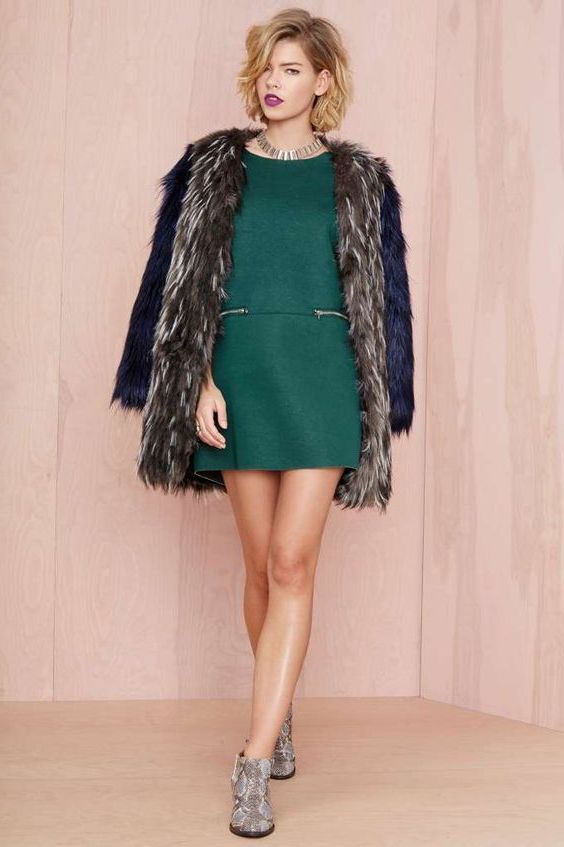 Buy Similar Here
Green Dress And Tan Beige Booties
We see a stylish idea for different types of gatherings, from classic parties to corporate events. A green sleeveless dress is worn over dark green long sleeve top completed with tan beige heeled booties: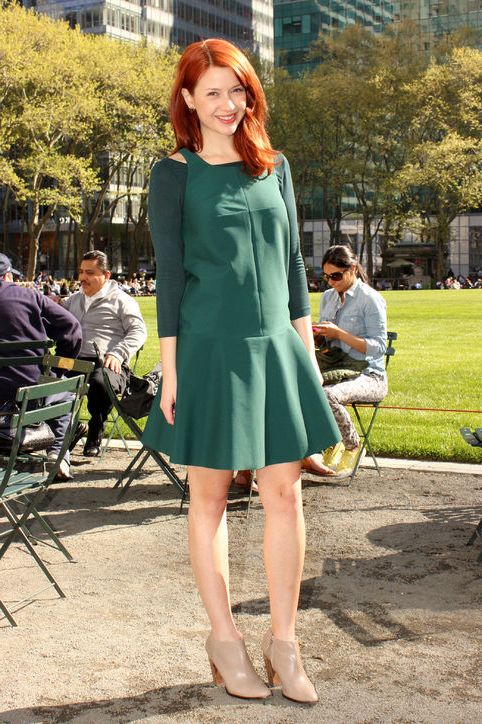 Buy Similar Here
Green Dress And Tank Brown Heels
Go for a wrap camel coat and drape it over a rich green slim sheath dress completed with brown heeled pumps. An ideal look for get-together events: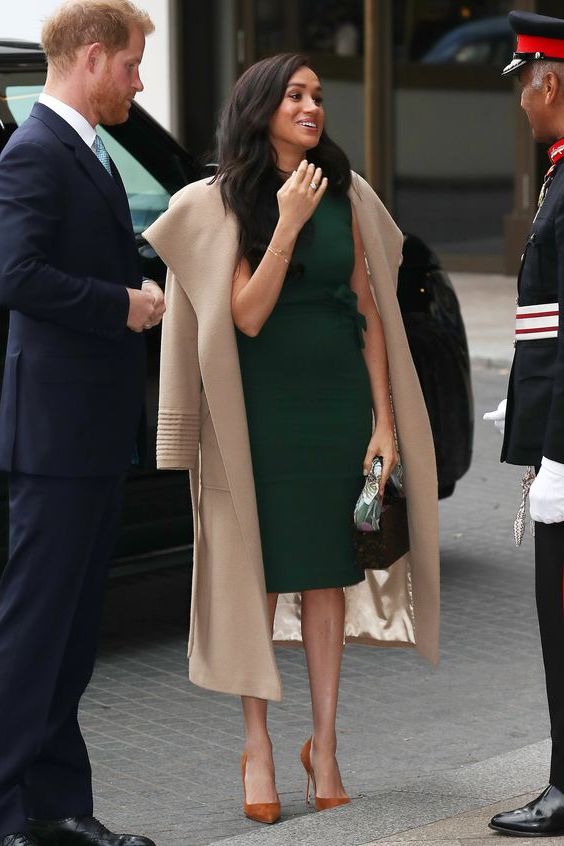 Buy Similar Here
Can I Wear Green Dress And White Pumps
Here we see a green slipdress with spaghetti straps styled with white heeled pumps. A nice combination for a seminar: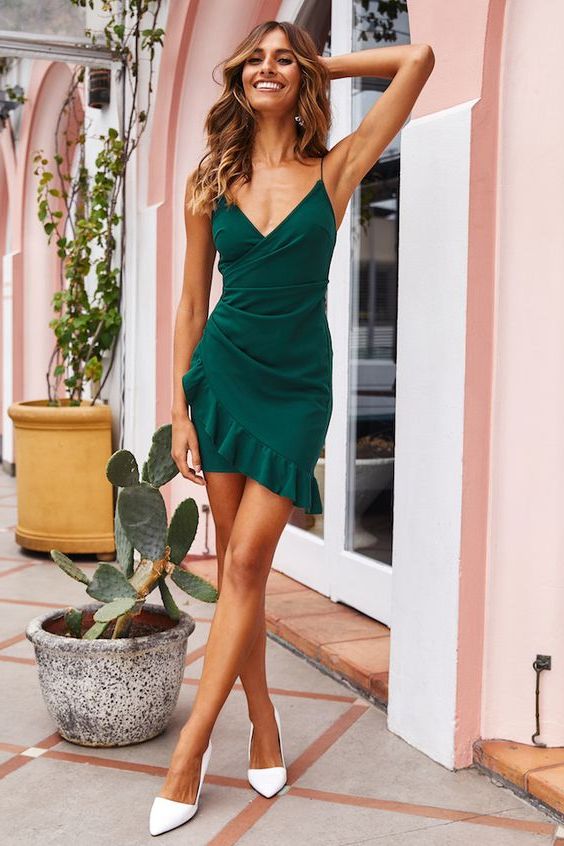 Buy Similar Here
Can You Wear Green And White Sneakers
Make a fresh update! Go for this white dotted green short dress and style it with white sneakers and classy cat-eye sunglasses. A simple and ladylike idea for meeting with old classmates. I have a cool post on what to wear with sneakers, check it out, I promise, you will find many cool ideas to follow: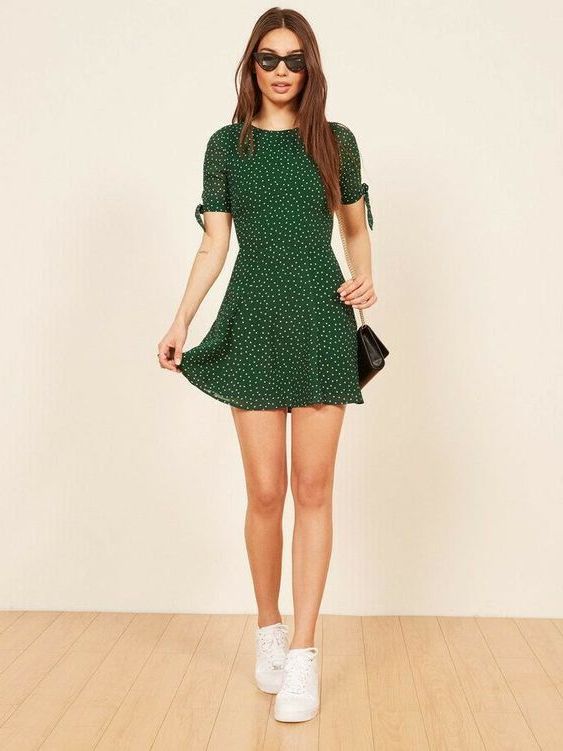 Buy Similar Here
Green Dress And Yellow Heels
Here we see a light green long-sleeve dress with a wide neckline completed with yellow-white heeled sandals: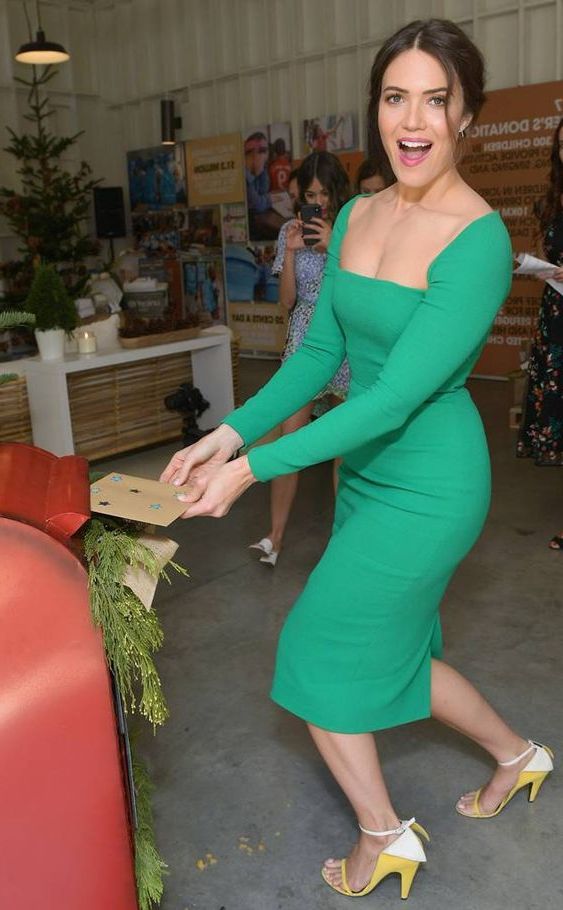 Buy Similar Here
Green Dress And Black Slouchy Boots
A stylish combo for Fall season days. We see a black leather jacket worn with a bright green dress and slouchy black suede boots embellished with fringes: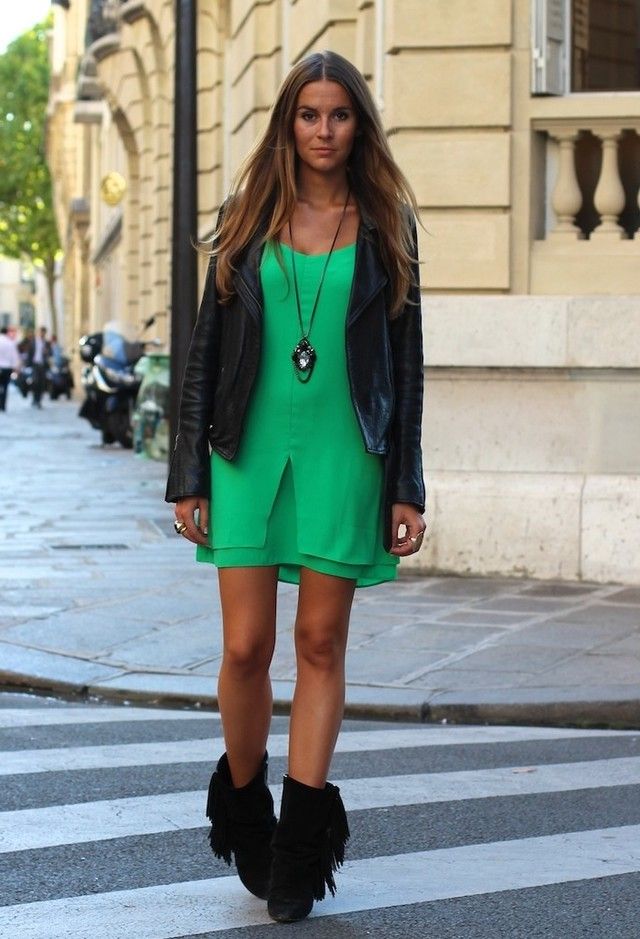 Buy Similar Here
How To Wear Green Dress And Brown Boots
Say hello to the boho style. We see a country-inspired green dress with long sleeves styled with tights and lace-up brown suede booties completed with knitted socks: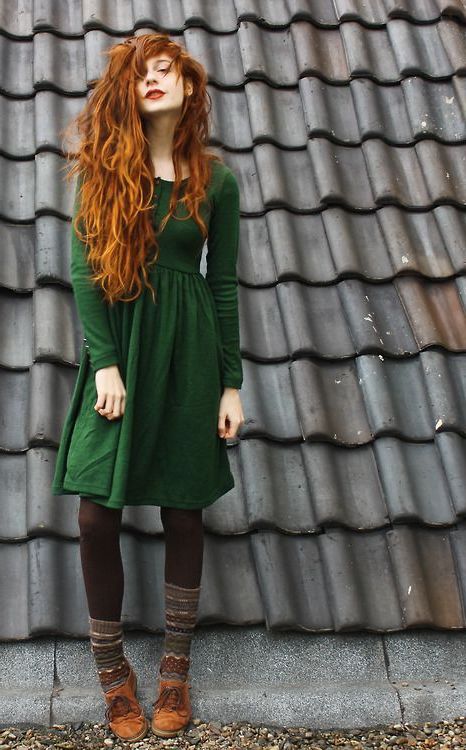 Buy Similar Here
Green Lace Dress And Black Leather Ankle Boots
Here we see a green lace short dress with long sleeves combined with black leather ankle boots. A very beautiful choice to get people together for a business event: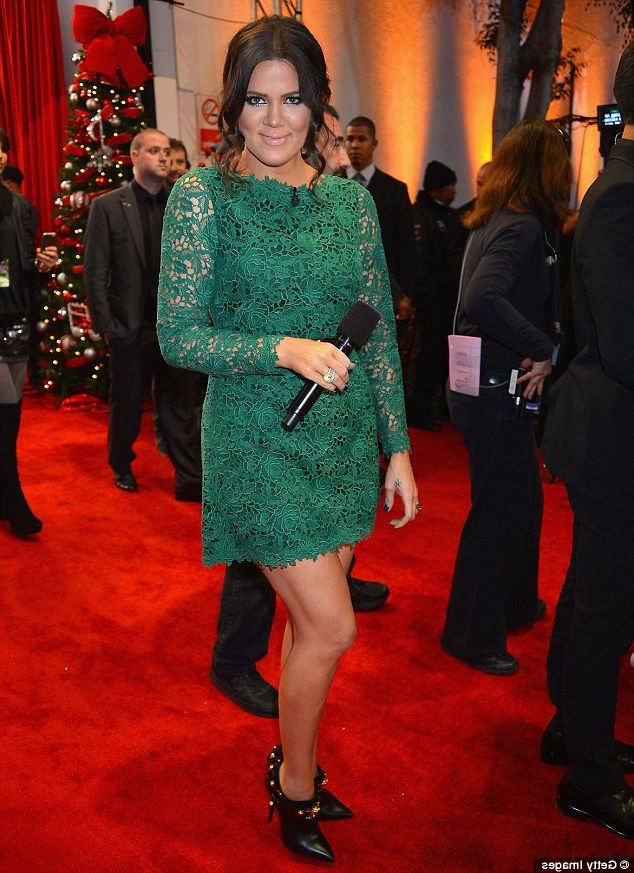 Buy Similar Here
Green Maxi Dress And Criss Cross Heeled Sandals
We see a sleeveless green maxi dress with a high slit. Style it with a chunky neckpiece and beige criss-cross strappy heeled sandals. It reminds me of Grecian goddess dress: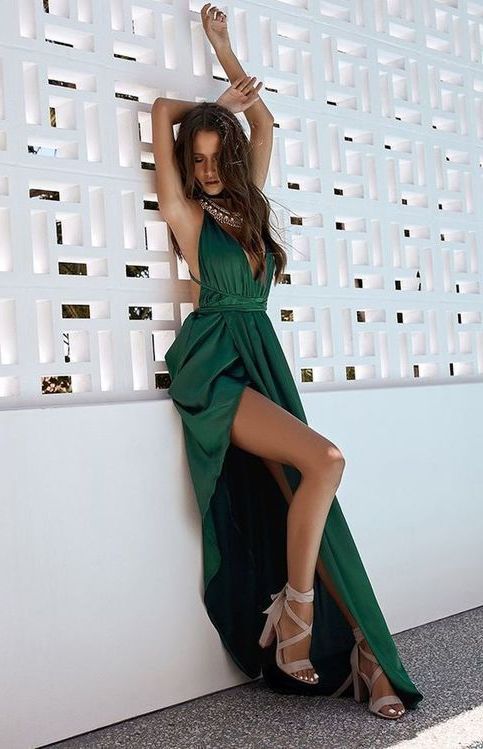 Buy Similar Here
Green Maxi Dress And Pink Pumps
We see a fabulous maxi gown in light green color with a high slit. Style it with fresh pink heeled pumps. A stylish idea for different types of events, from classic party to a corporate event: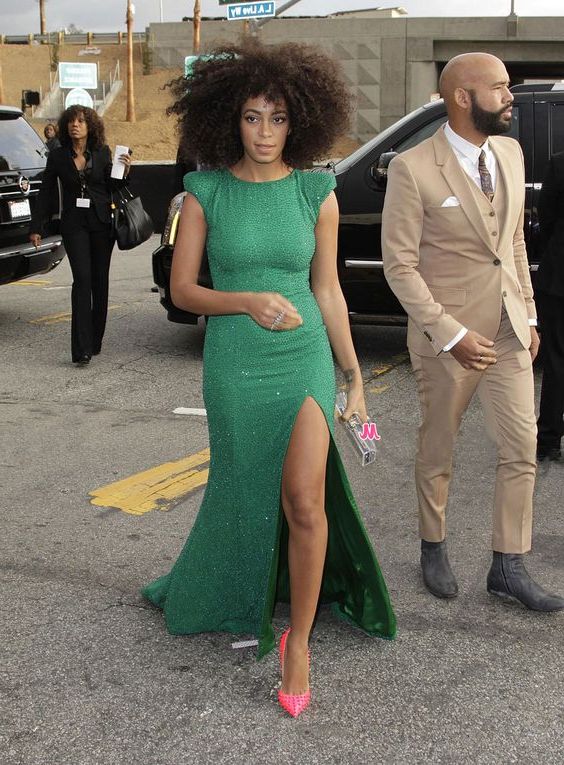 Buy Similar Here
Green Sweater Dress And Ankle Boots
A nice combination for Fall season days. We see a chunky neck sweater dress in dark green styled with a long necklace, beige suede booties and a light brown leather handbag: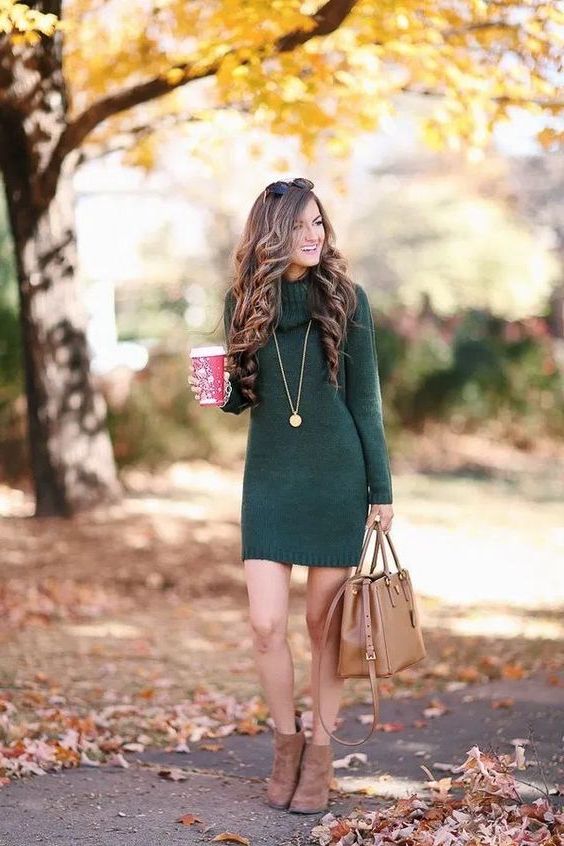 Buy Similar Here
Green Sweater Dress And Beige OTK Boots
A chic turtleneck green sweater dress is layered under an army green trench coat. Add oversized sunglasses, cream-beige suede OTK boots to look fancy and glamour: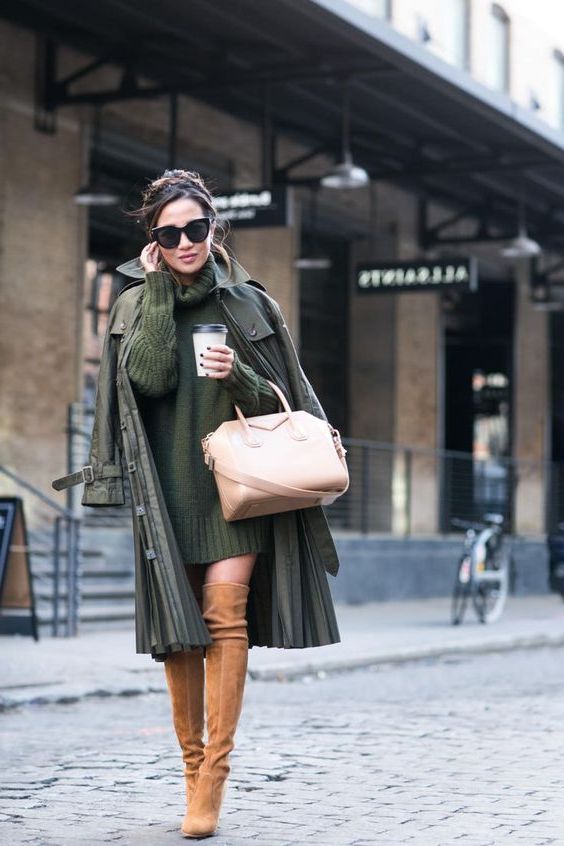 Buy Similar Here
Green Sweater Dress And Dark Brown Over The Knee Boots
I am so in love with this green high-neck mini sweater dress with long sleeves, update it with dark brown suede OTK boots and rounded sunglasses: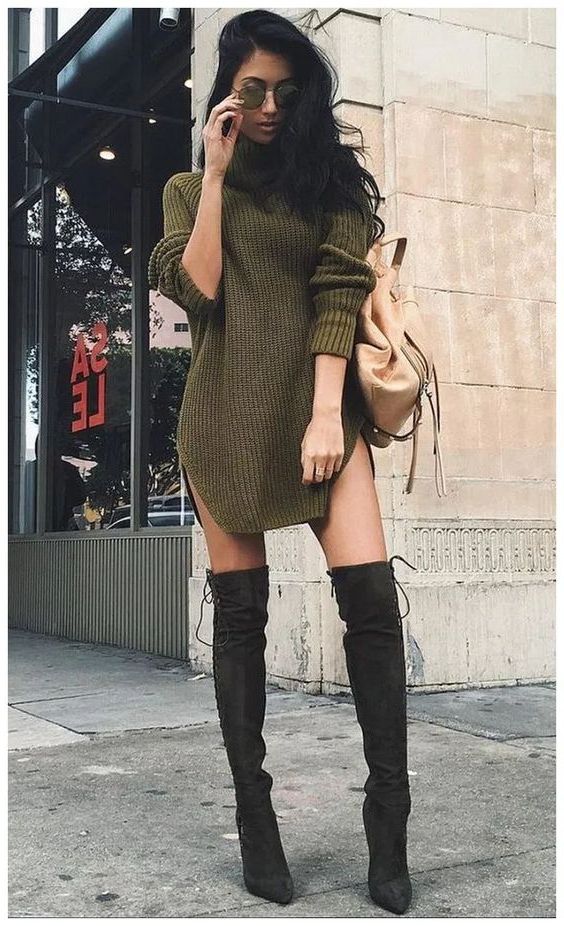 Buy Similar Here
Khaki Green Dress And Slouchy Black Boots
We see a khaki green wrap mini dress styled with a leopard print scarf, black cardigan and black tights completed with slouchy black leather boots:
Buy Similar Here
Can I Wear Knitted Green Dress And Nude Pumps
We see a knitted belted dress with buttons. Update this look with nude heeled pumps. A very beautiful choice to get people together for a business event: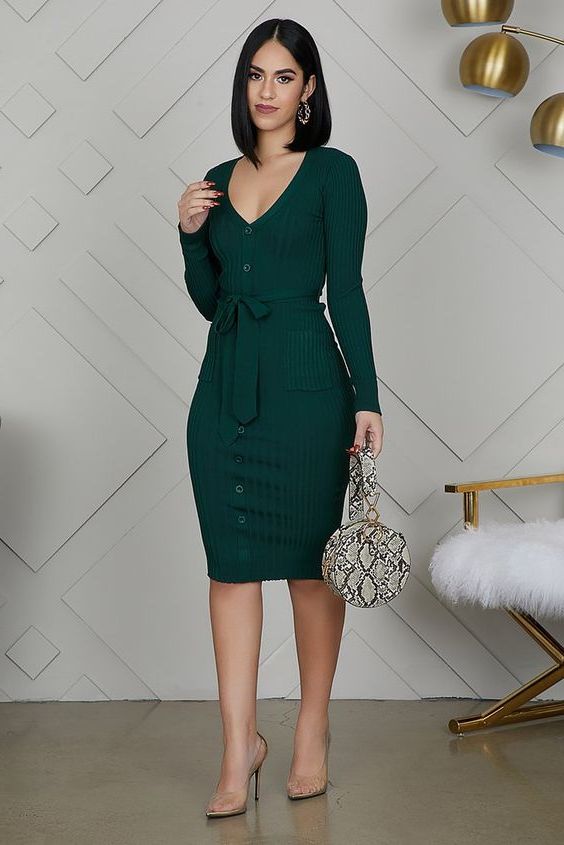 Buy Similar Here
Green Maxi Dress And Gold Sandals
We see a slim maxi dress in dark green color with a side slit. Update this look with layered necklaces in gold and a pair of gold heeled sandals. A perfect style for corporate events: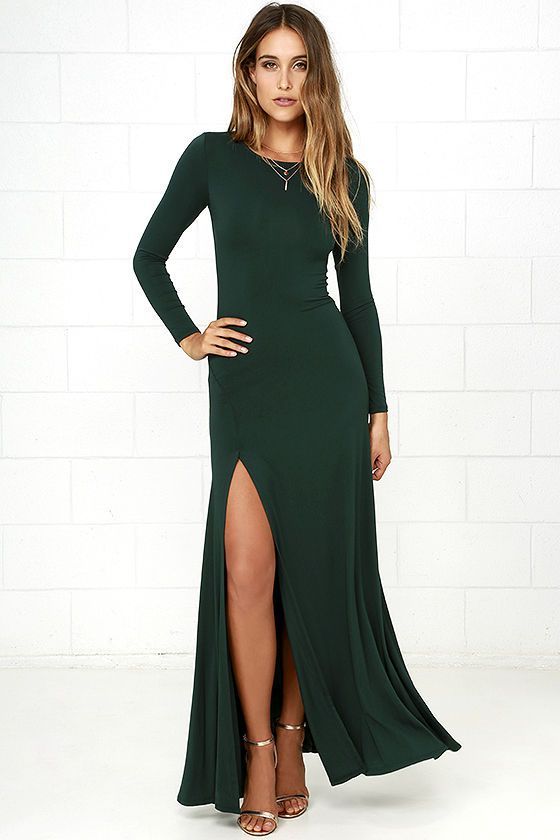 Buy Similar Here
Green Midi Dress And Red Heeled Pumps
Another beautiful look for corporate events. We see a dark green midi dress with long sleeves  and a high slit worn with bright red heeled pumps: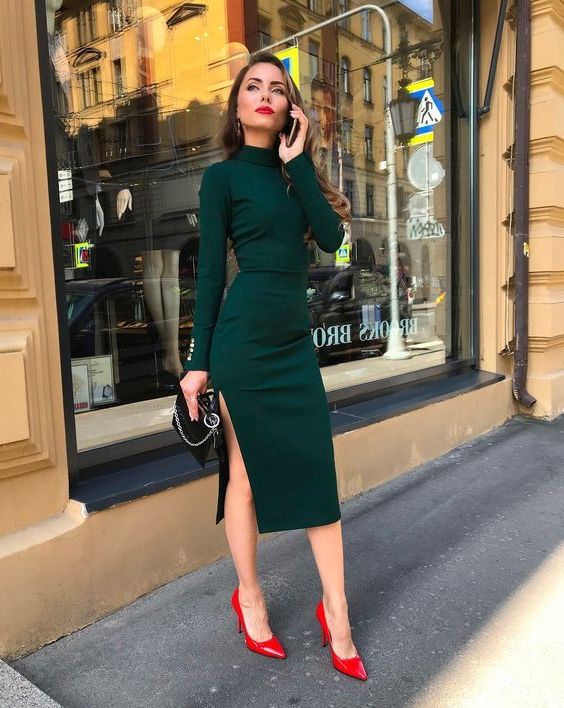 Buy Similar Here