Red is the color of my blood! Hey, there fashion addicted lady, I know you are in search of what shoes you can wear with a red dress, but before we move on talking about footwear, I wanted to draw your attention to the red dress itself. The red is a crazy color that drives attention in seconds, that's why you should be cautious in selecting the right fit of the frock.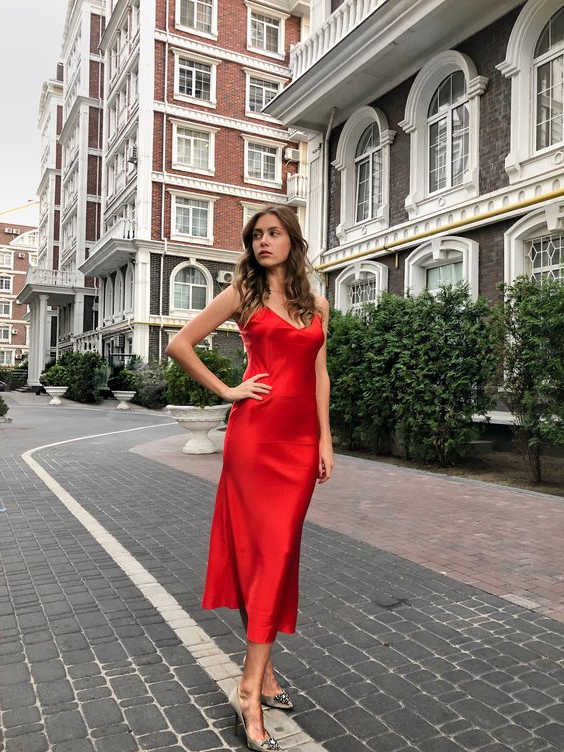 A red silk midi dress with a V-neck looks pretty chic and feminine styled with cream-grey pointed-toe heeled pumps embellished with a brooch.
Boho Red Dress And Cowboy Boots
Not only cowboy boots can match this outfit, but a pair of flat, simplified gladiator-like sandals in this rich color also looks great with a casual, laid-back, bohemian style dress. We see a fabulous printed boho-inspired red midi dress styled with a blue denim jacket, straw cowboy hat and brown leather cowboy boots: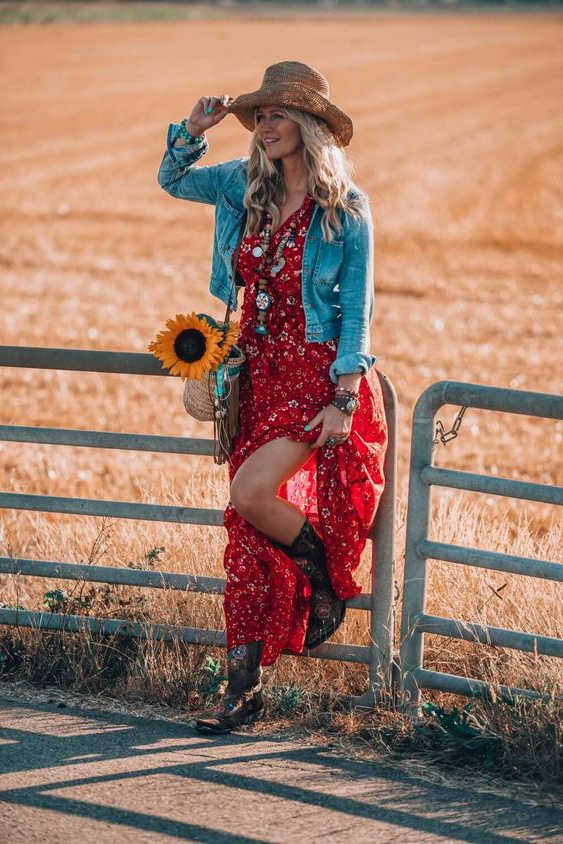 Cherry Red Crochet Dress And Nude Clear Heeled Sandals
A cherry red slim dress with crochet detailing looks fantastic with nude-clear heeled sandals. A nice selection for fancy Summer cocktail events: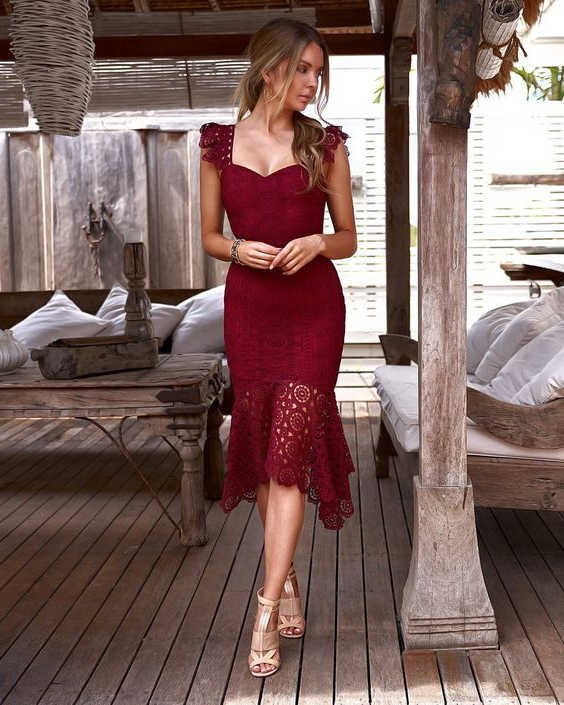 Trust me, this color is a perfect choice for women who want to make a real statement on the streets, at work or a very special event. Oh, yes, men do love to see women in red. But we all face one particular problem, once we buy the red dress we start to think of what we can wear with it and the main problem lies in the footwear. I will show you my favorite fashion tips and ideas on how to wear shoes with your favorite red dress. Of course, sometimes it can be quite tricky to find the perfect shoes, so they harmoniously match the whole look. Hold on, as I am here with lots of beautiful ideas on how to combine the red dress with various footwear.
Dark Red Maxi Dress And Black Heeled Sandals
A maroon red belted maxi gown with a deep neckline and puffy sleeves looks perfect with ankle-cuff heeled black sandals and a long necklace: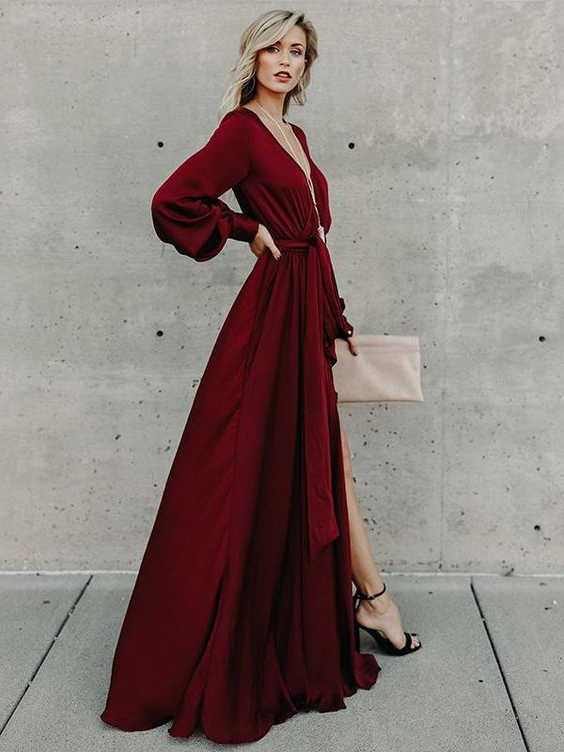 Dark Red Dress And Nude Heeled Sandals
We see a short-sleeve belted crimson red dress with lace details styled with oversized black sunglasses and ankle-strap heeled sandals in nude: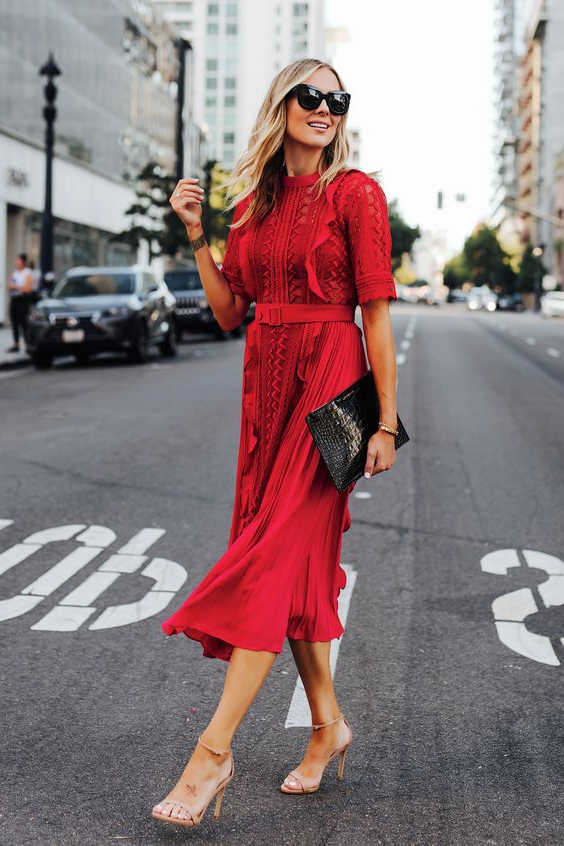 Dark Red Dress And White Pumps
A dark red knee-length dress with bell sleeves is completed with cream-white bow heeled pumps and a chain strap blush quilted shoulder bag: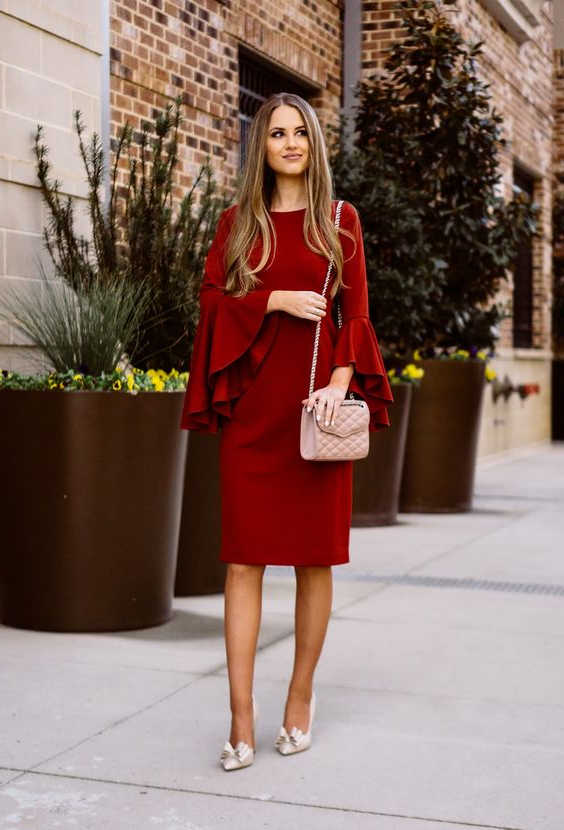 Prom One-Shoulder Red Dress And Metallic Pumps
A one-shoulder midi cocktail dress in red with a high slit looks marvelous styled with metallic pumps: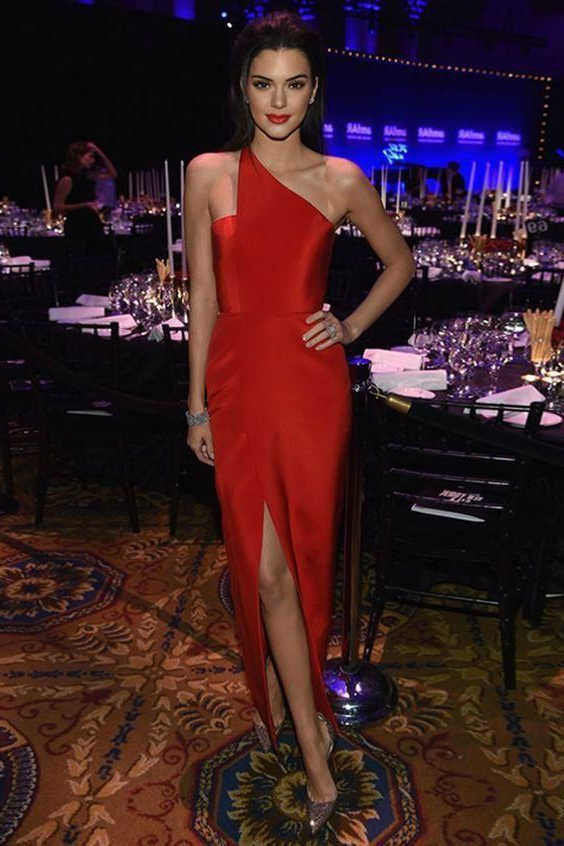 Red Dress And Beige Espadrilles
How about keeping things casual during your adventure? Go for this lace red sleeveless mini dress and complete it with retro shades and strappy espadrilles: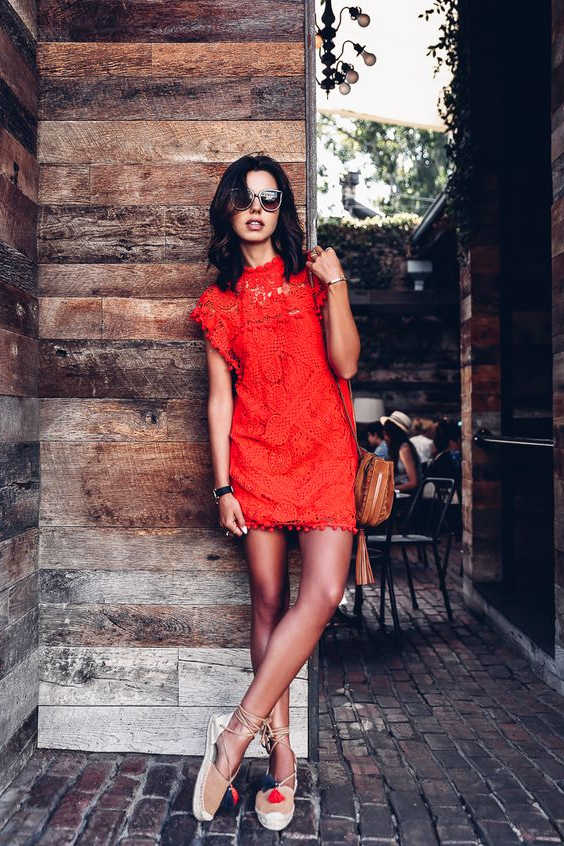 Red Dress And Black Ballet Pumps
An elegant off-shoulder sleeveless mini red dress looks ideal for fancy events. Complete it with rounded blush sunglasses and black flat pumps: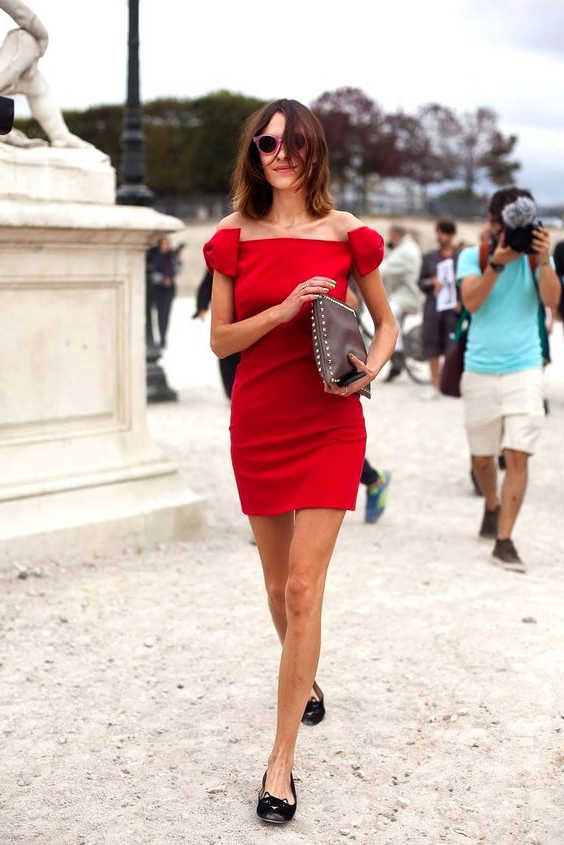 Red Dress And Black Leather OTK Boots
A vintage-inspired red dress with ruffled detailing is worn with sexy black leather over-the-knee heeled boots, a perfect combination for fancy parties: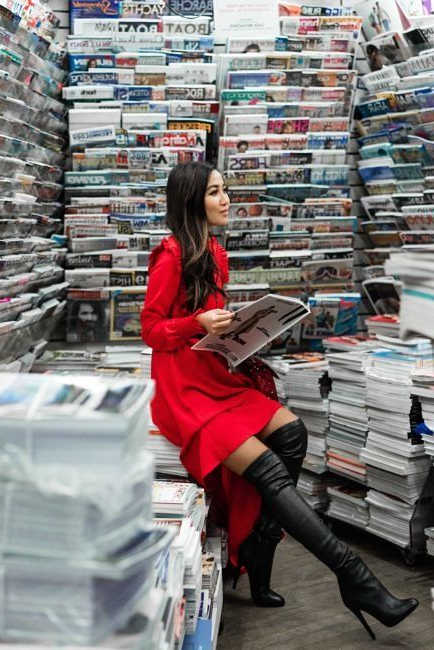 Red Dress And Black Loafers
A pussy-bow short dress with lace embroidery is completed with rounded sunglasses, chain strap black leather shoulder clutch and patent black leather flat loafers: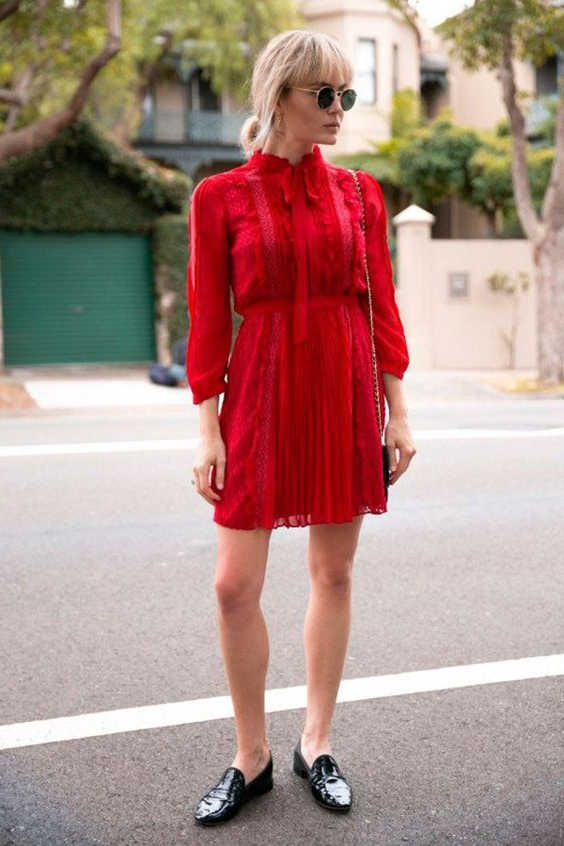 Red Dress And Black OTK Boots
A classic hot red sweater dress looks stunning paired with slouchy OTK black boots in suede. A nice combo for everyday street walks: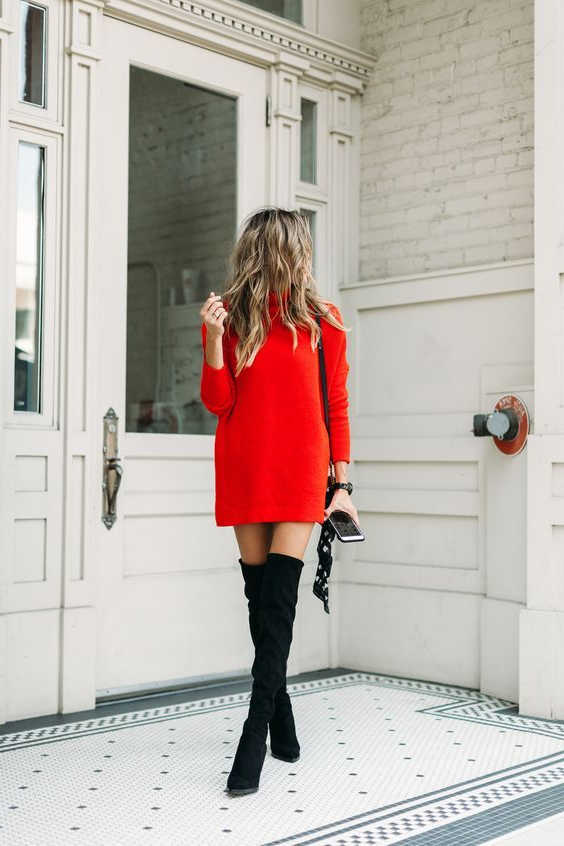 Red does look cool with black, it's a classic combination after all. It makes the wearer look elegant and sophisticated. My favorite combo is red and gold, this pairing looks rich and classy. The next color combo that works great on most women is red and beige (or nude). Indeed, beige and nude are neutral colors that look awesome with almost anything. If you are one of those sassy trendsetters who like to wear bright and fancy clothes, then I suggest trying on red on red. This combination is ideal for those who are not afraid to try something new.
Red Dress And Black Sock Boots
How about wearing a dress over a shirt? Here we see a nice combo consisting of a micro gingham print shirt layered under red pinafore mini dress completed with black sock ankle-boots: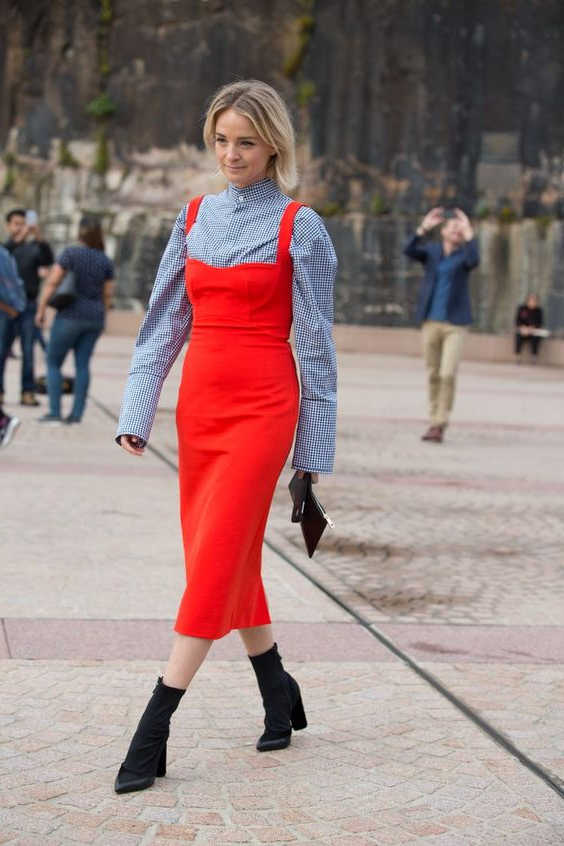 Red Dress And Blue Shoes
If you are into bright combos, then be sure to try on this beautiful rhomb red dress with a pair of blue shoes. But the ones we see in this image are more dark turquoise than blue to me. Anyway, you will know that mixing red with blue is a nice idea after all: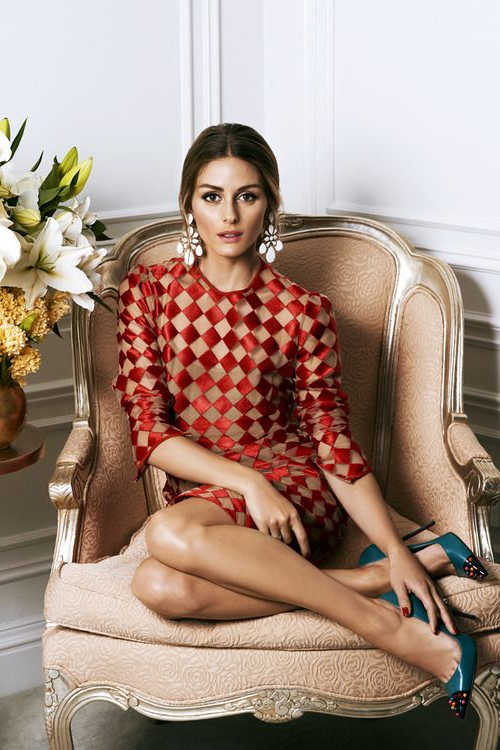 Red Dress And Flat Red Slides
Another great combo for your next trip. We see a deep V-neck sleeveless flared wrap dress in red combined with flat red slides and oversized cat-eye sunglasses: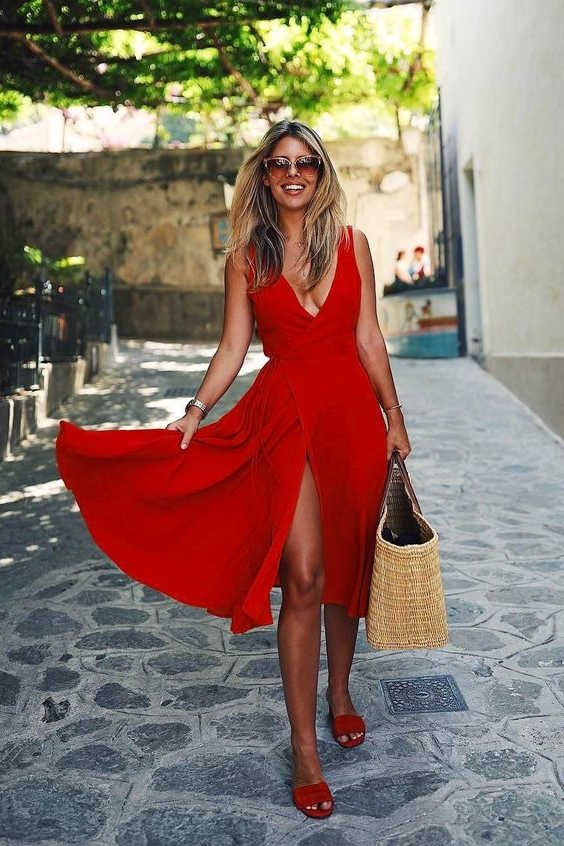 Why do I like red dresses? They look awesome on everyone and they can be worn on any occasion. But you should also choose the right footwear so that everything looks perfect on you. What color shoes to wear with the red dress can be a tricky thing.
Red Dress And Grey Pumps
A bodycon midi dress with short sleeves in red is styled with peep-toe platform grey pumps: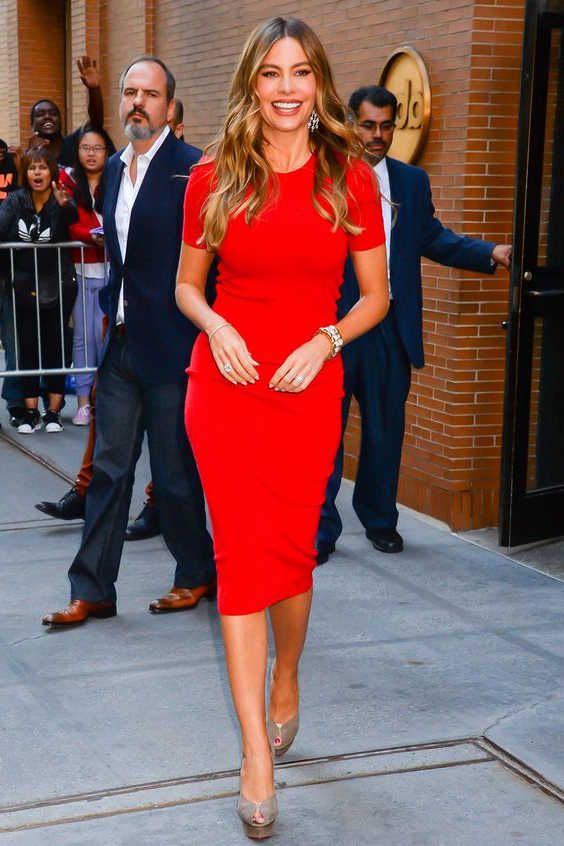 Red Dress And Leopard Ankle Boots
Cherry red short dress with bell sleeves is worn with opaque tights and leopard print ankle boots. You will find lots of new ideas on what animal print shoes are in style right now, as I made a nice blog post for you: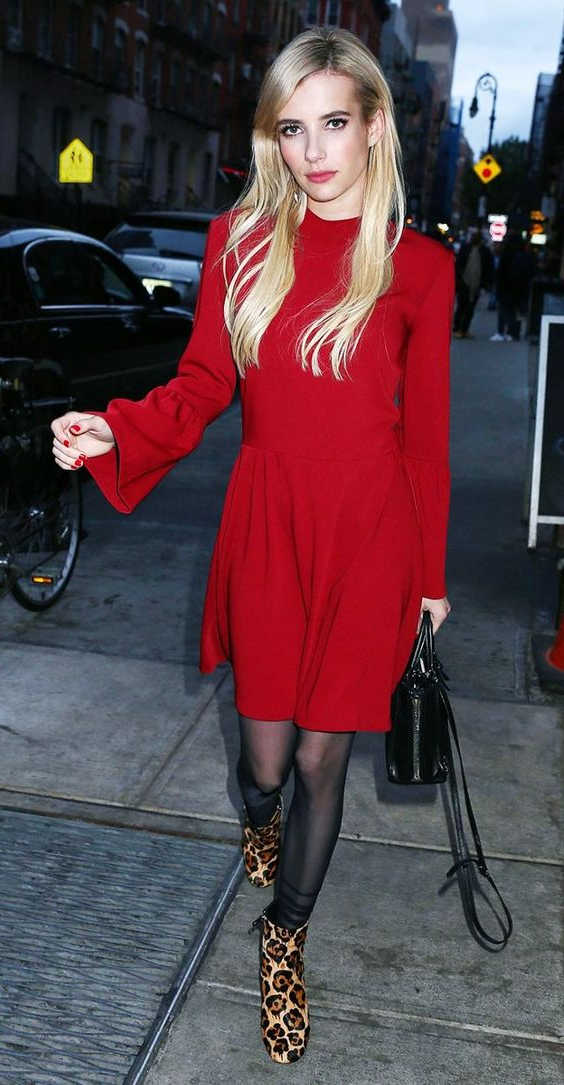 Red Dress And Leopard Pumps
A sleeveless bodycon knee-length dress looks chic and ladylike teamed with leopard print heeled pumps: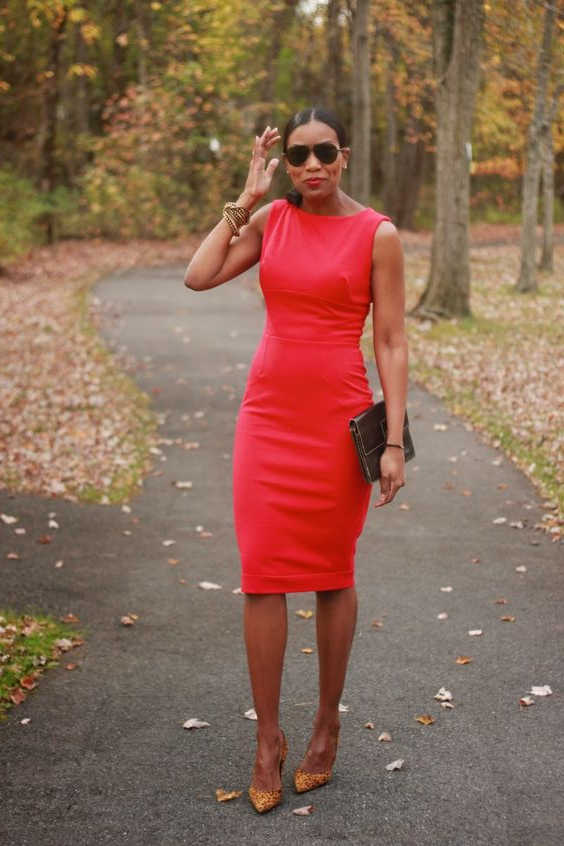 Red Dress And Maroon Ankle Boots
A high-neck red ankle-length dress with long sleeves is updated with maroon ankle boots and 90s style sunglasses: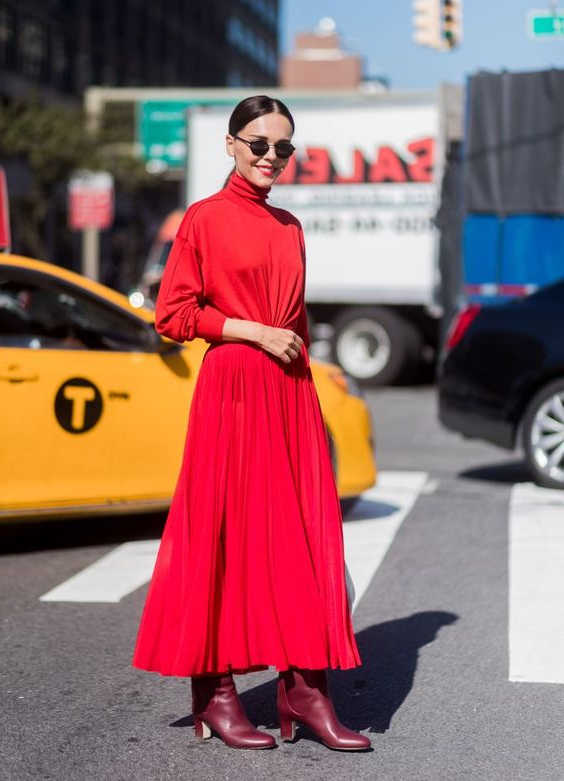 How To Wear Red Dress And Neon Green Sandals
A basic red T-dress is completed with a chain belt and neon green heeled sandals: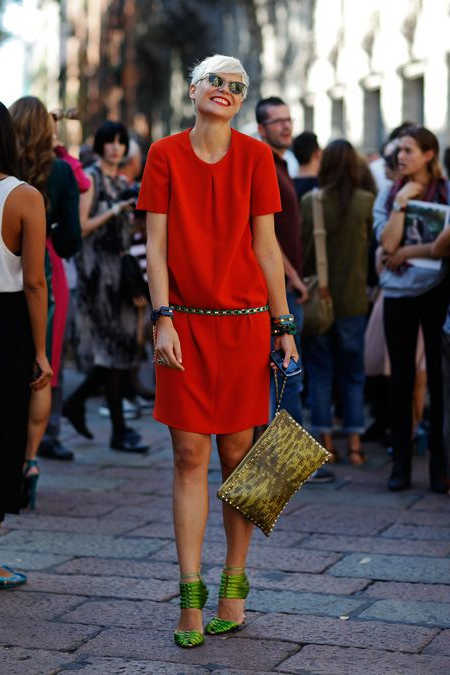 Never stop experimenting with colors, make some bold statement with different hues. You can even try on two-tone shoe colors by wearing them with a hot red dress. It can be tricky to style, but the result may surprise you. Push the limits of fashion and make some fun with your outfit. The unexpected combinations always work great.
Red Dress And Nude Heeled Peep-Toe Mules
We see a short wide-sleeve V-neck maxi wrap dress in pastel red color with a high slit completed with peep-toe heeled mules in nude: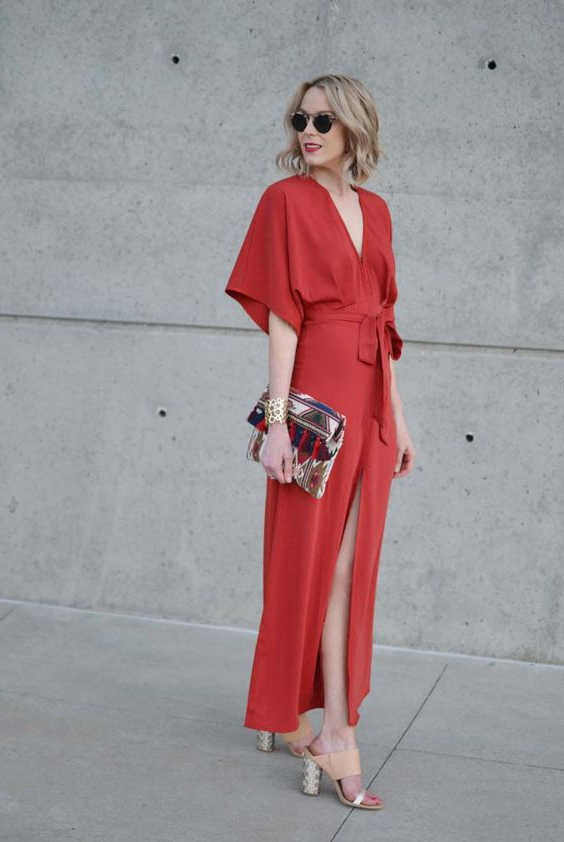 Red Dress And OTK Snakeskin Print Brown Boots
A long-sleeve bodycon short knitted dress is brightened up with snakeskin print leather brown OTK boots: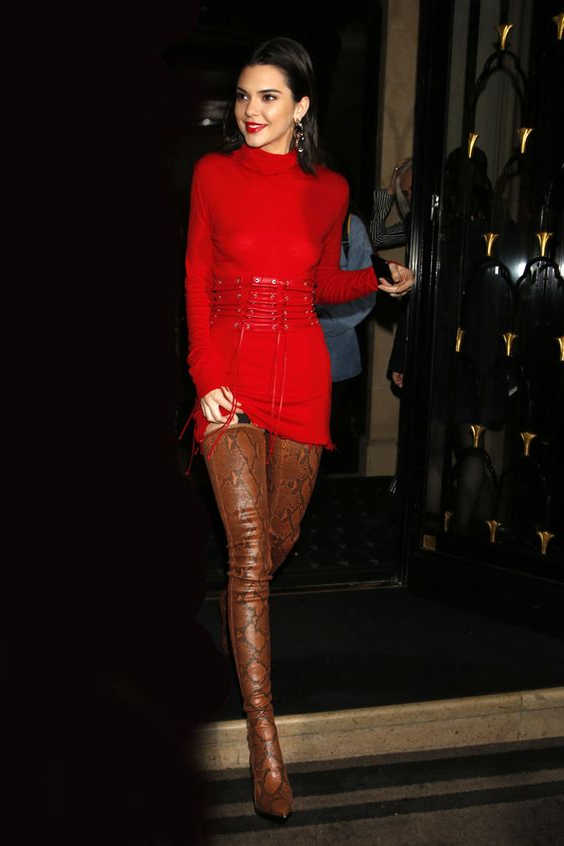 How To Wear Red Dress And Pink Shoes
Keep it simple and short! Go for a light red mini bodycon dress with long sleeves completed with pointed-toe heeled pumps in pink and a matching pink folder clutch: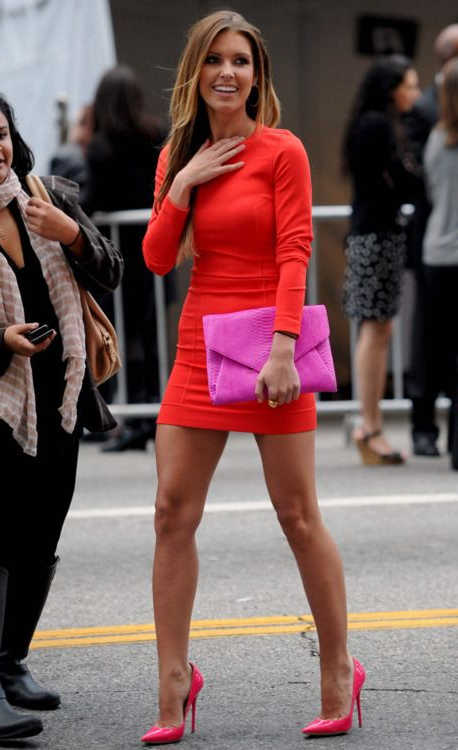 Can I Wear Red Dress And Red Ankle Boots
We see a blush bulky coat worn over a red turtleneck dress completed with red ankle-length sock boots: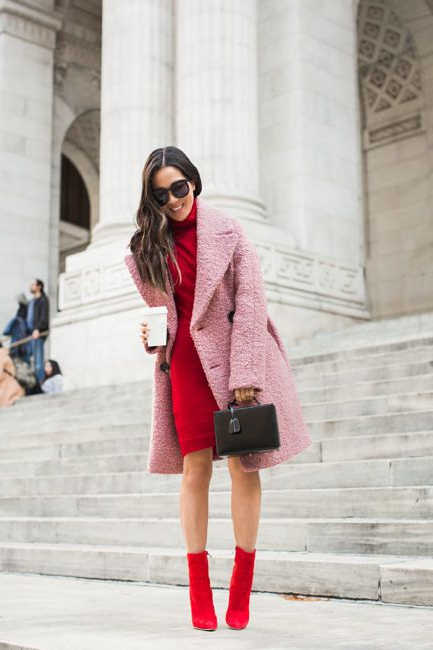 Can I Wear Red Dress And Red Heels
We see a lovely party look consisting of a cherry red V-neck sleeveless short dress with a flared skirt styled with dark red heels: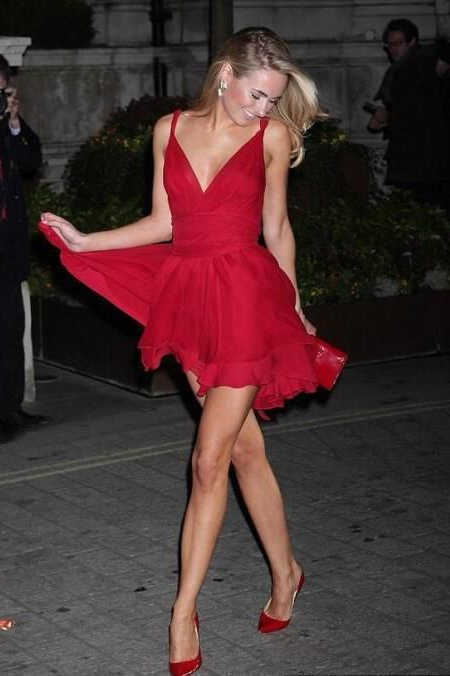 Red Dress And Shimmering Green Heels
A maxi shirtdress in red looks fascinating styled with pointed-toe shimmering green heels and matching green clutch bag: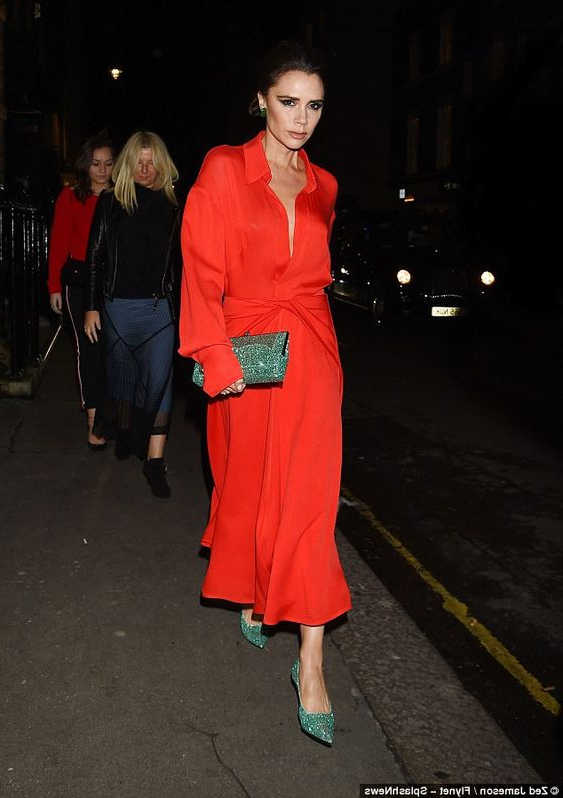 Hope this full guide will help you select the best footwear to compliment your beloved red dress. Just make sure you match the color of the shoes with your red dress because there are various shades of red, including dark and sophisticated burgundy, maroon, classic red, crimson and hot red. As I have already mentioned, my favorite gold shoes ideally match whatever red dress I've got.
Red Dress And Silver Shoes
A retro-inspired midi dress with lace ruffles looks sweet and ladylike completed with ankle-strap heeled sandals in metallic silver and rainbow printed handbag: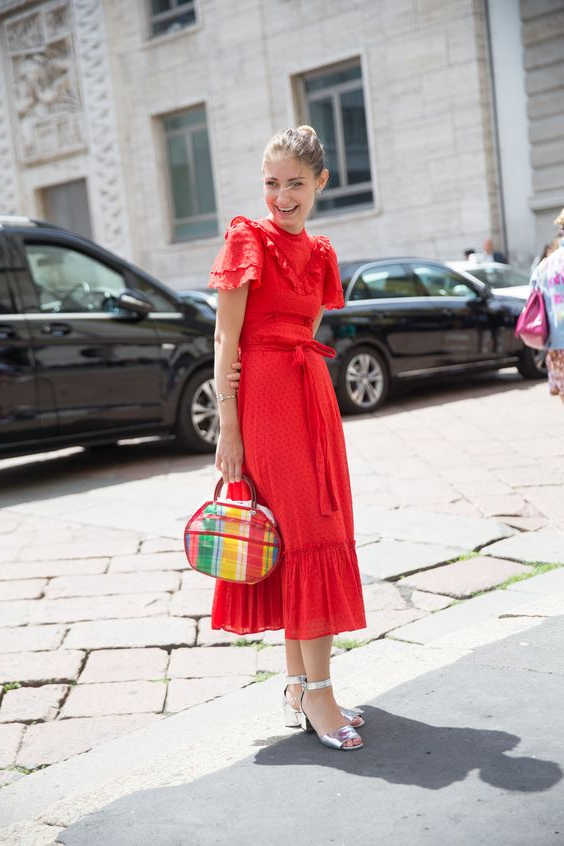 Red Dress And T-Strap Sandals
Yet another great outfit for Summer trips. We see a one-shoulder ruffle mini dress in red completed with a brimmed straw hat and T-strap flat sandals: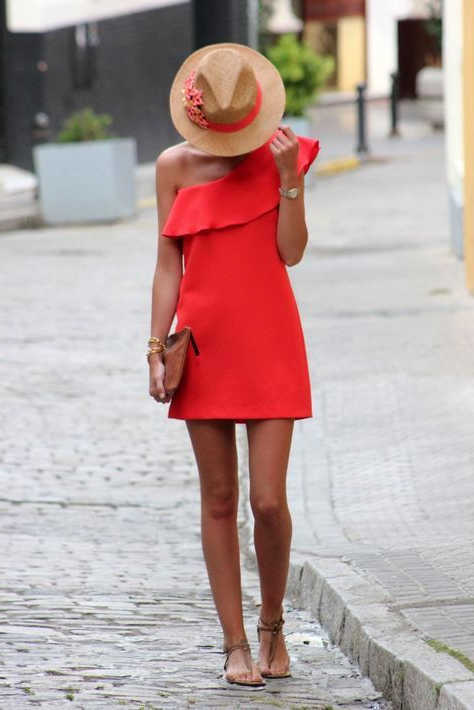 Red Dress And White Heeled Pumps
A light red knee-length dress with 1/2 sleeves is completed with pointed-toe heels in white color. A lovely choice for working hours at the office: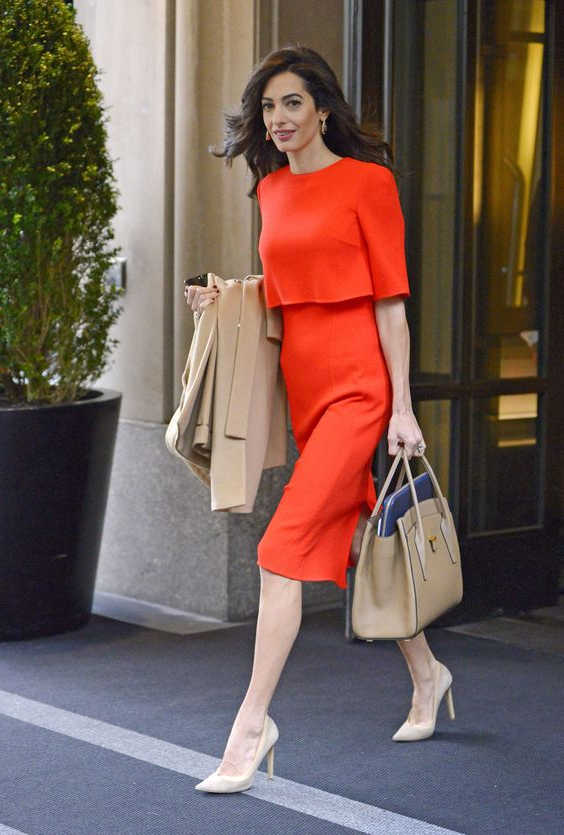 Red Dress And White Sneakers
We see a lovely sporty look consisting of a V-neck red mini dress in white polka dots completed with white chunky sneakers. Make sure to check my post on ways how to wear sneakers this year, you will find lots of inspiring ideas to copy this month: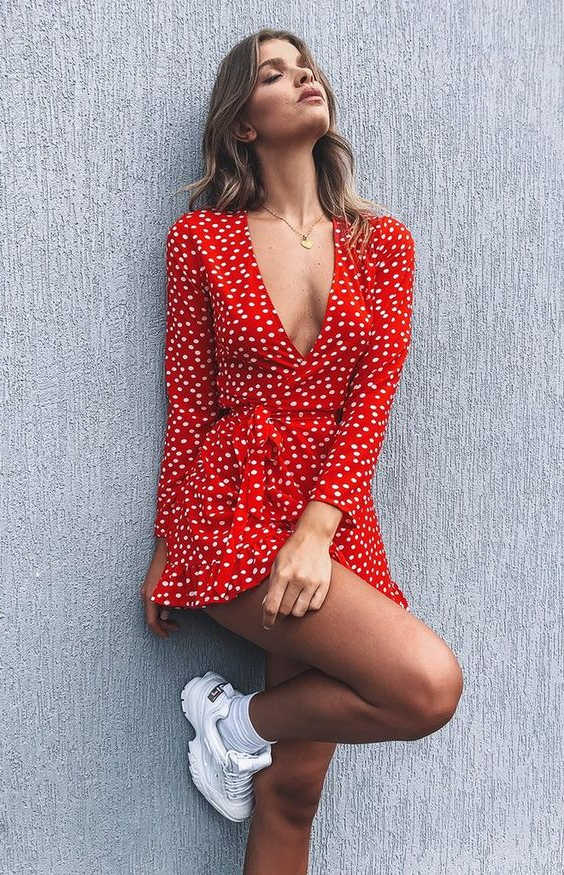 Red Dress And Yellow Shoes
Keep it fresh and bright. Go for a strapless flared midi dress and complete it with a chunky red cardigan, yellow rope belt, and yellow heeled pumps: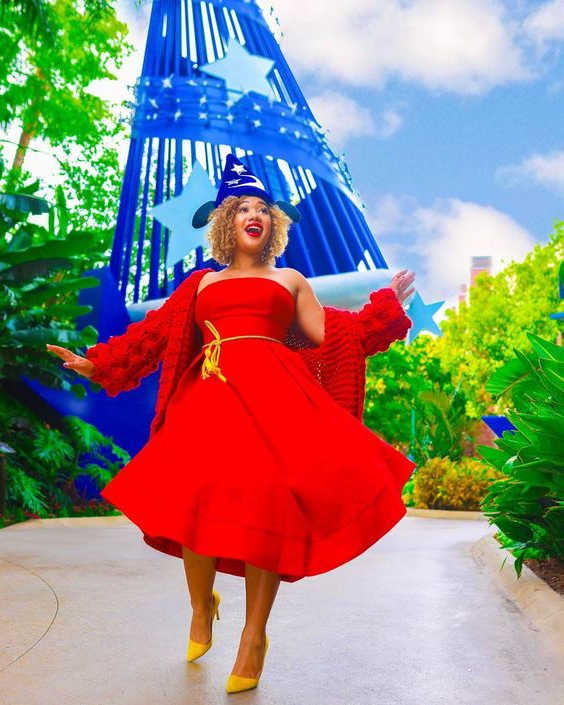 Red Dress With Black Tights And Black Ankle Boots
How about mixing red with black? Go for a black leather slim jacket and pair it with a mini flared red dress. Complete the look by adding black tights and heeled black ankle-boots: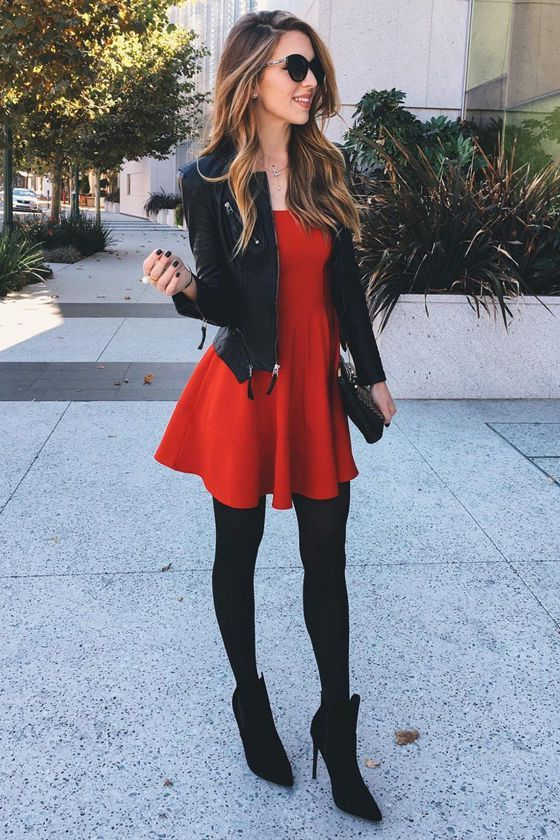 Red Knitted Dress And Slouchy High Black Boots
A bulky red sweater dress with puffy sleeves is styled with tights and black leather knee-high boots, a stylish combination for making a cool statement on the streets or at the cafe. Find out more ideas on what shoes to wear with sweater dresses, as I have lots of inspiring outfits to share with you: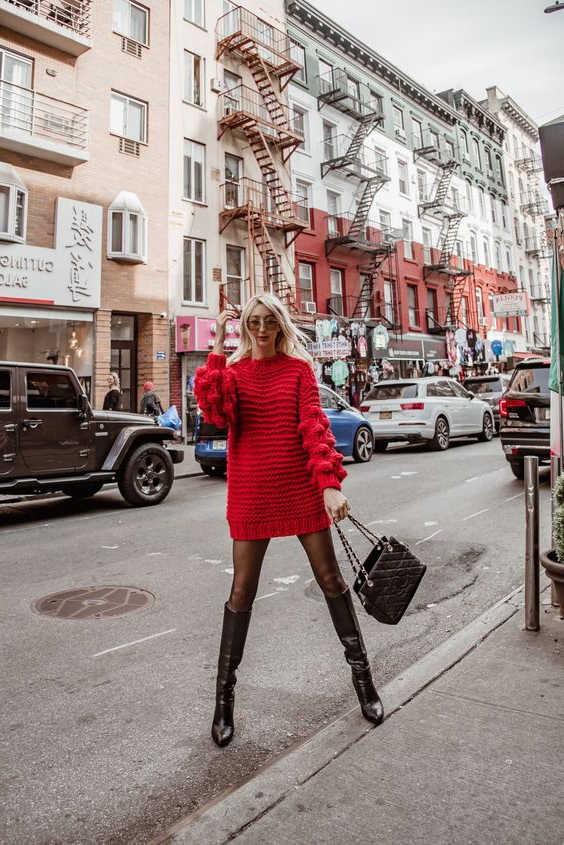 Red Maxi Dress And Black Combat Boots
If you are into grunge fashion, then you might like to try on this cool outfit idea. It consists of a black leather jacket, pleated maxi red dress cinched at the waist with a black leather belt. Complete this look by adding lace-up black leather combat boots and mirrored rounded sunglasses: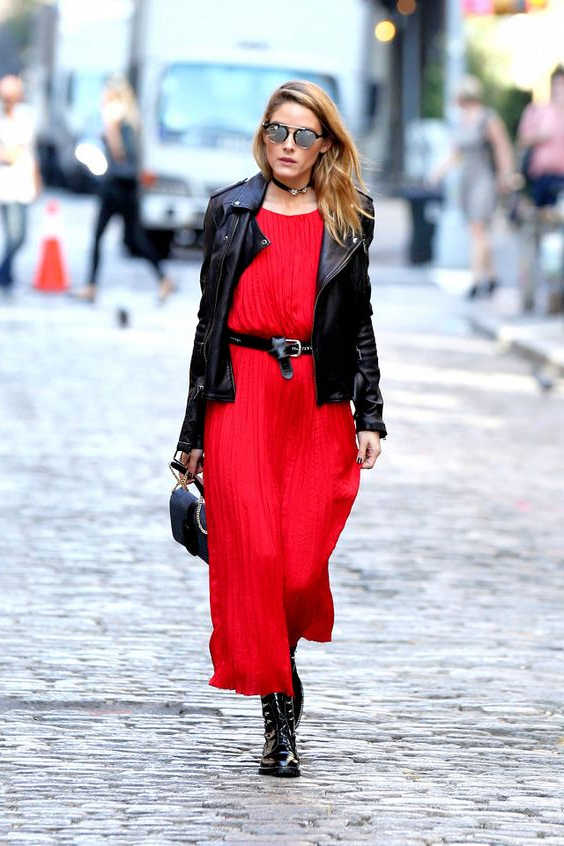 Red Silk Dress And Black Strappy Sandals
We see spaghetti strap silken red ankle-length slipdress completed with a white wide-brim hat, hoop earrings, rounded shades, and black strappy flat sandals. A nice combination for festive trips: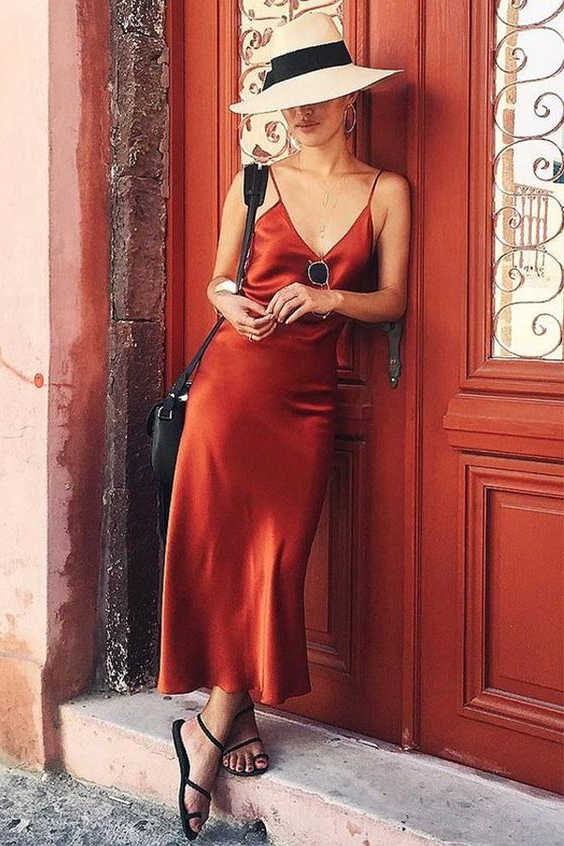 Red Slim Midi Dress And Nude Pumps
We see an off-shoulder slim midi dress with V-neck in red styled with pointed-toe nude heeled pumps and rounded sunglasses: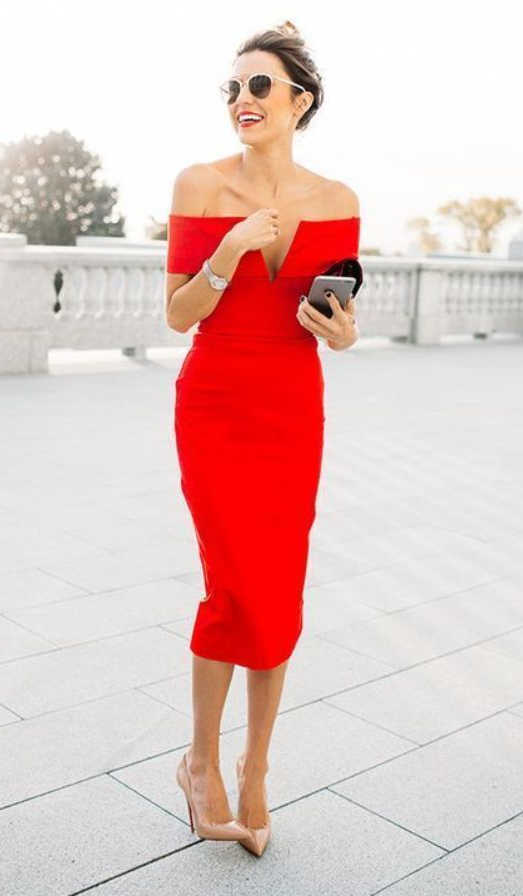 Red Sweater Dress And Red OTK Boots
Another cool monochrome outfit idea for your casual weekend. We see a relaxed sweater dress in red combined with red suede OTK boots, complete this combo with a pair of 1990s style sunglasses: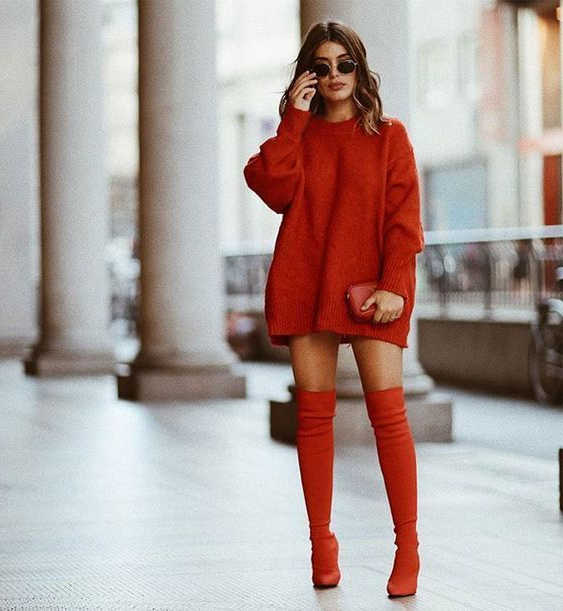 Slim Red Dress And Shiny Heels
A lovely selection for your next workday. We see a long-sleeve slim pencil dress in red completed with shimmering nude heels: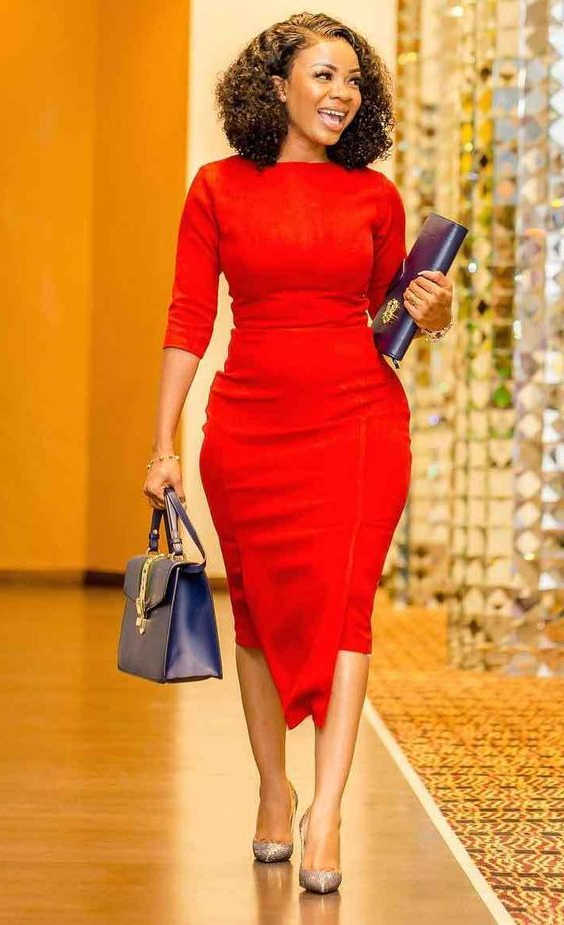 Let's Summarize
As you can see, the red dress can look awesome with pretty much anything. The diversity of shoe combinations is enormous! Even those shoes that might look weird at first glance can make a wow statement with your red dress. Just remember one thing, if you want your dress to be the center of all the attention, then choose darker or neutral-colored footwear, otherwise, your shoes will be your key piece.