Let me introduce to you this amazing clothing staple called sweater dress, or so-called knitted dress. It is a perfect choice for Spring and Fall seasons when you don't have time to prepare yourself and you just want to throw something on and go outside.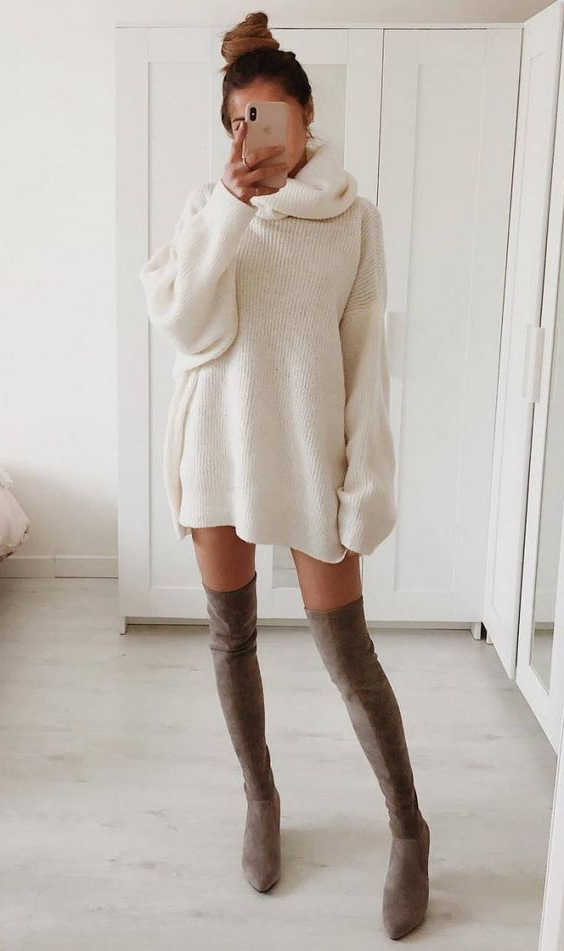 Buy Similar Here
We see a slouchy, oversized ribbed-knit sweater dress in white paired with light-grey suede OTK boots. A perfect combo for casual street walks and coffee time. Complete it with a bun hairstyle.
Today I am going to show you easy-peasy street style ideas on how to wear a sweater dress with different footwear designs. So, what are you waiting for, get inspired!
Speaking of sweater dresses, I guess you could consider a longer version of classic pullover to be a knitted dress. In other words, you can name a sweater to be a dress once its length starts from the thigh-high to the ones that hit the ankle. I personally like sweater dresses that end around the knee. Another great news, sweater dresses flatter most of the body types, no matter if you are a plus-sized or a skinny lady.
Long Sweater Dress In Beige And Black Leather Ankle Boots
We see a magnificent cream-beige V-neck long sweater dress worn atop black lace lingerie. Complete it with rounded sunglasses, black leather flat ankle boots and a black bucket bag in leather: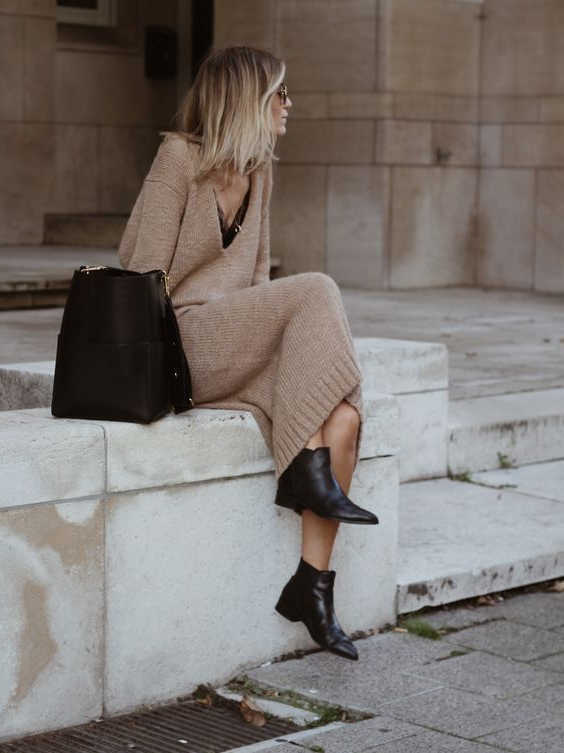 Buy Similar Here
Now, it's time to speak about footwear. Frankly speaking, there are no special rules on what shoes are appropriate to wear with a sweater-dress and what is a no-no. All you need is to keep the balance and make sure the overall look suits the event you are about to visit while wearing this combination. For instance, a long-sleeve knee-length sweater in beige made of heavy wool looks pretty chic styled with white trainers.
Sweater Dress In Beige And OTK Boots
Keep it simple and classy by wearing a cream-white coat over a beige high-neck knitted dress. Complete it with light brown suede over-the-knee boots, brown leather gloves, and dark-grey leather handbag: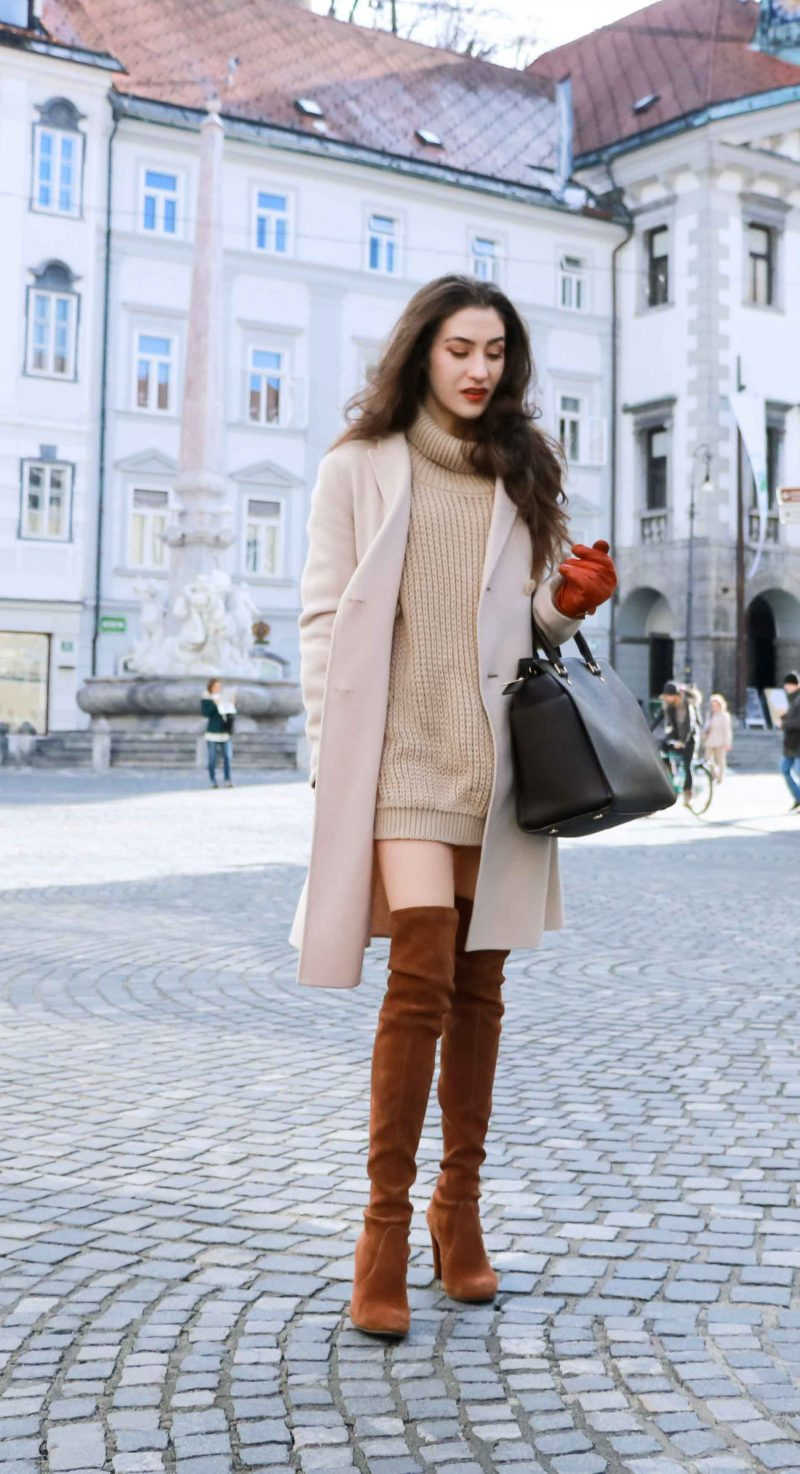 Buy Similar Here
This type of dress looks great with any length of the boot, starting from booties and ankle-boots to OTK boots. But you can try them with heels, sandals, Birks, Uggs, Timberlands, and any other type of shoes. If you go for a shorter knitted dress and pair it with ankle-boots, then you might look casual and funky, while wearing a sweater dress with high boots can make you more sophisticated and somewhat elegant.
Can I Wear Black Maternity Knitted Dress And Nude Pumps
If you are a pregnant woman, then go for this off-shoulder slim knitted dress in grey and complete it with nude heeled pumps and a chain strap saddle bag in black: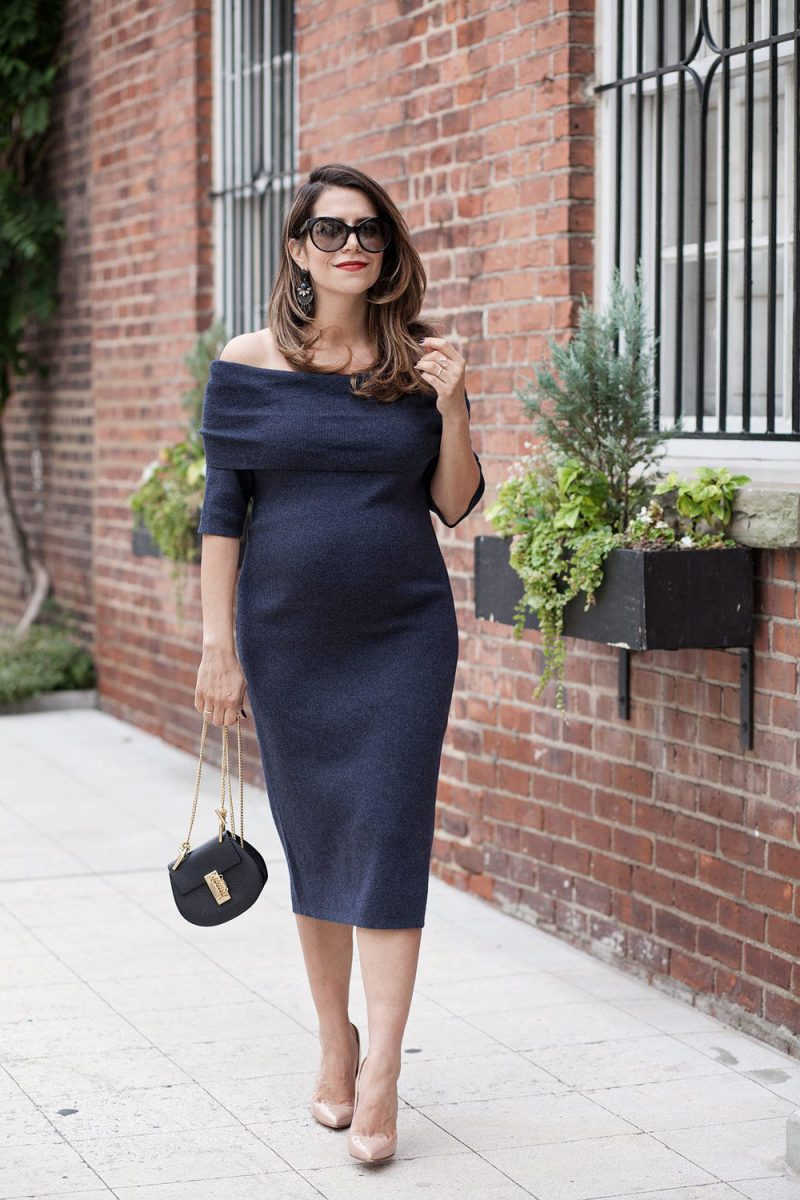 Buy Similar Here
Footwear might be the key element while wearing a sweater dress. If you want to accentuate your outfit, then be sure to choose the perfect shoes. The thigh-highs and stiletto sandals ideally suit those who want to visually elongate their height and look slender. The ballet flats are also a good option for those who simply want to keep things casual.
Can I Wear Black Maxi Sweater Dress And White Sneakers
A black turtleneck sweater dress with front pockets looks casual and basic. Complete it with white sneakers: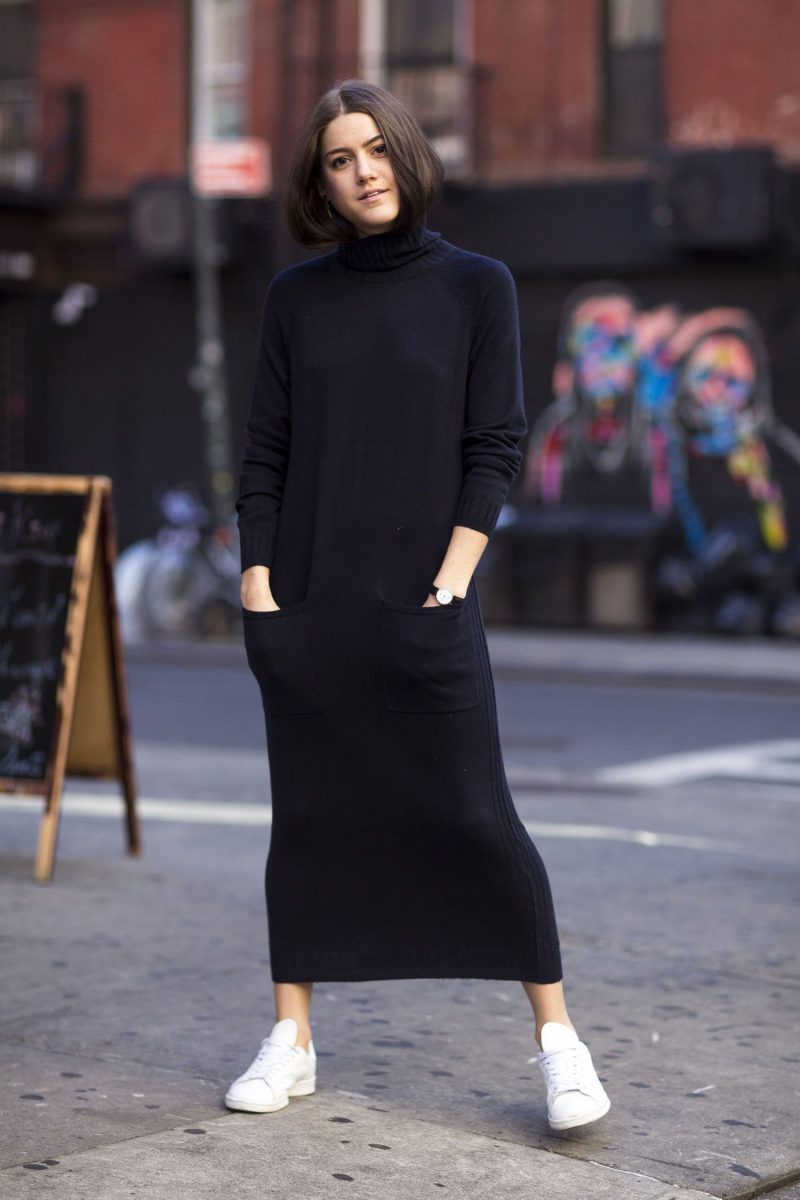 Buy Similar Here
My personal favorite is sneakers, yes, they might look casual and sporty, but they are cool to feel comfortable. Speaking of ankle-boots, they have a kind of between look which is both dressy and casual.
Black Sweater Dress And Doc Martins
We see an oversized black sweater dress styled with opaque tights, black leather Doc Martins and a chic folder clutch bag: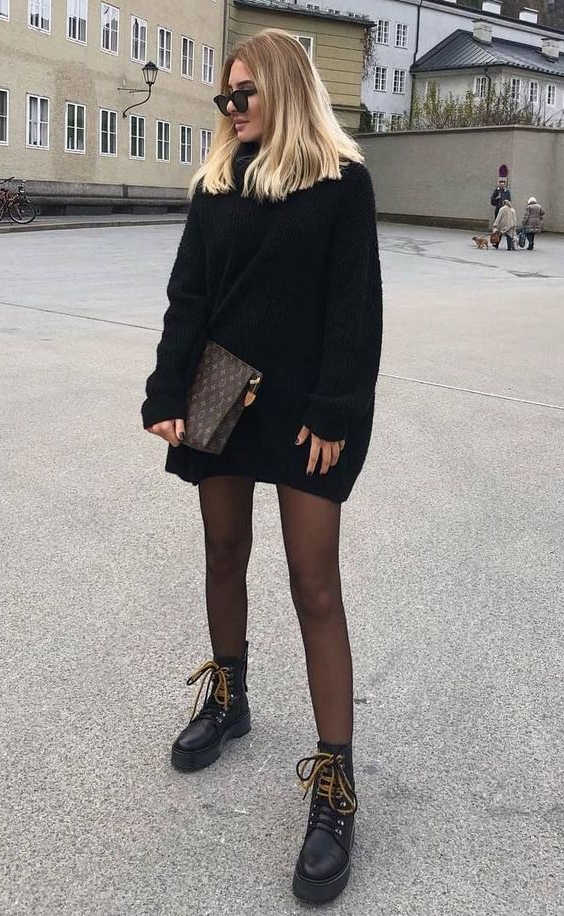 Buy Similar Here
Blush Sweater Dress And High Leather Boots
A blush sweater dress with flowy sleeves is completed with beige leather knee boots and a matching color shoulder bag: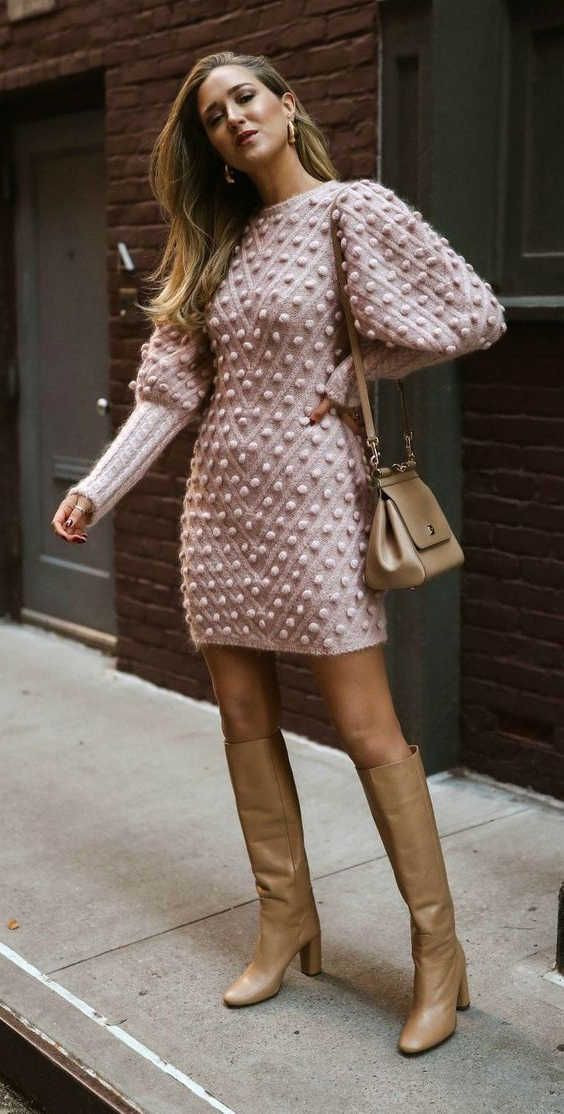 Buy Similar Here
Blush Knitted Dress And White High Boots
Here we see a cable-knit blush sweater dress with a rolled neck styled with a black leather cap, cat-eye sunglasses and slouchy white knee-high boots made of leather: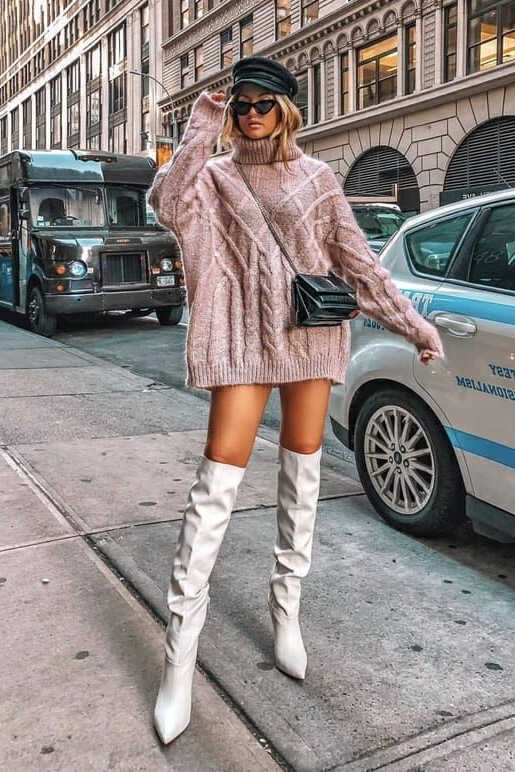 Buy Similar Here
Camel Coat With Grey Sweater Dress And OTK Boots In Black
We see a camel tailored coat teamed with a grey sweater dress completed with slouchy OTK black suede boots. Update this combo by adding oversized sunglasses: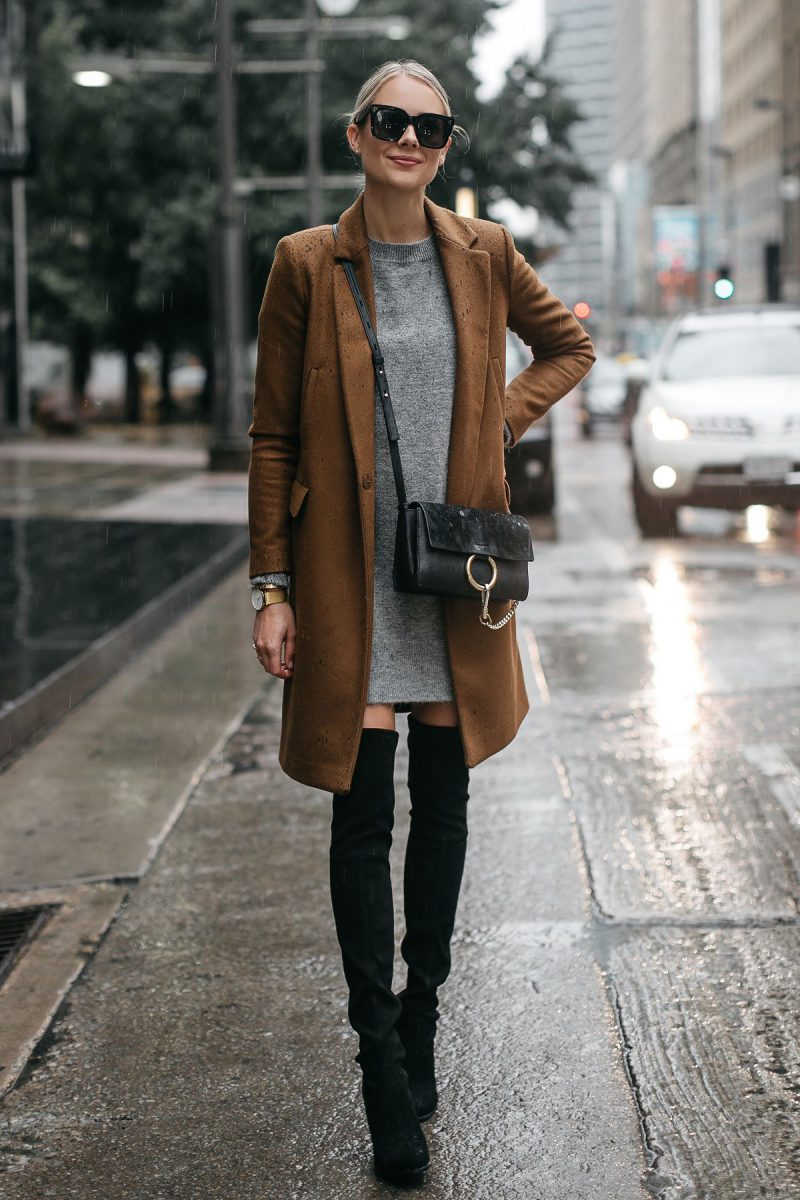 Buy Similar Here
Camel Sweater Dress With Opaque Tights And Combat Boots
A classic camel sweater dress looks awesome styled with opaque tights and suede black lace-up ankle boots. Update this combo by adding oversized sunglasses: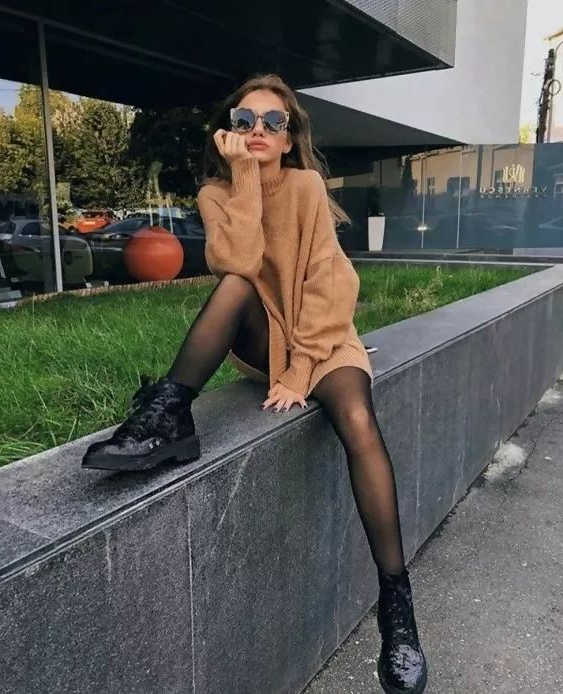 Buy Similar Here
Charcoal Sweater Dress And Combat Boots
Check out this black oversized charcoal knitted dress completed with lace-up black leather combat boots and cool 90s style sunglasses: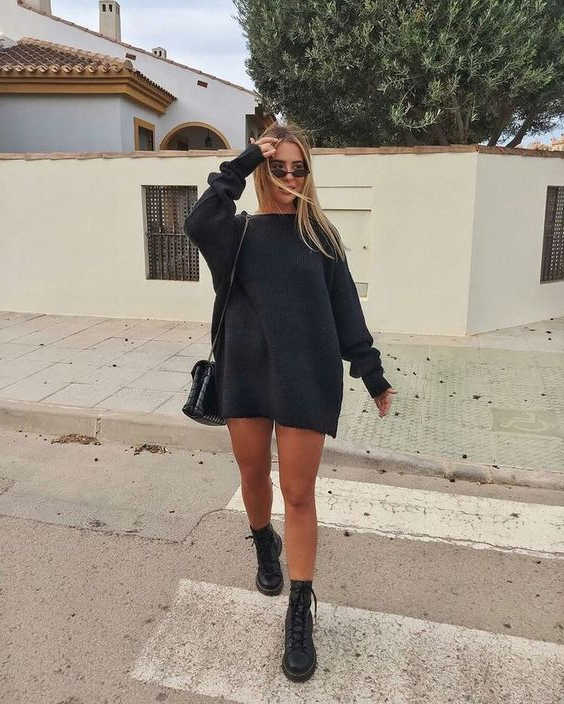 Buy Similar Here
Cream Sweater Dress And Black Leather Pants With White Sneakers
A ribbed knit cream-white sweater dress with a slouchy neck is worn with black leather ankle pants and white sneakers. Complete this cool outfit idea by adding a black suede shoulder clutch bag. A nice outfit idea for everyday street walks and casual weekends: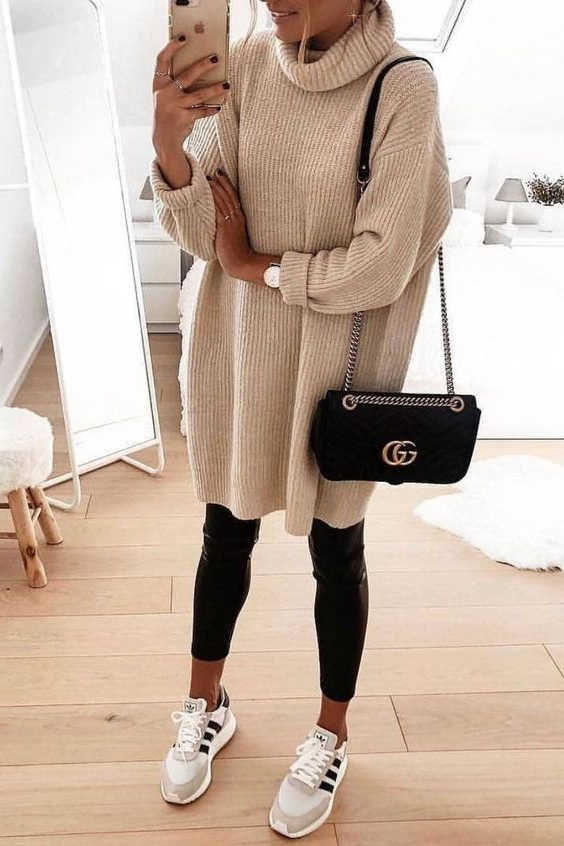 Buy Similar Here
How To Wear White Knitted Dress And High Suede Boots
We see a nice outfit idea for the upcoming Super Bowl Sunday. It consists of a roll-neck cream-white slouchy sweater dress and knee-high dusted-brown suede boots. Update this combo by adding a printed chain strap shoulder bag: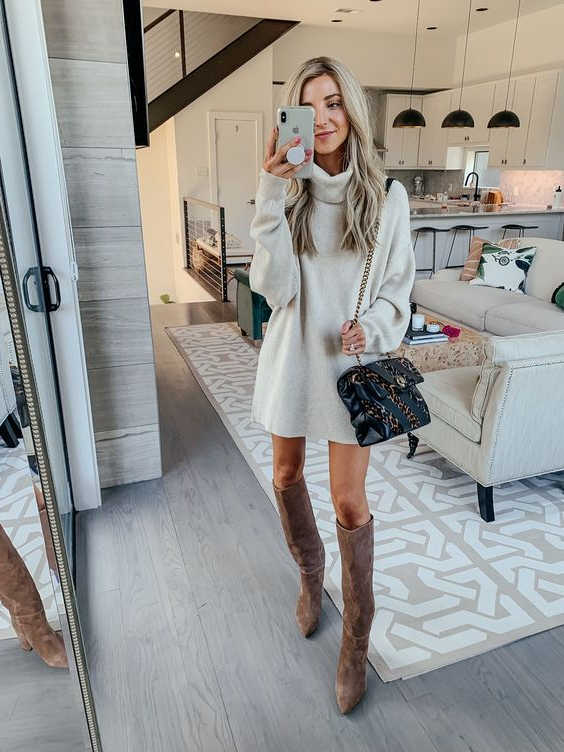 Buy Similar Here
Cream White Sweater Dress And Patent Cherry Red Boots
We see a cream white ribbed knit high-neck sweater dress completed with slouchy patent cherry-red leather boots. A perfect look for Thanksgiving Day. Complete it with a slouchy black leather bag: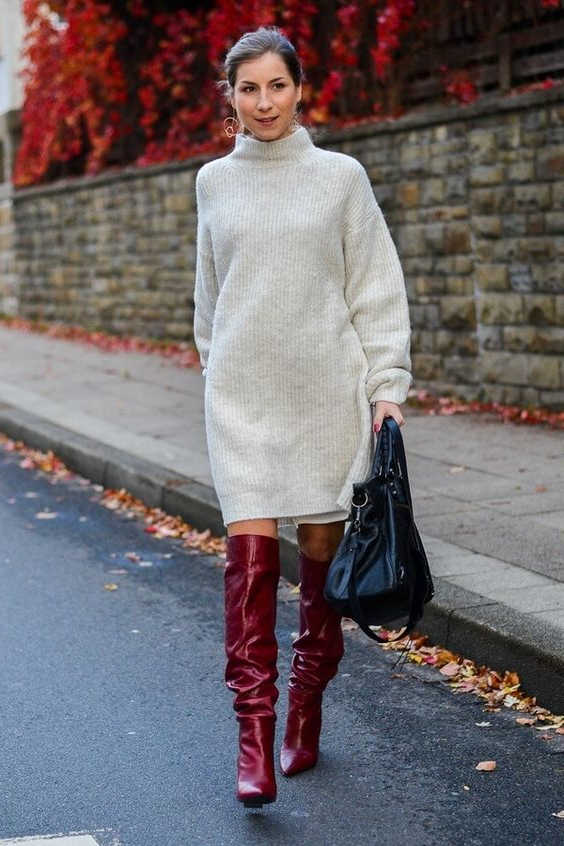 Buy Similar Here
Dark Grey Sweater Dress And Snakeskin Print Boots
A dark grey, almost black color belted midi sweater dress is worn with snakeskin printed boots. Complete this combo by adding oversized sunglasses and a beige shoulder bag with a chain strap: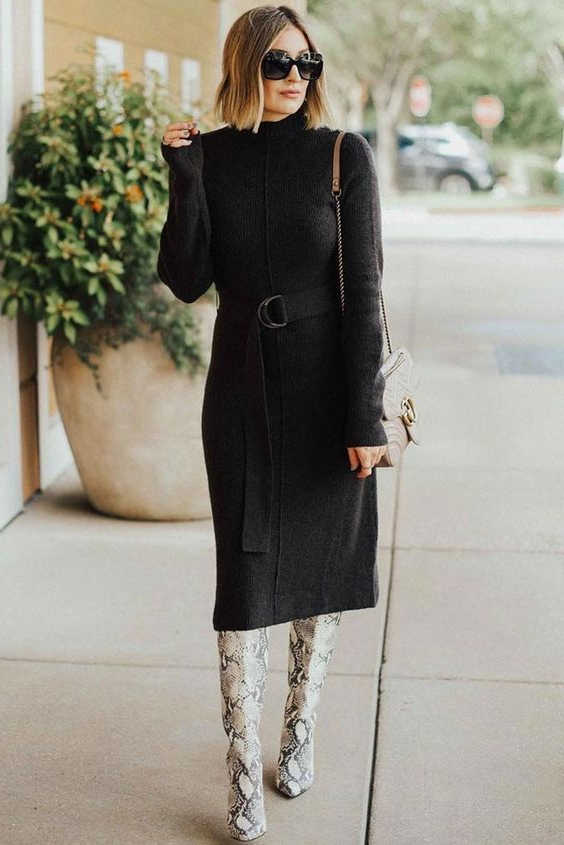 Buy Similar Here
Dark Grey Sweater Dress With Black Leather Pants And White Sneakers
Go for this dark grey sweater dress and half-tuck it inside black leather pants. Complete this combo with Wayfarer sunglasses and light grey slip-on shoes: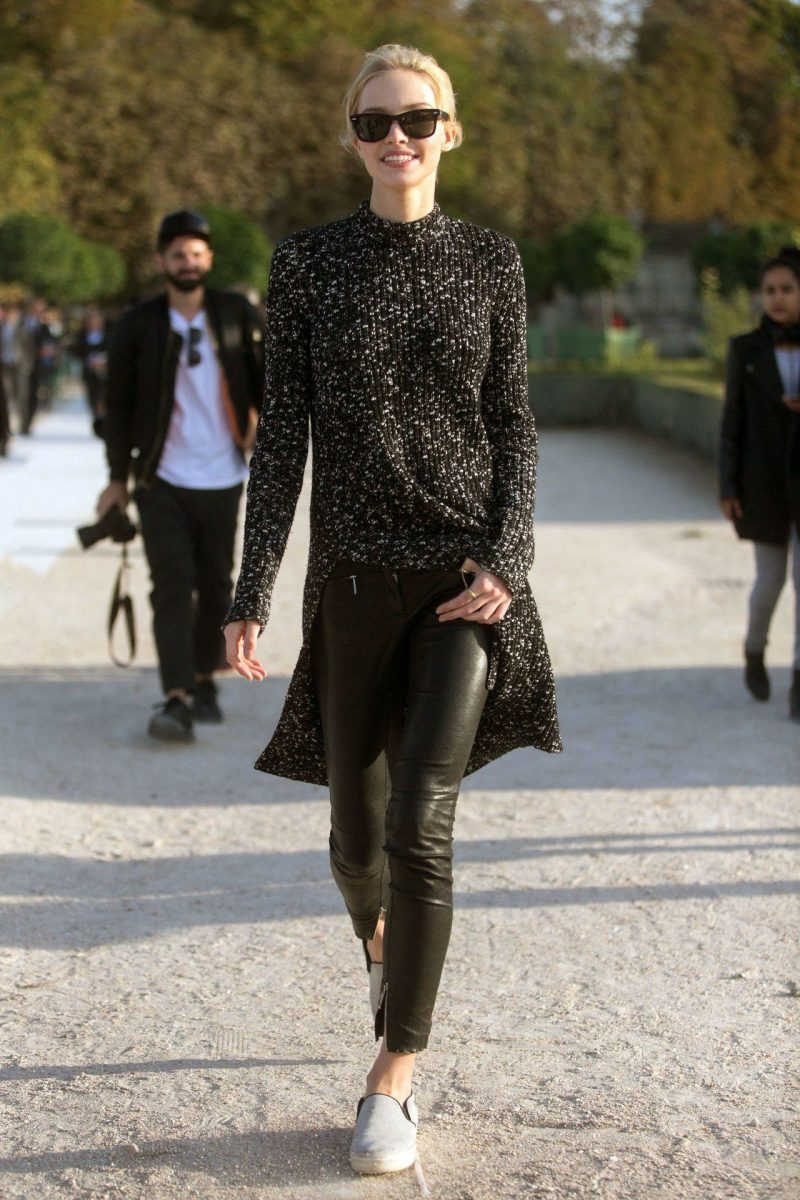 Buy Similar Here
Nude Heeled Sandals And Dark Maroon Sweater Dress
A dark maroon sweater dress with a pleated skirt and flowy sleeves is styled with nude heeled sandals, a nice combination for Halloween: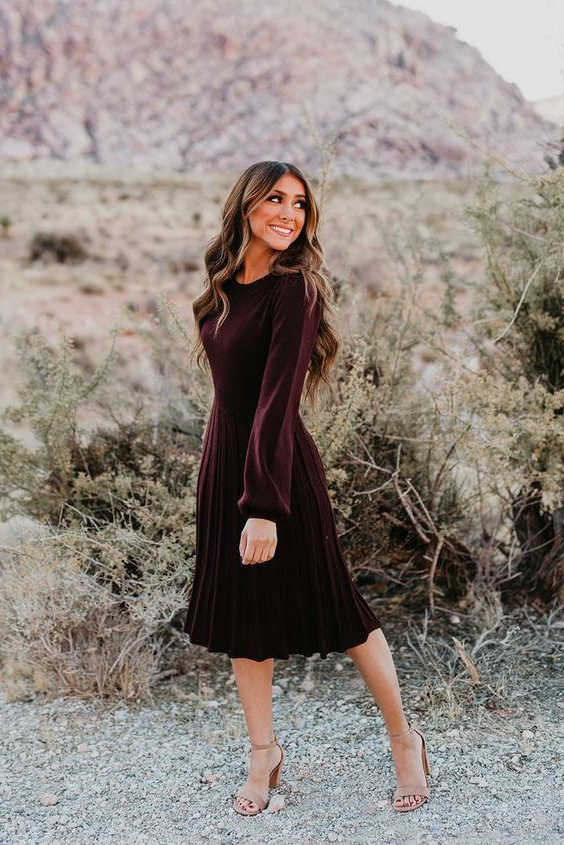 Buy Similar Here
Can I Wear Leopard Ankle Boots And Green Sweater Dress
A military green sweater dress looks pretty cool teamed with leopard print heeled ankle boots. Complete this combo by adding tortoise rounded sunglasses and cream-brown leather shoulder bag:
Buy Similar Here
Red Suede OTK Boots And Grey Oversized Sweater
Another nice combo for Super Bowl Sunday. We see a relaxed fit green knitted dress completed with red over-the-knee suede boots and a chain strap red bag: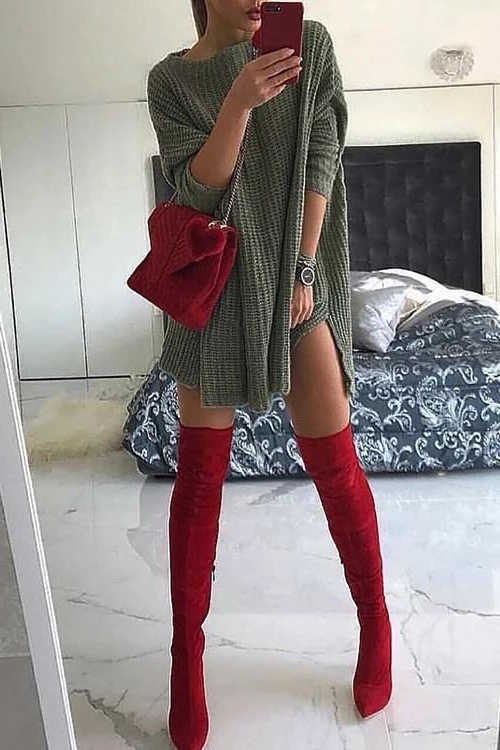 Buy Similar Here
Slouchy Boots And Grey Oversized Sweater Dress
A light grey oversized sweater dress looks pretty fresh styled with cream-beige slouchy high boots. Complete this combo with a knitted heavy scarf and oversized tote bag from LV: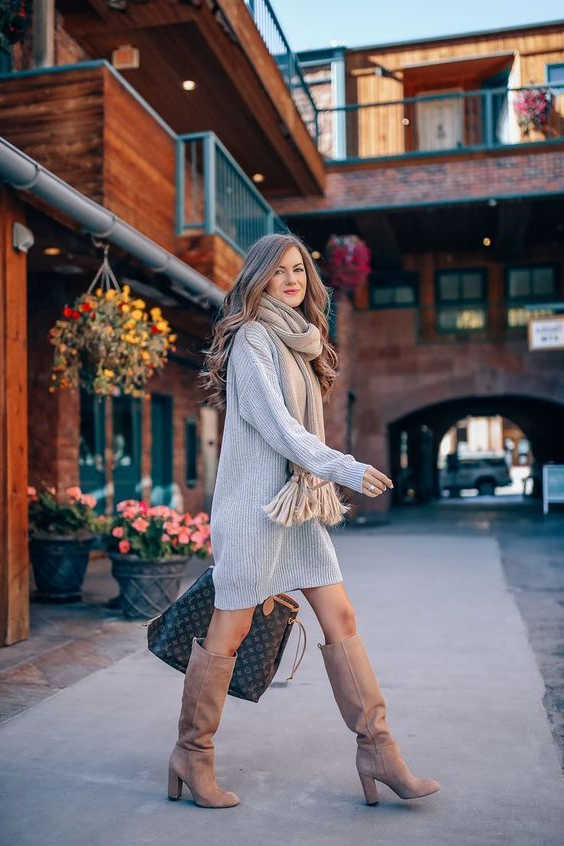 Buy Similar Here
How To Wear Beige Ankle Boots And Grey Sweater Dress
A long black knitted cardigan can be layered over a grey sweater dress completed with beige ankle boots. A nice choice for Halloween party: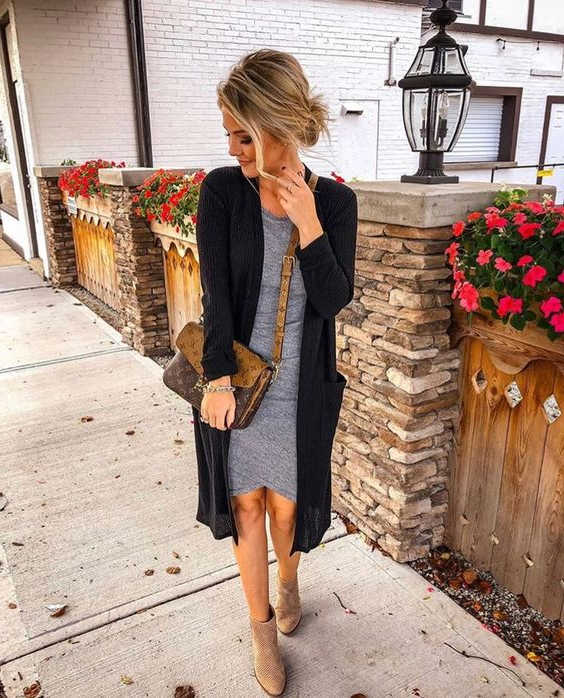 Buy Similar Here
Can I Wear Black Ankle Boots And Grey Sweater Dress
A wide-brim grey hat looks fancy styled with a cream-grey sweater dress and black suede ankle boots. Complete this look by adding a mini black leather handbag: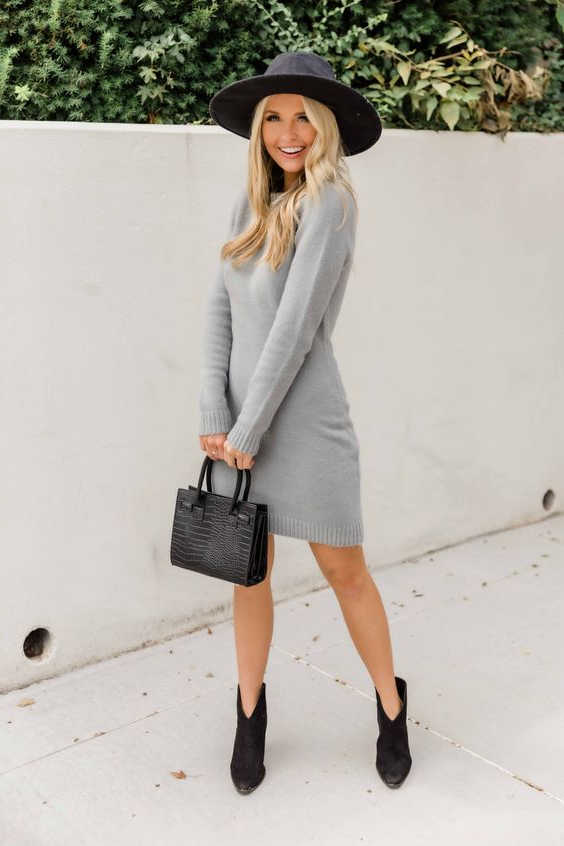 Buy Similar Here
Clear Heels And Grey Sweater Dress
A nice choice for New Year's Eve. We see a turtleneck grey knitted knee-length dress styled with clear heels: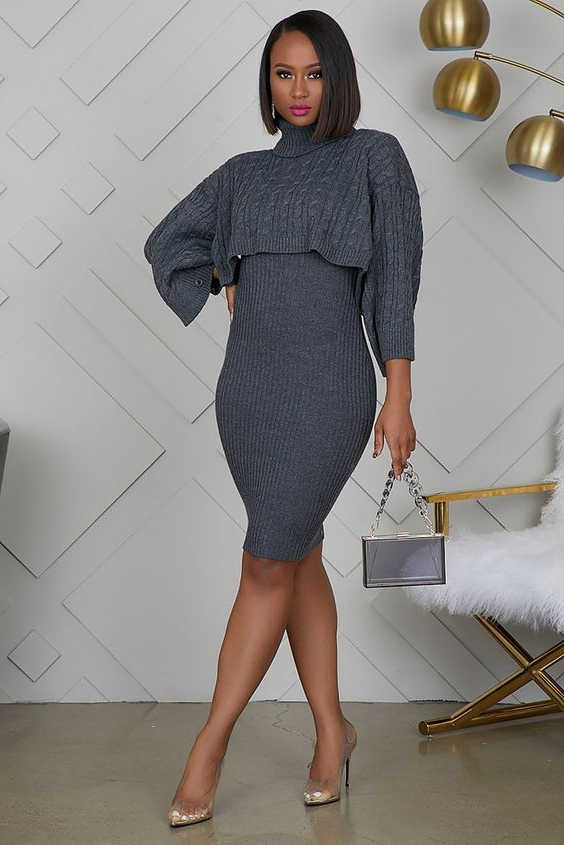 Buy Similar Here
Can I Wear Slouchy Boots And Grey Sweater Dress
A casual day-off look. We see a windowpane printed black long cardigan layered over a grey sweater dress. Update this style with tortoise sunglasses and cream-brown suede slouchy boots: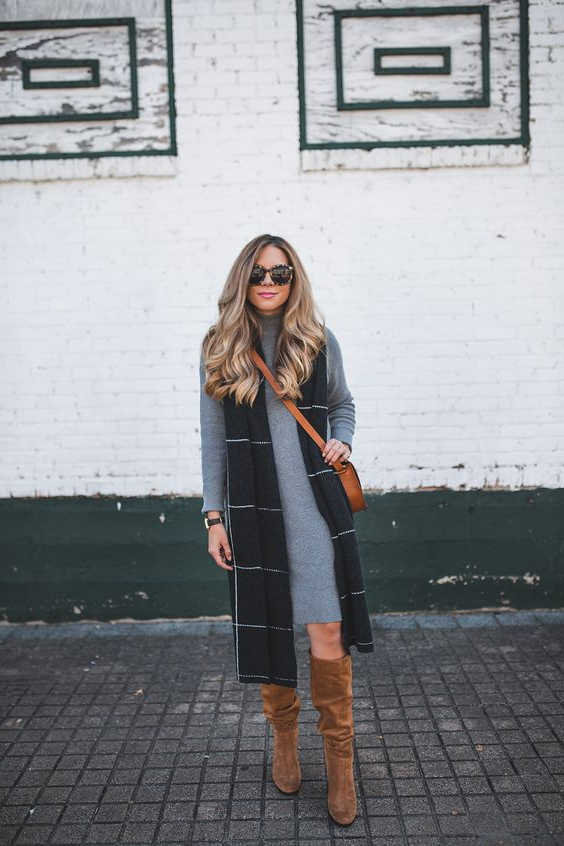 Buy Similar Here
How To Wear White Sneakers And Grey Sweater Dress
Another classic sweater dress in grey-beige is completed with Wayfarer sunglasses and white sneakers. Update this style by adding a maroon leather handbag: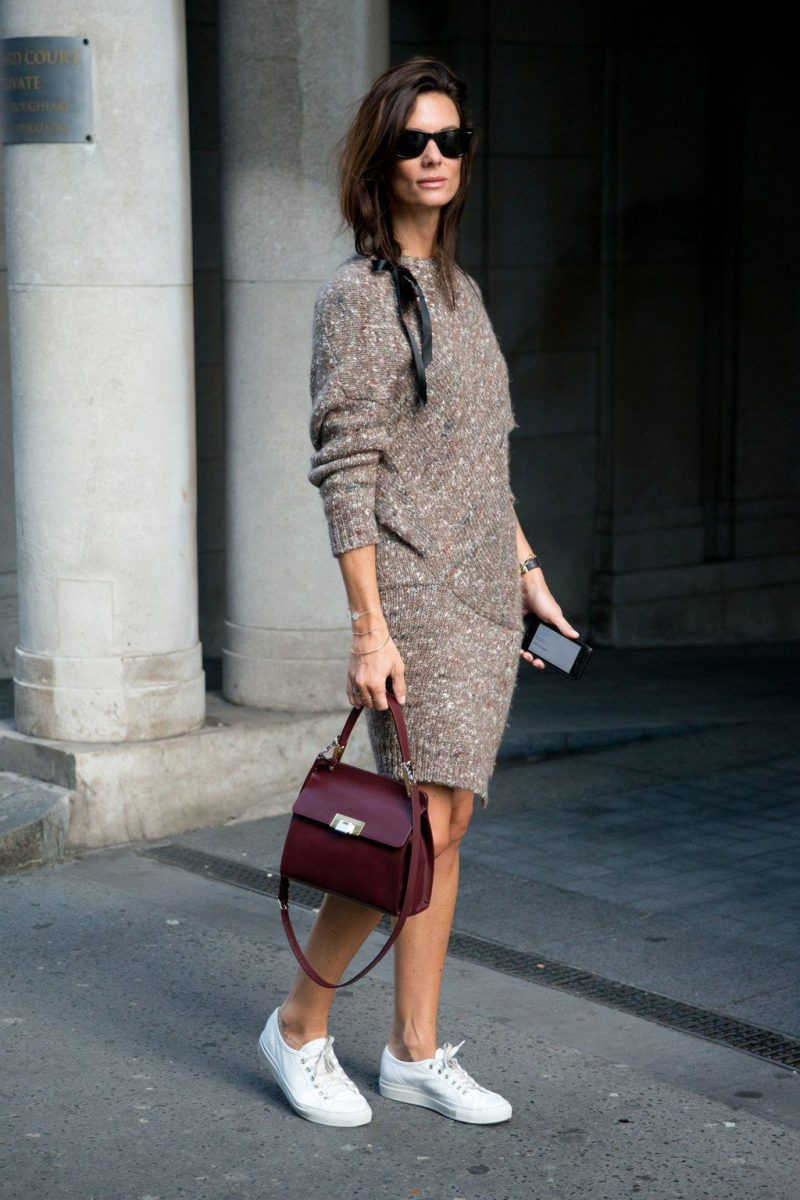 Buy Similar Here
White Sneakers With Grey Sweater Dress And Long Bomber Jacket
A long military green bomber jacket is worn atop two-piece sweater dress in grey color. Complete this combo by adding white sneakers: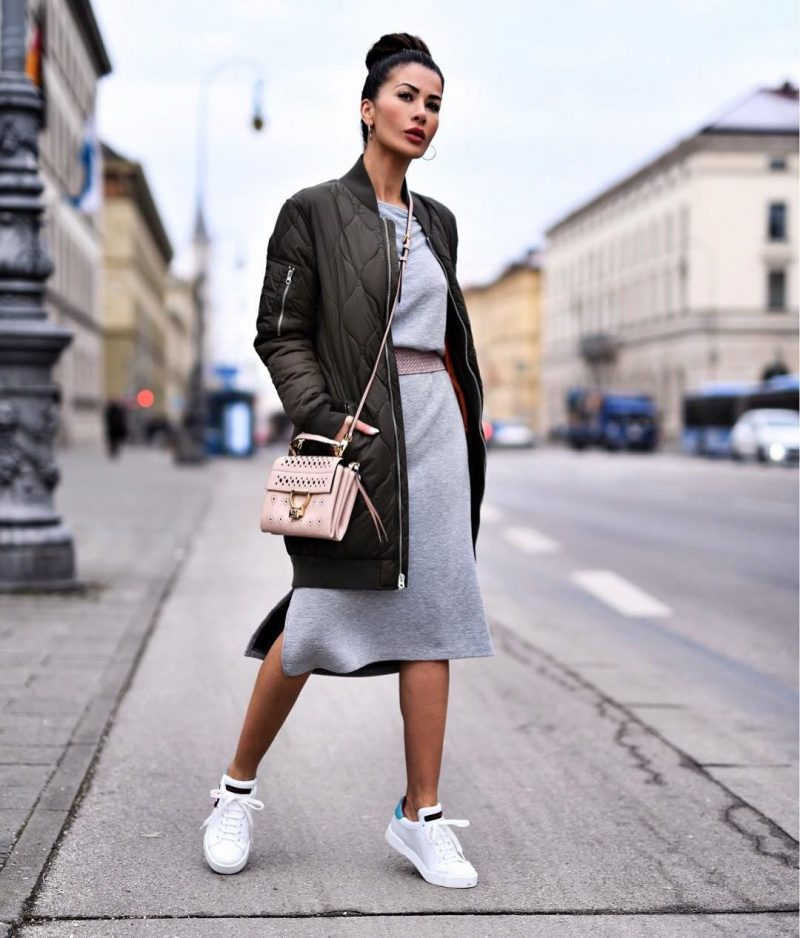 Buy Similar Here
Long Grey Knitted Dress And White Sneakers
Here we see a V-neck grey knitted dress styled with rounded sunglasses and white kicks. Check out other ways how to wear sneakers for women, you will find simple and easy to wear outfit ideas: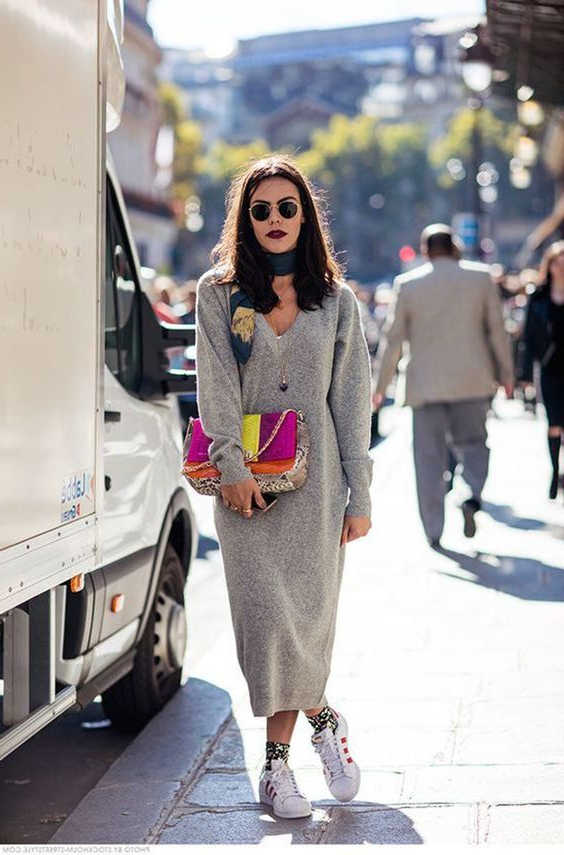 Buy Similar Here
Multi striped Knitted Dress And Maroon Ankle Boots
Have fun with this multi-striped ankle-length sweater dress completed with maroon suede ankle boots and black rounded sunglasses: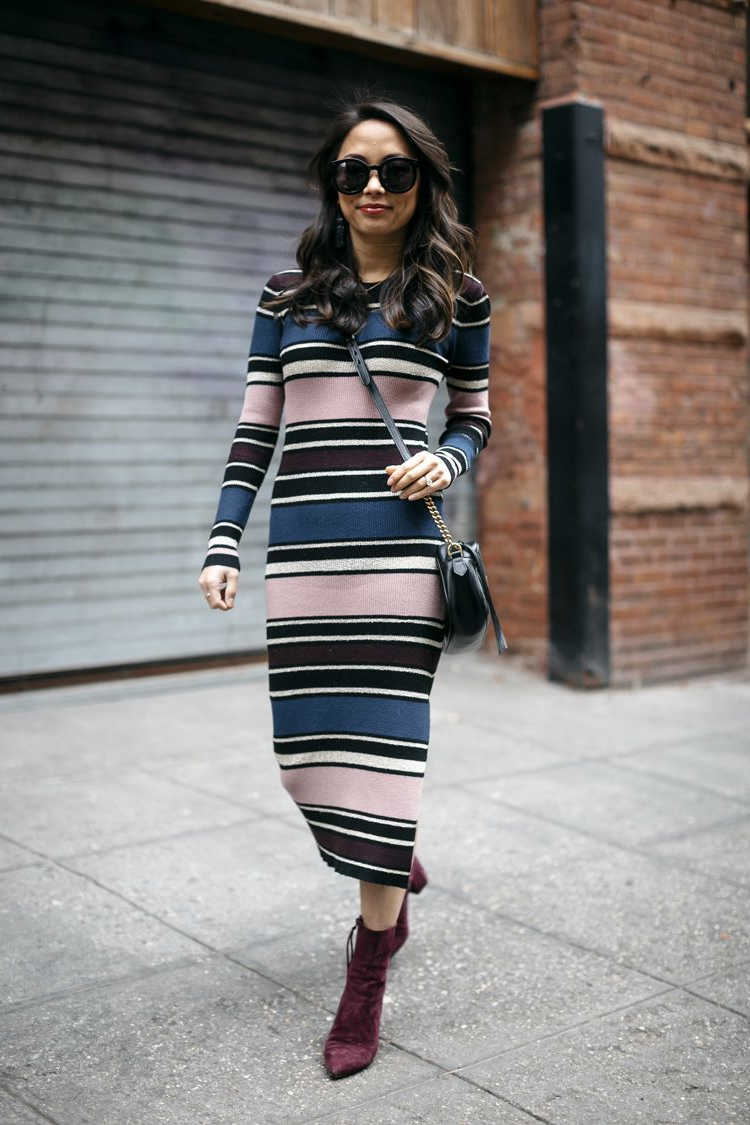 Buy Similar Here
White Sneakers And Multi striped Sweater Dress
A simple grey multi-striped sweater dress is updated with white sneakers. A simple day look for coffee time: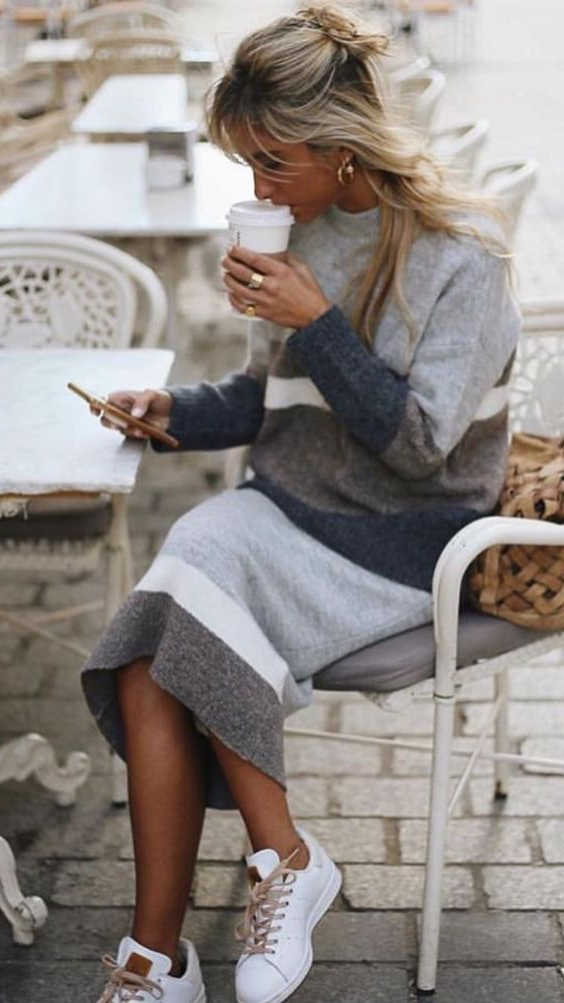 Buy Similar Here
Mustard Slim Knitted Dress And Ankle Boots
A retro simplicity. We see a cable-knit sweater dress in mustard completed with opaque tights and black leather booties: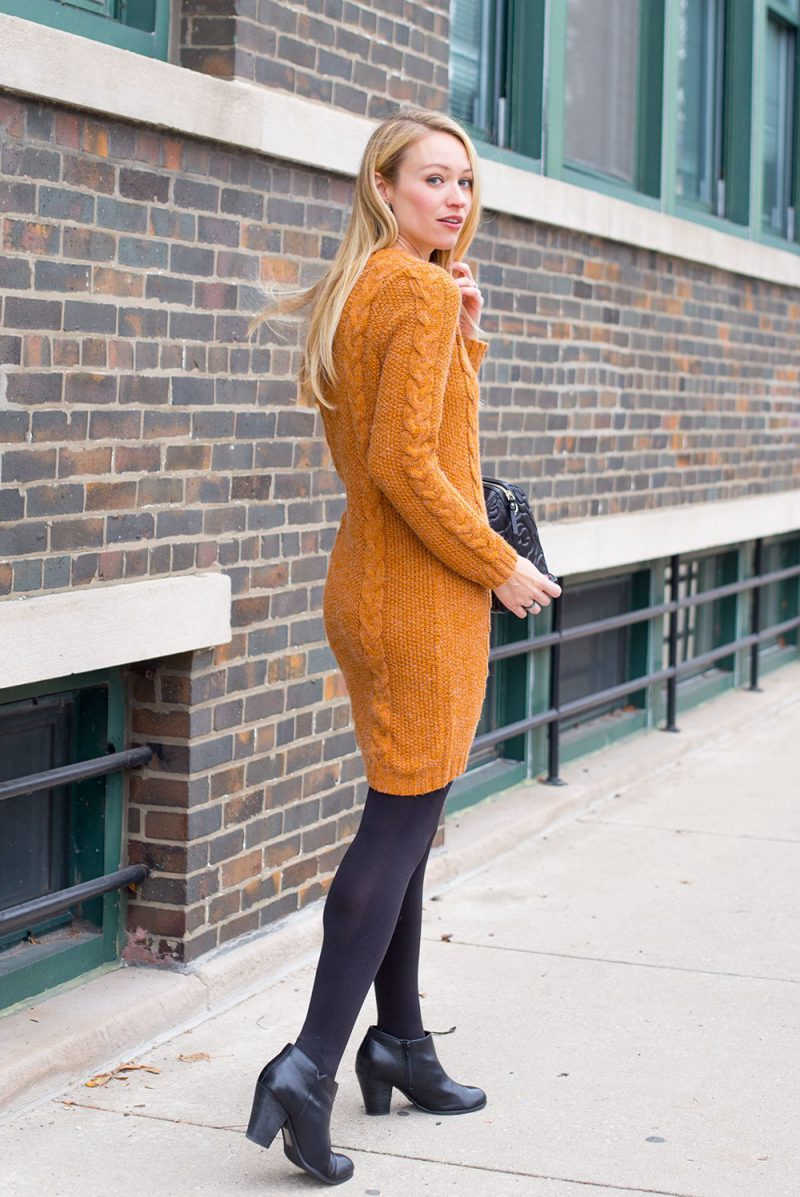 Buy Similar Here
Black Pointed Toe Pumps With Plaid Tights And Mustard Sweater Dress
Here we see a cable knit mustard sweater dress styled with a red-black plaid scarf, black-white plaid tights, and pointed-toe kitten heel black pumps: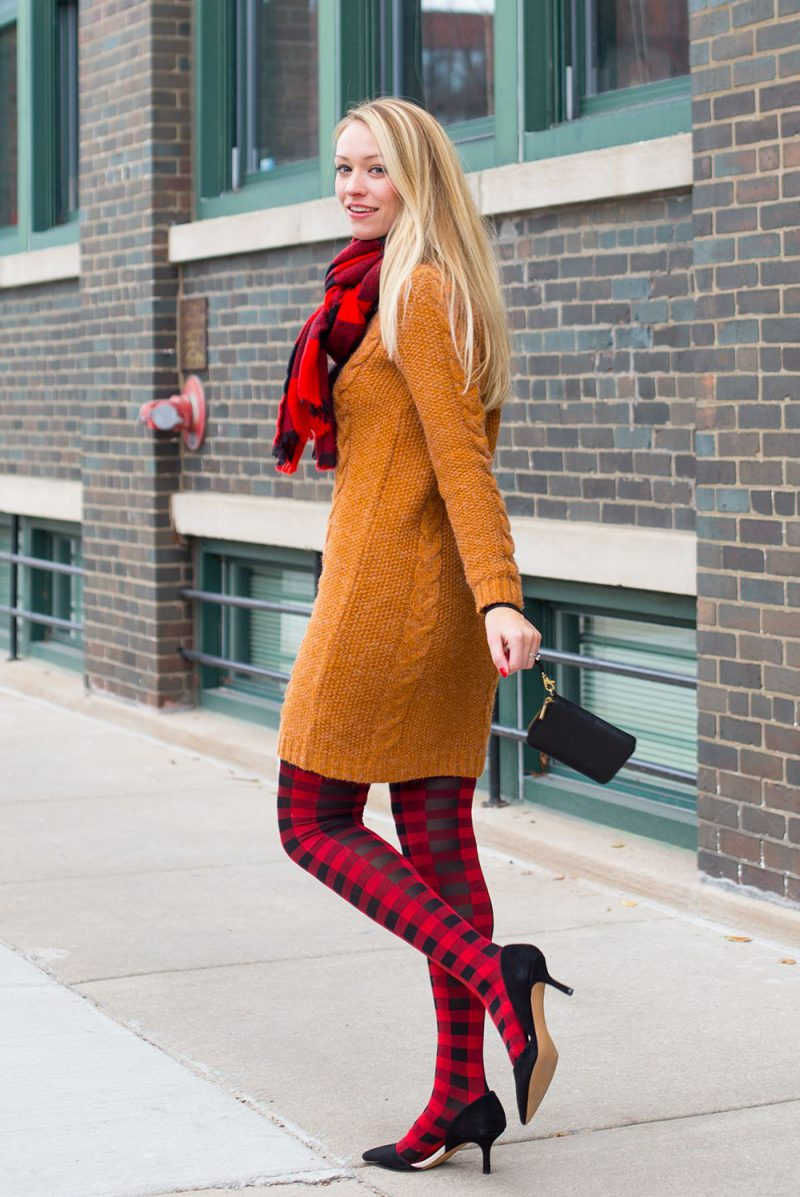 Buy Similar Here
Timberland Boots With Oversized Knitted Dress In Grey
How about experimenting with various shapes? Go for this modern knitted grey oversized sweater dress and complete it with Timberland boots. Make sure to check my post about ways how to wear Timberland boots for women, I am sure you can find lots of cool outfit ideas to copy: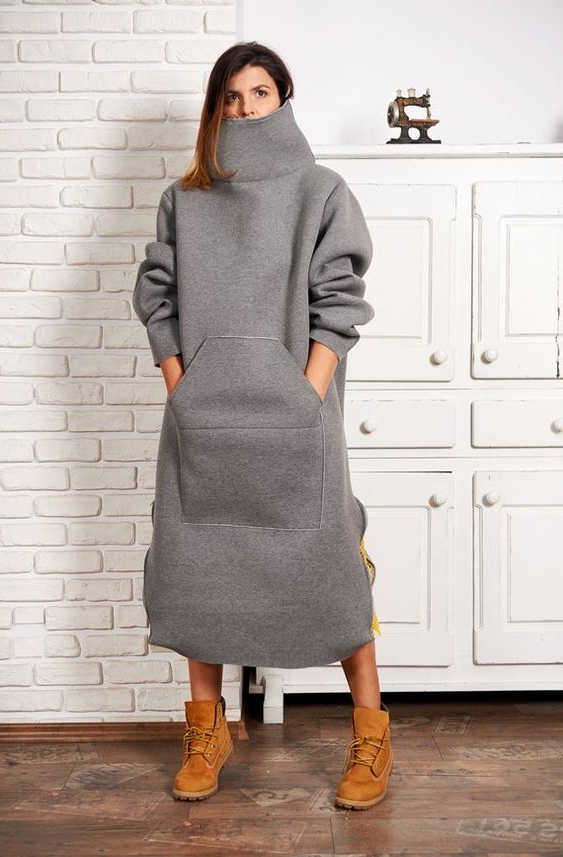 Buy Similar Here
Suede Black OTK Boots And Red Sweater Dress
A pretty combo for Winter season. We see a fur pom pom red beanie with a slouchy turtleneck sweater dress in red completed with black suede OTK boots and chain strap black suede clutch. In love with that plaid scarf: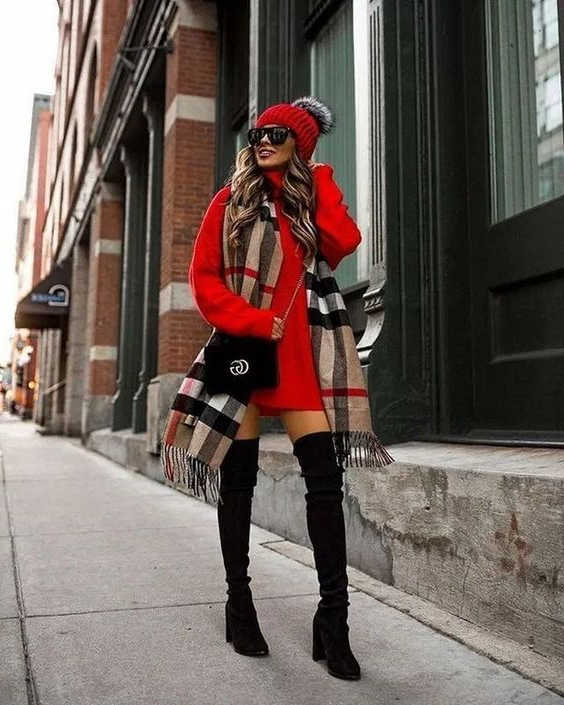 Buy Similar Here
Suede OTK Boots And Red Knitted Dress
A red sweater dress makes a wow statement. Try it on with black suede slouchy over-the-knee boots and mirrored sunglasses: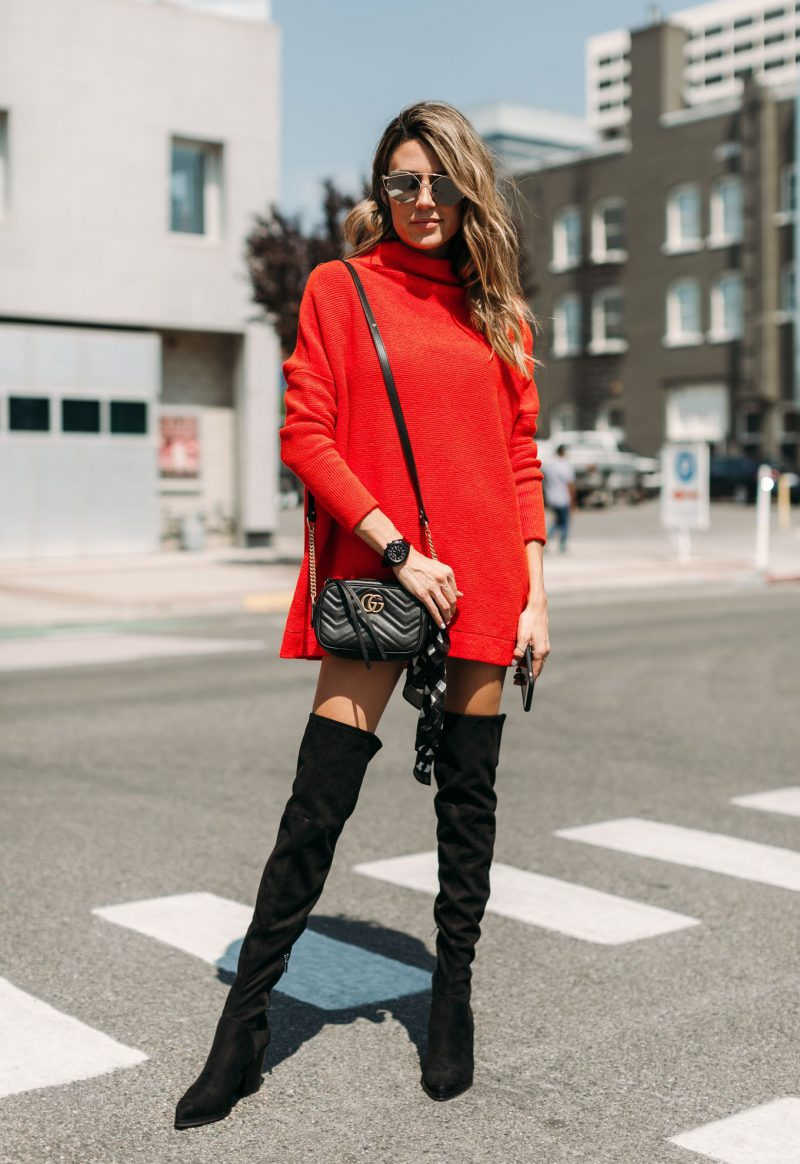 Buy Similar Here
Ribbed Knit Beige Sweater Dress And Black OTK Boots
Simple and sexy! Go for this ribbed knit beige sweater dress in a relaxed fit and complete it with a black lieutenant cap and black suede OTK boots: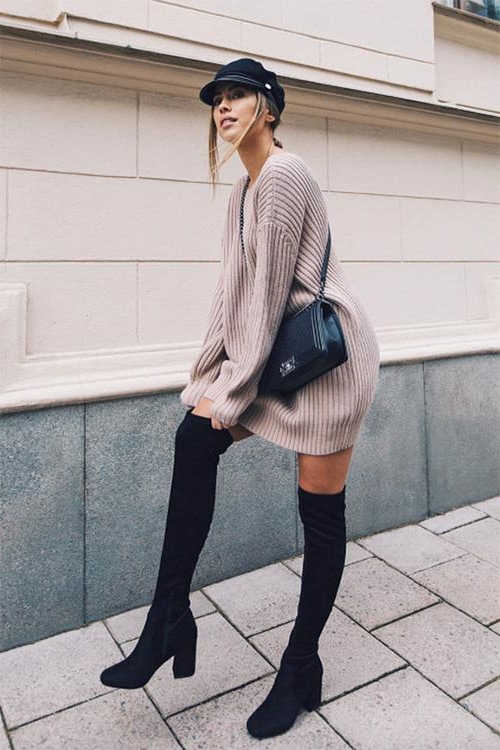 Buy Similar Here
Ribbed Knit Maxi Grey Sweater Dress And White Sneakers
A ribbed knit grey maxi dress looks super with white sneakers. A perfect combo for casual Sunday or a coffee: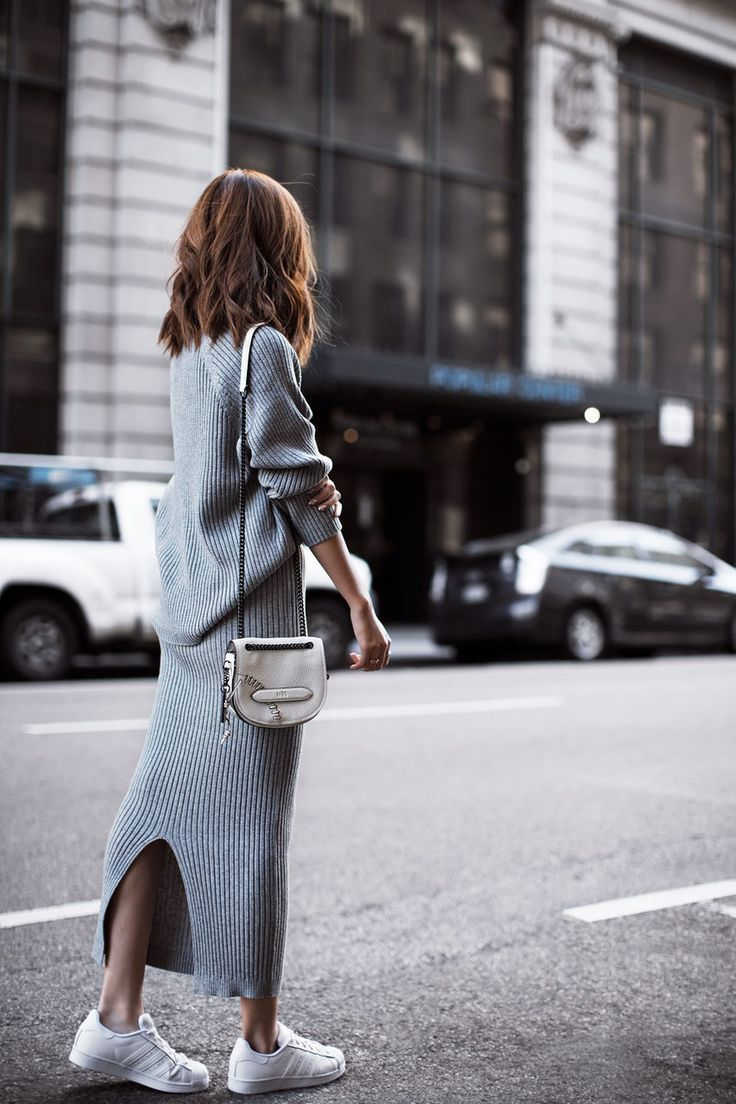 Buy Similar Here
Ribbed Knit Sweater Dress And Snakeskin Print Ankle Boots
A heavy ribbed knit sweater dress in cream grey is updated with a cool greek print belt and snakeskin print ankle boots: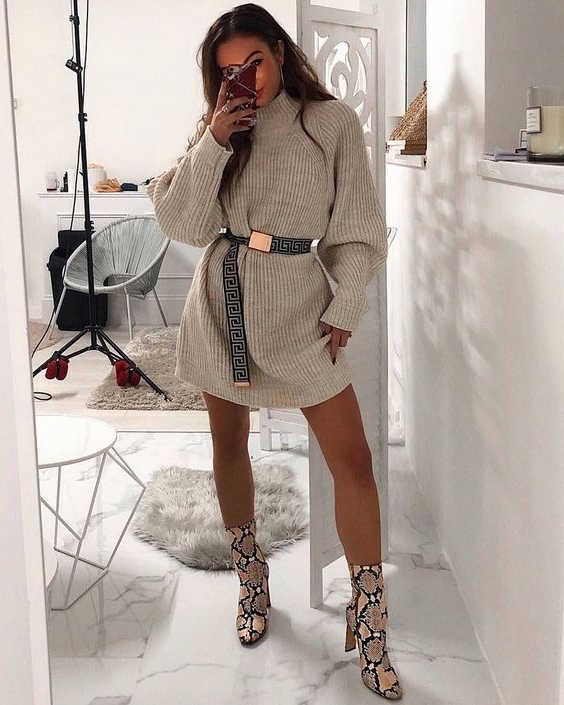 Buy Similar Here
Black Ankle Boots With Tights And Striped Knitted Dress
Have fun this Fall by wearing a navy-blue striped sweater dress with a multi-striped scarf, opaque tights, and black leather ankle boots: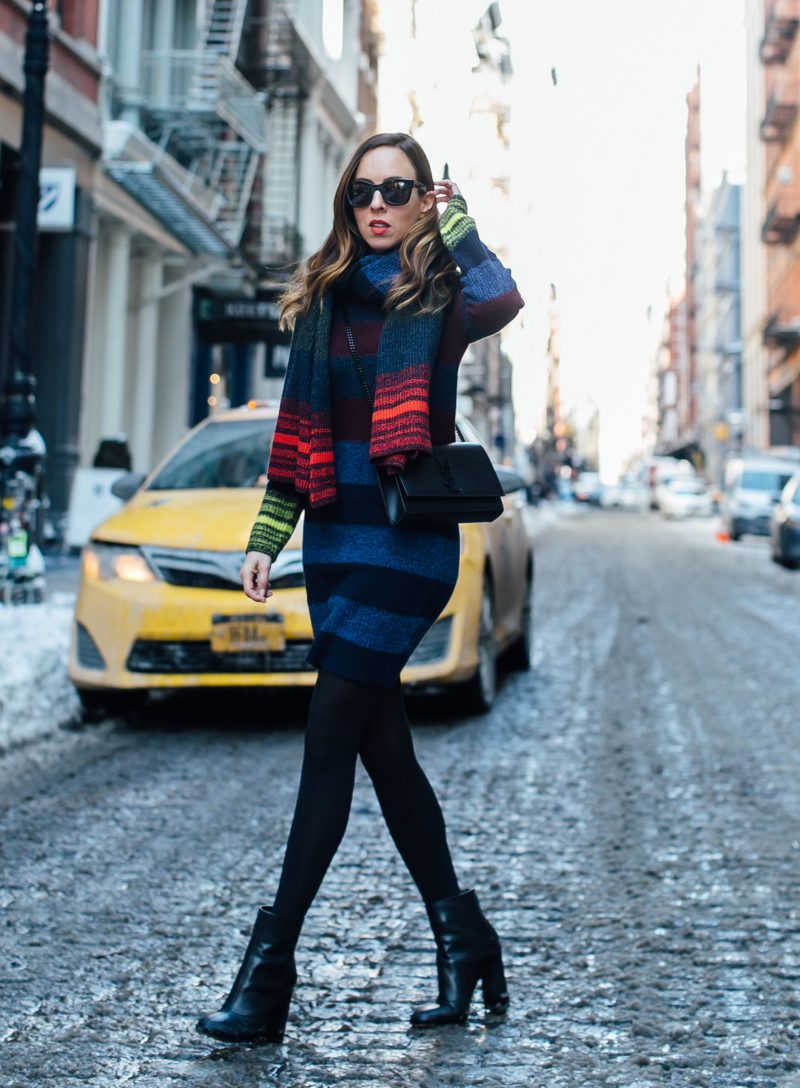 Buy Similar Here
White Ribbed Knit Turtleneck Dress And Peep-Toe Ankle Boots
A ribbed knit white sweater dress is completed with a brown leather belt and light brown peep-toe ankle boots: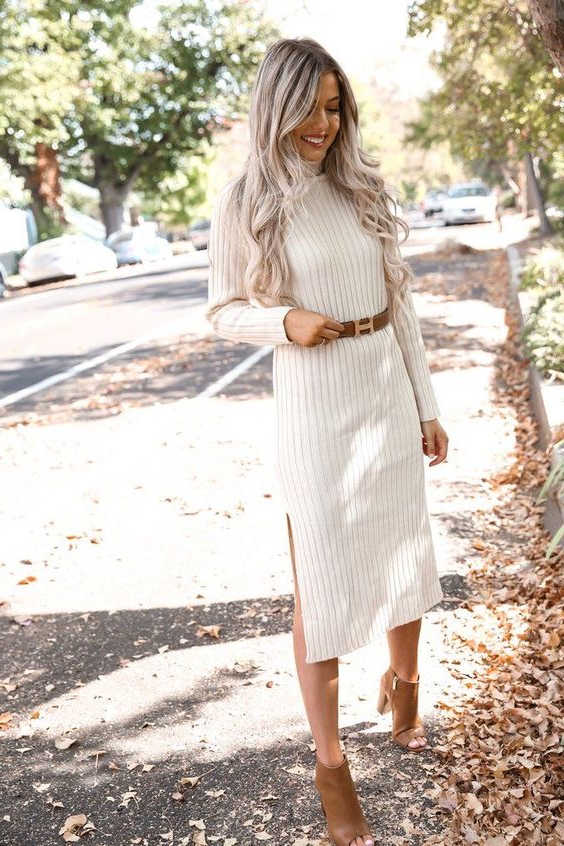 Buy Similar Here
Black Leather OTK Boots And White Sweater Dress
Black leather slouchy over-the-knee boots with block heels are teamed with distressed hem white sweater dress: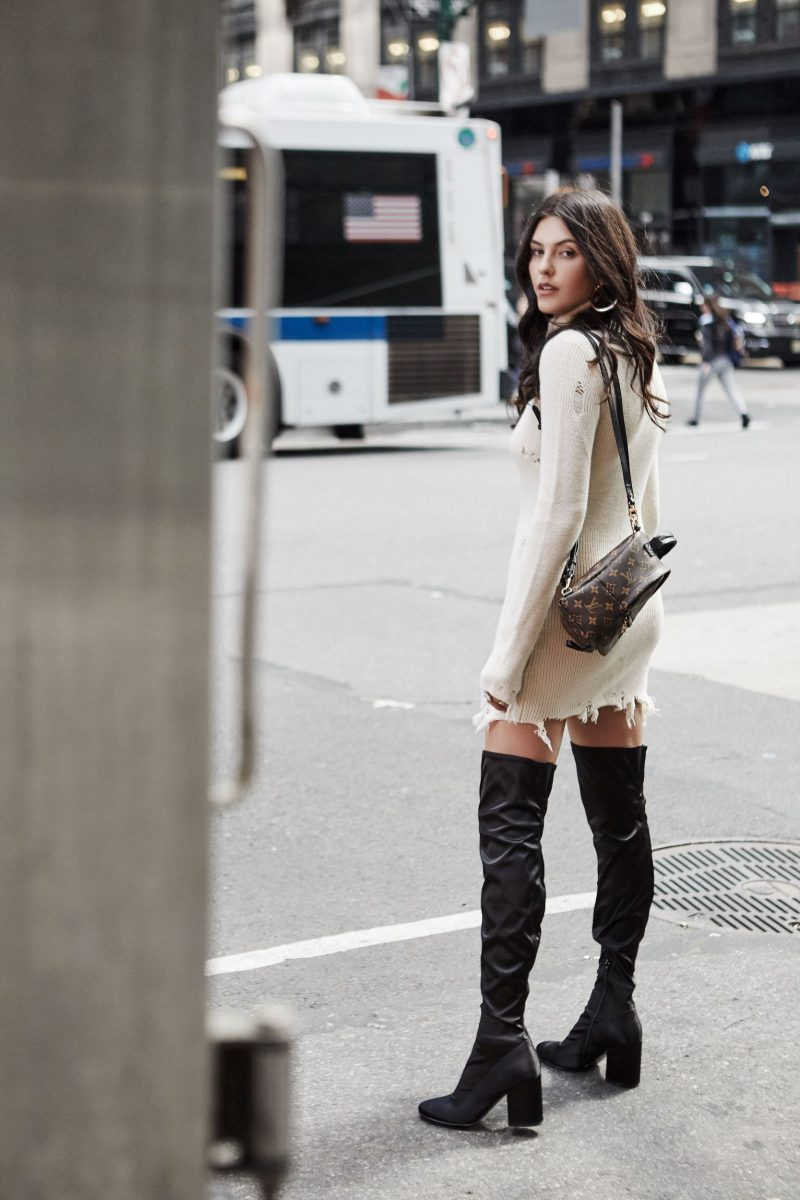 Buy Similar Here
Can I Wear Brown Leather Boots And White Sweater Dress
We see a white cable-knit sweater dress completed with a brown leather belt and brown leather boots, a fancy look for countryside weekends: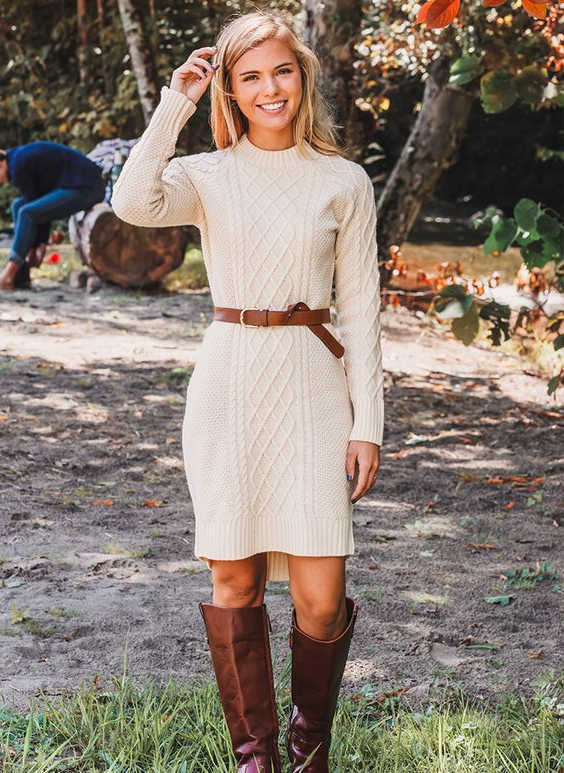 Buy Similar Here
Glossy Ankle Boots And White Sweater Dress
A pair of glossy black ankle-boots are worn with a high-neck white sweater dress: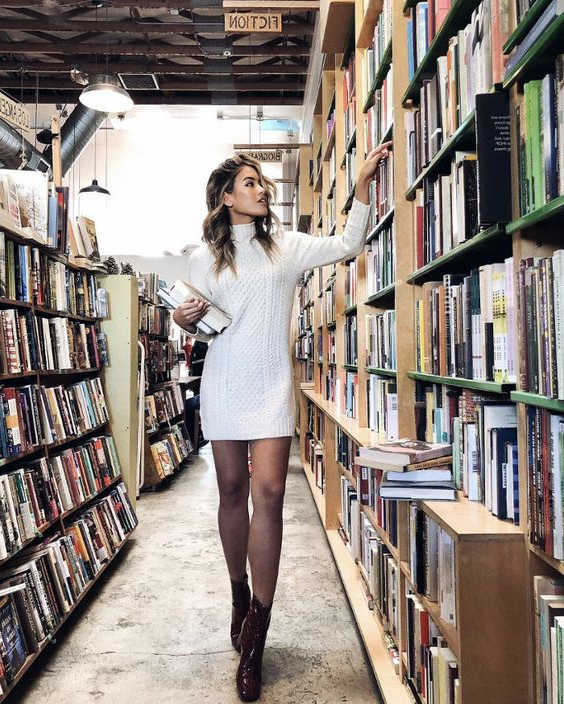 Buy Similar Here
Can I Wear Nude Heeled Sandals And White Sweater Dress
A V-neck belted white short sweater dress is updated with skin color heeled sandals and aviator shades: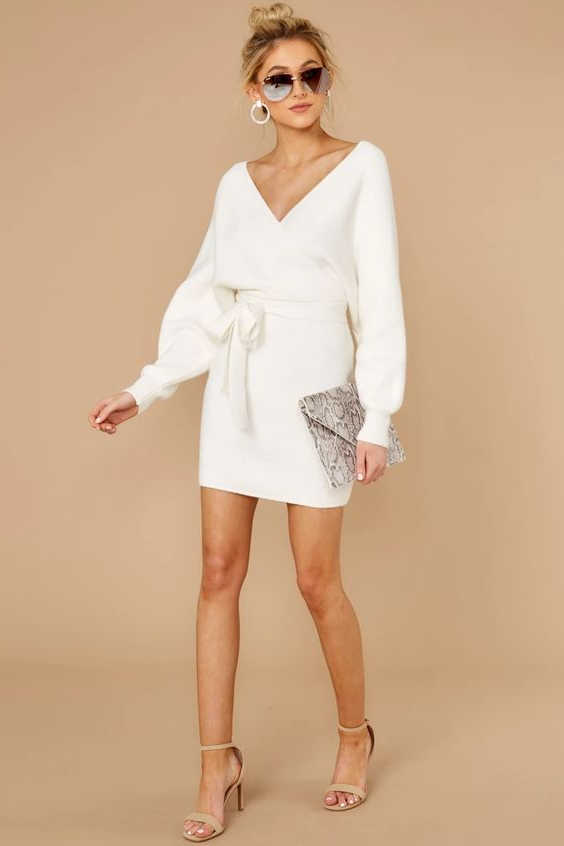 Buy Similar Here
Can I Wear White Sweater Dress And Nude Pumps
This could be a fabulous look for the upcoming Thanksgiving Day. We see a white slim mini sweater dress completed with nude heeled pumps: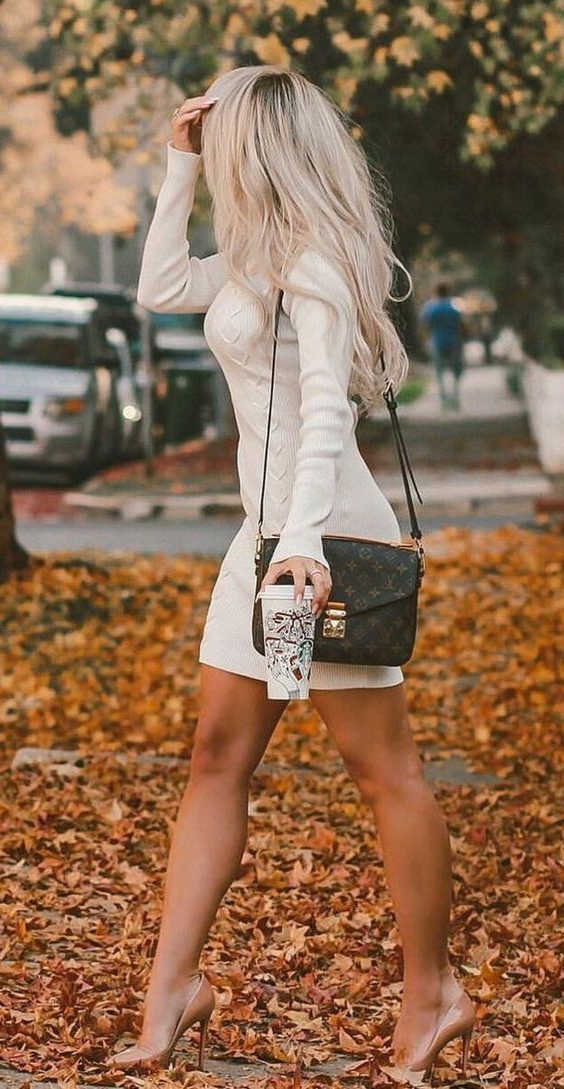 Buy Similar Here
White Sweater Dress With Tights And Brown Suede Ankle Boots
A slim white sweater dress with a turtleneck can be worn with tortoise cat-eye sunglasses, black tights, and brown suede ankle boots, an ideal combo for Fall season: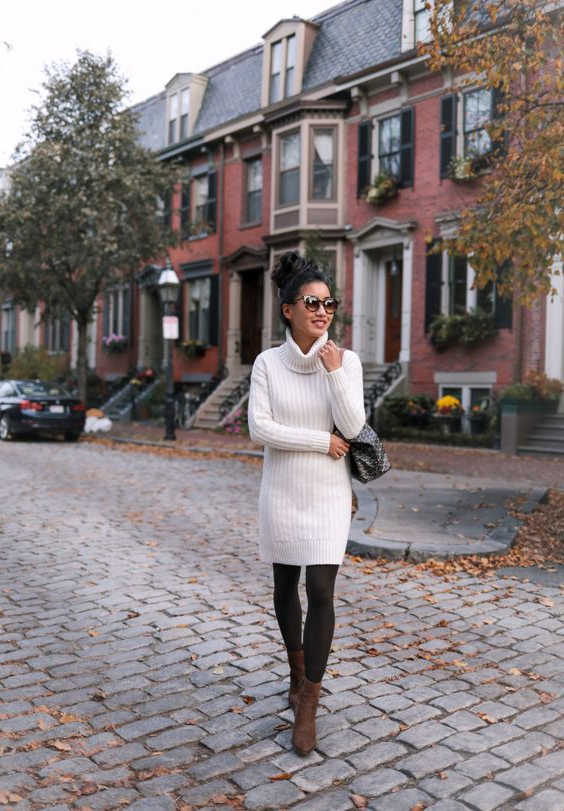 Buy Similar Here
White Sweater Dress With Tights And Chunky Black Leather Boots
A slouchy ribbed knit white turtleneck dress styled with opaque tights and black leather chunky boots with fur and other embroideries: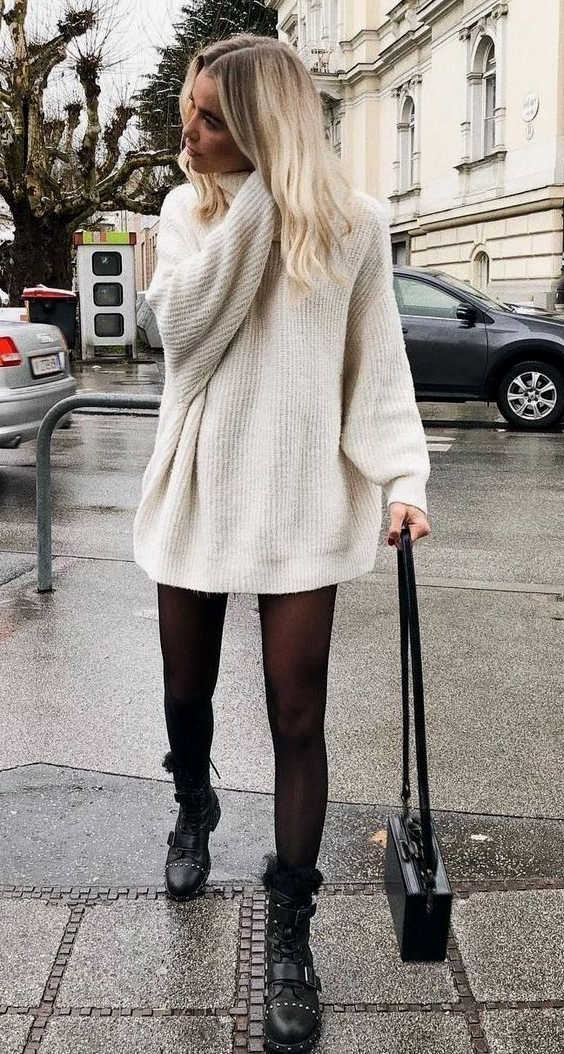 Buy Similar Here
Sweater Dress In White And Uggs
Slouchy High neck sweater dress with a smile emoji is completed with light brown Ugg boots and black leather cap. By the way, if you are into uggs, then take a look at my post where I talk about ways how to wear Ugg boots for women, you will find many ideas to try this year: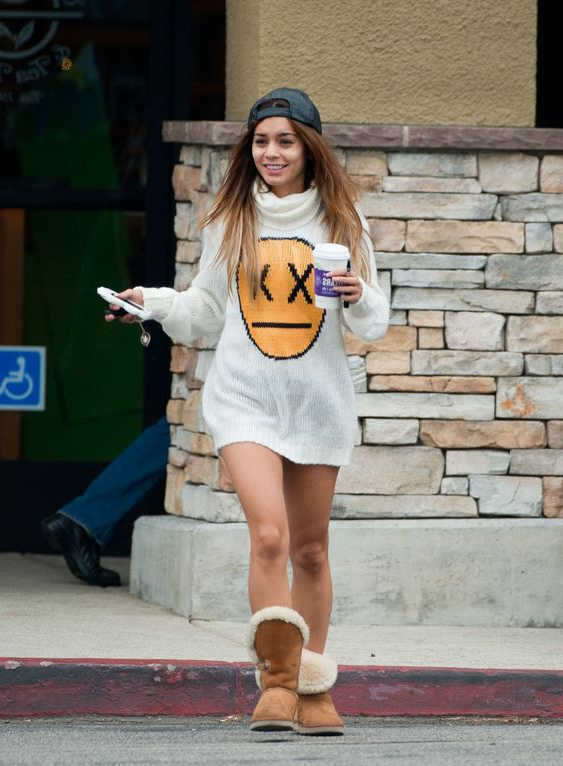 Buy Similar Here
Sweater Dress Over Black Leather pants With Sneakers
Keep things simple and relaxed, go for this beige oversized sweater (worn as a dress) teamed with black leather ankle pants completed with white sneakers and classic black leather handbag: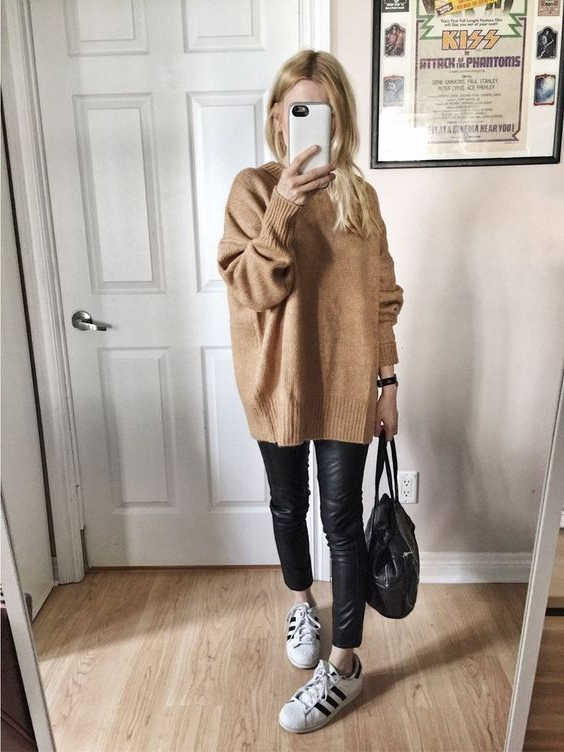 Buy Similar Here