If you want to make a WOW effect then how about wearing something bright, sexy and glamour? In today's article, I decided to draw your attention to fluorescent shoes to wear now. This footwear is incredibly eye-catchy and ideal for making you look trendy and modern.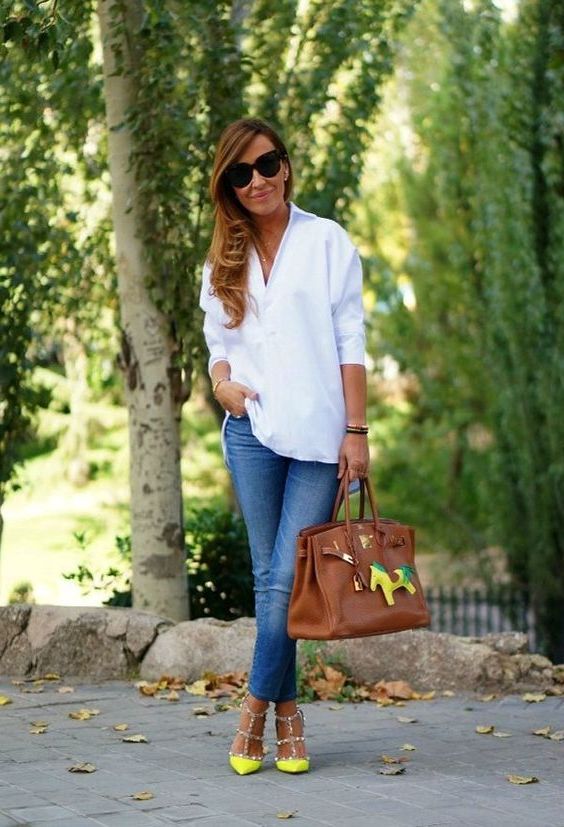 Buy Similar Here
You can have so much fun with fluorescent shoes! They are bright, eye-catching and easy to style. For instance, here we see caged and studded yellow heeled pumps worn with slim wash blue jeans and white tunic top. An ideal combination of easy weekend walks. Complete this look by adding a light brown leather bag embellished with a neon yellow horse accessory. In love with these oversized sunglasses in black color.
Sure, you have to know the best ways on how to make this footwear look great on you. In other words, saying you have to know the best clothing combinations so your overall outfit appears original and special. Read on to see my favorite street style ways on how to make this footwear look awesome on you.
A neon multicolored bikini is completed with neon green sneakers, a perfect outfit idea for summer traveling. Complete this beach look with sun cream, a wide-brim hat, and oversized sunglasses: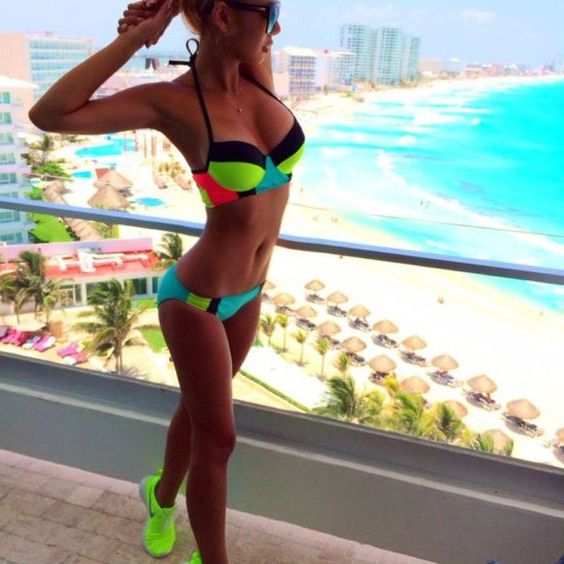 Buy Similar Here
Believe me, once you know how to wear these shoes, you gonna make your outfit look completely different. The fluorescent shoes can be worn with almost everything, starting from casual separates to cocktail party dresses.
A black-white geometric printed sleeveless dress looks impressive with neon yellow pointed-toe heeled pumps. Complete it with a white clutch bag, oversized sunglasses, and arm-parties: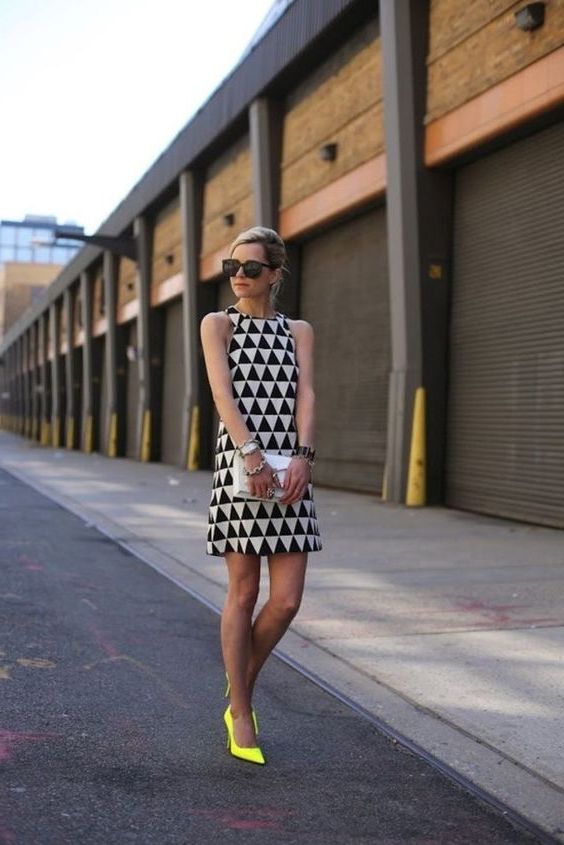 Buy Similar Here
If you want to shine, then you better know the best tricks and tips on how to make this footwear look chic on you. If you want to make them look awesome with your evening dress, then the best way is to wear one of these pumps styled with your favorite slim fit dress. I love to see ladies who keep things sophisticated and extremely modern by wearing sexy heeled sandals styled with neon pastel green mini skirts and polka dot blouses. Sure, you better keep your jewelry simple and classy, otherwise, you gonna look like a bright and contrasting traffic light.
Fluorescent Green Running Shoes
An ideal look for morning outdoor exercises. We see a pastel purple yoga racerback top with laces on the back styled with multi-printed running Capri leggings and fluorescent green running shoes: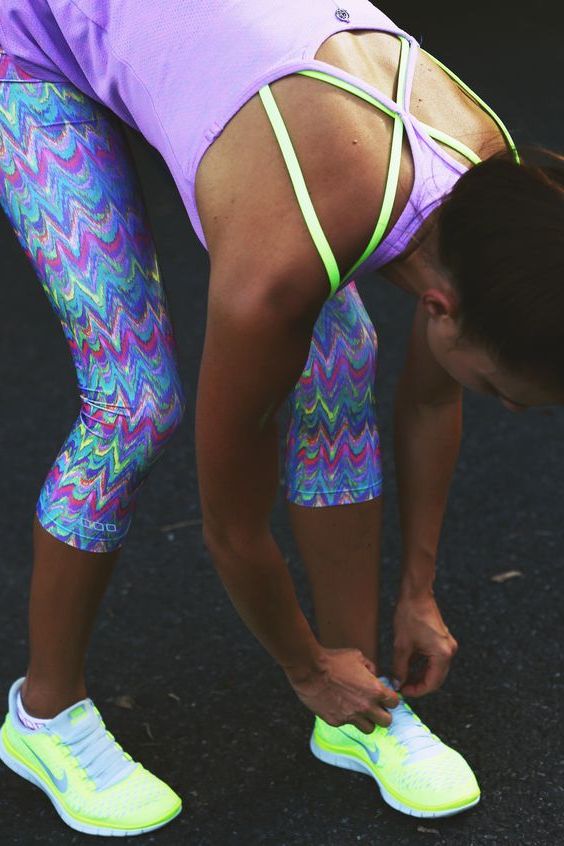 Buy Similar Here
Fluorescent Green Shoes
Another great outfit idea with fluorescent green heeled peep-toe mules worn with a white shirt, wash grey-blue skinny jeans and a fluorescent green shoulder bag: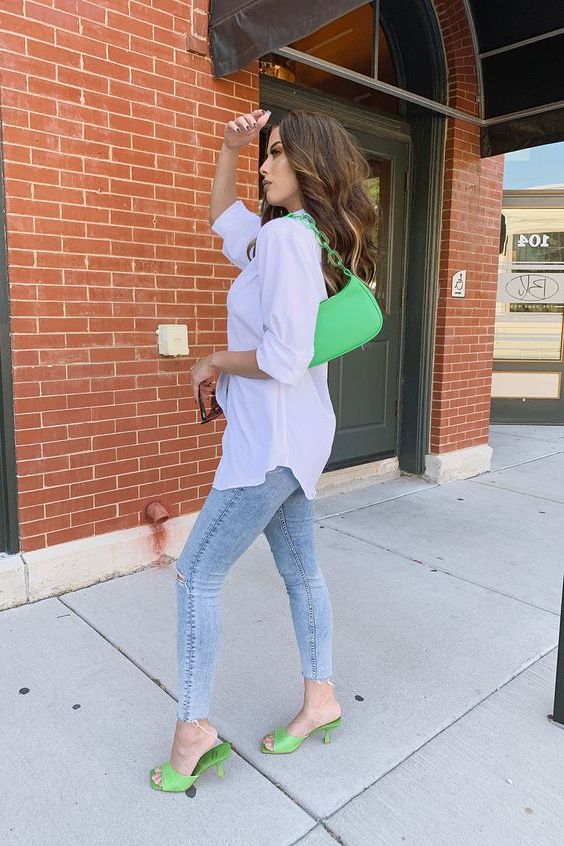 Buy Similar Here
Fluorescent High Heels
A pair of fluorescent yellow high heels with pointed toes are styled with a rich blue maxi dress cinched at the waist with a fluorescent yellow belt: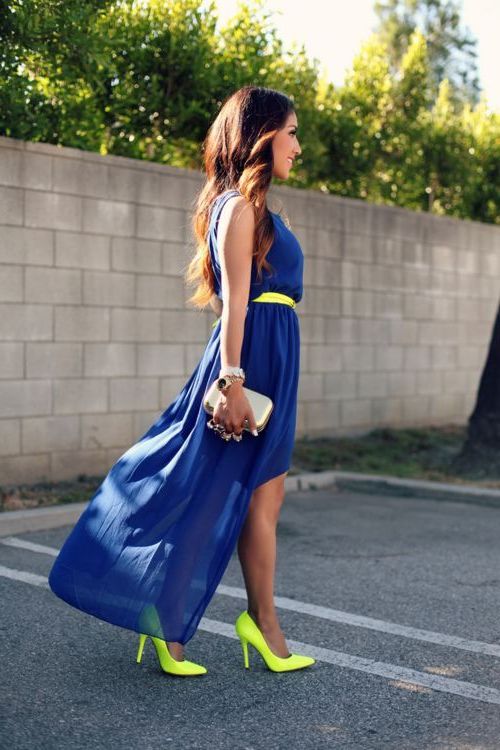 Buy Similar Here
Fluorescent Pink Heels
If you do like to be in the center of everyone's attention, then go and grab these fluorescent hot pink heeled sandals. They do look amazing with cuffed skinny jeans in blue updated with a blush shirt. Update this look with oversized sunglasses and a black leather handbag: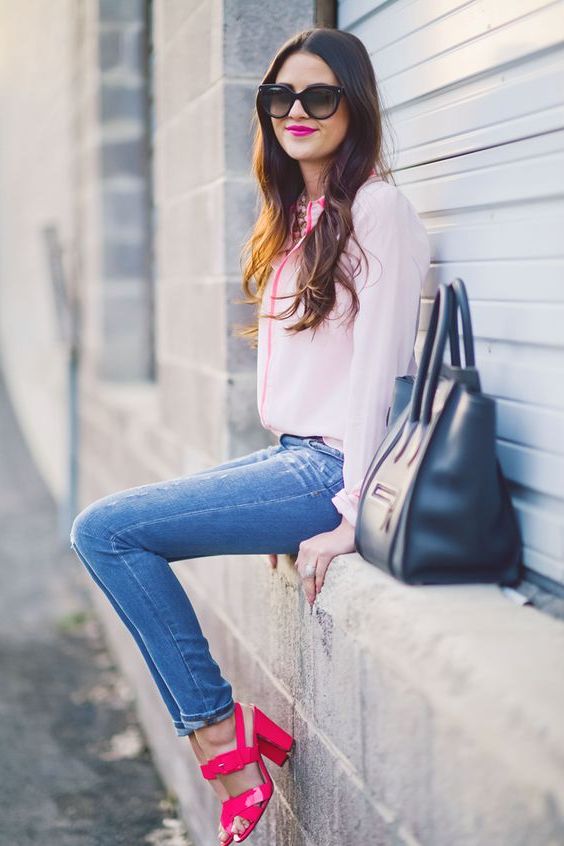 Buy Similar Here
Fluorescent Pink Platform Heels
Another hot look for those ladies who want to make a wow statement. We see a platform heeled sandals in fluorescent pink color styled with hot pink socks, black bicycle shorts, and a pink jacket: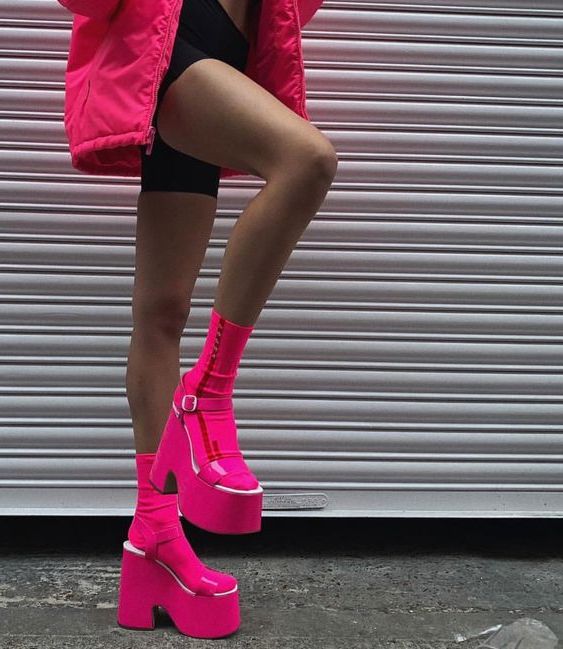 Buy Similar Here
Fluorescent Pink Sandals
A pair of fluorescent pink sandals are styled with a lace pink dress layered under a white blazer: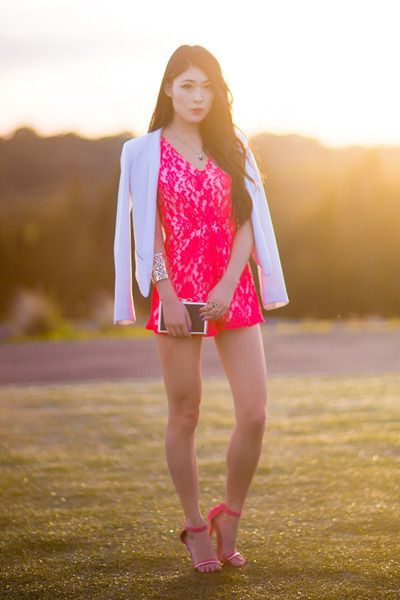 Buy Similar Here
Fluorescent Printed Heels
Snakeskin printed fluorescent heeled sandals in green are worn with a color-blocking white-peach dress and cool aviator sunglasses:
Buy Similar Here
Fluorescent Pumps
If you do like black color, but want to make it appear brighter, then go for fluorescent pumps. We see a young lady wearing a black fit-and-flare top teamed with black leather shorts and yellow heeled pumps in fluorescent yellow color. Complete this combo with fluorescent yellow handbag: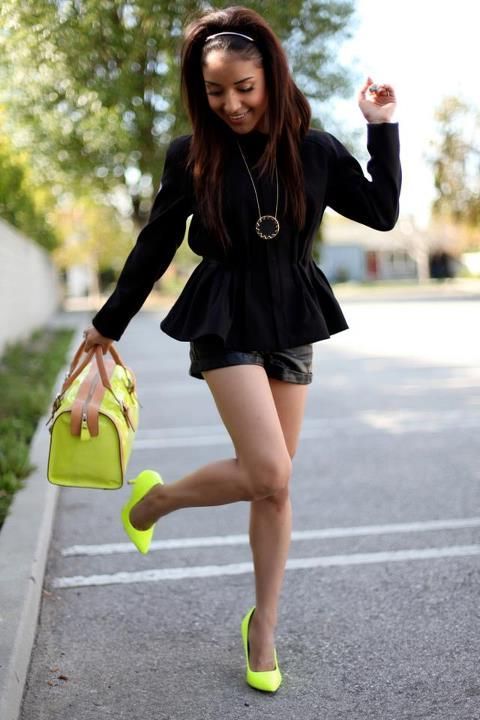 Buy Similar Here
Fluorescent Red Heels
You can even try fluorescent red heels for work. We see them worn with ripped skinny jeans in wash blue, white shirt and a white blazer with black lapels: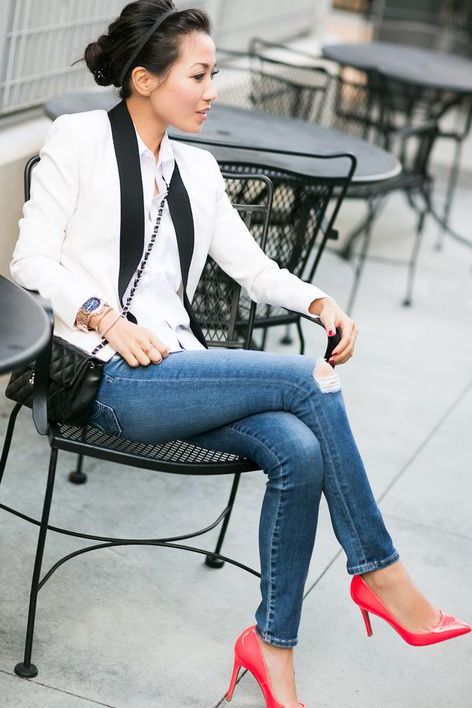 Buy Similar Here
Fluorescent Shoes With Strap
Cuffed Heeled Sandals in fluorescent yellow color are updated with ripped jeans and a printed white t-shirt: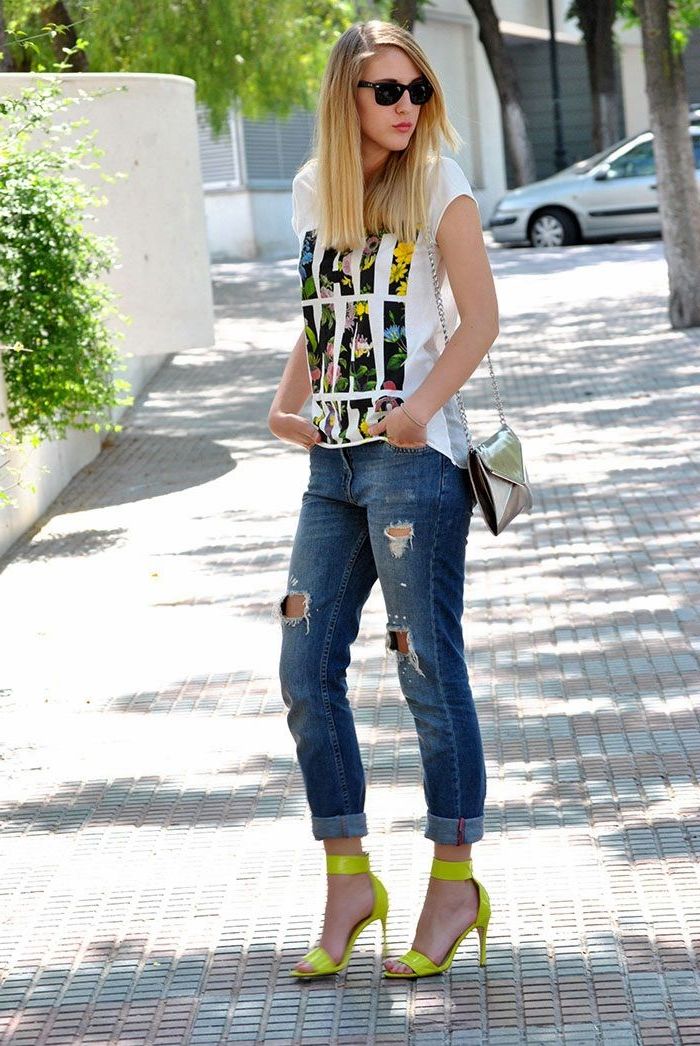 Buy Similar Here
Fluorescent Turquoise Heels
A pair of fluorescent turquoise peep-toe heeled pumps are worn with a mustard-yellow sleeveless dress. An ideal combination for bold women: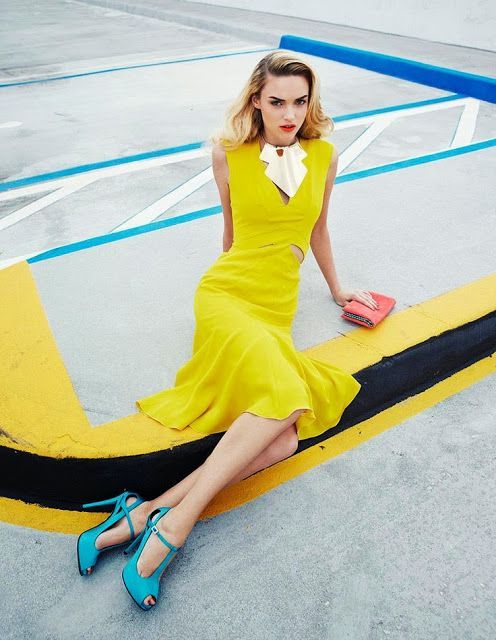 Buy Similar Here
Fluorescent Yellow Chelsea Boots
A pair of fluorescent yellow Chelsea boots are styled with an abstract printed dress and a black track jacket: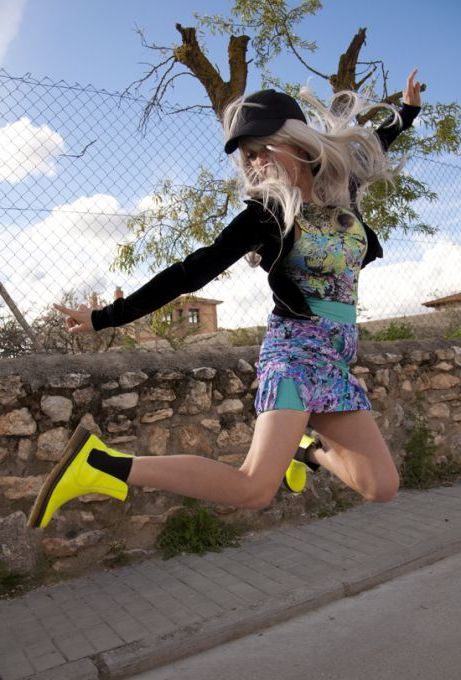 Buy Similar Here
Fluorescent Yellow Heels
I am a big fan of this look! It's so simple and bold! We see a young woman dressed in a white shirt tucked in cream-grey skinny jeans completed with fluorescent yellow heeled pumps. Complete this look with aviator sunglasses with mirrored lenses and a neon yellow shoulder bag: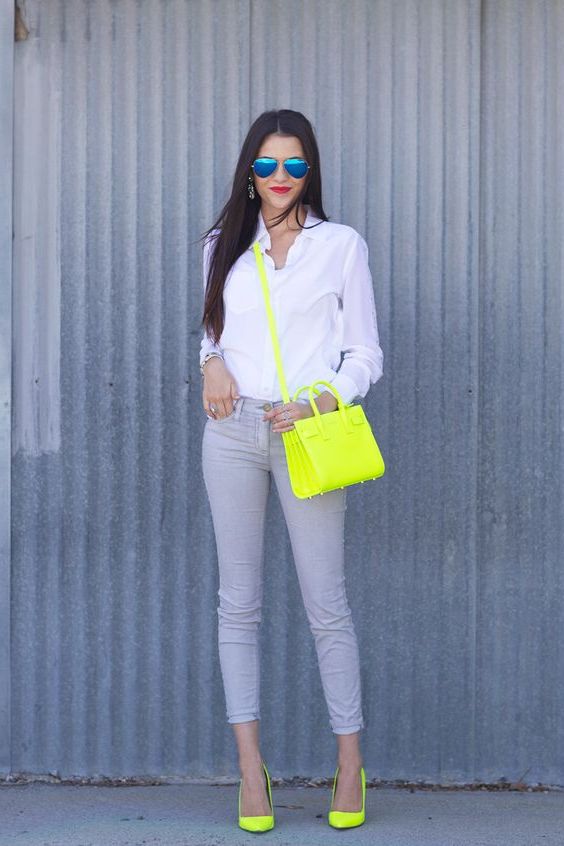 Buy Similar Here
Fluorescent Yellow Running Shoes
A perfect pair of running shoes! We see fluorescent yellow runners styled with black gym capri leggings and a neon yellow dry-fit T-shirt: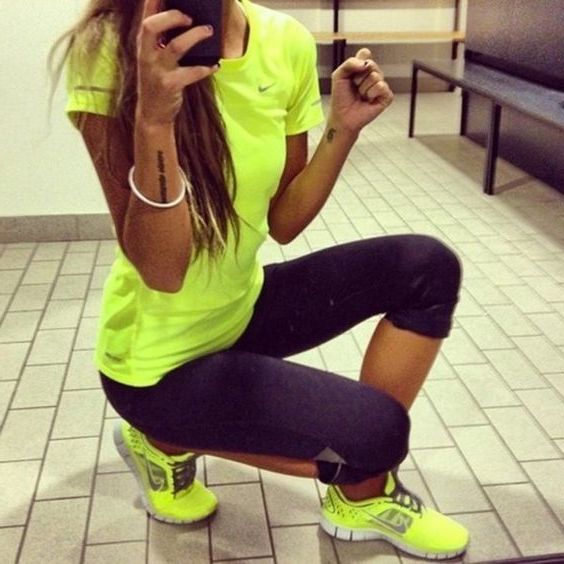 Buy Similar Here