Keep things look chic, sweet and ladylike. I am here today to share with you a stunning compilation of my favorite flat shoes for women to wear this year. You gonna be amazed by the beauty of the showcased footwear designs. This is just a starter's guide, in my next posts, I will explore these footwear designs in details. So you better stay tuned and see what's trending in the shoe world right now.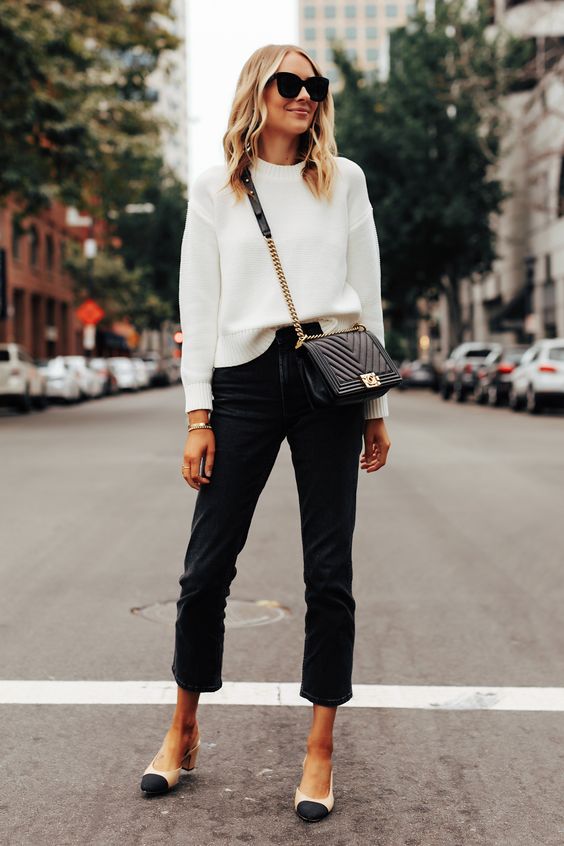 Buy Similar Here
We see a color-blocking pair of pumps in white and black styled with cropped black jeans and a bright white sweater. The outfit is completed with oversized sunglasses and a black leather shoulder bag.
I recommend to keep things relaxed and take a break from your heels. Flats are the most comfortable spring footwear that can be worn during casual street walks, as well as on special occasions. You should try on these flats. Read on to see my favorite street style looks.
Pointed toe red velour flat pumps are teamed with slim jeans in blue and a red cable-knit sweater, complete it with a red leather shoulder bag. A perfect style for street style walks: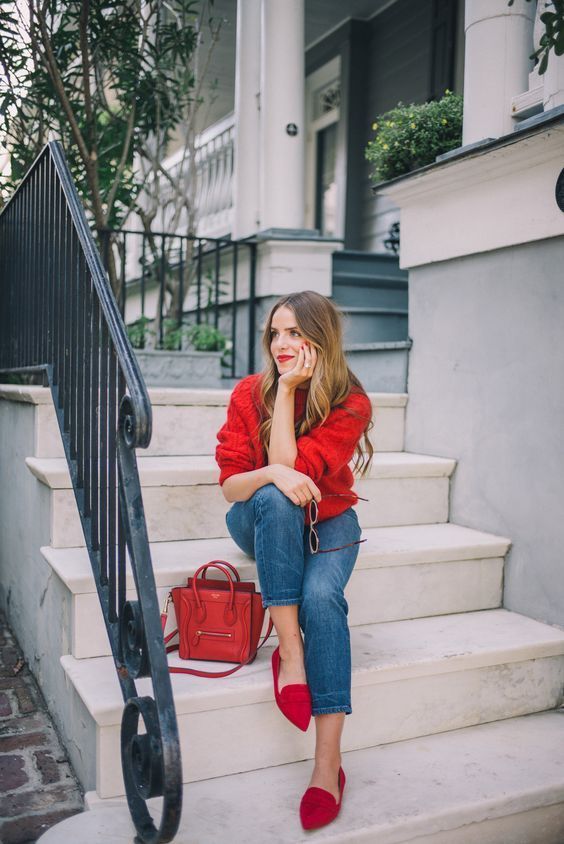 Buy Similar Here
Of course, there are different styles of flats, starting from loafers, gladiators, sandals, oxfords, ballet pumps, slip-on shoes, and brogues. All these shoes can be combined in so many different ways. This footwear can be worn with casual outfits, as well as dressy separates and dresses.
A printed blue shirt is tucked in navy-blue pants completed with blush leather flat pumps: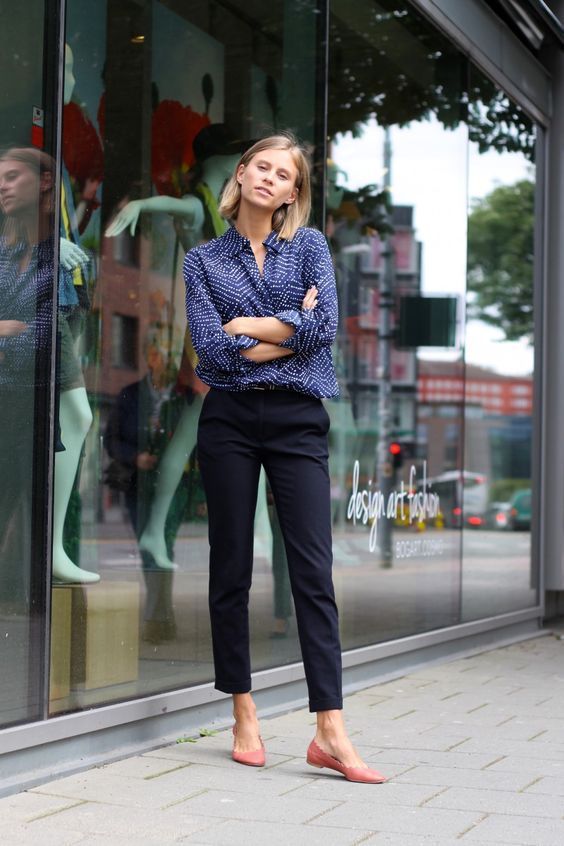 Buy Similar Here
Below are shown my favorite street style looks of women who wear these flats in their everyday lives. You can see ladies who appear on the streets wearing velvet loafers styled with ripped jeans, blush dresses completed with girlish flat shoes, high-waisted skirts completed with Oxfords, etc.
Pastel blue D'Orsay flats look damn chic with skinny jeans and a silken white blouse, complete this look with a suede beige shoulder clutch bag: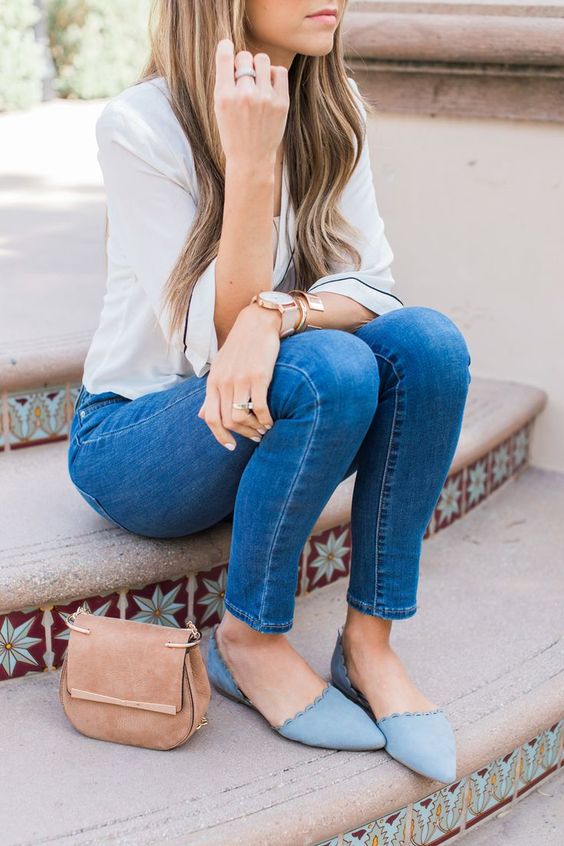 Buy Similar Here
Anyway, I gathered my favorite combos that will surely inspire you to create your favorite look for your next weekend. I highly recommend to buy yourself at least one pair of flats. You never know when you gonna need them, but this day will come for sure. Take a look at the pictures below and choose your favorites.
How To Wear Ballet Flats In Winter
Ballet flats are not meant for winter wear, but if you live in New York, then chances you might wear flats during wintertime grow rapidly. Here we see leopard print flat ballet pumps styled with cuffed camel pants teamed with a green shirt and a windowpane printed camel coat. Complete this combo with leopard print gloves and cat-eye sunglasses: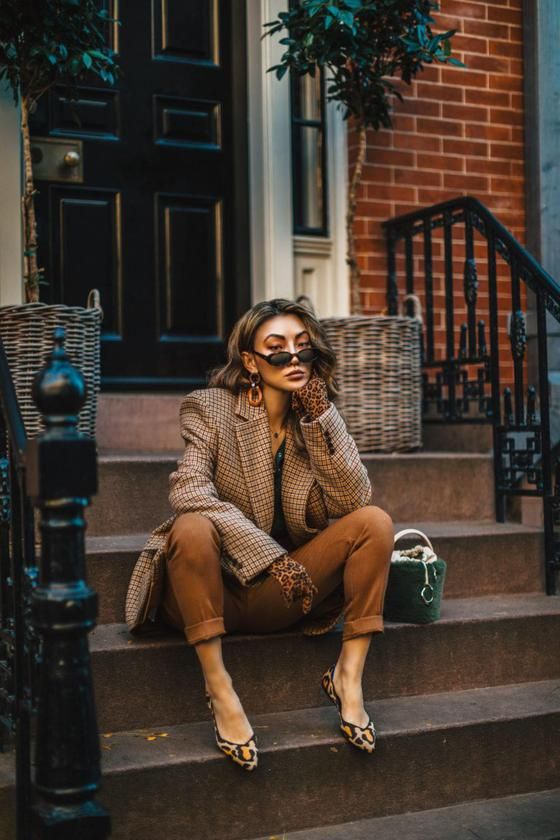 Buy Similar Here
Ballet Flats In fall
Well, the fall season is a good time to wear ballet flats. Here we see a good example, a pair of black suede ballet flats are teamed with a light brown dress completed with an oversized black blazer:
Buy Similar Here
Ballet Flats During summer
Brown leather ballet flats look damn good with washed blue denim shorts and a wrap pinstripe blouse, complete this combo with rounded sunglasses and a white leather bucket bag: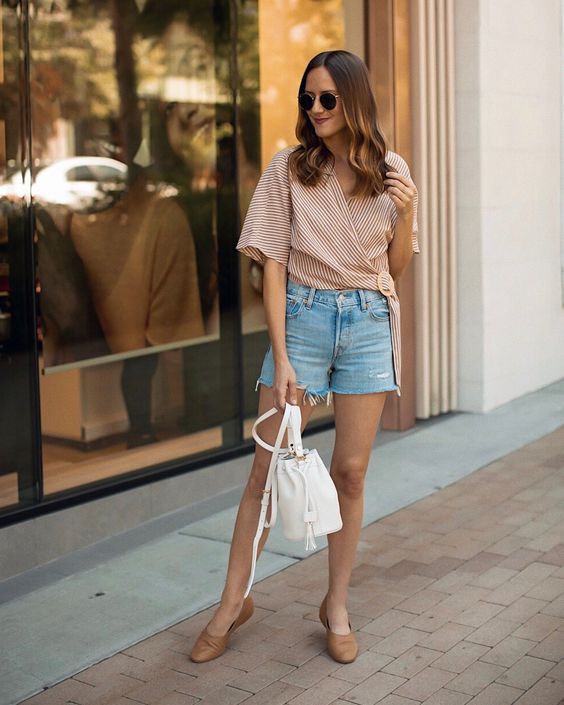 Buy Similar Here
Ballet Flats During spring
Another great time of the year to wear ballet flats is considered to be the Springtime. Here we see a lightweight look that features light brown leather ballet flats styled with A-line white skirt and a light blue shirt: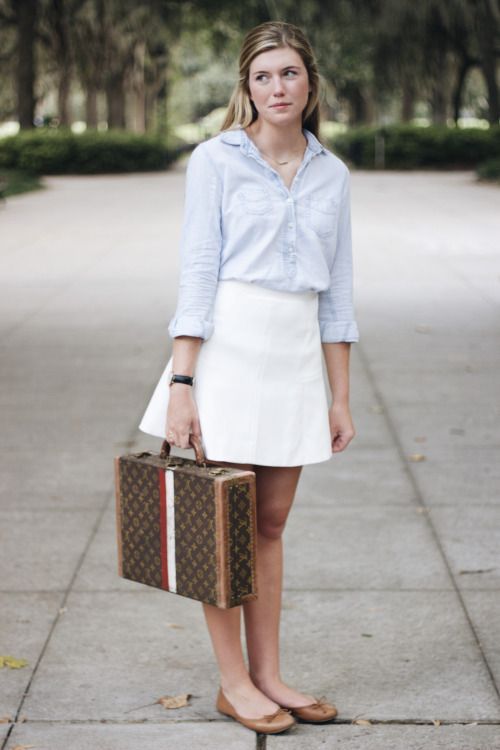 Buy Similar Here
Ballet Flats With jeans
Every hipster girl dreams of such a look! We see a pair of black flat ballet pumps teamed with ripped straight-leg jeans in blue completed with a black turtleneck. Add a pair of clear rounded eye-glasses and a chain strap black leather bag:
Buy Similar Here
Ballet Flats With a dress
A printed black dress for summer looks classy and vintage-inspired. Complete it with a pair of black leather flat pumps: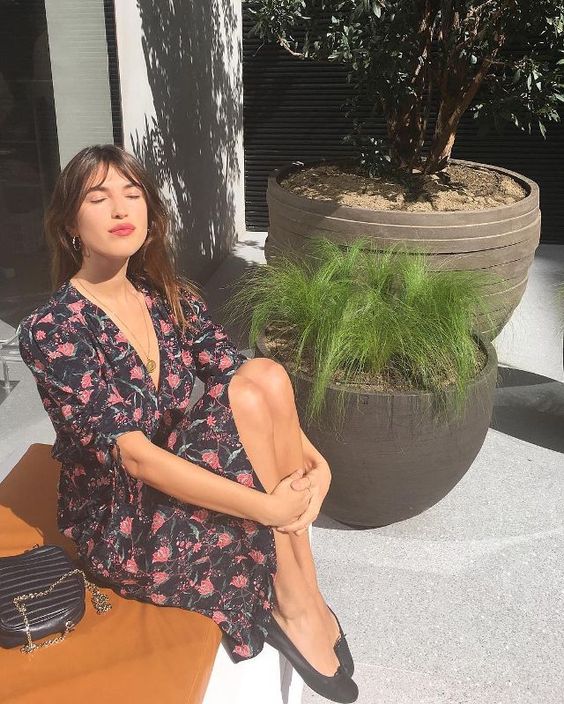 Buy Similar Here
Ballet Flats For work
By the way, ballet flats can work in the office too! Go for black-beige colored ballet flats and style them with black skinny jeans and a beige sweater with black stripes: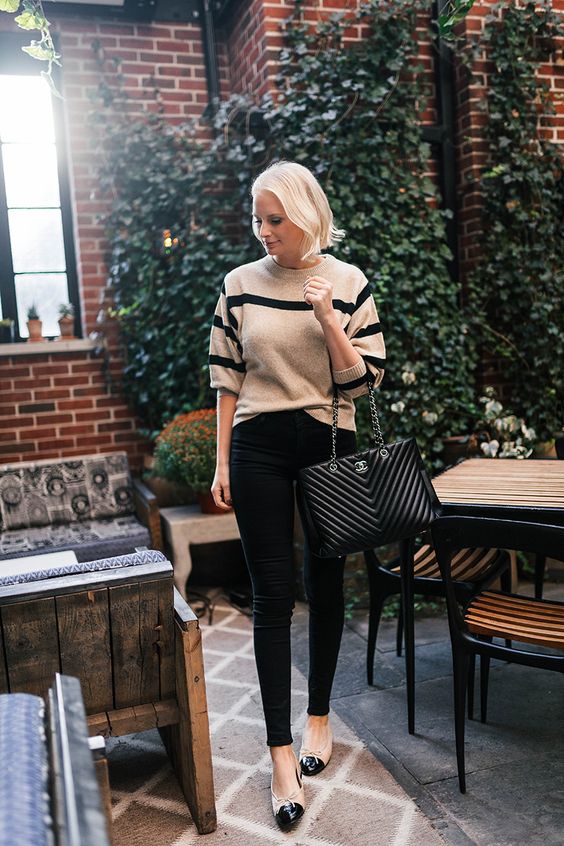 Buy Similar Here
D'Orsay Flats With Jeans
My personal favorites are D'Orsay flats! They are gorgeous and retro-inspired. Try these plaid print styles with cuffed jeans in blue, V-neck spaghetti-strap slip top and a grey wool jacket: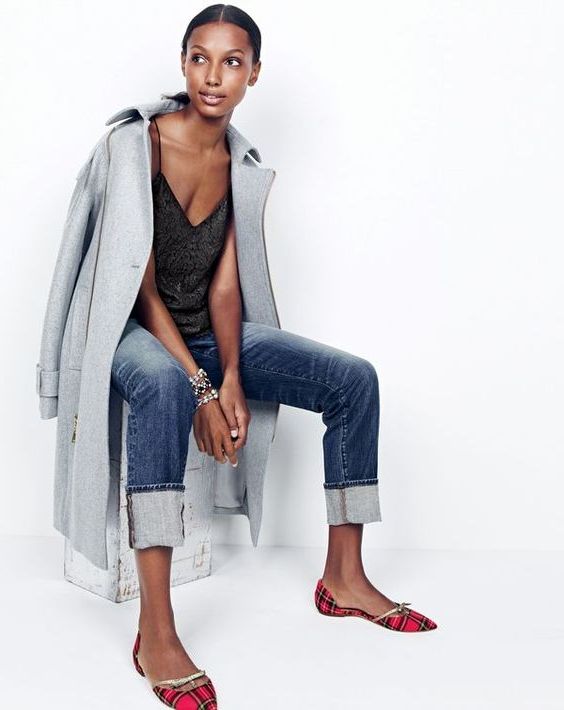 Buy Similar Here
Mary Jane Flats
If you are looking for something sweet and simple then go for a pair of Mary Jane flats. We see beautiful silver sequined shoes styled with blush pants and a turtleneck sweater. Love these cool rounded shades: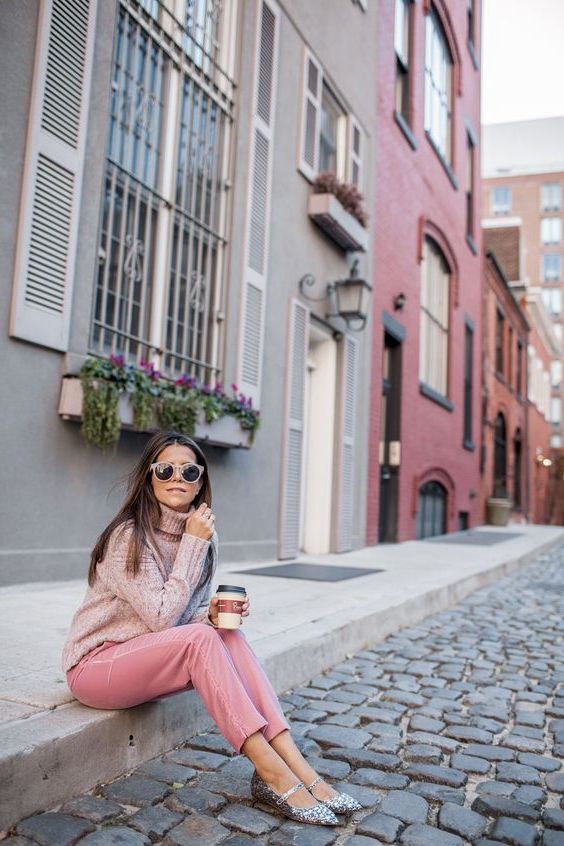 Buy Similar Here
Espadrilles For Summer
If you do like original footwear, then go for espadrilles. We see a good example of how to wear them during the summertime. Here a young lady is wearing ankle strap black espadrilles with black denim shorts and off-shoulder black blouse. The outfit is completed with a straw wide-brim hat and a straw tote bag: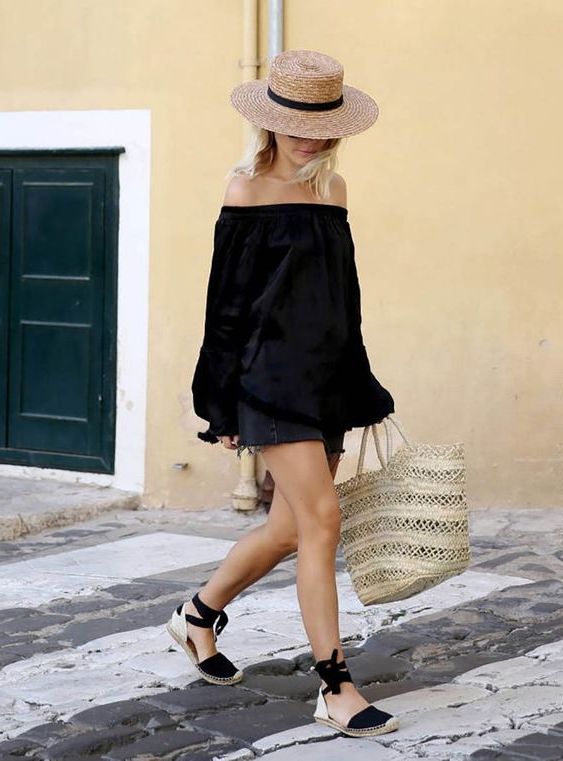 Buy Similar Here
Espadrilles In Fall
You can try on espadrilles during the Autumn season months. Here we see black lace-up slip-on espadrilles worn with khaki joggers and a black T-shirt: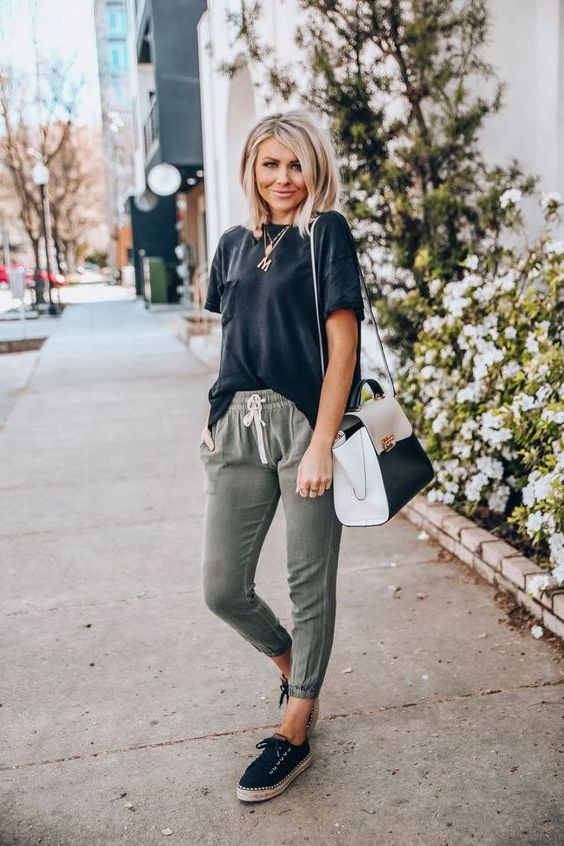 Buy Similar Here
Espadrilles in Winter
Black leather espadrilles can work for Winter too. Here we see a heavy outfit that features a pom-pom knitted beanie in black color, heavy coat in black, a wool cardigan in grey, black leather skinny pants and rounded sunglasses:
Buy Similar Here
Espadrilles With Jeans
Black espadrilles look pretty chic teamed with ripped cuffed boyfriend jeans in wash blue completed with a black turtleneck and a navy-blue coat. Update this combo by adding a pair of aviator sunglasses: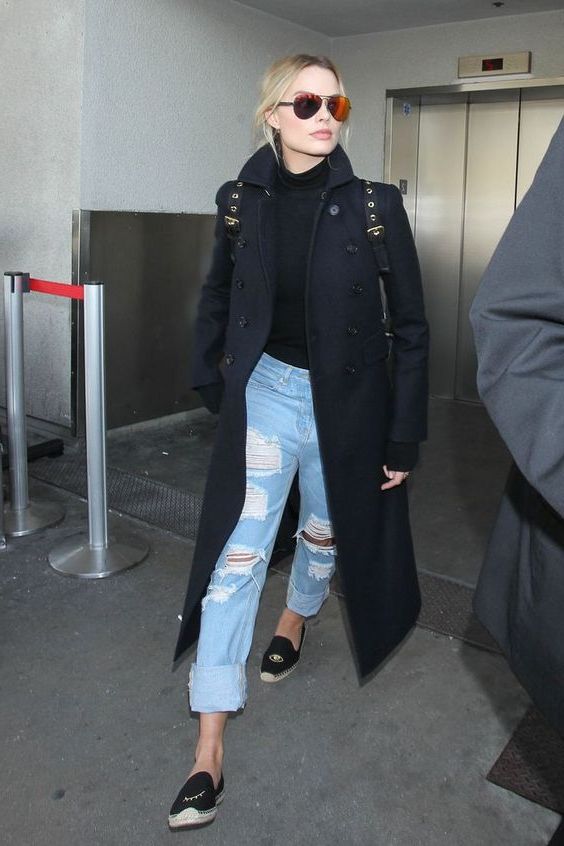 Buy Similar Here
Espadrilles With A Dress
Another magnificent look for young ladies. We see a striped white V-neck casual dress updated with floral print blue espadrilles and a beige cotton shopper bag: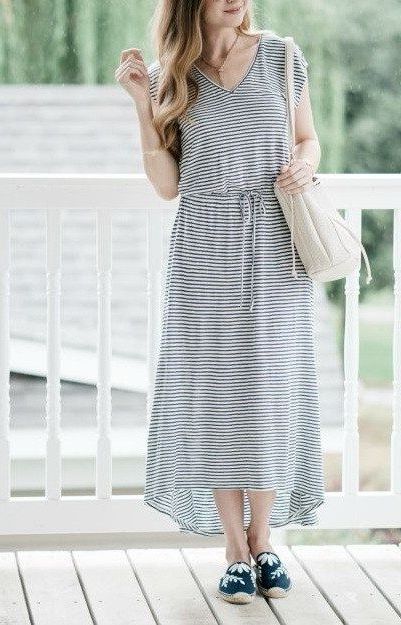 Buy Similar Here
Espadrilles For Work
A pair of beige espadrilles with black toes are ideal for working hours at the office. Here we see a young woman dressed in a navy blazer layered over a white tee half-tucked in black skinny jeans update this combo with a white wide-brim straw hat: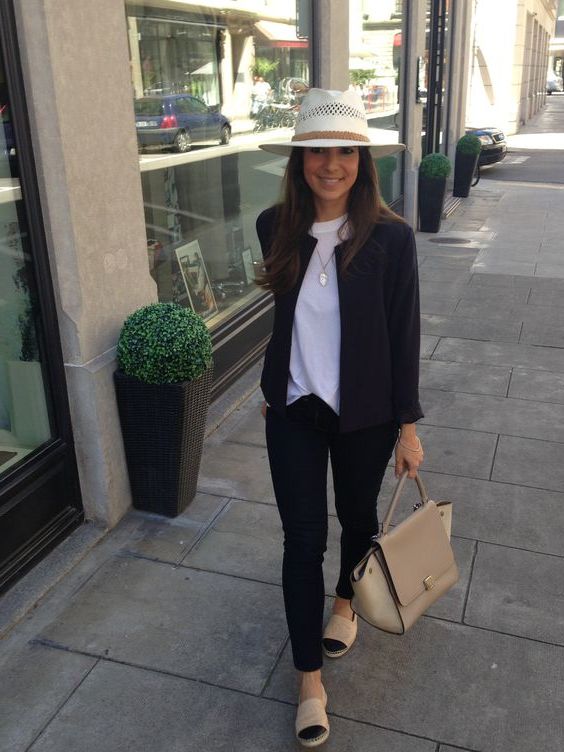 Buy Similar Here
Oxfords For Winter
Did you know that Oxfords can be worn during Wintertime? Here we see a layered look that features a plaid grey coat, black turtleneck sweater, black skinnies, and glossy leather Oxfords shoes. Anyway, if you are looking for a full guide on how to wear Oxfords for women, then check my blog post, there are easy ways how to create a fabulous outfit with this footwear: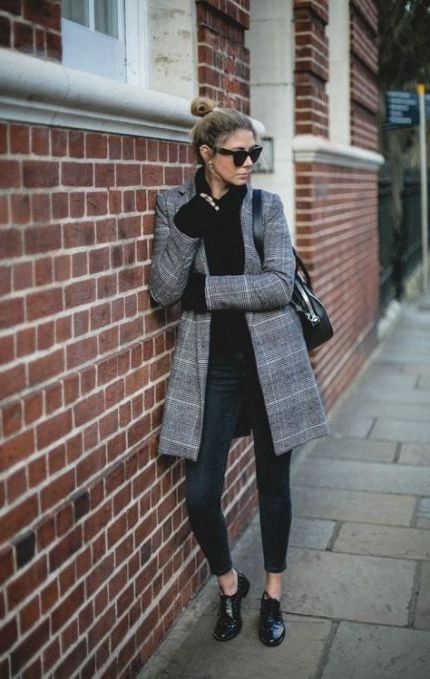 Buy Similar Here
Oxfords For Fall
If you find Oxfords too cold for winter, then try them on during Fall season months. Here we see a pair of brown Oxfords shoes styled with a blue sweater and navy blue skinny jeans: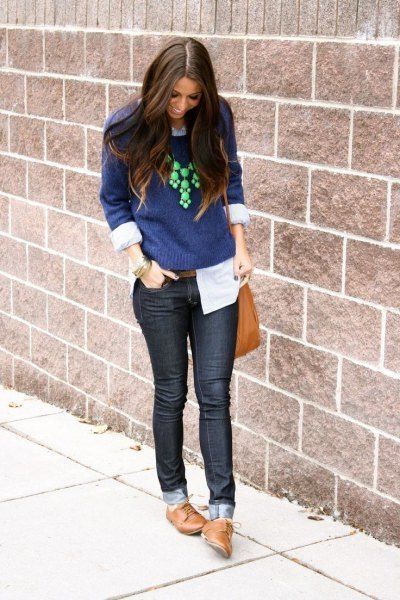 Buy Similar Here
Oxfords For Summer
A great time for Oxford's is summer. Here we see a grey colored pair with neon green laces and soles. Try them on with blush skinny jeans, white tank top, and a cream grey cardigan. In love with these tortoise sunglasses: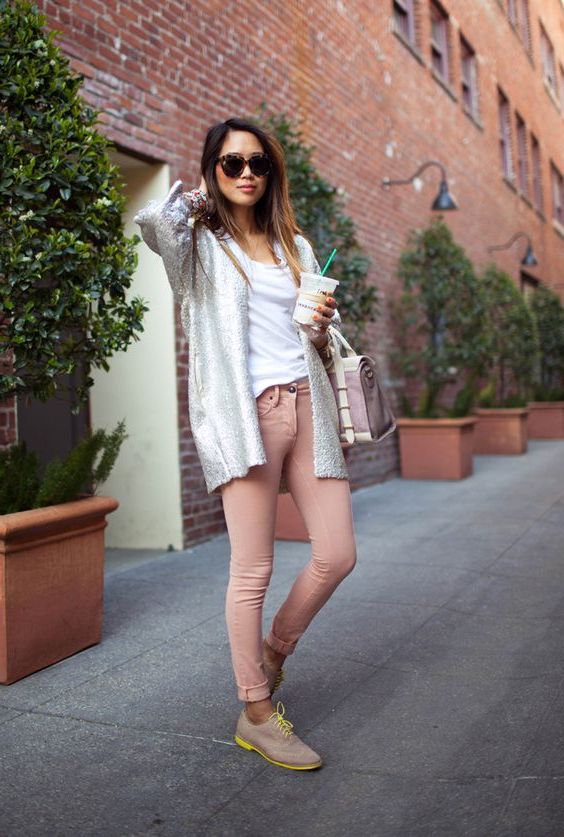 Buy Similar Here
Oxfords For Work
Yes, the great place to show-off your Tomboy style is office. Here we see a pair of brown leather Oxfords worn with black pants, black-white striped top, and a beige wool coat: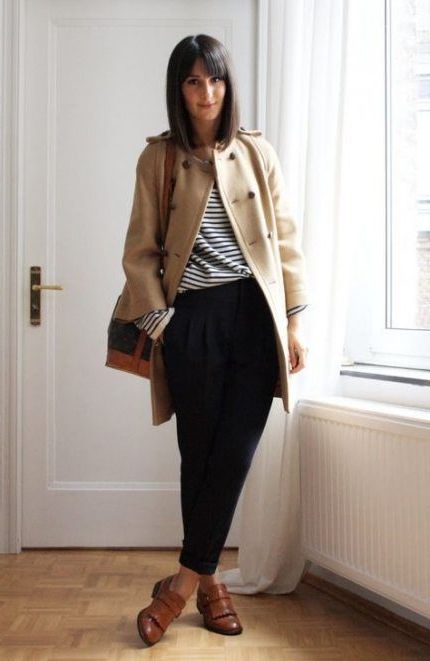 Buy Similar Here
Oxfords With A Dress
Oxfords in white color look fabulous with this navy blue sleeveless shirtdress completed with a brown leather handbag: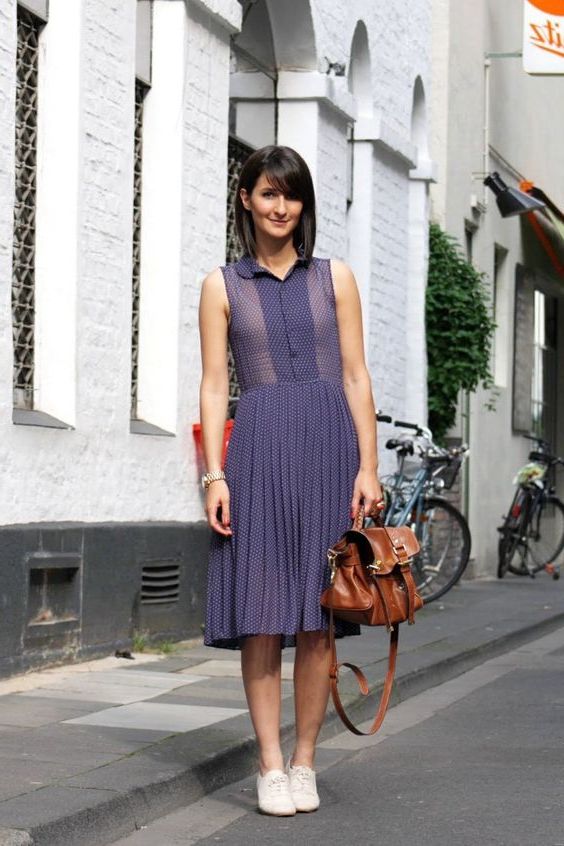 Buy Similar Here
Oxfords With Jeans
A pair of glossy black leather Oxfords are styled with charcoal skinny jeans, heavy black wool turtleneck and a plaid coat, complete this look with oversized sunglasses and a black leather handbag: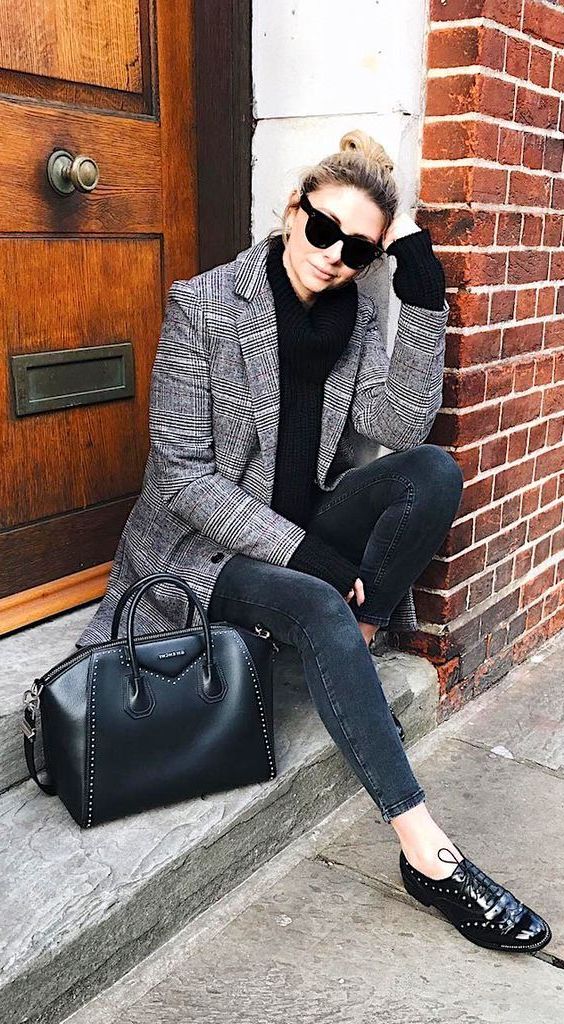 Buy Similar Here
Oxfords With A Skirt
A pair of vintage brown leather Oxfords look fabulous with a khaki green midi skirt cinched at the waist with a brown leather belt and a floral white tunic top: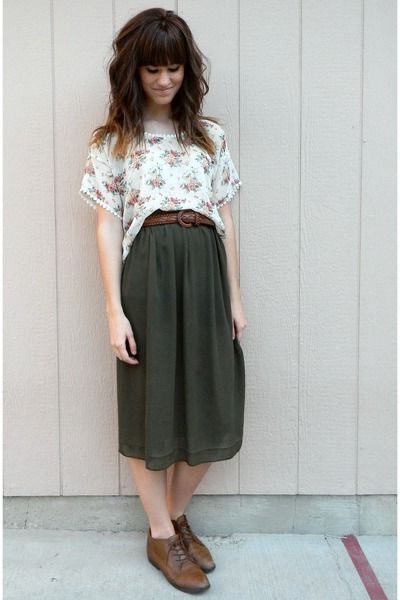 Buy Similar Here
Brogues For Summer
I love brogues for their special Tomboy look. Here we see a pair of cream-white brogues styled with slim mid-rise jeans in wash blue updated with a plaid shirt: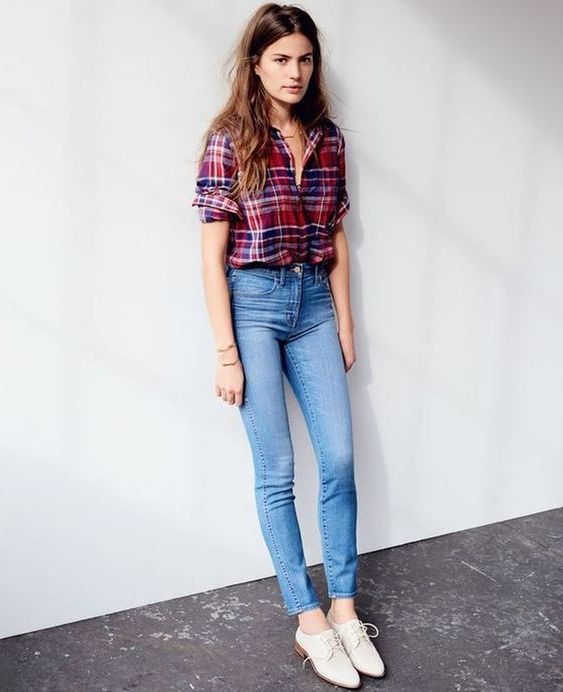 Buy Similar Here
Brogues For Winter
Did you know that brogues can be worn during cold winter months? Here we see a dark green pair of brogues worn with black skinny jeans, a black top, and a brocade print suit jacket: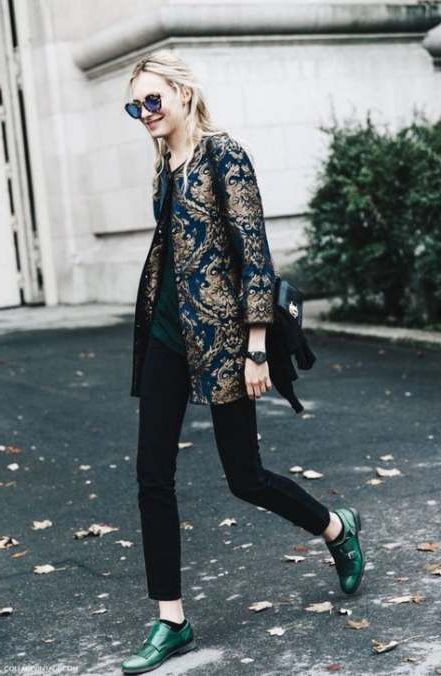 Buy Similar Here
Brogues With A Skirt
Another brown colored leather brogues look classy and chic thanks to this bright yellow floral printed midi skirt completed with a light blue short-sleeve blouse and mirrored cat-eye sunglasses: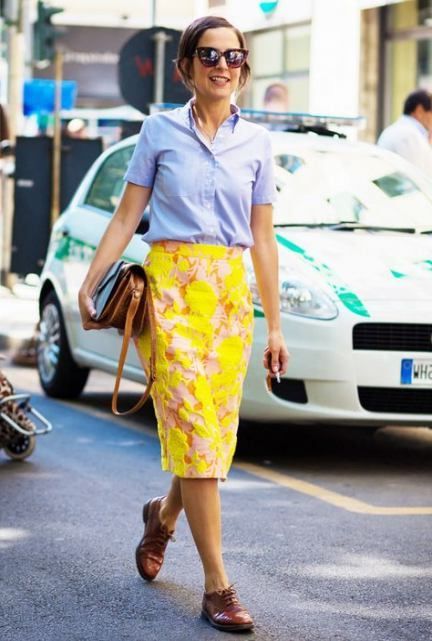 Buy Similar Here
Brogues With A Dress
Color-blocking brogues ideally match this pastel printed shirt-dress completed with a burgundy leather shoulder bag: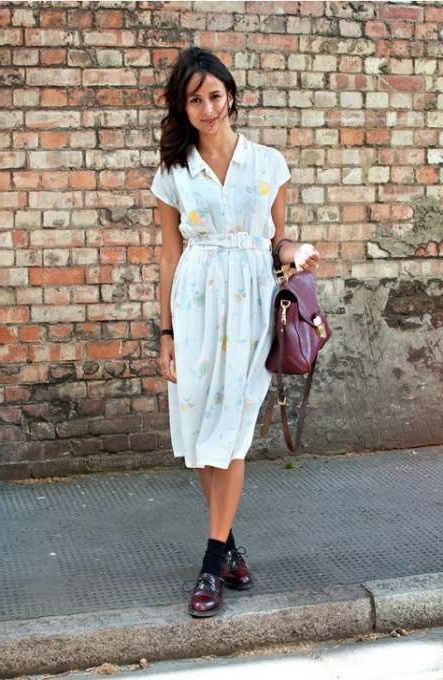 Buy Similar Here
Brogues With Jeans
Another classic pair of brown leather brogues are worn with ripped boyfriend jeans, white tee, and a black blazer: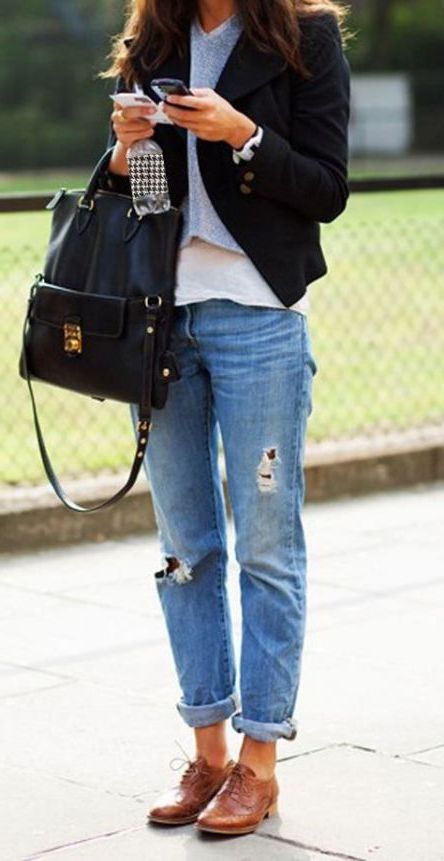 Buy Similar Here
Monk Shoes With Jeans
If you are into vintage style and mannish appearance, then try on monk shoes in classic black leather look. They will be ideally accompanied to charcoal skinny jeans, black tank top, and a long camel coat: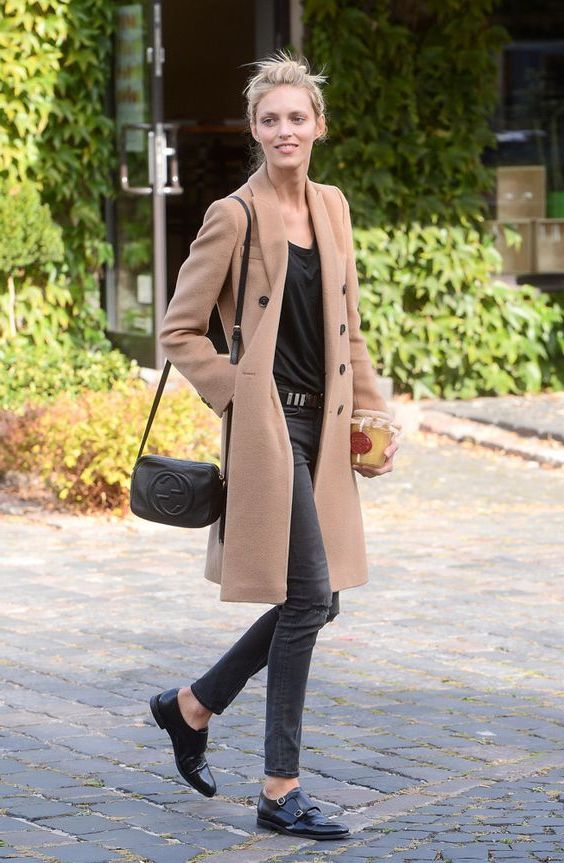 Buy Similar Here
Monk Shoes Outfit Ideas
Yes, I am a big fan of monk shoes, that's why I decided to share with you my other two favorite looks you might give a try this year. First one is a purple printed sweater layered under a black coat and teamed with navy pants and black leather monk shoes: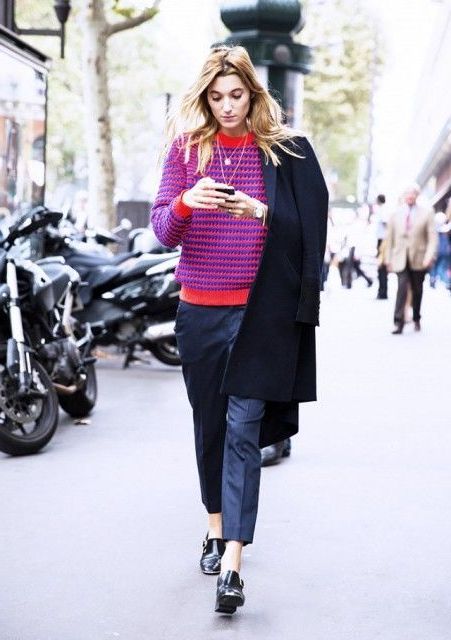 Buy Similar Here
Another pair of black leather monk shoes are worn with black coated skinny jeans and maroon-black striped sweater. Add some British chic flair by adding a black bowl hat and rounded sunglasses: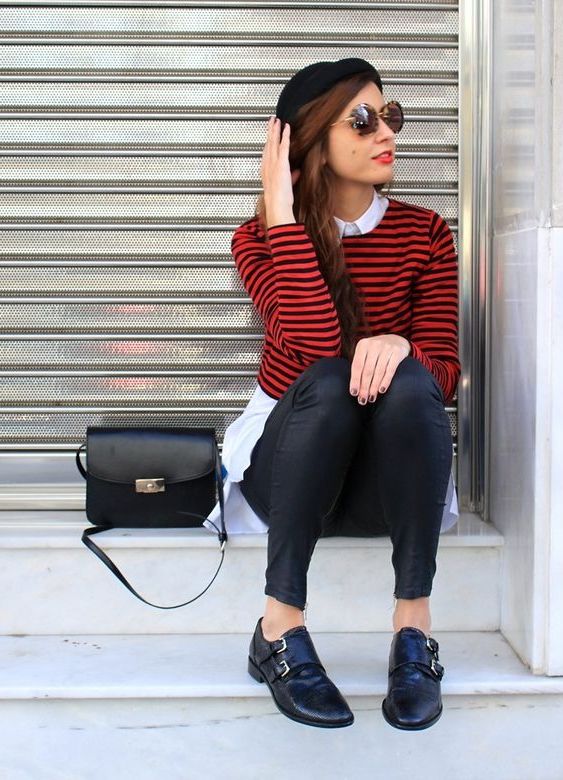 Buy Similar Here
Slip-On Shoes Summer
Now it's time to speak about casual footwear. We see slip-on shoes and I love them for functionality. Here we see a black top with spaghetti straps tucked in ripped slim jeans completed with black leather slip-on shoes with white soles. If you want to know more about this footwear, then you better check out my post on ways how to wear slip-on shoes for women, I showed lots of inspiring ideas you can easily copy in real life: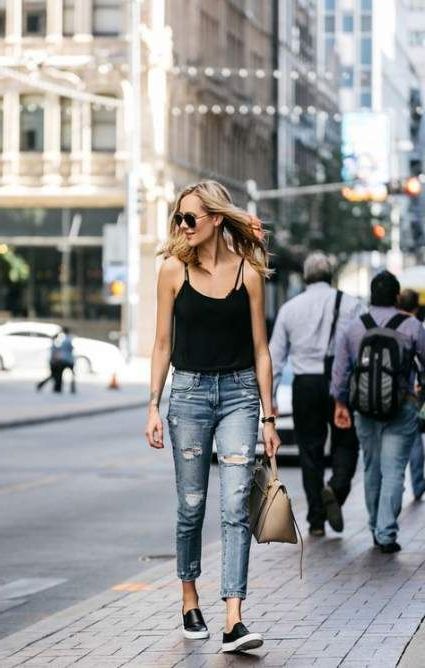 Buy Similar Here
Slip Ons This Winter
Go for a double leather look! We see a perfect combo for edgy style ladies. A black leather jacket ideally matches black heavy scarf in wool, grey top and black leather slouchy pants completed with grey wool socks and black slip-on shoes: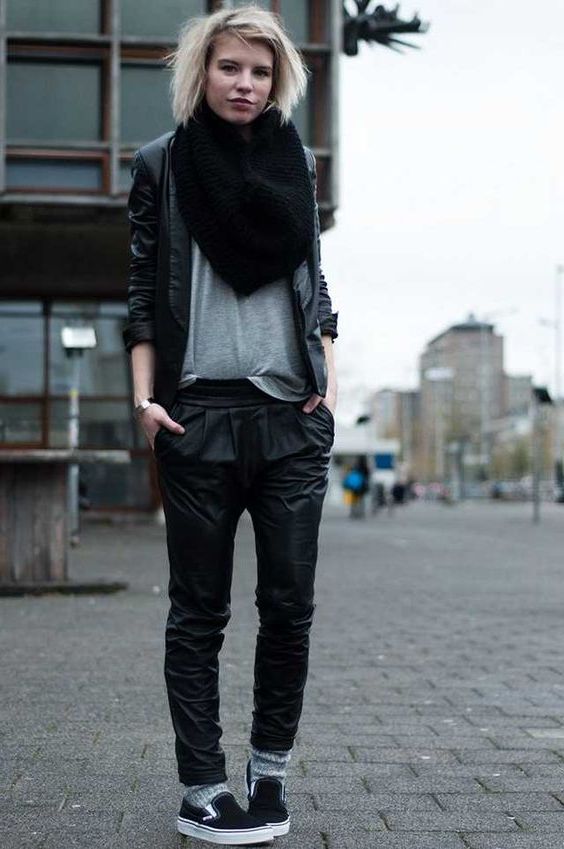 Buy Similar Here
Slip-On Shoes For Work
Navy-black slip-on shoes with white soles look pretty chic worn with wash blue ankle jeans, cream-white sweater, and a dark blue wool coat: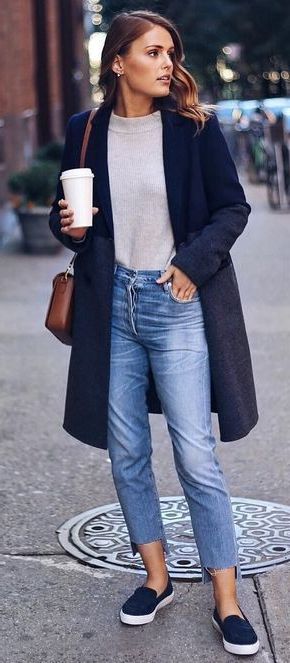 Buy Similar Here
Slip-On Shoes And Jeans
Another casual style combination for weekends. We see a grey wool cardigan layered over a white tee tucked in knee-ripped slim blue jeans completed with grey slip-on shoes: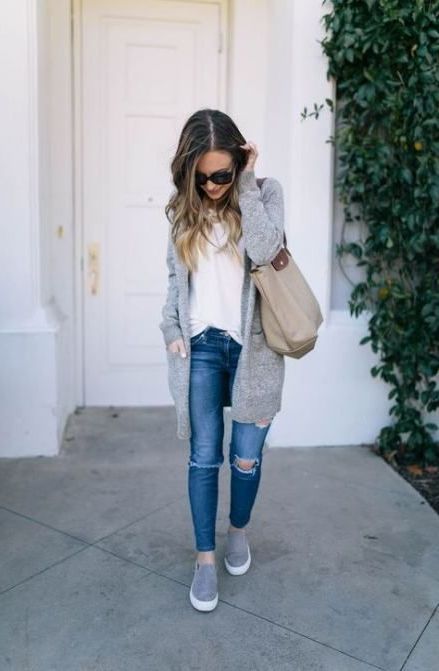 Buy Similar Here
Slip-On Shoes And A Dress
We see checkered slip-on shoes worn with a charcoal silken midi slipdress covered with a black leather jacket: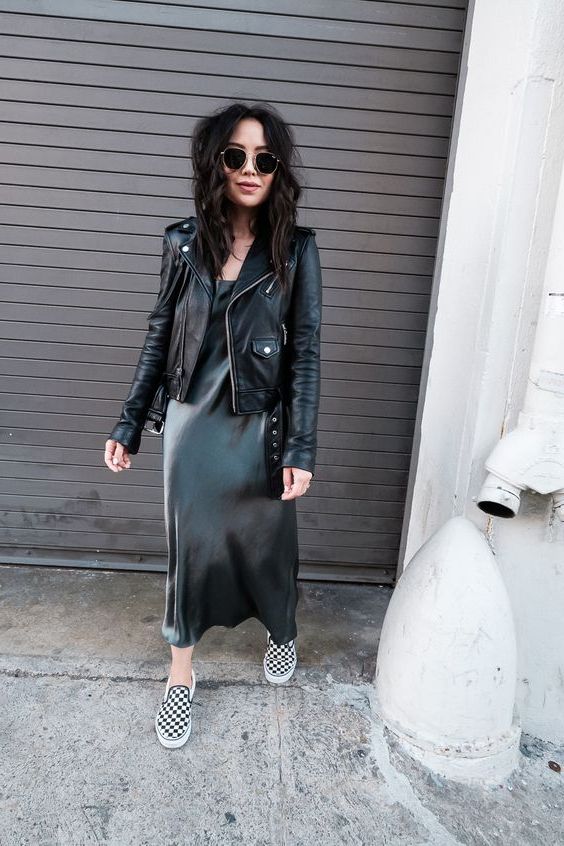 Buy Similar Here
Slip Ons And Shorts
Slip-On shoes are considered to be very comfortable and easy to style shoes. We see a pair of black slip-on shoes worn with denim shorts, a white tee, and a black blazer: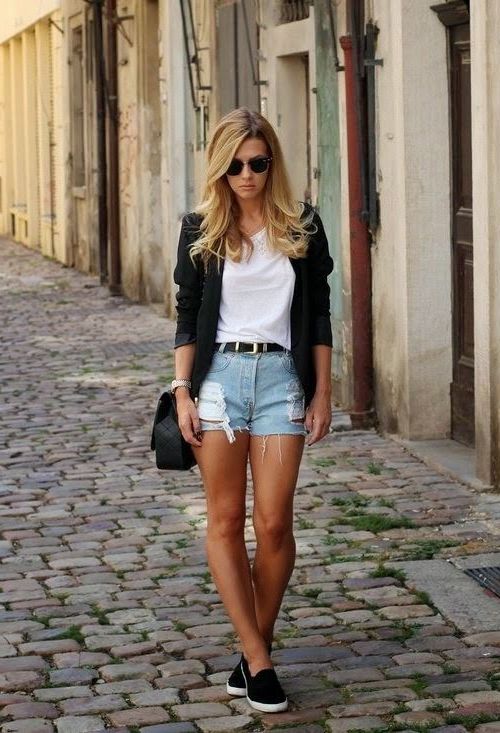 Buy Similar Here
Slip Ons And Leggings
Grey slip-on shoes look fabulous with black sporty leggings, grey tee, and a dark green camouflage suede jacket. Complete this outfit with aviator sunglasses and a tote bag: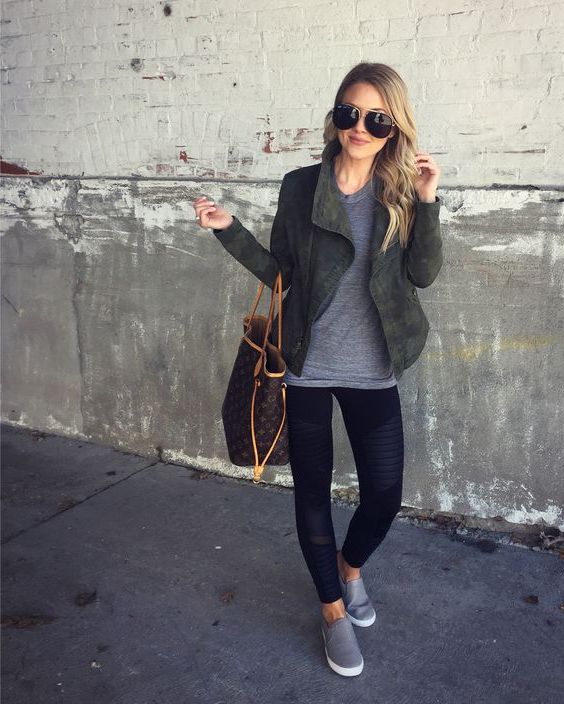 Buy Similar Here
Sneakers In Winter
Now it's time to talk about sneakers. They might be my favorite type of shoes, as they come in millions of cool designs. By the way, I've made a post on the best outfits with sneakers for women, so I highly recommend to check them out. Anyway, sneakers are versatile and can be worn during warm and cold season months. Here we see a good example on how to wear chunky ugly sneakers in white with knee-ripped jeans in blue and a black hoodie layered under a camel coat during wintertime: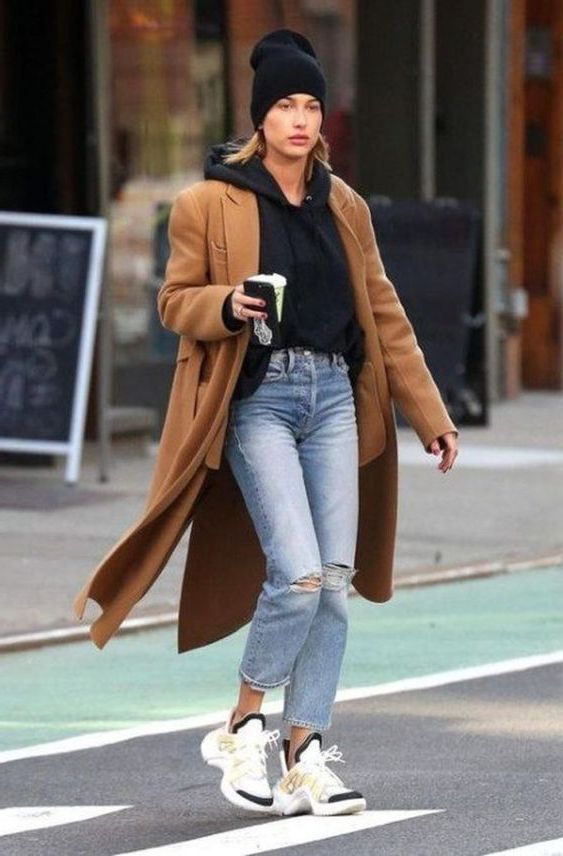 Buy Similar Here
Sneakers In Summer
How about wearing ugly sneakers in cream white with leopard print midi skirt and a graphic print black tee during Summer months: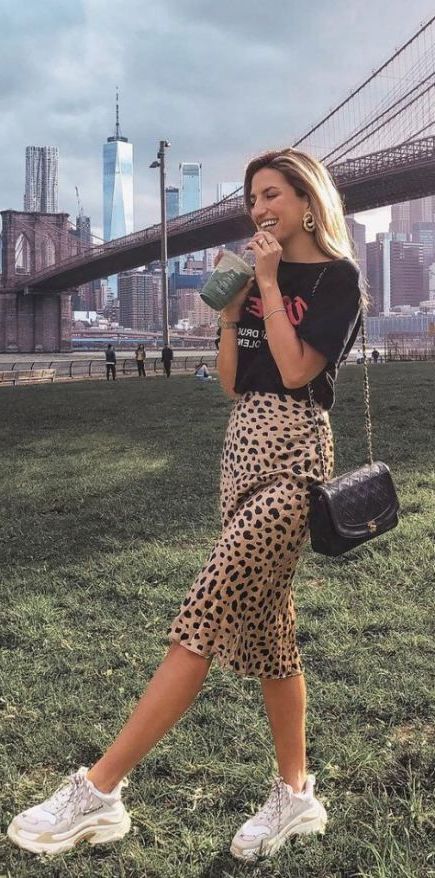 Buy Similar Here
Sneakers At Work
A pair of black sneakers look damn cool with cuffed blue jeans, a white sweater, and a grey blazer. A nice outfit idea for office hours. By the way, I highly recommend to check my post on ways how to wear black sneakers, you will easily find lots of chic OOTD: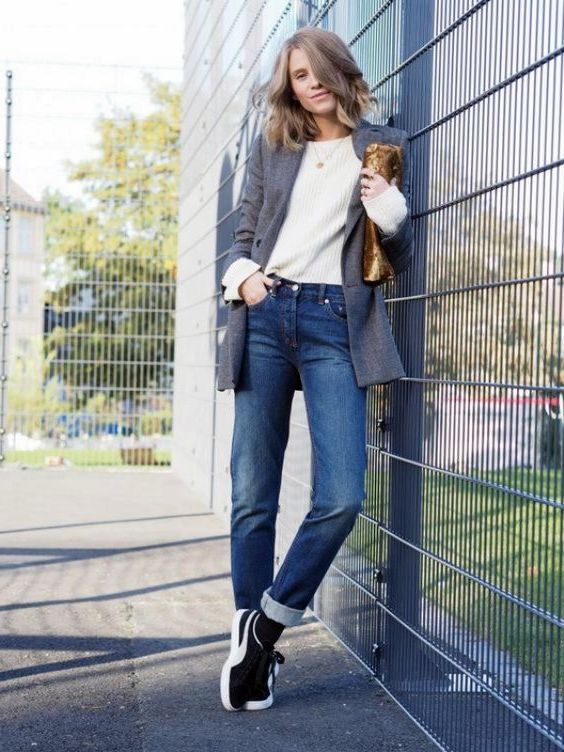 Buy Similar Here
Sneakers With Dress
A cherry printed black dress will be a nice choice to wear with white sneakers: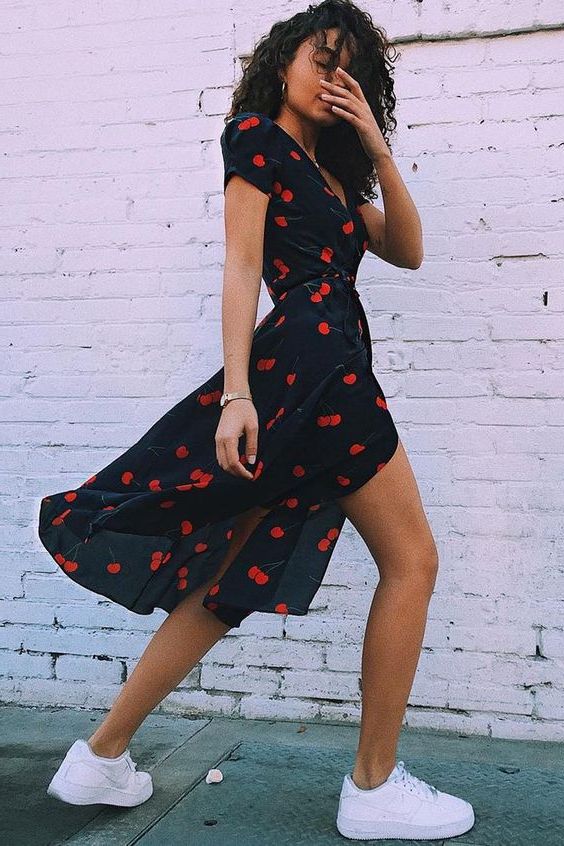 Buy Similar Here
Sneakers With Jeans
Here we see white chunky sneakers styled with flared wash blue jeans and a black crop top, complete this style by adding cool 1990 style sunglasses and a chain strap black clutch bag: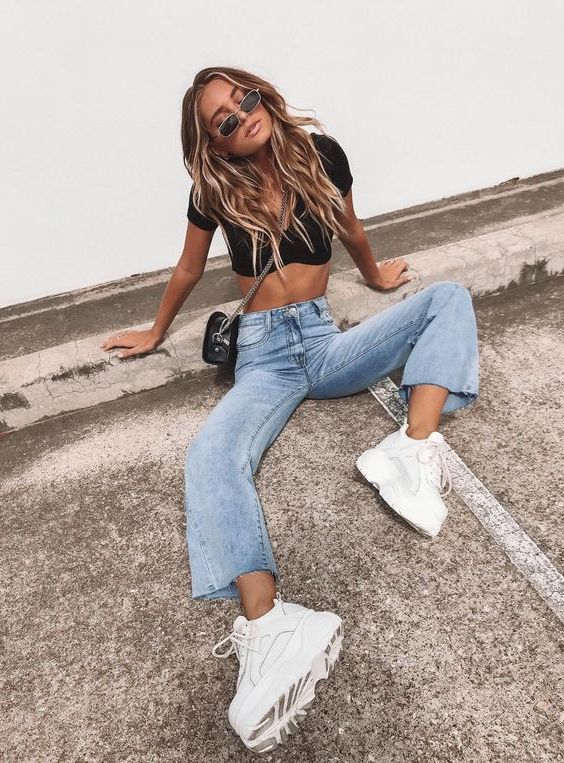 Buy Similar Here
Sneakers And A Skirt
A skirt and sneakers combination is pretty popular right now! Here we see a pair of sneakers worn with a peach knife-pleated midi skirt and a white turtleneck. I do love this combination, that's why I have made a post about sneakers and pleated skirts combination: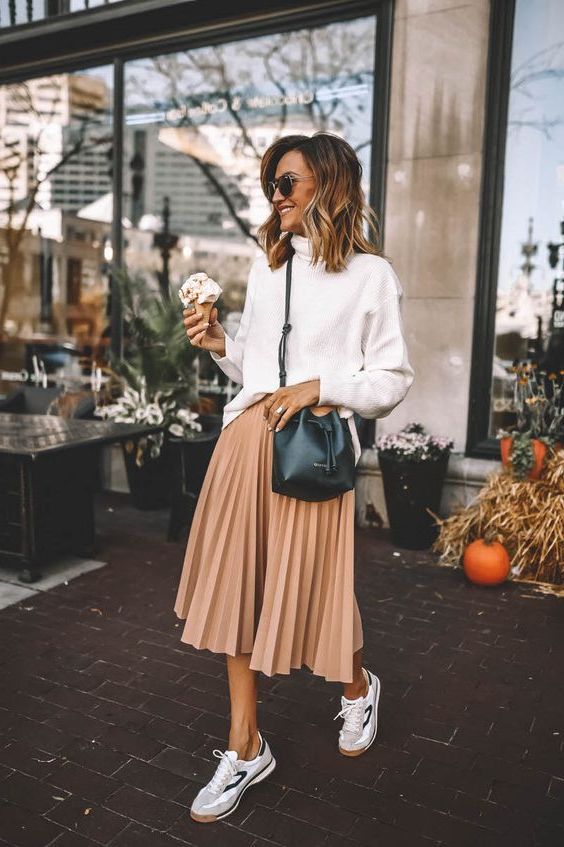 Buy Similar Here
Moccasins During Fall
Brown leather moccasins ideally suit dark color jeggings, white shirt, and a camel wool cardigan: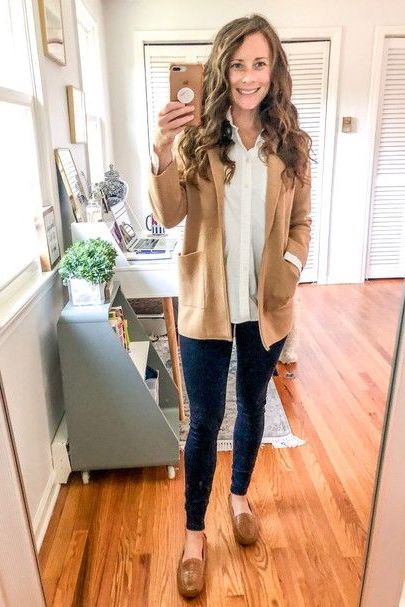 Buy Similar Here
Moccasins This Winter
Black leather moccasins look fresh and purchased not so long time ago. We see black leather moccasins worn with plaid print grey pants, white turtleneck sweater and lieutenant's cap in black color: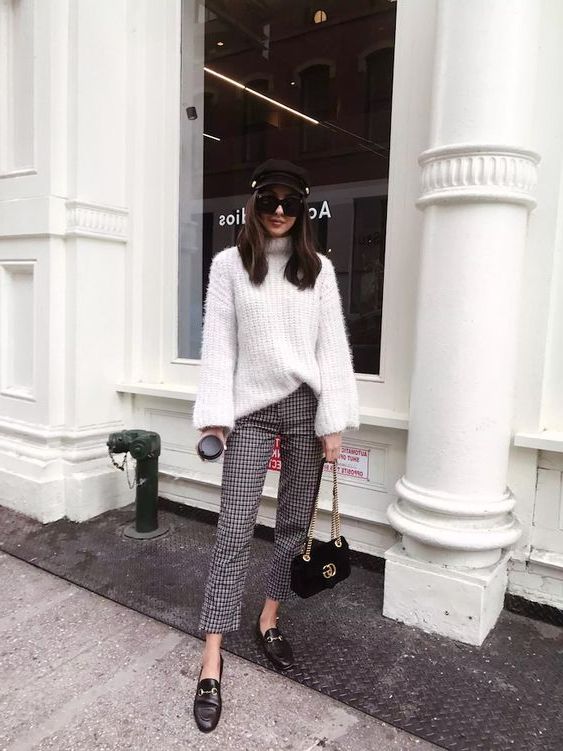 Buy Similar Here
Moccasins In Summer
Blush leather moccasins ideally match these blue slim jeans, blush tank top and a pair of cat-eye sunglasses: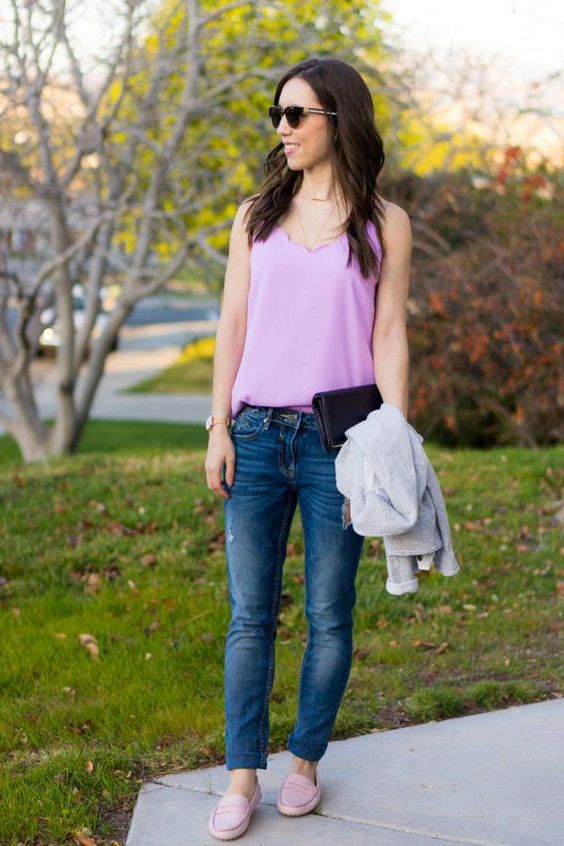 Buy Similar Here
Moccasins With Leggings
Beige moccasins look pretty fresh and youthful style with black leggings and a grey wool sweater: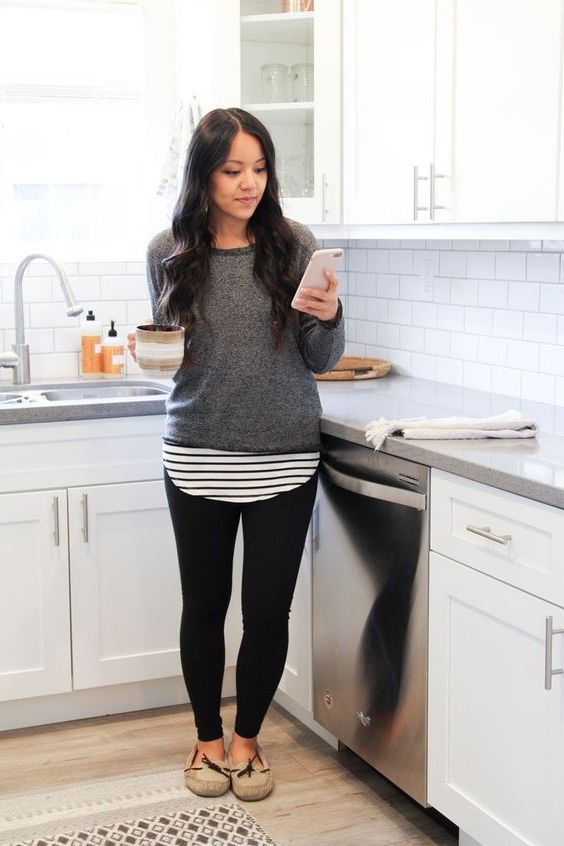 Buy Similar Here
Moccasins With Jeans
Black leather moccasins can be teamed with wash blue mom jeans and a white shirt: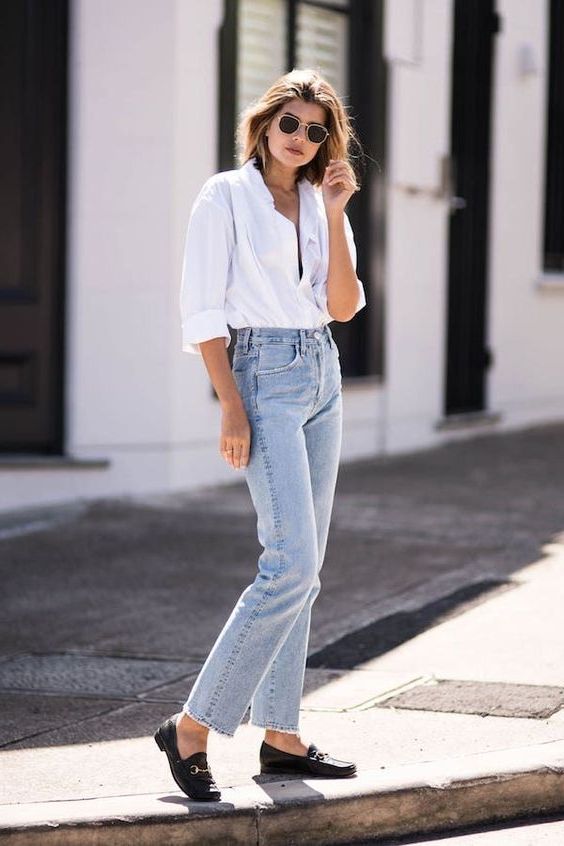 Buy Similar Here
Loafers For Winter
We see black leather loafers that are worn with black slim jeans, a beige turtleneck sweater, and a beige wool coat: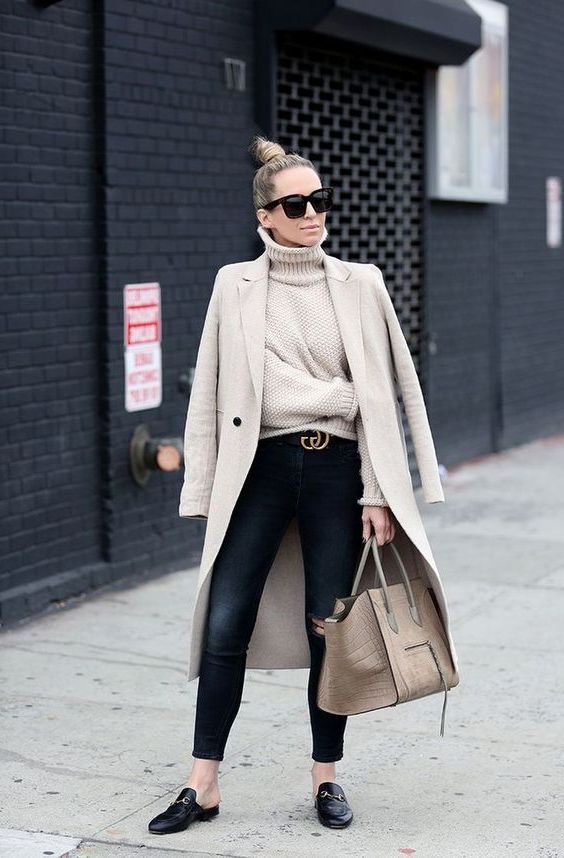 Buy Similar Here
Loafers During Fall
A pair of leopard print loafers look fresh and daring with ripped slim jeans and a camel sweater: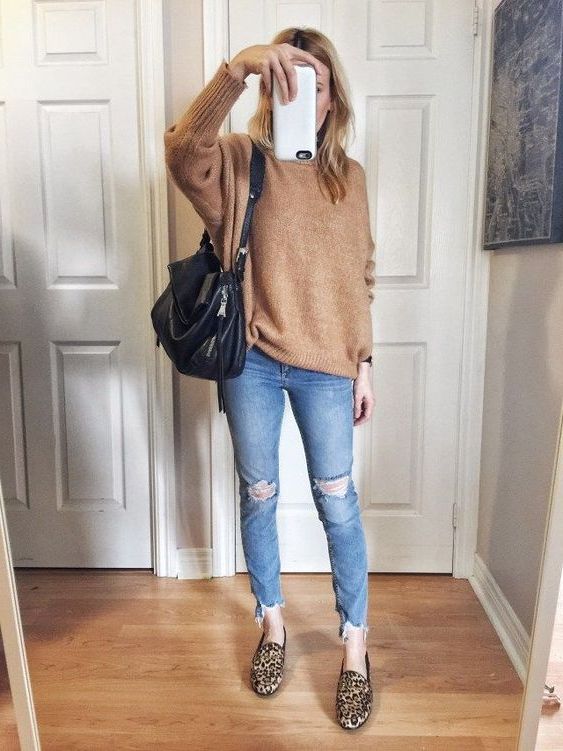 Buy Similar Here
Loafers During Summer
A pair of maroon leather loafers are updated with blue skinny jeans and a white oversized shirt, complete it with a straw wide-brim hat and rounded sunglasses: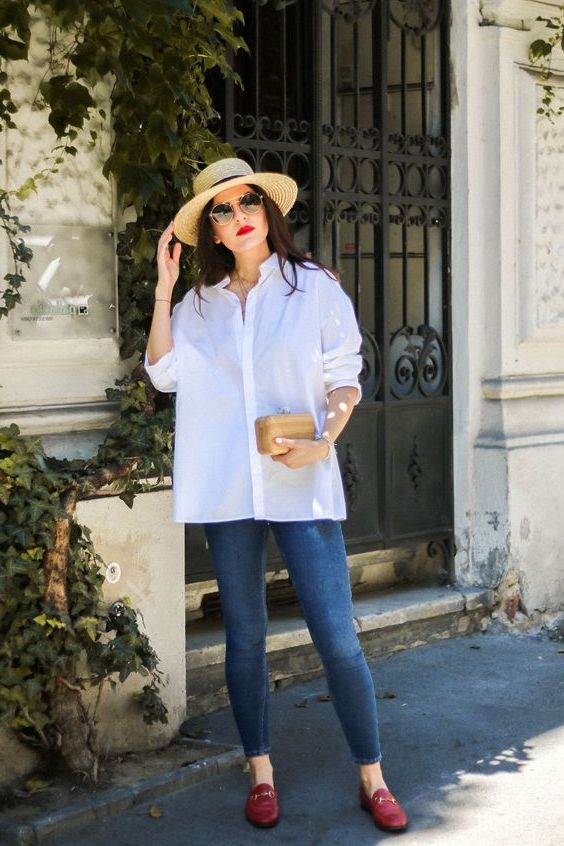 Buy Similar Here
Loafers With A Dress
Glossy brown leather loafers are styled with a subtly printed shirtdress. Add a pair of aviator sunglasses: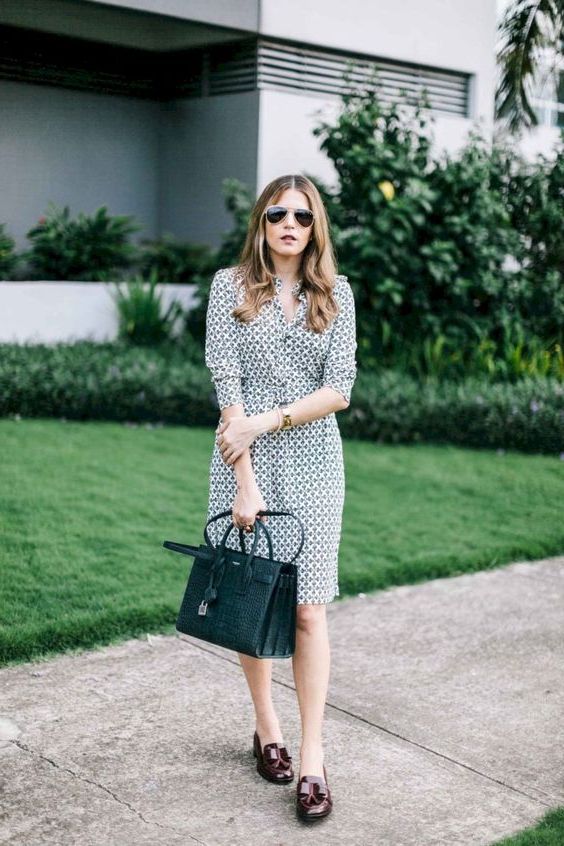 Buy Similar Here
Loafers And Jeans
We see glossy black leather loafers with mom jeans, black turtleneck bodysuit, grey blazer, and a lieutenant's hat: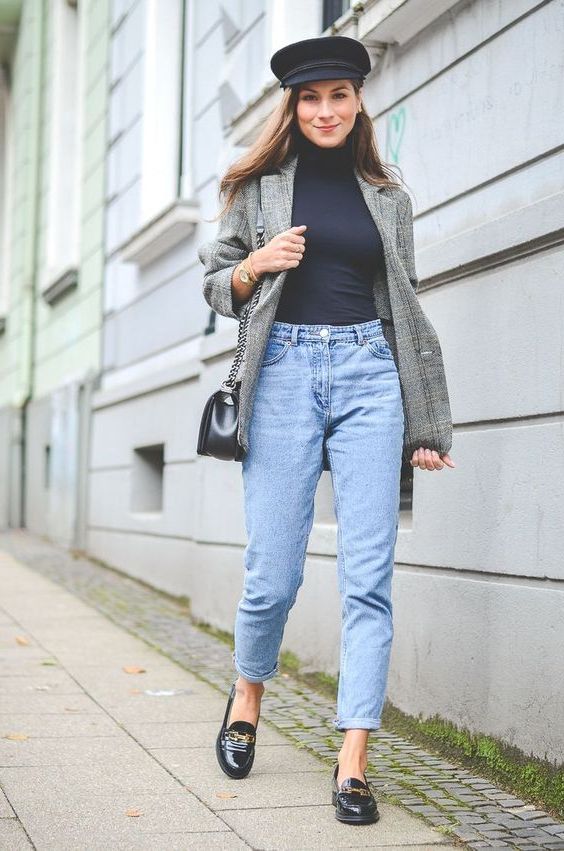 Buy Similar Here
Loafers And Skirt
Loafers look great with skirts. Here we see embroidered black leather loafers styled with black tights and a plaid grey skirt-suit that features an elongated blazer and mini skirt: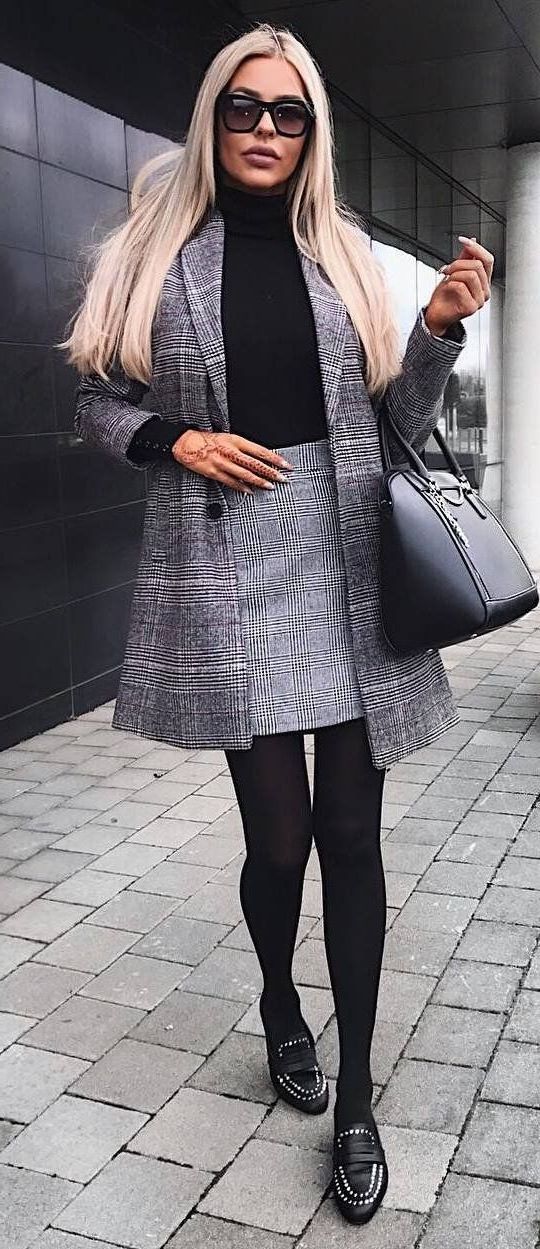 Buy Similar Here
Docksides Outfit Idea
A pair of docksides are ideal for boat trips. Here we see a pair of docksides in beige worn with denim shorts and blue-white striped long sleeve tee: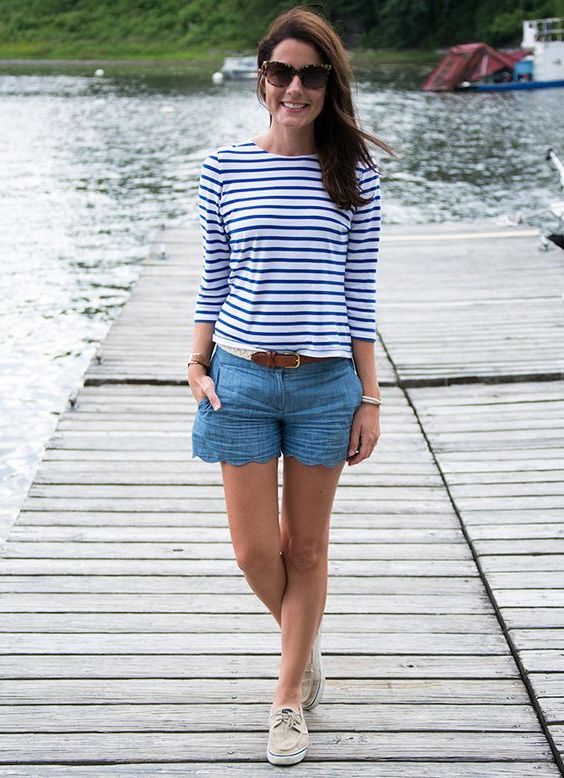 Buy Similar Here
Flat Boots In Winter
Another cool footwear for winter is a pair of flat boots. Here we see black suede OTK boots with black tights, black skirt, and an oversized grey sweater: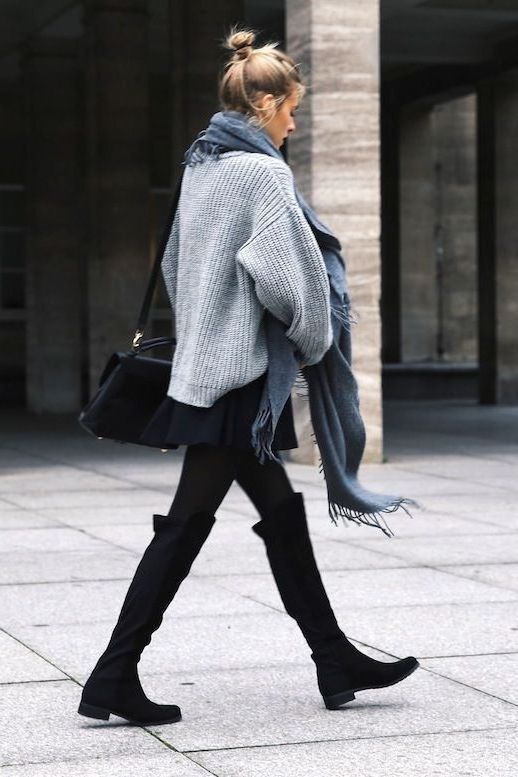 Buy Similar Here
Black suede OTK flat boots can be teamed with wash dark skinny jeans, black turtleneck sweater, fur white coat, and a beige wide-brim hat: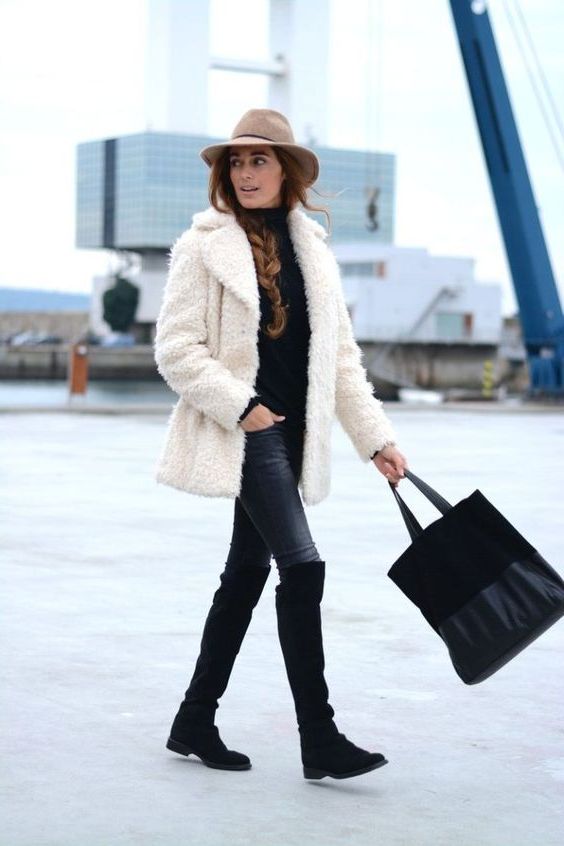 Buy Similar Here
Flat Boots In Fall
Another great season for flat boots is Fall time. Here we see black leather flat ankle boots worn with tights, Houndstooth print mini skirt, and a white sweater: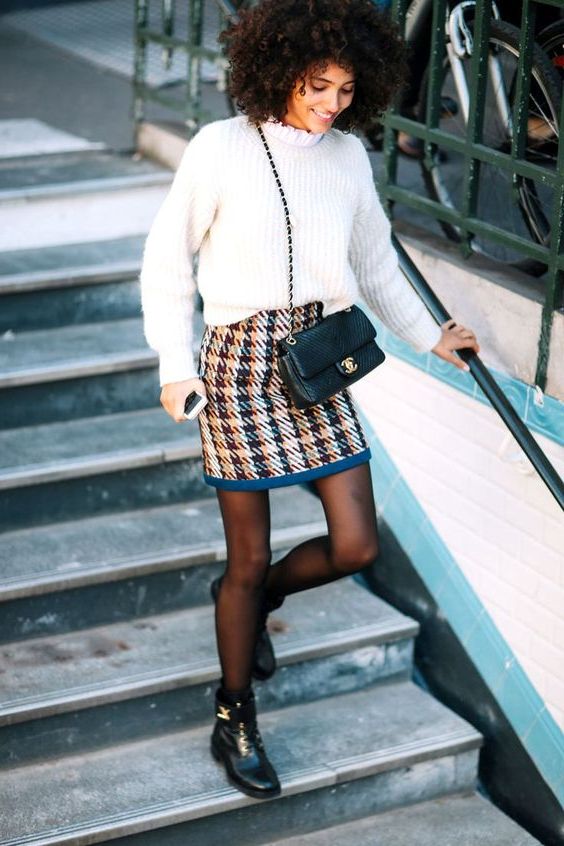 Buy Similar Here
Flat Boots With A Dress
OTK black suede flat boots can also be worn with a floral print black dress and tights: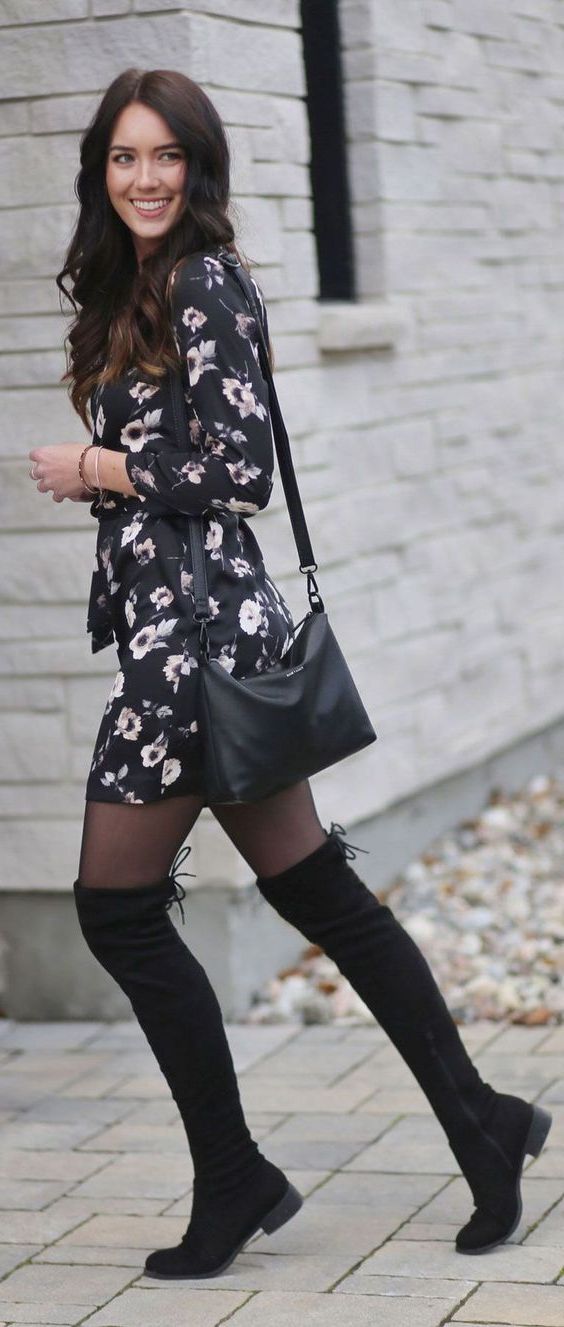 Buy Similar Here
Ankle Flat Boots
Yes, ankle flat Chelsea boots in brown leather will be an ideal choice to wear with navy skinnies, beige sweater, and a black leather jacket: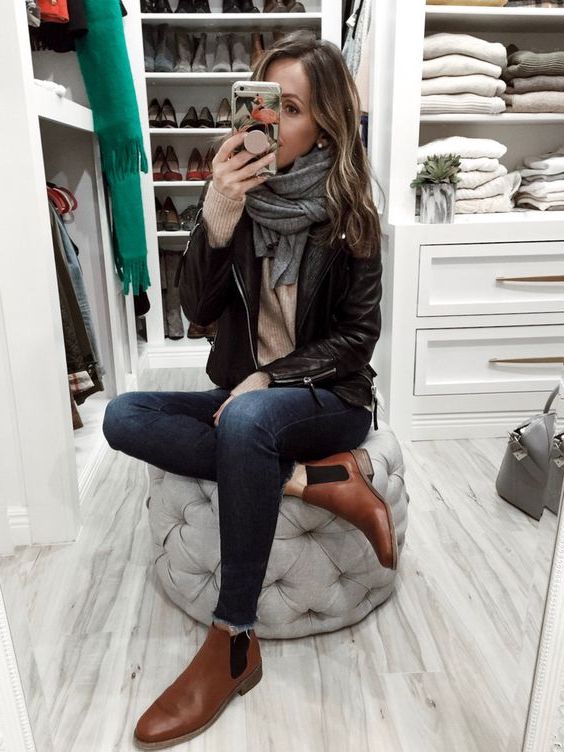 Buy Similar Here
Knee-High Flat Boots
A pair of glossy black leather knee-high flat boots look fabulous with black tights, black sweater-dress, and a black car-coat: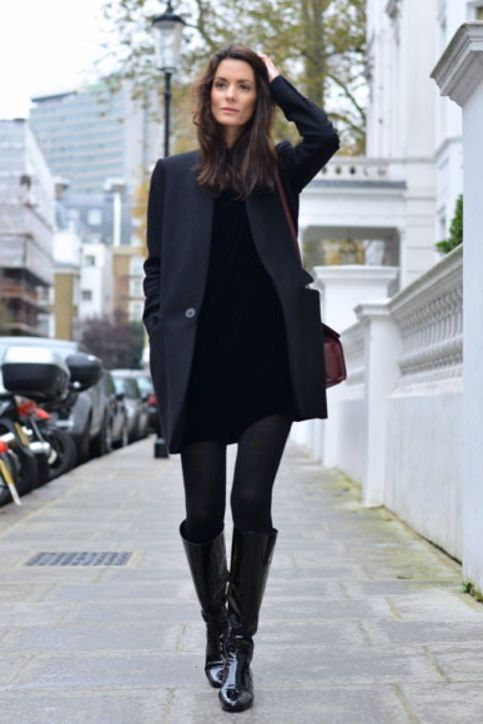 Buy Similar Here
Flat Boots With Jeans
Keep it cool and edgy! Go for a denim jacket, white sweater, black knee-ripped skinny jeans, and multi-buckled black leather ankle boots: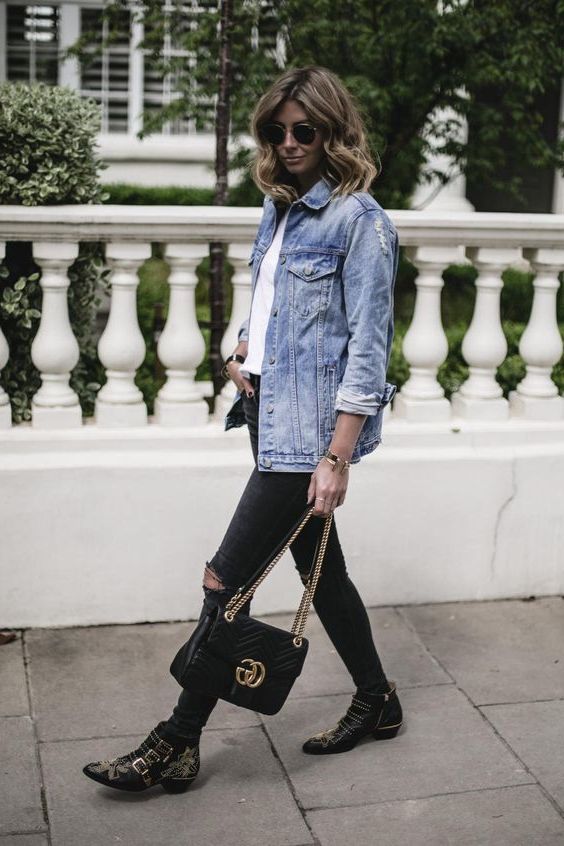 Buy Similar Here
Flat Boots With A Skirt
Knee-high black suede boots can be an ideal addition to a buttoned beige A-line skirt and a V-neck white sweater: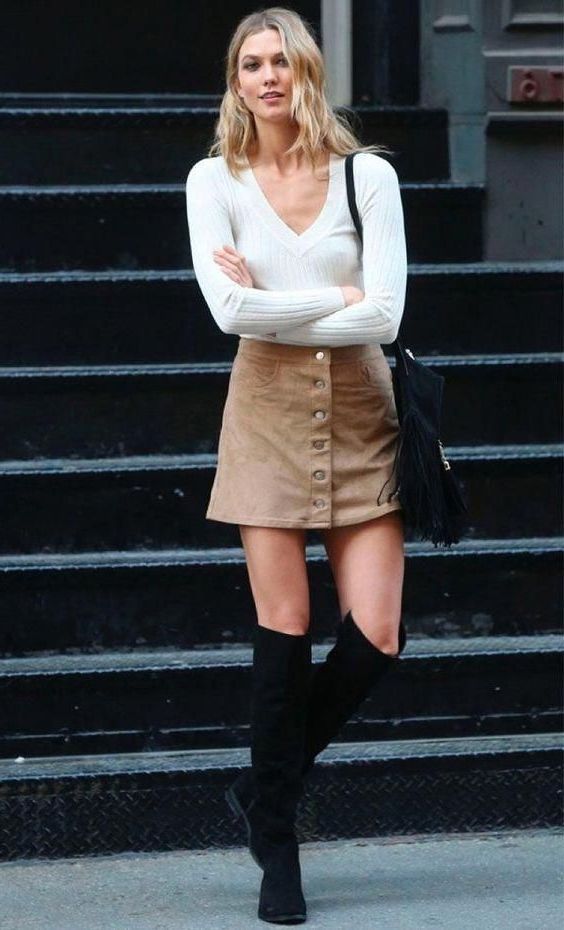 Buy Similar Here
Chelsea Boots And Dress
Brown leather Chelsea boots can be a nice addition to this vintage hipster style printed dress updated with a black cardigan, skinny leather belt, and black tights:
Buy Similar Here
Chelsea Boots And Skirt
Embroidered black leather Chelsea boots look terrific with a brown leather midi skirt and a black sweater: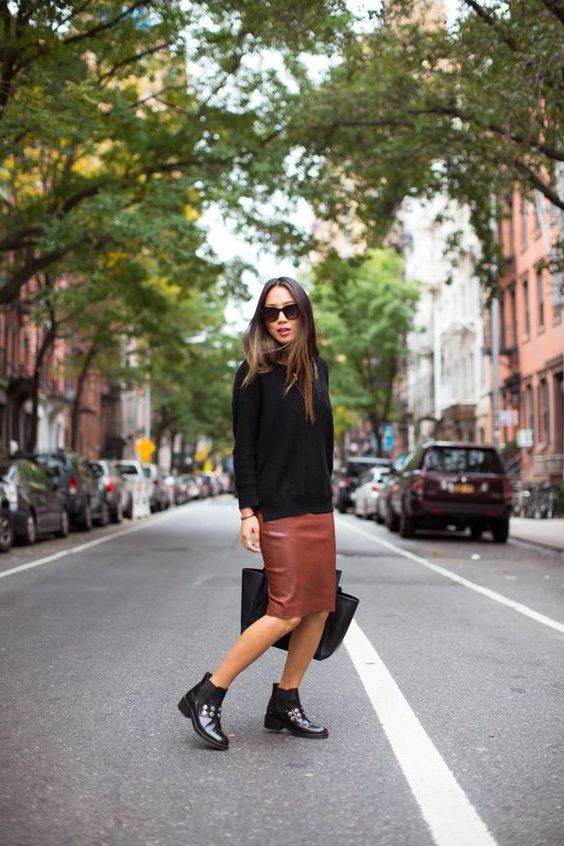 Buy Similar Here
Chelsea Boots And Jeans
Chelsea boots might be the best shoes in the fashion industry right now. Here we see black leather Chelsea boots styled with cuffed and ripped slim jeans, black-white striped top, black leather jacket, and a tartan red scarf: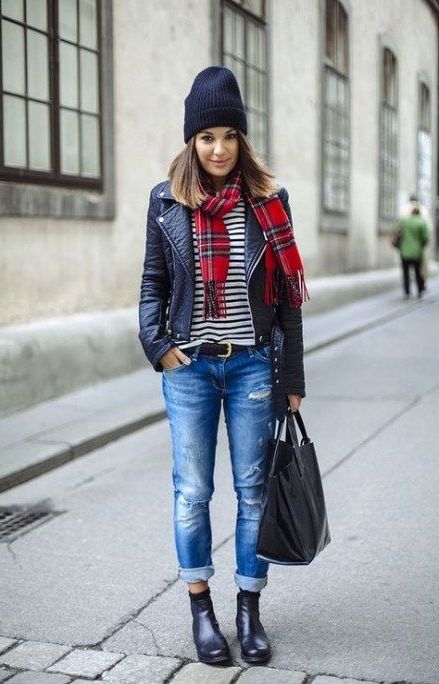 Buy Similar Here
Chelsea Boots With Leggings
Another edgy combination for ladies. We see a pair of black leather Chelsea boots styled with black coated skinny pants and a white sweater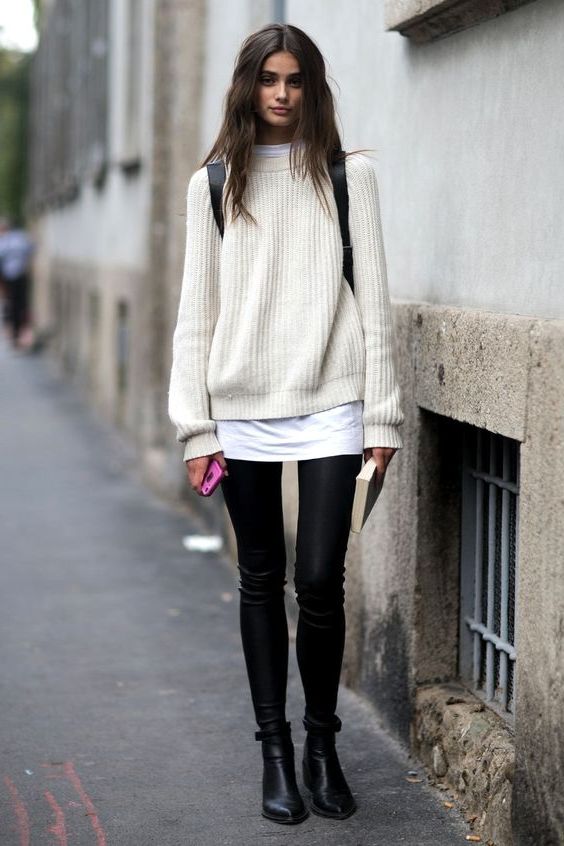 Buy Similar Here
OTK Flat Boots For Winter
You can always use over the knee boots during cold winter months. We see a pair of black suede OTK boots teamed with black skinny jeans, black wool top, and a camel coat: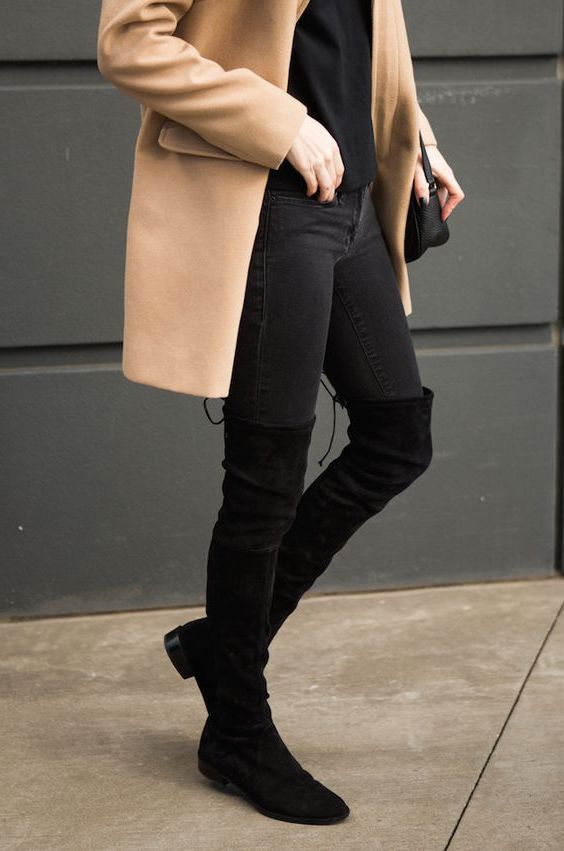 Buy Similar Here
OTK Flat Boots Fall
A pair of black suede OTK flat boots looks damn hot with wash skinny jeans, white tee, and a plaid print blazer: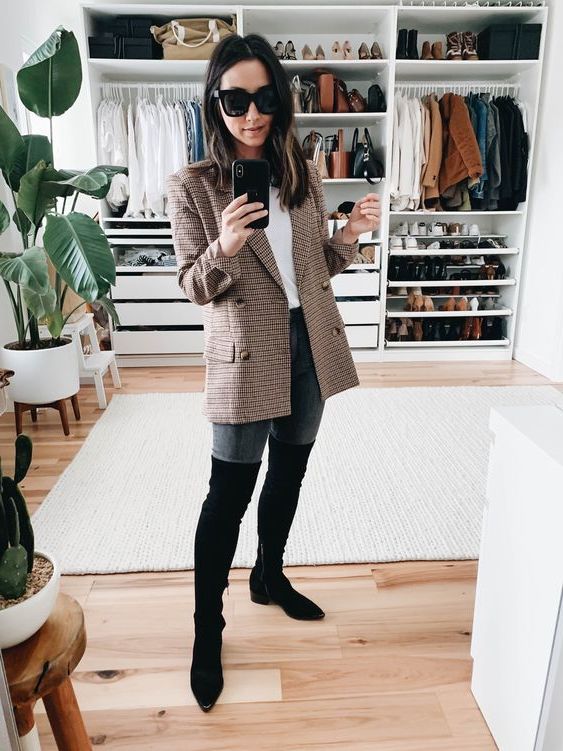 Buy Similar Here
OTK Flat Boots With Dress
Get inspired by this all in black look! We see a windowpane printed black strapless dress styled with suede OTK boots in black color: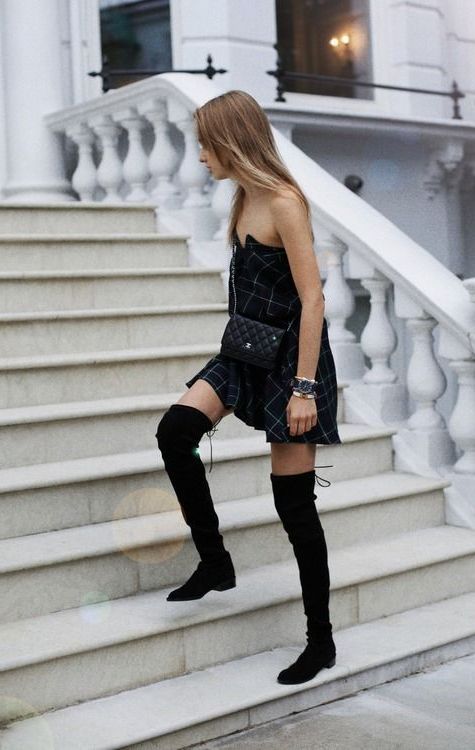 Buy Similar Here
OTK Flat Boots With A Skirt
Black leather OTK flat boots will be a nice addition to this tartan skirt completed with a beige sweater: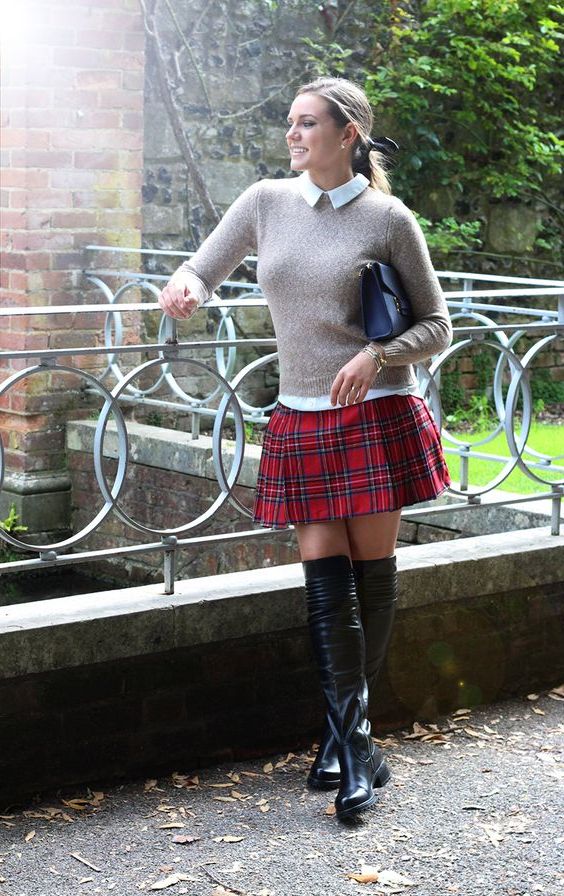 Buy Similar Here
Gladiators And Jeans
Gladiators flat sandals ideally suit these high-rise wash blue cuffed jeans completed with a sheer-white striped crop-top: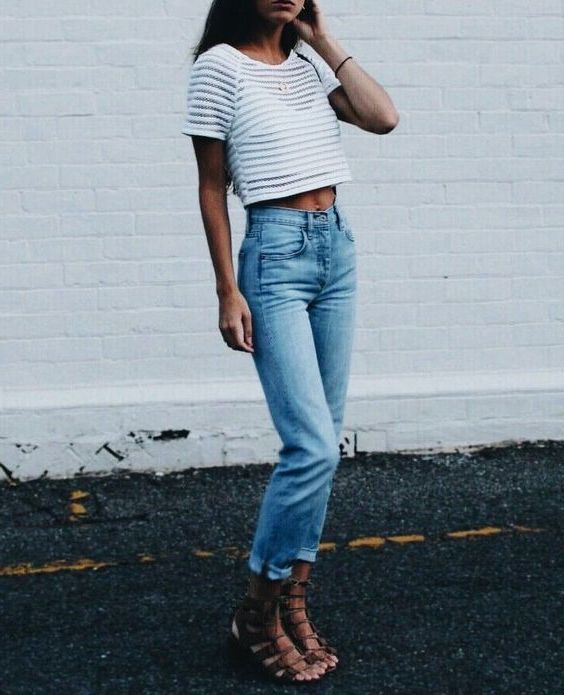 Buy Similar Here
Gladiators And A Skirt
Another inspiring look is a white cargo shirt tucked in cream-camel suede skirt completed with aviator sunglasses and strappy flat gladiators: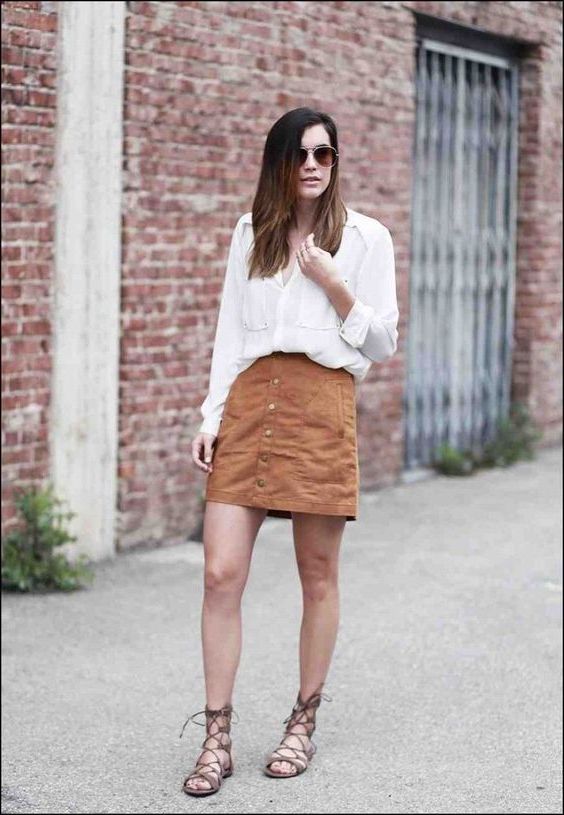 Buy Similar Here
Gladiators And A Dress
A pair of black high gladiators look sophisticated and inspiring. They are styled with a sleeveless white dress with crochet detailing: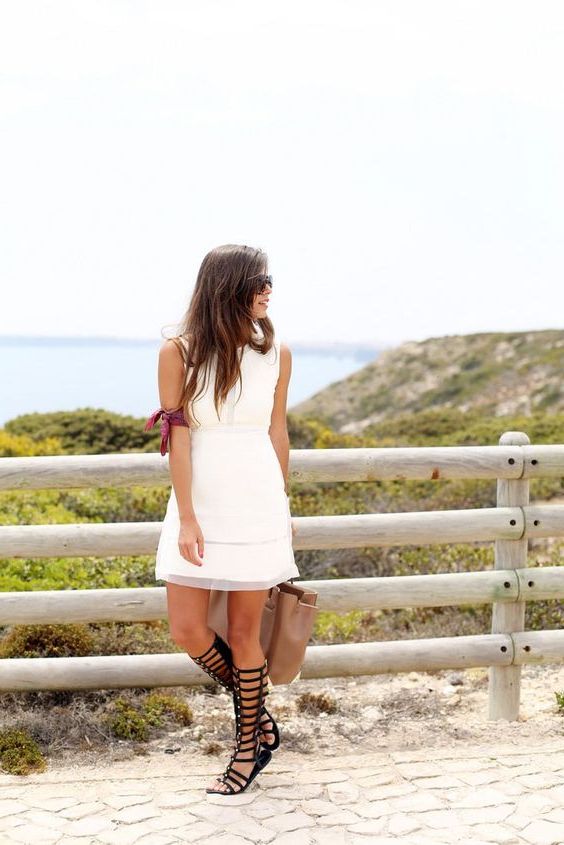 Buy Similar Here
Flat Sandals With A Dress
We see a white wrap shirtdress completed with a white belt and red glossy flat slides: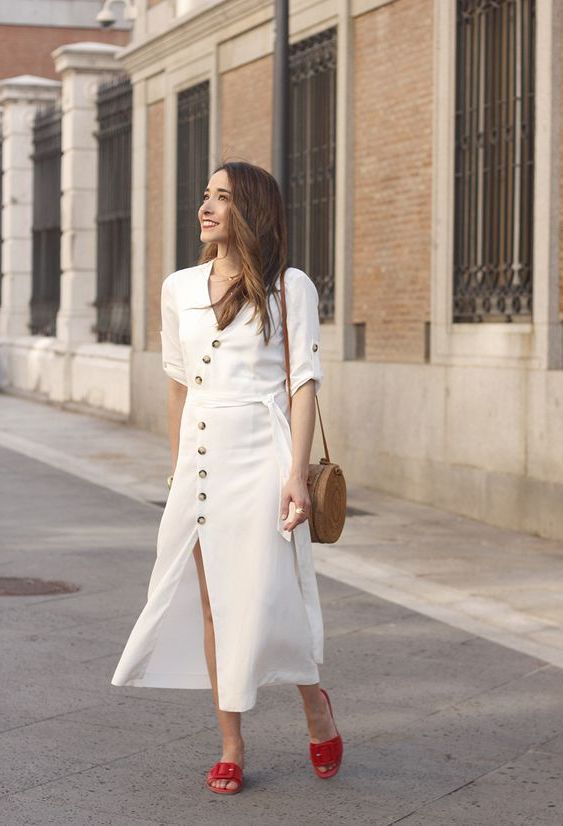 Buy Similar Here
Flat Sandals With Jeans
Brown leather slides look great worn with skinny jeans in blue updated with a black T-shirt and a rounded straw bag: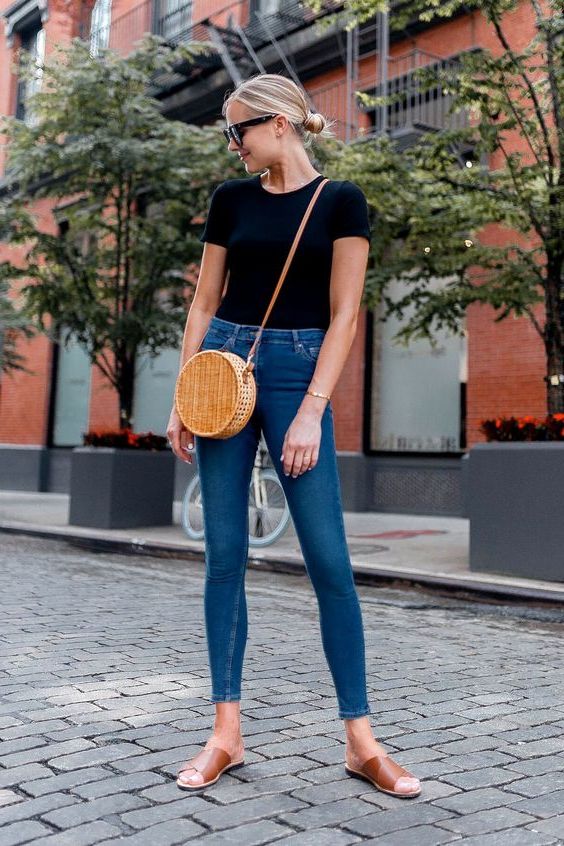 Buy Similar Here
Flat Sandals For Work
If you want to try on flat sandals for work, then go for these black minimalistic style and team them with white linen loose-fit pants and a black tank top: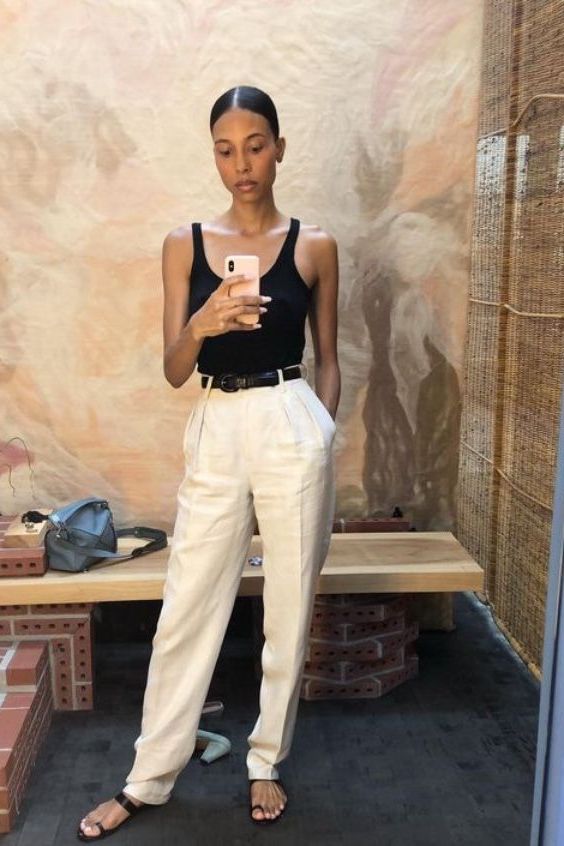 Buy Similar Here