Another It-Girl thing is green sneakers. Yes, they are here and you better give them a try. If you are looking for a way to freshen up your outfit, then a pair of green sneakers are what you need.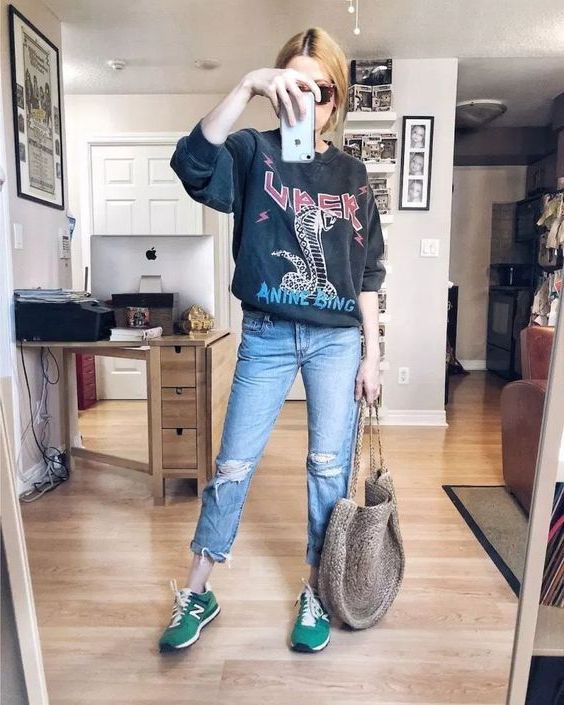 Buy Similar Here
Here we see a nice example of how to keep things comfortable and casual. Go for these New Balance green sneakers and pair them with ripped blue jeans, black rock band sweatshirts, and cat-eye shades.
But the thing about green color is that most people don't know how to wear it. Well, I am here to show you the best outfit ideas on how to wear green sneakers in real life. I've rounded up some of my favorite looks inspired by fashion bloggers and fashionistas.
A pair of comfortable sneakers is something essential for those who want to keep on walking and feel confident. Thanks to the athleisure trend we see an improvement in sneakers' fashion. That's why we are free to experiment with our outfits by adding cool colored sneakers.
Here we see another cool idea of how to make green kicks look fresh and trendy. Try them on with a dark grey fedora hat, black leather jacket, black top, black skinny jeans, and black leather shoulder bag:
Buy Similar Here
Yes, my mission for today is to share with you all possible outfit idea scenarios completed with green sneakers. I came up with a list of my favorite combinations that might be stocked in your wardrobe. You are about to see green kicks styled with black jeans, khaki parkas, bicycle shorts, denim dresses, bomber jackets, green skirts, and many other inspiring outfit ideas. I hope you gonna love this street style collection.
Green Kicks And Khaki Parka
A classic khaki olive hooded parka is worn over a cream-beige turtleneck sweater styled with dark blue skinny jeans and military green sneakers: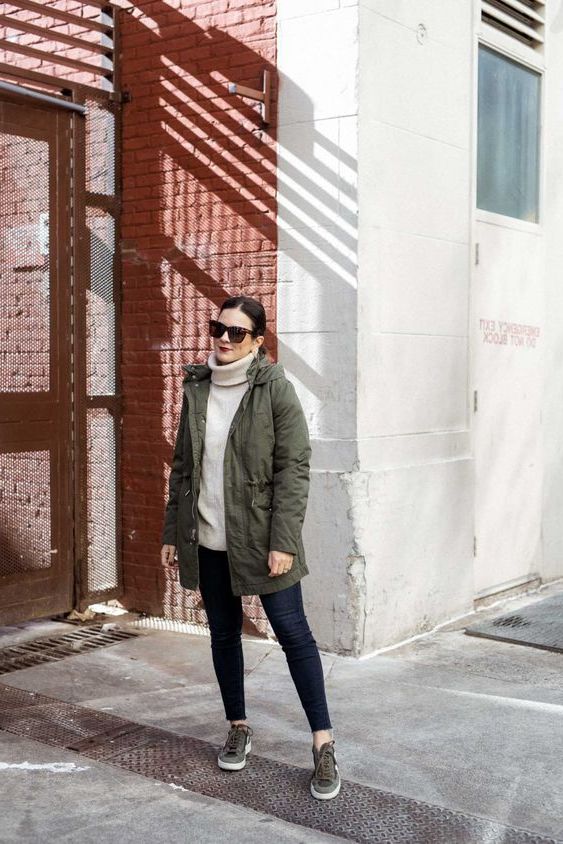 Buy Similar Here
Green Sneakers And Bicycle Shorts
Light pastel green ugly sneakers are worn with black biker shorts and a military green crop tank top, in love with these modern cat-eye sunglasses and hoop earrings: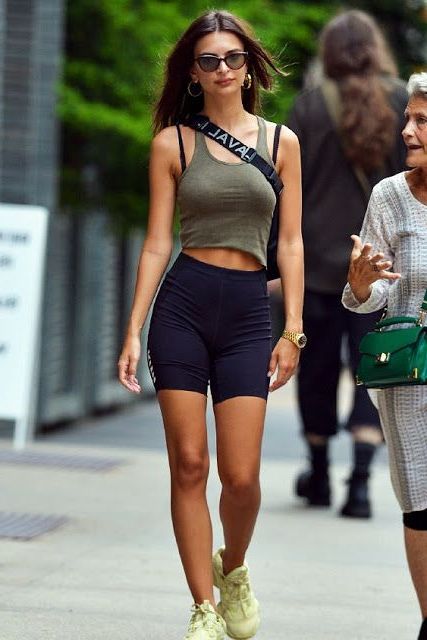 Buy Similar Here
Green Sneakers And Black Dress
A black shift dress looks ideal layered under a black leather jacket, update this style by adding green sneakers: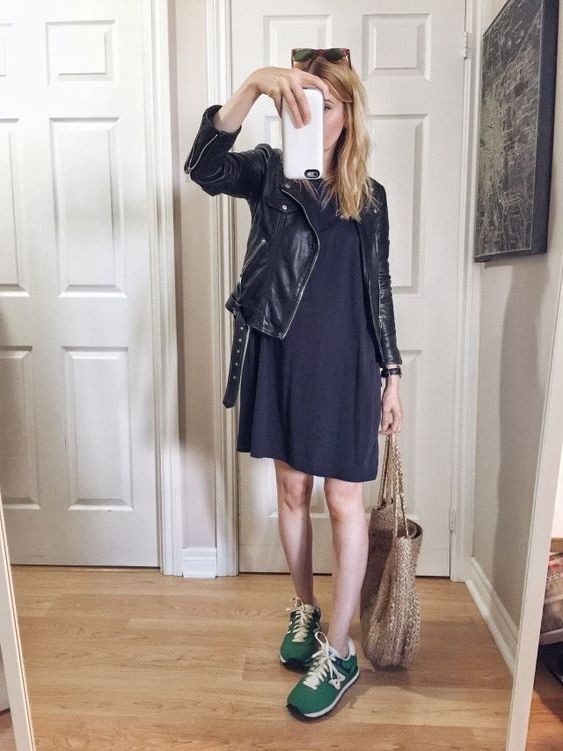 Buy Similar Here
Green Sneakers And All Black Outfit
Neon green sneakers look amazing styled with black leggings, black sweater layered under a black leather jacket: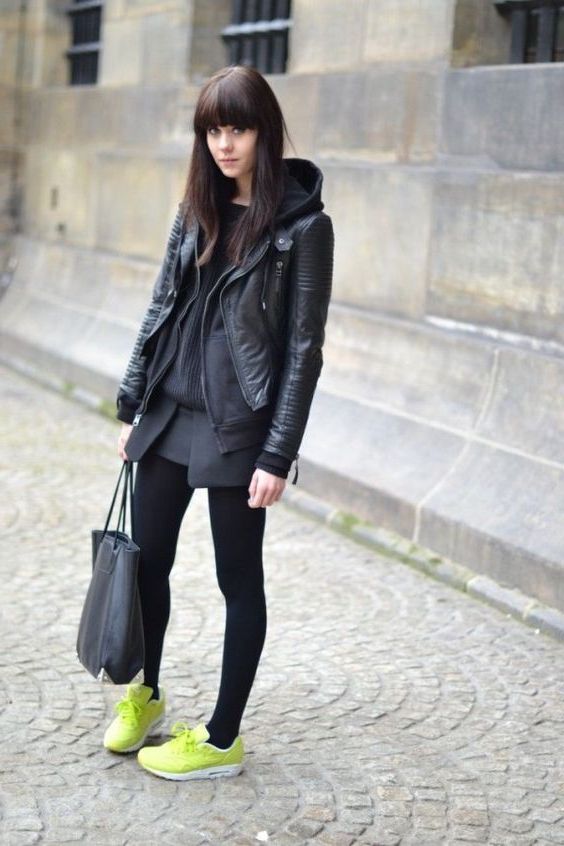 Buy Similar Here
Green Sneakers And Denim Dress
A sleeveless blue denim dress looks summery chic. Try it on with printed cat-eye shades, hot pink handbag, and green kicks: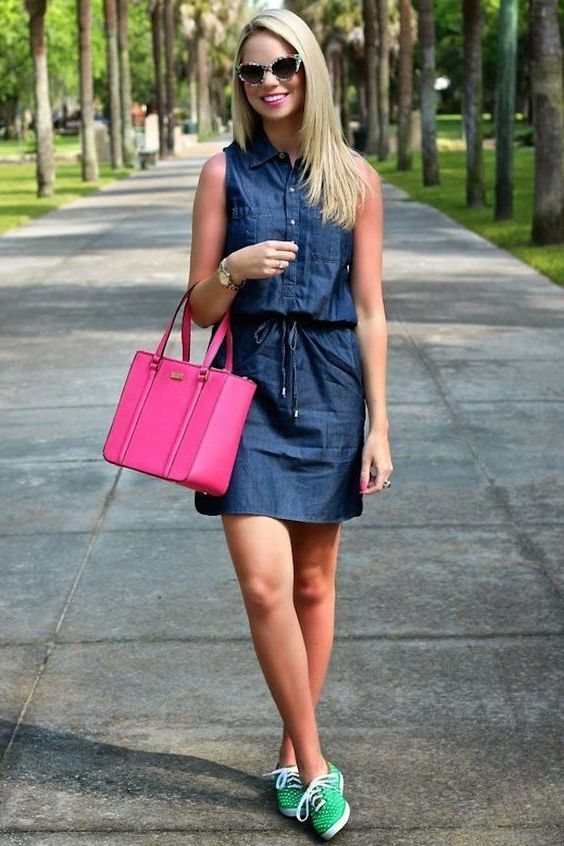 Buy Similar Here
Green Kicks And Green Bomber Jacket
A quilted army green bomber is draped over cream-white sweater teamed with ripped skinny jeans and military green sneakers:
Buy Similar Here
Green Sneakers And Green Pants
A classic black blazer is worn atop grey t-shirt paired with khaki green slim pants completed with khaki green sneakers: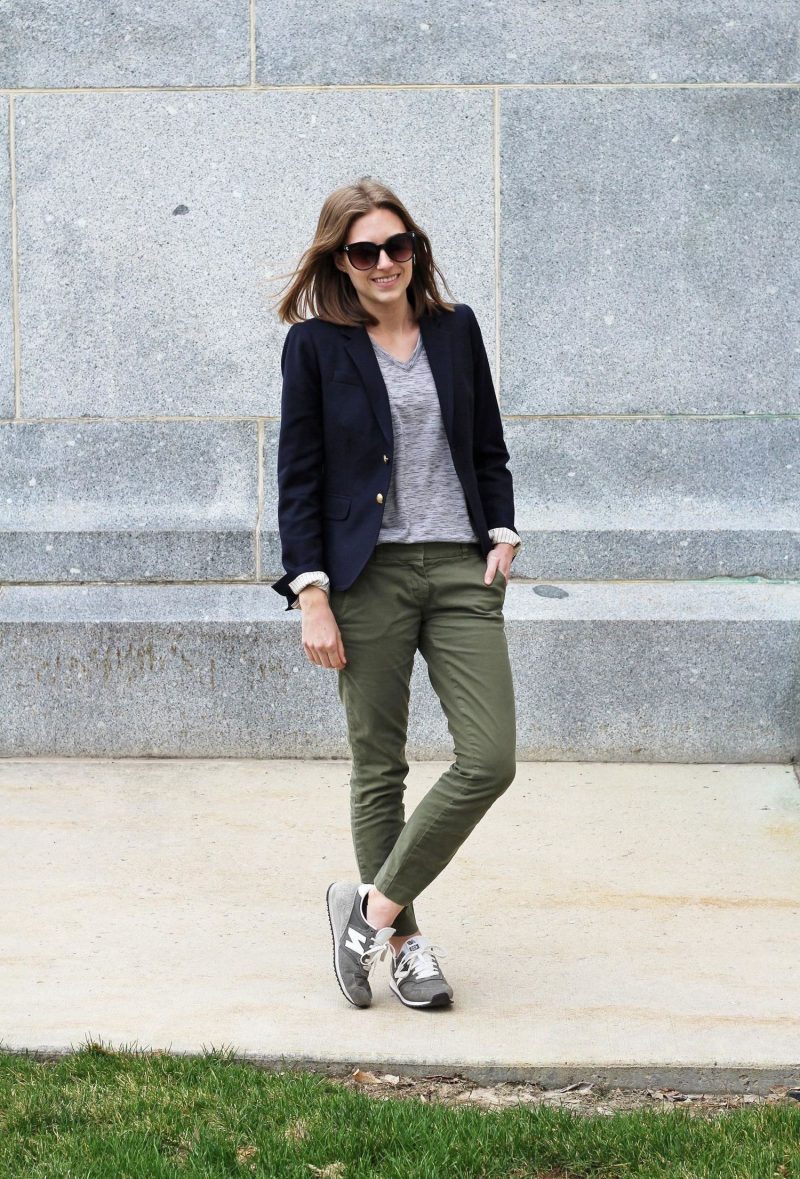 Buy Similar Here
Green Sneakers And Green Skirt
If you are feeling ladylike, then go for this green outfit consisting of a deep V-neck green printed top tucked in metallic green midi skirt completed with green sneakers: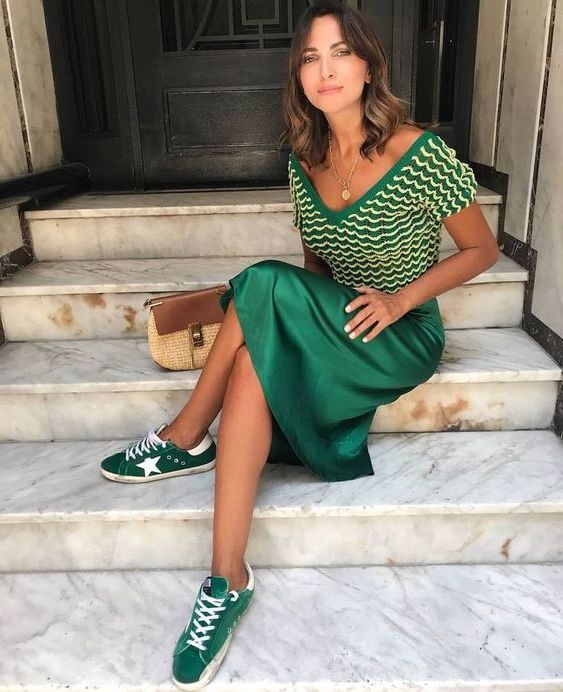 Buy Similar Here
Green Runners And Leather Jacket
A pair of khaki green sneakers are worn with black ankle pants, white tee, and black leather jacket: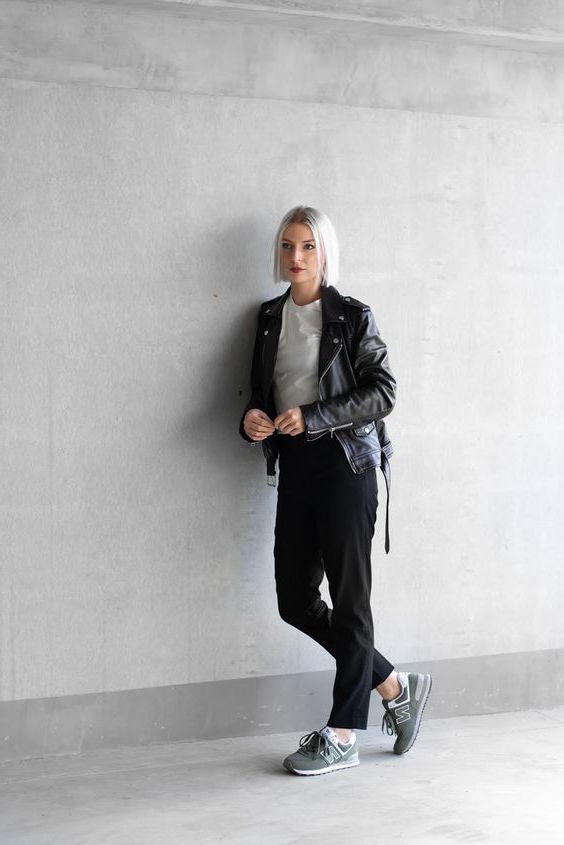 Buy Similar Here
Green Sneakers And Leggings
Khaki kicks with khaki green leggings and simple black hoodie, a nice combination after all: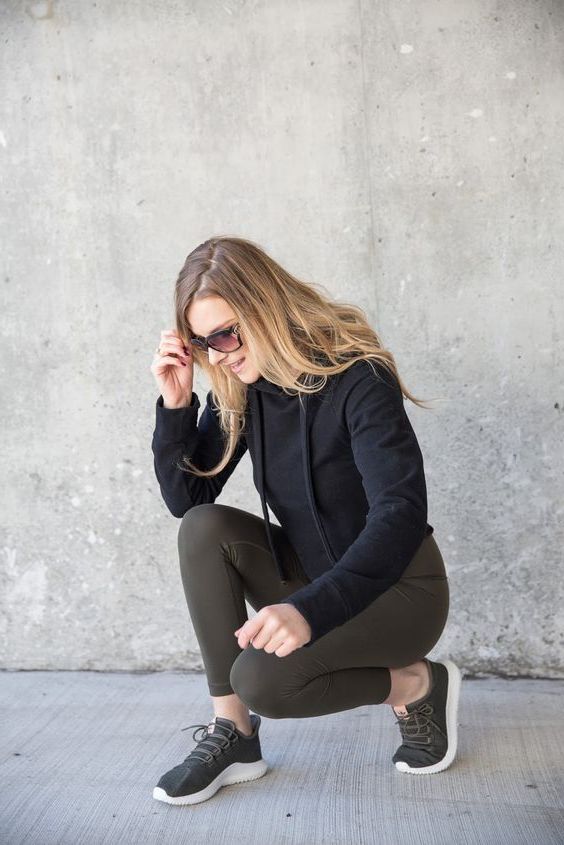 Buy Similar Here
Green Sneakers And Leopard Print Jacket
We see a perfect outfit for casual weekends, a leopard print jacket is layered over khaki olive tee teamed with black leather skinny pants completed with high-top wedge sneakers in khaki green: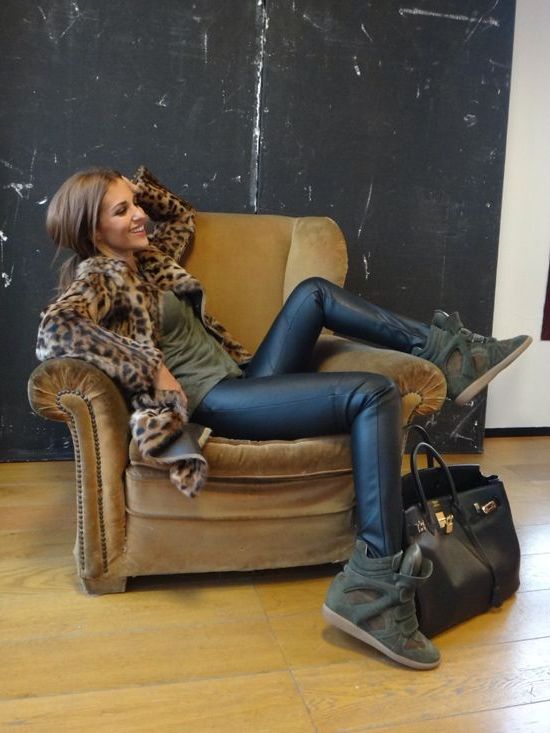 Buy Similar Here
Long Military Coat And Green Sneakers
We see a long military coat in green color with a belt layered over a black top tucked in wash blue regular jeans completed with khaki green sneakers and rounded sunglasses: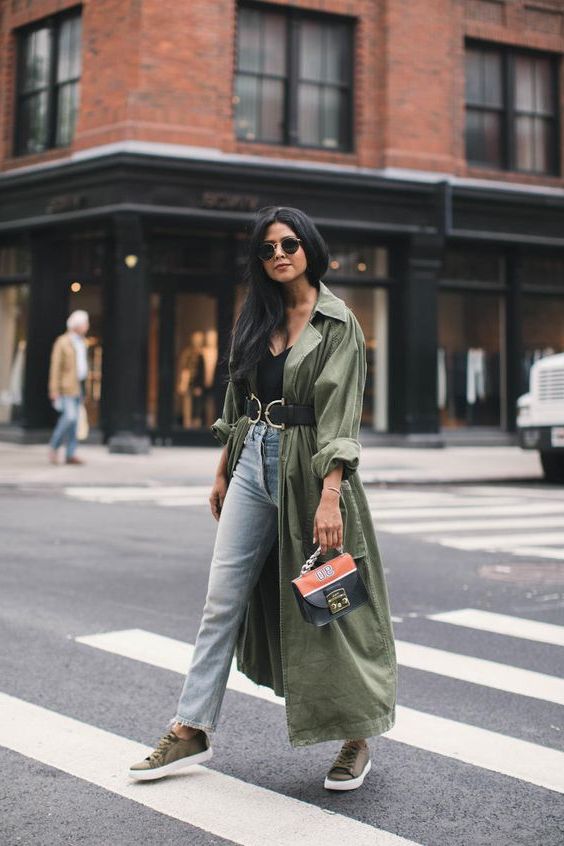 Buy Similar Here
Green Kicks and Maxi Coat
A maxi plaid coat ideally suits that sequined multicolored maxi dress completed with neon green chunky sneakers: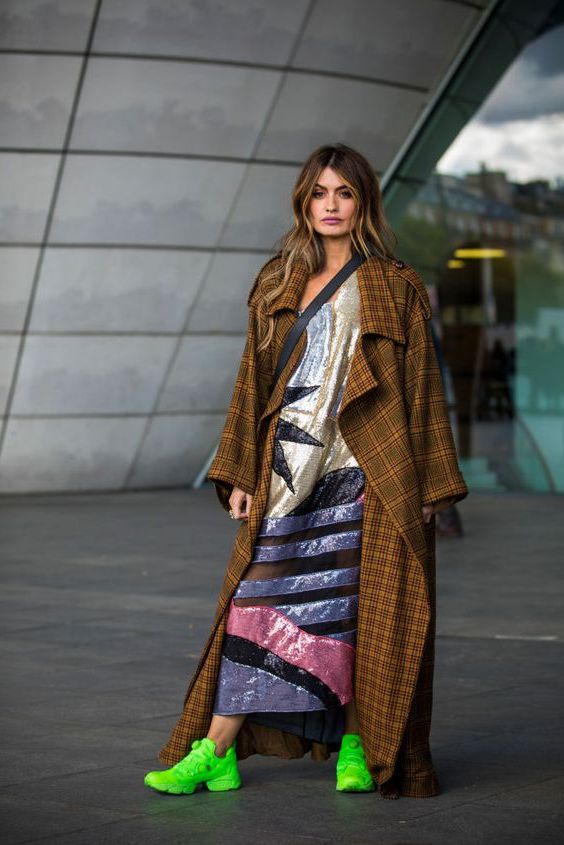 Buy Similar Here
Green Sneakers And Midi Skirt
A washed blue denim jacket is layered over cool rock band tee tucked in plaid high-waisted midi skirt completed with stylish green sneakers: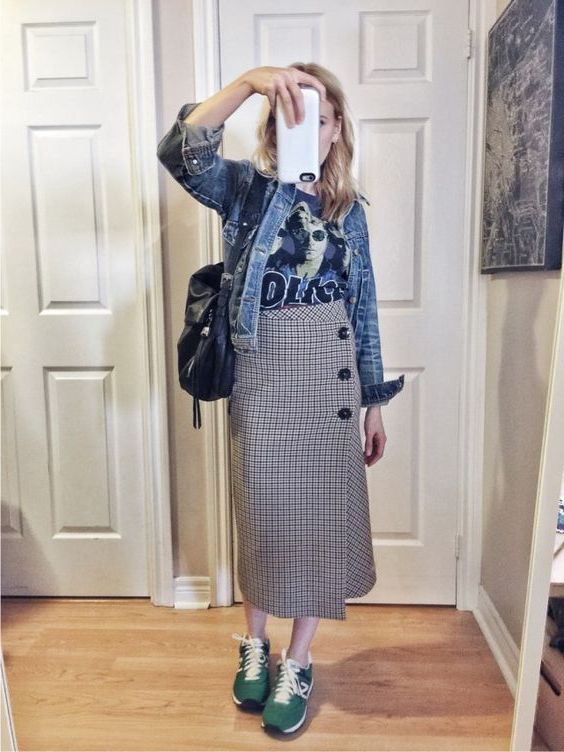 Buy Similar Here
Green Sneakers And Oversized Coat
A dark camel oversized coat is draped over green turtleneck sweater tucked in wash blue cuffed jeans completed with green kicks: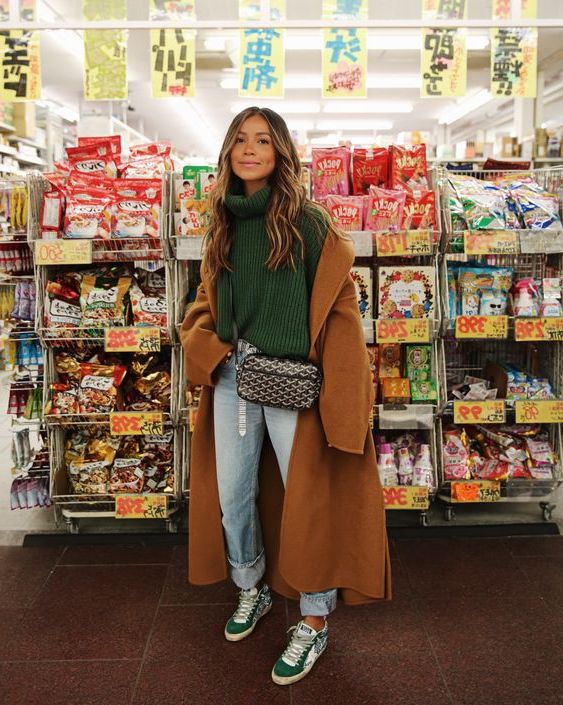 Buy Similar Here
Green Sneakers And Plaid Blazer
A tartan blazer ideally suits that white-green striped top teamed with ripped regular jeans and classic runners. Complete this style by adding mirrored aviator sunglasses, floral necklace, and see-through plastic handbag: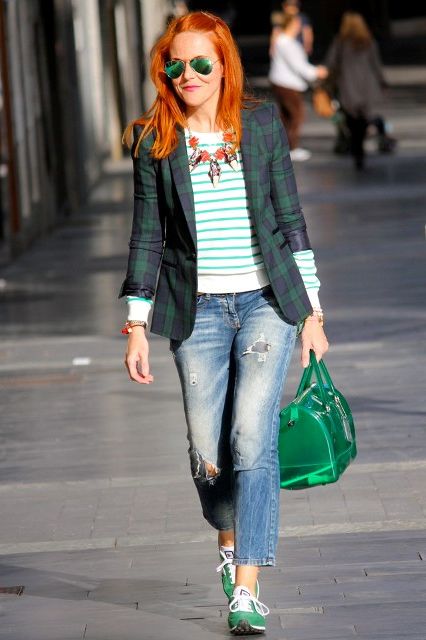 Buy Similar Here
Green Sneakers And Plaid Pants
Sheer white top ideally suits these blue plaid pants completed with green kicks: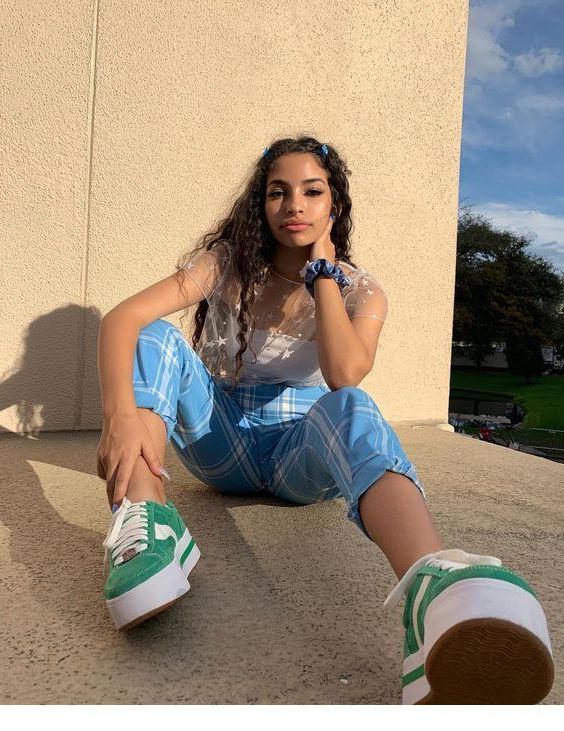 Buy Similar Here
Green Sneakers And Ripped Jeans
Other classic green sneakers are worn with cuffed ripped boyfriend jeans and a simple white tee, complete this casual style with rounded sunglasses: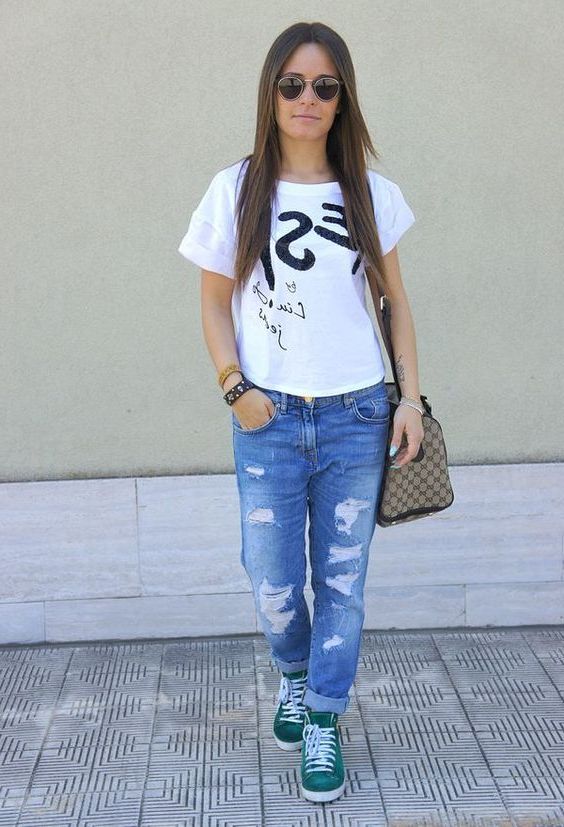 Buy Similar Here
Green Sneakers And Skinny Jeans
High top dark green sneakers look amazing with classic blue cuffed jeans and dark maroon sweater: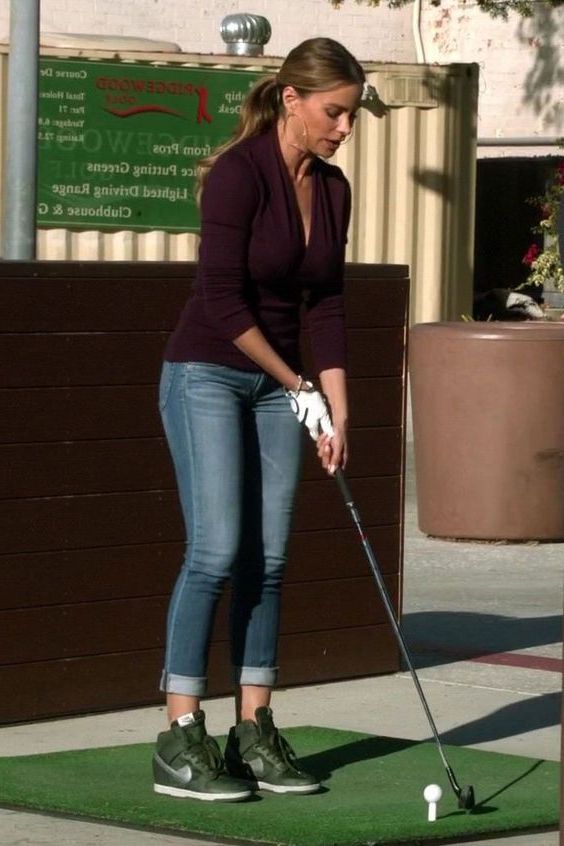 Buy Similar Here
Green Sneakers And Sporty Jacket
Keep it real! Go for this black-green sporty jacket and wear it as a dress. Complete the look by adding neon green chunky sneakers: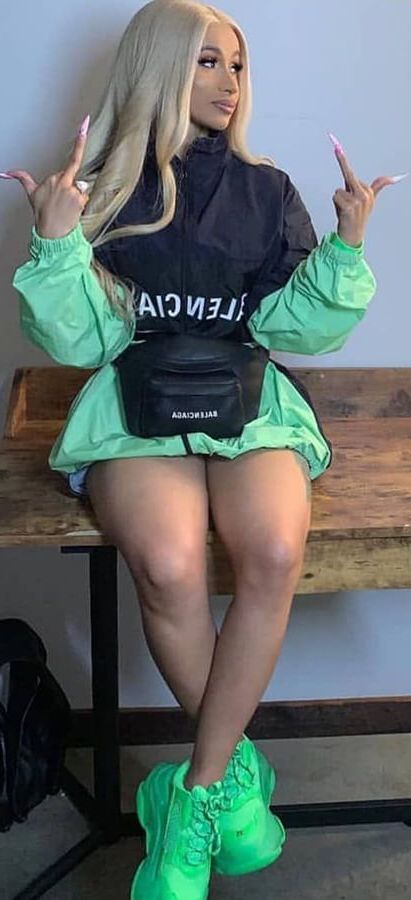 Buy Similar Here
Green Sneakers And Wide Leg Jeans
Another pair of green kicks are styled with wide-leg jeans, cool rock band tee layered under leopard print fur coat: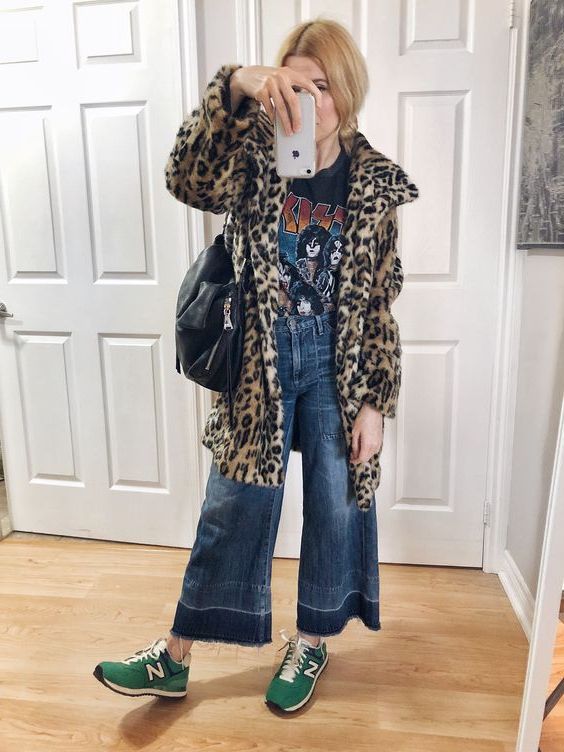 Buy Similar Here