It's no secret, platform boots outfit can be seen everywhere around on the streets. If you do follow fashion, then you should always look fabulous. Platform boots are special footwear for fashionistas that can make you look trendy.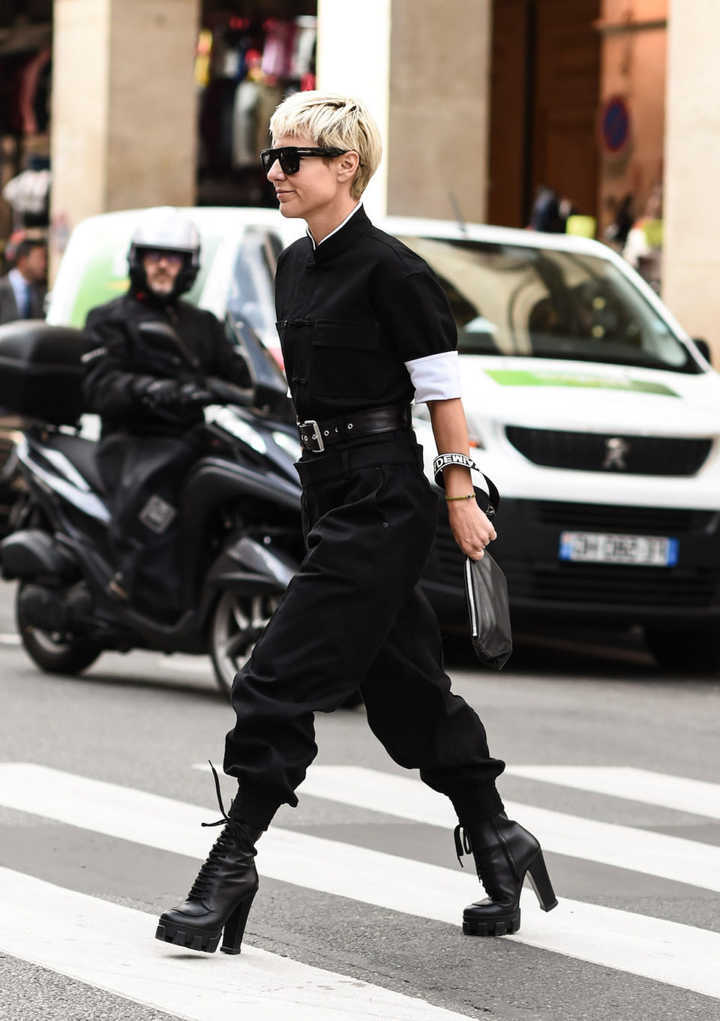 Buy Similar Here
This is the most functional way how to wear heeled platform chunky boots. Go for this kind of military-style combo consisting of a cargo shirt with short sleeves and white cuffs teamed with slouchy black pants tucked in heeled platform chunky lace-up black boots.
Platform Boots Outfit
I personally love to see ladies wearing classic women clothes updated with these edgy platform boots that add a special rock'n'roll accent to the whole image. Don't wait for this trend to become mainstream, be the first in your city wearing them.
Modern celebrities, stylists and bloggers wear platform boots and they make this footwear look amazing. If you still don't have these shoes, then you definitely should think of buying a pair for yourself. Why? This footwear can be easily combined with any clothes, starting from ultra-feminine light dresses and skirts to grunge jeans and heavy sweaters.
With Pantsuits
Platform heeled boots in black color will ideally suit your glamour seventies style black pantsuit consisting of a slim blazer, black floral blouse and flared black pants: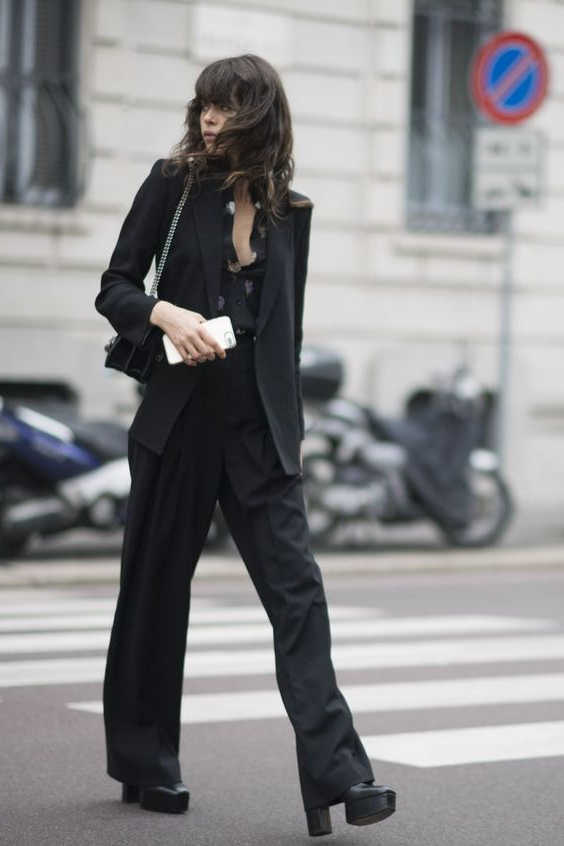 Buy Similar Here
If you are into masculine, army-inspired style, then platform combat boots and mannish Chelsea boots are what you really need! It's no surprise that most designers and stylists advise us to wear brutal leather boots with massive platforms. Fashionistas dig this trend and show-off their best side posing in edgy glamour platform boots. Let the 1990 grunge style in your house!
With Teddy Bear Coat
A pair of platform combat boots in burgundy by Dr. Martens are worn with ankle-length skinny jeans, white printed tee and a teddy bear coat in cream-white. Update this look by adding 1990 style sunglasses: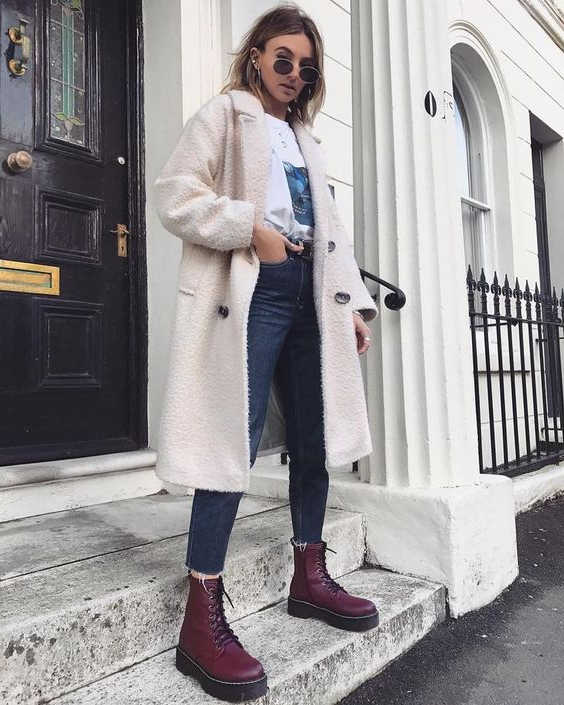 Buy Similar Here
We see a comeback of various platform boots, starting from tall ones to mid-calf, Dr. Martens, Chelseas, combat boots, etc. You can easily style them with your favorite jeans, combine with lightweight dresses, pleated skirts, and tailored pants, as well as with mini skirts and bicycle shorts.
With Black White Pants
We see platform boots in black leather styled with black-white wide-leg pants completed with a cargo short-sleeve shirt. A perfect 1970 style outfit idea for young ladies: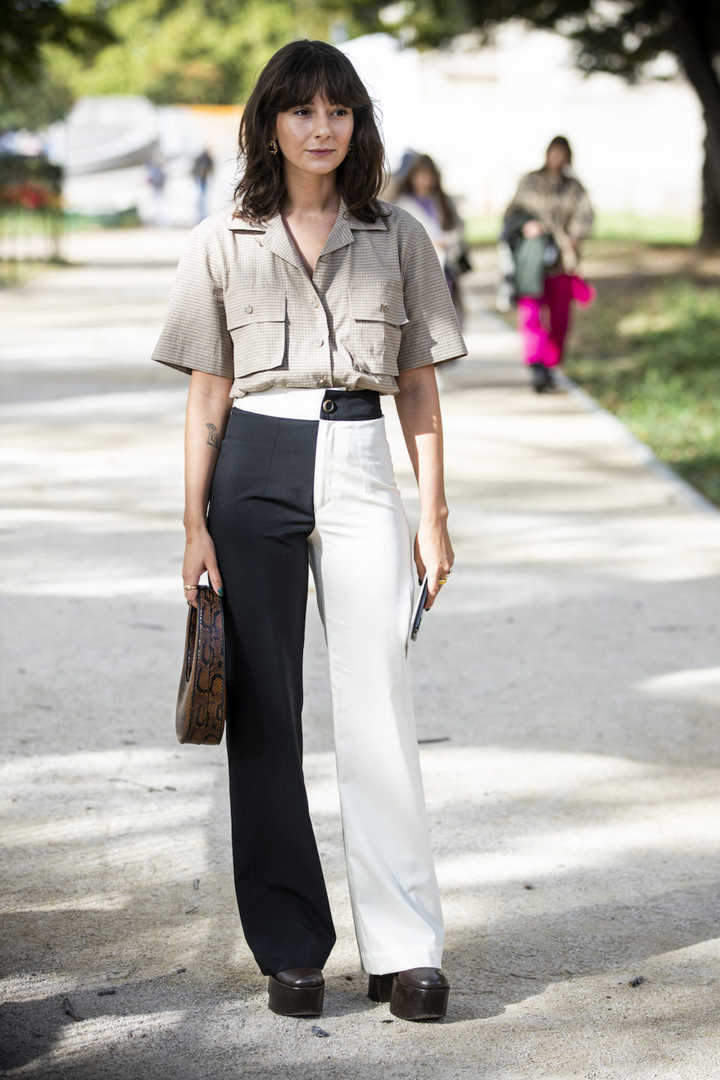 Buy Similar Here
I am a big fan of military-style lace-up platform boots. The tall ones in black color from Prada are my favorites. But you can go wild and try on combat boots with contrasting laces. By the way, the hiking platform boots are also in high demand, they do look awesome with down jackets, trench coats, and coats.
With Skirtsuit
Add a kind of military touch to your everyday outfit. Go for this dark grey skirt-suit with a bulky blazer and a mini skirt. Complete this look by adding layered necklaces and lace-up black leather platform combat boots: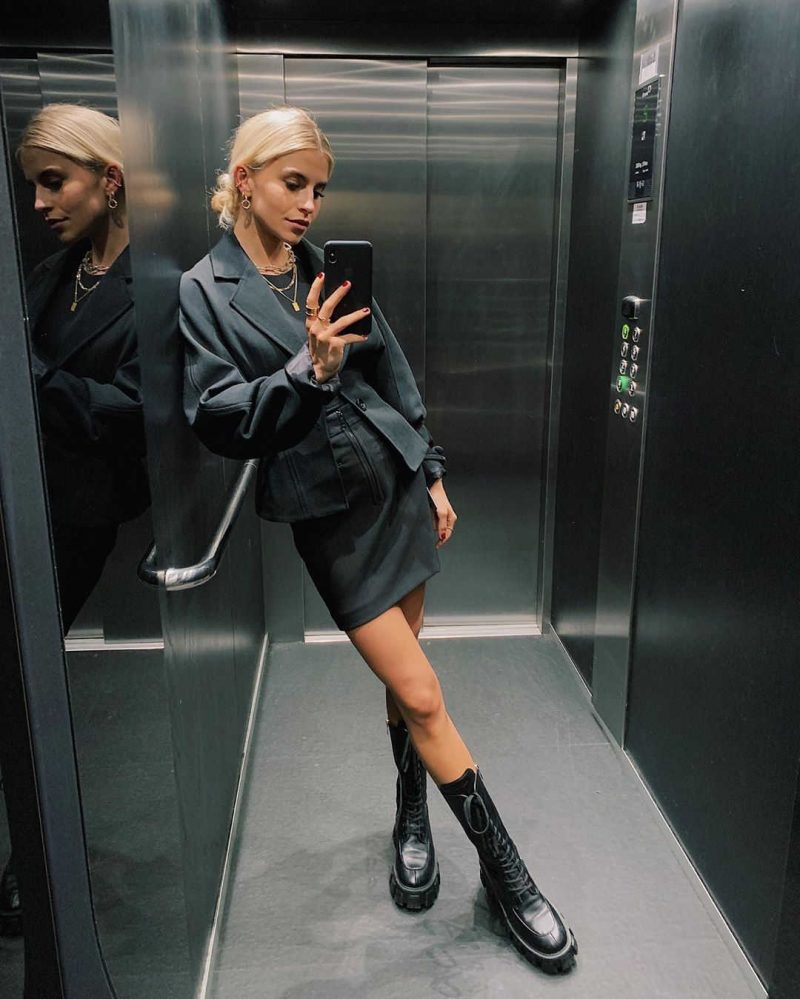 Buy Similar Here
@carodaur
If you want to highlight your height, then I recommend trying on heeled platform boots. They can be used at work, as well as for dating. You can easily team them with cargo pants, flared jeans, classic pants or midi skirts.
With Grey Blazer
You can easily combine platform military boots in black leather with ankle-length flared black jeans and lace black blouse. Complete the look by adding a mannish grey blazer and stylish glamour sunglasses with gold embroidery on the sides: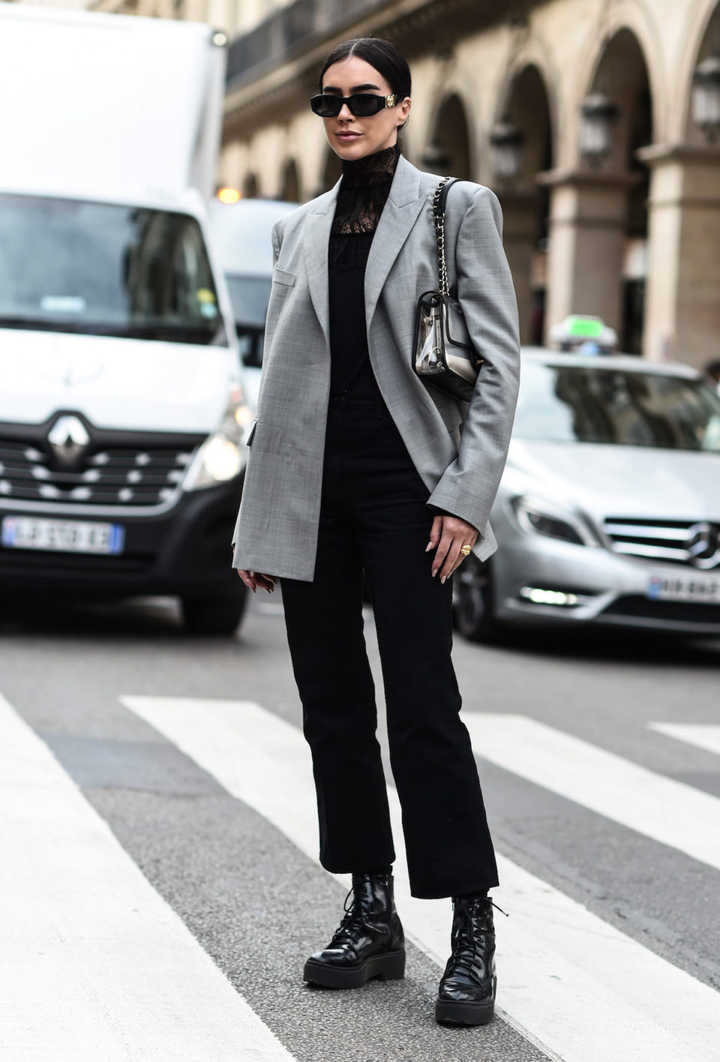 Buy Similar Here
Fashion people continue choosing functional footwear and platform boots are one of them. These shoes will instantly amp up your look, yes they kind of daring footwear, but it's worth it. I am not saying that classic booties are out of date, but you can make your mind and try something fresh for a moment. In other words saying, wear this trend while it's hot.
With Cocktail Dress
We see chunky-heeled platform lace-up boots worn with a strapless cocktail dress. Yes, you got me right, these beast boots can easily be teamed with cocktail attire and look amazing. Check out my post on boots with a cocktail dress, there are lots of amazing outfit ideas you can easily try out this year. Love the way Anna Dello Russo completes this red-violet-black cocktail frock by adding a chunky neckpiece and cute earrings: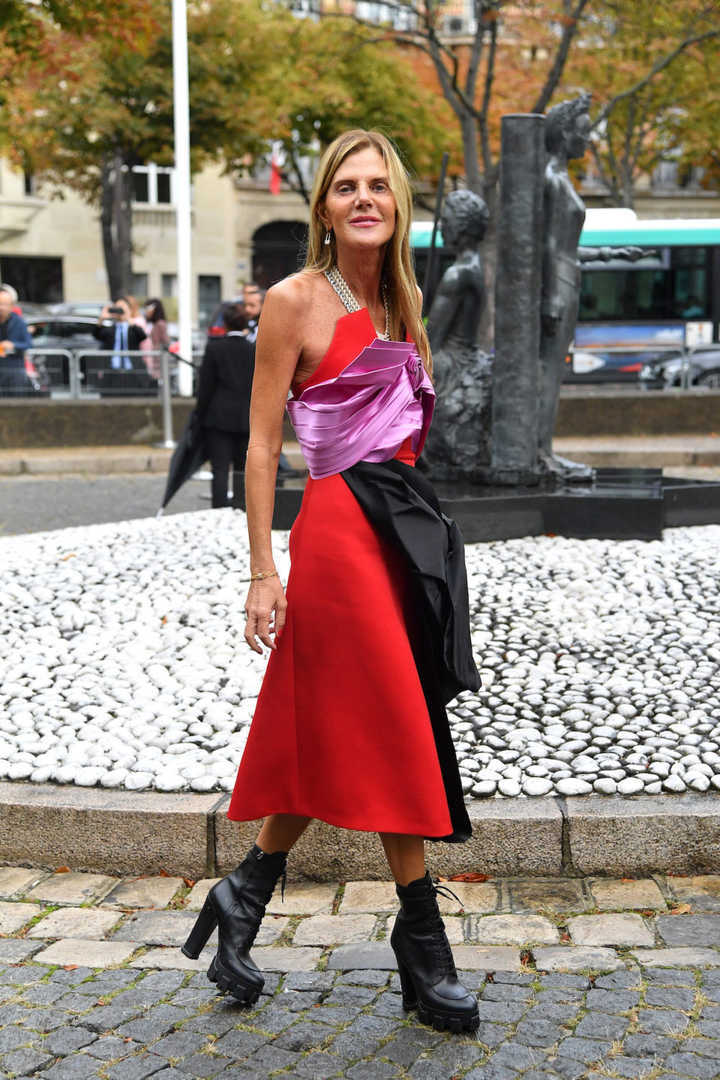 Buy Similar Here
Oh, no, they are not the footwear of the moment, they will become timeless. Platform boots have proven there isn't an ensemble they can't make look cooler.
With Hoodie Dress
A kind of grunge punk style is felt in this outfit. We see a grey hoodie dress paired with leopard print leggings and chunky platform combat boots, update this street look by adding a shoulder black leather bag: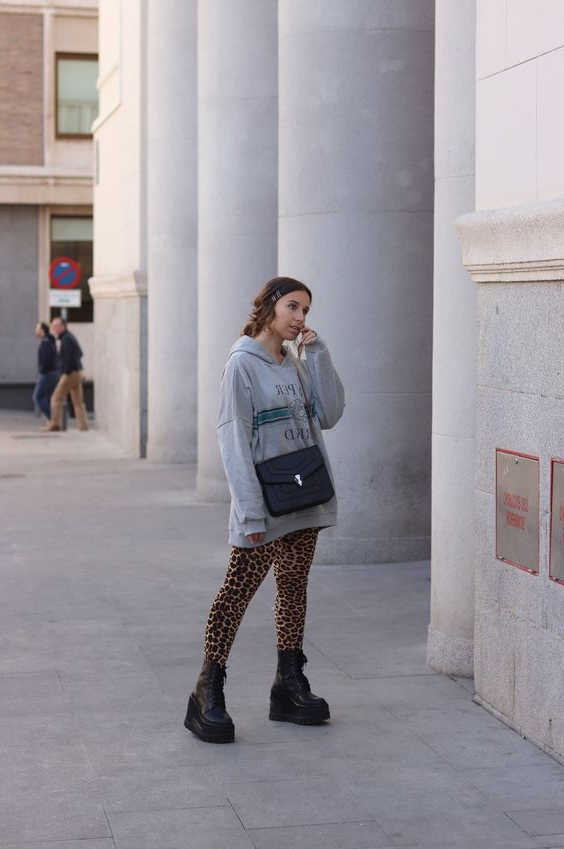 Buy Similar Here
With Tartan Dress
A kind of French chic touch is felt in this photo. We see a cute babe wearing a black beret with a tartan long-sleeve dress completed with tights and lace-up chunky platform boots. I don't know why this look reminds me of a Parisian style, but for some of you this outfit might look like modern grunge: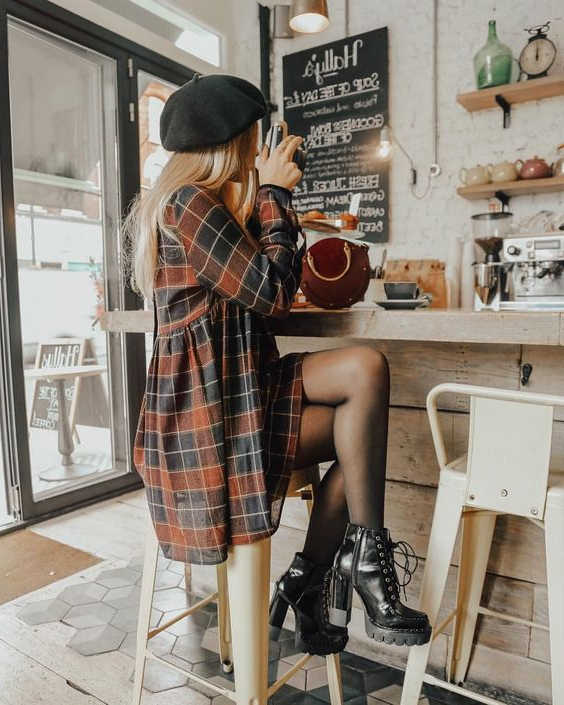 Buy Similar Here
With Suede Mini Skirt
We see a cute white blouse embellished with ruffles tucked in a gathered mini skirt in chestnut suede completed with lace-up heeled platform boots in black leather. Love the classic sunglasses, they add a classic touch to the whole outfit: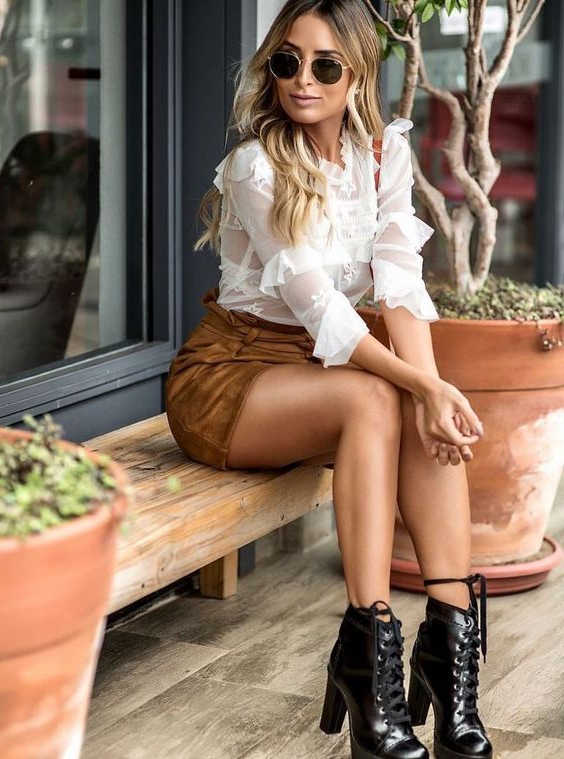 Buy Similar Here
All in Black: With Black Pantsuit
A pair of heavy patent black chunky platform boots ideally match this charcoal belted pantsuit, an ideal look for fancy events or dinner: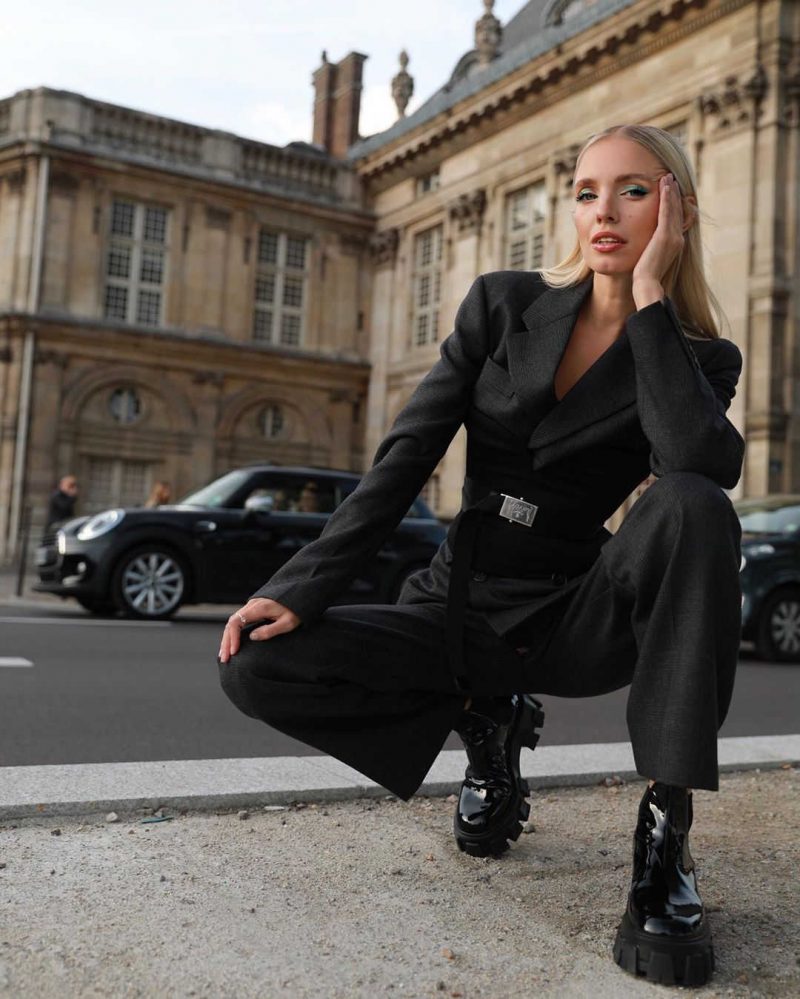 Buy Similar Here
@leoniehanne
With Printed Outfit
Platform boots in leopard print look unique and creative styled with a heavy printed black outfit consisting of a knife-pleated asymmetric midi skirt and an oversized jacket: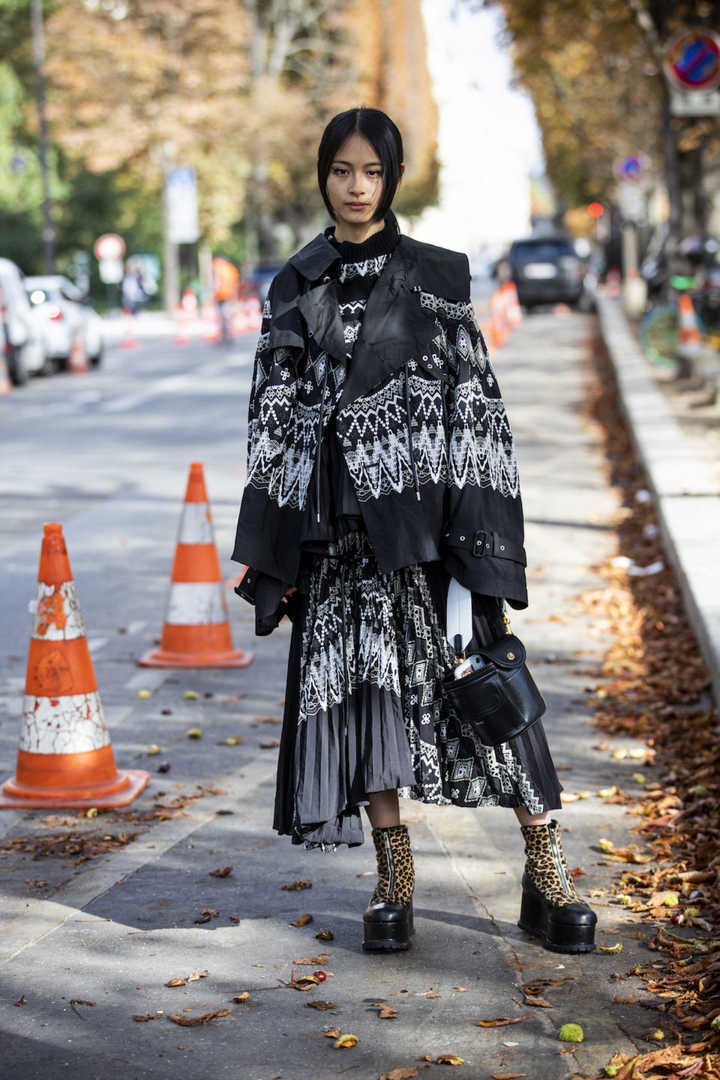 Buy Similar Here
With Asymmetric Knife-Pleated Skirt
Brown patent sock-style platform heeled boots are worn with high-low knife-pleated long skirt in brown teamed with a matching color shirt and an orange turtleneck. Complete this combo by adding a dark orange leather crop jacket and fancy sunglasses: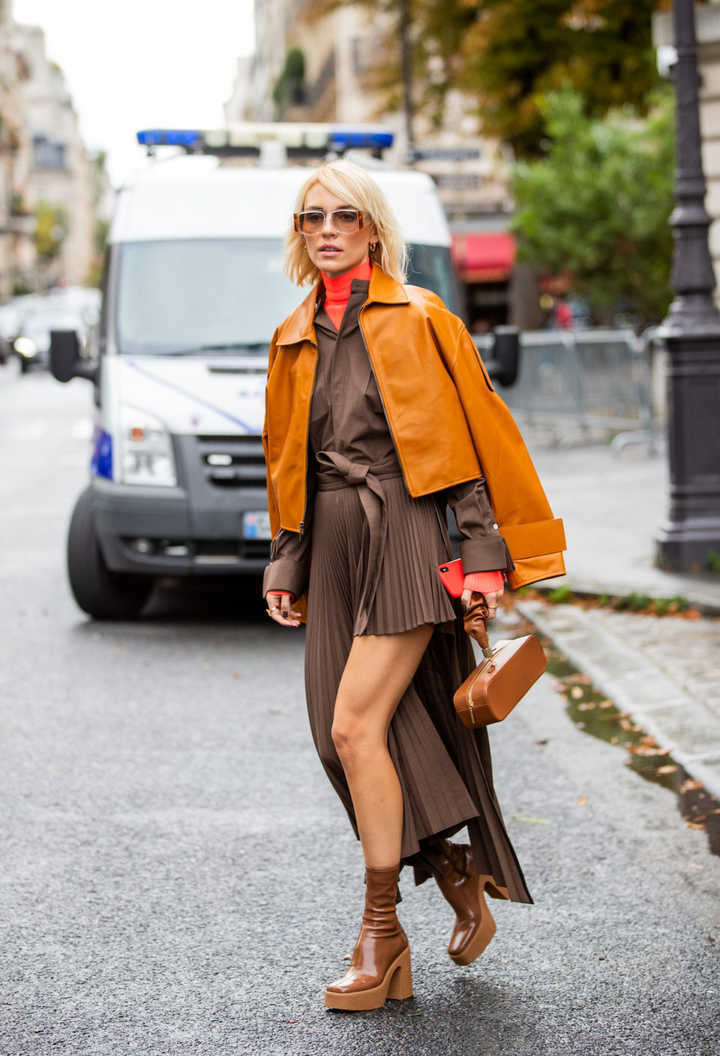 Buy Similar Here
With Bike Shorts
Platform Chelsea boots in black leather look sci-fi styled with black bicycle shorts, white top and a black blazer: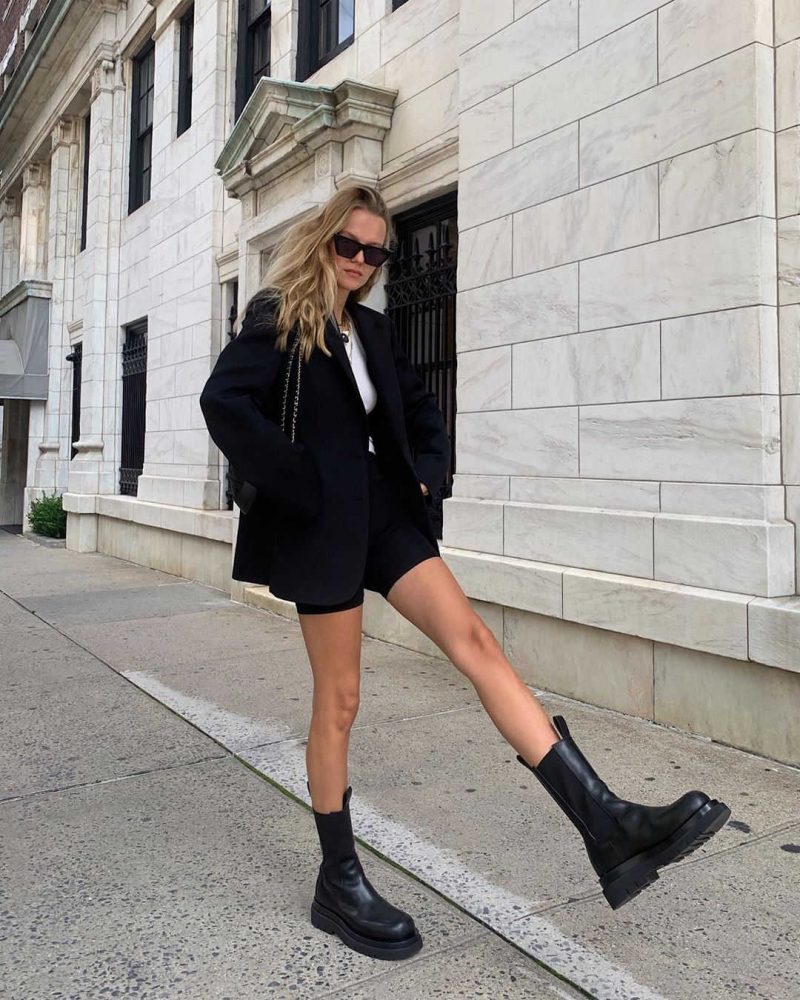 Buy Similar Here
@mvb
With Black Leather Shorts
We see  a black long-sleeve top tucked in gathered black leather shorts completed with black leather platform lace-up high combat boots and cat-eye sunglasses: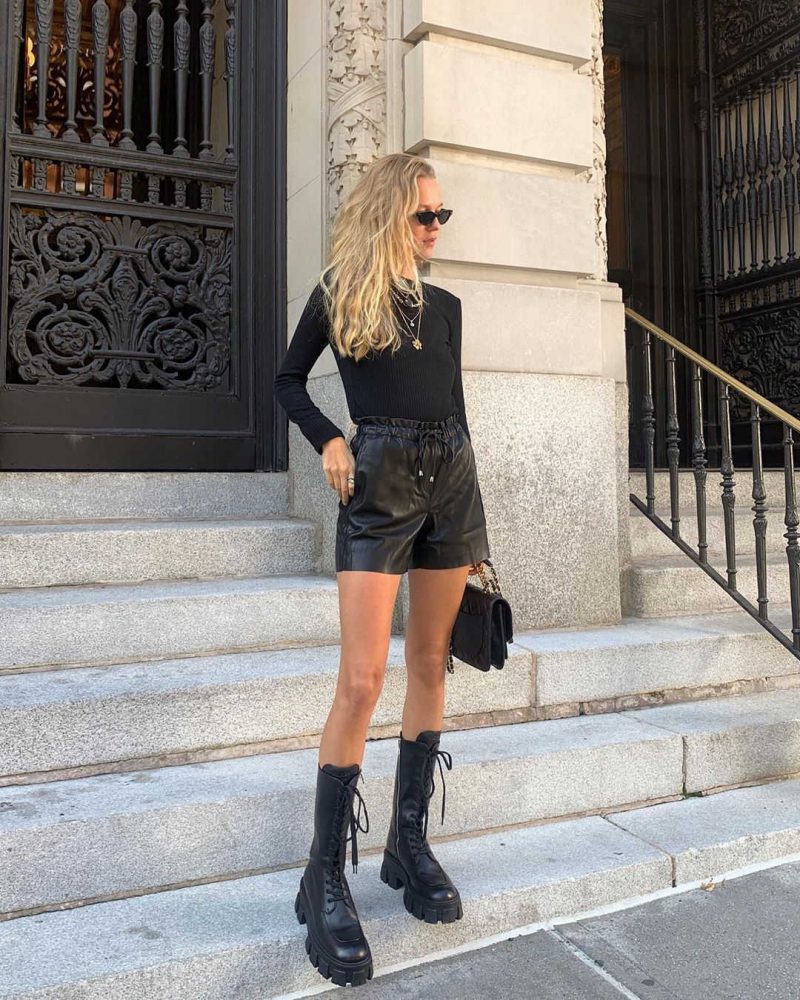 Buy Similar Here
@mvb
With Plaid Long Skirt
We see a kind of modern grunge in this outfit. A slouchy oversized black sweater is teamed with a plaid midi skirt completed with chunky heeled platform boots in black leather. Update this look by adding rounded sunglasses and a chain strap red shoulder bag:
Buy Similar Here
With Cute Floral Dress
We see a cute floral midi camisole dress updated with heeled platform chunky boots in black leather. Love that structured white clutch bag: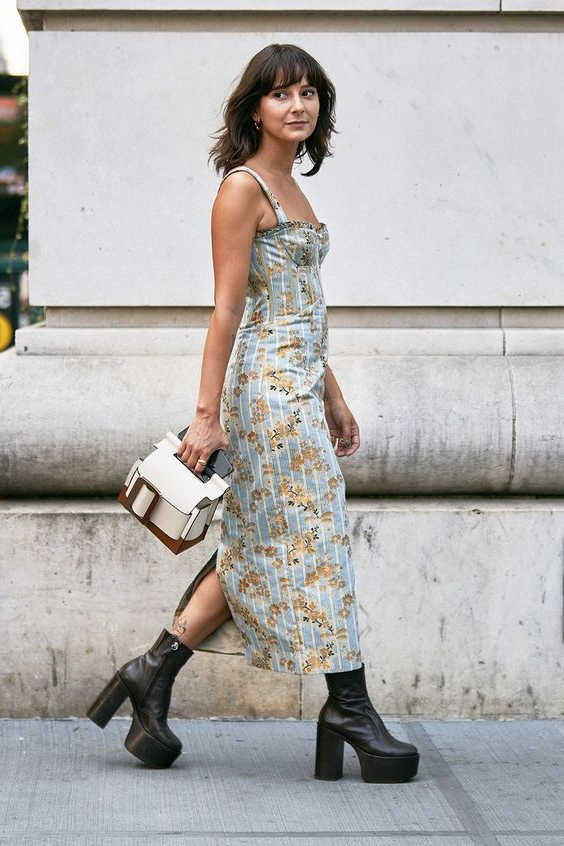 Buy Similar Here
With Tailored Pants
We see a camel blazer in oversized fit layered over a white top teamed with wool tailored cream-beige pants tucked in platform Chelsea boots in black leather. The overall style is smart-casual: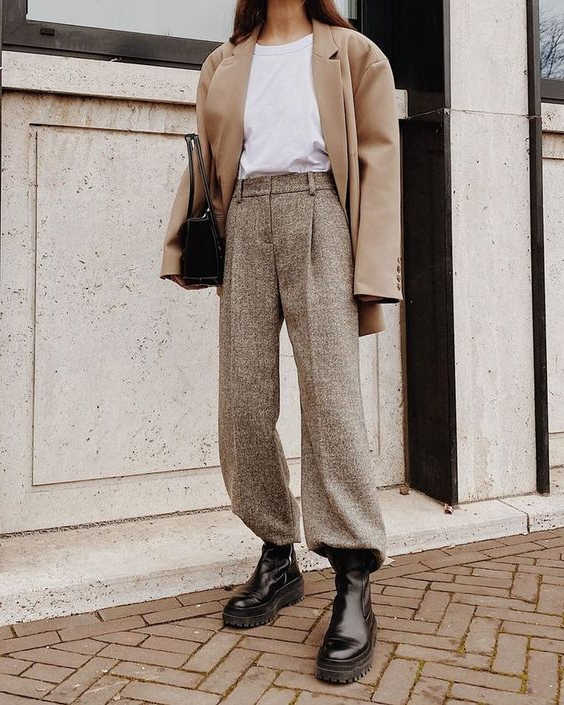 Buy Similar Here
With Leggings
We see a perfect look for chilly mornings. A young lady wears a grey beanie styled with a shearling black peacoat teamed with black skinny jeans and black platform boots: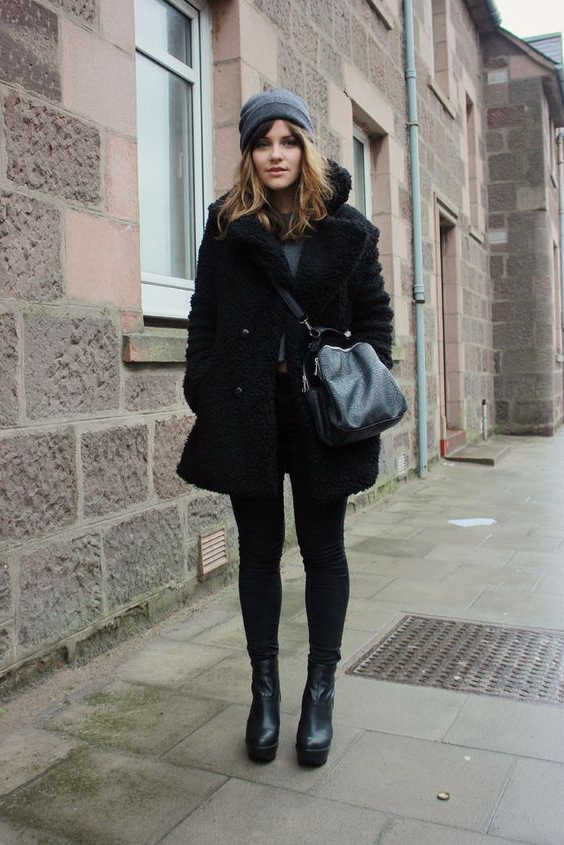 Buy Similar Here
With Wide Pants
A kind of mannish 1990 style look. We see a long heavy coat draped over a semi-sheer black top tucked in wide-leg black pants completed with platform heeled black leather boots: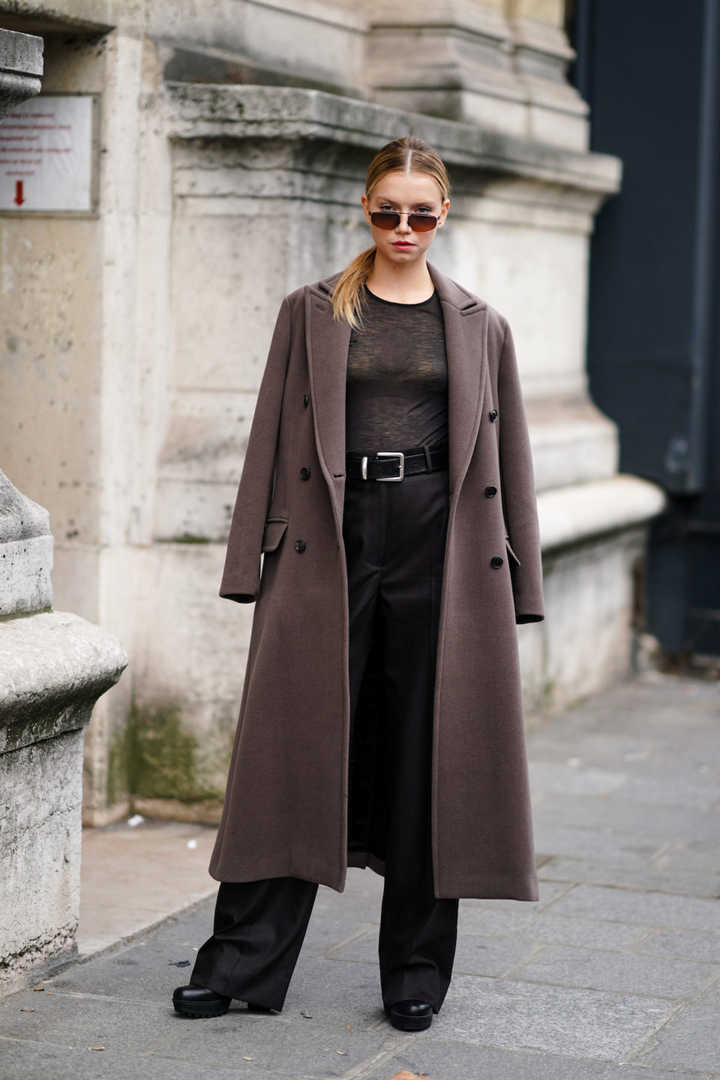 Buy Similar Here
With Plaid Midi Skirt
I am so in love with this retro look. We see a tweed blazer teamed with a midi pleated plaid skirt and high heeled platform chunky boots in black glossy leather. The bucket bag from Chanel looks gorgeous: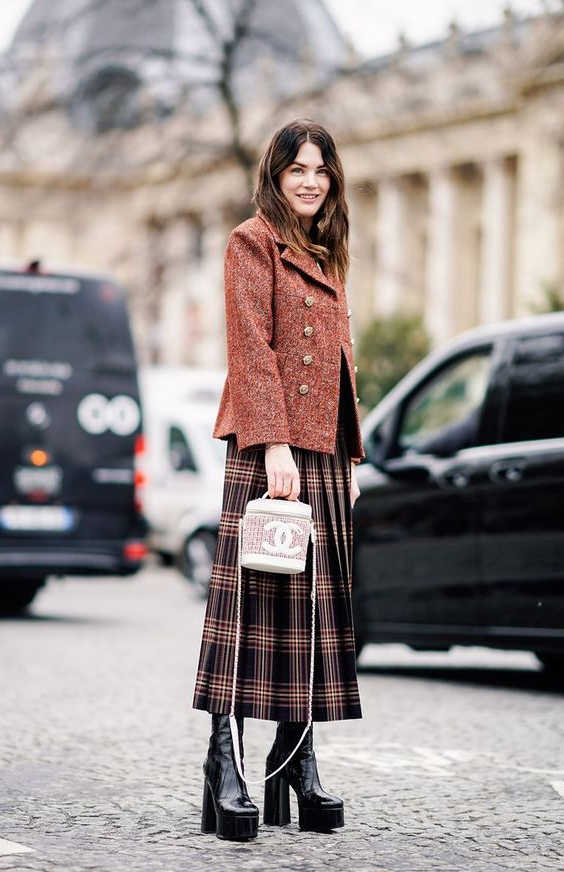 Buy Similar Here
With Off Shoulder Dress
An off-shoulder peasant mini dress in black looks awesome styled with lace-up platform combat boots in black leather: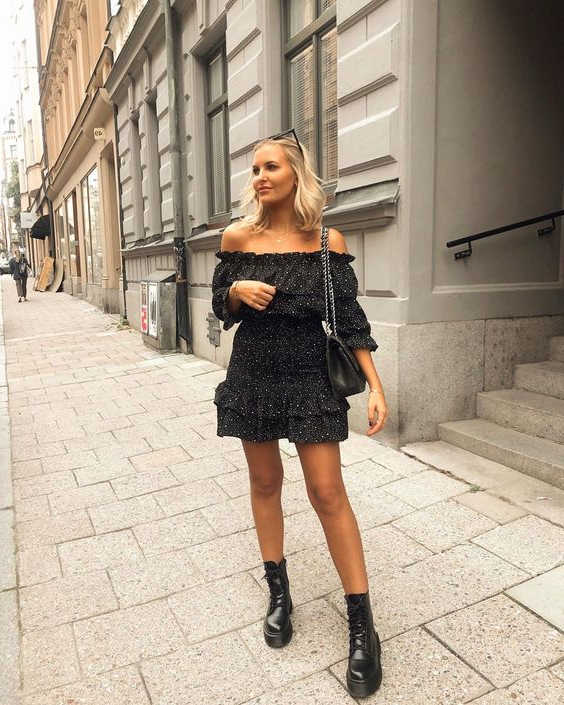 Buy Similar Here
With Skinny Jeans
We see a bronze metallic hooded long coat worn with black skinny jeans and black leather combat boots with a chunky platform: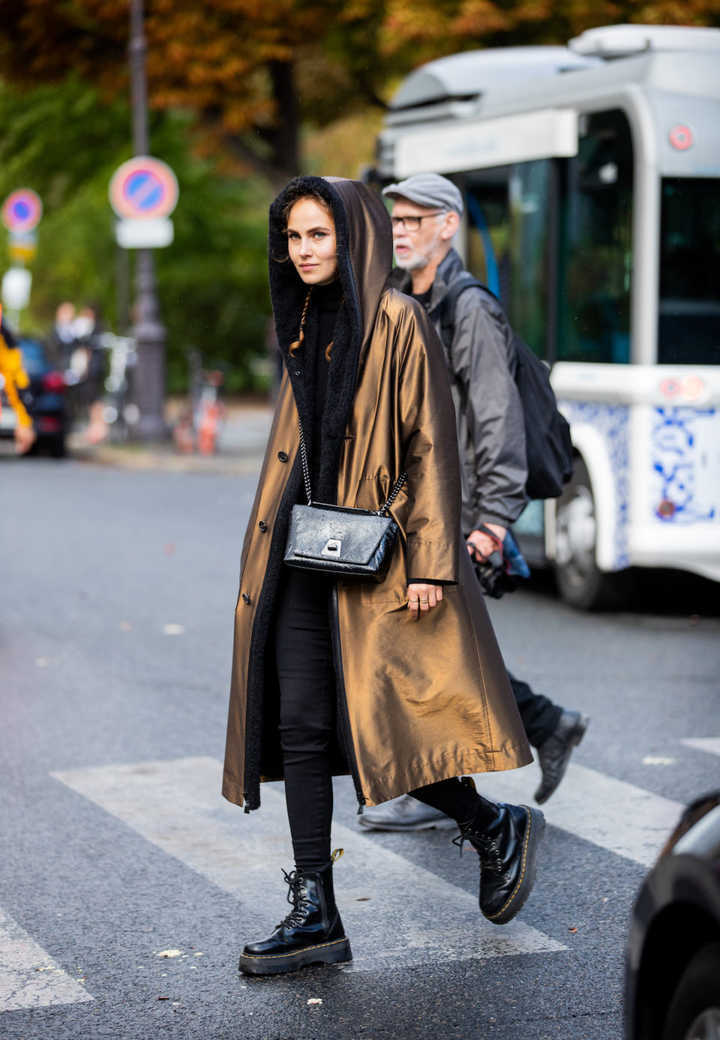 Buy Similar Here
With Mini Dress
Have fun with an edgy black leather biker jacket styled with a white dotted red dress and chunky platform black leather combat boots. In love with these rounded shades: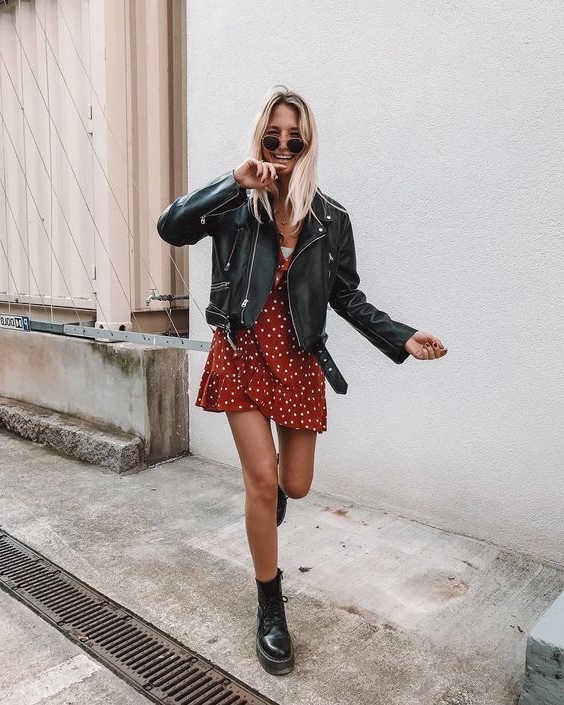 Buy Similar Here
With Pastel Suit
We see a fabulous street style look. It consists of a pastel blue oversized blazer worn with a pastel violet shorts suit and heeled chunky platform grey sock boots. Love the green clutch and those 90s style clear sunglasses: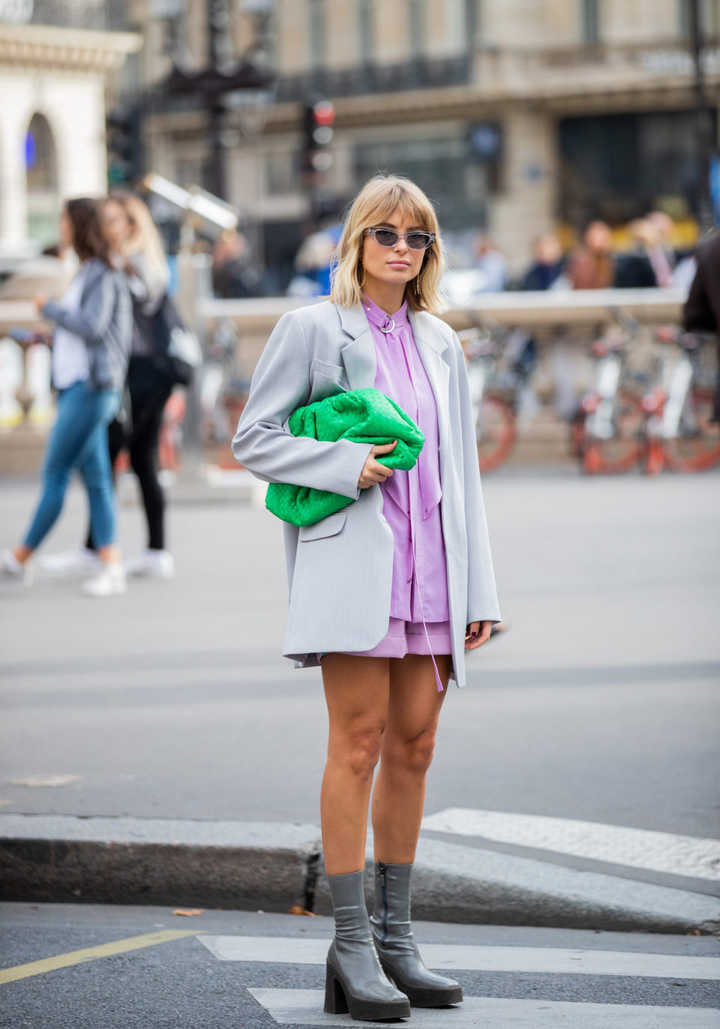 Buy Similar Here
With Boyfriend Jeans
Love the cropped pastel-yellow jacket teamed with high-waisted boyfriend jeans tucked in platform chunky Chelsea boots in black leather: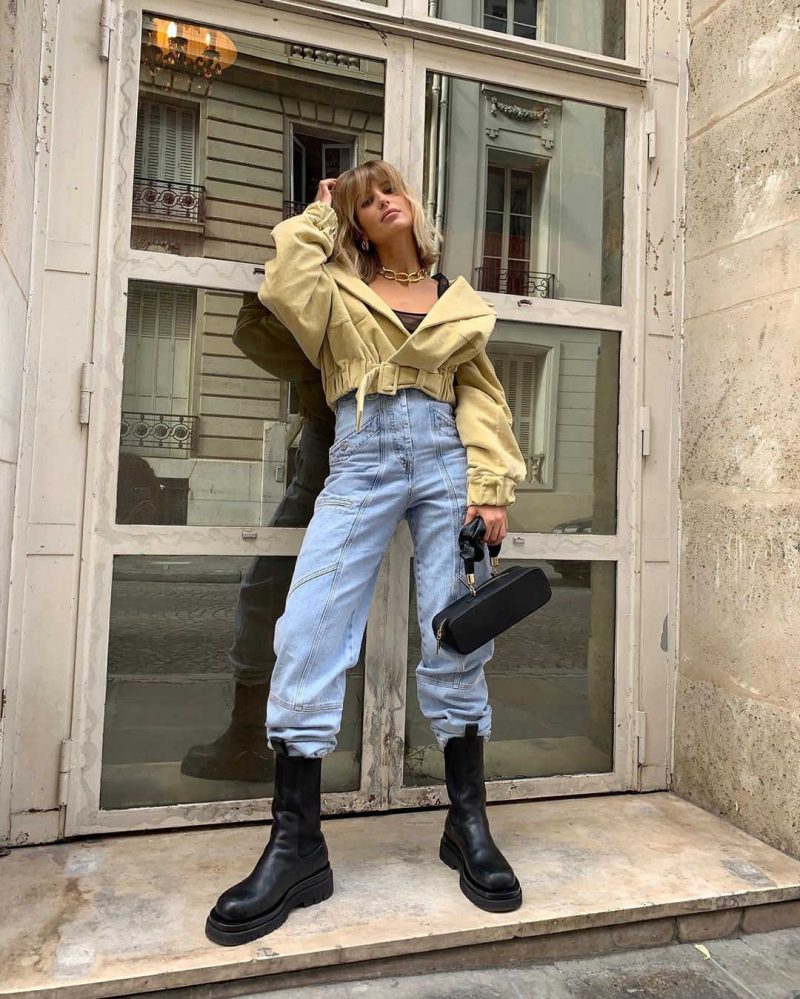 Buy Similar Here
@xeniaadonts
With Black Regular Jeans
In love with this basic combo. We see charcoal loose-fit jeans paired with platform heeled chunky boots in yellow: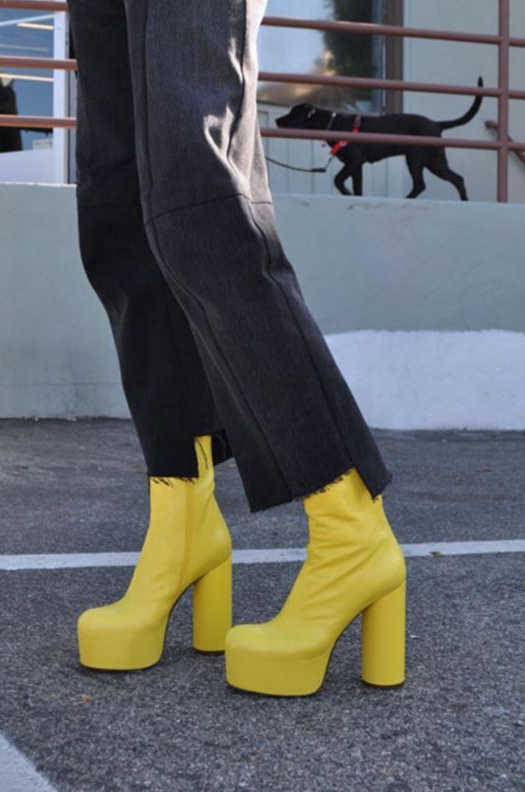 Buy Similar Here
Source: Fashionisers, WhoWhatWear,