This time I am here to talk about cowboy boots for women. I will show you easy ideas on how to wear these footwear in real life, from the streets to fashion shows and glamour events.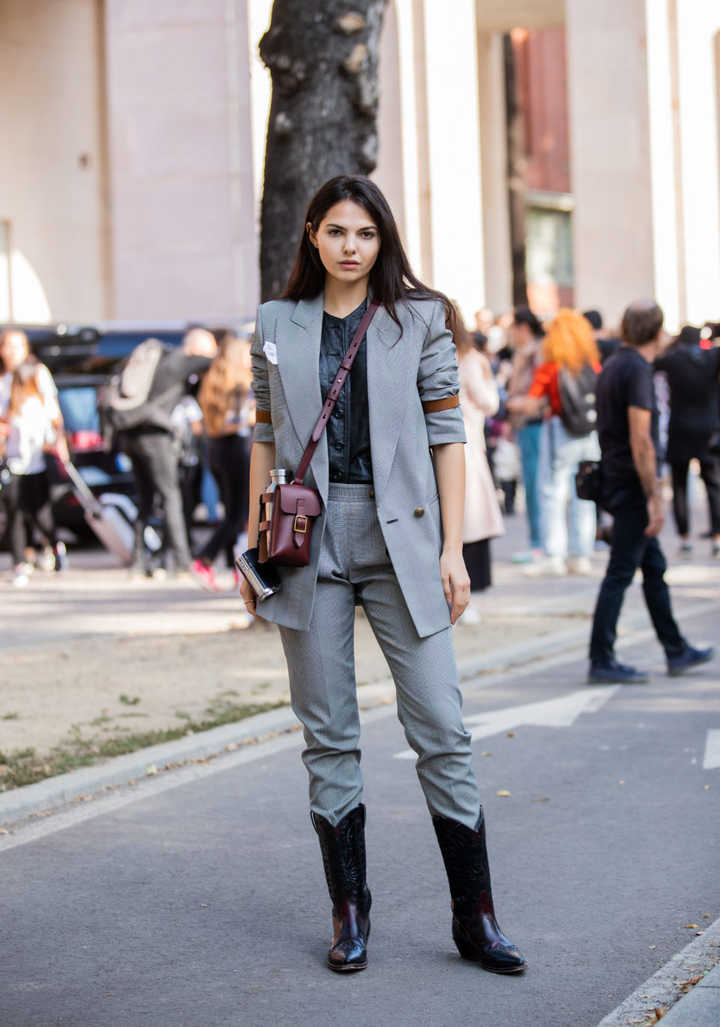 Buy Similar Here
Update your classic style with western touches. We see a grey pantsuit featuring a regular fit grey blazer, black leather shirt paired with elastic waistband pants tucked in black cowboy boots.
If you are looking for a way to show off your individuality, then you better skip the well-known ankle boots and go for cowboy boots.
They are can be worn by women of any age, from the twenties to sixties. I will try my best to share with you ideas on what to wear with these boots, what styles are in trend this season, and how to create a perfect balance with this type of footwear.
Cowboy Boots And Boho Dress
A boho touch is here! We see a black leather jacket teamed with a peasant lightweight dark brocade printed dress completed with black leather cowboy boots: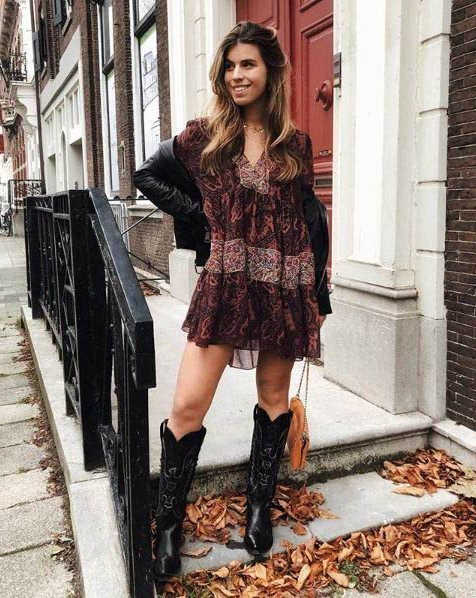 Buy Similar Here
The cowboy trend is pretty massive among fashion designers right now and you better give it a try. I see many runway shows featuring clothes and shoes in a wild western style, like suede bombers, fringed jackets, plaid shirts, cowboy hats, etc. All these pieces are great for street walks, not only for music festivals. Lots of fashion influencers sharing their OOTD with cowboy touches, declaring that this style is practical and universal.
Cowboy Boots And Mini Bodycon Dress
Have a look at this marvelous combination of all in black outfit idea. We see an off-shoulder long-sleeve mini belted dress completed with black leather cowboy boots and cool 1990s style sunglasses: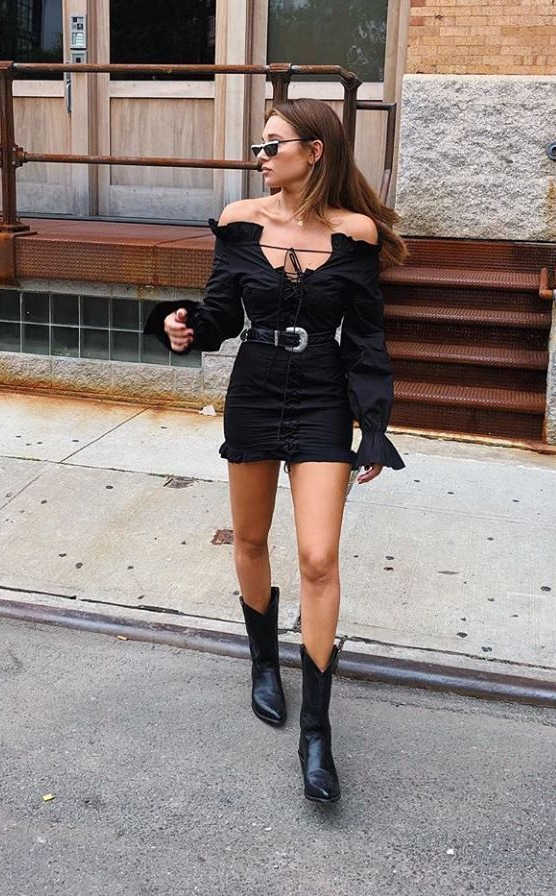 Buy Similar Here
This footwear stopped to be associated with western movies, they are easy to wear and style with our basic wardrobes. I personally love to see these boots teamed with lightweight dresses and tailored pants. This year we see a fresh update of knee-high cowboy boots, they are so must-try, yet you can still start from classic ankle cowboy boots and taller ones!
Cowboy Boots And Double Denim Look
If you are into double denim look, then try on this two-color denim jacket and style it with a basic white tee tucked in regular ankle-length jeans completed with white cowboy boots with Chelsea details: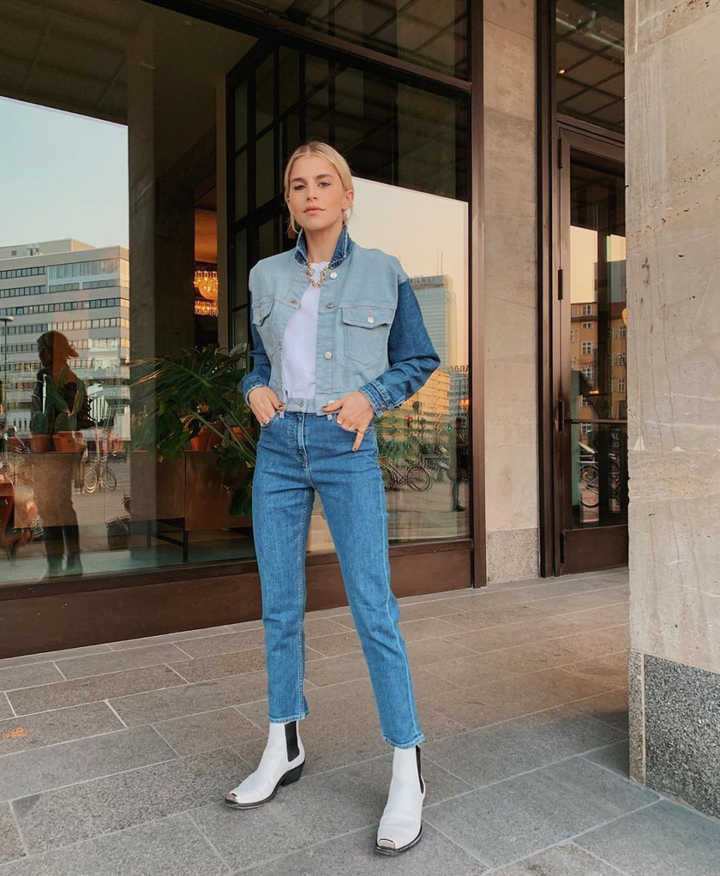 Buy Similar Here
@carodaur
If you are a beginner to this trend, then the best look to try on right now is a combination of cowboy boots and jeans. Yes, it might still smell western-inspired, but you can complete the look by adding a colorful shirt or a puffy jacket. White cowboy boots are ultra-popular right now, try them on with the same color outerwear or with black dresses. I also like colorful cowboy boots, they seem to be a perfect accent to the monochrome look. Don't afraid to experiment, mix up your boots with fringed skirts, evening dresses, sporty tops, and jackets.
Cowboy Boots And Black Leather Jacket
Another way to underline your uniqueness is to try on this grunge versus cowboy look. We see an oversized black leather biker jacket teamed with a black shirtdress completed with black cowboy boots: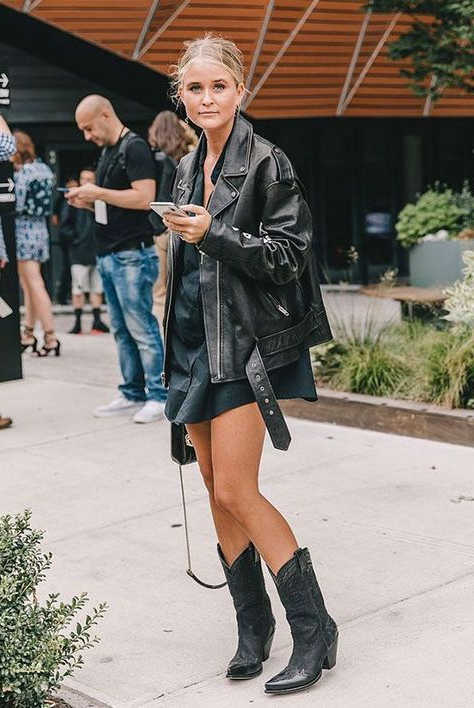 Buy Similar Here
No one denies, cowboy boots are cool and they can easily go with almost anything from your closet, like jumpers, maxi skirts, blazer dresses, etc. If you have never tried these footwear before, then it might be a bit daunting for you to combine it with your everyday clothes. That's why I am here to help you out.
Buckled Cowboy Boots And Bohemian Midi Dress
A kind of hippie look. We see an oversized black blazer styled with a midi black floral dress completed with buckled patent black cowboy boots: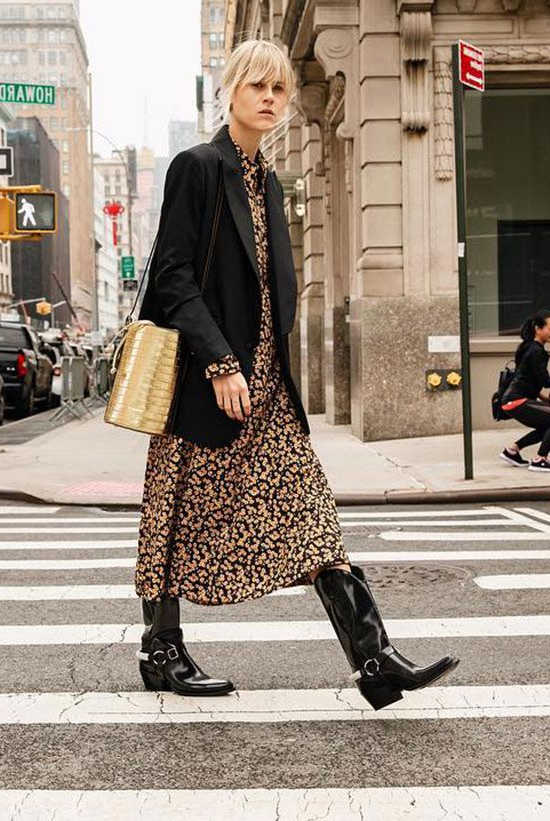 Buy Similar Here
Cowboy Boots With Plaid Pants
A snakeskin black leather knee-length cowboy boots look pretty chic with plaid pants and shearling white sweater. Complete this ultra glam outfit by adding oversized sunglasses: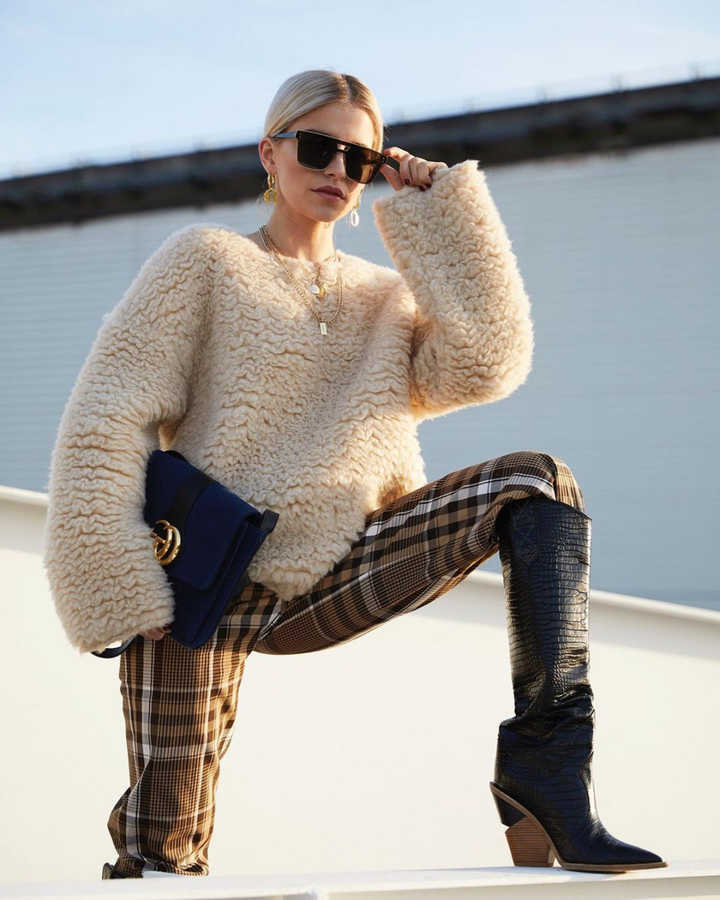 Buy Similar Here
@carodaur
I like the detailing of most cowboy boots, it makes them look artisan and hand-crafted. Anyway, scroll down to see some of the best styling tricks of wearing cowboy boots with suiting, sweet flowy dresses, tucked underneath straight-leg jeans, etc. Check out other inspiring ways to style cowboy boots.
Ankle Cowboy Boots And Black Dress
Another boho meets glam outfit idea. We see a total black outfit consisting of a belted black mini dress with long sleeves and ruffled detailing and short cowboy boots with white snakeskin details: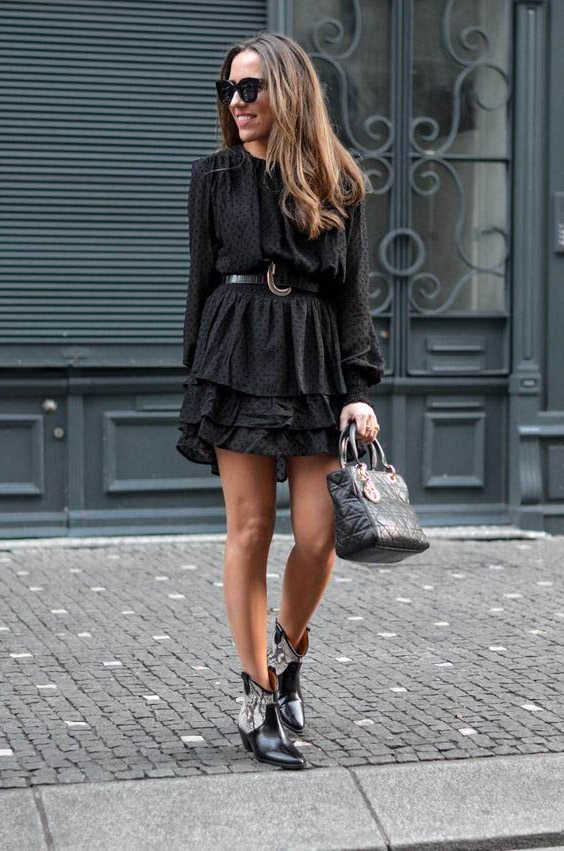 Buy Similar Here
Cowboy Boots And Black Sweater
Love the way these black matte cowboy boots are styled with a flared mini lightweight snakeskin print skirt and a bulky sweater in black: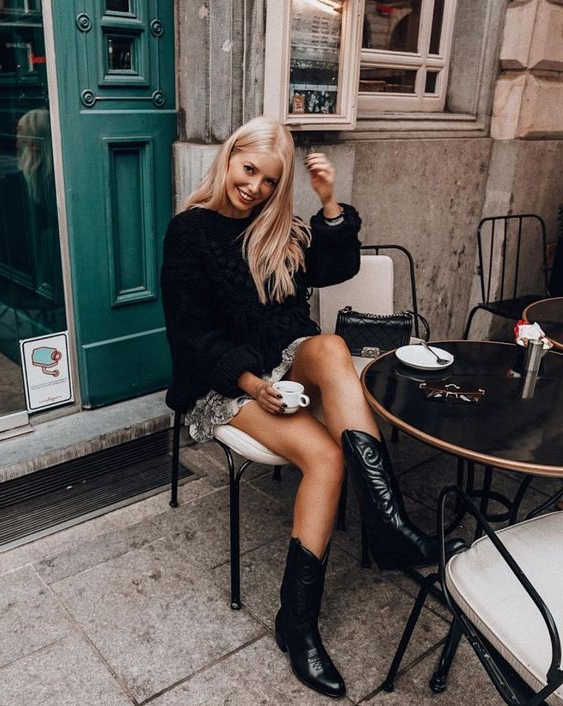 Buy Similar Here
Colored Cowboy Boots And Midi Printed Skirt
Have fun with multi printed cowboy boots teamed with a midi printed yellow skirt and pastel yellow checkered sweatshirt: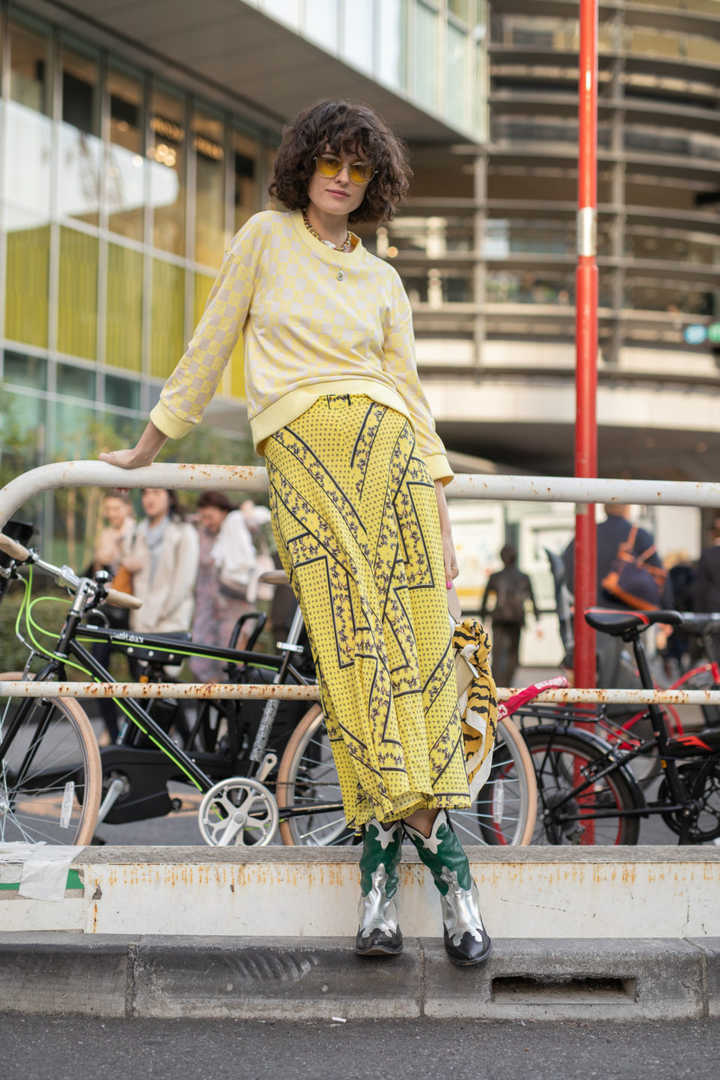 Buy Similar Here
Cowboy Boots And All Black Outfit
A kind of French chic meets wild west outfit. We see a young lady wearing a black beret hat, oversized black blazer, black shirtdress, and black-red cowboy boots: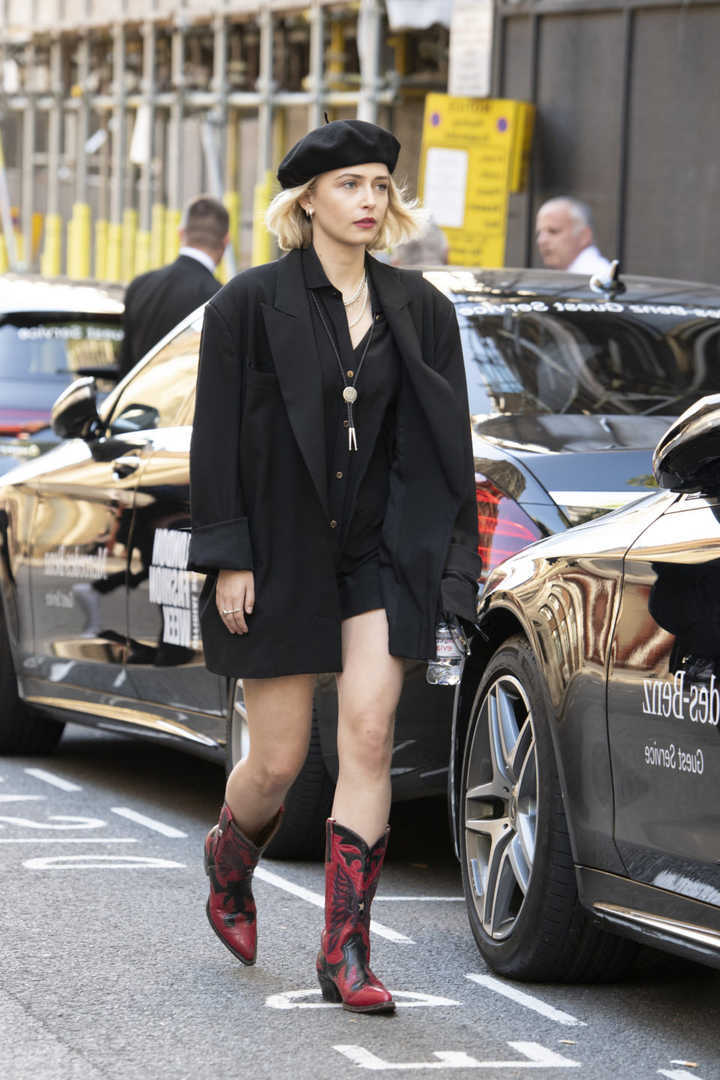 Buy Similar Here
Cowboy Boots With Bicycle Shorts
Dark brown cowboy boots look pretty cool with black bicycle shorts and cream-grey mohair sweater. Update this look with oversized nerd eyeglasses. In love with that brown leather clutch bag: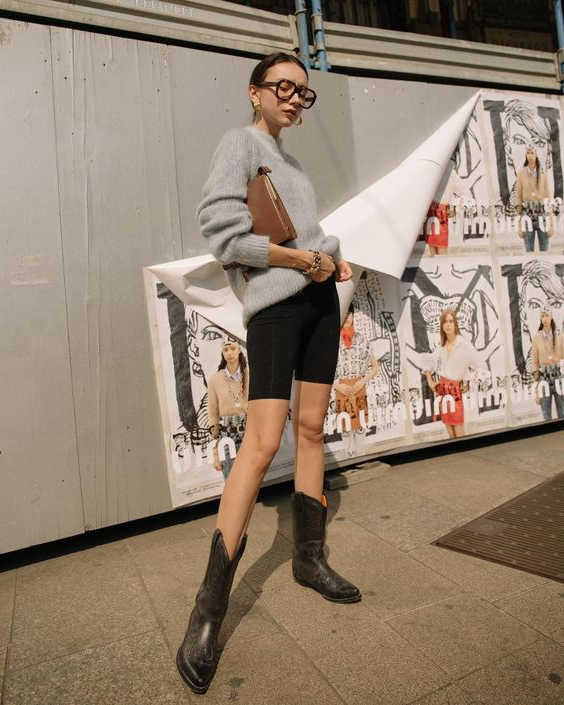 Buy Similar Here
Cowboy Boots And Blazer Dress
A pair of black-white cowboy boots look pretty awesome styled with a plaid light-grey blazer dress completed with a black belt: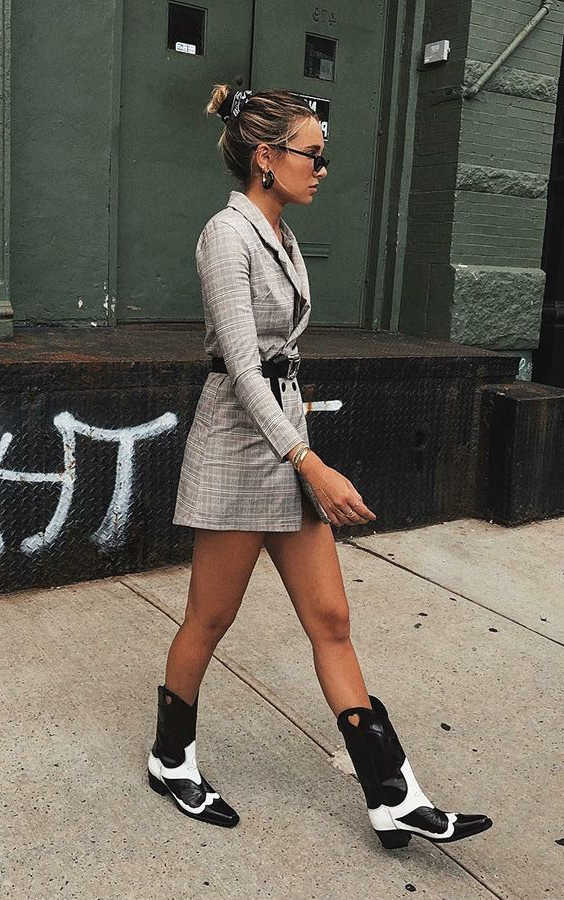 Buy Similar Here
Cowboy Boots And Blue Dress
Minimalistic black leather cowboy boots ideally match that blue dress with a black belt. Complete this glamour combo by adding a dark navy oversized blazer: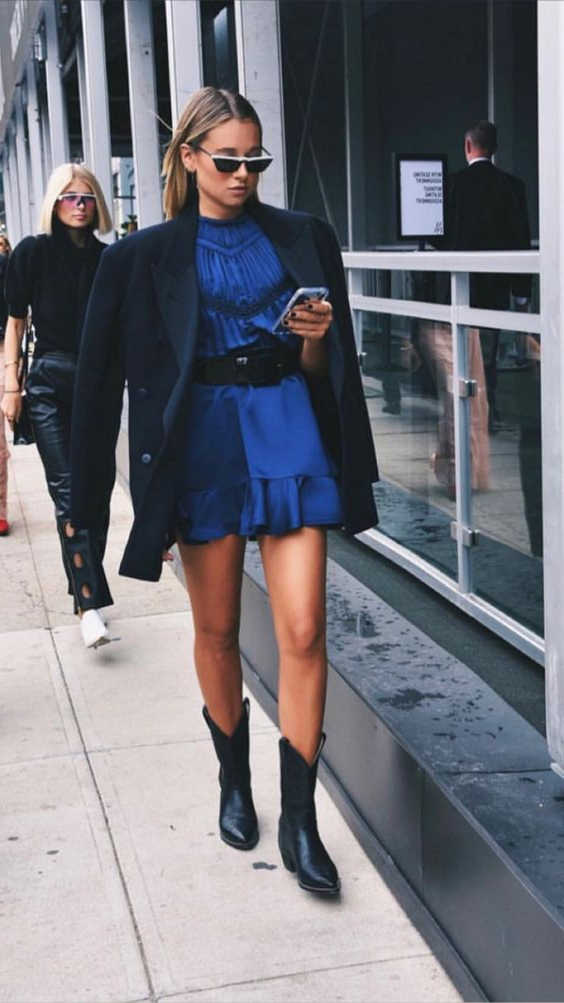 Buy Similar Here
Cowboy Boots And Bodycon Dress In Green
Black dotted army green bodycon mini dress looks sassy styled with a black blazer and black cowboy boots. Add a pair of aviator sunglasses to underline your sophistication: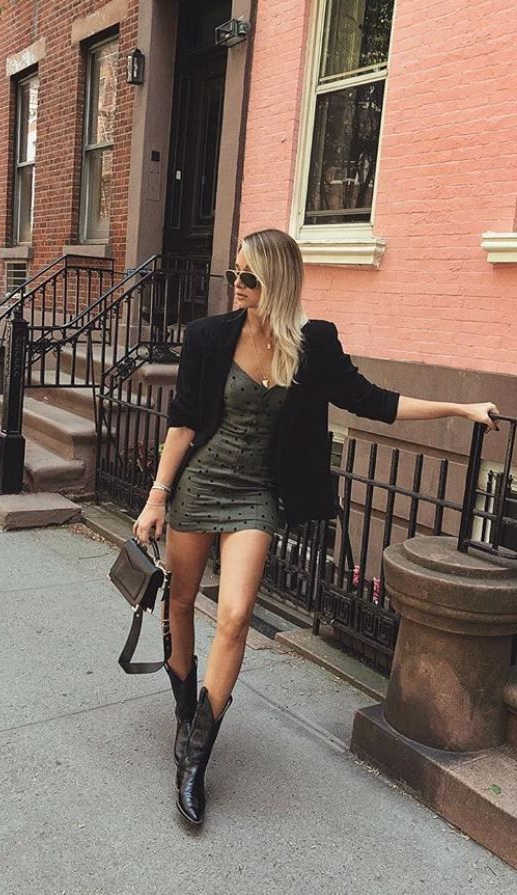 Buy Similar Here
Cowboy Boots And Boyfriend Jeans
Boyfriend jeans are tucked in black cowboy boots, a nice combo for making a wow statement. Complete the look by adding a black turtleneck and a quilted black leather shopper bag. Love these flat-brow sunglasses: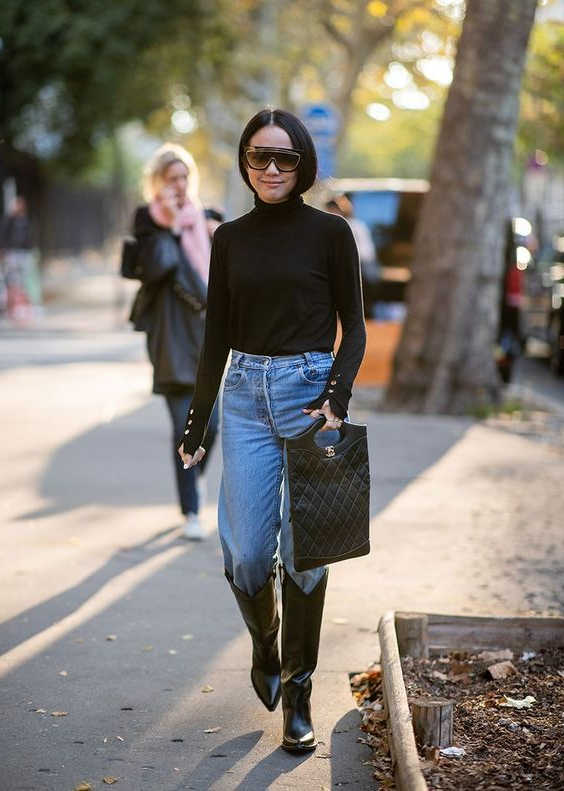 Buy Similar Here
Cowboy Boots And Chunky Knitwear
Yes, brown leather cowboy boots look cool with chunky knitwear. We see a young lady wearing an oversized charcoal scarf styled with a bulky dark blue cardigan over a printed cardigan completed with a black t-dress, black leggings and boots:
Buy Similar Here
Cowboy Boots And Denim Shorts
Here we see ankle-length cowboy boots in brown teamed with denim shorts, sleeveless white tee and a wide-brim black cowboy hat. Update this summer look with a black neck-scarf in white dots:
Buy Similar Here
Cowboy Boots And Knee Ripped Skinny Jeans
Go for a wide-brim camel cowboy hat and style it with a V-neck cream-grey sweater paired with knee-ripped slim jeans in blue tucked in light brown cowboy boots: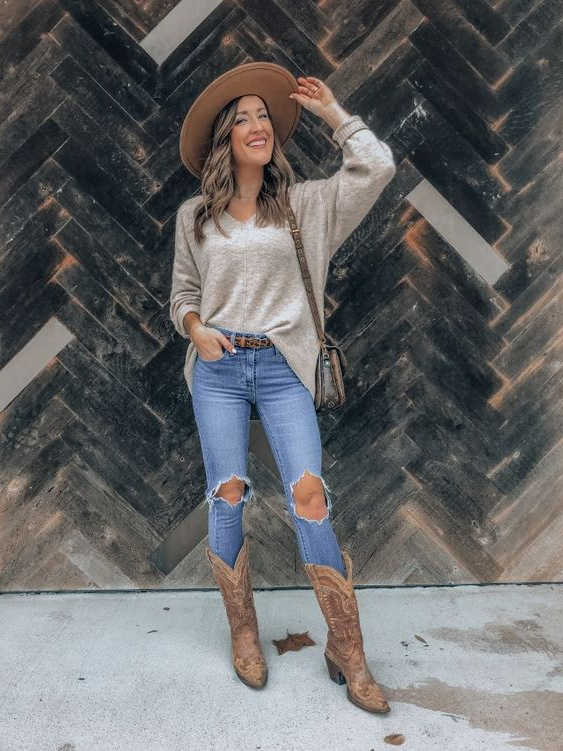 Buy Similar Here
Cowboy Boots And Leather Mini Skirt
Another great way to underline your sophistication is to try on a black and white look. We see a white blouse tucked in a high-rise black leather mini skirt completed with minimalistic black leather cowboy boots: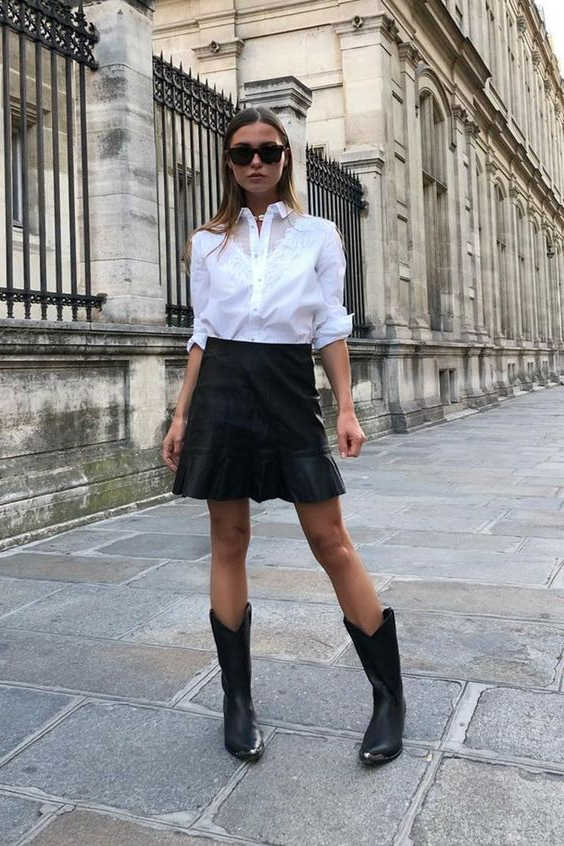 Buy Similar Here
Cowboy Boots And Oversized Sweater Dress
A printed oversized sweater dress ideally matches these dark brown leather cowboy boots: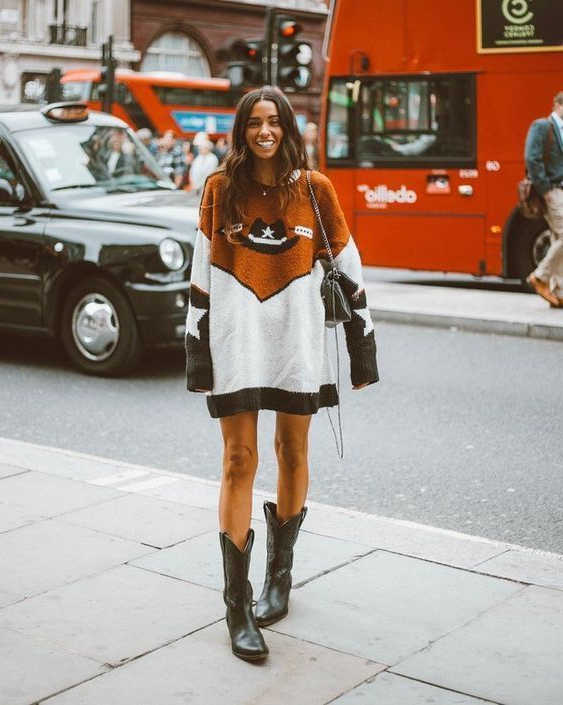 Buy Similar Here
Cowboy Boots And Skinny Jeans
A pair of blue skinny jeans can be tucked in brown cowboy boots. Add a white high-neck slim top and a windowpane printed navy shawl. Love the aviator shades: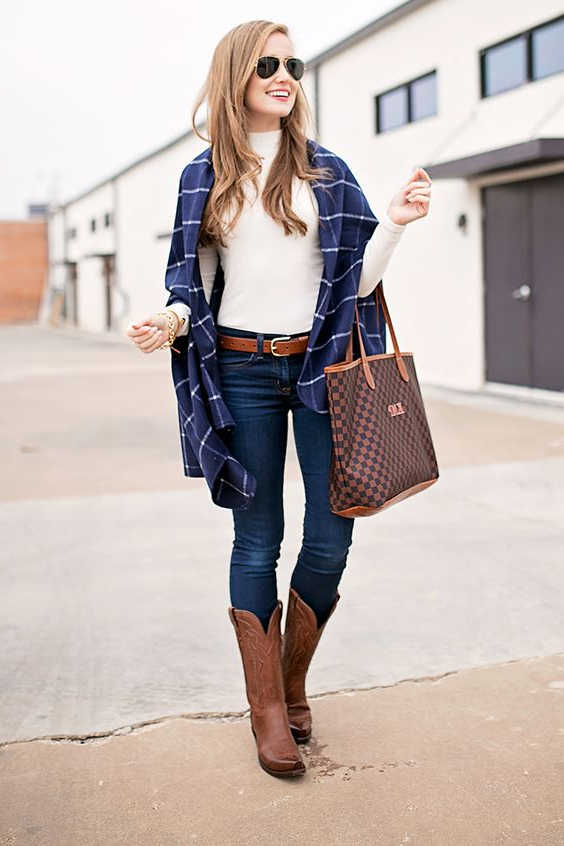 Buy Similar Here
Cowboy Boots And Oversized Shirtdress In White
Extra oversized white shirtdress looks pretty chic teamed with Fendi brown leather cowboy boots: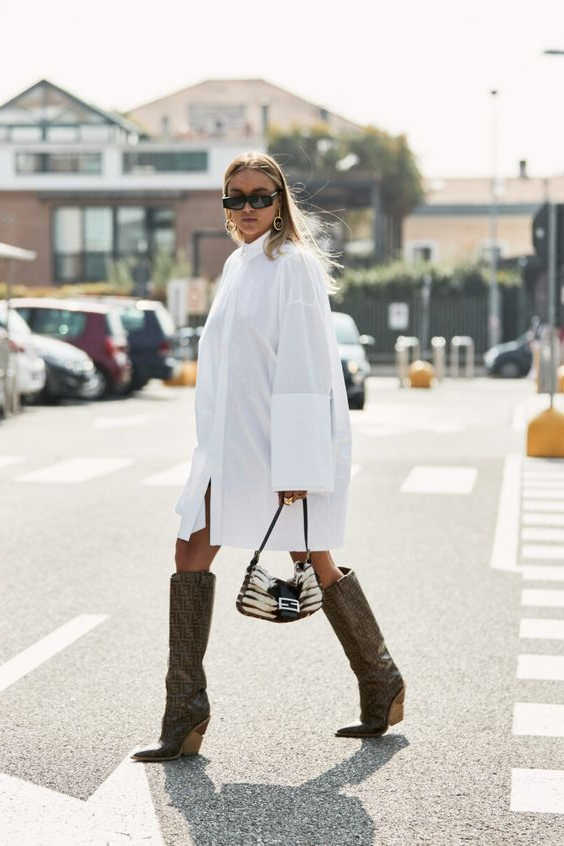 Buy Similar Here
Cowboy Boots And White Peasant Romper
How about teaming black leather cowboy boots with a peasant ruffled white romper: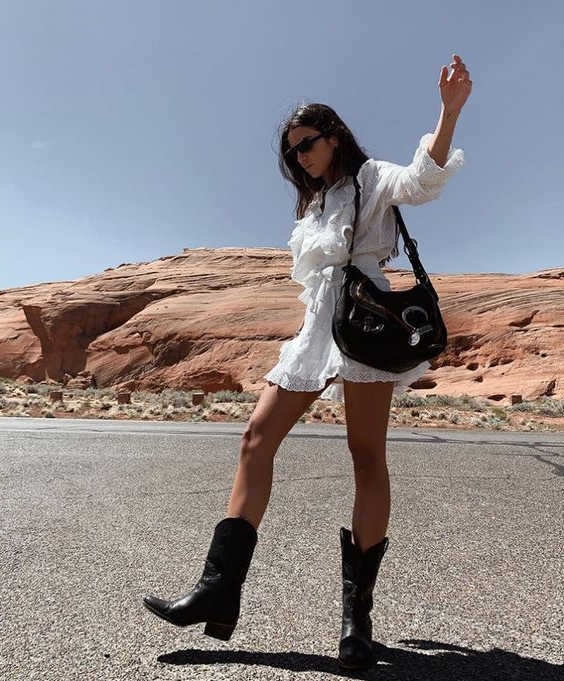 Buy Similar Here
Cowboy Boots And Wool Tailored Pants
A printed cream-white shirt can be styled with tailored cream-beige pants tucked in black tall cowboy boots: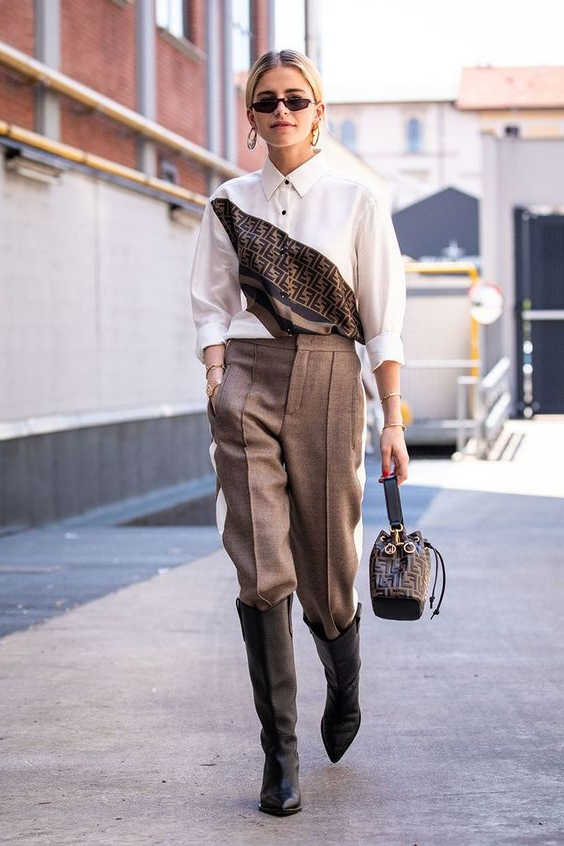 Buy Similar Here
Cowboy Boots For Walking And Slim Jeans
How about keeping things simple? Go for a white tee, blue slim jeans and tuck them inside black cowboy boots for walking: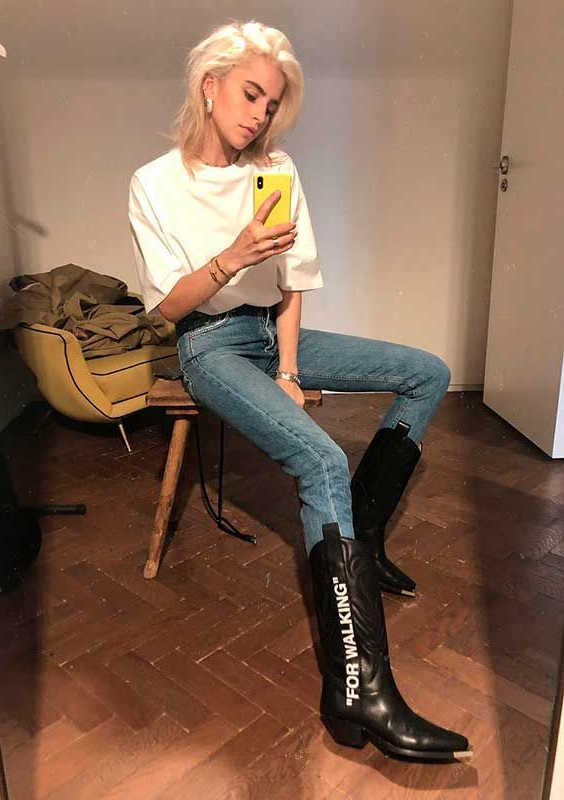 Buy Similar Here
Gold Cowboy Boots Outfit
Another way to make a wow statement is to try on gold cowboy boots and style them with a belted shirtdress: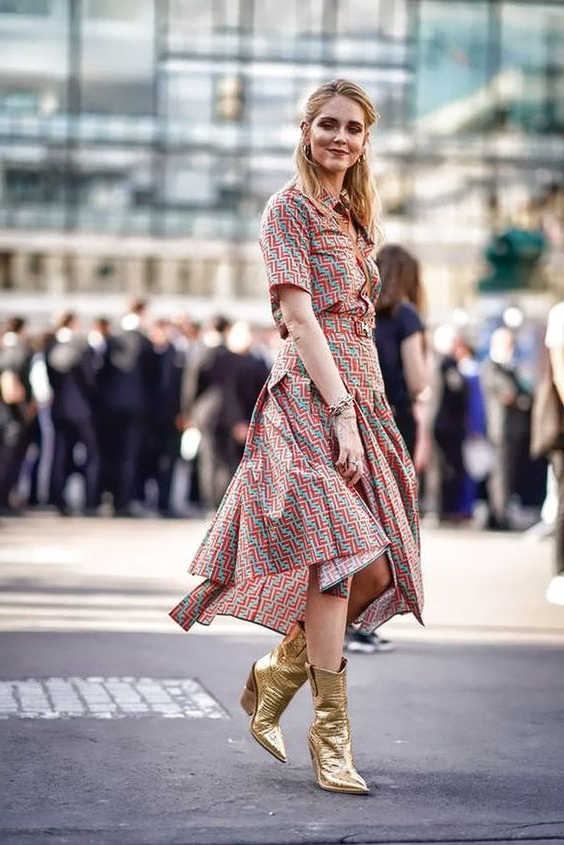 Buy Similar Here
Cowboy Boots In Turquoise Green
A pair of patent turquoise-green cowboy boots are worn with a white denim mini skirt and a white shirt: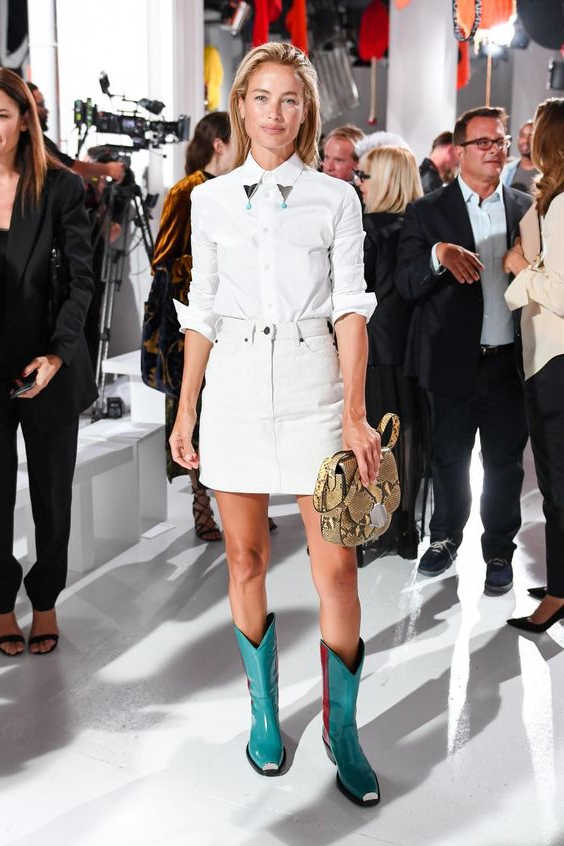 Buy Similar Here
Cowboy Boots With Dark Floral Dress
Go wild with prints. We see a checkered blazer styled with a dark floral short dress completed with cowboy boots. Add a pair of white sunglasses to underline your individuality: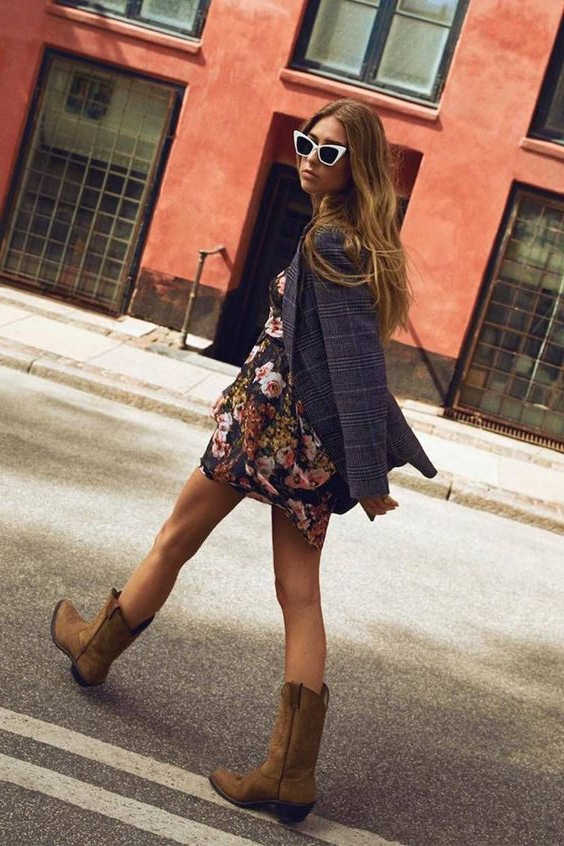 Buy Similar Here
Cowboy Boots With Plaid Blazer
We see a plaid grey blazer worn with a white shirt tucked in regular jeans completed with patent dark brown leather cowboy boots: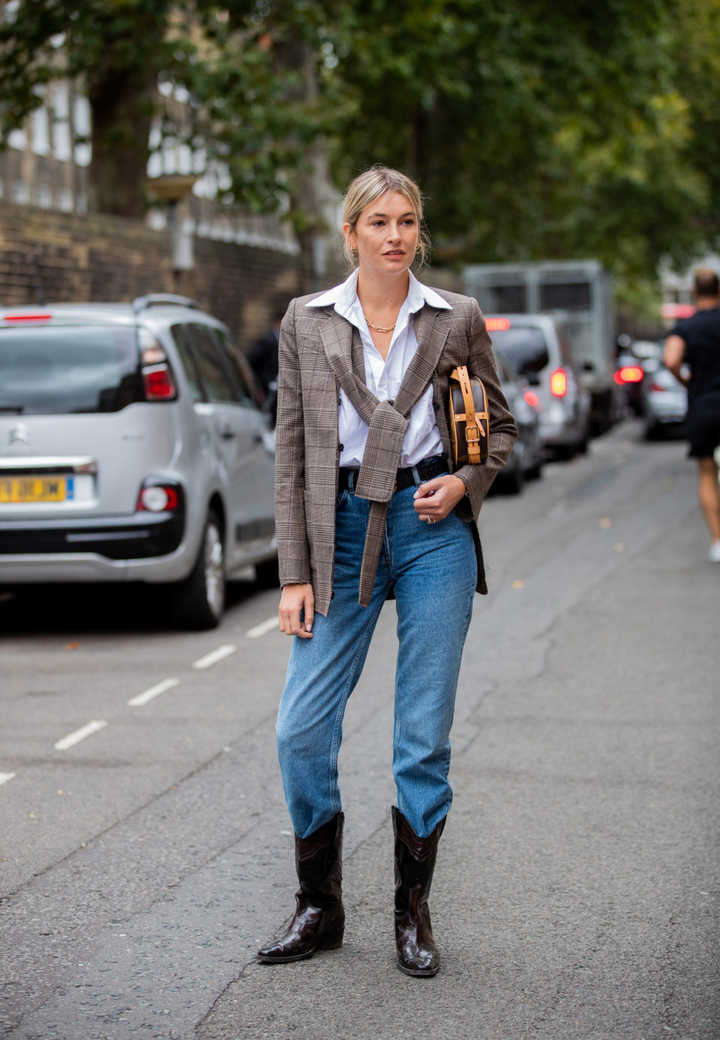 Buy Similar Here
How To Wear Cowboy Boots With Leggings
Black belted blazer-dress is worn with black leggings tucked in tan knee-length cowboy boots: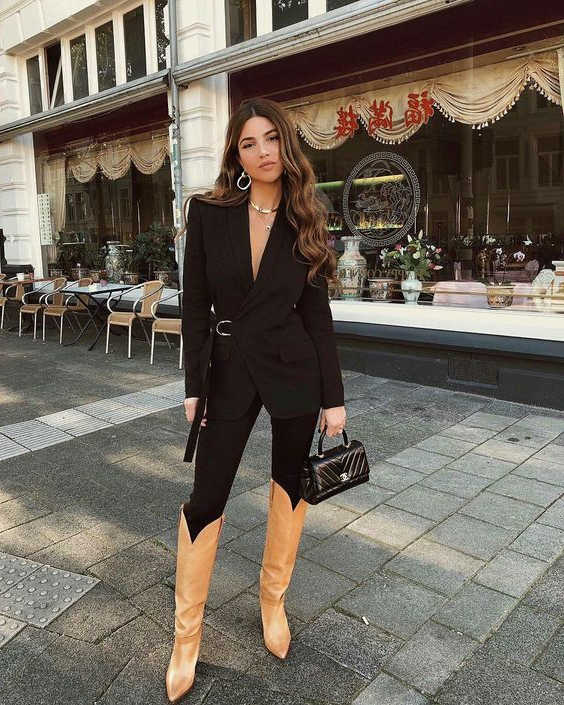 Buy Similar Here
Cowboy Boots With Silver Sequined Skirt And Oversized Jacket In White
An oversized pastel yellow crop jacket looks fabulous with a sequined silver metallic midi skirt completed with black cowboy boots with metallic toes: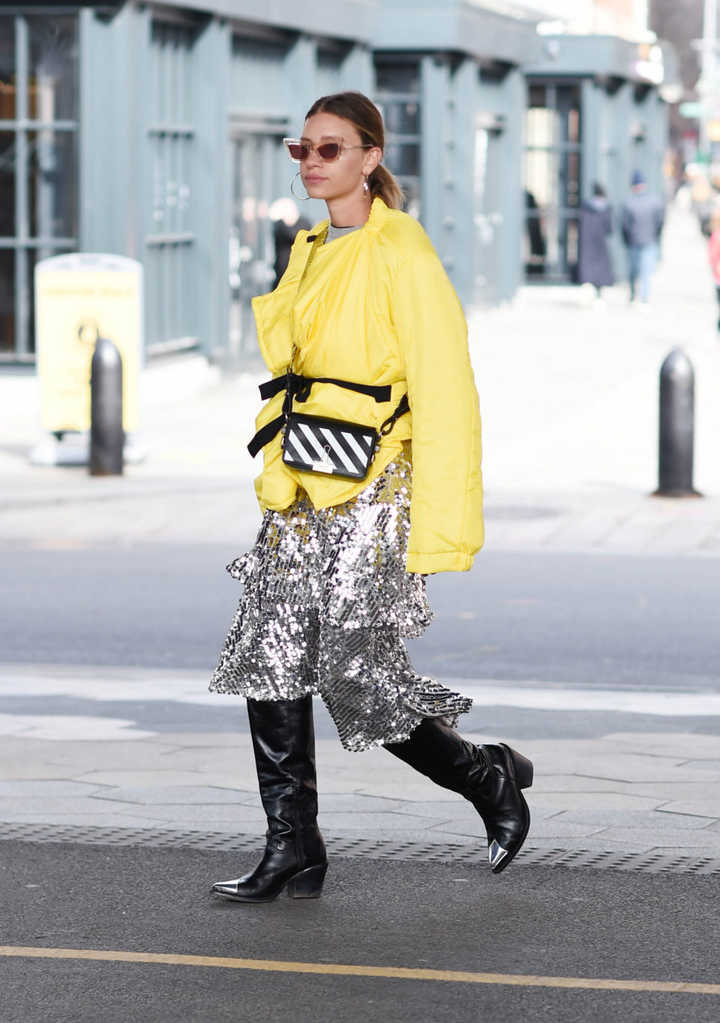 Buy Similar Here
Cowboy Boots And Shirtdress With Houndstooth Blazer
A Houndstooth printed blazer in blue ideally matches this pinstripe blue shirtdress completed with black-white printed cowboy boots: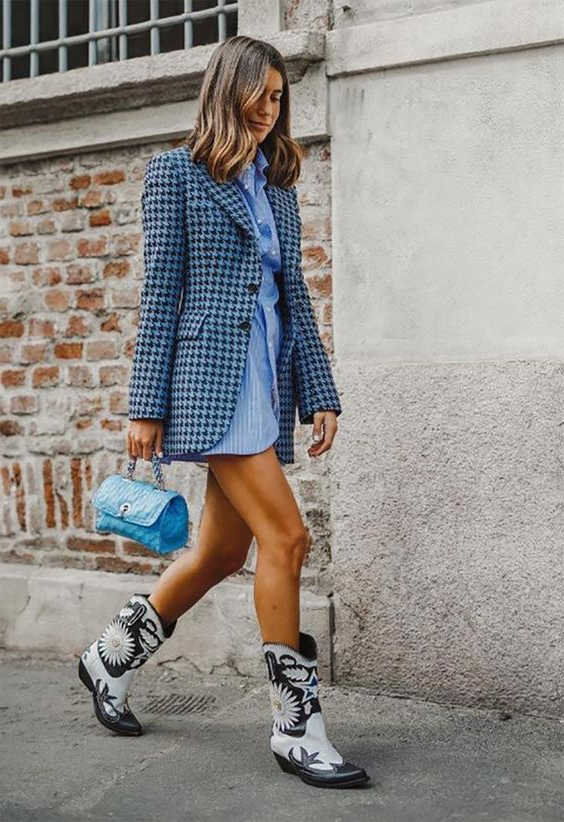 Buy Similar Here
Knee-High Cowboy Boots
Another all in the black look. We see a black blazer, black crop top and black shorts completed with knee-length cowboy boots in black leather: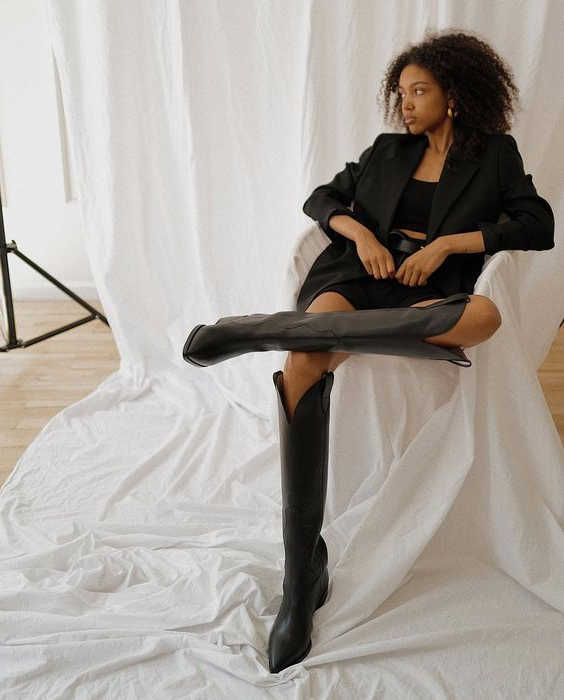 Buy Similar Here
Knee Cowboy Boots And Sweater Dress
A ribbed knit cream-brown belted sweater dress looks pretty chic with knee-high cowboy boots. If you want to know more tips and tricks what shoes to wear with sweater dresses, then check out my post and find out inspiring ideas to copy this year: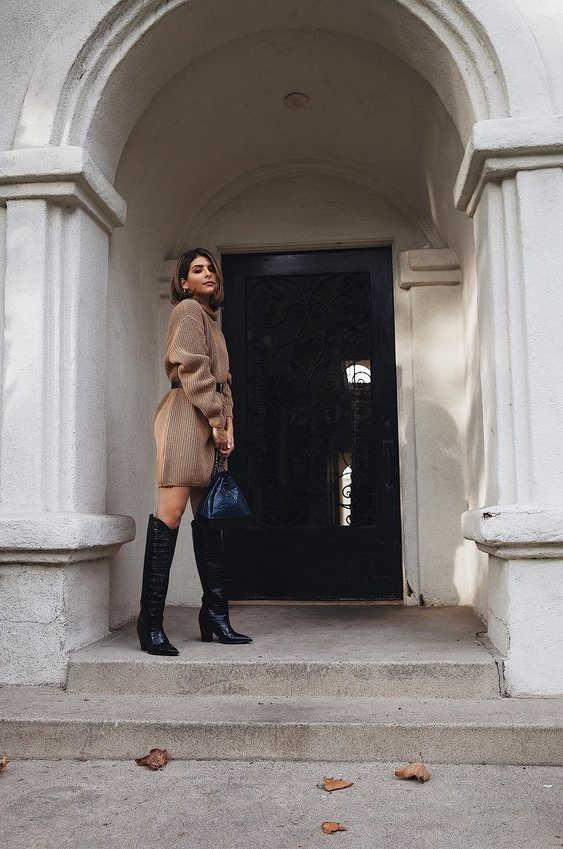 Buy Similar Here
Cowboy Boots With Jeans And Brown Leather Long Coat
A patent brown leather coat is layered over a white turtleneck teamed with light blue regular jeans tucked in brown leather short cowboy boots: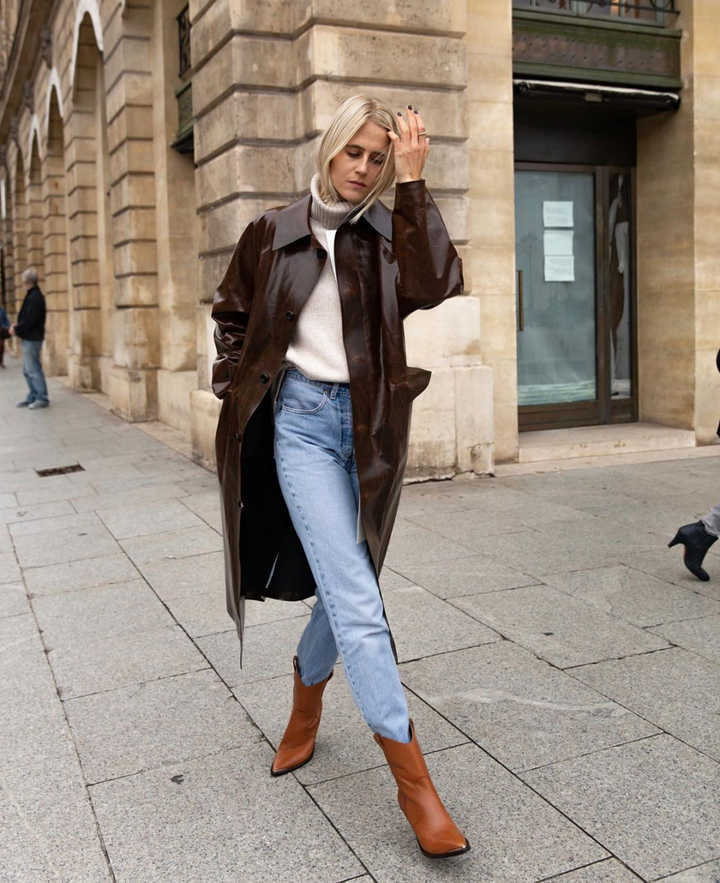 Buy Similar Here
@lindatol_
Red Cowboy Boots Outfit
A floral matching set consisting of a tee and mini skirt is updated with cherry red cowboy boots:
Buy Similar Here
Cowboy Boots And Red Printed Dress
Update your style with this gorgeous set. Minimalistic black cowboy boots are worn with a bohemian style midi red printed dress. Update this look with a pair of oversized rounded sunglasses: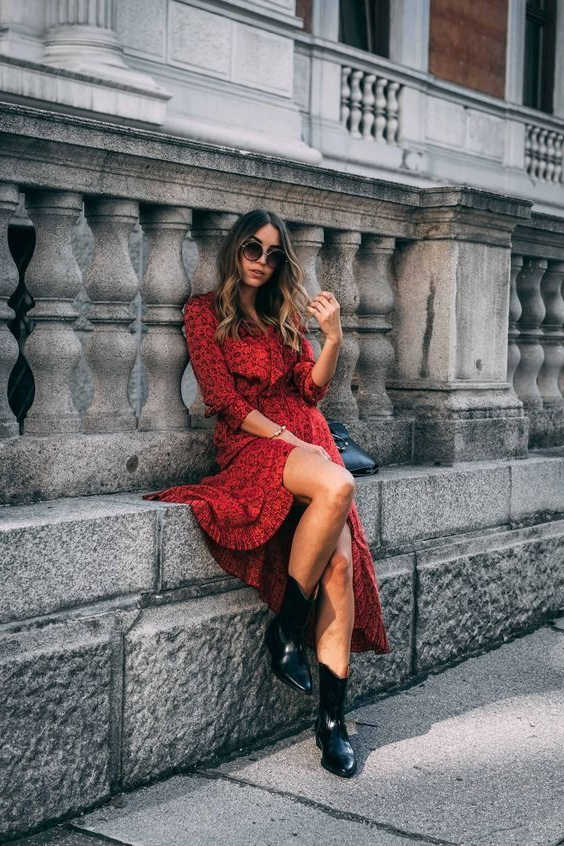 Buy Similar Here
Short Cowboy Boots And Plaid Suit
How about 70s style hippie look? We see a floral blouse styled with a plaid tailored vest, ankle-length plaid pants, and ankle cowboy boots in brown leather: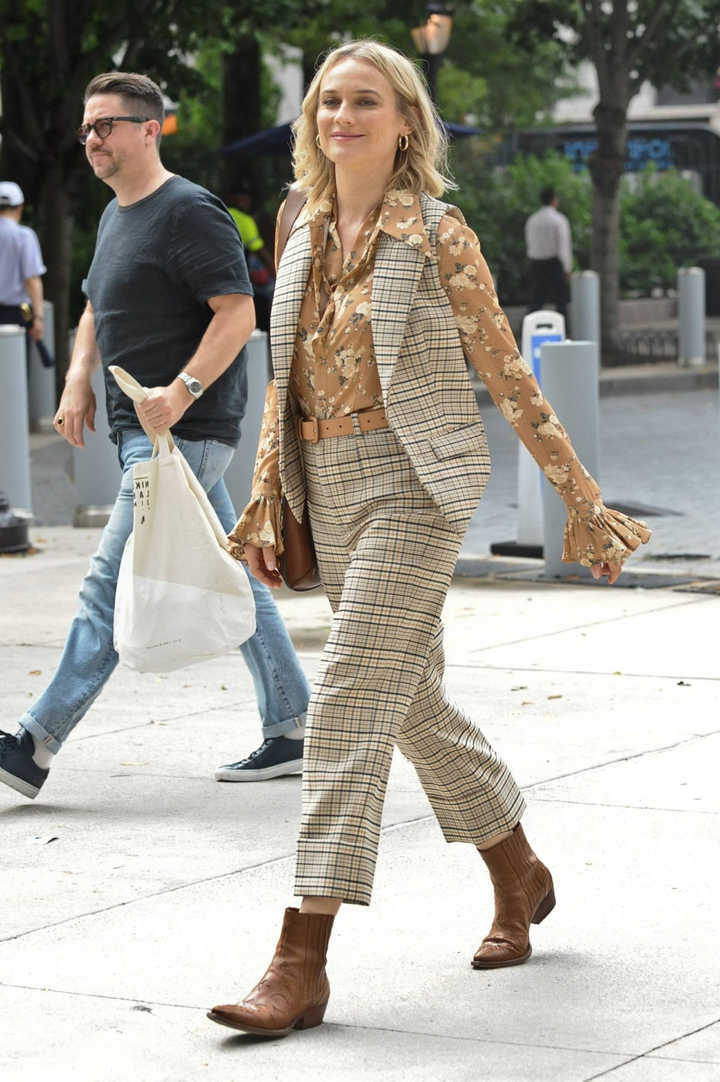 Buy Similar Here
Tan Knee Cowboy Boots And Camel Pants
A turtleneck dark orange sweater is teamed with cream-brown pants tucked in tan knee-length cowboy boots: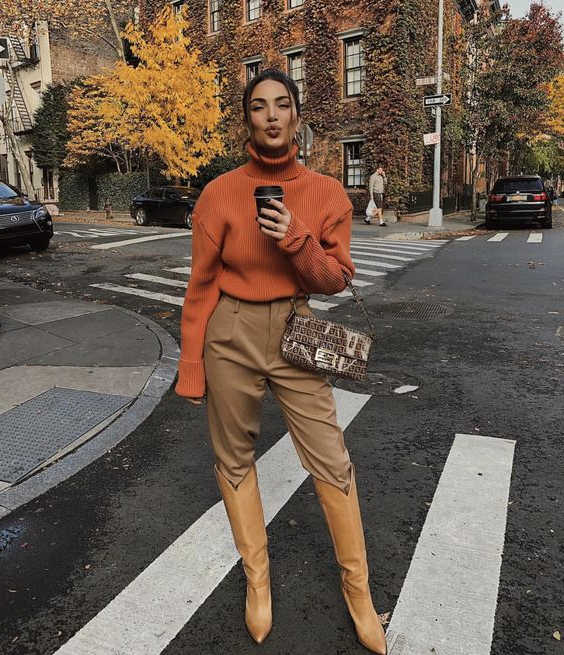 Buy Similar Here
White Cowboy Boots And Camel Coat
A long camel coat looks damn chic with a mini black floral dress and white cowboy boots. Would you dare to give it a try: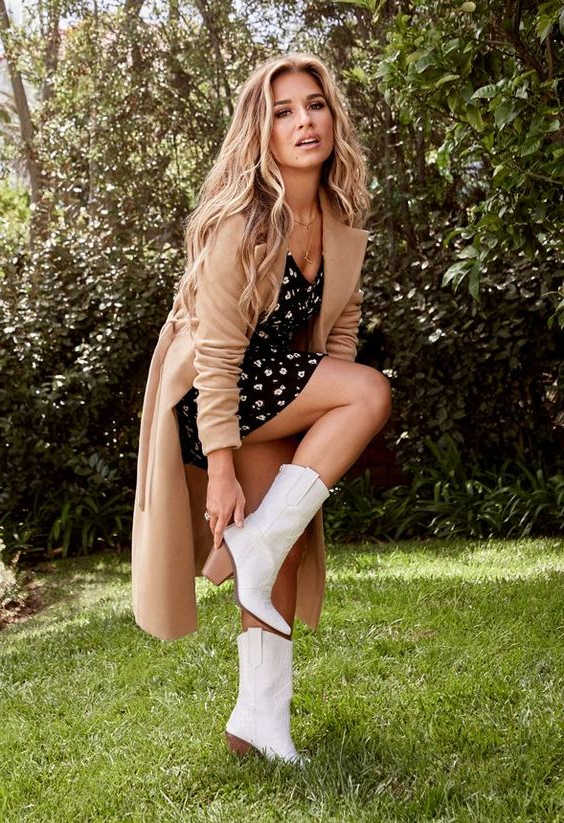 Buy Similar Here
White Cowboy Boots And Denim Mini Skirt
A cream-beige sweater is tucked in light blue mini denim skirt completed with white cowboy boots and a navy shoulder clutch bag: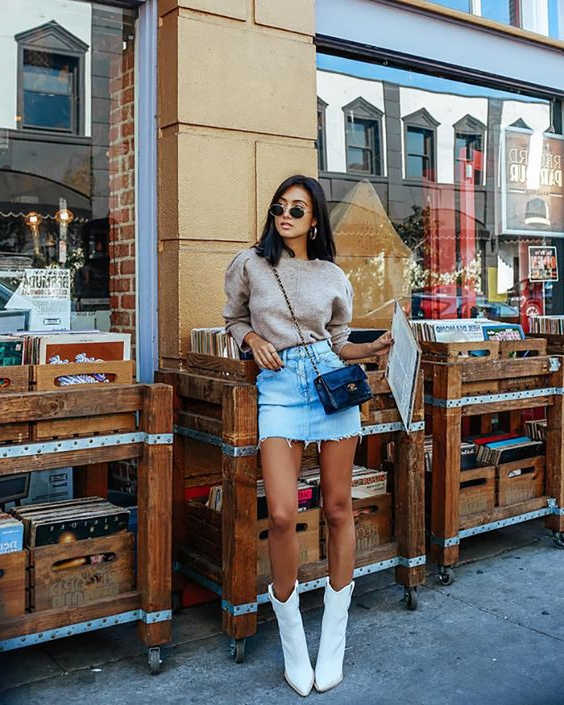 Buy Similar Here
White Cowboy Boots And Puffy Flared Dress
A short sleeve puffy flared printed black dress is combined with white cowboy boots, a fancy look for open-door parties: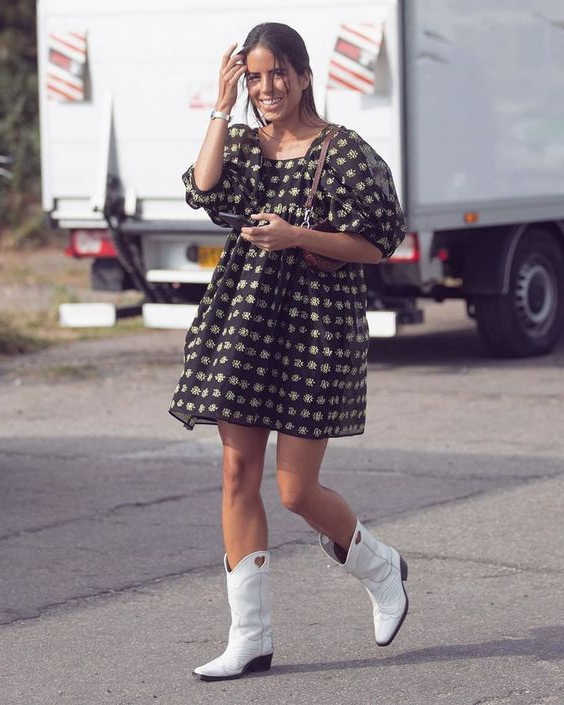 Buy Similar Here
White Cowboy Boots With Fur Jacket
We see a blue fur jacket teamed with a muted blue tee tucked in ripped slim jeans tucked in white cowboy boots: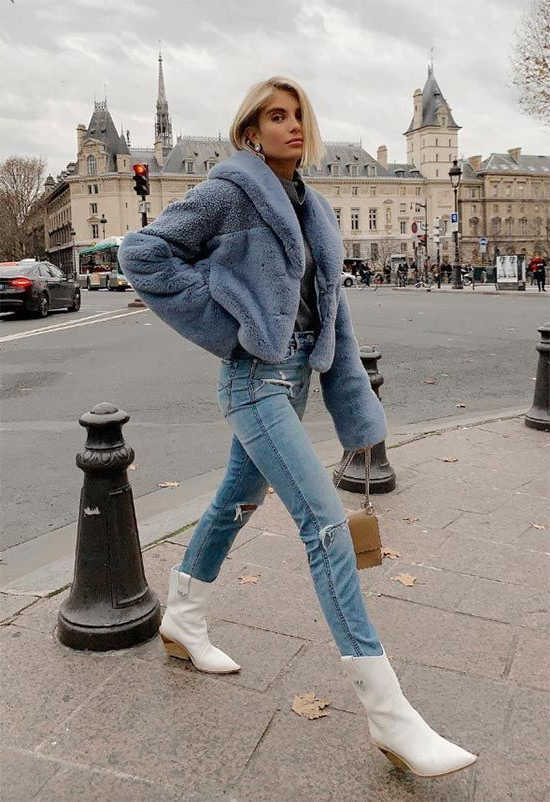 Buy Similar Here
White Cowboy Boots With Long White Coat
Another day, another victory. Go for ankle-length white coat and style it with a black slipdress and white cowboy boots: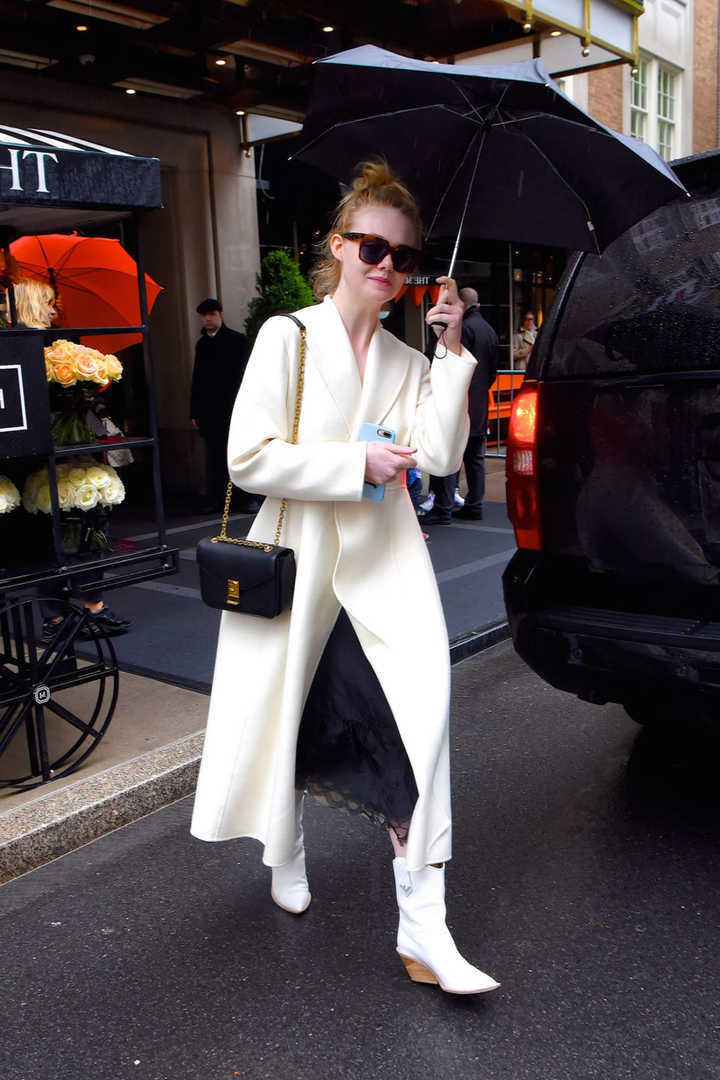 Buy Similar Here
Cowboy Boots And White Crop Top
White crop top with puffy shoulders look extravagant with pinstripe black pants tucked in black cowboy boots: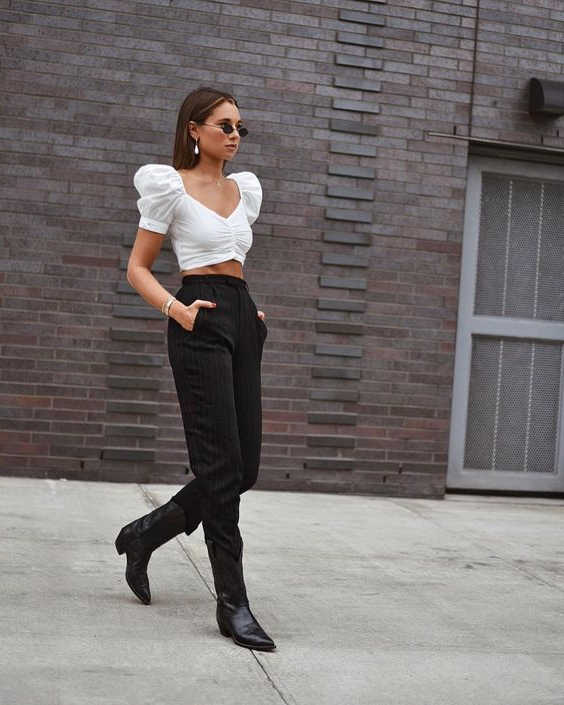 Buy Similar Here
White Cowboy Boots And Patent Black Mini Skirt
Keep it simple and casual! Go for white cowboy boots and team them with a patent mini skirt in black and a black T-shirt: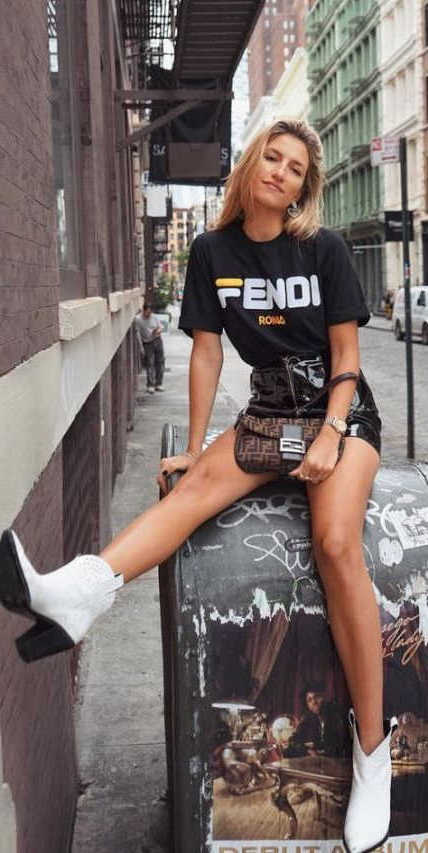 Buy Similar Here
Source: RedOnline, HarpersBazaar