Call them sock boots, sock heels, sock booties or sock shoes. This trend is pretty massive lately and you better see how it can be styled and worn in real life. This shoe trend has officially become an integral part of many fashionistas. So, why don't you get yourself on board this trend?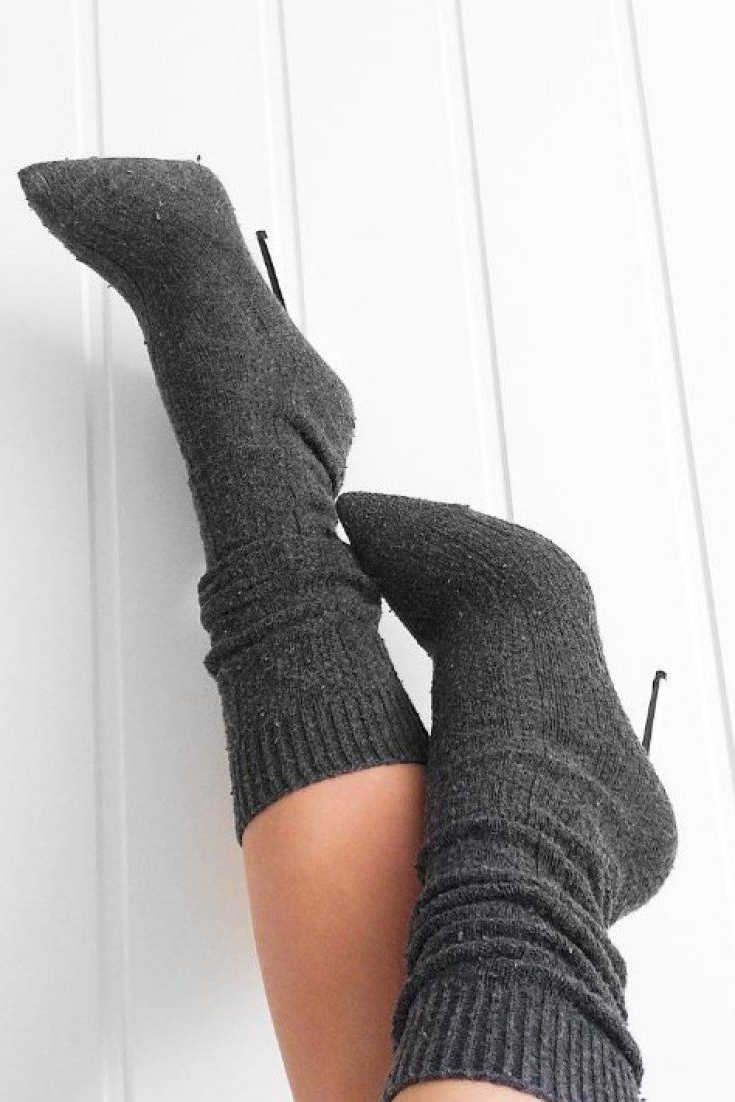 Buy Similar Here
Grey sock pumps with stiletto heels are ideal for casual street walks around town.
Most of the girls simply don't know how to wear this trend. And I am here to show you the best styling ideas you can easily copy right now. I will provide you with the best ideas on what to wear with this footwear trend. Sock booties seem to be a nice idea for those who are into sleek and skinny fashion. Plus, I will share with you one hack, how-to DIY Yeezy boots.
How To Wear Sock Heels With T-dress
You will need to create a monochrome look if you want to look special. You will need black T-dress and black sock-pumps. That's it, you are ready to go: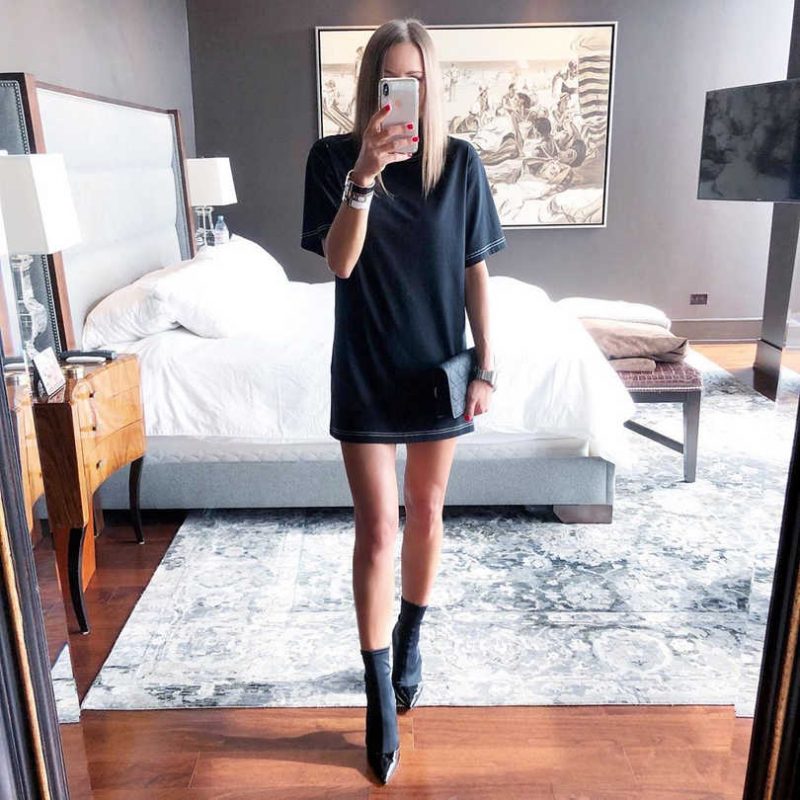 How To Wear Sock Heels With Denim Shorts
Another casual weekend is here and you can try on a white front-tied blouse with black denim shorts and sassy sock heels in black color. Update this combo with a black clutch with a chain strap and black shades: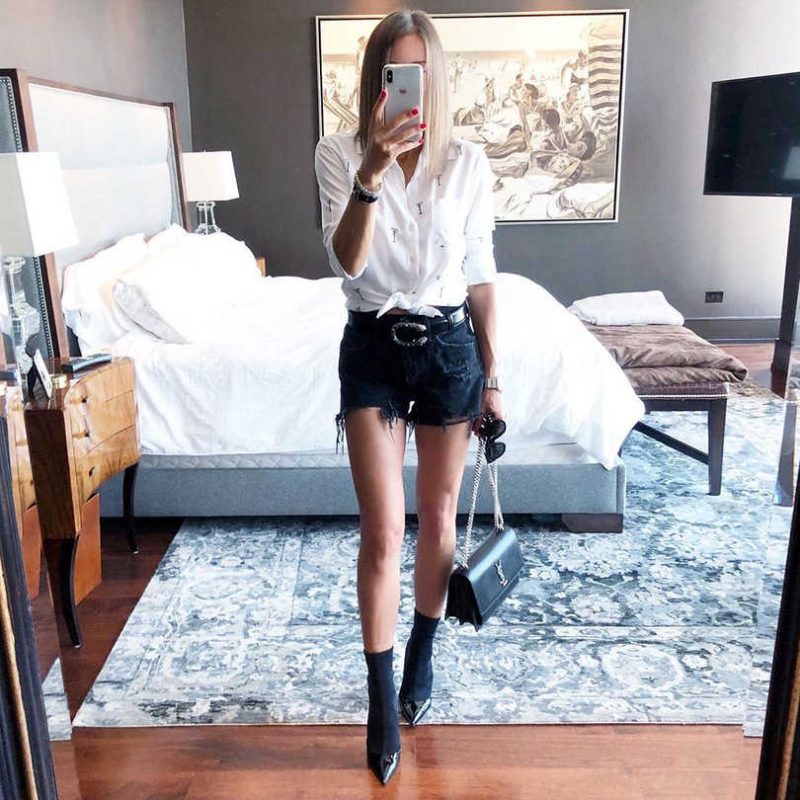 The sock booties are made to fit closely around your ankle, the same as classic socks.
How To Wear Sock Heels With Black Midi Boho Dress
A black mesh overlay midi dress with long billowing sleeves is completed with a black leather belt and pointed-toe heeled sock heels. An all in black is back in trend: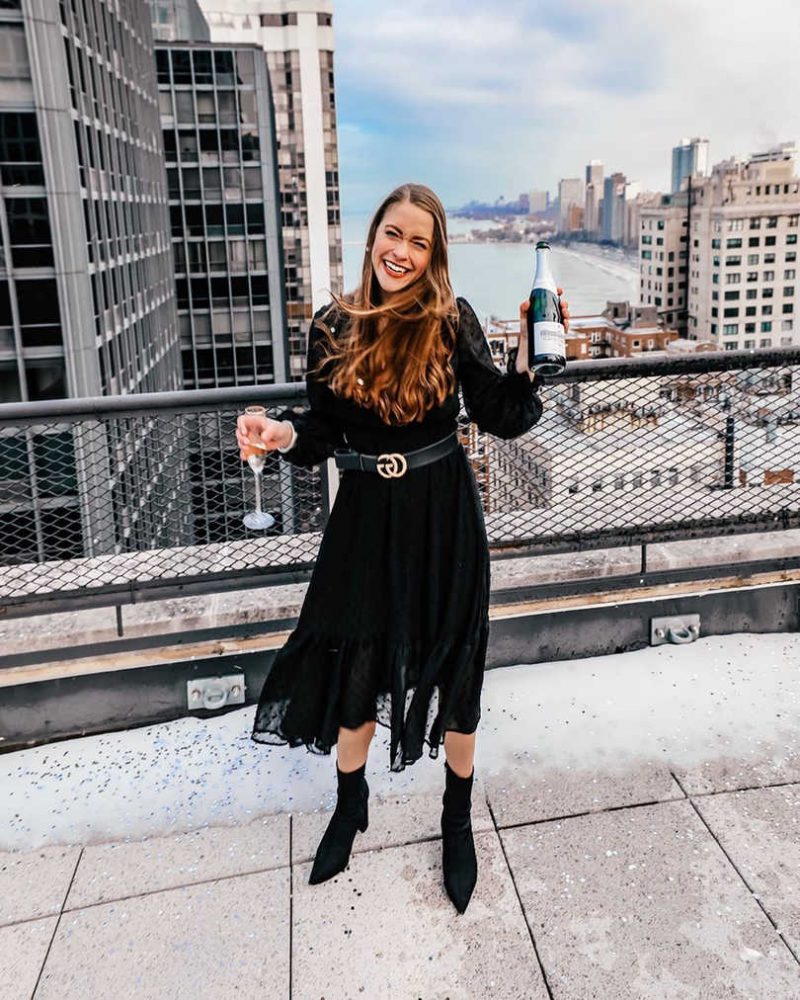 Not familiar with sock booties? My personal favorite is sock boots. This is a perfect addition to any outfit. Just imagine yourself wearing a velvet blazer dress with a white belt and black sock boots that will make the whole outfit stand out.
How To Wear Sock Heels With Silk Cami Dress
A multi-printed bulky crop cardigan is styled with a black silk camisole dress and black suede sock heels with block heels. Love the aviator shades and that shoulder black leather bag: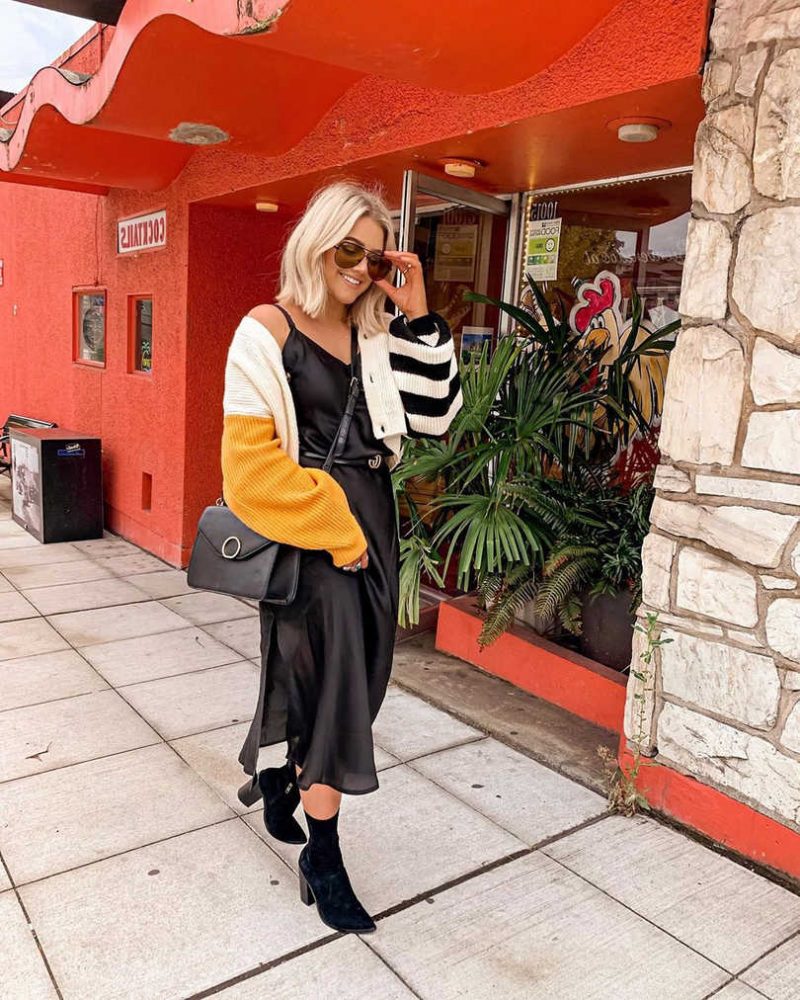 We all know that ridiculous question if we can wear socks with heels. but how about wearing socks OVER the heels? This trend consists of a comfy shoe and a soft top that covers the boot, so the result reminds us of a sock worn over heels. Today's fashion designers offer its clientele various fabrics of these "socks", including suede, neoprene, leather, velvet and knit fabric. That's why I highly recommend you experiment with wearing different clothes completed with these shoes.
How To Style Sock Boots With Knee Ripped Jeans
Black sock boots made of suede ideally match knee-ripped jeans in blue styled with a black-white striped top and white shearling jacket. Complete this look by adding grey ribbed-knit beanie with a fur pom-pom: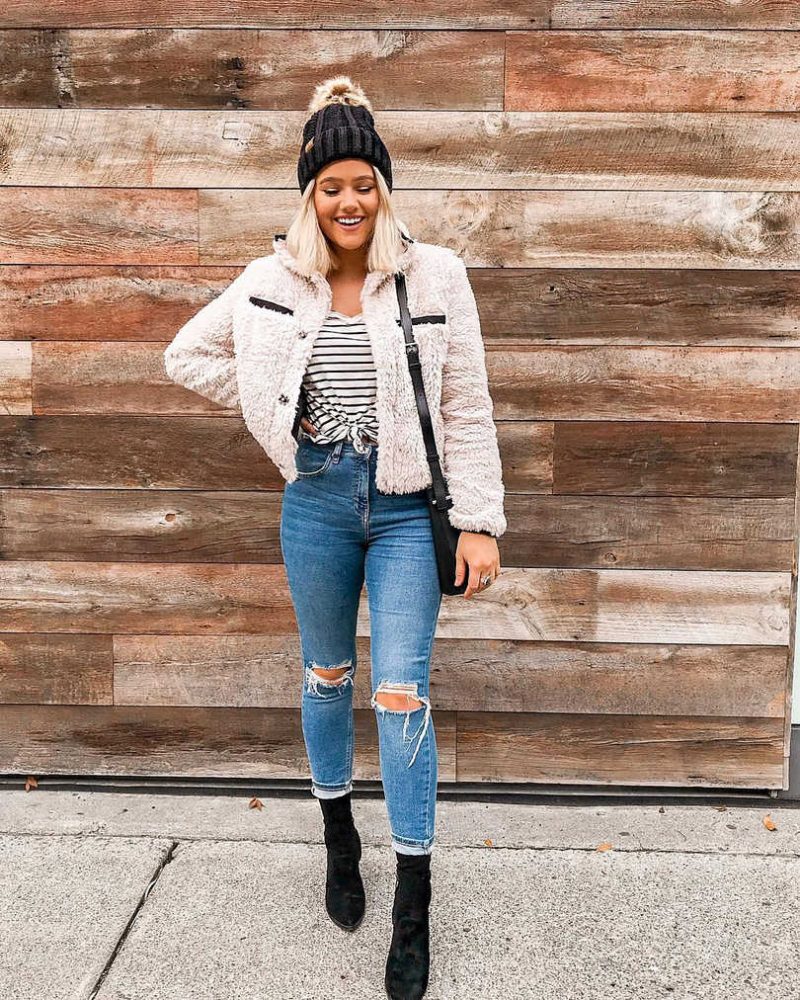 How To Style Sock Heels With Leggings
How about wearing sock heels with a skin-tight knitted tracksuit? You will need a blush crop top and knitted leggings tucked in white sock heels: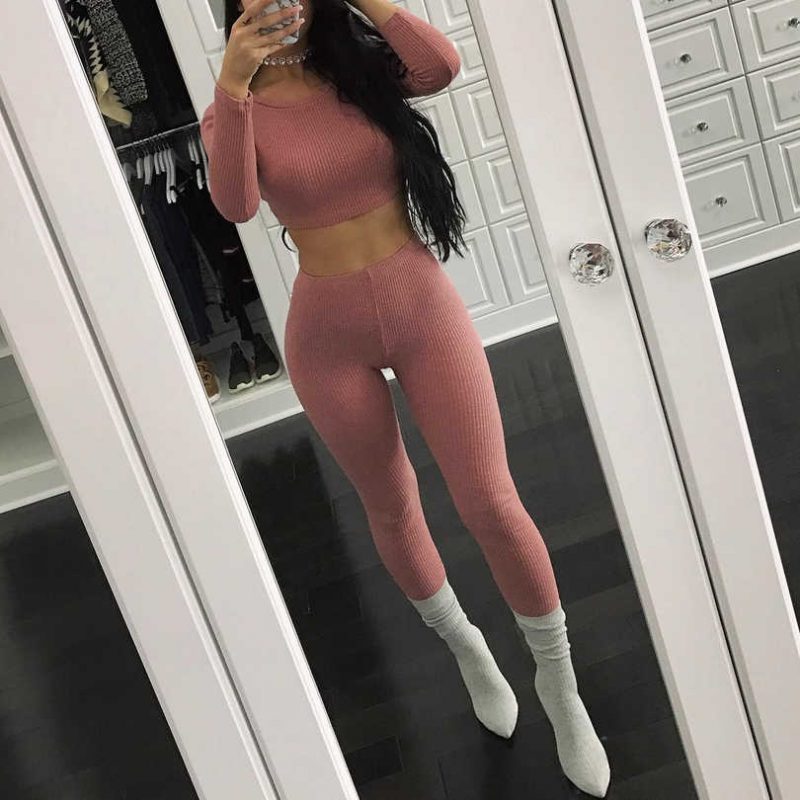 In other words, this footwear is comfortable and versatile. Plus, they add a touch of a high-fashion to almost any outfit. Plus, designers offer us these shoes in various styles, so you can easily dress up or down your look. My personal advice: buy boots in neutral color, so they can be worn with anything. Think of black, brown, nude, white or grey colors. These colors look great with colorful outfits, as well as subtle clothing. Or you can risk with bright and unique colors that will add a pop of color to your clothes.
How To Style Sock Heels With Bicycle Shorts
That's why favorite combo! We see an oversized white hoodie teamed with black cycling shorts and neon green sock heels styled with orange socks worn underneath and peeking out: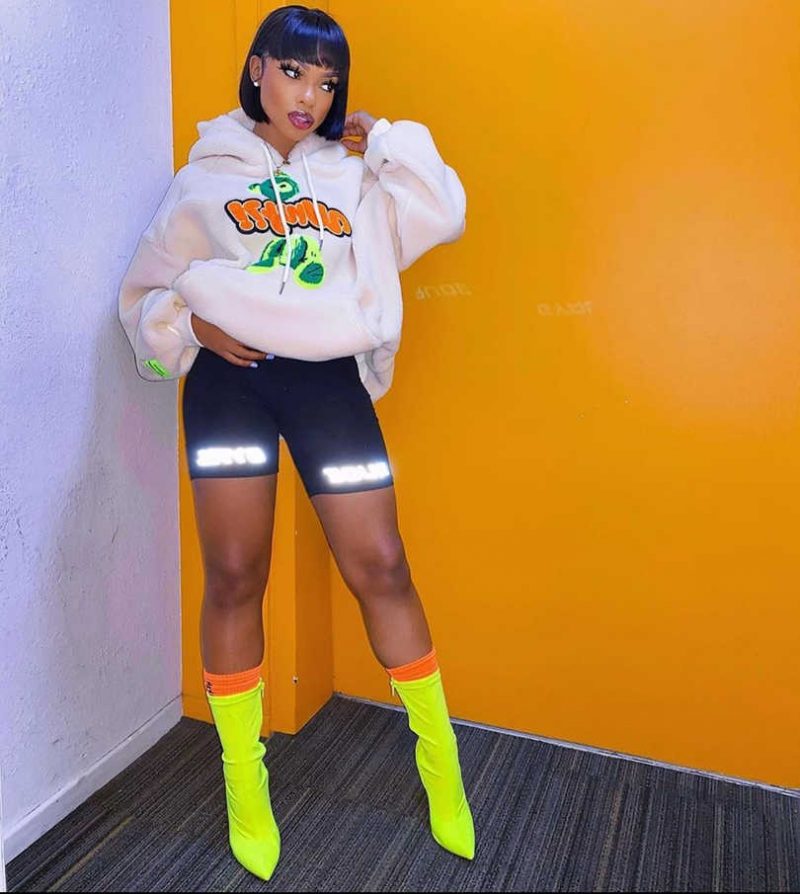 Sock Heels With Printed Jacket Dress
You can update your look with bright prints! Go for a multi-printed jacket dress cinched at the waist with a meter belt. Complete this look with cream-beige sock heels: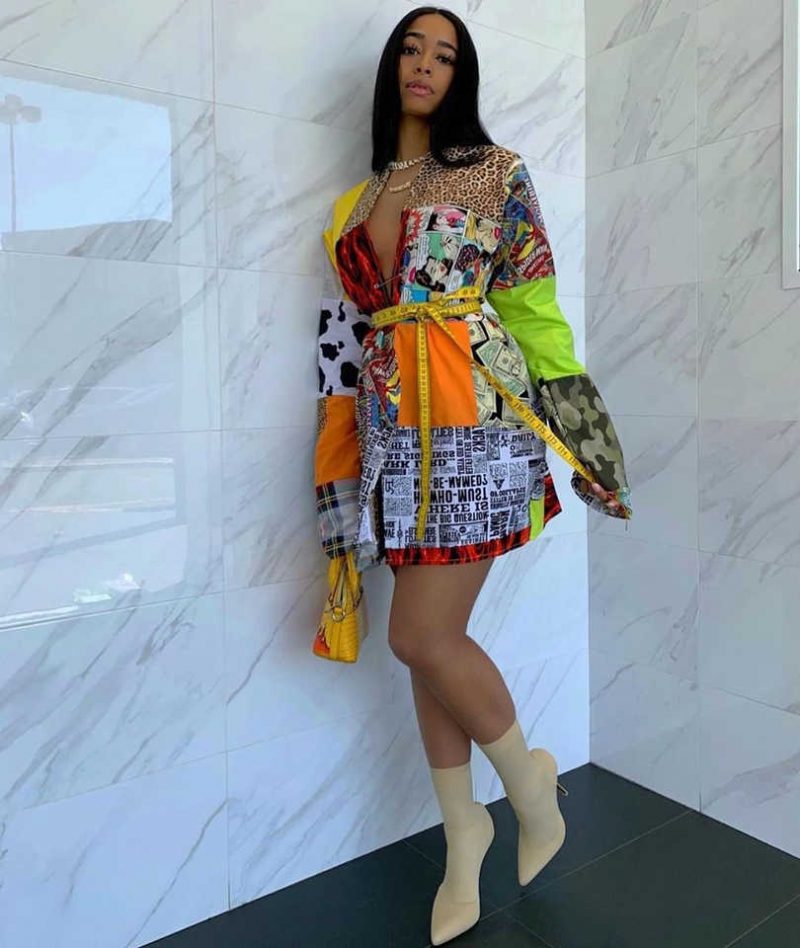 Speaking of heels, you better choose a heel that you are comfortable walking in. But there is nothing to say, it's the same rule as with classic shoes.
How To Style Sock Boots With Leather Joggers
Improve your Fall outfit by wearing a camel coat draped over a black skin-tight roll neck top teamed with cream-brown leather joggers styled with black sock boots: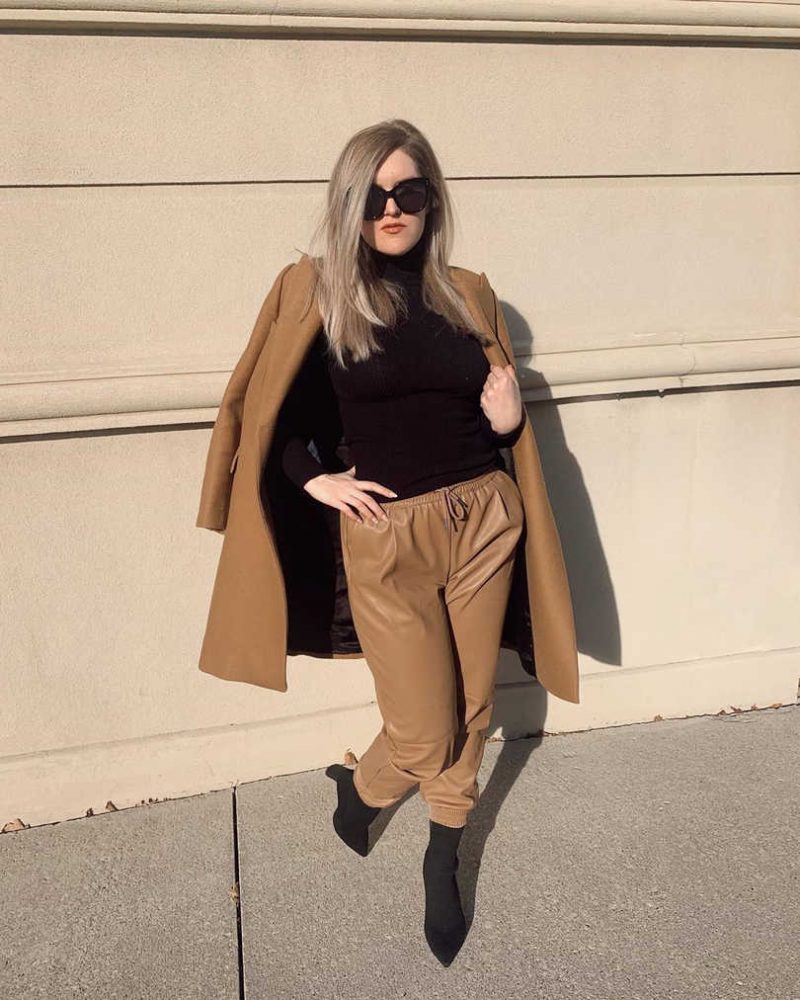 It's no secret, sock heels make your legs look leaner, longer and thinner. Yes, they make a slimming contrast to your outfit, that's why you are free to pair them with bulky and oversized sweaters. Or you can try on these shoes paired with wide-leg jeans.
How To Wear Sock Heels With Joggers
Monochrome outfits look cool! We see a white blazer worn with a black top paired with black joggers and black sock heels: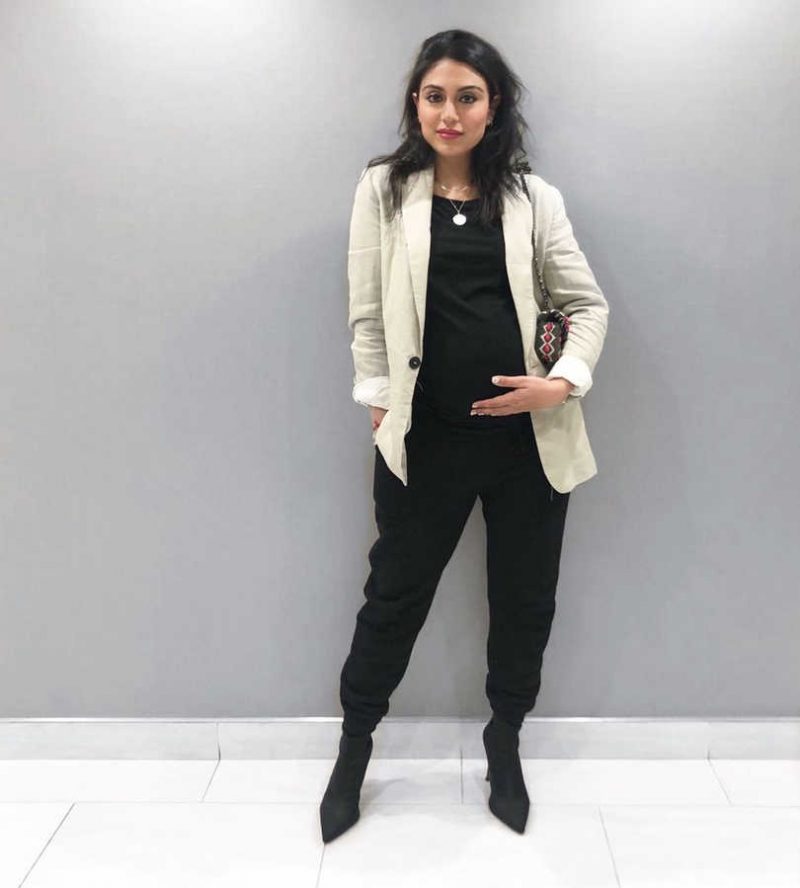 Suede, velvet sock boots look cool with tulle skirts, jeans, and lightweight airy dresses, this combo will create an unforgettable evening outfit. Faux leather, neoprene sock booties look chic with bulky sweater dresses, ripped jeans and midi skirts.
How To Wear Sock Heels With Blazer Dress
A navy blazer-dress looks stunning teamed with black heeled sock pumps. A perfect combination for evening events: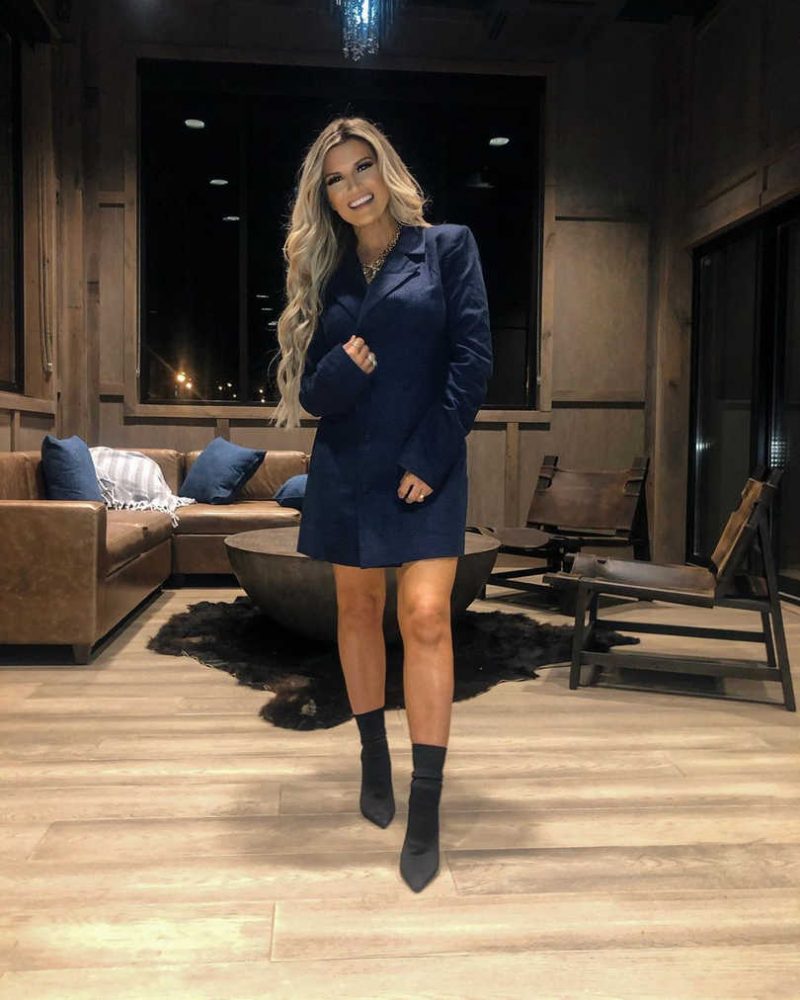 Another tip, try to avoid wearing velvet, suede or any other sock boots in snowy or wet weather, they will be ruined in no time!
Sheer Sock Heels
We see another cute styling tip. Go for classic heeled pumps completed with sheer white star printed socks: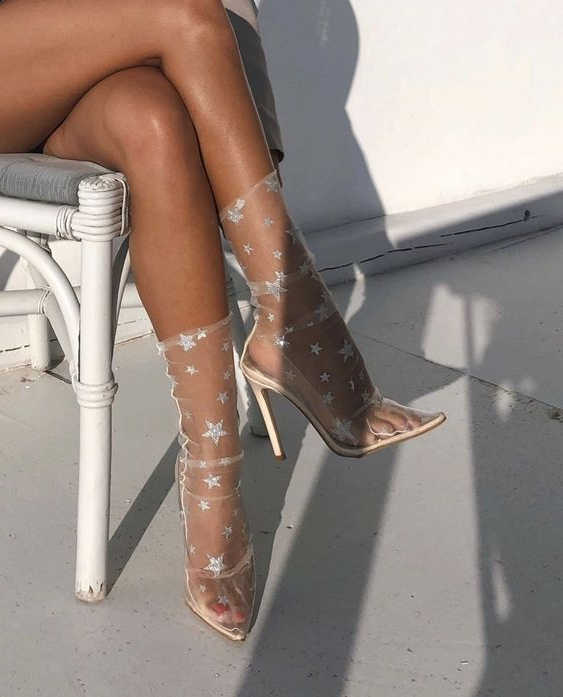 Buy Similar Here
How To Wear Black Sock Heels With Grey Joggers
A cream-grey turtleneck top ideally suits matching color joggers paired with black sock heeled ankle boots: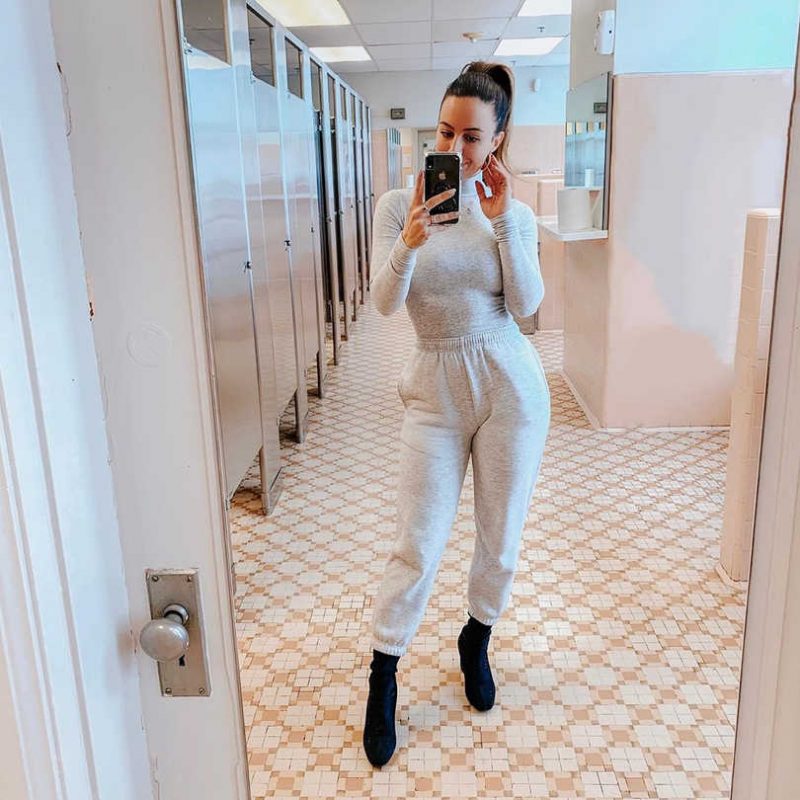 How To Wear Sock Booties With Bodycon Dress
A nice combo for summer days. We see a ripped denim jacket teamed with a white bodycon dress completed with cream-beige sock boots: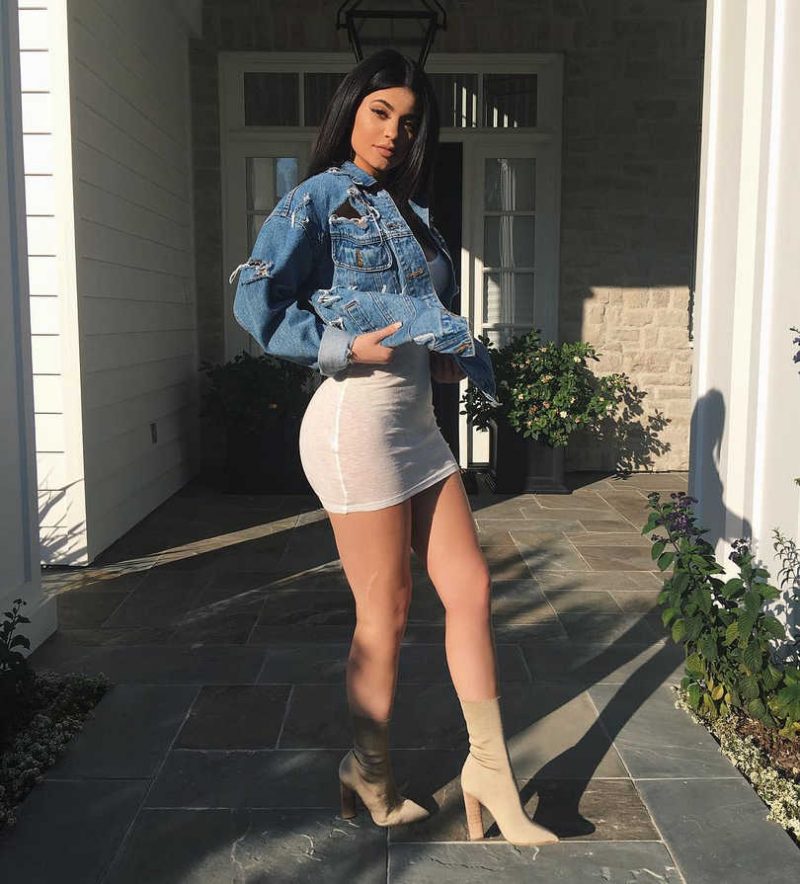 How To Wear Sock Heels With Grey Ripped Skinny Jeans
This might be my favorite look! We see a bulky navy cardigan styled with a spaghetti strap leopard print camisole tucked in knee-ripped grey skinny jeans completed with glossy black pointed-toe sock heels. Add a leopard print handbag and layered necklaces to complete this look: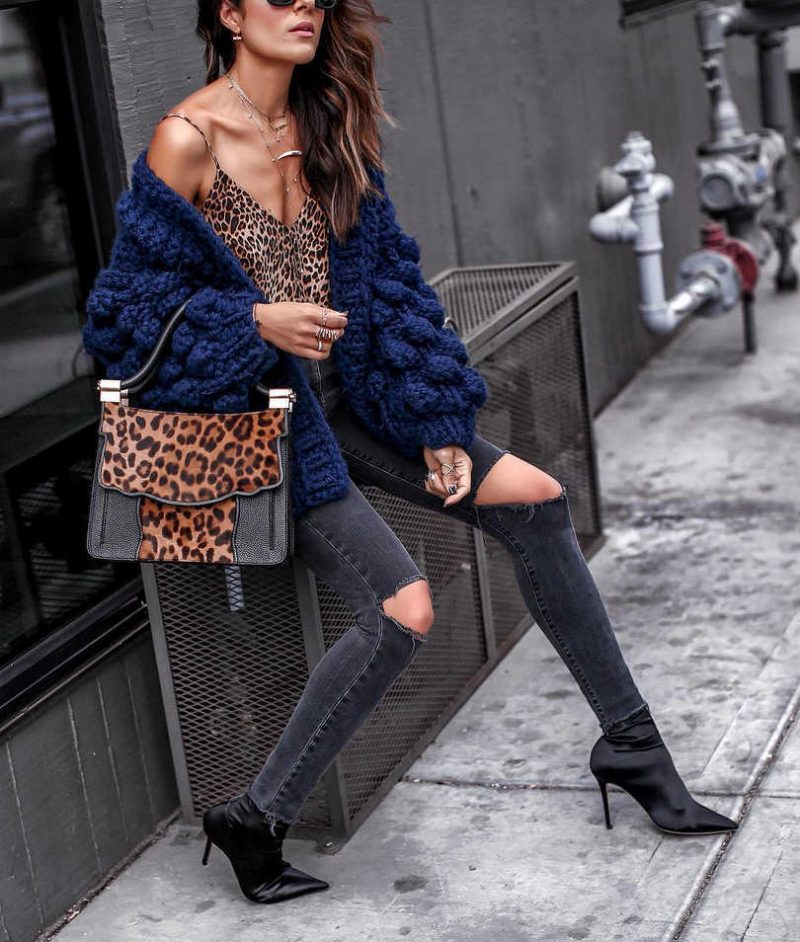 How To Wear Sock Booties With Printed Midi Skirt
We see a ribbed knit sweater in khaki brown styled with a printed midi skirt and black sock ankle boots. Update this style with pink shades and Chanel quilted clutch bag in black color:
Sock Booties With Cargo Pants
Another trend on trend look! We see a white crop top with side black stripes styled with high-waisted safari-beige cargo pants completed with black sock booties: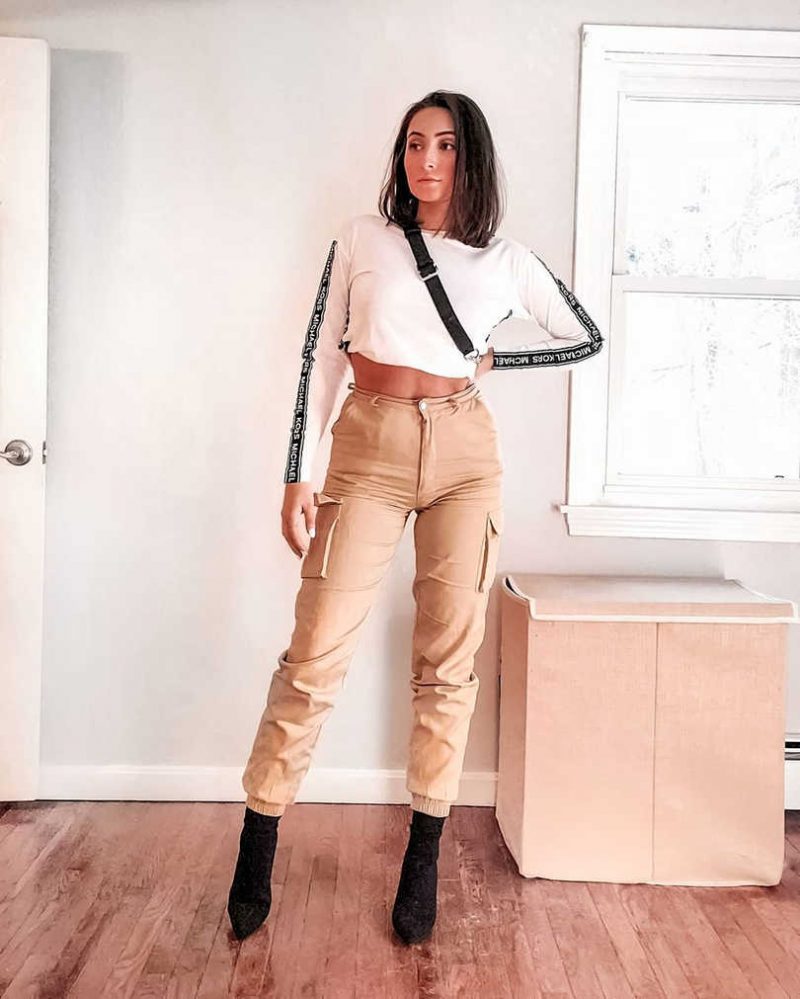 How To Wear Sock Boots With Black Leather Pants
How about wearing monochrome looks? We see a white peplum blouse teamed with black leather ankle pants with side slits and grommets completed with block heel sock boots. Update his trendy look with modern cat-eye sunglasses and a cute clutch bag: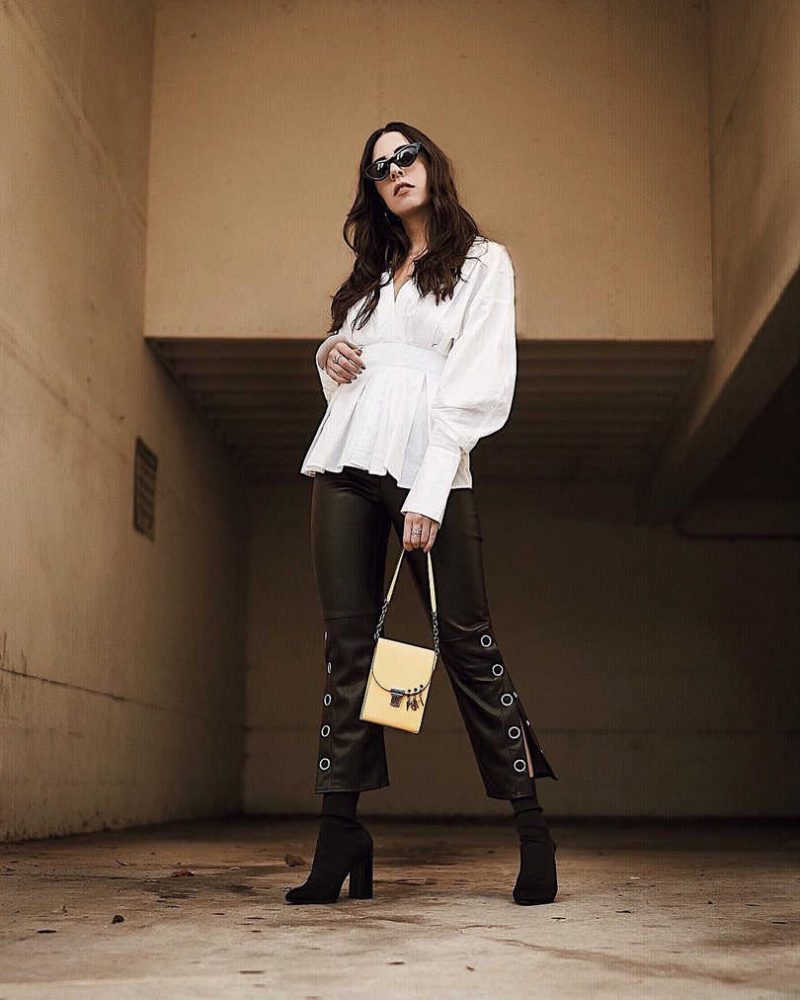 Sock Booties With Cuff Stripes
We see ribbed knit sock booties with white cuff stripes. A perfect choice for athleisure trend lovers: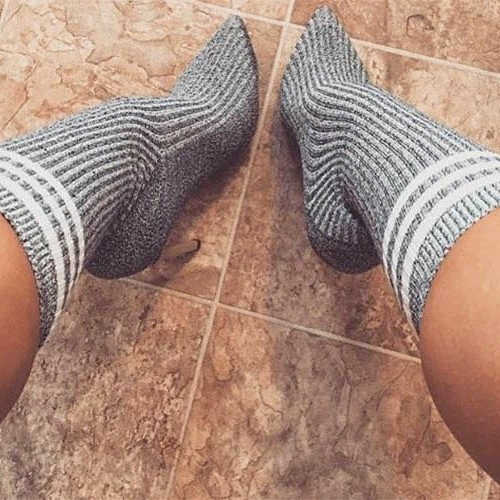 Buy Similar Here
How To Style Nude Sock Booties With Cream-Grey Long Coat
A cream-grey long wool coat looks classy styled with a white denim skirt and nude sock booties: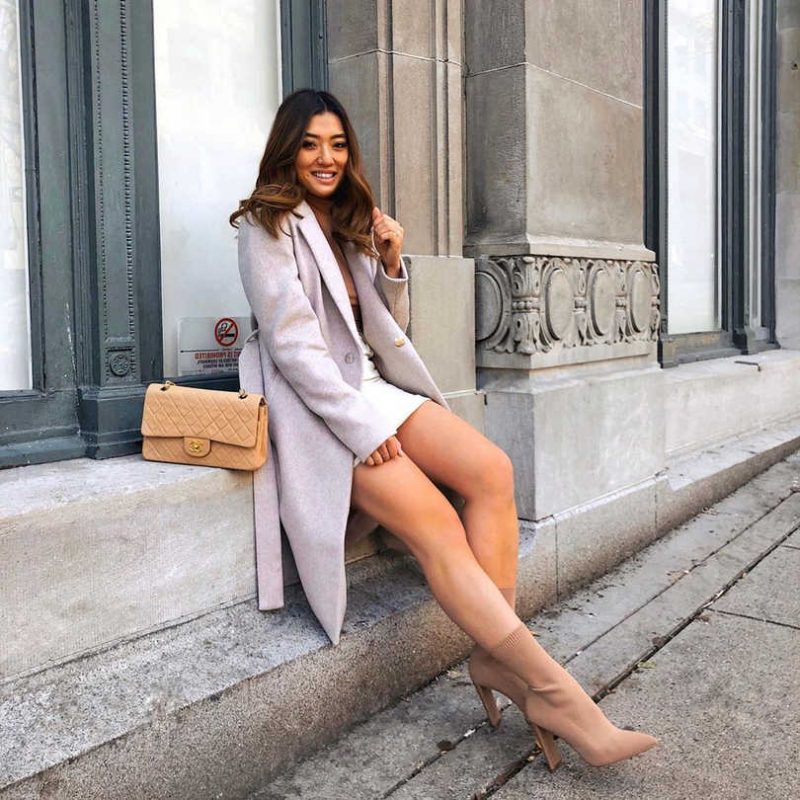 How To Wear Sock Booties With Black Leather Leggings
A tweed blazer will be an ideal addition to wear with black leather leggings and black sock booties: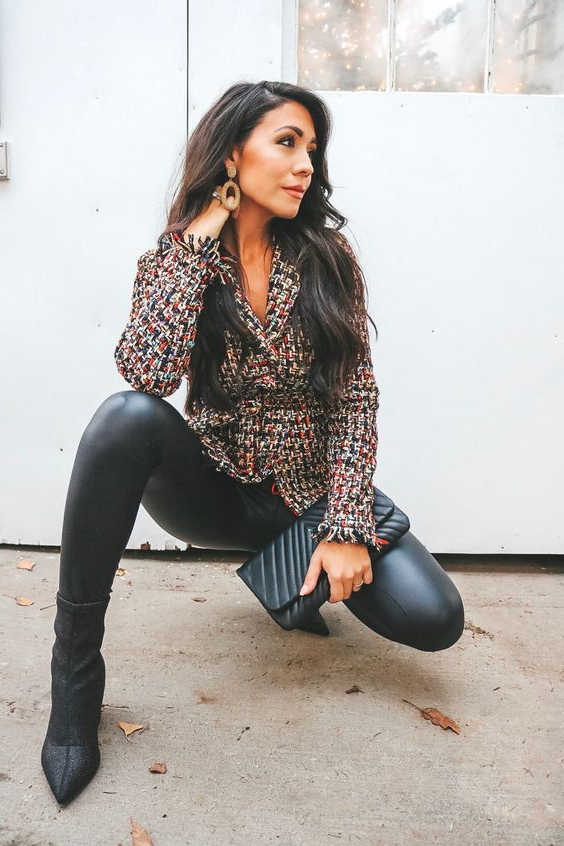 Buy Similar Here
How To Style Pink Sock Booties With Cropped Wide Leg Pants
A printed pussy-bow ruffled shoulders sleeveless blouse is tucked in blue wide-leg cropped pants completed with pink sock booties: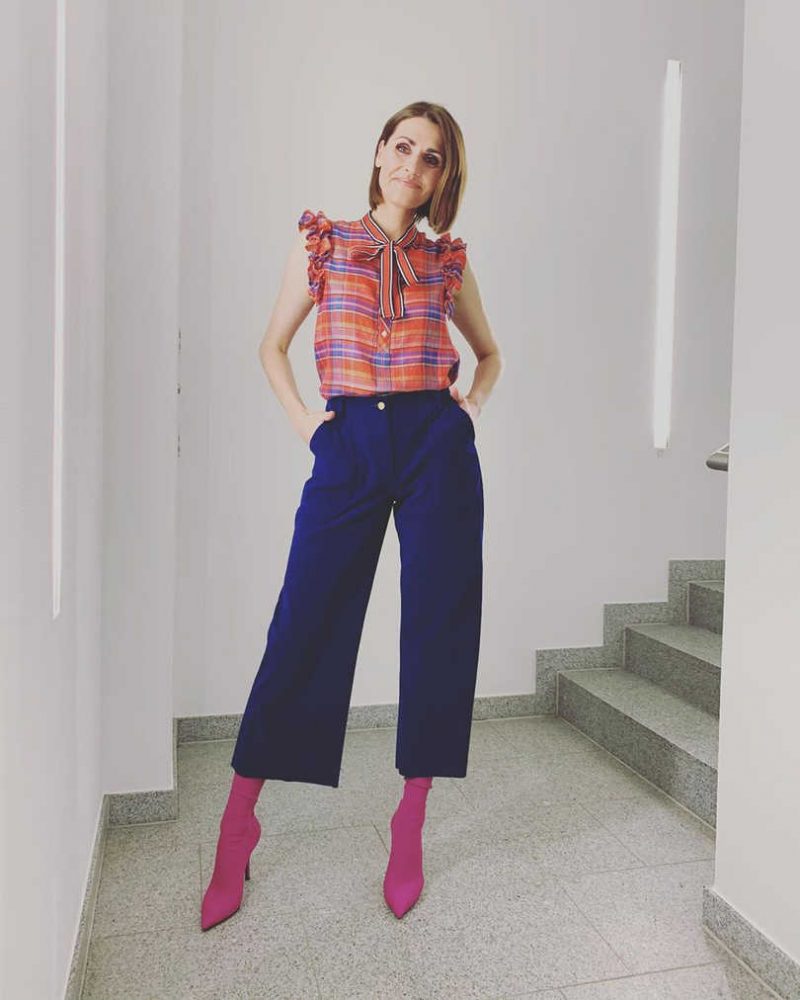 How To Wear OTK Sock Heels And Tweed Blazer Dress
In love with this combo! We see a tweed blazer-dress with fringes completed with white OTK sock boots: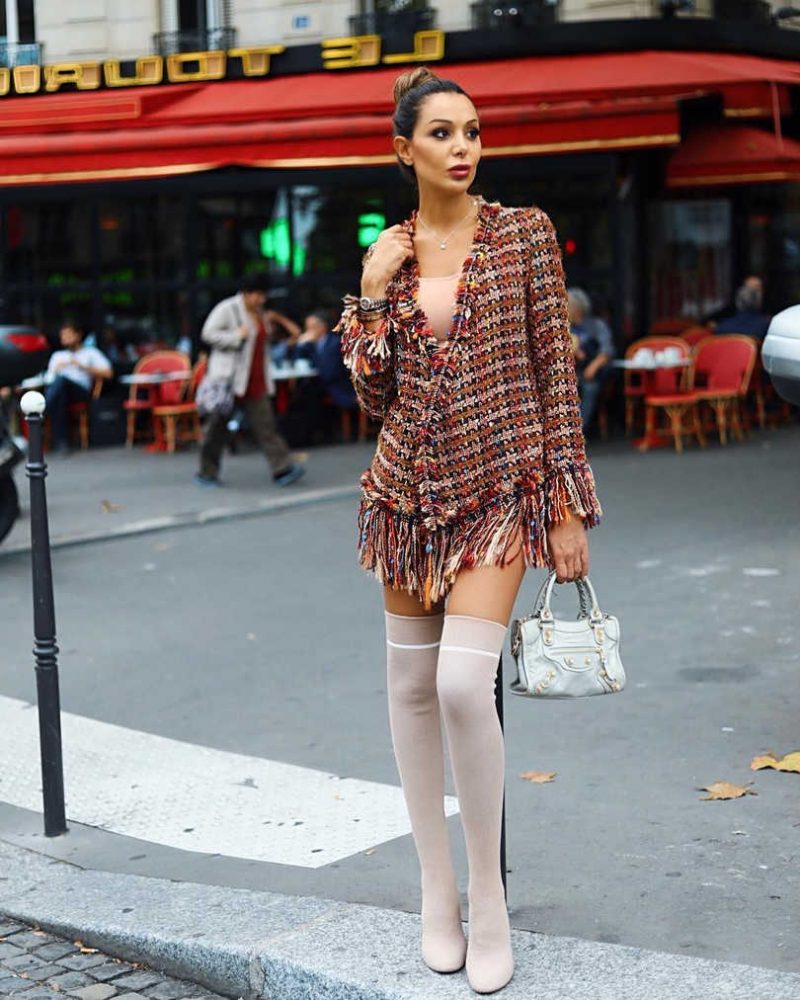 How To Wear Sock Heels With Cuff Stripes And Sweatshirt Dress
Cuff striped sock heels in white color look sporty worn with a grey sweatshirt-dress and baseball cap in cherry-red:
How To Style OTK Sock Boots And Plaid Blazer Dress
We see a plaid grey blazer-dress with a black leather belt completed with OTK sock boots with block heels:
Cuffed Black Pants And Khaki Sock Heels
Black cuffed pants ideally match these knitted khaki green sock heels: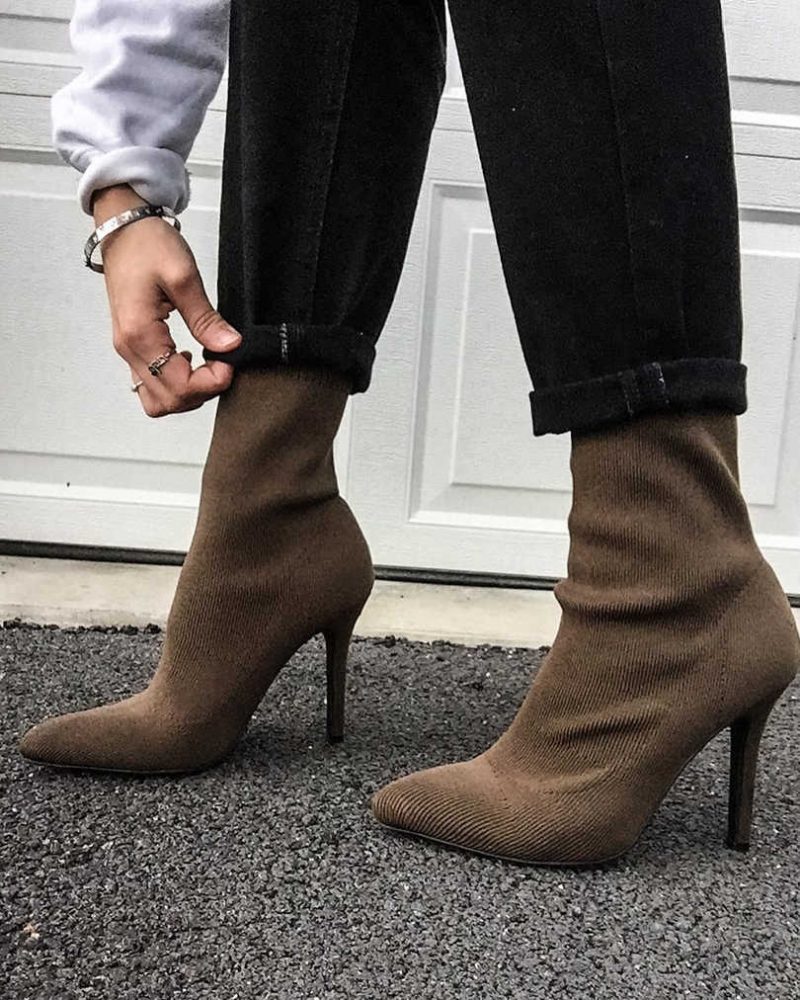 Anyway, as I've promised, my personal hack on how DIY Yeezy Booties style without paying too much. You're definitely going to want to steal this idea. Instead of paying crazy money, buy yourself tube socks, cut holes in the heels, glue some textured paper to the bottom, and slip them on over pointed-toe heels. Yes, all you need is to cut holes in every pair of socks and wear them over your favorite heeled pumps. That's it! Use it!
Source: WhoWhatWear, WikiHow, Seventeen