You can have so much fun with the boho hipster style. In today's article, I want to share with you all the best and my favorite ideas on what shoes should boho hipster ladies wear. You gonna find easy to wear looks completed with original and classy shoes. I am telling you, there can be so much fun in creating these outfits.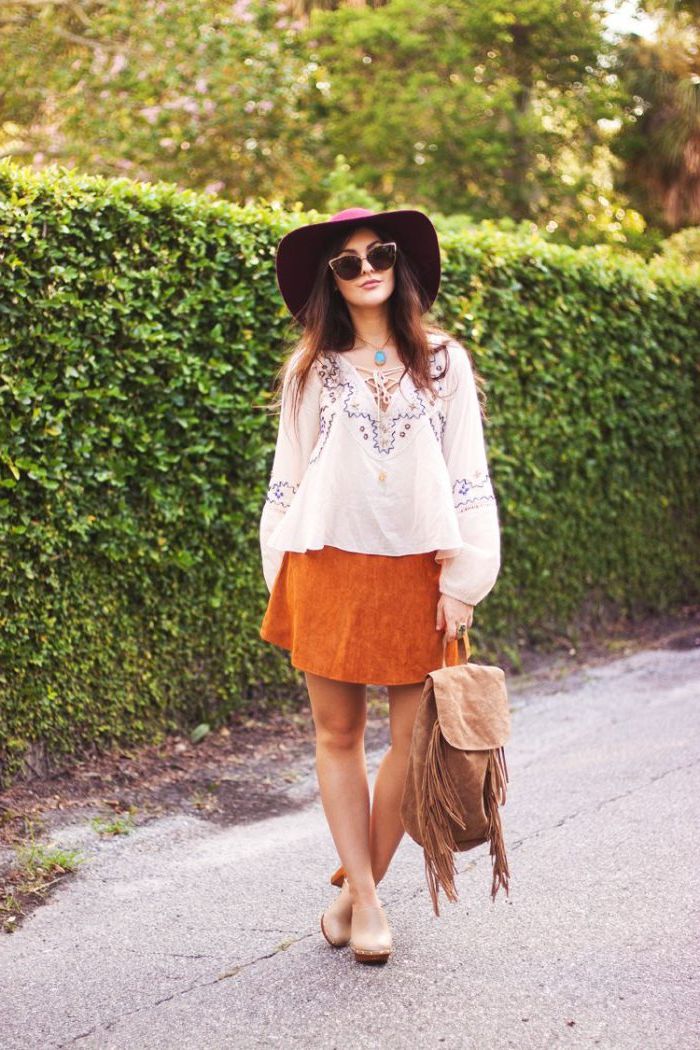 Buy Similar Here
We see nude clogs worn with a brown suede skirt and a white peasant blouse. Complete this combo by adding a purple floppy hat, suede backpack in brown and oversized sunglasses.
Before we move on seeing through this amazing street style collection, I wanted to make it clear with you about the boho hipster term. As we all know, hipstering is about independent thinking, creating your own style the same as bohemians do. Boho is more about expressing yourself, and hipster keeping up with your individuality. All in all, you should feel comfortable and confident.
The mix between hipsters and bohemians rises all because of functionality. Lots of stylists started to notice the similarity in these styles and the way how bloggers were mixing them together by combining such pieces like boho dresses and cool hipster style trainers, bohemian jewelry, and accessories with ripped jeans and tees, etc.
If you are bored with classic everyday style outfits and want to try something cool and original, then you better see these combos of boho hipster looks completed with eye-catching footwear.
Hipster and boho pieces can look awesome together. All you need is to know how to mix up these styles. Just make sure that the result looks natural and individual.
We see a relaxed-fit cream-grey sweater styled with denim overall shorts and white trainers, a perfect combo for casual street walks around town: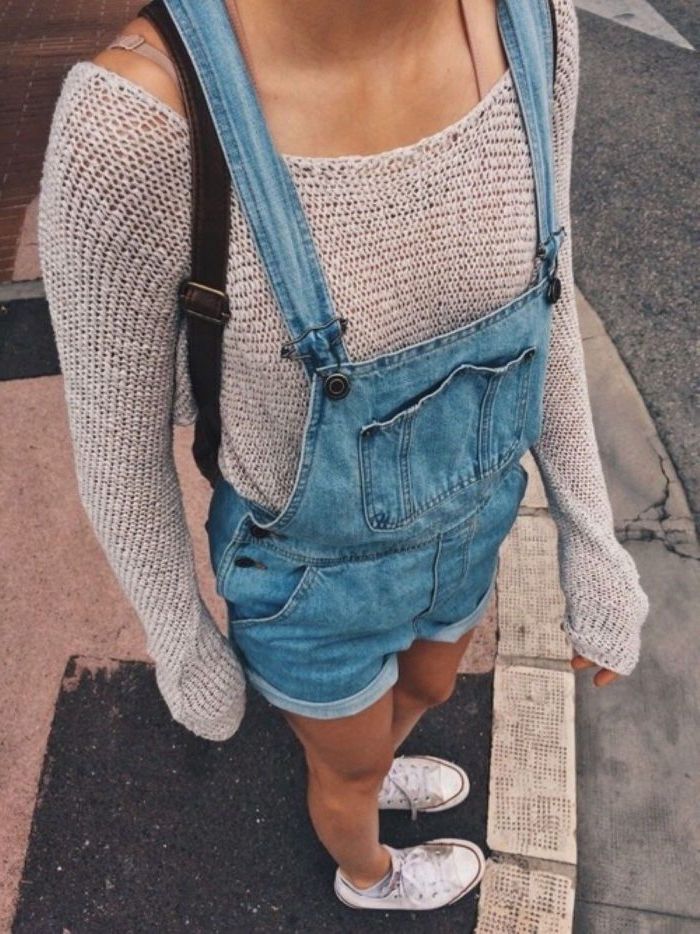 Buy Similar Here
Another eye-catching OOTD for day-offs, we see a printed long kimono styled with flared light blue pants and straw slides, yes, an absolute must-try: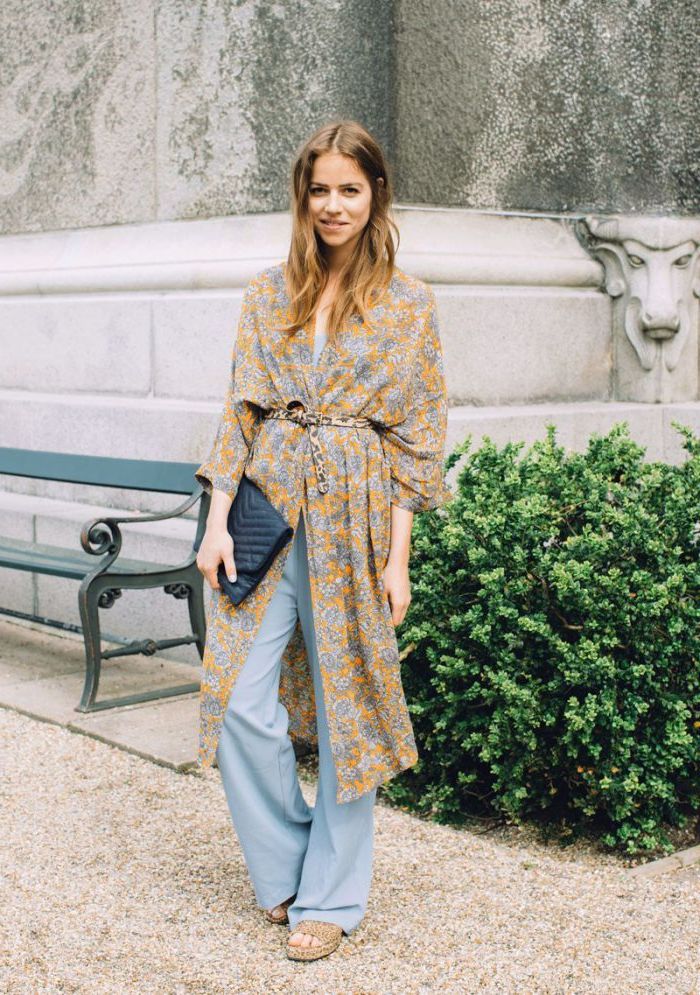 Buy Similar Here
Are you into black and white? Go for this wide-brim hat in a black, white peasant blouse and knee-ripped skinny jeans in black color. Update all these pieces with a pair of black leather ankle boots: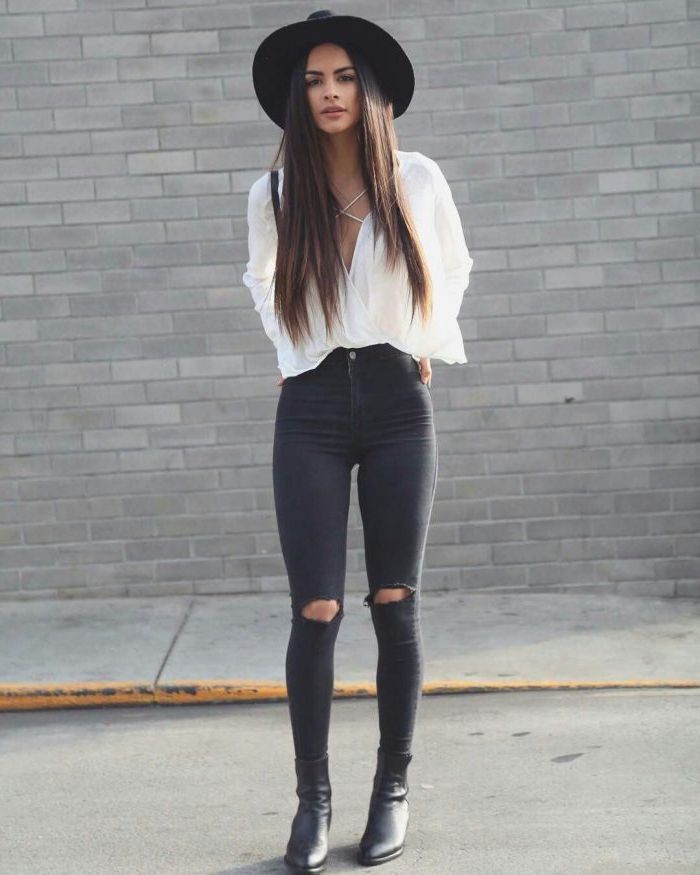 Buy Similar Here
A floral blouse looks chic with light brown mini skirt, tights and cute oxblood leather loafers: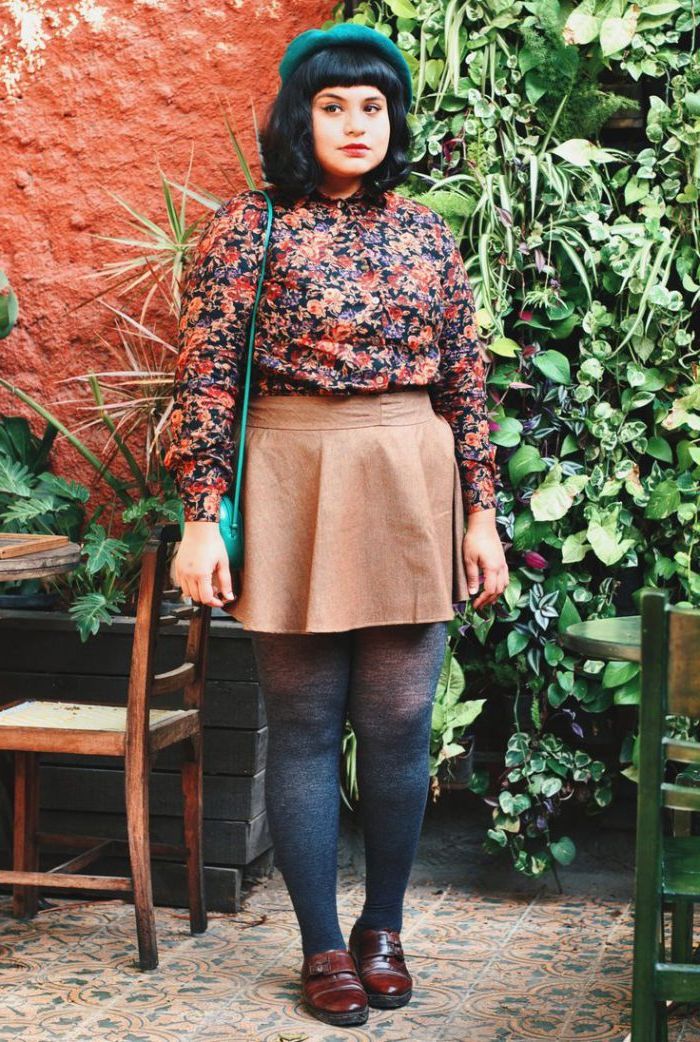 Buy Similar Here
We see a light lace maxi gown in black color completed with black lace-up boots. Update this combo by adding a khaki fedora hat: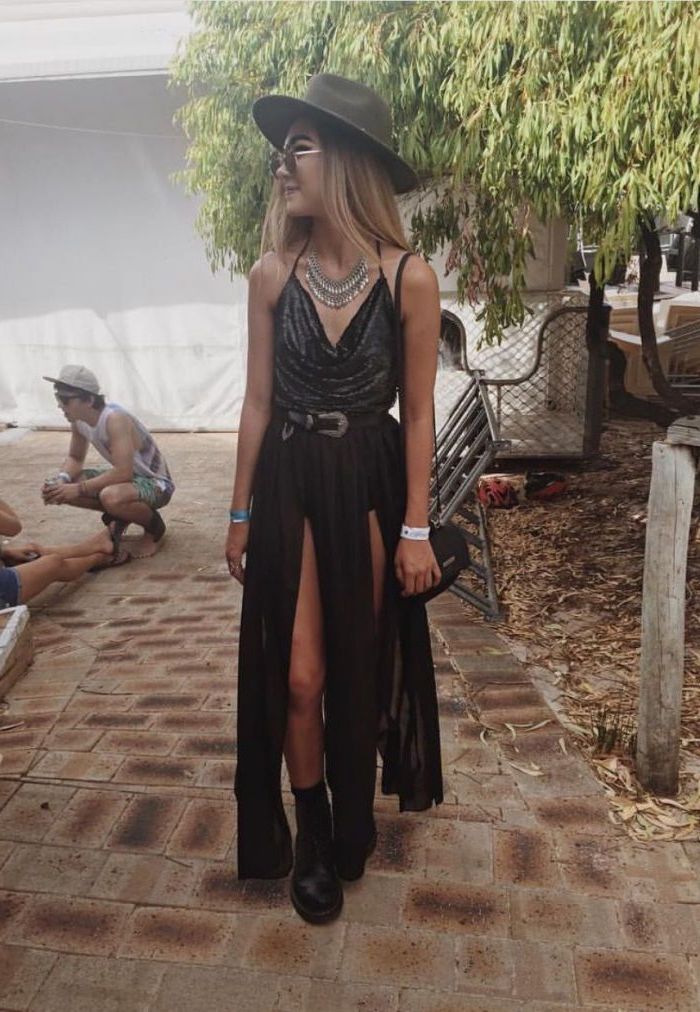 Buy Similar Here
Platform Oxfords are ideal to wear with this printed romper. Update this combo by adding chic shades and a khaki backpack: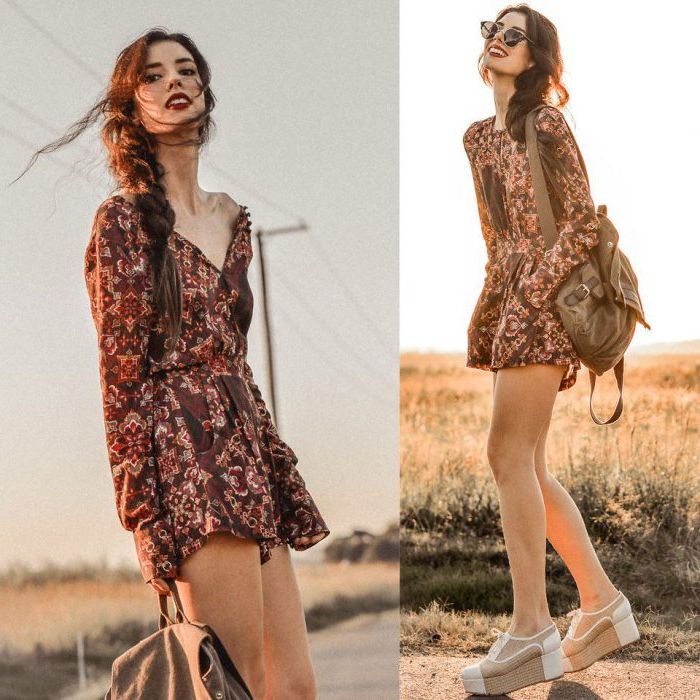 Buy Similar Here
A rock band tee in black looks cool with fringed suede shorts and suede ankle boots: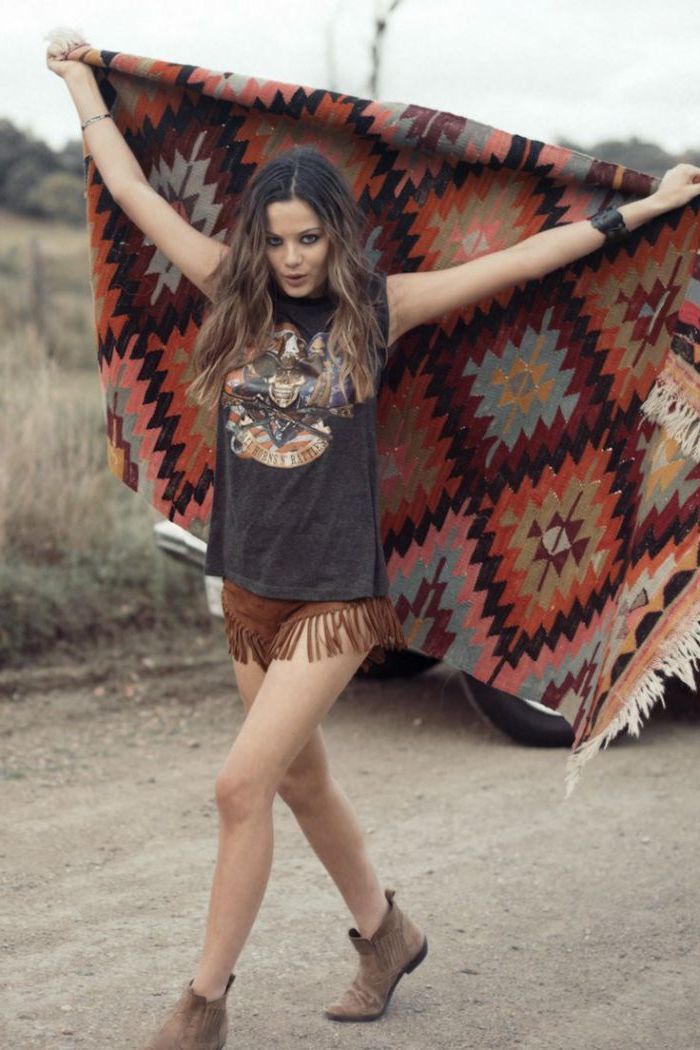 Buy Similar Here
A black brimmed hat looks gypsy-inspired teamed with a floral kimono, white lace top, and a black pencil skirt. Add cream-brown ankle boots to complete this style: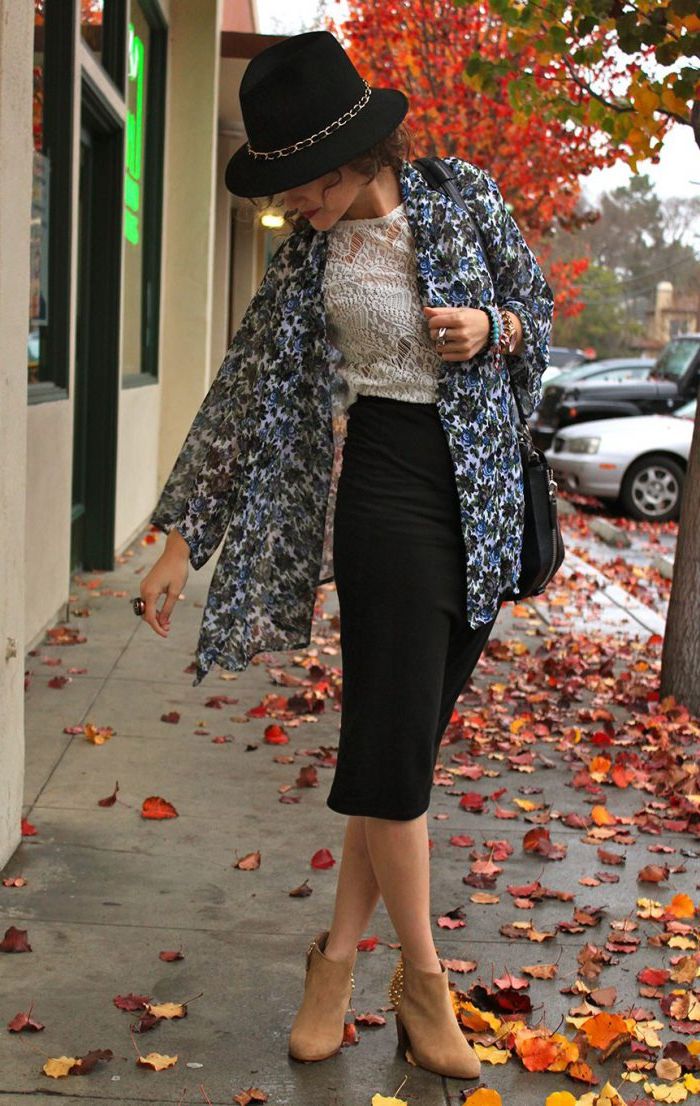 Buy Similar Here
A mini boho dress is styled with a white wide-brim hat and grey suede tall boots: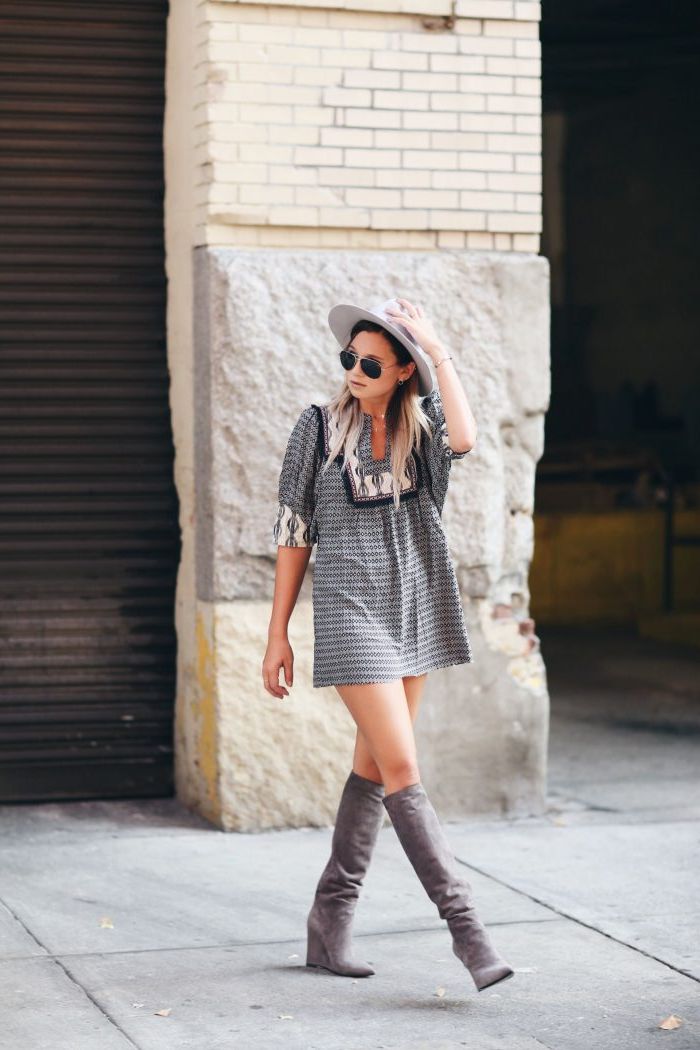 Buy Similar Here
A brown suede cropped biker jacket looks fantastic styled with a jacquard mini dress, black tights and black leather ankle boots, update this combo by adding a black fedora hat: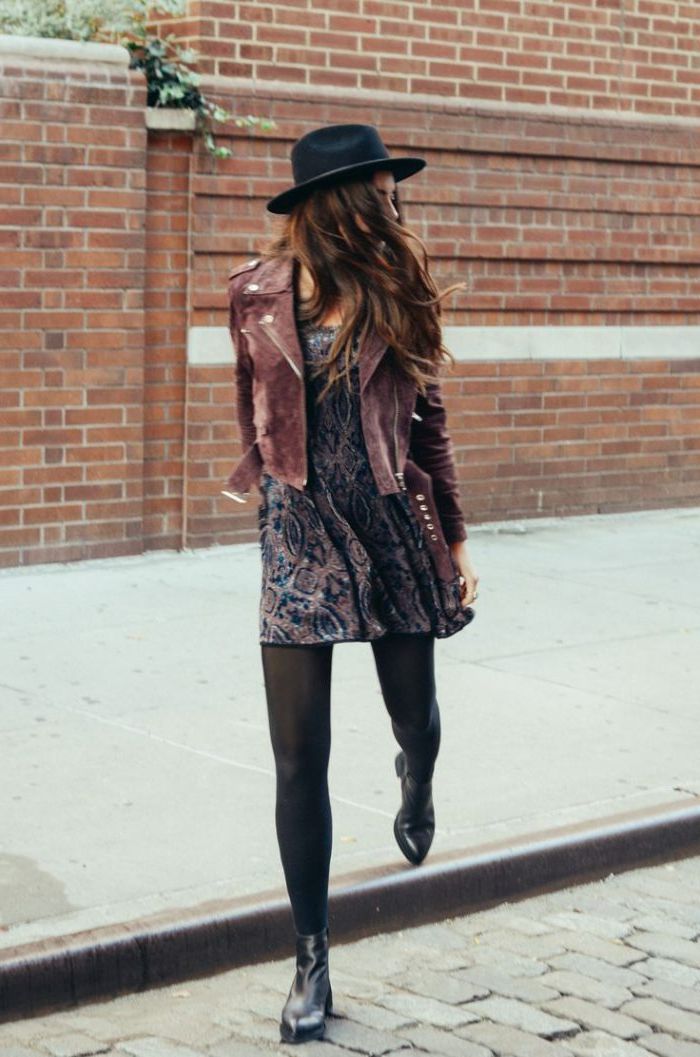 Buy Similar Here
A long green floral dress is layered over blue jeans completed with brown suede ankle boots. Update this style by adding a black fedora hat and a black leather biker jacket: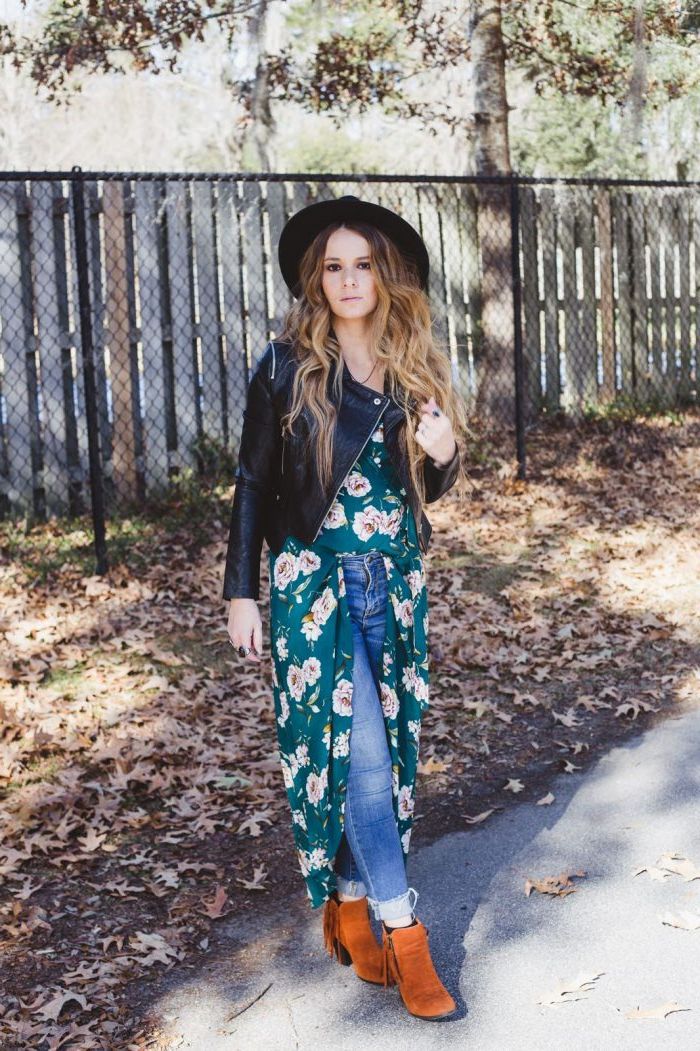 Buy Similar Here
A sleeveless front-tied chambray shirt is paired with a knife-pleated midi skirt in navy completed with classic black ankle boots: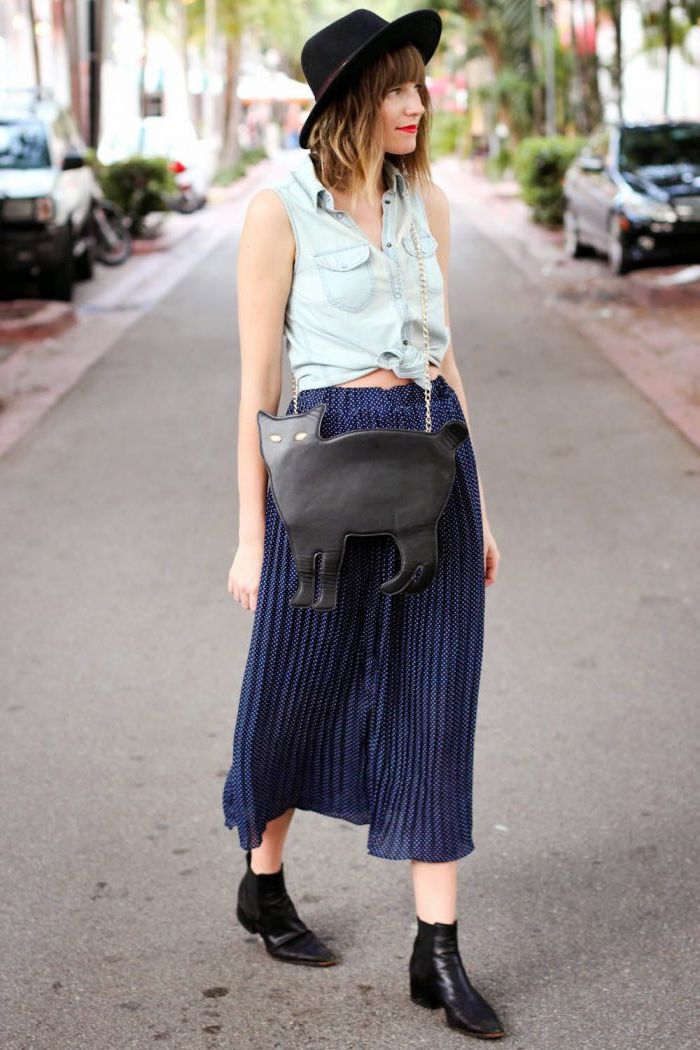 Buy Similar Here
A lovely white dress and suede brown ankle boots is a must-have combo: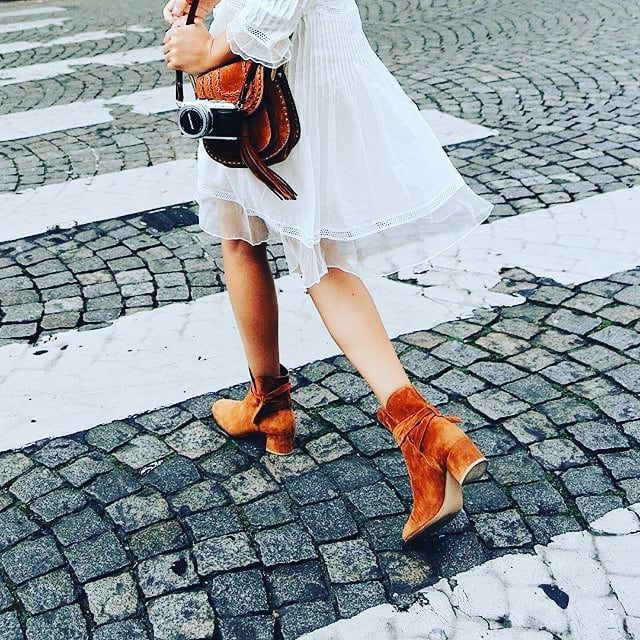 Buy Similar Here
Platform sandals in gold look stunning teamed with a zebra print midi dress and a wide-brim straw hat: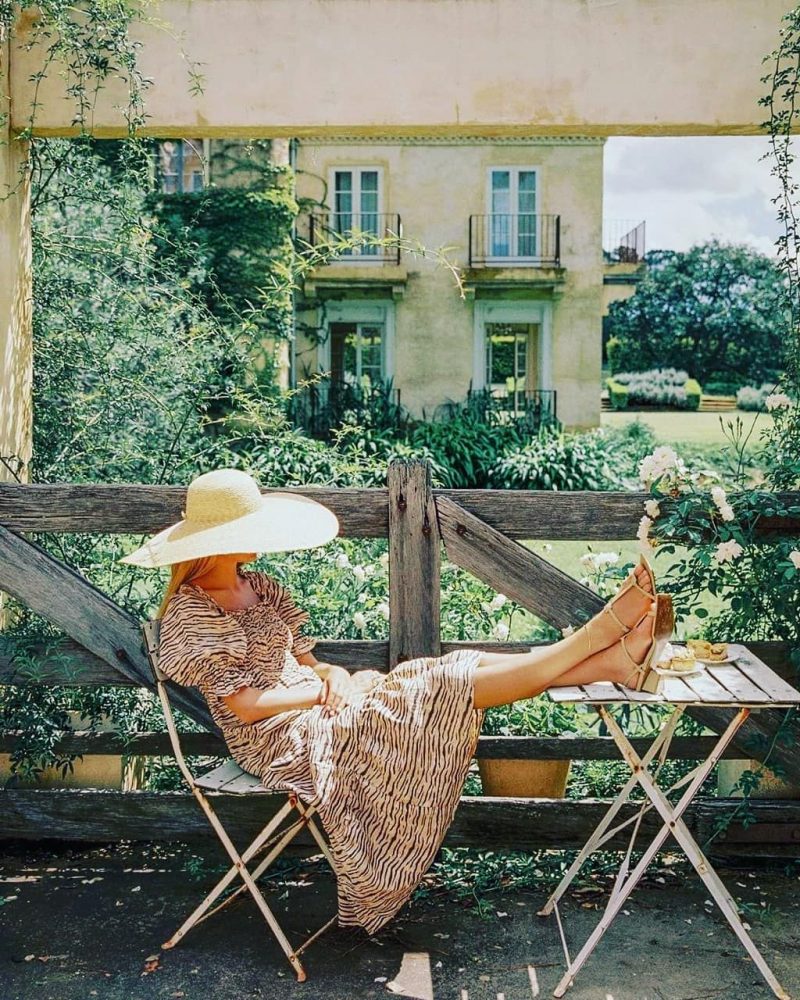 Buy Similar Here
A classic combo is never out of style. We see a white shirt tucked in a midi skirt in black color completed with black leather slides: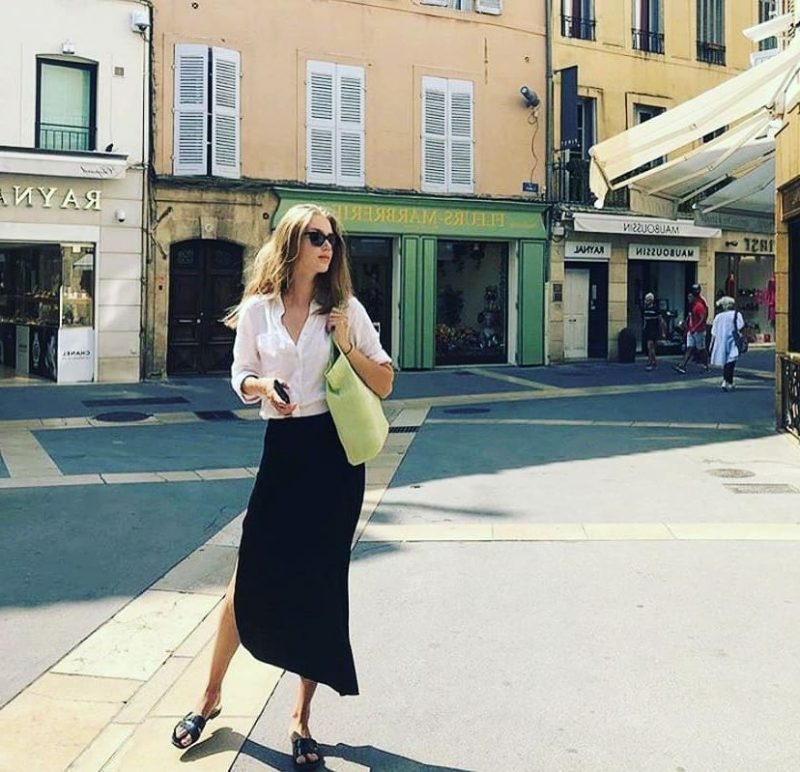 Buy Similar Here
A wide-brim light-grey fedora hat looks pretty cool styled with a relaxed button-down shirt tucked in wide-leg pants in brown color: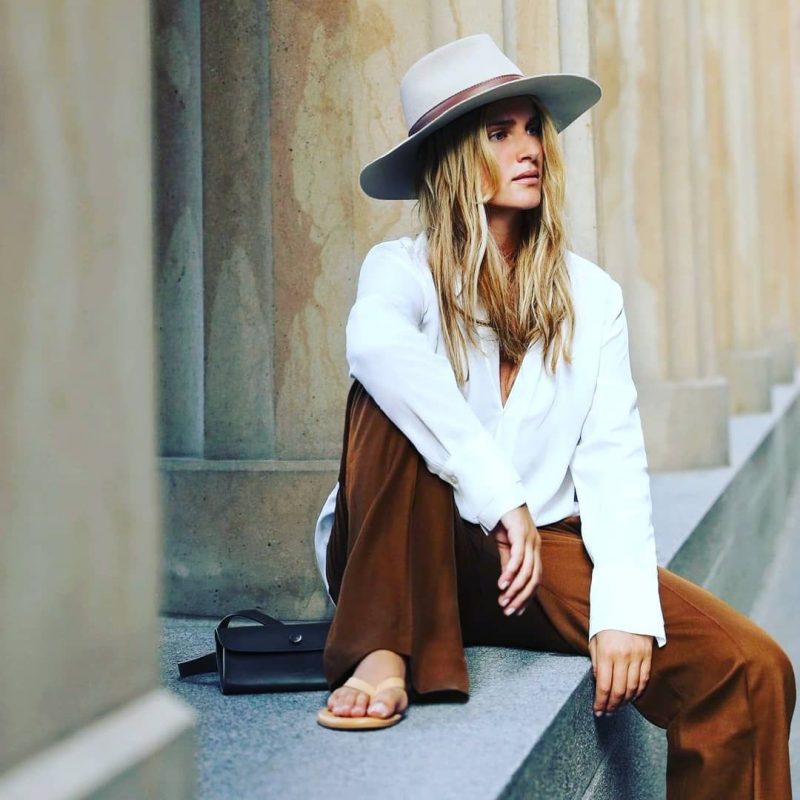 Buy Similar Here
Backless loafers in black leather can be updated with black regular jeans, black-white striped sweater and a classic trench-coat: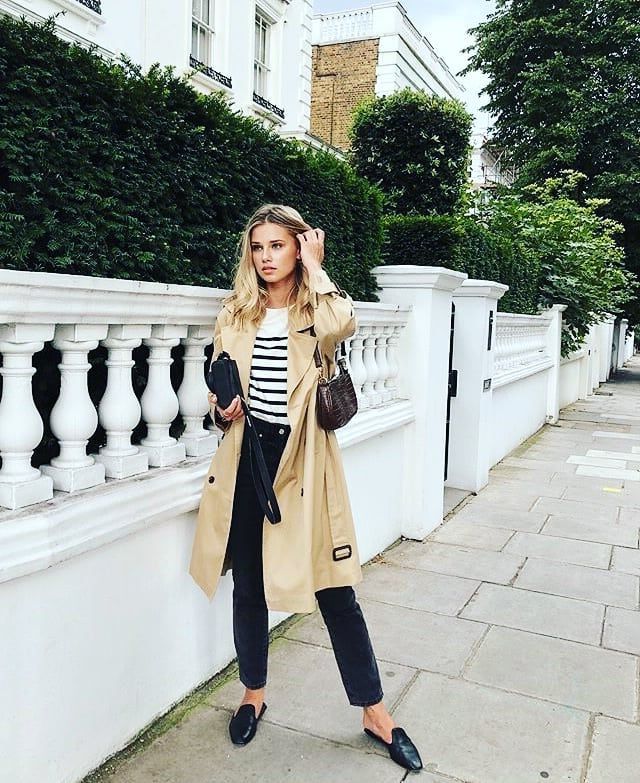 Buy Similar Here
A leopard print dress looks voguish teamed with chunky white sneakers: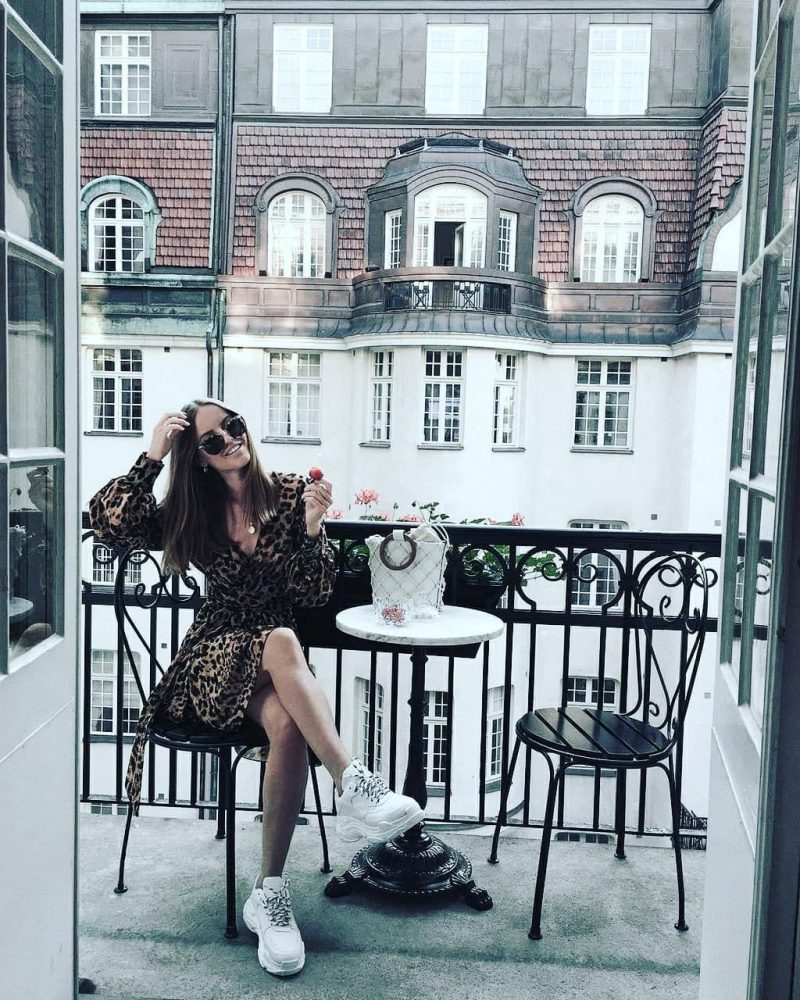 Buy Similar Here
A cute white dress with puffy short sleeves is completed with black leather platform Chelsea boots: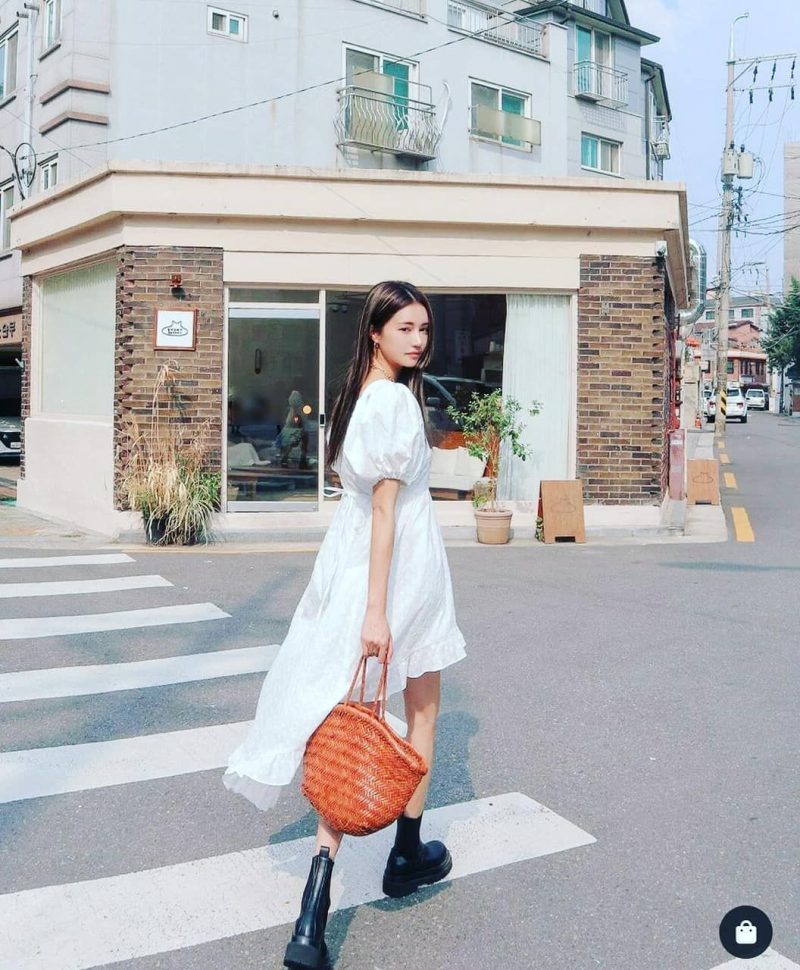 Buy Similar Here
An oversized knitted jumper is half-tucked in knee-ripped wash-blue jeans updated with platform sandals in black: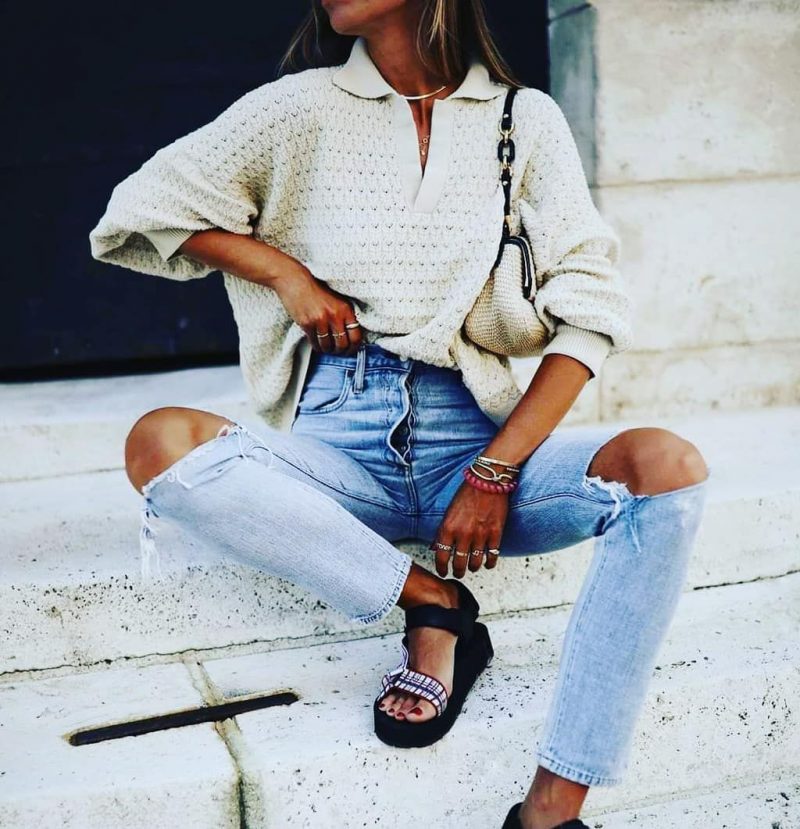 Buy Similar Here
A touch of French chic, go for a grey beret, oversized trench coat and platform Chelsea boots in black leather: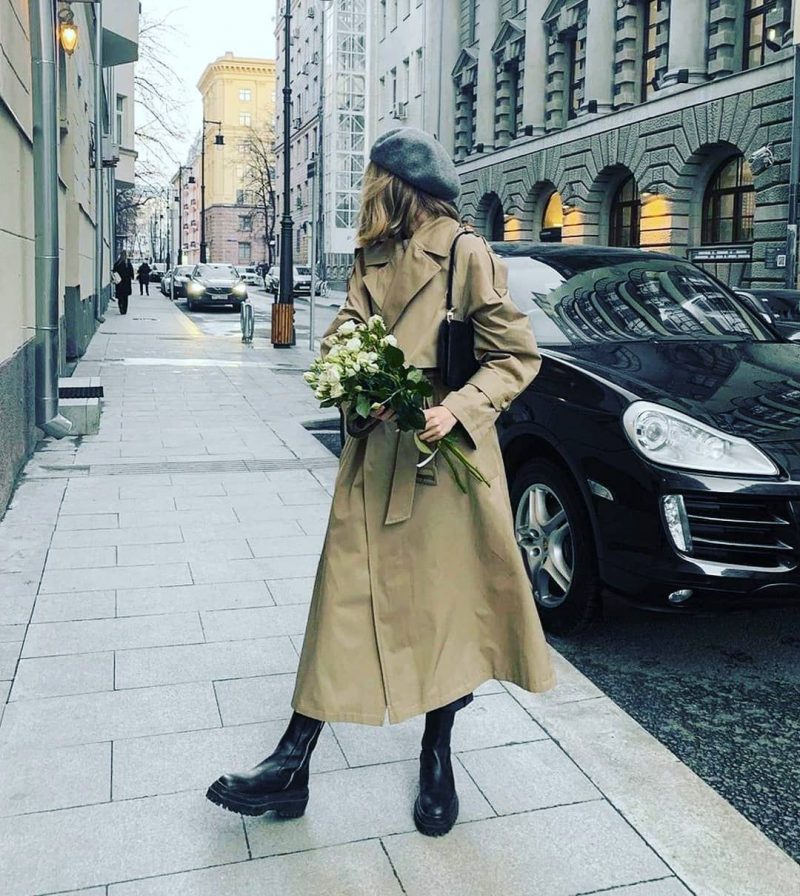 Buy Similar Here
Keep things simple and casual, go for a perforated blouse in white and team it with blue jeans and gold metallic sandals: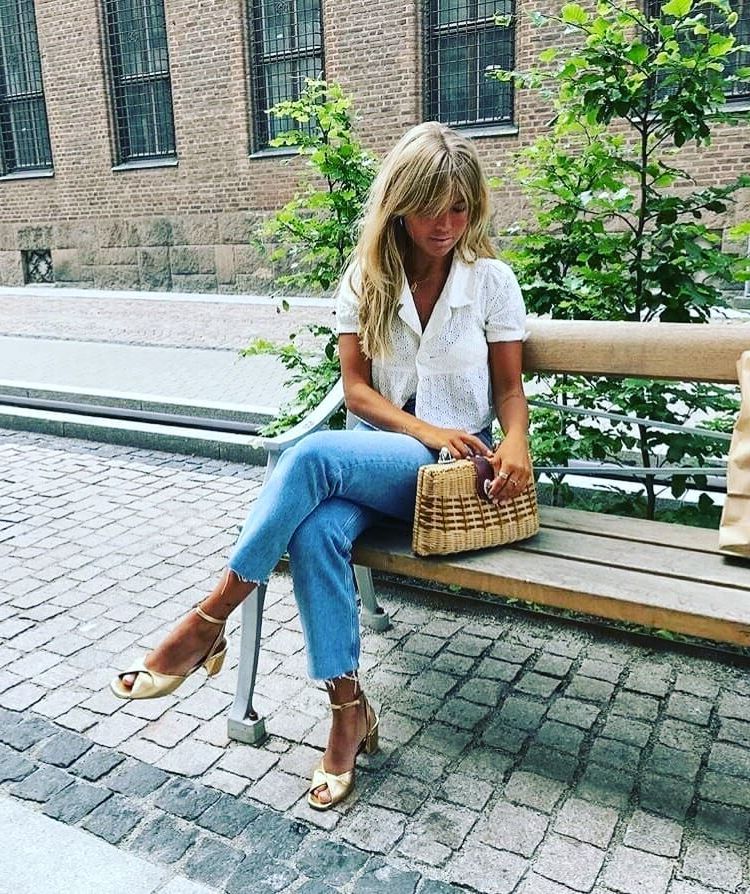 Buy Similar Here
How about these black suede sock boots styled with cuffed boyfriend jeans, black turtleneck, and a charcoal oversized coat? Update this look by adding ribbed knit beanie and a shopper bag: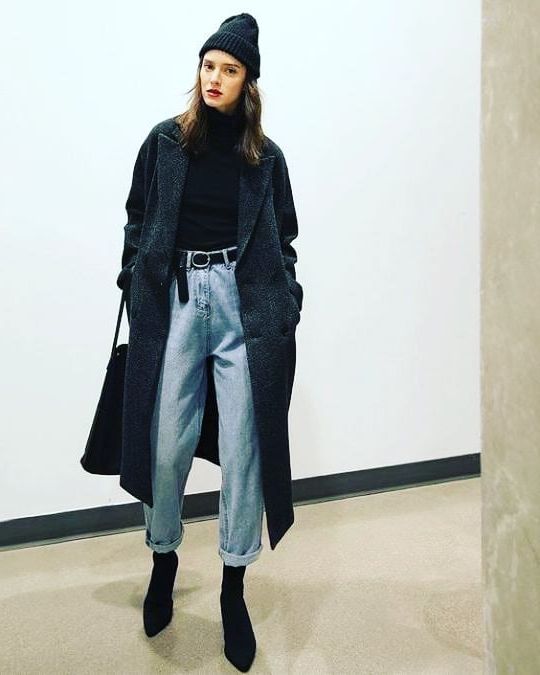 Buy Similar Here
A cream-white turtleneck sweater in ribbed knit looks damn cool paired with dark blue cropped pants and white runners: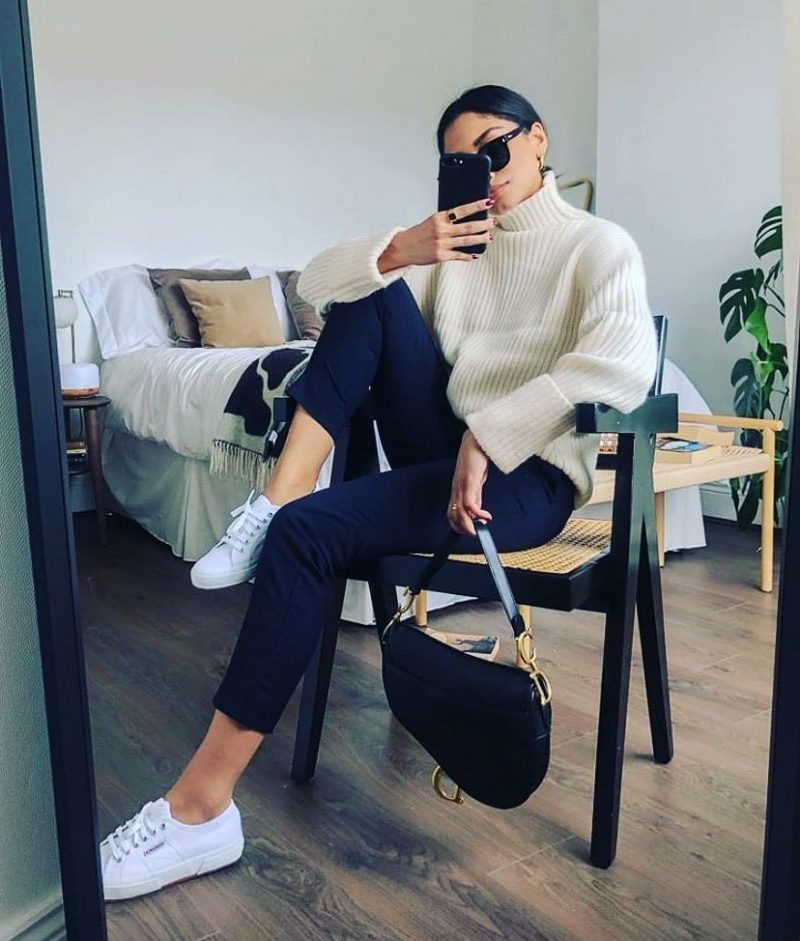 Buy Similar Here
We see a wide neck shortened top in pastel blue teamed with slim jeans in blue and white kicks: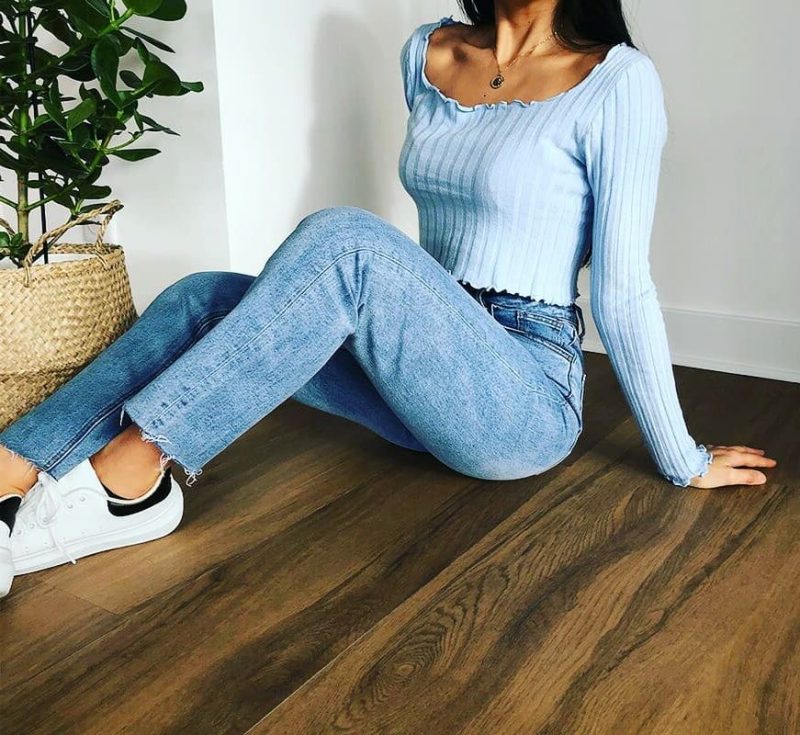 Buy Similar Here
A touch of glamour! Go for a black fur jacket, printed tee, indigo jeans in regular fit and lace-up black leather boots: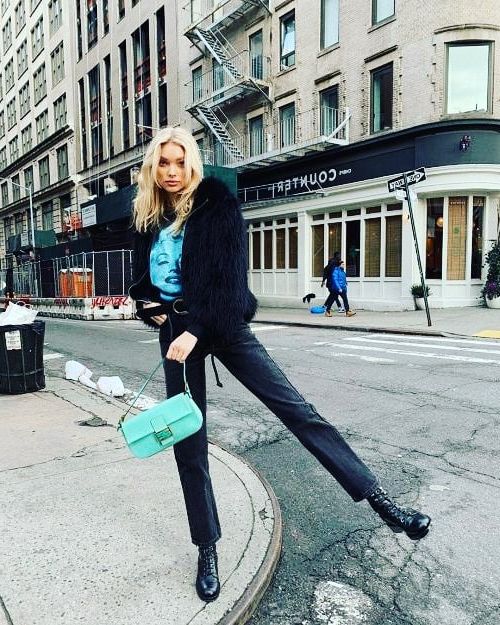 Buy Similar Here
A 1/2 sleeve sweater in white is tucked in a pleated light-brown knife-pleated midi skirt completed with white sneakers: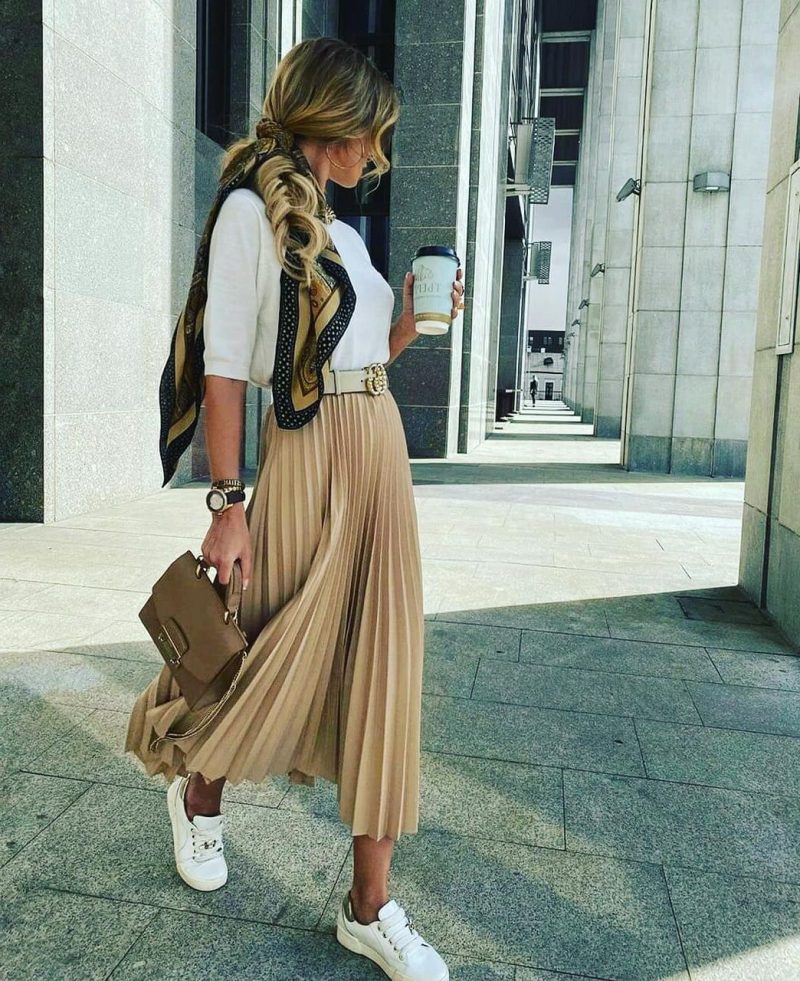 Buy Similar Here
A safari desert cargo cropped jacket looks stunning teamed with a basic white tee tucked in cuffed boyfriend jeans updated with high-top trainers in white: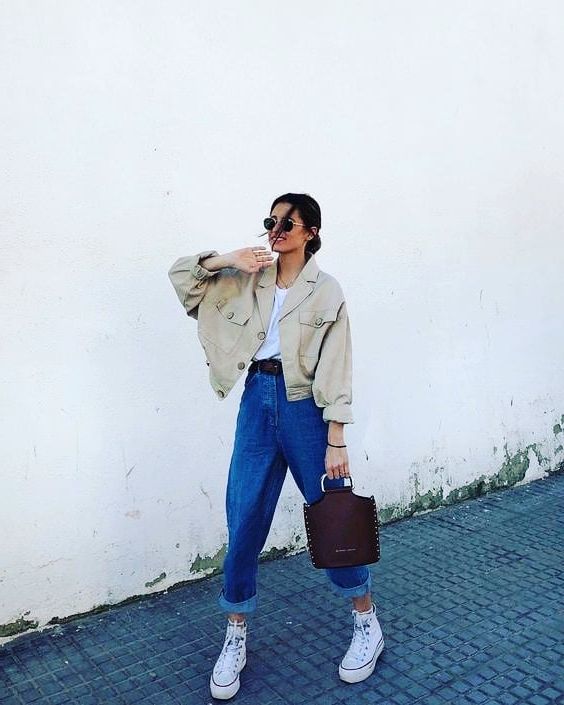 Buy Similar Here
A safari-camel pantsuit will be a lovely choice to team with these white sneakers: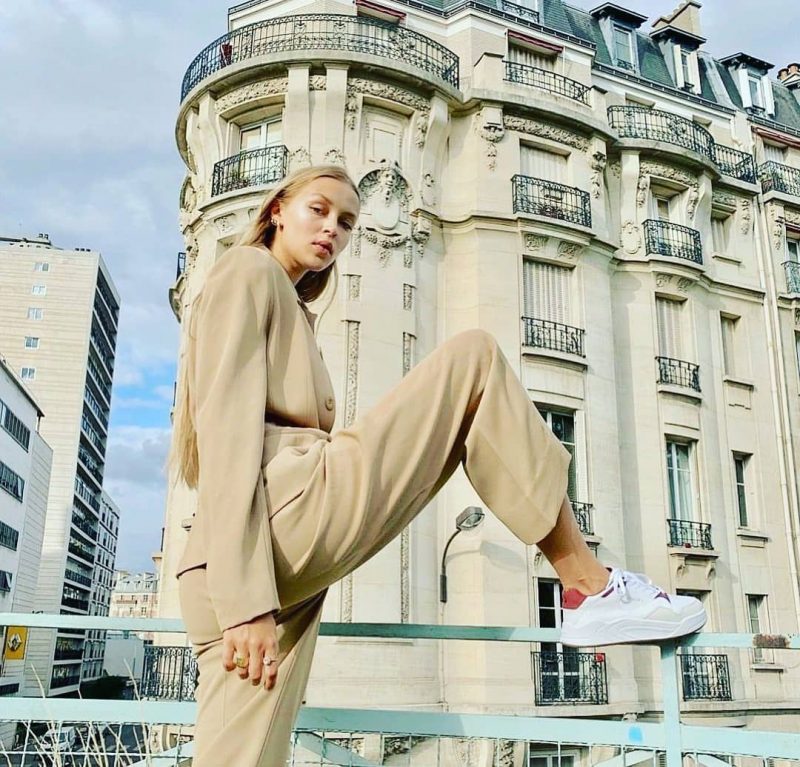 Buy Similar Here
If you are into a relaxed silhouette, then go for a loose-fit white-grey sweater, long dress in white and platform lace-up boots in black leather: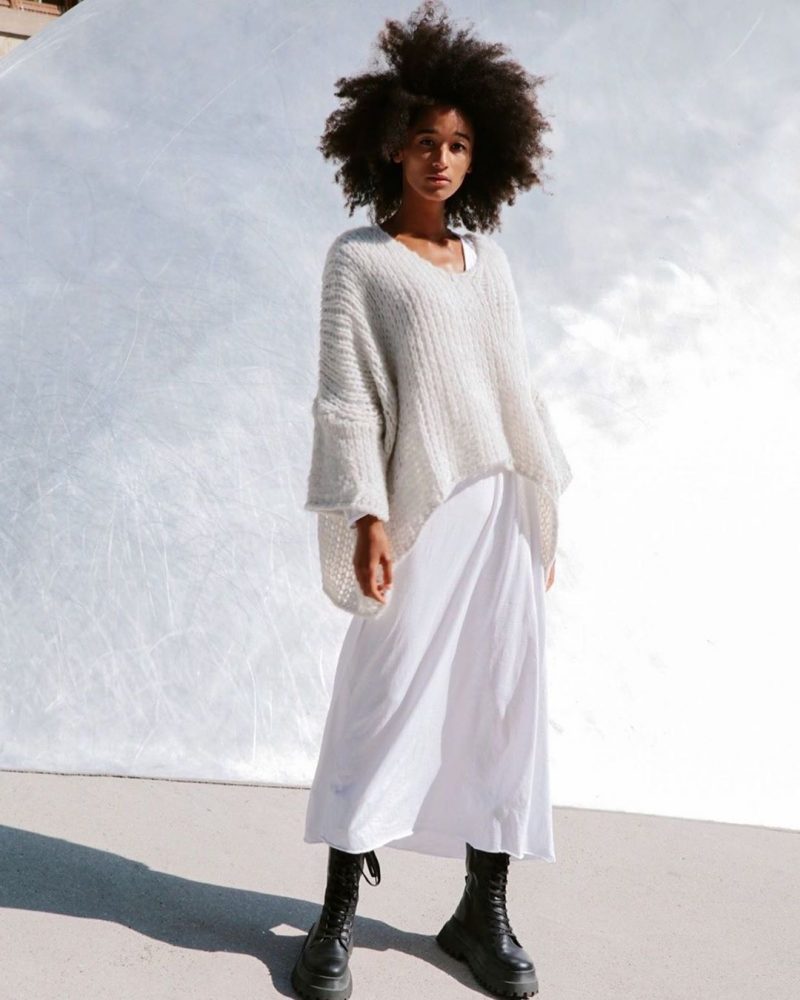 Buy Similar Here