Today's topic is dedicated to shoes for a funeral that women can wear. Before you throw tomatoes at me, I want to say a couple of things in my defense. First of all, everything is individual, we all are different and cultures are various and secondly, all depends on where did he or she worked, and what were his or her style preferences. I hope this will clear things up after you see all the possible ideas on what shoes you can wear to a funeral.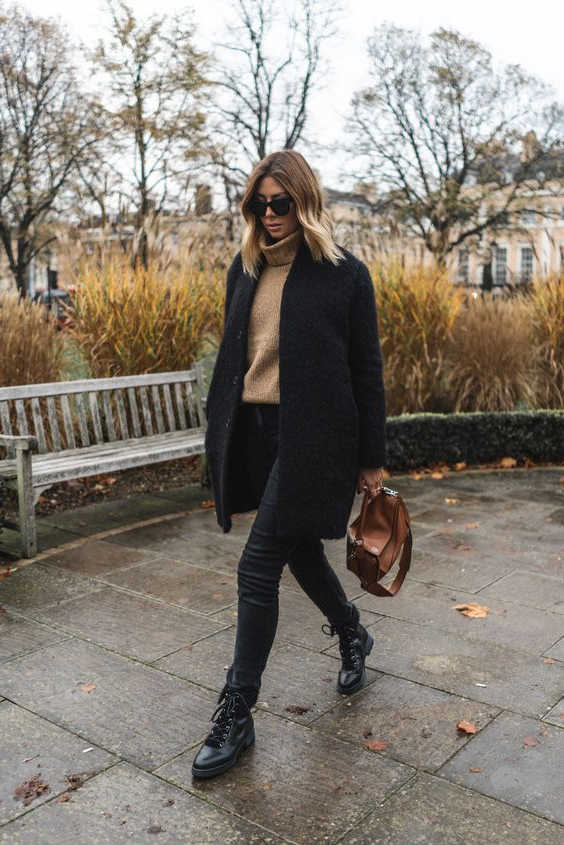 Buy Similar Here
We see a bulky black coat styled with a turtleneck sweater in camel paired with black slim jeans and lace-up black combat boots. Complete this style by adding Wayfarer sunglasses and brown leather bag.
Shoes For A Funeral
There are lots of talks going on regarding funeral dress code. I think everything depends on the person's lifestyle, if the ceremony is dedicated to a rock star, then it's acceptable to wear some rock music attributes. You get the idea, what I am trying to say?
Black Sneakers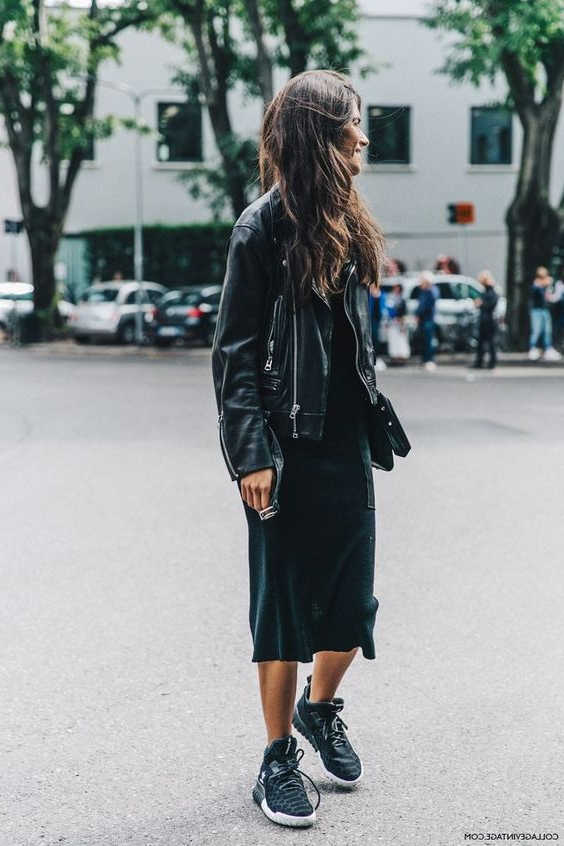 Buy Similar Here
We see a nice all in black outfit idea. A black leather jacket, a knitted midi dress in black completed with black sneakers.
That's why dress shoes, loafers, or dark sneakers should be acceptable, you can match them with shorts, skirts, jumpsuits and whatever you like. You definitely need the shoes that are comfortable, and it's an important thing, as many ceremonies include walking, sitting, standing, so you better go for the footwear that you can wear for a long time during the day.
If you want to wear sneakers or slip-on shoes, then make sure, they are dark-colored. There can be a relaxed ceremony that is not super formal, that's why for some reason it's okay to wear dark tennis shoes or Converse kicks. If it's a more formal funeral, a so-called traditional one, then you better go for a black dress and black shoes.
What you definitely should avoid is anything too glittering, sequins, metallic fabrics, fun prints, and other distracting or flashy pieces. Plus, avoid by any circumstances shoes like flip-flops. Sure, the best way is to go for a conservative option, so you are saving time and effort. Don't show too much flesh, like mini skirts, low cut blouses, crop tops, bodycon, sheer shirts, mini dresses. In other words, follow the dress code for the church.
Speaking of footwear toes, then most would say that peep-toes are inappropriate, but I think all depends on the overall outfit. You can go for open-toe shoes, just make sure everything is balanced.
Speaking of colors, then black, dark grey, deep blue, brown, light grey, are acceptable for ceremonies. Bright pink, fresh yellow, neon, and other bright colors are not acceptable, but it depends on many other circumstances. I don't think colored shoes with a black dress are inappropriate. People should hardly be focussing on your shoes on such an occasion. Personally, I think you could wear colored shoes.
Ankle Boots
Another all in black look for ceremonies. We see a black leather biker jacket paired with a black cami dress made of silk completed black ankle boots and black socks. Love the rounded sunglasses: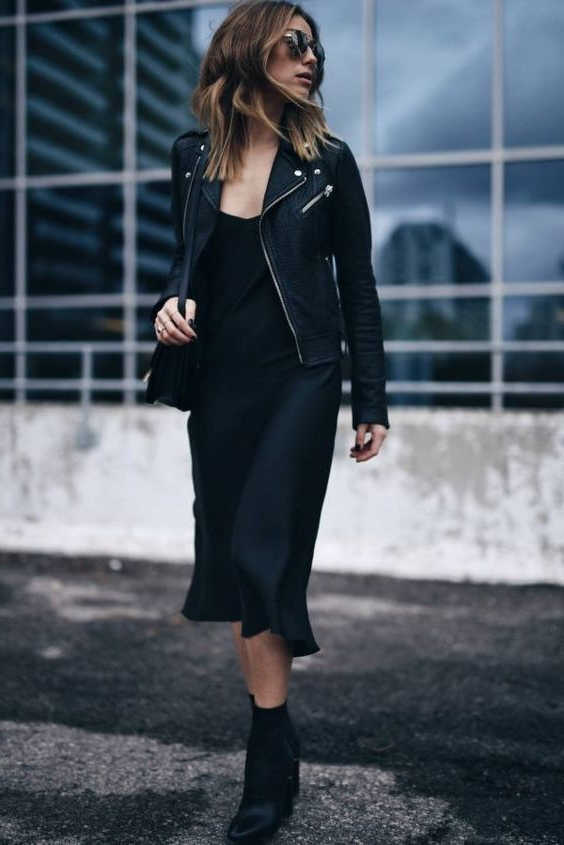 Buy Similar Here
Lace Up Boots
We see a dark green coat styled with a black scarf, black skinny jeans, and lace-up black boots. Complete it with rounded sunglasses:
Buy Similar Here
Brown Shoes
Yes, brown color footwear is appropriate to wear. Go for brown suede ankle-boots and style them with knee-ripped black skinny jeans, black tee, and a black long blazer. Update it with oversized cat-eye sunglasses and black leather handbag: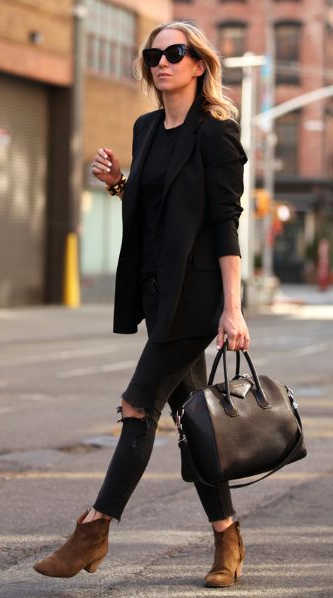 Buy Similar Here
Chunky Combat Boots
We see chunky black leather combat boots styled with opaque tights and black blazer dress completed with a black leather belt: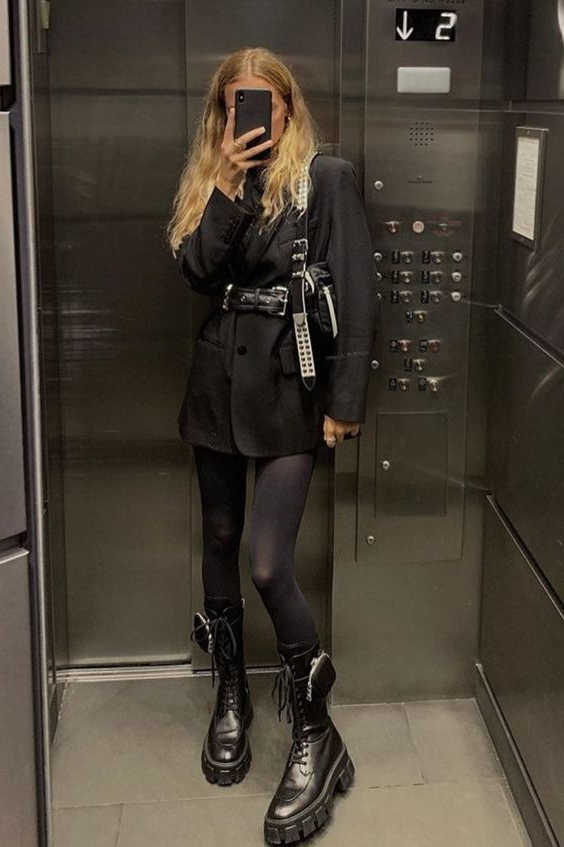 Buy Similar Here
Flat Boots
We see patent black leather flat boots worn with wide ankle pants, black tee and a black leather biker jacket completed with a fedora hat: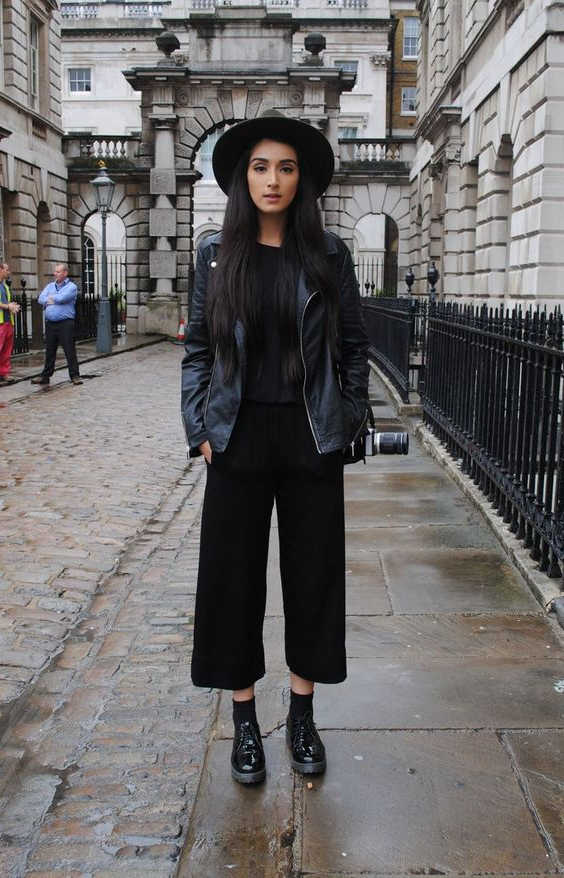 Buy Similar Here
Black Flat Pumps
A two-piece black dress looks amazing! The wide top and a flared ankle skirt are styled with pointed-toe flat pumps in black color. In love with these rounded sunglasses and a black leather shoulder clutch: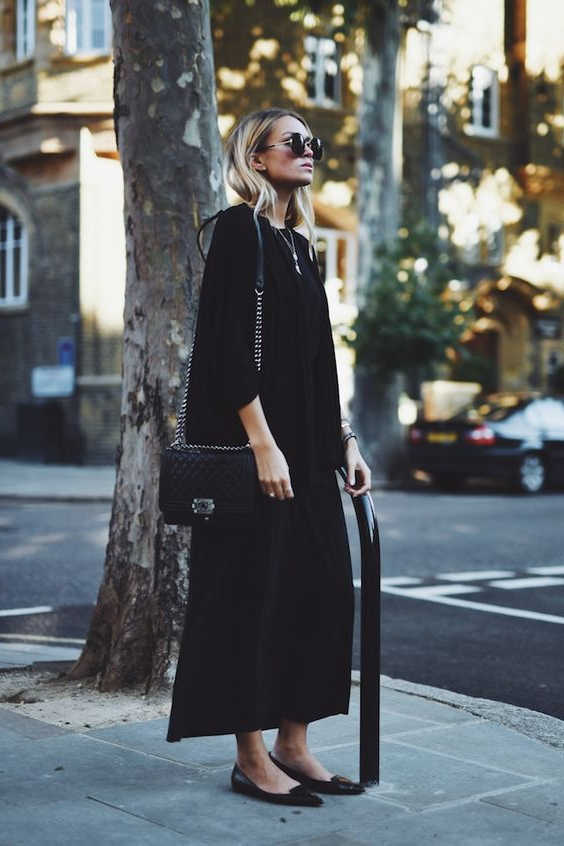 Buy Similar Here
Black Backless Flats
A black ribbed knit turtleneck is tucked in a suede midi skirt with a slit completed with backless loafers in black suede. Love these flat brow sunglasses: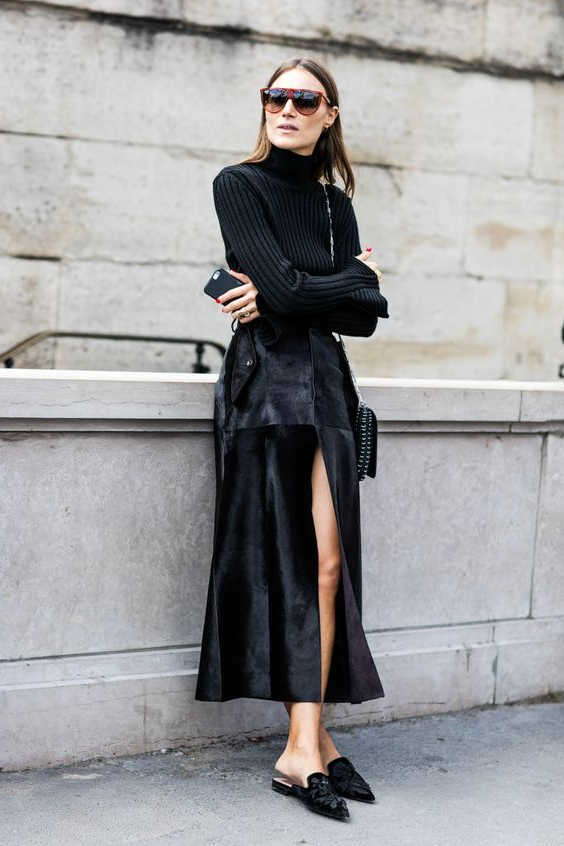 Buy Similar Here
Red Pumps
A sleeveless pencil midi dress in black color looks amazing with peep-toe heeled pumps in red color. Complete this combo with oversized sunglasses: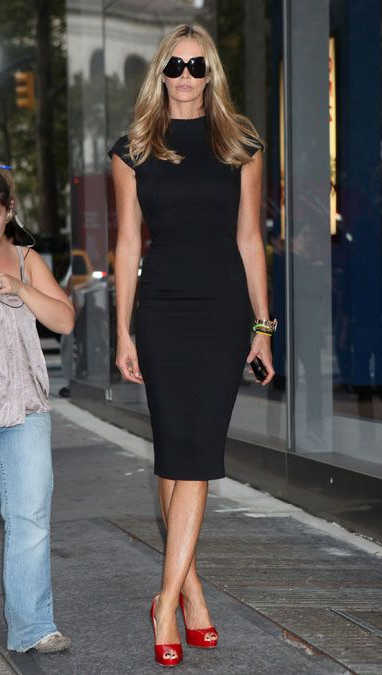 Buy Similar Here
Grey Shoes
Grey slip-on shoes with white soles can be used for funerals, try them on with tailored grey pants, plaid print shirt layered over a grey turtleneck. Complete this look with a grey coat. Check out my post on ways how to wear slip-on shoes for women, there are lots of cool ideas you can easily try on: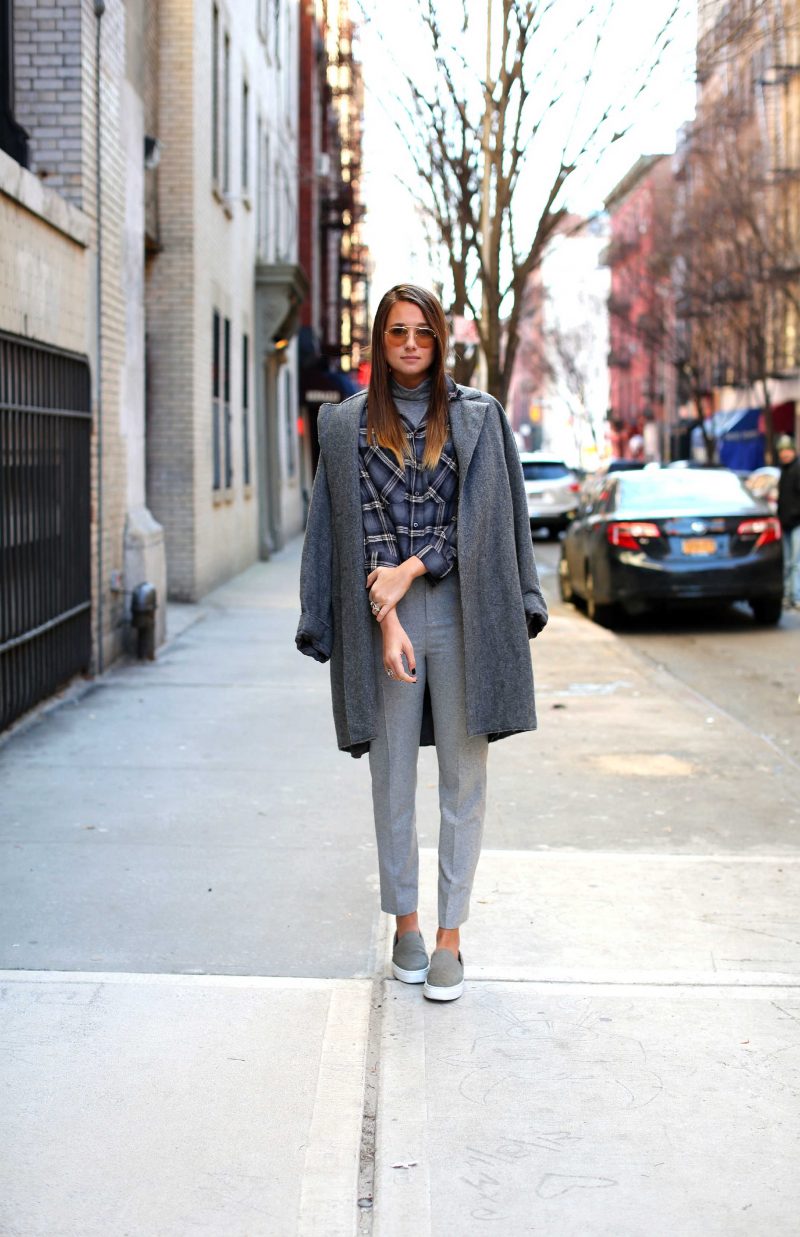 Buy Similar Here
Heeled Sandals
A belted short-sleeve black jumpsuit with flared ankle pants is updated with black ankle-cuff heeled sandals. Complete this combo with oversized sunglasses and a chan strap red clutch bag: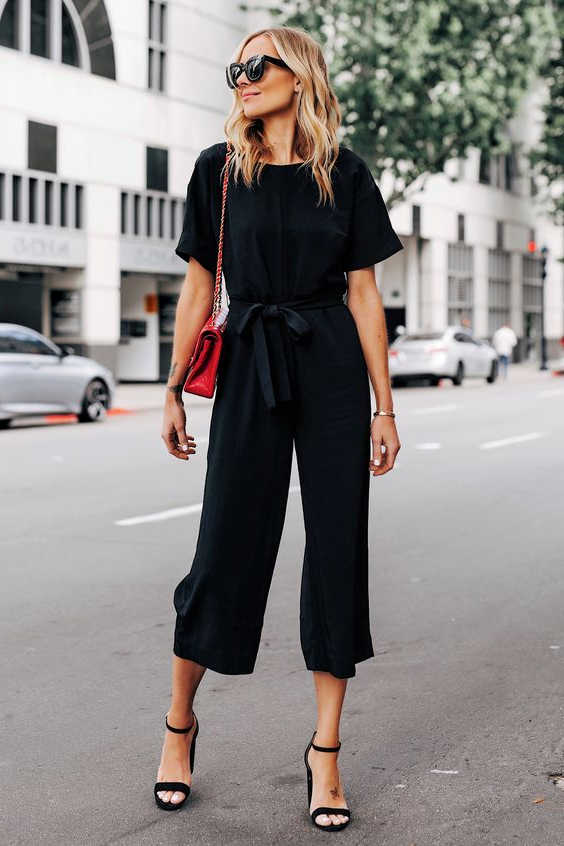 Buy Similar Here
High Heel Black Pumps
Have a look at this marvelous funeral outfit idea. We see a creative headwear, peplum blazer, and a pencil cut midi skirt. Complete it with oversized sunglasses, a black leather clutch, opaque tights, and stiletto heel black pumps: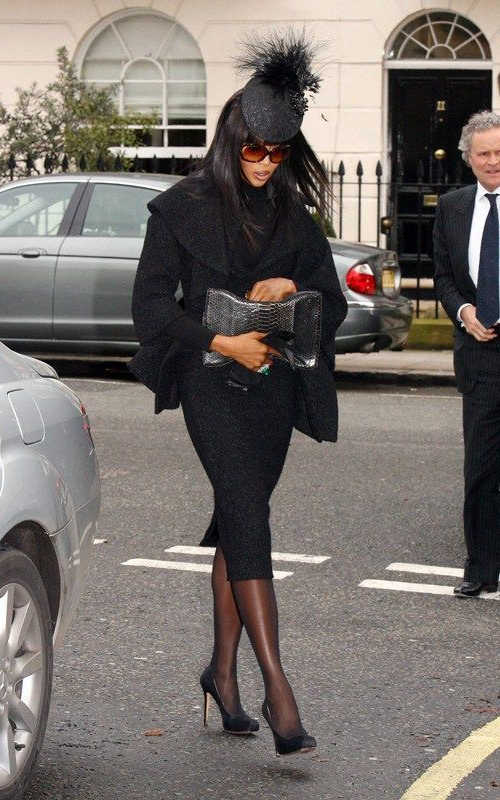 Buy Similar Here
Heels With Buckle Straps
Short sleeve lace midi dress in black color looks ladylike. Style it with oversized sunglasses and heeled black pumps with buckles, complete it with a black leather handbag: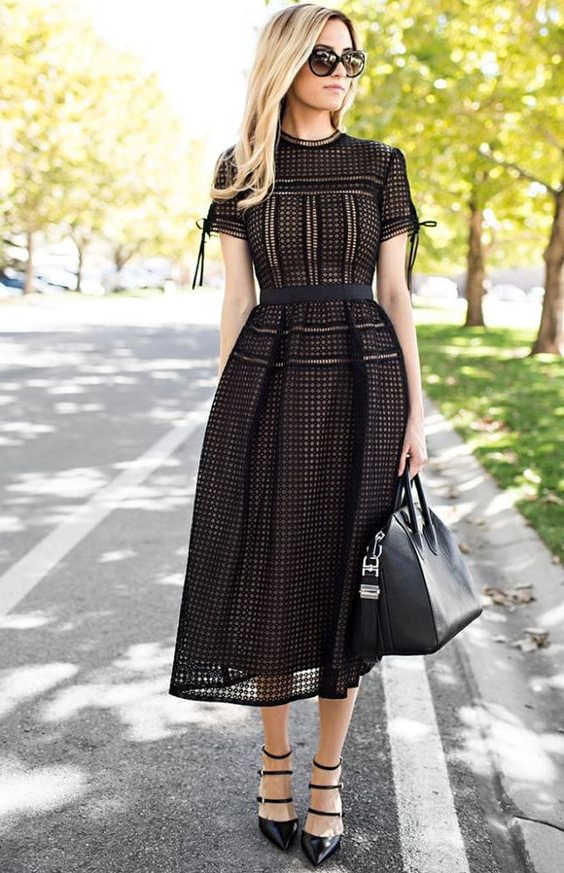 Buy Similar Here
High Heel Sandals
Here we see a marvelous slim-fit pantsuit. A slim-fit blazer is styled with skinny pants and stiletto heel sandals. Complete this combo with gold chain layered necklaces: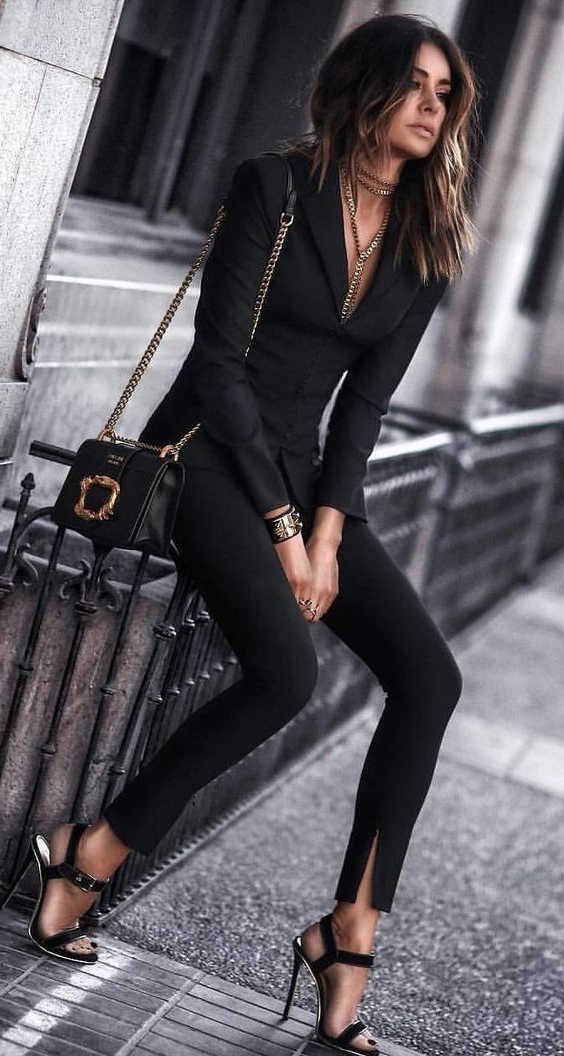 Buy Similar Here
High Heels In Black
High heel pumps in black color look awesome with this short-sleeve fit-and-flare midi dress. A perfect look for funerals: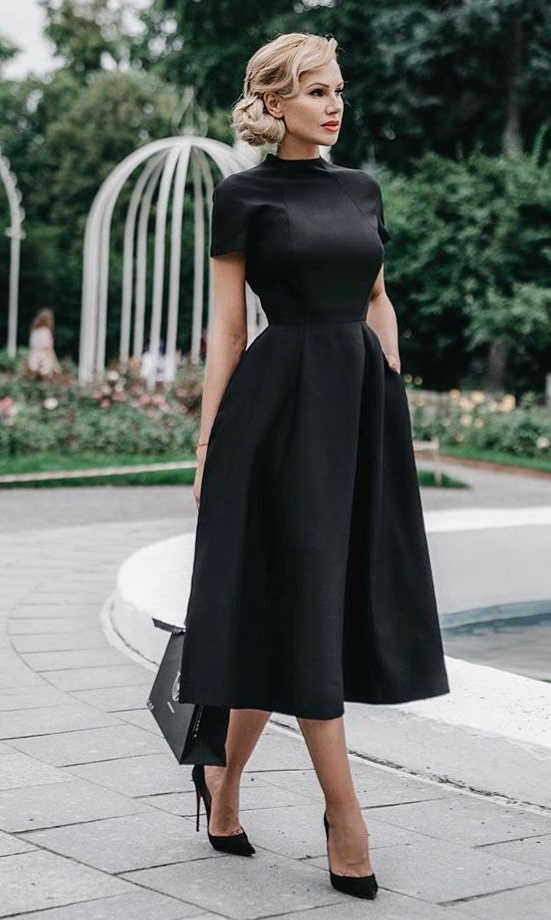 Buy Similar Here
Knee High Boots
Knee-high boots in black suede are paired with a black knife-pleated midi skirt and black pullover: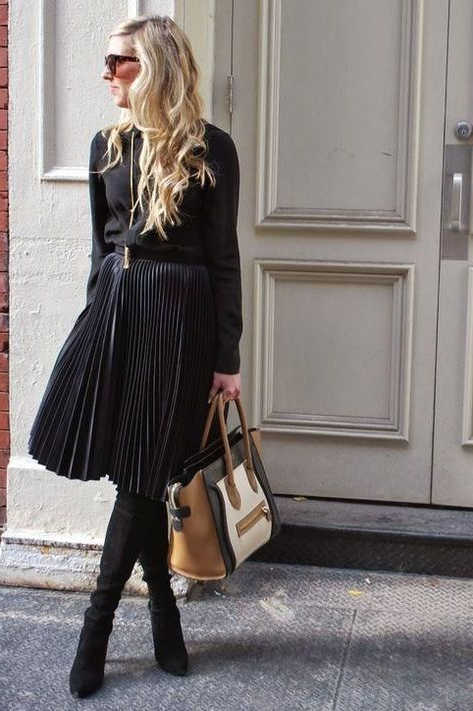 Buy Similar Here
Lace-Up Sandal Boots
A pair of lace-up sandal boots in black color looks awesome styled with a black coat, black top, and black tailored ankle pants: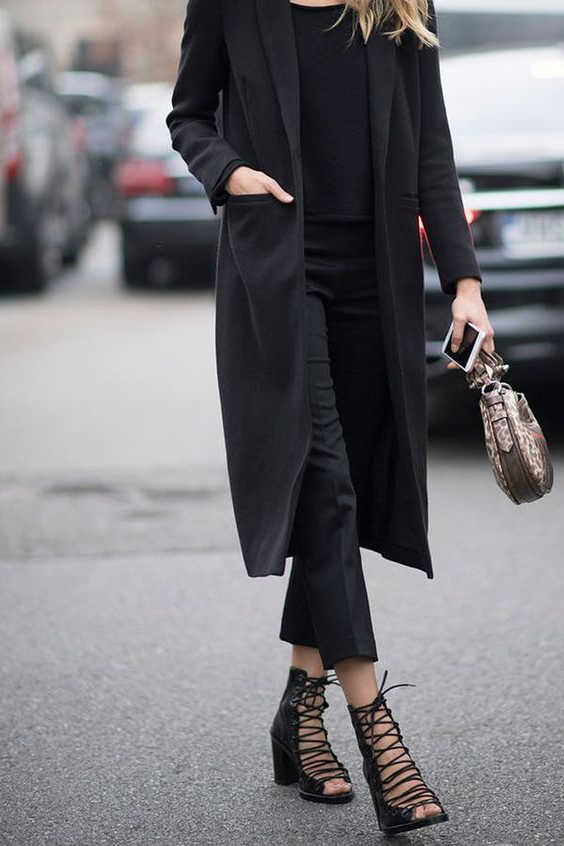 Buy Similar Here
Leopard Print Shoes
Yes, leopard print heels can be worn at the ceremony. Style them with a black turtleneck tucked in black leather pencil skirt. If you are into this footwear, check out my post on ways how to wear animal print shoes for women, there are lots of amazing outfit ideas to try: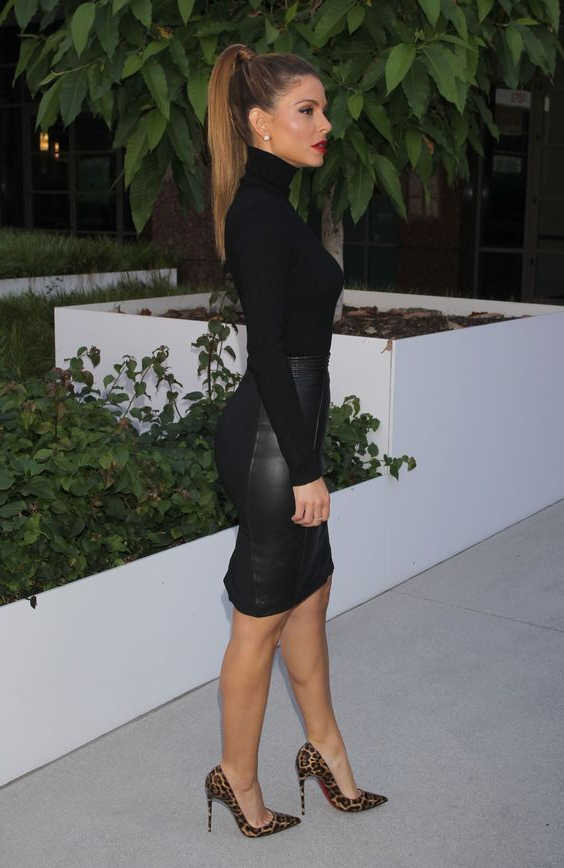 Buy Similar Here
Open Toed Shoes
Peep-toe heeled booties in black suede look awesome with a wrap jumpsuit in black color, complete this combo with a dark grey blazer and a skinny black leather belt: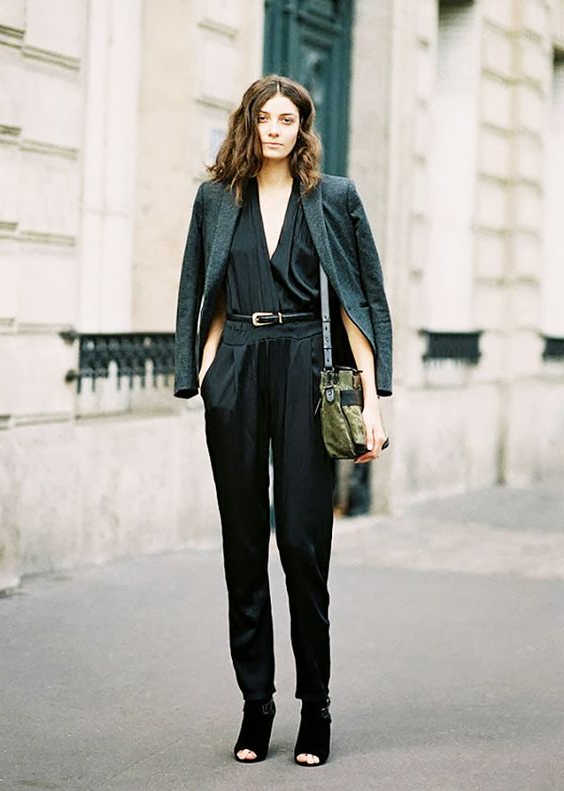 Buy Similar Here
Patent Leather Shoes
Another all in black look! Go for a pencil midi dress, fur shawl, and patent black leather heeled pumps. Complete this outfit with oversized sunglasses: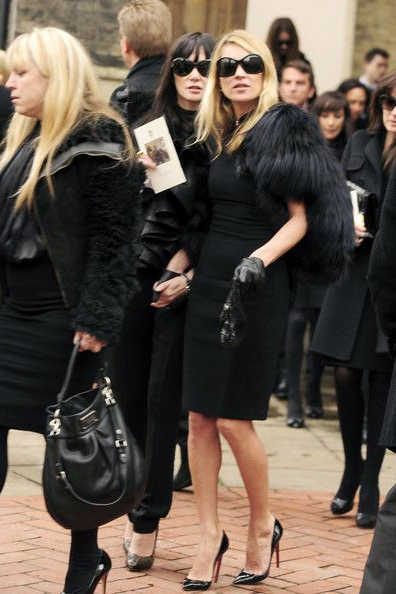 Buy Similar Here
Black Heeled Ankle Strap Sandals
Go all in black! Here we see a black drop-shoulder midi dress completed with ankle-cuff heeled sandals in black. Complete this combo by adding black sunglasses and a shoulder black leather clutch bag: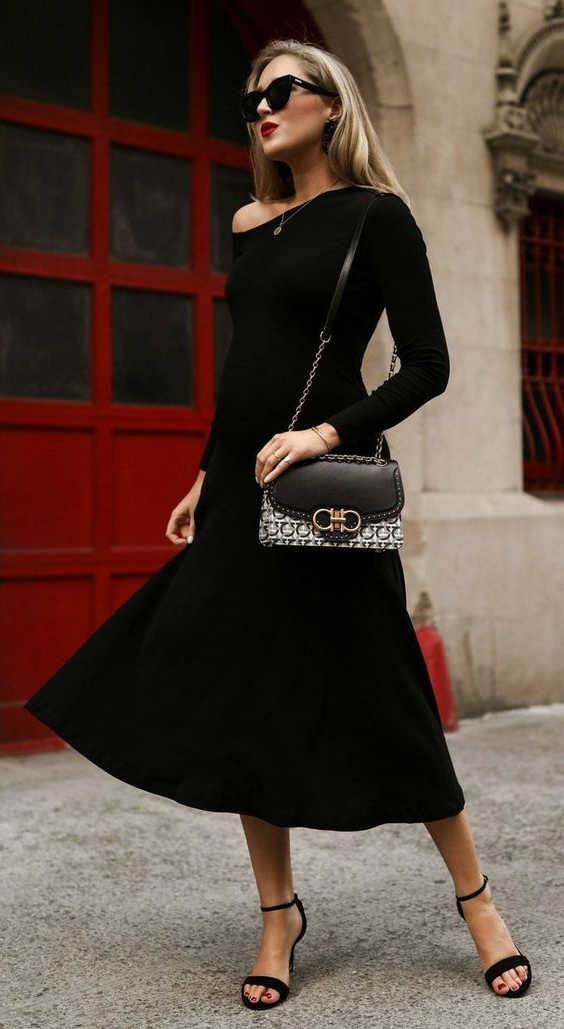 Buy Similar Here
If the upcoming ceremony is going to be relaxed, go for black sneakers with white soles styled with a midi silk cami dress completed with a black jacket. If you want to know more about black sneakers for women, then check out my post, there are numerous of great ideas to try this year: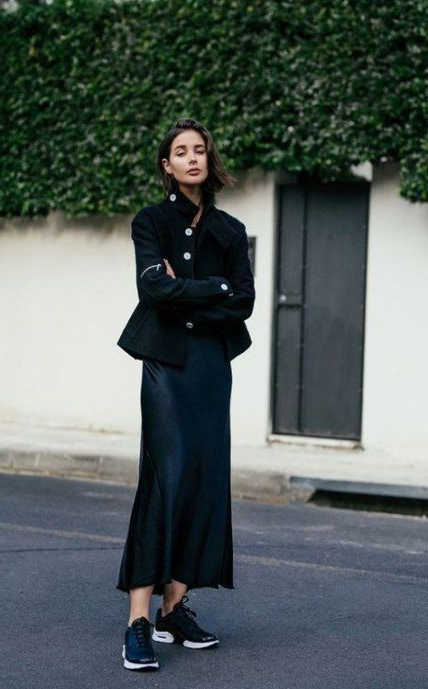 Buy Similar Here
Thigh High Boots
Go all in black with thigh-high boots. We see a black blazer tied with a black leather belt, black top, black leggings and thigh-high boots in black suede: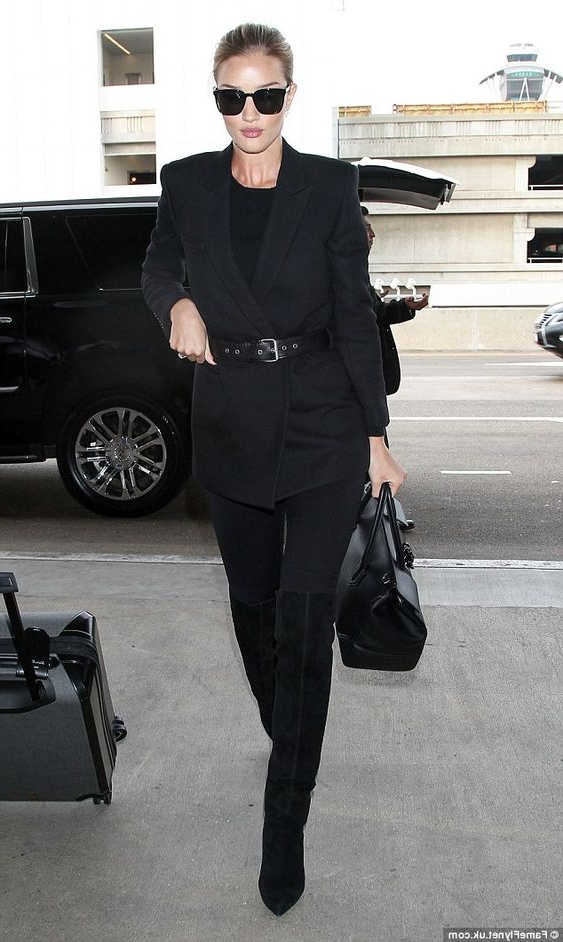 Buy Similar Here
Wedges
We see a black blazer styled with a plaid scarf, grey sweater and black coated skinny pants completed with black ankle boots: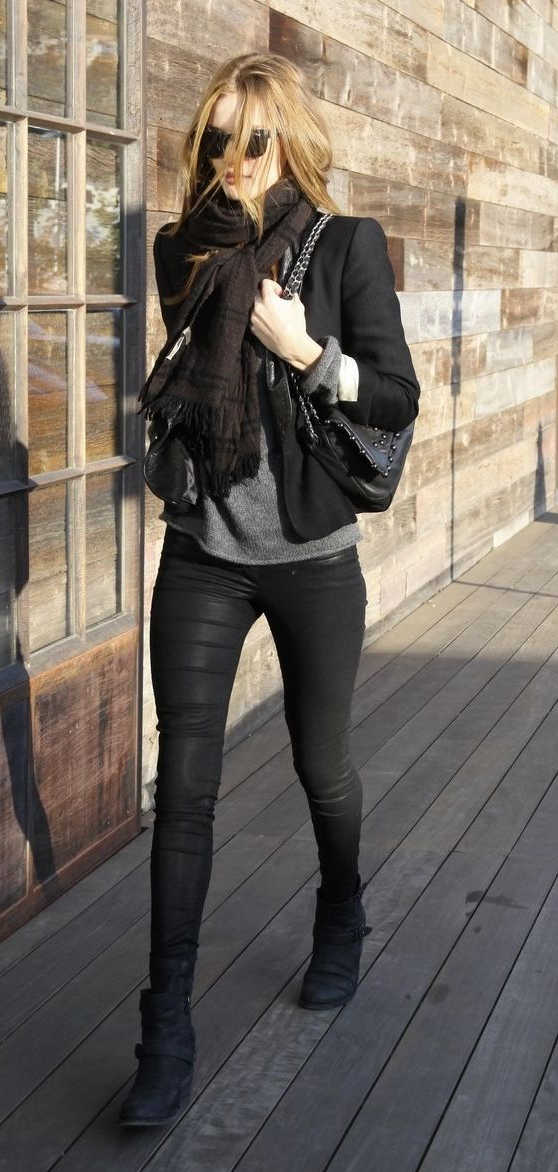 Buy Similar Here
White Pointed Toe Shoes
Yes, the following white pointed-toe flats are great for the ceremony. Style them with a black leather jacket, black-white striped tee teamed with black skinny jeans: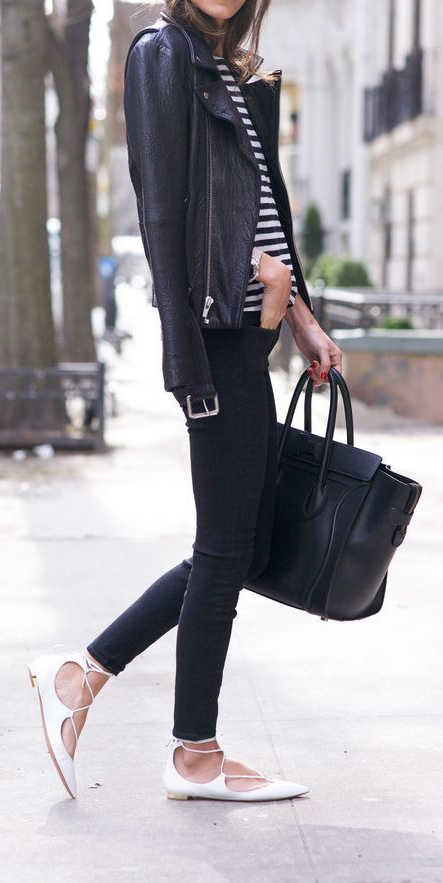 Buy Similar Here