If you are in search of bright colors to try this year, then I recommend trying on orange outfits. Today we are here to see what colors match with orange clothing. They gonna underline your personality and make you stand out from the crowd. In today's article, I will show you easy ways how to make orange look cool with your footwear. You will see amazing street style ideas where women appear in orange clothes completed with fancy or casual shoes.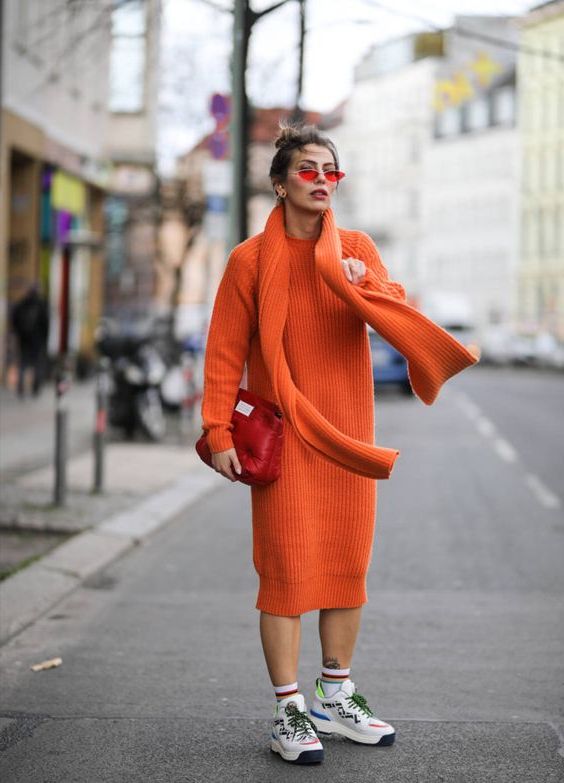 Buy Similar Here
We see a ribbed knit midi sweater dress in orange color styled with the same color scarf. Update this look by adding cool white sneakers and white socks. Would you give it a try?
This color is bright, fun, and positive. Another important thing why you should wear it this year, then it's because of its popularity in the fashion industry.
Orange Outfits
Orange shades were spotted at various fashion shows, as well as on the streets of big cities. You can find lots of fashionistas and bloggers who appear in beautiful outfits completed with orange accessories and clothes.
Lots of women are afraid of wearing this color, as they think it's tricky combining it with their everyday looks. Of course, if you are a beginner to this hue, then it might be quite hard to understand how to make it look awesome on you.
Thanks to today's post you are going to see tips and tricks on how to wear this hue in real life and how easily combine it with your favorite shoes.
First of all, it's important to know what colors look good with orange. The simplest hues are the dark ones, like black, dark blue, and brown, if you want to make your outfit bright, then you can use white, yellow, and green.
Personally, I like keeping things simple, by pairing orange with denim. For instance, I've got a beautiful orange dress that looks ideal with my old vintage denim jacket. If you are a beginner to this color, then I suggest you starting from orange accessories, like heels, bags, and handbags.
Orange Sweater + Orange Midi Skirt + Brown Heels
A total orange look with a leather wrap midi skirt is completed with brown glossy heels: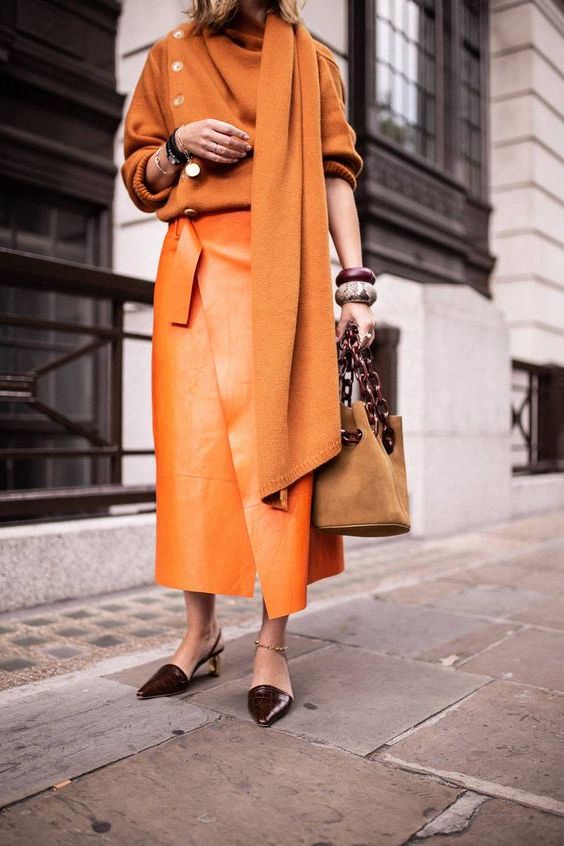 Buy Similar Here
Cropped Cargo Jacket + Cargo Mini Skirt + Clear Heels
Clear heels are styled with a cropped cargo jacket in orange and with a cargo mini skirt: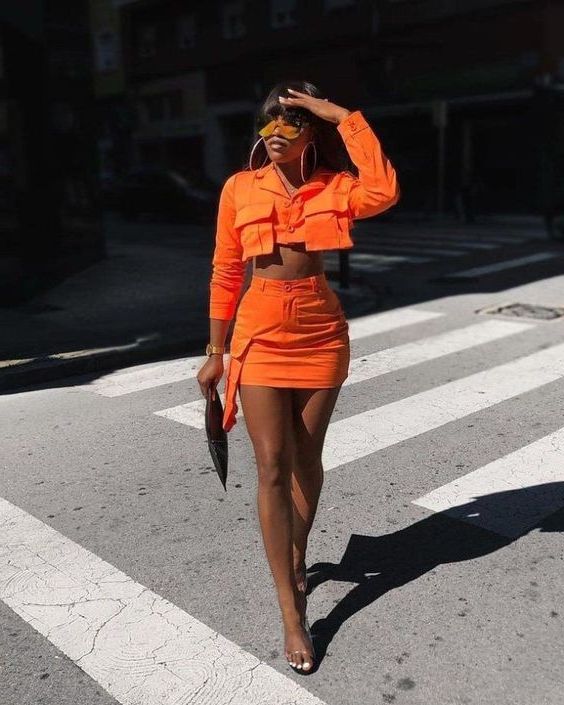 Buy Similar Here
Orange Jumpsuit + White Pumps
Another fabulous jumpsuit in orange color is completed with oversized sunglasses, neck scarf and white pumps: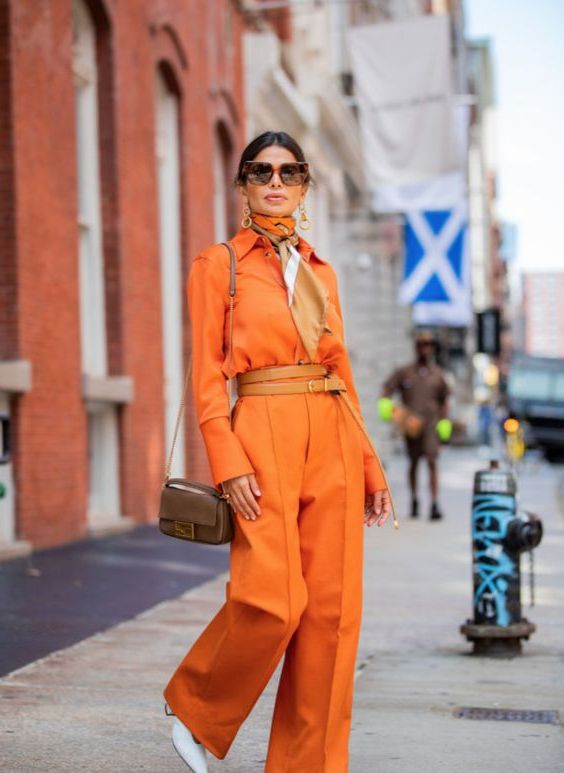 Buy Similar Here
White Blazer + Orange Wide Pants + White Sneakers
White blazer and wide pants in orange color look cool styled with white sneakers: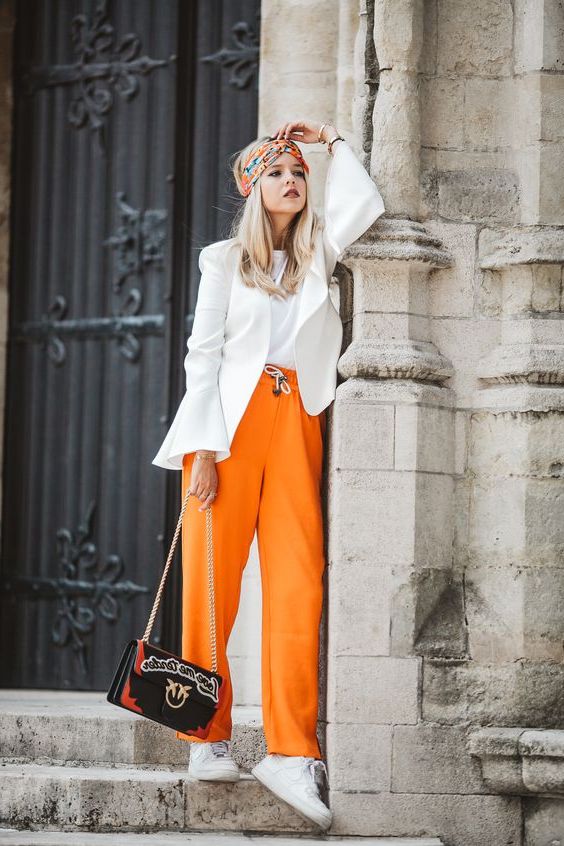 Buy Similar Here
Orange Blazer + White Dress + Black Heeled Pumps
An orange blazer with a black wide belt is completed with a white dress and ankle-strap heeled pumps in black color with white star print: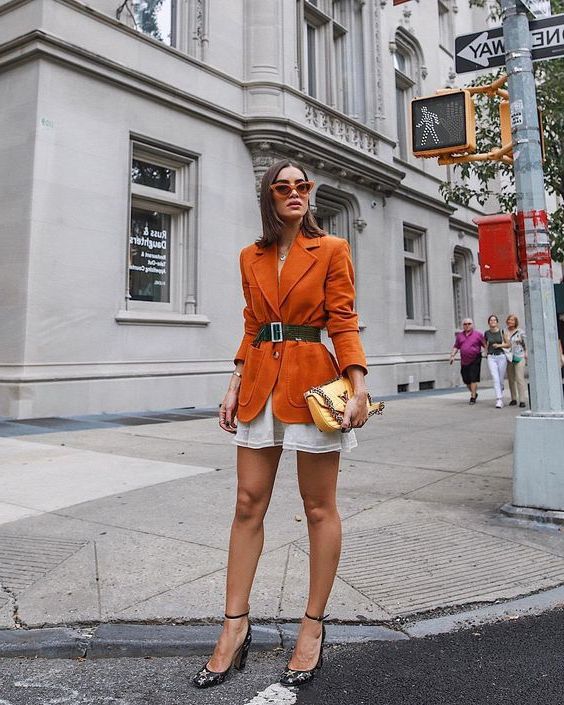 Buy Similar Here
Orange T-Dress + White Sandals
An orange T-dress looks fabulous with these strappy heeled sandals in white: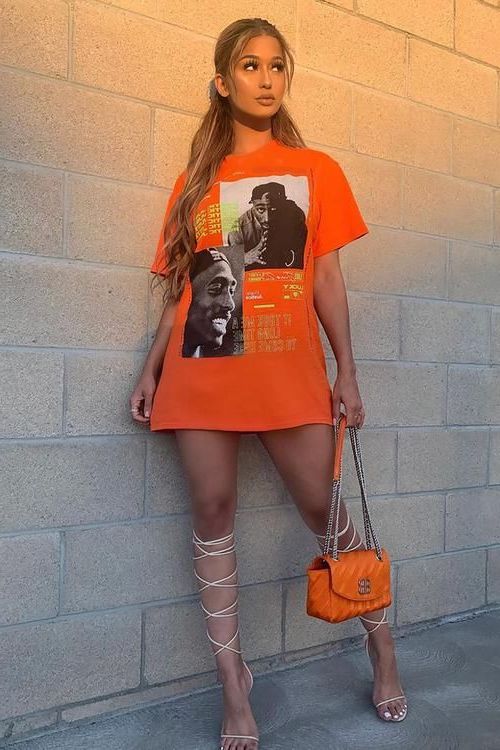 Buy Similar Here
We see a buttoned jumpsuti completed with a wide-brim hat and leopard print slippers: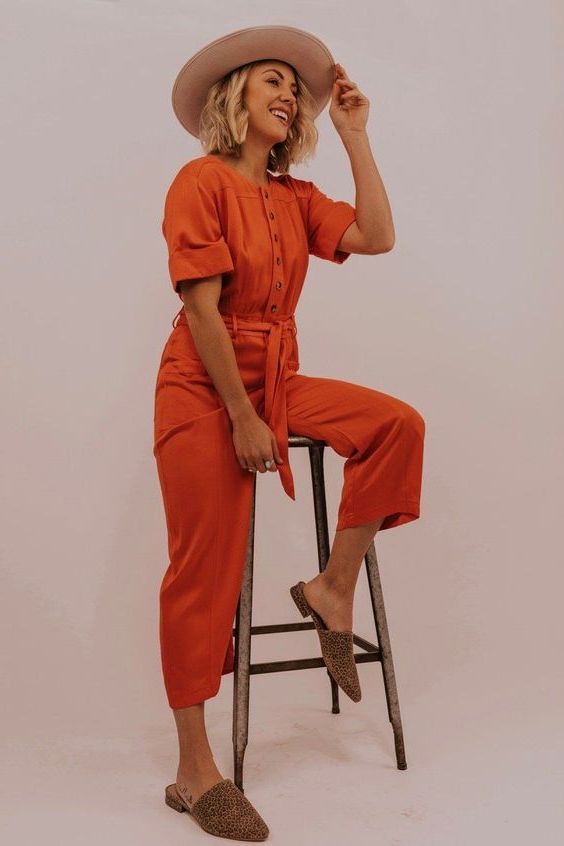 Buy Similar Here
A matching set consisting of a cropped sweatshirt and jogger pants is styled with white chunky sneakers: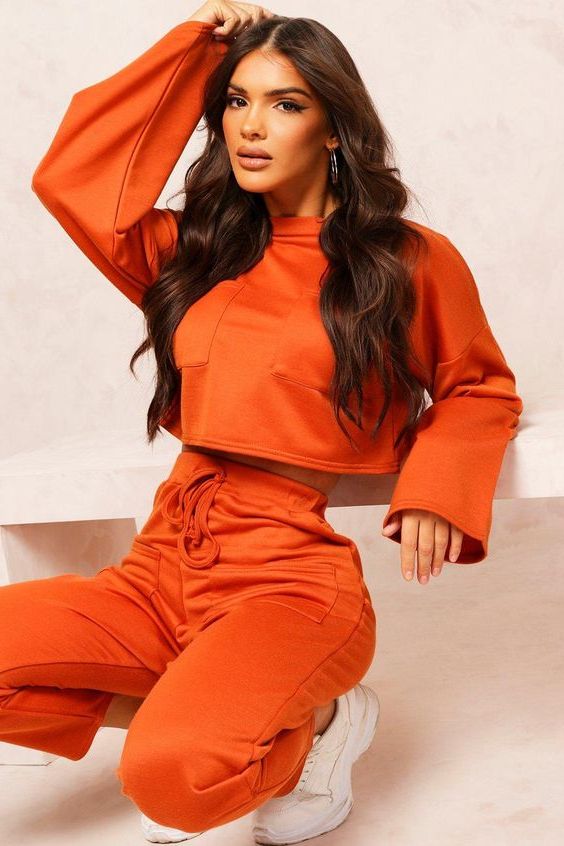 Buy Similar Here
A lovely orange jumpsuit is worn with suede brown boots and a printed neck-scarf: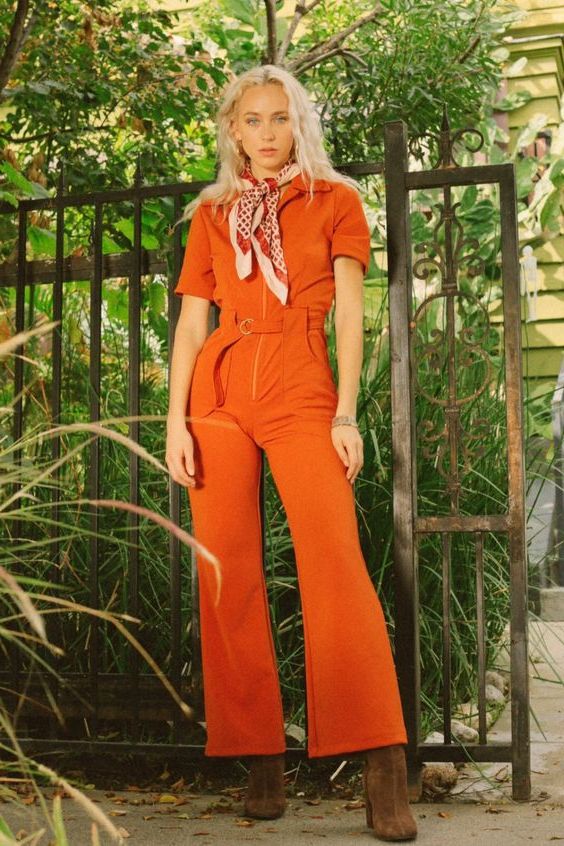 Buy Similar Here
We see an orange pantsuit completed with the same color bag and heeled pumps: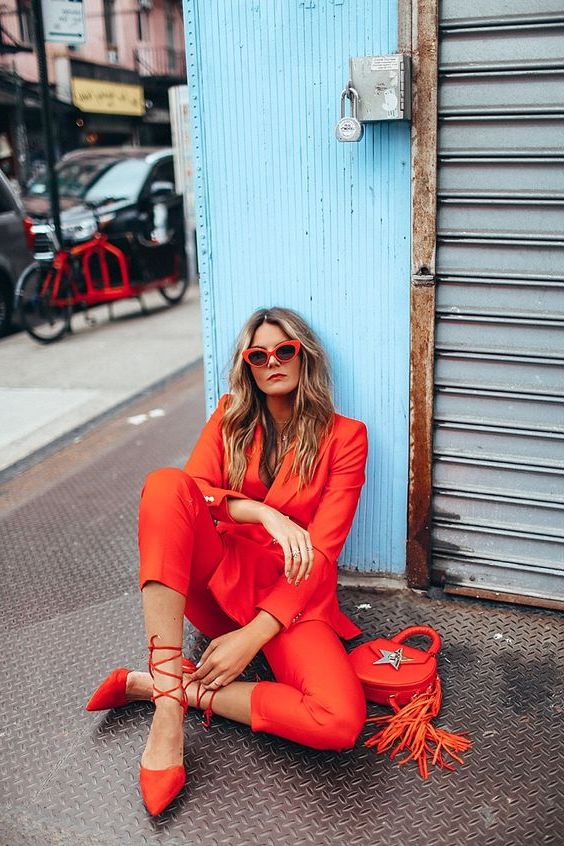 Buy Similar Here
How about this matching set consisting of a cropped top and cropped pants in orange color, update it with ankle-strap heeled black sandals: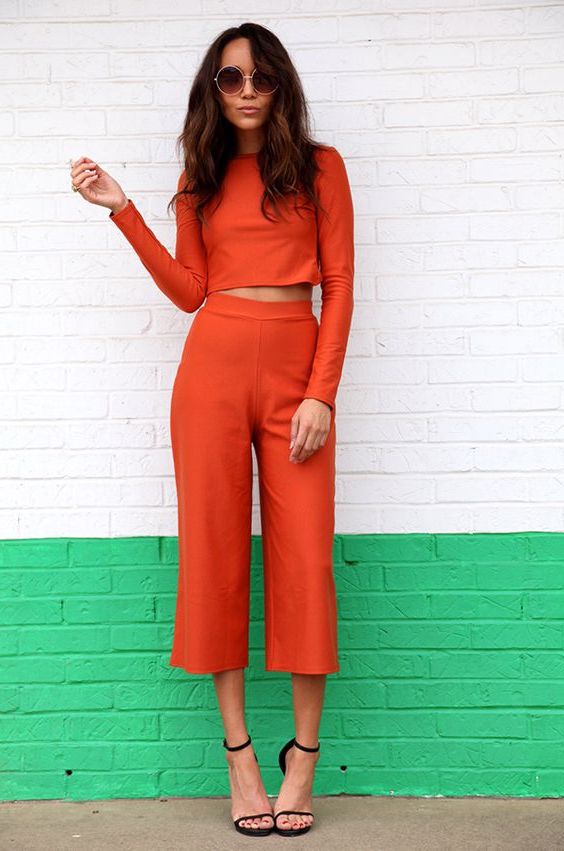 Buy Similar Here
Green Top + Orange Pants + Green Slides
We see a neon green voluminous top teamed with orange leather pants and neon-green slides: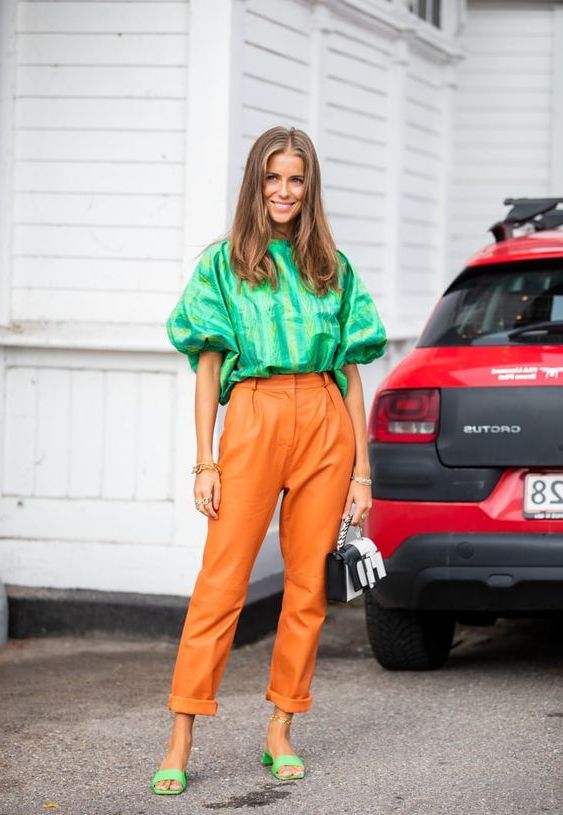 Buy Similar Here
We see an orange sweaterpaired with a golden pleated skirt and black trainers: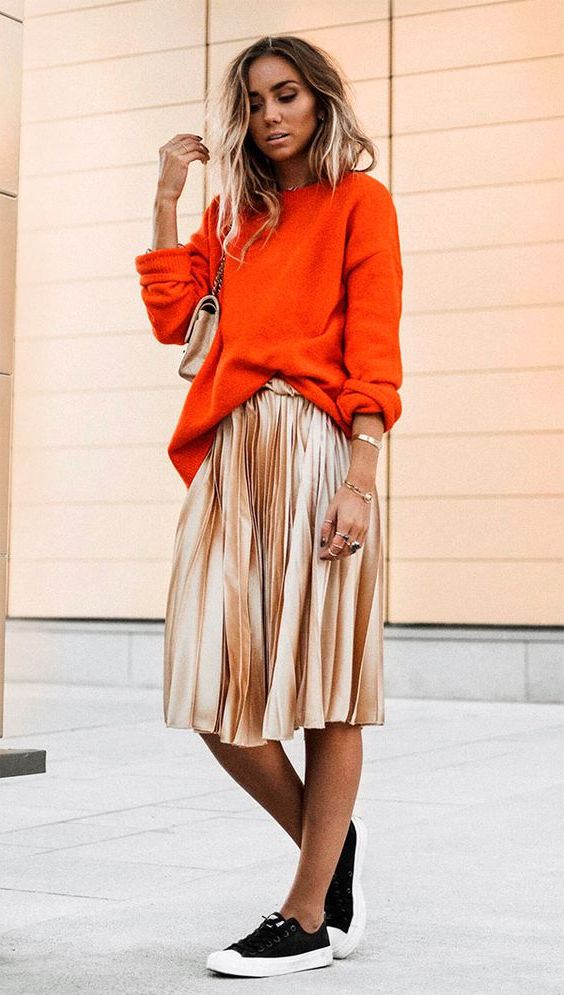 Buy Similar Here
A turtleneck sweater-dress in orange is styled with glossy ankle boots in blck color: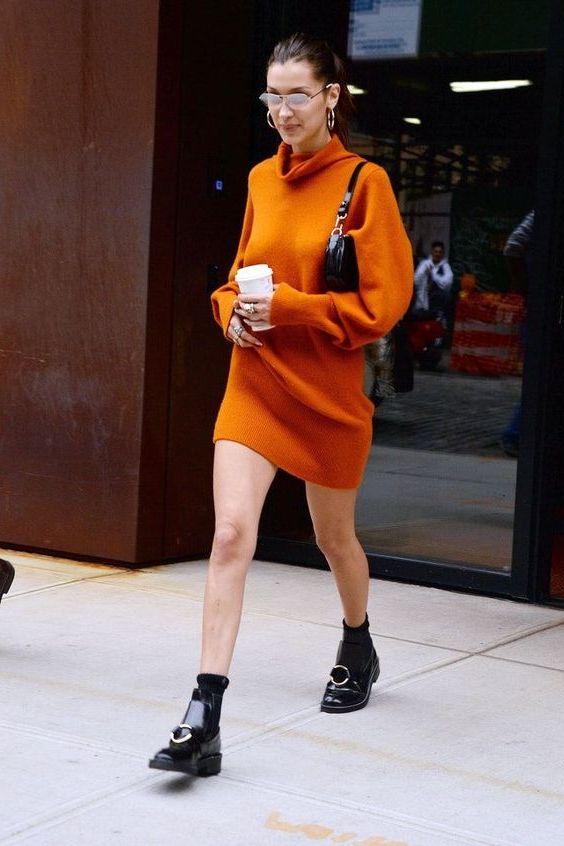 Buy Similar Here
Orange Sweater + Khaki Chinos + White Heels
Keep it simple and casual. Go for a fiery-red orange cable-knit sweater and tuck it inside safari khaki chinos pants updated with white heels: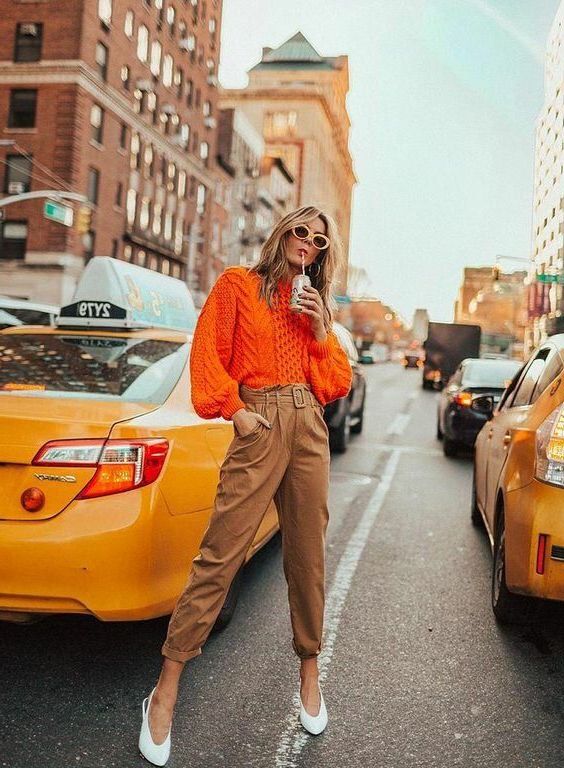 Buy Similar Here
White Top + Orange Skirt + White Kicks
We see a white top with voluminous sleeves tucked in golden-orange long skirt completed with chunky white sneakers: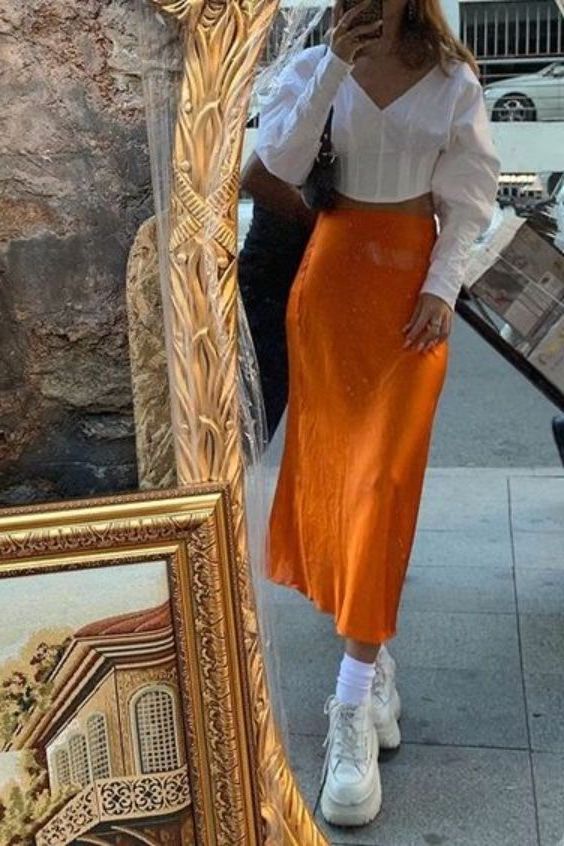 Buy Similar Here
Orange Coat + Plaid Suit + Black Oxfords
We see an orange coat in oversized fit layered over a windowpane black suit, update this combo with glossy Oxfords: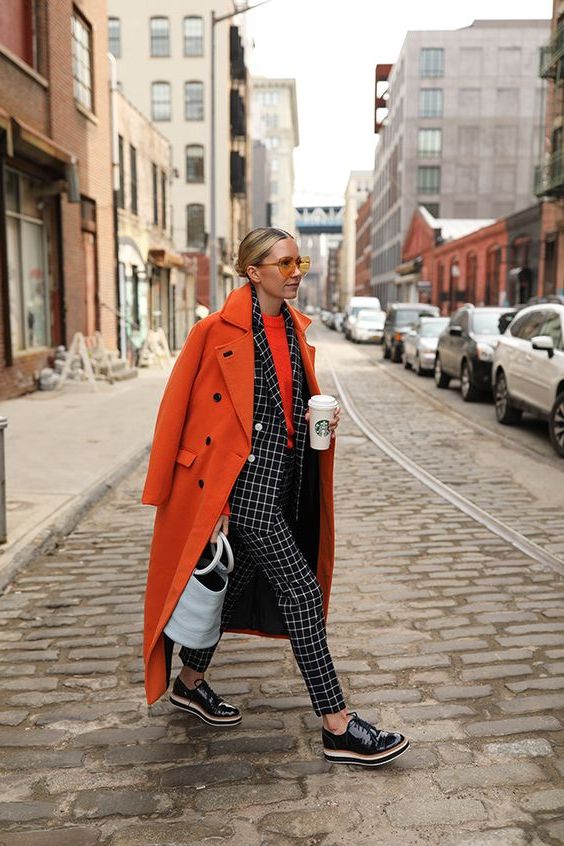 Buy Similar Here
Orange Suit + White Pumps
Bright orange pantsuit looks fabulous with a fuchsia sliptank top and cream-white pumps: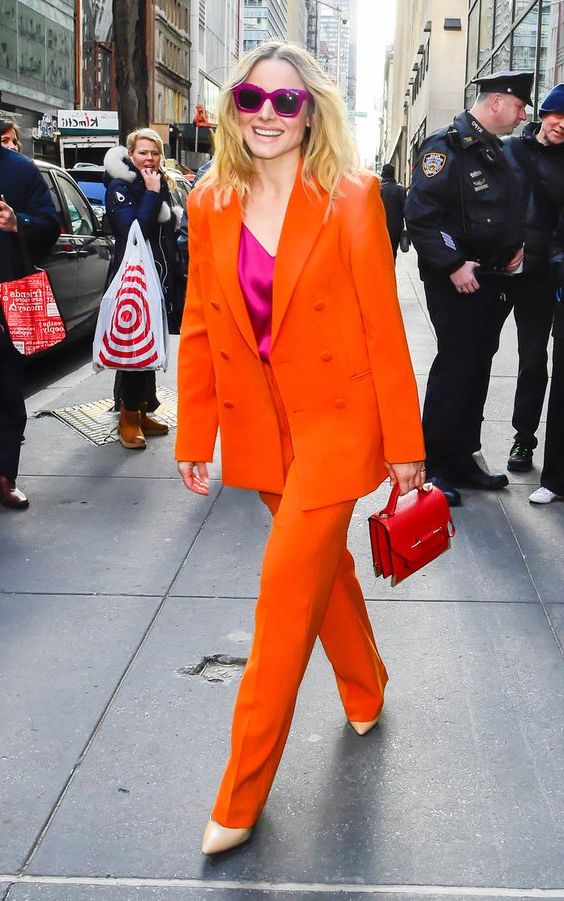 Buy Similar Here
Orange Coat + White Top + Orange Pencil Skirt + White Pumps
A touch of tailored glamour. Go for an orange wool coat draped over a white top paired with orange pencil skirt and cream-white heeled pumps: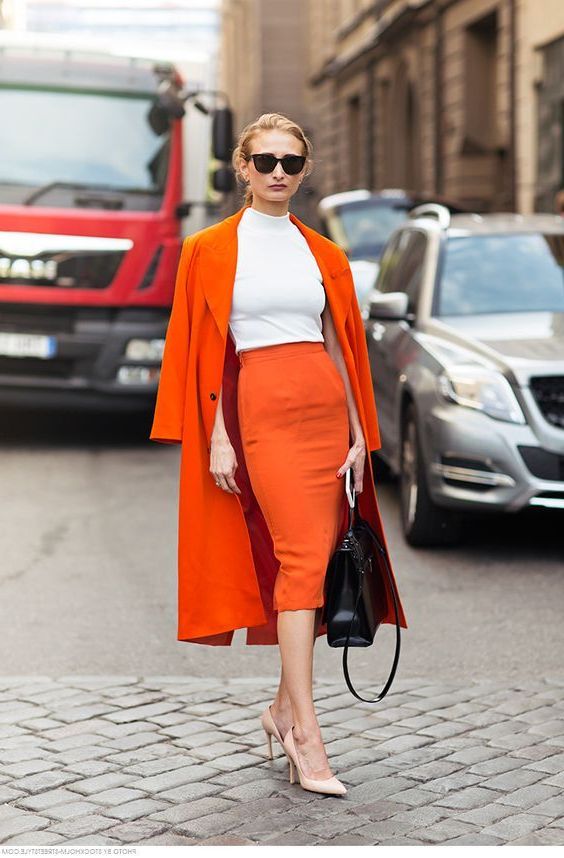 Buy Similar Here
Orange Cargo Jacket + Orange Wide Pants + Brown Boots
A touch of vintage! We see an orange cargo jacket worn with a white tank top tucked in fiery orange wide pants updated with brown leather boots: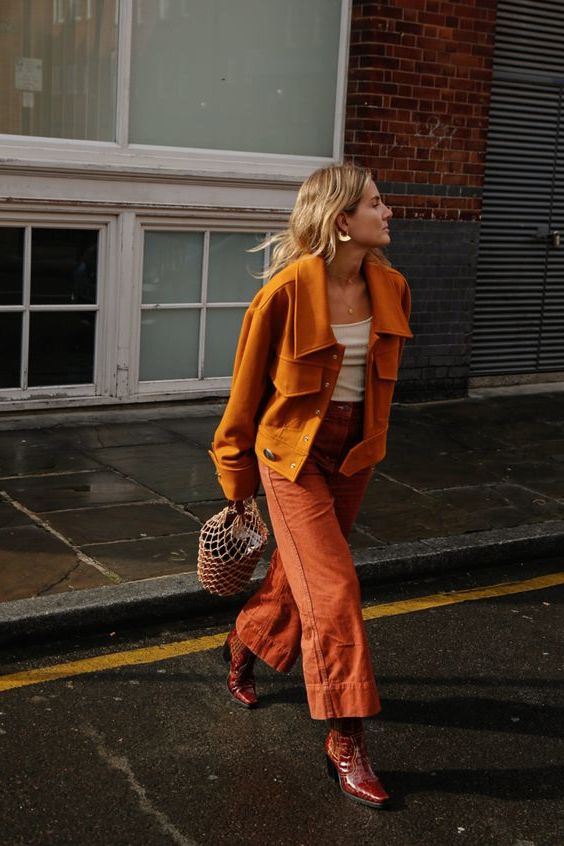 Buy Similar Here
Purple Sweater + Orange Pants + Purple Pumps
A rich purple sweater in chunky ribbed knit looks damn hot with orange leather pants and bright purple heeled pumps: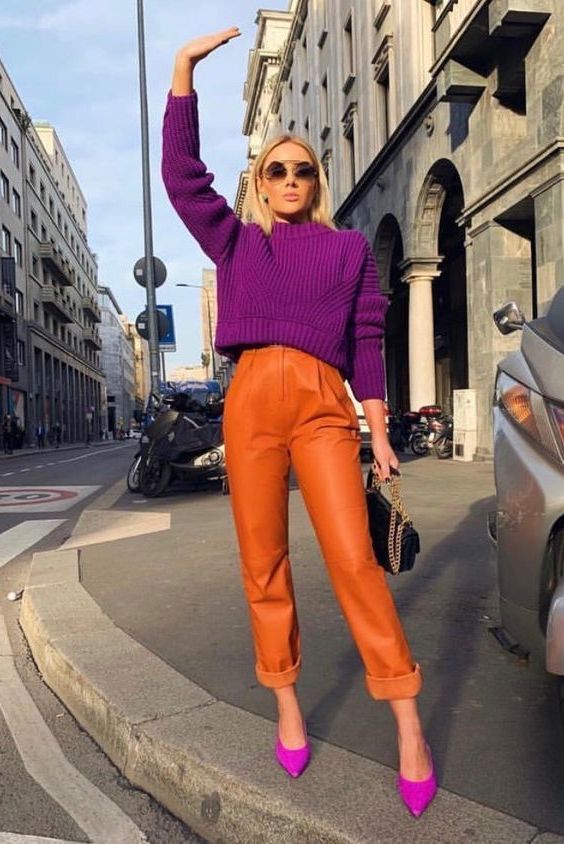 Buy Similar Here