I think every girl who is reading this right now owns at least one pair of patchwork jeans in her closet, am I right? I guess I am! Anyway, today's topic is dedicated to what shoes you can wear with patchwork jeans that gonna look awesome on you this year.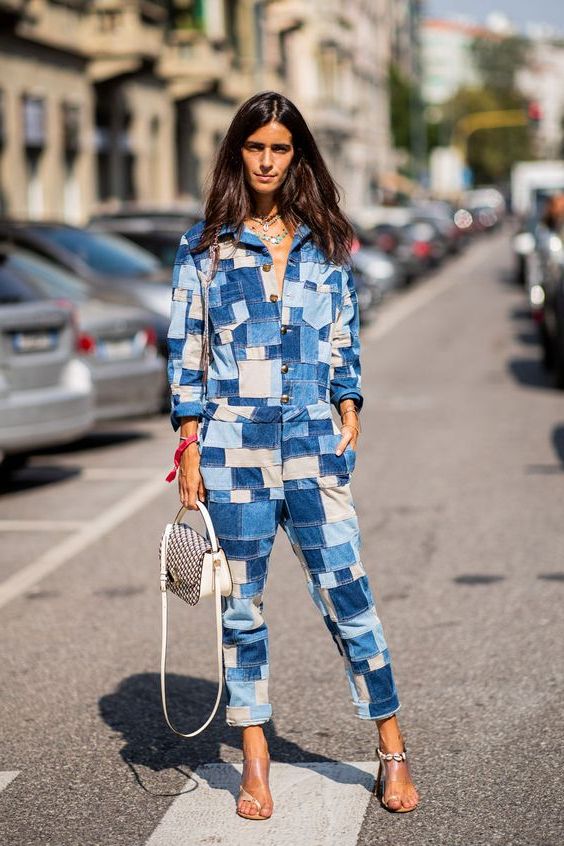 Buy Similar Here
A beautiful co-ord consisting of a patchwork denim jacket and patchwork jeans in multicolored patches. The outfit is completed thanks to a cute white handbag and clear heeled sandals.
We are about to see marvelous street style images of ladies who appear in creative patchwork jeans. I am 100% sure you gonna love each one of the following pictures. Why? Simply because of amazing styling looks that can be created thanks to these denim bottoms.
If you do want to see the best ways how to incorporate patchwork jeans with your everyday clothes, then you are more than welcome to read on. As we all know, jeans come in different fits, colors, and details. They can look sexy, casual, sophisticated, or baggy and edgy.
The patchwork denim bottoms deserve every lady's attention. Why? You can choose an interesting patchwork print that will easily underline your uniqueness. They are still on trend this year. In this collection are gathered my favorite combos. Hope you can find here the ones that will undoubtedly make you look sophisticated and original. I would love to know if you wear patchwork jeans in your everyday life. Let me know in the comments below.
A fabulous patchwork jeans look damn cool with that white shirt and brown leather flat sandals. A perfect combination to underline your normcore style: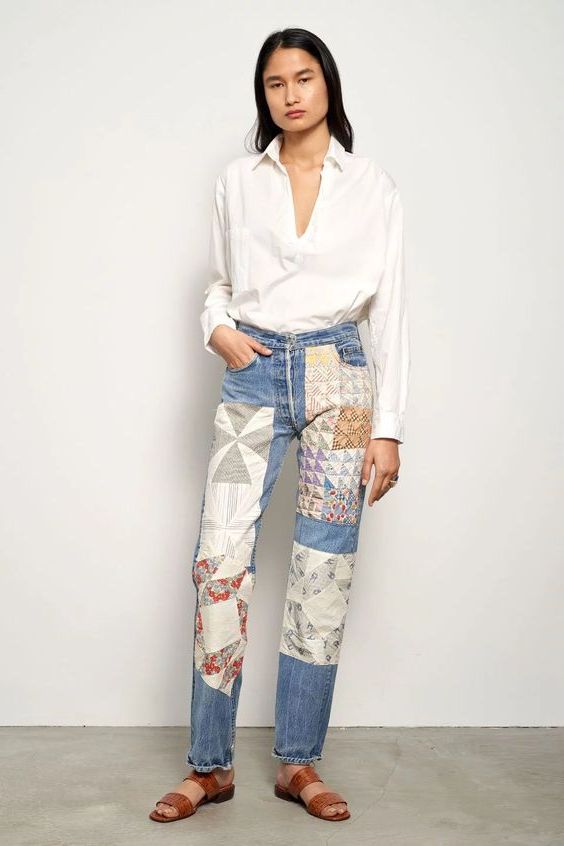 Buy Similar Here
A white t-shirt is tucked in wide patchwork jeans that look very 1970 alike, complete the look by adding classy sandals in white: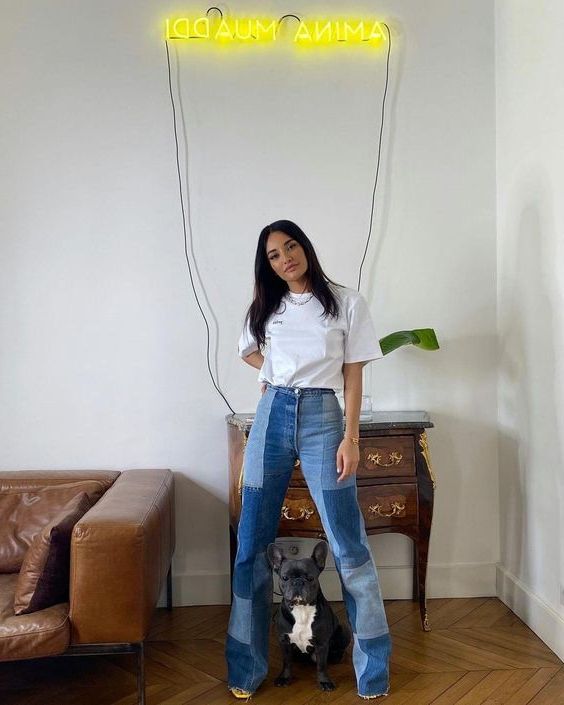 Buy Similar Here
Metallic silver Oxfords and worn with cuffed patchwork jeans paired with a black tee, biker jacket in black with white dots and a grey wool fedora hat: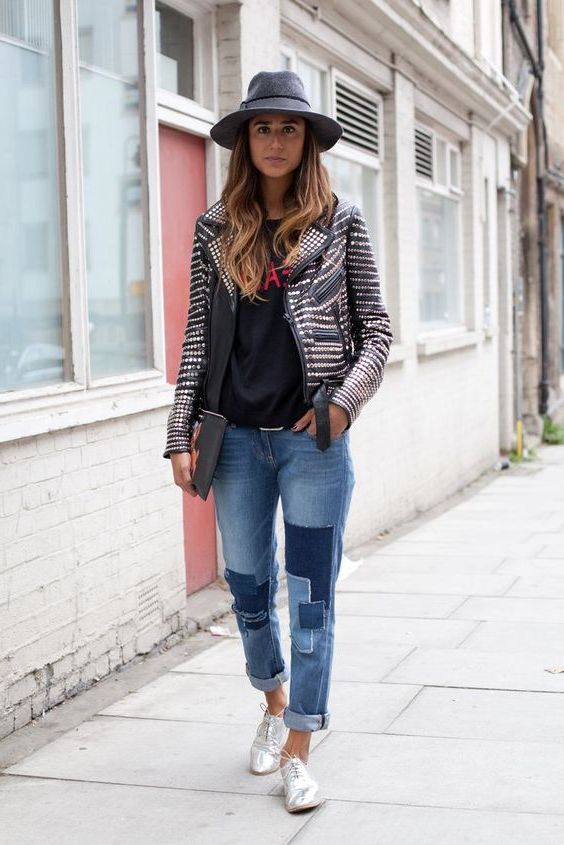 Buy Similar Here
How about wearing patched jeans with black trainers and a black crop top: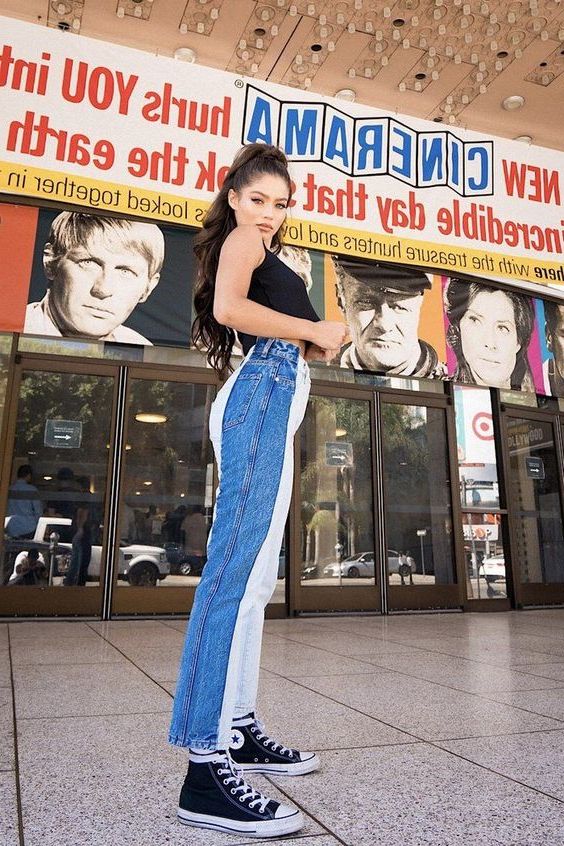 Buy Similar Here
Brown-camel patchwork jeans look pretty cool styled with a black sweatshirt and camel sneakers: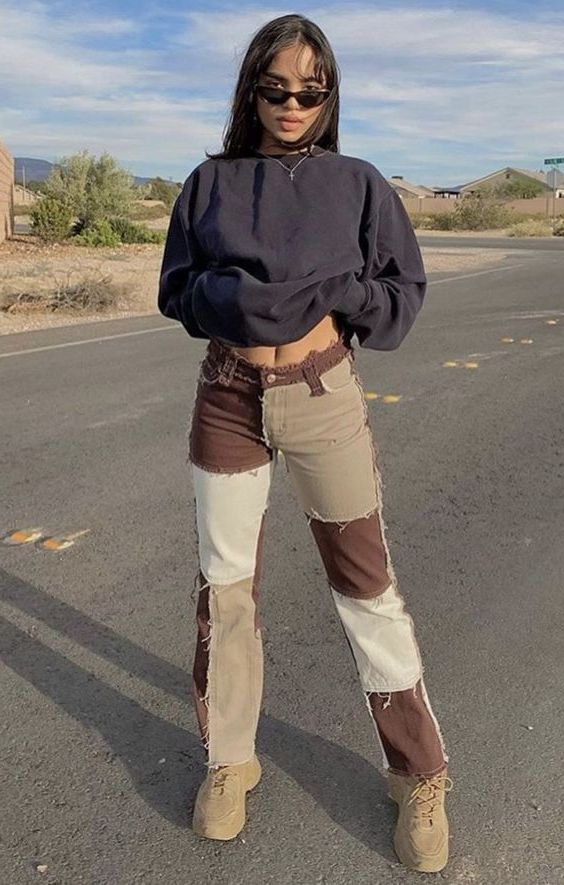 Buy Similar Here
Patchwork bootcut jeans look pretty chic with black leather ankle boots and an off-shoulder white crop top with long sleeves: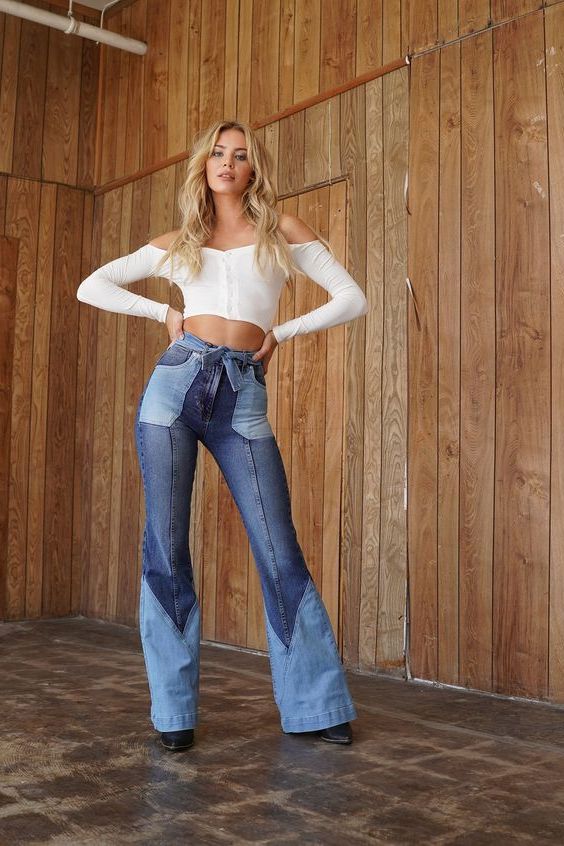 Buy Similar Here
Classic regular fit patchwork jeans are worn with a black leather biker jacket and beige heeled sandals: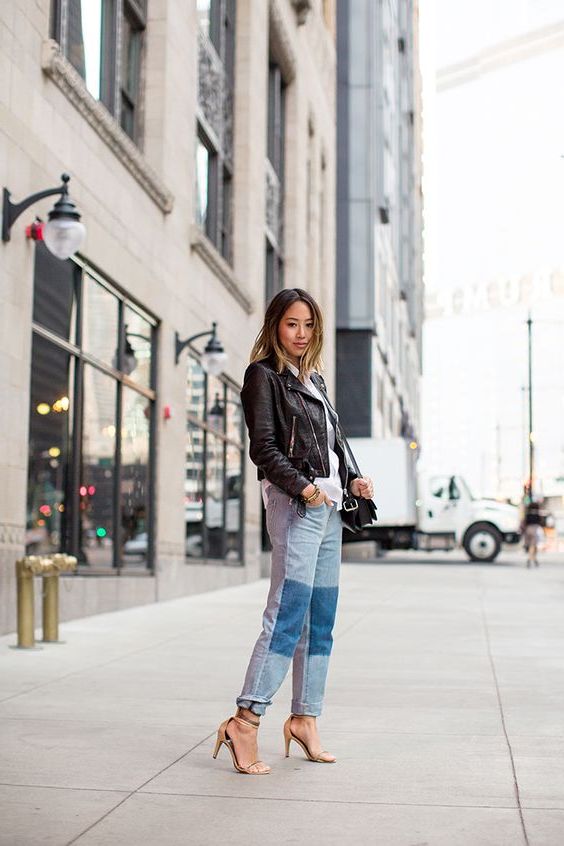 Buy Similar Here
A denim bra top is paired with patchwork jeans and white ankle boots: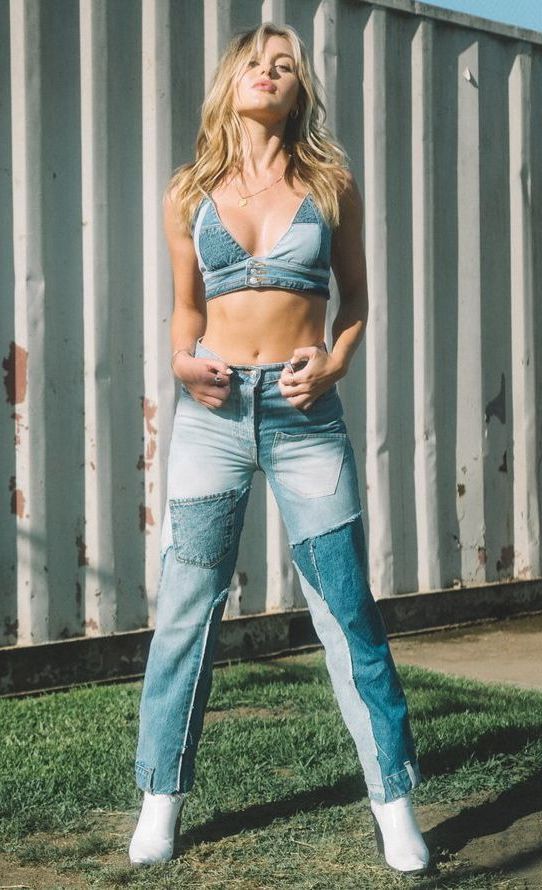 Buy Similar Here
Another cool-looking co-ord outfit consisting of a cropped patchwork top and jeans completed with white cowboy boots: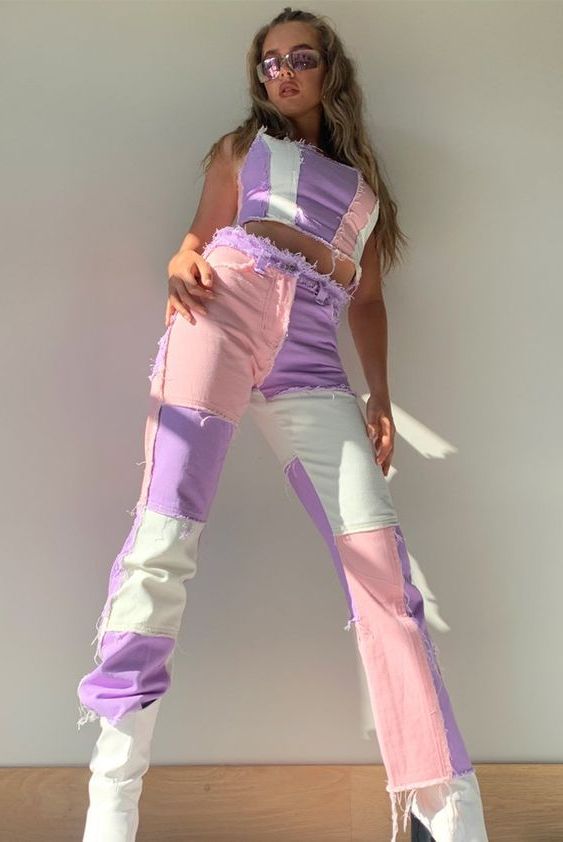 Buy Similar Here
A quilted down jacket in black is layered over a white top paired with patchwork jeans and black sneakers: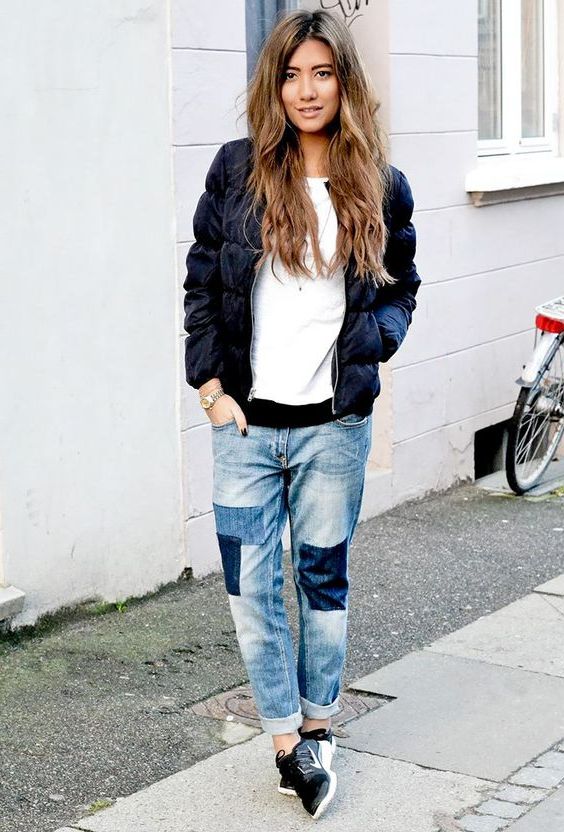 Buy Similar Here
We see an extra long grey coat worn with a white tee tucked in patched blue jeans updated with peep-toe heeled sandals in blue: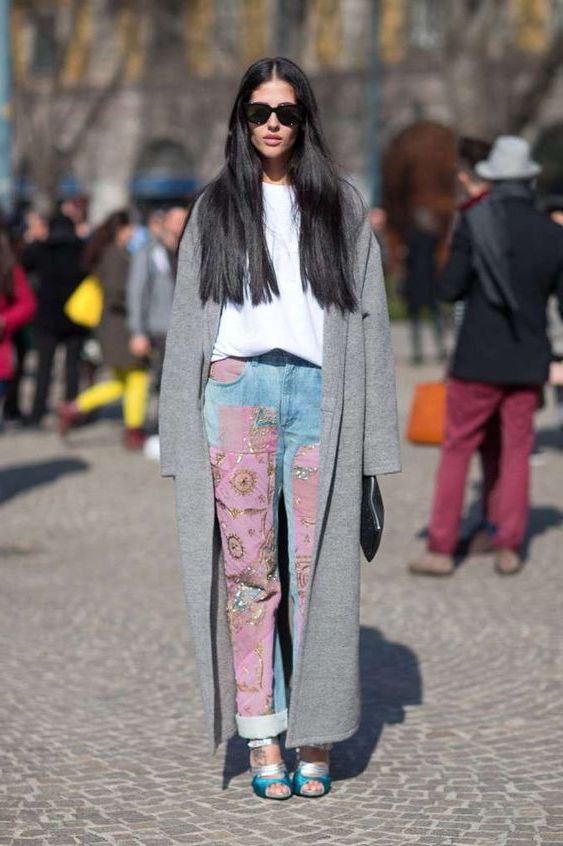 Buy Similar Here
A black crop top looks casual, yet functional styled with high-rise mom jeans featuring patchwork detailing, complete the look by adding 90 style sunglasses and white sneakers: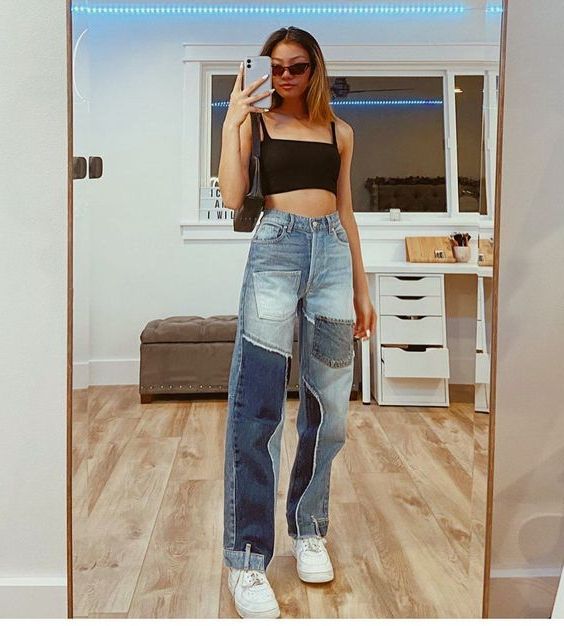 Buy Similar Here
Patchwork skinny jeans look damn cool with black leather ankle boots and a black leather jacket, a perfect outfit for casual errands around town: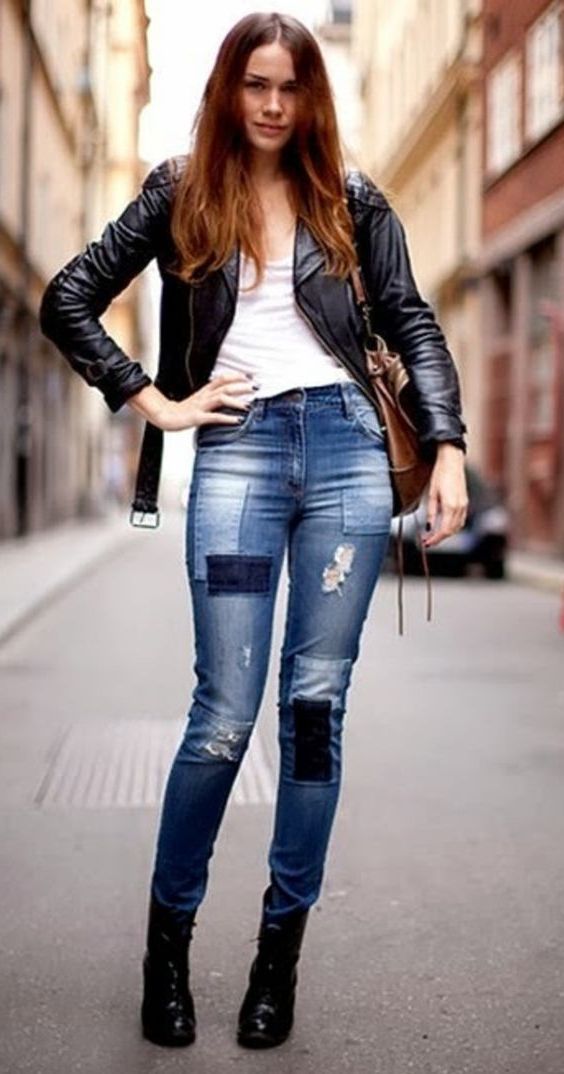 Buy Similar Here
Denim patchwork culottes can be cool to wear with a black peacoat, driver's cap and navy pumps: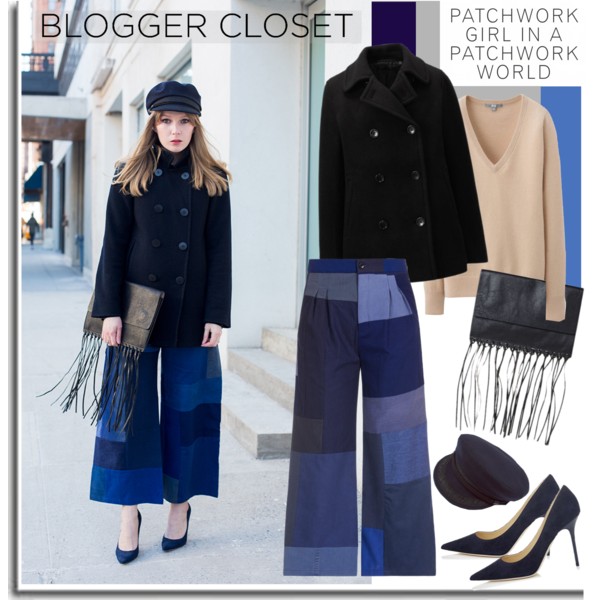 Buy Similar Here
Black leather loafers look awesome styled with patchwork slim jeans, white shirt and a plaid long blazer in grey: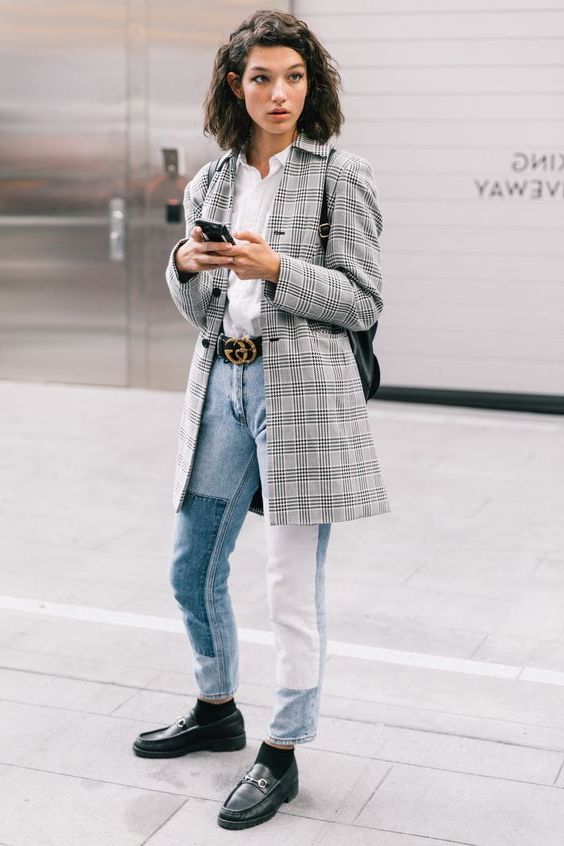 Buy Similar Here
We see a shearling denim jacket with a red hoodie, patchwork jeans and white slip-on sneakers: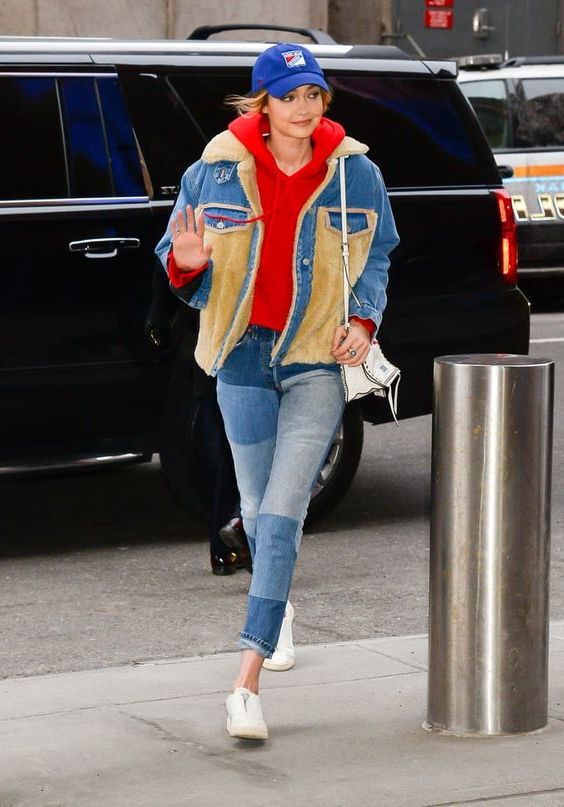 Buy Similar Here
A suede bomber jacket in navy looks and feels amazing! Style it with patchwork skinny jeans in navy completed with cream-grey sandals: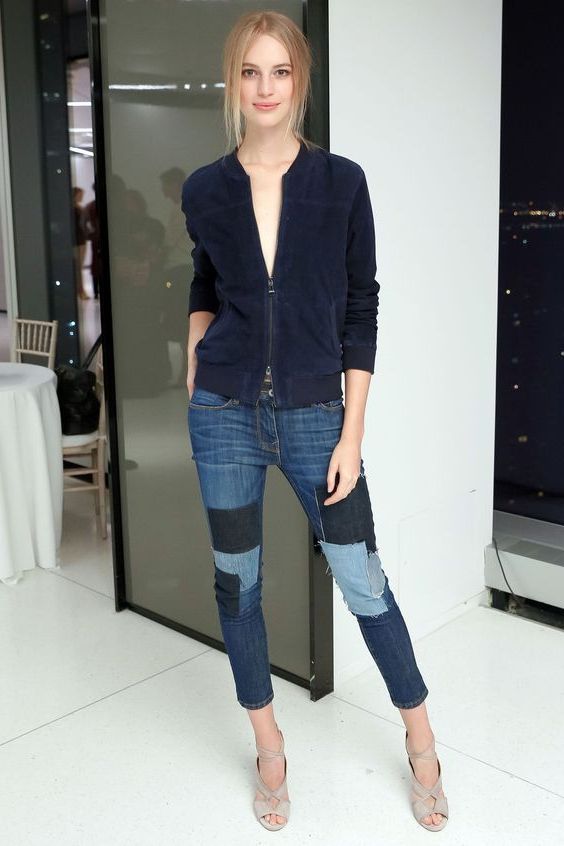 Buy Similar Here
A classic blue denim jacket is paired with a tie-dye printed top, patched jeans and suede ankle boots: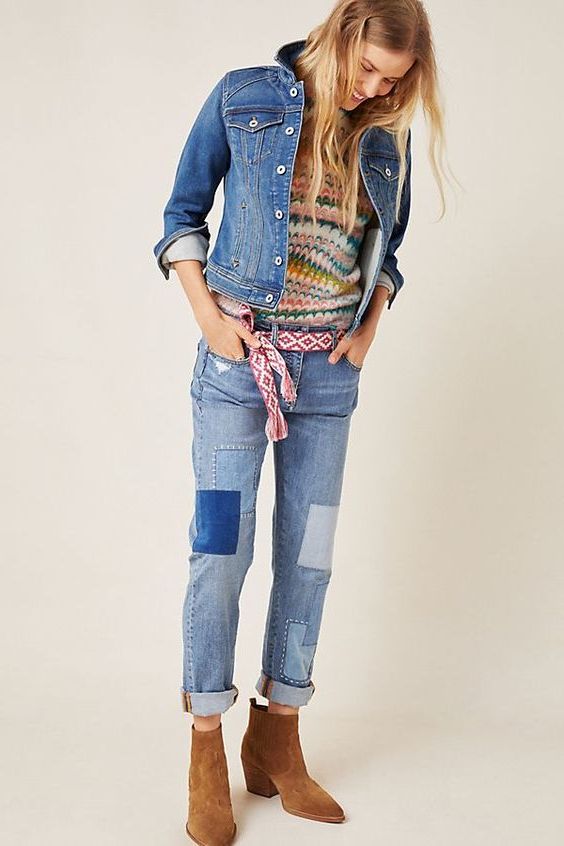 Buy Similar Here
How many likes for this patchwork denim co-ord outfit idea: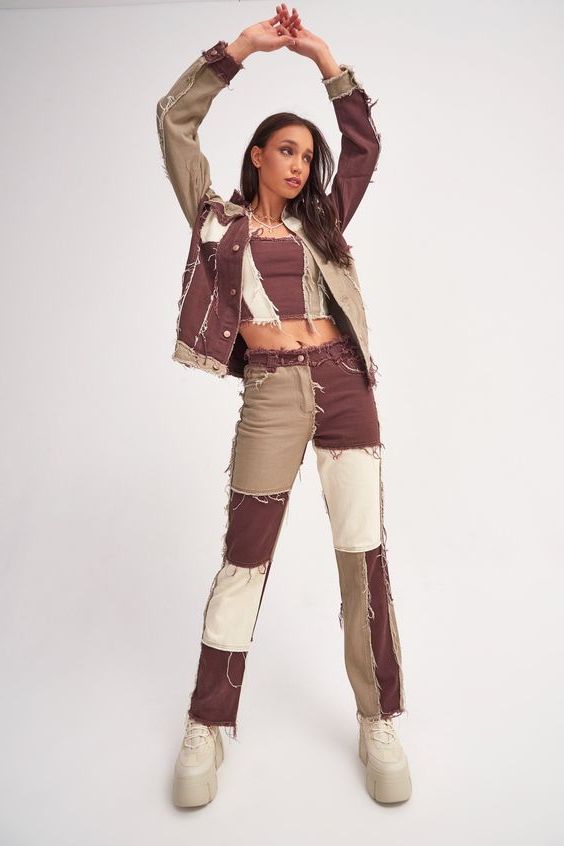 Buy Similar Here
A plaid biker jacket can be a nice choice to wear with a brimmed black hat, patched skinny jeans and black suede ankle boots: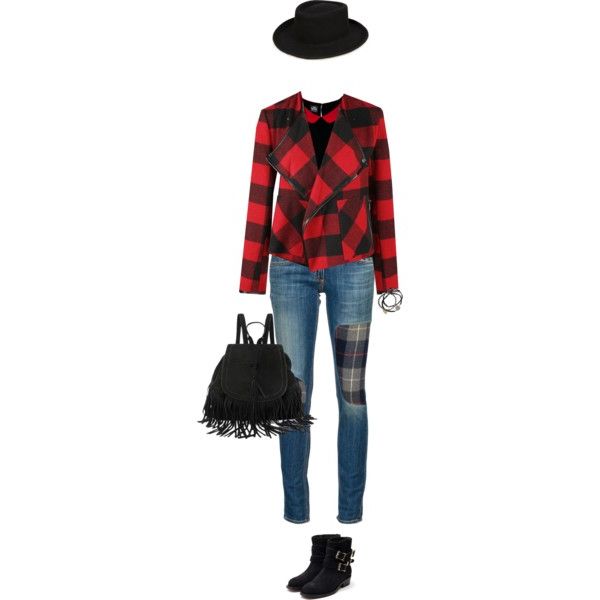 Buy Similar Here
In love with these essentials, go for a puffy jacket in black, white tee, patched jeans and black ankle boots: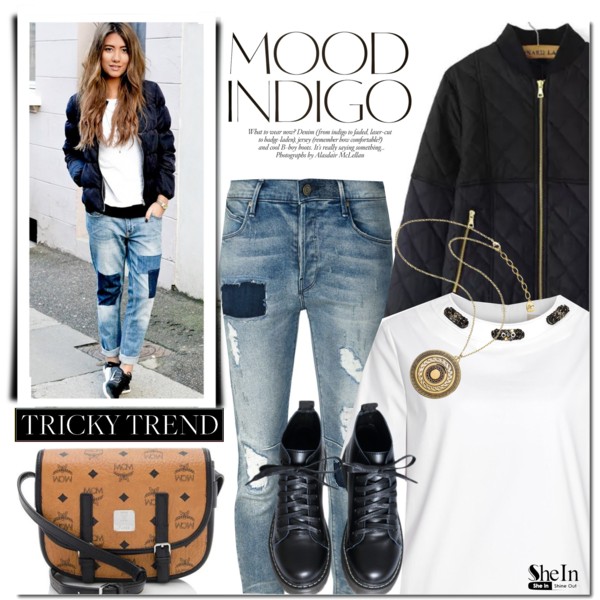 Buy Similar Here