This time we are here to talk about shoes to wear with mini skirt. This type of skirt is considered to be sexy, it shows off lady's legs and you better consider several rules in order to wear this type of skirt in the right way.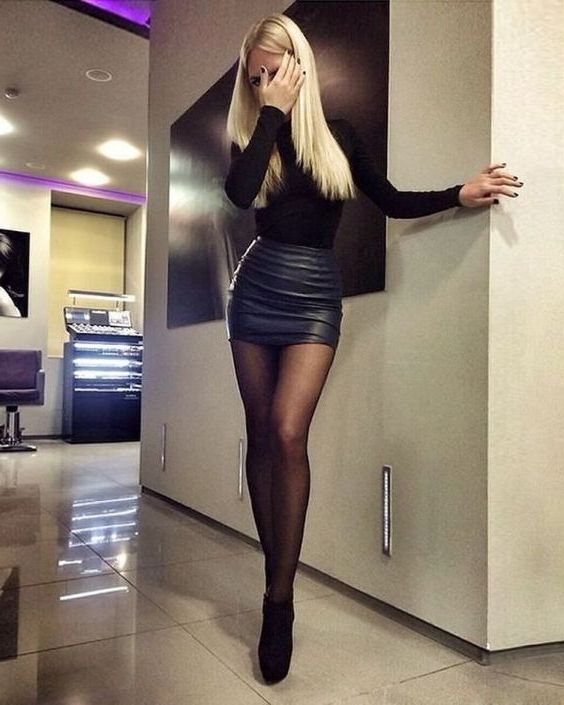 Buy Similar Here
We see an all-black outfit idea that features a black slim turtleneck, black leather mini skirt and opaque tights tucked in black suede booties.
Shoes To Wear With Mini Skirt
In this article, you are about to see lots of inspiring street style ideas that can give you some basic tips on how what shoes to wear with mini skirts, as well as what tops you can add in order to wear such look at work, to the parties and many other events. This type of skirt is back in trend, that's why we see many retailers offering us different skirt designs to choose from. I will try my best by showing you lots of stunning ways how to wear this sexy staple in real life.
Belted Denim Skirt And Camel Suede Ankle-Boots
We see a white slim sweater tucked in belted high-waisted dark blue denim skirt completed with camel suede ankle boots and a light brown leather tote bag: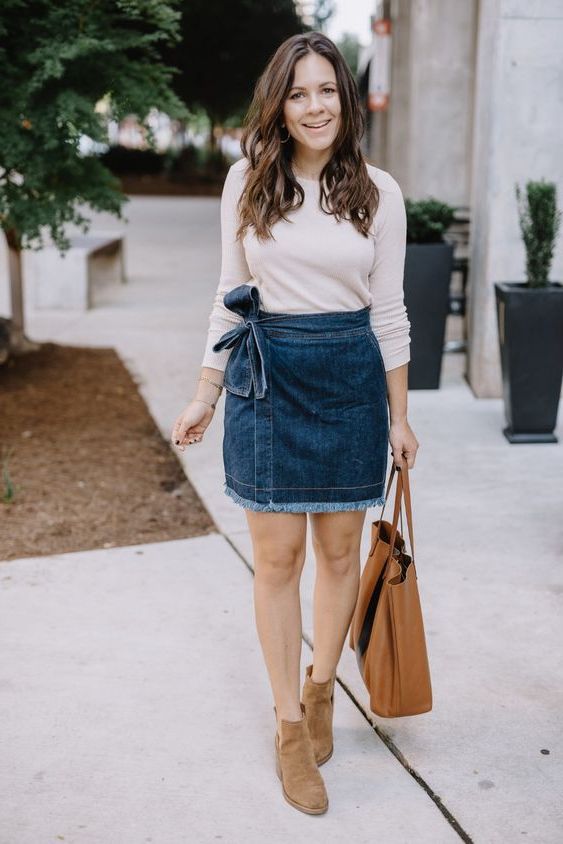 Buy Similar Here
A mini skirt is made for women with beautiful legs, who don't mind showing them to everyone around. Indeed, this is the easiest way to show off your beautiful body. Speaking of skirt design, I wanted to mention such classic styles, as bodycon skirts, A-line, high-waisted, bias-cut, pleated, flared and front-buttoned models.
The well-known dilemma about this type of skirt: can I wear a mini to work? If the color is dark and the length is long enough to hide your butt, then I guess it's possible to wear a mini. Some people say that the higher the hemline, the higher the heel, the higher the waistline, the lower the heels. Anyway, I think we should take a close-up look and see what footwear is ideal to wear with mini skirts.
Black Leather Biker Skirt And Ankle Strap Heeled Sandals
Another all in black outfit idea. We see a one-shoulder ribbed knit bodysuit tucked in biker-inspired black leather mini-skirt embellished with zips, patch pockets, and a belt. Complete this look by adding ankle-strap grommet heeled sandals in black: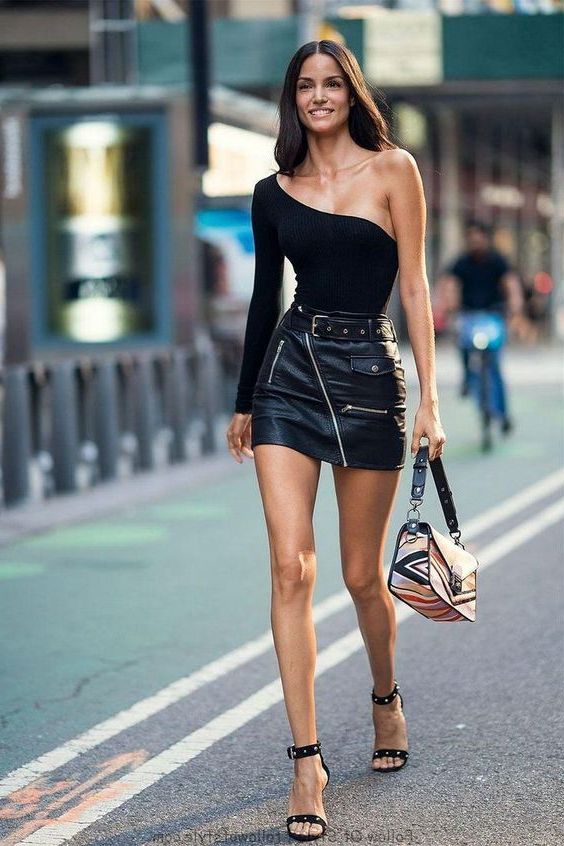 Buy Similar Here
Black Leather Mini Skirt And Ankle Boots
A classic blue chambray shirt is tucked in a high-waisted black leather mini skirt completed with suede ankle boots in black, gold hoop earrings and a chain strap black shoulder bag. A nice combo for casual weekends: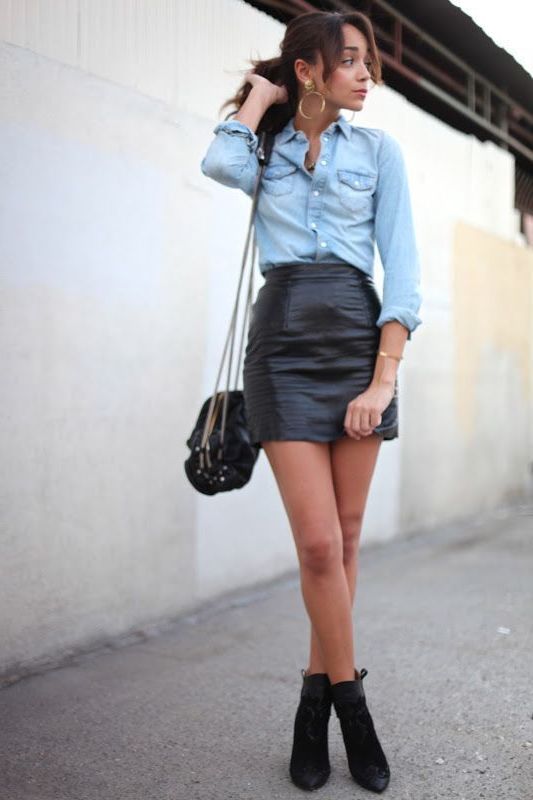 Buy Similar Here
Black Leather Mini And Black OTK Boots
We see a grunge-inspired combo. A plaid shirt is tucked in high-waisted black leather mini skirt completed with over-the-knee black suede boots and a classic black leather handbag: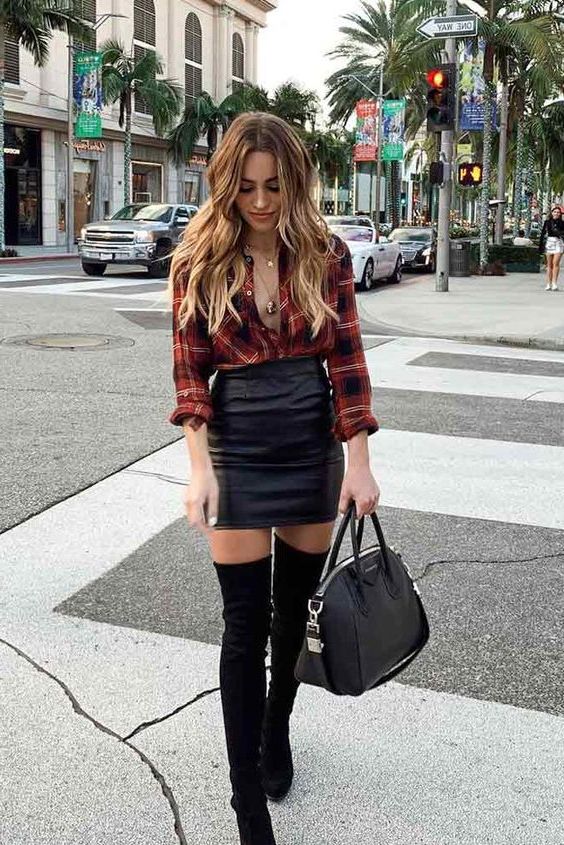 Buy Similar Here
Black Leather Mini Skirt And Sock Boots
We see a relaxed and simple combo for the Fall season. A loose-fit cream-grey sweater is half-tucked in a black leather skirt completed with black suede sock boots. Update this combo with cool 1990-style sunglasses and a mini shoulder black leather bag: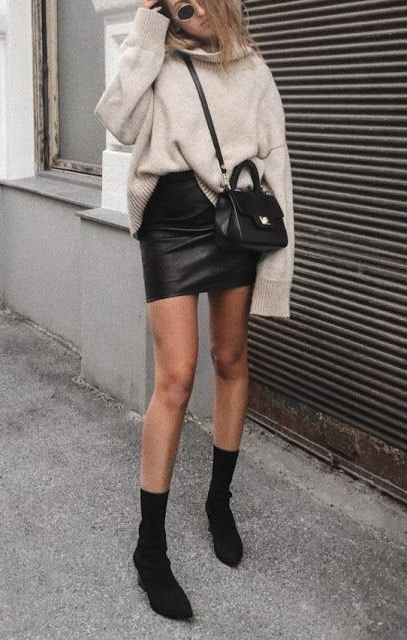 Buy Similar Here
Black Leather Skirt And White Sneakers
One-shoulder ribbed knit sweater in grey is tucked in asymmetric black leather mini-skirt with zip-closure. Complete this look with 19980 style white sunglasses and classic white sneakers. By the way, I highly recommend to see my post on ways how to wear sneakers for women, I am 100% sure you can find lots of cool ideas: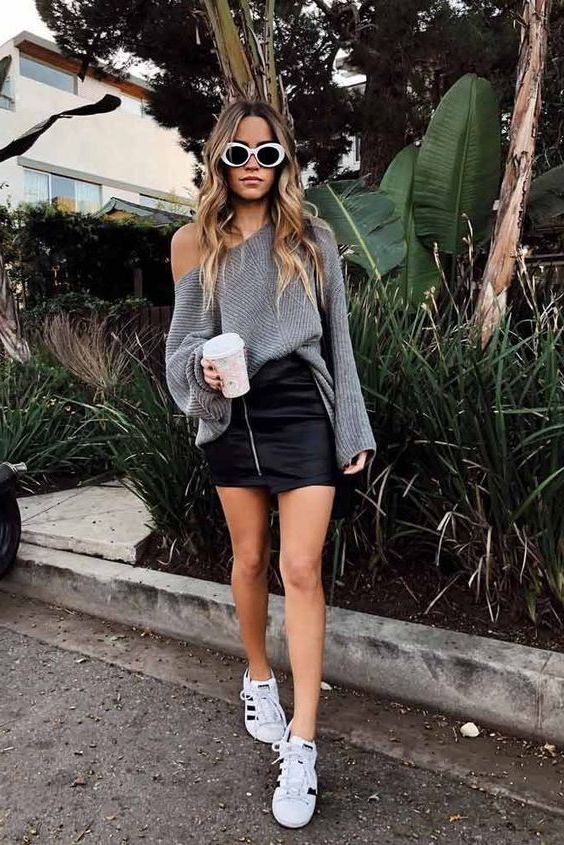 Buy Similar Here
Black Leather Skirt And Black Ankle Boots
We see a nice Fall season outfit idea. A grey plaid coat is styled with a ribbed knit grey sweater tucked in a black leather mini-skirt with zipping details. The look is completed thanks to classic sunglasses, black tights, and black suede ankle boots: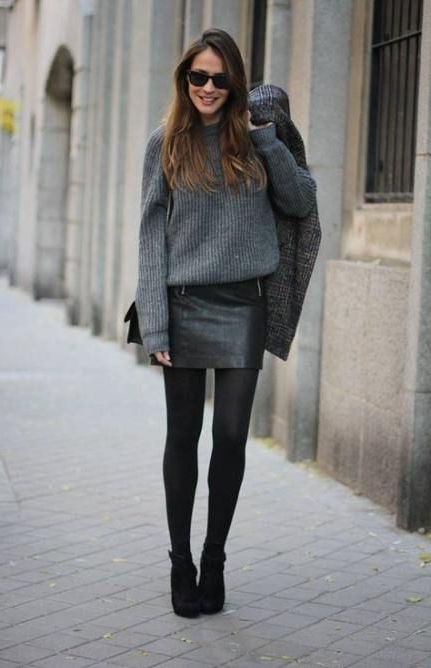 Buy Similar Here
Black Leather Wrap Mini Skirt And Clear Heels
Another simple evening look for young ladies. A black turtleneck is tucked in a high-waisted wrap skirt in black leather. Complete it with clear heeled sandals: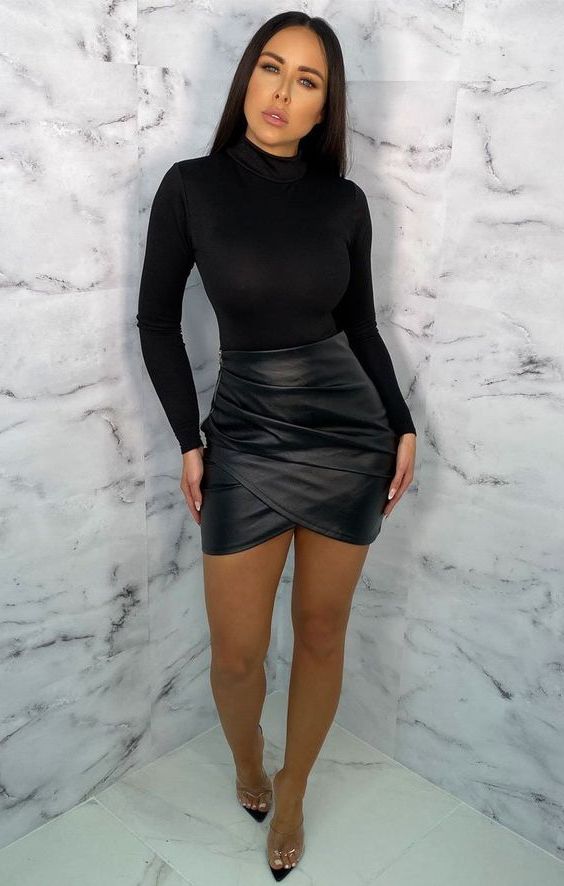 Buy Similar Here
Black Skirt With Lace And OTK Boots
A kind of French chic vibe is felt in this look. We see a classy pussy-bow white blouse tucked in black flared mini skirt with lace hem. Complete it with a pair of black suede over-the-knee boots: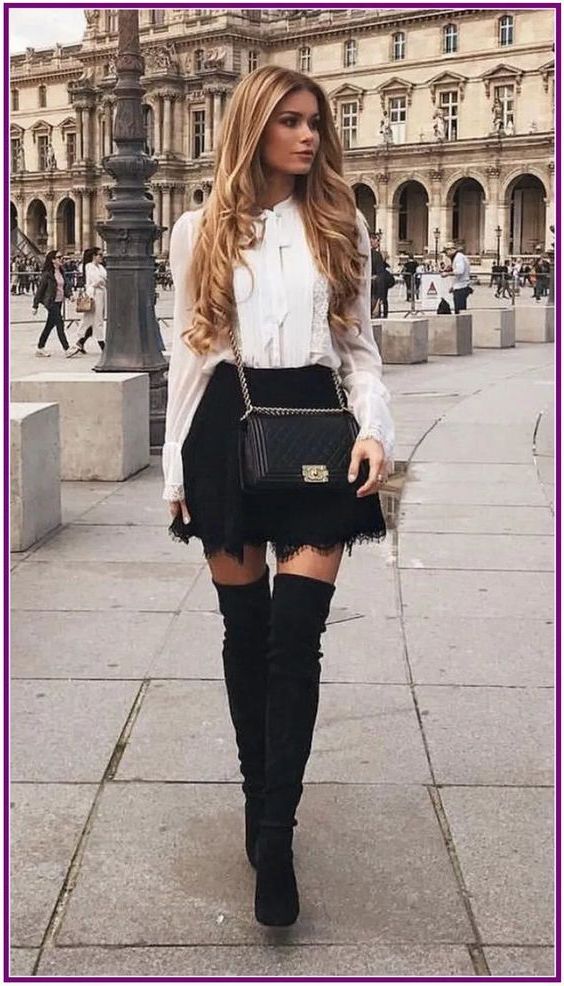 Buy Similar Here
Brown Mini Skirt And OTK Suede Boots
Another Parisian style outfit idea. We see a young brunette wearing rounded sunglasses, cable-knit cream-brown sweater tucked in front-buttoned brown suede skirt completed with heeled OTK boots in beige: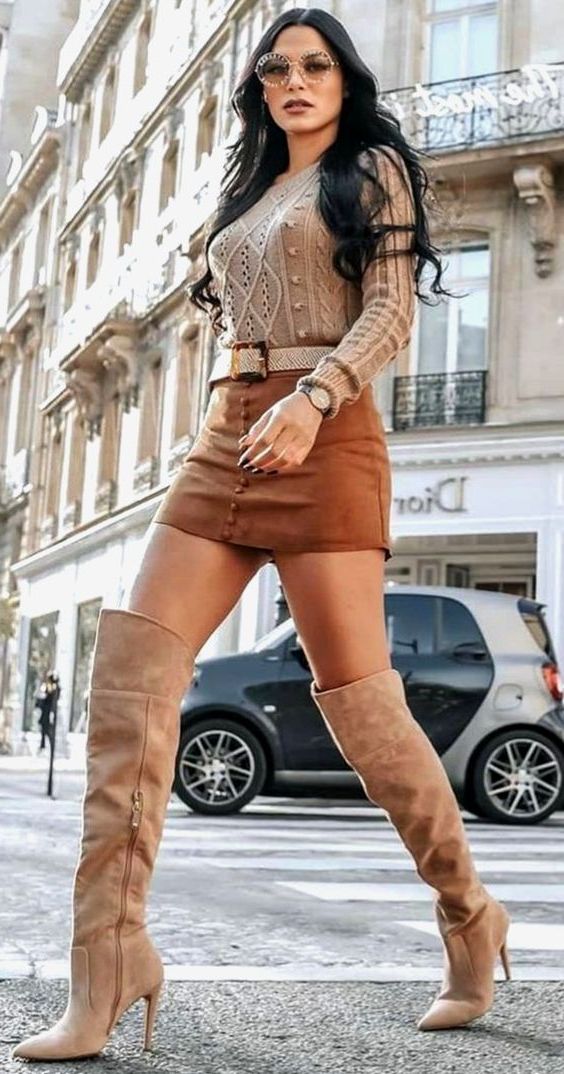 Buy Similar Here
Denim Skirt And Flat Slides
A classic look for Summer casual street walks. A white shirt is tucked in a mini denim skirt completed with black flat slides: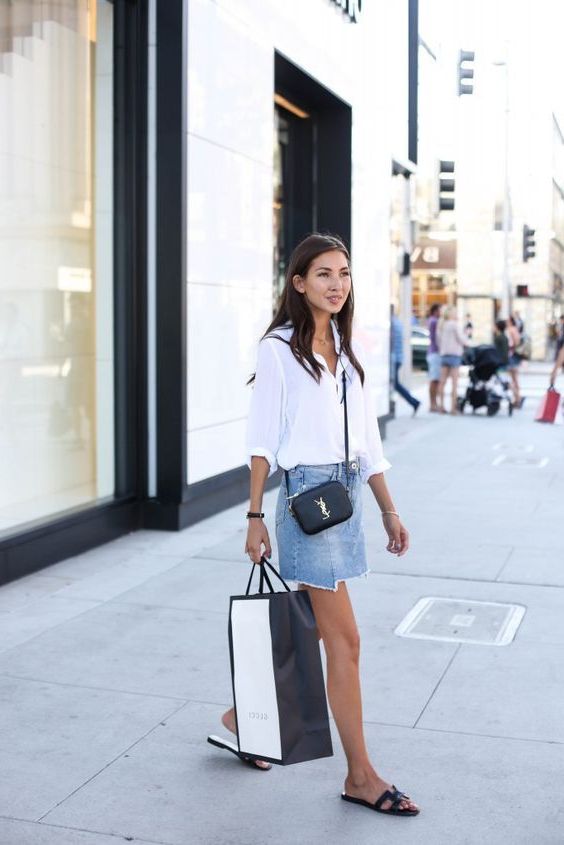 Buy Similar Here
Denim Mini And White Sneakers
Yes, another French chic look. We see a cool Summer outfit idea consisting of a navy blazer, white tee tucked in denim skirt. Complete this combo by adding Wayfarer sunglasses, golden layered necklaces, straw tote bag and white sneakers: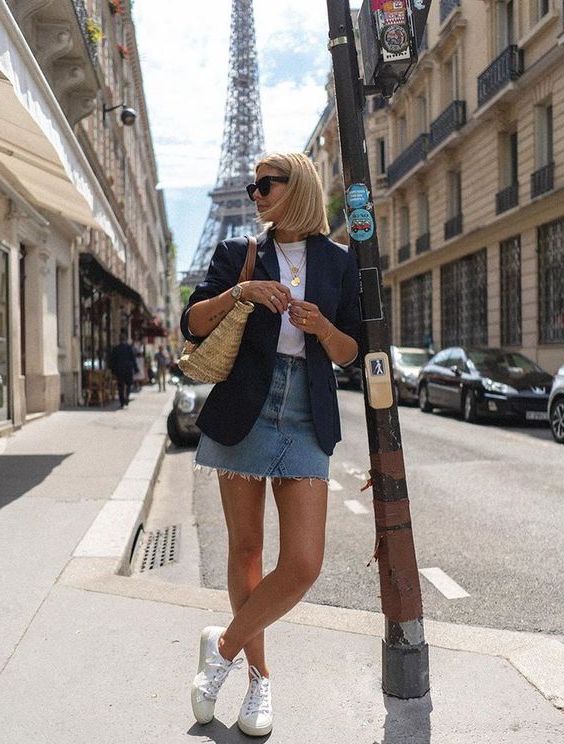 Buy Similar Here
Flared Mini Denim Skirt And Nude Heeled Sandals
We see a sassy Summer outfit idea consisting of a spaghetti-strap white crop top and high-waisted flared denim skirt completed with nude heeled sandals: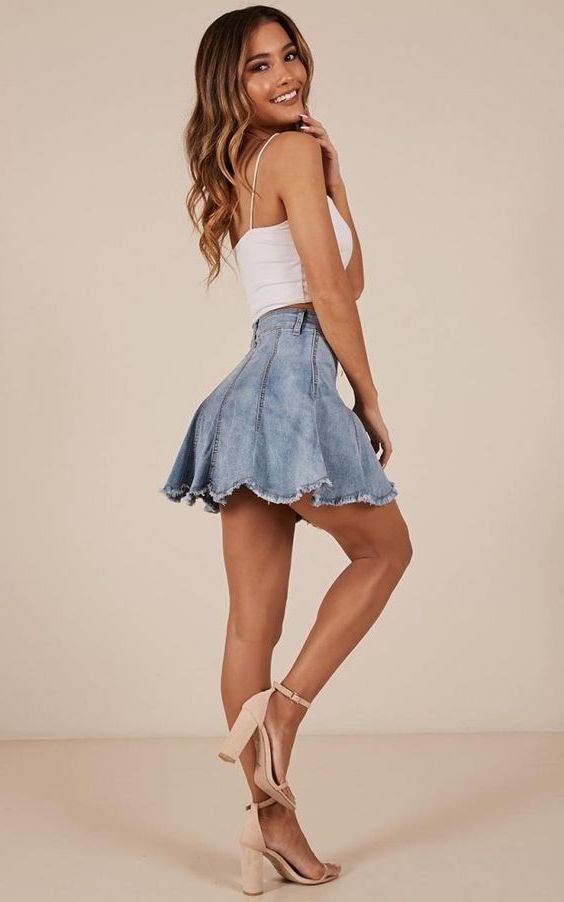 Buy Similar Here
Flared Mini And Ankle Boots
We see a slim pullover with baroque print teamed with flared pleated mini skirt in black completed with opaque tights and black ankle boots made of suede: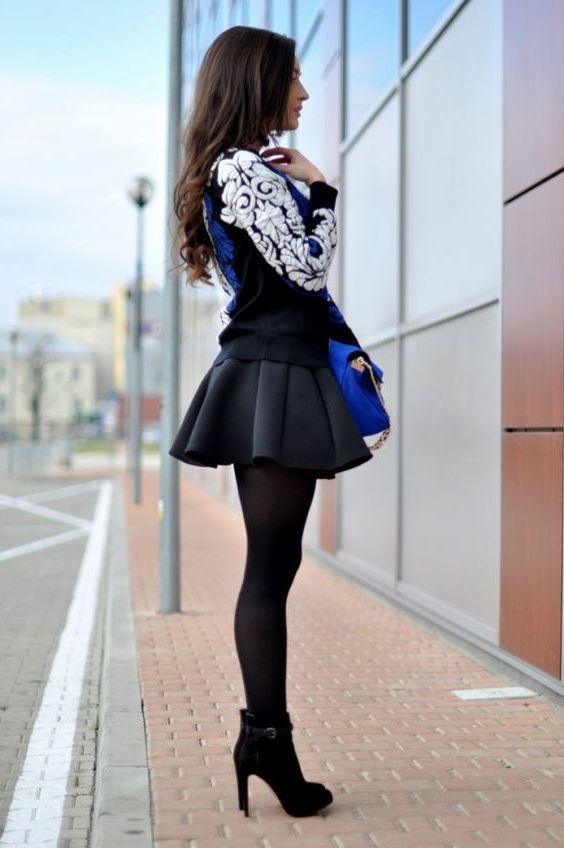 Buy Similar Here
Flared Pleated Mini Skirt And Platform Patent Pumps
A sexy white lace long-sleeve blouse is tucked in high-waisted flared black leather pleated mini skirt updated with opaque tights and platform heeled patent black pumps: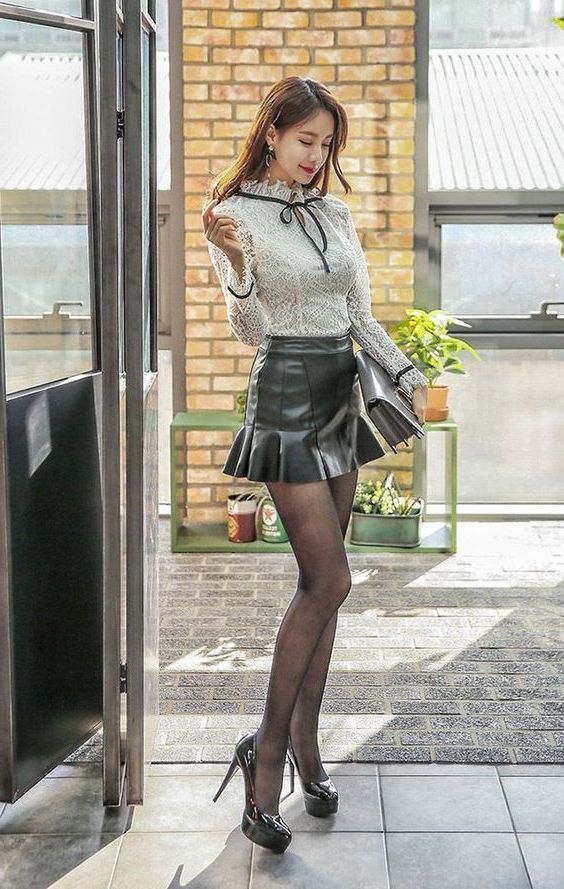 Buy Similar Here
Floral Mini And Black Heels
We see a black wrap blouse tucked in a high-waisted black mini skirt in floral print completed with platform-heeled black pumps. If you want to know more about black heels outfit ideas, then check out my post, there are lots of inspiring ideas to try out. A nice combo for evening parties: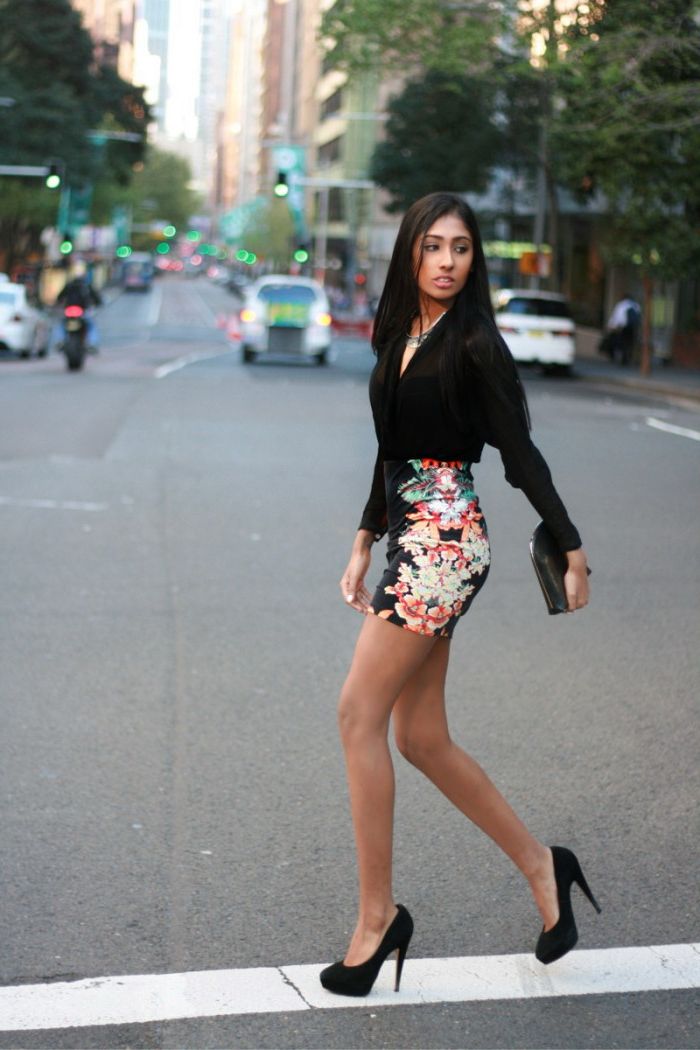 Buy Similar Here
Floral Mini Skirt And White Sneakers
We see a cute wide neck crop top in white with long sleeves teamed with a pastel blue high-waisted mini skirt in floral print. Complete this combo with chunky white sneakers: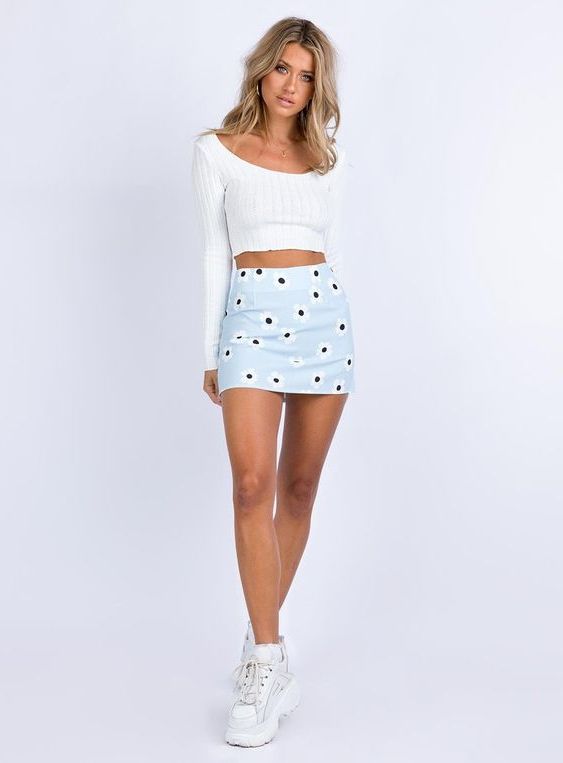 Buy Similar Here
Front Buttoned Mini Skirt And Ankle Boots
A ribbed knit sweater in white is half-tucked in front-buttoned brown suede mini skirt with patch pockets. Complete this look by adding opaque tights and black ankle boots: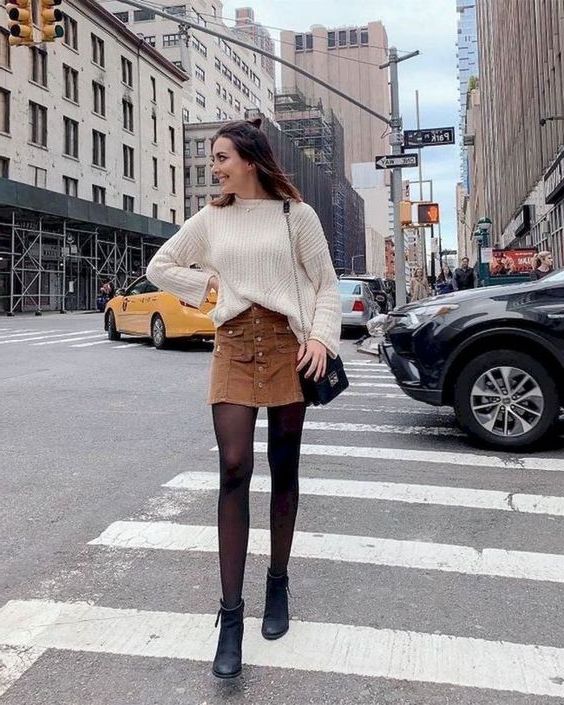 Buy Similar Here
Front Zip-Closure Mini Skirt And Sock Boots
We see a black turtleneck tucked in dark turquoise high-waisted velvet mini skirt with a belt and front zip closure. Complete it with opaque striped tights and black sock boots: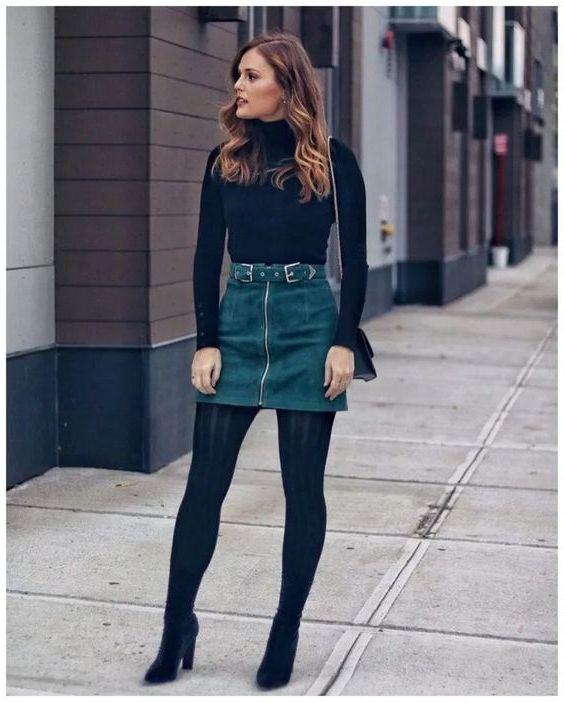 Buy Similar Here
Gingham Mini Skirt And Black Pumps
If you are into prints, then go for this classic combo. We see a black turtleneck tucked in black-white gingham print mini skirt updated with opaque tights and black heeled pumps with pointed-toes: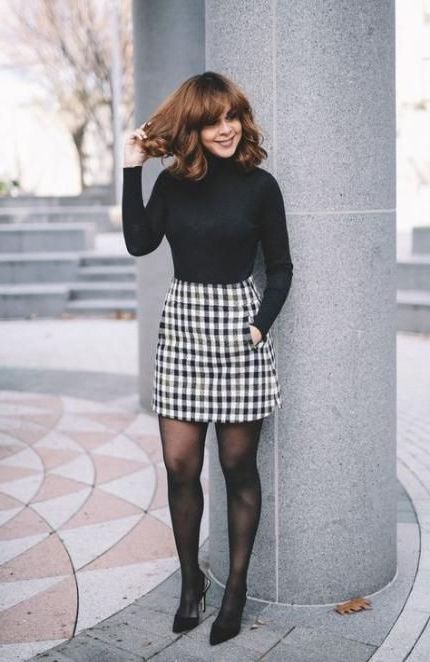 Buy Similar Here
Grey Mini Skirt And Black Ankle Strap Pumps
Check out this cream-blush lace top tucked in grey flared mini skirt updated with opaque tights and ankle-strap heeled black pumps, in love with that chain strap cream clutch bag: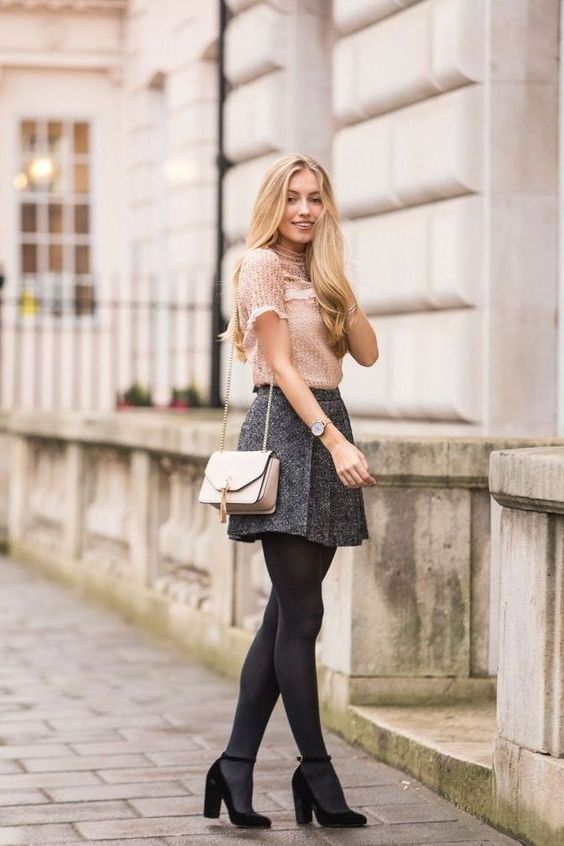 Buy Similar Here
Grey Mini Skirt And Suede OTK Boots In Grey
Another sexy combo for Fall season months. We see a grey carcoat with a pastel maroon bodysuit tucked in high-waisted tight mini skirt in grey completed with tights and tight grey suede OTK boots: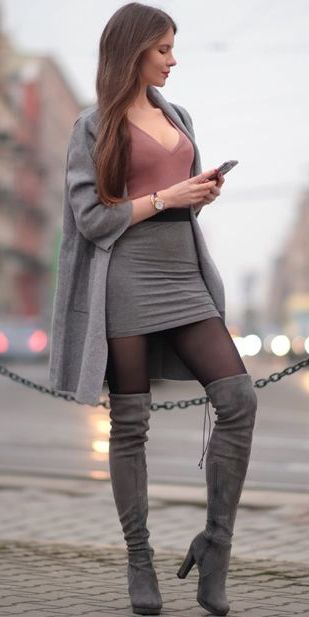 Buy Similar Here
Grey Mini Skirt With Zip Closure And Color-Block Pumps
We see a biker-chic inspired outfit idea. A black leather jacket is styled with a black top tucked in a grey mini skirt with a side zip closure. Complete this look by adding chunky black leather ankle boots and black leather handbag: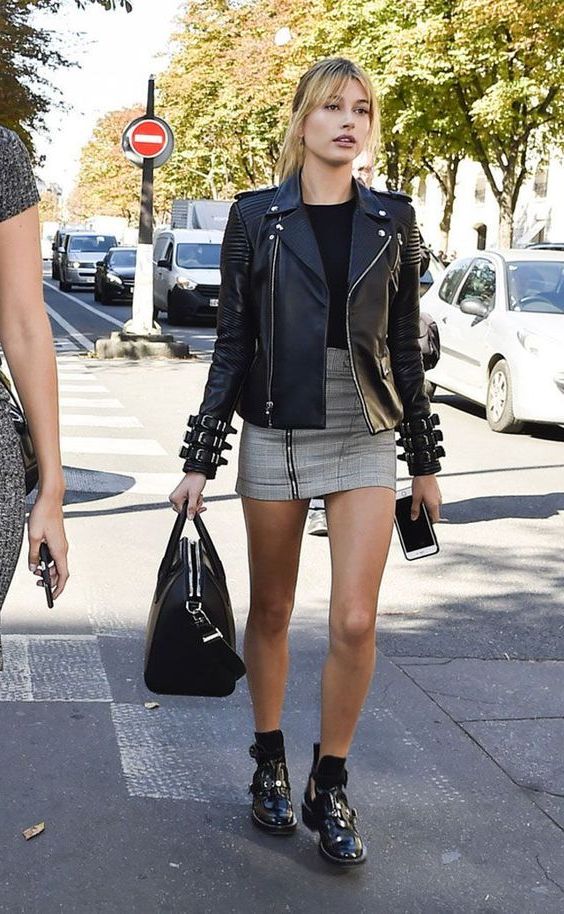 Buy Similar Here
High Waist Mini Skirt And Color-Block Pumps
A cream-beige relaxed-fit sweater is tucked in high-waisted micro-plaid mini skirt completed with color-block heeled pumps: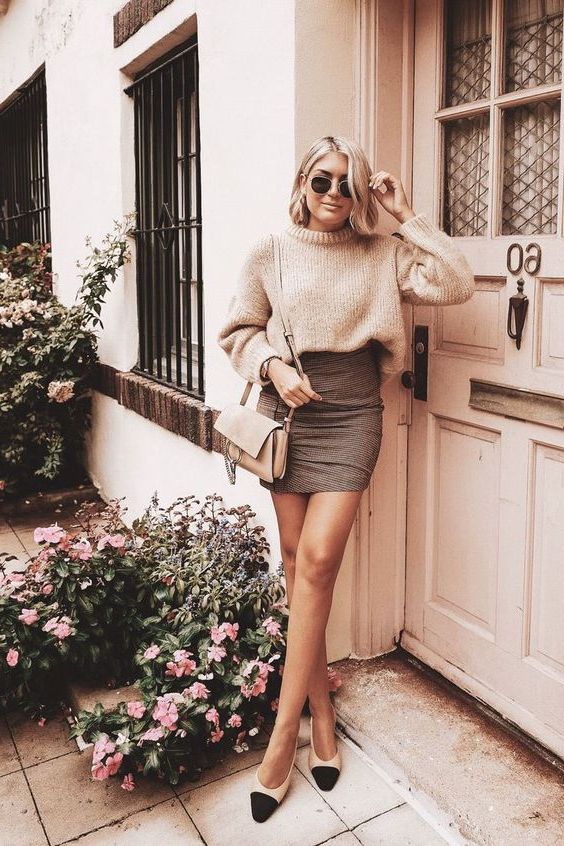 Buy Similar Here
Houndstooth Mini Skirt And Sock Boots
A nice combo for office hours. We see rounded sunglasses, black long-sleeve top tucked in black-white houndstooth high-waisted mini skirt completed with high-heeled sock boots in black. Love the rich red shoulder bag: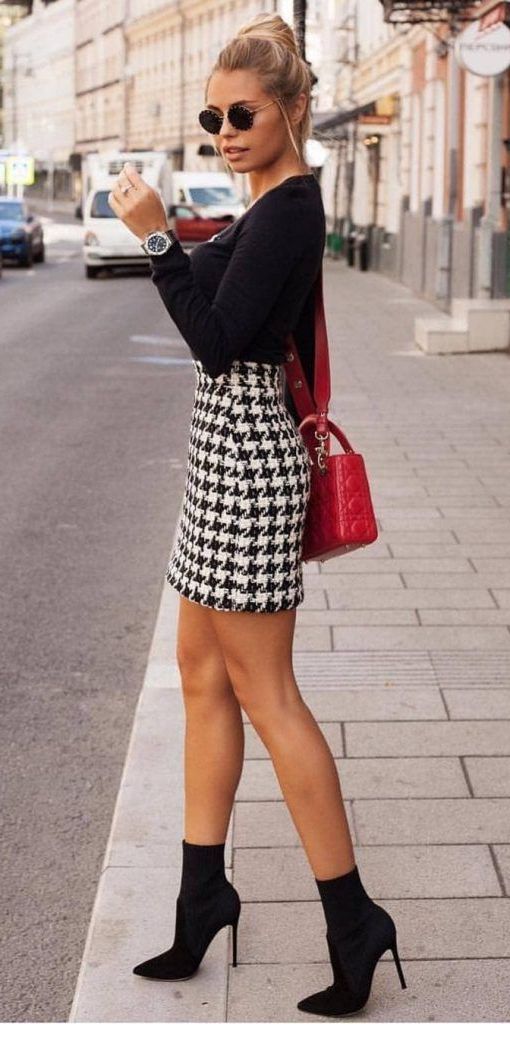 Buy Similar Here
Khaki Green Mini Skirt And Leopard Heels
A nice combo for casual Spring days. We see a blue denim jacket worn over a striped black-white top teamed with a khaki-green mini skirt and completed with leopard print heels. Complete the look by adding oversized sunglasses and khaki-green leather handbag. If you are into leopard shoes, I recommend checking my post on how to wear animal print shoes for women, this post includes street style inspiring outfit ideas that can make any woman stand out from the crowd: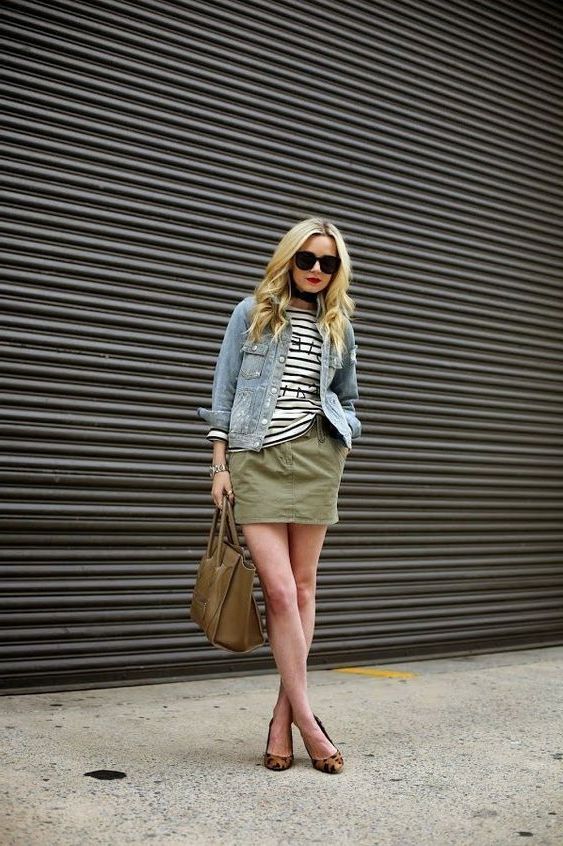 Buy Similar Here
Leather Mini Skirt And Leather Knee Boots
We see a slim grey jumper tucked in a dark green leather mini skirt completed with black leather knee boots, update this look by adding a dark green fur jacket: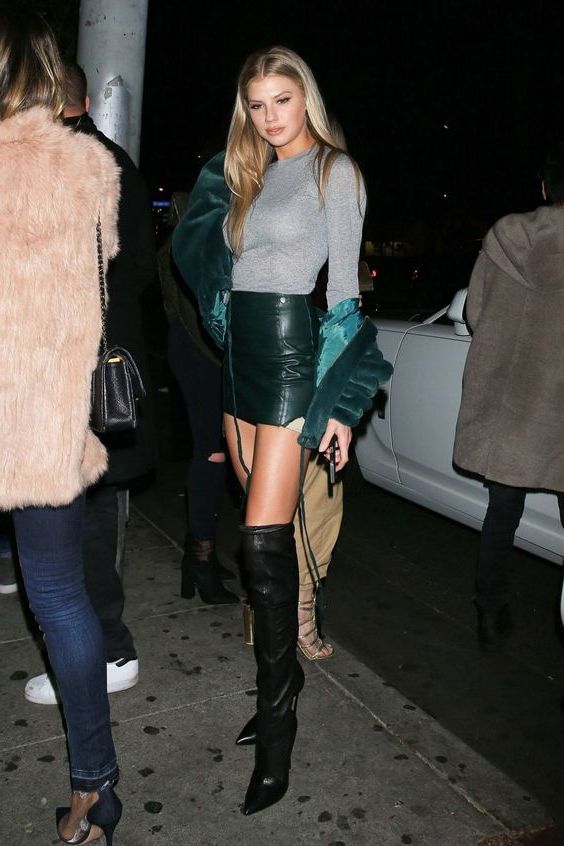 Buy Similar Here
Maroon Skirtsuit And White Sneakers
Keep it modern, sporty, yet elegant! Go for this pale maroon suit with a mini skirt and complete it with white sneakers:
Buy Similar Here
Mini Black Skirt And Flat Pumps
A windowpane white shirt is tucked in a high-waisted black mini skirt and completed with black flat ballet pumps. By the way, check out my post on how to wear flat shoes for women, you can find there many nice ideas that can make you look trendy and chic: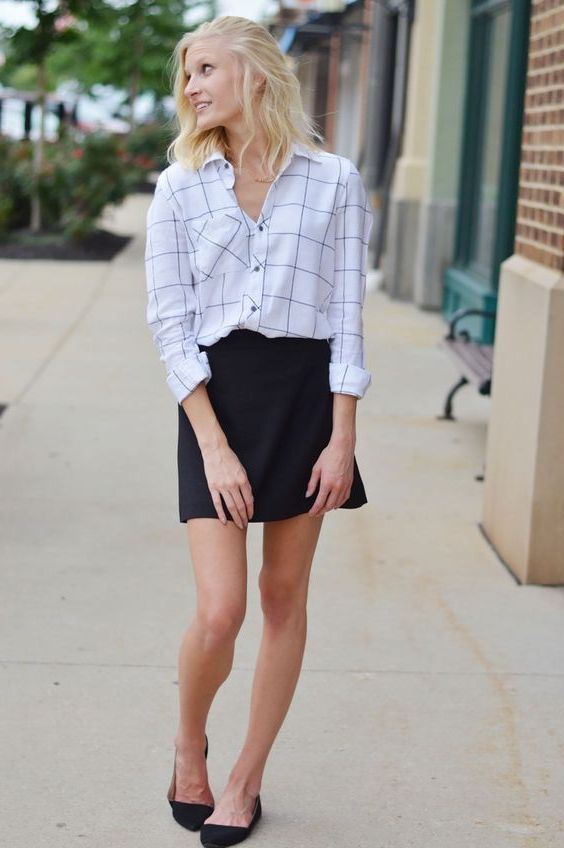 Buy Similar Here
Mustard Front Buttoned Mini Skirt And Suede Booties
A plaid blazer in grey is styled with a white top which is tucked in mustard-yellow front-buttoned mini skirt completed with camel suede ankle-boots, update it with oversized sunglasses and a brown leather bucket bag: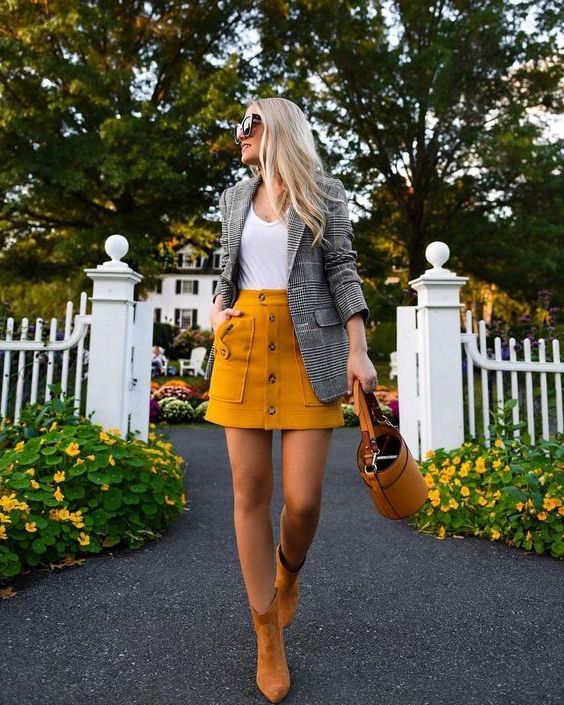 Buy Similar Here
Patent Black Leather Mini Skirt And OTK Boots
Another cool night-out outfit idea. We see a black long sleeve crop top teamed with patent black leather mini skirt and suede OTK boots in black. Complete this combo by adding a black leather mini handbag: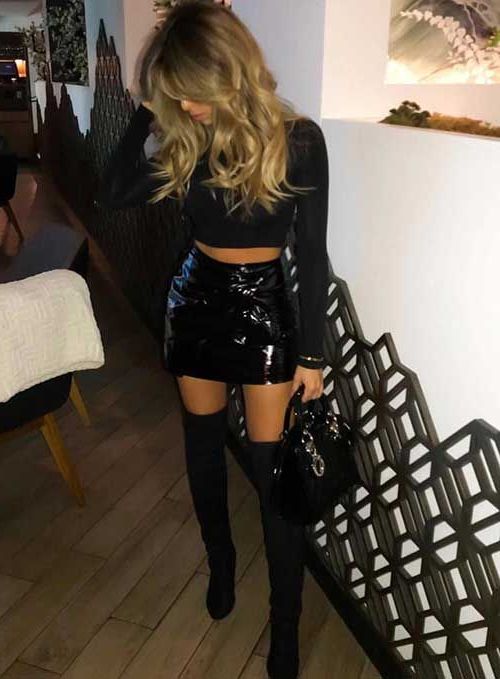 Buy Similar Here
Pink Mini Skirt And White Sneakers
A sassy Summer combination. We see rounded sunglasses, white T-shirt tucked in pink mini skirt completed with classic white sneakers: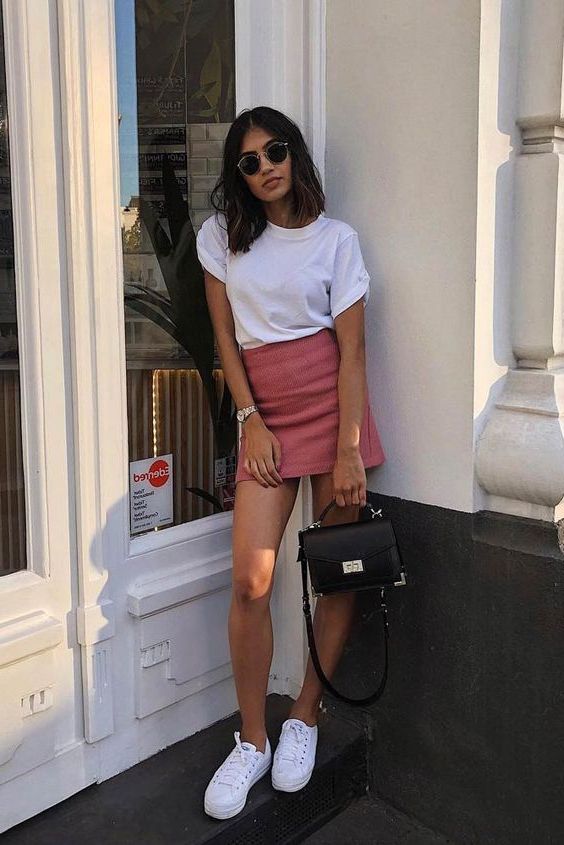 Buy Similar Here
Pink Printed Mini Silk Skirt And Combat Boots
A printed black T-shirt is tucked in pink printed mini skirt in silk completed with Doc Martins: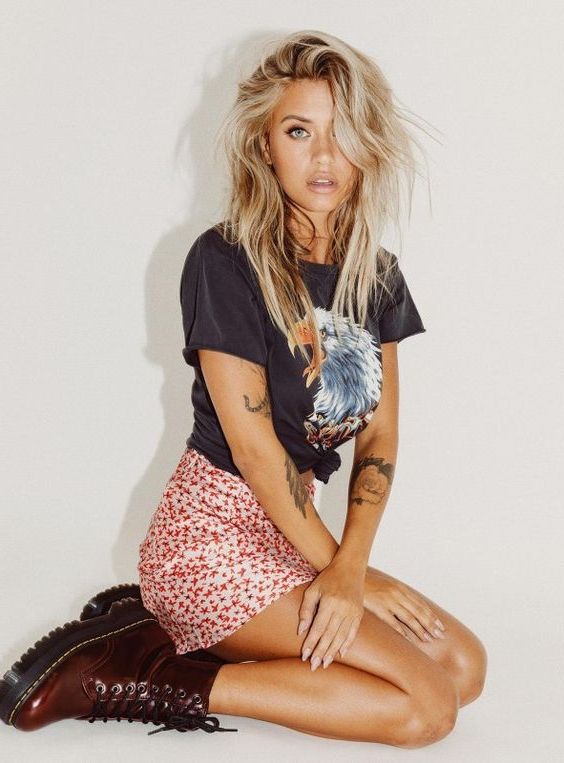 Buy Similar Here
Plaid Mini Skirt And Black Ankle Boots
A kind of rock-chic combination. We see a black T-shirt tucked in a belted plaid wrap mini skirt completed with platform heeled black ankle boots: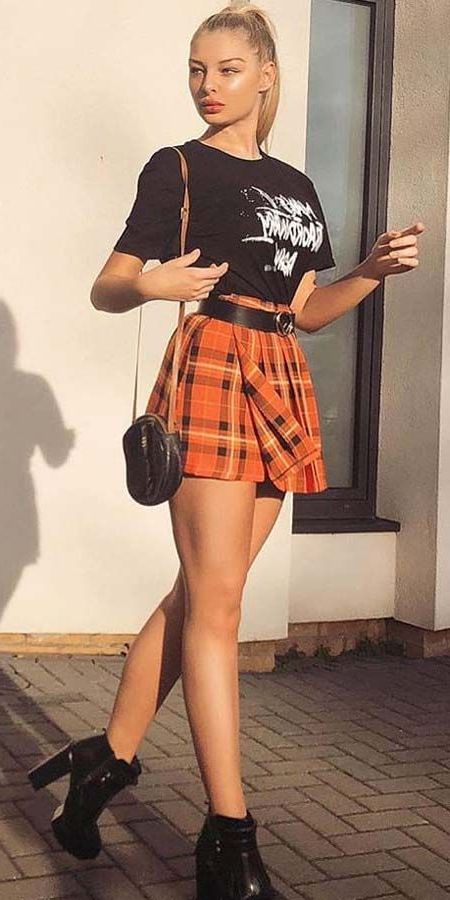 Buy Similar Here
Plaid Mini Skirt And Combat Boots
A black T-shirt looks great with a red plaid mini skirt completed with platform combat boots in black leather: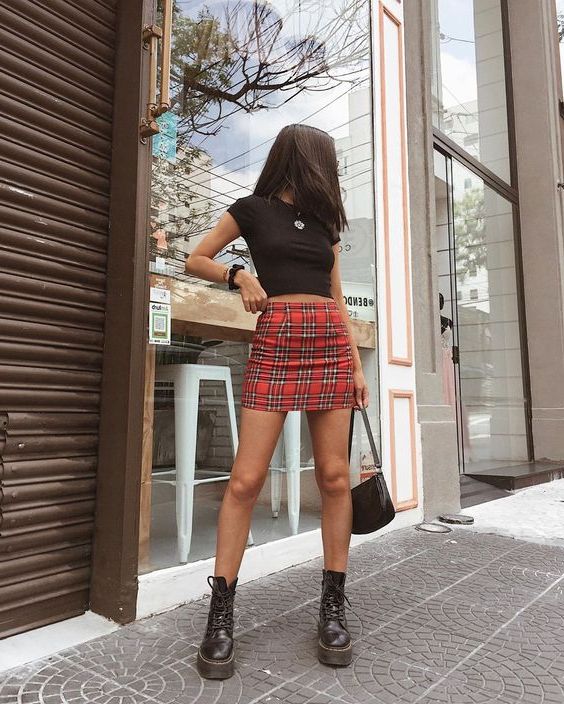 Buy Similar Here
Plaid Mini Skirt And Combat Boots
We see a slouchy white sweater half-tucked in wool plaid mini skirt updated with opaque tights and black leather combat boots: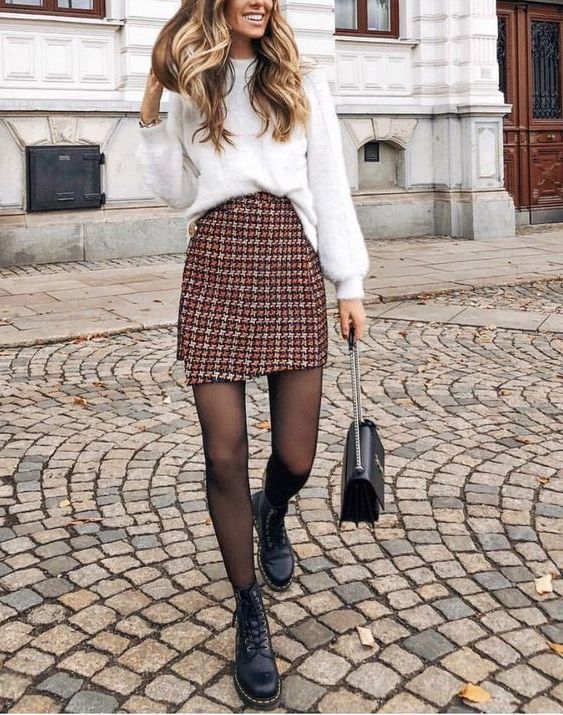 Buy Similar Here
Plaid Mini Skirt And Peep-Toe Heels
A black bodysuit with a deep neckline is tucked in a belted high-waisted plaid flared mini skirt styled with peep-toe black heels: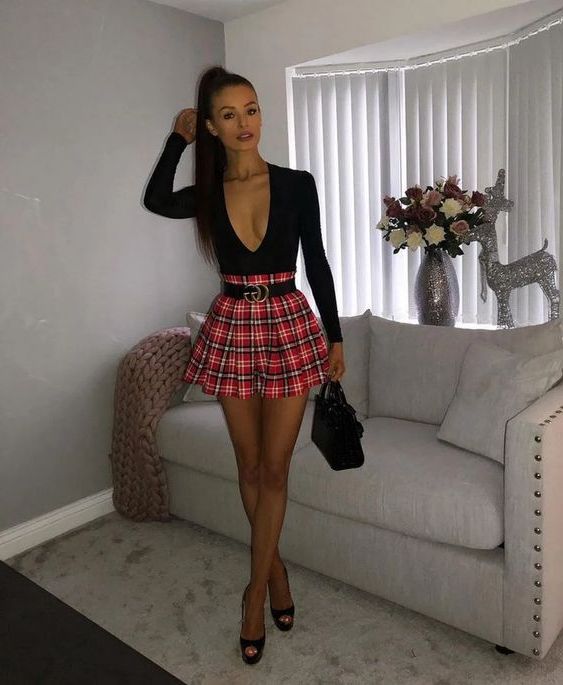 Buy Similar Here
Plaid Mini Skirt And Square Toe Loafers
A beautiful white turtleneck sweater is tucked in plaid mini skirt completed with trendy square-toe loafers in black: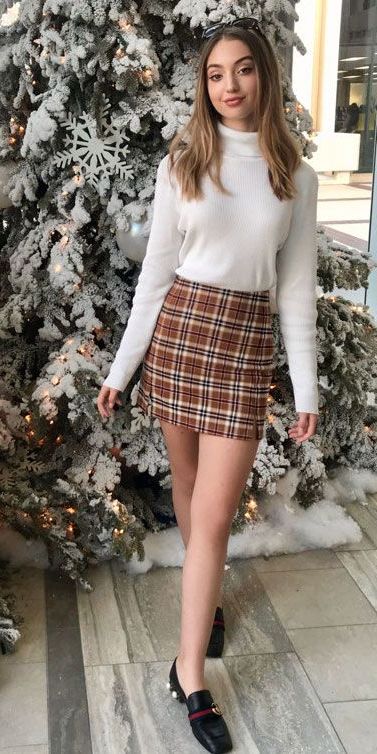 Buy Similar Here
Plaid Mini Skirt And White Sneakers
A white tee is tucked in a high-waisted plaid mini skirt and completed with chunky white sneakers and white socks. Add a pair of cat-eye sunglasses to underline your uniqueness: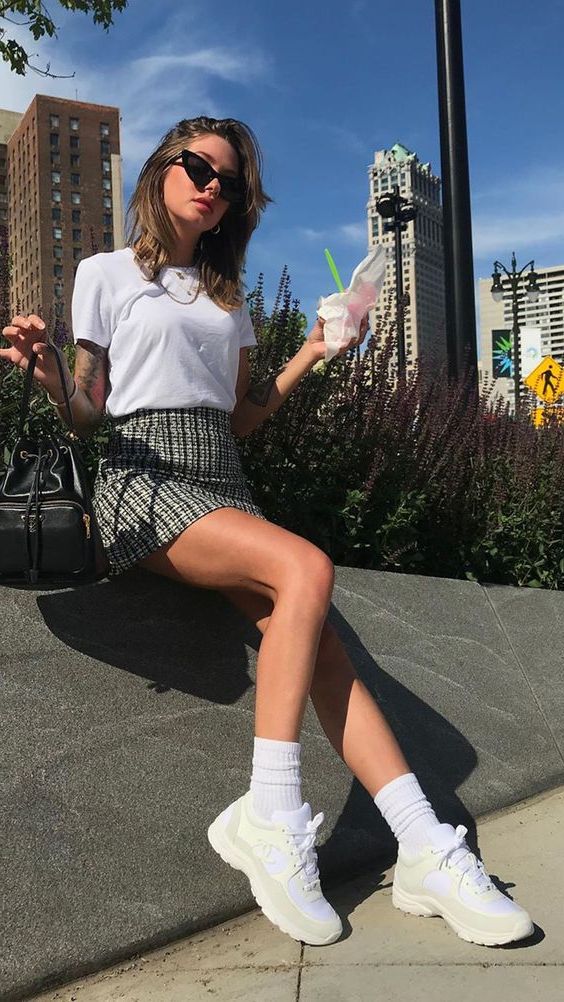 Buy Similar Here
Plaid Mini Skirt With High Socks And Black Boots
A stylish grunge style. We see a black leather jacket over a black crop top teamed with a wrap tartan mini skirt, black high socks, and lace-up black leather boots: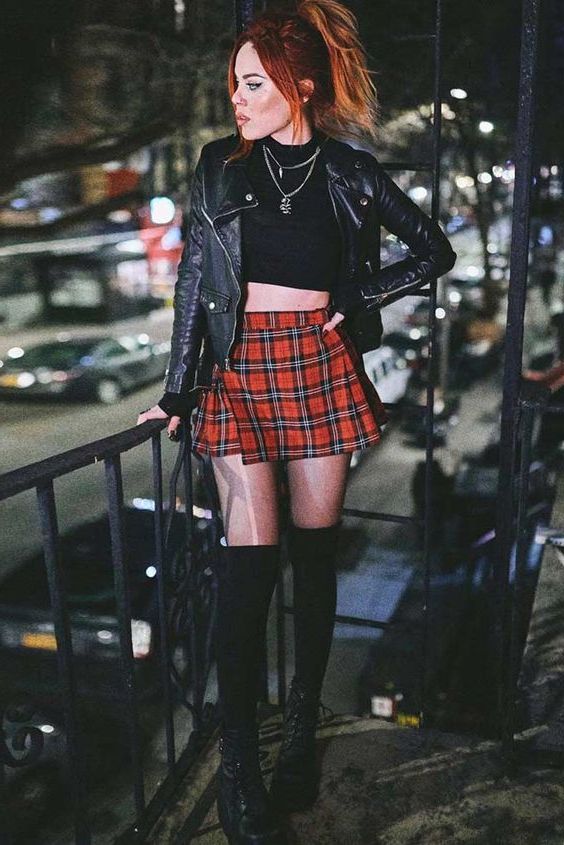 Buy Similar Here
Plaid Mini Skirt And Black Platform Ankle Boots
A basic black slim top is tucked in a flared plaid mini skirt updated with opaque tights and platform black leather heeled ankle boots: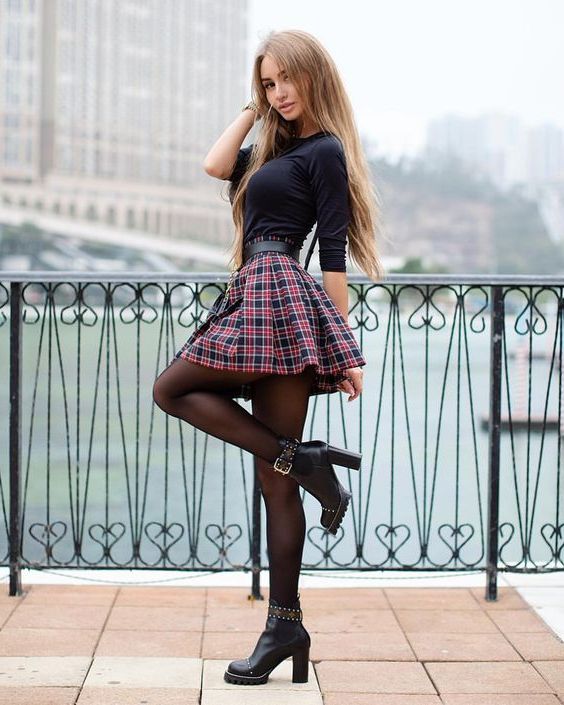 Buy Similar Here
Plaid Skirtsuit And Grey OTK Boots
A wool plaid suit with a mini skirt is styled with a white turtleneck and grey suede OTK boots: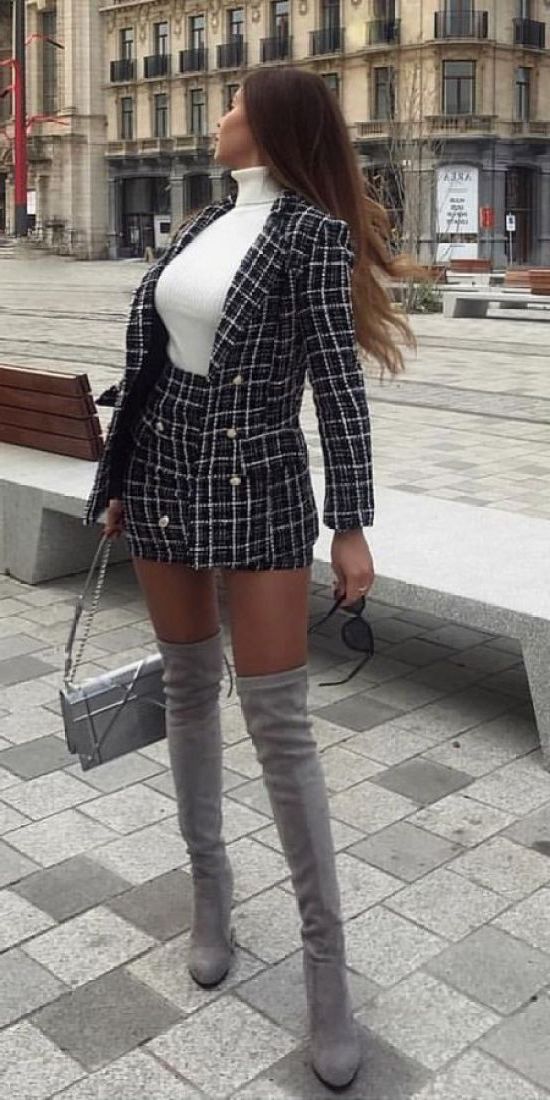 Buy Similar Here
Red Polka Dot Mini Skirt And Black Heels
Keep it sweet, sexy and funky! Go for a blue long-sleeve top and tuck it inside peplum red mini skirt in white polka dots. Update this cool combo with a pair of black heeled pumps: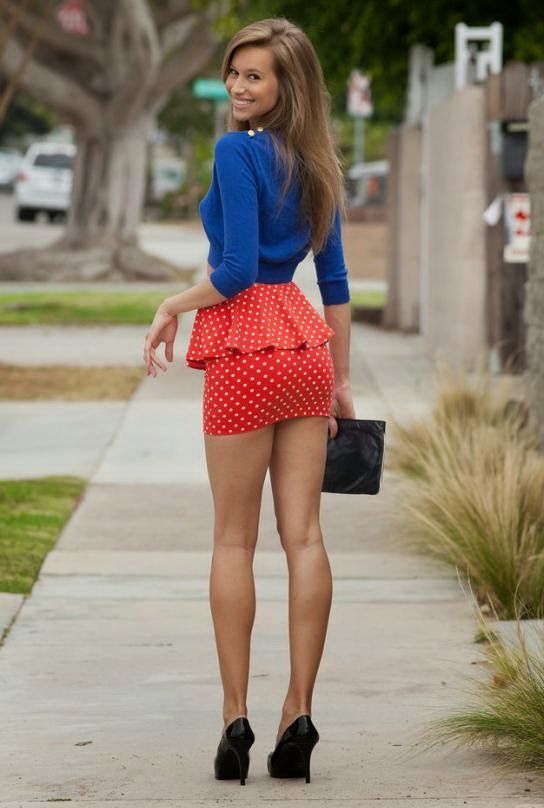 Buy Similar Here
Ripped Denim Mini Skirt And Leopard Slip On Shoes
A classic pastel blue shirt is tucked in blue denim ripped mini skirt completed with leopard print slip-on shoes: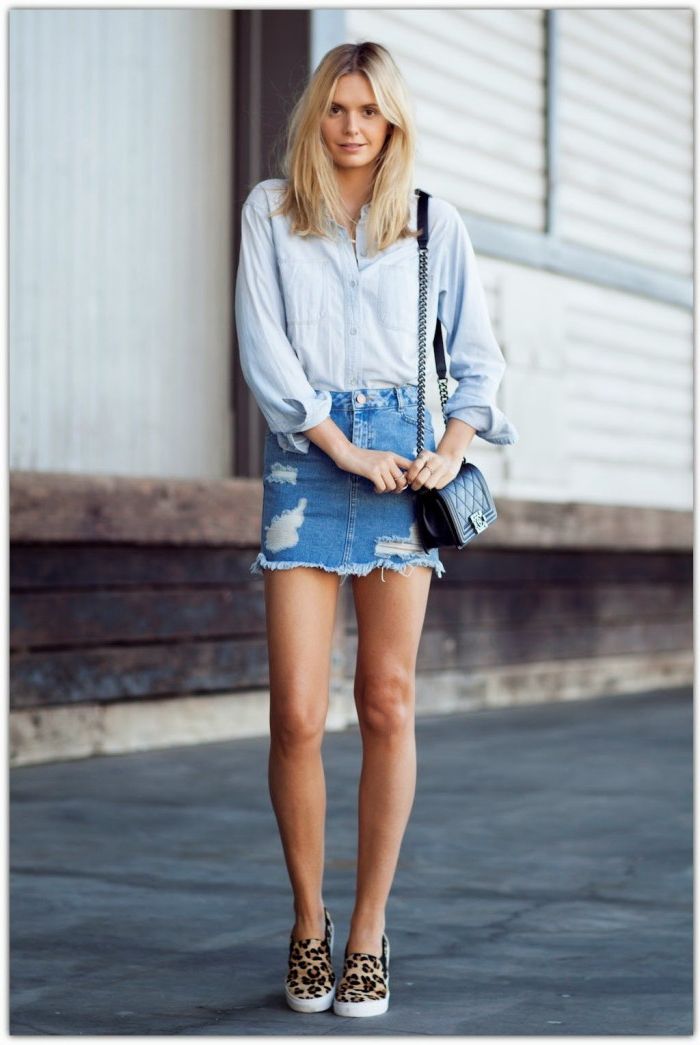 Buy Similar Here
Ripped Denim Mini Skirt And White Sneakers
Grey T-shirt is tucked in a ripped blue denim mini skirt completed with white sneakers. Add aviator sunglasses and a mini box clutch bag: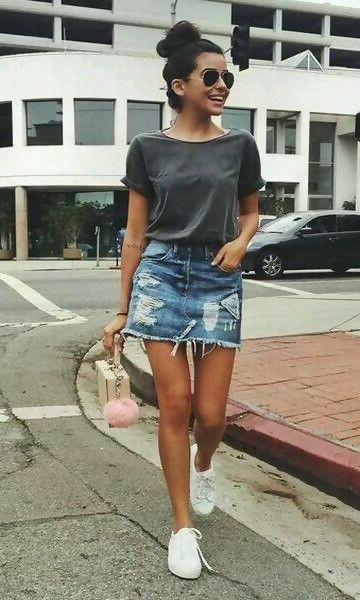 Buy Similar Here
Denim Mini Skirt And Black Ankle Boots
Go for a grunge-inspired look. We see a slouchy grey T-shirt half-tucked in black denim mini skirt completed with black leather ankle boots and rounded sunglasses: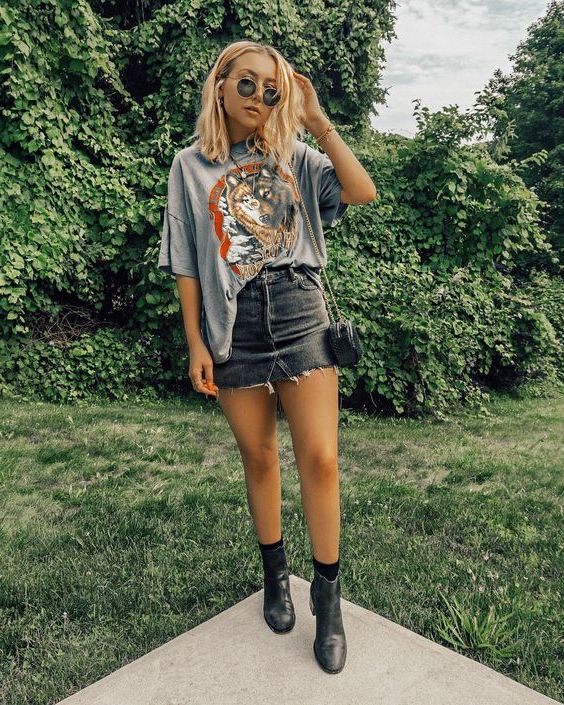 Buy Similar Here
Silk Black Mini Skirt And White Sneakers
This look is so sexy! In love with that silk black mini skirt teamed with chunky sneakers in white and a semi-sheer white tee: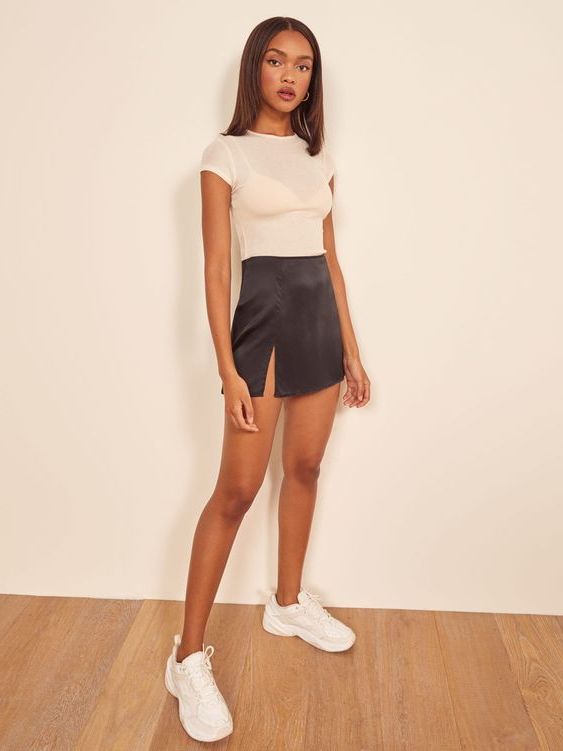 Buy Similar Here
Snakeskin Print Mini Skirt And Ankle Boots
An oversized ribbed-knit grey sweater is tucked in snakeskin print mini skirt completed with black leather ankle-boots: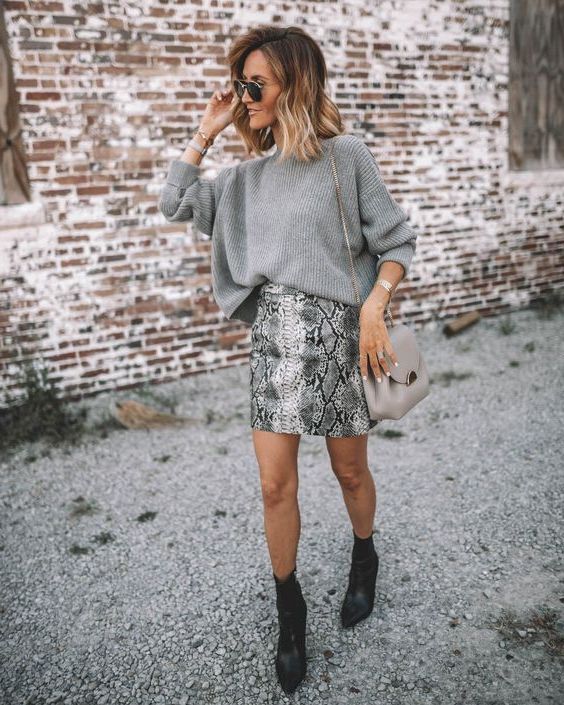 Buy Similar Here
Striped Mini Skirt And Caged Heeled Sandals
A casual black T-shirt is half-tucked in black-white striped mini skirt completed with black leather caged heeled sandals. Don't forget to add mirrored Wayfarer sunglasses, so you look modern: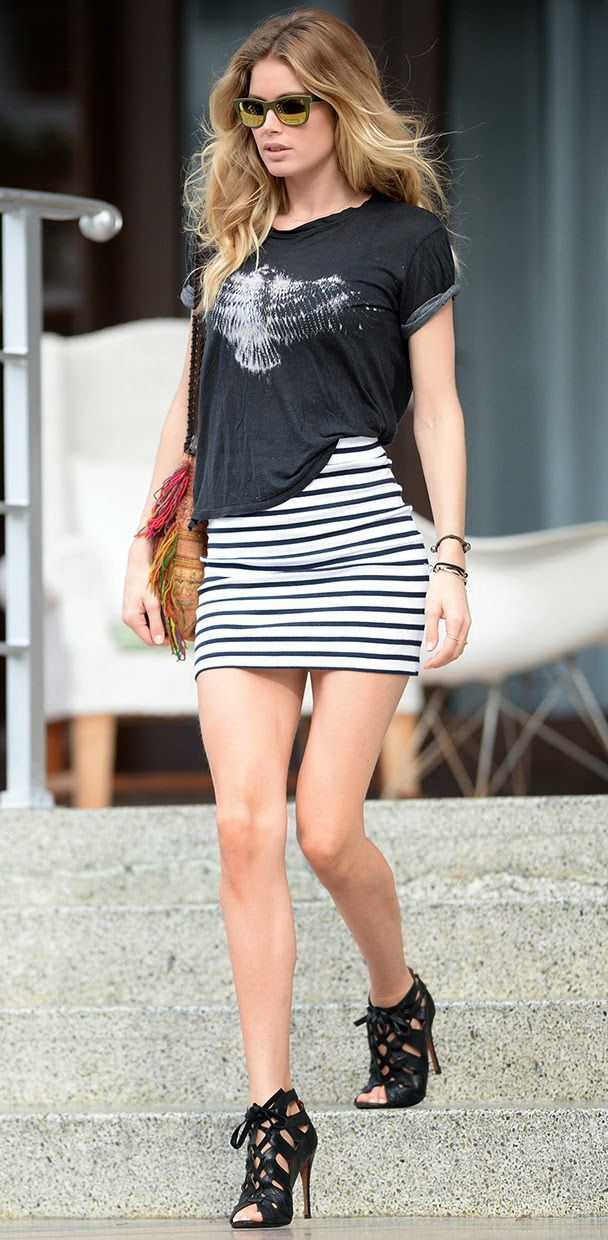 Buy Similar Here
Tartan Mini Skirt And Combat Boots
Say hello to grunge! We see an oversized black denim jacket teamed with a white crop top and a red plaid mini skirt completed with black leather combat boots: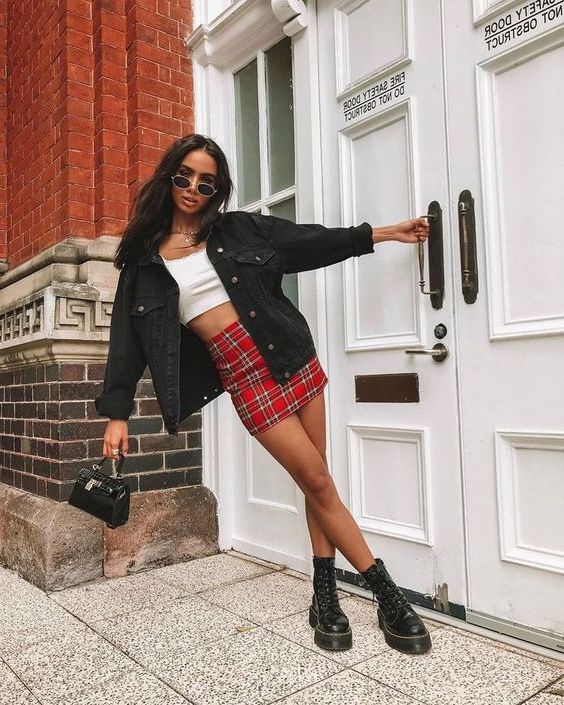 Buy Similar Here
Tartan Pleated Mini Skirt And Combat Boots
A light grey ribbed-knit polo shirt is tucked in high-waisted plaid pleated mini skirt completed with black leather DocMartins: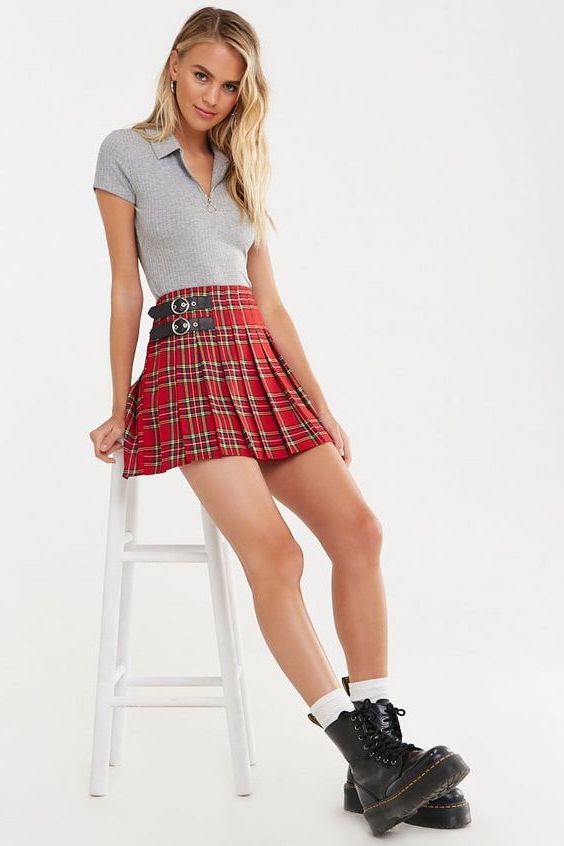 Buy Similar Here
Tribal Print Mini Skirt And Caged Lace-up Ankle Boots
A classic pinstripe button-down shirt is tucked in tribal print mini skirt updated with caged lace-up ankle boots in black: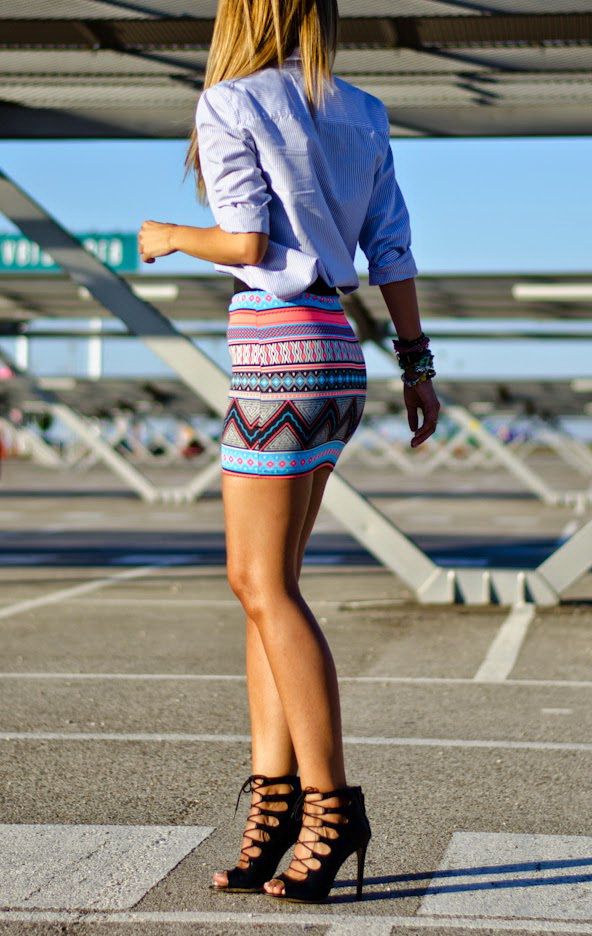 Buy Similar Here
Velvet Navy Front-Buttoned Mini Skirt And Brown Ankle Boots
We see a beautiful seventies inspired French chic lady style. It consists of a white turtleneck tucked in front-buttoned navy velvet mini skirt completed with light brown leather ankle boots: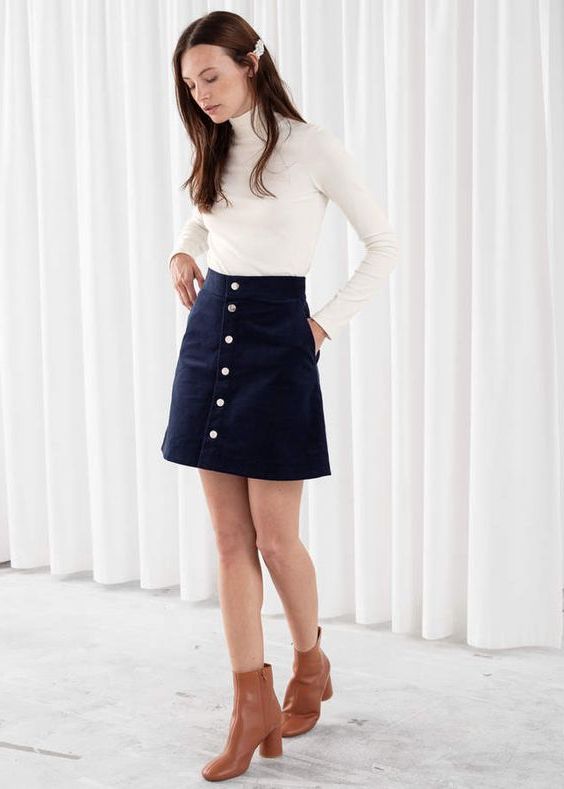 Buy Similar Here
White Crochet Mini Skirt And Criss-Cross Brown Sandals
A light grey T-shirt is teamed with a white crochet mini skirt completed with criss-cross brown leather espadrille sandals. Update it with rounded sunglasses, thin golden layered necklaces, and a tribal print shoulder bag: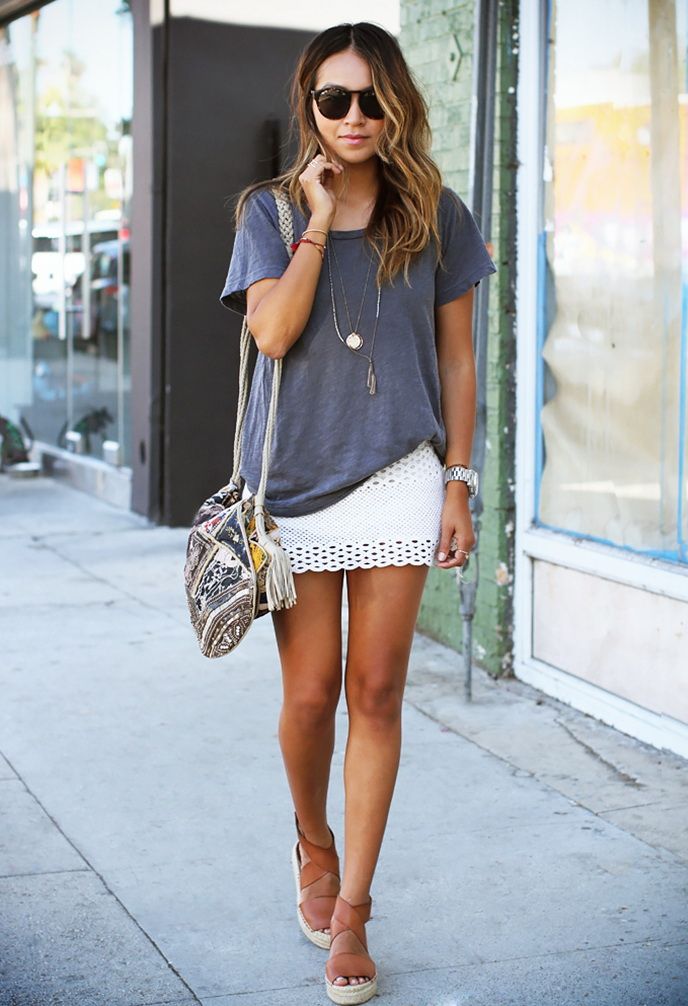 Buy Similar Here
Wrap Mini Skirt And Clear Heeled Pumps
A white sweater with black stripes is half-tucked in black leather wrap mini skirt completed with clear heeled pumps, update this look by adding a black leather backpack: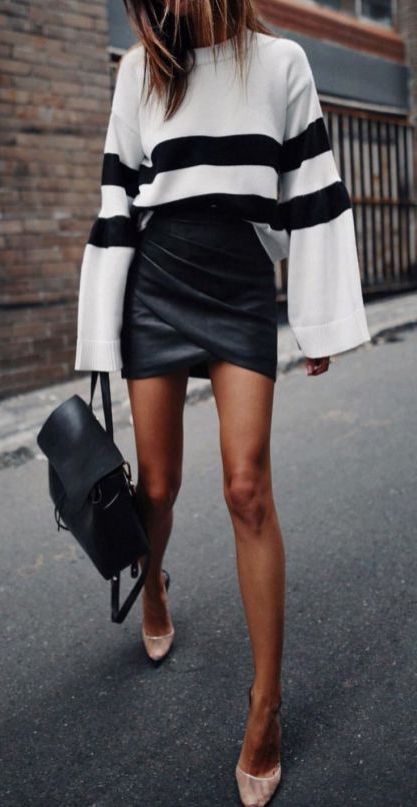 Buy Similar Here