This time I want to draw your attention to leather skirts. I am here to show you ideas on what shoes you can pair with this edgy clothing staple for women. This beautiful piece can be worn casually, as well as dressy. Lots of fashion bloggers and celebrities are into this trend and today I am here to show you my favorite outfit ideas with leather skirts and various footwear designs.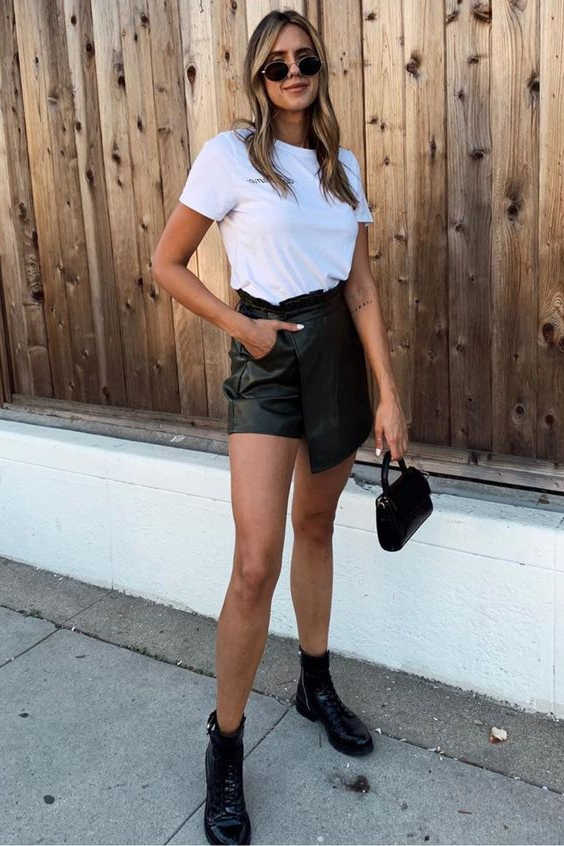 Get inspired by this beautiful outfit combination, we see a young lady wearing a basic white tee tucked in wrap black leather mini skirt completed with lace-up black leather ankle boots. Complete this combo by adding a black leather mini clutch and 90s style sunglasses.
There are numerous cool leather skirt designs. You can find casual styles that are ideal for fancy grunge parties and casual street walks, yet there are classy items that work great for office hours.
Midi Wrap Leather Skirt And Combat Boots
A ruffled white blouse is tucked in black leather wrap midi skirt completed with fishnet tights and lace-up black leather combat boots: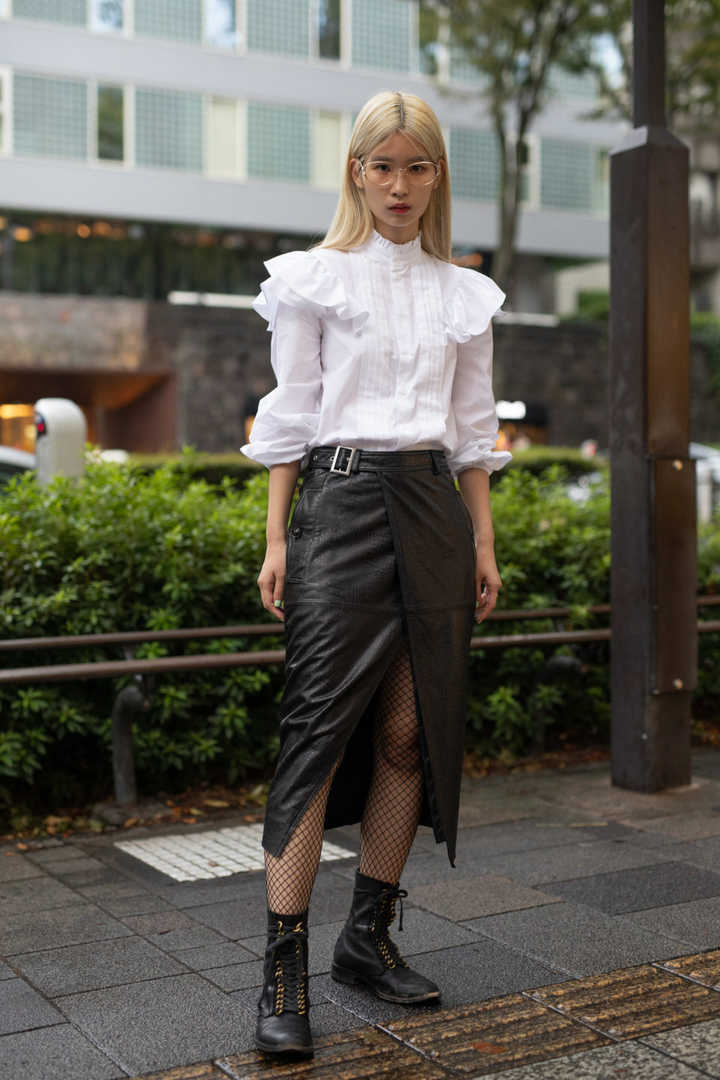 I personally am into midi leather skirts with high slits and wrap designs, as I can wear them with pretty much anything. They suit any dress code and look awesome with different shirts and knitwear.
Leather Mini Skirt And Cream Boots
Update your look with this stunning, glamour outfit idea. We see a feathered pastel violet collarless coat draped over a V-neck ribbed cream white bodysuit tucked in dark green leather mini skirt completed with cream-white leather boots: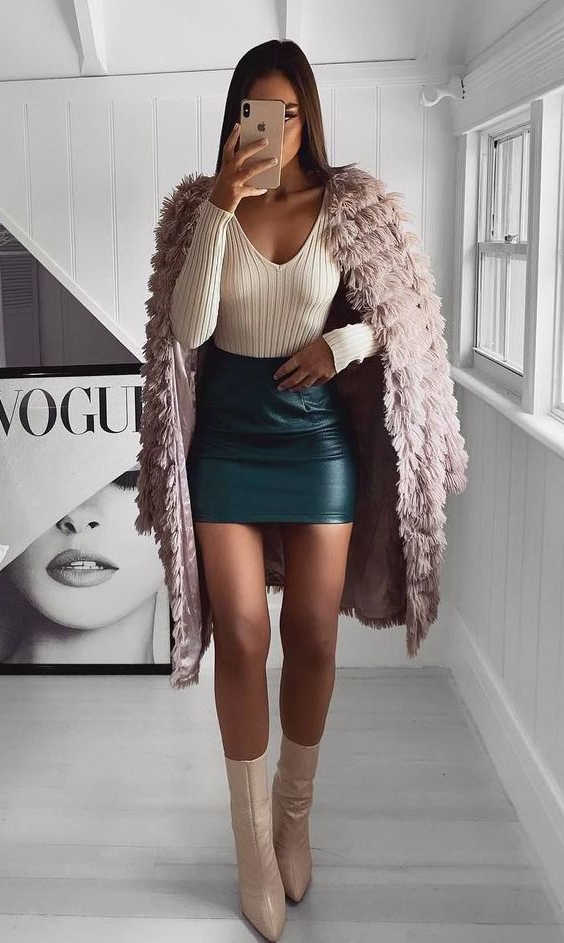 Anyway, this type of skirt looks great with high heels, boots, booties, ankle boots, combat boots, Timberland boots, platform footwear, and many other shoes. By the way, you can easily create leather on leather looks, so-called double leather outfits in various shades or keep things monochrome.
Brown Leather Midi Skirt And Gold Loafers
A basic cream-blue leather T-shirt is tucked in high-waisted brown leather belted wrap midi skirt completed with gold metallic loafers: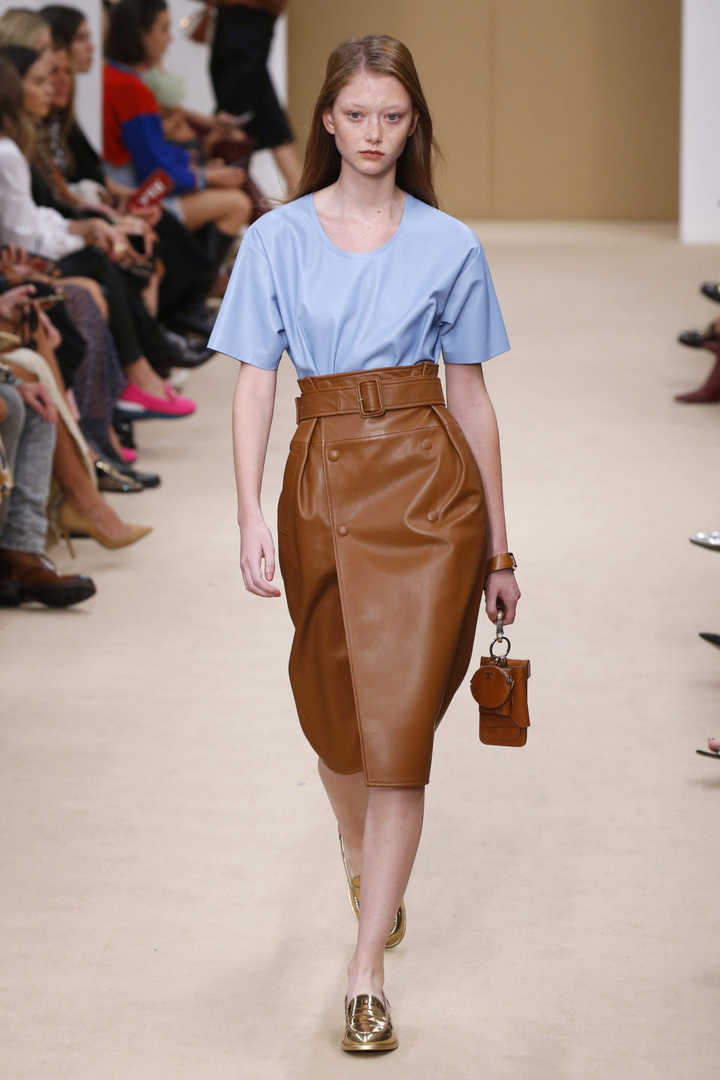 Tod's Fashion Show
If you are into trends, then I highly recommend to try on this combo featuring a leather midi skirt and tall boots. I love making things look laconic, that's why I recommend pairing a black leather midi skirt with tall white boots, these two stunning pieces can be updated with a basic white t-shirt and a lightweight trench-coat in olive color.
Leather Mini Skirt And Buckled Ankle Boots
A slouchy white cardigan looks awesome with a basic white tee tucked in black leather mini-skirt with zip pockets and multi-buckled black leather ankle boots: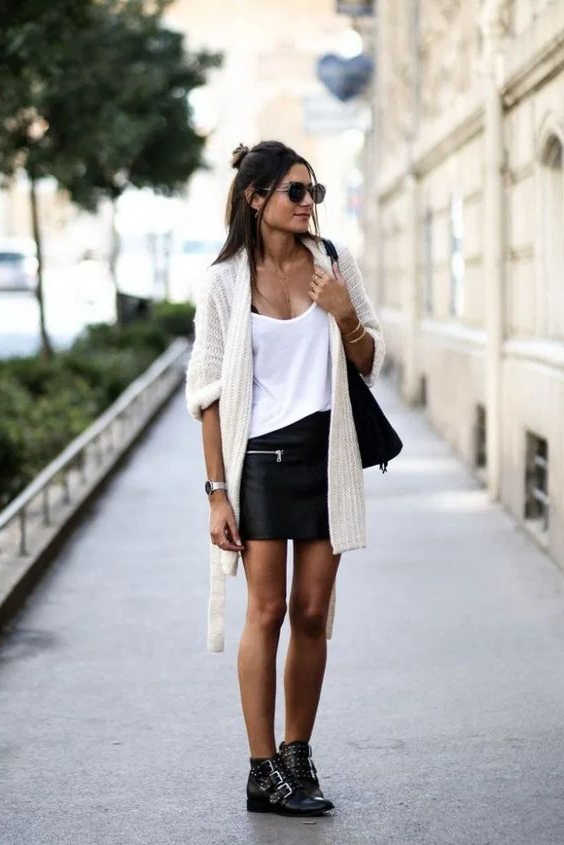 If you are more into a relaxed outfit, then go for a leather midi skirt and pair it with a voluminous sweater and stylish sneakers.
This clothing staple comes in so many styles, starting from minis, chic pencil cuts, to midis and even maxis. It will certainly add an edgy touch to your look, as well as underline your femininity.
Black Leather Skirt And Black Loafers
A slouchy white top with 1/2 sleeves is tucked in knee-length black leather skirt completed with black leather loafers: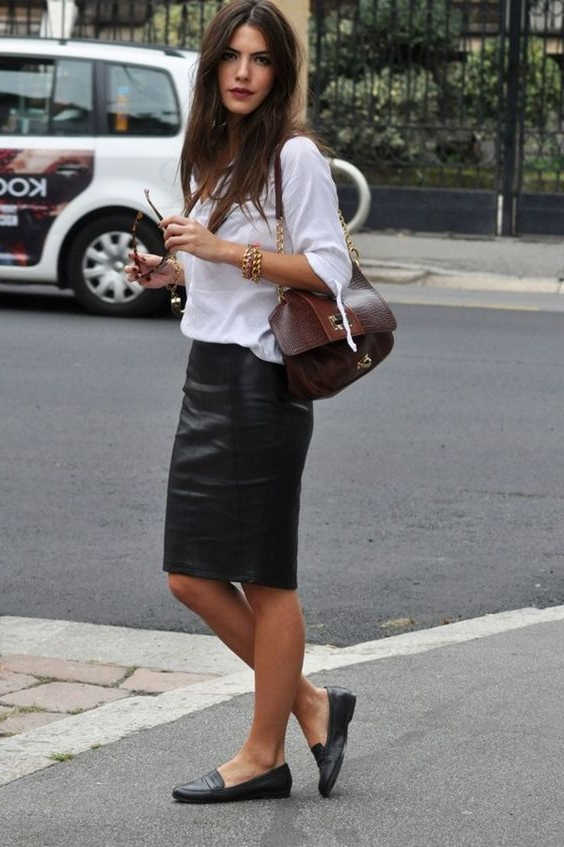 Yes, this is a must-have piece for those who want to add sophistication to their outfits. What I love the most about it, the leather skirt can be worn in all weathers, from a chilly morning to rainy or snowy days. Plus, they look super stylish and sassy on all body types. Sure, the black ones are easier to style, but I suggest you take a minute and experiment with your look by trying on various colors, like beige, brown, green leather skirts.
Quilted Leather Skirt And Long Black Leather Boots
A simple long-sleeve white top is styled with a quilted black leather mini skirt completed with over the knee black leather boots: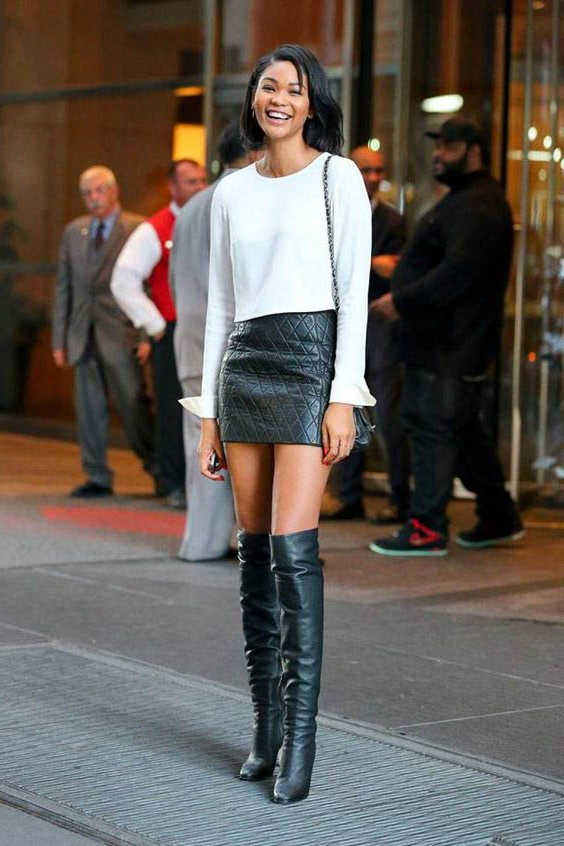 The type of shoes depends on the event you plan to attend. Plus, it's not required to match the color of your footwear and the skirt. If you are into a casual look, then a pair of simple flats or sporty shoes will be enough. If you are into a feminine style, then be sure to pair the leather skirt with decorative sandals. Sneakers are great for night outs or casual days. If you are more into a business look, then a pair of classic pumps and pointed toe classic shoes will do their work. Petites and plus size ladies look awesome by teaming leather skirts with nude heels. Anyway, let's have a more detailed look through these shoe outfit ideas.
Cream Grey Leather Skirt And Slouchy Grey Boots
A turtleneck white sweater ideally suits that cream-grey flared leather skirt completed with slouchy grey leather boots. Update this look by adding aviator sunglasses and an embroidered clutch bag: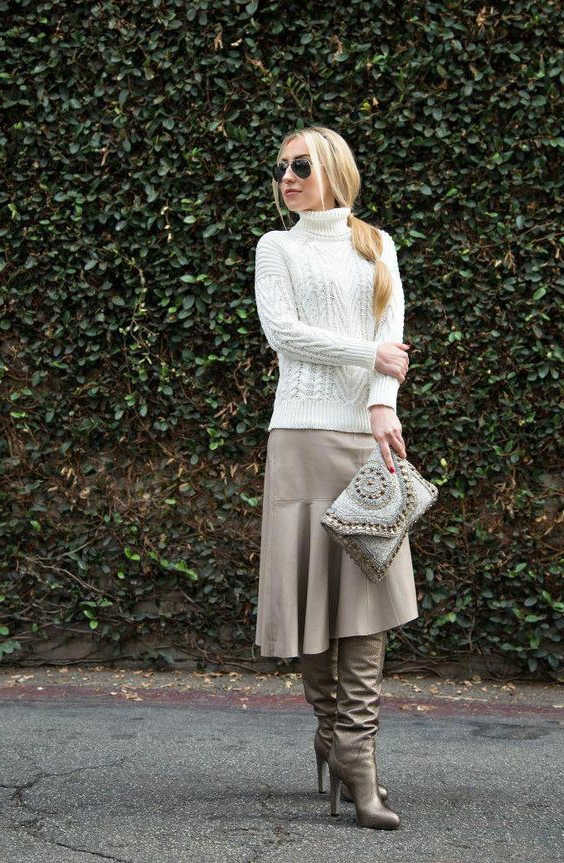 Leather Skirt With Pockets And Ankle Boots
A loose-fit white blouse can be tucked in a black leather skirt with pockets. Update this combo by adding black tights and front-zip black leather ankle boots: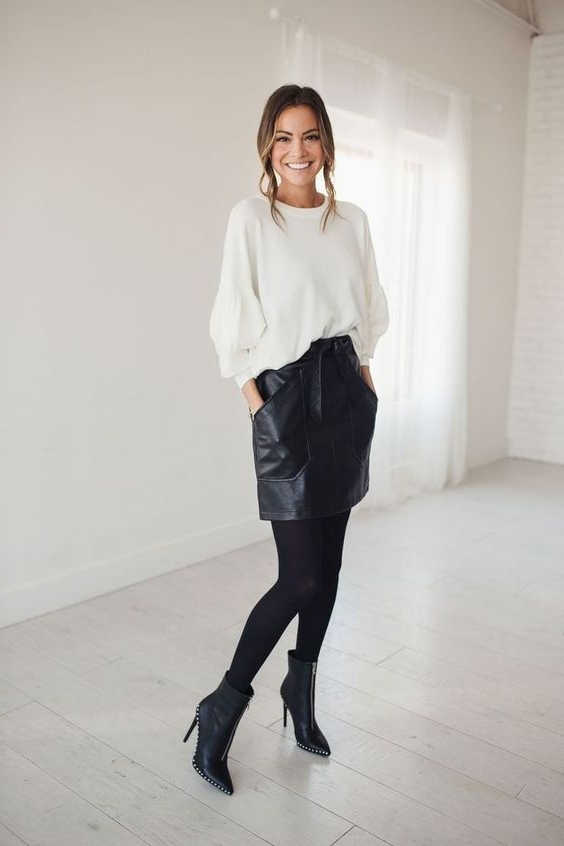 Leather Mini Skirt And Buckled Ankle Boots
A ribbed knit cream-brown sweater is half-tucked in black leather mini skirt completed with multi-buckled black leather ankle boots: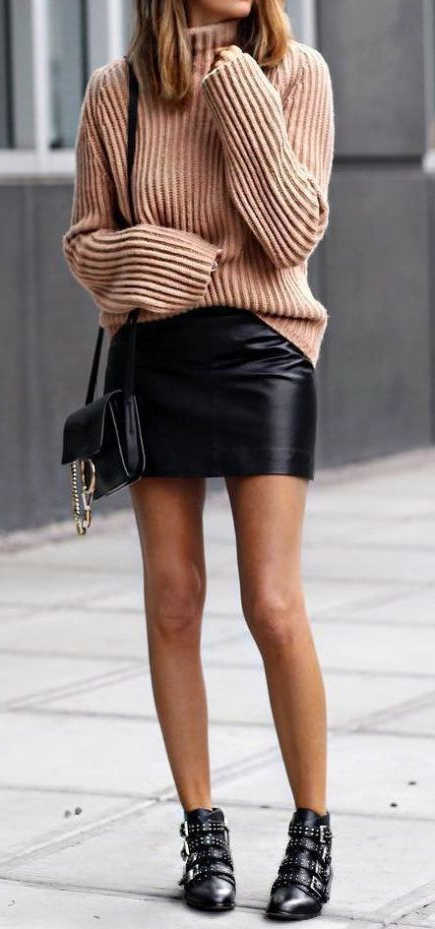 Pencil Leather Skirt And Pastel Peach Pumps
We see a lovely red-black gingham print shirt styled with a black cami top tucked in black leather pencil skirt updated with pastel beige pumps: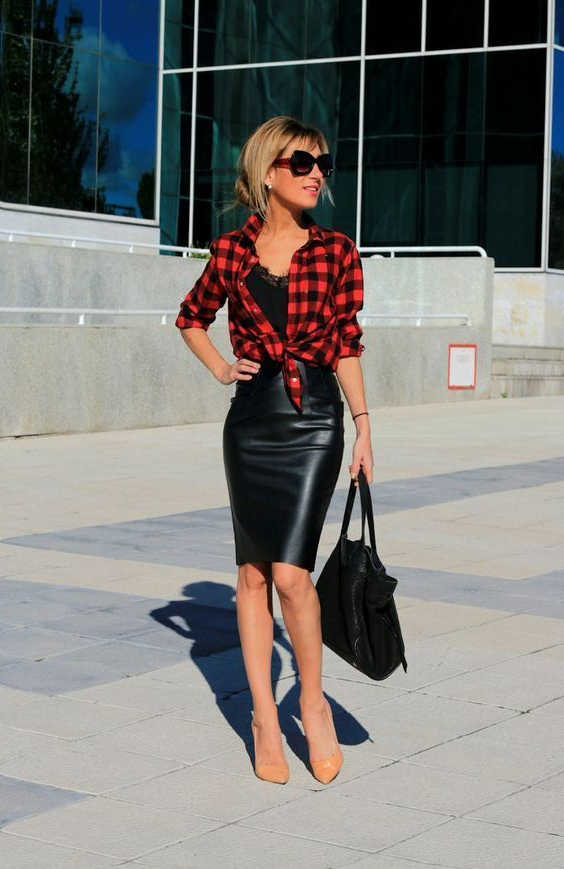 Wrap Midi Pencil Skirt And Snakeskin Print Shoes
A red blouse ideally fits light brown wrap midi pencil skirt completed with snakeskin print shoes: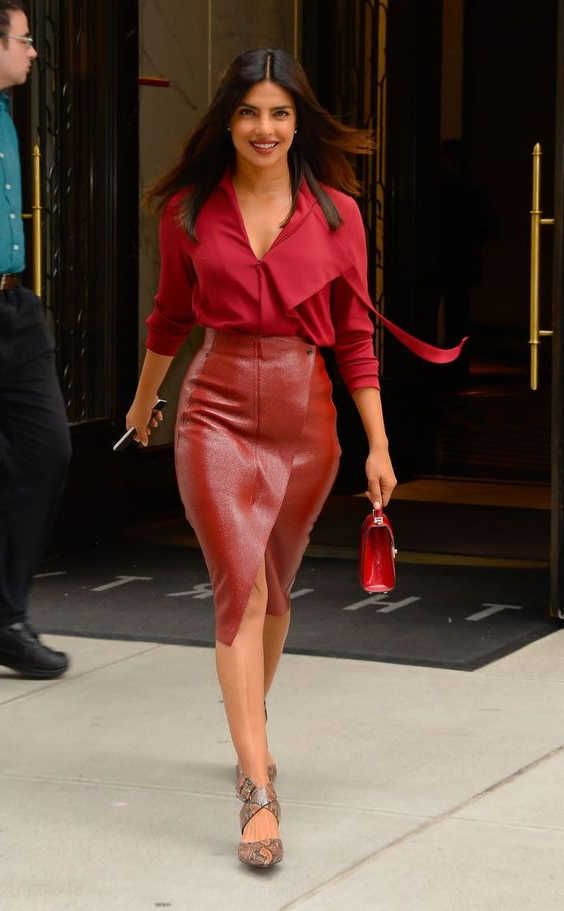 Leather Skirt And Sneakers
We see a drop-shoulder grey ribbed knit sweater tucked in asymmetric wrap zip-front black leather mini skirt completed with white sneakers: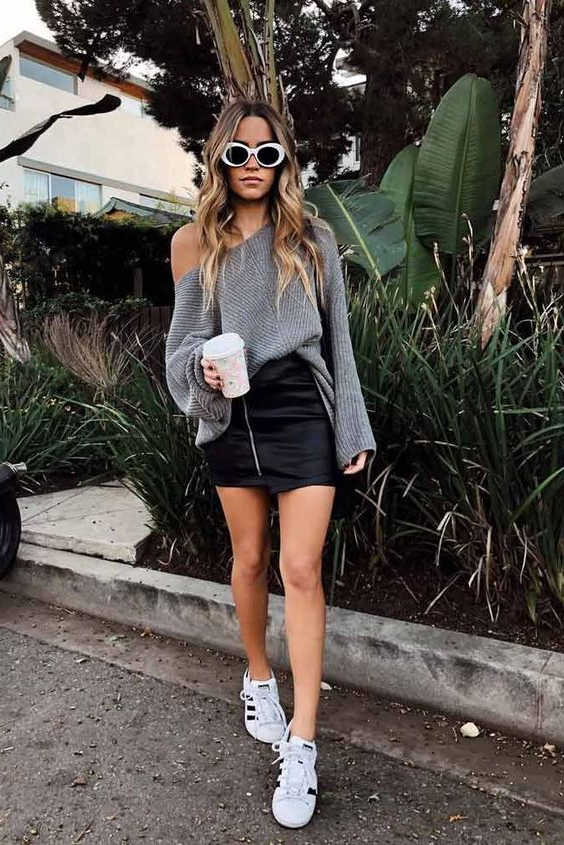 Wrap Leather Midi Skirt And Black Leather Boots
A navy roll-neck sweater is tucked in wrap midi leather skirt completed with black leather slouchy boots. A nice combo for the fall season days: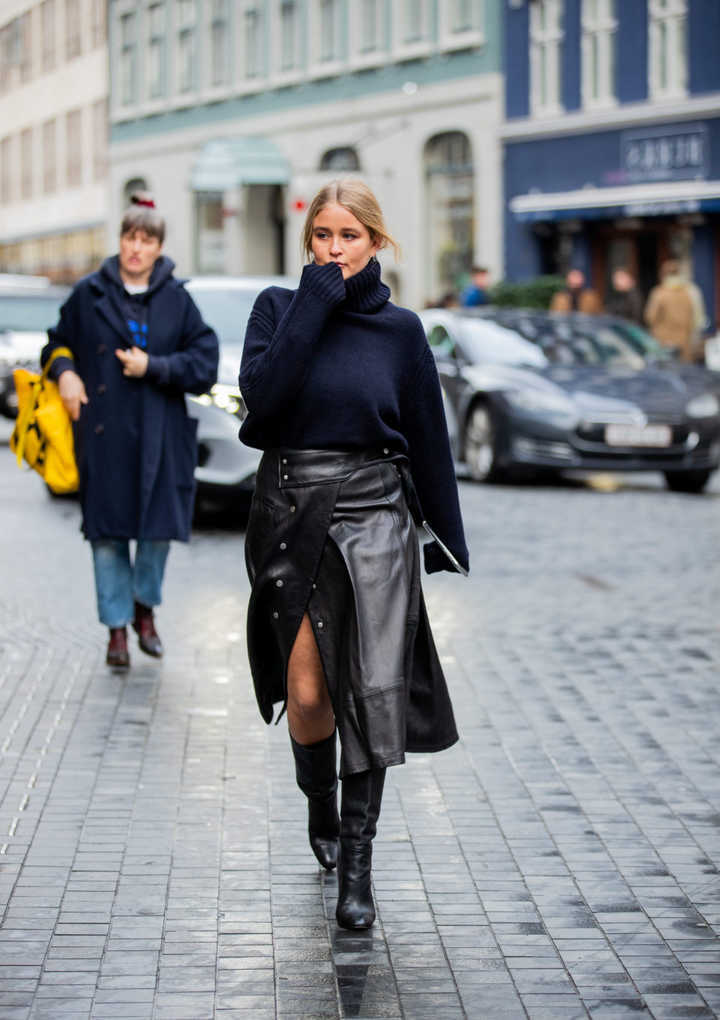 Leather Skirt And Timberland Boots
In love with this casual combo. We see a camel coat draped over a cropped white tee paired with black leather pencil skirt and Timberland boots. If you want to know more ideas on how to wear Timberland boots, check out my post and find other inspiring looks you can copy in real life: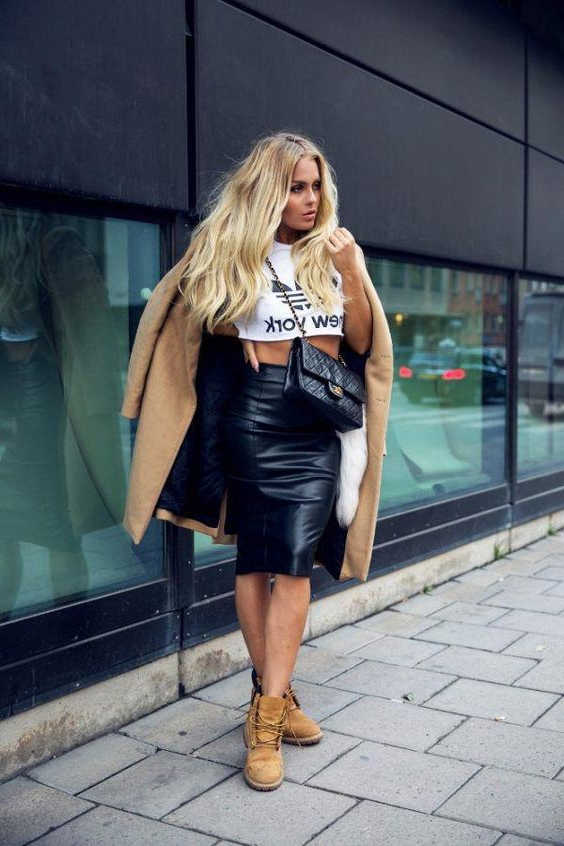 Buttoned Midi Leather Skirt And Peep Toe Cherry Red Boots
A military green sweater ideally suits front buttoned black leather midi skirt and peep-toe cherry red leather boots: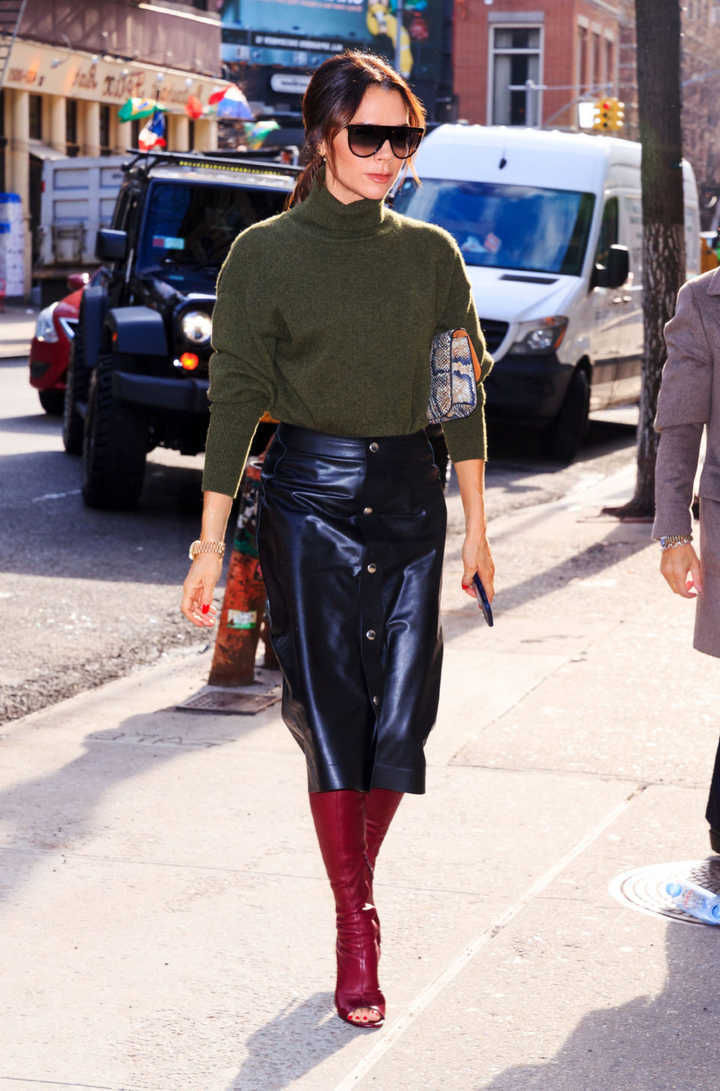 Knee Length Leather Skirt And Oxford Shoes
We see a beige top tucked in a grey knee-length flared leather skirt completed with brown leather Oxford shoes: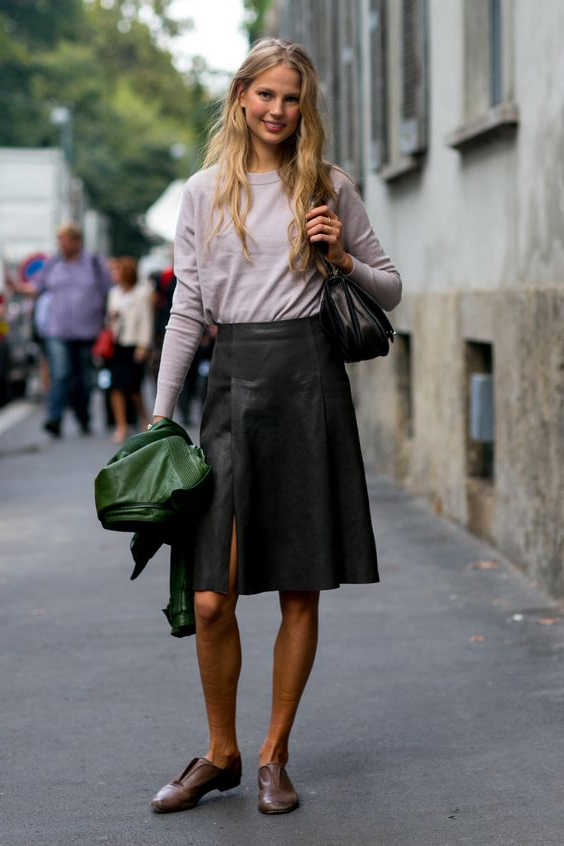 Brown Leather Skirt And Flat Leather Shoes
We see a sassy outfit from the Gucci show. Lady is wearing a deep neckline metallic top tucked in brown leather high-rise midi skirt completed with pointed-toe flats: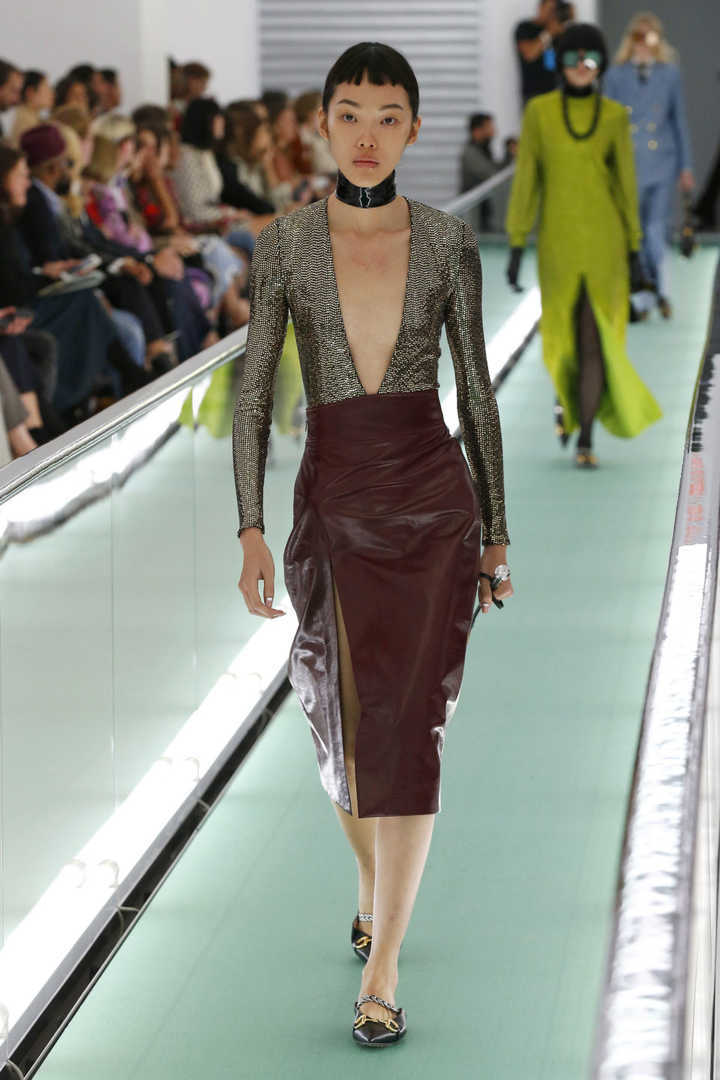 Black Leather Skirt And Black Sneakers
We see a sporty combination. A grey sweatshirt is tucked in black leather knee-length skirt completed with black sneakers. If you are into black kicks, then you better read my post on how to wear black sneakers, you will find lovely ideas for your everyday walks: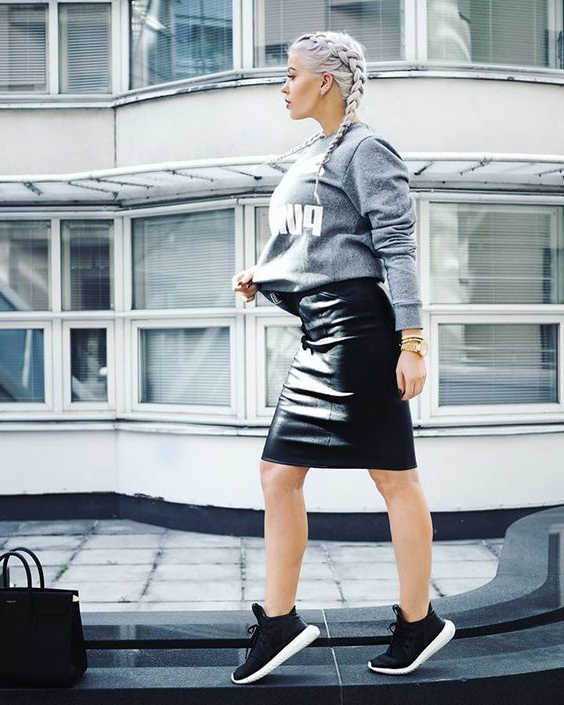 Long Leather Skirt And White Cowboy Boots
A stylish combo for western lovers. We see a khaki green long coat teamed with a white tee tucked in a black midi leather skirt completed with white cowboy boots. If you want to know more about this footwear, then check out my post on how to wear cowboy boots for women, there you will see my favorite outfit ideas that are still trendy this year:
High Waist Leather Skirt And Mules
A metallic blush bra top with a wide V-neck is teamed with a high-waisted black leather midi skirt with a front slit. Update this combo by adding color-blocking mules: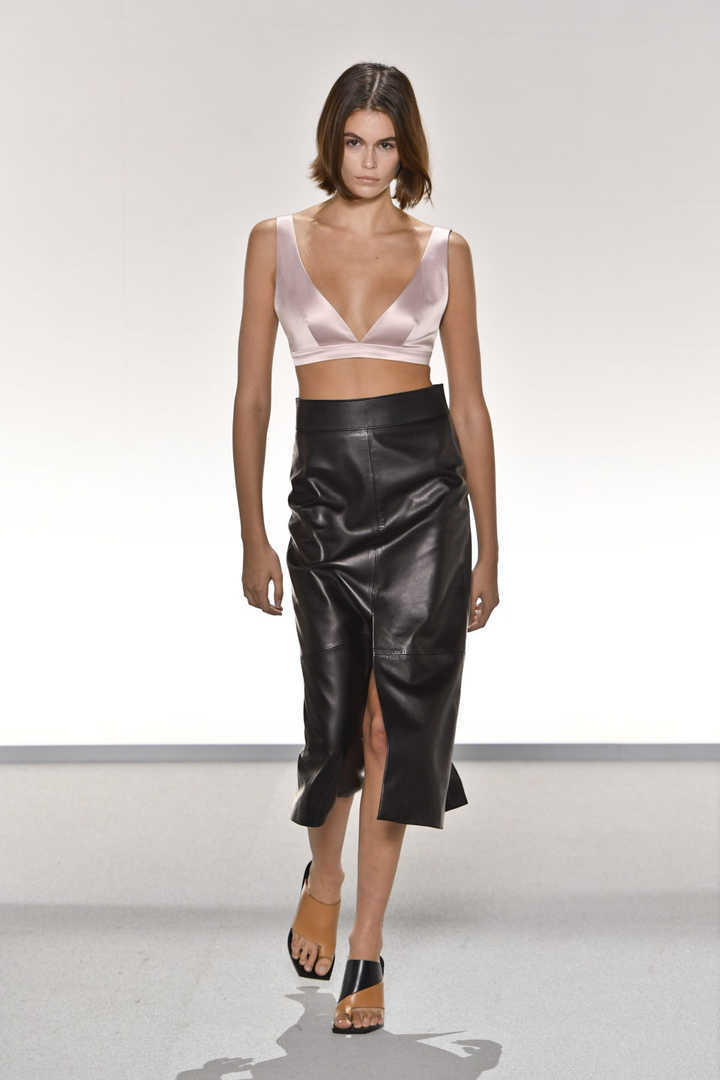 Givenchy Fashion Show
Black Midi Leather Skirt And Snakeskin Print Boots
Another simple day outfit for glamour ladies. We see a black sweater tucked in front-buttoned black leather midi skirt completed with snakeskin printed boots. Love the cat-eye sunglasses: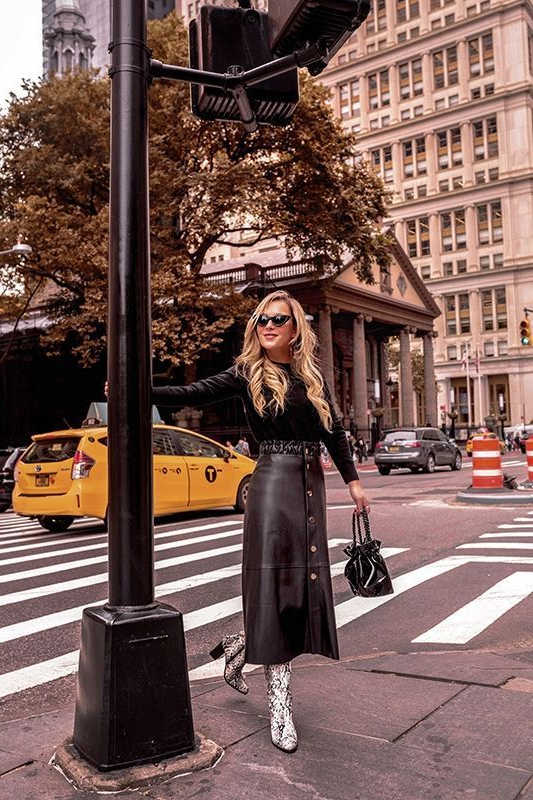 Black Mini Leather Skirt And White Ankle Boots
A kind of grunge style. We see a blue denim jacket styled with a rock band tee in black tucked in zip-closure mini skirt in black leather completed with white leather boots: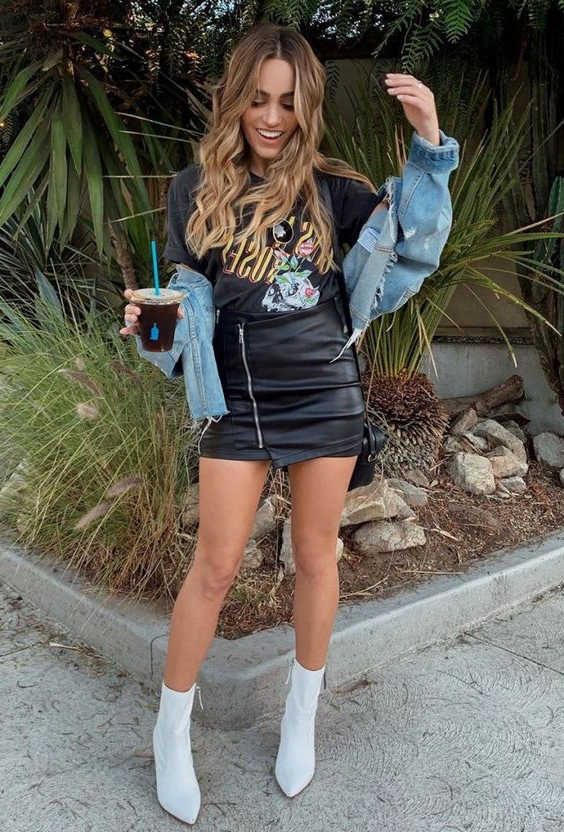 Fringed Leather Skirt And Cowboy Boots
A cropped cut-out white sweater looks sassy with tied black leather fringed mini skirt. Complete this outfit by adding modern cat-eye sunglasses, cherry red velvet shoulder clutch bag and black-white cowboy boots: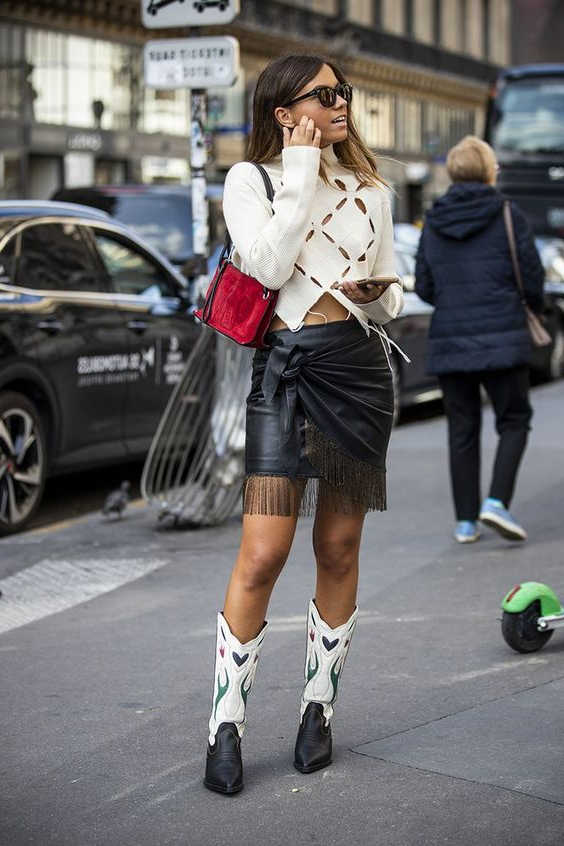 Brown Leather Skirt And Navy Sneakers
Black long-sleeve top with cold-shoulders is styled with a brown leather knee-length pencil skirt and navy sneakers. Find out other ways how to wear sneakers for women, as I have some really nice street style looks to share with you: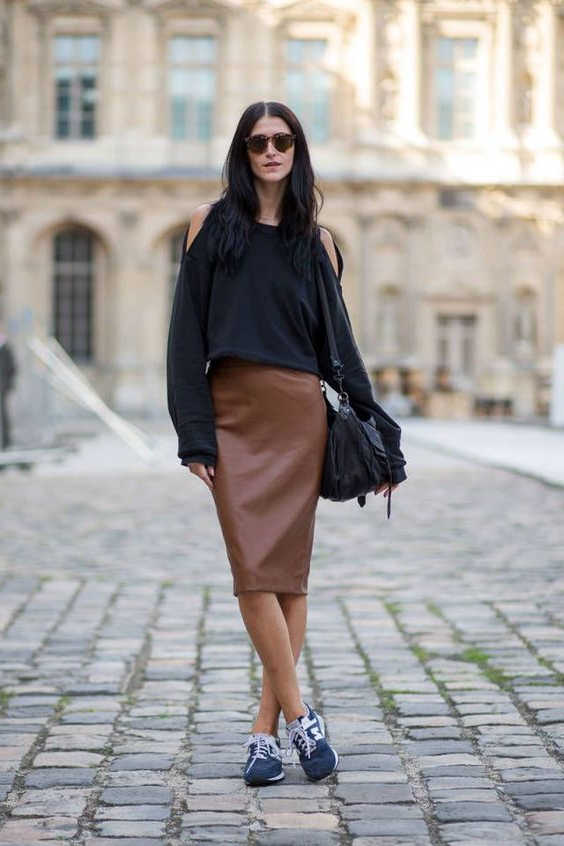 Brown Pencil Leather Skirt And Ankle Cuff Heeled Pumps
A classic cream-blue shirt with an eye-catching neckpiece is worn with a dark brown pencil knee-length skirt completed with ankle-cuff heeled nude pumps. Love these mirrored aviator sunglasses: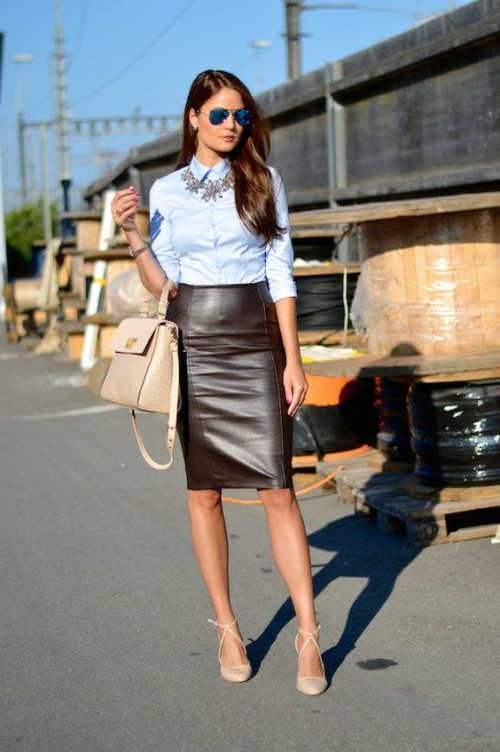 Leather Mini Skirt And Ankle Cuff Heeled Beige Sandals
Keep it simple and monochrome. We see a black tee tucked in black leather mini skirt completed with nude beige cuffed heeled sandals: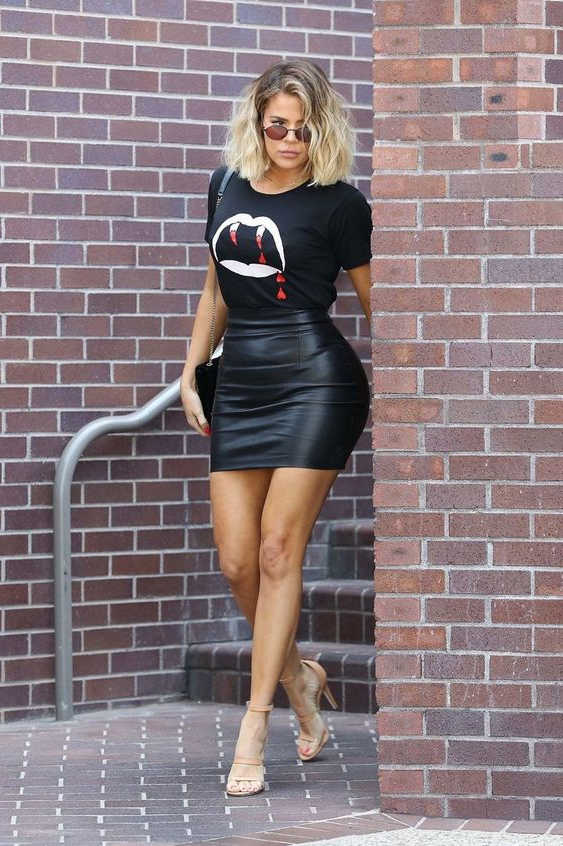 Black Leather Mini Skirt And Black Suede Booties
We see a high-neck white sweater half-tucked in biker-inspired black leather mini-skirt with zips completed with tights and black suede booties: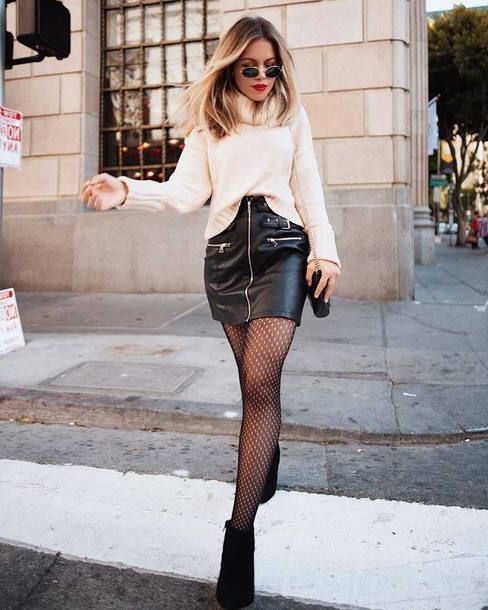 Brown Midi Leather Skirt And Matching Boots
A black shearling aviator jacket is draped over black top tucked in light brown leather midi skirt completed with matching color leather boots. In love with these flat brow sunglasses: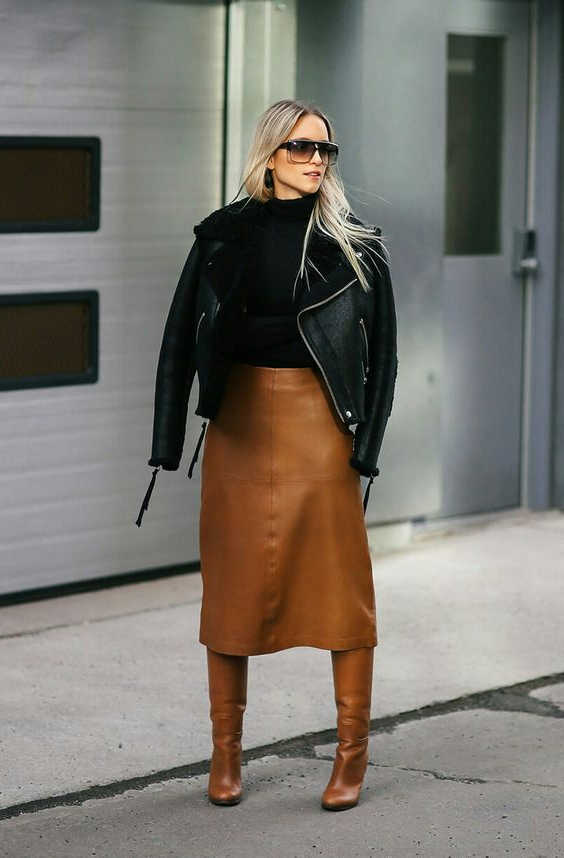 Beige Leather Skirt And Platform Combat Boots
Chunky platform black leather combat boots look edgy and mannish styled with a beige leather midi skirt, white top and a black leather blazer: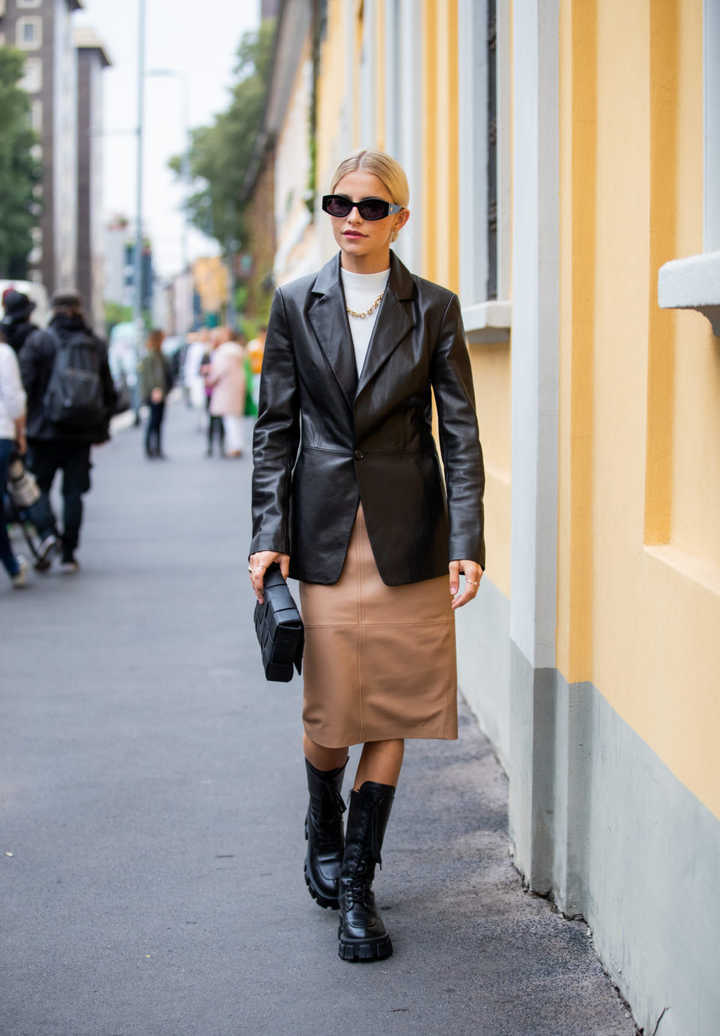 Ruffled Leather Skirt And Platform Combat Boots
We see a brown leather ruffled short skirt worn with chunky lace-up black leather combat boots. Update this look with a black top, and gold buttoned black blazer: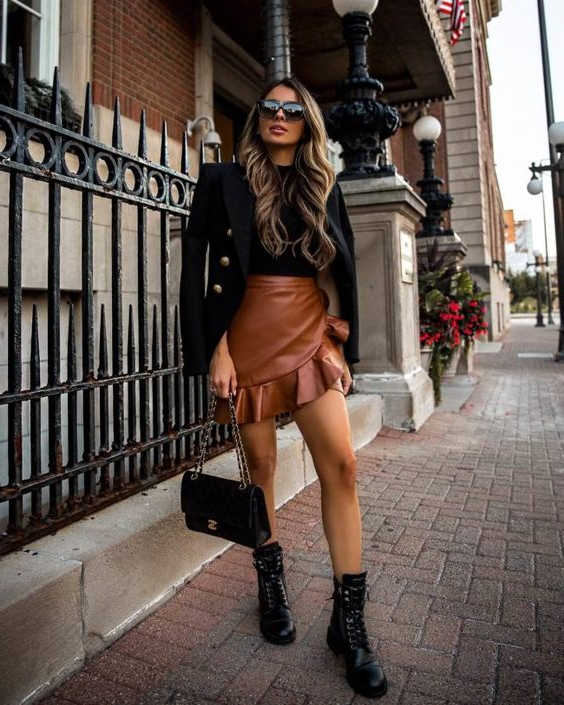 Wrap Leather Long Skirt And Snakeskin Tall Boots
A blazer-blouse in the black color is tucked in light brown midi leather wrap skirt completed with snakeskin printed brown pointed-toe boots: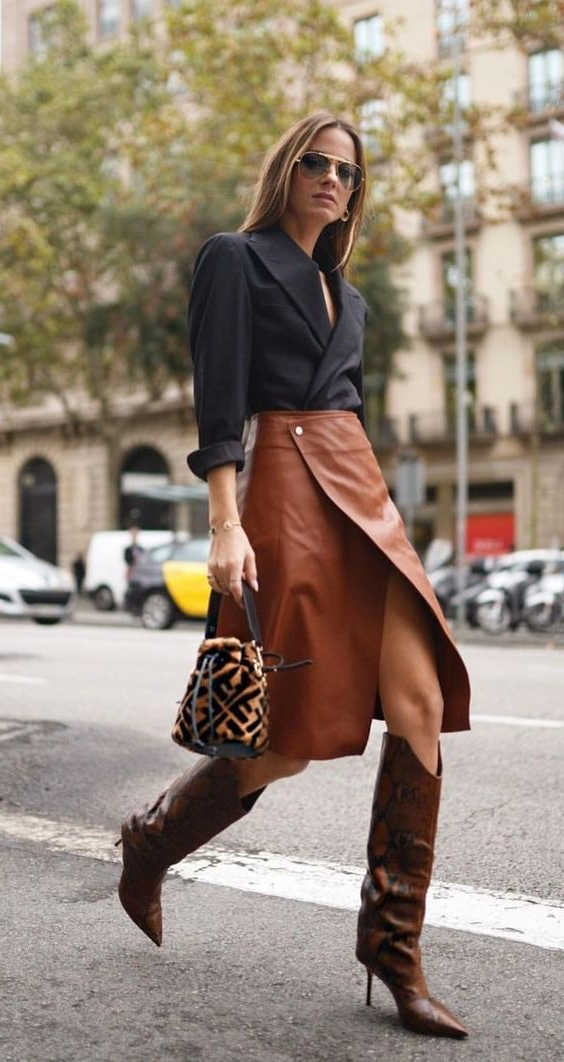 Dark Brown Leather Skirt And Dark Violet Heeled Pumps
Dark violet heeled pumps with encrusted stones look awesome with a wrap dark brown vintage leather midi skirt and a puffy white blouse. Love the white cat-eye sunglasses: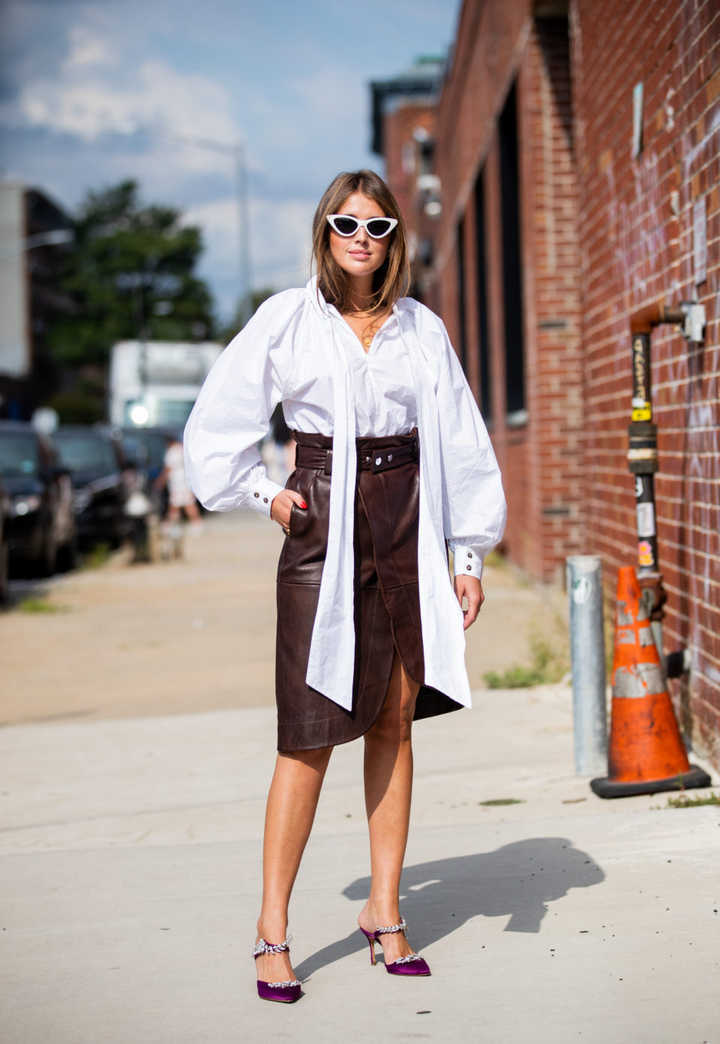 Black Leather Mini Skirt And Front-Zip Sock Boots
An all in black OOTD. We see bell sleeve black top tucked in black leather mini skirt completed with front-zip black sock boots: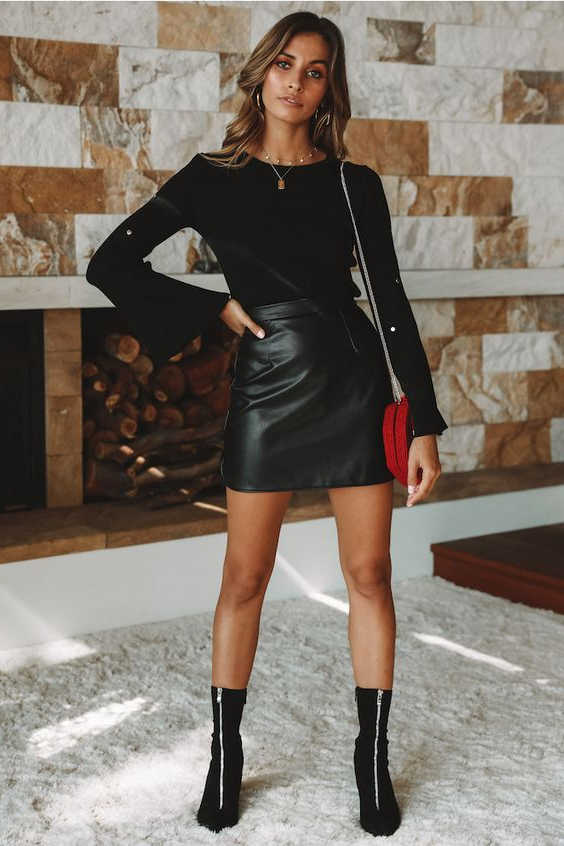 Black Leather Skirt And Leopard Print Slip On Shoes
We see a cable-knit grey sweater styled with a side-slit black leather skirt completed with leopard print slip-on shoes. If you are into slip-on shoe trend, then check out my post on ways how to wear slip-on shoes in real life. I've got some great ideas to share with you: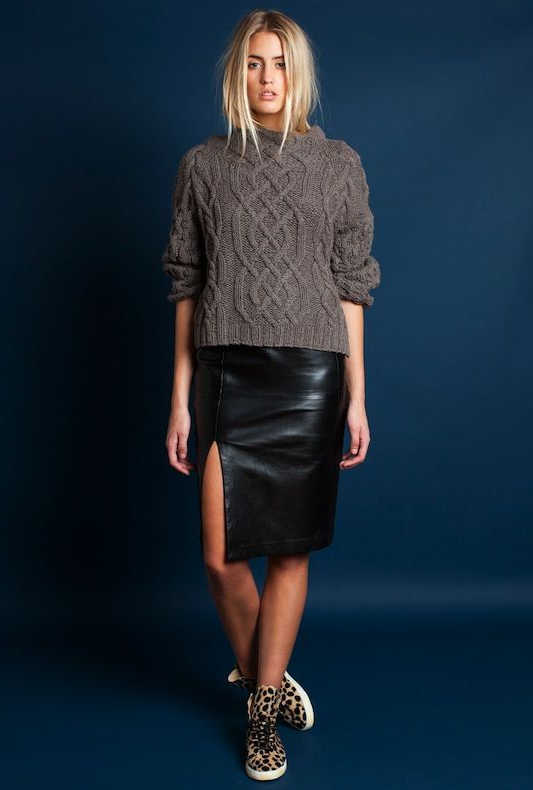 Brown Midi Leather Skirt And Leopard Print Booties
A lovely turquoise green blouse is tucked in brown leather midi skirt completed with leopard print booties. Complete this combo by adding rounded sunglasses and orange-red leather shoulder clutch bag: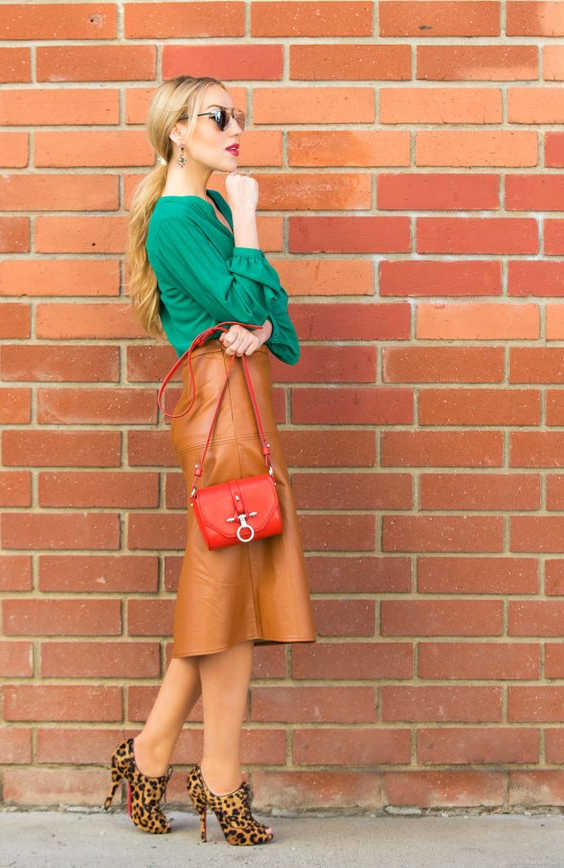 Black Leather Mini Skirt And Heeled Sandals
All in black! We see a double leather combo. A black leather long jacket is combined with a sheer black top, black leather mini skirt, and backless heeled sandals: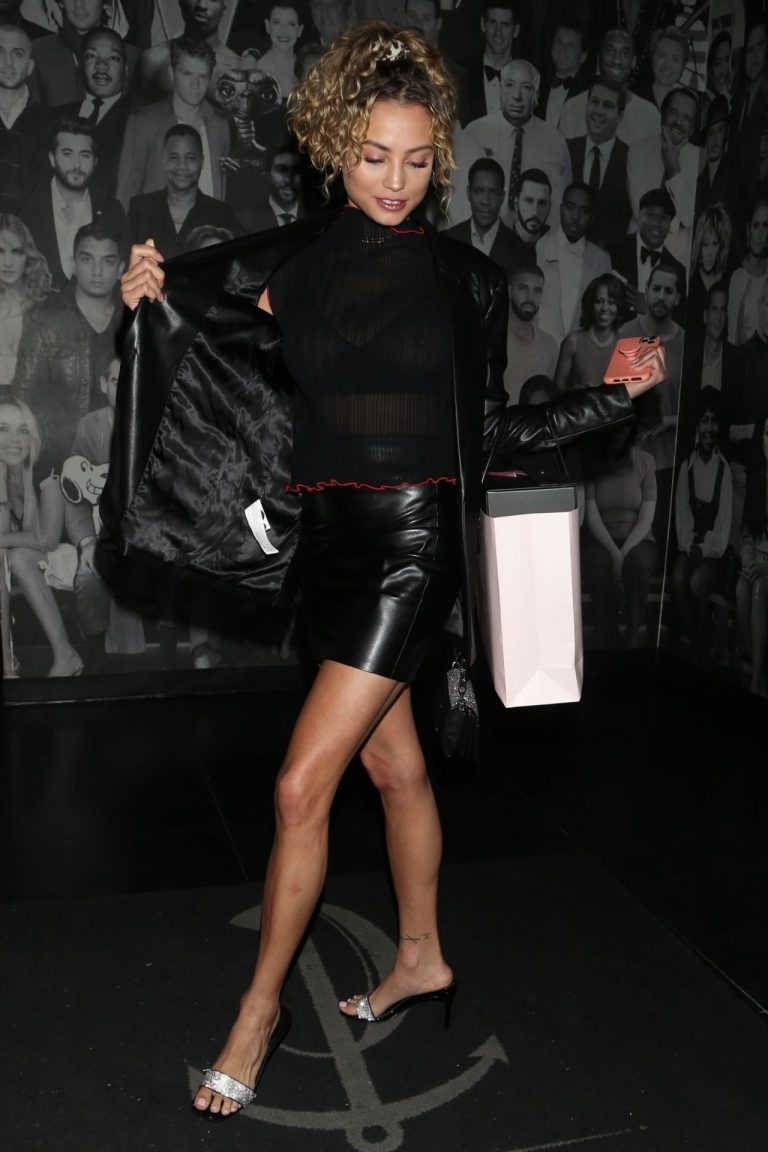 Source: Bellatory