Today's topic is about ways how to tuck pants or jeans into boots. No matter if it's raining, snowing or you simply want to show off your boots, you definitely need to know how to tuck your jeans into them. Anyway, we are here to see fancy street style ideas to copy this year.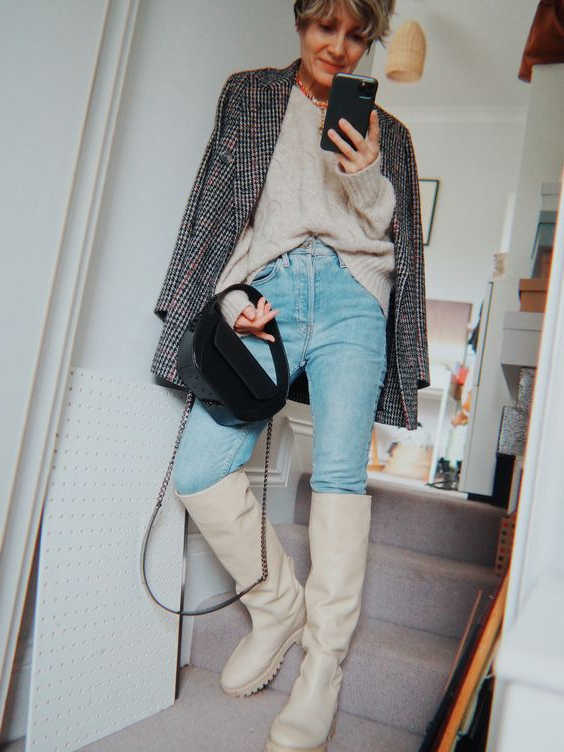 Buy Similar Here
We see a woman wearing a nice casual style for rainy days. She appears in a black-white Houndstooth print short coat draped over a cream grey sweater styled with blue jeans tucked in cream-white flat boots.
Some of you might find it an easy task, but in most cases, it can be a hard thing. There can be no space in boots to slide your jeans inside, or your jeans might appear slouchy and bunch up as you move. There are some easy tips and tricks to know how to tuck any style of pants into your boots.
Trust me, even bootcut and wide-leg pants can look awesome tucked inside boots. First of all, flip up the hem of your pants/jeans, so that the bottom area is about the mid-ankle height (don't cuff too low), just one fold over and that's enough. Make sure that the cuff effectively tights the pants around your ankle. Once you feel it, then you can roll the bottom hem one more time, so you lock the fold into place. Then go for the socks, just pull them up and over the pegged cuff. I don't recommend to choose thick sock material, otherwise, you won't zip the boots. Then goes the footwear. Gently put on the boots up, and keep the cuffs as close to your ankles as possible. Zip up and you are ready to go.
Grey Pants And Platform Chunky Chelsea Boots
A nice combination for chilly days. We see a dark grey double-breasted oversized blazer teamed with a black strapless top and grey pants tucked in platform chunky Chelsea boots. If you are into Chelsea boots, you definitely gonna love my post on how to wear platform boots for women, there are lots of trending ideas for street style ladies: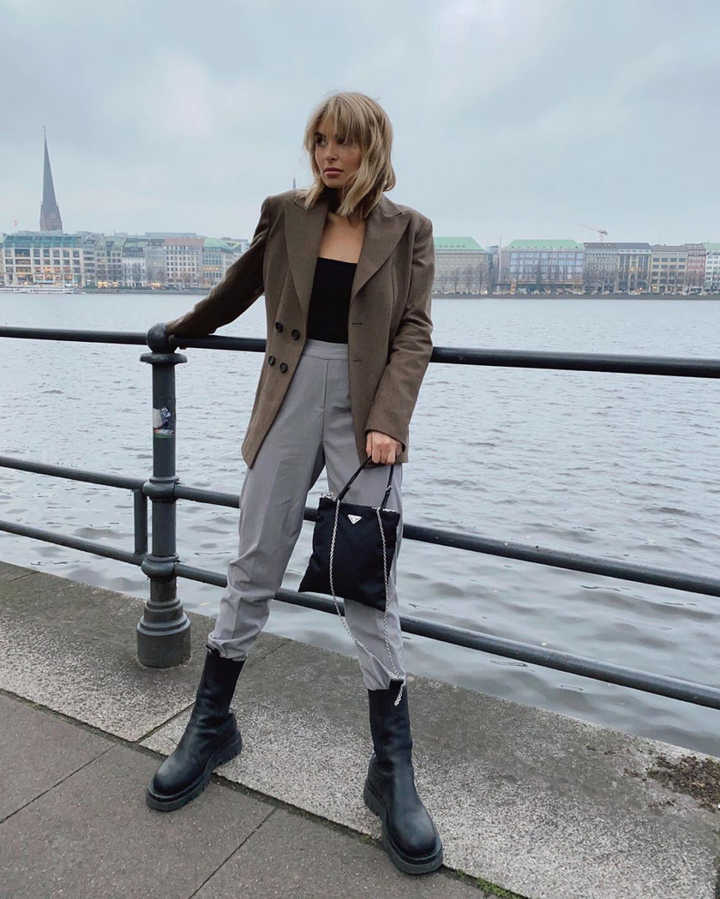 Buy Similar Here
@xeniaadonts
The look of tucked into boots comes from the 2000 fashion. But the history shows us that pirates loved tucking their trousers into boots. We see lots of fashion bloggers around the world wearing this trend on the streets. You are free to tuck your pants and jeans inside different types of boots, like classic knee-length, cowboy boots, as well as inside combat boots, or our beloved chunky platform Chelsea boots.
Gathered Camel Pants Tucked In Cowboy Boots
A wrap deep V-neck top with puffy shoulders is teamed with gathered camel tailored pants tucked in caramel brown cowboy boots. A perfect look for those who are into glamour casual style: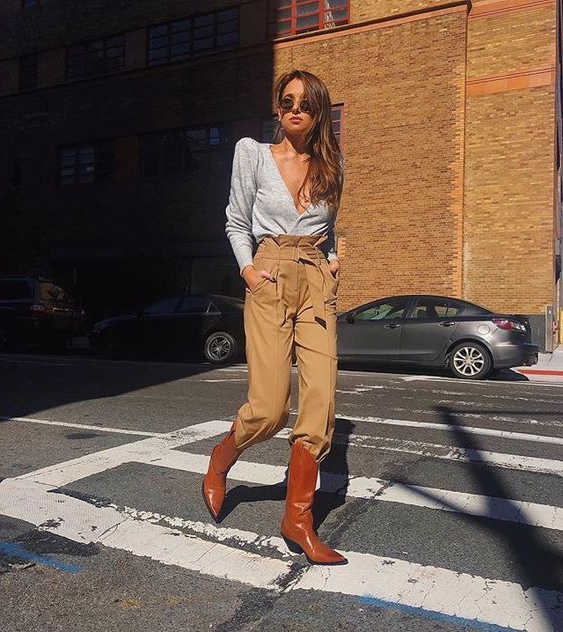 Buy Similar Here
You could see this trend not only in Instagram accounts of popular bloggers but also at fashion shows, like Isabel Marant, Celine and many more. I personally love to see women wearing tailored pants tucked inside boots. You can experiment with monochrome outfits, by wearing the same color pants as your boots. So that the overall outfit looks organic.
Beige Pants Tucked In Snakeskin Print Boots
A bulky cable-knit cream-white sweater can be teamed with safari-beige loose-fit pants tucked in snakeskin printed boots: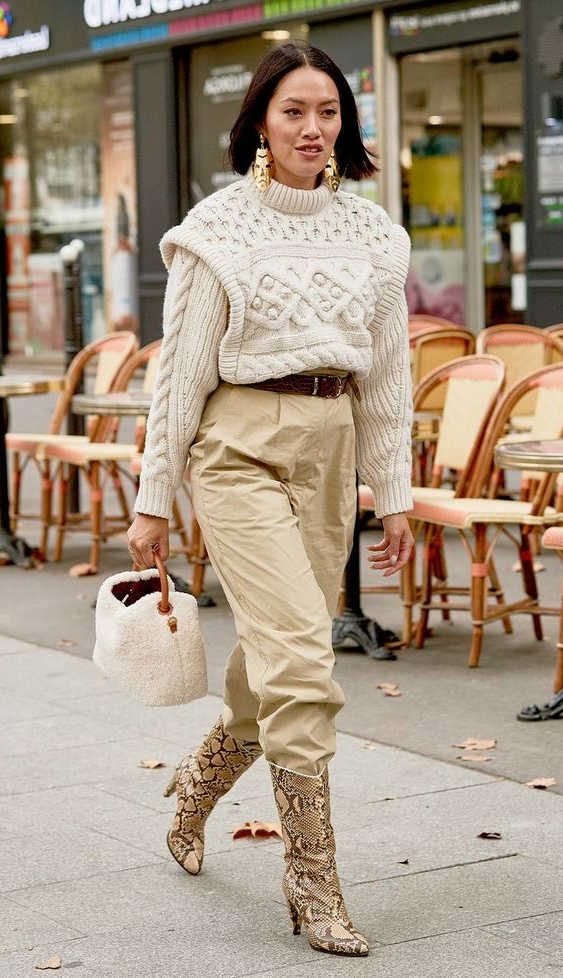 Buy Similar Here
Boot season brings out the best in my style sensibility: Cold-weather footwear has staying power that defies the temperatures, and because I'm often wrapped in outerwear, I showcase them as best I can. Knee-high boots have the upper hand this year, and it seems everyone's been tucking their pants directly into said boots.
Black Jeans And Slouchy Black Leather Pointed Toe Boots
We see a lightweight white blouse teamed with black regular jeans tucked in slouchy knee-length black leather pointed-toe boots: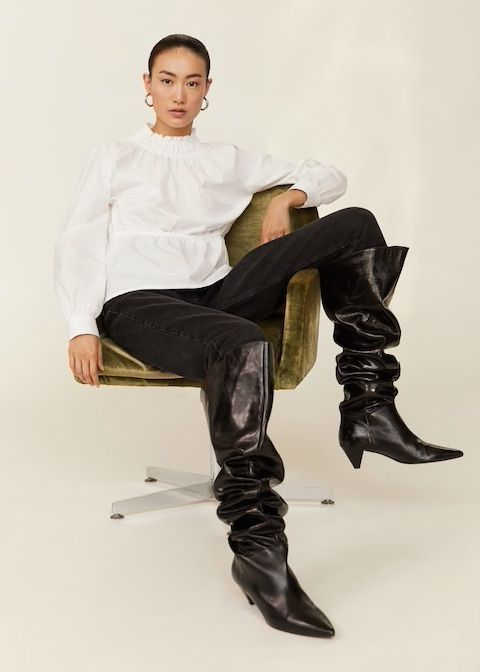 Buy Similar Here
The loose trousers tucked into boots may look like a pirate style and this trend is pretty massive right now. Anyway, I think we should see street style stars who will prove to us, how versatile this trend can be.
Blue Jeans Tucked In Snakeskin Print Boots
A heavy tailored grey wool coat looks mannish styled with a high-neck red sweater teamed with regular jeans tucked in brown snakeskin print boots: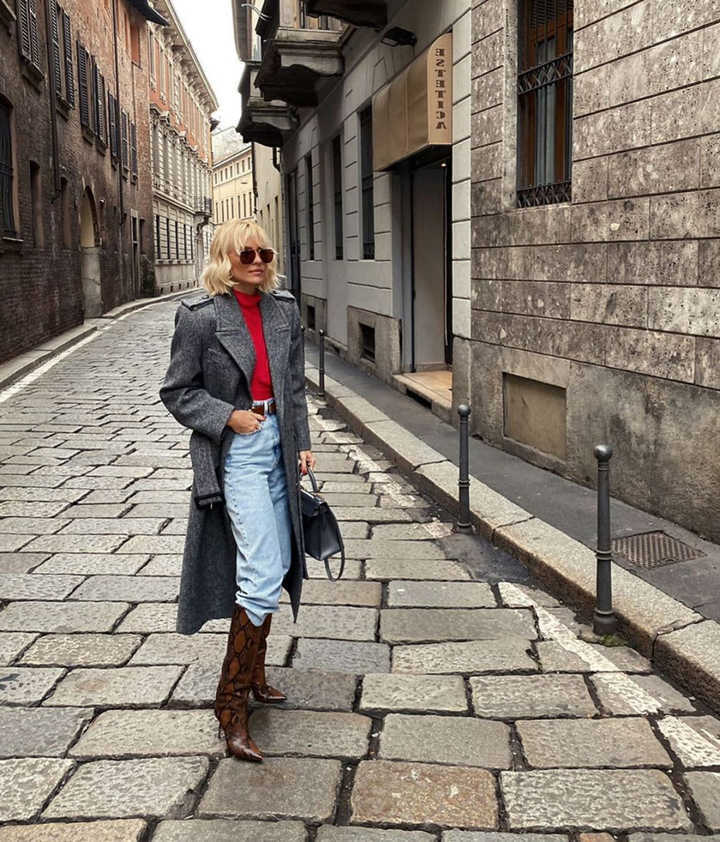 Buy Similar Here
@vikyandthekid
Green Pants And Military Boots
We see a plaid blazer teamed with a white shirt updated with dark green pants tucked in lace-up combat boots in black leather. A kind of military romance is felt in this combo: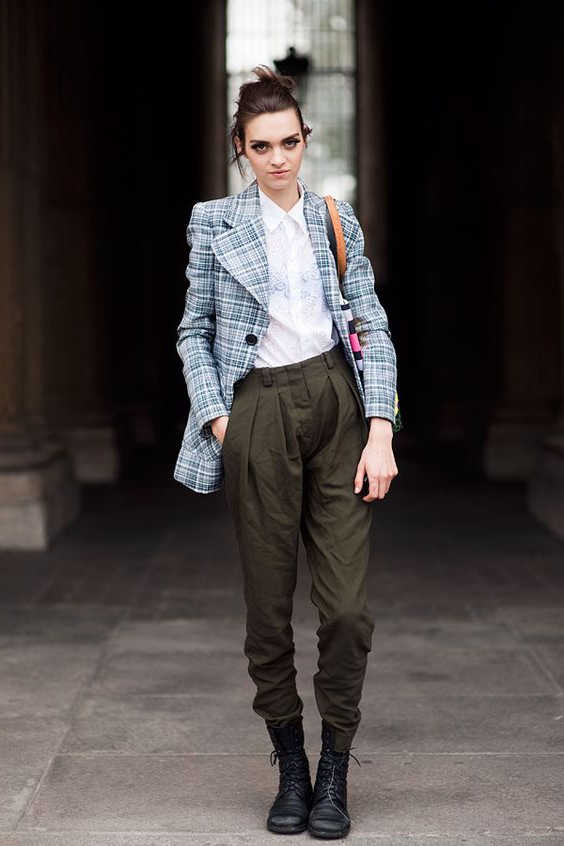 Buy Similar Here
Blue Jeans Tucked In Brown Boots
A heavy teddy bear coat in cream brown is worn with a high-neck mustard sweater teamed with light blue slim jeans tucked in bright brown leather tall boots. If you are into tall boots for women, then check my post on ways how to wear tall boots, as I've got many inspiring street style looks to share with you: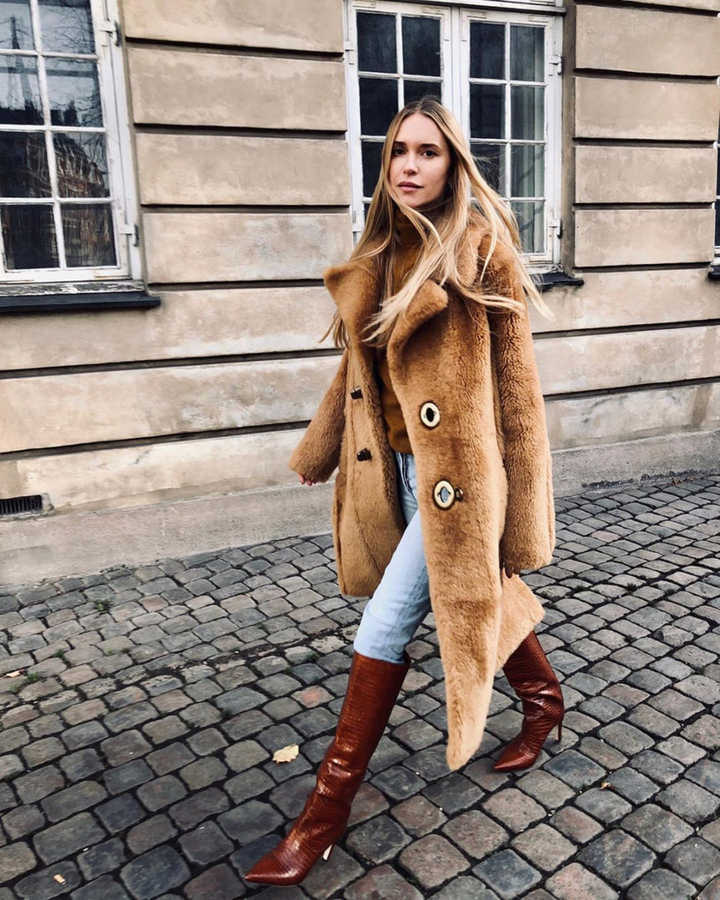 Buy Similar Here
@pernilleteisbaek
White Jeans Tucked In White Suede Boots
A cable-knit white sweater is half-tucked in white slim jeans tucked in white suede boots. A simple monochrome day outfit idea for ladies: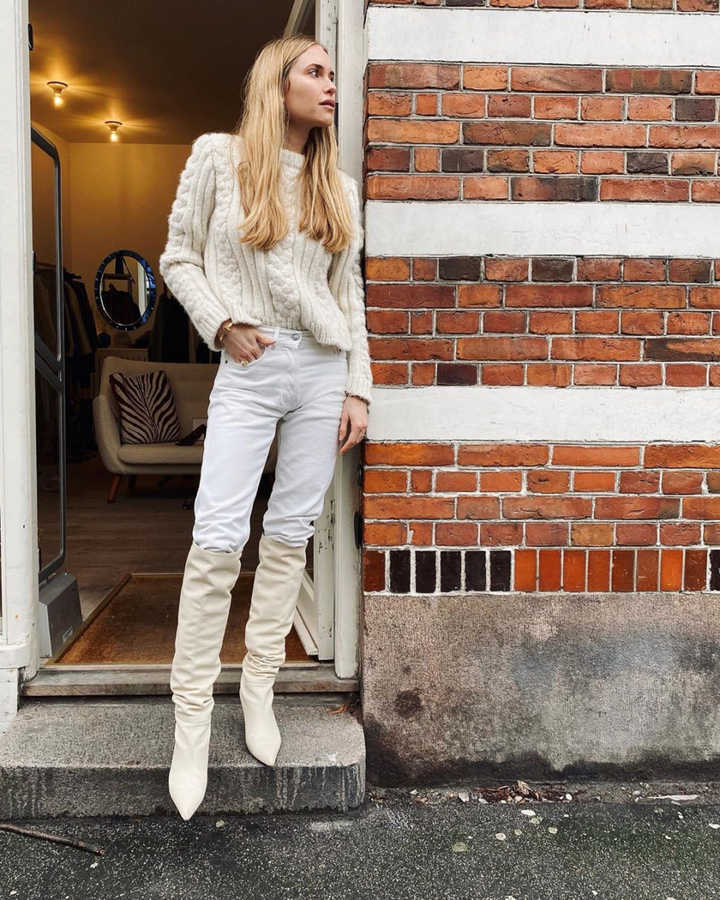 Buy Similar Here
@pernilleteisbaek
Suit Pants Tucked In Grey Boots
A pearl white power suit looks mannish to me. We see a two-buttoned blazer, white top, regular pants tucked in grey leather pointed-toe heeled ankle-boots:
Buy Similar Here
@pernilleteisbaek
Grey Pants And White Boots
A slouchy oversized long-sleeve polo is half-tucked in grey wide pants tucked in white slouchy short boots: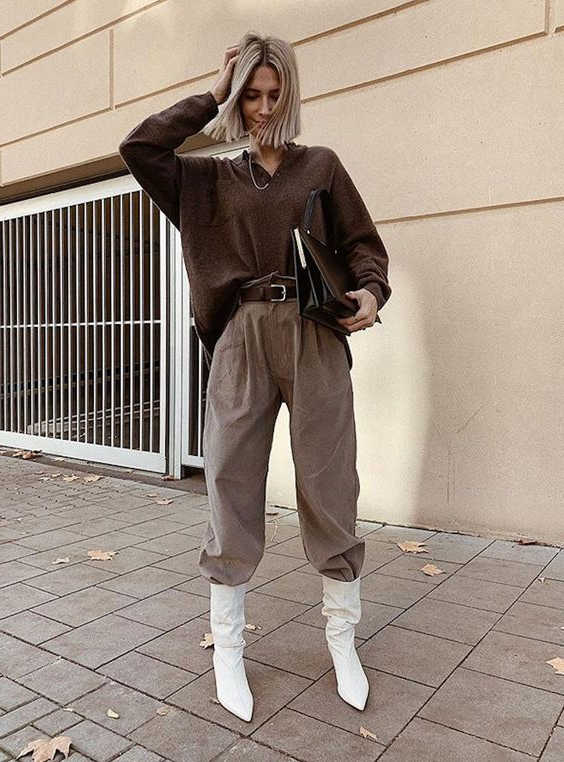 Buy Similar Here
Suit Pants And Suede Boots
Another mannish style pantsuit. We see a grey baggy blazer teamed with a stand-up collar buttoned shirt tucked in belted wide pants completed with slouchy suede boots. Love the flat-brow Wayfarer sunglasses: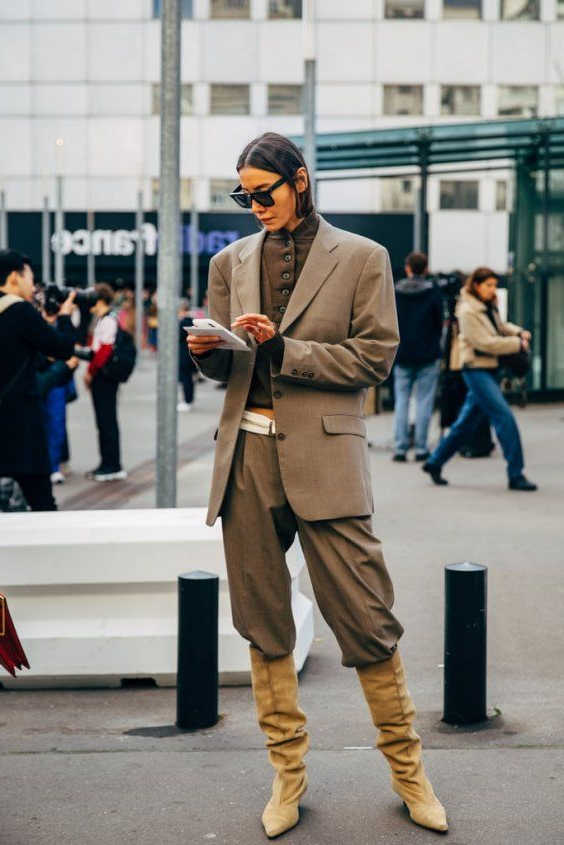 Buy Similar Here
Jeans And White Boots
A nice outfit for street walks. We see a quilted navy leather coat layered over a pastel-yellow sweater teamed with regular jeans tucked in pearl-white heeled tall boots: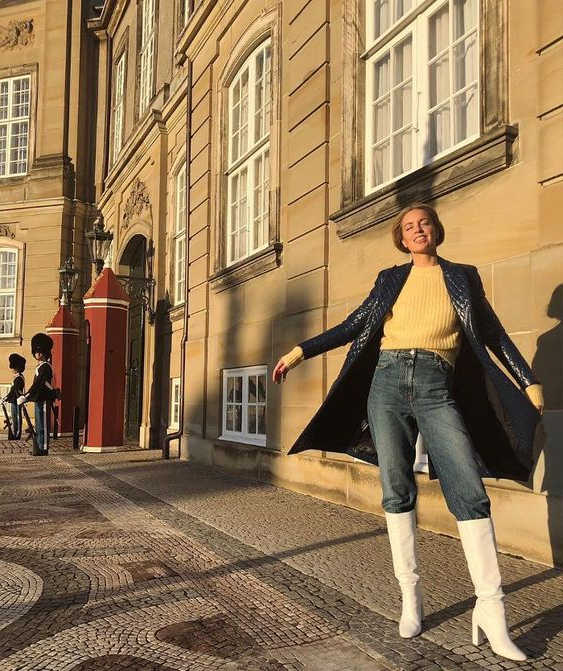 Buy Similar Here
White Slouchy Pants Tucked In Tall Boots
A khaki green maxi trench coat ideally suits that white crop top teamed with gathered white pants tucked in slouchy cream-brown leather heeled boots: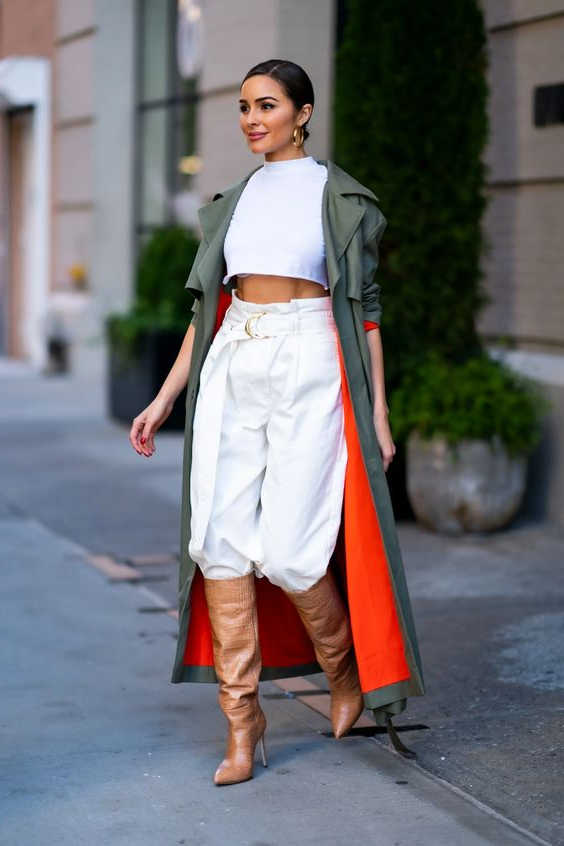 Buy Similar Here
Light Green Pants Tucked In Black Boots
An oversized black leather jacket looks pretty cool with a white tee teamed with slouchy khaki-green pants tucked in chunky tall boots in black leather: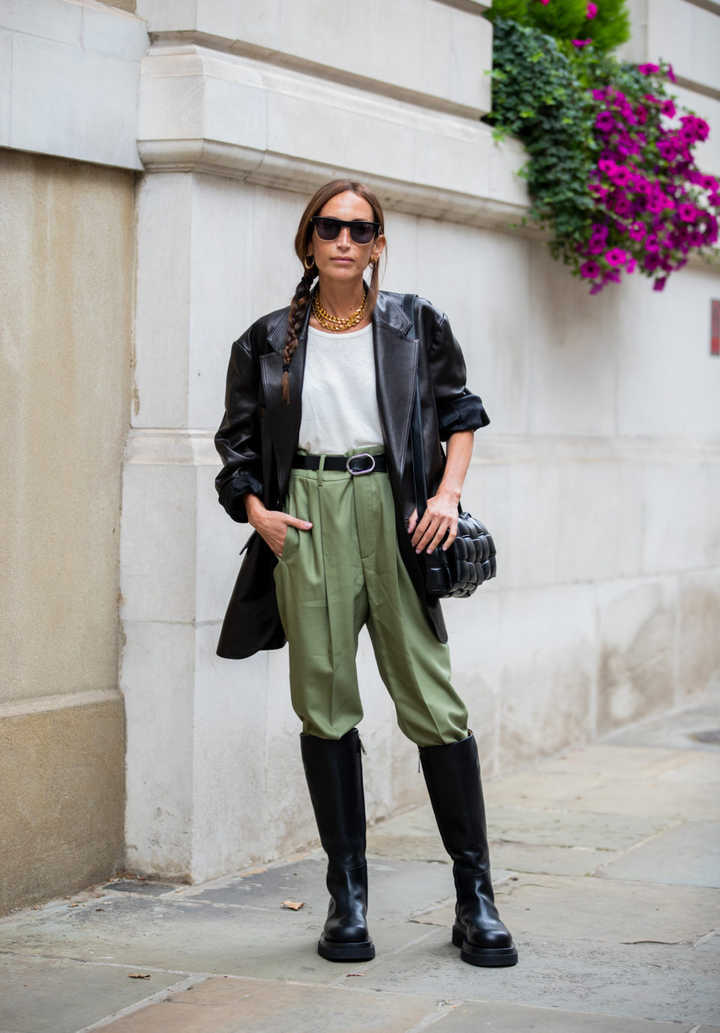 Buy Similar Here
@louloudesaison
Black Leather Pants Tucked In Black Boots
An oversized grey-beige V-neck sweater looks perfect with black leather pants tucked in matching color block heel tall boots: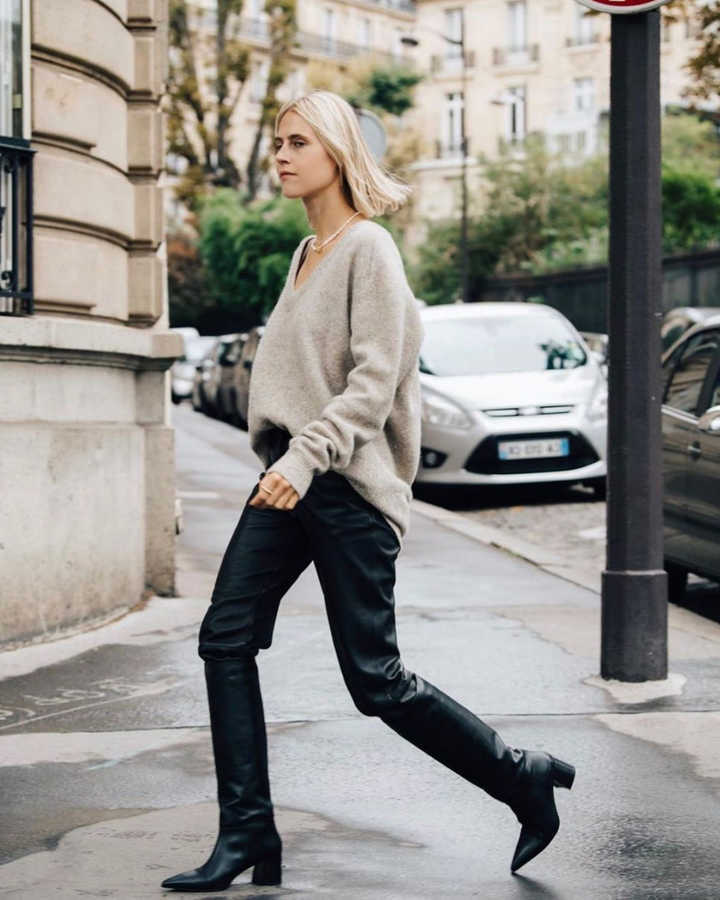 Buy Similar Here
@lindatol_
Khaki Green Pants Tucked In White Boots
A stylish light brown sweater is tucked in dark-olive pants. Update this look by adding cream white tall boots: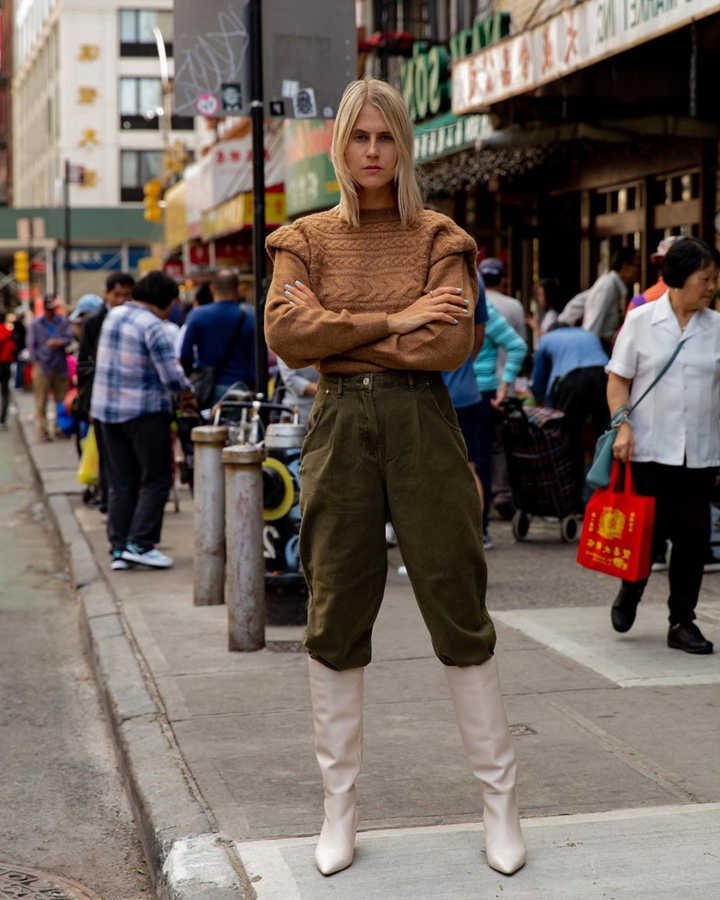 Buy Similar Here
@lindatol_
Navy Wide Pants Tucked In Sequin Pearl White Boots
A light blue blouse looks awesome styled with navy wide pants tucked in heeled sequn pearl white boots:
Buy Similar Here
Leopard Print Pants Tucked In Cowboy Boots
Double leopard look. We see a leopard print fur coat worn with black-white striped top teamed with leopard print joggers tucked in black cowboy boots: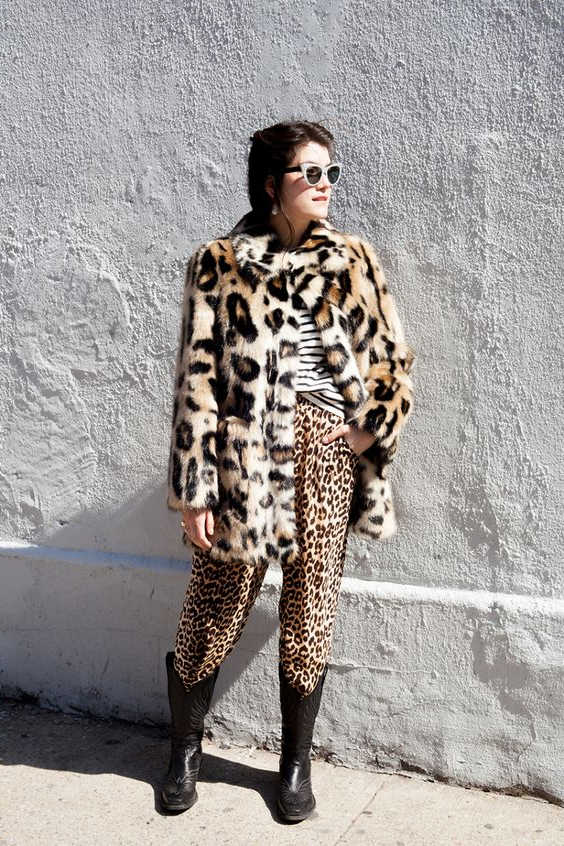 Buy Similar Here
Camel Joggers And White Combat Boots
We see a stylish combo for summer. A white crop top is teamed with camel joggers tucked in white combat boots: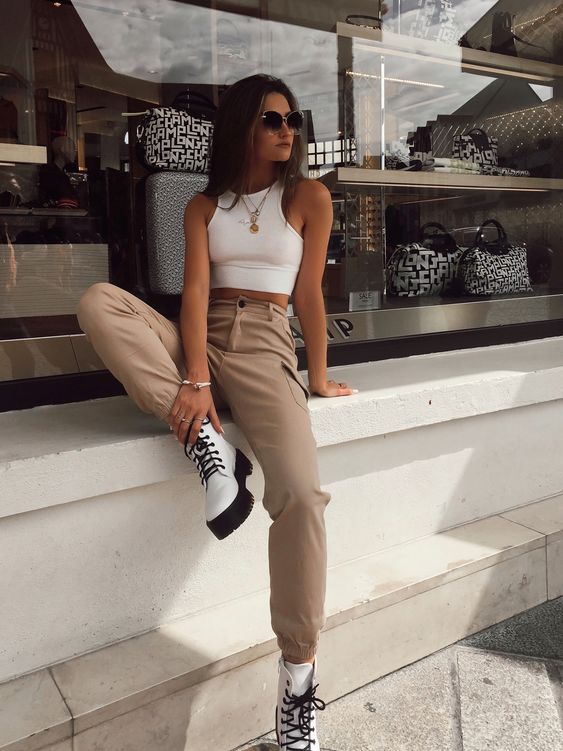 Buy Similar Here
Beige Wide Pants Tucked In Boots
A grey wool shirt with patch pockets is worn with safari-beige loose-fit pants tucked in khaki-brown leather boots: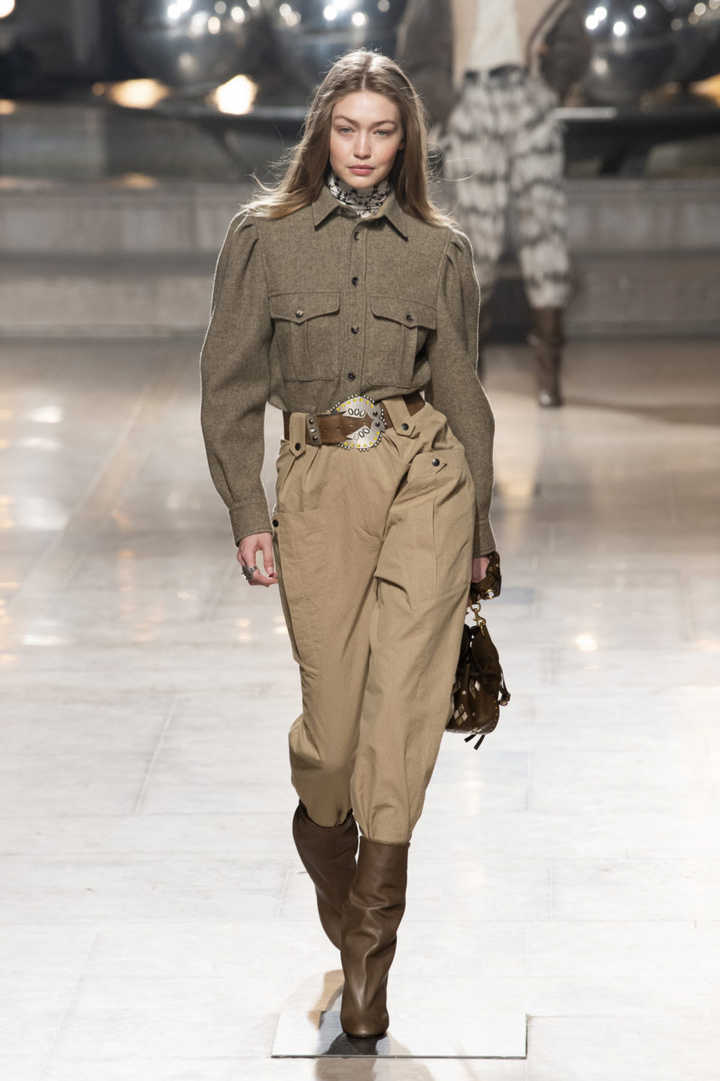 Buy Similar Here
Isabel Marant Fashion Show
Black Cargo Pants And Grey Boots
Double sweater look! We see a light grey sweater tied around neck and styled with grey sweater paired with black cargo pants tucked in slouchy grey leather heeled boots: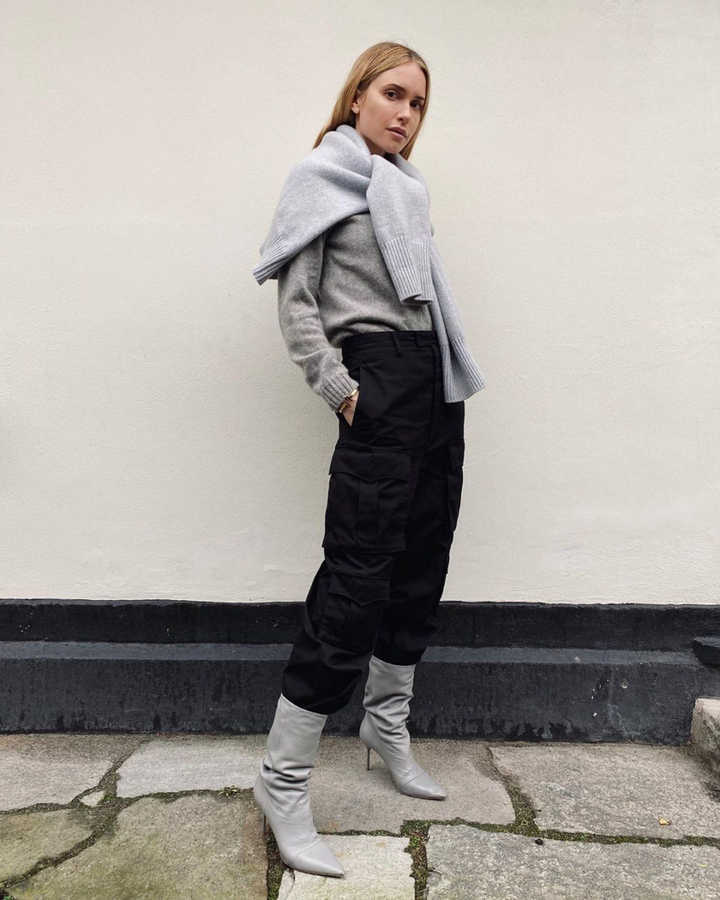 Buy Similar Here
Blue Jeans And White Boots
Green-black zebra print sweater ideally matches these blue regular jeans tucked in white heeled tall boots: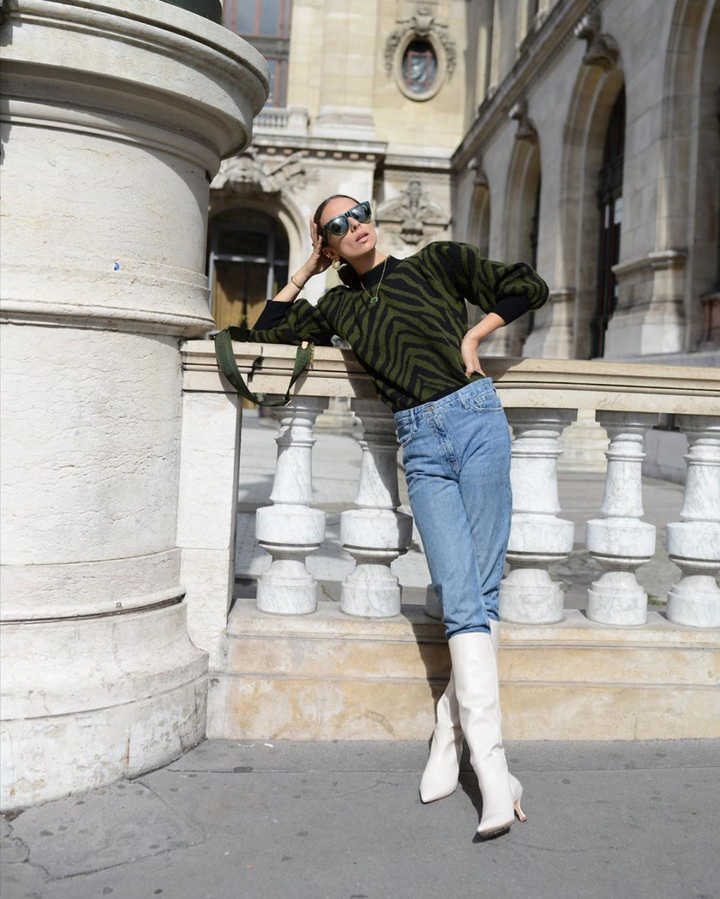 Buy Similar Here
@erika_boldrin
Mom Jeans Tucked In Slouchy Boots
We see a classic shirt in white teamed with blue mom jeans tucked in slouchy suede boots in black color: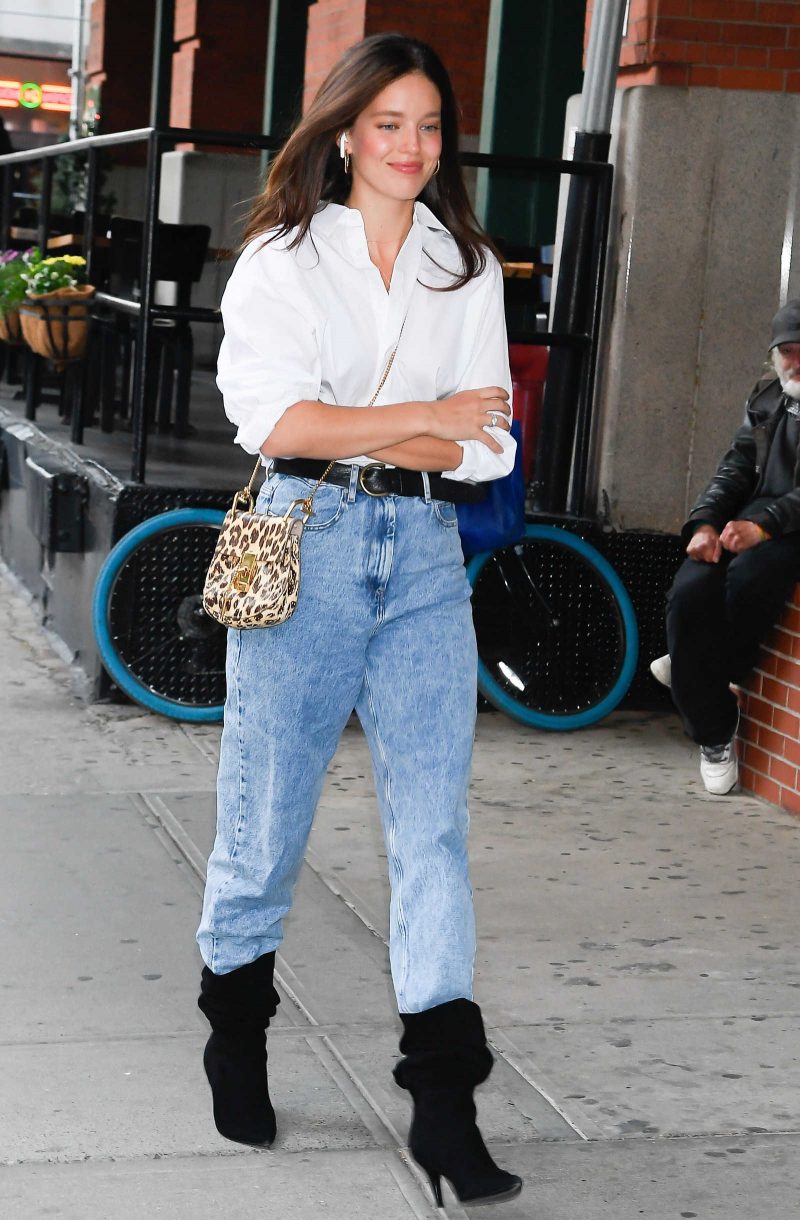 Buy Similar Here
Emily DiDonoato
Grey Skinny Jeans And Lace Up Platform Combat Boots
How about creating a Dandy inspired look? We see a charcoal fedora hat, pinstripe grey blazer draped over a ribbed knit high neck sweater teamed with grey skinny jeans tucked in tall lace-up military platform boots in black: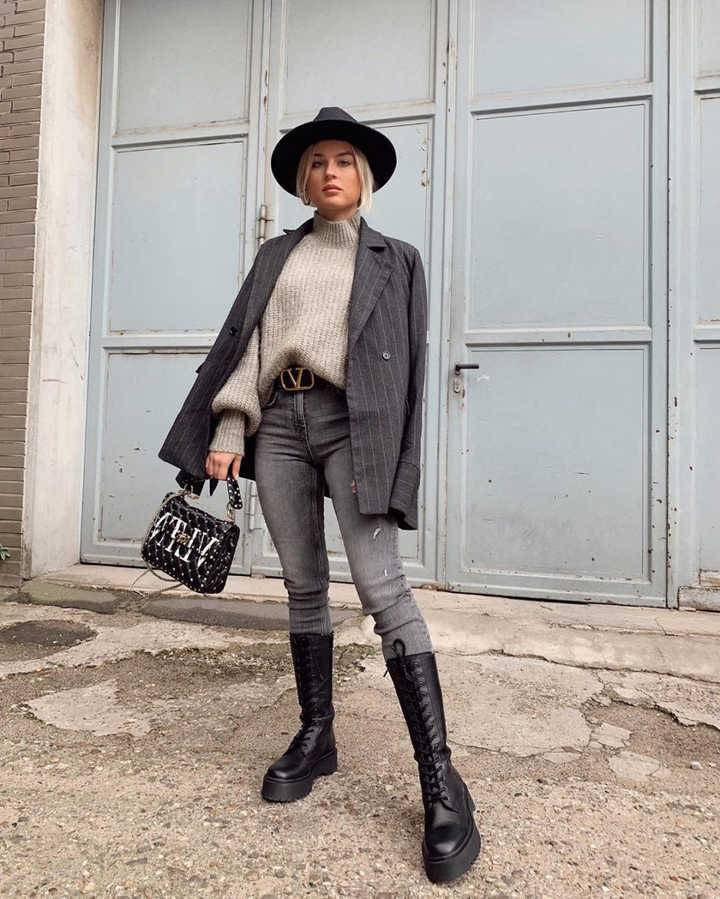 Buy Similar Here
@donnaromina
Denim Boilder Suit And Slouchy Boots
A belted denim jumpsuit in oversized fit is styled with a cream-white top and khaki green leather ultra-slouchy tall boots: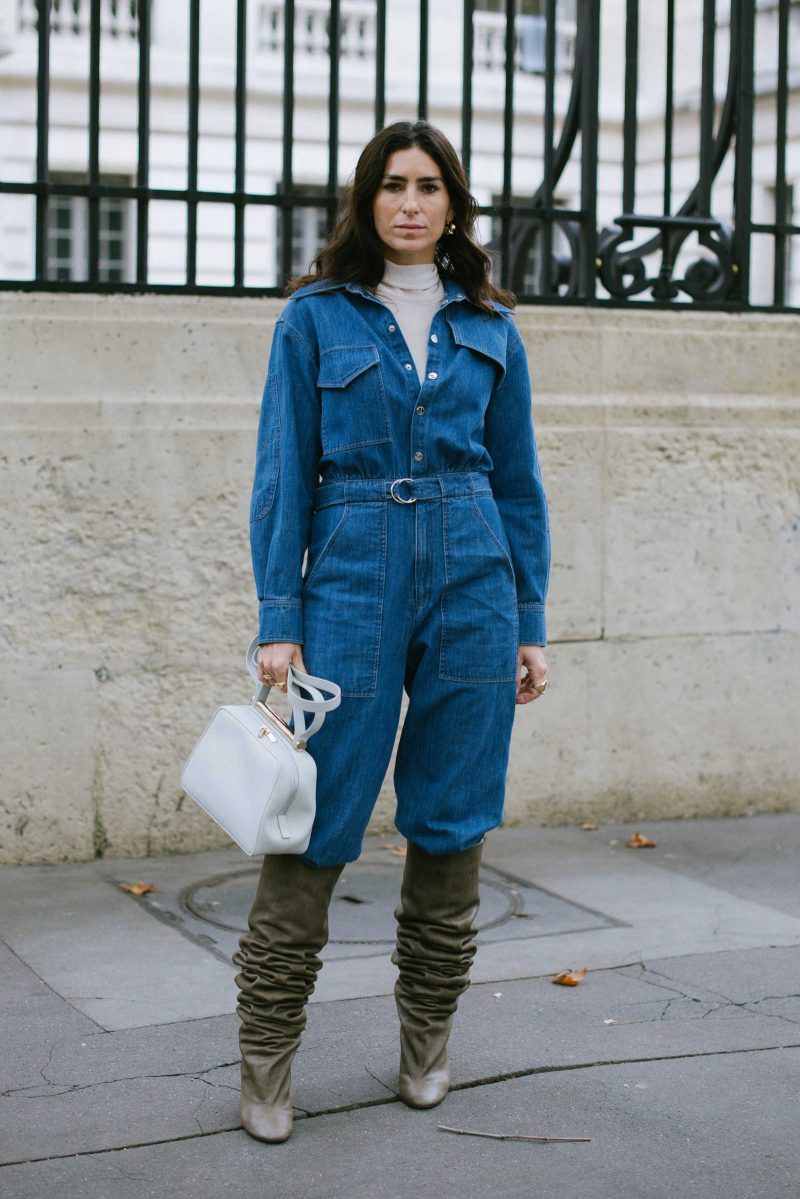 Buy Similar Here
Deboar Reyner Sebag
Black Jeans Tucked In Black Tall Boots
We see a green blazer in mannish size styled with a cream-beige bodysuit tucked in black slim jeans. Update this look by tucking jeans inside dark emerald leather knee-high heeled boots: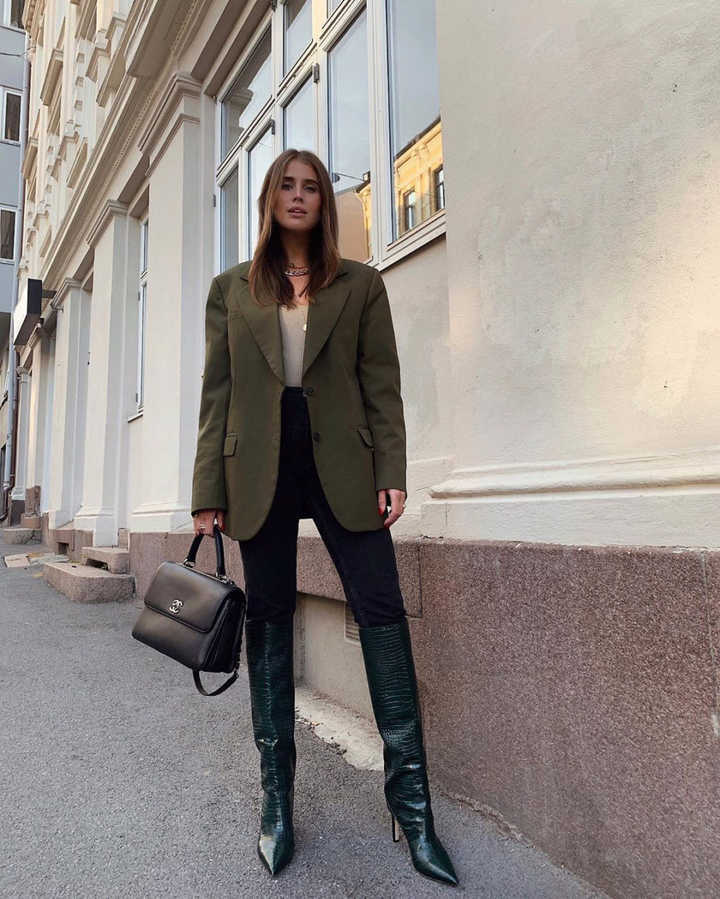 Buy Similar Here
@darjabarannik
White Pants And Brown Leather Tall Boots
A lovely outfit for casual weekends. We see a cream-white ribbed sweater tucked in white tailored pants with a black skinny belt. Complete the look by tucking pants into knee-length brown leather boots: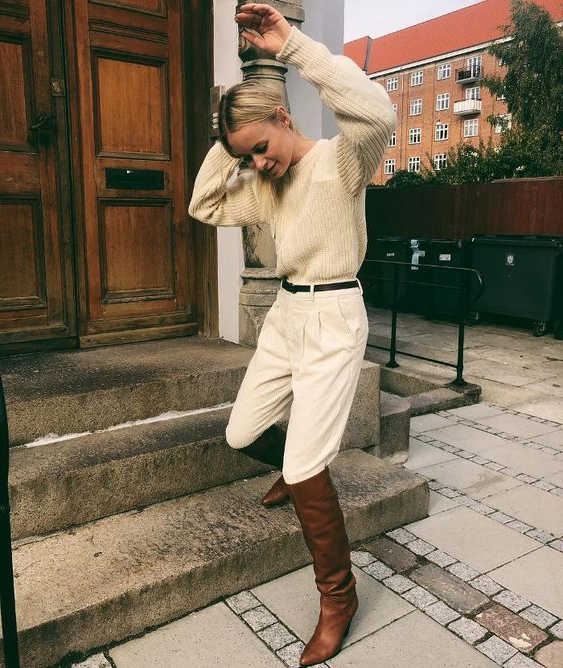 Buy Similar Here
Camel Pants And Brown Boots
A navy wool coat is styled with a high neck white sweater teamed with safari-cream regular pants tucked in brown flat boots: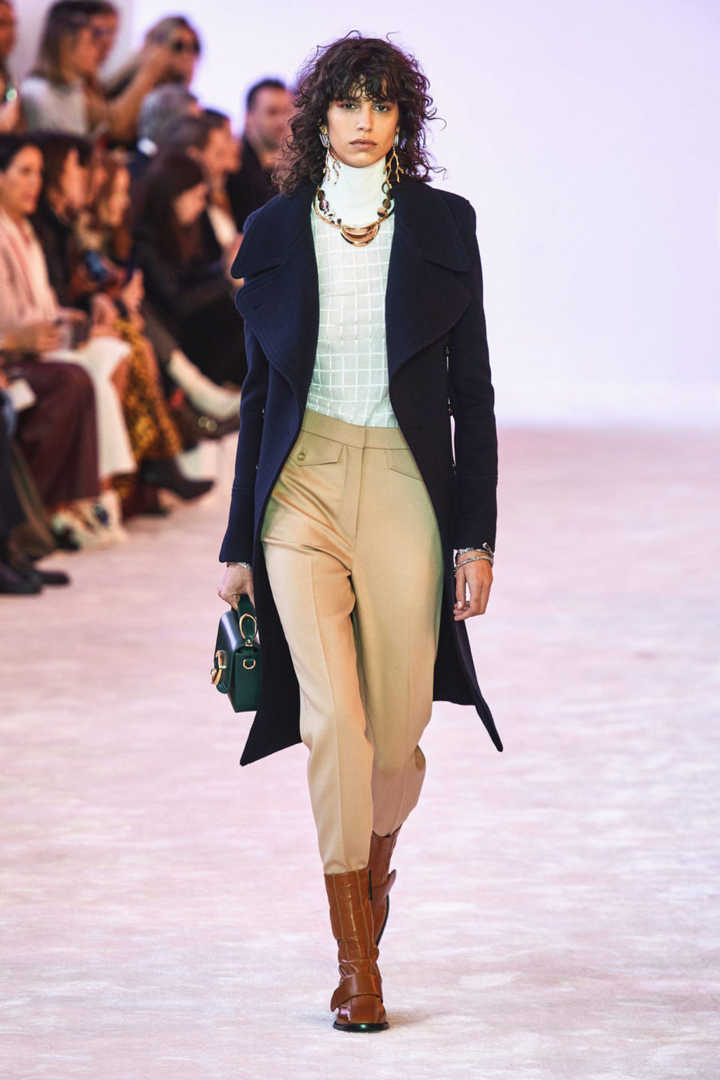 Buy Similar Here
Chloe Fashion Show
Blue Jeans And Tall Shearling Boots
We see an ultra mannish style. A plaid khaki-green blazer is worn with a grey sweater teamed with blue jeans tucked in tall shearling boots in yellow-mustard color: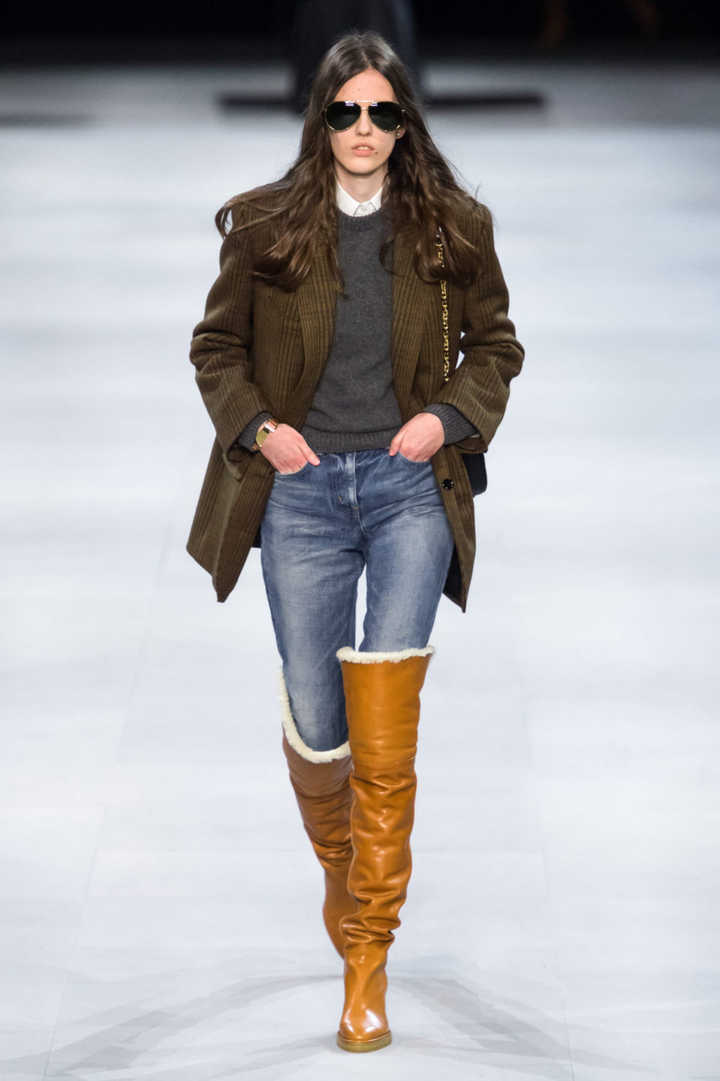 Buy Similar Here
Celine Fashion Show
Black Pants And Brown Platform Combat Boots
In love with this combo. We see a cream-camel oversized blazer styled with a high-neck safari-beige sweater worn with black tailored pants tucked in high platform brown leather combat boots: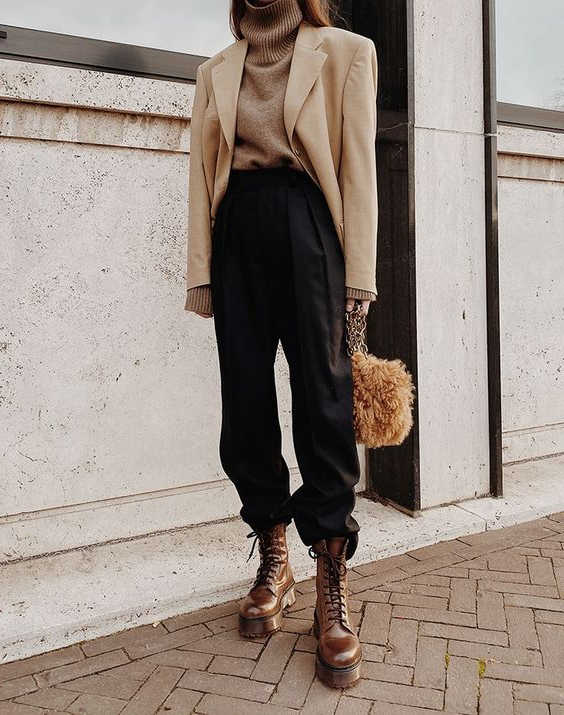 Buy Similar Here
Grey Blue Pants And Cowboy Boots
A pretty weekend style. We see a black leather jacket paired with grey-blue tailored pants tucked in black leather cowboy boots. Complete this look by adding oversized nerd eyeglasses and a black leather clutch bag: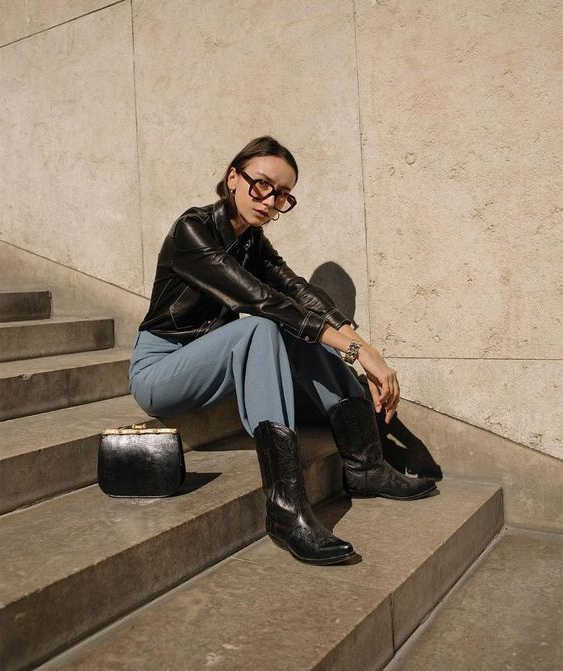 Buy Similar Here
Black Leather Pants Tucked In Black Cowboy Boots
We see a cropped trench coat in cream-blush styled with slouchy black leather pants tucked in black cowboy boots. If you are into western trends, then you better check out ways how to style Cowboy boots for women. You gonna see awesome ideas that are easy to wear in real life: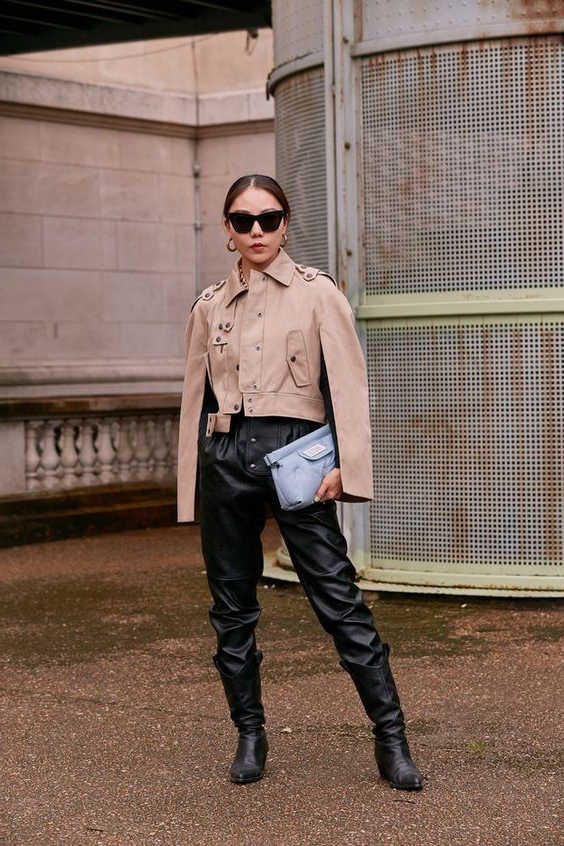 Buy Similar Here
Black Pants And Army Boots
Keep it all in black! We see an oversized black blazer teamed with a black tee tucked in black regular pants that are tucked into black leather army boots: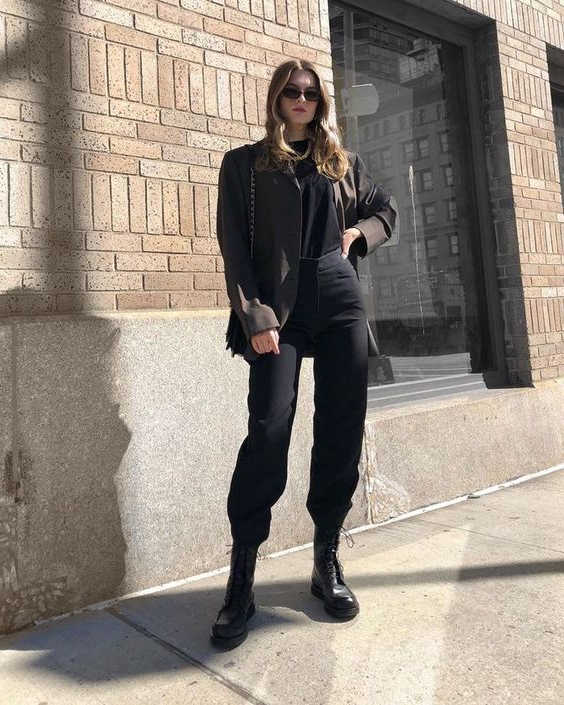 Buy Similar Here
Source: Glamour, WhoWhatWear, Bustle